Kourtney Kardashian Sparks Oval Engagement Ring Trend - and These Are Our Favourites!
Take a look at our favourite oval engagement rings, featuring all kinds of styles - from diamond three gem settings to unique coloured stones!
We have included third party products to help you navigate and enjoy life's biggest moments. Purchases made through links on this page may earn us a commission.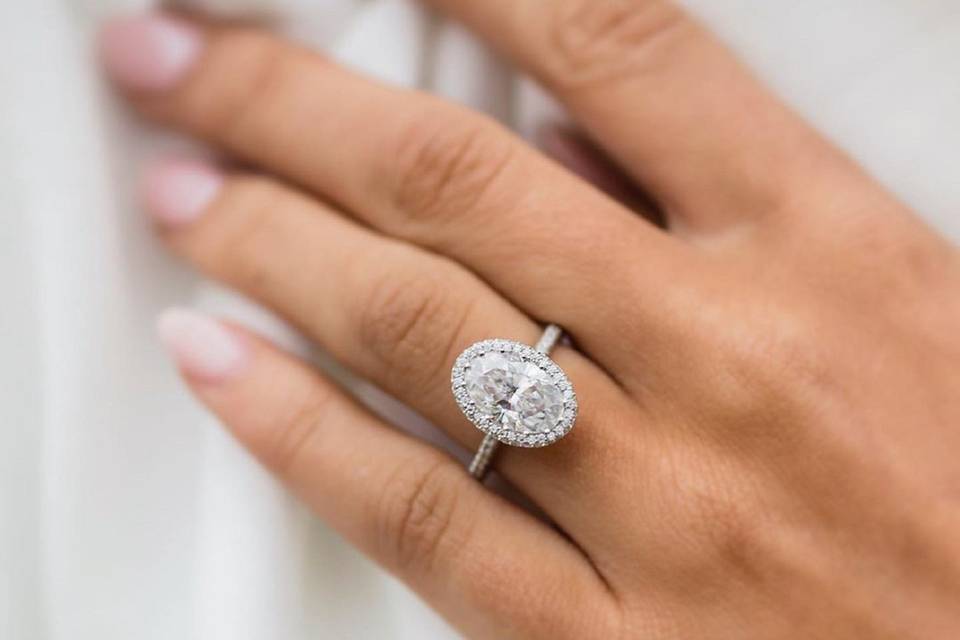 If you're planning to pop the question, an oval engagement ring is a brilliant choice! The elongated shape is timeless yet trendy, seriously flattering and will often look a lot larger than other shapes with the same carat weight, meaning you get more bang (and sparkle) for your buck.
Oval engagement rings are becoming a big engagement ring trend for 2021 and 2022. In fact, according to gifting specialist at Find Me A Gift Shaun Powell, there has been 29,500 searches for this gorgeous style this year alone. 'With high profile celebrities such as Hailey Baldwin, Blake Lively and Kourtney Kardashian showing off stunning oval-shaped engagement ring diamonds, it's no surprise searches for them have surged this year,' Shaun says.
But it's not just diamond oval engagement rings we're swooning over - there are a wide range of styles and stones available in this classic cut to suit you. So, which one should you go for? To help you find the perfect dazzling design we've compiled 32 of the most beautiful oval engagement rings for every budget.
1. The Duet Diamond Ring – from £1,610, VRAI
We're starting off our round-up with this stunning oval engagement ring from diamond specialist VRAI. The double pavé band is adorned with diamonds and leads up to a 1.5ct oval cut diamond that we can't stop staring at...
2. Three Stone with Tapered Baguette Shoulders – from £1,175, Steven Stone
For a sparkly finish you can't beat this brilliantly bright three-stone diamond ring from Steven Stone. The tapered baguette shoulders slim down the band beautifully for an elegant finish, and help the main stone really stand out for added wow-factor.
3. Treasure Box Trilogy Oval Emerald Platinum Big Ring – £3,950, Fenton
Fenton are experts when it comes to coloured stones and their trilogy oval emerald ring is the perfect example of just how stunning a bright hue can look on an engagement ring. We adore this elegant oval cut emerald but you can choose from blue sapphire, ruby, pink sapphire, yellow sapphire or aquamarine.
4. Beau Suite No. 35 – $18,875 (approx. £15,924), Anna Sheffield
The Beau Suite No. 35 by Anna Sheffield is on the pricier end of the scale, but it'll be worth every penny when when you see this breathtaking 1.5ct oval white diamond set on a 14k recycled gold band. Be still our beating hearts!
5. Diamond Oval Cut Engagement Ring – from £2,384.50, Etsy
This oval cut engagement ring will look gorgeous from every angle thanks to the diamond dotted band. You can choose between varying metals depending on your taste, from platinum to 18k white gold.
READ MORE: 29 Unique Engagement Rings
6. Adelia Ring – £5,000, Rachel Boston
Rachel Boston has given the classic oval diamond engagement ring a playful twist with a geometric gold band. The Adelia Ring is bold, beautiful and lets the stunning white oval cut diamond do all the talking.
7. Ruby And Silver Diamond Trilogy Ring – £3,650, Laura Lee Jewellery
How pretty is this ruby and silver diamond trilogy ring by Laura Lee Jewellery? The mix of 18ct yellow and white gold adds an interesting touch that you don't often see making it perfect for a unique proposal.
8. The Hover – from £1,280, VRAI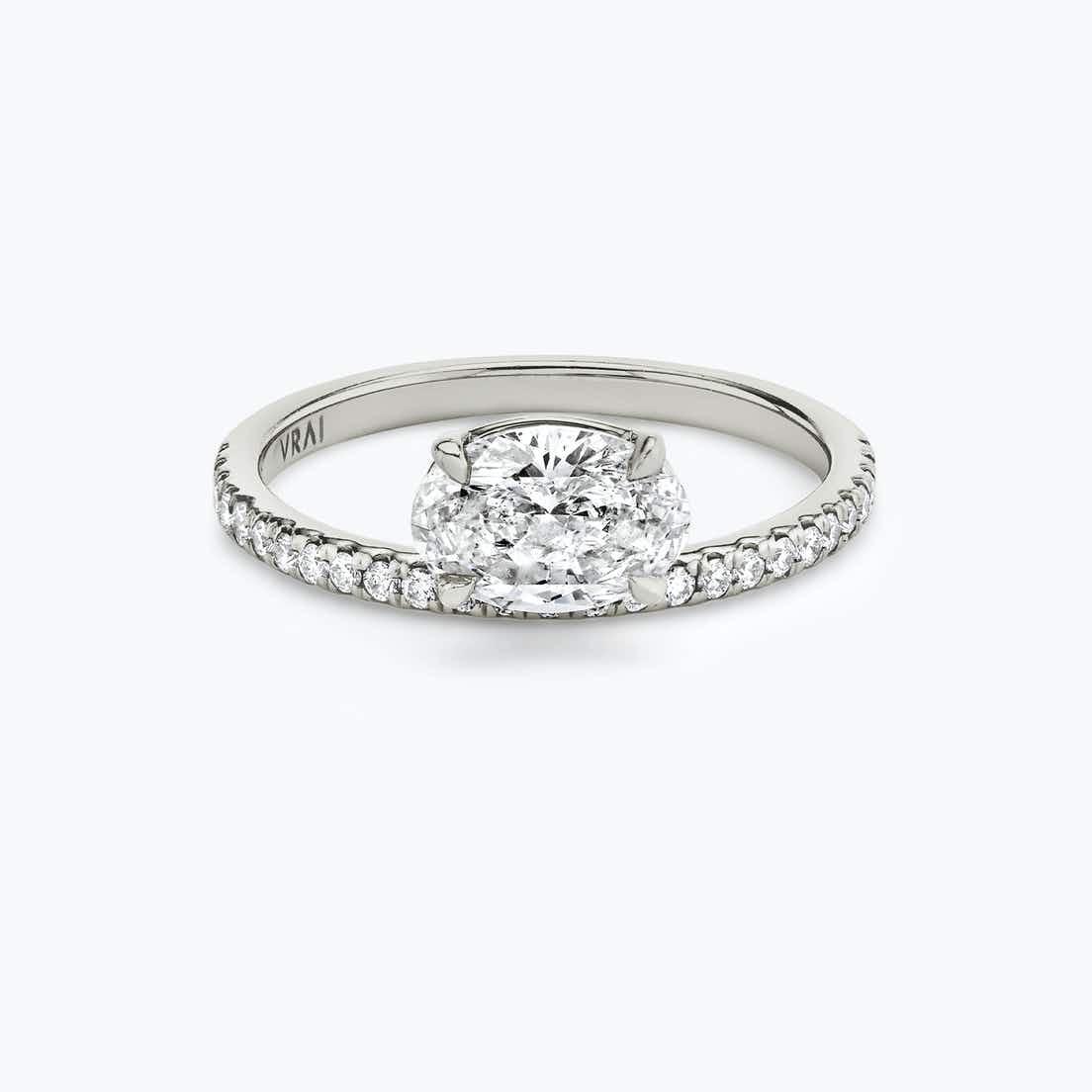 Another stunning oval engagement ring from VRAI is The Hover. It features a floating oval cut diamond that will look heavenly hovering above your finger and slot perfectly next to a wedding band.
9. Oval Sapphire Bypass Ring with Trio Diamond Accents – £4,130, Angara
Angara is great place to shop for an engagement ring as they make the process completely customisable. Choose the gemstone quality, metal type and carat weight of this oval sapphire ring to suit your taste and budget.
10. Oval Solitaire Engagement Ring – £4,425, Sophie Breitmeyer
Simple, classy and elegant, the 1.01ct oval diamond on this engagement ring by Sophie Breitmeyer requires no bells and whistles to make a statement. It's as chic and clean as oval engagement rings come and we're obsessed.
READ MORE: 42 Simple Engagement Rings
11. Oval Duo Ring – £1,580, Shimell and Madden
Shimell & Madden create fine jewellery pieces inspired by science, nature and the concept of time in their London studio. The Oval Duo Ring is handmade with 18ct recycled yellow in a satin finish and features a dusty pink oval sapphire and a brilliant cut diamond.
12. Ascot Ring – £469,60, 77 Diamonds
A twisted band provides a beautiful backdrop for a mesmerising oval centre stone and the Ascot ring from 77 Diamonds effortlessly leads your eye to the sparkling centre diamond. It's available in rose, white or yellow gold but we love this platinum finish.
13. 18ct Gold Diamond Ring – £6,995, Chisholm Hunter
Glamorous couples will love jeweller Chisholm Hunter - their twinkling designs often feature plenty of diamonds and lots of sparkle. This engagement ring is no exception with its trendy halo design and yellow diamond.
14. One Of A Kind Pale Pink Oval Sapphire Floral Ring – £5,400, Alex Monroe at Tom Foolery
A one of a kind proposal needs a special ring and Alex Monroe's quirky creation is certainly unique. Inspired by nature, a pale pink oval sapphire is nestled amongst gorgeous gold flowers and entwined within vines.
15. Grey Oval Diamond Trilogy Ring – £3,500, Sophia Perez
This salt and pepper oval cut diamond is flanked by two smaller pear shaped stones on a 18k yellow gold band - it's a timeless design that'll never go out of style. All the diamonds used are conflict-free and you have the option of using Fairtrade gold.
16. Oval Cut Union Ring – £12,000, Roxanne Rajcoomar-Hadden at The Cut; London
Jewellery designer Roxanne Rajcoomar-Hadden creates fresh and fun designs made to order. We can't get enough of this gorgeous geometric engagement ring and reckon it will be a big hit with cool couples.
17. Luna 14k Polished Gold Oval Halo Sapphire And Diamond Ring – £4,989, Chupi
Inspired by the rings Chupi's grandmother used to wear, Luna is a vintage-style ring complete with a halo of diamonds set around a beautiful blue oval centre sapphire echoing the halo of glittering light around the moon in the night sky.
18. 18ct Yellow Gold Oval Halo Engagement Ring – from £985, Steven Stone
If you're a little magpie and can't get enough of all that glitters, this ring from Steven Stone could be perfect for you. The band of little diamonds set around your main stone will add a twinkling frame (AKA, a halo), for real impact. The metal choice on this ring can be tailored to your preference, and you can choose the size of your diamond too.
19. Labradorite Rose Cut Ring – £95, Lee Renee
If you're not sure a diamond's for you then you could consider going down the Labradorite route. These stunning stones are known for their huge variation in colour, and often throw up grey and white marble-like patterns. They're translucent, so don't reflect as much light as a diamond or similar precious stone, but are beautiful in their simplicity.
20. Primavera Oval Cut Engagement Ring – £1,995, Ingle & Rhode
The star of this stunning oval engagement ring is an ethically sourced diamond, so not only will you know you're getting a beautiful piece, you also know you're getting something that has been properly procured. The halo of diamonds around the main stone give a gorgeous antique look, for a piece that you'll surely treasure for years to come.
READ MORE: How To Have An Eco-Friendly Wedding
21. Iced Diamond Oval Engagement Ring – from £199, Etsy
This breathtaking oval engagement ring will guarantee lots of compliments - it's a showstopper that you can't help but notice! Handmade from moissanite and with prices starting from just under £200, it's a really affordable option for the size of the stone.
22. Vintage Inspired Oval Diamond Marquise Ring – £2,951, Angara

Another pick from Angara is this vintage inspired oval diamond marquise ring. The detailing around on the band is so intricate and you can even add an engraving such as your anniversary onto the inside. What a lovely touch!
23. Oval Cut Emerald Four Stone Ring – £115, Ruby & Oscar
If you want something a little different than a singular oval stone, consider going for a four stone ring instead like this beauty from Ruby & Oscar. Adorned with several elegant emeralds, we can't believe it's only £115!
24. Pre-Owned 3ct Oval Ruby And Diamond Cluster Ring - £6,250, Avanti Fine Jewellery
Eco-conscious couples might want to opt for a pre-owned engagement ring and Avanti has so many gorgeous and sustainable options to choose from. This 3ct oval ruby cluster ring has a traditional claw setting giving it a lovely timeless feel.
25. Petite Twist Diamond Engagement Ring - £1,101.60, Blue Nile
The diamond adorned twisted band on this oval engagement ring from Blue Nile means it'll catch the light so beautifully and create a serious sparkle. Available in 14k rose gold, 14k white gold or platinum, it's a contemporary twist on a classic design.
READ MORE: 52 of the Best Rose Gold Engagement Rings
26. Matilda Ring - £7,580, Michelle Oh
The Matilda Ring by Michelle Oh features a stunning cornflower blue oval Ceylon sapphire, flanked by baguette and brilliant cut diamonds, set in platinum. It's a lovely option if you know you want a light-coloured centre stone.
27. Engraved Cathedral Ring With Oval Rose Cut Diamond - £3,700, Diana Mitchell at Tom Foolery
Each diamond used in a Diana Mitchell ring is handpicked to ensure an unusual shape and beautiful colour - which can range from bright white to warm champagne. The diamonds are then set in carved solid gold bands, made specifically for each unique stone. The result? This decadent oval cut ring!
28. Tabitha Vintage Style Ruby And Diamond Engagement Ring - £1,230, The Vintage Ring Company
We haven't seen a design quite like the Tabitha ring from The Vintage Ring Company. It has been designed to emulate a 1970's style engagement ring and the oval ruby was re-cut in Hatton Garden to bring out its fabulous pinky hue.
29. Aurora Moonstone & Diamond 14K Gold Ring - £850, Carrie Elizabeth Jewellery

Moonstones are an enchanting choice for an engagement ring and they work wonderfully when cut in an oval shape. The Aurora ring by Carrie Elizabeth Jewellery is set on a sturdy 14k solid gold band so it'll last a lifetime of marriage.
30. Mia 18k Gold Fine Fern Green Tourmaline And Diamond Ring - £1,950, Dinny Hall

It's important to consider how an engagement ring will look next to your partner's wedding band - the Mia ring from Dinny Hall features a low set fern green tourmaline centre stone meaning a wedding band can easily sit beside it.
READ MORE: The 26 Best Opal Engagement Rings
31. Willow Engagement Ring - £POA, Lark & Berry
A slightly thicker band makes a bold and beautiful setting for an oval centre stone as seen in this stylish engagement ring by Lark & Berry. All their engagement rings are made to order, so you can choose the metal, stone size, colour and clarity.
If you're still unsure then why not take a look at our collection of incredible princess cut engagement rings? Don't miss our guide on how to buy an engagement ring too!