What is Morganite? Everything You Need to Know About the Engagement Ring Trend
Spied the dazzling pink gem on Pinterest and want to know more? We've answered all your morganite questions below, plus we've handpicked our favourite morganite ring designs available to buy right now!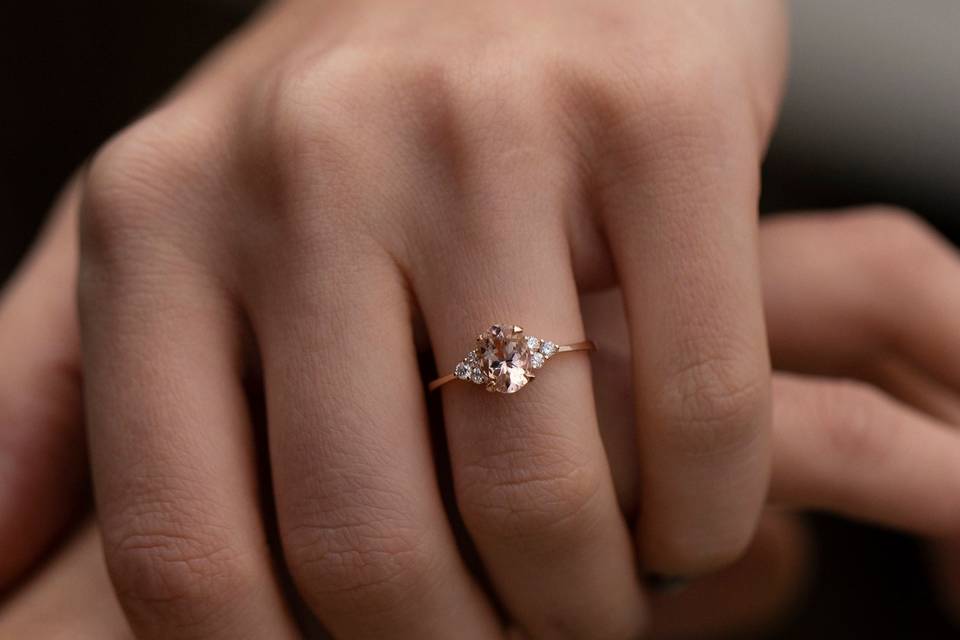 If you've been gazing at engagement rings as much as we have on Pinterest, you've probably come across morganite. While this stone certainly looks pretty and makes for a seriously impressive engagement ring centrepiece, you may have found yourself wondering what it is exactly.
To demystify the newest stone on the engagement ring block and to help you decide if morganite is the gem for you, we've put together this guide detailing where it comes from, the shades it can be found in and how much morganite you're likely to get for your money. Hint: it's probably a lot more than you think!
Plus, we've rounded up our top 36 favourite morganite engagement rings available in the shops right now.
What is Morganite Made From?
Morganite is made from a pink to orange-pink mineral called beryl. Emeralds and aquamarines are also formed from beryl of different shades.
Where is Morganite Found?
It was discovered in Madagascar in 1910 by the chief gemologist at Tiffany & Co. and the personal gemologist of banker, J.P. Morgan. The stone was named after Morgan, a keen gem collector, and fast became a popular stone.
These days the majority of the morganite market comes from Brazil, Afghanistan, Mozambique and Namibia, according to the Gemological Institute of America.
What Colours Does Morganite Come In?
Morganite comes in a range of pink and coral tones, with many gems available in pale shades and higher value stones boasting a stronger pink shade. Although stronger shades are considered top quality, it's totally up to you which shade you prefer and, if you're happy with a pastel colour, you may just get yourself a bargain.
How Big is Morganite?
Morganite crystals weighing as much as 10kg have been found in Brazil – so you'll definitely be able to find a gem big enough!
How Much Does Morganite Cost?
As morganite frequently occurs in larger crystals, you won't pay an awful lot more for small increases in size as you would with a diamond. In fact, when it comes to morganite, colour is much more important and a small, dark coloured stone could work out more expensive than a larger, paler gem.
Still, morganite is definitely the more purse-friendly choice. A perfect comparison is this 0.70 carat high-quality morganite solitaire set in 9 carat yellow gold from Angara vs this mid-quality diamond solitaire of a similar carat weight set in 9 carat yellow gold, also from Angara. The morganite ring comes in at £863 and the diamond version would set you back just shy of £1,000 more, at £1,862.
Is Morganite Suitable for Everyday Wear?
Yes! Morganites are hardy and durable stones, making them a perfect diamond alternative for engagement rings.
Where Can I Buy a Morganite Ring?
Morganite beauties can be found everywhere from high street jewellers such as Ernest Jones to Not on the High Street, Gemporia and Etsy. You can also buy loose morganite stones from retailers such as Brilliant Earth and have your own design crafted.
The Best Morganite Engagement Rings to Buy Now
1. Ariel Leaf Morganite Diamond and Gold Engagement Ring – £445, Caroline Brook
This Ariel engagement ring by Caroline Brook is inspired by nature and fairytale folklore. It features a trailing leaf and autumn berries set with a little diamond.
2. Morganite and Rose Gold Diamond Ring – £1,450, Kate Smith Jewellery
This magnificent solitaire ring from Kate Smith Jewellery features a blush-pink morganite stone on a rose gold band embellished with lovely patterning and brilliant cut diamonds. It's the sort of piece that we're sure will look great on any hand.
3. Pear Morganite Yellow Gold Solitaire Ring – £225, Myia Bonner
If you're looking for a minimalist design that's sure to dazzle, we think that this pear morganite ring might be just the thing for you. It features a demi-fine, dusty pink pear shaped morganite solitaire stone with a nine-carat yellow gold band.
4. Altari Morganite and Diamond Gold Ring – £1,295, Lily Designs London
This stunning rose morganite ring, in a yellow and white gold setting and nestled amongst three princess cut diamonds, is the sort of quality ring that is designed to be cherished and passed down the generations.
5. Le Vian Strawberry Gold Morganite and Diamond Ring – £1,499, Ernest Jones
Experience that perfect fine-luxury look with this exquisite Le Vian ring from Ernest Jones. A peach morganite stone sits on a 14-carat rose gold band embellished with stunning diamonds.
6. Morganite Gold Ring – £620, Anthony Blakeney
This unique morganite ring by Anthony Blakeney is handmade and designed to allow light to flow through the morganite gemstone. A perfect choice to bring a smile to any face.
7. Solid Rose Gold Cushion Morganite and Diamond Halo Ring – £2,800, Jewel Street
Calling all true romantics! This peach morganite ring is for you. Set in 18-carat rose gold with a diamond halo, this ring from Jewel Street is seriously dreamy.
8. Le Vian 14-Carat Strawberry Gold Morganite Ring – £1,399, Ernest Jones
For the epitome of lavish, look no further than this extravagant strawberry gold ring from Ernest Jones. Chocolate diamonds complete this lovely, indulgent look.
9. Cherry Blossom Morganite and Diamond Ring – £1,129, Gemporia
We heart this heart-shaped morganite ring from Gemporia. A morganite stone is surrounded by dazzling diamonds and set into a beautiful 18-carat gold band.
10. Sols Morganite and Diamond Ring – £850, Amulette

This beautifully textured Sols ring from Amulette is handmade with care and designed to give you that perfect golden sparkle.
11. Rose Gold Morganite and Diamond Ring – £699, Ernest Jones
This striking nine-carat rose gold ring, set with an oval-cut morganite stone and surrounded by a halo of glittering diamonds, really makes a statement. It's a contemporary look we love, and we're sure you will too.
12. Alena Nine-Carat Rose Gold Pink Morganite Boho Ring – £135, Amelia May
If you're a lover of the quirky and tend to eschew tradition then this boho ring from Amelia May might just be the ring for you. Set in rose gold with four prongs, this simple design ensures all the attention is on that stunning pink stone.
13. Nine-Carat Rose Gold Morganite and Diamond Ring – £599, Ernest Jones
This elegant princess cut exudes beauty and delivers a bold, fresh, contemporary look that's sure to never go out of fashion.
14. Morganite and Diamond Halo Ring – £1,600, Astley Clarke
We love the peachy pink tone of this stunning ring from Astley Clarke. Surrounded by diamonds and with diamonds on the band, this ring has a beautiful colour contrast that will be seriously eye-catching.
15. Marropino Morganite and White Diamond Halo Ring – £499.99, TJC UK Store
A delightful Asscher cut Marropino morganite stone framed by a thin line of baguette cut diamonds gives this ring by TJC UK Store a unique and exquisite look you're sure to love.
16. Morganite Petal Ring – £130, Lee Renee
This morganite petal ring by Lee Renee proves that timeless beauty doesn't have to cost a fortune. The elegant yet simple design is perfect for everyday wear and looks great every day of the year.
17. Gold Pear Shape Morganite Solitaire Ring – from £473, Rosea Jewels
Your one-of-a-kind love story deserves a unique and special engagement ring, and we think that this custom solitaire ring by Rosea Jewels may be just the thing you've been looking for. It's a minimalist design that's big on style, and it's available in 14 or 18-carat gold.
18. Morganite and Diamond Halo Engagement Ring – £360, Gemondo Jewellery
This peachy-pink morganite gemstone, surrounded by a halo of diamonds, is our idea of the perfect combination.
19. Oval Morganite Vintage Style Ring with Diamond Accents – £791, Angara
This captivating ring from Angara is a vintage dream. It features an oval morganite gemstone and a scalloped prong setting. The diamond accents add to the sparkle of this ring that exudes old-world charm.
20. Agape Offset Trillion Morganite Boho Ring – £200, Amelia May
This boho beauty by Amelia May boasts a pink triangular stone and an asymmetric design that's timeless, yet modern.
21. White Gold Morganite and Diamond Ring – £1,199, Ernest Jones
A white gold band and a set of glittering diamonds make this morganite ring by Ernest Jones a real showstopper. For the perfect dazzling look, it's hard to top.
22. Nine-Carat Rose Gold Morganite and Diamond Pave Rectangle Ring – £489.95, Joshua James
If you've been eyeing up elongated designs, might we suggest this morganite beauty from Joshua James? The cushion cut centre stone is surrounded by tiny diamonds in a rectangular halo that will give the illusion of longer and slimmer fingers - yes, please!
23.
14ct Rose Gold Morganite and Diamond Engagement Ring

– from

£372.64, Jewel Street

If you're looking for something that's both beautiful and unique, it's hard to do better than this asymmetrical morganite and diamond engagement ring from Jewel Street. It has a tiny heart shape cut out from the back to give it that extra special romantic touch.
24. Pear Shaped Morganite Diamond Halo Engagement Ring – £572, Rosea Jewels

This morganite and diamond halo engagement ring is handcrafted in yellow, rose, or white gold for the perfect timeless look.
25. Rose Gold Morganite Diamond Ring – £899, DSJewellryShop
If you're looking for a unique ring that really stands out, we recommend that you check out this lovely morganite ring from DSJewellryShop. It features a 10-carat rose gold band embellished with 30 diamonds to give it that extra sparkle.
26. Nine-Carat Rose Gold Morganite and Diamond Ring – £269, Christine Alexander GB
Love is in full bloom with this beautiful ring by Christine Alexander GB. It features a round cut morganite stone in a flower-shaped head, complete with diamond accents.
27. Jennifer Morganite Diamond Halo Engagement Ring – £2,820, Jessica Flinn
Inspired by Art Deco and heirloom pieces, the Jennifer ring is a great choice for lovers of all things vintage. With a 1.5-carat morganite stone at its centre, this ring offers plenty of bling for your buck too.
28. Fancy White Gold Morganite and Diamond Ring – £499, Ernest Jones
This chic, vintage-inspired piece features a cushion cut morganite centrepiece framed by an antique milgrain decoration and finished with beautiful diamonds for the perfect forever look.
29. Claw-Set Round Morganite Cocktail Ring – £1,322, Angara
This gorgeous ring from Angara features a large morganite stone that will stop people in their tracks. The solitaire peach morganite sits in an elegantly cut setting that adds a bit of extra detail.
30. Anastasia Morganite and Diamond Gold Ring – £1,295, Lily Designs London
This beautiful mismatch design by Lily Designs London features a pale pink pear cut morganite stone nestled among three brilliant cut diamonds and set in in a rose and white gold band. A perfect choice for any bride.
31. Textured Silver and Gold Matilda Morganite Ring – £215, Alison Moore Designs
This beautiful Matilda ring, made in Alison Moore's Orkney Island workshop, is part of their Storybook collection and features a lovely pale pink gemstone and a leather-like texture on the band, reminiscent of the well-worn pages of a children's storybook.
32. Two-Sided Morganite Diamond Engagement Ring – £997.37, Jewel Street
This unique design from Jewel Street is made for the bride who loves to stand out. With a high-quality pink oval morganite stone at its centre and shimmering diamonds on the shank and rails, you're unlikely to see another bride rocking the same look any time soon!
33. White Gold Morganite Diamond Pear Ring – £699, Ernest Jones
A perfect piece for any hand, this glistening white gold ring features a pear cut morganite stone, a sparkling diamond halo, and diamonds on the shoulders to complete the look.
34. Natural Morganite Dainty Ring – £362.04, Govinina
This stunning design from Govinina on Etsy is perfect if your other half loves dainty jewellery but still wants some sparkle.
35. 14ct Gold Oval Pink Morganite and Diamond Ring – £394.56, Jewel Street
The oval cut is one of the most elegant and chic engagement ring cuts around and looking at this morganite beauty from Jewel Street, it's no wonder. Set in 14ct gold with a floral design and diamonds in the band, this piece is the ideal choice for a modern bride.
36. Le Vian 14ct Morganite and Chocolate Diamond Ring – £2,999, Ernest Jones
Indulge in pure luxury with this 14-carat strawberry gold ring, featuring a peach morganite stone framed by a circle of sparkling vanilla diamonds and finished with a beautiful combination of chocolate and vanilla diamonds. Another masterpiece from the Le Vian collection.
If you're looking for the perfect engagement ring on a budget, check out the best affordable engagement rings.