When it comes to men's engagement rings, you're truly spoilt for choice.
A few years ago, this would not have been the case. As the Western engagement ring tradition was for a long time associated with brides-to-be, jewellery brands in the UK weren't always quick to pick up on the fact that men may also like to show off their newly engaged status. The men's engagement rings you could find tended to be very plain - pretty much indistinguishable from men's wedding rings.
Luckily, that's all changed, and you can get men's engagement rings to cover a range of styles. You may, of course, favour a pared-back band. However, if you'd prefer something with a bit more sparkle, there are men's designs that incorporate diamonds, as well as different metals, from titanium to white gold.
Whether you're planning to pop the question to your partner or are looking for we're-getting-married jewellery for yourself, take a look at our favourite men's engagement rings.
NB: We have included third party products to help you navigate and enjoy life's biggest moments. Purchases made through links on this page may earn us a commission.
Are There Engagement Rings for Guys?
Whether in a same-sex or opposite-sex relationship, not every man wants to wear one, but engagement rings for men definitely exist. The engagement ring tradition goes back to Ancient Rome, when it was a sign of a man's ownership of his wife. Obviously, the tradition has moved on since then, and wearing a ring these days is a way for anyone to celebrate getting engaged, as well as showcasing your soon-to-be-married status.
Which Hand Does a Guy Wear an Engagement Ring?
It varies between cultures. In the UK, the engagement and wedding rings are most commonly worn on the left hand for men and women.
What Should a Man Pay for an Engagement Ring?
You'll hear all kinds of 'rules' about how much an engagement ring should cost, ranging from one to three months' salary. The reality is, there is no rule - these amounts have mainly sprung from jewellery advertising campaigns and have nothing to do with wedding etiquette. According to our National Wedding survey, the average spend on an engagement ring in the UK last year was £2,419, but whether you want to spend more or less than that is between you and your budget. Work out how much you can comfortably afford, or how much you can save towards a ring each month, and that's your ideal amount.
Check out our guide to how much you should spend on an engagement ring for more detail on setting your budget for a men's engagement ring.
Do Couples Look at Engagement Rings Together?
This depends on how much you and/or your other half like surprises. Whether we're talking engagement rings for men or women, this is a piece of jewellery you or they will be wearing, in theory at least, every day for years to come - it's very important that the wearer likes it! While the idea of proposing with a surprise ring may suit some, other couples prefer to have their proposal with temporary engagement rings and then shop for the 'real' rings together.
Who Buys the Man's Wedding Ring?
Of course, the engagement ring isn't the only piece of wedding jewellery to consider - you also have men's wedding rings to factor in to your spending! We'd suggest sitting down with your partner and discussing how you want to share the cost. You could each buy the other's wedding ring; or you could allocate the cost to your overall wedding budget.
The Best Men's Engagement Rings for 2021
1. 9ct White Gold Diamond Men's Ring – £750, Beaverbrooks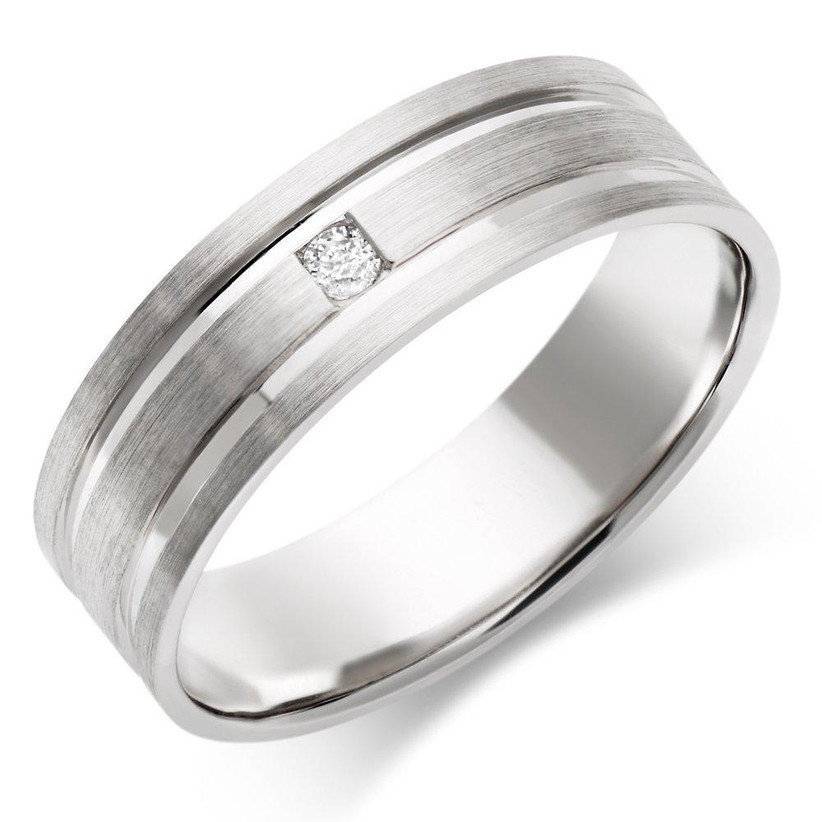 This white gold ring has such a clever design, mimicking the traditional solitaire engagement ring but with a distinctly masculine finish.
2. Silver Oval Set Created Sapphire Ring – £89.99, H. Samuel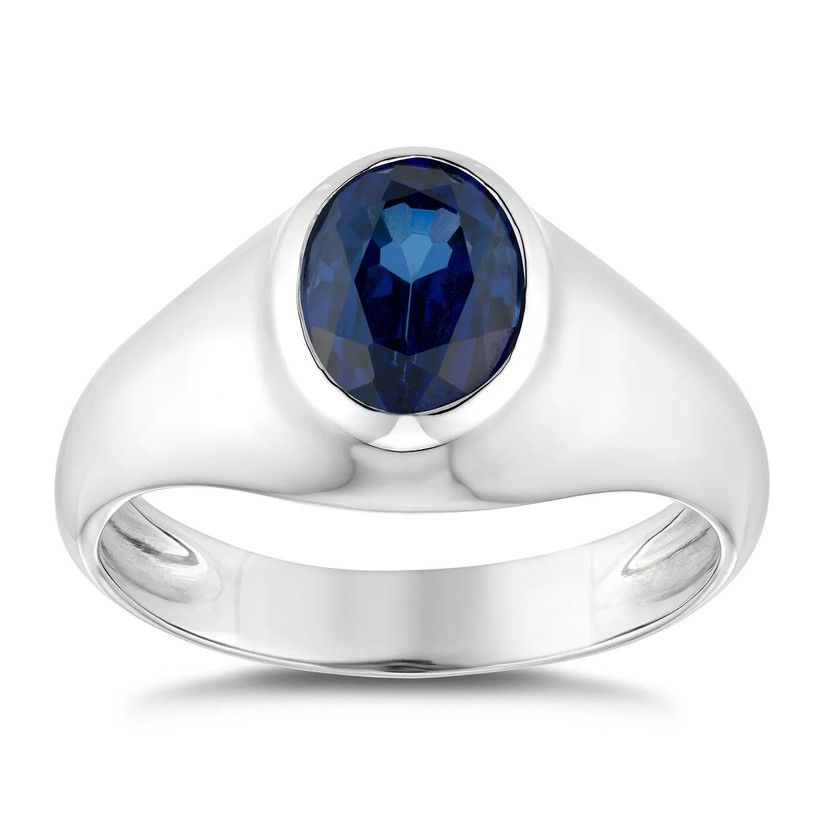 Of course, men's engagement rings don't have to be all about diamonds. This sapphire ring is pared-back enough for everyday wear but still stands out thanks to that gorgeous gem.
3. Black Diamond Engagement Ring – £2,914.08, Etsy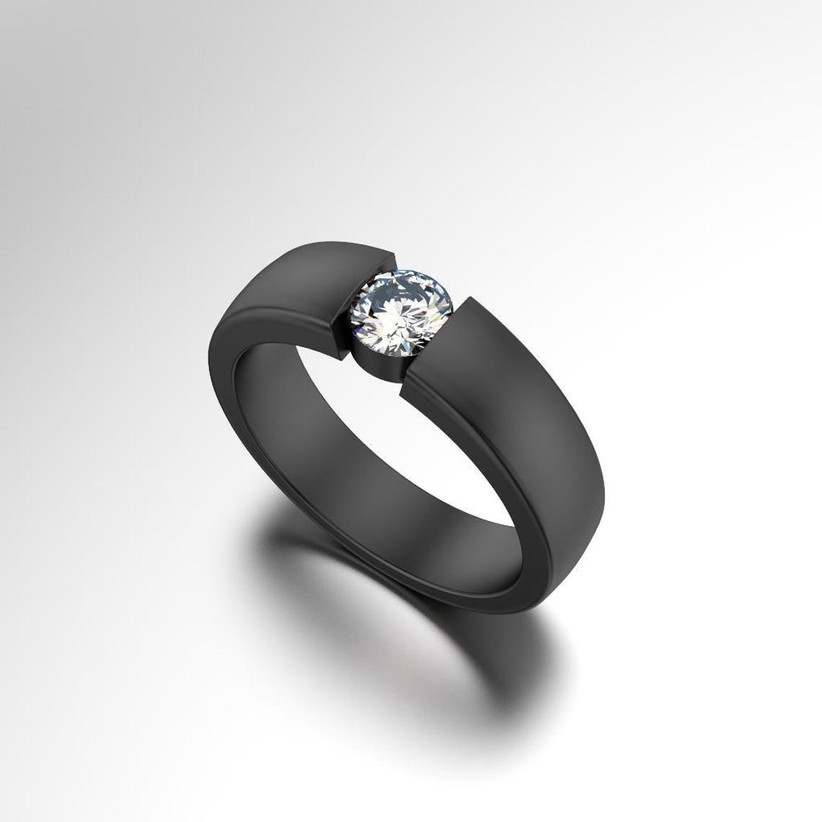 For a more unusual men's engagement ring, we love this Etsy design. It has a black zirconium band with a half-carat GIA diamond at the centre.
READ MORE: 11 Groom Speech Tips: The Ultimate Guide to Giving an Amazing Groom Speech
4. Men's Silver Fingerprint Signet Ring – £150, Not On the High Street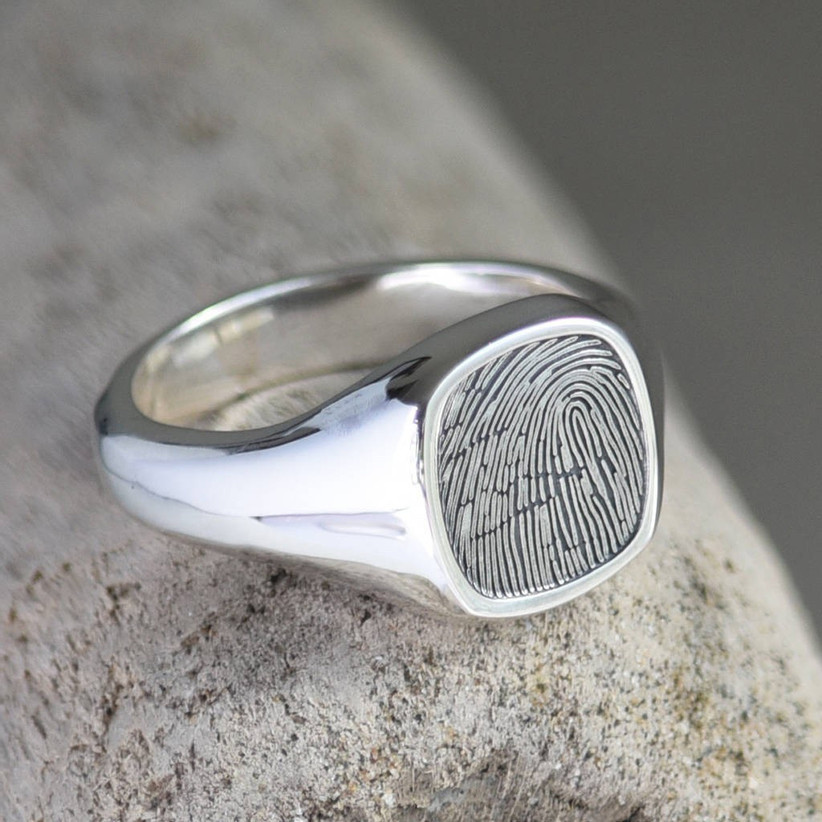 If you're looking for a meaningful men's engagement ring, swap traditional diamonds for something more personal. This silver signet ring can feature either your or your loved one's fingerprint, for a totally unique piece of jewellery.
5. Double Milgrain Ring – £1,750, Tiffany & Co.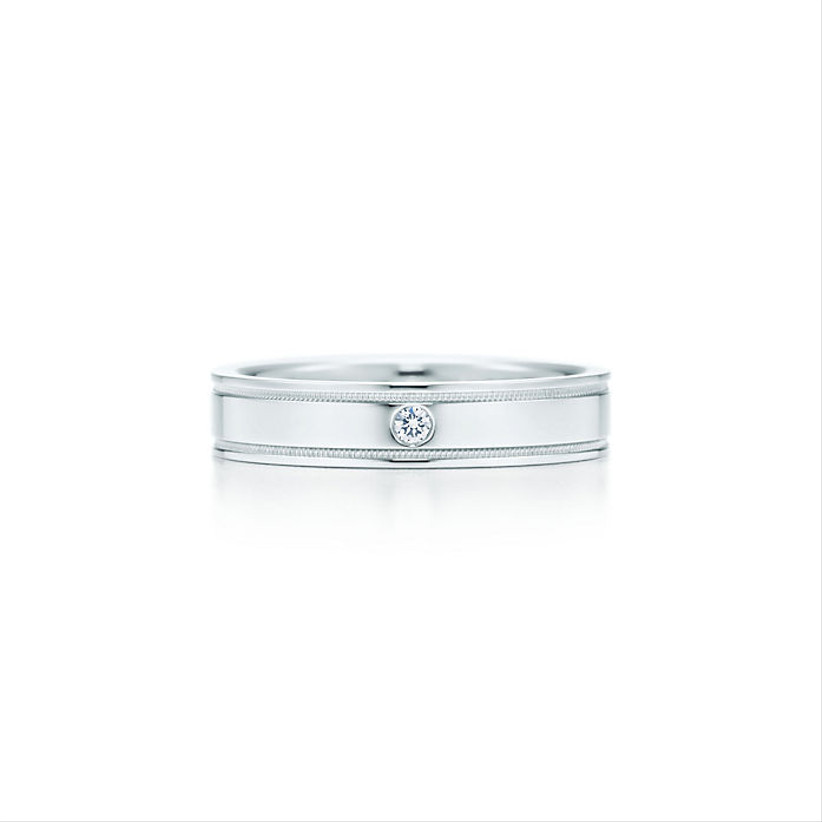 Tiffany is synonymous with engagement rings, so it's the dream destination if you're looking for a high quality piece. This chic design features a round brilliant diamond and textured Milgrain edges.
6. Classic Copper Cuff Ring – £42.95, Not On the High Street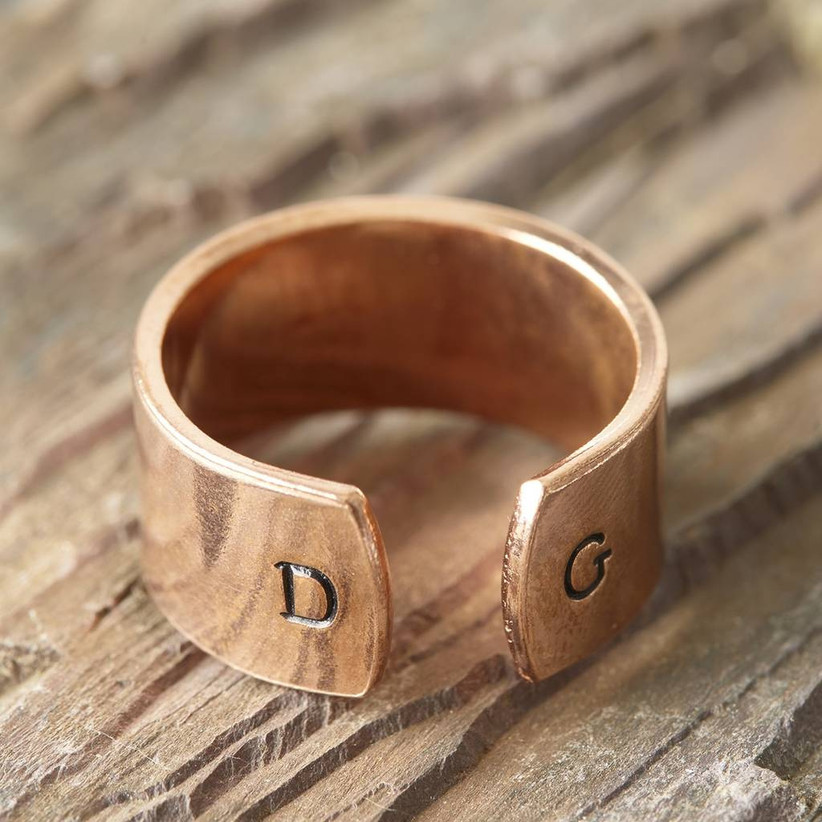 A cuff ring is a great choice if you're looking for something non-traditional for your engagement. This copper cuff can be personalised with each of your first initials, to make it even more special.
READ MORE: 13 Things You Need to Do After Getting Engaged
7. Geo-Diamond and Gold-Vermeil Signet Ring – £155, Miansai at Matches Fashion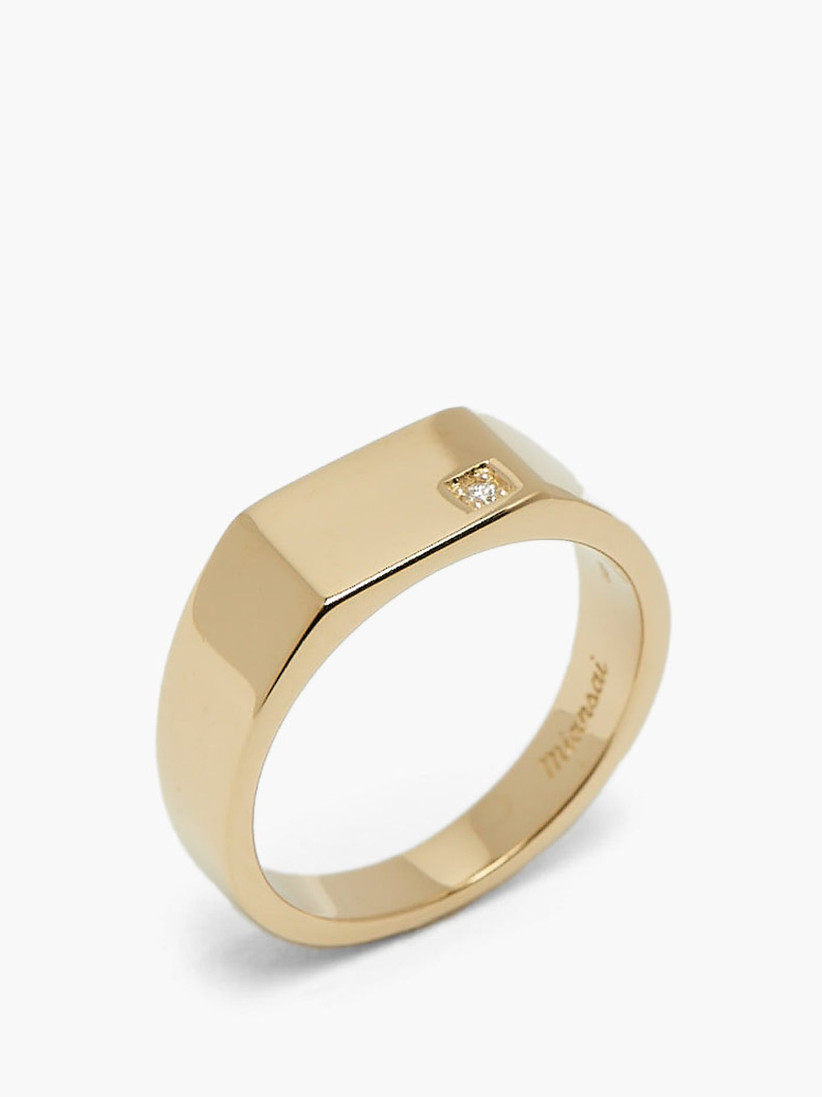 Miansai is a brand to know for understated, stylish men's accessories - like this signet ring, which has a single white diamond and visually pleasing geometric lines.
8. Harald Gold-Plated Garnet Ring – £165, Maria Black at Mr Porter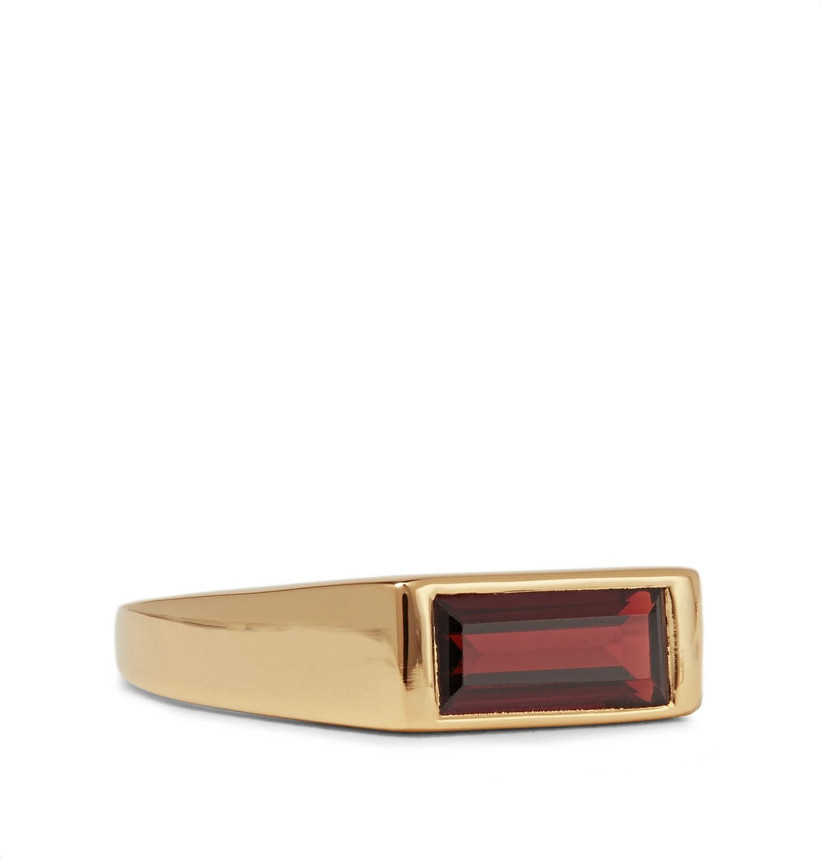 This Maria Black ring may have retro vibes, but it's still the kind of design that will stand the test of time.
9. Revere Men's 9ct Gold Plated Silver 'Soul Mate' Ring – £44.99, Argos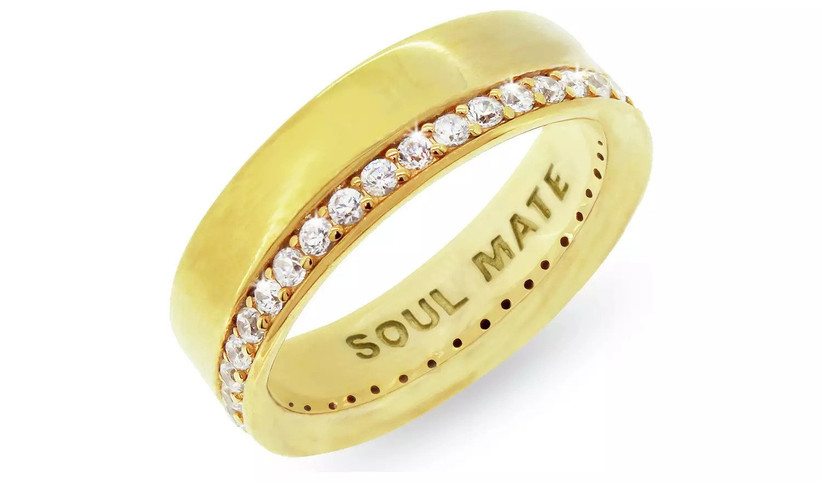 Looking for a budget men's engagement ring? Argos is a good place to start, and it's where you'll find this sterling silver sparkler studded with cubic zirconia. It has 'soul mate' stamped on the inside - what could be more wedding-perfect than that?
READ MORE: 17 Best Summer Wedding Suits to Buy Now
10. Avalon Eternity Diamond Ring – £3,780, Brilliant Earth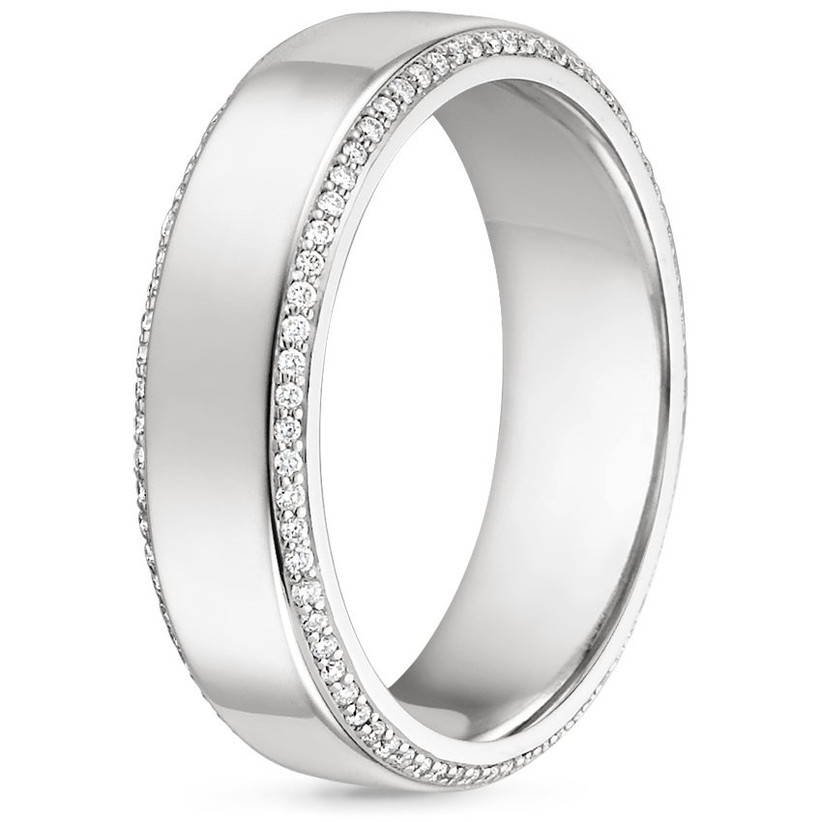 This sophisticated ring is also available in rose, yellow and white gold, but there's something particularly special about the way the diamonds work against the platinum band.
11. Native Oval Diamond Wood Ring – £220.80, Not On the High Street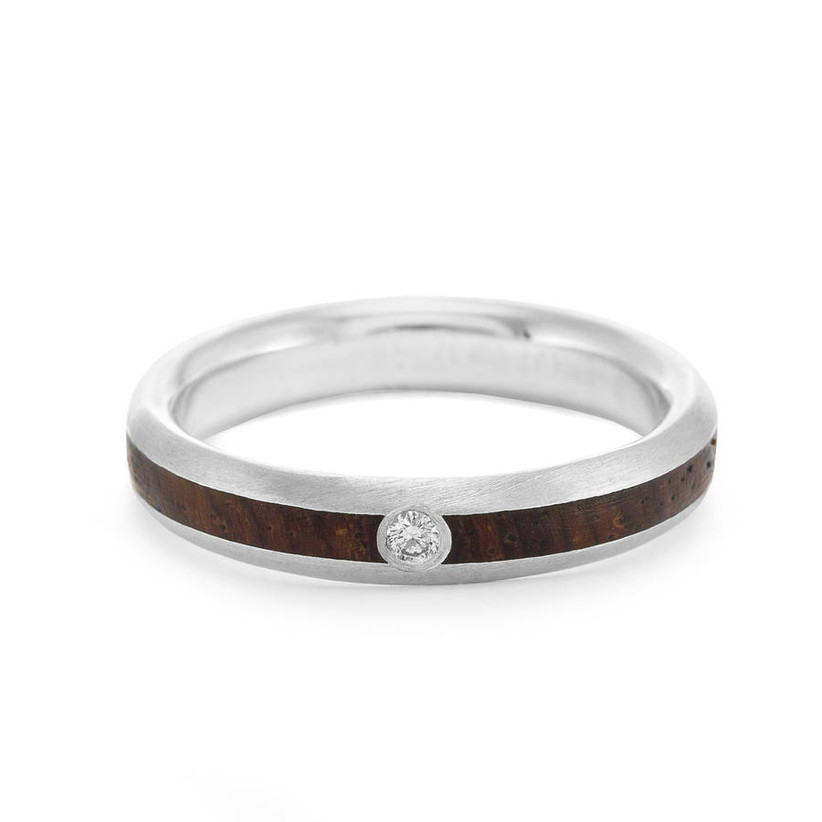 For an alternative mens engagement ring, move away from metallics - this beautiful ring is available in a variety of different woods, including rosewood and reclaimed oak.
12. 9ct Men's White Gold 0.25ct Diamond Ring – £725, Ernest Jones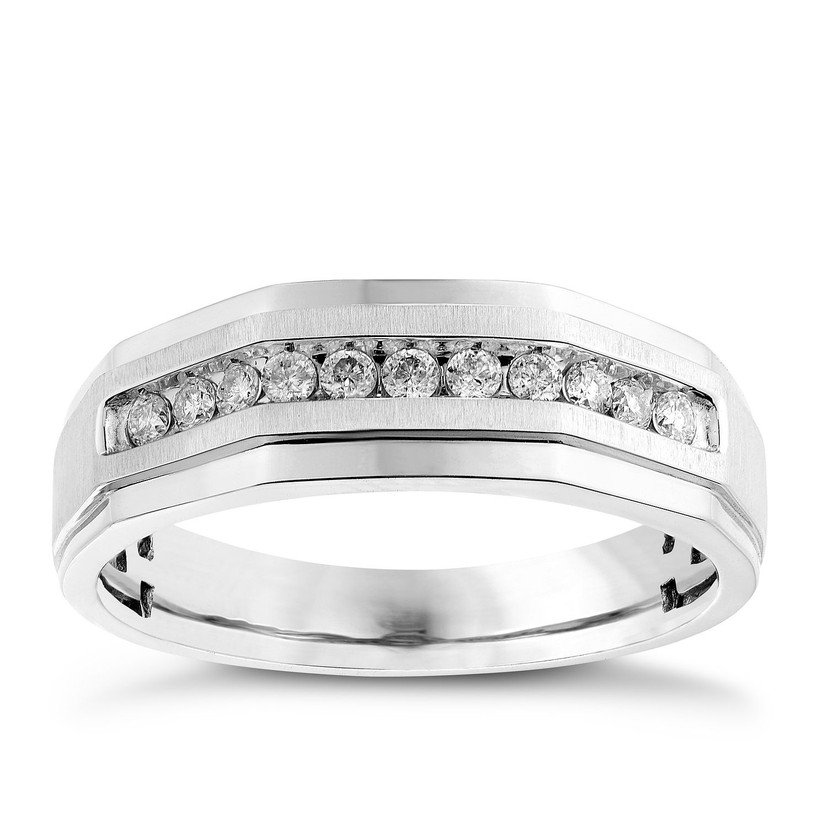 We love the angular lines of this diamond ring, which features 11 icily beautiful gemstones. It feels special and yet subtle.
READ MORE: How to Clean Your Engagement Ring at Home
13. Titanium and Rose Gold Diamond Men's Ring – £325, Beaverbrooks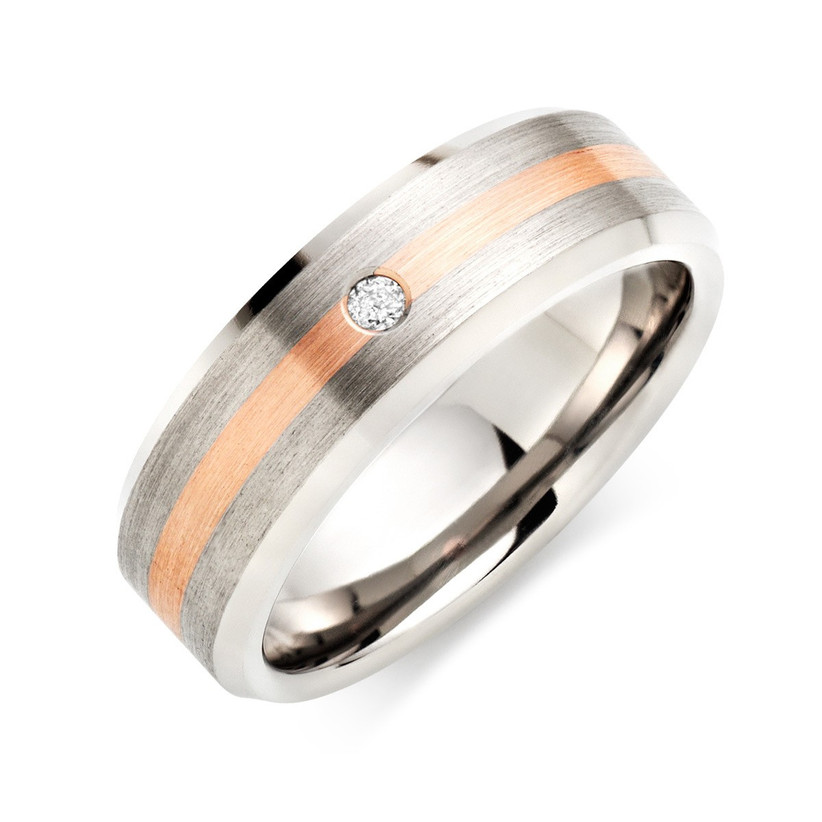 This titanium men's engagement ring from Beaverbrooks features a thin rose gold band running through the centre, finished with a single sparkling diamond. If you think the man in your life would like something stylish and unique, this mixed metal band could be perfect.
14. White Gold and Diamond Men's Engagement Ring – £895, Beaverbrooks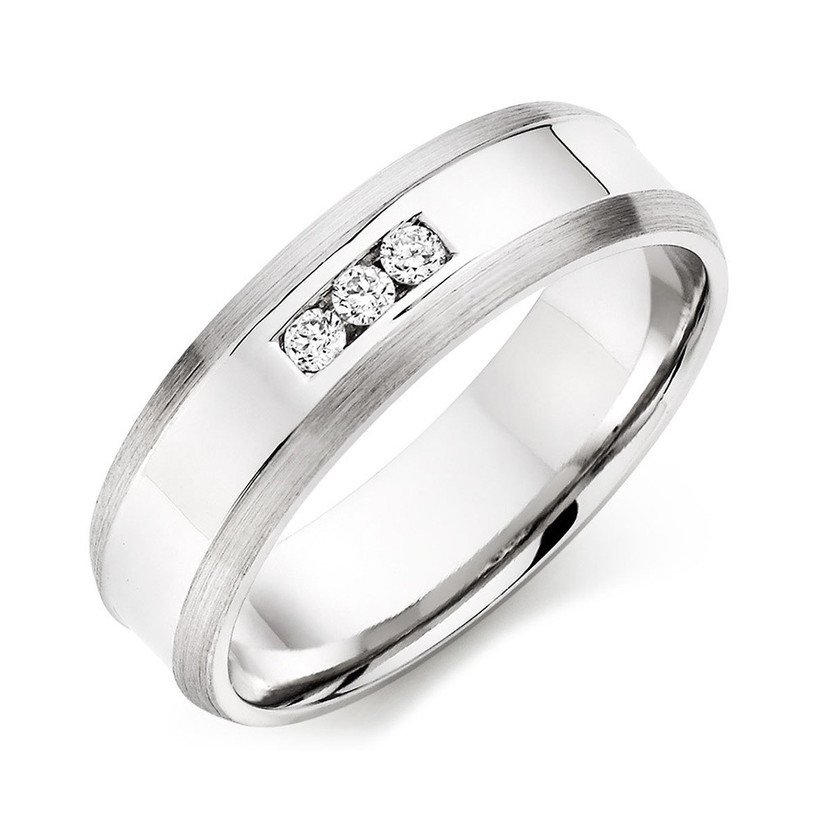 This 9ct white gold men's engagement ring from from Beaverbrooks has just a hint of sparkle with three tiny solitaire diamonds set into the front. It's ideal if you want a traditional style but with an added something special.
15. Personalised Time Ring – £59, Not On the High Street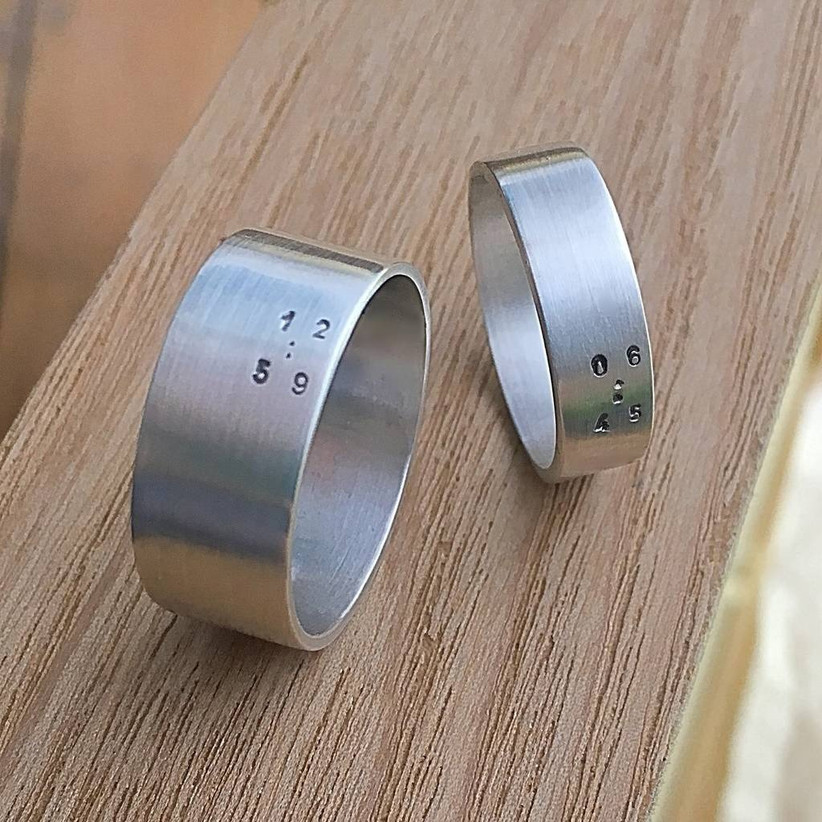 If you have a special moment in time or a date to remember, you can have it engraved into your engagement ring so you can remember it for eternity. These personalised time rings from Jessica Greenaway would work as a men's engagement ring or wedding band.
16. Palladium Men's Ring – £750, Goldsmiths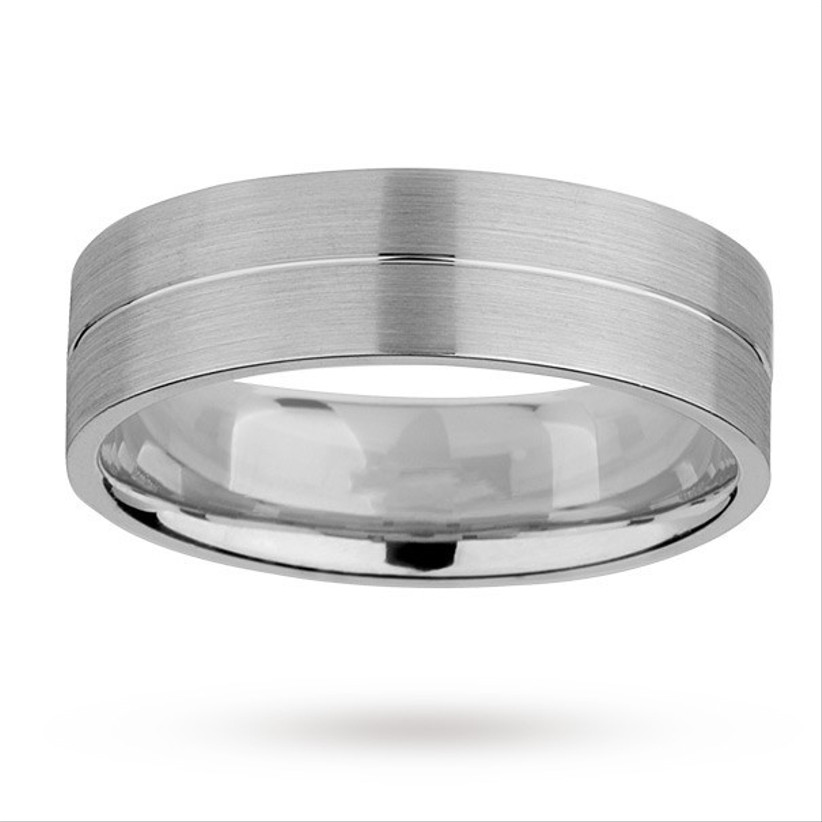 This palladium men's ring from Goldsmiths has a contemporary finish and a high-shine band running through the centre of the ring - it's a classic and unfussy choice.
READ MORE: Gifts for the Best Man: 25 Groomsman Gift Ideas for Every Budget
17. Vera Wang White Gold and Diamond Band – £2,250 Ernest Jones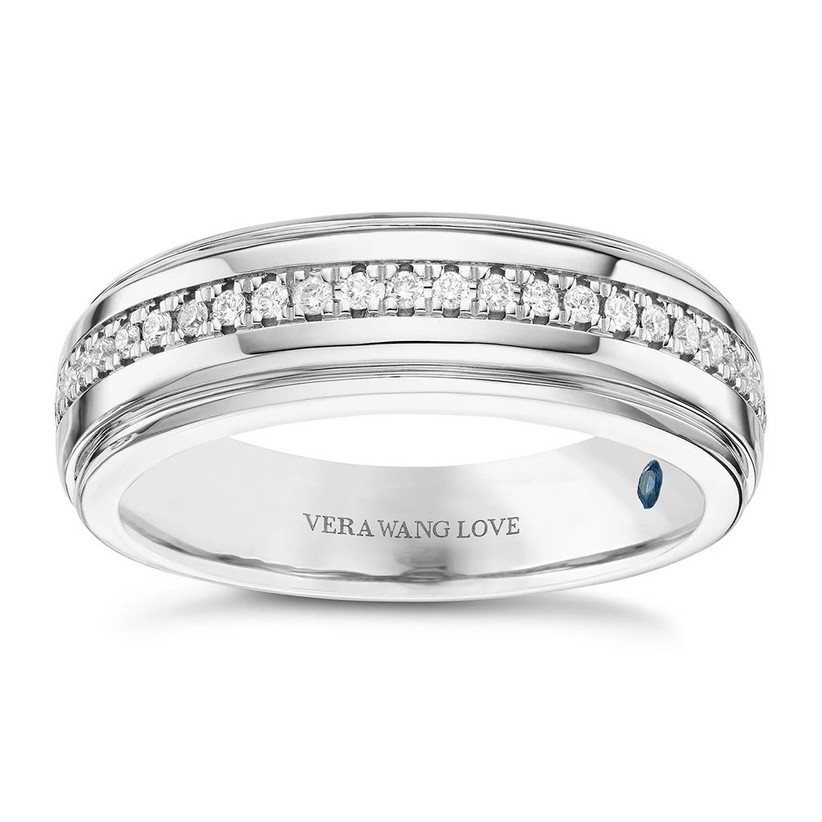 For a men's engagement ring that really makes an impact, we love this twinkling beauty from Vera Wang – available at Ernest Jones. Luxurious white gold frames a band of solitaire diamonds, and the inside of the ring holds a secret sapphire for luck.
18. Cobalt and Diamond Ring – £499, Ernest Jones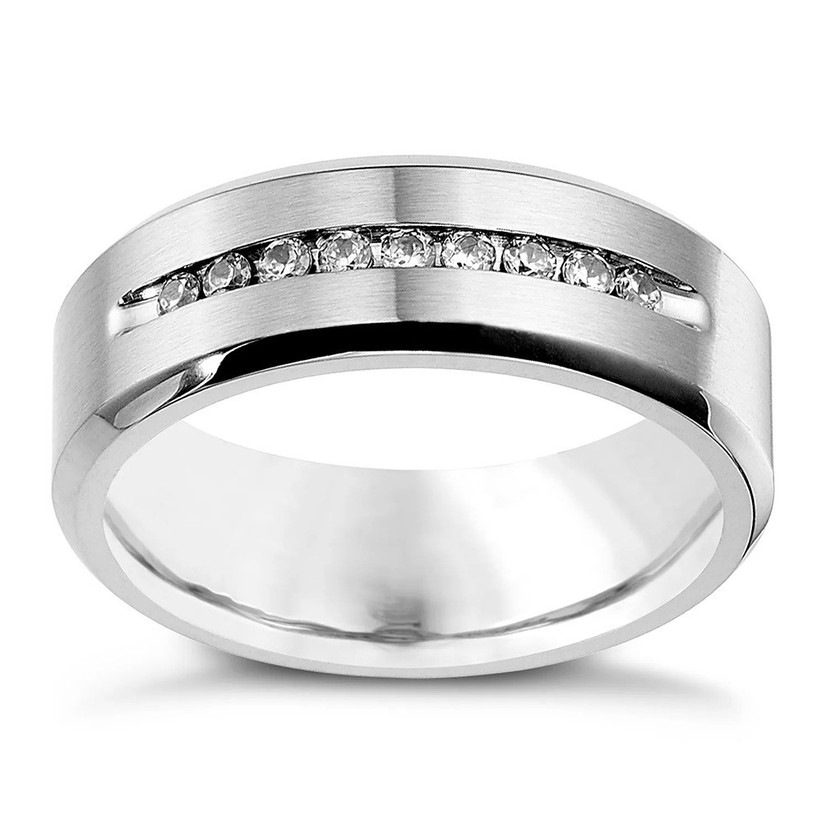 Cobalt is strong and durable, making it a great metal choice for your engagement ring. This pared-back band from Ernest Jones is made extra-special with deep-set diamonds.
19. Black Tungsten Ring – £39.99, Etsy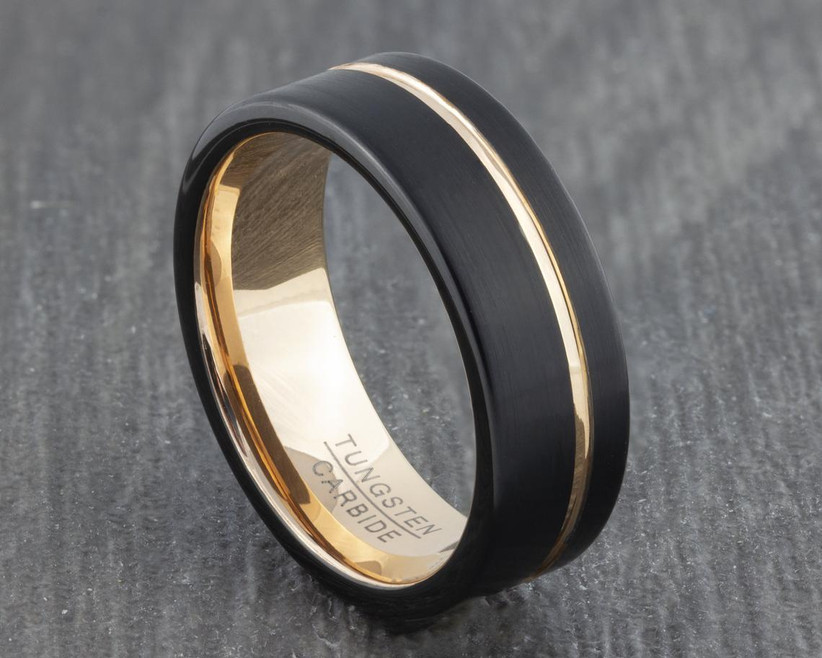 This contemporary design would be an ultra-slick men's engagement ring, crafted from a brushed-finish tungsten. The flash of rose gold is so chic.
20. White Gold and Diamond Men's Ring – £850, Ernest Jones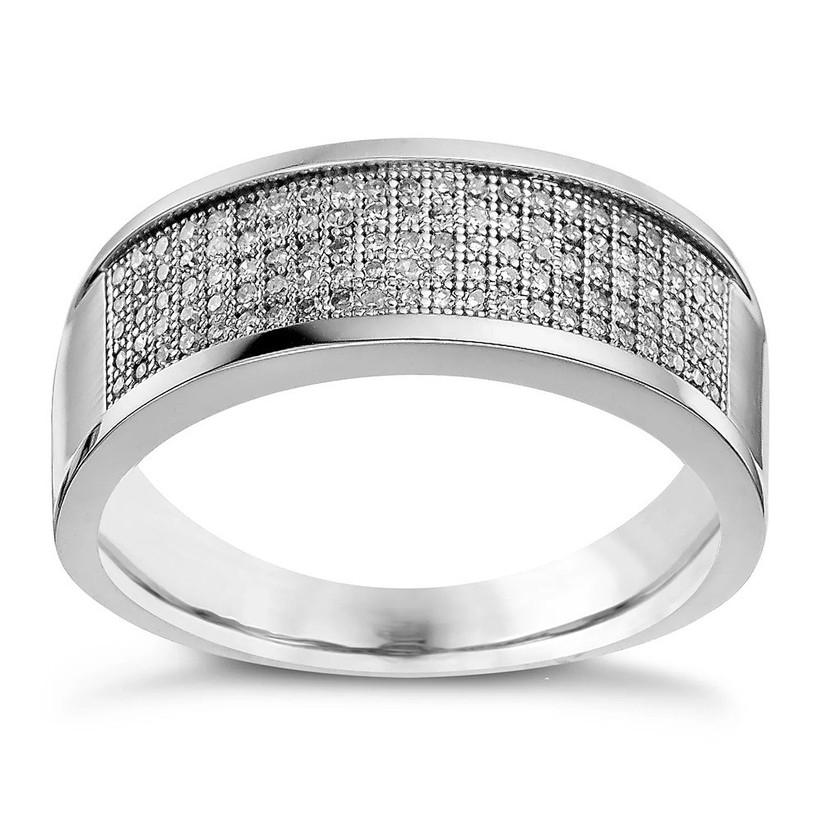 Pave-set diamonds give this men's ring from Ernest Jones some serious sparkle! This dazzling style is perfect for making a style statement.
21. Personalised Men's Script Ring – £69, Etsy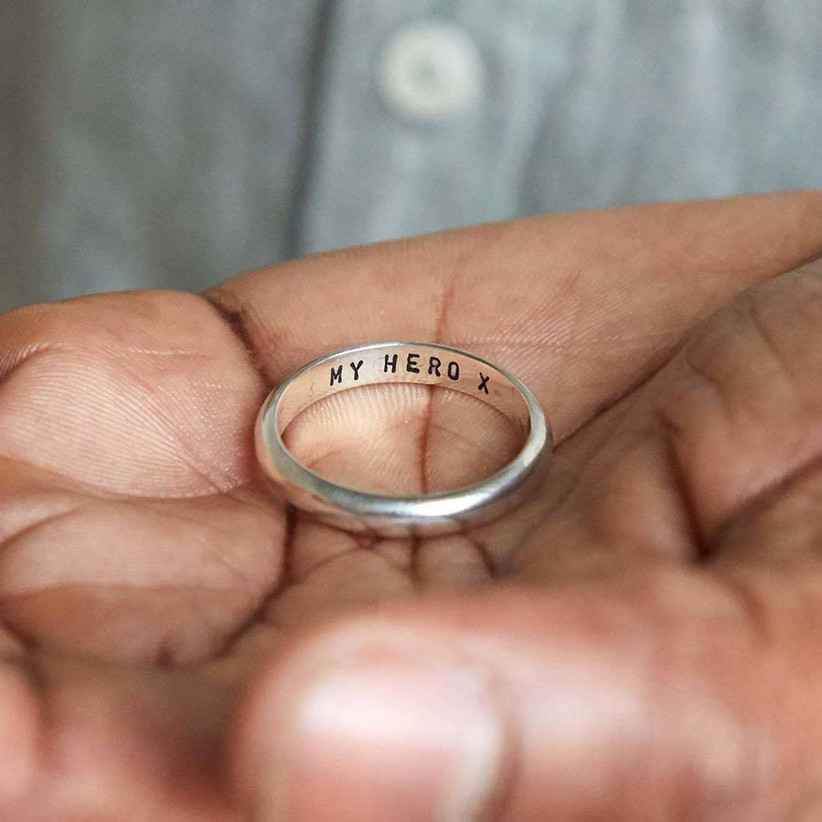 Personalised your engagement ring with a unique message makes it feel extra-special. This simple design can be handstamped with up to 19 characters either inside or outside.
READ MORE: 25 Personalised Anniversary Gifts: Unique Ideas for Every Budget
22. Black Titanium Ring – £199, Ernest Jones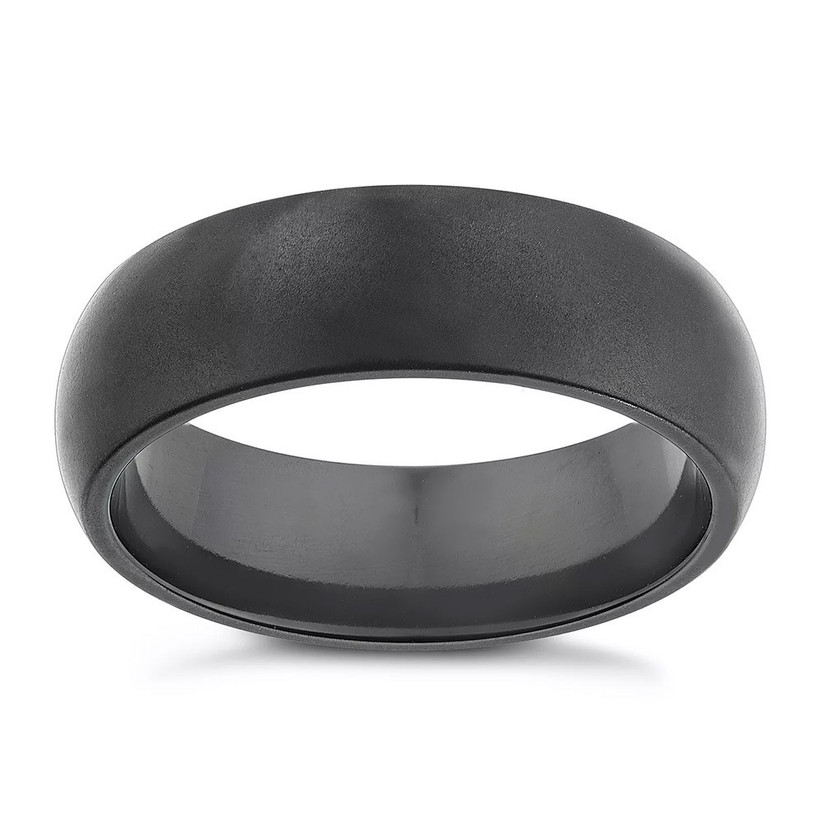 For a men's engagement ring with a difference, this matte black titanium ring from Ernest Jones would be perfect. The black band is stylish, contemporary and clean.
23. Classic Chain Keris Dagger Ring – £1,450, John Hardy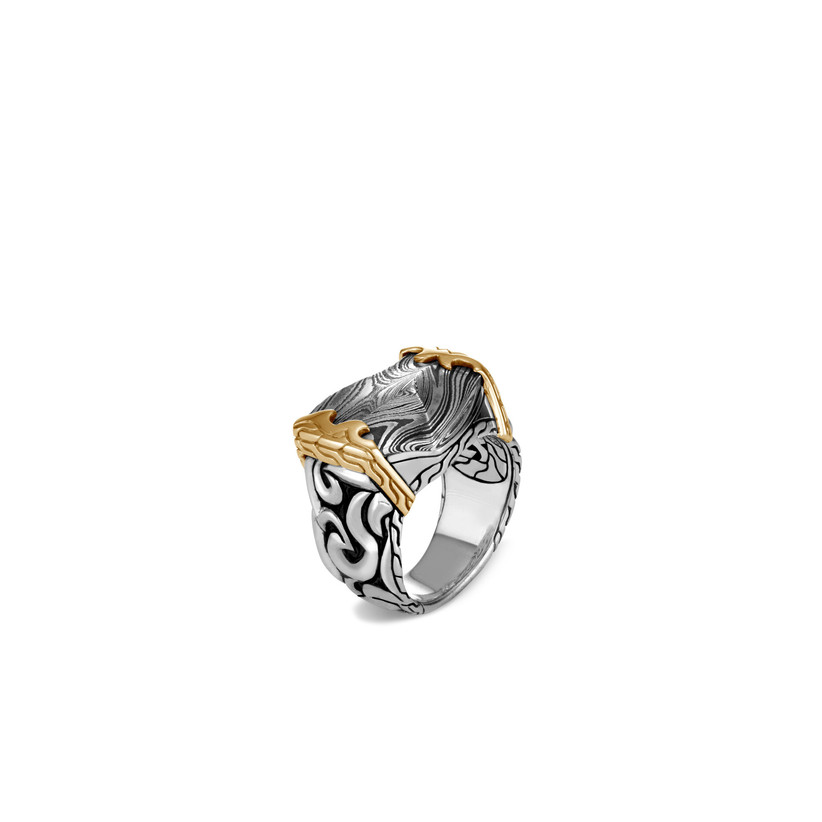 John Hardy is known for powerful jewellery designs, with an emphasis on strength and Balinese heritage. This stunning ring is based on the Indonesian keris dagger, and is crafted from 18ct gold and Damascus steel.
24. Cobalt Polished Sparkle Ring – £125, Ernest Jones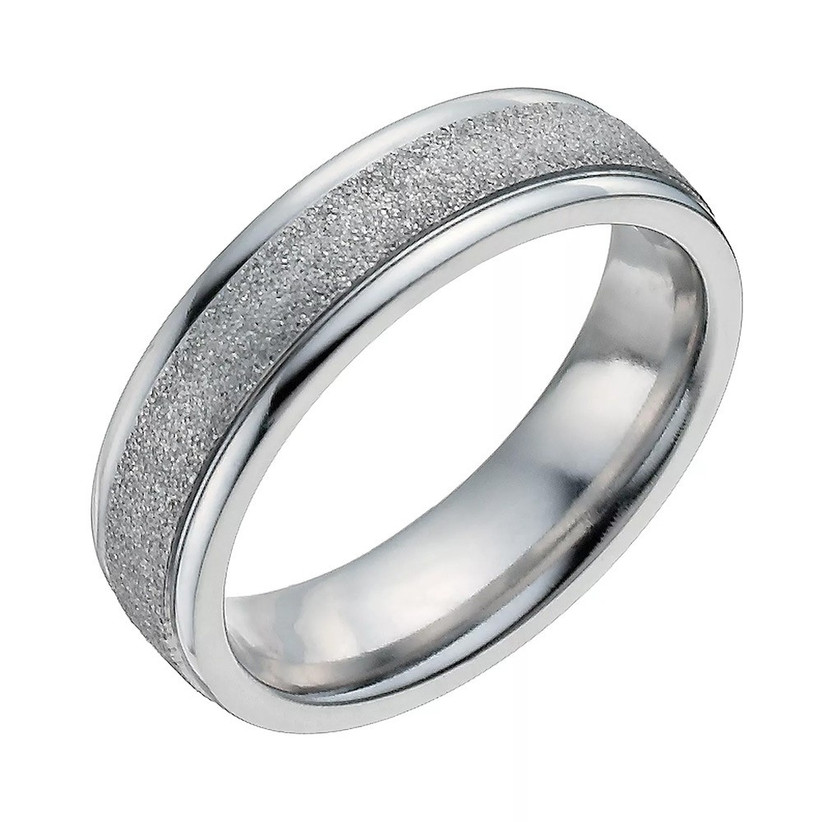 This cobalt ring from Ernest Jones is has a textured middle that gives a glittering finish. If you want some subtle sparkle but diamonds aren't quite your thing, it's an ideal choice.
READ MORE: The Best Christmas Gifts for Men: Unique Presents He Will Love
25. Faceted Gold Ring – from £1,018, Etsy
We love Capucinne's unusual yet timeless jewellery designs, available in the UK on Etsy. This stand-out ring features a hammered gold band with an aquamarine gemstone.
26. Revere Men's Stainless Steel Ring - £24.99, Argos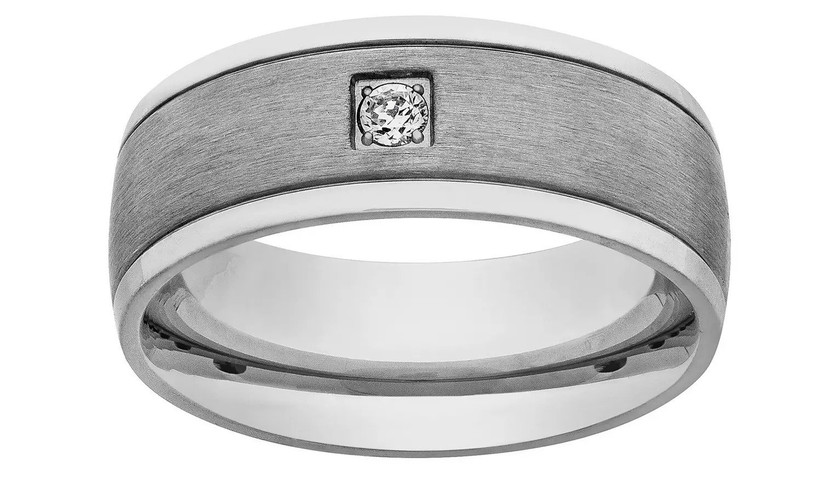 You don't have to spend a fortune to get a men's engagement ring with a sense of style. This Argos design has a cool contrast between matt and polished steel, and features a cubic zirconia for a dash of sparkle.
27. Palladium Textured Men's Ring – £580, Goldsmiths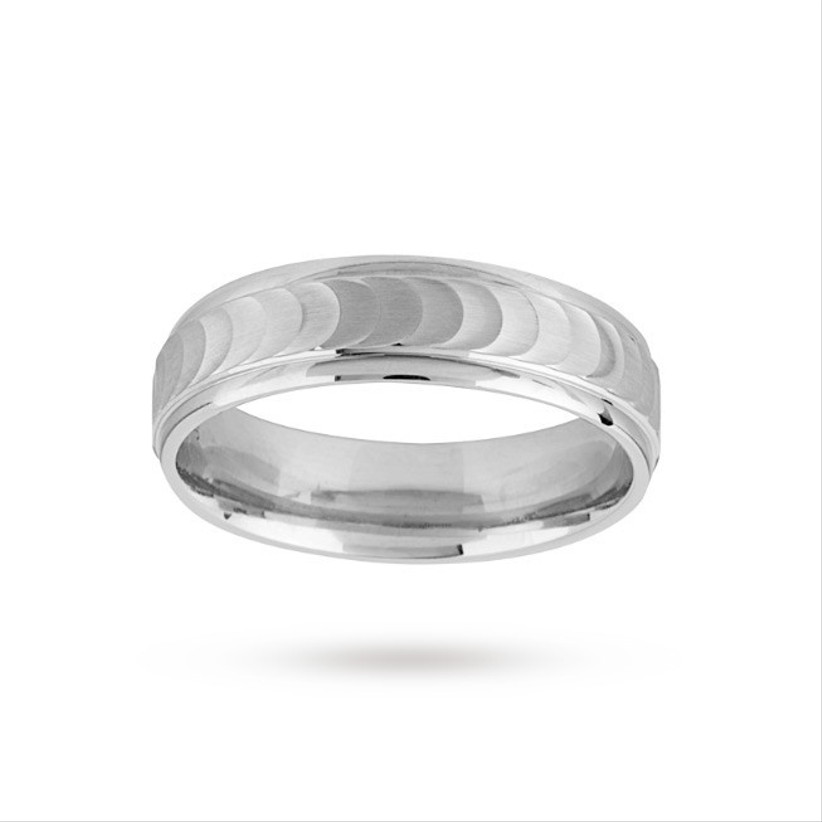 This stylish men's ring from Goldsmiths has a textured finish and can be engraved on the inside with your own special message. We love that this ring has a traditional feel with a unique finish.
You'll have to think about your big-day look at some point. Check out our directory of men's wedding suits for some stress-free style inspiration.