23 of the Best Moissanite Engagement Rings
Almost just as strong as diamond and just a fraction of the cost - moissanite engagement rings are becoming popular for many reasons, find out more about this ethical diamond alternative
We have included third party products to help you navigate and enjoy life's biggest moments. Purchases made through links on this page may earn us a commission.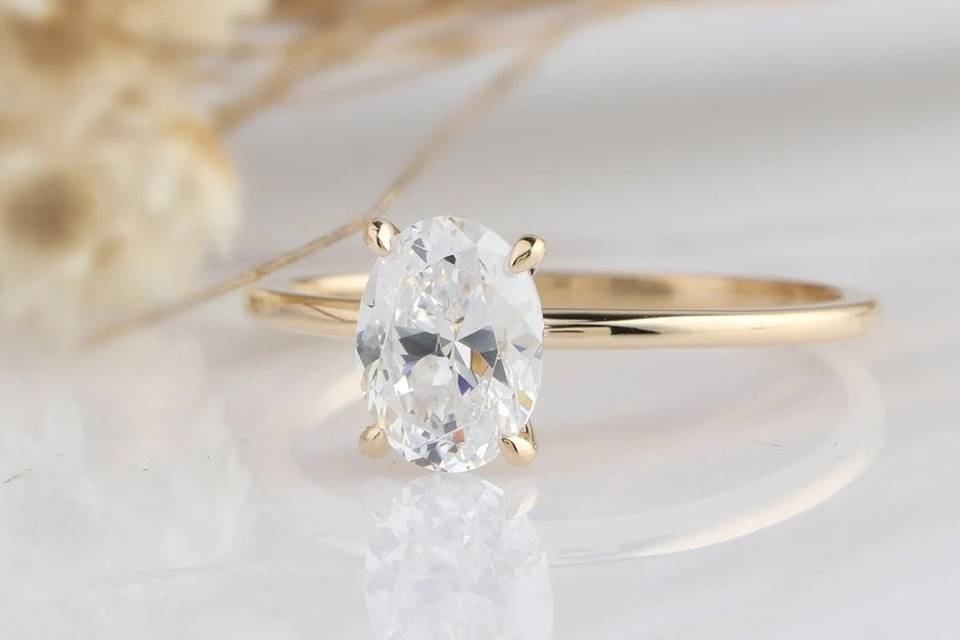 Have you considered a moissanite engagement ring? When it comes to buying an engagement ring, diamonds are always a popular and classic choice. However, the diamond industry has been rocked with many ethical questions, teamed with worries about the impact diamond mining has on the environment.
We always advise you to ensure any diamonds you purchase are sourced conflict-free. However, if you also have concerns about the environmental impact of your ring, then moissanite could be the greener option.
Curious about moissanite? Here is everything you need to know, along with 24 beautiful options for all price ranges and tastes, including stunning moissanite wedding rings.
Moissanite Engagement Rings
1. Emerald Cut Moissanite Engagement Ring - from £675, Flawless Moissanite
Emerald-cut engagement rings never go out of style, and this stunning 2ct moissanite ring from Flawless Moissanite is undeniably a beauty—with maximum sparkle! The main stone is flanked with smaller round stones, all set beautifully in yellow gold–which is having a real renaissance for 2023 and beyond. Because Flawless Moissanite custom makes all their engagement rings, you can select the metal and stone size of your choice and know that whatever you go for, your ring will be sustainable, ethical, and affordable.
Sizing: Custom made, sizes E-Z
Pros & Cons: All their rings are made from the highest-grade moissanite, the hardest part is choosing!
2. Solid Gold Halo Cut Engagement Ring – from £226.19, Etsy
If you are looking for maximum sparkle for your spend then a halo style will give the appearance of a larger ring without blowing your wedding budget. We adore this 14ct white gold halo engagement ring which features a round-cut moissanite in the centre, framed with intricate metalwork and smaller stones. See more gorgeous halo engagement rings here.
Sizing: US4-10
Pros & Cons: Reviews state that the picture does not do this piece justice so you should have no doubts! It'll sparkle from all angles so best suited for those who love shimmer and shine.
3. Cushion Cut Moissanite Engagement Ring – from £509.06, Amazon
Cushion cut engagement rings have an elegant and regal feel and this gorgeous style from Amazon is no exception. A cushion cut moissanite is framed with small round cut stones and is held in a 14ct white gold setting.
Sizing: L, N & P
Pros & Cons: If you have any apprehension about buying your engagement ring from Amazon, this design will have you convinced. Not only will you receive speedy delivery, it is high quality and has over 60 five-star reviews.
4. Sapphire and Moissanite Engagement Ring – from £256.05, Etsy
Why not have your engagement ring be your something blue? We are in love with this dainty blue sapphire ring that is framed by two small moissanite stones. It's the perfect way to add some colour to your jewellery and it would work beautifully with a rose gold wedding band. You'll find even more stunning sapphire engagement rings here.
Sizing: US3-10
Pros & Cons: Similar to diamonds, moissanite doesn't have to be the centre stone for your engagement ring. We adore how these gems accompany the sapphire and give an extra level of sparkle.
5. Vintage Grey Moissanite Engagement Ring – £29.70, Etsy
Grey diamonds have been having a moment lately so it's only fair that grey moissanite also takes its turn in the spotlight. This vintage style ring includes a grey moissanite stone in the centre and an understated band.
Sizing: US8.5
Pros & Cons: This is a contemporary design that cool couples are bound to adore. The band is slightly thicker than you typically see, which gives it a unique element.
READ MORE: Emerald Engagement Rings: 17 Glittering Designs
6. Antique Moissanite Engagement Ring – from £705.05, Etsy
This pretty rose gold engagement ring exudes art deco style and would be ideal if you have been searching for an affordable vintage design. A centre stone is framed with a mix of smaller stones to give this elegant snowflake effect.
Sizing: US3-9.5
Pros & Cons: If a Christmas proposal is on the cards, can you imagine a more fitting ring design? The decadent design might catch on clothing so be mindful of that.
7. Pear-Shaped Moissanite Engagement Ring – from £945, Etsy
A pear-shaped engagement ring would be a beautiful choice for a partner who wants something a little out of the ordinary. This pear design is available in gold, platinum, rose gold and white gold - it is sure to make a statement whatever finish you go for.
Sizing: US3-10
Pros & Cons: This is a brilliant price for such a large centre stone. It might be simple but trust us when we say that this engagement ring won't go unnoticed.
8. Cushion Cut Moissanite Rose Gold Engagement Ring - from £71.70, Etsy
This cushion-cut moissanite ring has us swooning. Two pear-shaped diamonds frame the centre stone on a dainty rose gold band. It doesn't get much more romantic than this, and for less than £100, it doesn't get much more affordable either.
Sizing: US3-12
Pros & Cons: The setting on this ring is elevated, so keep this in mind when choosing a wedding band to sit next to it. It's far from bulky, but it will make a statement.
9. Moissanite 9ct Gold Stacking Ring - £155, Etsy
For newlyweds-to-be who prefer an understated aesthetic, this lovely little piece is everything you could ever wish for. It's cool and contemporary, plus it's proof moissanite diamonds are super affordable if you look in the right places.
Sizing: G-S.5
Pros & Cons: This engagement ring is delicate and dainty, which means it is perfect for stacking. If your partner already wears a lot of rings, it'll fit in nicely to their collection.
10. Moissanite Leaf Engagement Ring - from £1,031, Etsy
Handmade and designed to order, these lovely leaf engagement rings are especially impressive due to their unique setting. It is available in white, yellow or rose gold, plus platinum, so you can pick a finish to suit your taste. Planning an outdoor proposal? This one's for you.
Sizing: Made to Order
Pros & Cons: As this ring is made to order, it'll fit your partner like a glove. The attention to detail on this design is exceptional - they won't be able to stop staring!
READ MORE: Halo Engagement Rings – Our Favourite Dazzling Designs
11. Moissanite Engagement Ring - from £504, Etsy
You can buy this classic yet modern Forever For Love design in yellow gold, rose gold or white gold, depending on your preference. It offers the same amount of sparkle as a halo design but in a more understated way which is ideal for stylish couples.
Sizing: US3-8.5
Pros & Cons: This company offers a free engraving service so you can add an extra special touch to your accessory. It also comes with a certificate of authenticity and a lifetime warranty if you are a little wary.
12. Vintage-Style Moissanite Engagement Ring – from £387.38, Etsy
You can instantly see the vintage inspiration behind this striking moissanite ring. The cluster halo design is so unique – we'd rank this very high on the wow factor stakes. It's an absolute bargain at less than £400 and can be made from rose, white, yellow gold or silver.
Sizing: US3-9
Pros & Cons: This spectacular ring certainly won't go un-noticed on your other half's finger! Be careful that the intricate design doesn't snag on anything.
Oval Moissanite Engagement Rings
13. Oval Gold Moissanite Diamond Ring – £32.63, Etsy,
Moissanite is a simulated diamond, so be sure to include this in your search terms too. You'll stumble across lots of lovely options like this elegant ring, which has a simulated diamond in a hammered three-carat gold band.
Sizing: US4-11
Pros & Cons: The price of this beautiful ring is amazing. Reviews state to be mindful of shipping time - we recommend allowing at least a month before you plan on popping the question.
14. Solid Gold and Simulated Diamond Engagement Ring – from £205.09, Etsy
If you know your other half wants the look of a traditional diamond then you could consider this simulated diamond. It'll look just as gorgeous, without a hefty price tag. We adore this modern oval-shaped stone mounted onto a solid gold band. It reminds us of Kourtney Kardashian's oval engagement ring!
Sizing: US3-11
Pros & Cons: Reviews state that it looks just like a real diamond - sparkling, delicate and high quality. The simplicity of this design actually makes more of a statement.
15. Oval Moissanite Engagement Ring – from £693.07, Etsy
Add some vintage style with this gorgeous moissanite engagement ring from Molly Jewelry. An oval moissanite stone is framed by real diamonds for some added sparkle. This pretty design can be created for you in gold, palladium, rose gold or white gold.
Sizing: Made to Order
Pros & Cons: Reviews comment that the clarity of this ring is amazing which gives it a twinkling finish. It's not your traditional vintage design, but it features gorgeous elements of times gone by.
READ MORE: What is Morganite? Everything You Need to Know About the Engagement Ring Trend
16. White Gold Moissanite Oval-Cut Engagement Ring – from £673.05, Etsy
We adore the elegant and dainty style of this oval engagement ring from NY Fine Jewelry. This unfussy vintage design is perfect for those who want a classic look but also have something with a unique edge. The band can be finished in rose gold, yellow gold, white gold or platinum.
Sizing: Made to Order
Pros & Cons: The rounded band ensures a comfortable fit which is vital for everyday wear. This is a simple style that is ideal for minimalistic couples but if you wanted to elevate it, you could pair it with an embellished wedding band.
17. Oval Cut Solid 14ct Yellow Gold Engagement Ring - from £143, Etsy
Buy this stunning standout ring in either sterling silver or solid 14k yellow gold, depending on your taste and budget. It boasts a gorgeous oval cut with claw detailing that gives it a classic and traditional feel.
Sizing: US4-12.5
Pros & Cons: If you aren't sure on your partner's preference, a style like this is a fail-safe option. It is understated but incredibly impressive thanks to the size of that centre stone.
18. Oval Moissanite Engagement Ring - from £289.35, Etsy
Your partner's finger will glitter with this multi-stone moissanite ring. We love this gem, which sits on a white gold band for a classic look. The band isn't just embellished with moissanites, it is truly encrusted for a dazzling finish.
Sizing: US4-9
Pros & Cons: While we are big fans of the white gold, it is also available in rose or yellow gold for a warmer look. Some reviews state that it may take a few weeks to arrive, so order with plenty of time before the proposal date.
19. Oval Cut Pear Shaped Moissanite Ring - from £682.50, Etsy
Why have just one stone when you can have three? And why settle for one shape when you can invest in two? This ring by Forever For Love is a covetable piece that combines an oval centre stone flanked by two delicate pears.
Sizing: US3-9
Pros & Cons: All rings are sent in a gorgeous velvet engagement ring box. There are several carat options available so it can cater to lots of different budgets.
Emerald Cut Moissanite Engagement Rings
20.

Moissanite

Aimee Lab Diamond Ring

– £2,930, Brilliant Earth
An engagement ring from Brilliant Earth will never disappoint - just look at the dazzling design above! It's a unique piece, with an emerald cut moissanite centre and a yellow gold band adorned with twinkling gems.
Sizing: US3-9
Pros & Cons: You'll receive exceptional quality if you opt for this ring which is incredibly important for a ring that you want to last a lifetime. It's one of the more expensive options but it is totally worth it.
READ MORE: The Dreamiest Rose Gold Engagement Rings
21.

Moissanite

and

D

iamond

E

merald

C

ut

E

ngagement

R

ing – from £1,261, Etsy
If you want to keep your engagement ring choice a classic one, then this moissanite and diamond emerald cut ring is sure to impress. Available in a range of golds, it is decorated with eye-catching diamond accents.
Sizing: Made to Order
Pros & Cons: This engagement ring features ten sparkling stones - all with different cuts for an unusual finish. It is traditional but far from boring.
Moissanite Wedding Rings
22. 14k Yellow Gold Moissanite Wedding Band

– from £311.31, Etsy
Glamorous and chic, this round cut moissanite wedding band is perfection. Available in different gold varieties, you can easily choose a metal that matches the engagement ring. You just have to read the rave reviews to be convinced!
Sizing: US3-12
Pros & Cons: You'll receive a two week money back guarantee, should this not be a style that fits with your engagement ring but we don't think that this will be a problem as it is such a versatile design.
23. Oval Cut White Gold Moissanite Wedding Band

– from £92.14, Etsy
If you have a minimalistic engagement ring and want to elevate it to an extra level, a dazzling moissanite wedding band like this design is an affordable way to do so. Starting at less than £100, the band is covered in sparkling gems that will twinkle under lights.
Sizing: US4-12
Pros & Cons: As this is a slightly thicker wedding ring, it is best suited to an engagement ring with a dainty band. You may even wish to wear it everyday as an alternative to your engagement ring.
What Is a Moissanite Engagement Ring?
Similar in appearance to a diamond, moissanite comes from silicon carbide and is one of the hardest known substances, ranked just below diamond. Moissanite also comes in at a fraction of the cost of a diamond, so it's also a great budget-friendly option.
Is Moissanite Good for an Engagement Ring?
Moissanite has many similar qualities to diamonds, including its look and durability. If you are wondering should I get a moissanite engagement ring, this is really up to personal preference. Some couples will prefer to save money and purchase this durable but cost-friendly stone, others will like the idea of a real diamond.
Is a Moissanite Engagement Ring Tacky?
There is nothing tacky about a moissanite engagement ring! You get more flashy sparkle and colourful radiance than a diamond, at a more affordable price, and you can be confident that it's been ethically produced. At a glance, you wouldn't be able to tell the difference between a moissanite and a diamond, but an expert jeweller could. Pick wisely and you can find yourself with a super sparkly, impressive and expensive-looking ring that can rival diamond options.
Is Moissanite Conflict-Free?
Moissanite is conflict-free, as it is lab-grown. Lab-grown gems such as moissanite come without any ethical considerations, unlike diamonds. It is more affordable, and in many scenarios, more environmentally friendly too than mined stones.
Does Moissanite Get Cloudy?
Moissanite will not yellow or go cloudy over time, making it a great choice for an engagement ring. It has a colourful sparkle to it, whereas the sparkle in a diamond is more white-toned.
How Much Does Moissanite Cost?
This really depends on where you buy your ring, what the setting looks like, and the quality of the stone. In general, moissanite is more affordable than diamond, making it a great option for those on a budget.
If you are still looking for your perfect engagement ring, our ultimate guide to buying an engagement ring will be able to help