When it comes to buying an engagement ring, diamonds are always a popular and classic choice. However, the diamond industry has been rocked with many ethical questions, teamed with worries about the impact diamond mining has on the environment.
We always advise you ensure any diamonds you purchase are sourced conflict-free. However, if you also have concerns on the environmental impact of your ring then moissanite could be the greener option.
Curious about moissanite? Here is everything you need to know, along with 30 beautiful options for all price ranges and tastes.
NB: We have included third party products to help you navigate and enjoy life's biggest moments. Purchases made through links on this page may earn us a commission.
What is Moissanite?
Similar in appearance to a diamond, moissanite comes from silicon carbide and is one of the hardest known substances, ranked just below diamond. Moissanite also comes in at a fraction of the cost of a diamond so is also a great budget friendly option.
Is Moissanite Good for Engagement Rings?
Moissanite has many similar qualities to diamonds, including its look and durability. If you are deciding whether you want to choose a moissanite engagement ring over a diamond one, this is really up to personal preference. Some couples will prefer to save money and purchase this durable but cost-friendly stone, others will like the idea of a real diamond.
Do Moissanite Rings Look Fake?
At a glance you wouldn't be able to tell the difference between a moissanite and a diamond, but an expert jeweller could. It would also depend on the quality of stone you buy as the colour and cut can make a big difference. Pick wisely and you can find yourself with a super sparkly, impressive and expensive-looking ring that can rival diamond options.
Is Moissanite Conflict-Free?
Moissanite can be found naturally occurring and also can be created in a lab, therefore is conflict-free.
Does Moissanite get Cloudy?
Moissanite will not yellow or go cloudy over time, making it a great choice for an engagement ring.
How Much Does Moissanite Cost?
This really depends on where you buy your ring, what the setting looks like, and the quality of the stone. In general, moissanite is more affordable than diamond, making it a great option for those on a budget.
If you are still looking for your perfect engagement ring then our ultimate guide to buying an engagement ring will be able to help.
The 30 Best Moissanite Engagement Rings for 2020
1. Oval Moissanite Engagement Ring – £
463.11

, Molly Jewelry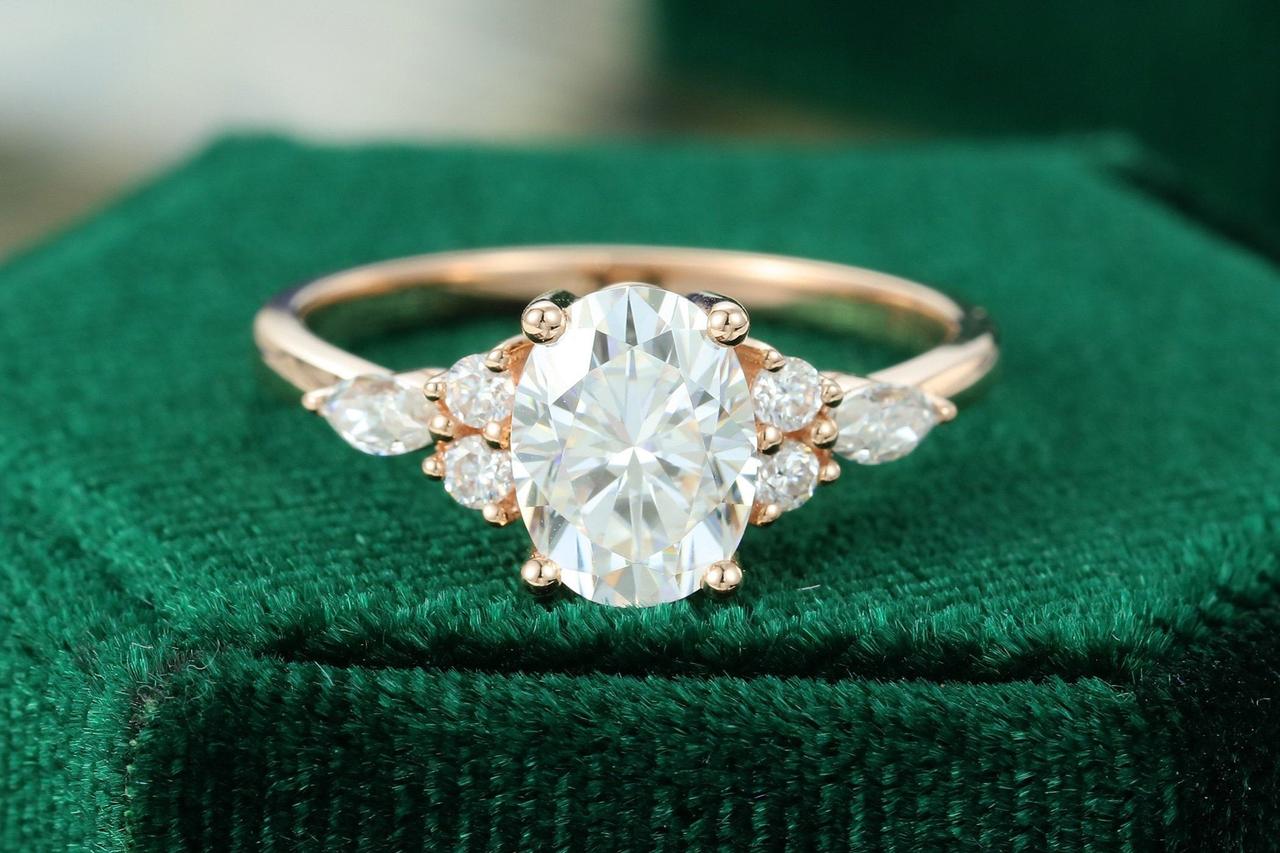 Add some vintage style with this gorgeous moissanite engagement ring from Molly Jewelry. An oval moissanite stone is framed by real diamonds for some added sparkle. This pretty design can be created for you in gold, palladium, rose gold or white gold.
2. Solid Gold Halo Cut Engagement Ring – £209, Yeefvm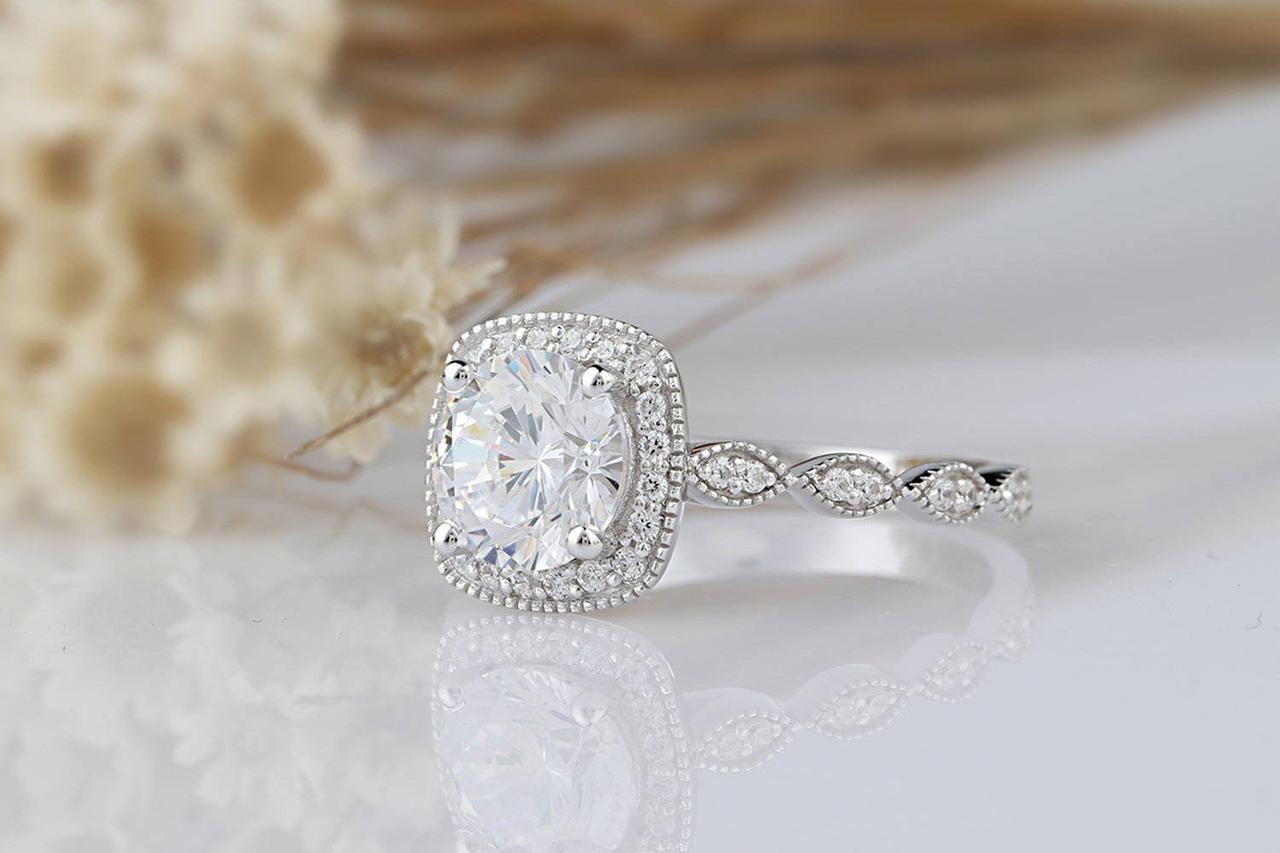 If you are looking for maximum sparkle for your spend then a halo style will give the appearance of a larger ring without blowing your wedding budget. We adore this 14ct white gold halo engagement ring which features a round cut moissanite in the centre, framed with intricate metalwork and smaller stones.
READ MORE: Halo Engagement Rings – Our Favourite Dazzling Designs
3. Cushion Cut Moissanite Engagement Ring – £466.13, Amazon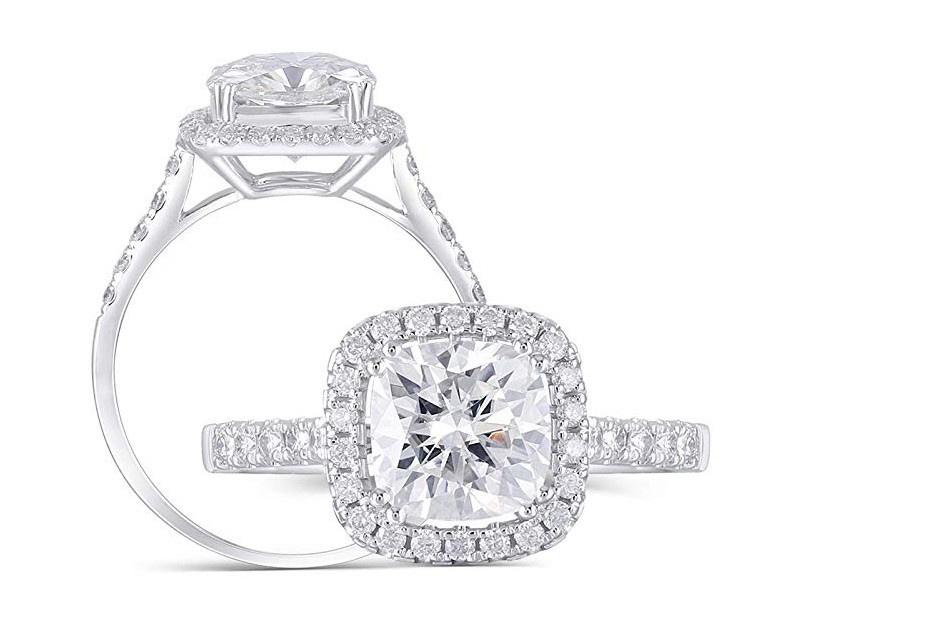 Cushion cut engagement rings have an elegant and regal feel and this gorgeous style from Amazon is no exception. A cushion cut moissanite is framed with small round cut stones and is held in a 14ct white gold setting.
4. Moissanite Elodie Ring – £1,550, Brilliant Earth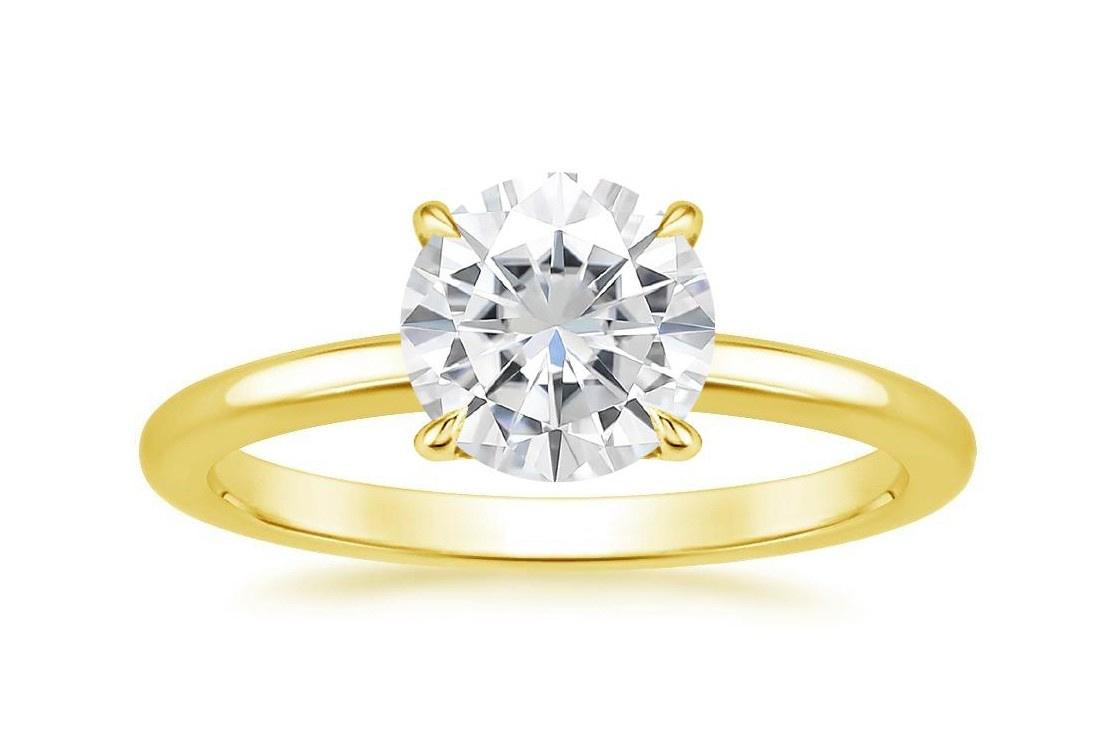 If you want to keep your engagement ring choice a classic one then this premium colourless round moissanite is held on a polished 18ct yellow gold band with a traditional four prong setting. Choose from a rose gold, white gold, yellow gold or platinum setting and you can also choose from a range of stone shapes – including round, cushion, oval, square and emerald cut.
READ MORE: What is Morganite? Everything You Need to Know About the Engagement Ring Trend
5. Rose Gold Moissanite Engagement Ring – £444.64, NY Fine Jewelry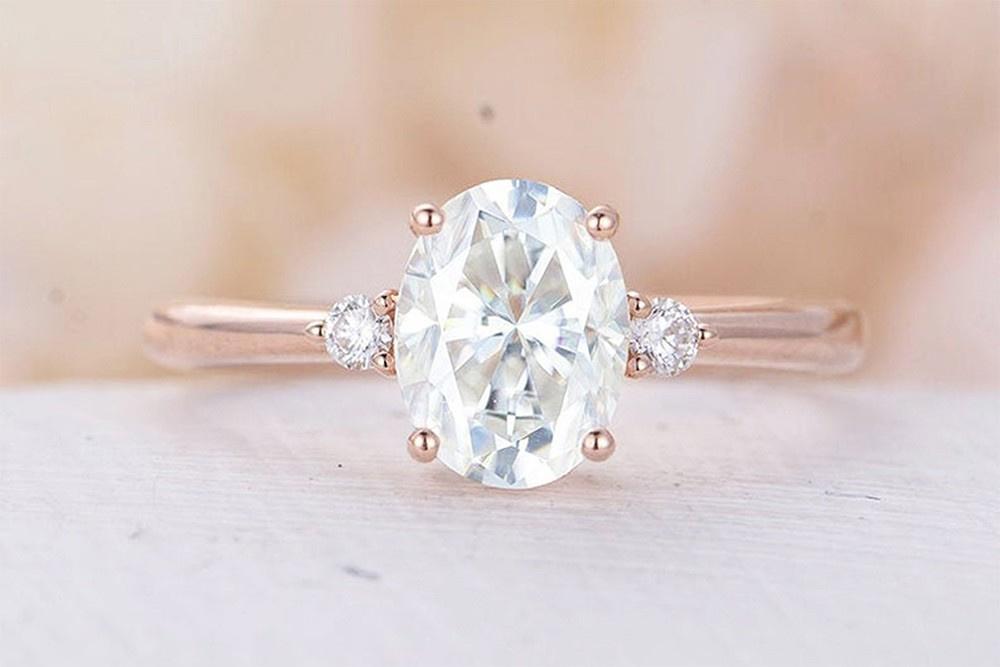 We adore the elegant and dainty style of this oval engagement ring from NY Fine Jewelry. This unfussy vintage design is perfect for brides who want a classic look but to also have something with a unique edge. The band can be be finished in rose gold, yellow gold, white gold or platinum.
READ MORE: Dreamy Rose Gold Engagement Rings
6. Sapphire and Moissanite Engagement Ring – £208.42, The Aladdins Cave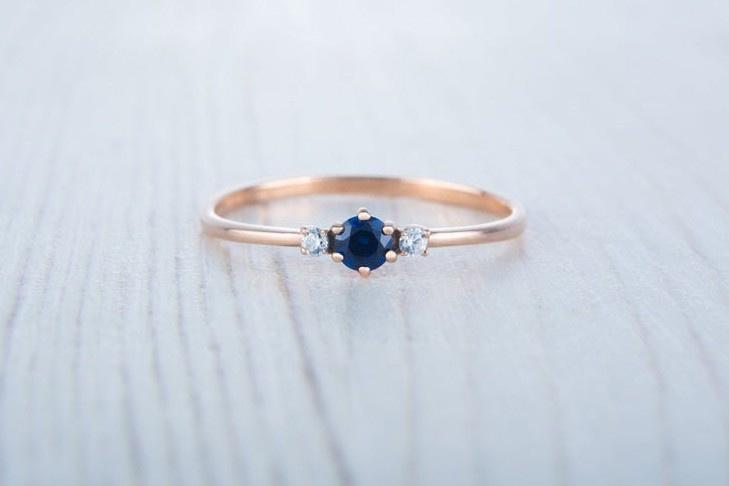 Why not have your engagement ring be your something blue? We are in love with this danity blue sapphire ring that is framed by two small moissanite stones. It's the perfect way to add some colour to your jewellery and it would work beautifully with a rose gold wedding band.
READ MORE: Sapphire Engagement Rings – Our Favourite Sparkling Styles
7. Vintage Grey Moissanite Engagement Ring – £547.62, Handcraft Ring Co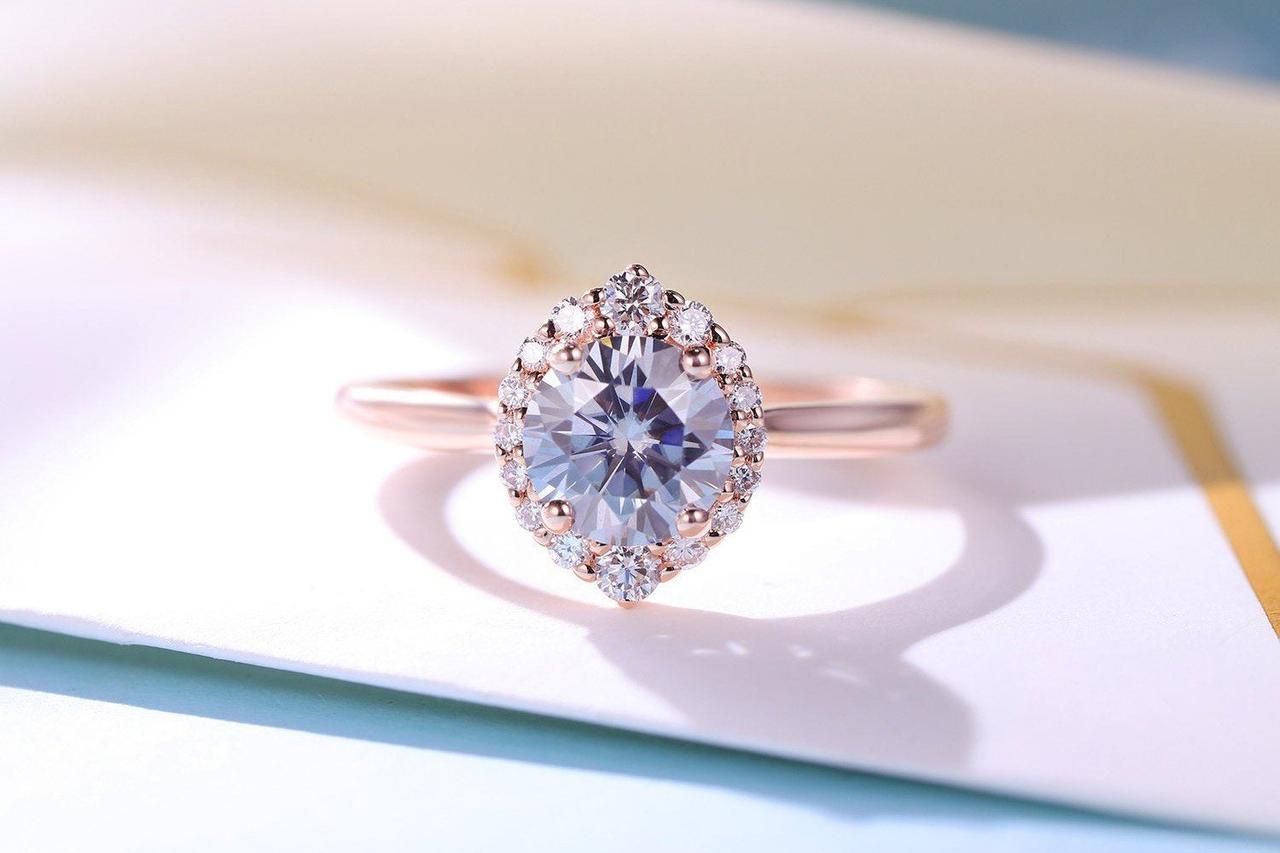 Grey diamonds have been having a moment lately so it's only fair that grey moissanite also take its turn in the spotlight. This vintage style ring includes a bold grey moissanite stone in the centre and is framed by your choice of diamonds or small clear moissanites. You also have your choice of a rose gold, white gold or yellow gold band.
8. Moissanite Willow Ring – £1920, Brilliant Earth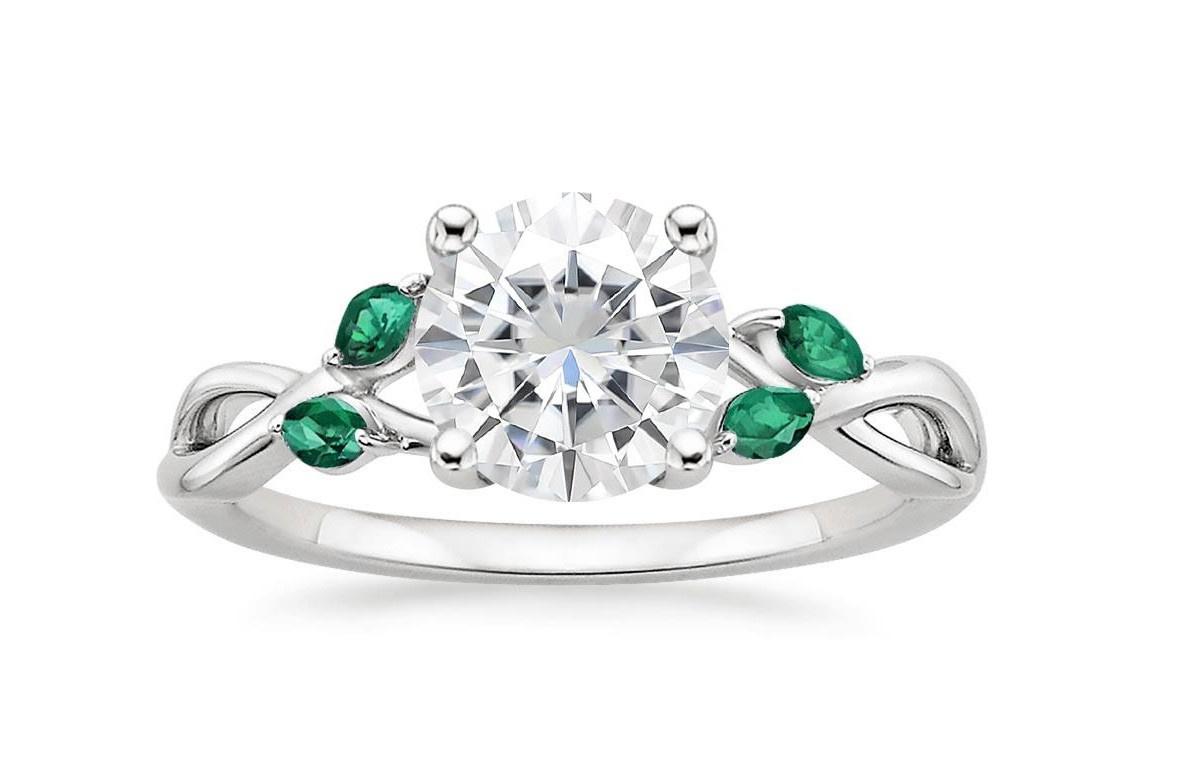 It's the intricate design of this ring that makes it so special. A solitaire cut centrestone is accented with a sprinkling of emeralds and then wispy vines intertwine to hold the stones in place for a whimsical finish.
READ MORE: Emerald Engagement Rings: 17 Glittering Designs
9. Antique Moissanite Engagement Ring – £518.09, Handcraft Ring Co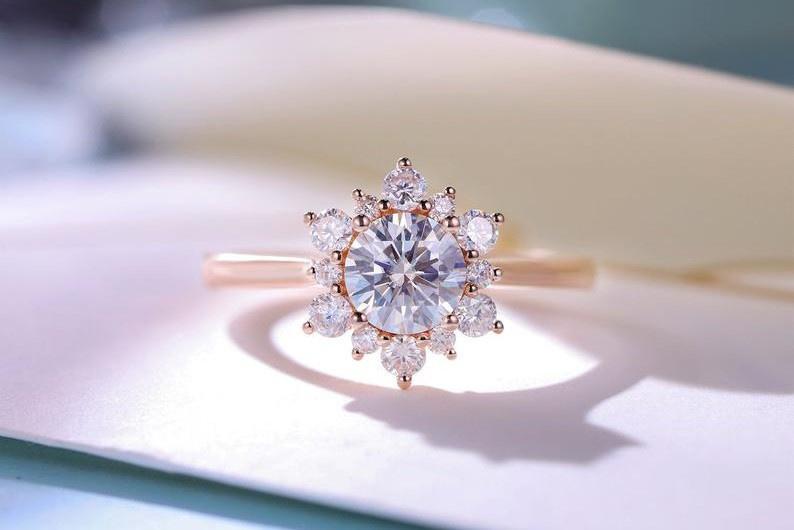 This pretty rose gold engagement ring oozes art deco style and would be ideal if you have been searching for an affordable vintage design. A centre stone is framed with a mix of smaller stones to give this elegant snowflake effect.
READ MORE: 31 Beautiful Moonstone Engagement Rings for Alternative Brides
10. Pear-Shaped Moissanite Engagement Ring – £556.96, Hello Ring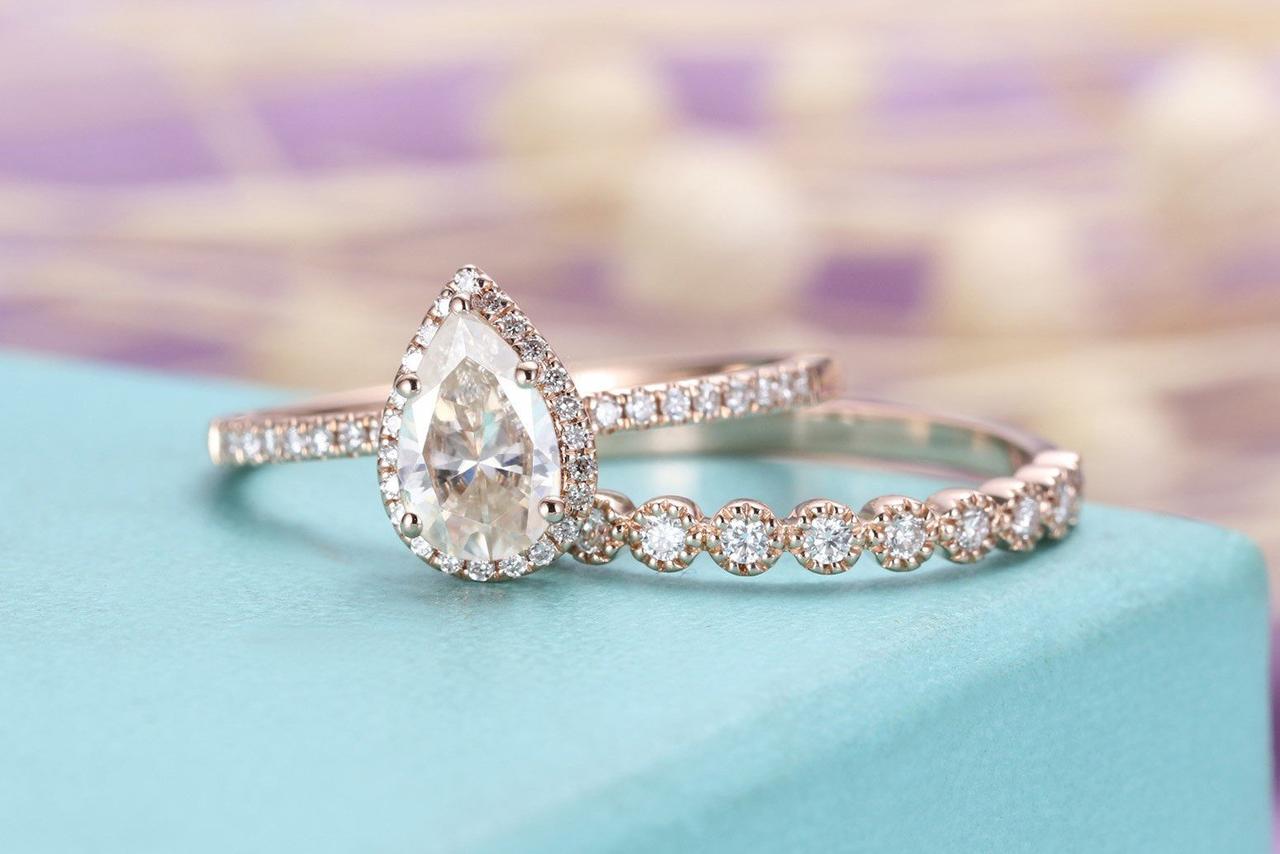 A pear-shaped engagement ring would be a beautiful choice for a bride who wants something a little out of the ordinary. This pear design comes surrounded by a halo of smaller cut stones and the raised setting makes it perfect for stacking.
11. Forever One Moissanite Engagement Ring – £730.69, Steve Art Store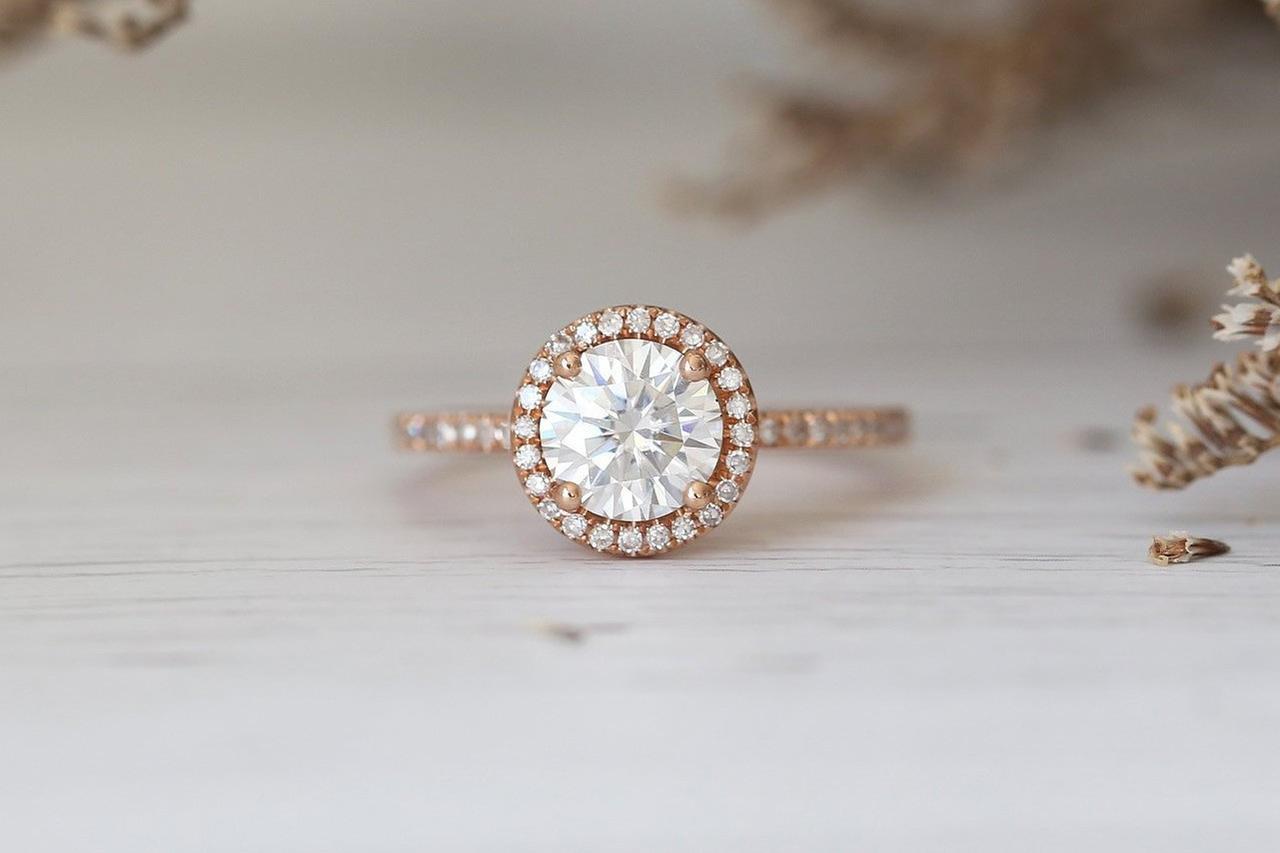 We love the neat and precise design of this rose gold engagement ring. The moissanite centrestone is the equivalent size to a 1ct diamond and each ring is handmade to order. You can also choose a different centrestone and have a choice of metals so you can make this ring really feel like your own.
12. Emerald Cut Moissanite Engagement Ring - £790, Diorah Jewellery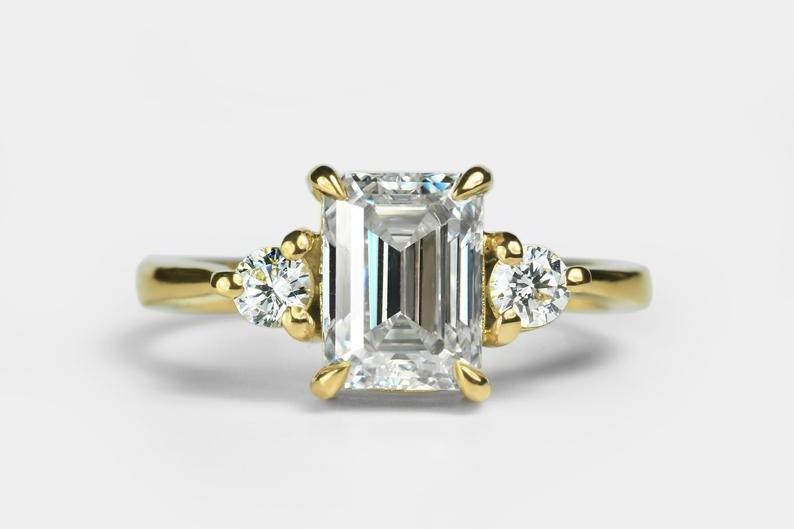 Traditionally used as a cut for emeralds – hence the name – an emerald cut stone has step cuts that give it its unique finish. We love how this design has kept it classic with just two simple round stones either side and a gold band with a polished finish.
13. 18ct Two Toned Rose Gold Oval Solitaire Ring - £996, Lily Arkwright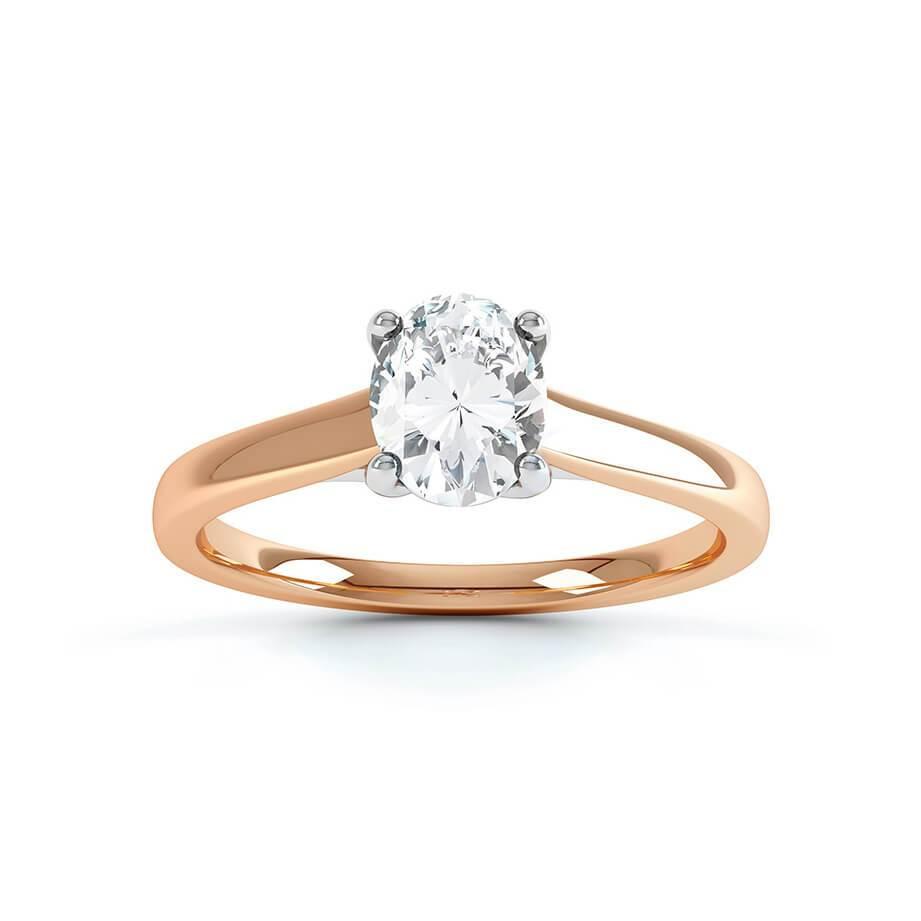 This Charles & Colvard option features 18ct two-toned rose and white gold, along with a unique stone and a unique band.
14. 18ct Yellow Gold Princess Solitaire Ring - £960, Lily Arkwright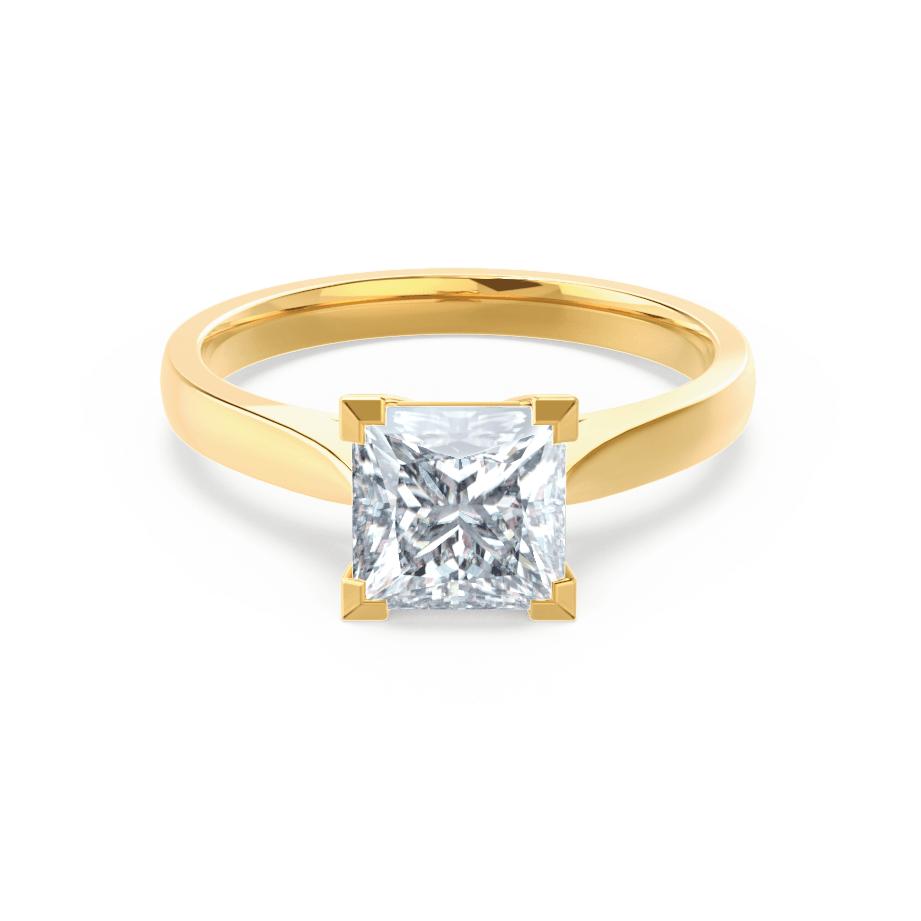 The Rosalee ring has a unique raised princess square cut, and is available to buy also in white gold, rose gold, and platinum.
15. Moissanite 18ct Yellow Gold Trilogy Ring - £907, Lily Arkwright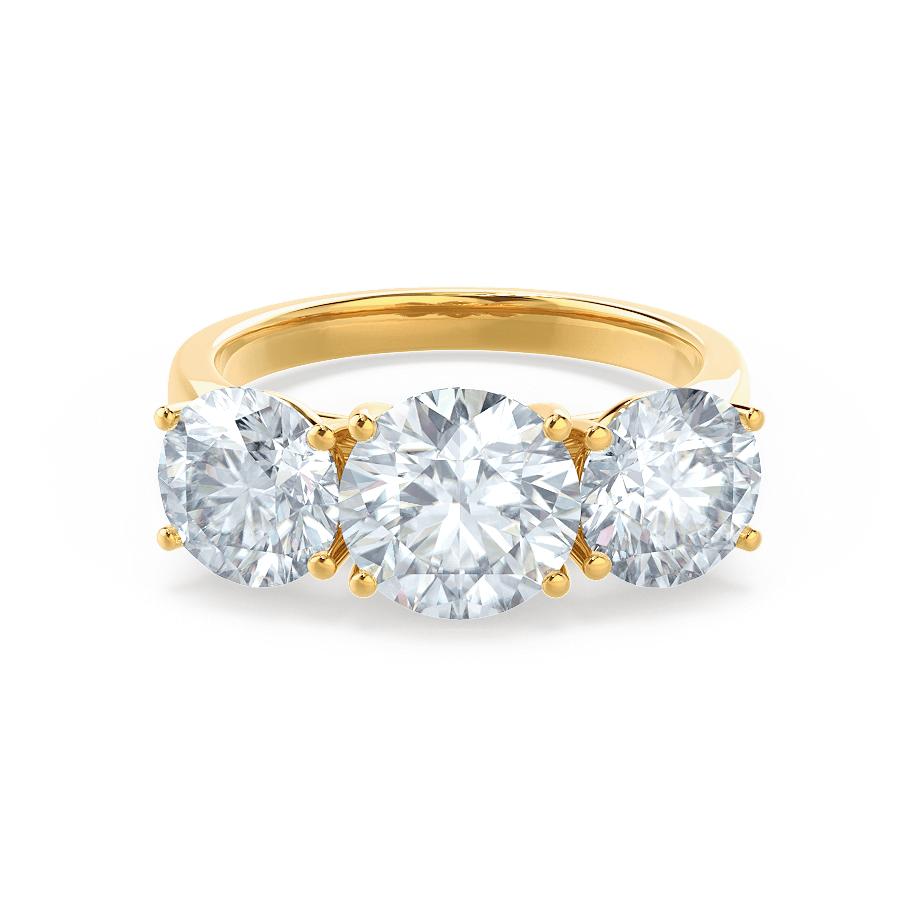 This stunning Leanora style has an impressive three stone setting for that extra hit of drama. It's also available to order in white gold, rose gold, and platinum.
16. Moissanite 18ct Yellow Gold Shoulder Set Ring - £1055, Lily Arkwright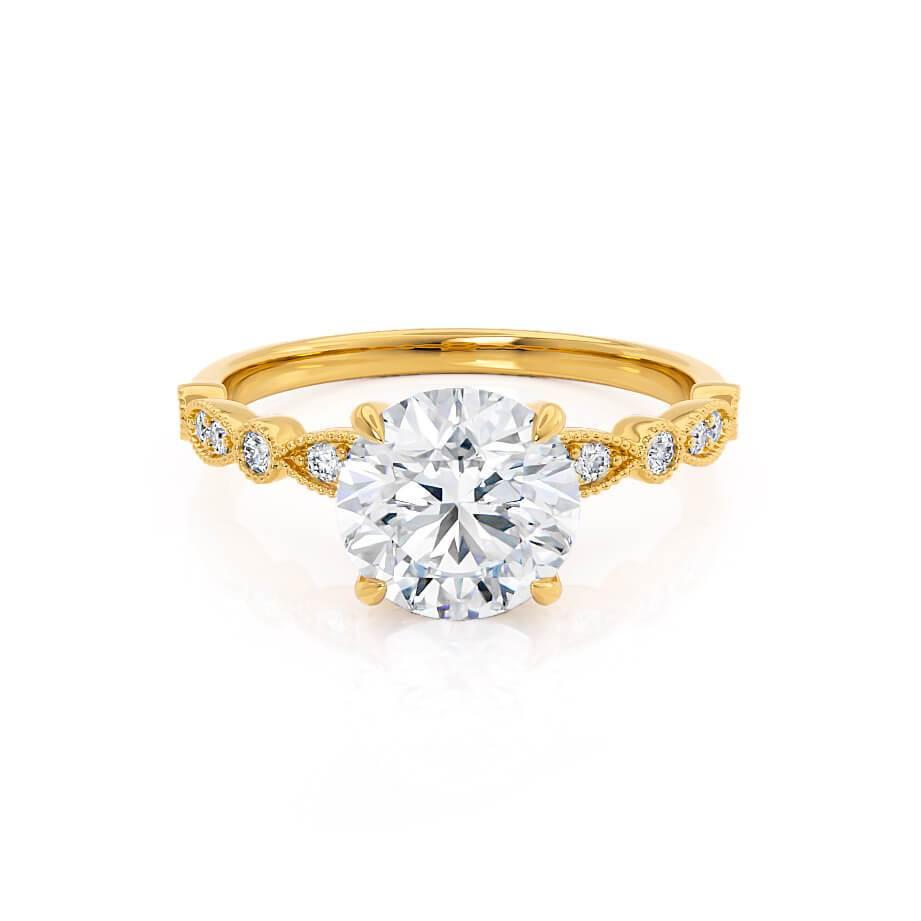 Sometimes, one moissanite stone isn't enough; this four-prong, shoulder set is a joy to behold. It's also available in other golds, including white, rose, and platinum.
17. Emerald Cut Moissanite Petite 18ct White Gold Solitaire - £851, Lily Arkwright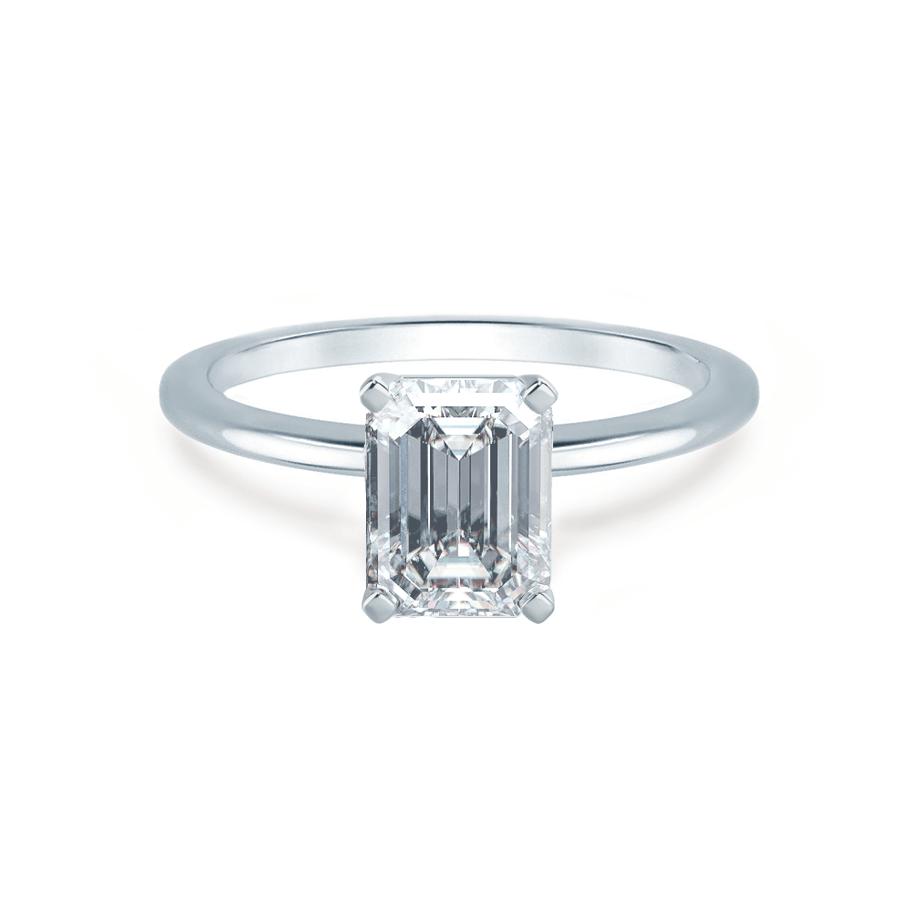 With an emerald cut displayed on a four prong solitaire, plain mount, this simple yet standout ring can be bought in yellow gold, rose gold, and platinum, as well as this classically beautiful white gold.
READ MORE: Pearl Engagement Rings: 35 Beautiful Pearl Rings for the Modern Bride
18. Moissanite Solitare 9ct Yellow Gold Ring - £400, Very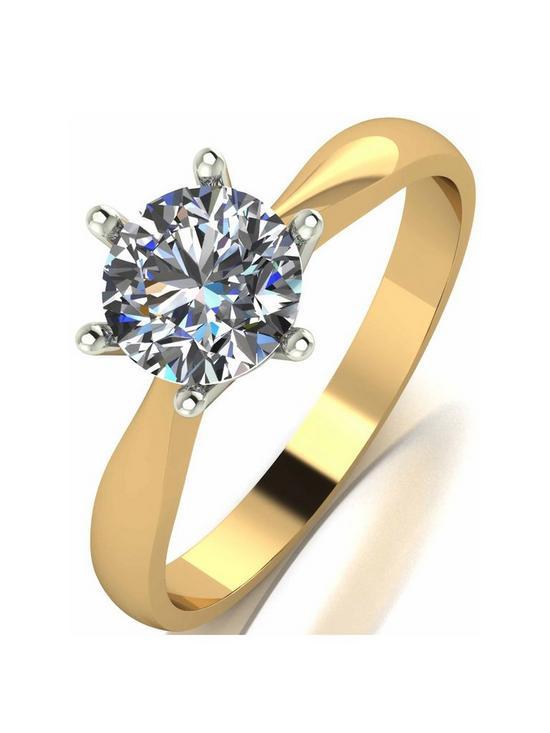 For a ring that won't break the bank, this design features a classic six claw setting and a 9ct yellow gold band.
19.
Round Brilliant Moissanite Solitaire Ring - £650, Very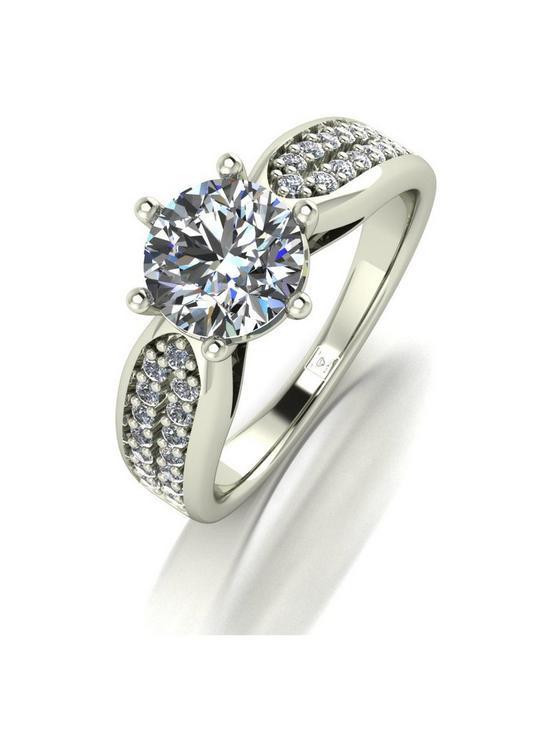 We were blown away when we first saw this showstopper of a ring, with a gorgeous round stone. It is available in 9ct Yellow Gold or 9ct White Gold.
20. 9ct Gold 5 Stone Moissanite Eternity Ring - £360, Very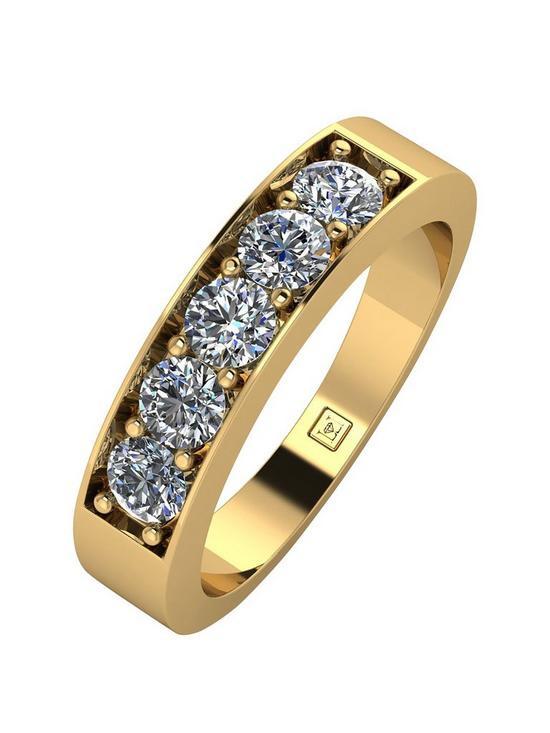 For non-traditional brides, why not try a design such as this, which boasts five little moissanite stones. You can also buy it in white gold if that's more your style.
21. Moissanite 9ct Gold Solitaire Bridal Set - £825, Very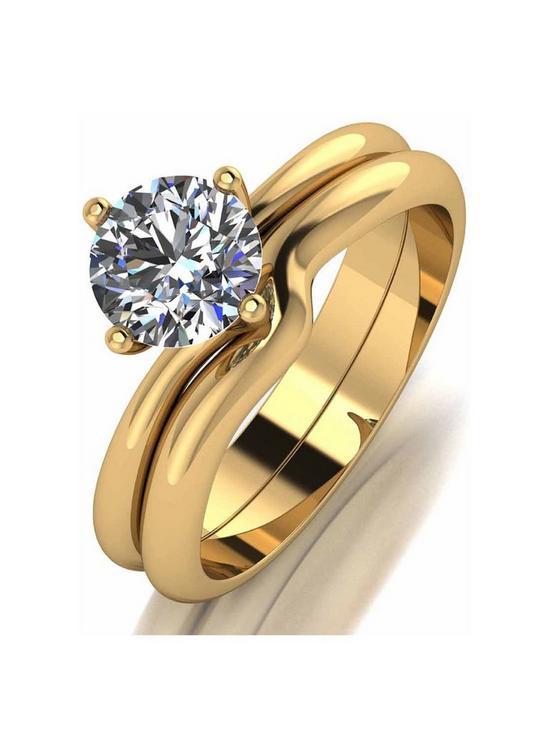 Not only does this set contain a stunning moissanite ring, but also a wedding band that fits round the stone perfectly. You can buy it in 9ct Yellow, 9ct Red Gold or 9ct White Gold.
22. Oval Cut Solid 14ct Yellow Gold Engagement Ring - £149.99, Mantra Jewell 2011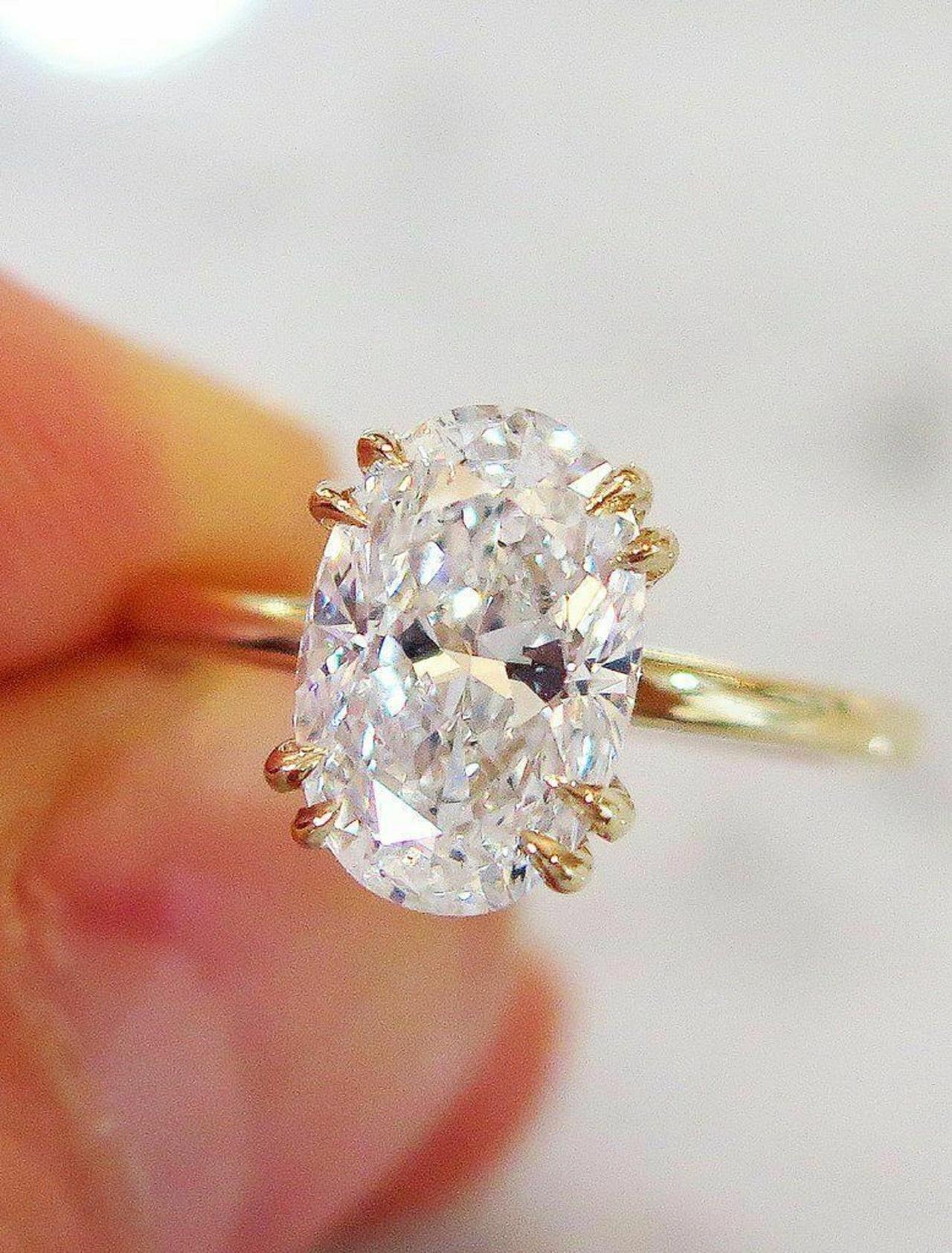 Buy this stunning standout ring in either sterling silver or solid 14k yellow gold, depending on your taste and budget. It boasts a gorgeous oval cut with claw detailing.
23. Moissanite Engagement Ring - £590, Brilliant Rings
We love a unique setting, and this specially designed ring certainly has the wow factor. It's available to order in gold, rose gold, or white gold.
24. Oval Moissanite Engagement Ring - £700, Diorah Jewellery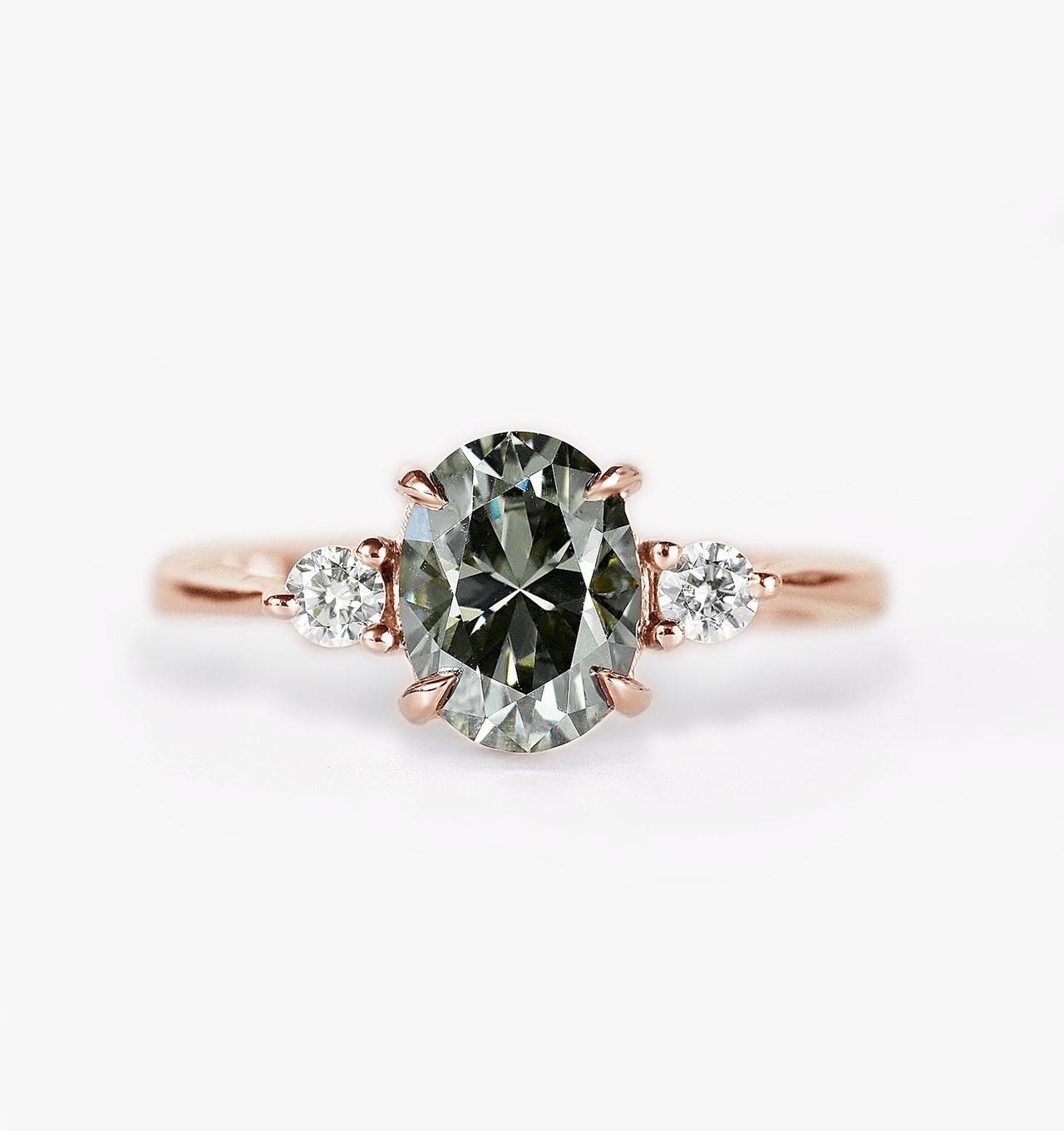 Moissanite stones in other colours are even more unique than their better-known counterparts. We love this grey stone, which sits on a rose gold band for the perfect colour combination.
25. Moissanite 9ct Gold Stacking Ring - £170, Shargreaves Jewellery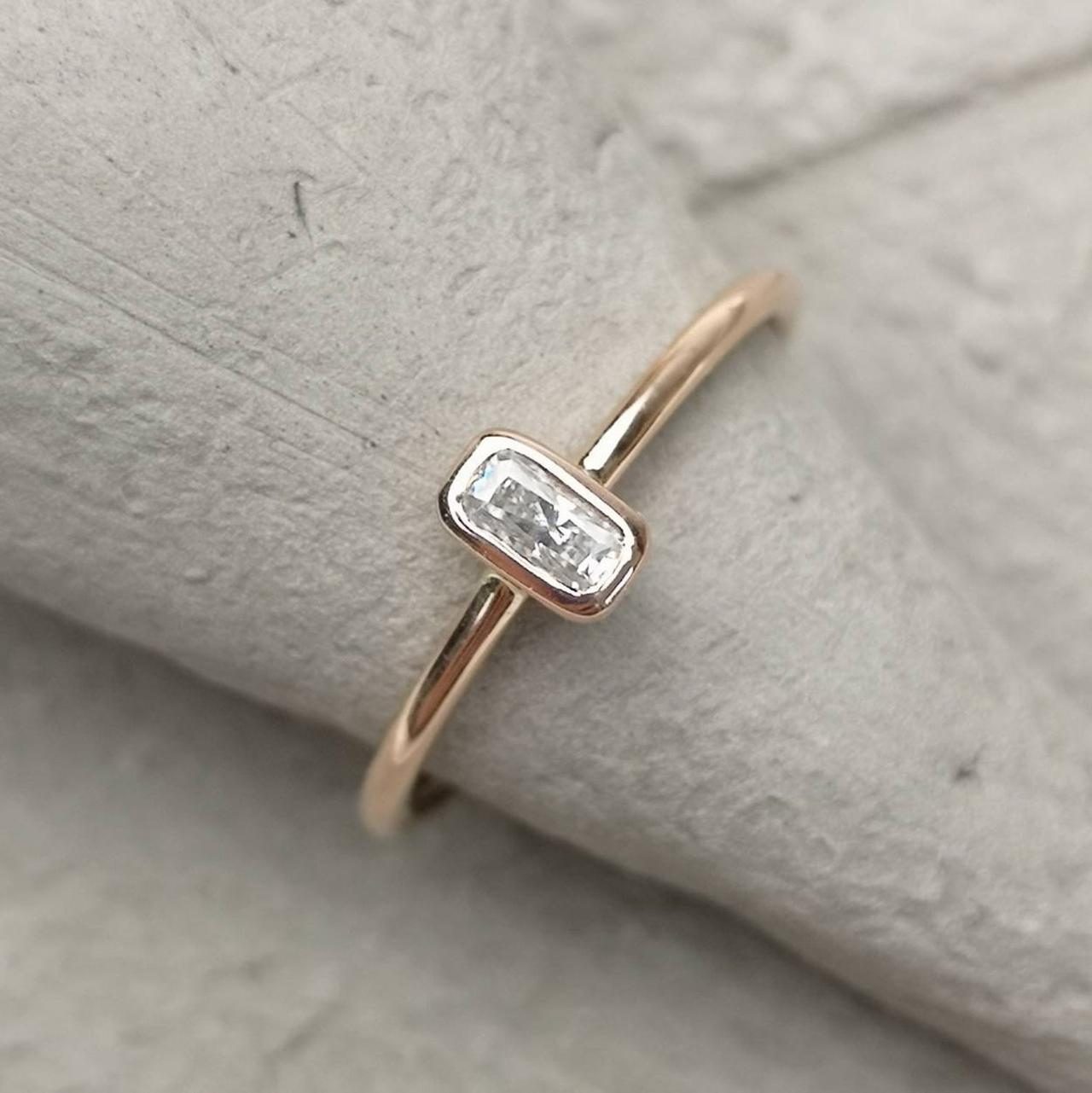 For brides-to-be who prefer an understated aesthetic, this lovely little piece is everything you could ever wish for. Plus, it's proof moissanite diamonds are super affordable if you look in the right places.
26. Oval Cut Pear Shaped Moissanite Ring - £520, Forever For Love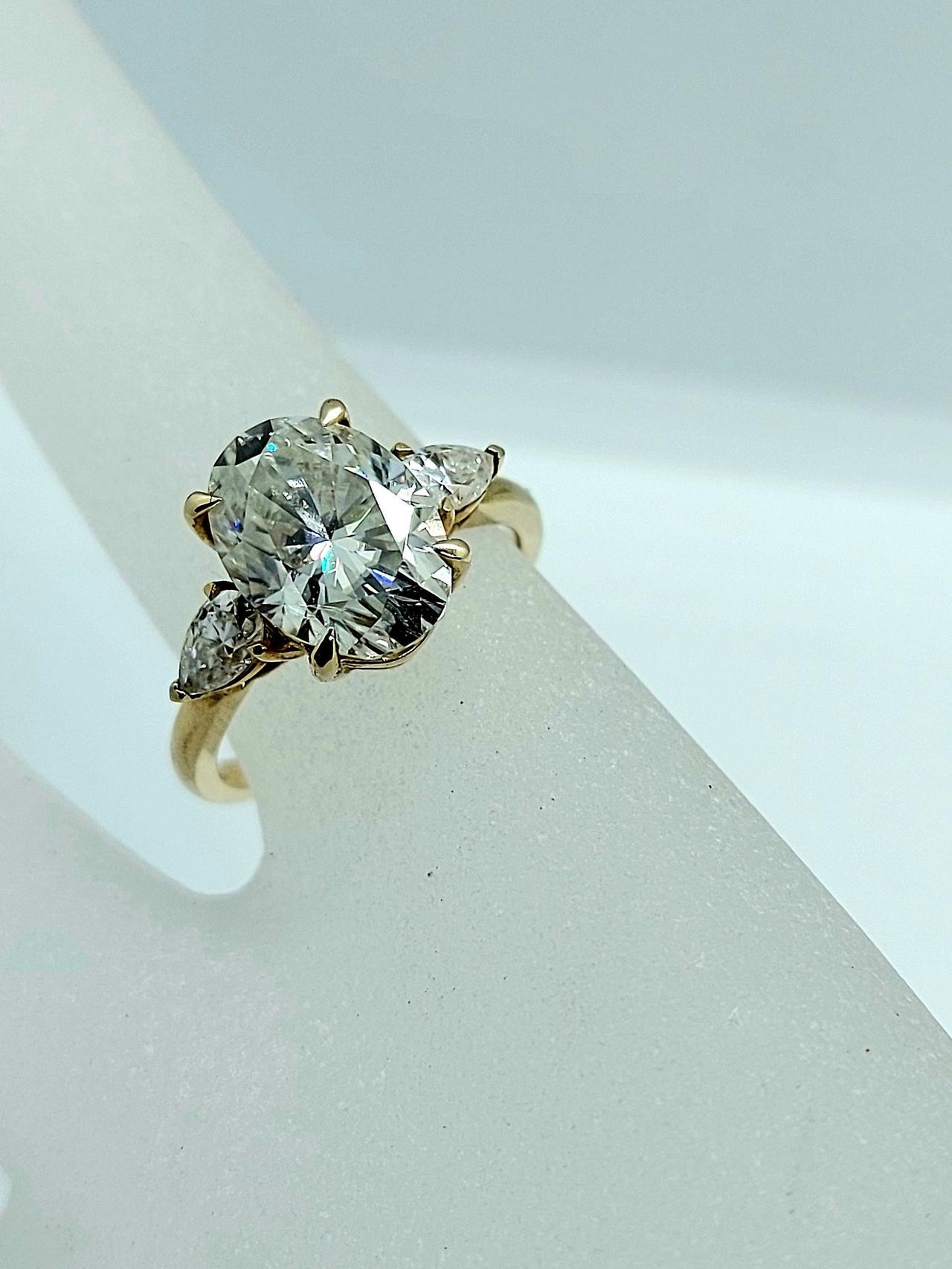 Why have one stone when you can have three? And why settle for one shape when you can invest in two? This ring by Forever For Love is a covetable piece.
27. Vintage Green Moissanite Engagement - £295, Gems Odes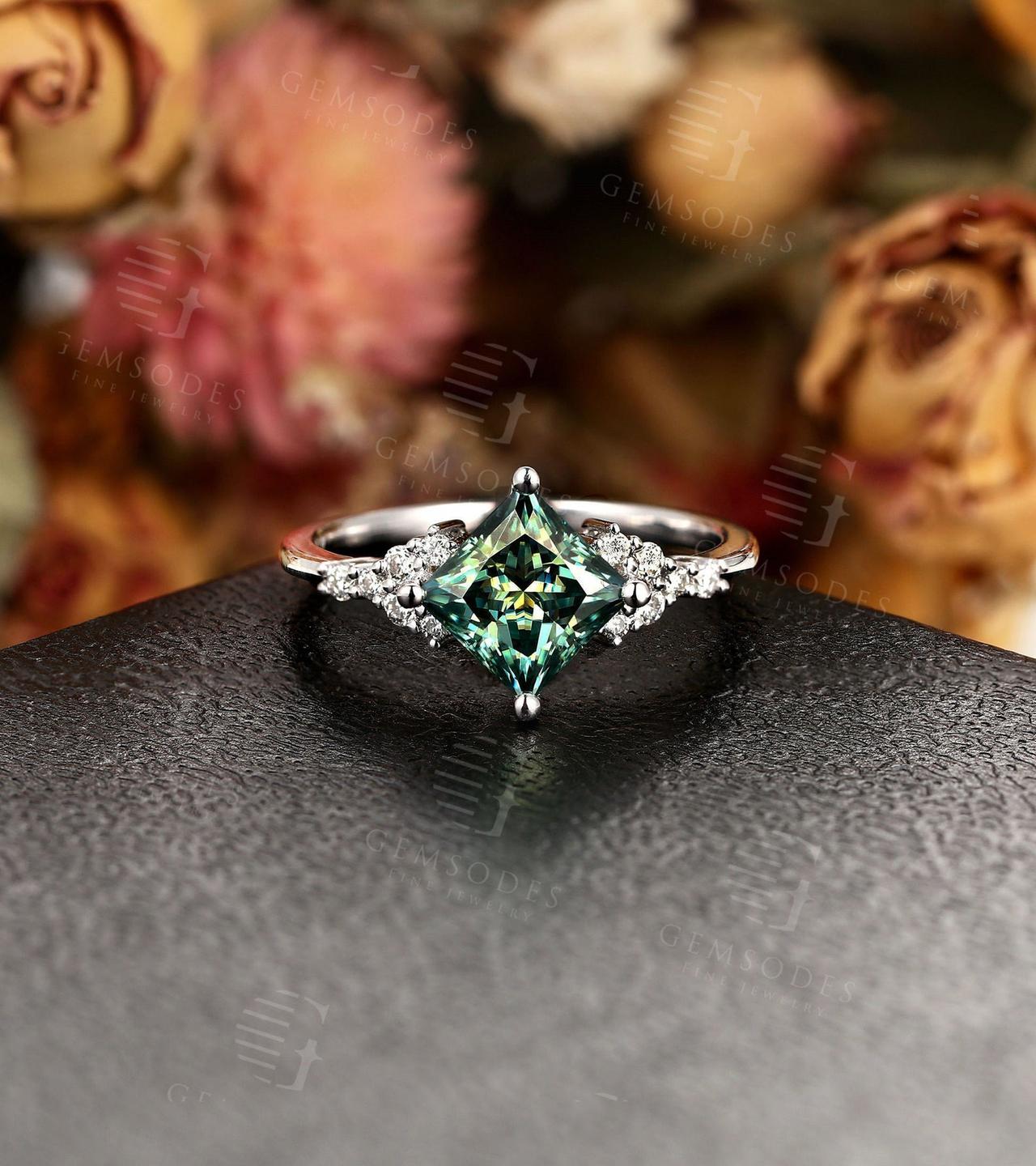 For fans of emeralds, this is the perfect coloured moissanite stone. It can be placed on rose gold, white gold, or yellow gold, depending on what your partner wears most.
28. Round Cut Moissanite Engagement Ring - £267.30, Miracle Moissanite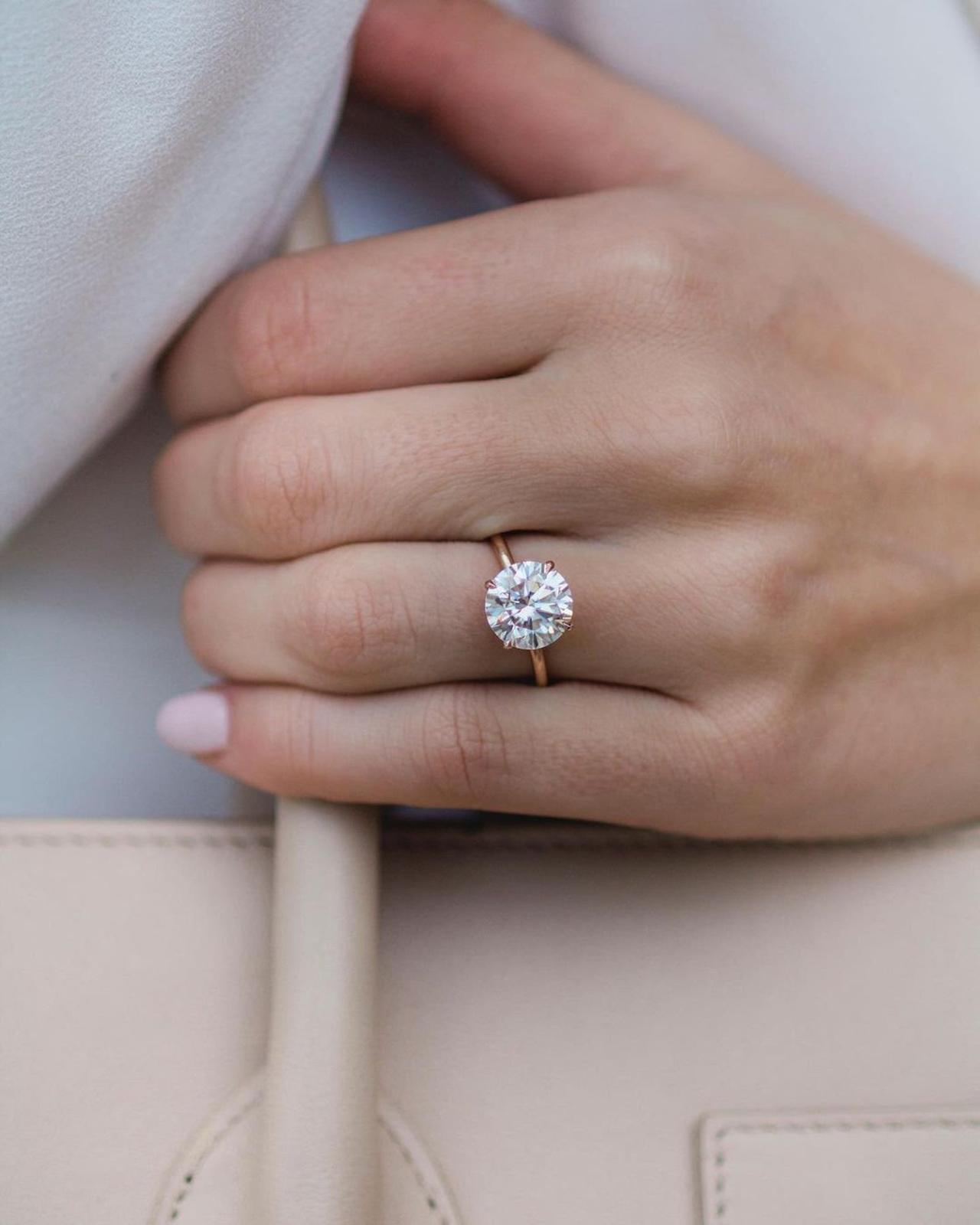 Classic round cuts are universally flattering, and this moissanite ring has that extra sparkle factor, when looking at the photos on the listing.
29. Moissanite Leaf Engagement Ring - £823, Aardvark Jewellery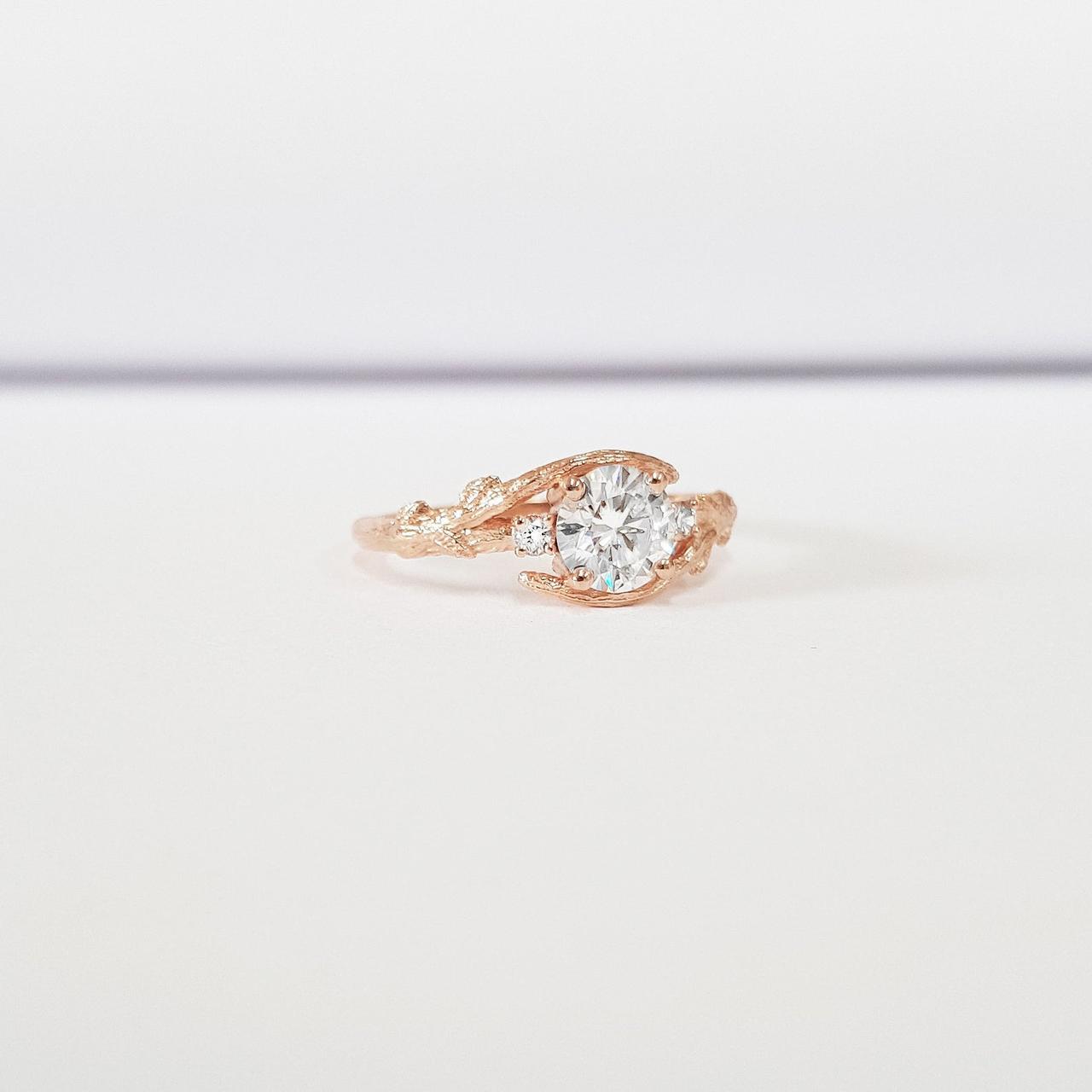 Handmade and designed to order, these lovely leaf engagement rings are especially impressive due to their unique setting.
30. Moissanite Engagement Ring - £408, Forever For Love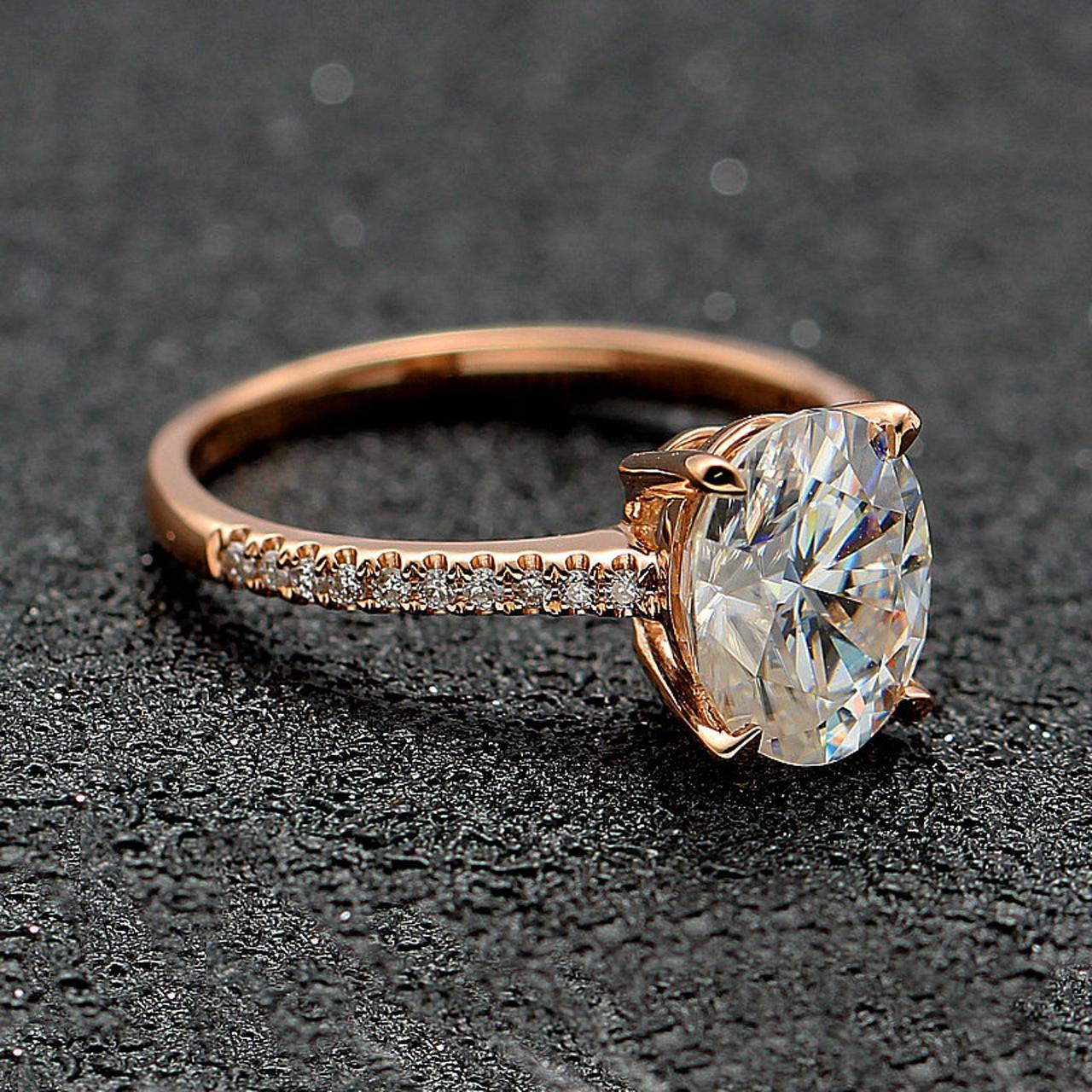 You can buy this classic yet modern Forever For Love design in yellow gold, rose gold, or white gold, depending on your preference.
You've nailed the engagement ring but what about your dress? Don't miss our pick of the best high street wedding dresses.