You've found 'the one' and you've decided to pop the question – congratulations! Your next step is deciding where and how to propose.
The most obvious place to start when thinking of where to propose is places or activities your partner loves best. If they love to get outside, an outdoor proposal idea might just be your best bet.
Outdoor proposals can be totally flexible and varied, and the great outdoors leaves plenty of room for imagination. You could propose anywhere from the location of your first date to an important landmark or a local beauty spot you both frequent.
Next, you need to decide whether your partner would prefer a private or public proposal. If your other half tends to shy away from the spotlight, choosing somewhere secluded is a good idea. If they're the type to want to share their joy straight away, then a more public outdoor proposal could suit them down to the ground.
If you're struggling to think of proposal ideas, don't panic. We've put together a list of 22 winning romantic outdoor proposal ideas – happy scrolling!
READ MORE:
1. Choose a Meaningful Location
If your first date or the place you first said 'I love you' was outside, it's a super romantic idea to propose in the same place. Your partner will love how thoughtful it is and the location will have a special place in your hearts forever.
The place doesn't have to be related to your relationship specifically though: it could be in the town your other half grew up in or outside the home ground of their favourite team. As long as it's personal, it'll go down a treat.
READ MORE: How to Propose: Your Complete Guide to Popping the Question
2. Pack a Picnic
Picnics can be had year-round so don't let the season put you off if you think your partner would love a picnic proposal. In fact, we think a picnic proposal in winter would be the ultimate surprise, just wrap up warm, fill flasks with your favourite hot drinks and make sure you've got somewhere warm to head to soon afterwards!
For a summer picnic pack chilled fizz, strawberries and any of their favourite foods. You could pop the ring in their glass, pop it on their plate or simply get down on one knee and present it to them traditional style.
3. Go for a Country Drive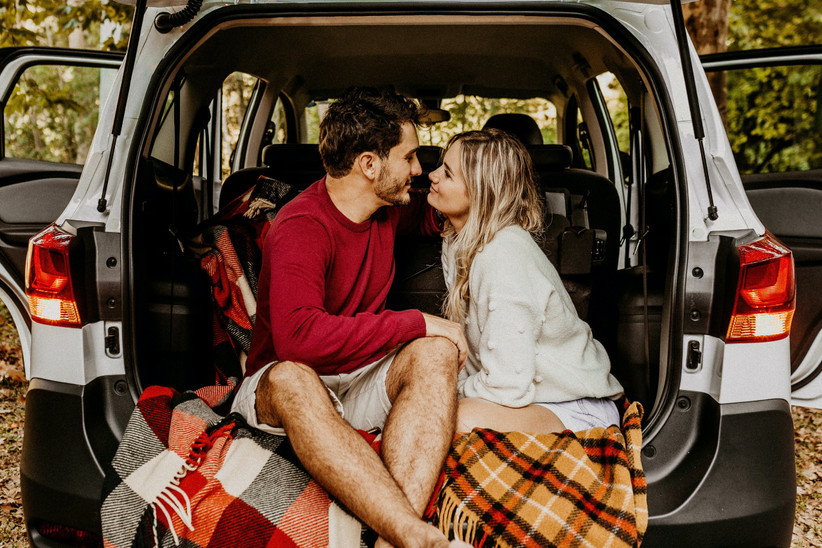 If the weather takes a turn for the worst or you simply know your partner is a fan of a drive, pack some Champers in the boot and take them for a spin through their favourite places.
You can plan to arrive at a specific spot and get out of the car or arrange for the local radio station to pop the question for you! After they've said 'yes' you can take the fizz out of the car and toast your upcoming nuptials in one of your favourite places.
4. Book a Photographer
You can make this outdoor proposal idea work with almost any other idea on this list. All you need to do is find the right photographer and let them know where you'll be proposing and when so that they can make sure they're in position for the big moment!
Once the proposal shot has been captured, the photographer can then shoot some engagement pics of you both – the perfect keepsake from the day!
5. Find a Spot to Watch the Sun Rise or Set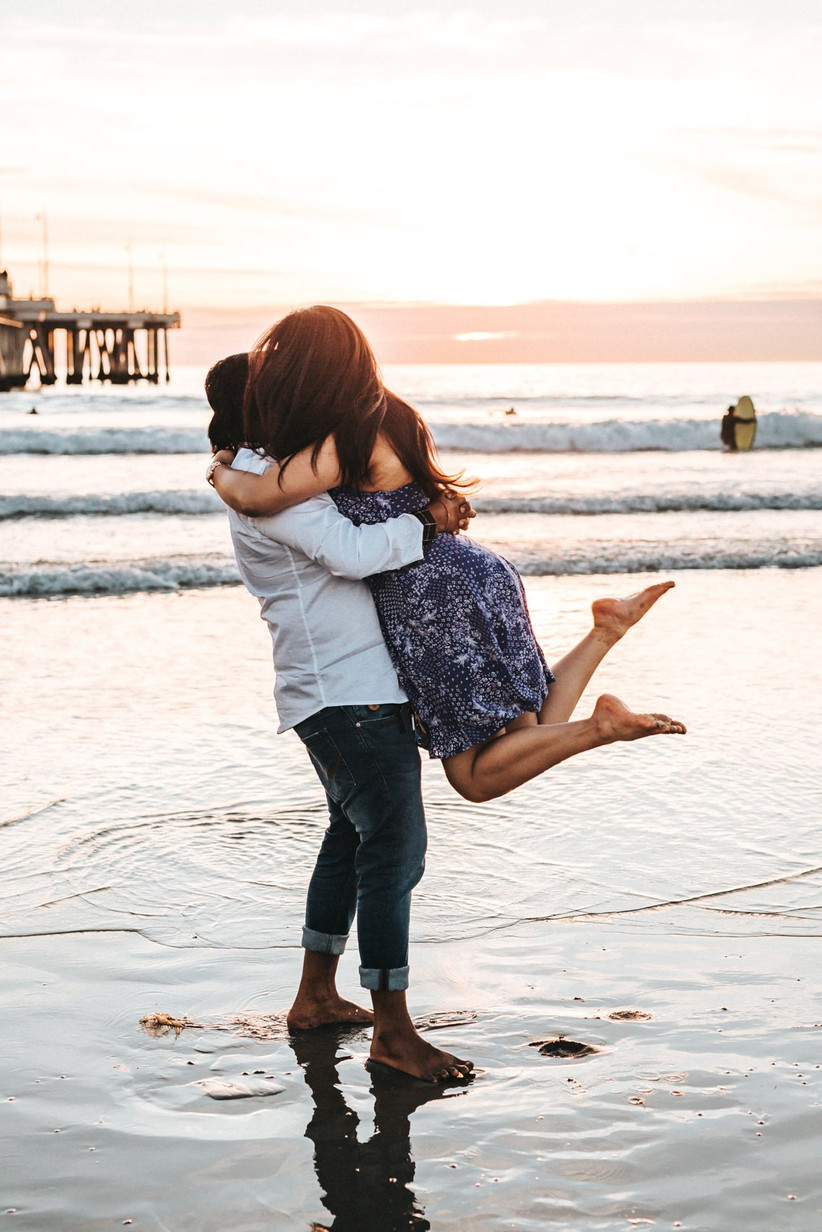 Decide whether your partner is an early riser or a night owl, select a clear day and an advantageous spot and propose in front of a sunrise or sunset.
To keep the proposal a surprise, you may need to come up with an excuse – if you're not the usual type to get up at the crack of dawn! – such as a hike or an errand. Alternatively, you can simply invite them to join you in your garden or on your balcony when the time is right.
READ MORE: The 21 Best Places to Propose in the World
6. Go Flower Picking
We love the idea of a flower picking proposal! Not only is a flower farm a stunning backdrop, but it also gives you the chance to come away with some flowers that can be dried or preserved as a keepsake from the day.
Plus, imagine how much wedding flower inspiration you'll get spending an afternoon picking out your favourite blooms!
7. Head to the Beach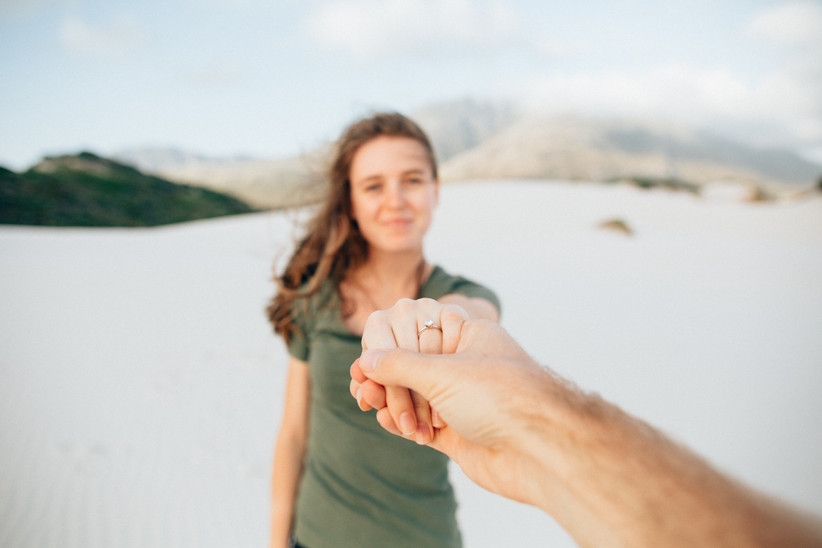 There's something beautifully romantic about proposing at the beach, whether it's a white sandy stretch in the Maldives or a cloudy bay with crashing waves in Cornwall.
Take your other half for a stroll and when you reach the most picturesque spot, get down on one knee.
8. Dine in an Outdoor Café
Is your partner a total foodie? We reckon an alfresco café or restaurant proposal would be very fitting. Keep things private and subtly pop the question when no one's looking or get the staff involved and have them pipe the message in chocolate sauce on your other half's dessert plate!
9. Have a Back Garden BBQ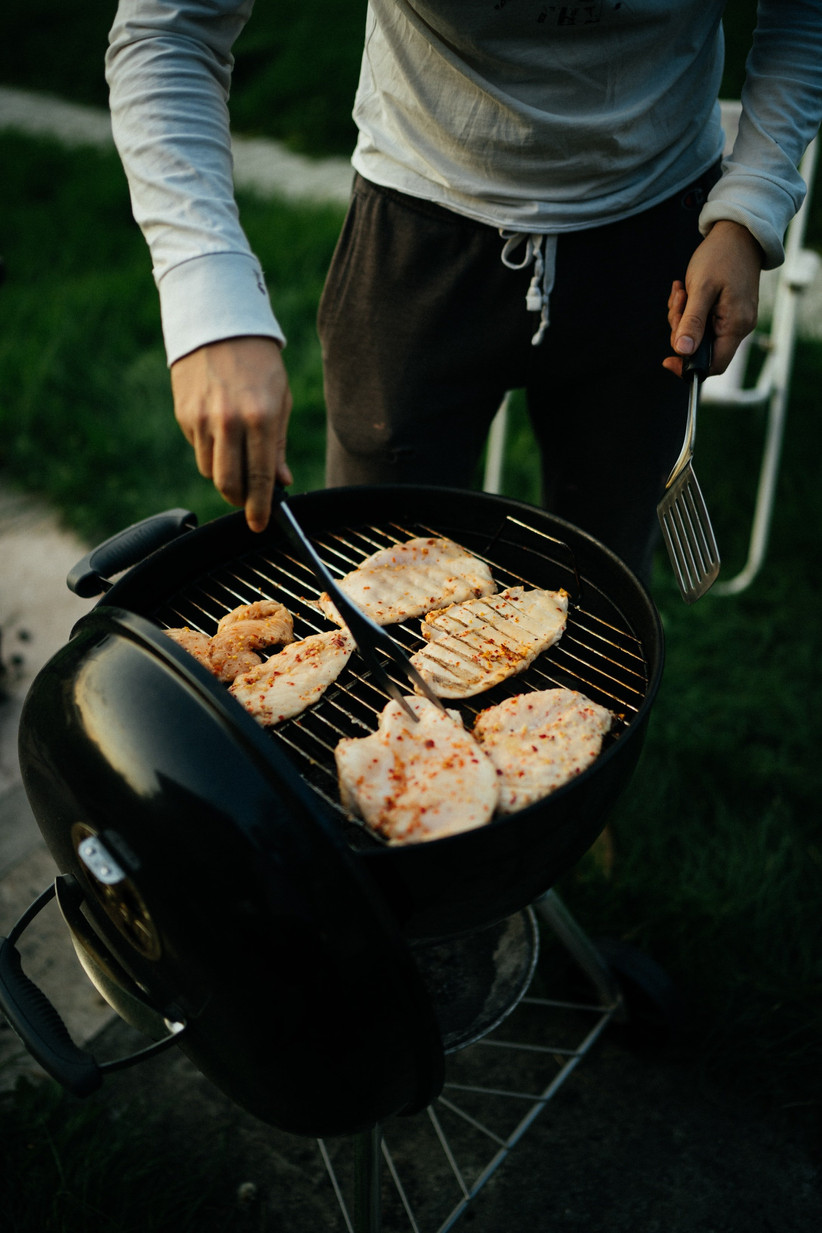 Who doesn't love a good old-fashioned BBQ? Whack a couple of steaks – or your favourite plant-based alternatives – on the grill, light some candles or deck the garden with festoon lights and get in the mood for romance.
You can do a BBQ proposal with just the two of you or invite friends and family along to witness the big moment. Either way, we reckon burgers and beers in the garden is a great way to celebrate getting a 'yes'!
READ MORE: 25 Ways to Propose at Home: The Most Romantic Ways to Pop the Question
10. Go Punting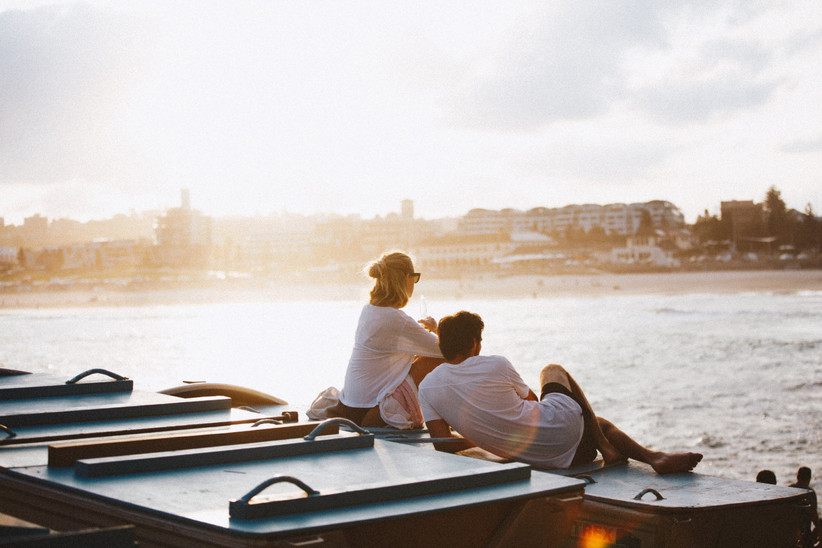 Oxford, Cambridge, London, Stratford-upon-Avon… there are plenty of places to punt in the UK and a punting proposal could be just as romantic as a gondola in Venice.
Pack Champagne in a picnic hamper and wait until you float past the right spot and pop the question. Tip: be super careful if you're planning on moving around to get down on one knee on the water!
11. Watch a Fireworks Display
Let sparks fly as you begin your journey to married life with a fireworks display! If you really want to push the boat out, why not arrange for professionals to set off a display on your behalf? That way you can be totally in the proposal moment and not worrying about whether or not one of the Catherine wheels has set fire to your recycling bin…
If you do want to get a little more involved, how about having some sparklers in your proposal? They'll make great photo props for your engagement announcement!
12. Go to a Pumpkin Patch
If you're planning on popping the question around October, we think a pumpkin patch proposal is seriously adorable – especially if your other half is a big Halloween fan.
13. Go to a Drive-In Movie
Drive-in movies aren't just something the kids in Grease do, you know. Drive-in cinemas have cropped up around the country and make a cool retro date destination.
We also happen to think they make for a great lowkey proposal too. Wait for the right moment and produce the ring before celebrating with popcorn and drinks!
14. Book a Hot Air Balloon Ride
For a dreamy outdoor proposal straight from a storybook, why not book a hot air balloon ride? Propose when your feet are planted firmly on the ground before taking off or wait until you've reached dizzying heights, pop the question and enjoy those spectacular views as you toast your future!
15. Head to a Much-Loved Landmark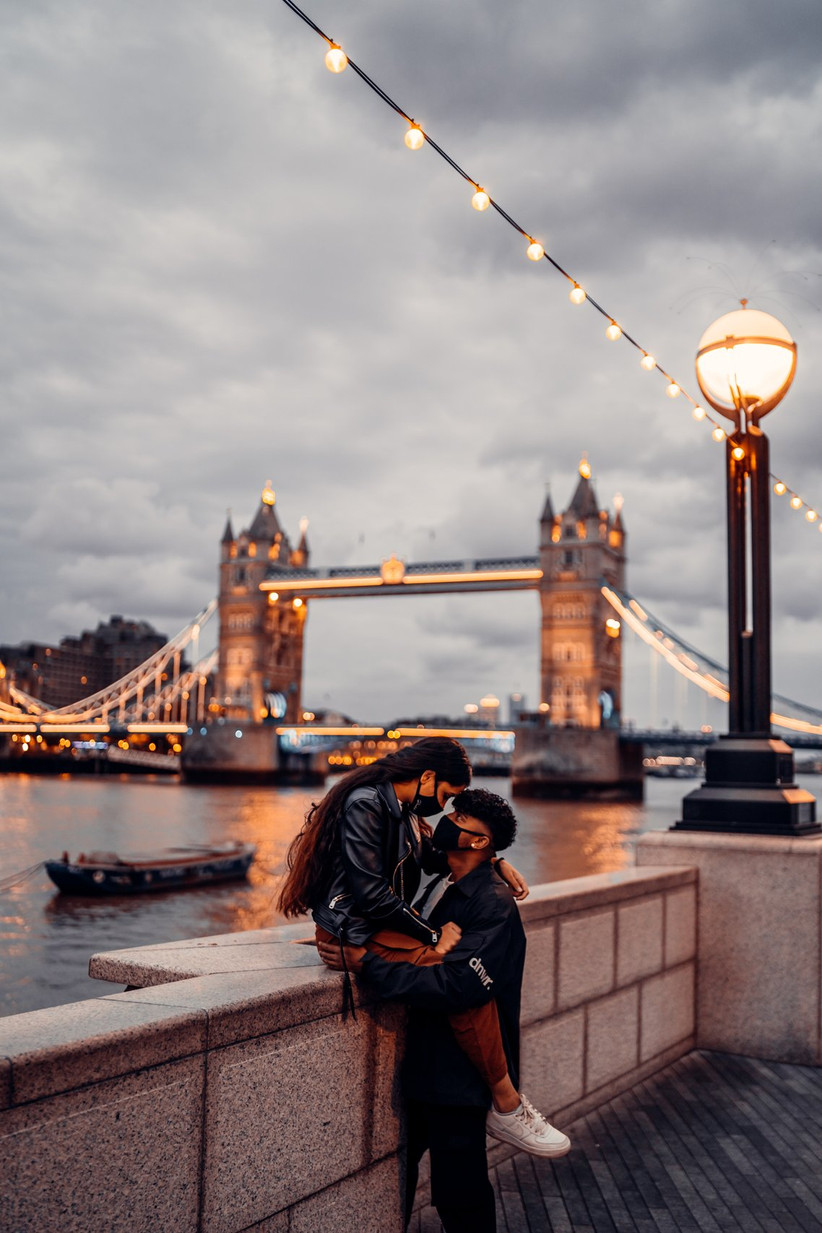 If a landmark has a special significance to you or you've simple always admired it, why not take your proposal there? You can organise a day trip on a free weekend and keep plans casual, so your partner doesn't suspect a thing!
The setting will remind you of your special moment every time you visit again or see a photo of it.
READ MORE: The 21 Best Places to Propose in the World
16. Go Stargazing
What could be more romantic than heading to a quiet spot on a clear night and checking out the stars before popping the question?
Autumn and Spring are said to be the best times of the year to stargaze and the days before and after a new moon – when bright moonlight is absent – are when stars are easiest to spot. Head to an area with as little light pollution as possible – you can find a dark sky destination here – to get the best stargazing experience.
17. Set Up a Garden Treasure Hunt
If a relaxed proposal at home is more your style, why not set up a treasure hunt including romantic clues dotted around the garden?
Clues and signs could lead up to you presenting the ring!
18. Hire a Skywriter
An oldie but a goodie, why not hire a skywriter to sweep your proposal across the sky?
Wait for a clear and sunny day, whisk your partner to a secluded location (perhaps with a picnic!) and wait for your proposal to appear above you.
19. Head to a Farm or Zoo
If you're both animal lovers or simply love to be out exploring nature than a farm or zoo proposal could be the idea for you.
We love the idea of popping the question in front of your other half's favourite animals!
20. Go Skiing
Take your love to a mountaintop and propose at the top of the slope before skiing down together – and celebrating with some fizz filled après ski of course!
21. Involve Your Pets
Beloved dogs, cats and even guinea pigs can get in on the act and help you to pop the question.
Buy a jacket, bandana, sign or collar asking, "will you marry me?" and pop it on your pet. Cutest. Proposal. Ever.
22. Go Christmas Tree Shopping
If you're planning a festive proposal, why not get down on one knee at the Christmas tree farm? They're already pretty romantic places (they're always included in romantic Netflix Christmas originals anyway) and there's plenty of opportunity to get away from the crowds if you want to keep things secluded.
Got that all-important 'yes'? Here's 15 Things Every Couple Needs to Do As Soon As You Get Engaged.