25 Swoon-Worthy Flower Engagement Rings
Flower engagement rings are having a moment and with so many unique, sparkling styles to choose from it's no wonder.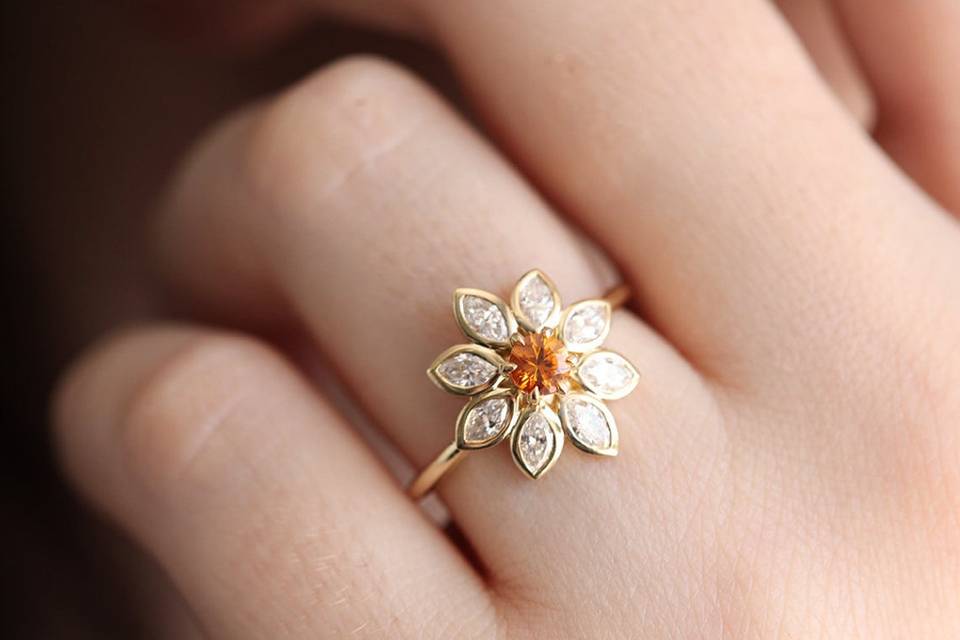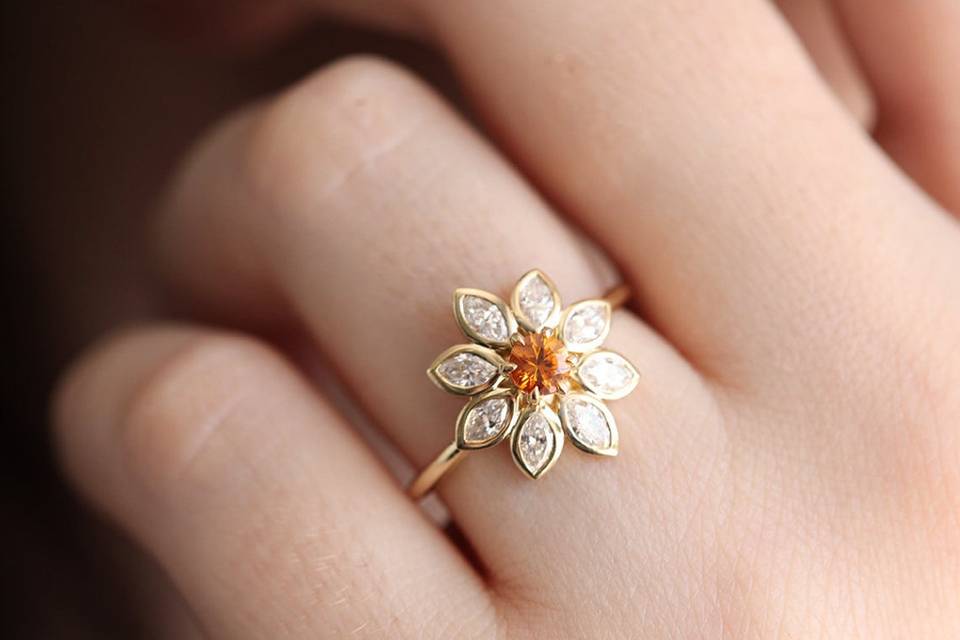 There are plenty of stunning engagement ring trends to choose from in 2021 but if you're not feeling any of the designs, may we suggest a flower engagement ring?
Floral engagement rings have been adorning the fingers of brides-to-be since as far back as the Edwardian era, making them an elegant and timeless choice.
They're a great option for lovers of sparkle thanks to their dazzling halos that give them plenty of fire. We also think they're one of the most romantic engagement ring design choices.
If you're feeling the florals, check out our pick of the best flower engagement rings around right now.
NB: We have included third party products to help you navigate and enjoy life's biggest moments. Purchases made through links on this page may earn us a commission.
1. Jenny Packham 18K Yellow Gold 0.39 Carat Flower Cluster – £1,500, Goldsmiths
We're loving this art deco take on the flower engagement ring design. Featuring 25 dazzling round diamonds, this Jenny Packham ring is guaranteed to attract plenty of admirers.
2. Juliette Art Ring – £4,200, Tom Foolery
This daisy style design from Maya Selway at Tom Foolery has captured our hearts thanks to the dazzling round centre and rare Australian natural pink diamond halo stones.
3. Jenny Packham Platinum 0.75 Carat Flower Cluster Ring – £3,000, Goldsmiths
If it's megawatt sparkle you're looking for, stop the search. This Jenny Packham flower ring features a head packed with sparkling round stones as well as diamond encrusted shoulders. We're loving the contrasting yellow gold milgrain around the centre stone too!
4. Millie 18K White Gold Diamond Cluster Ring ­– £1,049, The Diamond Store
We adore this delicate design from The Diamond Store. Six sparkling round stones surround the centre diamond to create plenty of fire for its 0.50 carat weight.
READ MORE: Thinking of Buying an Engagement Ring Online? Read This First
5. Art Deco Inspired Moissanite and Opal Engagement Ring – from £926, Aardvark Jewellery
Opals have a unique play of colour that make for unusual and eye-catching engagement ring stones. We think this moissanite and opal ring makes for a great alternative to diamonds.
6. Flower Engagement Ring with Yellow Sapphire and Diamonds – from £2,011.05, MinimalVS
How adorable is this daisy design? This pretty sparkler from MinimalVS is a dreamy choice for boho brides-to-be and is available in yellow, white and rose gold.
7. Daisy Cluster Round Cut Moissanite Ring – from £795, Elize Jewellery
Reminiscent of classic Edwardian designs, you could easily pass this sparkler off as an antique or precious family heirloom! Available in white gold, yellow gold or platinum you can make this beauty your own.
READ MORE: 30 of the Best Moissanite Engagement Rings for Eco-Friendly Brides
8. Champagne Diamond Ring ­– £POA, The Cut; London
For a unique take on the traditional diamond sparkler, we suggest this champagne diamond ring. Set in 18 carat gold this ring features a rose cut central diamond and nine dazzling champagne rounds that will dazzle admirers.
9. The Alkemistry Zoë Chicco Gold and Diamond Flower Ring – £395, Selfridges
If you or your other half are a fan of dainty silhouettes, then we reckon this 14-carat gold and diamond flower ring would be the perfect fit. With a slim band and delicate arrangement of diamonds it would look amazing coupled with other dainty bands for a stylish take on the stacking ring trend.
10. Bellis Ethical Fairtrade Diamond Flower Engagement Ring – £1,127, Lebrusan Studio
Made from Fairtrade 18 carat gold and a conflict-free African diamond, this ring is beautiful in every way. The gold petal setting makes it totally unique too.
READ MORE: 42 Simple Engagement Rings for Modern Brides
11. Sapphire and Diamond Wildflower Cluster – £285, QP Jewellers
For a flower ring with royal inspiration, why not choose this sapphire and diamond cluster? Sapphires have long been a popular engagement ring stone ever since Princess Diana and the Duchess of Cambridge donned that stunning sapphire halo ring.
12. Lab Diamond Flower Ring in 9K White Gold – £379, The Diamond Store
If you love the idea of a diamond but fancy something conflict-free and eco-friendly, this lab diamond ring is the perfect choice for you. Seven sparkling lab diamonds create a daisy shape surrounded by vintage milgrain edges.
READ MORE: Everything You Need to Know About Lab-Grown Diamonds
13. Pearl and Sapphire 9K Gold Ring – £242, The Diamond Store
A pearl engagement ring is a classic choice for brides wishing to eschew traditional diamonds. The sapphire halo on this pearl ring provide a beautiful colour contrast that's guaranteed to command attention.
14. Garnet Ring 9K Yellow Gold – £293, The Diamond Store
January babies may appreciate this birthstone engagement ring. The rich, warm garnets are set in yellow gold giving this ring a vintage vibe.
15. Pushpa Diamond Ring – £POA, The Cut; London
We think this ring will brighten up the wearer's day whenever they look at it! The gold setting and sparkling round diamonds remind us of sunflowers and sunny days.
16. Modern Cluster Ring – From £3,000, The Cut; London
A cluster ring featuring several round diamonds like this bespoke one are among some of the most glittering designs available and often give wearers plenty of sparkle without the hefty price tag of a large single solitaire diamond.
17. Diamond and Emerald Ring – from £3,000, The Cut; London
With pear shaped emeralds mimicking petals surrounding a diamond centre, we're getting serious botanical vibes from this platinum engagement ring. It's a subtle take on the flower engagement ring trend, ideal for those who love a ring inspired by nature but don't fancy anything too girlie.
18. Rosa 18K White Gold Diamond Engagement Ring Setting – £2,470, Brilliant Earth
This glamorous design features a double, scalloped edge halo of diamonds as well as pavé diamonds on the cathedral style shoulders. At Brilliant Earth, you can choose a conflict-free natural or lab diamond to sit at the centre of your chosen setting, making the ring even more personal.
19. Lily 18K White Gold Diamond Engagement Ring Setting – £1,845, Brilliant Earth
How stunning is this floral design? Featuring layered petals that form a halo around the centre stone of your choice and diamond accents cascading down the band, this ring gives a 3D flower vibe that is guaranteed to command attention.
20. Blooming Rose 18K White Gold Diamond Engagement Ring Setting – £3,100, Brilliant Earth
We're getting major Beauty and the Beast vibes from this rose-inspired piece. The setting features layered pear-shaped diamonds that elevate the centre stone as well as pavé band stones and additional pear-shaped diamonds that mimic the look of leaves.
21. Champagne Diamond Ring – £POA, The Cut; London
If you're after something a little more simple and understated, may we suggest this champagne diamond ring? Set in 18K gold and with a princess cut champagne diamond, this ring is both practical and pretty.
22. Morganite and Champagne Diamond Ring – from £1,700, The Cut; London
If you fancy something a little bit different, a pink morganite ring is a great choice. Not only does the peachy, pinky tone look beautifully soft and romantic but you'll also get way more bling for your buck. We love this 18K rose gold morganite ring with a stunning champagne diamond halo.
READ MORE: What is Morganite? Everything You Need to Know About the Engagement Ring Trend
23. Rose Gold Diamond Ring – £POA, The Cut; London
Another rose gold flower engagement ring we're lusting after is this beauty from The Cut; London. We love the simple cherry blossom design nestled next to a stunning solitaire - it really is the best of both worlds!
24. Diamond Half Halo Ring – from £3,000, The Cut; London
If you love the idea of the floral halo look but want to leave plenty of room for a statement wedding band, a half halo might be the right choice for you. This half halo ring from The Cut; London features a dazzling round diamond at its centre plus a stunning halo that would look amazing teamed with almost any wedding band.
25. 18K Gold Diamond Flower Cluster Ring – £955, Tom Foolery
Fashionista brides-to-be that don't shy away from a statement piece will adore this floral engagement ring. Made up of seven golden flowers, each with a diamond at its centre, this ring will brighten the day of the wearer every time it catches their eye.
On a tight budget? You'll be amazed at what you can get for your money – check out these budget-friendly engagement rings.