36 Beautiful Bridal Headbands: Pearl, Beaded, Floral & More
Whether you're looking for feminine florals, glittering crystals, ruching and ruffles or satin or silks, our edit of the best bridal headbands has got you covered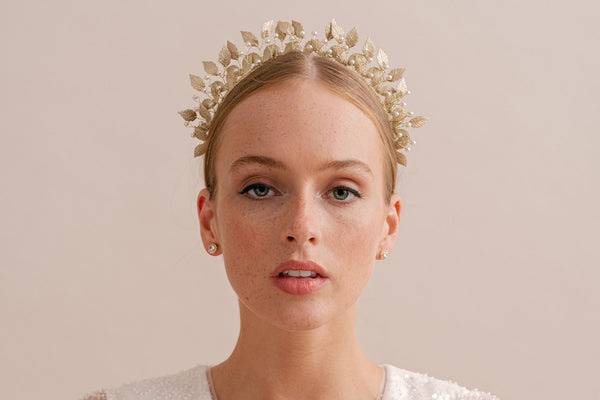 Bridal headbands make an ideal contemporary alternative if you're not into veils and wedding tiaras, but still want a headpiece to complete your look. And seeing as headbands in general are more on trend than ever – spotted on everyone from the Duchess of Cambridge to Jessica Alba – there's never been quite so much choice.
From high-end milliners to designer brands to high-street household names, we've rounded up 36 of the most desirable bridal headbands money can buy, regardless of how much you've got to spend (in fact, there are several options for £20 or less). There's pearls aplenty and crystals and beads galore, but also plenty of less elaborate designs if you're hoping to channel your inner minimalist.
A few things you need to consider before hitting purchase: if you already know what your wedding hairstyle will be like, your headband will need to fit into that vision, and some heavier styles might be less comfortable than others, so you might not want to wear them all day.
You'll also want to coordinate your band to your dress, but the brilliant thing about contemporary hairbands is they come in all shapes, sizes and colours – so no matter what you have in mind, there's an option below that will work for you.
Pearl Bridal Headbands
1. Moonbeam Crystal and Pearl Bridal Halo Crown – £135, Garter & Veil
Part crown, part headband this halo is a show-stopping piece that will add an ethereal and high fashion feel to your wedding look. Crafted from a combination of moon glass pearls and pavé crystals, it will catch the light beautifully.
2. Large Pearl Bridal Headband – £50, Melissa Morgan Designs
Pearl wedding dresses and accessories are huge news for 2022 and so it's no wonder this simple and classic pearl headband has made our edit. This can be worn with hair down or up and would look beautiful pared with pearl wedding earrings.
3. Aurelia Gilded Leaves Headband – £89, Liberty in Love
How dreamy is this headband from Liberty in Love? Overlapping golden leaves provide a stunning backdrop for luminous pearls, making for an ethereal finishing touch to your bridal ensemble.
4. Pearl Headband – £14, Fire Ablaze
Featuring clustered pearls and clear crystals, we reckon this statement headband would look fabulous worn with a sleek up-do and some show-stopping wedding earrings. Plus, at just £14, it's a total bargain.
5. Floral Gold and Pearl Wedding Headband – £128, Honey and Ember
We adore this super romantic gold and pearl headband. Crafted from freshwater pearls and golden and white toned flowers, we love how this beautiful band seems to float above the head like a halo.
6. Bridal Pearl Crown – £165, Joanna Reed Bridal
A contemporary take on a classic tiara, this delicate wire headband features dainty freshwater pearls and is available in a silver, gold or rose gold finish.
READ MORE: How to Grow Hair Faster for Your Wedding
7. Amelia Gold Leaf and Silver Pearl Headband – £80, Two for Joy Creations
This decadent hand-wired headband features ivory and grey pearls, crystals and gold leaves, making it an eye-catching choice. We think this would look beautiful paired with a boho wedding dress.
READ MORE: Boho Wedding Hairstyles for Every Bride
8. Antonia Headband – £150, Shrimps
You're probably already familiar with Shrimps' iconic pearl encrusted bags, and their hairbands are just as covetable. The Antonia is actually from the cult brand's A/W 19 collection, inspired by Greek mythology, but it's such a hit – especially among brides – that it's still on sale today.
9. Ivory Flock Velvet Jewelled Headband – £23, Design by Hummingbird
Don't overlook Etsy on your quest for your bridal headband – there are independent sellers there producing amazing pieces for a fraction of the price of their designer counterparts. DesignbyHummingbird has more than 100 options in its shop, with plenty of white and cream wedding-appropriate options, such as this ivory band.
READ MORE: Stunning Bridesmaid Hairstyles All Your Girls Will Love
Beaded Bridal Headbands
10. Phoebe Beaded Ivory Velvet Headband – £110, Modiste Accessories
Padded headbands have been having a major moment and this ivory beaded beauty is a great way to incorporate the trend into your wedding day look. Wear it with a relaxed wave or a sleek up do.
READ MORE: 19 Things You Need to Know Before Your Hair And Makeup Trial
11. Bridal Gypsophila Headband – £94.99, Hampshire Jewels
We love how the gold wire and glass seed beads mimic gypsophila. The best thing? Unlike real florals, this headband will last for years to come and serve as a beautiful reminder of your day.
12. Iridescent Bead Statement Headband – £16, Dorothy Perkins
Simply sparkling, this padded beaded headband will add glamour to your ensemble without taking the attention from your dress.
13. Amy Simple Wedding Headband – £75, Debbie Carlisle
If you love the idea of a headband but you want to keep things simple, may we suggest this delicate band from Debbie Carlisle? Available in rose gold, gold or silver this subtle accessory can be personalised to suit the rest of your look.
14. Sparkle Beaded Chunky Headband – £17.99, Ajouter Store
While the white band is classically bridal, we also love the blush pink and grey options for brides looking for something a bit different. Encrusted with clear or silver, multifaceted beads, this headpiece will give a serious dose of sparkle to your ensemble.
15. Rose Quartz Beaded Crystal Headband ­– £65, Silver Sixpence in Her Shoe
Rose quartz symbolises romance and emotions, so this headband is the ideal pick for your wedding day. We love the combination of soft pink quartz and crystal beads against the satin ribbon wrapped band.
16. Rita Headband – £280, Tilly Thomas Lux
Simple yet statement, these chunky Swarovski stones sit on top of a headband wrapped with white satin ribbon. The Rita Headband is perfect for elopements and registry office weddings - it'll catch the light beautifully, look gorgeous in photos and complement your chic, contemporary look.
17. Beatrix Headband – £420, Halo & Co.
This feminine rosebud headband is equal parts delicate while having a bold Baroque style. It's not for those shy of having a dramatic headpiece but works beautifully with statement earrings for an edgy ethereal look. Check out all of Halo & Co's headbands for more unique styles.
18. Moonstruck Headband – £330, Halo & Co
Halo & Co's bridal headbands mark the point where tiaras and hair accessories meet in the most jaw dropping way. We're obsessed with the antique vibe and totally distinctive design of its Moonstruck headband.
READ MORE: Half Up Half Down Wedding Hairstyles: 33 Inspirational Ideas
Simple Bridal Headbands
19. Ivory Bridal Headband – £63.50, Georgie Cole UK
This gorgeous, braided satin headband will look classic and elegant paired with a simple wedding dress.
20. Satin Bow Headband – £47, Coming Up Roses
Wedding dresses with bows were a major trend on the catwalks of Barcelona Bridal Week 2022. If you've already chosen your gown, you can still get on the bow trend with a headband like this one.
21. Oversized Knotted Headband – £28, Anthropologie
Knotted to create an oversized twist, this neutral toned headband can be worn with a ponytail, plait or loose curls worn down.
22. Metallic Knotted Headband – £28, Anthropologie
Simple doesn't necessarily have to mean white or ivory. In fact, we think this glittering knot headband would be a great choice for brides looking to eschew pearls and crystals, but still add a touch of sparkle to their look.
23. The Halo Headband ­– £110, Gigi & Olive
Crafted from high-quality white satin, this adorable, ruffled headband would give a high fashion, contemporary feel to your bridal ensemble. We think this would work particularly well with a more laidback registry office wedding dress.
24. White Linen Headband – £85, Gigi & Olive
Simple yet striking, this padded linen headband will make for a striking bridal look. We love it paired with a sleek updo and statement wedding earrings.
25. Dina Silk Satin Headband – £18, Pampas Accessories
Available in blush pink, golden beige and soft blue, this bridal headband is crafted from hand-knotted silk satin. We love all three shades, but we think the blue makes for the perfect something blue accessory.
26. Gold Textured Feather Hair Band – £44.99, Holly Young Millinery
Having an autumn or winter wedding? We think this feathered take on the bridal headband trend would be the ideal accessory. Made using natural pheasant feathers, it's a great choice for country weddings.
27. Millinery First Kiss – £325, Awon Golding
Why choose between a bridal headband and a veil when you can have both? Awon Golding Millinery does an extremely high-end line in hats, crowns and fascinators, as well as accessories like the exquisite First Kiss style. The ivory band is attached to a veil which boasts unique gold beaded trim, but is still open and transparent enough to ensure your MUA's hard work doesn't go to waste.
28. Millinery Jag – £185, Awom Golding
Fun, unexpected, and totally chic – if these adjectives describe your take on bridal couture, the Jag could be the headband for you. It's a homage to '70s dressing, and 'the inimitable style icon of the time, Bianca Jagger', with pinokpop bunny ears on a band that can either be white or tailored to your own hair colour.
Floral Bridal Headbands
29. Luna Bridal Dried Flower Crown Wedding Headband – £69, Luna and Wild
Designed for free-spirited boho brides, this dried flower headband would make a great headpiece for a festival themed wedding. Featuring dried straw flowers, bleached ruscus, bunny tails, star flowers and canary grass, this piece is a must for a bride in a boho wedding dress.
30. Bloom Beaded Floral Fabric Hairband – £250, Liberty in Love
Designed and created by Victoria Fergusson, this exquisite headband consists of layers of sequins with white Miyuki seed and beads and freshwater pearls to resemble delicate apple blossom flowers.
31. Fluerette Clay Crown – £450, Megan Therese
We're getting major Grace Kelly vibes from this floral headband. Made with individually crafted flowers and with a base wrapped in ivory velvet, this piece is certainly fit for a princess.
READ MORE: Princess Wedding Dresses: 27 Enchanting Ball Gown Wedding Dresses
32. Fabina Headband – £202.53 Approx., BHLDN
Ceramic blooms and freshwater pearls embellish this double headband for a whimsical and romantic feel. We can imagine this worn with a laidback lace wedding gown. Sold by US based BHLDN, you'll need to factor in shipping time and costs if you've fallen for this beauty.
33. The Harper – £150, Ruby and Grace Bridal
With a padded base and 3D flowers made from gossamer silk with a pearlescent bead at their centre, this statement bridal headband will look classic and elegant.
READ MORE: 30 Floral Wedding Dresses Perfect for a Summer Wedding
34. Jennifer Behr Triple Rosette Headband – £374, Farfetch
Yes, the price is up there at the steepest end of the spectrum, but for the right bride it might just be worth it. The blossoming band is made from 100 per cent silk and magnificent quality. It could even become a family heirloom that gets passed down through the generations.
READ MORE: 31 Beautiful Braided Up Do Ideas for 2021
35. Juliet Silk Floral Headband – £89, Alice & Blair
Florals are definitely not just for bouquets – Alice & Blair's pink silk Juliet band brings the beauty of blooms to your headpiece. It might look slightly intimidatingly big at first glance, but the band itself is super flexible, and the fabric impressively lightweight, so it's as comfortable as it is swoon-worthy.
READ MORE: 15 of the Best Hair Masks for Healthy Wedding Day Hair
36. Milk Flower Alice Band – £250, Ann-Marie Faulkner
This hand-embroidered Alice band from Ann-Marie Faulkner's East London studio is so graceful and ladylike, with layer upon layer of sequins and light-reflecting glass beads. It can also be crafted in alternative colours, so get in touch with Ann-Marie if you have something more custom in mind.
Still not sure about your bridal hairstyle? We've got plenty of timeless wedding hair ideas to inspire you.