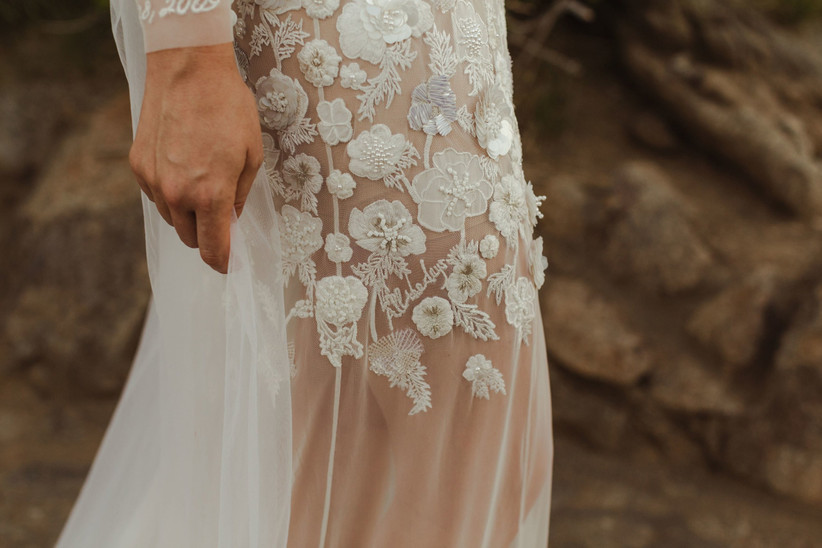 We're all for couples who want to personalise every aspect of their wedding day. From signature wedding cocktails to personalised wedding favours and unique wedding hashtags, there are so many ways to make your wedding day bespoke.
One of our favourite ways to make your wedding more personal is to embroider a secret message into your wedding dress. Whether it's a song lyric, your initials or your wedding date, it's the perfect trend for a sentimental bride.
Celebrities have been getting in on the action for a while. When Priyanka Chopra married Nick Jonas, she wore a wedding dress which had been embroidered with secret messages, including her wedding date, her husband's full name and the names of her parents. Similarly, Victoria Magrath of InTheFrow had her initial and that of her husband sewn into one of her five wedding day outfits.
If you fancy having a personal message embroidered onto your wedding dress, think about what you'd like your embroidery to say and where you'd like it placed. Secret messages work particularly well on lace wedding dresses, but if you don't want the message to be seen on your wedding dress, consider having a message sewn into the lining of your dress.
So without further ado, here are our favourite wedding dresses with secret messages and tips on how to embroider your dress yourself.
The Best Wedding Dresses with Secret Messages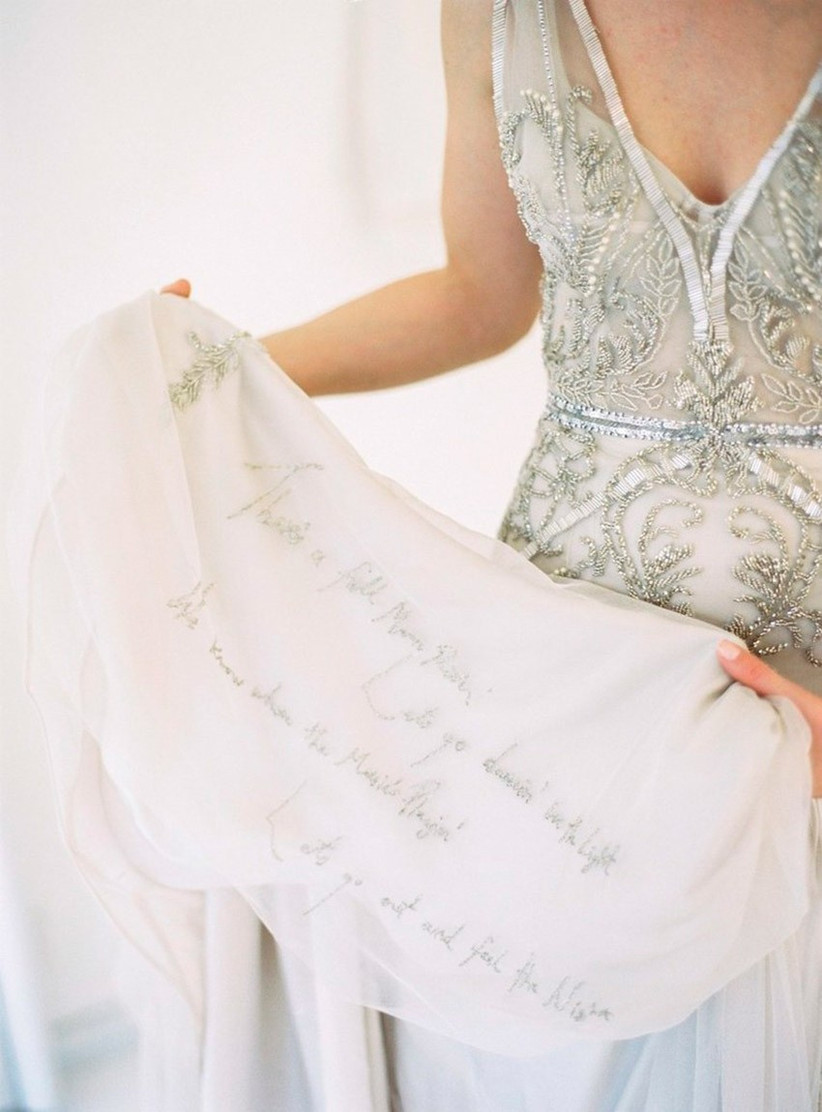 Image: Katie Grant Photo
How gorgeous is this wedding dress? It was worn by wedding dress designer Harriette Gordon on her wedding day, and lyrics from her favourite song have been embroidered into the lining.
How about having your favourite lyric from your first dance song sewn into your wedding dress, or a lyric from another of your favourite songs as a couple?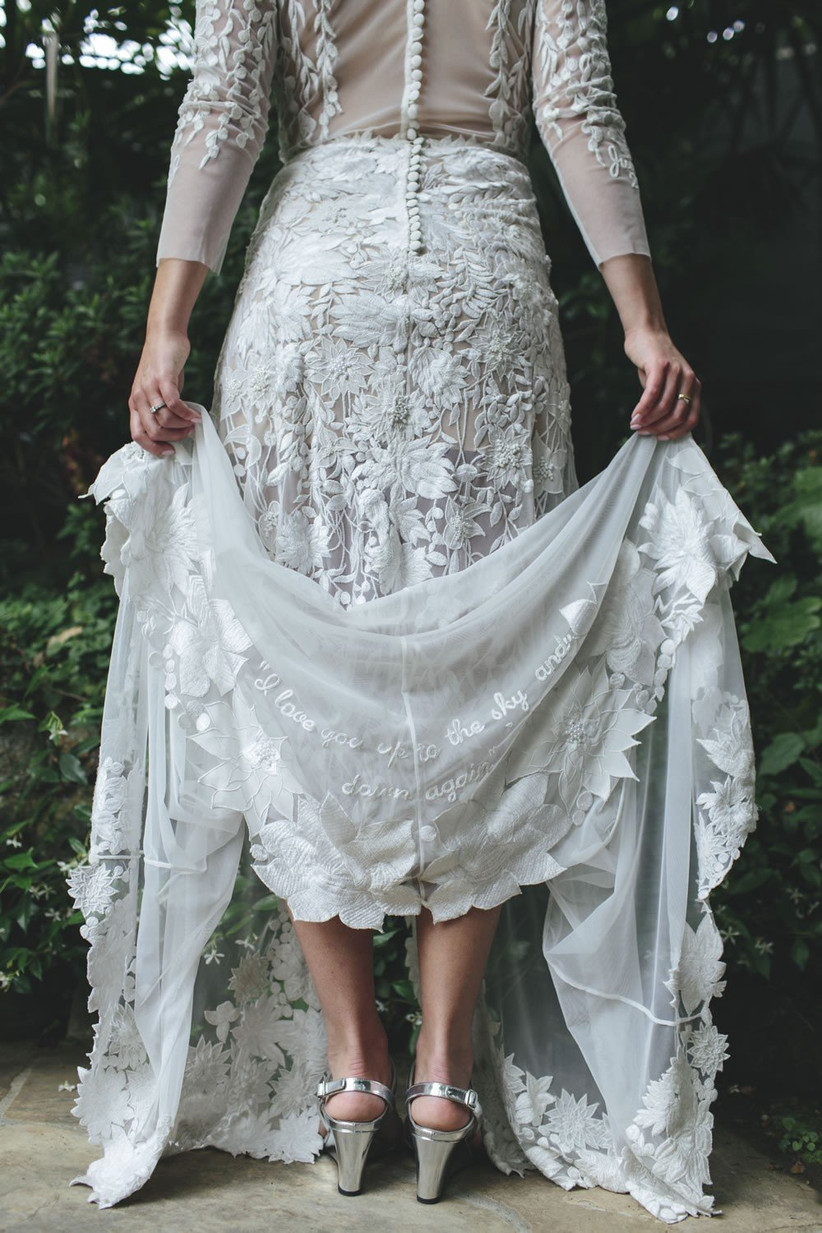 Image: Rad + In Love
The train of this lovely wedding dress has a romantic quote about love embroidered into it – and we're obsessed.
If there's a romantic quote which you're using as part of a wedding reading or speech, consider having that embroidered into your wedding dress. It'll ensure your wedding dress becomes totally one of a kind!
READ MORE: Wedding Speech Order Explained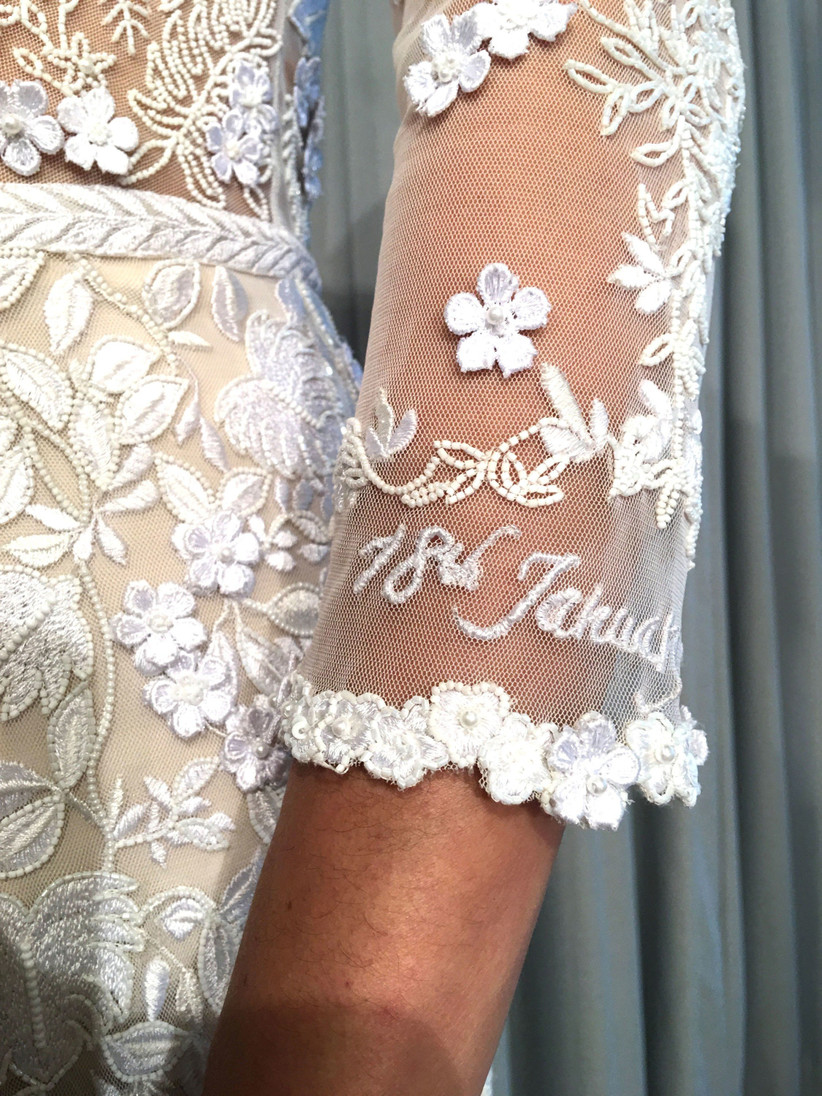 Image: Pinterest
Hermione de Paula is known for her custom-made gowns with hidden embroidery, and judging by this delicate personalisation, we can totally see why.
If you're wearing a long sleeve wedding dress with lace sleeves, consider having your wedding date embroidered on the wrist. It's a lovely touch which will make a beautiful wedding photo idea.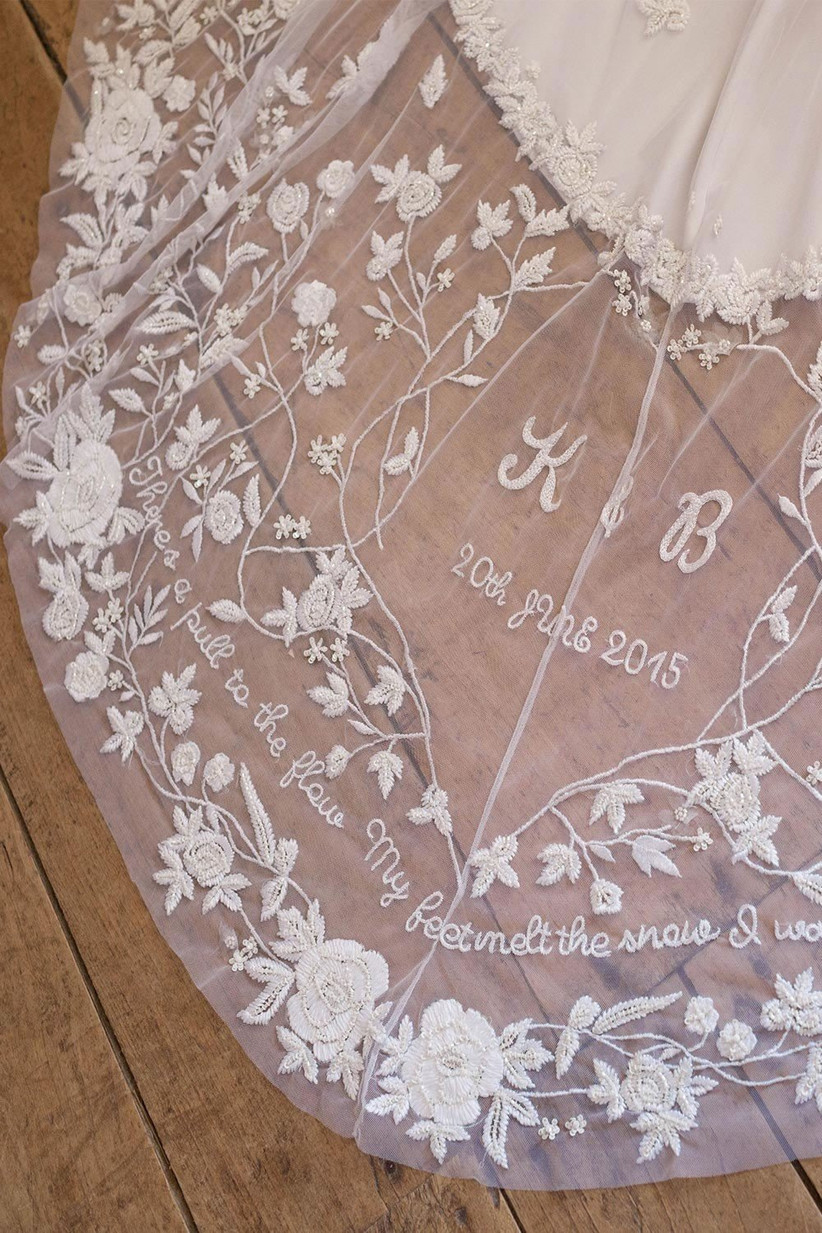 Image: Pinterest
This embroidery isn't on the bride's wedding dress but her wedding veil instead. Doesn't it just look lovely?
Not only are the couple's initials embroidered into this wedding veil, but their wedding date and their favourite quote about love as well. The sky is the limit when it comes to making your wedding day get-up bespoke!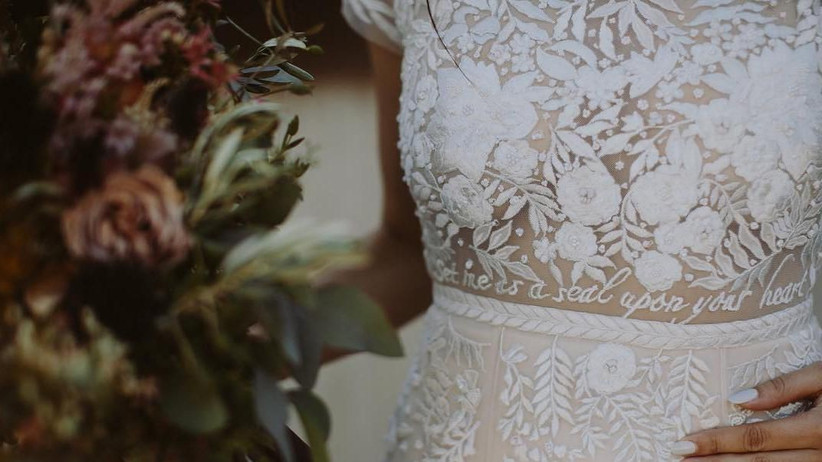 Image: Hannah Beth Photography
Who says your embroidered message needs to be hidden? This bride has chosen a bold placement and had her Hermione de Paula wedding dress embroidered around the waist. It's such a lovely touch.
This bride has chosen to have her wedding dress designer include a romantic quote from the Bible on the bodice of her gown. It says: "Set me as a seal upon your heart".
READ MORE: 51 Bible Verses About Love & Marriage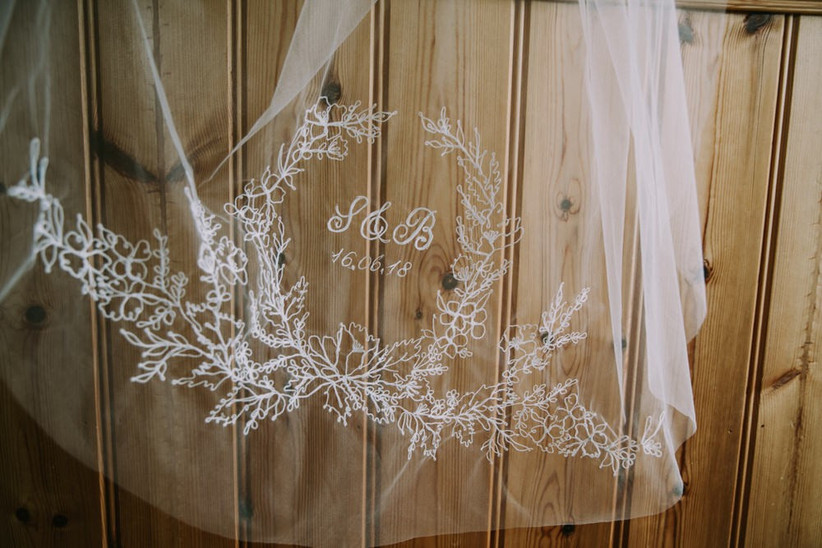 Image: Pinterest
This wedding veil combines delicate floral embroidery with embroidery of the couple's wedding date and initials. Simple yet oh-so-effective, it's the perfect finishing touch.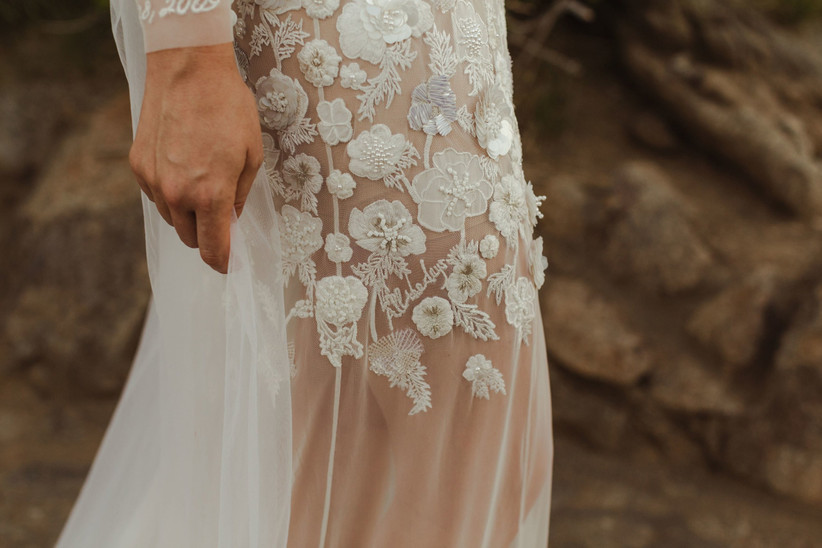 Image: Pinterest
We're obsessed with the placement of this personalised embroidery. Not only does the bride have her wedding date embroidered on her sleeve, but "All the days" printed on her thigh. Sexy and sophisticated.
READ MORE: 50 Simple Wedding Dresses for Modern Brides
How to DIY a Secret Message in Your Wedding Dress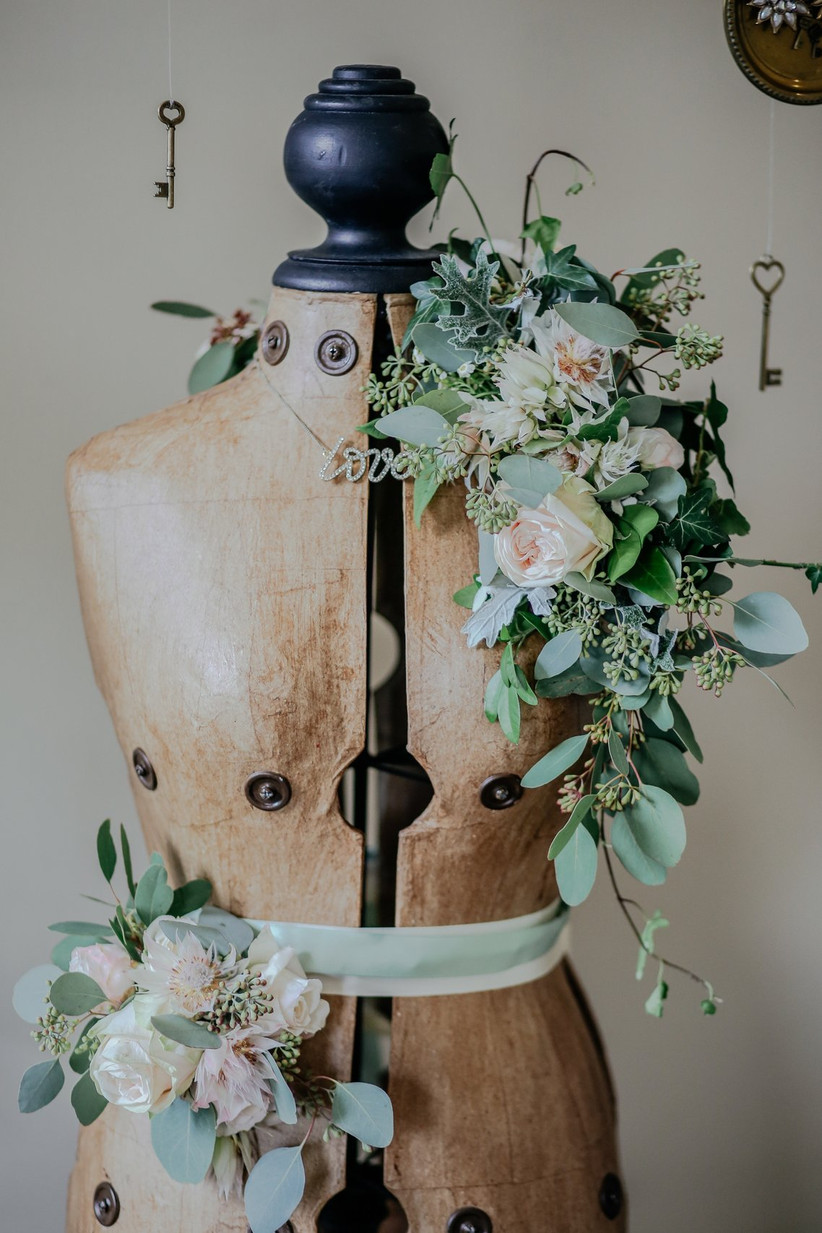 Thinking of embroidering your wedding dress yourself? Follow these simple steps to make sure you get it right…
You Will Need:
Method:
1. Decide What Your Message Will Say
Before you do anything else, you need to decide what you'd like your embroidery to say.
Do you want to make a statement with song lyrics or a quote, or would you like small and simple initials or a date? There really are no rules when it comes to personalising your wedding dress, so let your imagination run wild!
2. Decide on Your Embroidery Placement
Once you know what you'd like your message to say, you can decide on the placement of your embroidery. If you want it to be seen by all of your guests (and in your wedding photos), consider a bold placement like the waistband or train.
If you want something a little more subtle, your wrist would be a lovely place.
If you want to keep your embroidery totally secret, consider embroidering the lining of your wedding dress.
3. Write Out Your Message
Type out on your computer and print (or draw on a piece of white paper) the message you want to be on your dress. You'll later use this to trace onto your dress.
If you use a computer, you can choose from lots of different fonts that you love, but the benefit of writing your message on paper is that your secret message will be in your own handwriting.
Take your piece of paper with your pattern on it and place it underneath the dress where you want the embroidery to be. This might be underneath your veil, underneath your lace sleeve or underneath a layer of lining.
With your pencil, lightly trace over your pattern.
4. Cut Your Embroidery Floss
Next, cut a length of thread about 30 inches long.
5. Thread Your Needle & Start Sewing
Hold your pieces of floss together and pull them through the eye of your sewing needle. The "eye" is the loop at the opposite end to the sharp needle point. Pull the strand about a quarter of the way through the eye and let it hang, then tie a knot in the end of the long end of floss.
Once you've threaded your needle, place your dress in your lap with the pencil pattern right in front of you. You need the side that you want to see when it's finished facing upwards.
Put your needle with the floss on it underneath your dress, and place the sharp end of the needle at the spot where your pencil mark starts. Pull the needle through the dress at this starting point and pull the needle through the dress under the knot catches and there's no more floss to pull at.
6. Keep Sewing!
Now, you can carry on sewing your pattern. Use the pencil markings as your guide and sew over the pencil markings.
Top tip: don't pull your needle too tight when you're pulling the floss through the fabric. The stitch you'll be doing is called running stitch, and there are lots of tutorials on YouTube if you're still feeling unsure.
7. Finish Up!
Once you've reached the end of your pencil marks and your embroidery is complete, push your needle through the fabric to the wrong side. Turn the dress over so you're looking at this wrong side, pull the needle off and gently tie the floss into a knot. Tim the ends and leave a tail of approximately one inch. Et voila! Your wedding dress with a secret message is complete.
READ MORE: 23 Pairs of Designer Wedding Shoes That Are Worth Blowing the Budget For