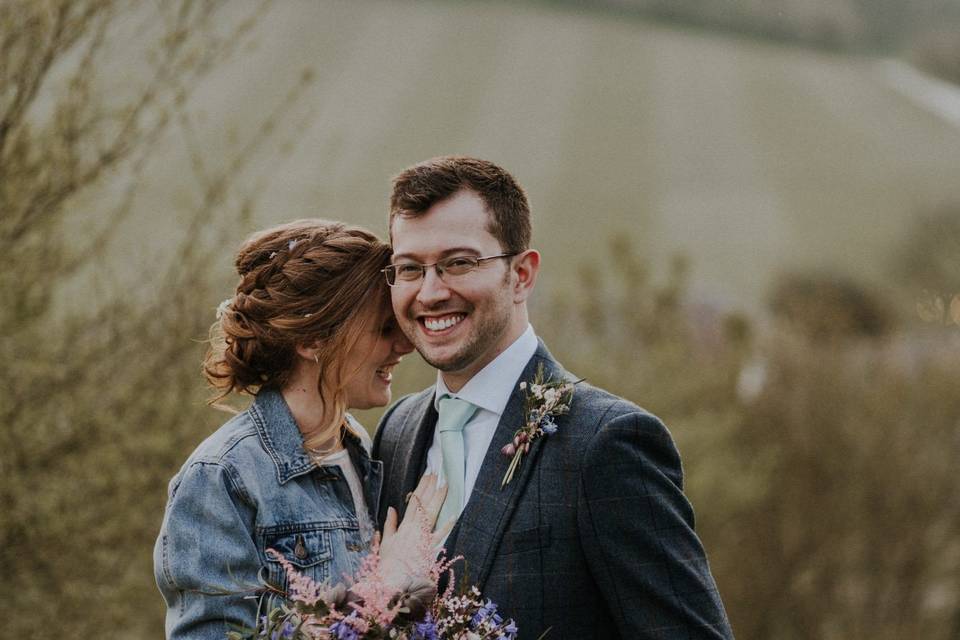 A ceiling of pastel lanterns, a wildflower chandelier, DIY hula hoop table plan and matching boho denim jackets for the bridal party brought Susan and Leigh's relaxed and bohemian barn wedding vision to life.
While Susan and Leigh's wedding was certainly picture perfect, Leigh's Cornish proposal didn't quite turn out how he imagined thanks to an unexpected storm.
"Leigh proposed on a weekend away in Devon/Cornwall in May 2017 – it had been a bit hit and miss with the weather, but we persevered with getting out and about to explore.
"We ended up at one of my favourite beaches, Porthcurno (which was obviously not an accident!), and in between heavy downpours of rain, Leigh got down on one knee on the deserted beach and proposed! We then hid under the lifeguard's hut as another storm rolled in – not quite the sunny afternoon he had hoped for but perfect all the same!"
Despite the stormy start, the couple enthusiastically took to wedding planning and quickly became just a little bit obsessed with Pinterest (totally relatable). "Pinterest was our main source of ideas for things we may want to include and we also used some websites like Hitched – this was mainly for supplier suggestions and places to buy some of our decorative bits and bobs for around the venue."
After almost two years of careful planning, Susan and Leigh married at Upwaltham Barns in Chichester.
Photographer: Lola Rose Photography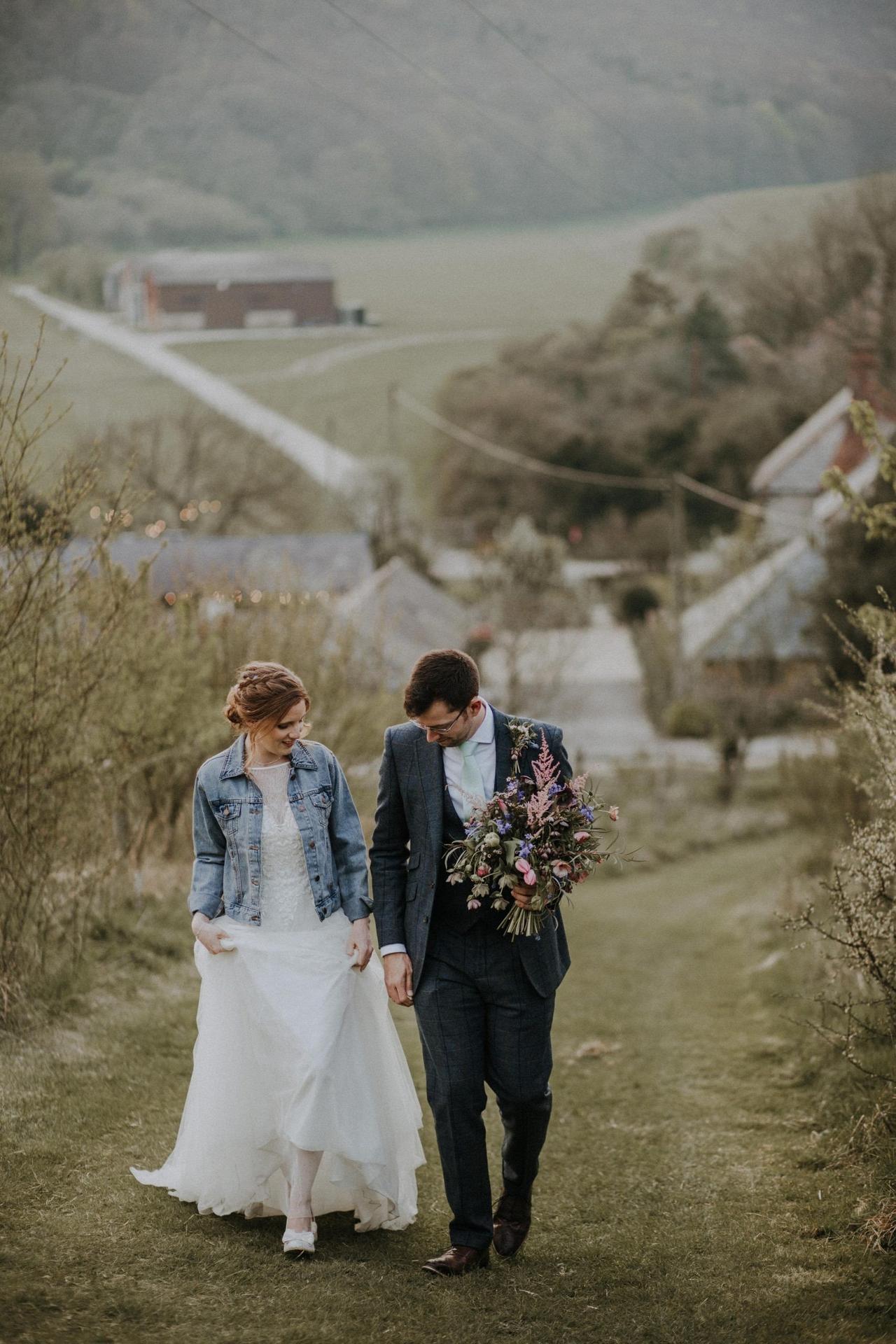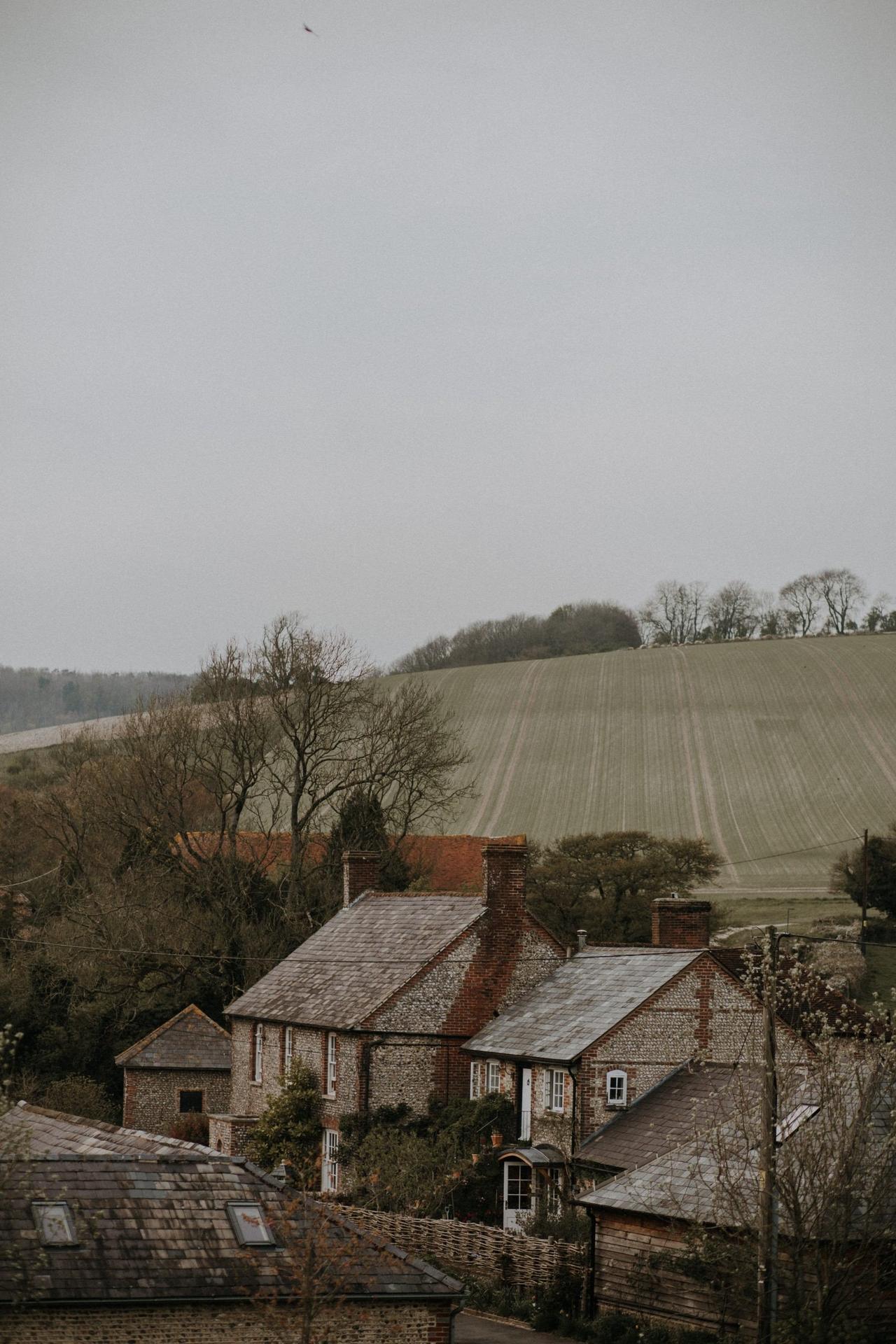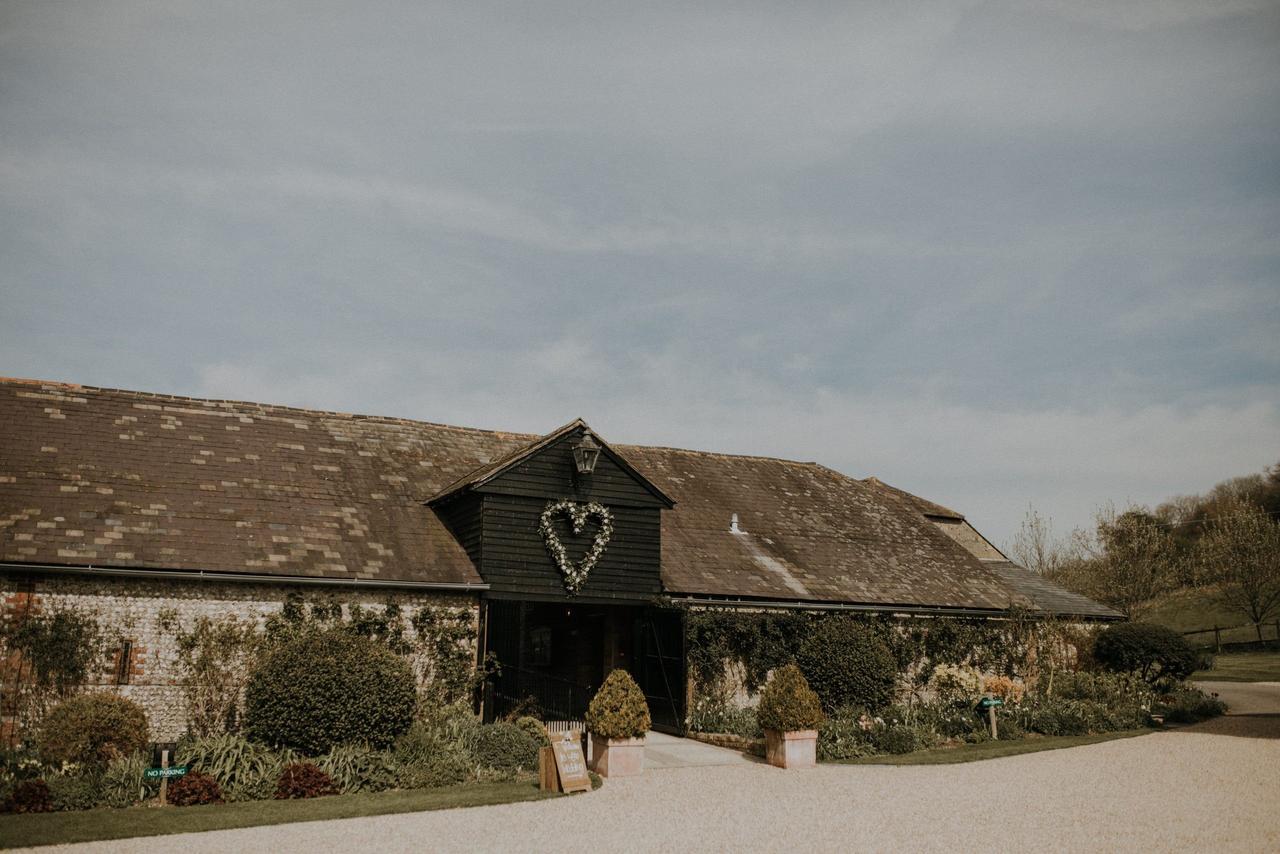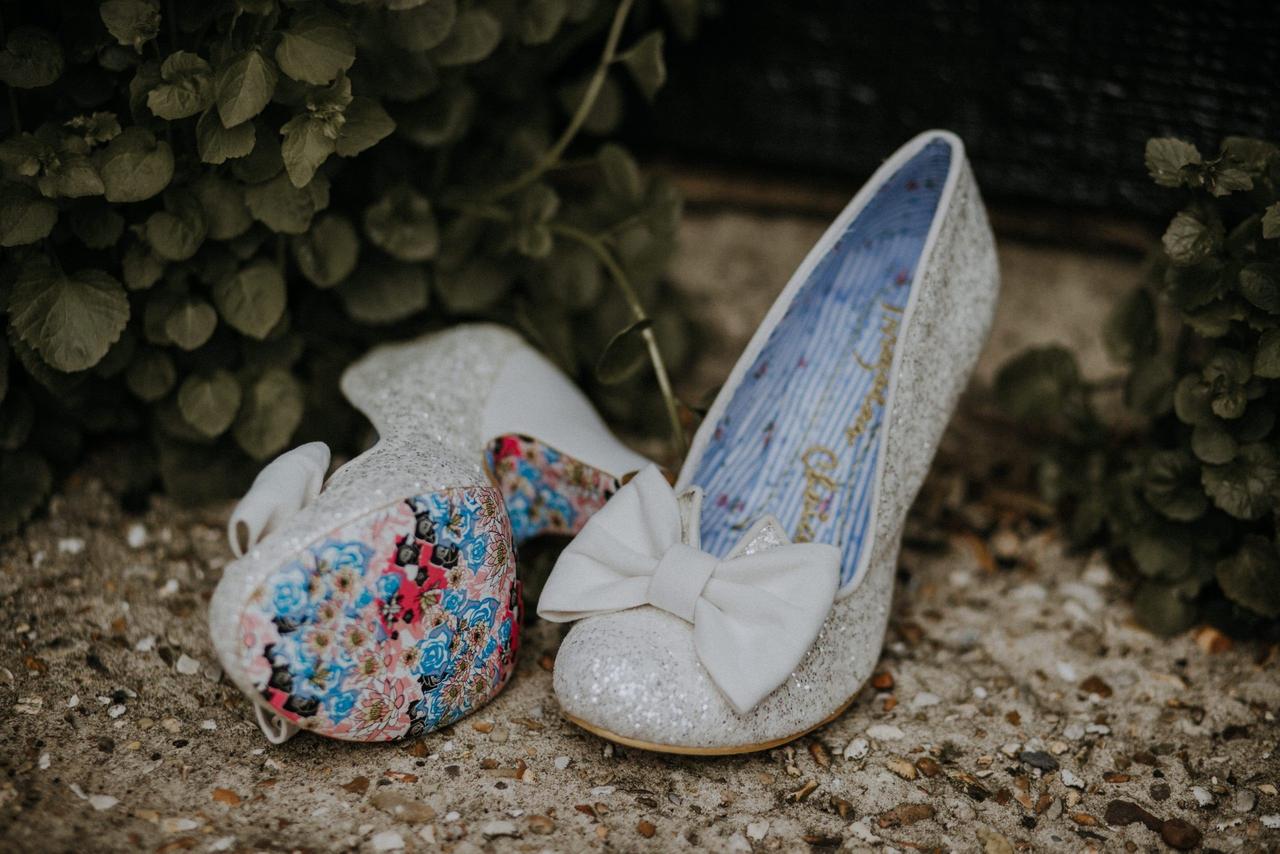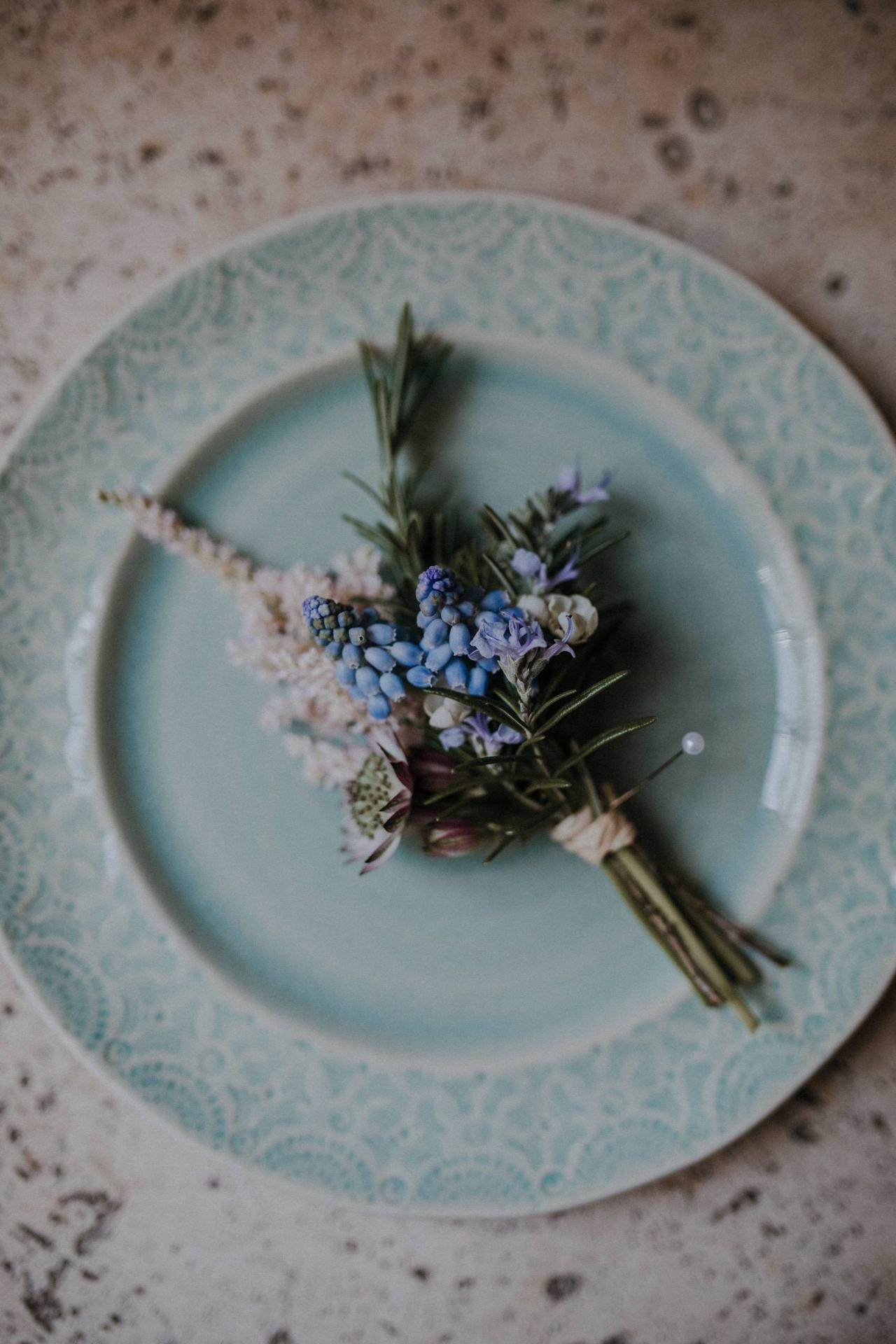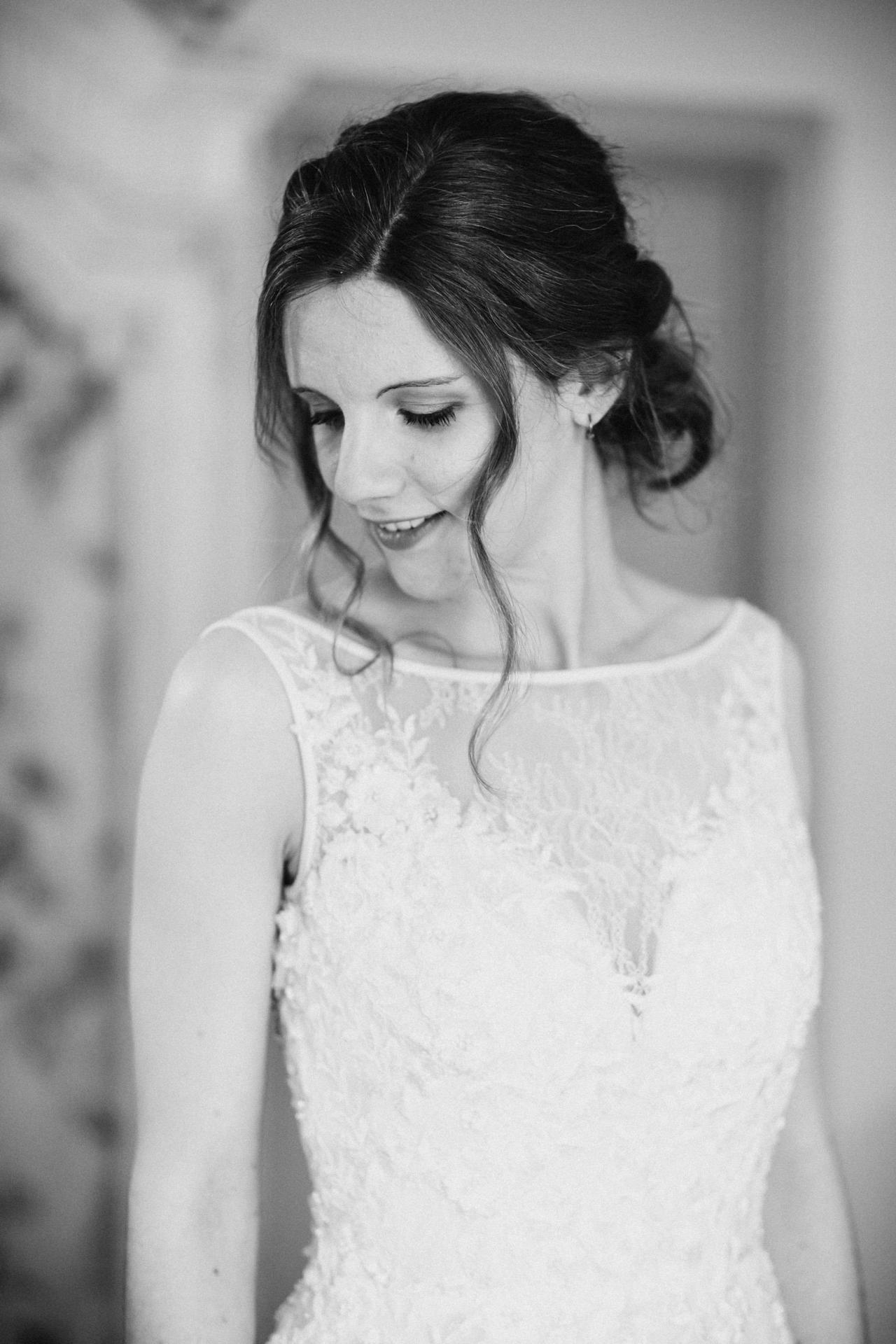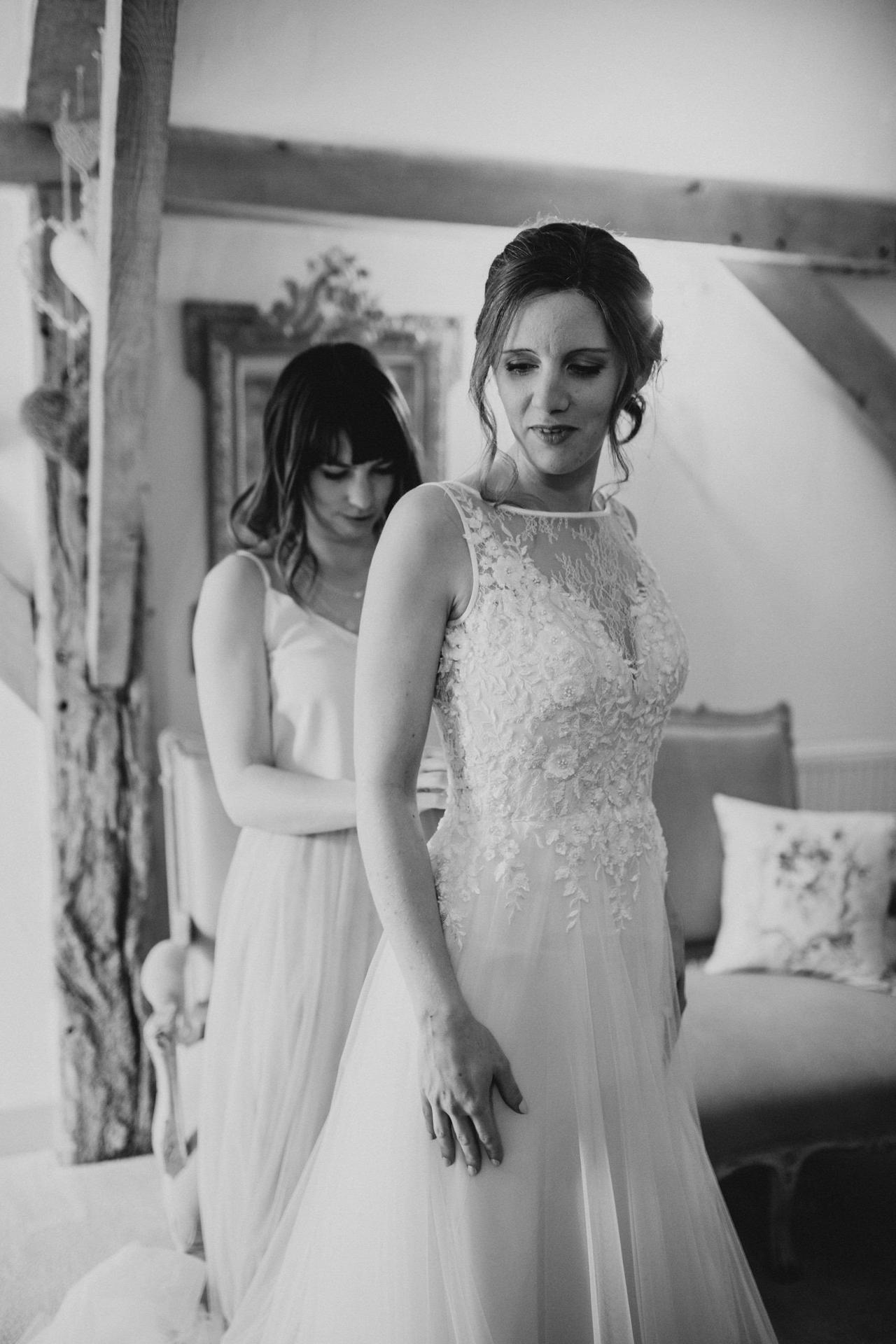 The Wedding Dress
Susan began her search at Blessings Bridal in Brighton, and she found she didn't need to look much further. "I have never been a 'dressy' person so buying my wedding dress was quite daunting and I wasn't really sure what I wanted other than something very relaxed and a little bohemian (this was the one thing I was worried about in the whole wedding process!).
"We went to Blessings Bridal first and they were amazing and really helped me pinpoint what I wanted – they actually picked out my dress from other bits I had tried on and they got it absolutely perfect!
"I did go to a couple of other shops before purchasing my dress, just to be sure, but came back the following week with my Mum and placed the order there and then. It just felt right, and I am so pleased I went with that feeling!"
Susan's Sincerity Bridal gown featured layers of tulle with a chapel length train and an illusion bodice with lace appliqués and a deep V back.
The bride's look was finished off with a choker from Boho Boutique and a pair of glittering, white Irregular Choice shoes.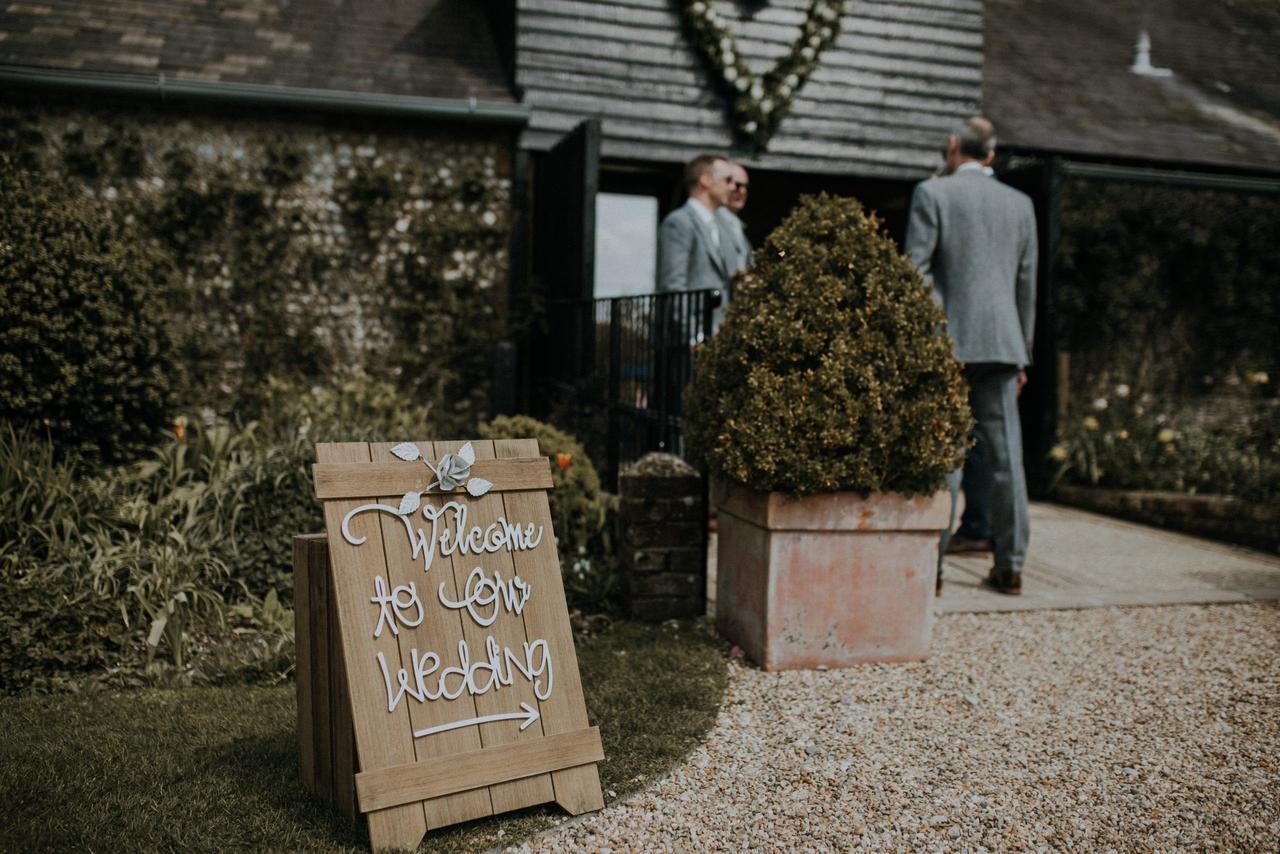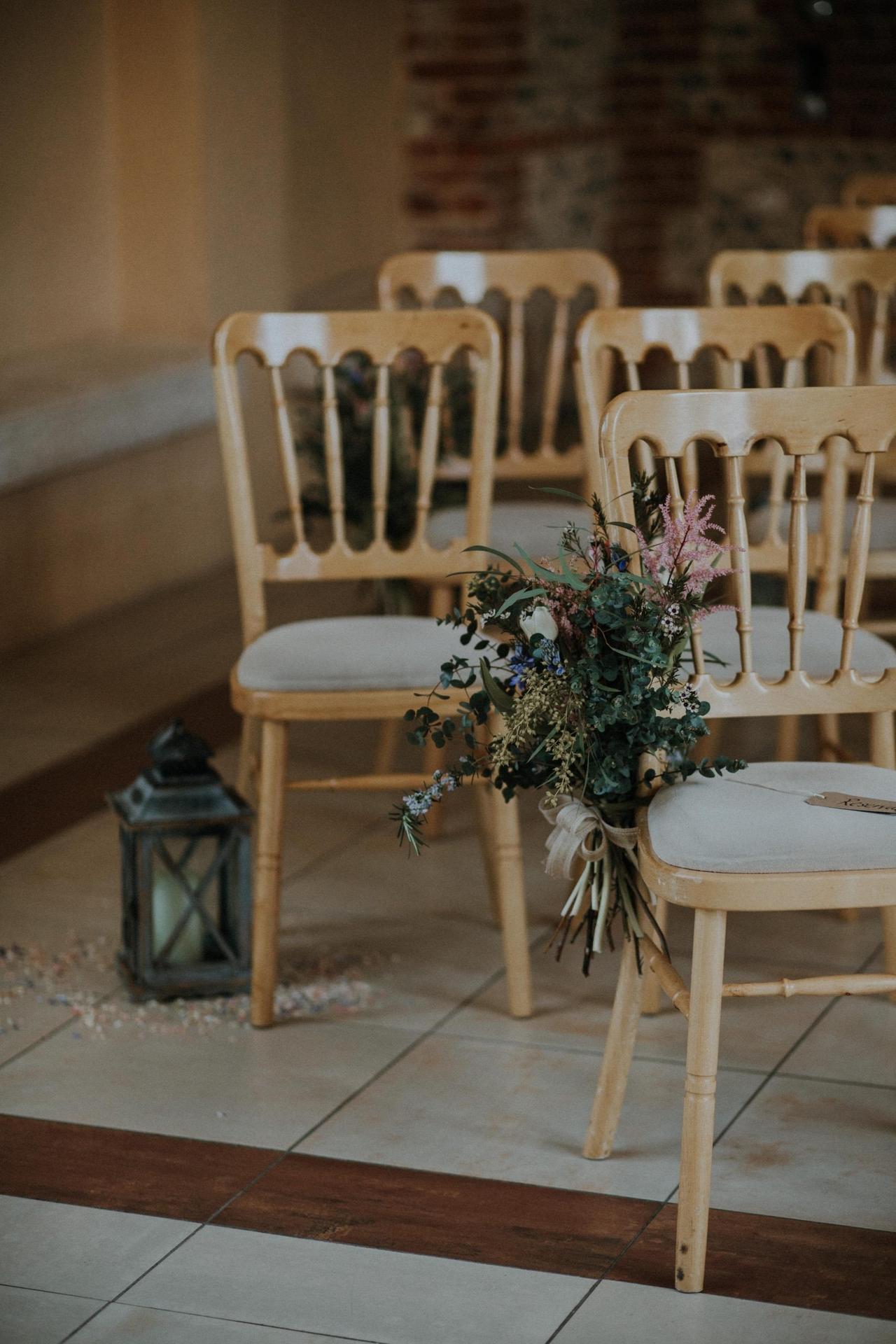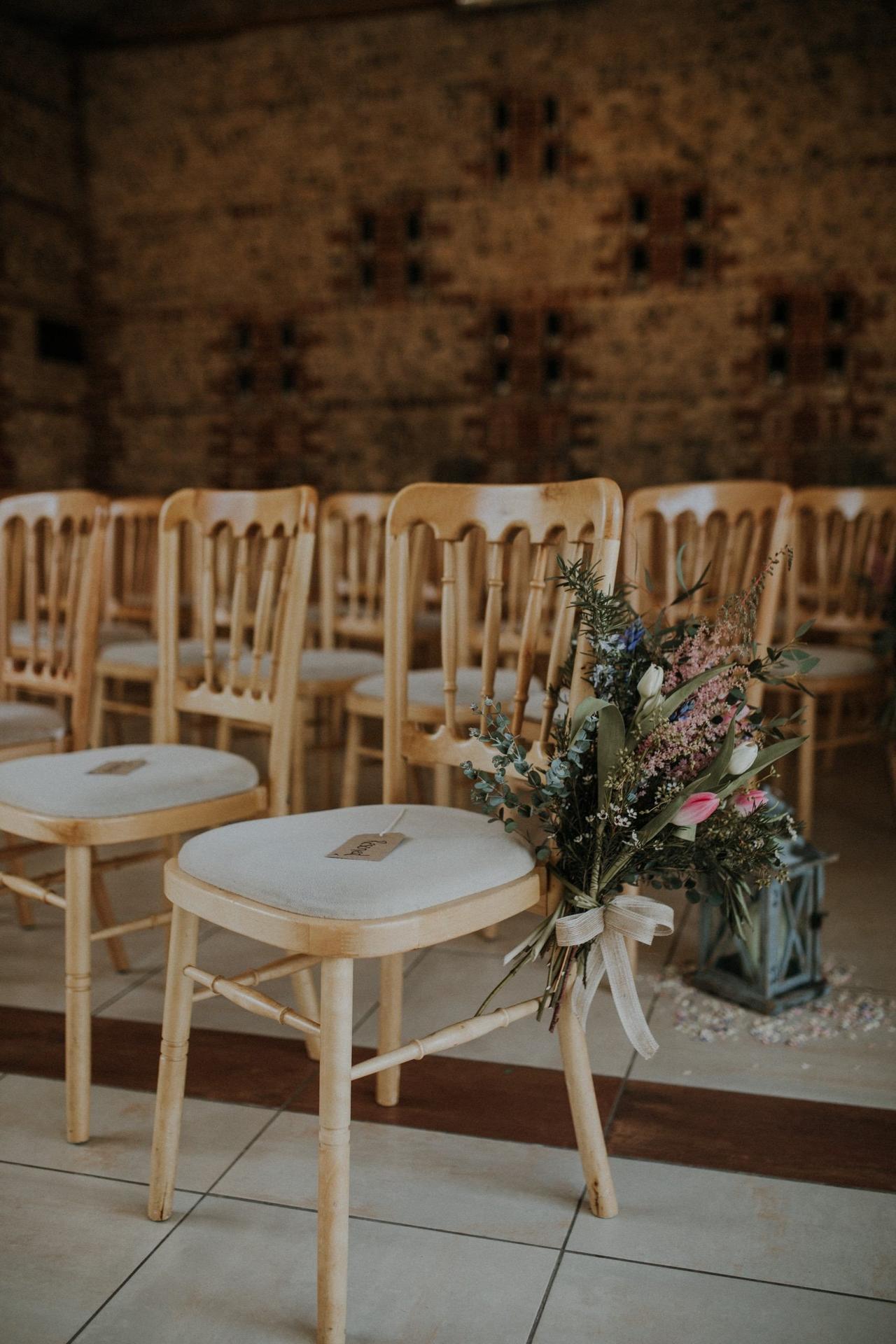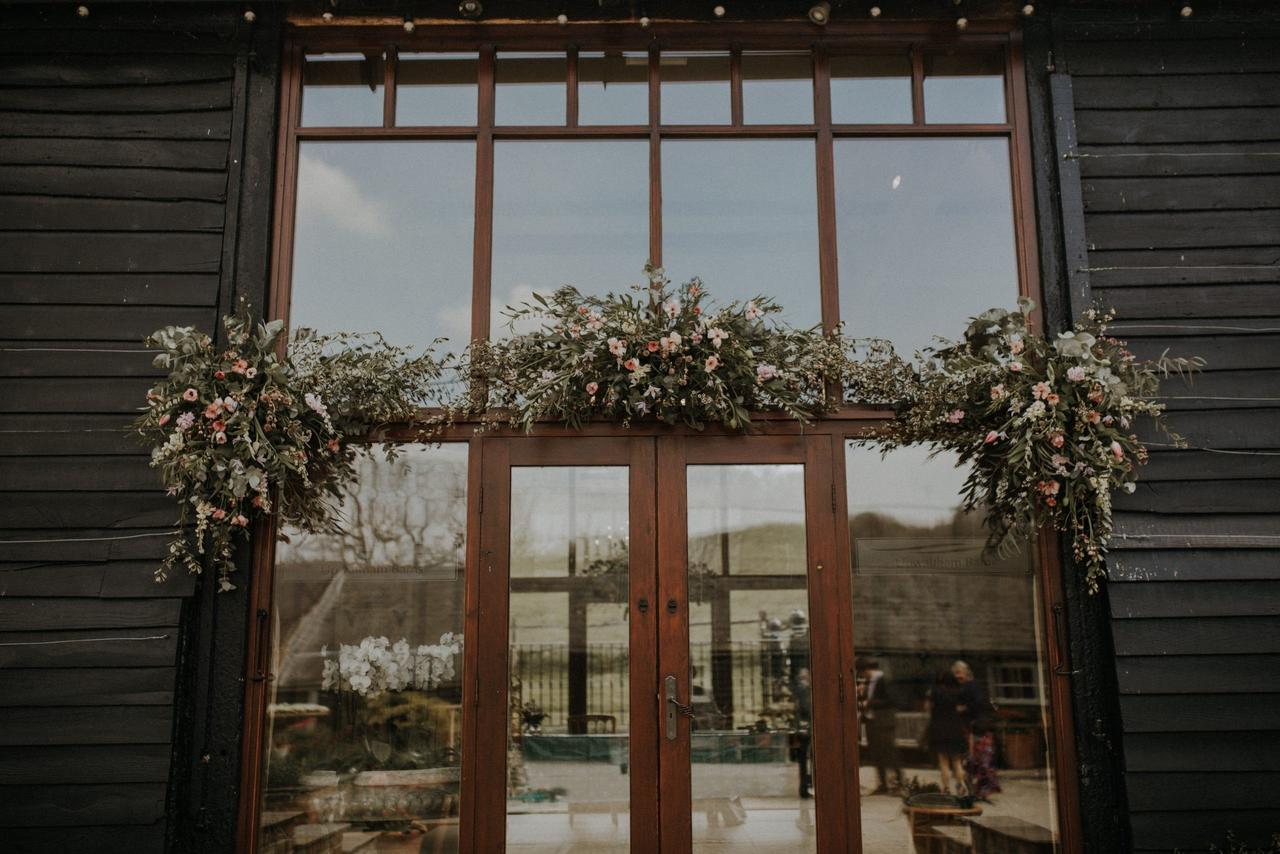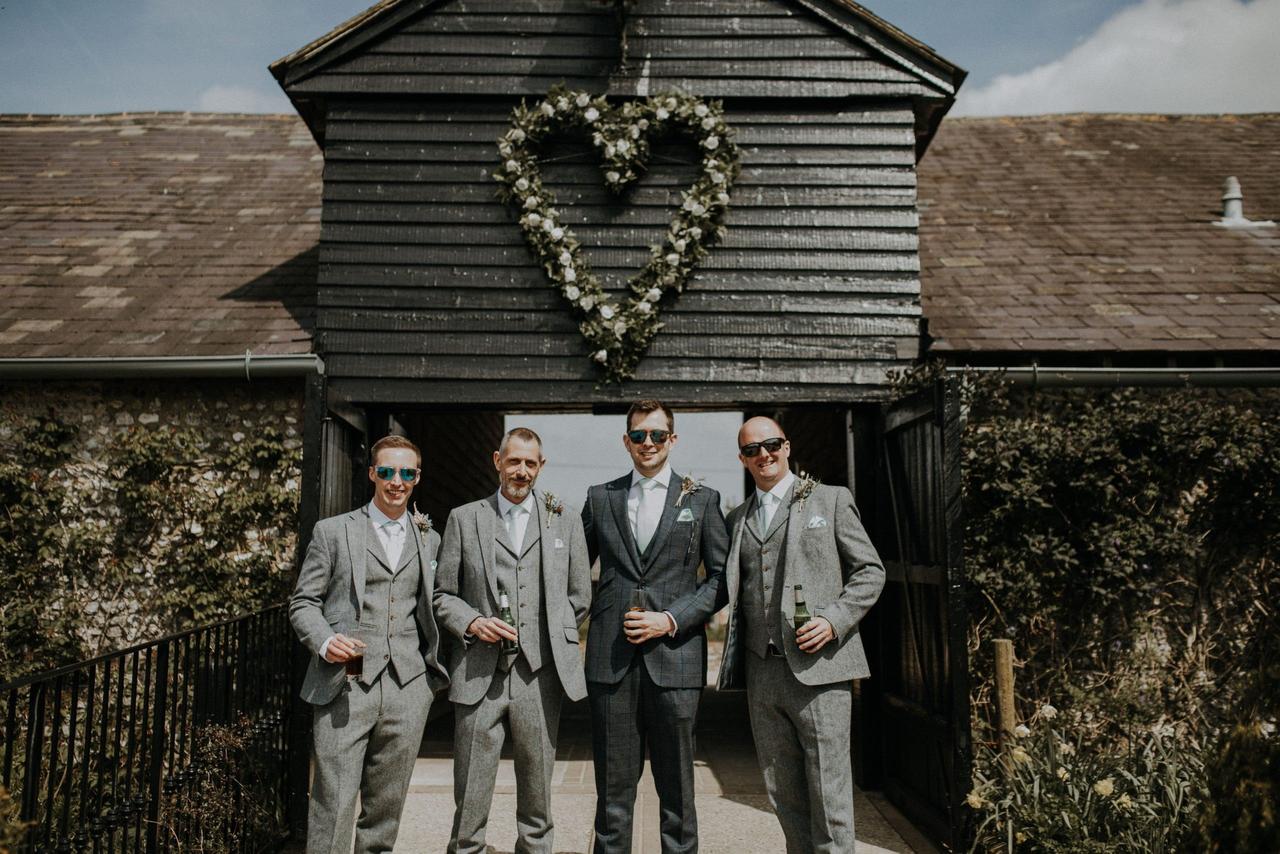 Bridal Beauty
To complete the boho look that Susan had created, she opted for a relaxed up-do.
"My hair was up in a plait on one side and a simple twist on the other joining together on the back into a messy bun. I had flowers in my hair to finish which was later joined by confetti which we left in as it actually looked quite nice!"
Susan's makeup was kept natural and neutral, which perfectly suited her laidback bridal look.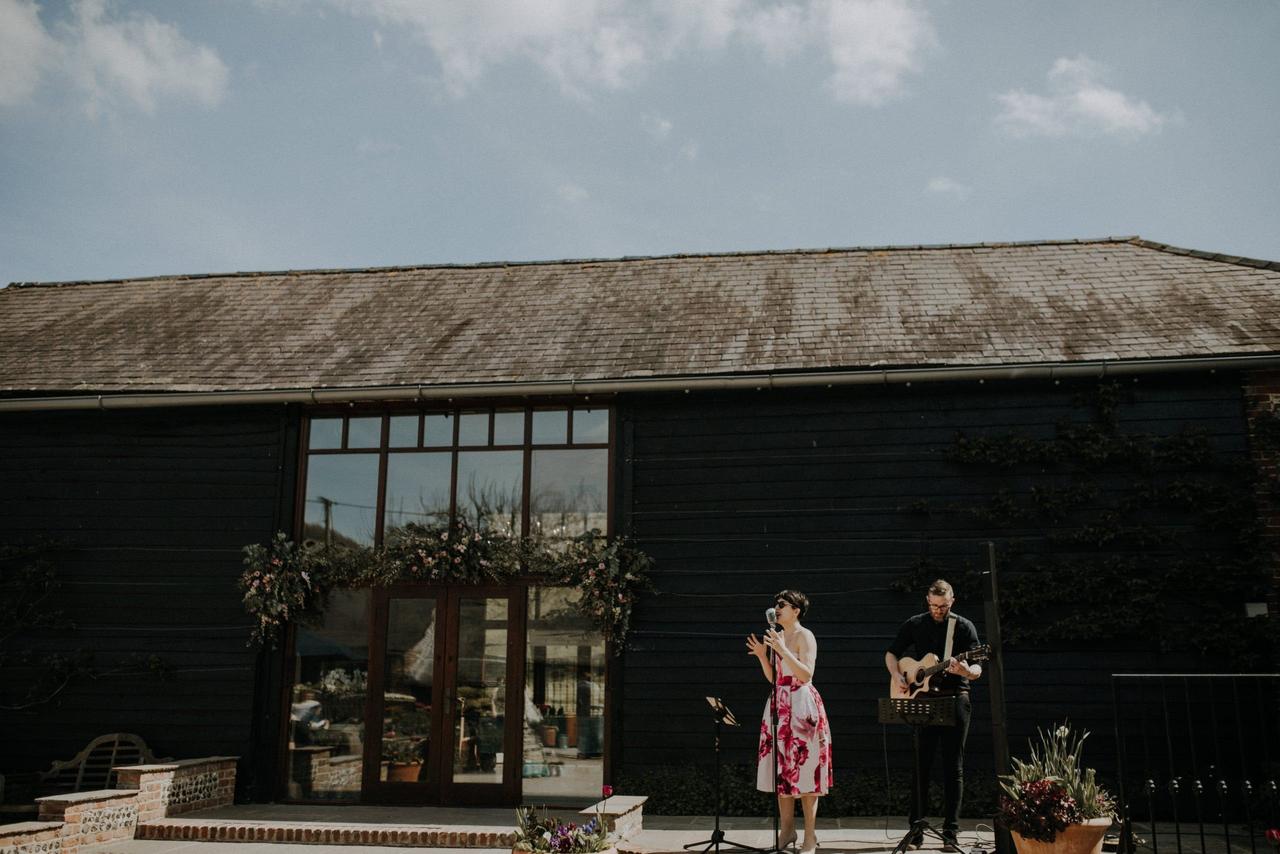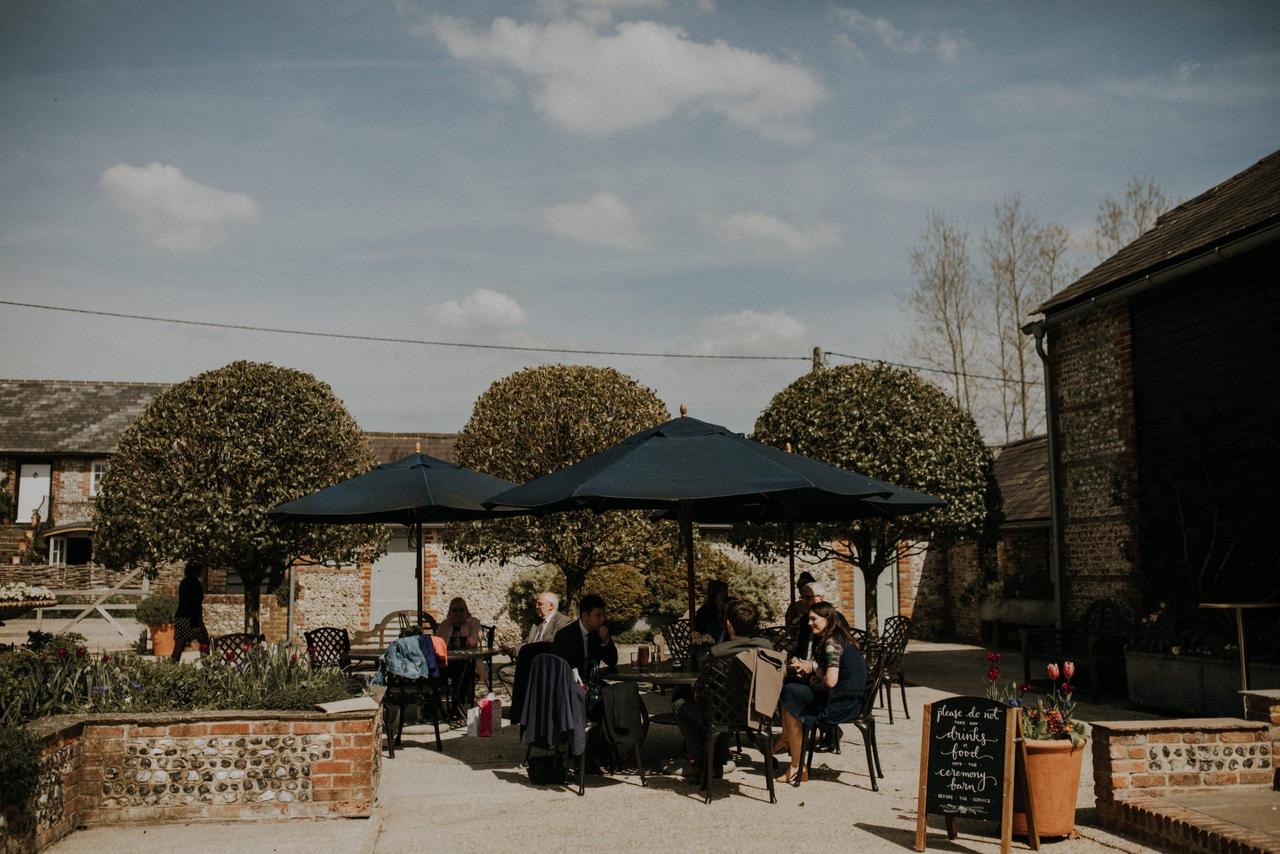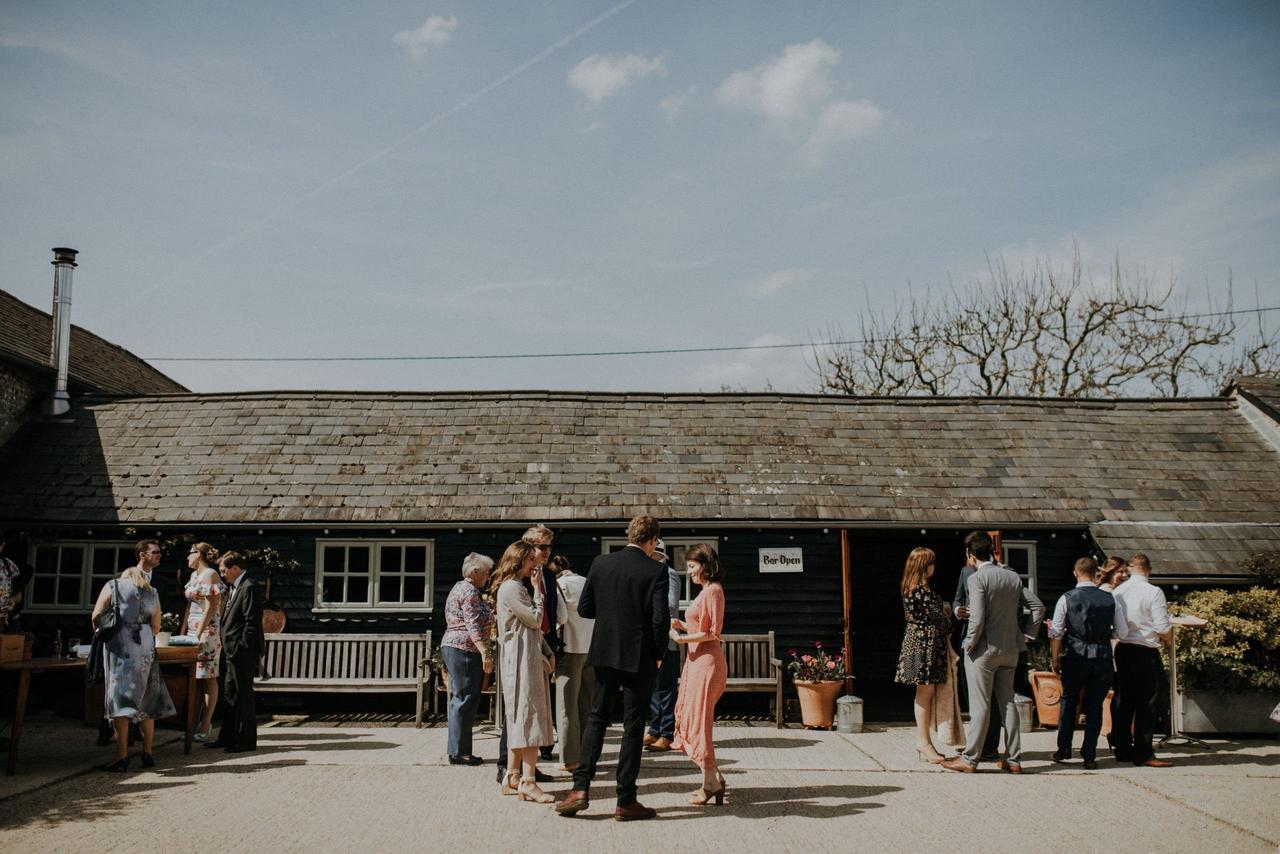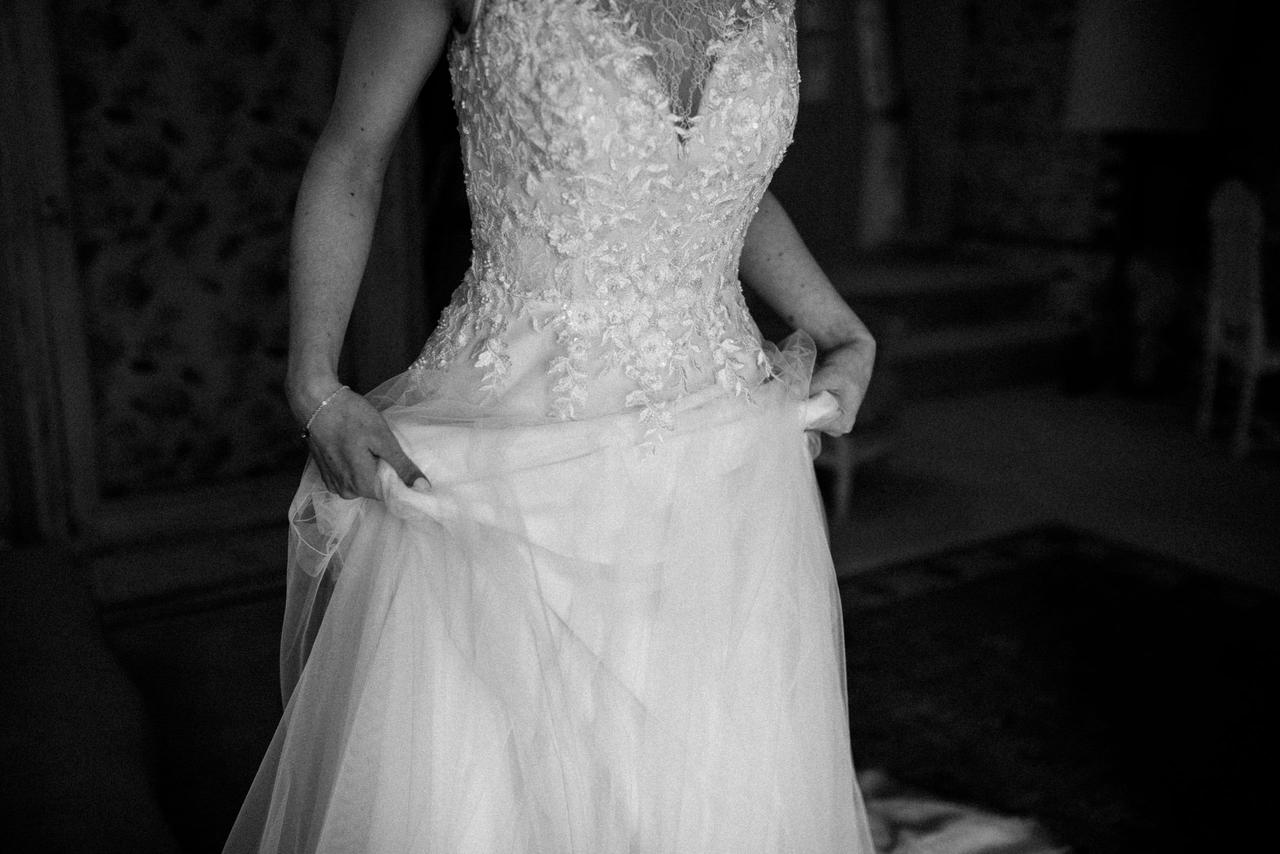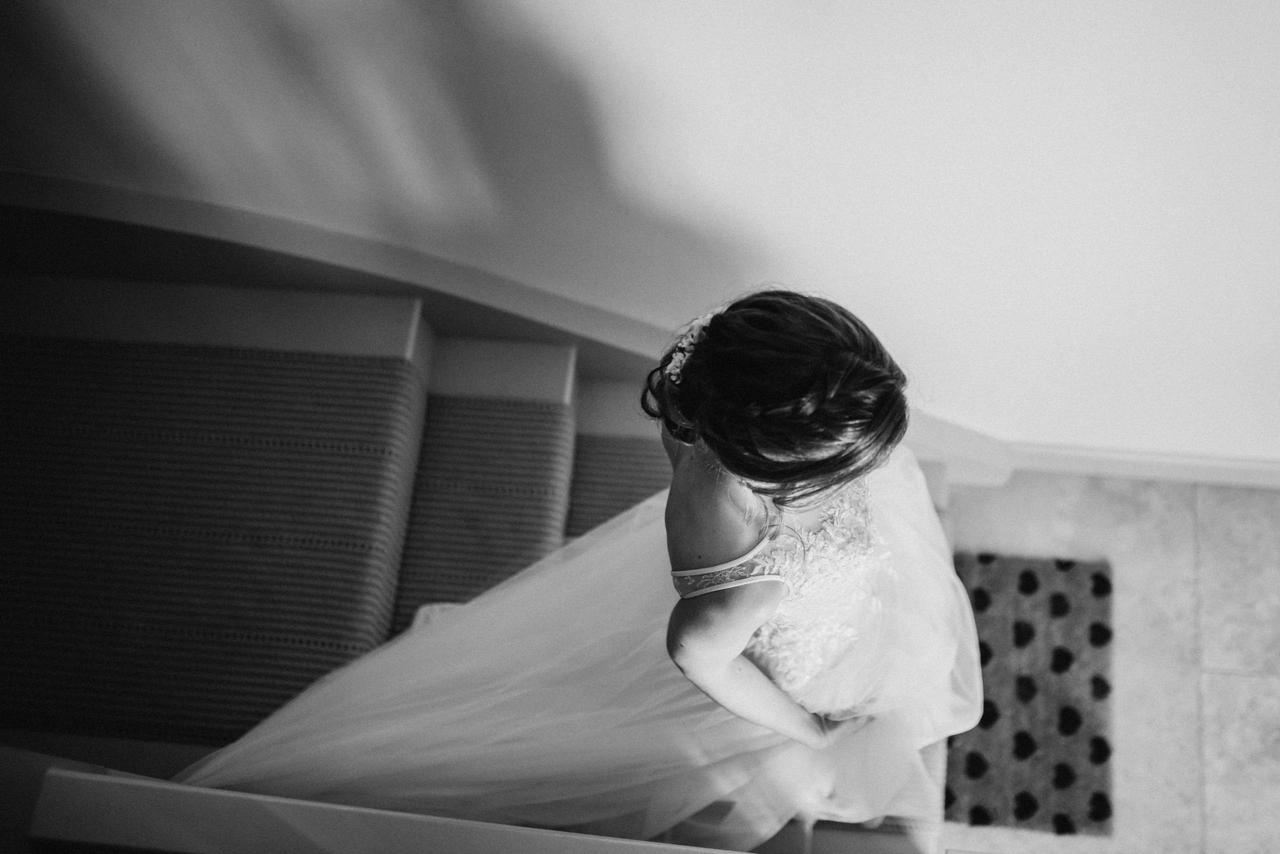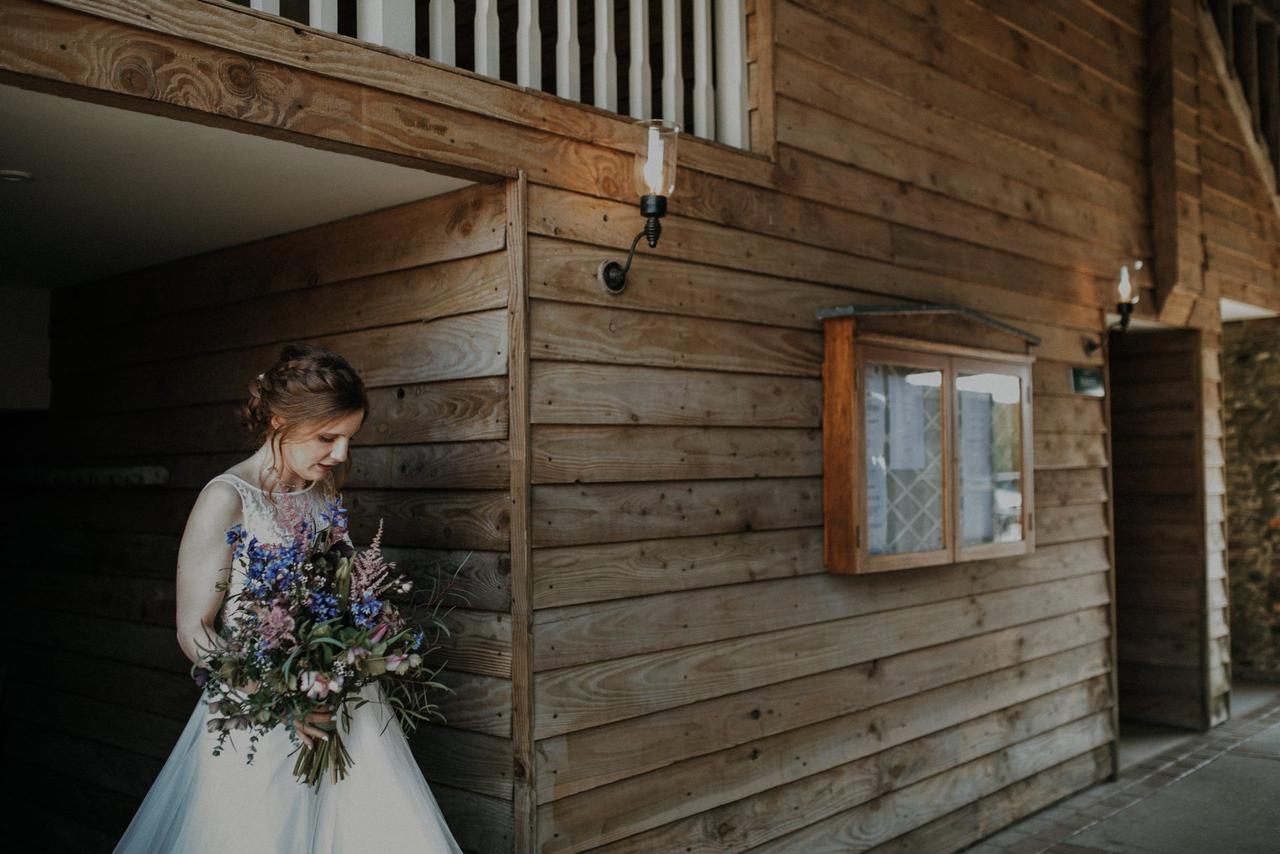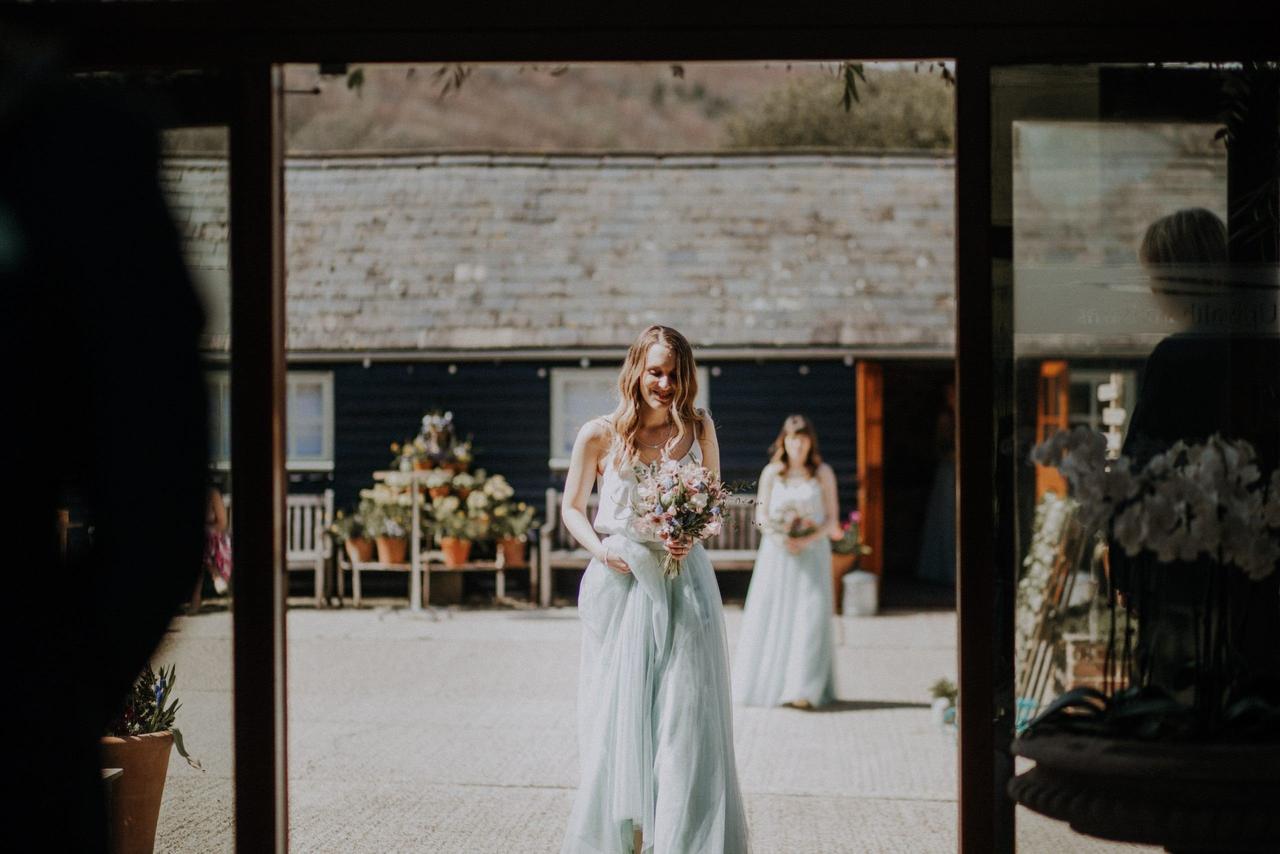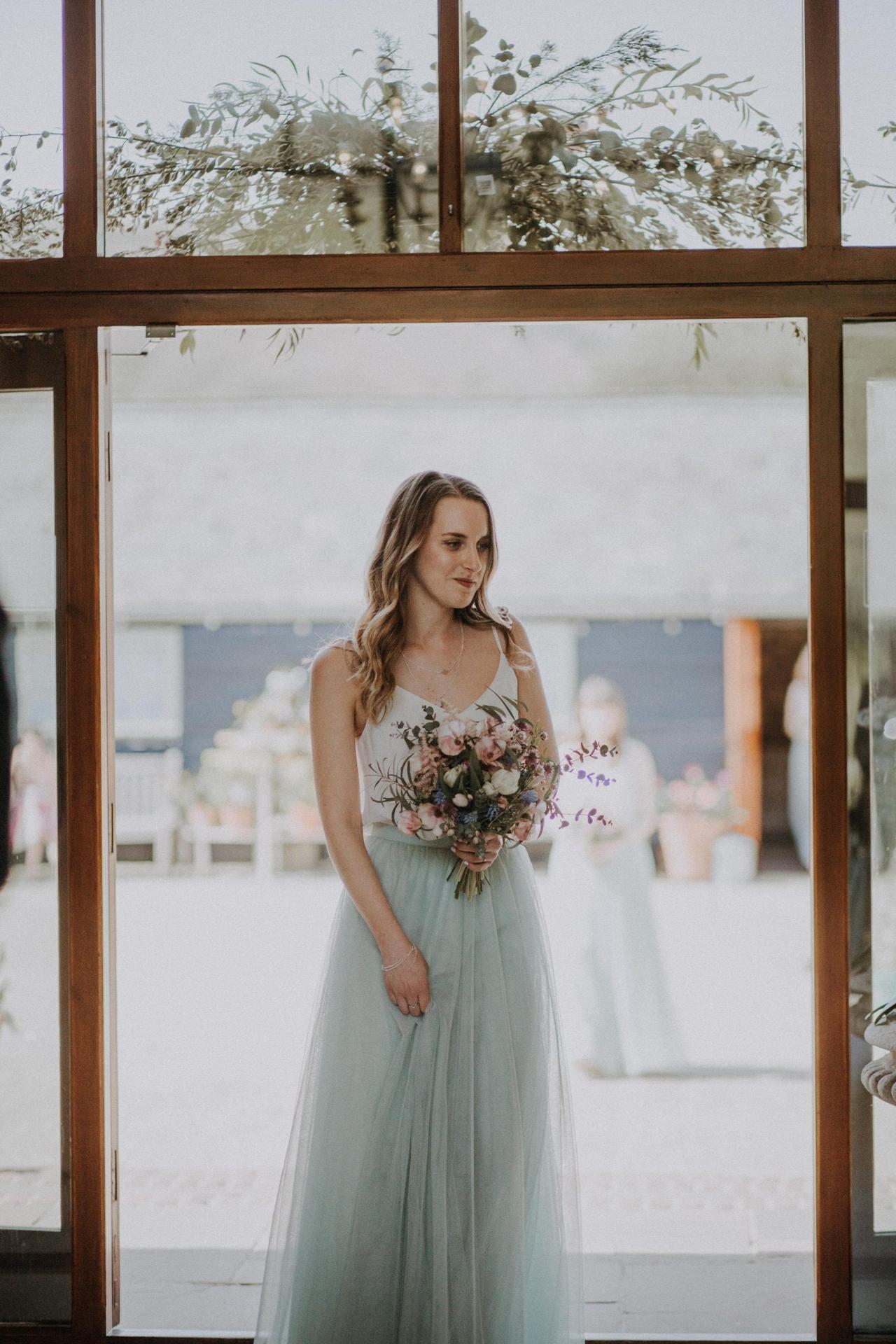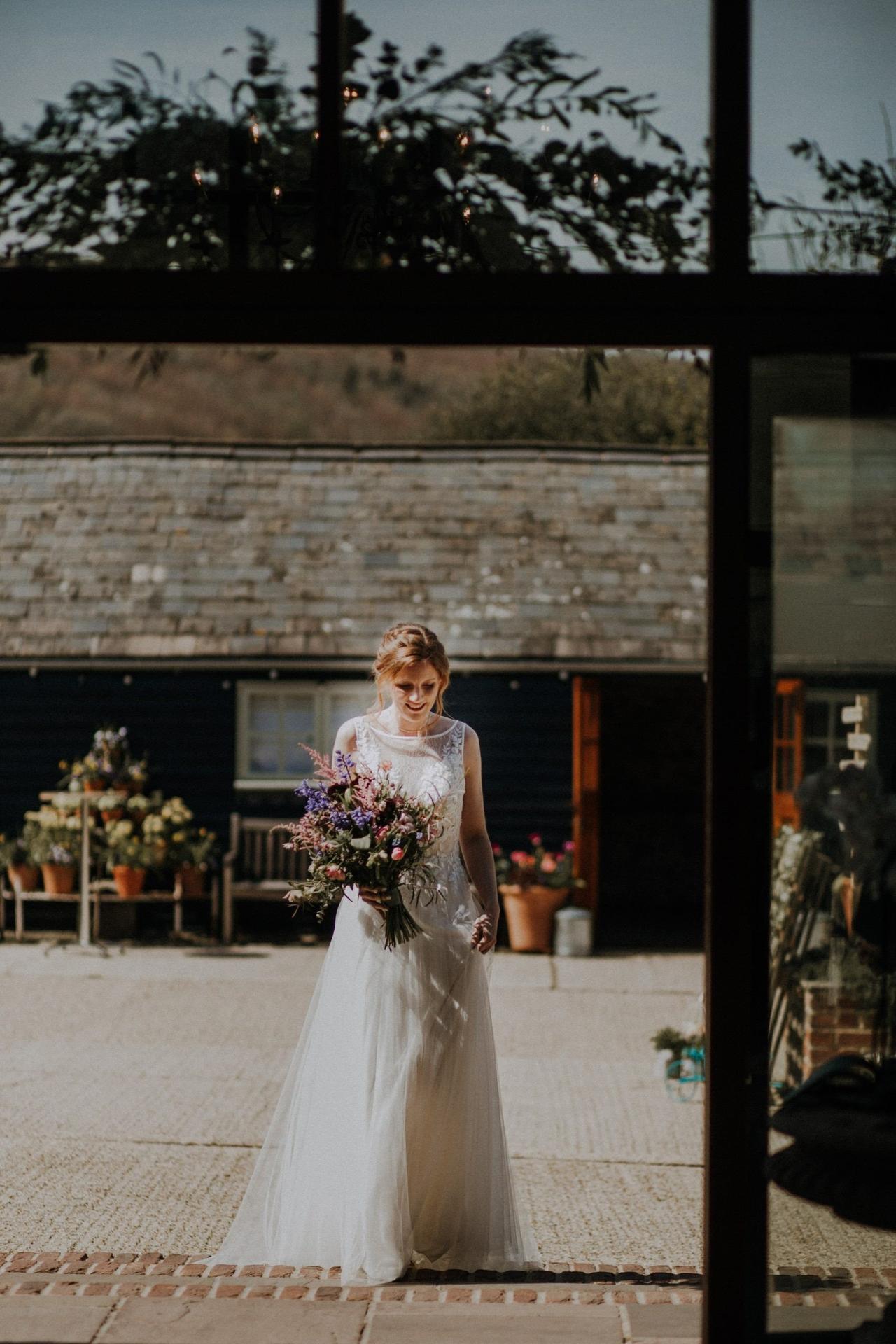 The Wedding Party
Susan recruited two school friends to be her bridesmaids and her sister as maid of honour. The girls were dressed in a similarly pretty, laidback boho style. "They wore tulle skirts from an online American shop, Revelry. It was great to choose the exact colours we wanted as we got samples and then sent measurements across and they tailored the skirts to our order. Their tops were white silk camisoles which we ordered on ASOS and their shoes came from Debenhams. The whole style came together really well and was exactly what I was hoping for.
"We also had a denim jacket each as a cover up instead of something more traditional. his was something I really wanted to do but didn't decide on until about four weeks before the wedding when we then went on a mad hunt for the right sizes but I am so pleased we did – it looked better than I could have hoped and fit so well with the relaxed style we wanted (and we all gained a lovely jacket we can keep using!)."
The bridesmaid's outfits were finished with loose wavy hairstyles and accessories from Boho Boutique.
The groomsmen wore light grey blue tweed suits, each with a waistcoat and a pale blue tie, all hired from Black Tie in Crowthorne. The groom set himself apart from his groomsmen in a slightly darker suit that was tailored especially for him. "It is a stunning suit and fits perfectly and he is incredibly pleased with it, it will last a lifetime."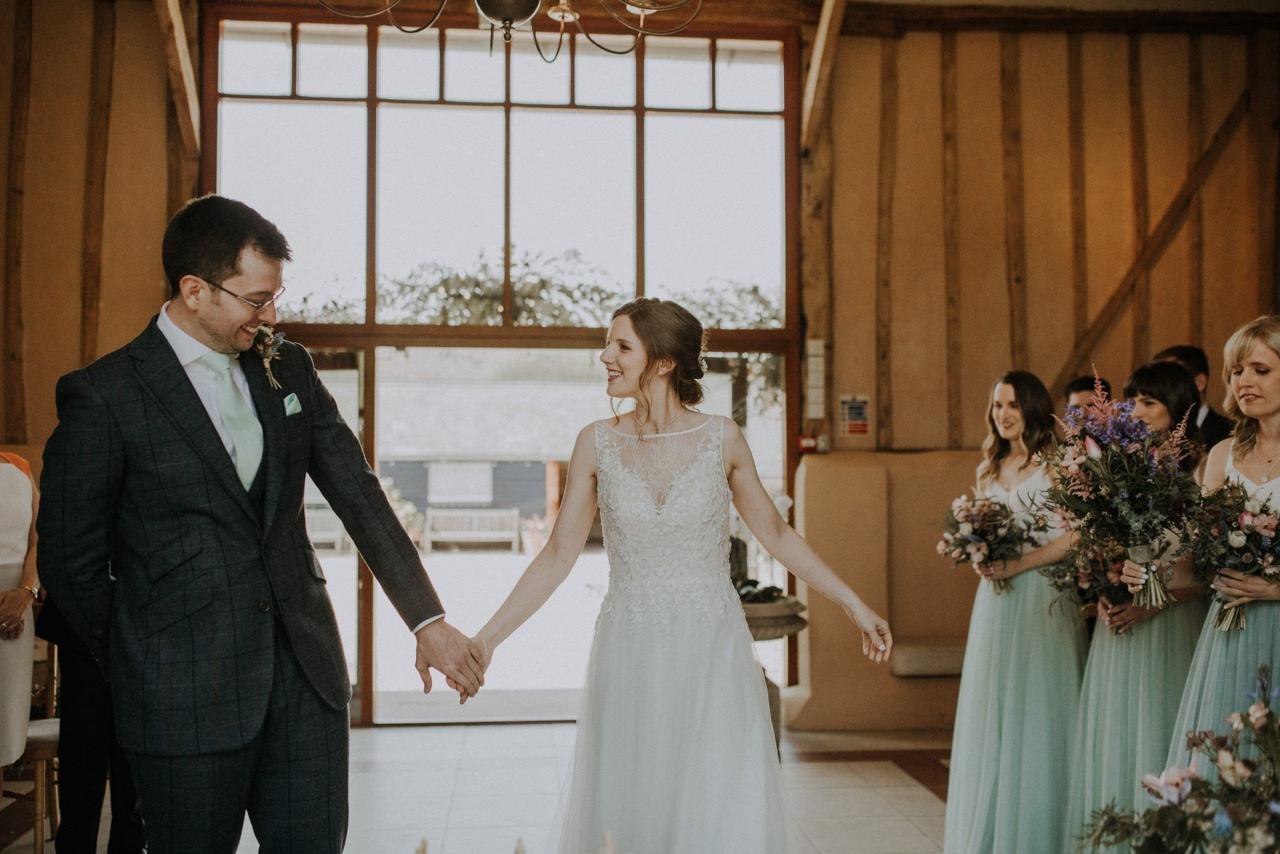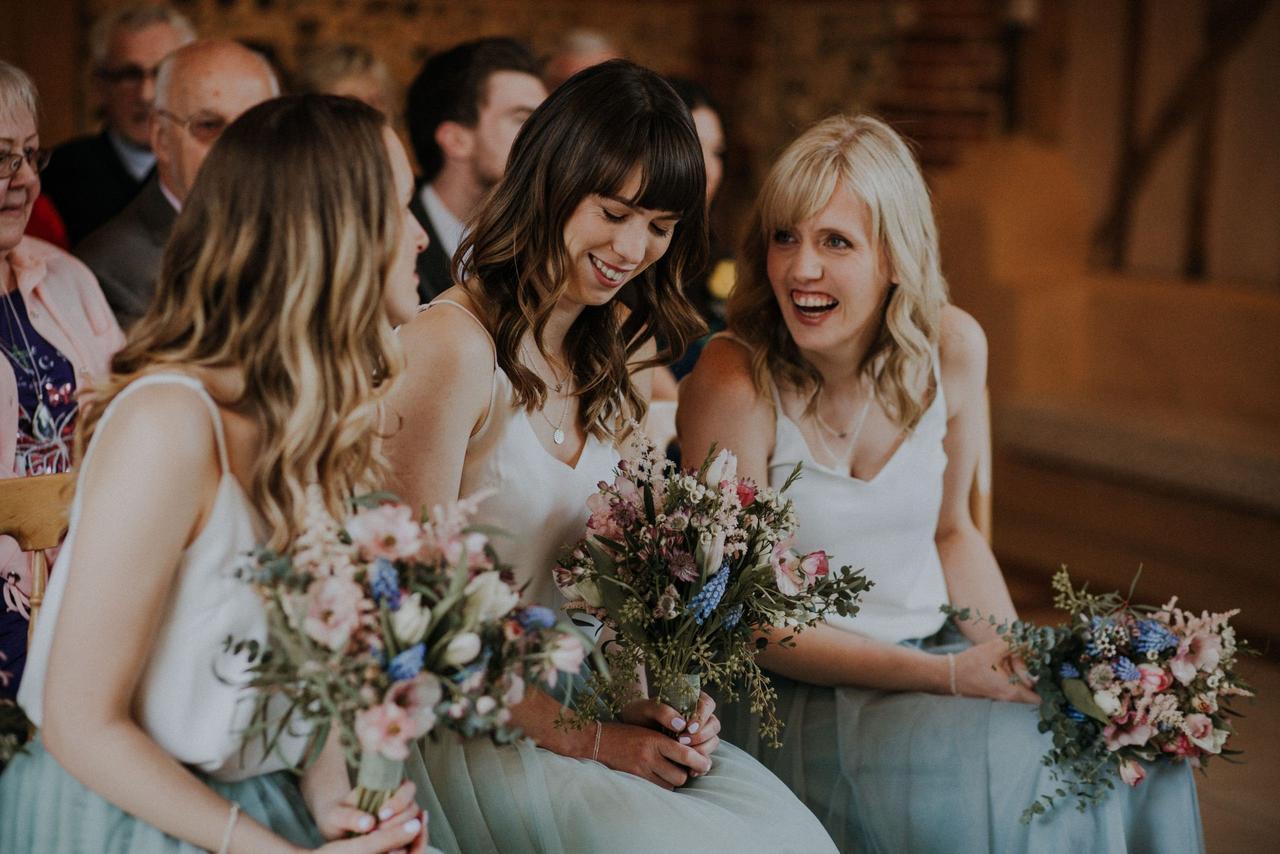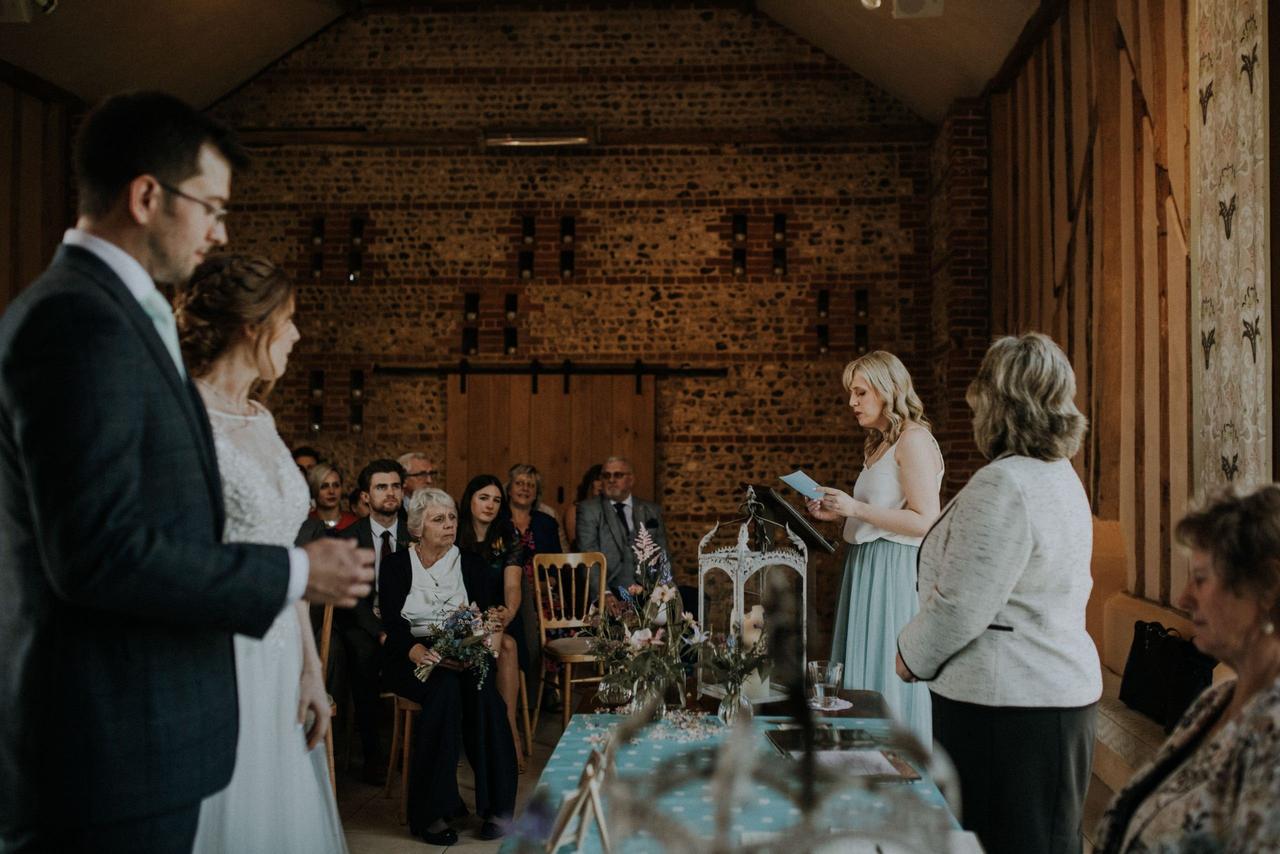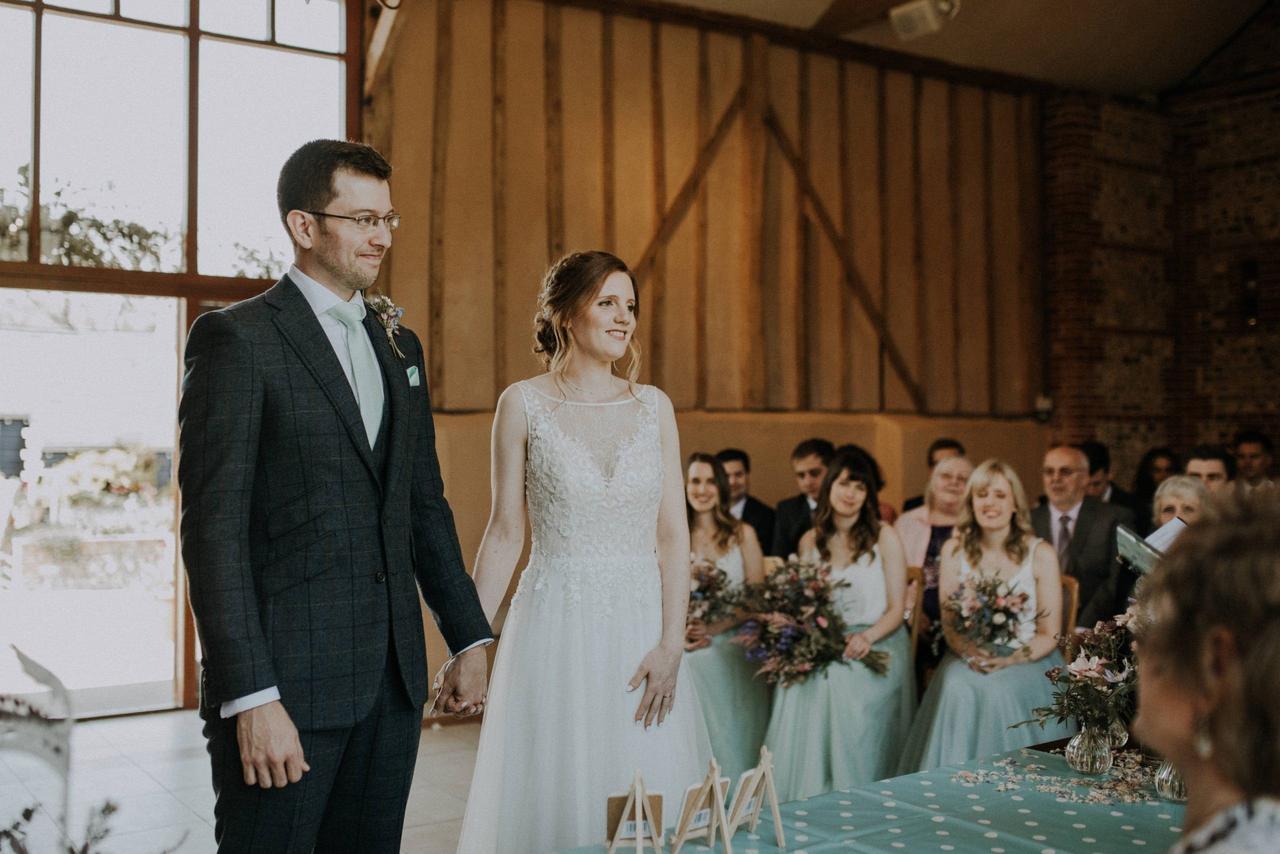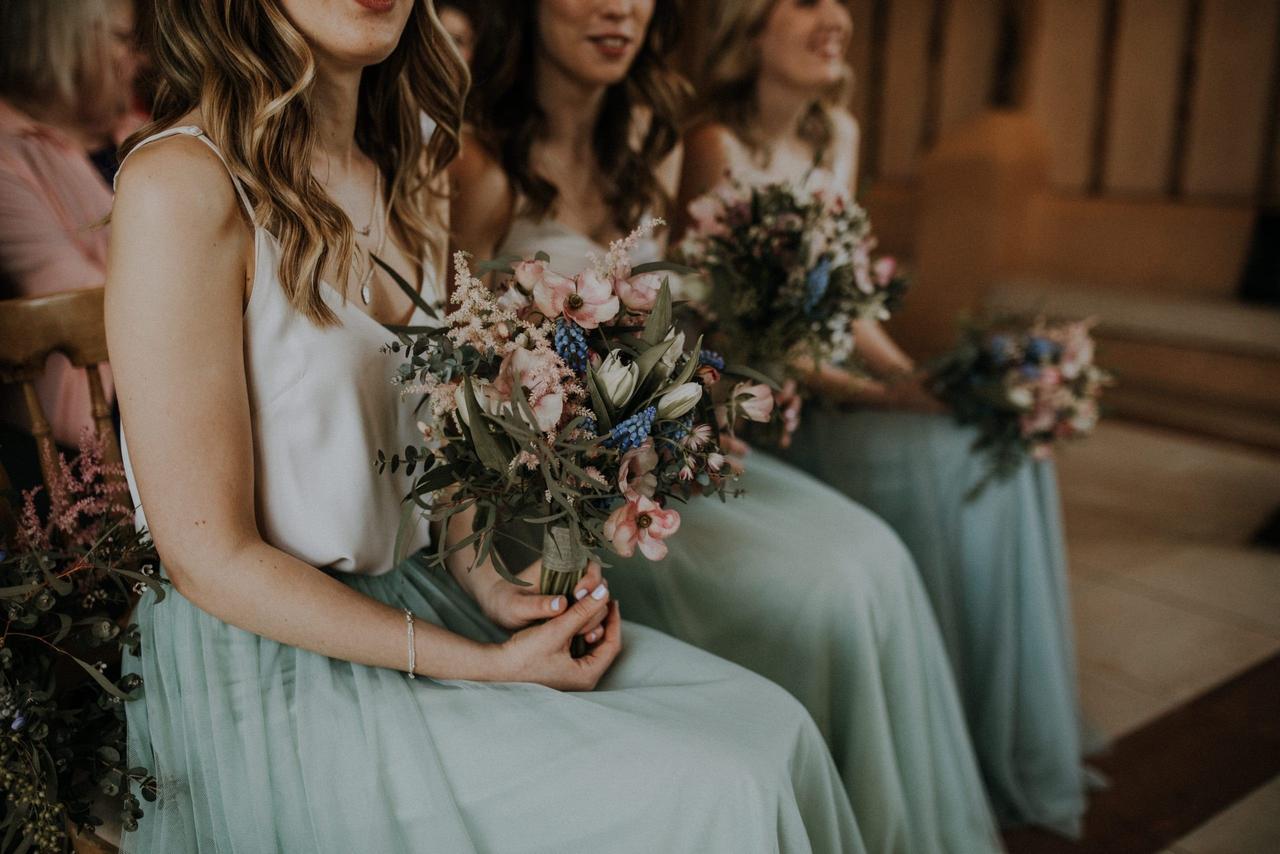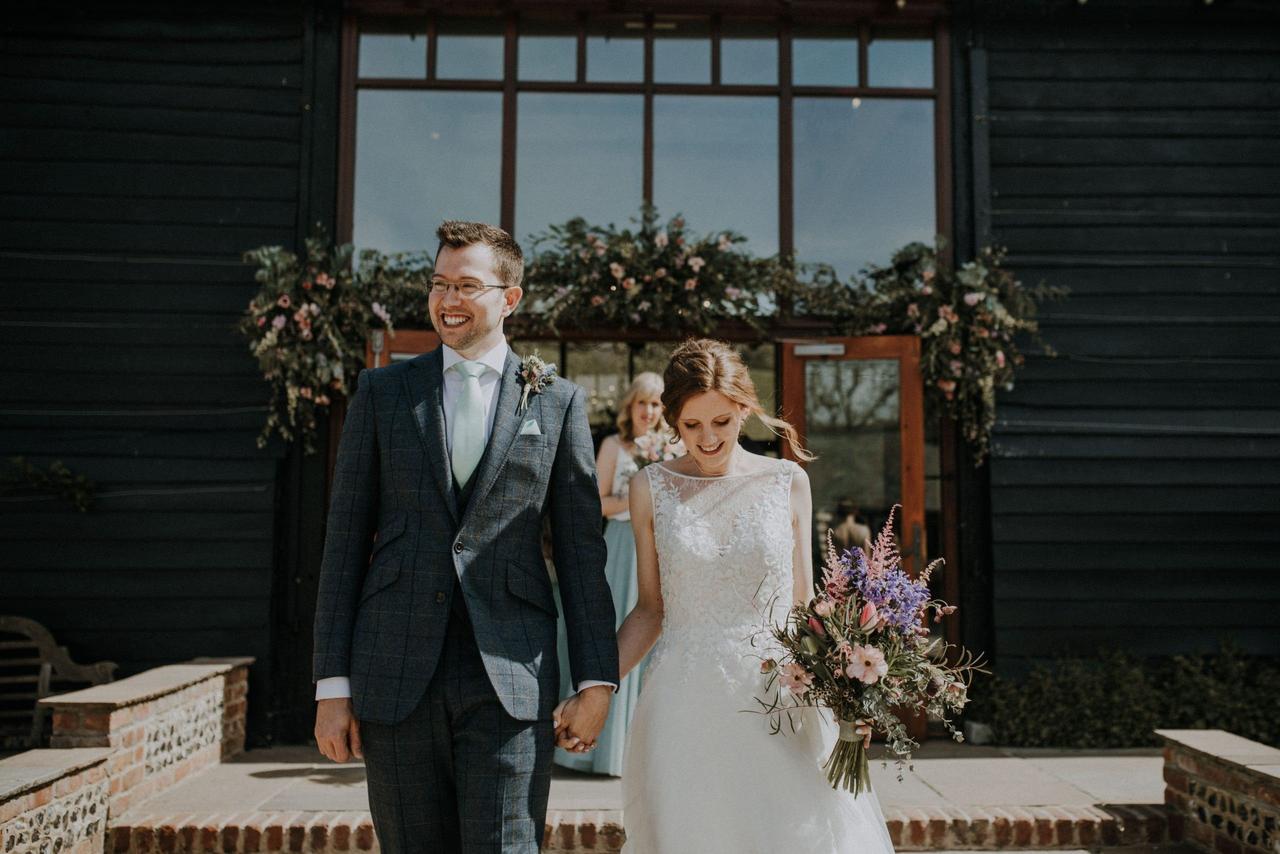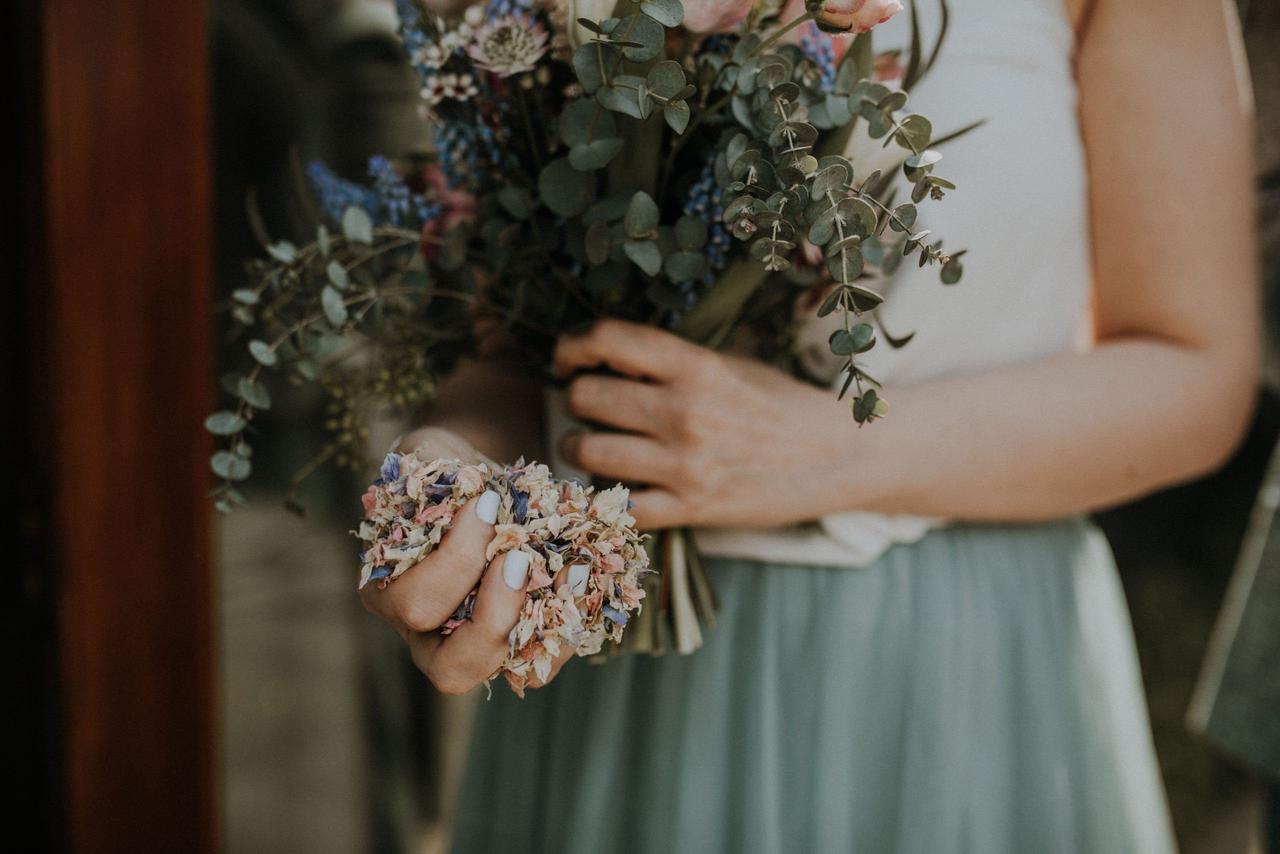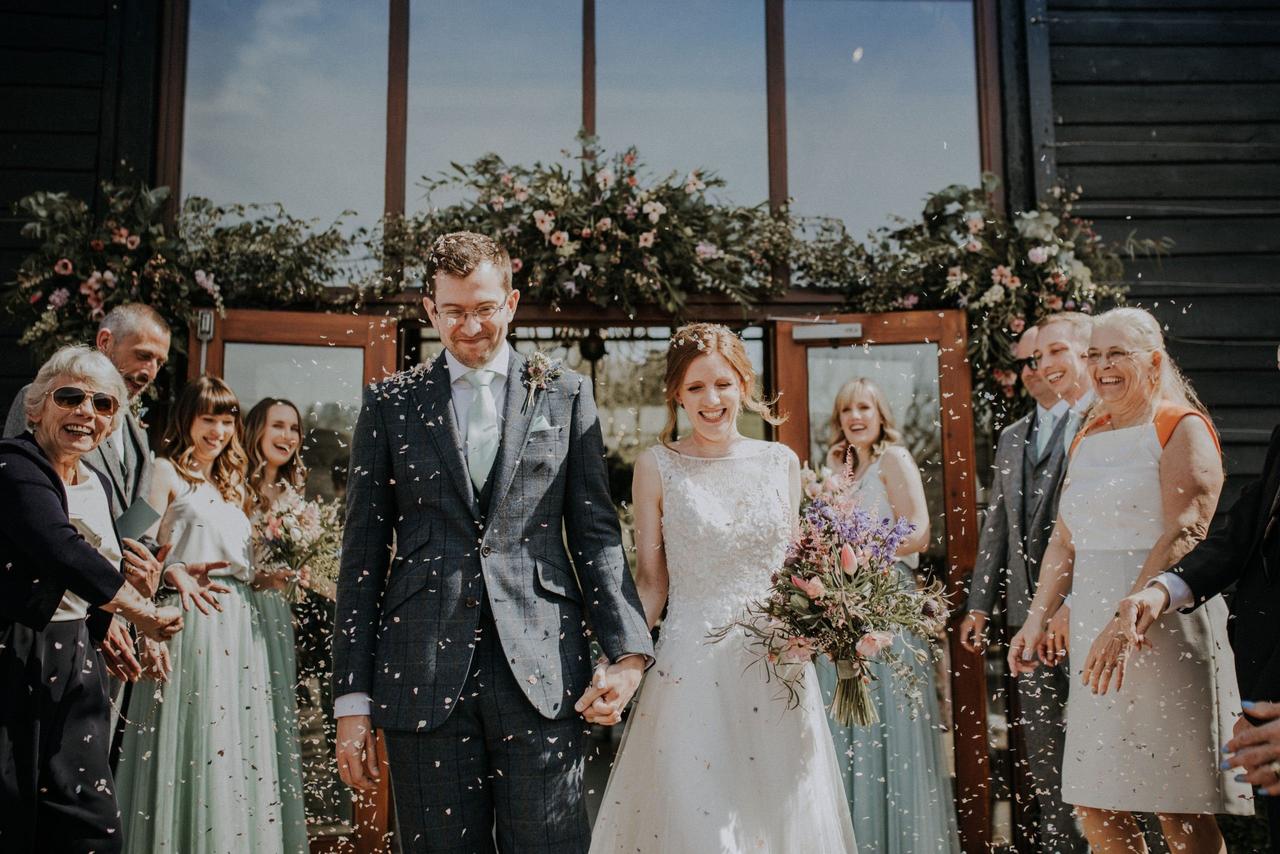 The Wedding Ceremony
Susan and her bridesmaids got ready at the venue before making their way across the courtyard and into the barn, where the bride took herself down the aisle to The Piano Guys' cover of A Thousand Years by Christina Perri.
"The ceremony barn was set up as a horseshoe, so we walked from the bar, across the courtyard and into the barn via the steps. This is something we decided on very early on – mainly due to me not wanting to have everyone staring at me for too long!
"The bridesmaids all walked ahead one by one and I followed last and walked by myself (my father passed in October 2018 and I decided I would walk alone, the support from the team on site was amazing)."
During the ceremony, the bride and groom's sisters gave readings and a selection of hand-picked songs were played, including Swing Life Away by Rise Against.
Immediately after the ceremony, Susan and Leigh took a moment to themselves with a glass of bubbly provided by the Nibbles Catering team. "We then walked back through the ceremony barn and exited again, this time greeted by all our guests throwing confetti – this is the best experience with everyone laughing and having fun and we have some lovely photos of this moment."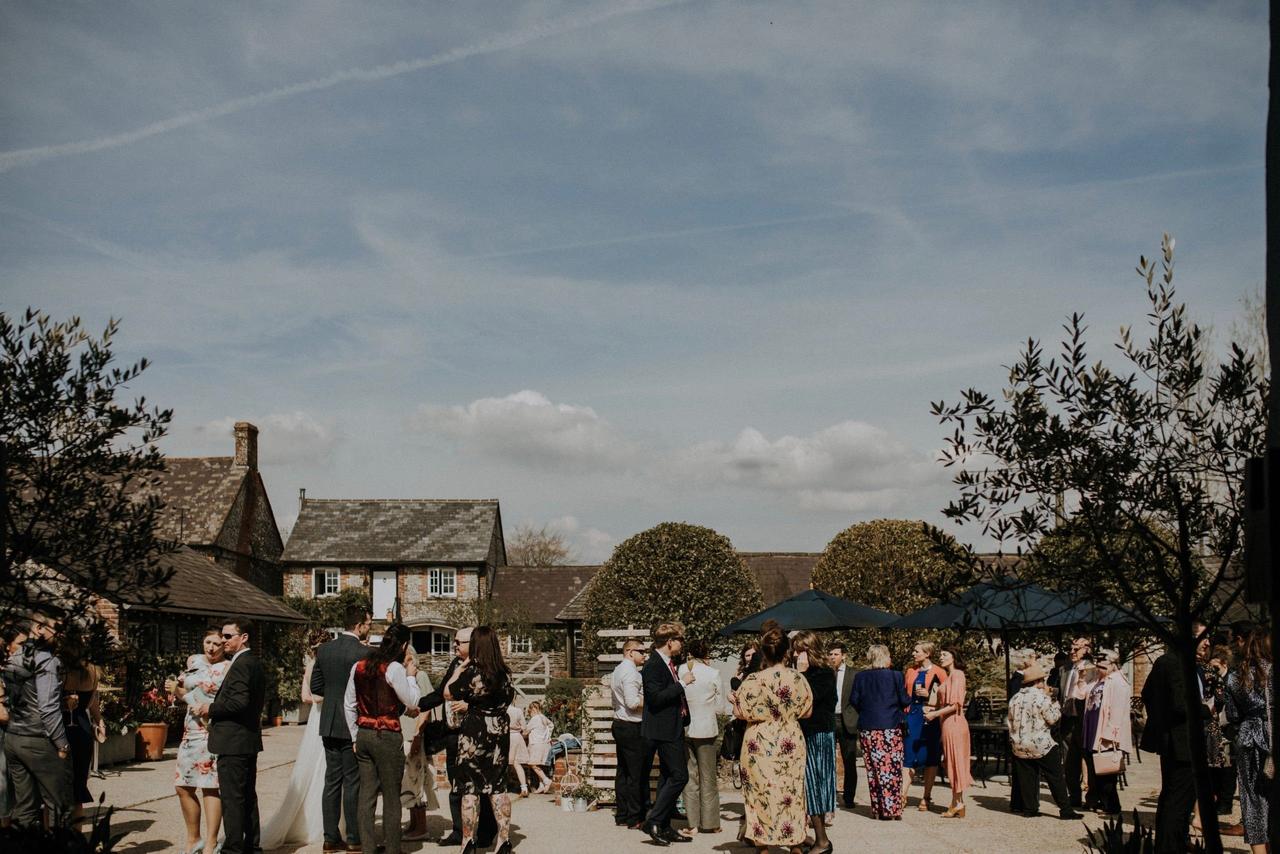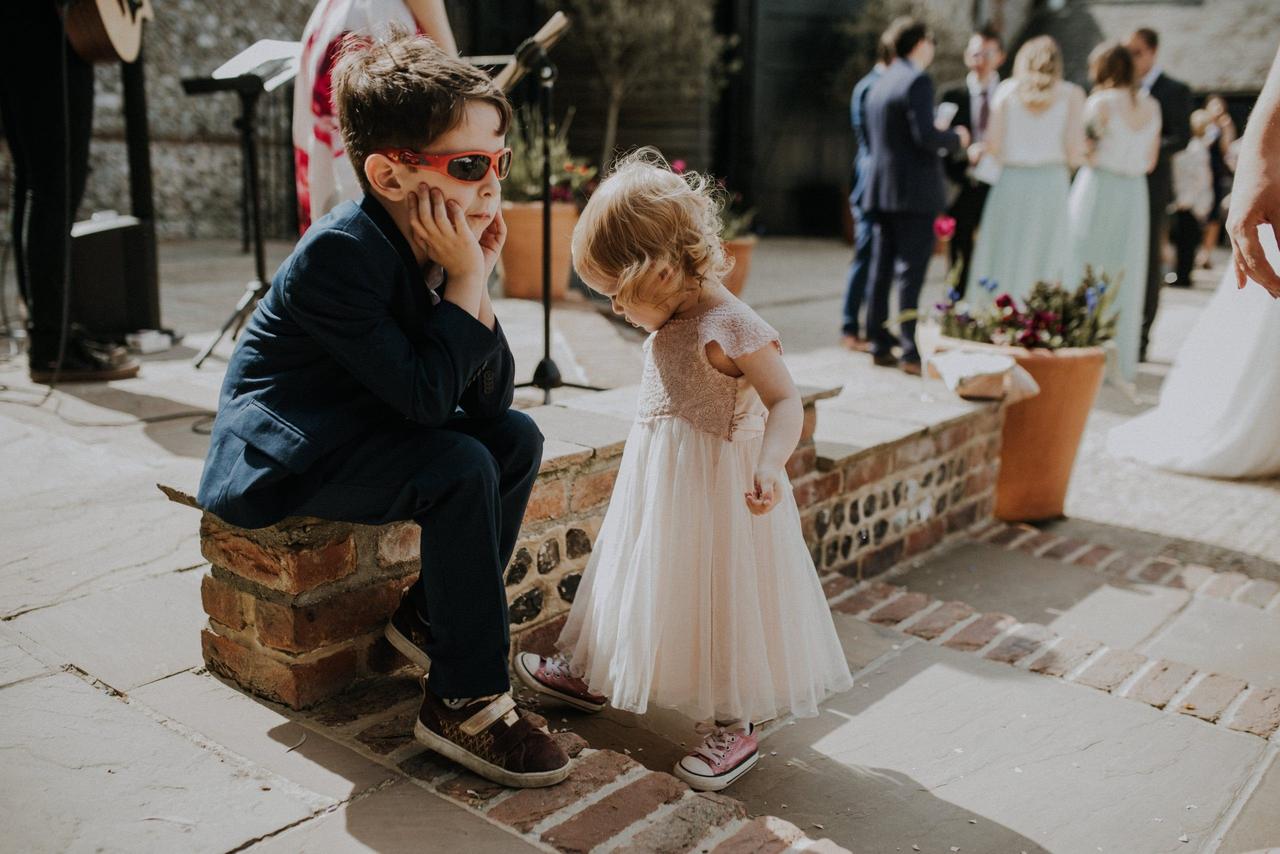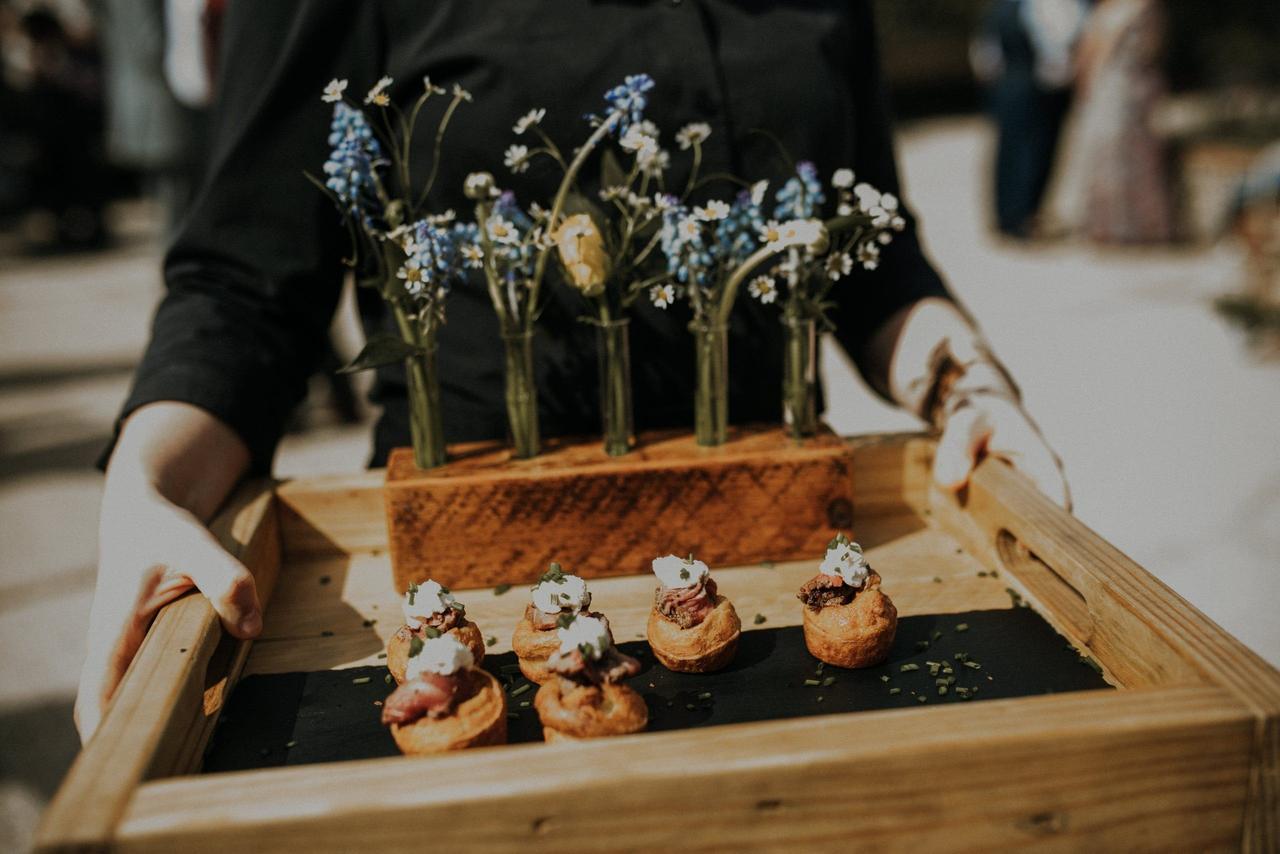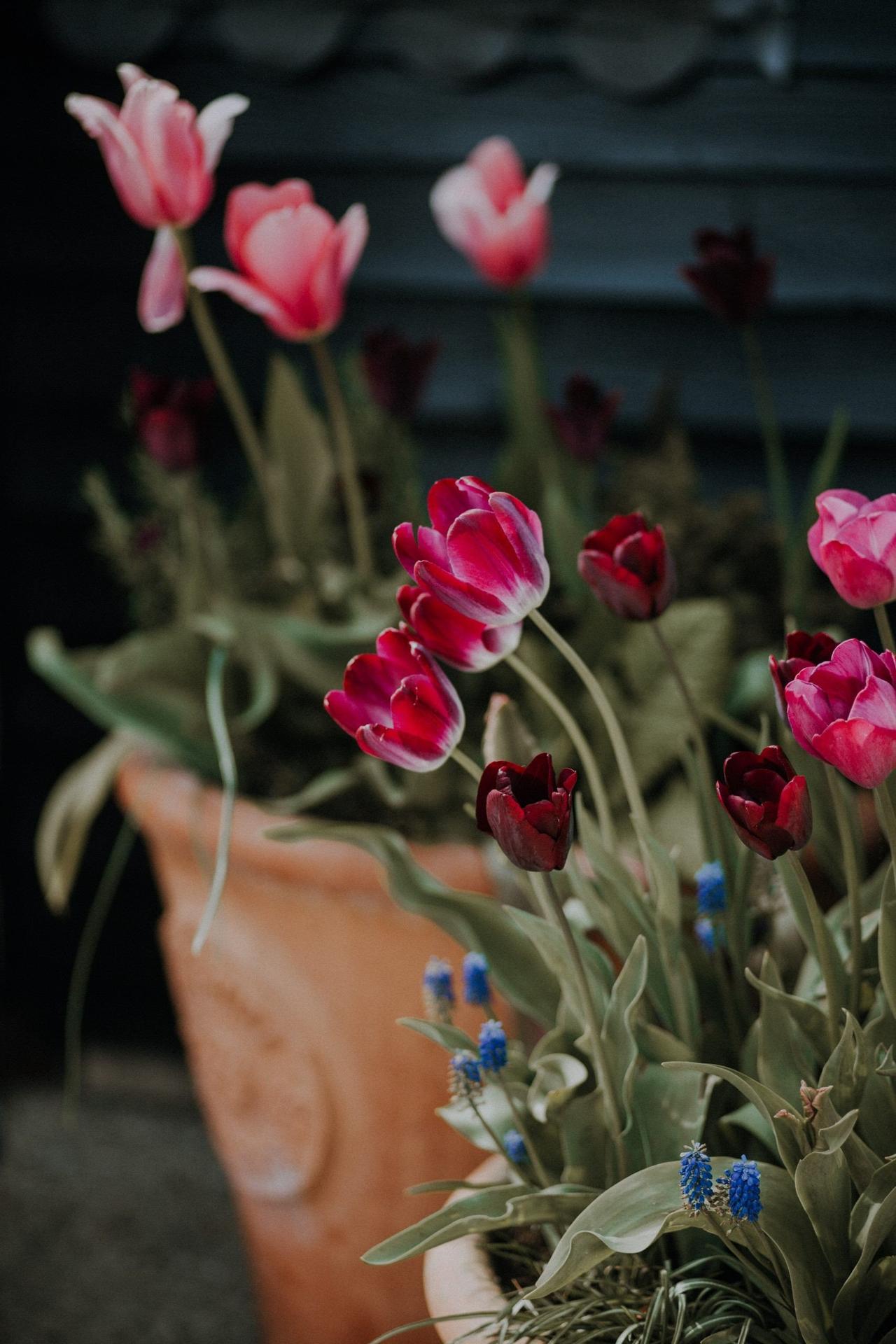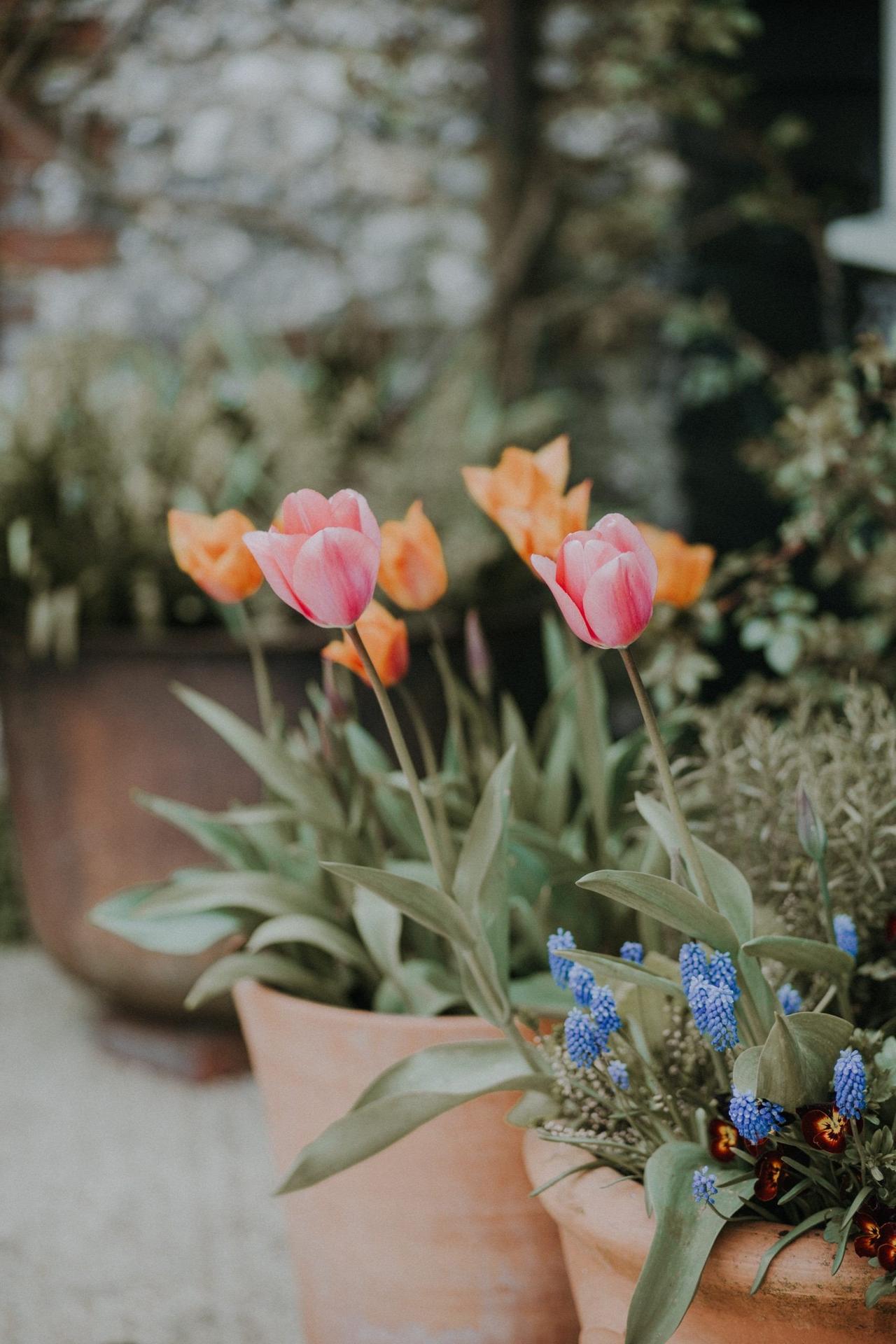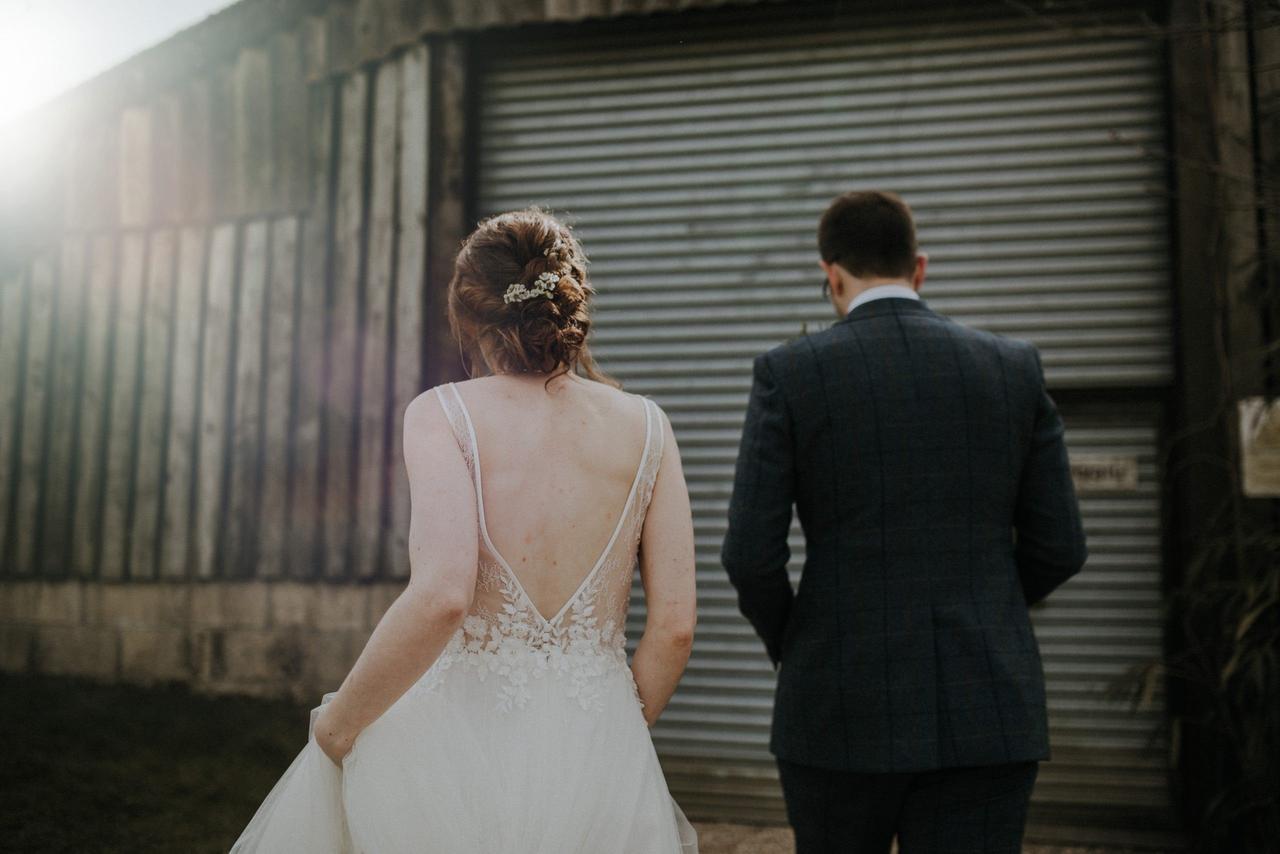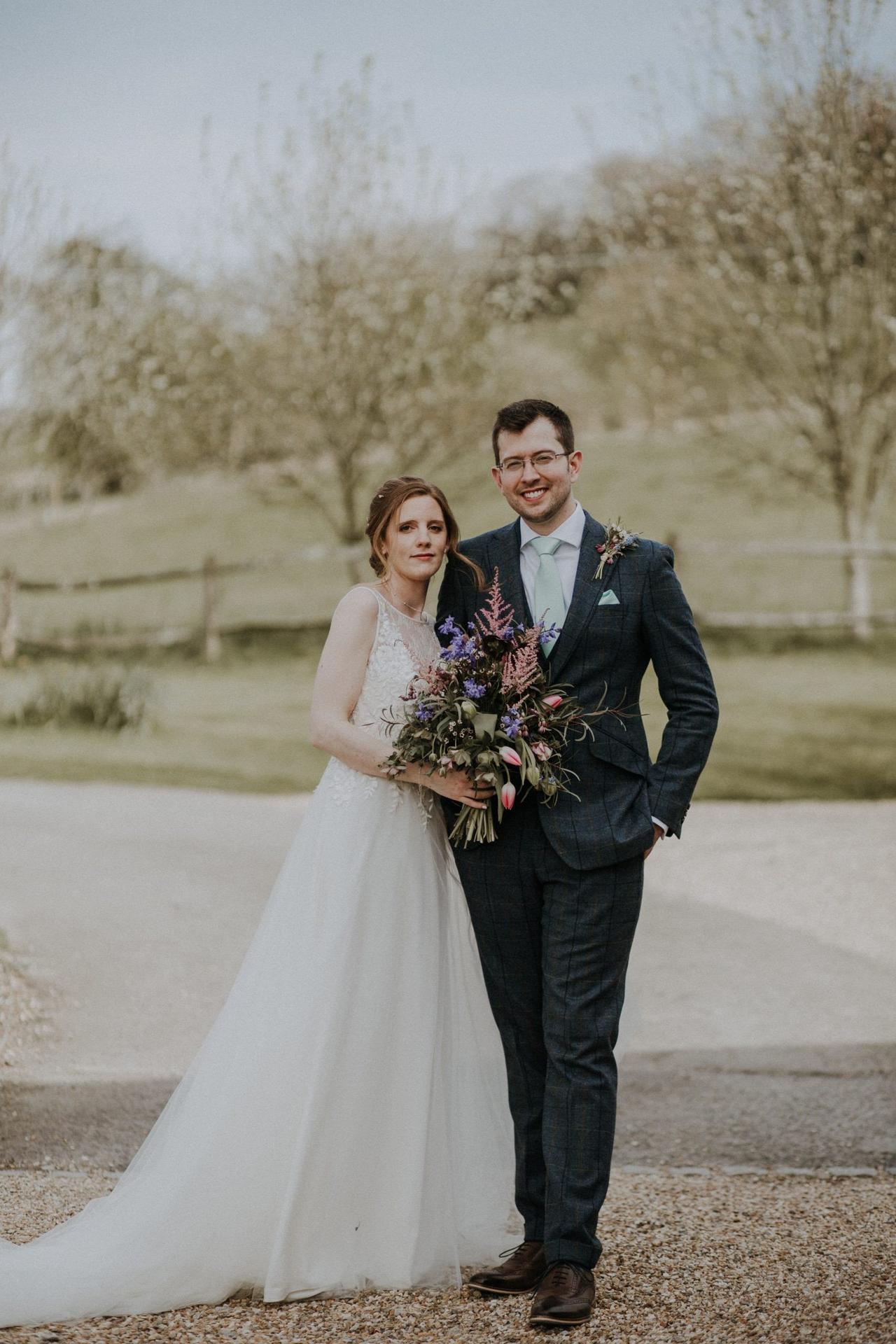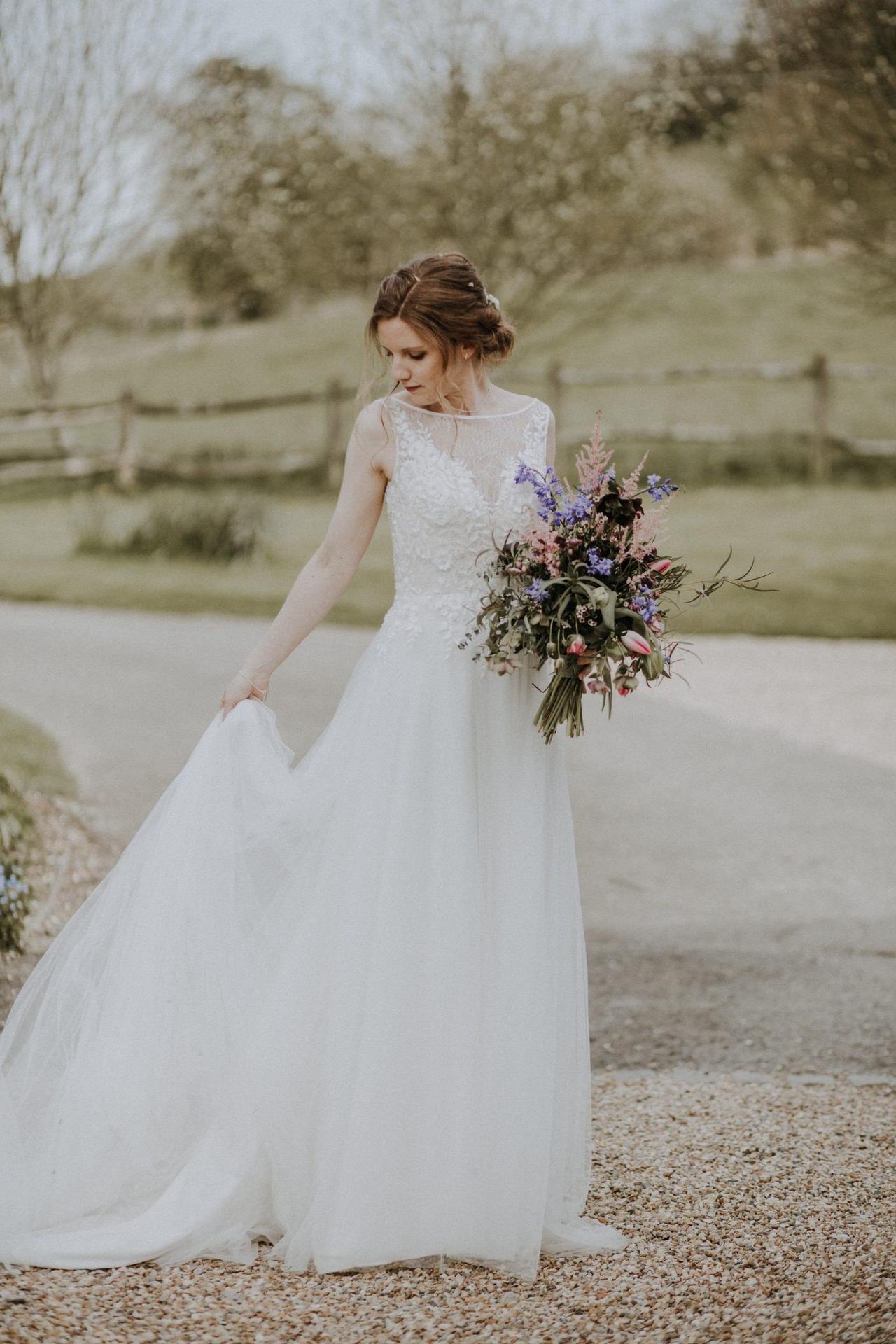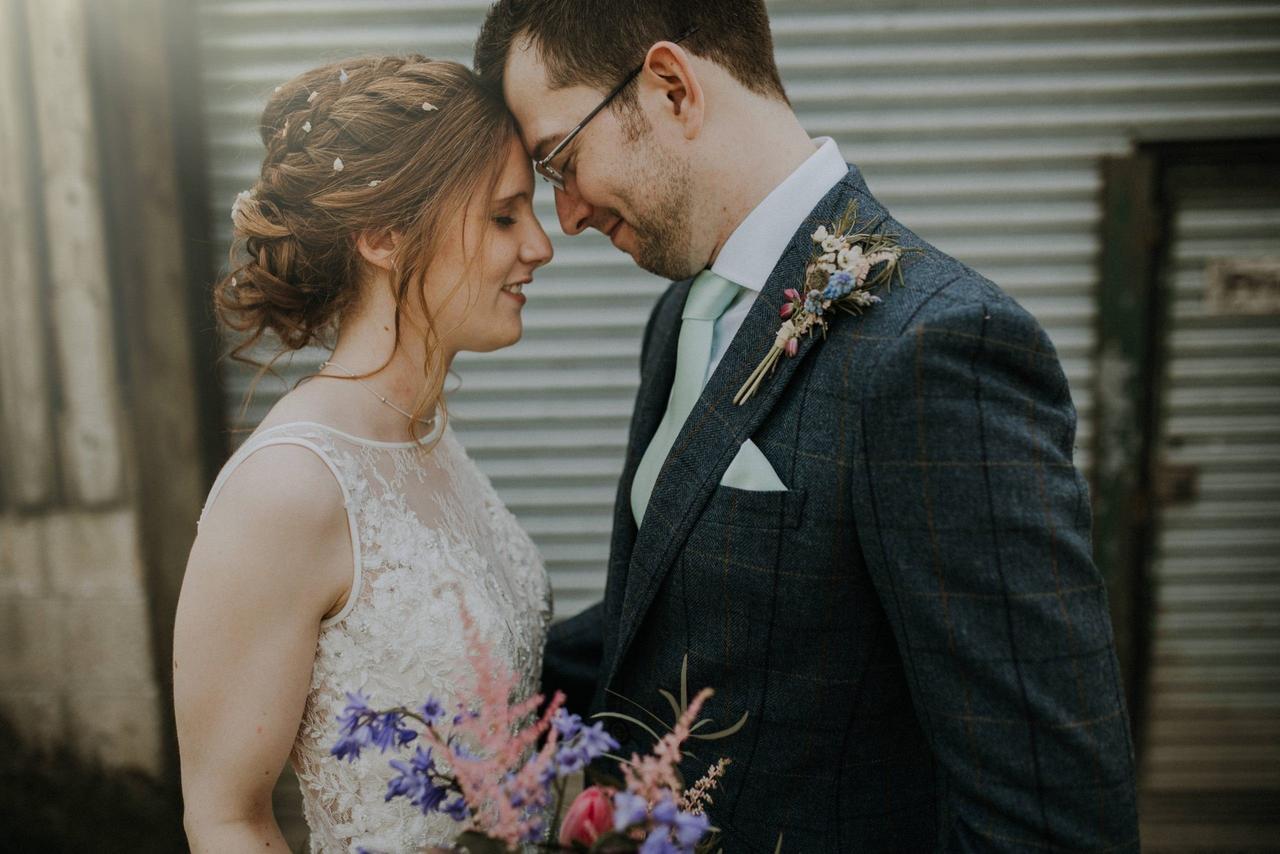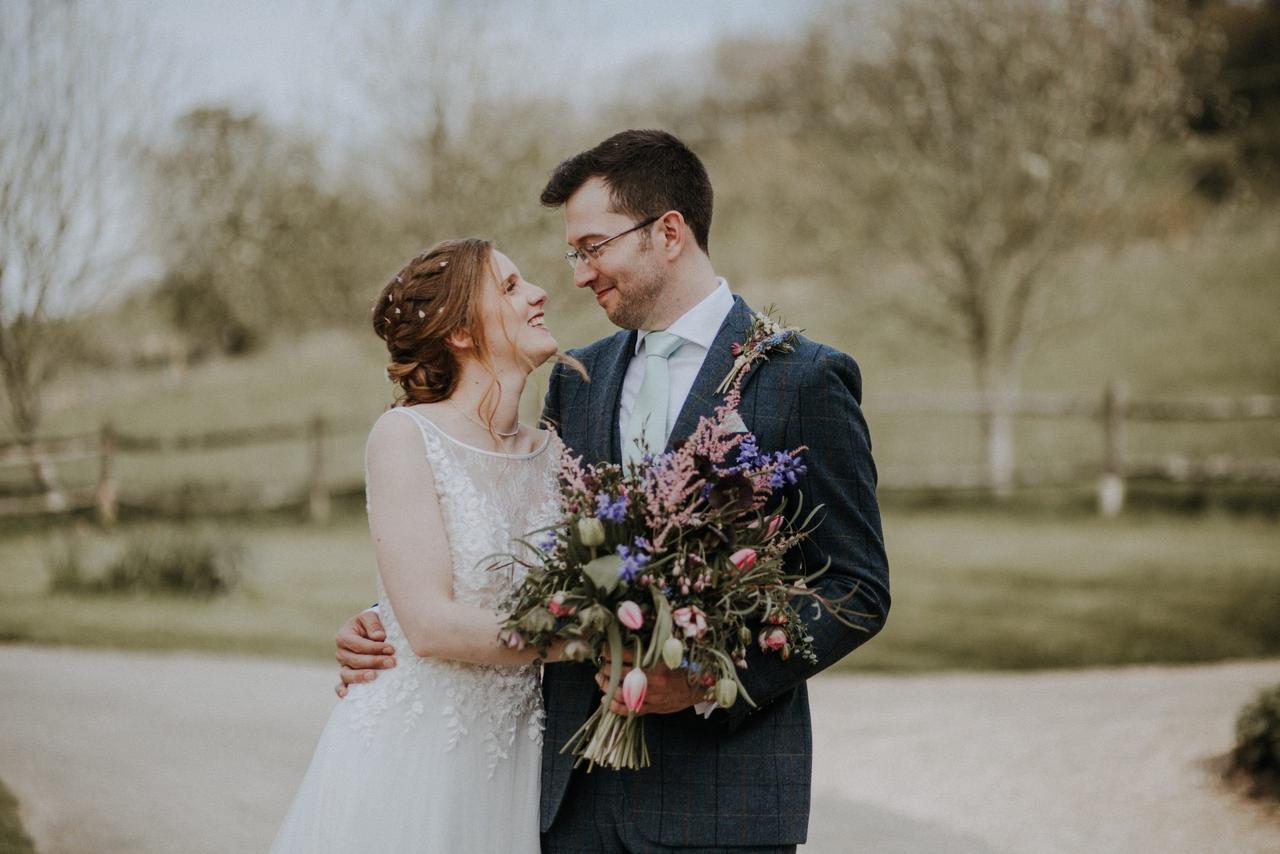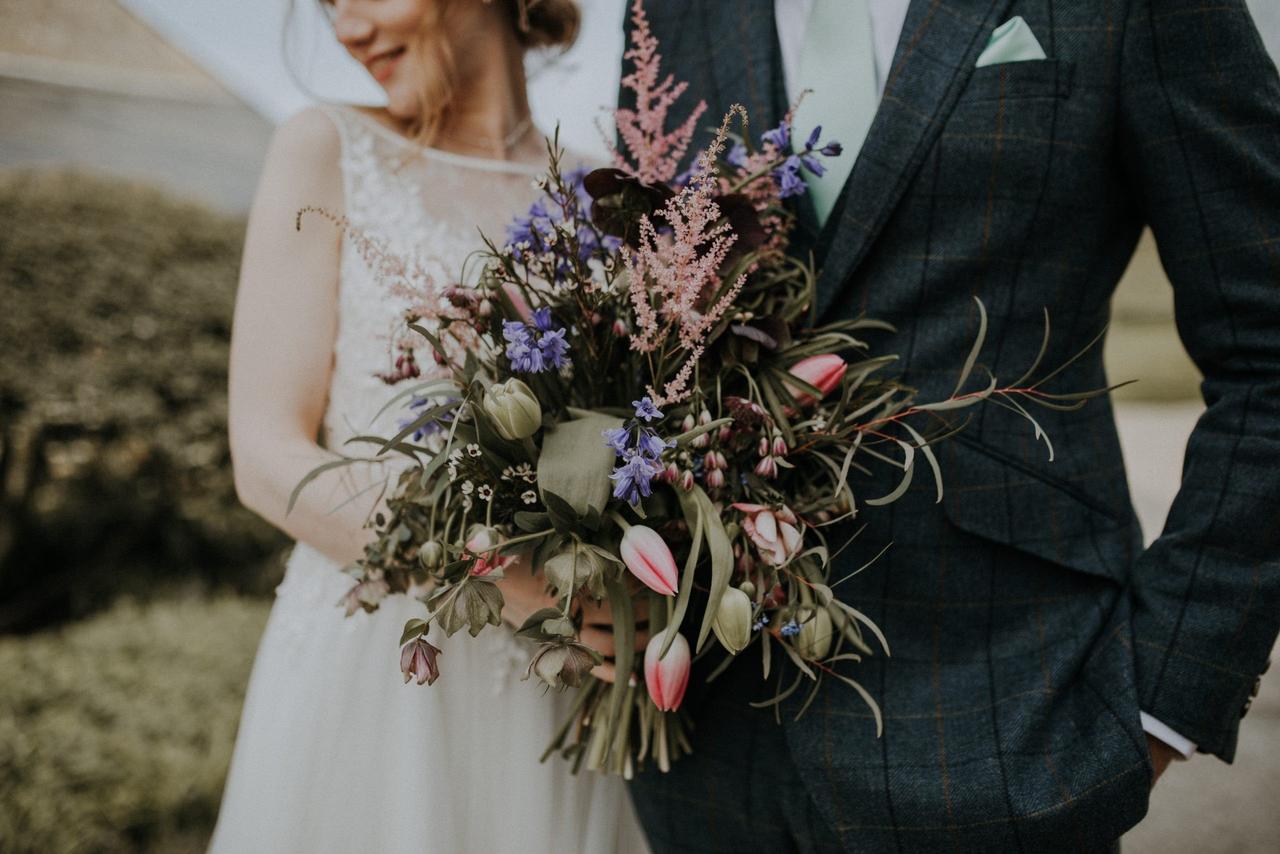 The Wedding Venue
Upwaltham Barns was an easy choice for both Susan and Leigh, as they decided early on that a barn was an absolute wedding must-have. "After looking at hotels we very quickly realised a barn venue would be our perfect setting.
"We searched purely via the internet for a venue, we knew the area we wanted to get married (South Downs) as it would be good for both our families to get to. We then just searched and read reviews online and looked at lots of pictures and picked four or five to go and view whether that be by specific appointment or through open days.
"Upwaltham Barns felt like home – we remember walking through the entrance past all the beautiful flowers into the courtyard and feeling instantly warmed and welcome. Upwaltham is the most beautiful venue and we simply fell in love with it (and we will definitely pop back in the future – we already miss it and everyone!).
"Every time we visited before our wedding was as magical as the first day we arrived, with the whole team being so welcoming and attentive – from Tim and Nicola, to Steve and the whole Nibbles crew.They have something incredibly special and we feel very lucky to have been able to share our wedding day at the stunning barns."
When it came to food, Susan and Leigh wanted something simple and hearty and the Nibbles team certainly delivered with a tomato soup starter, traditional roast chicken dinner and a delicious crumble for dessert.
"The Nibbles team worked incredibly hard throughout the day and especially during the meal, everything was seamless, and we have since had lots of compliments from our guests on both the food (which was to die for!) and the exemplary service that the team put on.
"We also had a special request accommodated; we LOVE their cookies, every time we visited Upwaltham there were always cookies on the side which we just couldn't resist. Instead of chocolates with the tea and coffee after the wedding breakfast, we arranged with the Nibbles team to have jars of cookies on the table and these went down a treat with our guests. We also had some saved and put in the cottage for us which was lovely, and these came on our mini-moon with us the following day!"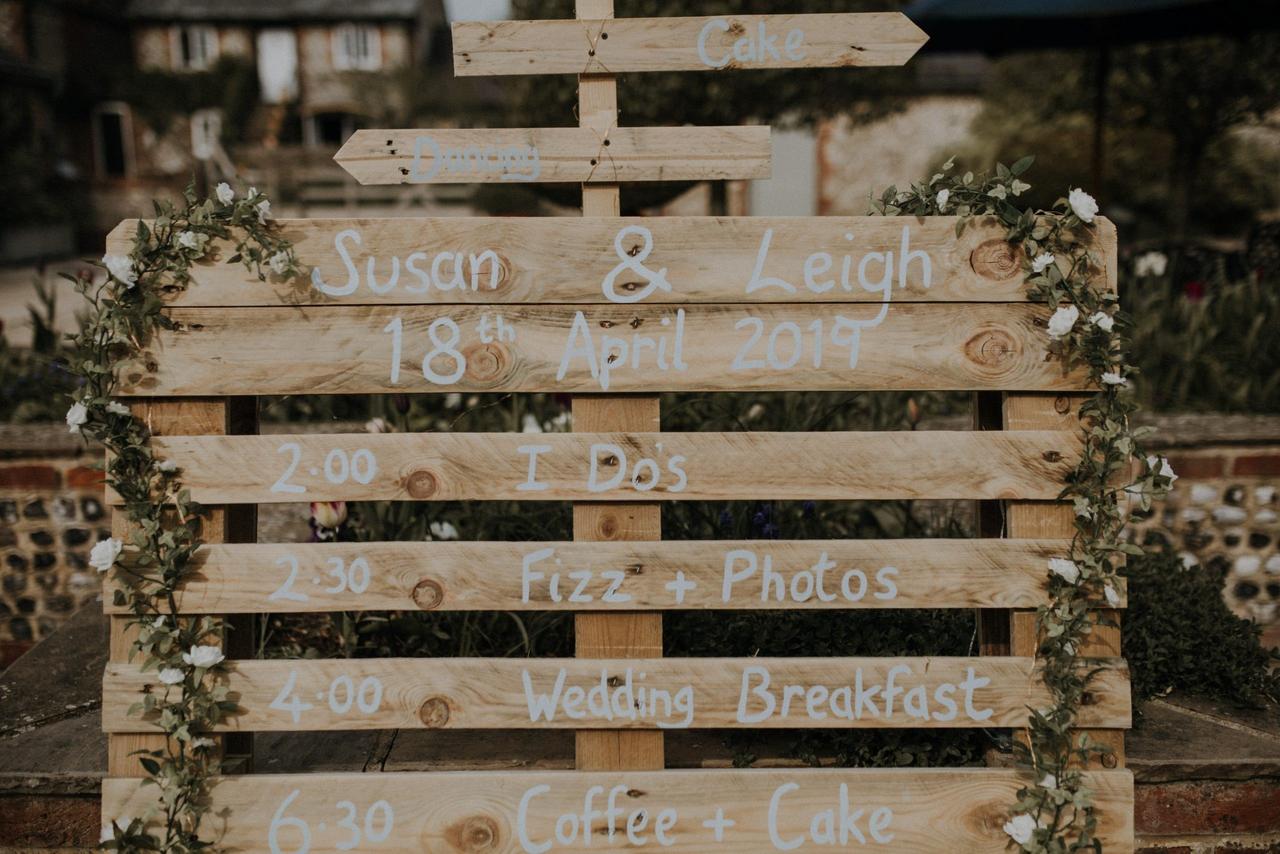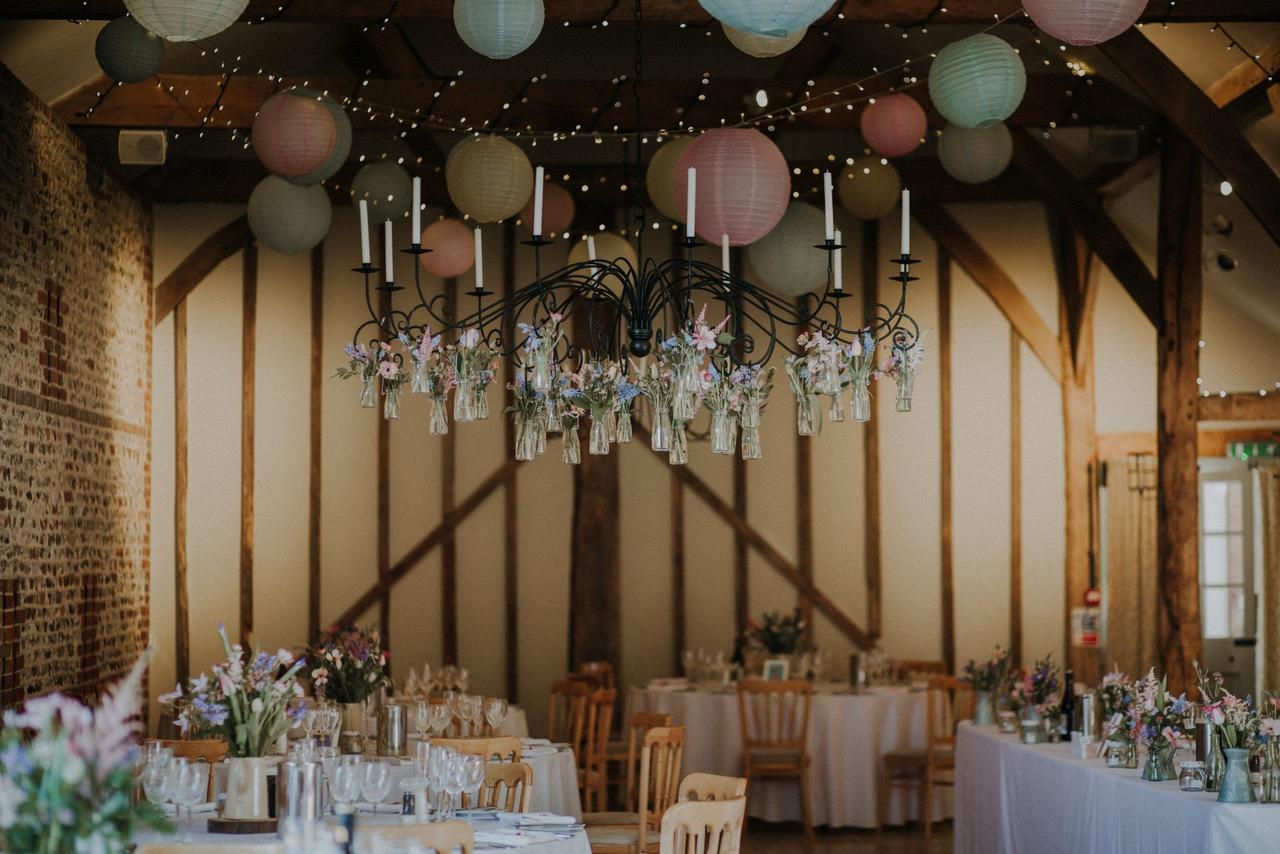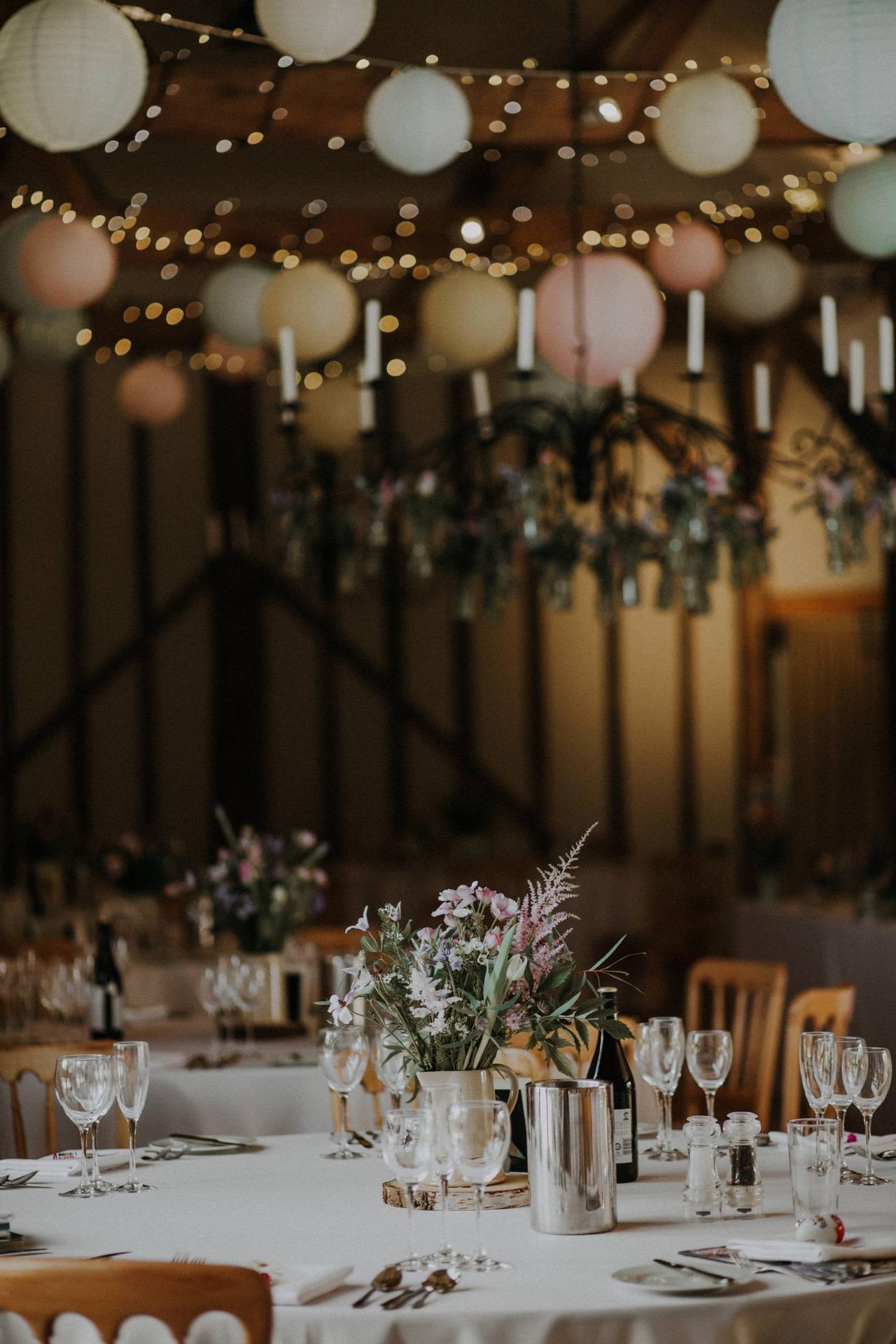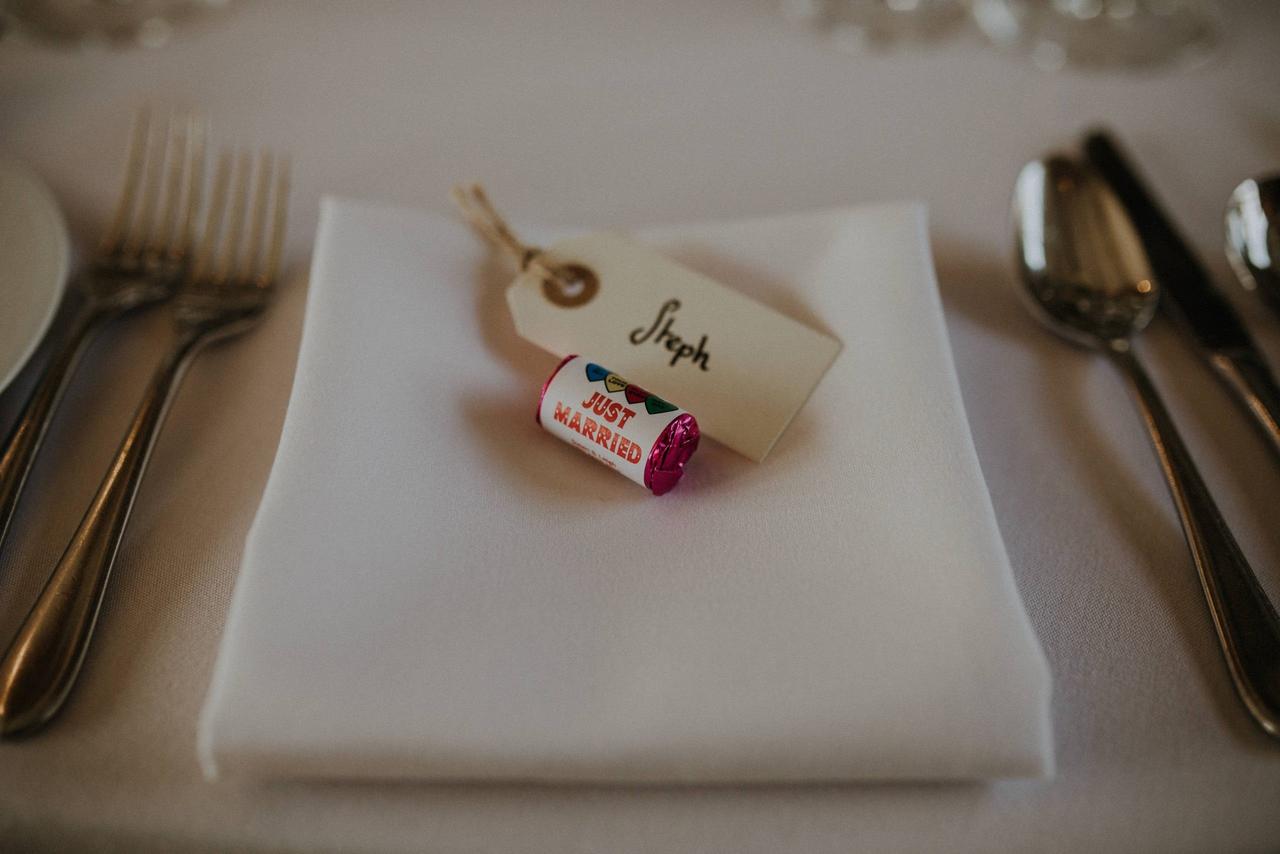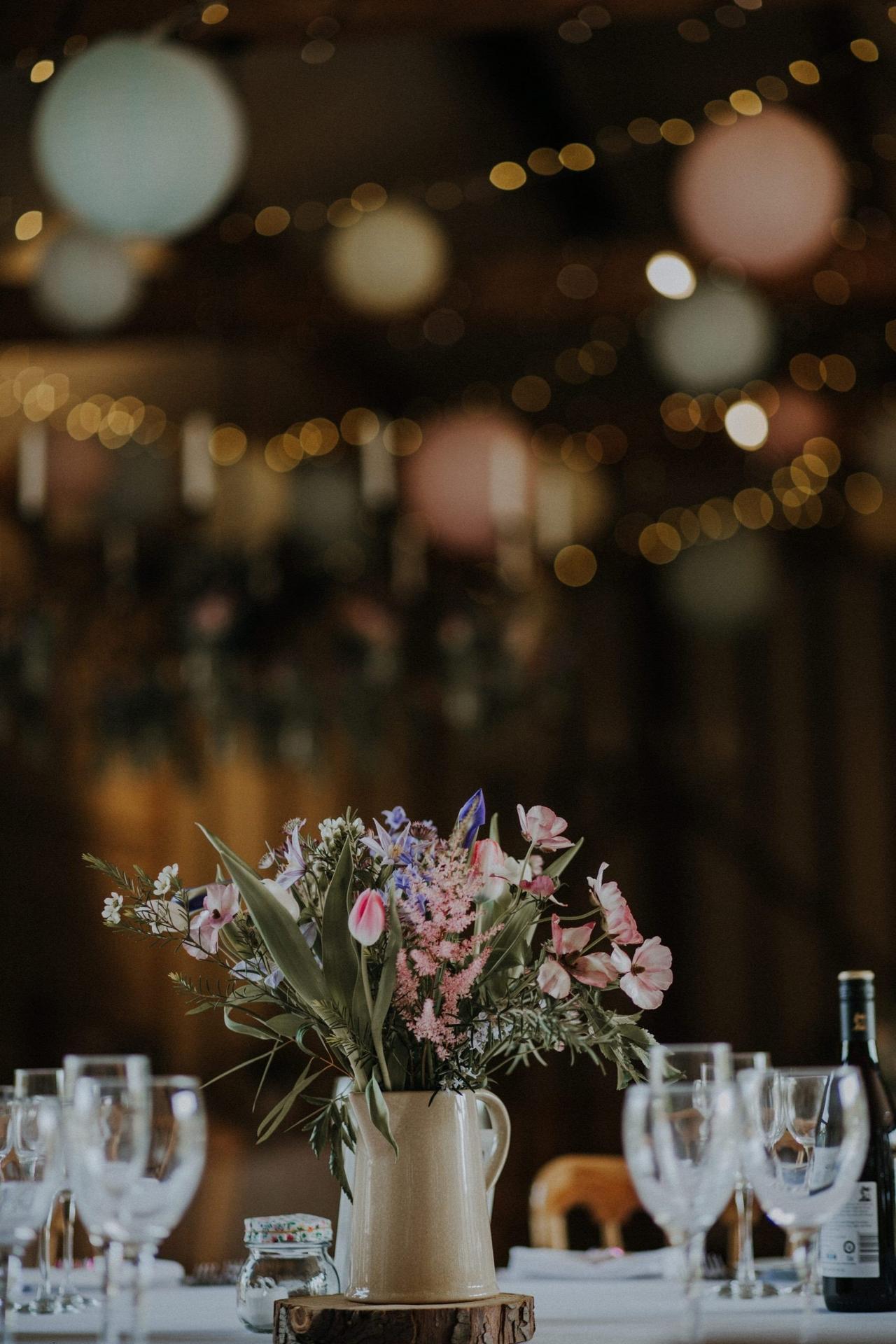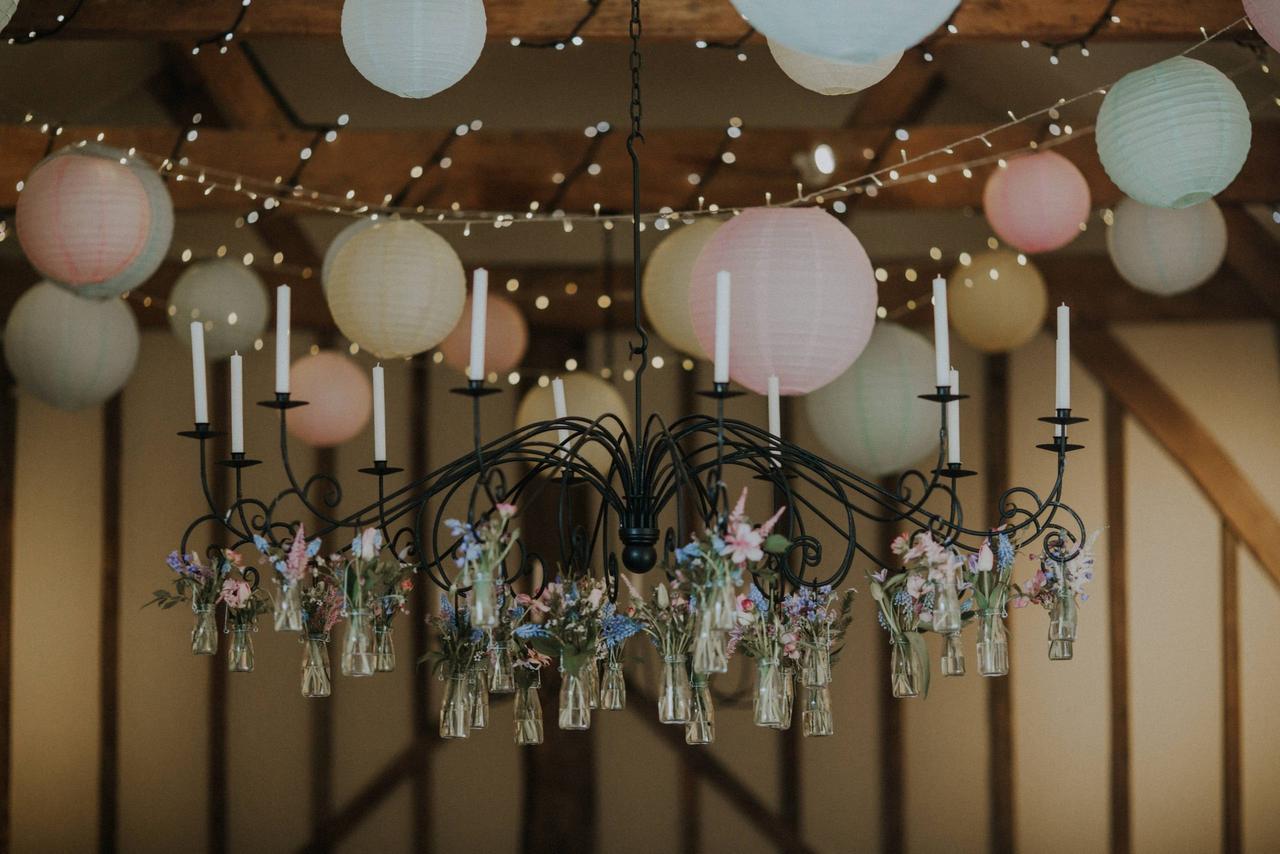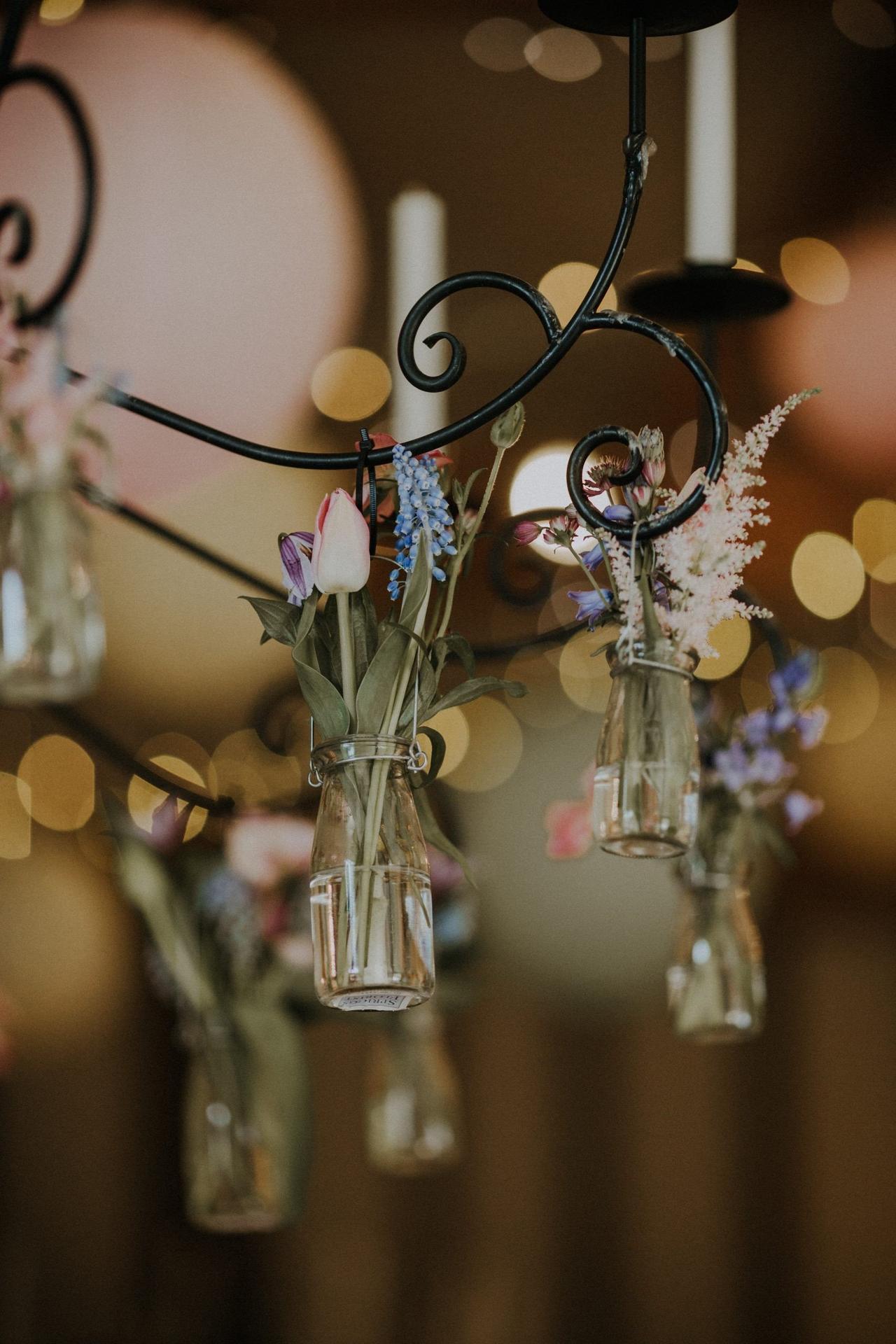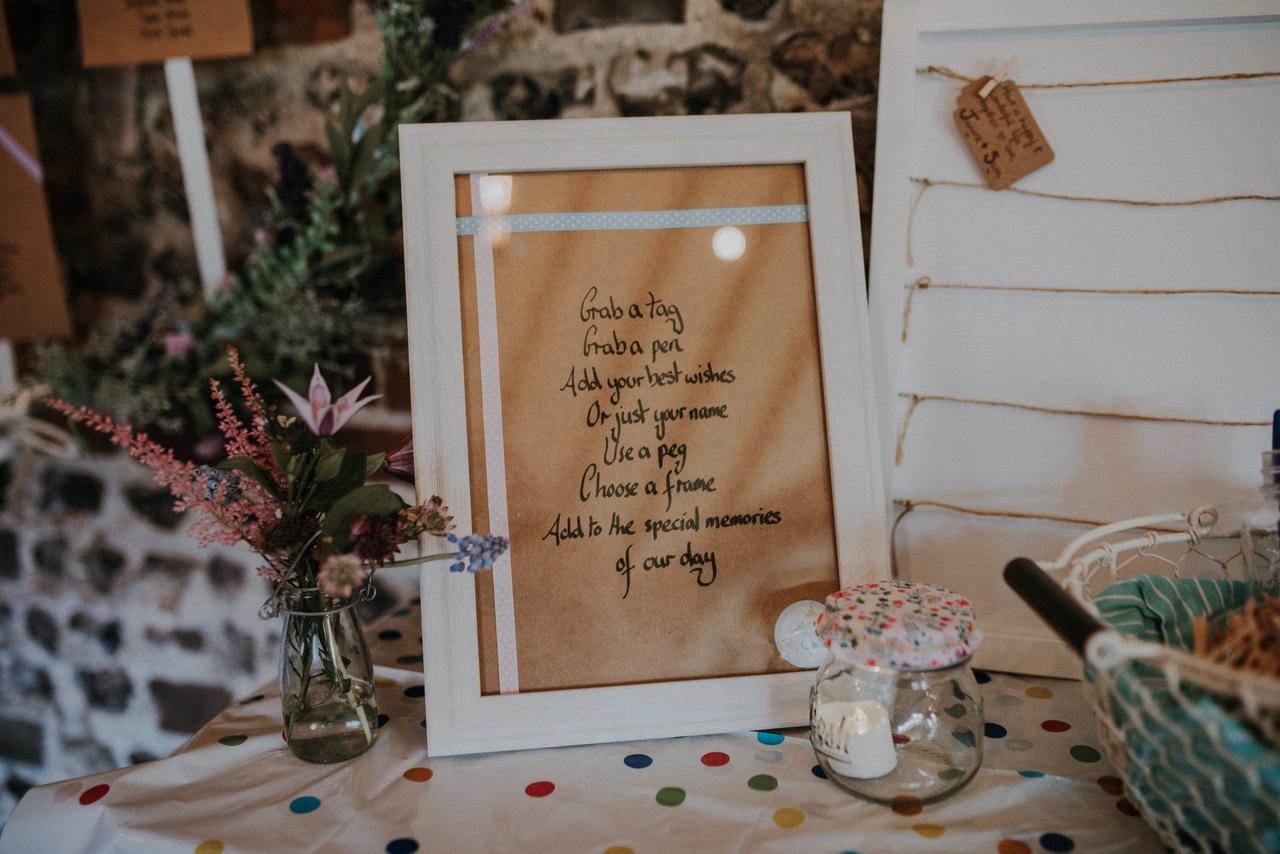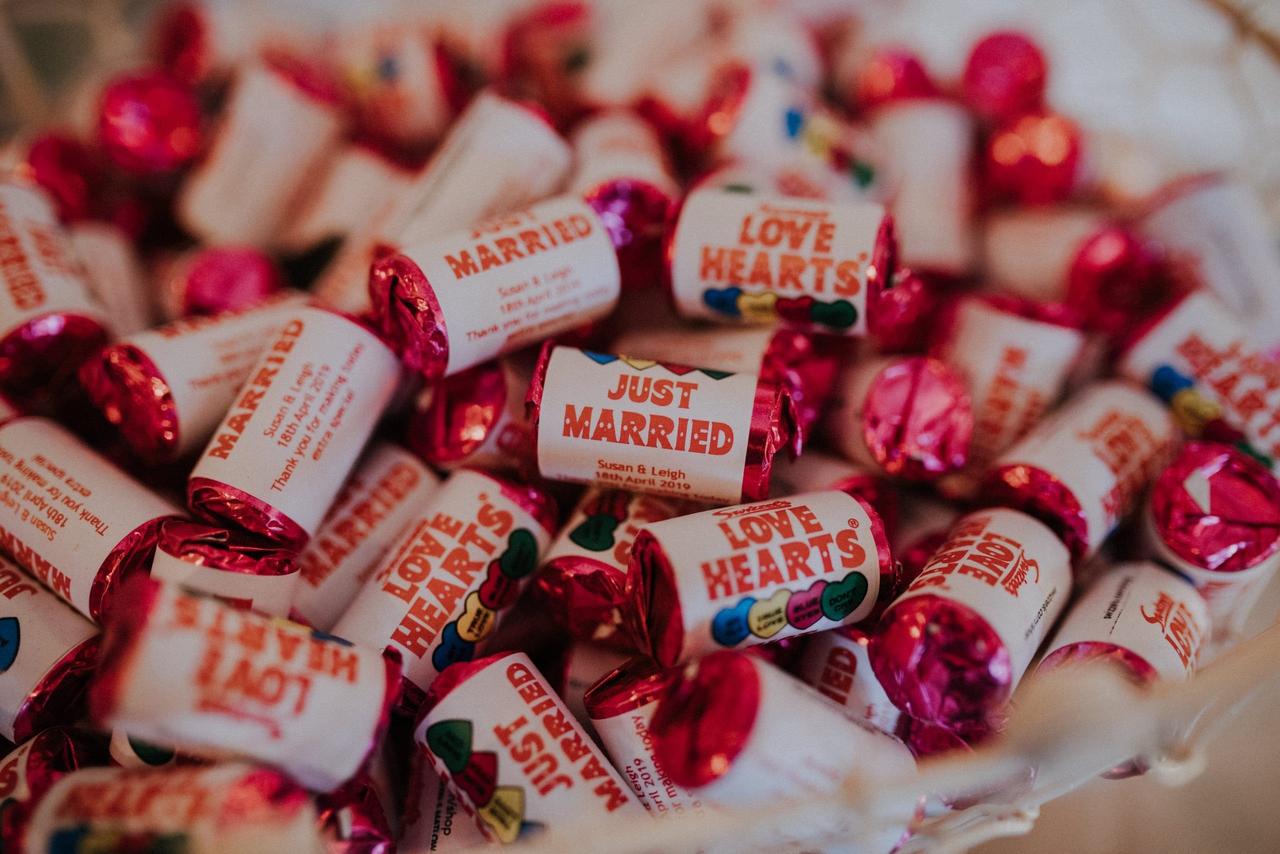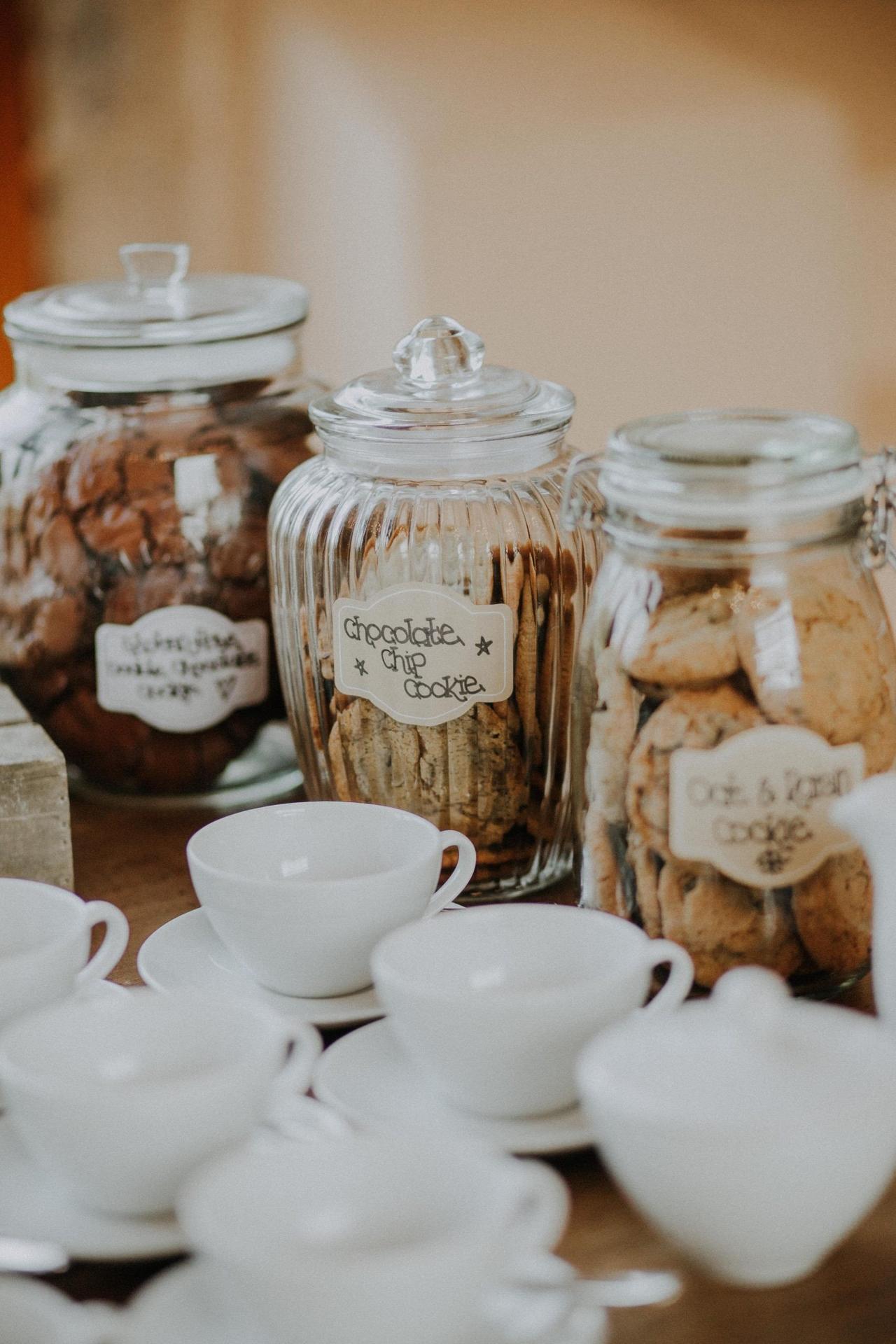 The Wedding Flowers and Cake
Natural and rustic was the look Susan and Leigh channelled when it came to the overall style of their day and their relaxed floral arrangements from Spriggs the Florist totally nailed the look.
"Flowers were incredibly important to our day and we spent a lot of time deciding on what we wanted and meeting with our florist to run through and plan everything out. We wanted a very natural feel and decided on using flowers you would expect to see growing wild at the time of year in the rolling hills around the venue.
"My bouquet and the bridesmaids' smaller bouquets were stunning and hand-gathered and look amazing in all the photos we have, as do the buttonholes for the groom and groomsmen.
"The flowers around the venue were beyond our expectations. We chose to decorate the barns with lots of wild flowers in a very relaxed style with jugs on the guest's tables and lots of little jars and vases on the top table. We had flowers hanging from one of the chandeliers in glass bottles (this looked even better than we could have imagined!) as well as around the entrance to the ceremony barn and on the chair ends here as well. The flowers pulled everything together, all our little touches and colours, they made everything pop."
To complement the natural and relaxed floral styling Susan and Leigh opted for a rustic, tiered cake. "We had a naked cake made by Rebecca at Frizelle Cakes which was just amazing, everyone commented on how good it looked and tasted. We had three tiers; the bottom was a Victoria sponge, the middle tier was lemon sponge and the top tier was another Victoria sponge but specially made for our vegan guests which went down a treat!
"The cake was beautifully decorated by Rebecca with fresh fruit to match in with our wedding and positioned onto a personalised stand we had made with our names and wedding date."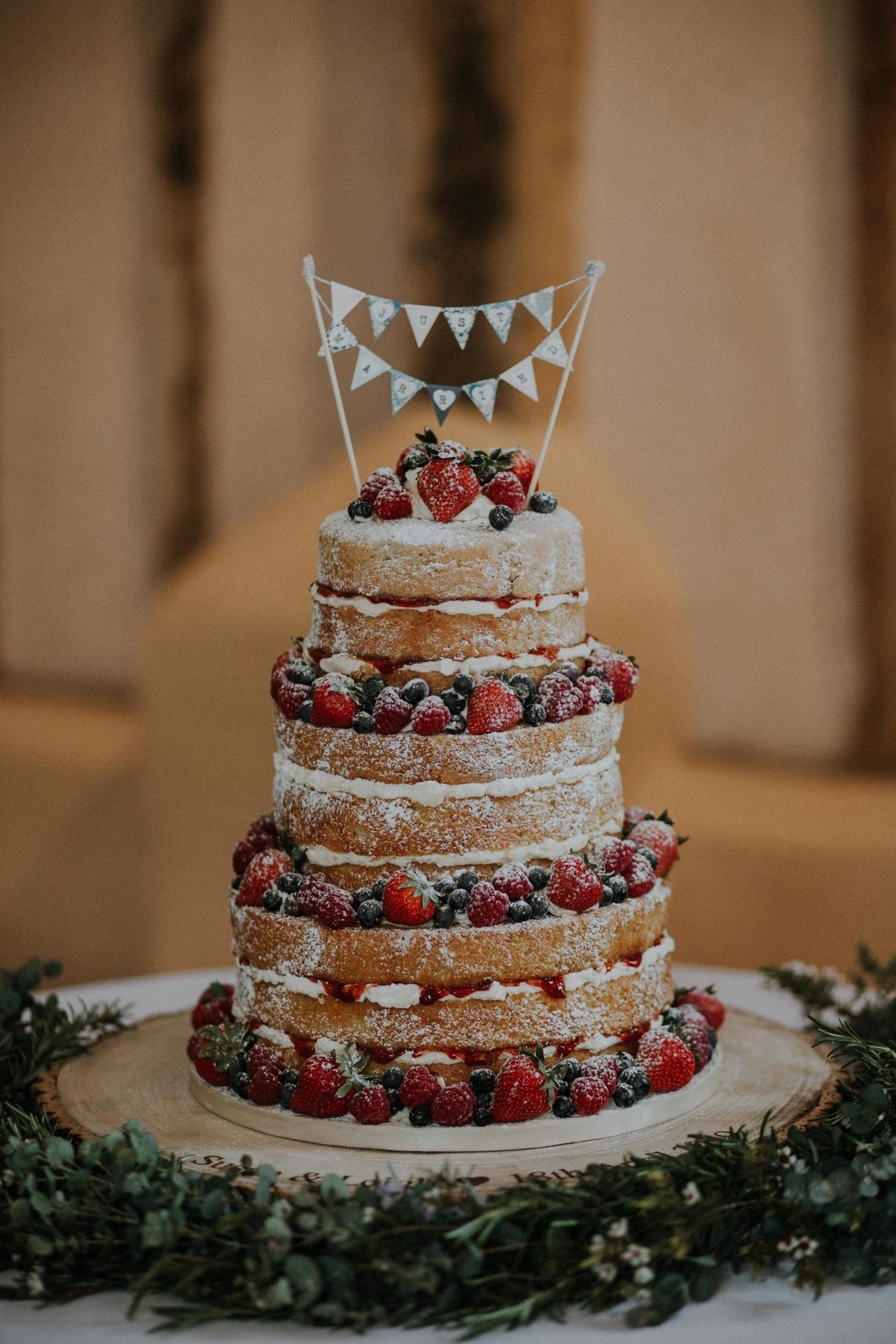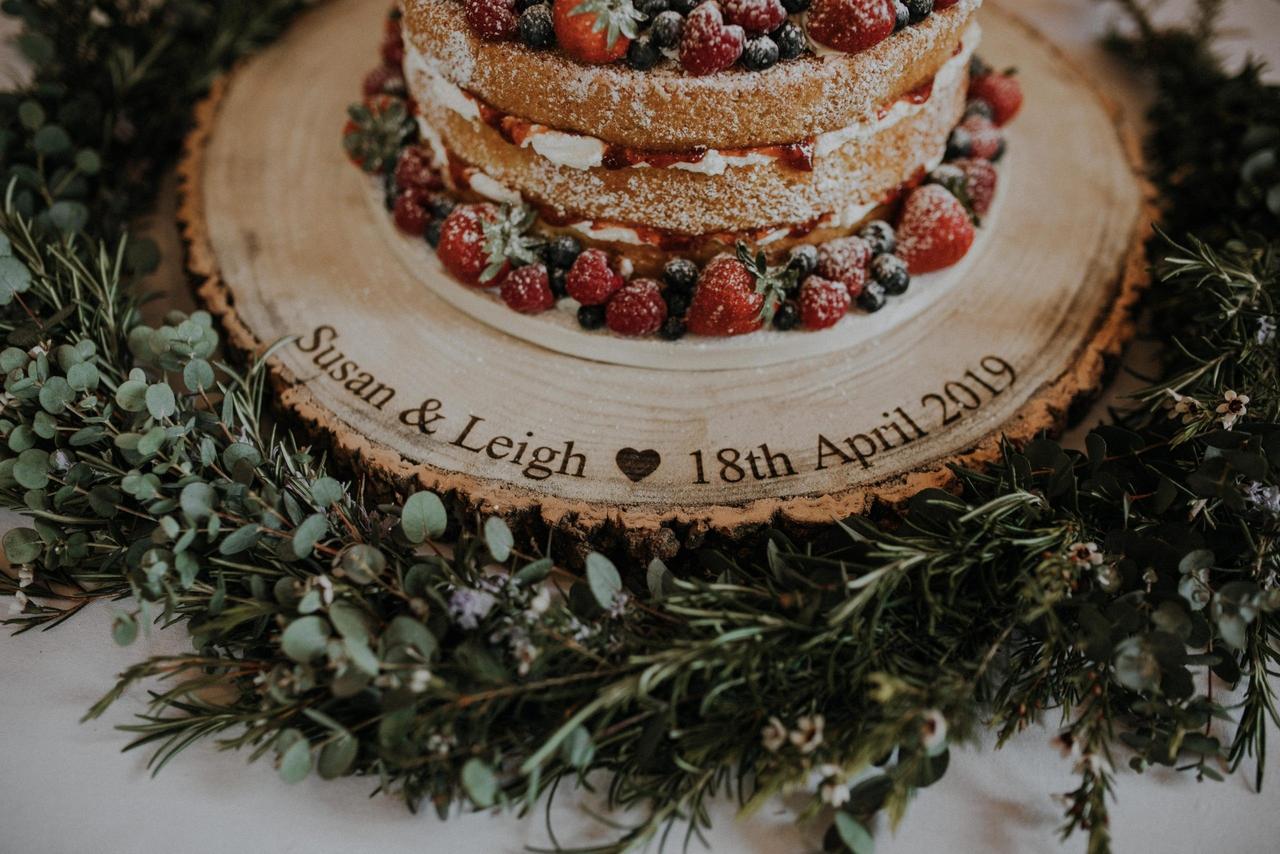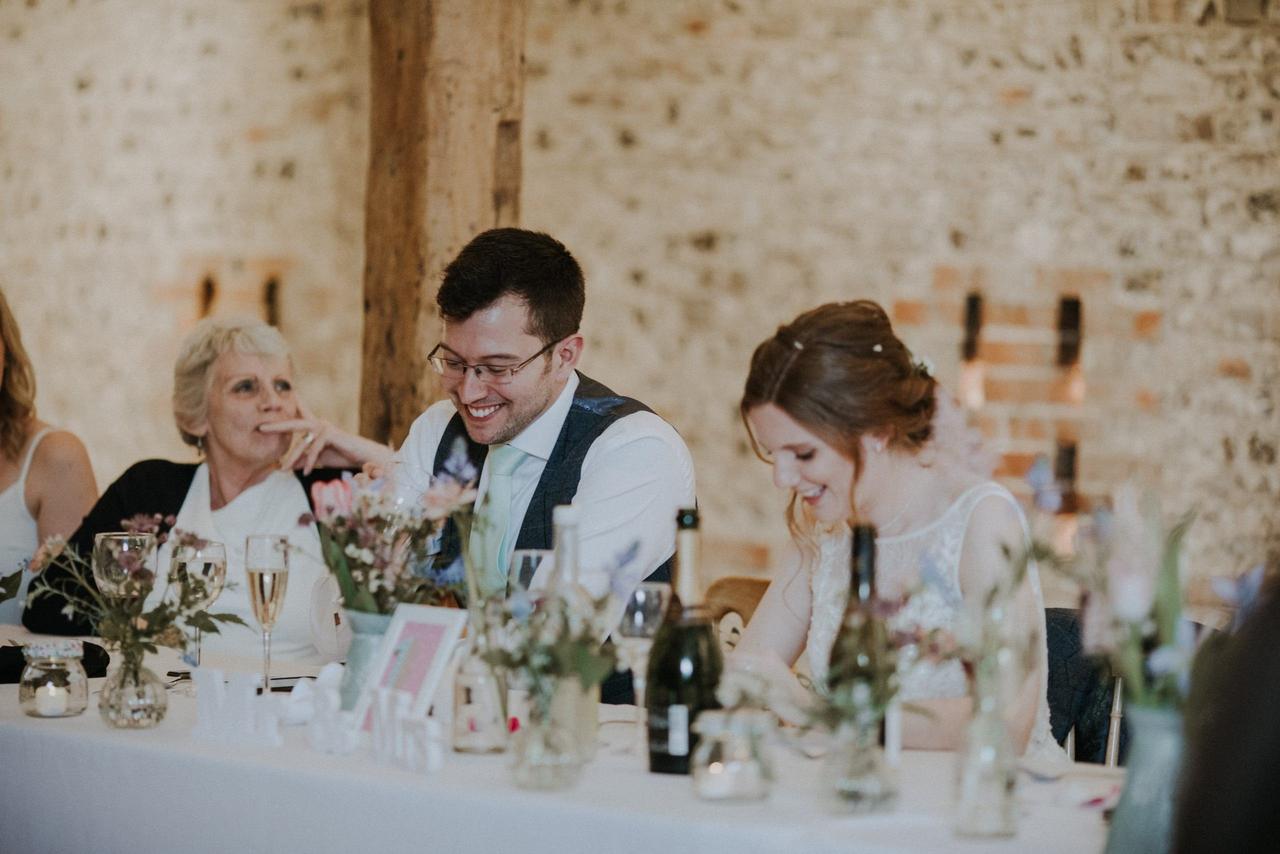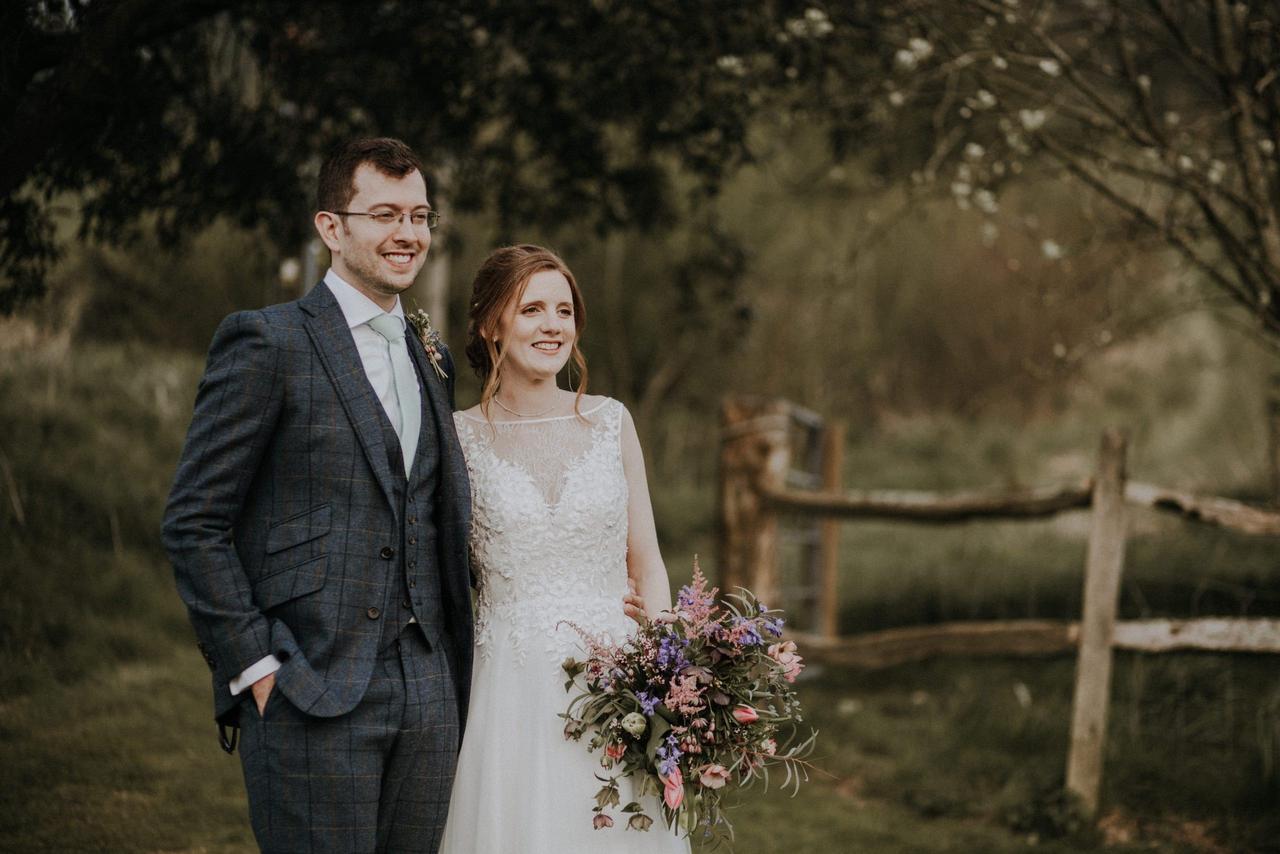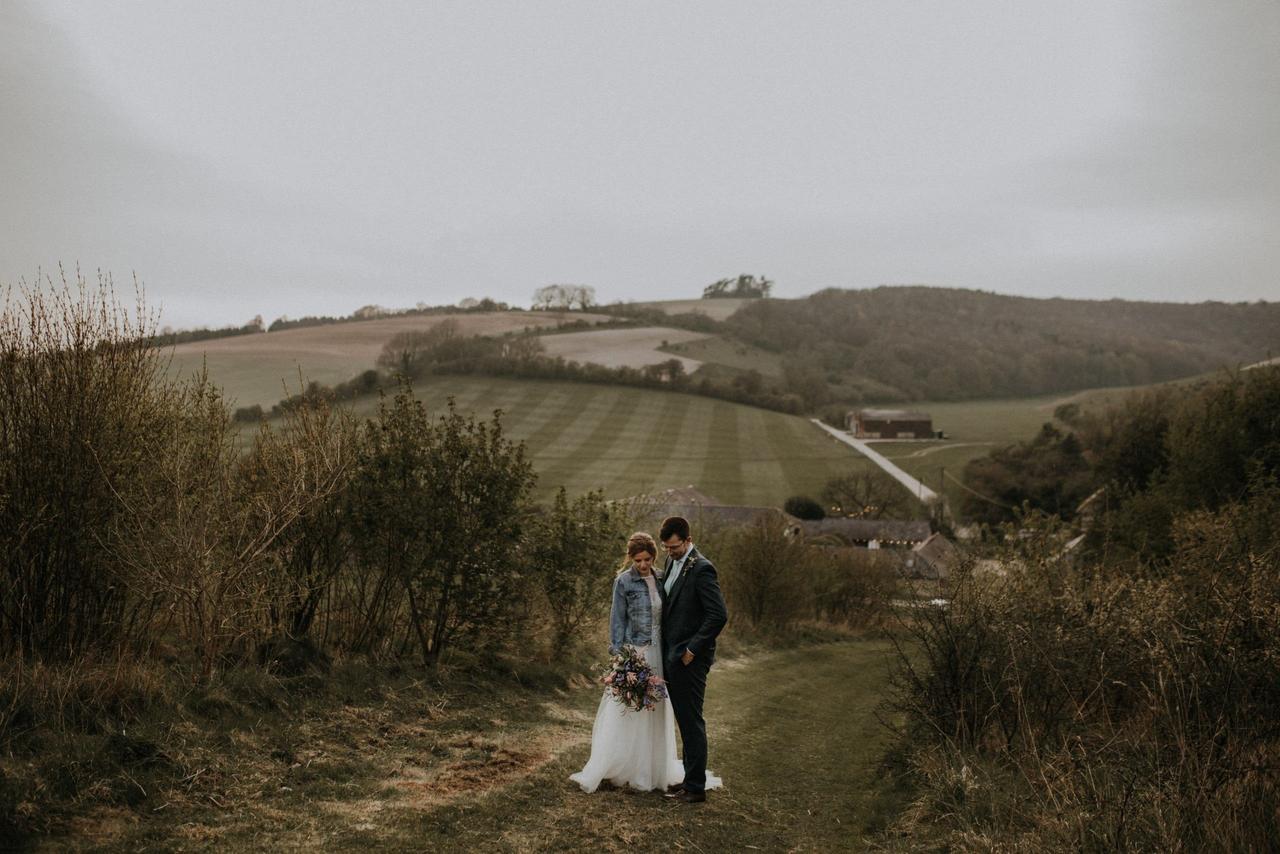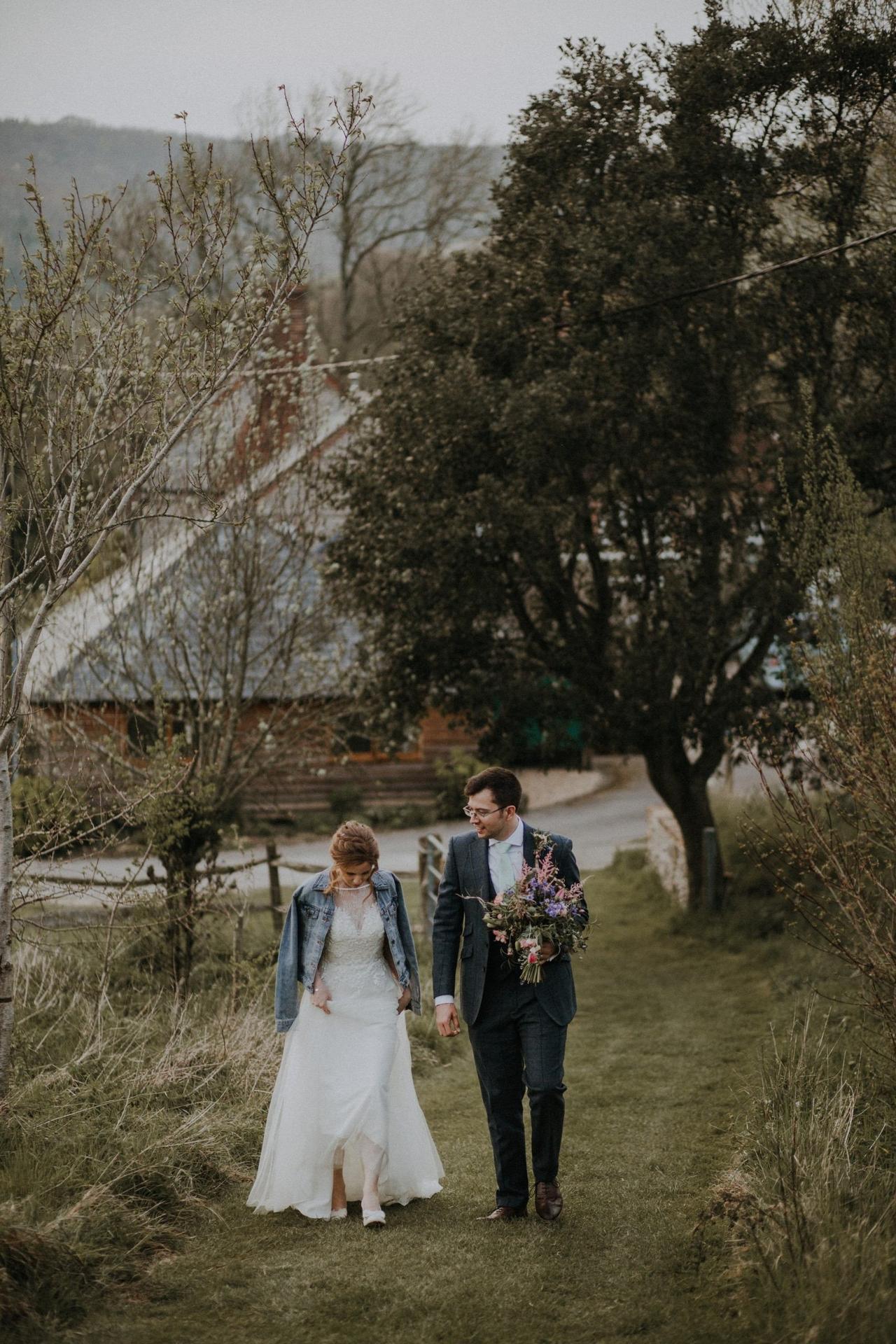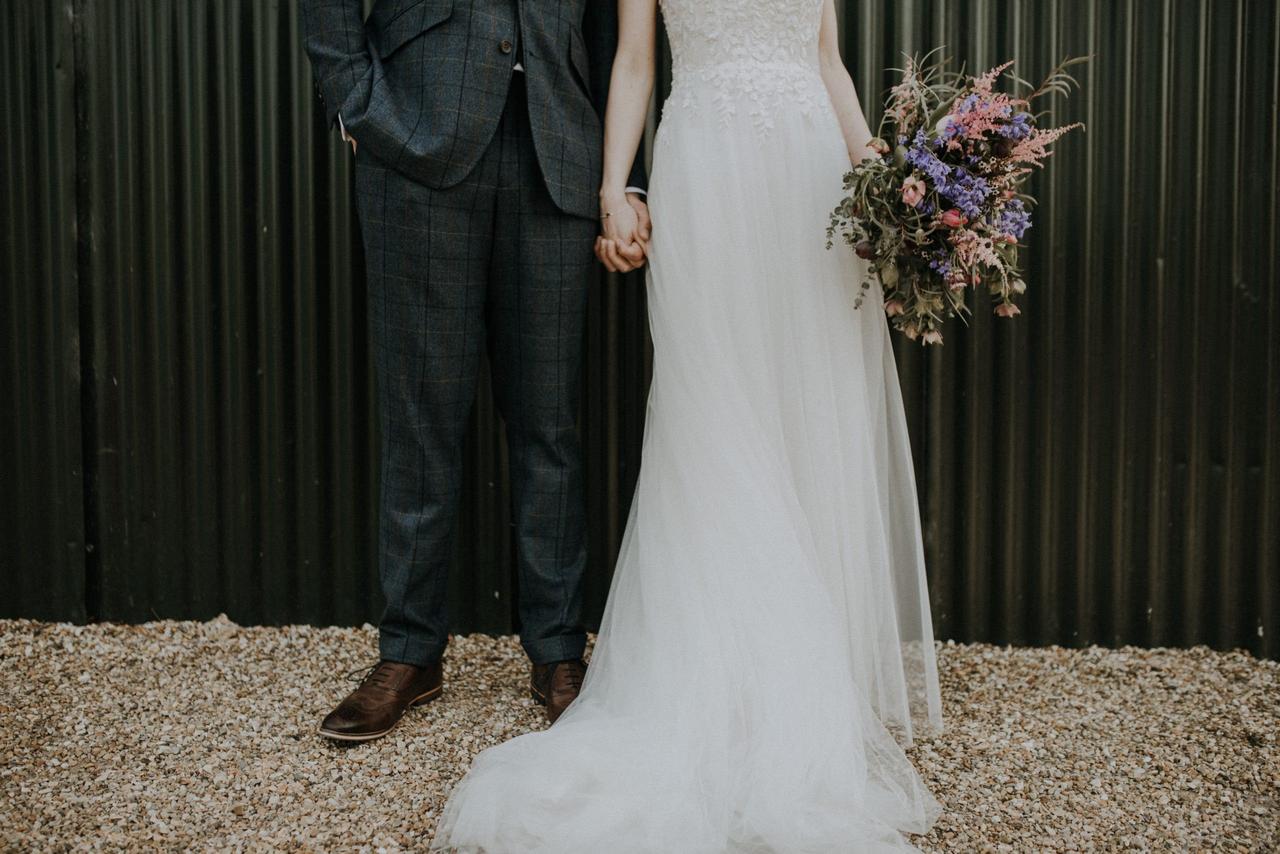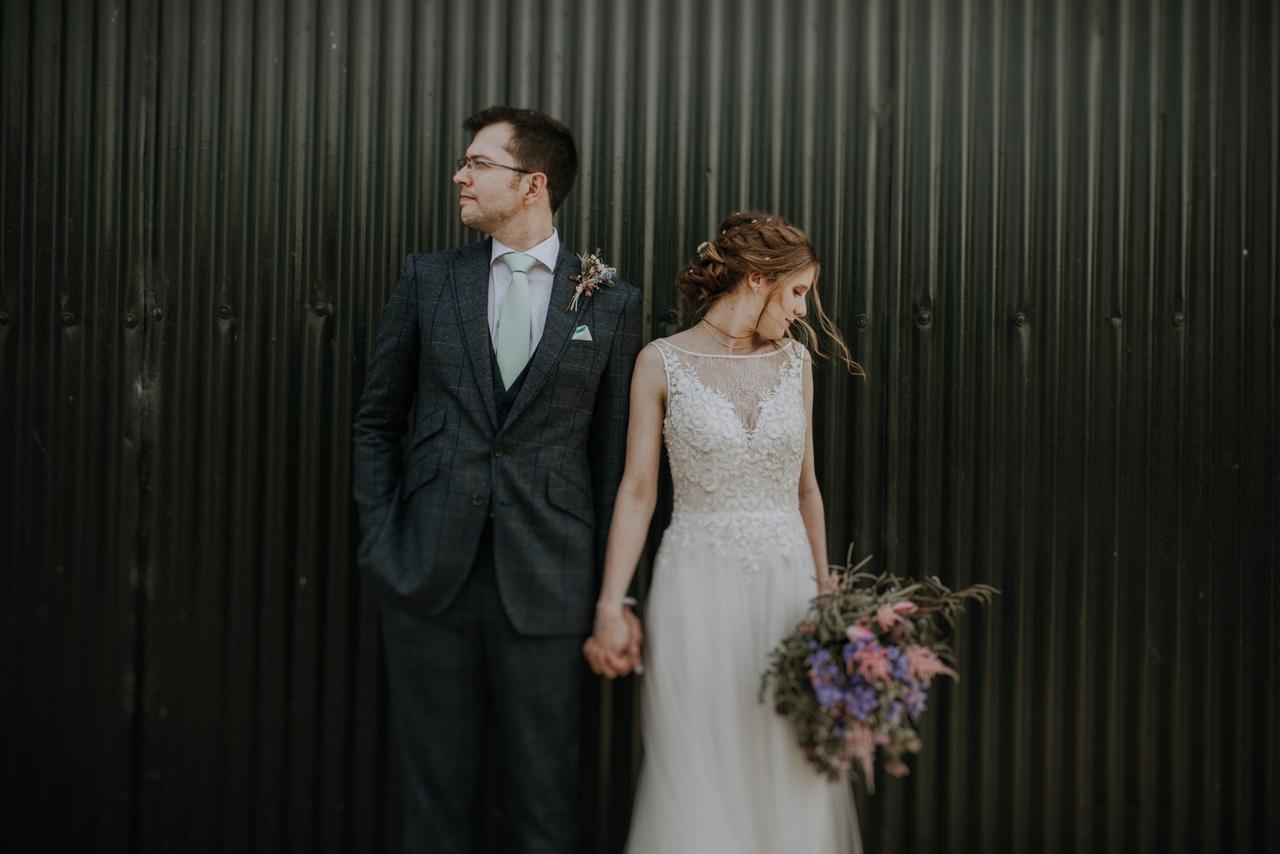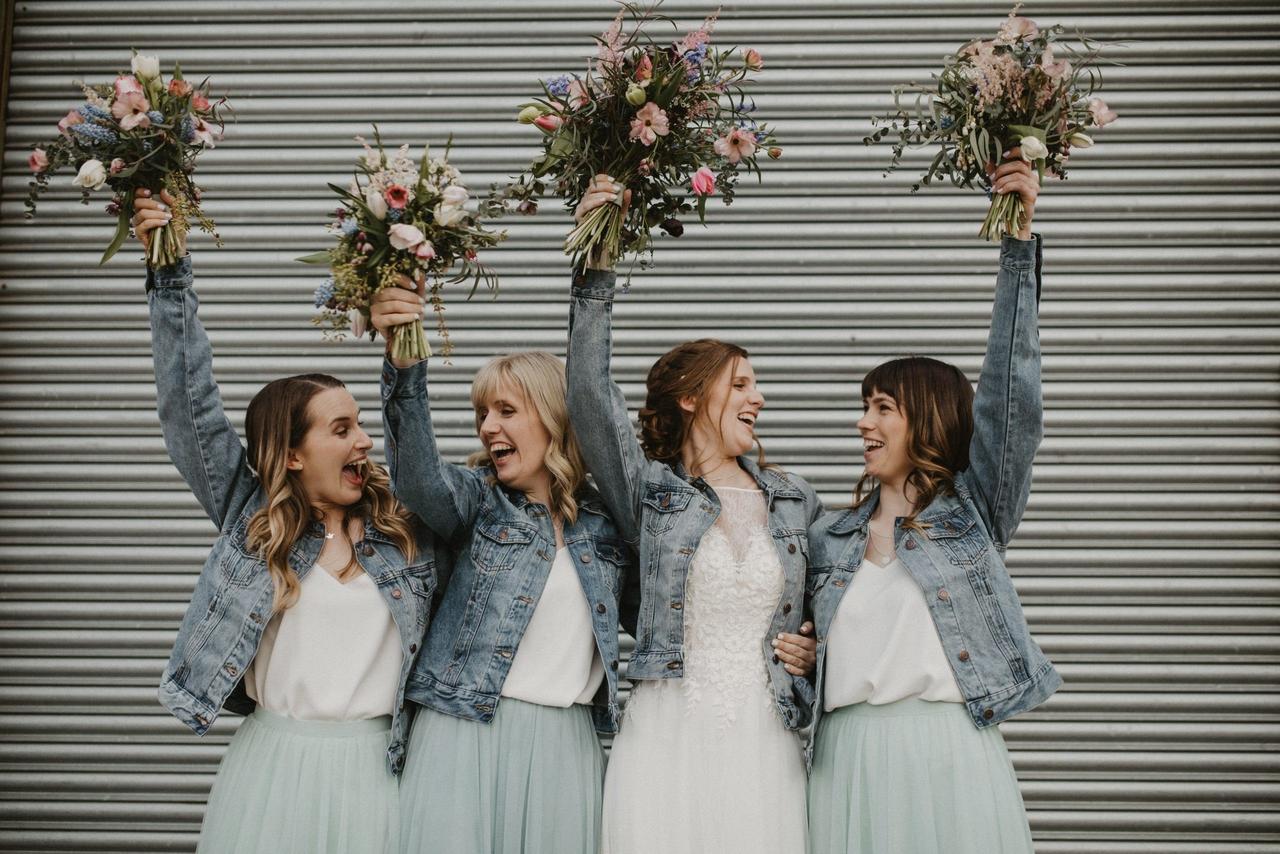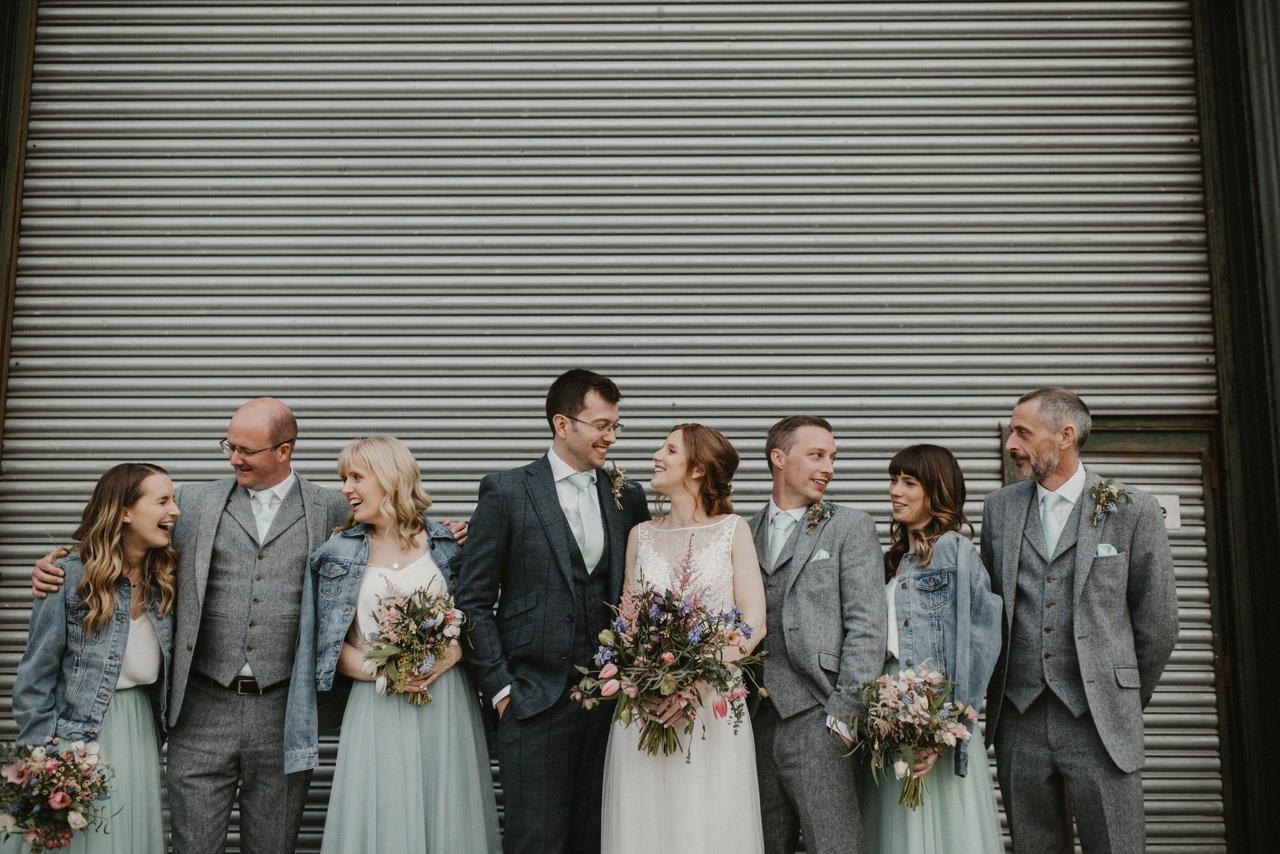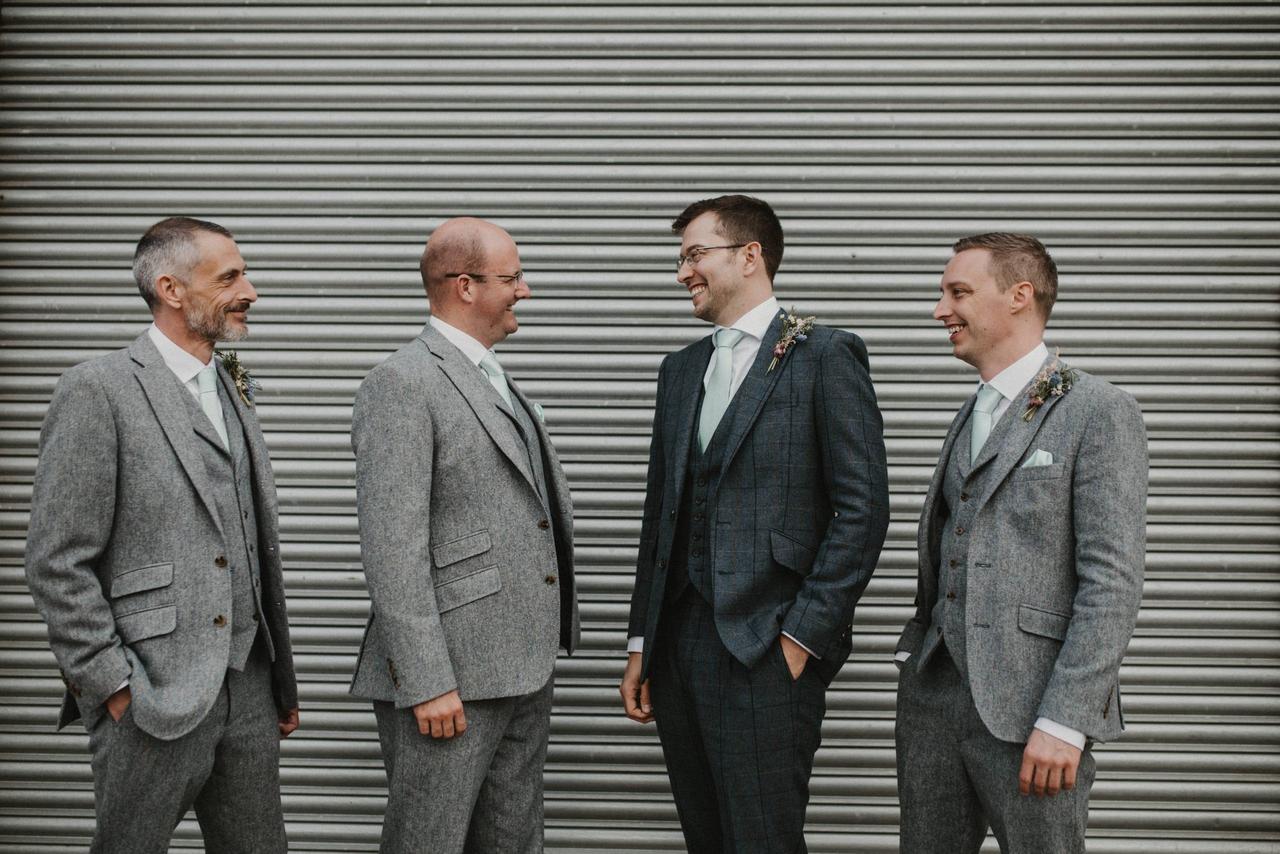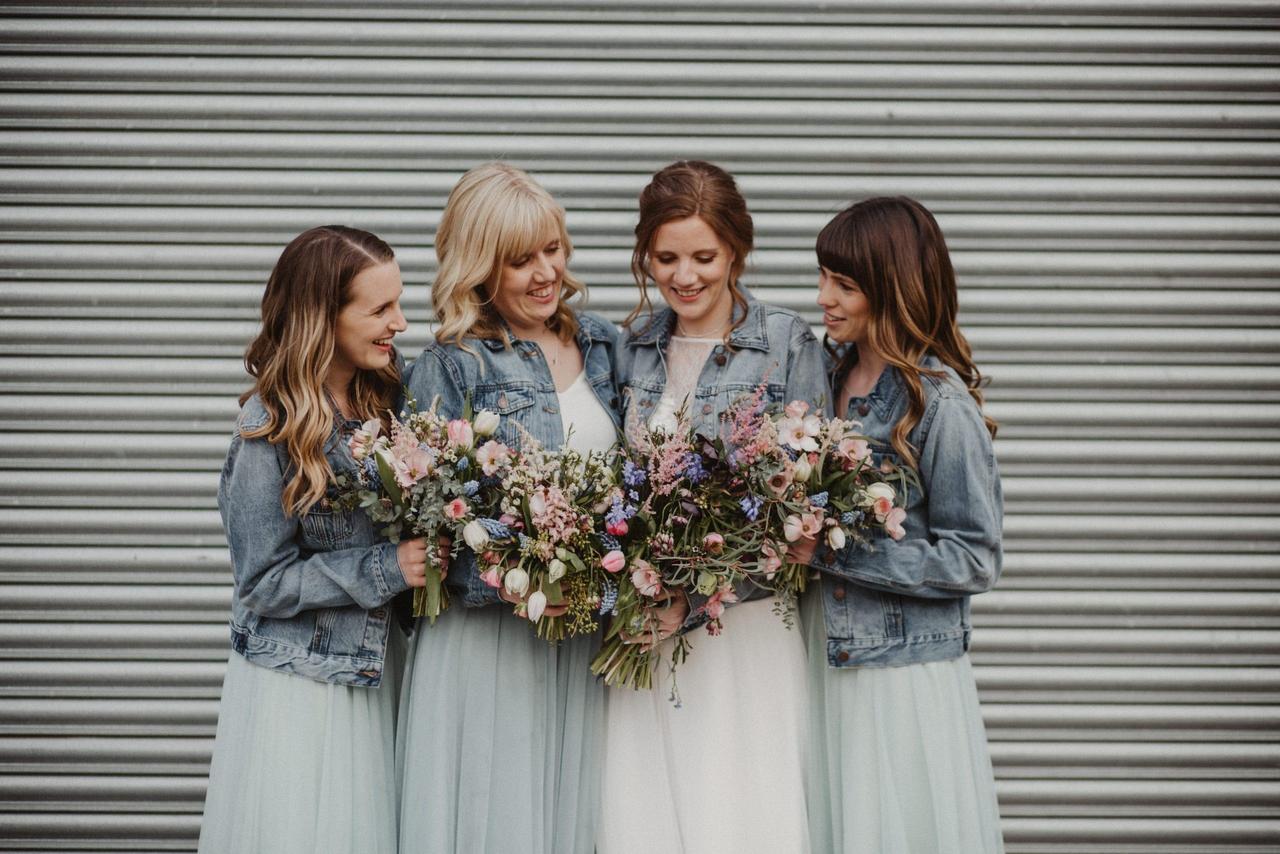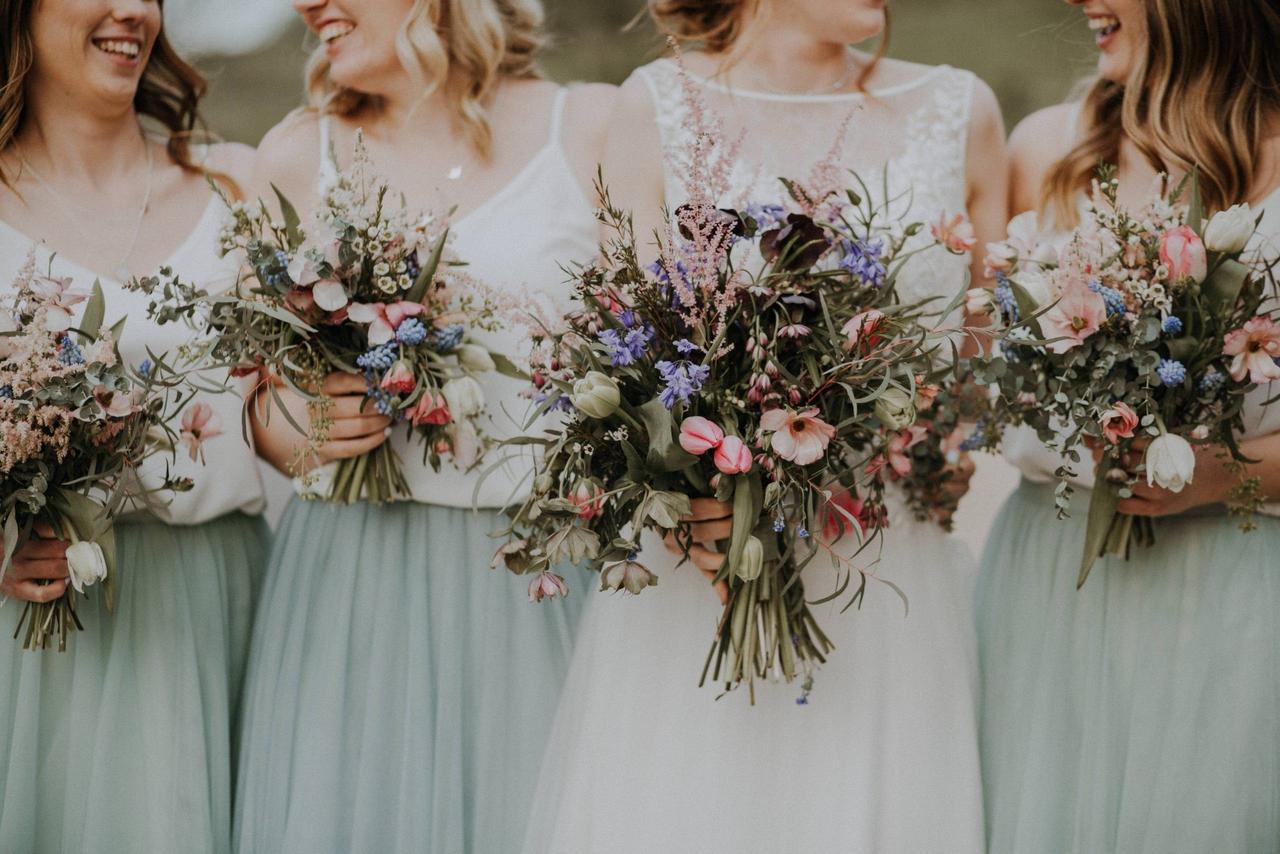 The Décor and Special Touches
Susan dreamed of an autumn wedding day but as soon as she visited Upwaltham Barns in the spring, she knew right away that a May wedding, complete with plenty of homespun touches, was right for her.
"It was an instant decision that we should have a spring wedding and use all of that amazing scenery and colour to inspire our day.
"We loved the idea of lots of colour and had lanterns installed in the reception barn ceiling in pastel colours which looked amazing in the day and at night.
"We also made a sign and order of the day which was great fun and lovely to do together on the lead up to the big day. These were in the courtyard where guests arrived. We made the table plan using a hula hoop, ribbon, some flowers and lots of patience getting the handwritten names all lined up!
"We also made signs in picture frames for the guestbook, cards and presents as well as the table numbers and hand-wrote the place cards for the tables. We wanted everything to be quite relaxed and have that handmade feel and, in all honesty, although there were some moments of panic, we had a great time getting it all ready and seeing it come together (though I still wish I had taken out the loyalty card at Hobbycraft!)."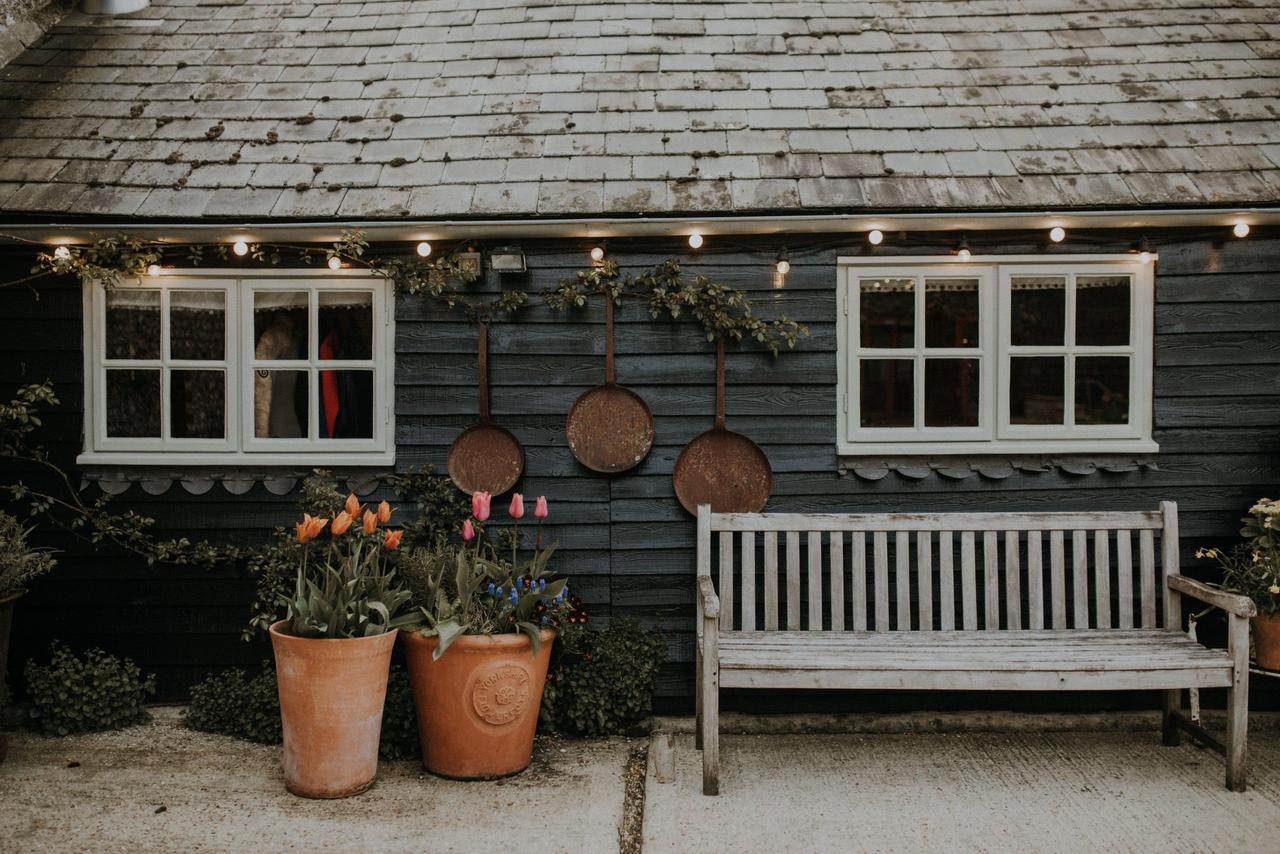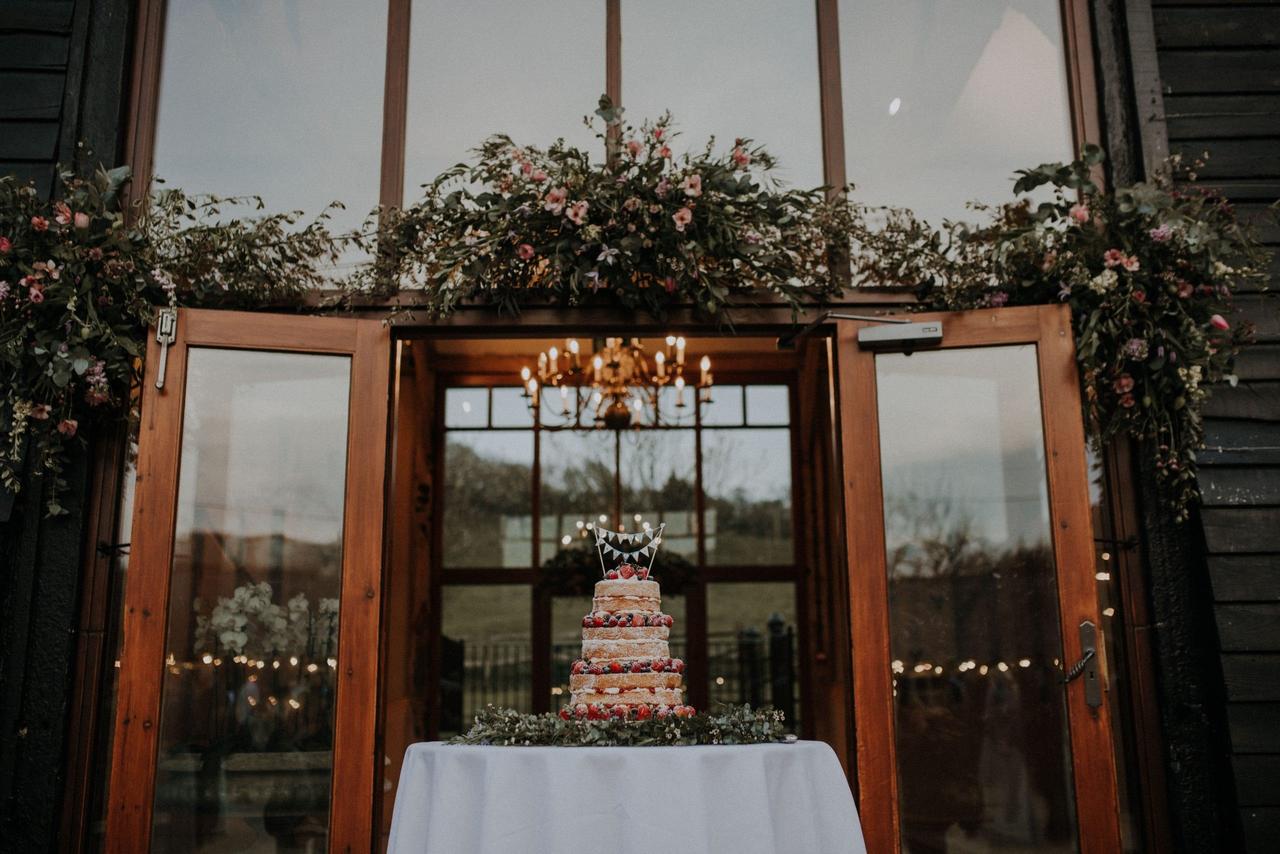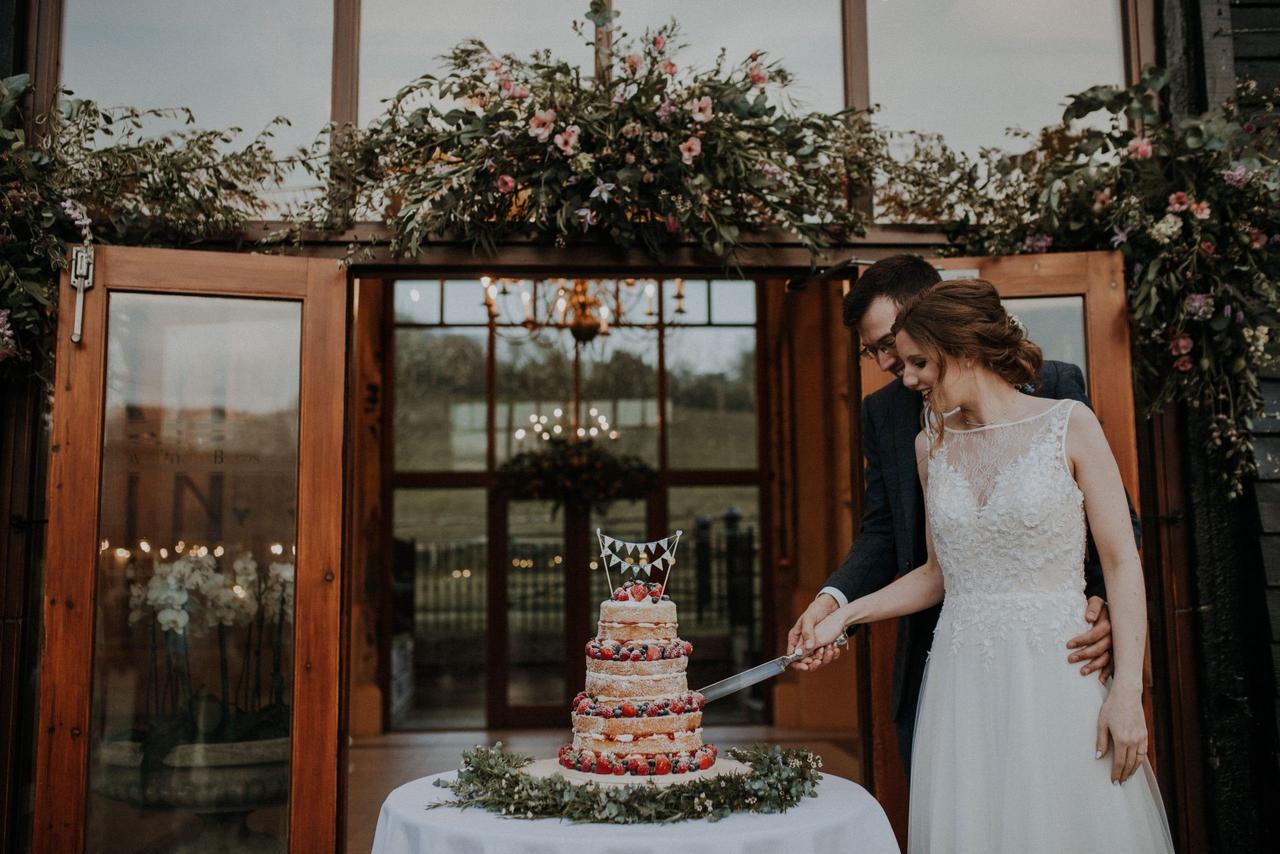 The Entertainment
Musical duo, Tea for Two from Toast Functions, performed in the courtyard as guests arrived before the ceremony. "It was lovely to hear the singing while still getting ready in the cottage and knowing everyone was starting to enjoy the day."
The duo continued to play as guests enjoyed reception drinks and canapés, before The 88s took over for the evening disco.
The Honeymoon
"We went on a minimoon a day after our wedding. We hired a camper van for a week and disappeared into the beautiful Cotswold countryside – it was just what we needed to relax and unwind after the big day!
"We spent the week driving around different villages and the open countryside, stopping wherever the mood took us, we did a lot of walking and a LOT of eating (including our cookies and some cake from our wedding!).
"We are now planning our honeymoon which is a safari in Kenya, with the generous gifts from our wedding guests as a big helping hand on our way there."
The Suppliers
Photographer: Lola Rose Photography
Venue: Upwaltham Barns
Wedding Dress: Sincerity Bridal at Blessings Bridal
Bridal Accessories: Irregular Choice and Boho Boutique
Groomswear: Black Tie
Bridesmaid Outfits: Revelry and ASOS
Florist: Spriggs the Florist
Cake: Frizelle Cakes
Stationery: Norma & Dorothy
Catering: Nibbles Catering
Entertainment: Tea for Two and The 88s
Thank you so much Susan and Leigh for sharing your amazing day with us!