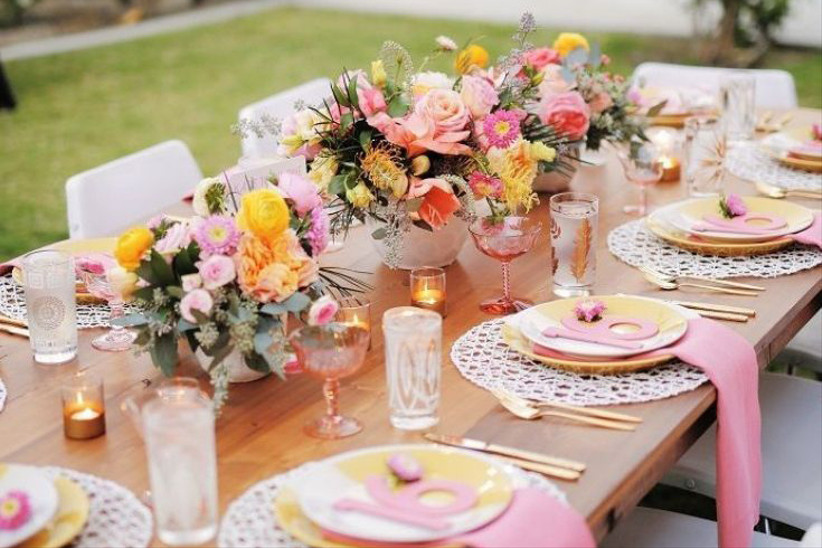 Spring wedding colour schemes needn't solely centre around pastels – colour palette trends for 2021 celebrate nature in all of its varied hues with pops of bright, joyful tones for good measure (and good moods).
Jean Smart, Creative Director of wedding and events styling company The Little White Cow, emphasises that "couples getting married in spring 2021 are pushing the boundaries – I'm seeing far fewer requests for simple and demure colour palettes. Pattern, 'big' colours, deep tones and detailed design touches is where it's at."
Jean credits spring 2021's more adventurous wedding colour palettes with the fact that many people have had to postpone their 2020 wedding due to COVID-19, organise a smaller than anticipated celebration or simply want to push the aesthetic boat out after a year of semi-hibernation.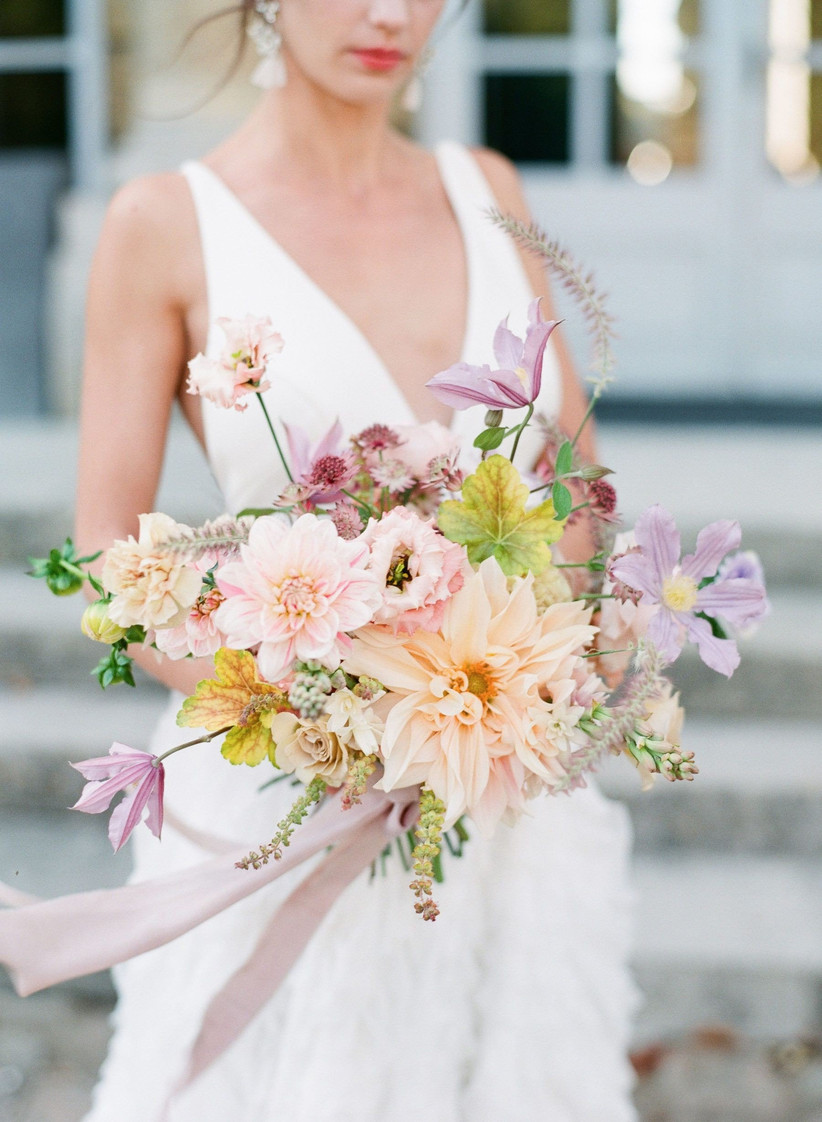 Image: Pinterest
"Couples are approaching mood boards and wedding styling in a more conscious and considered manner, with everything from smaller guest lists to a focus on using local flowers and food taking precedence.
"This means that many couples are actually planning a more elaborate, luxe experience. Many are doubling the number of flower heads in arrangements or investing in more extravagant tableware to make the guest experience incredibly special. Be it amber water glasses or gorgeous naturally dyed muslin napkins, focussed spend in this area really makes all the difference to how wedding styling and colour palettes come alive."
The 2020 lockdown has allocated a little more time for wedding décor planning for many couples, while Jean highlights that a rise in weekday wedding bookings could mean that your dream wedding supplier is unexpectedly available.
Whether you've rescheduled your wedding, are hosting a more intimate day than expected or are simply craving colourful wedding decoration inspiration for your big day, here are the spring wedding colours to bookmark for 2021.
Peach and Ochre Spring Wedding Colours
Jean notes that colour palettes are sunny side up for spring 2021: "Happy, carefree shades are coming out in full force next spring.
"Peach and warm yellow tones work perfectly with what's available from British flower growers at that time of year and also blend in beautifully alongside dried grasses and in meadow style arrangements, which will also be hugely popular in 2021."
1. A Peachy Bouquet
Image: Pinterest
The wilder and more vibrant the arrangement, the better. Vary tones and add an ochre velvet ribbon to really embrace this colour combo trend.
2. Peach Buttonholes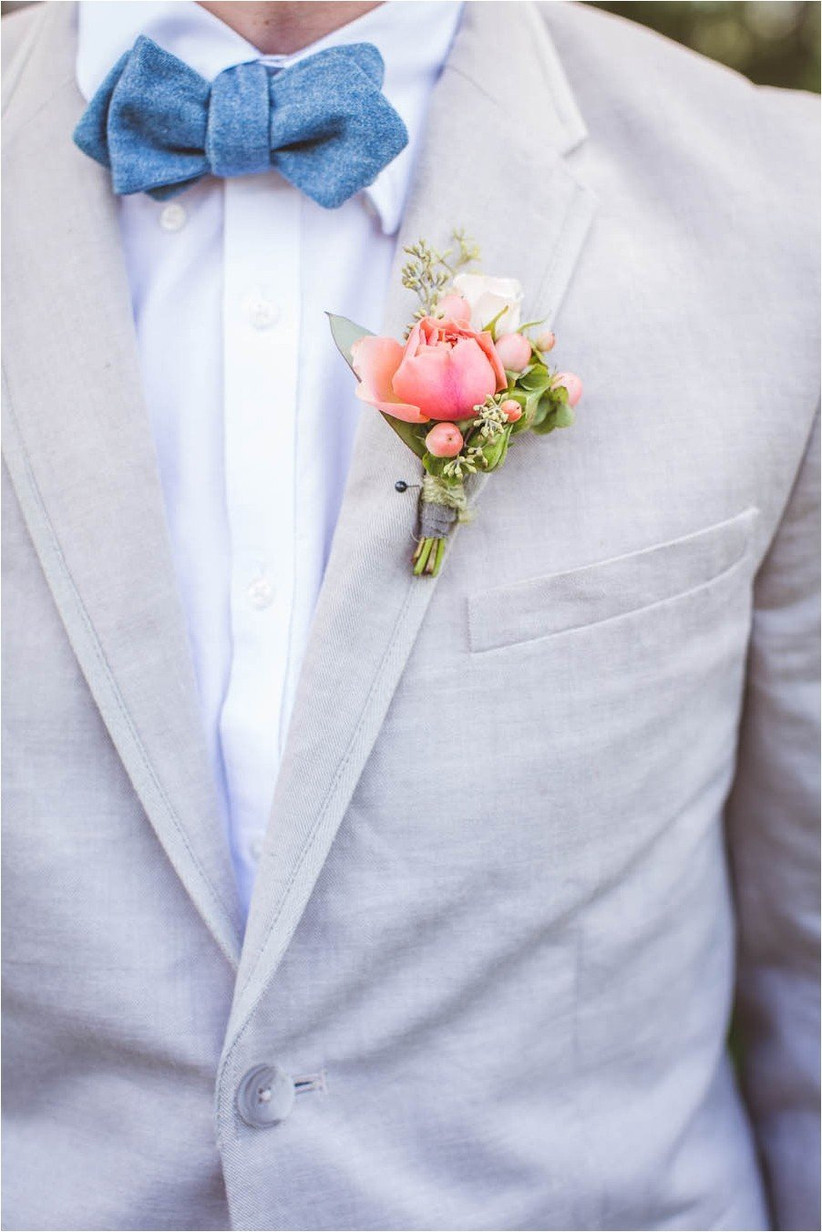 Image: Pinterest
Whether secured with a peach ribbon or as statement peach wildflower itself, adding warm tones to buttonholes makes for a cheery nod to the shift in seasons.
3. Yellow Flowers
Image: Pinterest
Yellow and ochre instantly convey happiness so tying these hues into your wedding flowers for spring 2021 will make your wedding feel all the more jubilant.
4. Ochre Wedding Invite Details
Image: Ananya Cards; Hayley Gell Photography
Vaishali Shah, founder of Ananya Cards, affirms that warm florals come into their own for spring weddings. Florals for spring may not be groundbreaking (Miranda Priestly would have something curt to say here) but Vaishali underlines that while floral designs enjoy enduring popularity when it comes to wedding stationery, looking to yellow and peach tones over 'classic' pastels adds an unexpected but apt twist for a new season:
"Spring is a return of warmth, and a time for renewal, hope, and sunny colour. Nature awakens and flower gardens take on a new life, while greenery becomes lush and rich with new scents.
"I love working with organic, wild, delicate visuals that echo both nature and a couple's culture. As increasing numbers of couples are choosing outdoor weddings and al fresco celebrations under the stars, picking up colours present within nature, and a couple's traditions and heritage makes wedding styling even more personal."
5. Ochre Fabrics and Outfits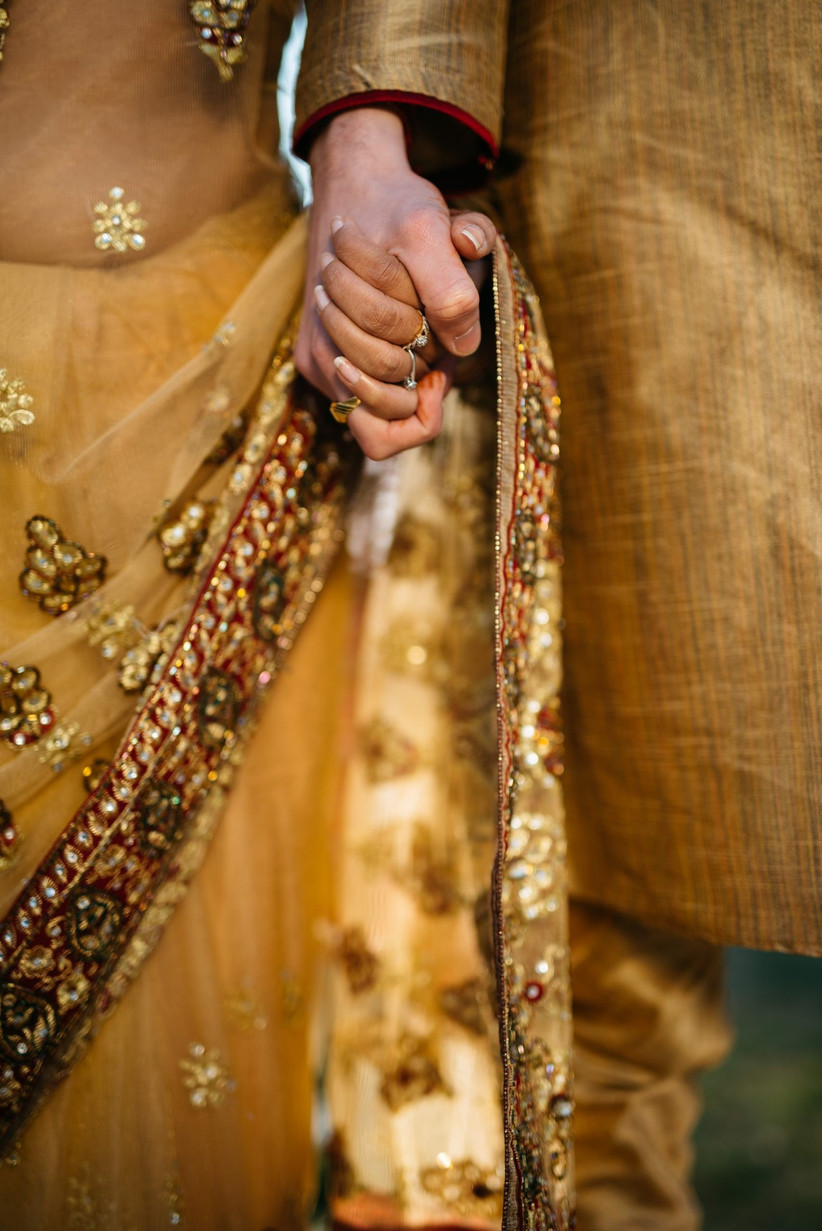 Whether it's shoes, hair ribbons, a dress or sari, table runners, ties or any other detail on the day, embracing a warm yellow colour palette across textures will create a harmonious effect and make your day stand out both visually and in your guests' memories.
6. Yellow Wedding Cakes
Image: Pinterest
Why not embrace your spring wedding colours in your menu too? This chic yellow wedding cake will complement any ochre based colour palette and give guests a slice of sunshine to devour at the end of the night.
7. Peach and Ochre Patterned Tablescape
Image: Pinterest
Fusing at least three spring 2021 wedding colour trends, a loud and proud table setting is in keeping with the movement towards more maximalist wedding styling according to Jean. A slightly muted colourway means that it won't compete with an elaborate floral centrepiece, or indeed your wedding breakfast.
READ MORE: Wedding Table Decorations: 45 Beautiful Tablescape Ideas
Earthy, Rusty Spring Wedding Colours
You might expect earthy tones to crop up more in autumn wedding colour palettes, but Jean assures us that they're very much in for spring:
"I'm hearing from lots of couples craving earthy tones for earlier in the year. A blend of browns, rusts and straw colours can have a very atmospheric effect and these shades especially sing with a candlelit backdrop."
Vaishali agrees that couples are increasingly inspired by the more earthy hues offered up by Mother Nature, with "plant-based vegetable dyes and inks, recycled materials and the use of local resources growing in importance in terms of client demand."
8. Terracotta and Dusty Pink Stationery
Image: Pinterest
Dusty pink may well be the colour trend that never dies but combining it with an earthy terracotta shade gives it a distinctly cool edge. Consider adding terracotta tableware to keep the theme going on your wedding day.
9. Earth Toned Bouquets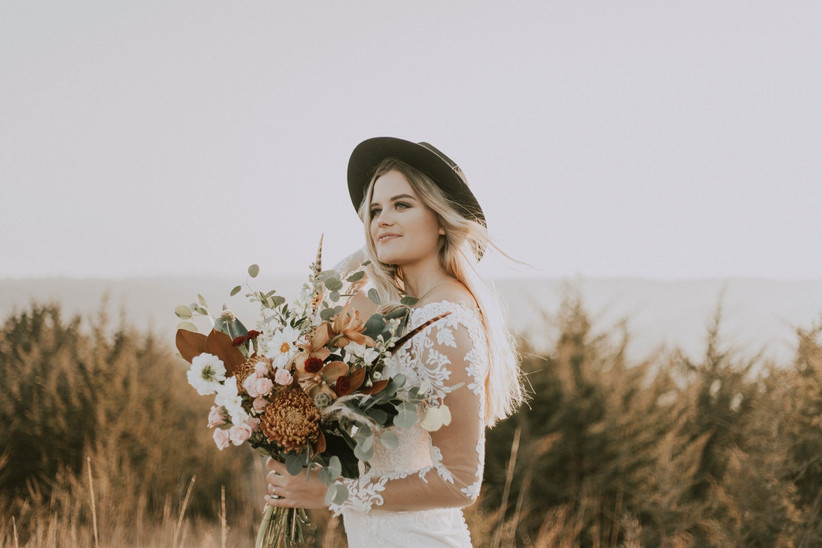 Mingling green foliage with brown toned leaves, deep red flowers and pampas grass isn't necessarily a new idea but it'll offset a predominantly earthy wedding colour palette perfectly.
10. Vintage Brown Napkins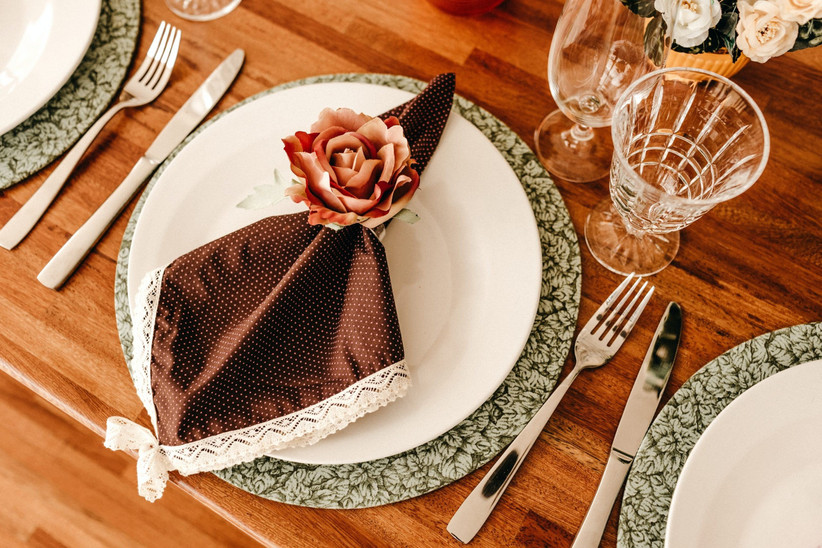 Vintage décor isn't simply a nod to nature in terms of tone – second hand napkins, retro tableware and antique decorations are all sustainable wedding design options that often ring in cheaper than new or mass market alternatives. Opt for mismatched items within an earthy colour palette for an edgy, personal approach to wedding styling.
11. Rust Tablecloth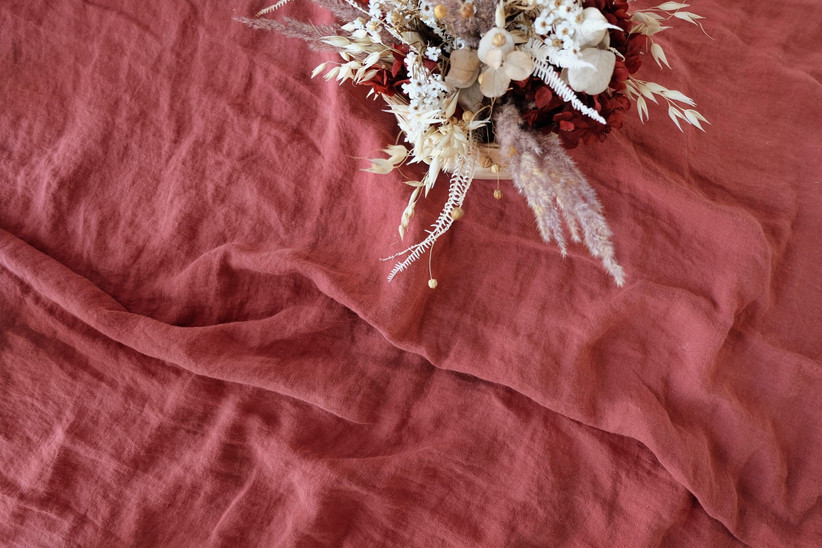 Bold, romantic and a statement by itself, a deep rust base for a table setting requires little other dressing up. Seek out sustainably produced materials and use a plant-based vegetable dye for added eco points.
12. Bold Terracotta Table Styling
Image: Pinterest
Big tablecloths are a-go; Jean can't get her hands on enough of them. This very '70s setup incorporates an earthy colour scheme into a fun, retro design – combine clashing prints with warm florals that pick up on the colours you've used for the ultimate visual impact.
13. Rust Hues with Pastel Accents
Image: Pinterest
Contrasting earthy shades with pastels is a wonderful way to add a more conventional springlike touch to a rich colour palette. Go for parma violet toned posies, light pink bouquets or candy coloured candles to give browns a lift.
READ MORE: Rustic Wedding Ideas: 45 Breathtaking Ideas for Your Big Day
Green Spring Wedding Colours
Many wedding colour schemes are coming back to 'earth' and fresh greens are very much in favour.
Vaishali explains why: "Nature drives design and a palette of greens acts almost as an ambassador for the power of nature. We'll be paying a lot of homage to greens of all hues in 2021".
14. Green Ribbons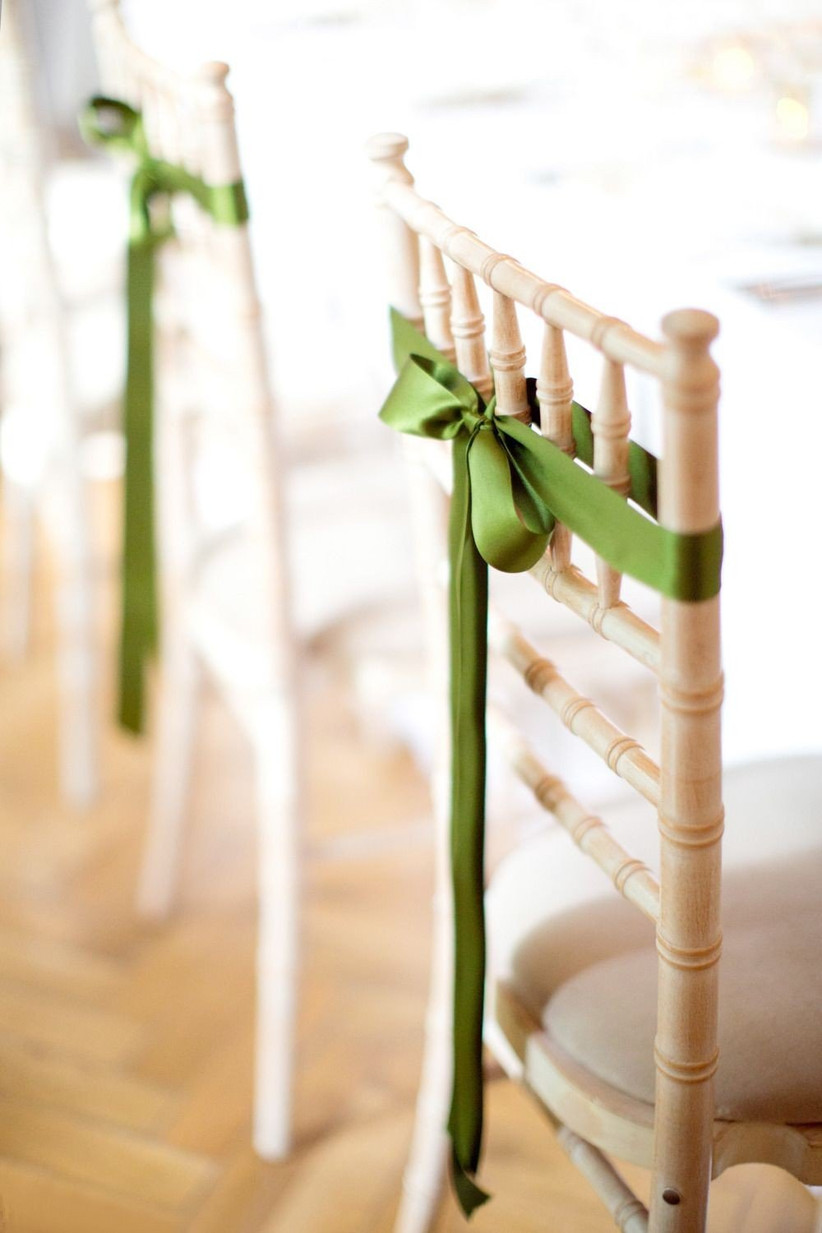 Image: Pinterest
Whether at the ceremony or reception (or both) forest green ribbon detail is anything but cutesy. Tie it to furniture, include it in wedding favours or include it in the wedding party's accessories to create a consistent colour theme.
15. Foliage Heavy Bouquet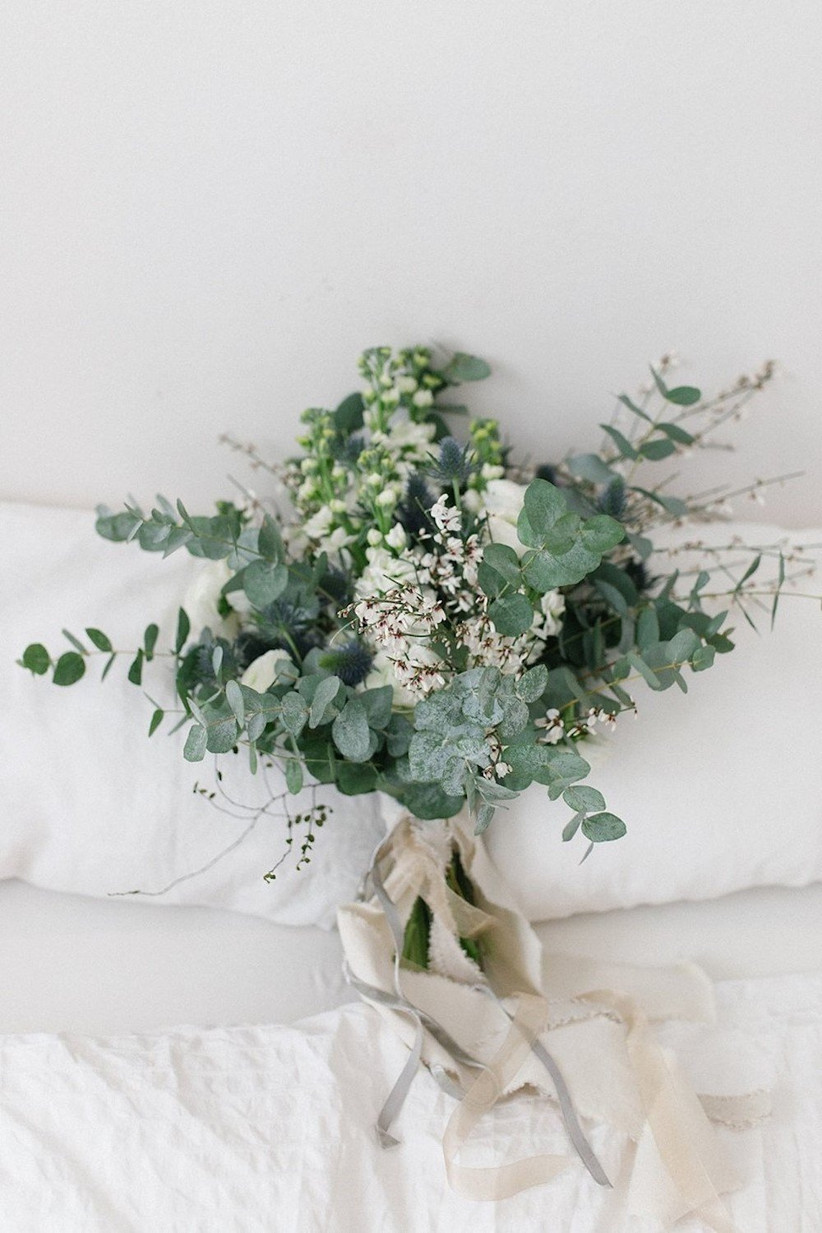 Image: Pinterest
Foliage is going nowhere – it's inexpensive, plentiful and beautiful on its own. Ask your florist to blend foliage with a few of your favourite stems to mix it up.
16. Olive Green Wedding Invitations
Image: Ananya Cards
These invites by Ananya Cards reflect the Tuscan location of the wedding but any green accent is effective. Pick a plant, element or symbol that conveys your relationship or the vibe of your upcoming nuptials, then follow through with a green colour scheme on the big day if you fancy it.
17. Green Candle Centrepieces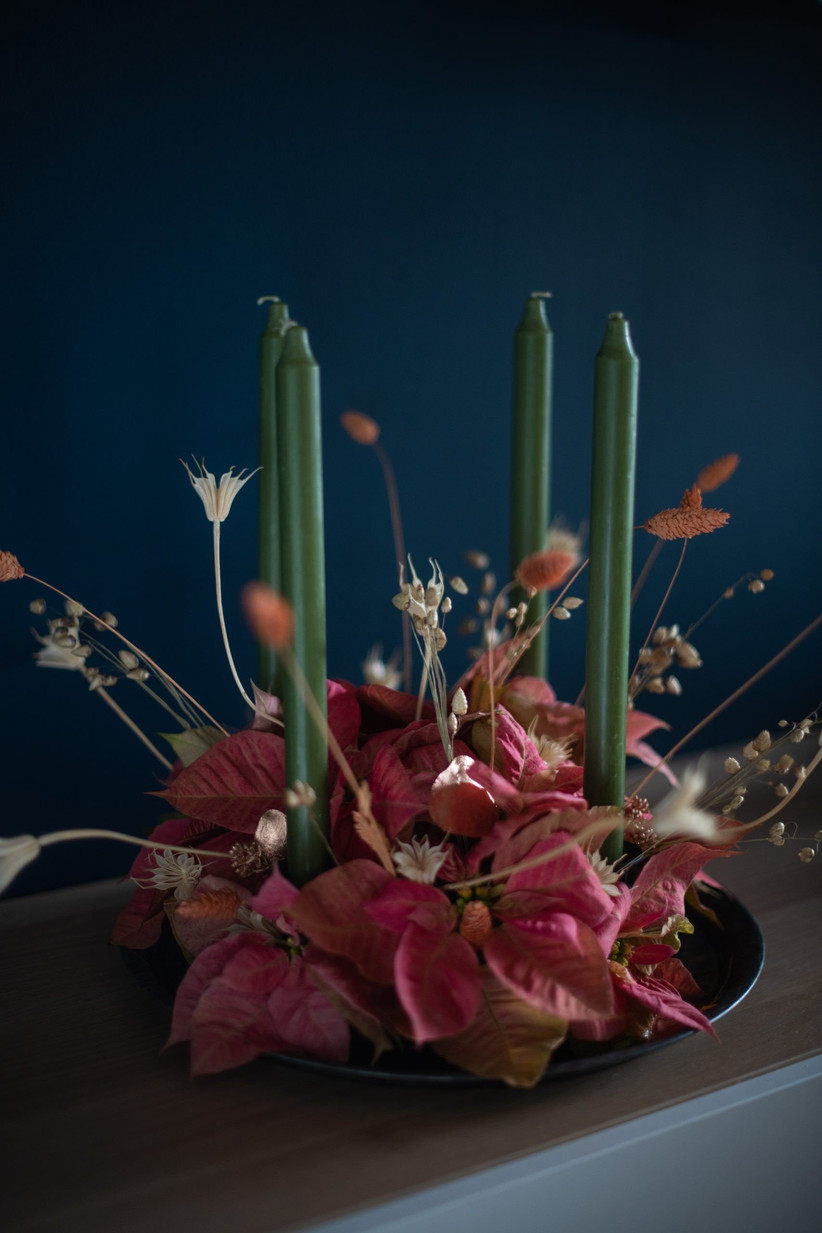 Coloured candles are particularly sought after when it comes to wedding styling and a forest green colour scheme looks especially magical when the lights go down. Combine green with peaches and pinks for a springlike feel.
18. Green Foliage Hoops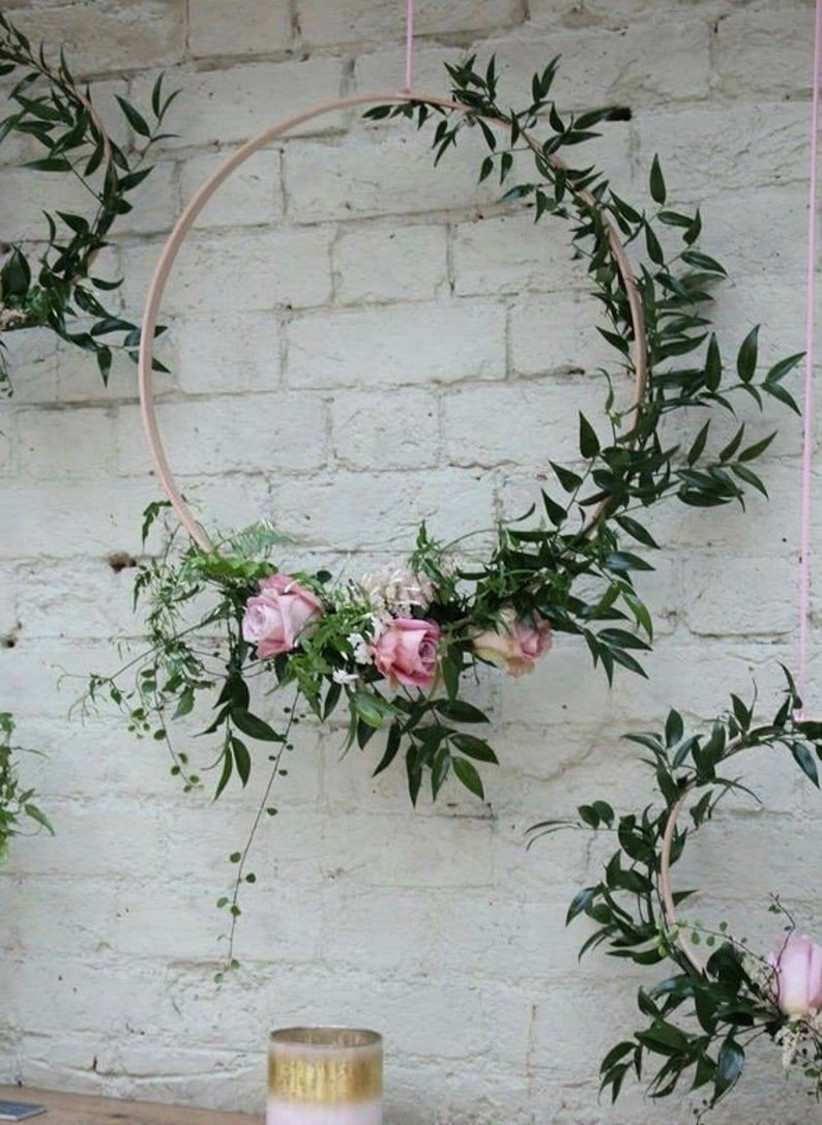 Image: Pinterest
Another affordable wedding décor idea that will transform a blank canvas venue, ask your florist to bind foliage offcuts to hoops to hang in the ceremony area. Move them to the top table for the wedding breakfast to get maximum mileage in the wedding decoration department.
19. Leaf Green Table Setting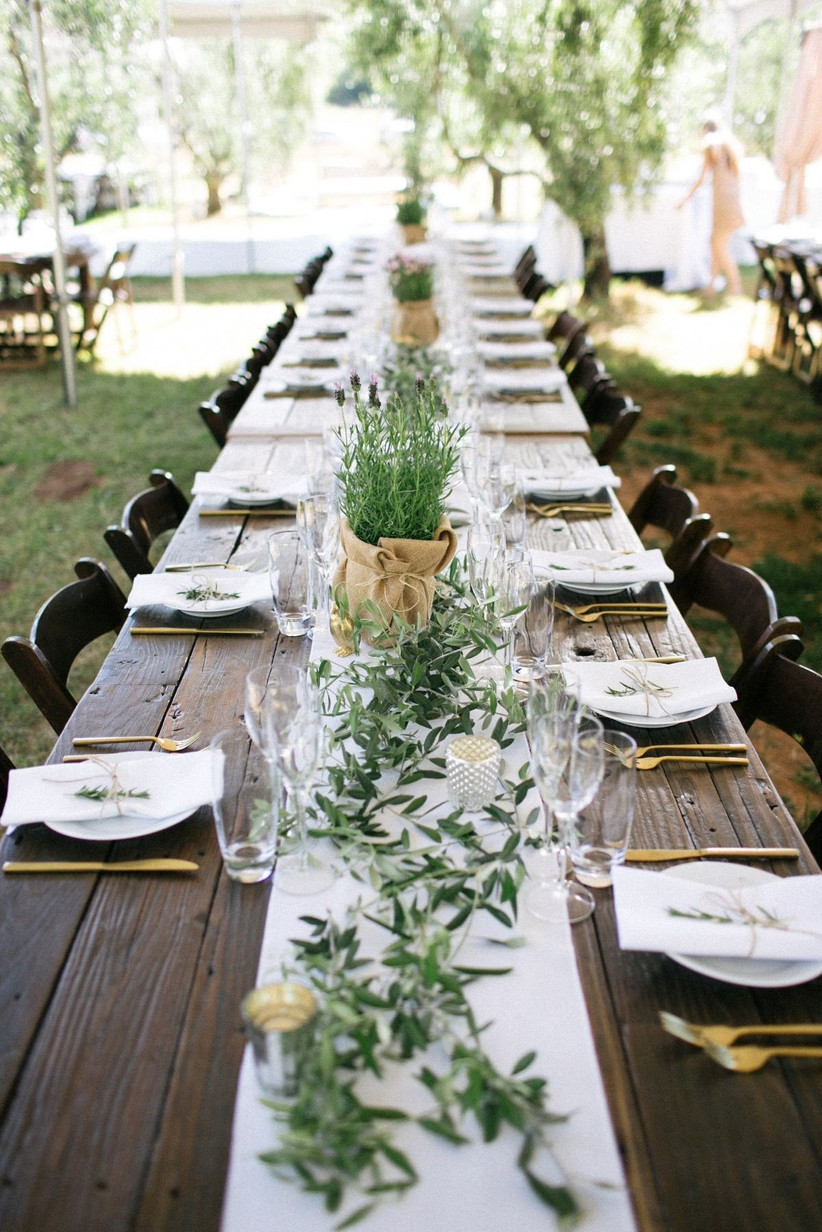 Image: Pinterest
Speaking of offcuts, a river of green leaves makes for a stunning natural table runner. Place foliage over fabric to prevent leaves from scattering in the breeze or as the wedding breakfast gets rowdier.
 20. Emerald Green Table Setting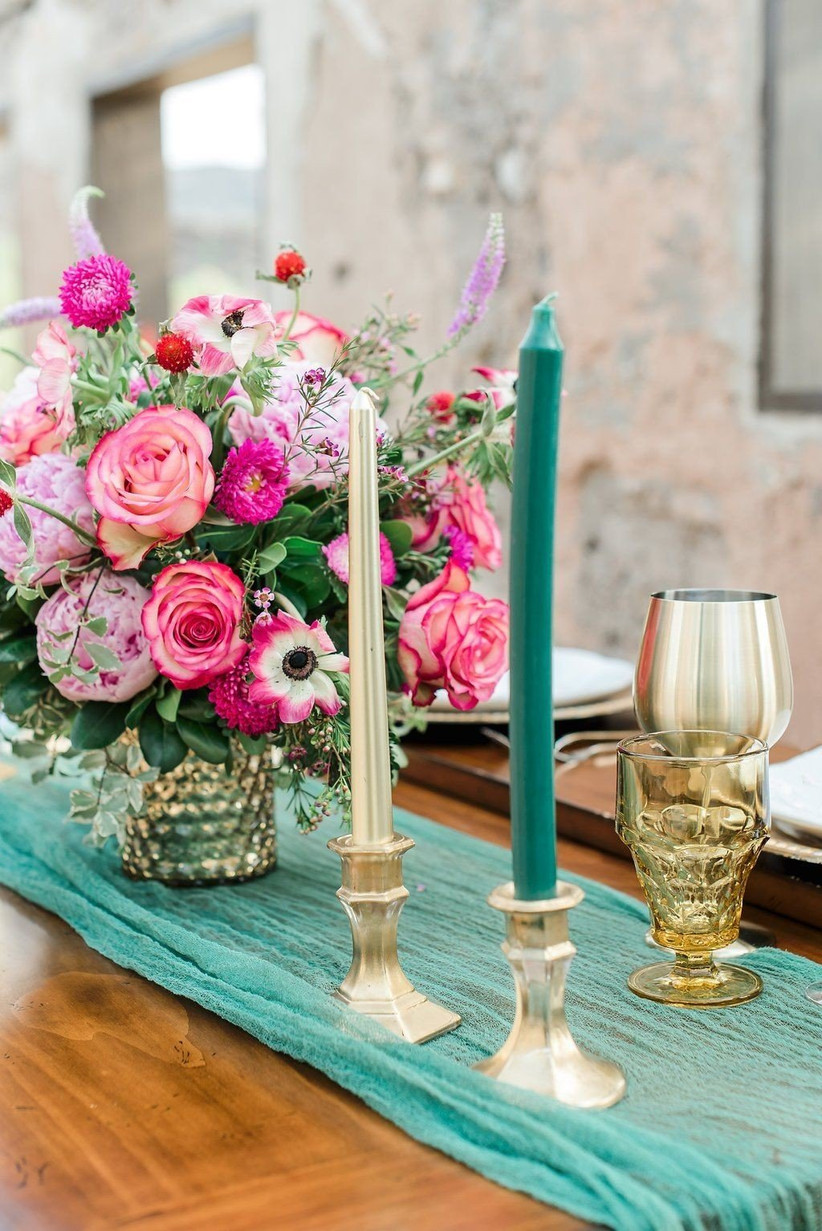 Image: Pinterest
Shy and retiring this ain't, but combining hot pink flowers, emerald candles and table runner, and chic gold glasswear looks so elegant and cool.
21. Green Wedding Cake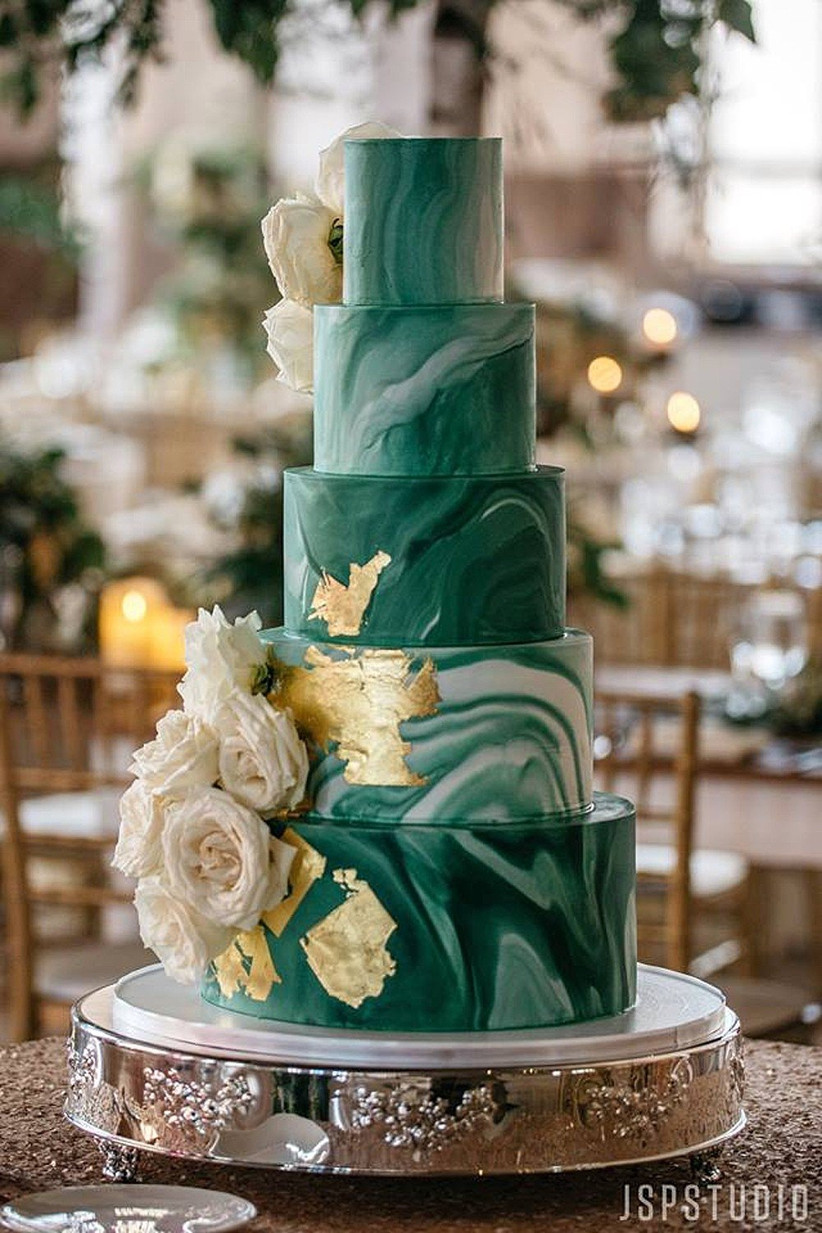 Image: Pinterest
Less Shrek, more sophisticated pâtisserie, this marbled green wedding cake is a thing of beauty. Metallic foiling ups the ante – green and gold never gets old.
READ MORE: How to Have an Eco-Friendly Wedding
Metallic Spring Wedding Colours
Speaking of gold, using metallics within your chosen spring colour palette is a quite literally eye-catching way to add design interest according to Jean. In fact, they're so effective that you can ditch the spring 2021 colour palette ideas altogether and let your inner magpie reign. It's your call but here a few shiny ideas to get you started…
22. Metallic Wax Seals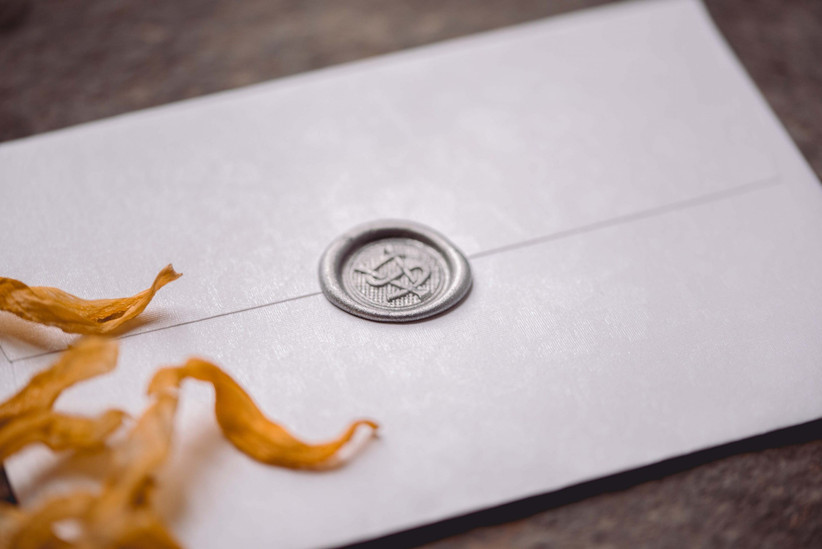 Image: Ananya Cards
Once you get a wax seal stamp there's no going back – you'll be stamping every correspondence in the manner of a Medieval messenger. Make your missives even more fancy by dabbling in metallic wax. It'll hint at the wedding colour scheme to come.
23. Metallic Tableware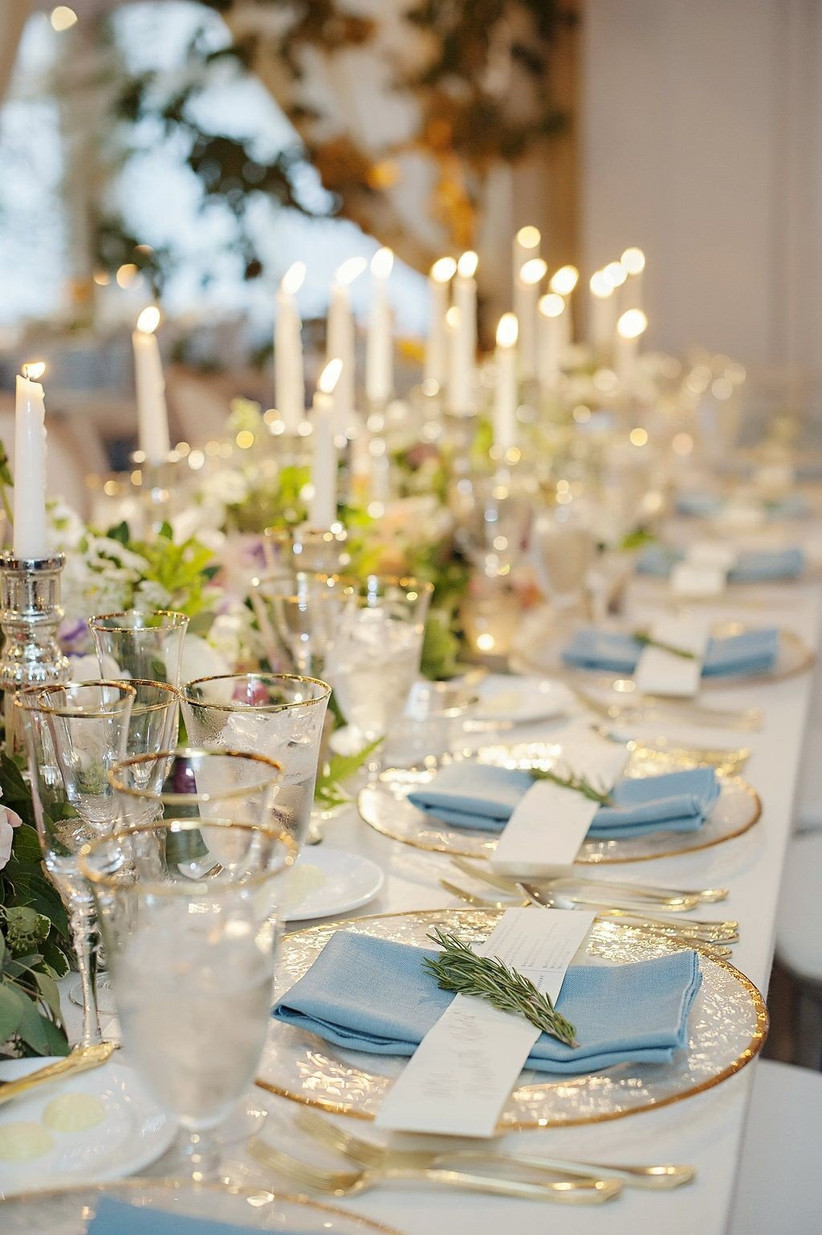 Image: Pinterest
Gilt edged plates, silver borders and rose gold designs are so stylish that they double up as décor – a statement dish is all that's required for an impactful wedding place setting. Mix and match metallic finishes and designs to create added interest.
24. Metallic Wedding Cake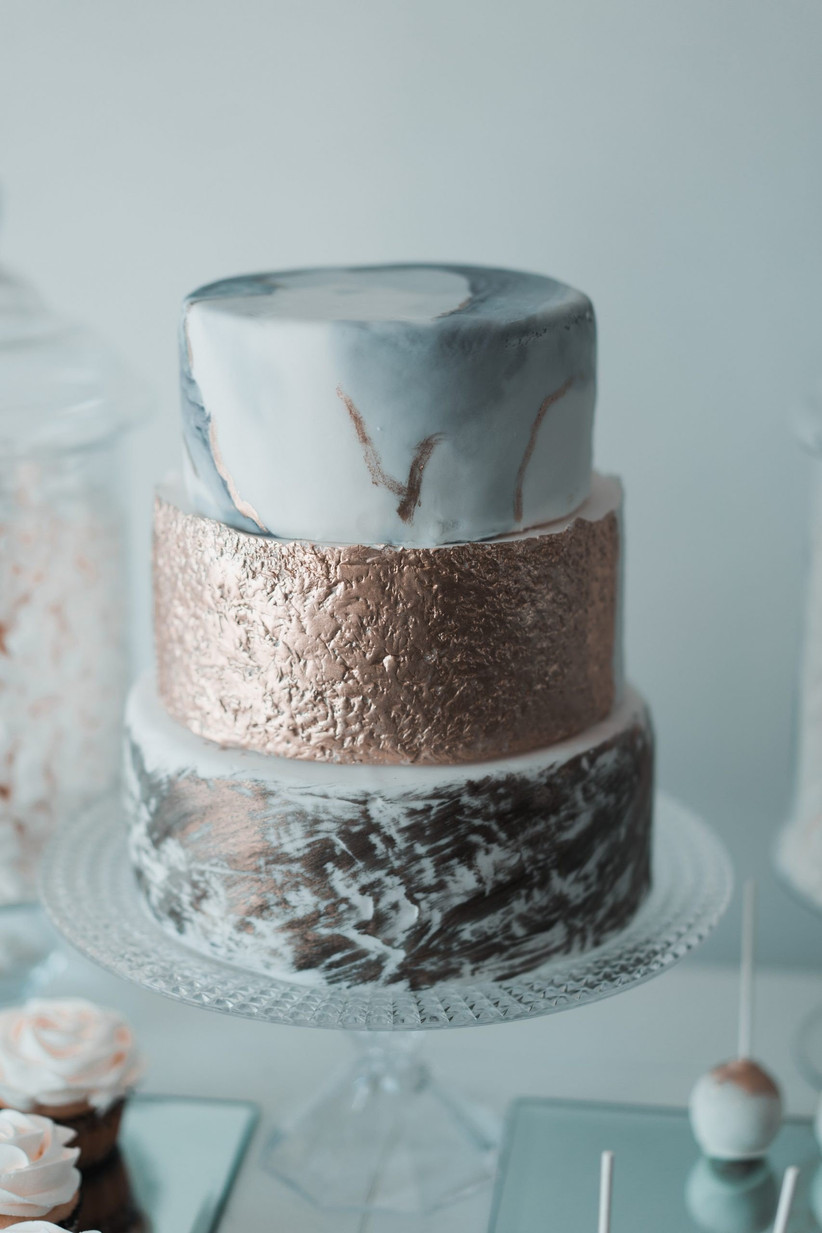 This isn't your average Victoria sponge – this multi-tier metallic offering combines finishes and textures to Bake Off worthy effect. Ask your baker to mix up brushwork and marbling for a cake that's a feast for the eyes too.
25. Metallic Wedding Invites
Image: Ananya Cards
Whether it's metallic edging, a shiny monogram or calligraphy, a metallic finish to wedding stationary will ensure that your invite takes centre stage on every mantelpiece.
26. Metallic Details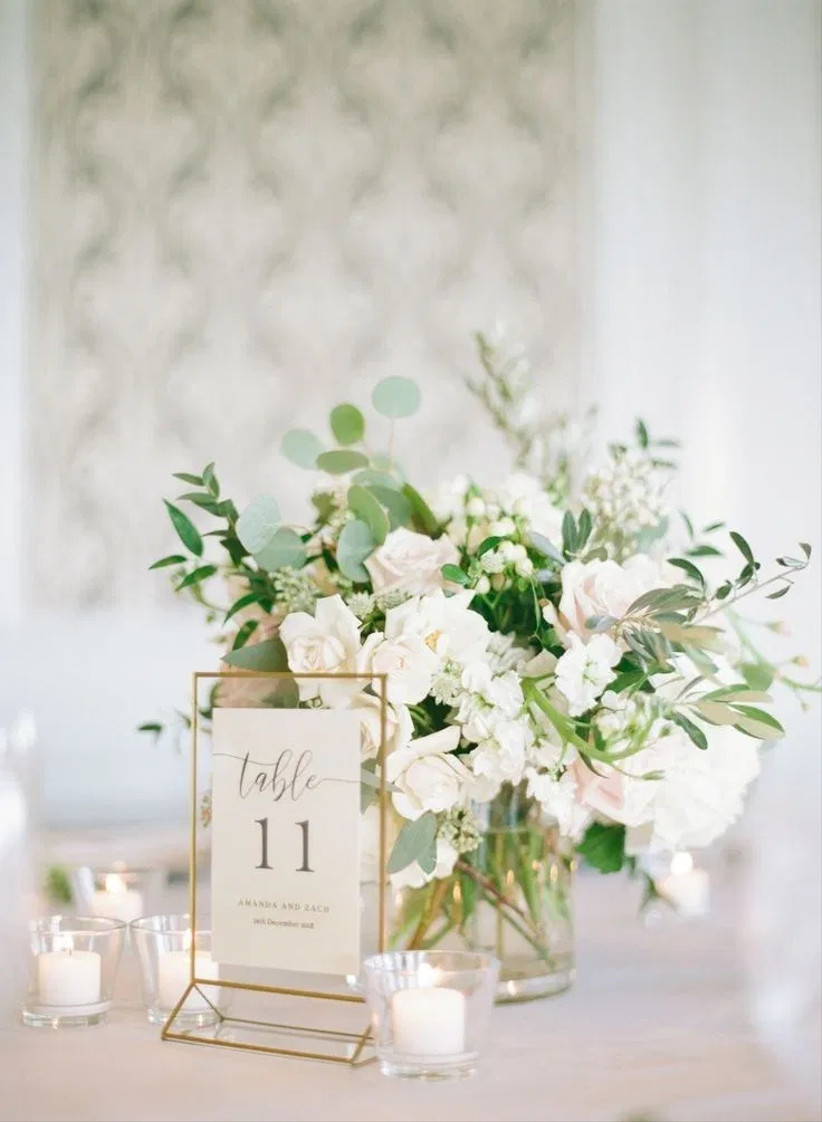 Image: Pinterest
Geometric light bulbs, candlesticks, vases and gold table name holders are small wedding décor touches that add up to create a cohesive theme. You don't need to go big or fancy to create an impression – functional details set the scene in a subtle but effective way.
READ MORE: Metallic Wedding Cakes: 17 Stylish Designs
Neutral Spring Wedding Colours with a Colour Pop
If working with a single colour palette feels too restrictive, Jean recommends "weaving colour into your wedding tonally rather than sticking to one overriding shade."
Keeping a neutral thread throughout the day with a contrasting pop of colour means that any décor or details that you've invested in will really shine.
27. Colour Blocked Napkins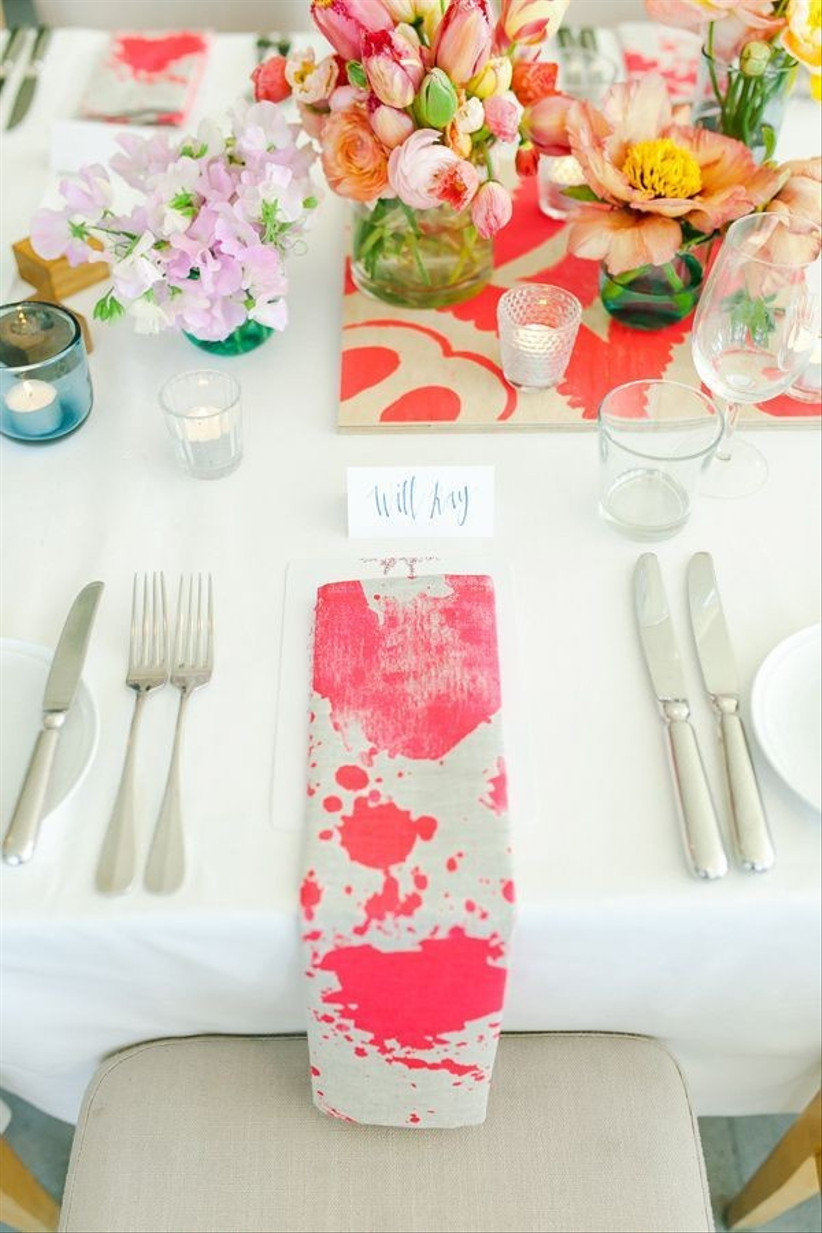 Image: Pinterest
Whether hand dyed or lovingly tied, a bold napkin against an otherwise neutral table setting creates a simple, elegant look.
28. Vibrant Glassware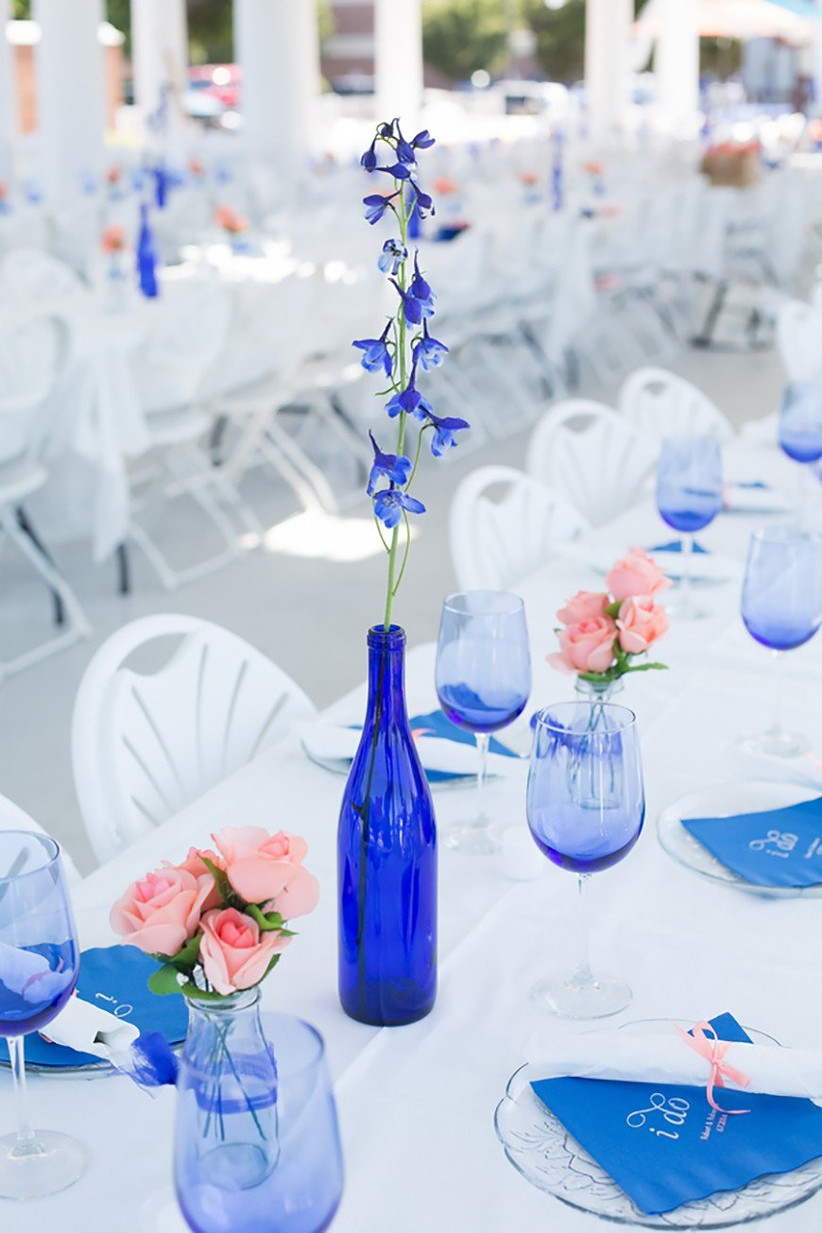 Image: Pinterest
Make toasts all the merrier with coloured glasses in jewel tones.
29. Painted Place Cards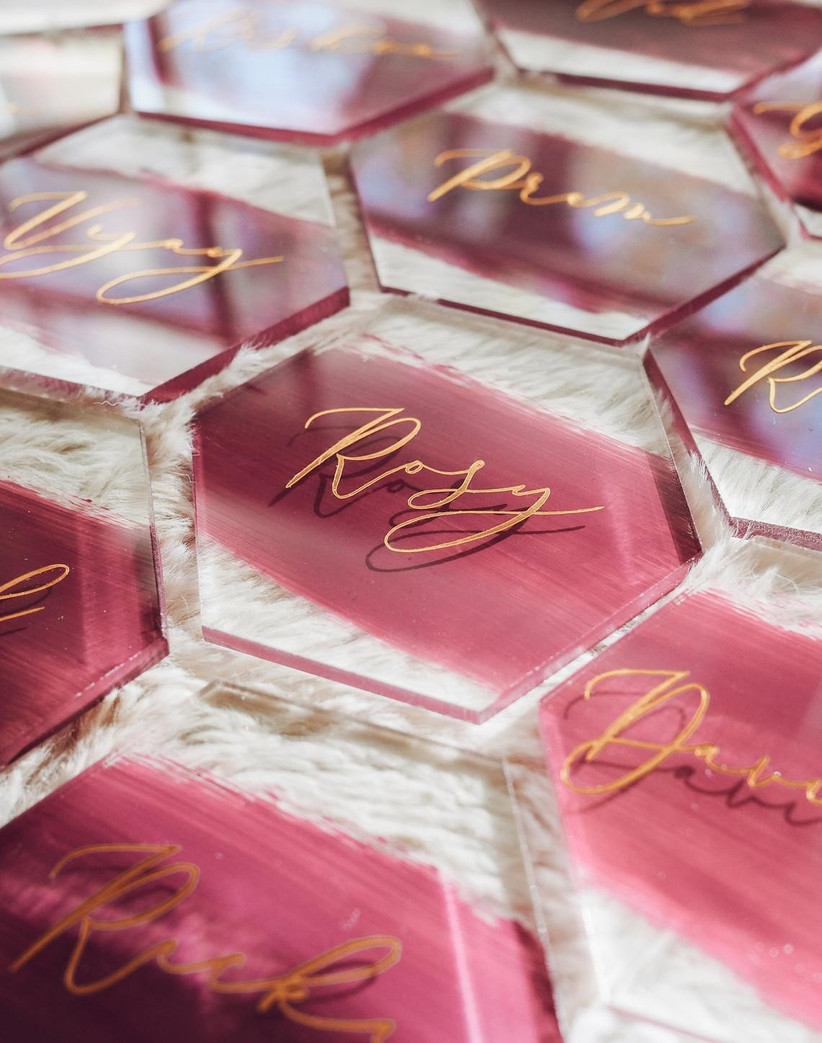 Image: Etsy
Make table setting place names keepsakes by hooking guests' attention on them as soon as they arrive at the wedding breakfast. A statement placename means fewer guests roaming the venue in search of their seats too…
READ MORE: 19 of the Prettiest Wedding Table Place Settings
'All Bright Everything' Wedding Colours
Given how subdued 2020 wedding seasons have been on all accounts, many couples are throwing the kitchen sink at spring 2021 colour palettes. Why stick to one or two combinations when you can create kaleidoscopic colour schemes?
Vaishali highlights that she's never seen such demand for vibrant, cheering colours: "Spring 2021 colour palettes are incredibly uplifting – couples are requesting vivid bursts of colour. Zesty yellow, energetic orange and exotic pink will be used to brilliant effect to inject life and verve into wedding stationery and styling.
"Colours are being selected as an expression of freedom and spontaneity. Fusing explosions of bold, empowering colour with soft pastels, muted pinks and delicate corals also adds a dynamic contrast to wedding colour schemes."
Vaishali declares that the best way to embrace a bright colour palette is to ditch the rule book – look at colour through a "global, celebratory lens and combine colours that showcase your heritage, culture, beliefs and loves as a couple." Whether that's the entire rainbow, neons or psychedelic prints, anything goes.
30. Bright Wedding Invitations
Image: Ananya Cards
A multicoloured stationary colour palette will send joy right through your guests' letterboxes from the get-go.
31. Vibrant Wedding Flowers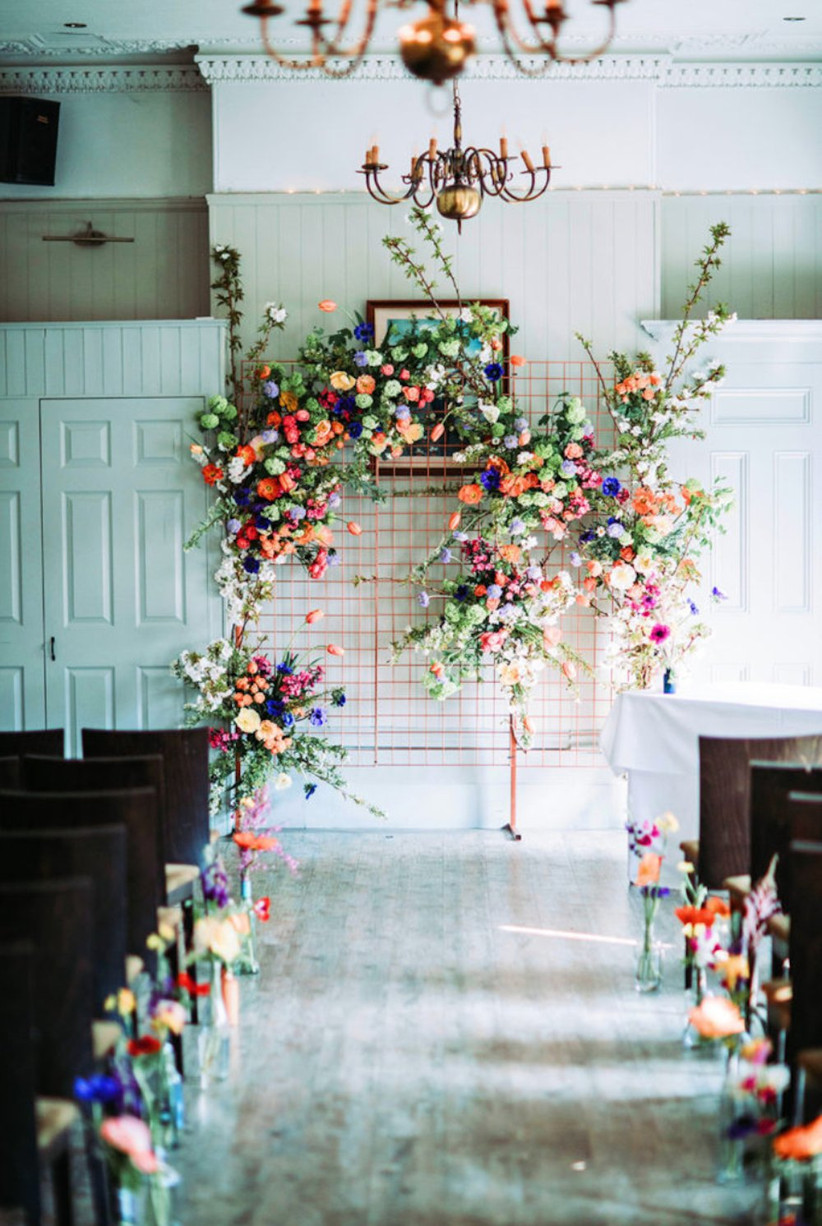 Image: Pinterest
Flowers add instant cheer in themselves but an 'all things bright and beautiful' bouquet or floral display will make the mood even more buoyant. Combine bright flowerheads with rainbow ribbons for even more dazzling arrangements.
32. Technicolour Wedding Décor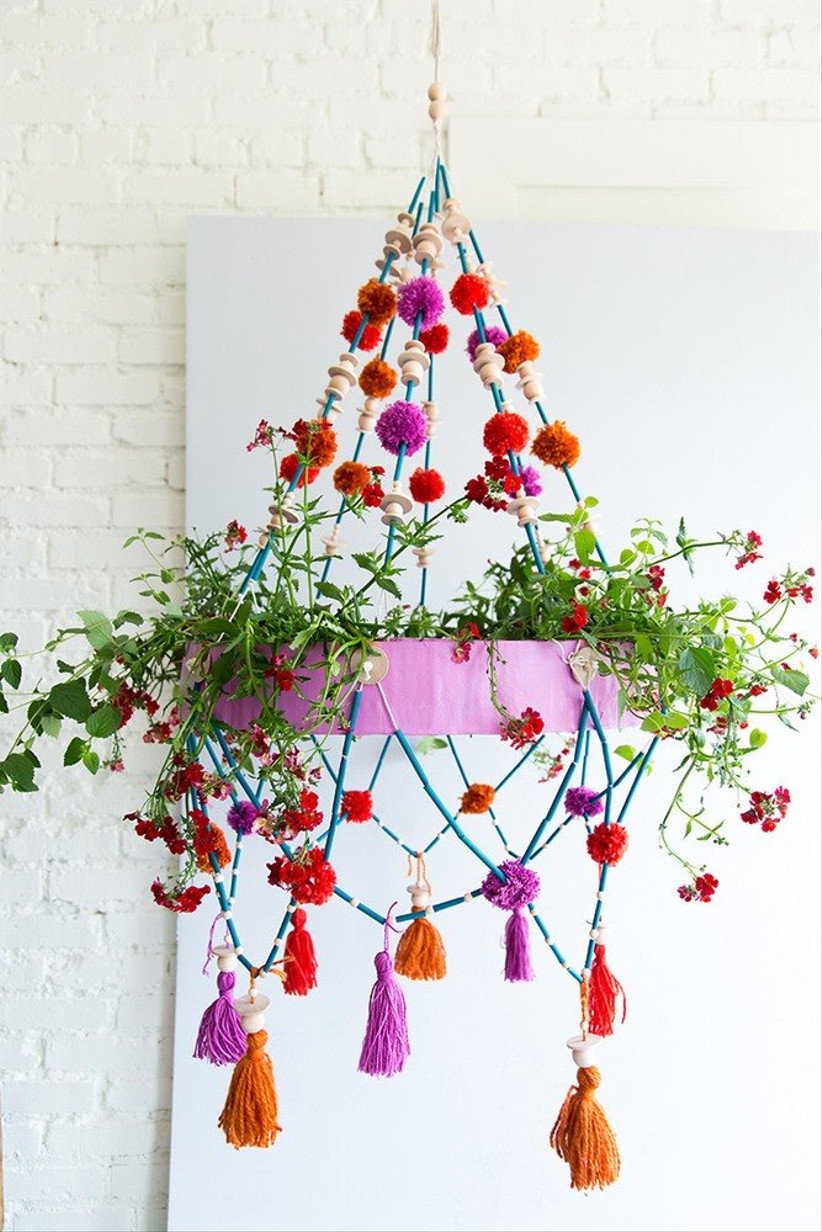 Image: Pinterest
Make pom poms ahead of time on your hen do and repurpose them on a wall hanging or chandelier for an affordable wedding decoration statement that wedding guests will want to show off as much as you do. Rainbow hued fabrics, lanterns and candles also bring in low-faff flamboyance.
33. Colourful Wedding Table Settings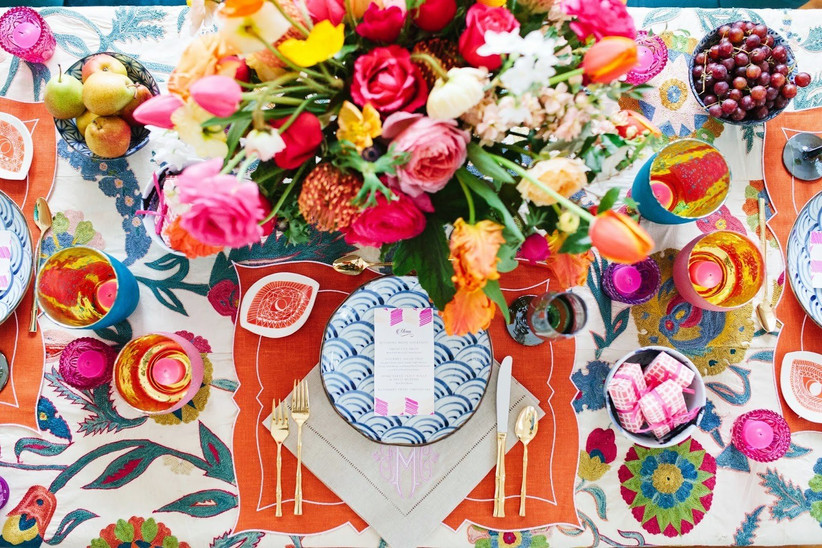 Image: Pinterest
Mix prints, colours and textures to get the party started on your wedding tables. More is more – pile bright fruits next to vibrant floral arrangements, seek out the wildest tablecloths you can find, taste the rainbow with jazzy crockery and prioritise big napkin energy.
Still after some ideas? Check out 15 of the most gorgeous wedding themes for ever kind of couple.