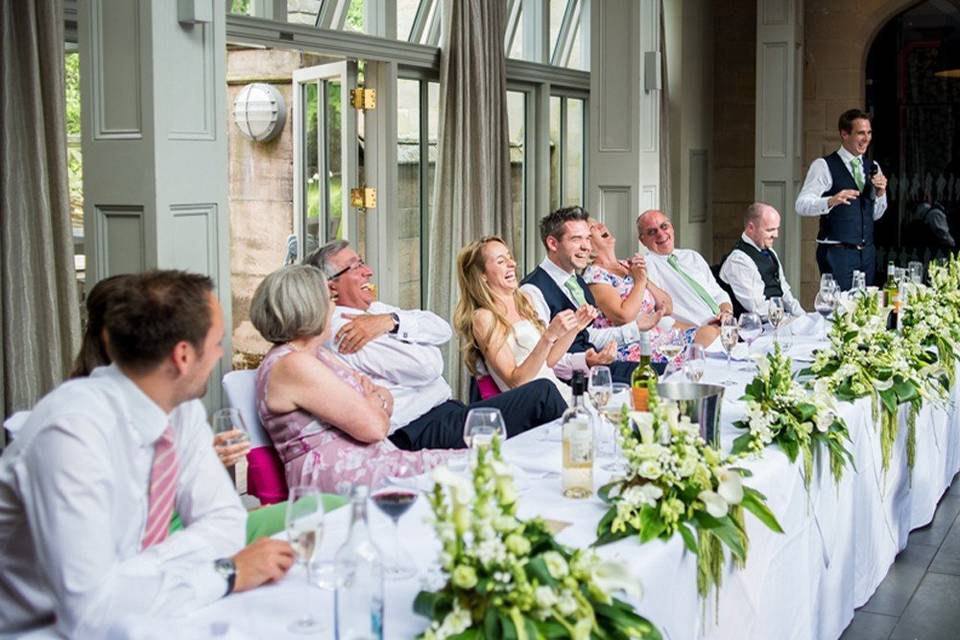 While the anecdotes and jokes are different, there's a basic best man speech structure that every best man needs to follow.
Your speech comes last in the wedding speech order, after the father of the bride speech and the groom speech, and traditionally there's certain roles you need to fulfil. For example, the best man reads the messages and telegrams from guests who can't be there on the day. Below we've detailed the basic best man speech structure and a breakdown of what you need to include.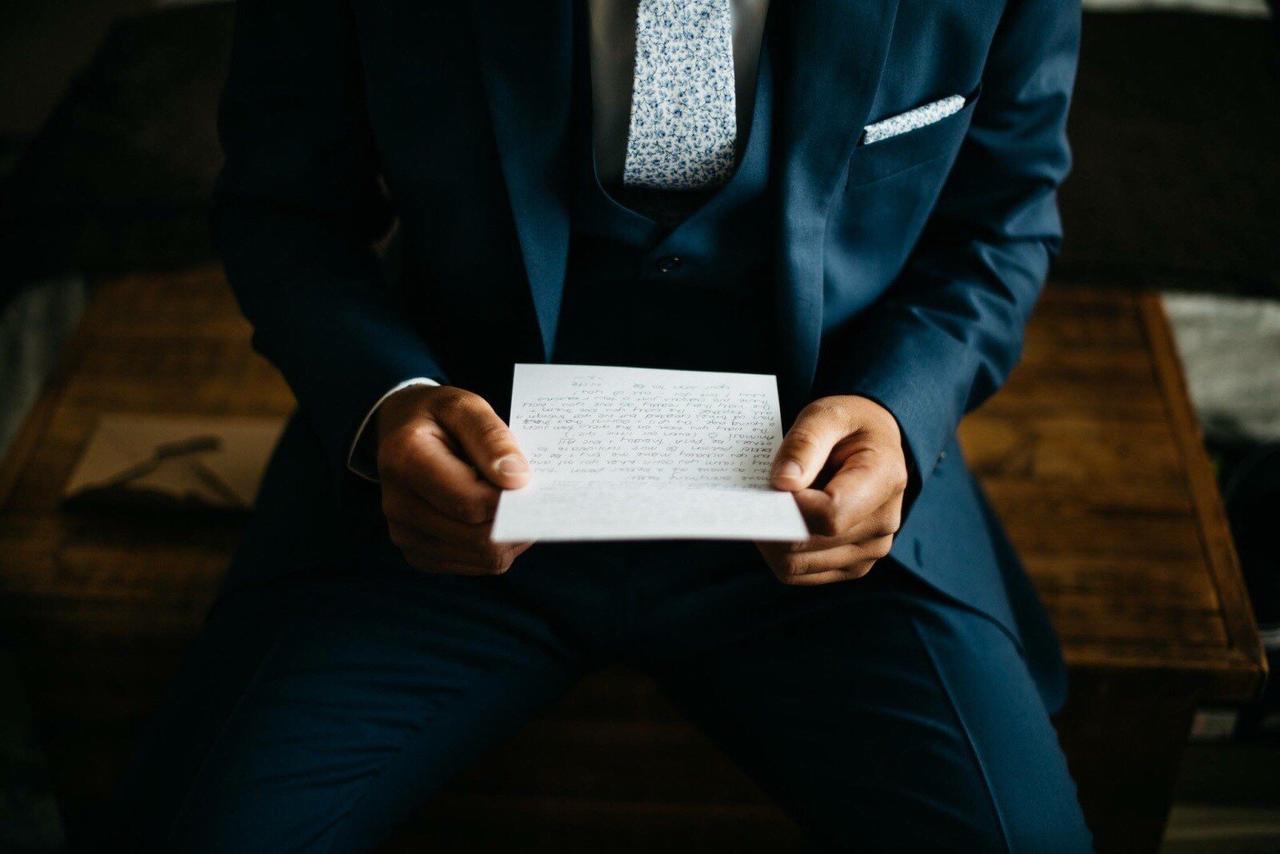 Beyond the structure, essential to a best man's speech is humour. Everyone know you're not a stand-up comic so don't put too much pressure on yourself, but give it your best.
There's loads of tried and tested best man's speech jokes you can use. You've also got plenty of time before the big day to quiz friends for their funniest anecdotes. The key is to practise your punch line and give the audience time to laugh.
READ MORE: Best Man Duties Explained
Read on to find out the traditional best man speech structure and lots of ideas of what to include.
Best Man Speech Structure: The Basics
Here's the traditional best man speech structure:
Start with an icebreaker or joke
Introduce yourself and explain how you know the groom
Read out telegrams and messages from friends and family who can't be there – the messages are real but the telegrams are usually joke
Tell funny anecdotes and stories about the groom, traditionally at the groom's expense (you can use a prop/stunt here)
Offer advice to the newlyweds
Compliment his partner
Praise the bridesmaids for their part in the day
Raise the final toast to the newlyweds
How Long Should The Best Man Speech Be?
An ideal best man speak should be around 7 minutes long. You can push it to 10 minutes if you're a seasoned public speaker and have a clearly planned-out and well-rehearsed speech. The last thing any guests wants to listen to is a rambling speech – especially if the best man is drunk. Try and avoid having too much Dutch courage before you deliver your speech!
READ MORE: Whose Wedding Speech Goes When and Why?
What to Include in the Best Man Speech
Here's a more in-depth look at the best man speech structure and what to include. Whether you go clean or dirty will depend on your audience, but if there are children/grandparents present, we suggest erring on the side of caution. A bit of innuendo is fine; swearing and vulgarity are not.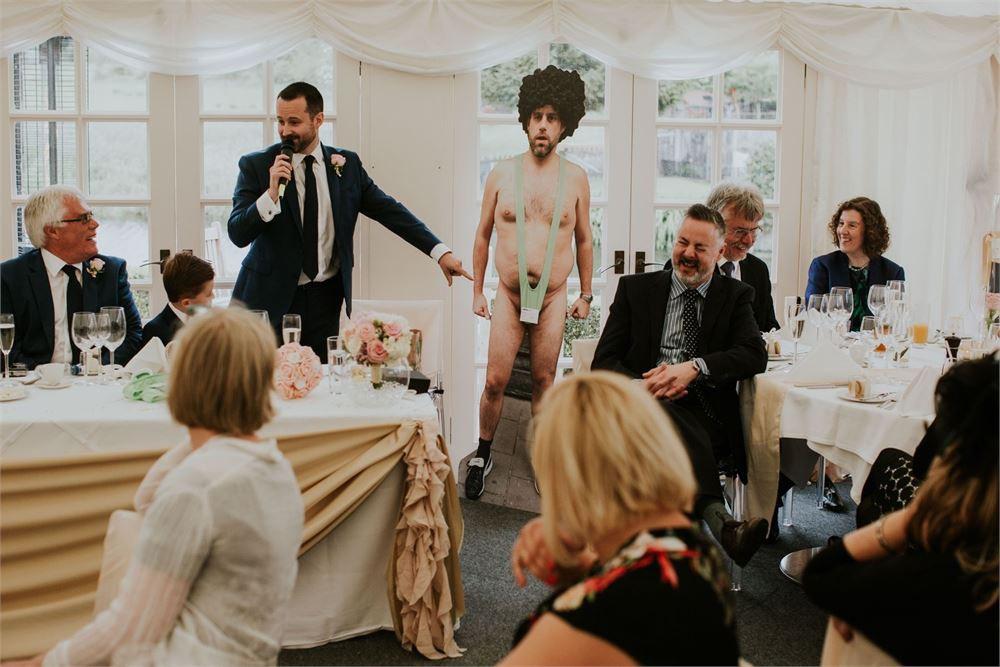 Image: Craig Williams Photography
Icebreaker/Joke
Set the tone for your speech with a great opening line. You'll be coming straight after the groom so a joke about his speech or him will go down well. A joke about your unpreparedness can win over your audience too. The only things to avoid are the overdone best man jokes, which'll get a groan rather than a laugh.
A classic but goody: "Now, before I start, the hotel manger has asked me to request that, for reasons of health and safety, none of you get up on top of the chairs and tables during my standing ovation."
READ MORE: 21 Funny Best Man Speech Icebreakers
Self-deprecating: "Ladies and gentlemen, I'd like to thank all of you for being here today, especially those of you who knew that I'd be saying a few words – it's very touching that you still decided to come."
Confident: "You've no idea how much I've been looking forward to today. After all the time I've been friends with [groom], he's at long last admitted that I am in fact the best man."
Joking: "Wow, good afternoon ladies and gentlemen. Never before have I stood in front of such an impressive audience…unless you count my time in the dock."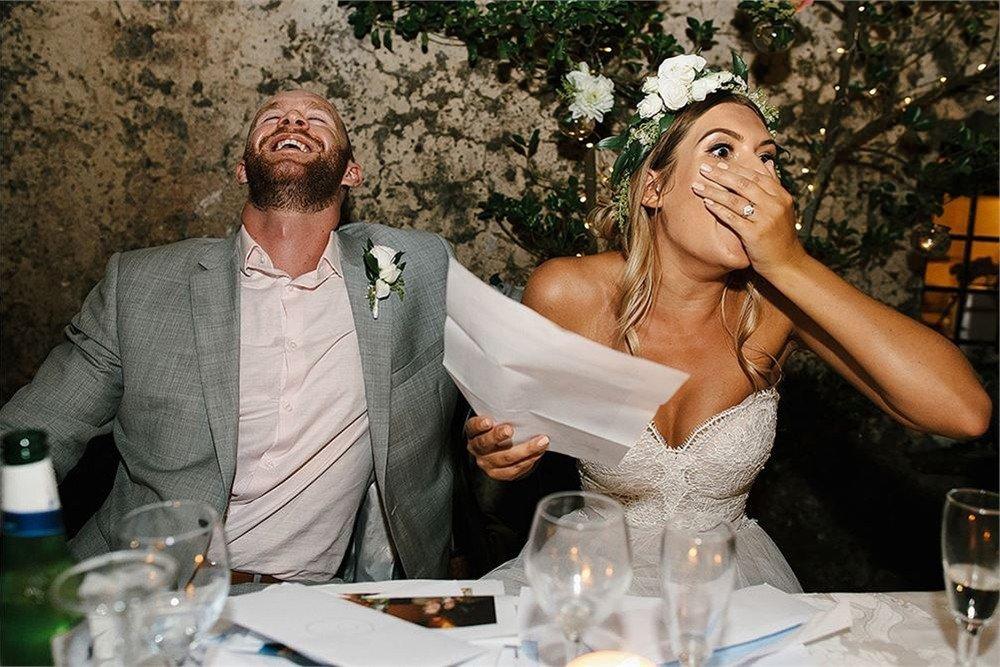 Image: Chris Barber Photography
Introduction
You might be best man but not everyone will know who you are. Tell the guests your name, how you know the groom and how long for. Is there an entertaining story in the first time you met? Has this role been an honour or a nightmare? Make a joke about what the groom can expect from the next five minutes.
READ MORE: How to Introduce Your Wedding Speech
Feel free at this point to make some asides about the day. If something funny happened during the ceremony, ad-lib a joke. Otherwise, has the groom brushed up particularly well? Is there something funny to say about the location, outfits or gifts?
Telegrams and Messages
Your job involves reading messages from friends and family who can't be there. But this is also a great chance to earn a laugh. Joke telegrams are a brilliant way to do this, for example, a joke message to the bride from Leonardo DiCaprio apologising for not being there but saying it was too hard on him to watch 'the one that got away' marry another man.
READ MORE: 18 Tried and Tested Best Man Speech Jokes
For the groom, a good joke one can be from the police saying the charges from the stag do have been dropped now the offending items have been paid for/statement has been retracted. Make a mock shocked face and apologise saying you must have picked up the wrong message by accident.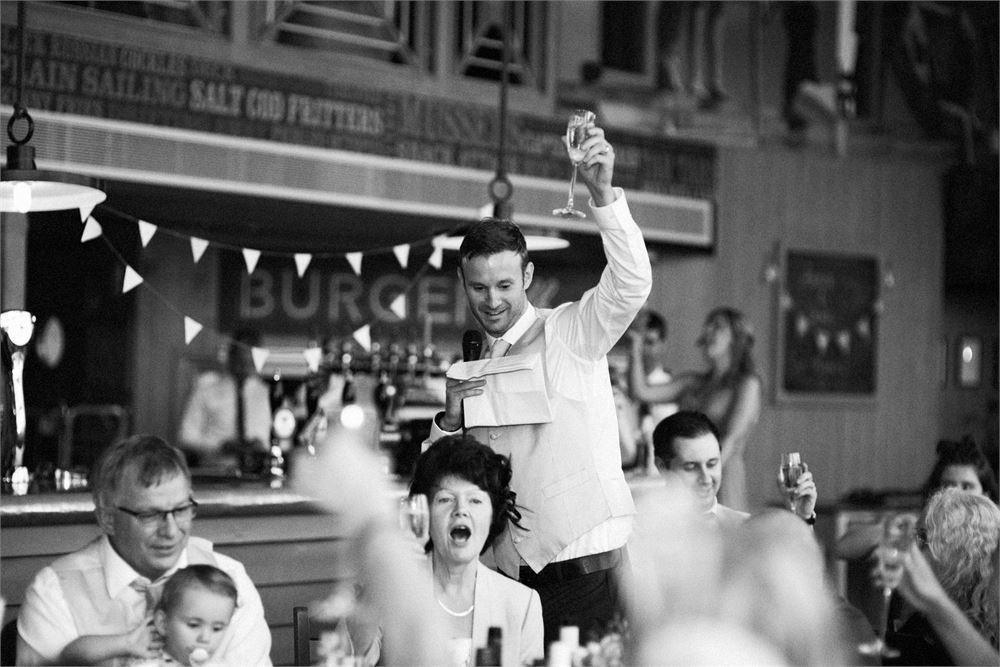 Image: Diana V Photography & Film
Anecdotes and Stories about the Groom
You want to take your audience on a journey and that may start from childhood. Take them back to those days of dodgy braces, terrible fashion choices and awkward teenage celebrity crushes. You'll find lots of questions to kickstart your speech below, but the key place to start is talking to his family and friends. There's good material everywhere: from embarrassing old photos on social media to school yearbooks to his work colleagues.
The aim of the game is not to utterly humiliate the groom and ruin your friendship. Mix up funny stories with touching moments that show the kind of bloke he is. Was he always the one at school who took detention for everyone else? Has he ever got you out of a tight bind? Does he have any sweet memories with his grandparents? Steer clear of any stories that involve ex-partners; the wedding day isn't the right time.
READ MORE: The Ultimate Best Man's Guide
Props/Stunts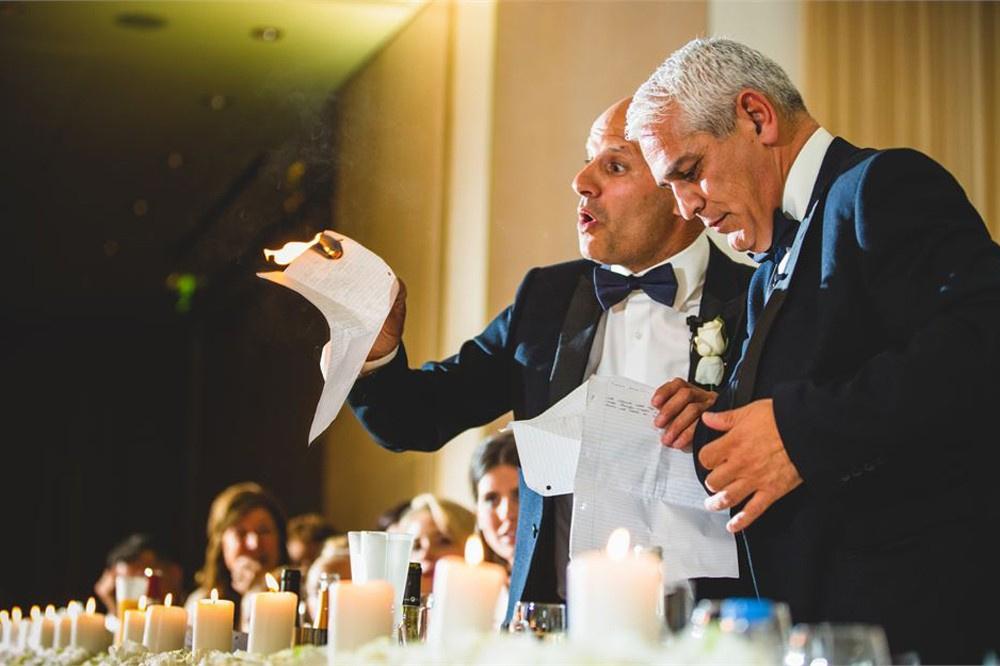 Image: Tobias Tayo Photography
If you're nervous about being funny then a prop or stunt can relieve the pressure.
Show a slideshow of funny photos of the groom. The photos should fit in with the story of your speech rather than being random.
Read a mock school report or CV, with funny and ridiculous achievements. Also include phrases like, 'Hannah doesn't suffer fools gladly…bad luck, Adam!'
Perform a self-penned song or poem and get the bridesmaids and ushers involved
Pull out a honeymoon survival kit, including props like mosquito repellent and handcuffs
Play a (very clean!) game of 'Never Have I Ever…' with the wedding guests to draw out some embarrassing stories about the couple. Maybe the groom cried when he saw Taylor Swift in concert, maybe his partner once threw up during a job interview? Get the couple to stand up so the guests can see.
Get their favourite celebrities to send video messages to the couple (you can usually do this via their agents or asking on Twitter)
Set up some 'ringers' around the room with fake house keys – pick guests from 18-80, but make sure they're happy to be in on the joke. Ask anyone who's ever dated the groom to come up and return the keys to his flat now he's a happily married man; you'll get more than a few raised eyebrows and laughs.
Advice for the Newlyweds
The advice can either be humorous or serious. If you're married, ask your partner what the most important lesson they've learnt during your marriage has been. Otherwise there's plenty of great marriage quotes and quips you can draw on here.
READ MORE: 15 Ways to End Your Best Man's Speech
Compliment the Bride
This is self-explanatory. Tell her how beautiful she looks and how lucky the groom is. Don't mock her, but you can take the mick out of her choice of husband. Joke that she doesn't know what she's in for, but end with a positive note that they make a wonderful couple and you can't wait to see how much joy and adventure the future holds for them.
Praise the Bridesmaids
Or rib them gently! The bridesmaids will have been given gifts and thanked by the groom in the speech just before. Either echo his gratitude or make a joke about how easy they've had it. Forget the bride, you nearly didn't make it to the church on time because the groom wouldn't stop fixing his hair!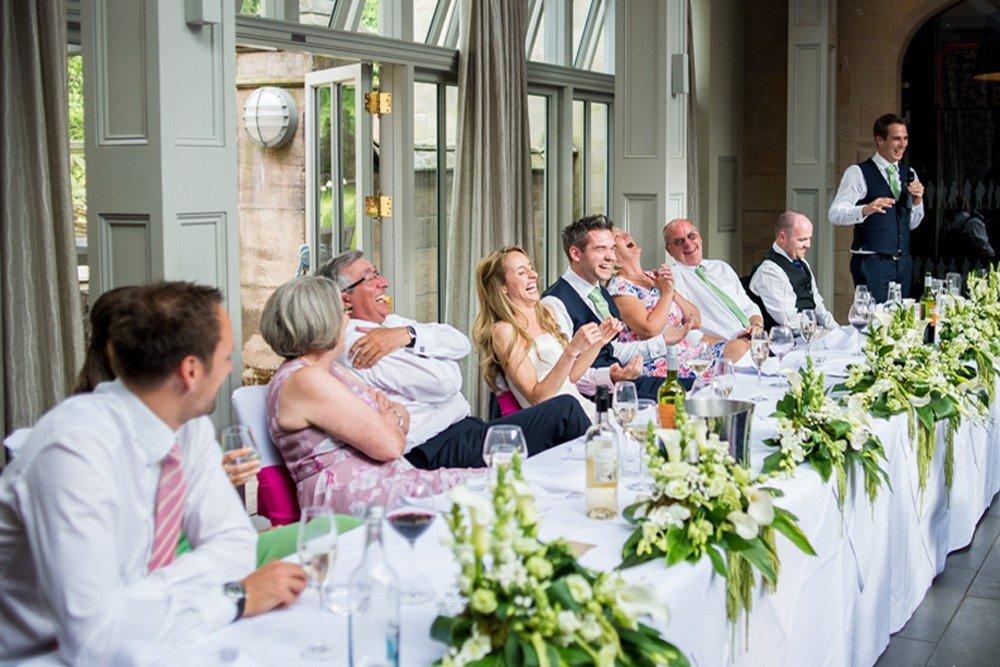 Image: Damian Burcher Photographer
Toast the Newlyweds
You have the honour of asking the guests to raise the final glass to the couple that night. Offer a final congratulations, a wish for the future and lift a glass to the newlyweds. Here's 21 different best man toast ideas.
Inspiration for Your Best Man Speech
The best thing to do for your best man speech is research. You'll want to sit down with the groom's parents and convince them to spill all those childhood stories and nicknames he'd rather you didn't know.
What was he like as a child? Did he ever have any funny school reports? Did he have an odd nickname, dodgy haircut or memorably bad outfit choice? How does he compare now?
Who was his first celebrity crush? How do they compare to his partner?
What was his dream job as a child? What was his first job? Has he achieved any career milestones? What's his work nickname?
Has he ever vowed not to get married? Or was he a family man from day one?
How did you first meet – school, uni, work, flatmates, neighbours? Did you always like each other or was there a bonding moment? Any (funny!) falling outs between the two of you?
What does he do that always makes you laugh? Is he really accident prone, or bossy, or can talk himself out of any situation?
What's his worst/weirdest habit? How does his partner put up with it?
How did the couple meet? When and how did he tell you about them? What was he like during those first love-struck months? Did he get your help planning the proposal?
Do the couple share any unusual hobbies together? Have they found themselves in any sticky situations together e.g. a holiday where they both got food poisoning and had their passports stolen? Or when their house flooded and they had to shack back up with her parents for a month?
If they've got a child or children together, how are they as parents?
If you want to see lots of example best man speeches that you can use as a template or for ideas, here's our collection of real best man speeches. These have been submitted by best men and ranked by our users so you'll find examples of what you should and shouldn't do.