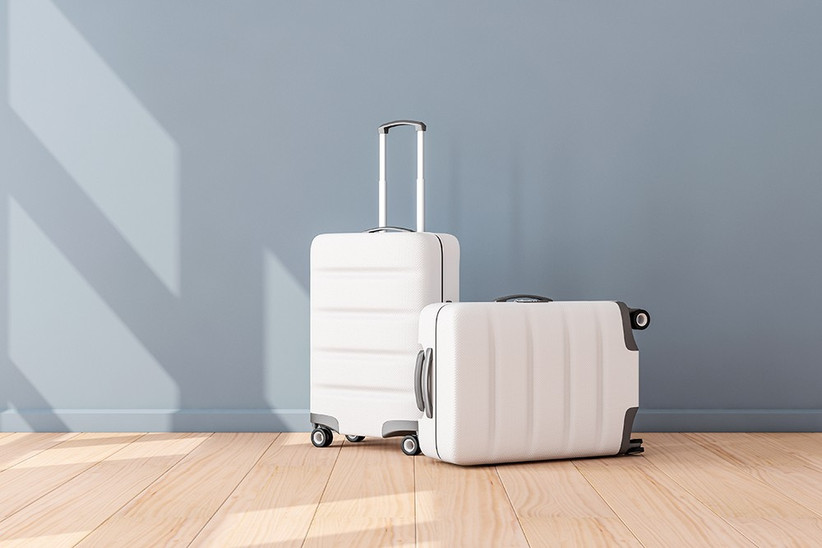 If your wedding has passed and you're on the countdown to your honeymoon, we can't think of a better way to channel your excitement than by purchasing his and hers suitcases!
You could keep things subtle and splash out on a fancy matching set of luggage that you'll use for years to come. Or you could really go for it and buy a set of personalised luggage that shows off your newly-married status.
If you blew your budget on your big day then you don't have to miss out on all the fun – you can pick up suitcase stickers for just a few pounds and jazz up your existing luggage. If you're a same-sex couple then all the mr & mrs designs below are also available in mr & mr and mrs & mrs.
Personalised Suitcases
A personalised suitcase will feel extra exciting if you've recently changed your name and the novelty well and truly hasn't worn off. You also won't be that person who misses their suitcase on the carousel at the airport as it will definitely stand out from the crowd.
Marble His and Hers Suitcases – £100, SLA Gifts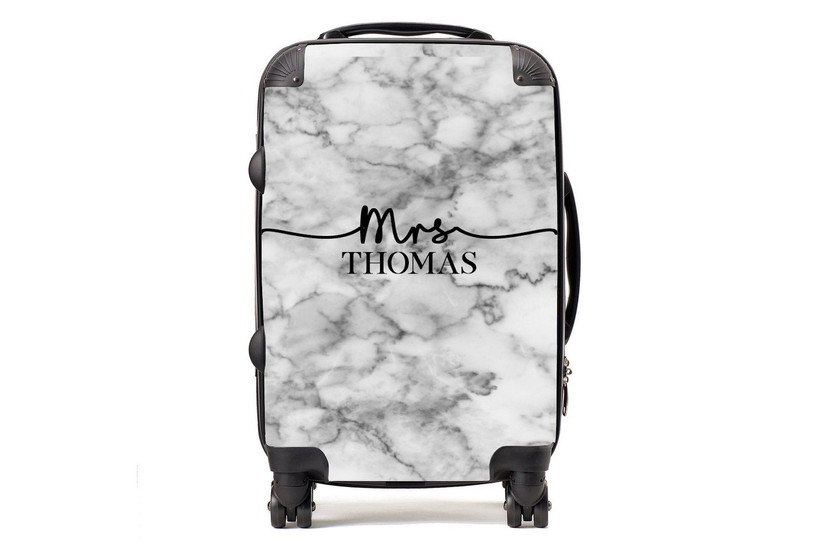 We adore this fun marble-effect suitcase that can be personalised with whatever wording you would like. Prices start from £100 for the smallest bag and you can get everything from cabin-sized bags to large suitcases, so you can buy a full matching set.
Personalised Initial Suitcase – £120, The Gift Bible Co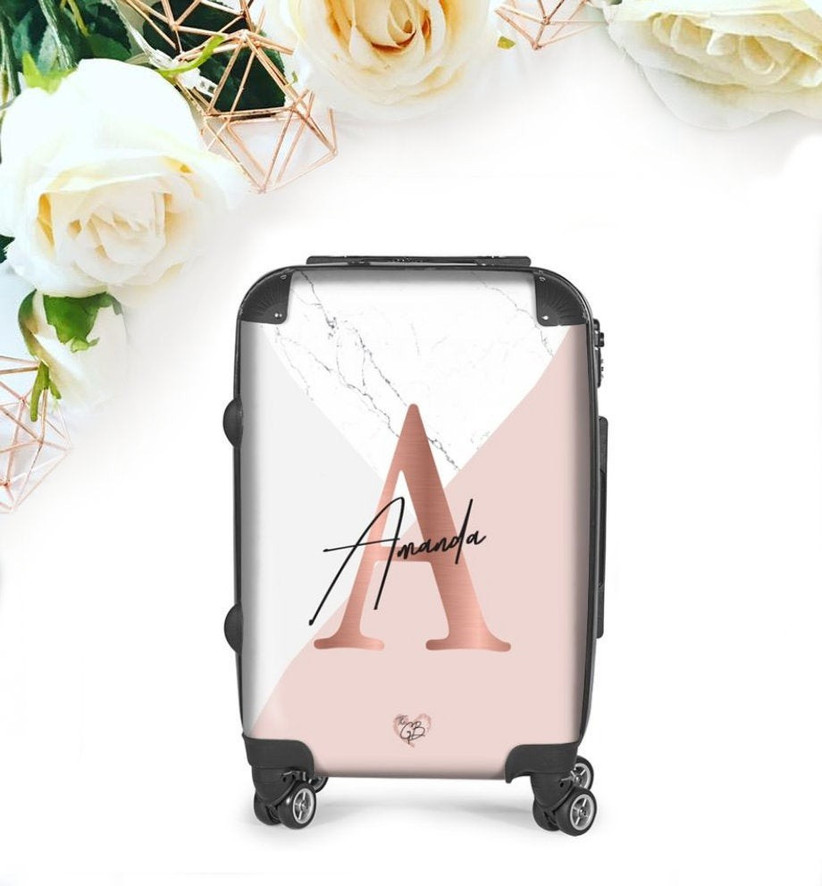 If your wedding day was filled with rose gold details then why not continue the theme by choosing rose gold personalised suitcases for you and your other half? Each case features a large initial and a name, plus they're available in a range of sizes.
Monogrammed Suitcase – £139.95, Koko Blossom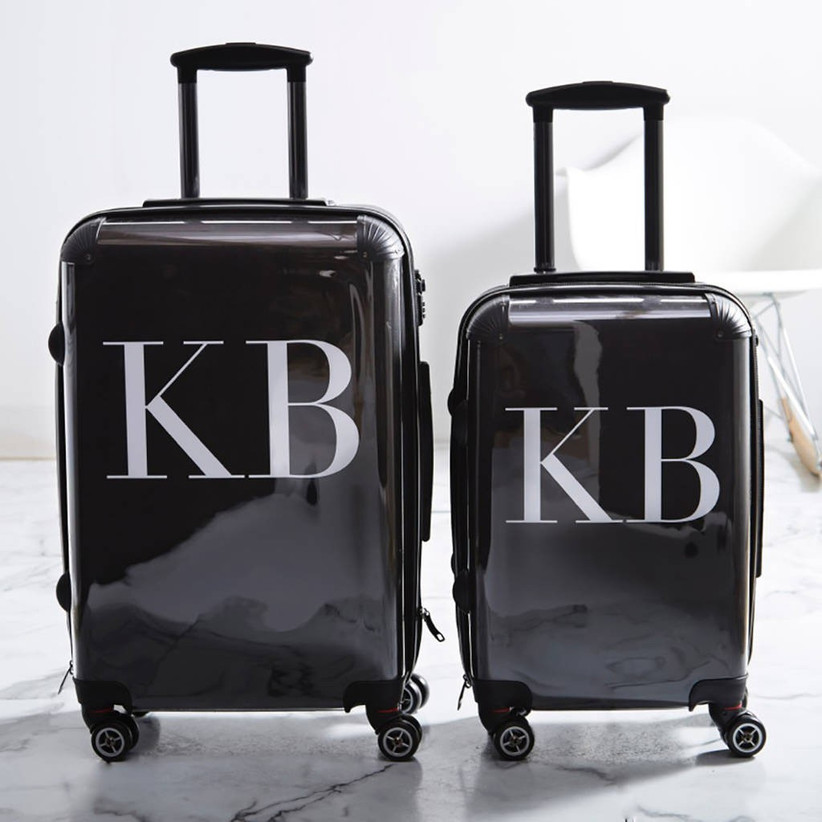 Keep your matching his and hers suitcases subtle by choosing these high shine black cases that can be monogrammed with up to three initials. Prices start at £139.95 per suitcase and they are available in cabin size, medium and large.
Mr and Mrs Suitcase – Dye For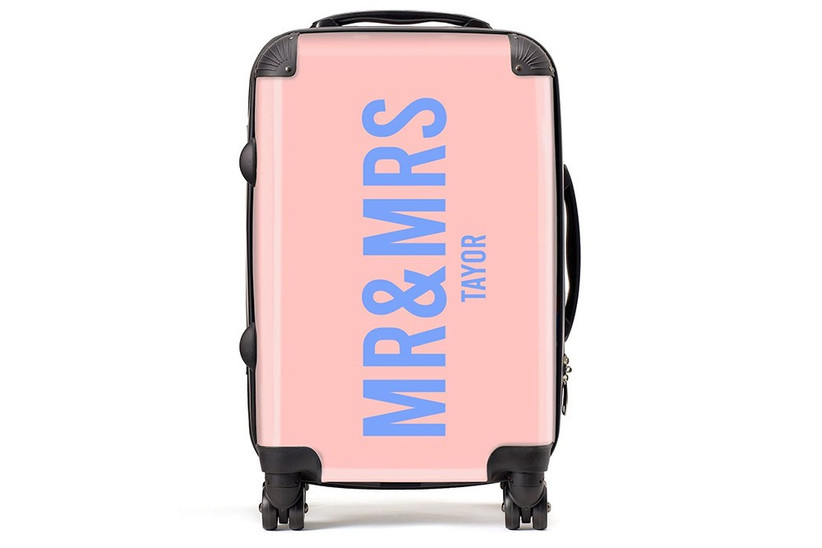 As you have now vowed to share everything in life, why not also share your luggage? We love this Mr and Mrs case that can be personalised with your name and is available in this bold pink shade. If you're a big fan of the design then there are plenty of other matching accessories in this style too (including mugs, notebooks and even phone cases!).
Wifey Suitcase – £110, Dye For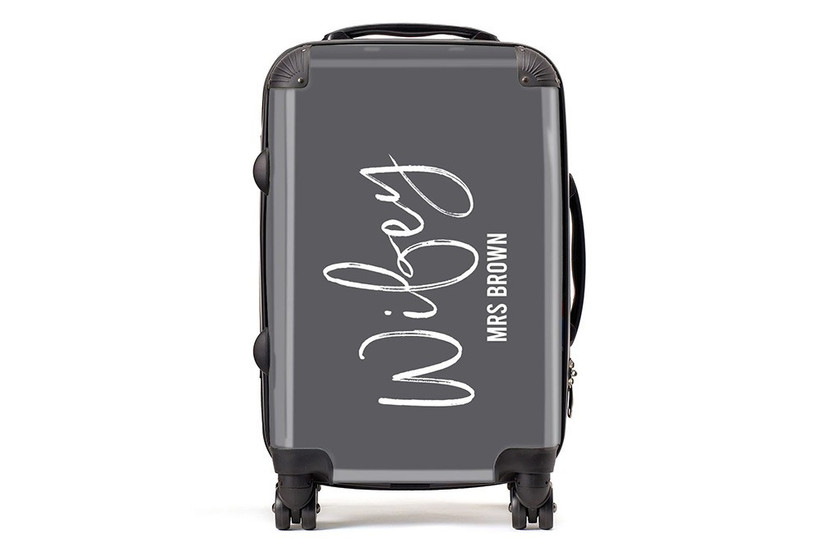 Are you just too excited to be a wifey? Then this personalised wifey suitcase is exactly what you need. Boys also needn't feel left out as there's a fun personalised suitcase for him too.
Mr and Mrs Honeymoon Holdall Bags – £110, Sparks and Daughters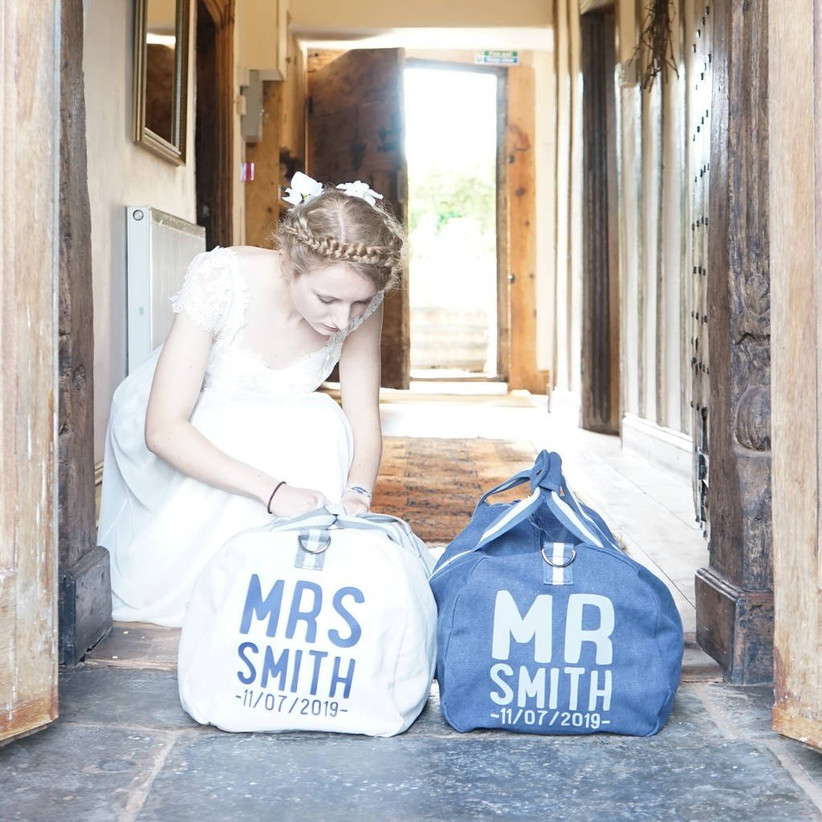 These cute matching holdalls come in four vintage shades and can be personalised with your names and your wedding date. Although you will buy them for your honeymoon, the great quality means they will last for years and you can use them for all your mini-breaks too.
READ MORE: 30 of the Most Amazing Mini-Moon Destinations in the UK
Personalised Canvas Bags – £100, Sparks and Daughters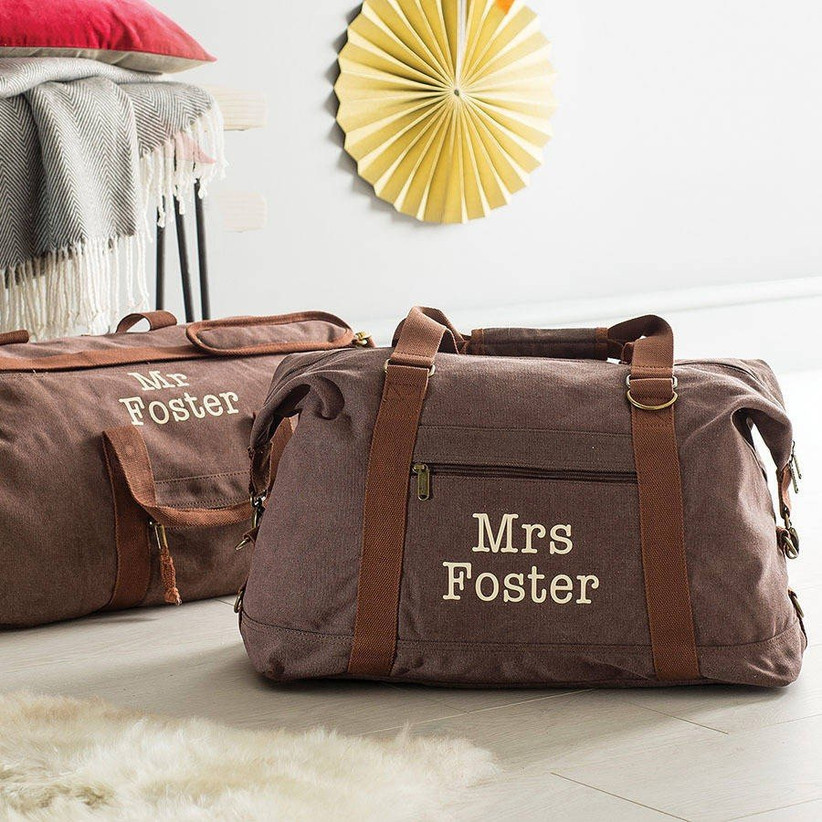 These cute personalised Mr and Mrs holdalls mean you will never get your luggage mixed up (perfect if you're the one who always keeps your things in immaculate condition!). The classic brown shade will never go out of fashion either.
Personalised Mrs Suitcase – £100, Dye For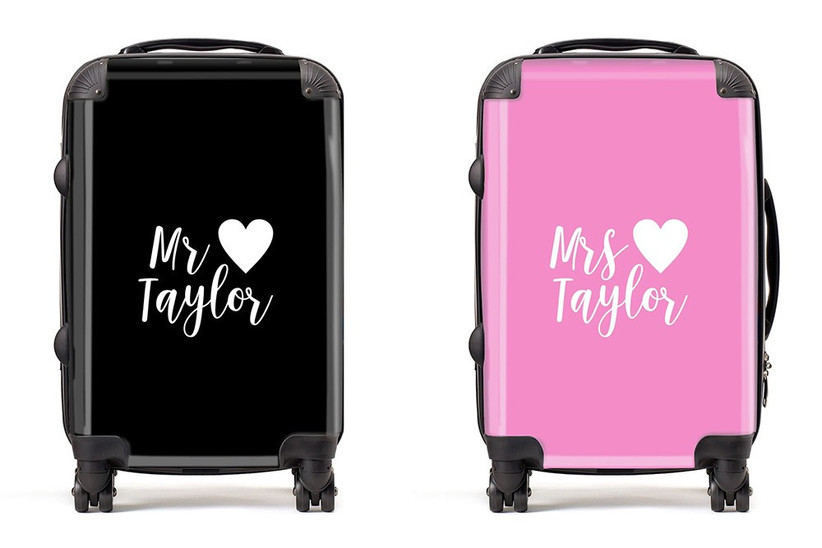 Matching suitcases don't have to be identical – these hard shell suitcases are available in a mix of sizes and you can choose from black or pink.
Suitcase Sets
If shouting your newly-married status from the rooftops just isn't you then perhaps you would prefer his and hers suitcases that just beautifully match. Take a look at some of our favourite luggage sets for couples.
Charcoal Luggage Set of Three – £675, Away Travel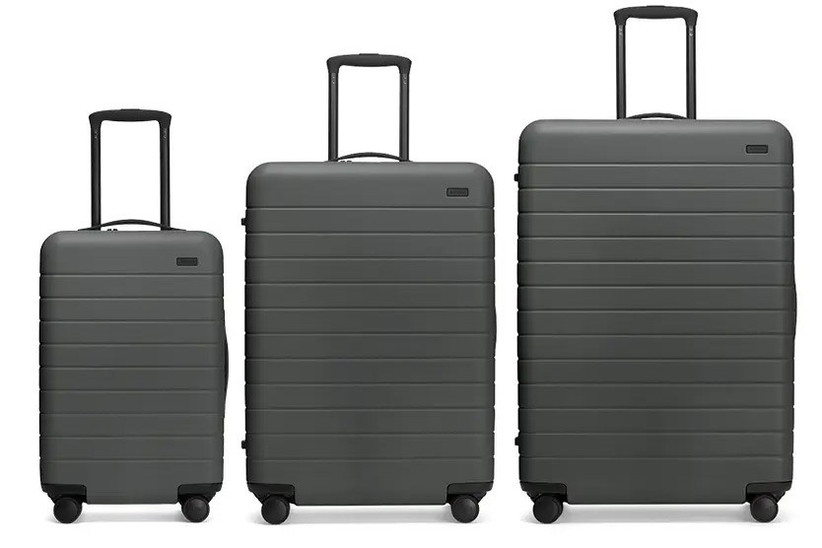 For a smart suitcase set that maximises space and includes a portable phone charger, Away Travel have a beautiful collection in a range of colours. We like the chic and sophisticated charcoal collection – and every case can be personalised.
Monogrammed Luggage Bags – £41.99, With Congratulations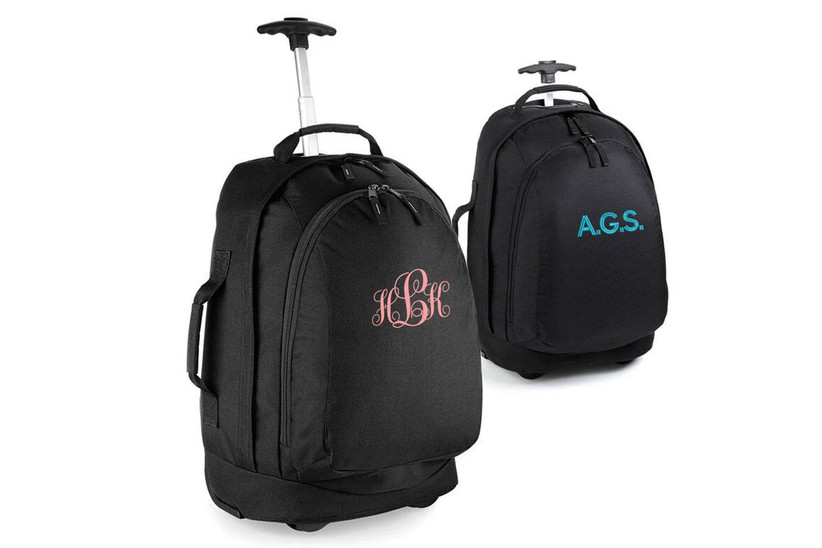 These matching cabin bags are just subtly monogrammed and will maximise the space you have with a cabin bag. You can also choose from a range of embroidery styles and colours for the personalisation.
Aerolite Hard Shell Suitcases – £59.99, Amazon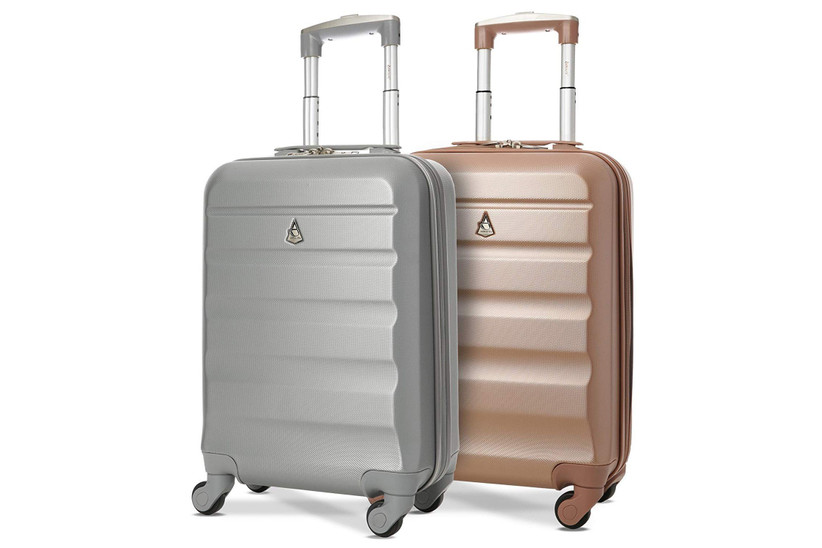 The thing we love about this matching suitcase pair from Amazon is that you can choose different colours for each case. Go metallic with rose gold and silver or keep things stylish and sophisticated with black and charcoal cases.
Telescopic Expandable Suitcases – £53.95, Amazon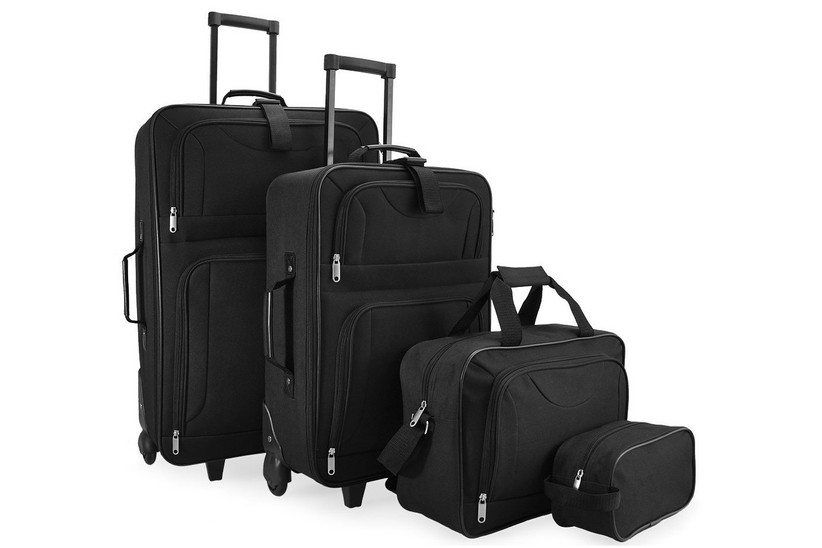 For something simple, budget-friendly but suitably matching, this fabric luggage set comes with four pieces from just £59.99. The vanity case and holdall fit onto the larger suitcases so you can travel with ease as you head on your honeymoon.
IT Luggage Cushion Lux Suitcases – £40, Matalan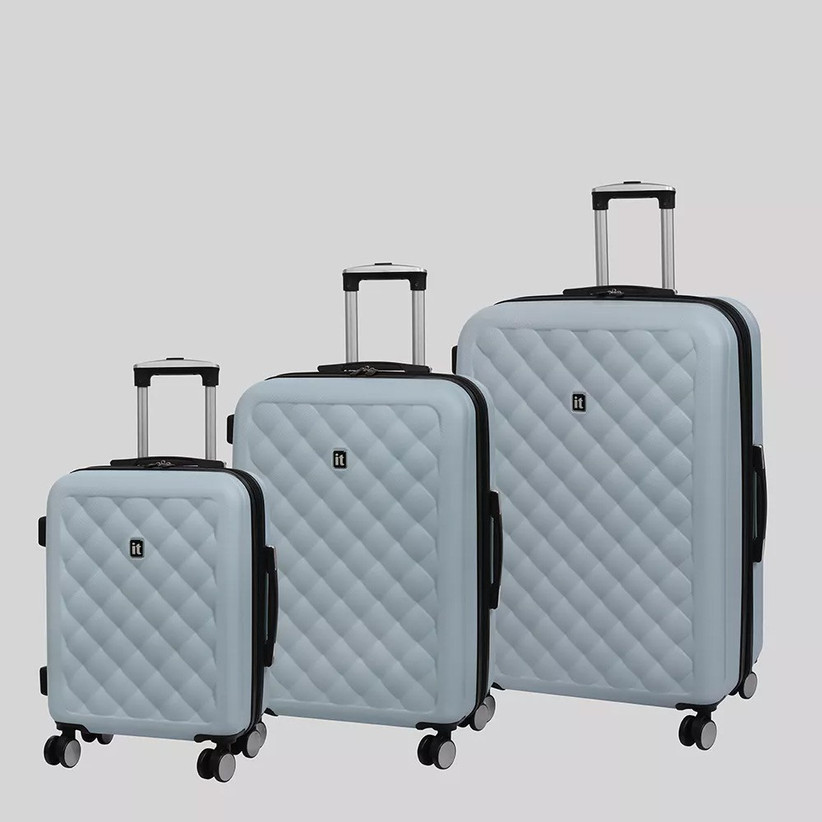 These pretty pastel suitcases start at just £40 for the cabin size bag. The cushion finish gives a luxury feel and the set is available in pale blue or pastel pink.
Suitcase Stickers
If you're on a budget that doesn't mean you have to forgo honeymoon luggage – these decals are an affordable and easy way to update your cases.
READ MORE: Budget Wedding Ideas – 37 Ways to Cut Costs
Personalised Love Island Stickers – £1.99, Clobber by Jojo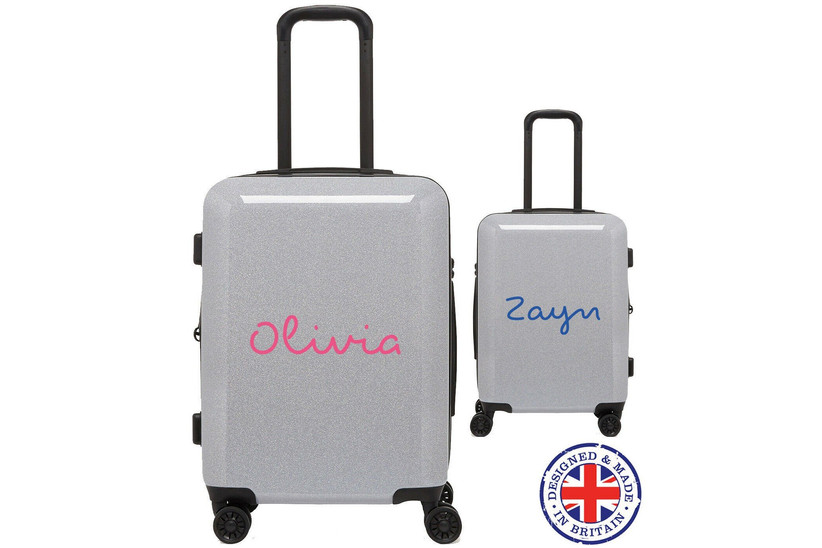 Are you now coupled up for life? These Love Island-inspired suitcase stickers are perfect for fans of the show and a fun way to show off your newlywed status!
READ MORE: Which Love Island Couple Are You? Take the Quiz
Personalised Initials – £2.99, Top Stickers and Decals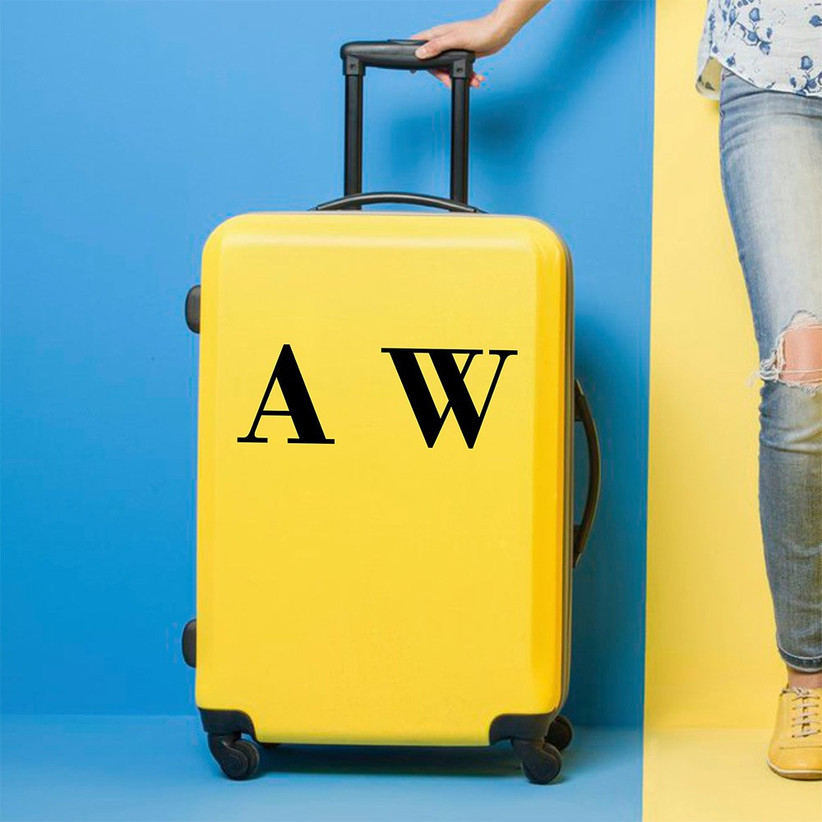 These bold initial decals will have your plain suitcases looking like a matching his and hers set. If you've changed your name then it's also a great excuse to show off your new initials.
Custom Suitcase Initials – £4, Bee Unique Vinyl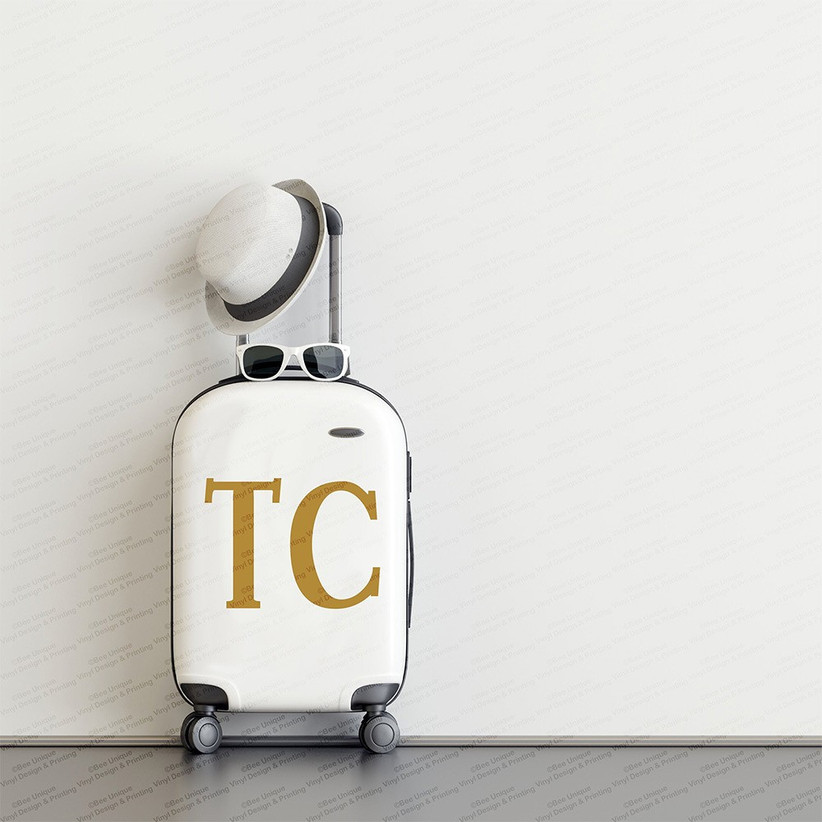 Add some glam style to your suitcases with these glittering gold vinyl initials. The high quality finish means they'll last long after your honeymoon tan has faded and they're perfect for creating your own his and hers suitcase style.
If you are still looking for honeymoon inspiration then browse the best honeymoon destinations to visit for each month.