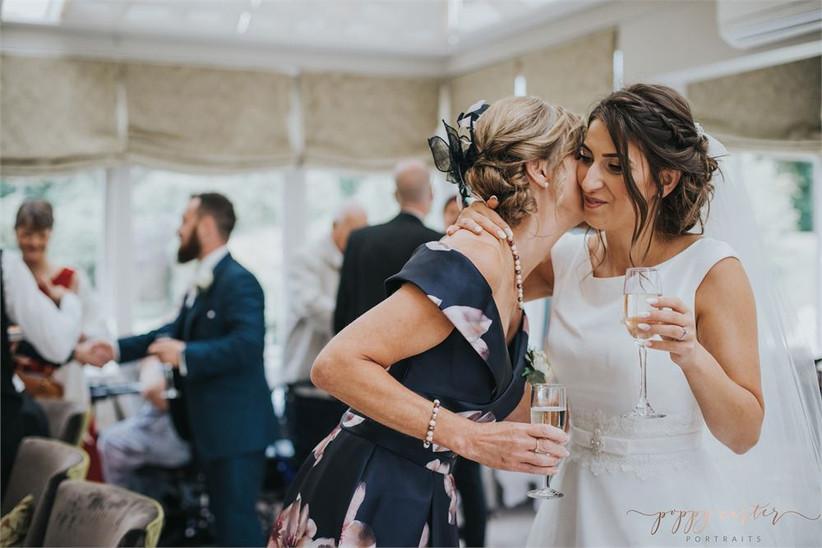 There's no denying that the cost of attending a wedding can become an expensive affair. In fact, the average spend per wedding is now a whopping £303, according to a survey by American Express!
Firstly, there's the pre-wedding celebrations to pay for, which can often include pricey weekend trips away on stag and hen dos.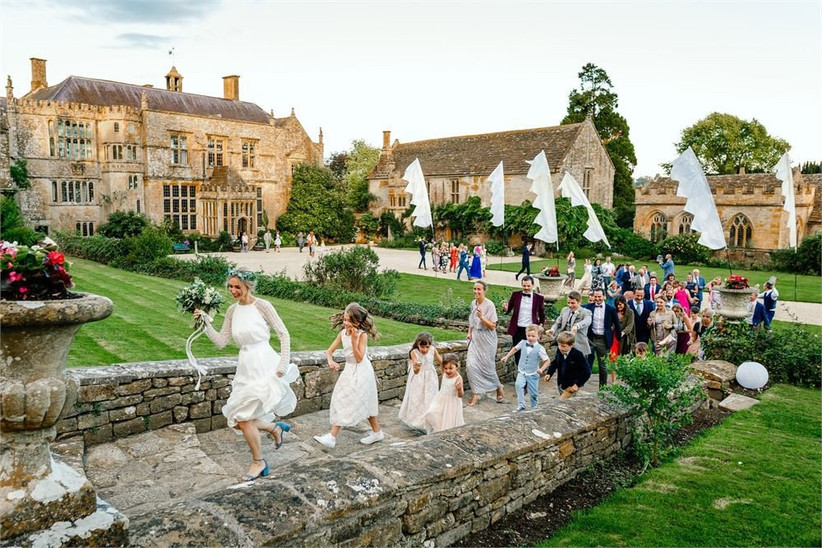 Image: How Photography
Then there's the cost of travel on the big day, buying a new outfit, paying for drinks, potential overnight hotel stays and that's before you've even considered the wedding gift.
Remember that Mumsnet thread that went viral after a bride rejected a couple's (very generous, we might add!) wedding gift of £100? It left many of us wondering… exactly how much should we be spending on a wedding gift?
We panelled the experts and our Hitched users to found out what is the going rate for a wedding pressie…
How Much Should You Spend On A Wedding Gift: The Expert Opinion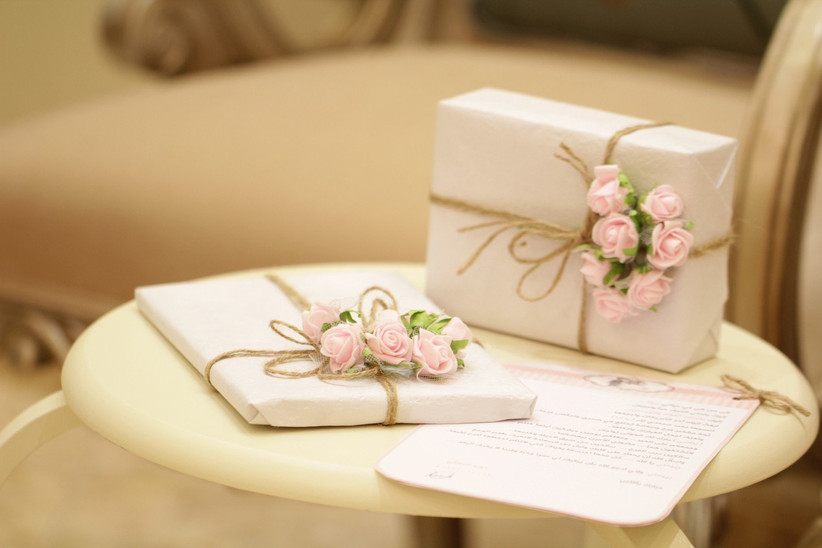 Etiquette expert Diane Gottsman says there are two important things to take into account when working out how much to spend: your relationship with the couple and your personal budget.
However, there are lots of other factors that'll play into your present allocation, like how much of the day you're invited to and the bride and groom's generosity. A survey by The Wedding Shop found that 65% of guests said they were likely to dig deeper for a pressie if the couple had covered the cost of accommodation, food and drink, and a third would splash the cash if the wedding looked "posh".
READ MORE: 11 Genius Ways To Save Money As A Wedding Guest
While no guest wants to look stingy, Diane says, "Keep in mind that a gift is not an obligation. Certainly the guest wants to show gratitude for the inclusion on their special day, and also support the couple's wedding, but they should also give what is comfortable."
Below are some guidelines for how much to spend on a wedding gift.
These are for individuals, so for couples you'd double the amount. If only one of you is friends with the couple, the +1 may wish to make a goodwill gesture of half the guideline amount. For families attending weddings, the amount you should spend is only based on the adult couple.
How Much You Should Spend on a Wedding Gift, if:

You're an All-Day Guest: £50-£75
Some people base their gift on the approximate cost that the couple will pay for their wedding meal, but this is by no means a rule. £50-£75 is a common amount to spend on a friend's wedding if you have been invited for the whole day and will be very gratefully received. Only give what you can comfortably afford, and if it something meaningful to the couple then it does not need to cost the higher end of this bracket. Diane recommends to always include a thoughtful and heartfelt card with every gift.
READ MORE: What to Write in a Wedding Card to the Happy Couple
You're Just an Evening Guest: £25-£50
If you have been invited to the evening event only, many couples will state on their invite that they are not expecting gifts. If you would like to give something, then choose a gift at the cheaper end of the gift list or give a smaller financial gift. It is a lovely gesture for the couple to receive but reflects the fact you are not one of the close family or friends invited to the ceremony.
It's a Destination Wedding: £50-£75
"The amount doesn't change significantly – it's still a wedding," says Diane. "You should factor the gift into your budget and decision to go or stay behind." Many couples marrying abroad will take into account that their guests are paying for flights and accommodation and will understand if you have a smaller budget – however, you should still give a gift. As Diane says, if an extra £75 will bankrupt you, consider if you should be going to the wedding in the first place.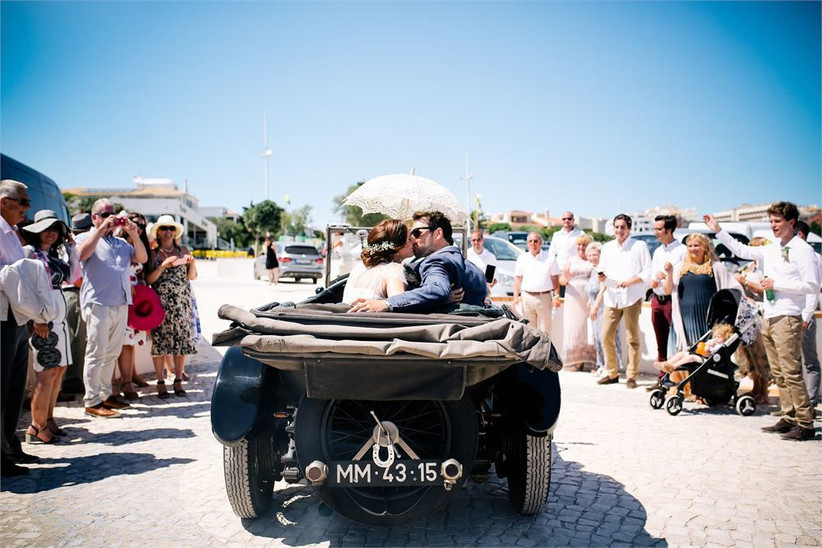 Image: Katie Hamilton Photography
They're Immediate Family: £100+
If it's a sibling or niece/nephew marrying, you're more likely to be buying them a personal or special gift that'll cost a bit more. Perhaps you've seen a limited-edition print you know they'd love in their new home or you'd like to buy the couple a weekend break. They will understand your financial situation most, so spend what you feel happy with but, in general, you would splash out most on immediate family.
You're a Bridesmaid/Groomsman: £100+
You may choose to give a gift as a group of bridesmaids or groomsmen so you can get something pricier. If you are buying a gift solo then you may want to reflect your closeness to the couple and what they have spent on you. If they have bought you a nice dress or suit and accessories for the wedding, plus paid for your accommodation, a gift of £100+ is also a gesture of gratitude for how much they have invested in having you there for their big day.
READ MORE: 18 Rules All Wedding Guests Should Follow
They're Close Friends: £75+
As best friends, you'll want to buy them something meaningful. Bigger ticket items on the gift list are perfect for you to buy; if there is no gift list, ask the couple if there's something special they'd like or get a gift personal to you both. A few of you may choose to chip in together if there's a tight-knit group; in which case, this needs to be done equally to prevent any later problems.
They're Work Friends/Distant Relatives: £25-£50
A gift is a thank you for being included in the couple's day and a gesture of warm wishes for their future together so you should buy one for the couple even if you are not that close (unless they specifically say otherwise). A colleague or distant cousin will not feel insulted in any way by a gift costing £25-£50.
How Much Should You Spend If There's An Engagement Party Too?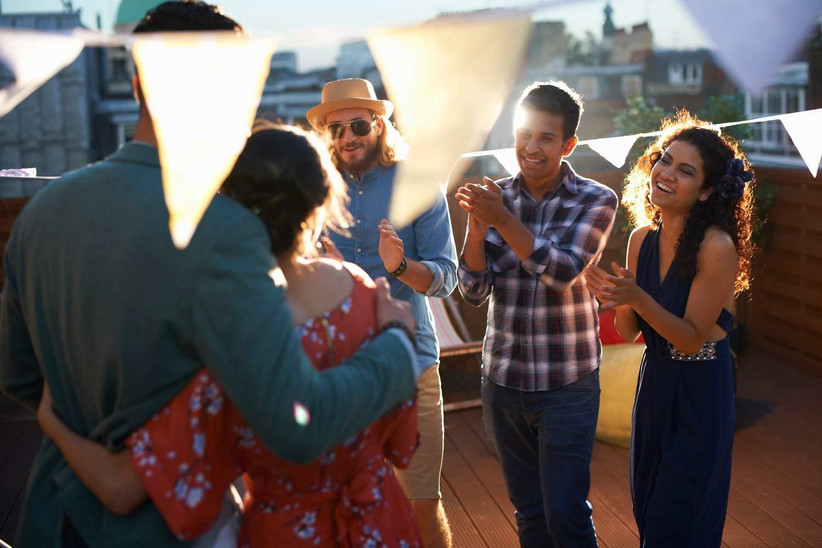 You are not expected to spend this amount on the engagement party too. If you want to split your budget between both, then aim for 25% on the engagement present and 75% on the wedding gift. An engagement party gift can be much smaller than a wedding present as it is simply a gesture – consider a voucher, bottle of champagne or flowers instead.
Diane recommends that if you are not able to attend the wedding, you should buy an engagement present equivalent to what you'd spend on the wedding gift.
How Much Should You Give If There's a Cash Fund?
Perhaps the couple have an online honeymoon fund or a jar for people to add cash gifts to at the reception. Don't be tempted to put in more than you can afford because you think the couple will be able to see exactly what you spent. They care more about your presence at the wedding than what you can give.
READ MORE: 33 Ways to Entertain Your Wedding Guests
A nice way to cover this could be putting money towards something specific, for example giving them money towards a massage on the beach on their honeymoon.
How Much Should You Spend On A Wedding Gift: What You Think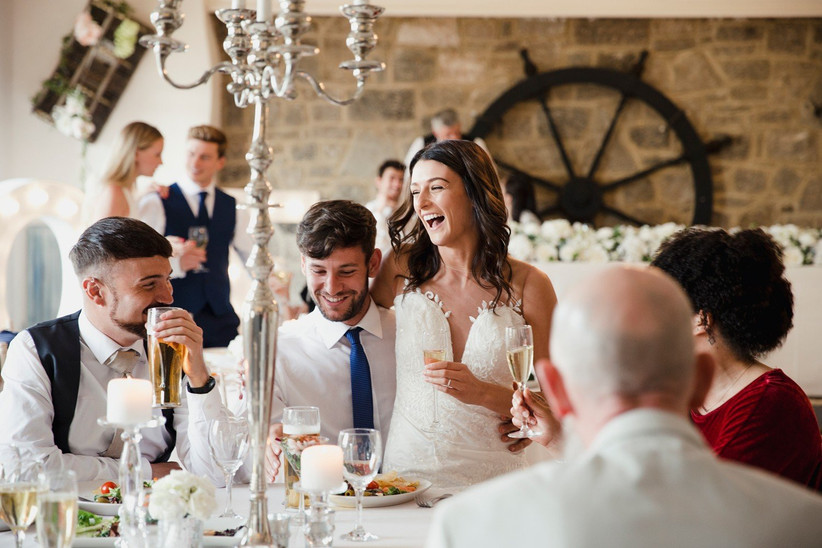 This is a hot topic in our forums – here's what the brides and wedding guests had to say.
Wedding guest Pollyjean35 says that she follows the rule of paying the equivalent of your meal, meaning a minimum cost of £50 a person. "If we are invited to a wedding all day then we would usually cover the cost of the meal at least so in the region of around £100."
READ MORE: What Guests Really Think When You Ask For Money Instead of Gifts
One bride said she had guests giving everything from cards to gifts worth six times the usual £50 and every one was valued. "Our guests were very generous, ranging from £10-£300 and some just gave a card but I didn't expect gifts so that was fine. My favourite gifts were from my bridesmaids, they didn't spend loads but were very thoughtful. One got a romantic picnic basket and she painted a canvas of a Lego bride and groom (we had a picnic theme and Lego bits at the wedding)."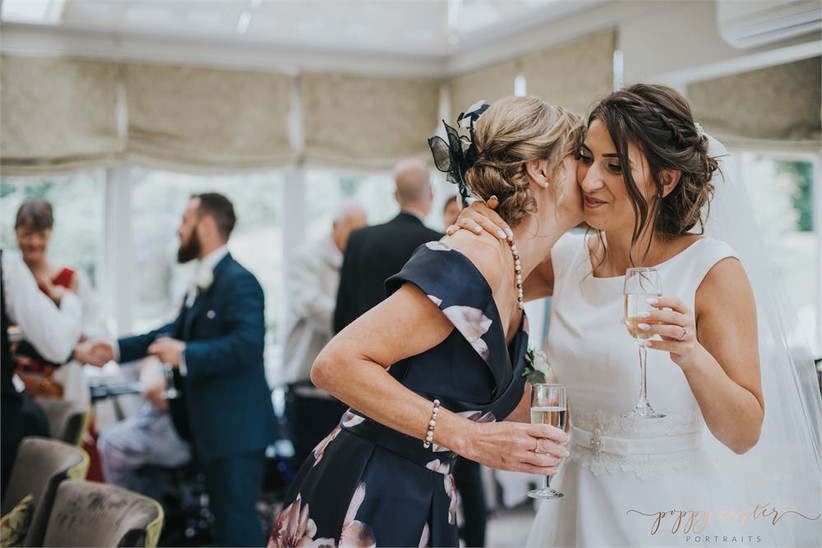 Image: Poppy Carter Portraits
However, Liverbird was surprised by our charitable Hitched-ers. "Blimey some of you are generous! We've tend to give about £30 between us as a couple, the only people who would get more would be our sisters or best friends and that would be in the region of £50-100 I think."
WeddingInJune had a clever idea for getting around cash gifts, meaning you could spend a little less but be just as personal with your gift.
READ MORE: Wedding Guest Hairstyles Made Easy
"I've never given cash at weddings where cash is asked for," she wrote. "I give currency for wherever they're going on honeymoon.  I've done this at the past three weddings I've attended and never failed to get a hugely positive response.  No one seems to do it, when it's a fairly obvious (I think) idea."
Jayne E said the most important thing was for guests to give what is comfortable. "I also give up to £50 depending on who, what, where etc.  Give what you can afford, I wouldn't want anyone to have struggled for a gift for me.  One of my gifts was a pebble engraved with our wedding date from someone who doesn't have a lot of money and I love it."
If you're looking to save money as a guest, check out our edit of wedding guest dresses under £50 and our best summer guest dresses.