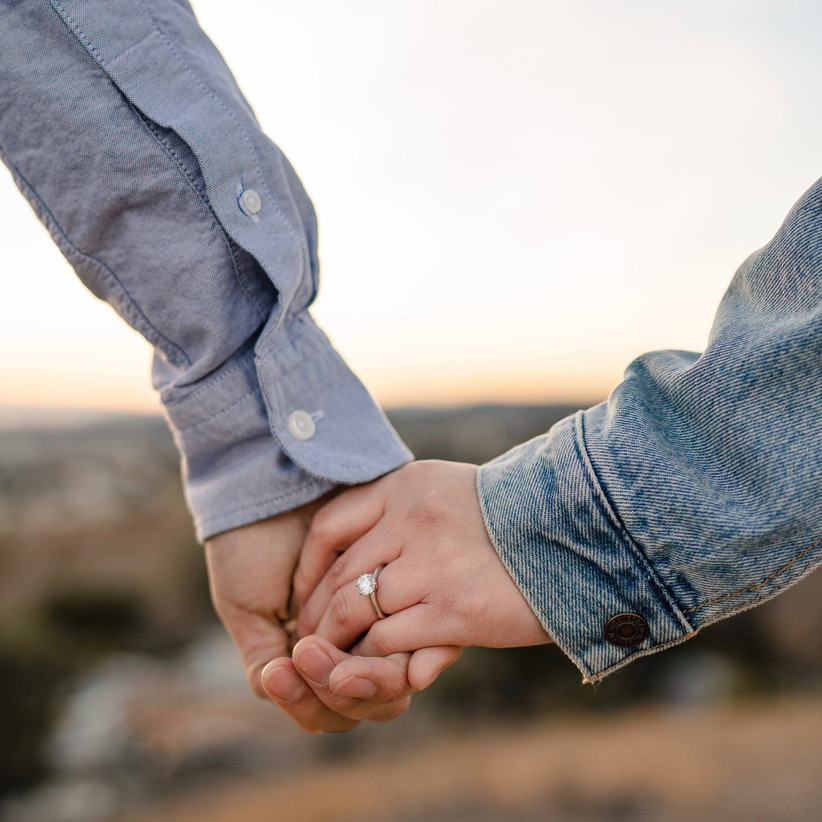 White gold engagement rings are the perfect marriage between old and new, thanks to their gold credentials yet silvery good looks.
If you're on the hunt for a white gold engagement ring, you might only know the colour of the metal you're after while being open to ideas for the stone and the shape. And that's where we come in!
We've browsed hundreds of engagement rings (tough job and all that) to find the most beautiful white gold engagement rings of the moment. Whether you're after a simple engagement ring or something with lots of bling, this edit is sure to include something which suits your taste.
1. White Gold Bea Arrow Diamond Ring – Liberty London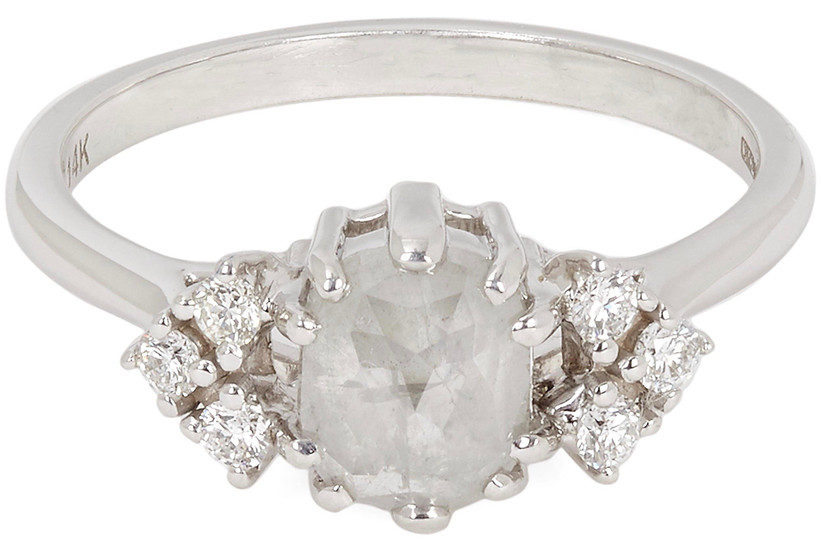 This white gold ring looks like something one of the elves in Lord of the Rings might have worn, and we mean that in the best possible way.
The quirky cluster design either side of the main grey diamond accentuates the stone's beautiful shape and colour, making it the star of the show.
We also love the square-cut band for a little something different.
READ MORE: Our Favourite Alternative Engagement Rings
2. Delicacy Solitaire Engagement Ring – 77 Diamonds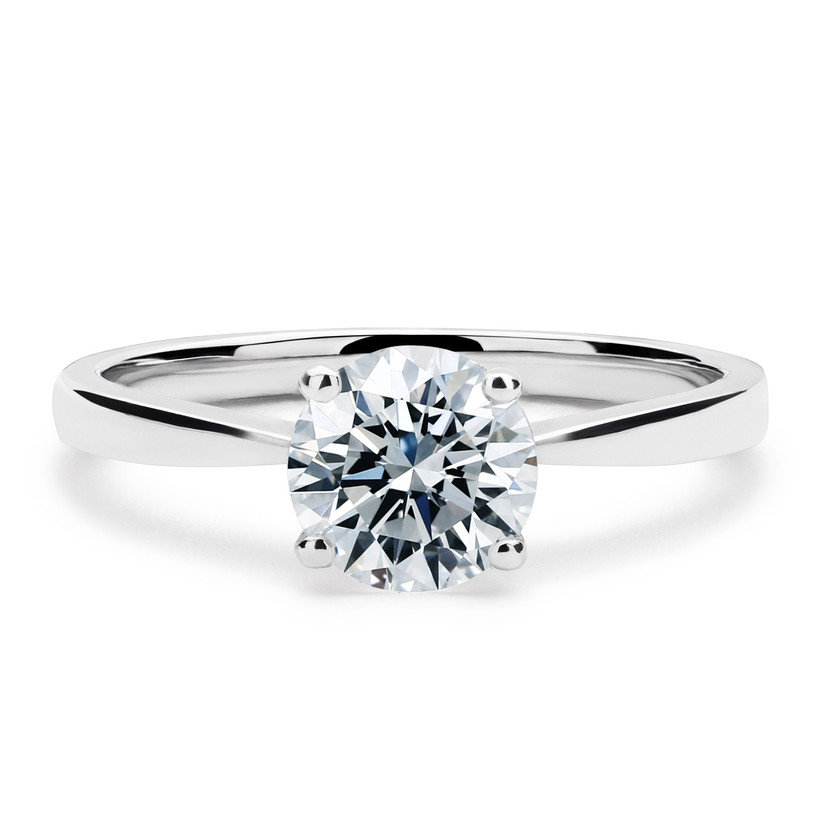 Brides who like to keep things simple will absolutely love this delicate design by 77 Diamonds. The stone is showcased with grace and subtlety, with its size and brilliance enhanced by a tapered band.
All 77 Diamonds stones are ethically sourced and certified by one of the leading grading organisations. And for as little as £430? The ring is a total steal.
3. Delicacy Vintage Engagement Ring – 77 Diamonds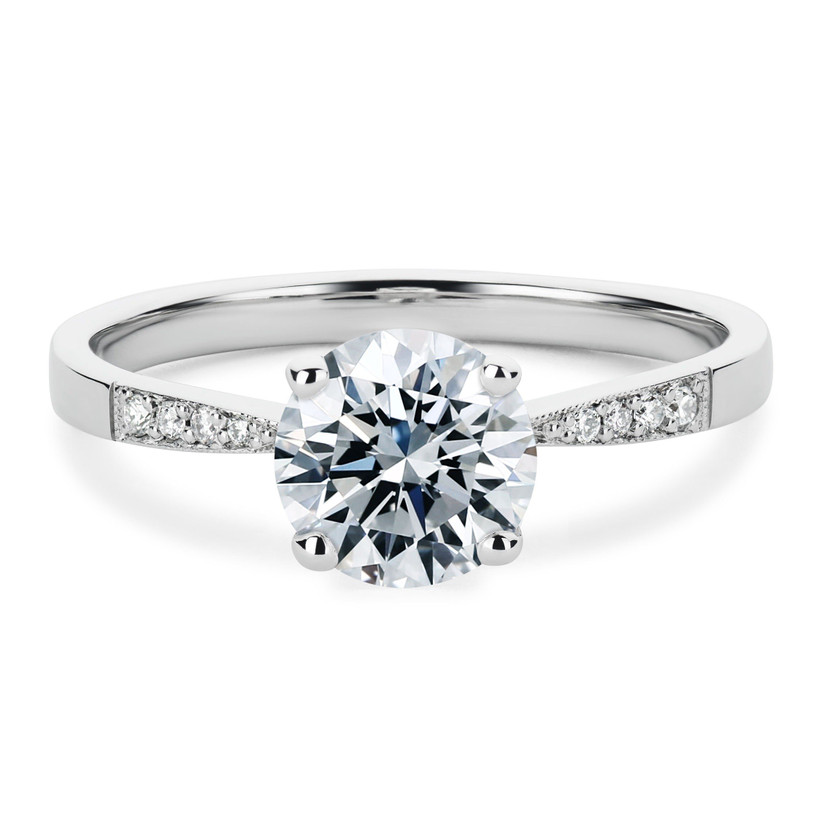 Bring your dream engagement ring to life with the Delicacy Vintage Engagement Ring by 77 Diamonds. The dazzling diamond is enhanced by a strip of round brilliant diamonds set on the delicate band.
This ring is perfect for a vintage-loving bride who wants a little bit of sparkle without going OTT.
4. Gossamer Hexagon Ring – Taylor & Hart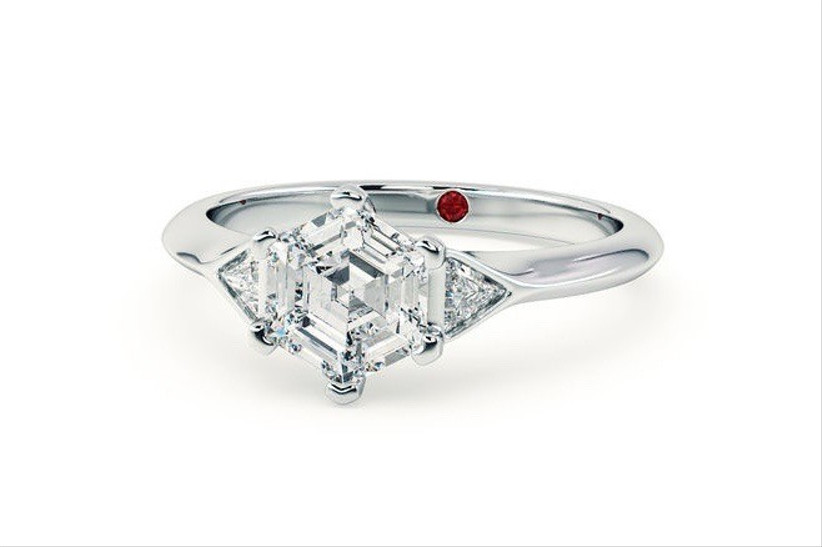 This stunning ring proves you don't need much more than a beautifully cut diamond to make an impression.
We love the uniqueness of the hexagon cut, which happily refracts lots of light for a beautiful sparkle. Either side of the main stone are two trillion cut diamonds, for a little extra bling.
5. Aphrodite Fairtrade Ring – Lebrusan Studio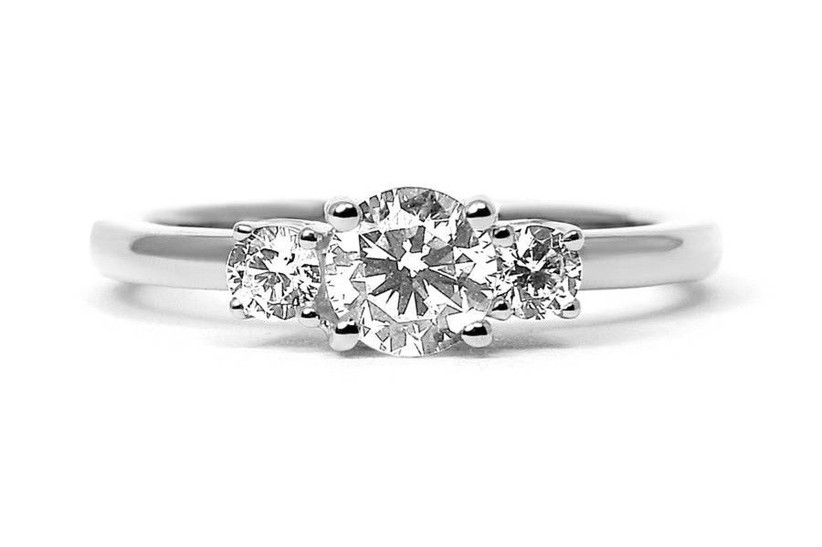 Made in Britain with Fairtrade gold and conflict-free diamonds, this pretty design is not only gorgeous to look at but has also been responsibly sourced. Because this ring is made to order, you can choose the size of the central diamond, allowing you to match the final product to your own style.
Also, if you haven't completely made up your mind yet on the setting of your ring, it's good to know you can choose from yellow, white and rose gold too.
READ MORE: The Prettiest Rose Gold Engagement Rings
6. The Aurora Ring – Cred Jewellery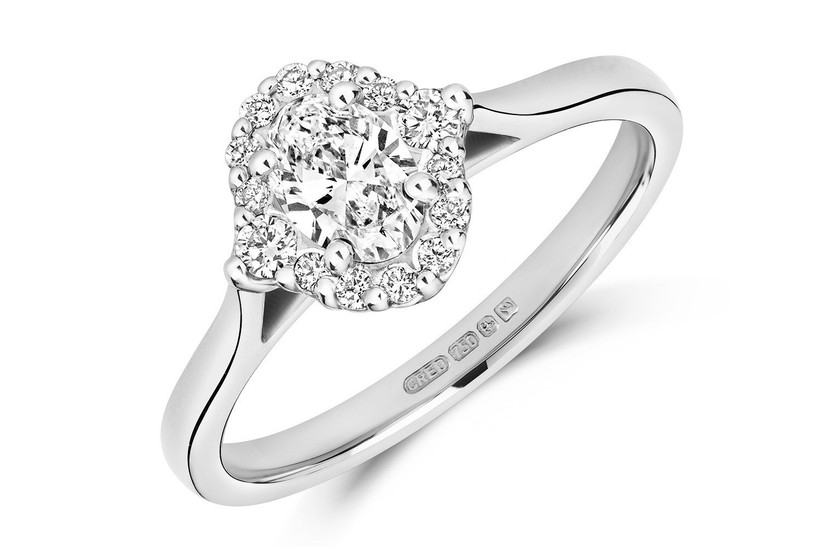 Named after Sleeping Beauty herself, this is a real princess ring.
We love that the halo design here has had a modern update, with the stones used being different sizes for a less-uniform final look.
With this ring, you can choose white or yellow gold, depending on your preference. You can also upgrade the diamond to suit your style.
7. Three Stone Vintage Style Ring – Amazon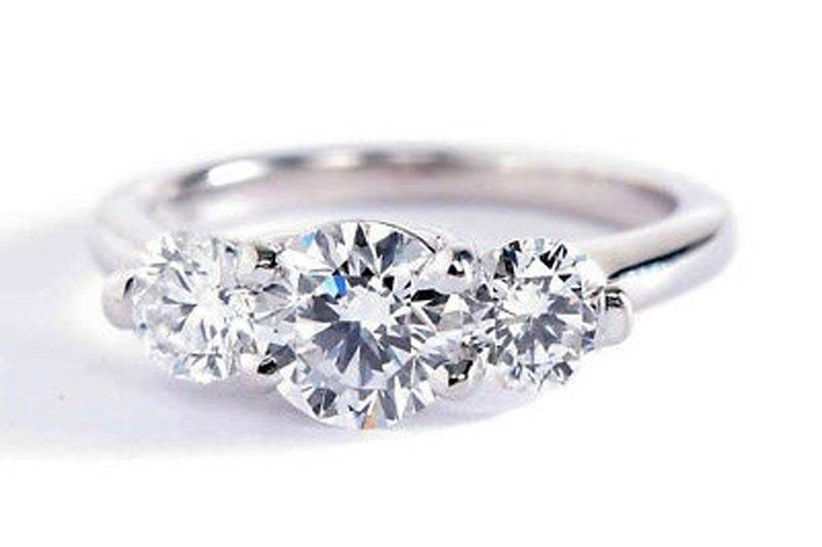 This stunning three stone ring is the perfect example of a design that will always be in fashion. The diamonds themselves are all generously sized to give that really striking impact, and the white gold band and setting make the perfect backdrop for the sparkly stones.
When looking at this pretty piece of jewellery from the side you'll notice that the claws interweave, creating a simple pattern of lines that you can only see if you look closely from the right angle.
8. Grace Pear Diamond Ring – Taylor & Hart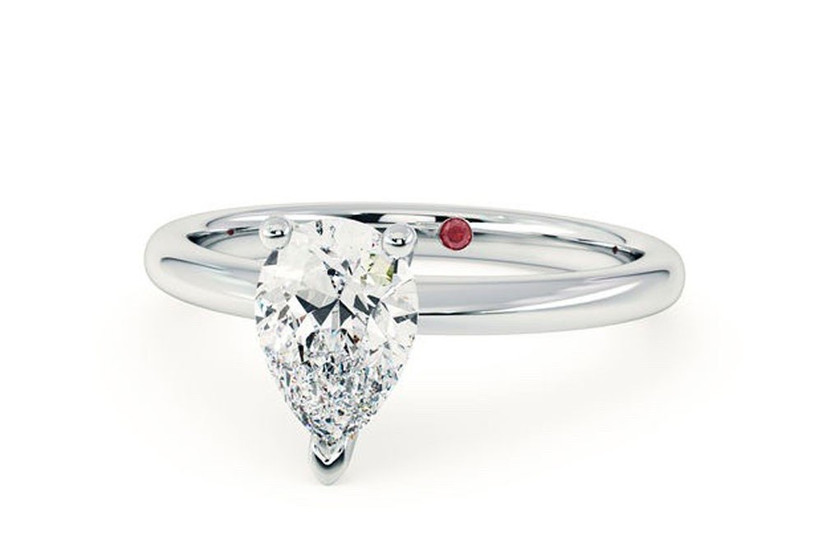 Hand finished in London, this engagement ring is truly one of a kind. The pear-shaped diamond adds intrigue, giving you something a little bit different to the majority of designs, while the white gold acts as the perfect base for the stone to sparkle from.
We love the clean lines of this simple engagement ring, and think it would be perfectly paired (if you'll pardon the pun) with a sparkly diamond-set wedding band.
READ MORE: 13 Things You Need to Do After Getting Engaged
9. Alexandrite & Diamond Three Stone Ring – Ruby & Oscar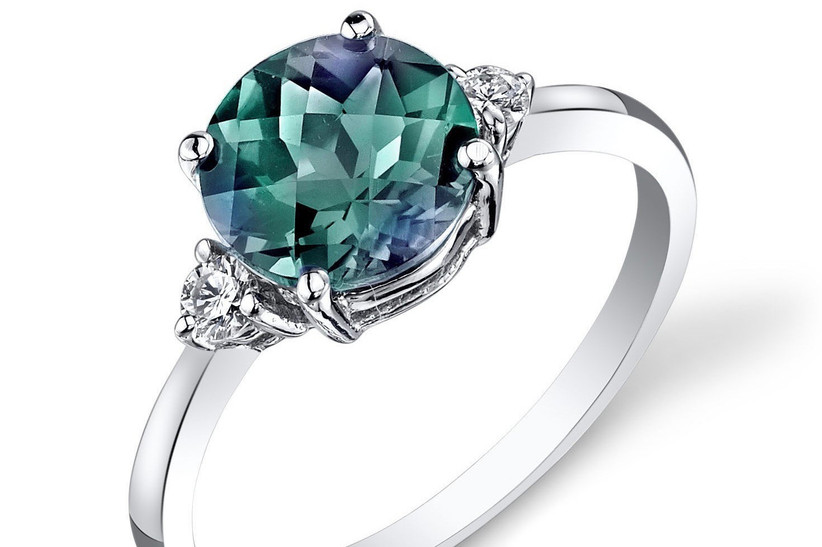 For someone who loves a splash of colour, an alexandrite gemstone is the perfect choice. This seemingly magical stone changes colour depending on the time of day and the type of lighting. It's this stunning blue during the day, moving to red at nighttime, and even appearing purple if looked at by candlelight.
With two side diamonds flanking the main stone, you're also getting plenty of sparkle with this little chap – a real all-rounder.
10. Muse Alexa Ring – Maya Magal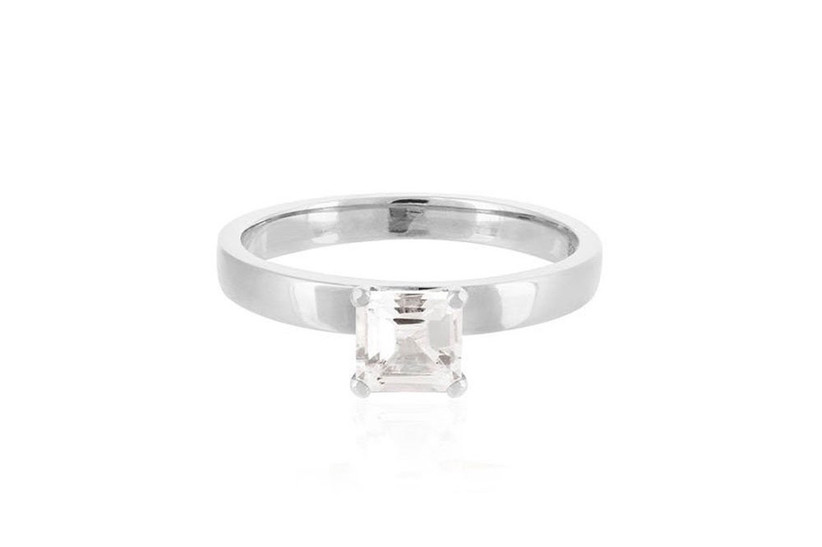 This angular modern ring would suit someone who has a bit of a cool, minimalist style. With this particular Maya Magal ring you can choose the stone and the metal type to suit you.
This example is made in white gold with a white sapphire at the centre, but there are all sorts of killer combos. From rose gold and topaz to yellow gold and aquamarine, you're sure to be able to find a pairing you'll fall in love with.
11. Cushion Cut Bridal Set – Goldsmiths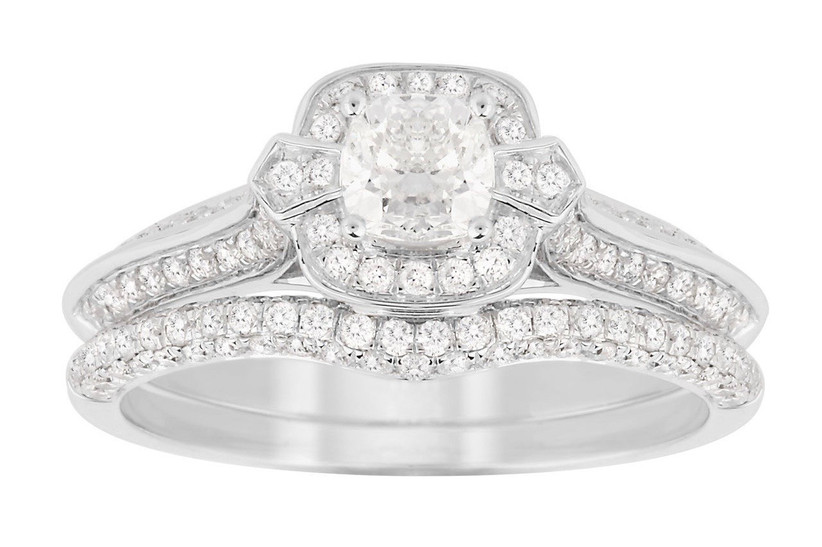 Queen of bridal fashion herself, Jenny Packham, has designed a gorgeous collection of vintage-inspired rings, of which this is one.
With this white gold engagement ring you also get the wedding band, saving you a job further down the line (not to mention the beautiful designs will match perfectly). We love how many diamonds contribute to the fabulous sparkle on this ring – it's a real dazzler.
12. Muse Audrey Ring – Maya Magal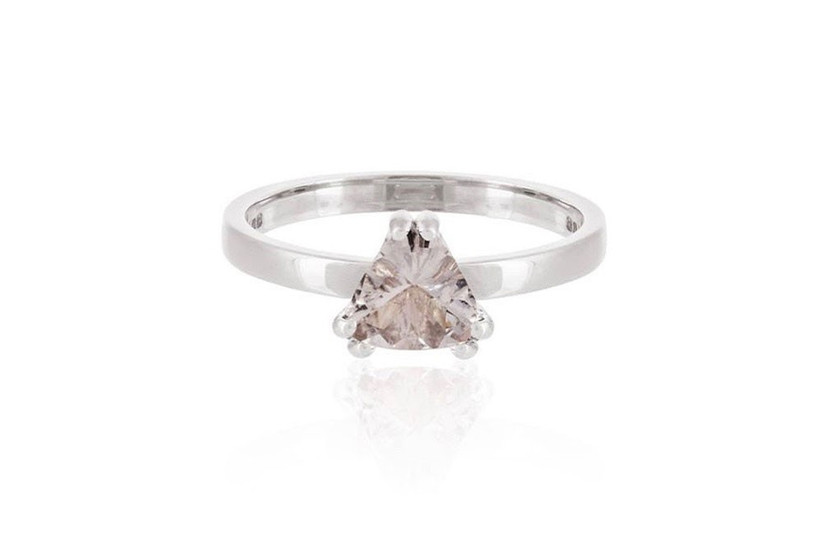 Sometimes simplicity is key, and that's certainly the case with this delicately pretty engagement ring.
The central stone is a dusky pink morganite which gives off a warm glow, rather than the typical sparkle you see from a diamond. We love the combination of angular lines on the band and claws coupled with the pretty pastel stone for a really striking contrast.
READ MORE: 17 of the Most Dazzling Emerald Engagement Rings
13. Sunbeam Ring & Tender Love Engagement Ring – Phoebe Coleman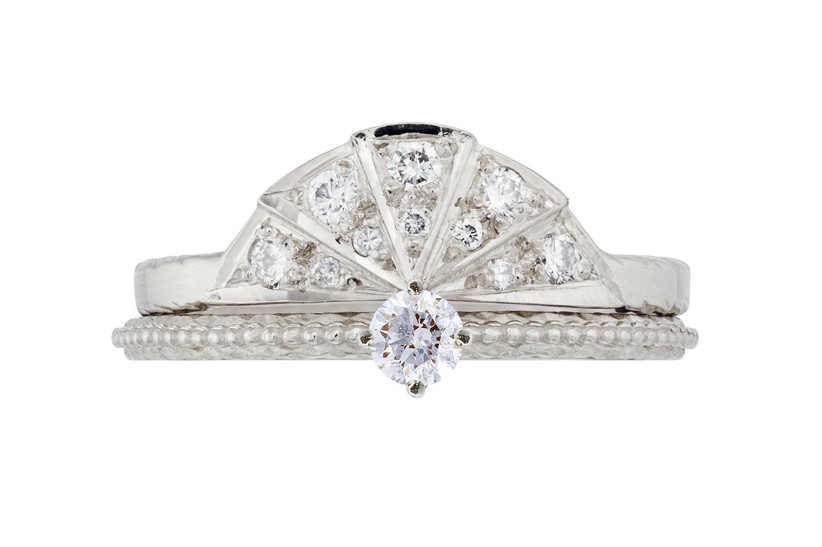 Why not go all out when choosing your engagement ring, and buy your wedding band at the same time? We love the dramatic pairing of these two designs – giving you that art deco feel with a timeless edge.
The engagement ring itself is a fairly simple solitaire setting that really comes to life when matched with the fan shaped lines of the Sunbeam Wedding Band.
14. Skinny Thin Ring – Arah James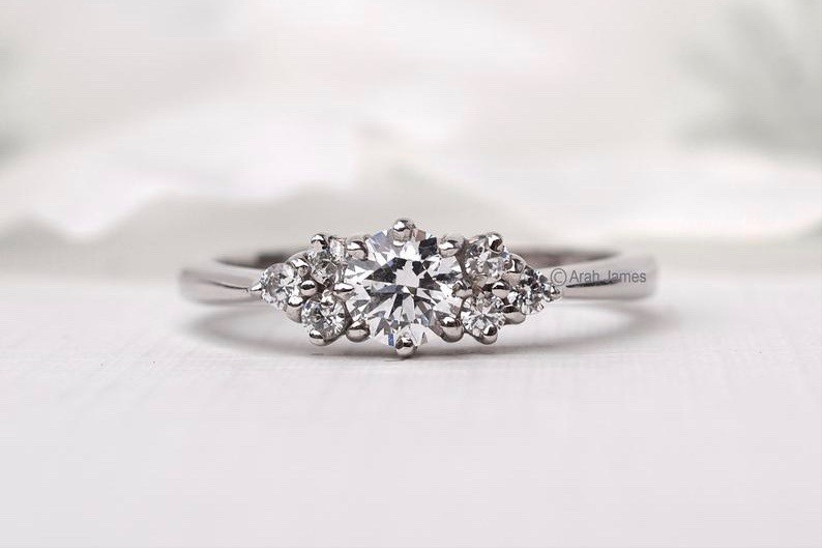 If you fancy a few extra diamonds then a linear design can give you everything you've been dreaming of.
We love that the side diamonds on this ring are clustered into two triangular shapes to give the overall look a slimmed-down finish. The band itself tapers towards the stone for a super skinny appearance that we think looks elegant and refined.
15. Cushion Cut Petite Solitaire Ring – Amazon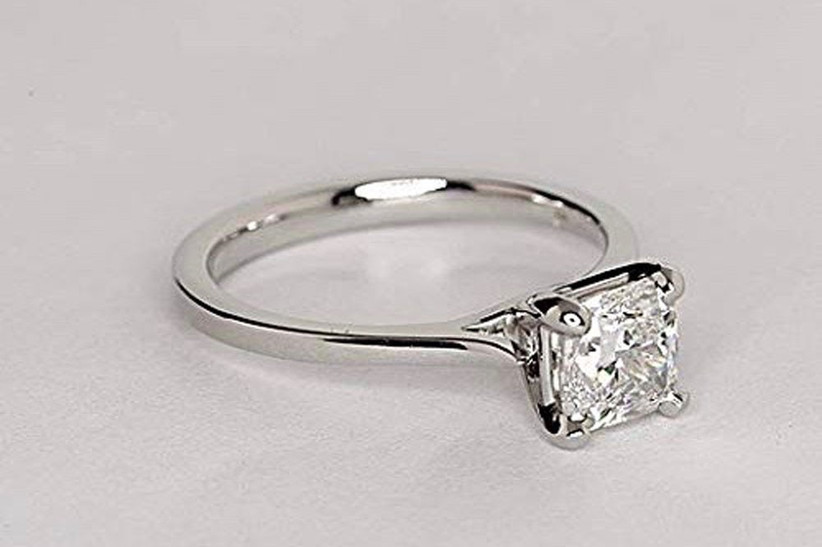 Amazon might not be the first place you'd think of to look for your engagement ring, but this online marketplace really does have it all – including this stunning solitaire diamond example.
We can't get enough of cushion cut stones with their generously-sized sides that give a gorgeous soft finish to the diamond, without losing any sparkle. The white gold here plays the perfect backdrop for everything too, in our not-so-humble opinion.
16. Three Stone Art Deco Ring – Goldsmiths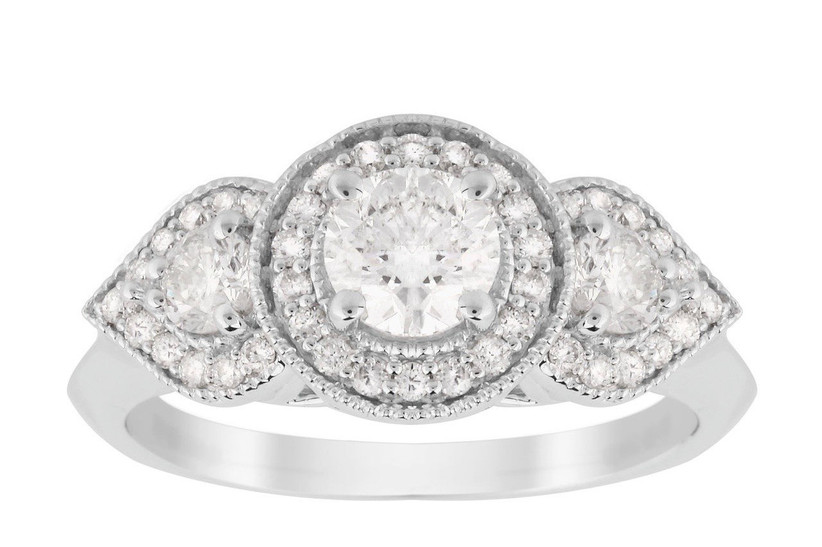 Better known for her wedding dresses, Jenny Packham has also designed a gorgeous range of rings for Goldsmiths.
We adore this three-stone example that plays with shape and scale for a really interesting finish. Because of the Art Deco inspiration, this is a ring that will stand the test of time.
READ MORE: 17 Incredible Princess Cut Engagement Rings
17. Four Claw Oval Ring – Taylor & Hart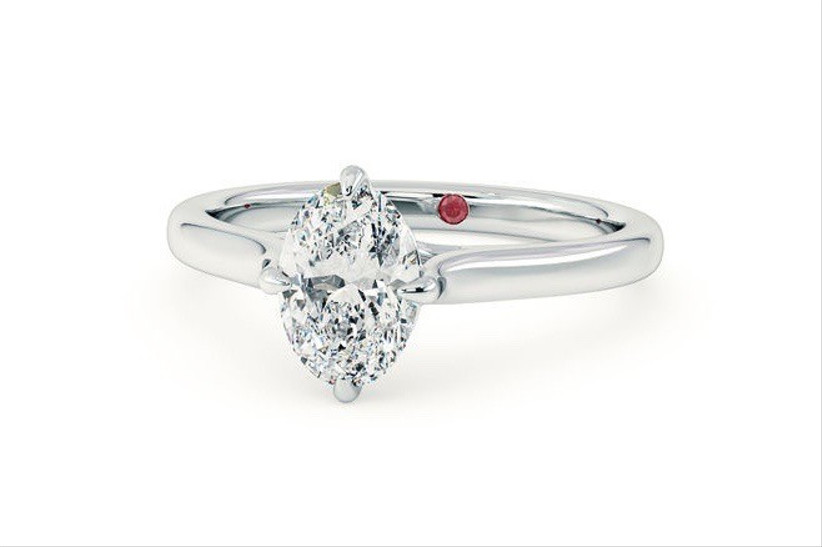 The four claws on this oval ring seem to melt around the stone, for a curvaceous finish that enhances the diamonds' cut.
We love that this is something a little bit different to your average ring, so that you know you'll stand out from the crowd. The band itself is made from white gold and is slim and rounded for a really pretty finish.
18. Venus Ring – Phoebe Coleman
If part of the appeal for you of a white gold engagement ring is the metal itself, then why not make the most of it with a setting like this one. The detailed surround around the diamond is moulded into a beautiful rope design giving the whole thing a rather Romanesque look.
The diamond at the heart of this engagement ring is a beauty too: one large solitaire with a gorgeous glint.
19. Vine & Diamond Ring – Alex Monroe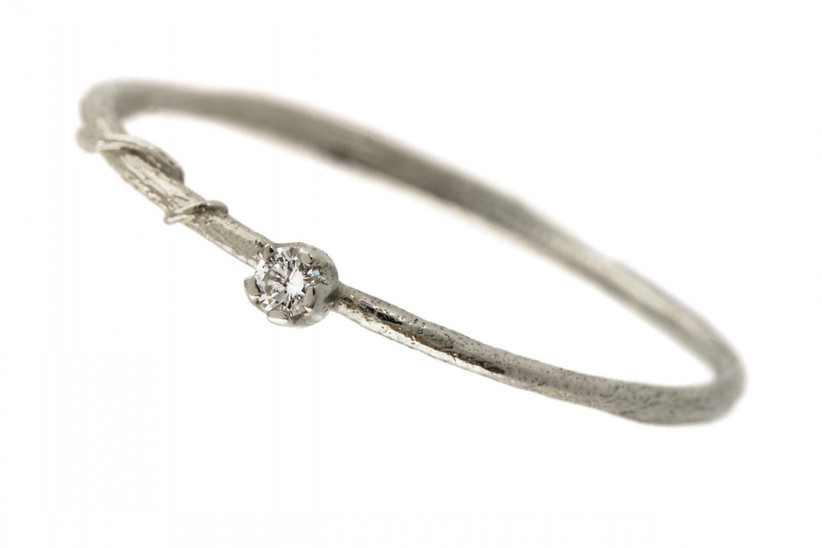 If you're a fan of understated jewellery then we can't think of a more perfect white gold engagement ring for you than this one.
The little sparkly diamond set so delicately into the band gives the perfect hint of glitter, while the vine trail wrapping itself around the band adds intrigue and an almost fairy-tale like quality. The perfect combination of style and romance.
20. Green Amethyst Forest Jewel Ring – Alex Monroe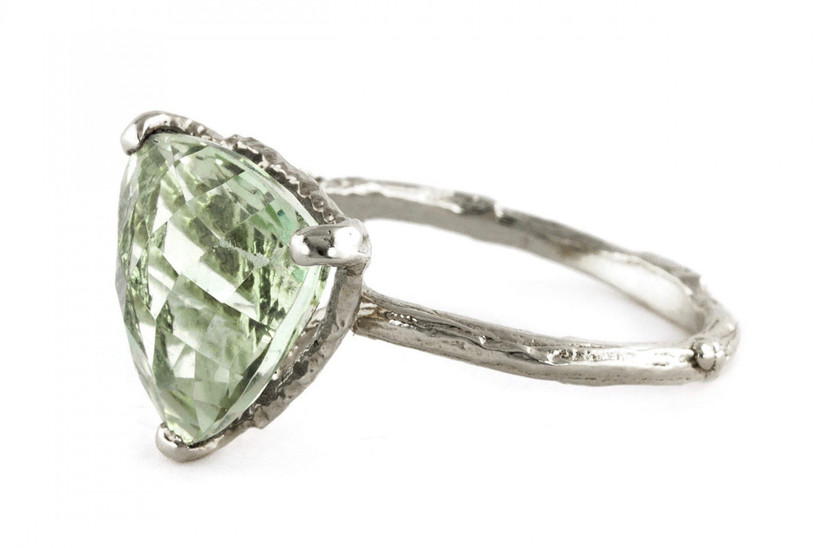 Not everyone wants a diamond, and this incredible green amethyst is just about the prettiest alternative we've ever seen. The white gold band is twisted into an ethereal twig design giving it a beautiful touch of fantasy.
All of Alex Monroe's designs are handmade in London, so you can always enquire whether bespoke tweaks are available, if you spot anything you'd like to add or change.
READ MORE: Where to Design a Bespoke Engagement Ring in London
21. Rosarium Diamond Ring – Alex Monroe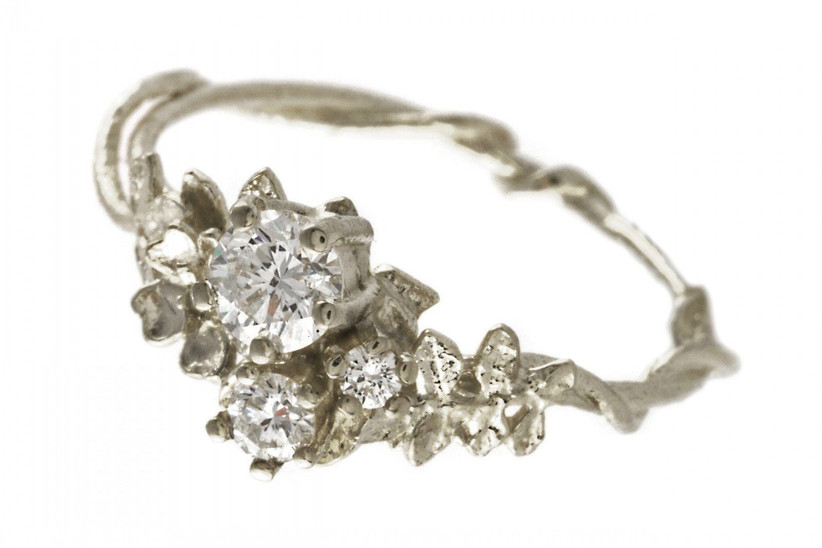 How gorgeous is this floral ring? A beautiful option for anyone who's a little green fingered, or even just loves buds and blooms. This design is inspired by the hedgerows in Suffolk that are packed with wild roses in the spring, so even the story behind this stunning design is a pretty one.
The three diamonds at the heart of this detailed ring sparkle and shine against the setting, and if you're open to different metals this also comes in yellow gold.
22. Salt & Pepper Three Stone Ring – Michelle Oh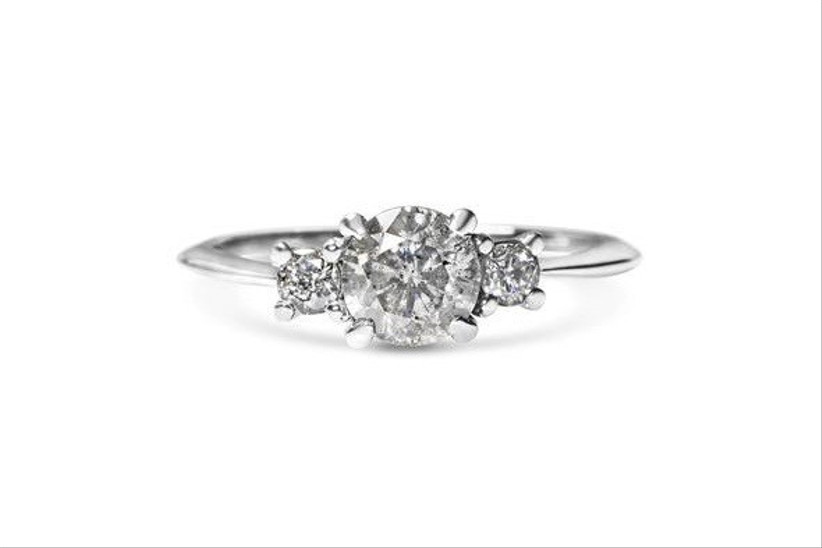 Grey diamonds are having a real moment thanks to their unusual salt and pepper finish. No two stones are the same with little flecks of dark grey and black through each one, giving the diamonds a unique individual patterning.
This three stone ring has a simple design that lets the diamonds remain the stars of the show.
READ MORE: 20 of Our Favourite Simple Engagement Rings
Now you've chosen your engagement ring, you'll want to pull off the best proposal ever. Take a look at our guide on how to propose to ensure you do just that.