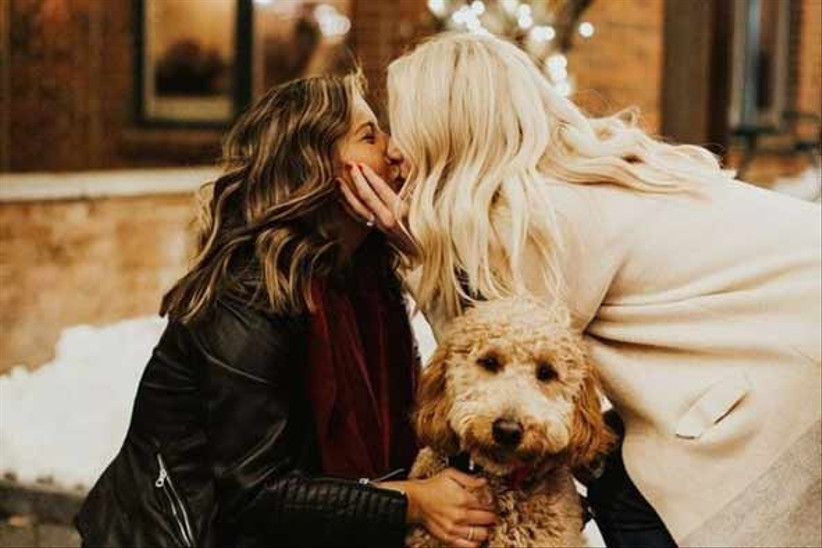 Even if you're 100% sure your partner will say yes and you've looked at how to buy an engagement ring, proposing can be quite a daunting experience!
We've come up with 60 proposal ideas to help make sure your proposal is not only perfect but personal to you. These won't just make your other half's day – they'll make their year!
We've split it down into romantic proposal ideas that you can adopt and add your own personality to – and some of our favourite products to propose with, from personalised champagne bottles to 'marry me' tags for your pet's collar! You'll also find our favourite 'will you marry me' balloons and signs.
Some of these 'will you marry me' ideas are simple, some are more elaborate, some might even go viral, but all these proposal ideas will be the happiest surprise your partner gets.
Psst… If you're going to pop the question you're going to need a ring! Don't miss our guide to the best engagement rings.
The Most Romantic Proposal Ideas
1. Holiday Proposal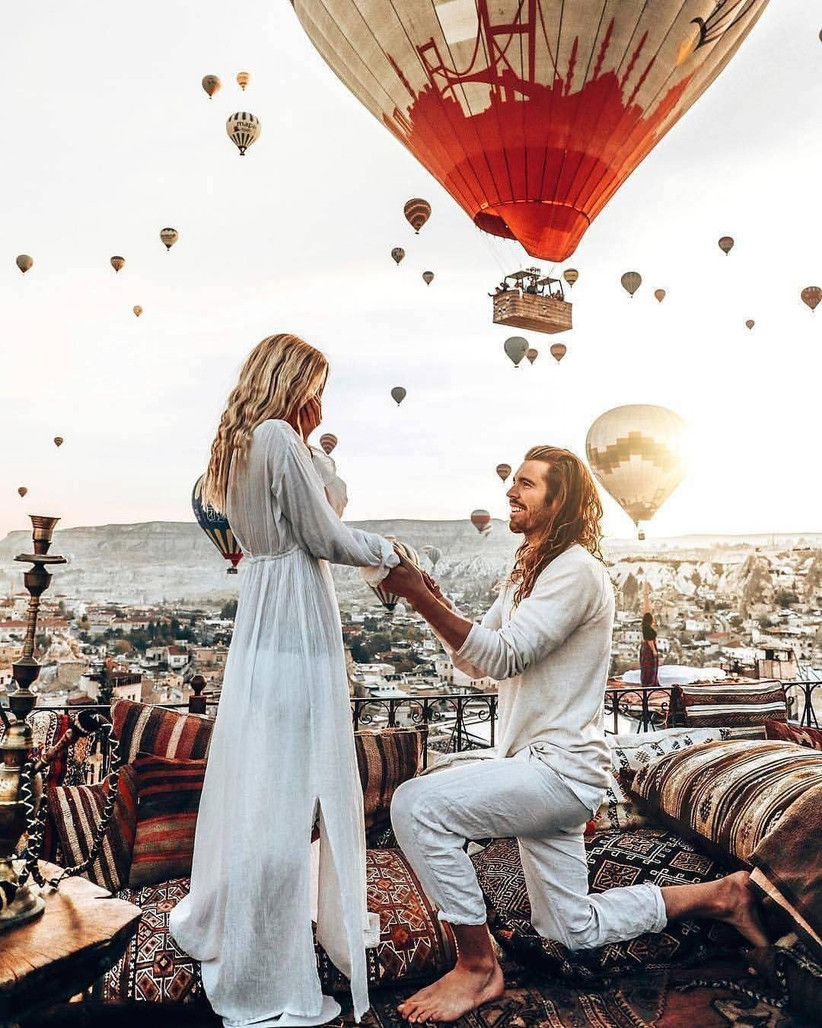 Image: Instagram/@mariefeandjakesnow
The most popular way to propose is on holiday. Book a trip to your favourite destination or a bucket-list place you've always wanted to go together. You'll need to sneak your ring through (always in your hand luggage, never in the hold!) so your partner doesn't find out. Decide what they'll like best – is it watching the sunset on the beach? A boat trip to a secluded island? At that amazing restaurant you both love? You could even rent scooters and hide the ring in their helmet or build a sandcastle and place the ring in the middle. Our favourite locations are Paris, the canals of Venice or watching the Northern Lights.
READ MORE: 11 Things Only Couples in Long Term Relationships Know
2. Scavenger Hunt Proposal
The best thing about relationships are all those little in-jokes and things just the two of you know. Turn it into a treasure hunt by scattering clues for your partner to find. It can be just in the house ("head to the room I first told you I loved you") or all around your neighbourhood. You can even rope in friends and family to be in spots to deliver the next clue.
3. Airport Proposal
Collecting your loved one from a flight? Turn up with a big sign with their name on it and a Mr/Mrs in front of their first name and a question mark at the end. Get down on one knee and watch the crowd cheer – it's one of our favourite 'will you marry me' ideas. Alternatively, air hostesses and pilots are often very happy to help with an in-air proposal.
READ MORE: How to Prose in 5 Easy Steps
4. Zoo/Aquarium Proposal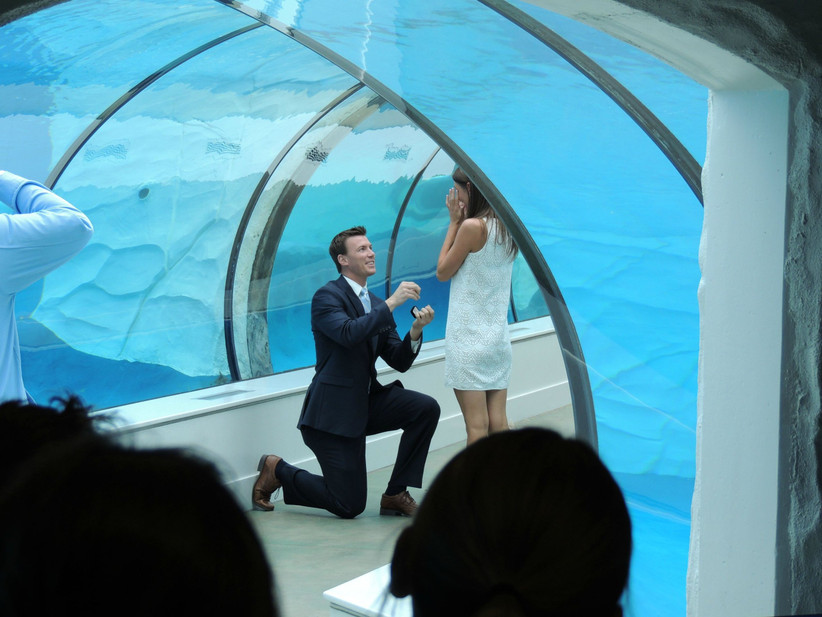 Image: Pinterest
Keepers are often happy to help out using the animal enclosures. That could be a diver holding up a sign from the biggest fish tank, or arranging to feed your fave animals. At the London Zoo and Port Lympne, you can actually sleep in lodges in the lion and tiger enclosures –  top off that amazing experience with a ring.
5. Caricature Proposal
Ask a street caricaturist to draw the two of you and a "Will you marry me?" speech bubble for the ultimate surprise and an amazing memento of the moment.
6. Recreate Your First Date Proposal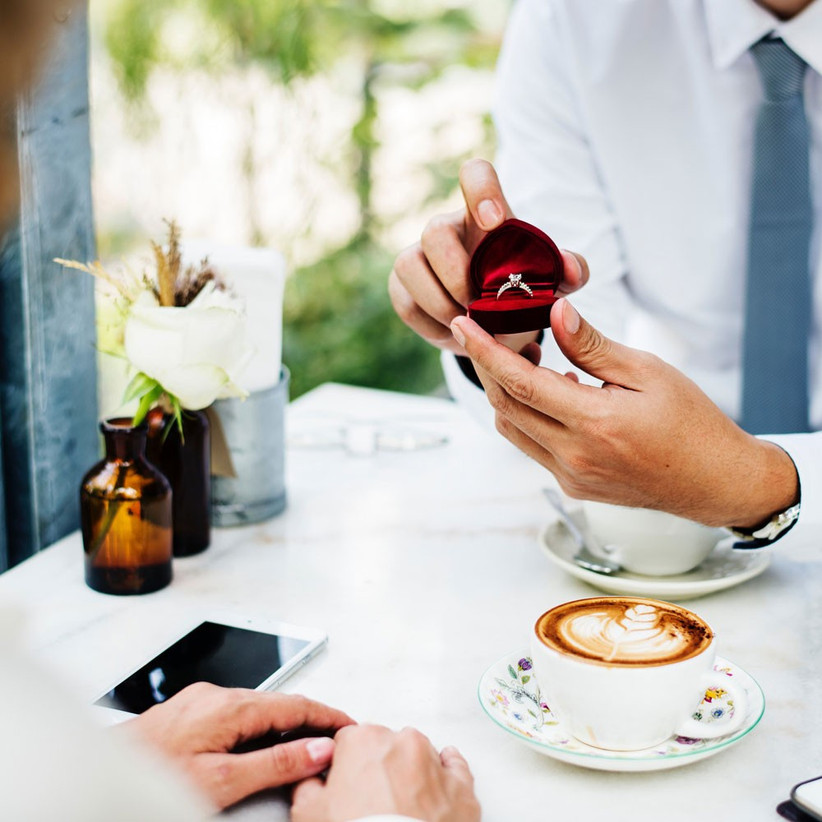 Revisiting the bar you first met in or the restaurant where you first had dinner makes for the perfect way to reminisce over your happy relationship.
As you talk about all the wonderful things you've done together, you can get down on one knee and find out if they'd like spend forever doing more!
READ MORE: The 10 Most Popular Ways to Propose Revealed
7. Concert Proposal
Got a favourite band or musician? If you're into grand gestures, you can contact their management and the venue and ask if you can get up on stage and propose in front of the crowds. Otherwise, turn around when your favourite song is playing and show your partner the ring.
8. Fairground Proposal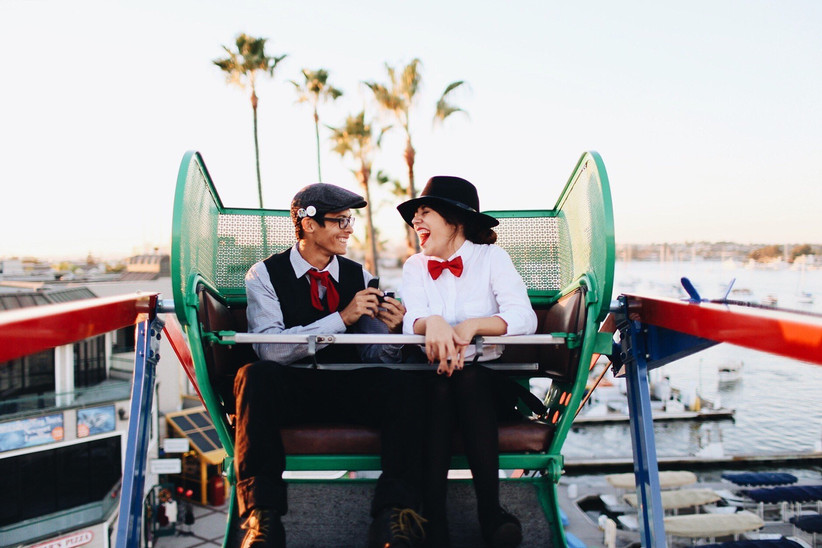 Image: Pinterest
Now, not all rides are suitable for this. You don't want the ring to fly out your hand on the dodgems, but the top of a ferris wheel is an amazing place to tell your partner you want to offer them the world. Have friends and family waiting at the bottom!
9. Fake Photo Proposal
Head to your favourite spot – whether that's a park, rooftop bar or monument – and ask someone to take a photo of you. Instead of posing, pull out a ring and your partner's reaction will be captured forever. Even better if you whisper to the stranger taking the photo to take a video instead, but don't let on why.
10. Crossword Puzzle Proposal
Cryptic proposal: Man asks girlfriend to marry him in Times crossword http://t.co/BjLEQcruYJ pic.twitter.com/uZ2QCh7TwX

— The Times (@thetimes) June 17, 2015
You could be incredibly extra like this guy and get the actual Times newspaper to help you with your proposal – just contact the puzzles editor and make a desperate plea. Otherwise you can build your own crosswords online and slip in the famous question.
READ MORE: How Much Should You Spend on an Engagement Ring?
11. At Home Proposal
Home is where the heart is, after all. You can make a trail of candles that leads to your chosen room and cover the walls in your favourite photos of the two of you, with balloons and flowers. If you want a subtler surprise, how about spelling out the question in fridge magnets or with glow-in-the-dark stars on the ceiling?
12. Disney Proposal
Image: Pinterest
Start your fairy tale with a proposal at the happiest place on earth!
13. The Sleeping Proposal
This does have the potential to go wrong if they're a light sleeper. If not, slip the ring onto your partner's hand while they're sleeping and see how long it takes them to notice in the morning. A special champagne breakfast in bed might make the realisation quicker!
14. Spring Proposal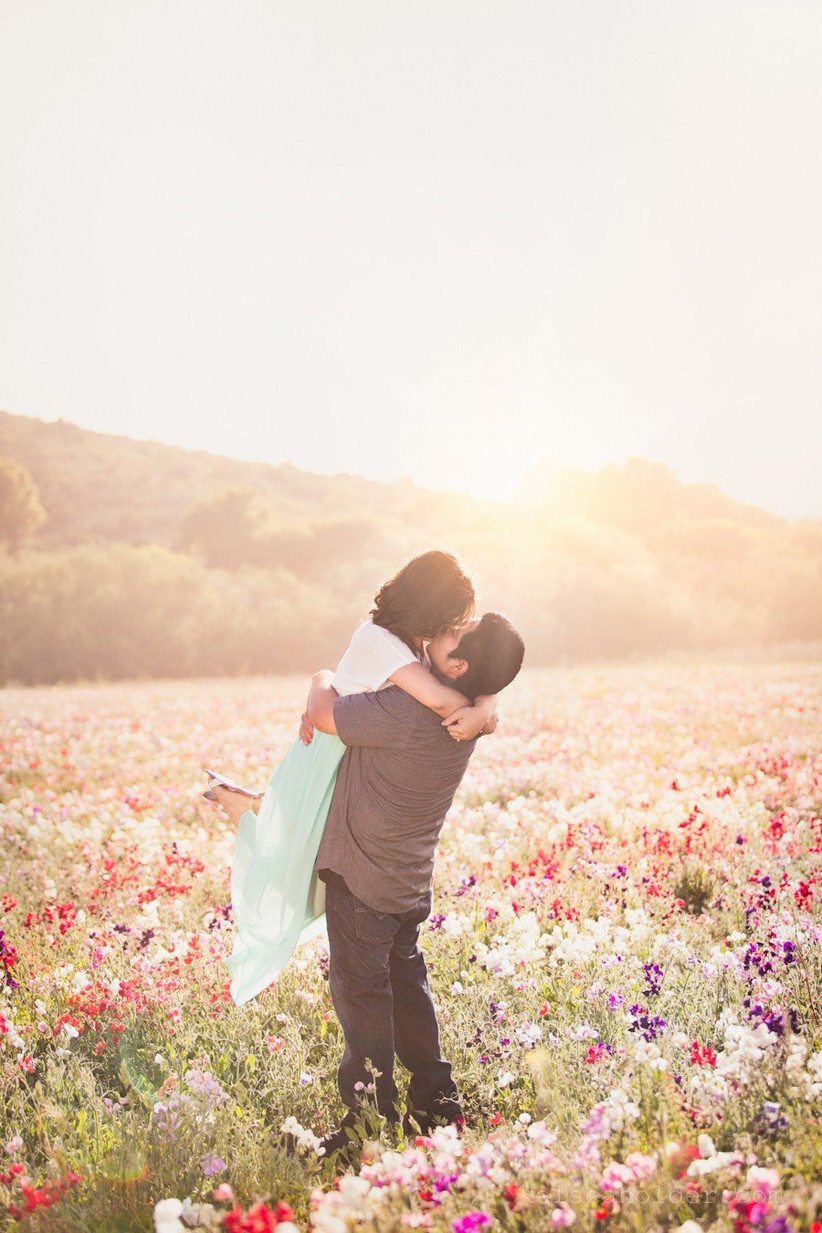 Image: Pinterest
Want to incorporate the season? The weather is warming up in spring so it's high time for a hike (bring a cute umbrella in case it rains) or a road trip to a cosy countryside inn. If it's close to Easter, what about hiding the ring inside a chocolate egg (you can make one from a mould or a chocolatier can do it for you); arranging a special Easter egg hunt; or going to a local petting farm and getting them to hang a marry me tag around a bunny rabbit's neck?
READ MORE: The Ultimate Guide to Buying an Engagement Ring
15. Valentine's Day Proposal
Give your partner a gift or write them a love note for each day of February leading up to the 14th. On the 14th give them a special gift – the ring obviously! Balloons, chocolates, roses: go the whole hog.
16. Summer Proposal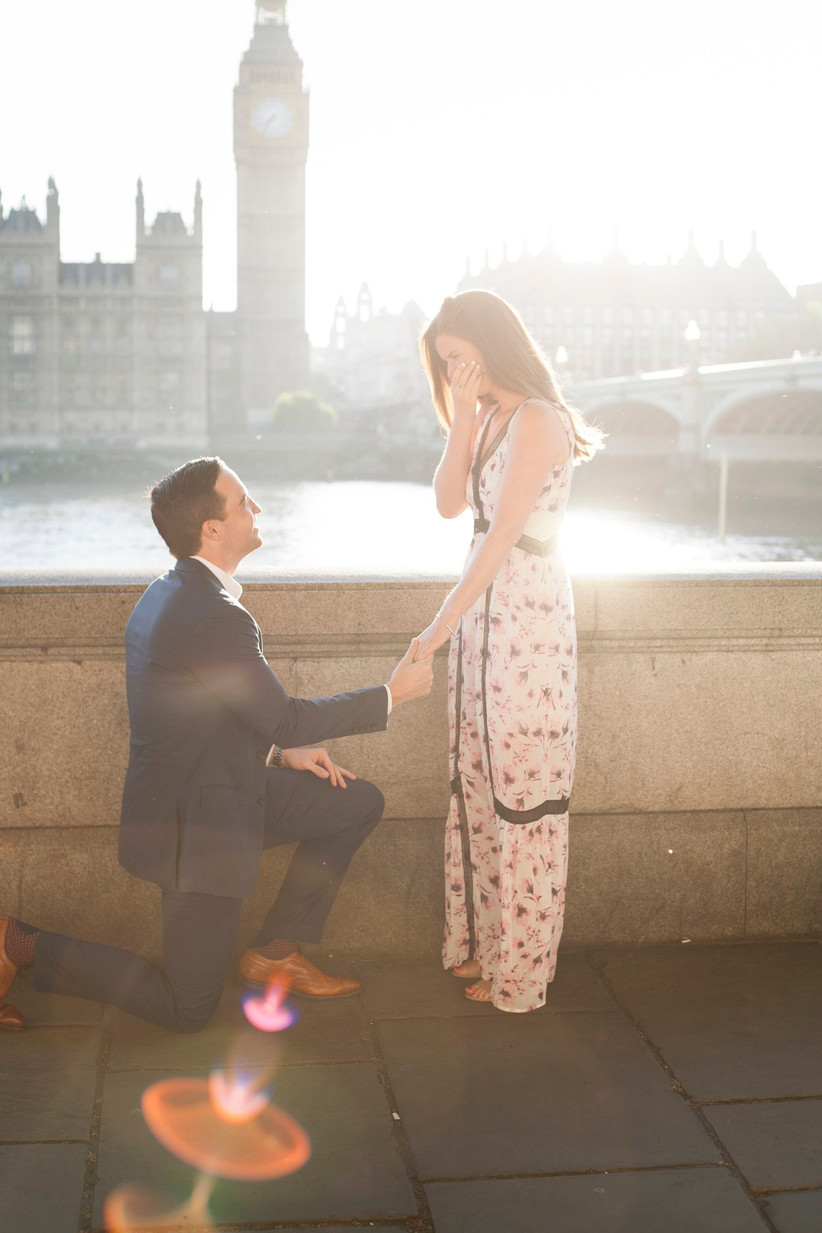 Images: Pinterest
An outdoor concert, movie, theatre or fair is the perfect romantic location to pop the question. Flowers are in full bloom so head to a botanical park and set up a picnic. We can also recommend London on a sunny day as one of our favourite places on earth. Music festivals and day festivals are also in their element – if you're a musical couple, get to the front of your favourite band and create an unforgettable memory.
17. Halloween Proposal
We love a spooky Halloween proposal. You could carve 'Will you marry me?' into a pumpkin or take your partner to a haunted house. Bonus points if you propose in a Halloween couples' costume.
18. Autumn Proposal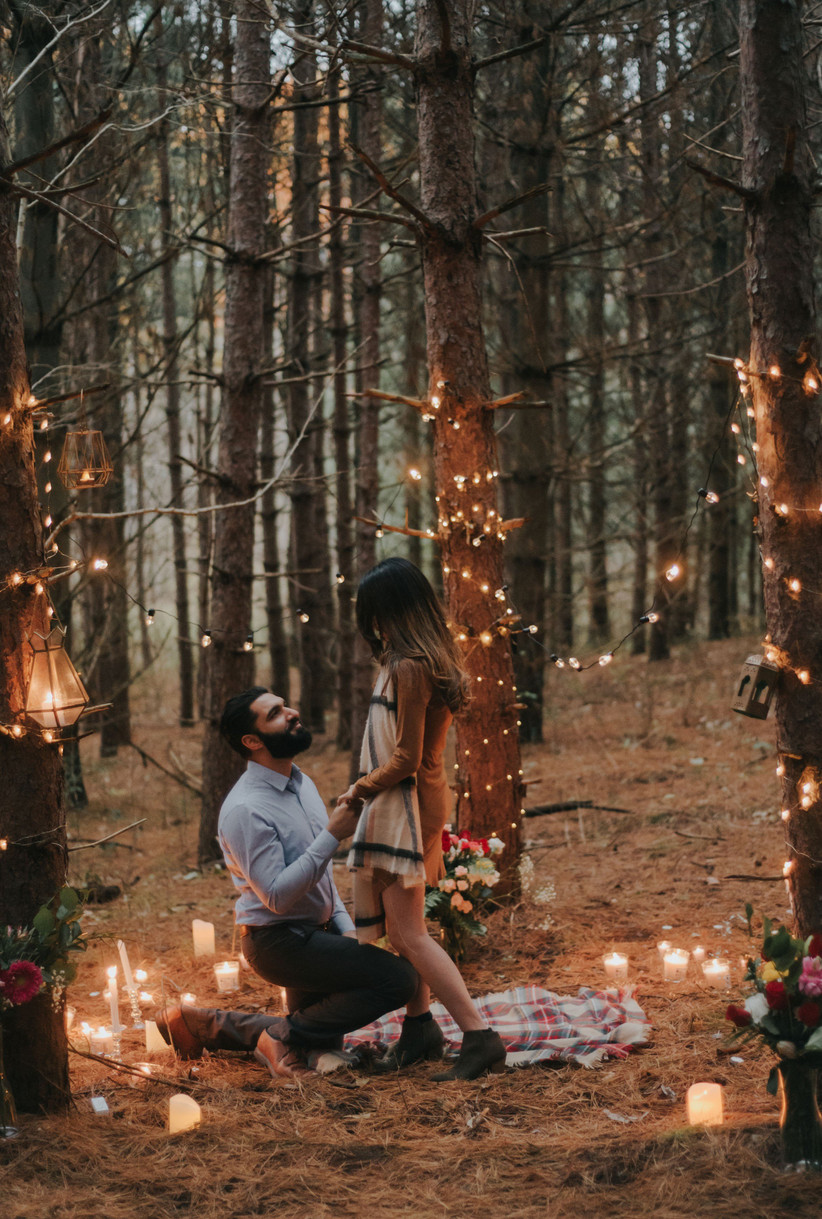 Image: Pinterest
Autumn is peak time for apple picking, visiting pumpkin patches, stargazing, taking one last camping trip and movie marathons under warm blankets – all great proposal locations. Bonfire night is another winner. The fireworks and sparklers make for such a magical, romantic atmosphere.
READ MORE: 13 Creative Ways to Announce Your Engagement
18. New Year Proposal
3, 2, 1… use that countdown to start the year with a new spouse-to-be. Sneak away to a private spot with plenty of champagne and new year's kisses. A fireworks display will top it off.
19. Winter Proposal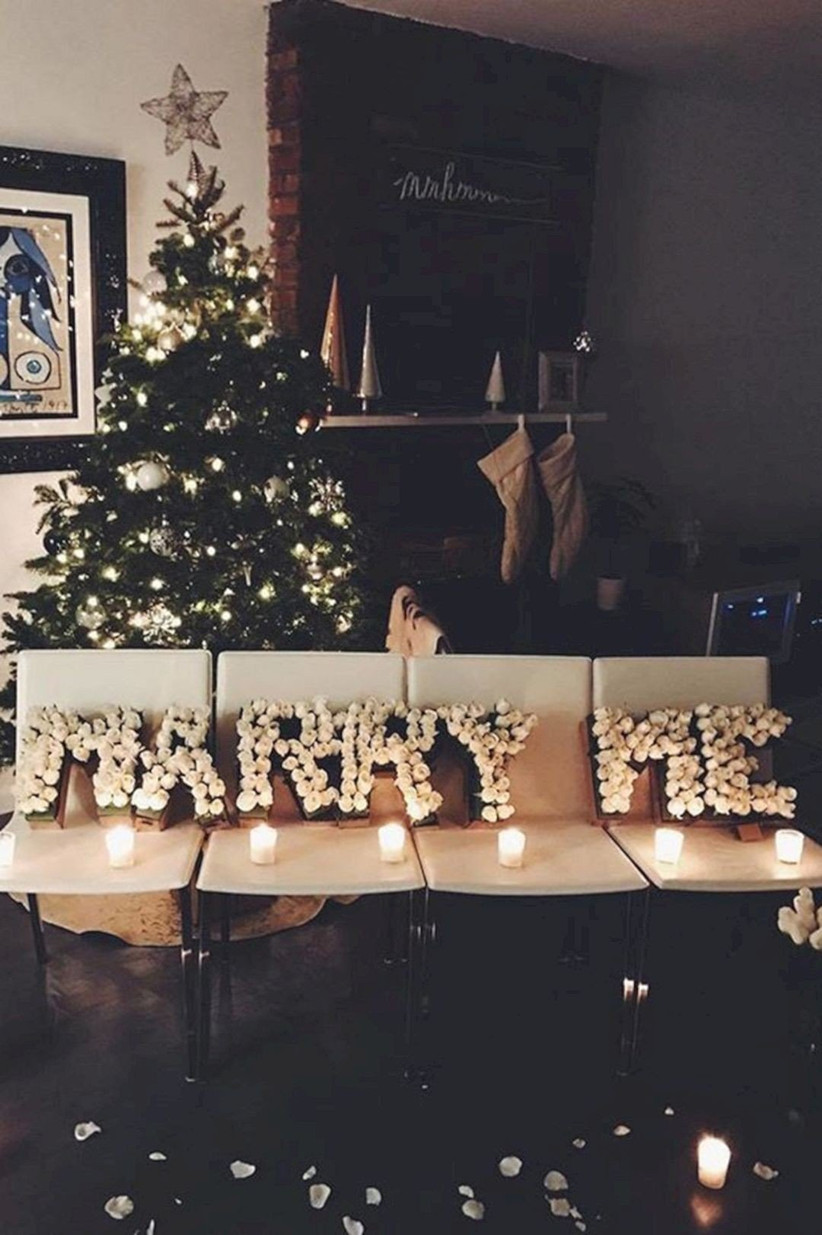 Image: Pinterest
Is there anything more romantic than snow falling, carol singing and ice skating? A ring under the Christmas tree or a proposal at New Year's are tried-and-tested options. For a unique proposal, how about you enlist a group of friends to carol sing your question? Or instigate a snowball fight and when you turn round, have the ring instead? If you're skiers, what about privately on a ski lift? We love the personalised bauble below too, for your tree.
20. Camping Proposal
Pitch up a tent in a beauty spot for a night under the stars of roasting marshmallows, playing card games, and stargazing. You could pretend there was a really uncomfortable stone right under your sleeping bag and ask them to help move it; actually, it'll be the ring.
21. Hot Air Balloon Proposal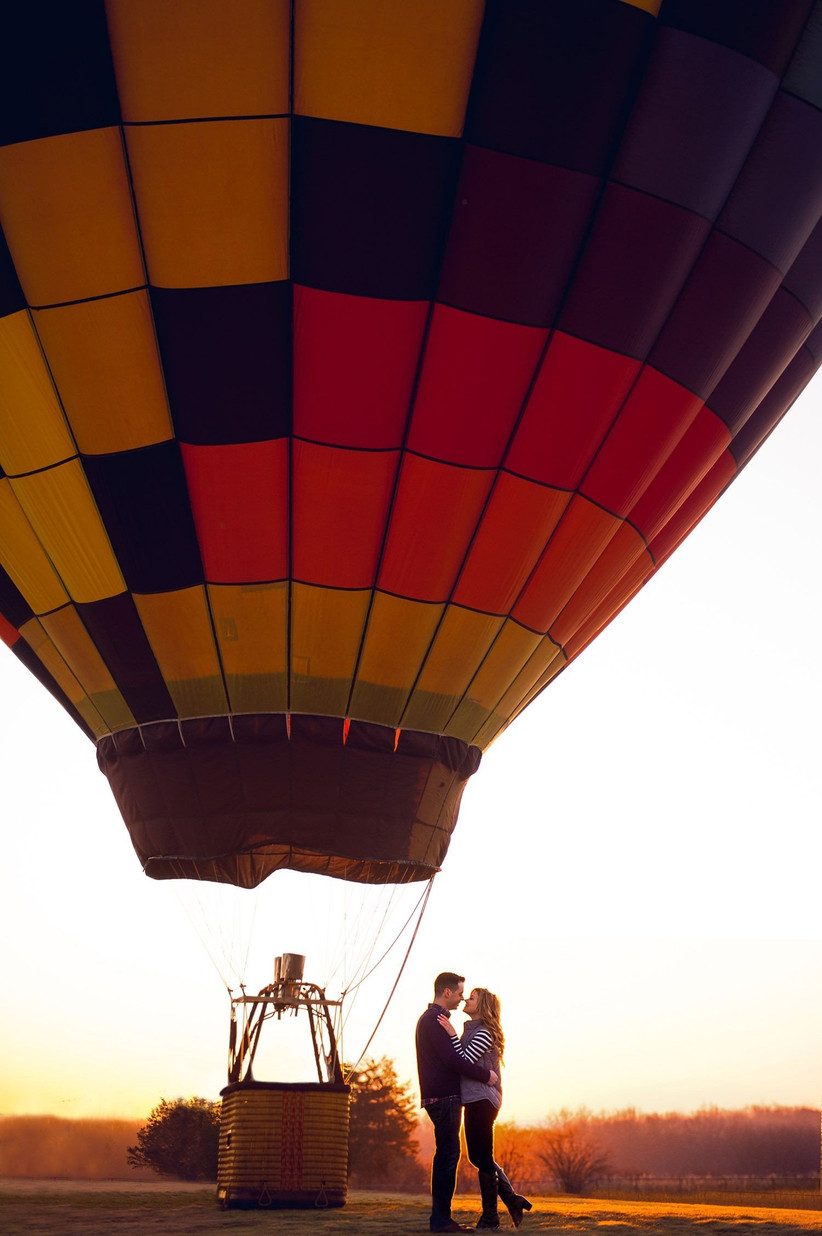 Image: Pinterest
Arrange a hot air balloon ride or helicopter flight to watch the sunrise. This works really well as a holiday proposal idea if you want the element of surprise. It might be obvious something is up if you randomly book a hot air balloon at 5am across Somerset – or maybe claim you won it in a work raffle?
READ MORE: What to Do If You Partner Doesn't Like Their Ring
22. Musical Proposal
Know first if you partner likes to be the centre of attention! You can hire flash mobs of dancers, singers and choirs, but we prefer a less in-your-face approach. Go to the bandstand at your local park and hire a brass band, barbershop quartet or saxophonists to pop up and serenade you.
23. Spotify Proposal
Sneak a proposal song into their go-to playlist, like Bruno Mars' 'Marry You' or 'Will You Marry Me?' by Once Jameson or Lenny Kravitz.
24. Kids and Animals Proposal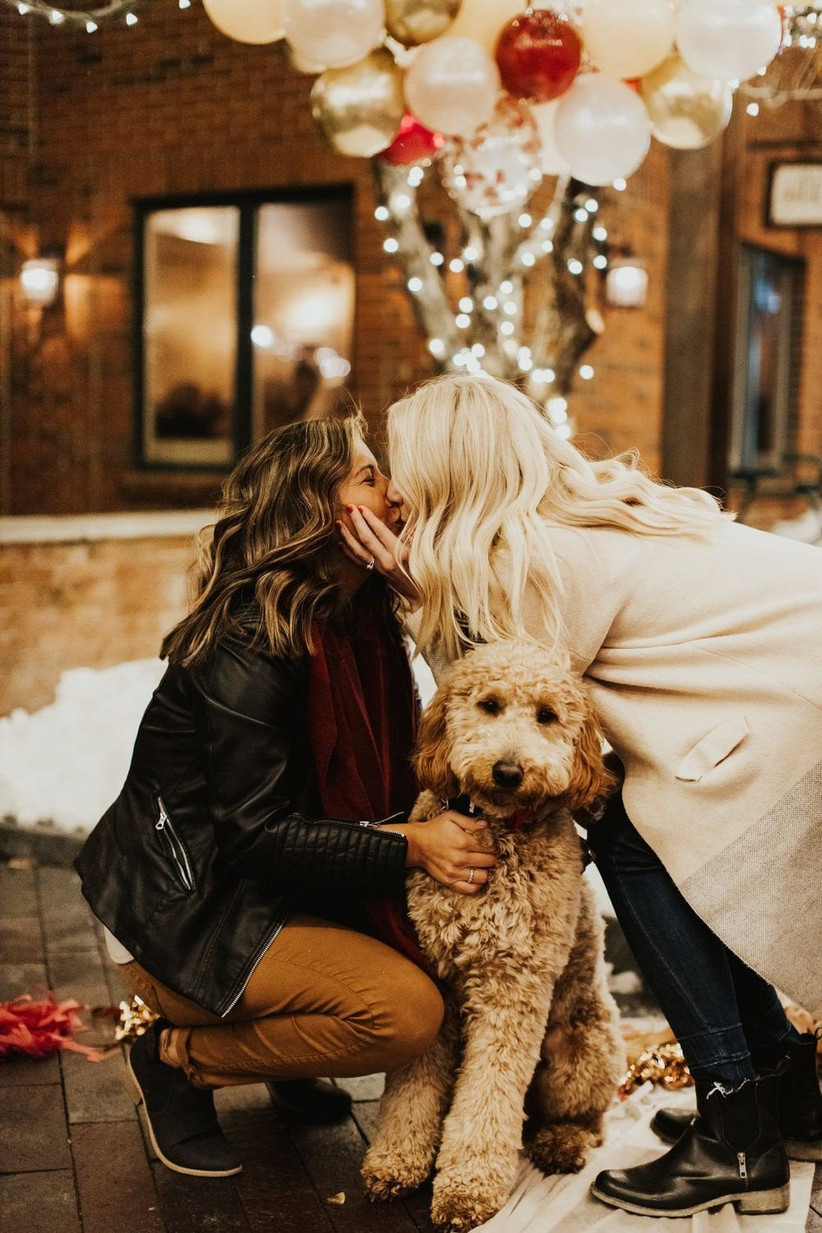 Image: Pinterest
They say never work with them but gosh, are they cute! Put babies or kids in a proposal babygro or t-shirt (we love the ones below) and add a tag to your pet's collar. If they've always wanted a kitten or puppy, you could surprise them with one at the same time (make sure you can be responsible for the pet though).
READ MORE: The Best Disney Proposal Videos
25. Skywriting Proposal
An oldie but a goodie. For a truly OTT proposal, hire a skywriter to pen your personal message in the air. Adrenaline junkies can go one step further and hold a banner as you skydive out a plane. Probably not one for us…
26. Museum Proposal
Can you get more romantic than a kiss in front of The Kiss? Visit your favourite work of art or take a special trip to see one of the world's most famous that you've been wanting to see for a long time. Of course, there's lots of other museums that don't have art that are equally fun – science museums, wax museums and natural history museums, for example.
27. Foodie Proposal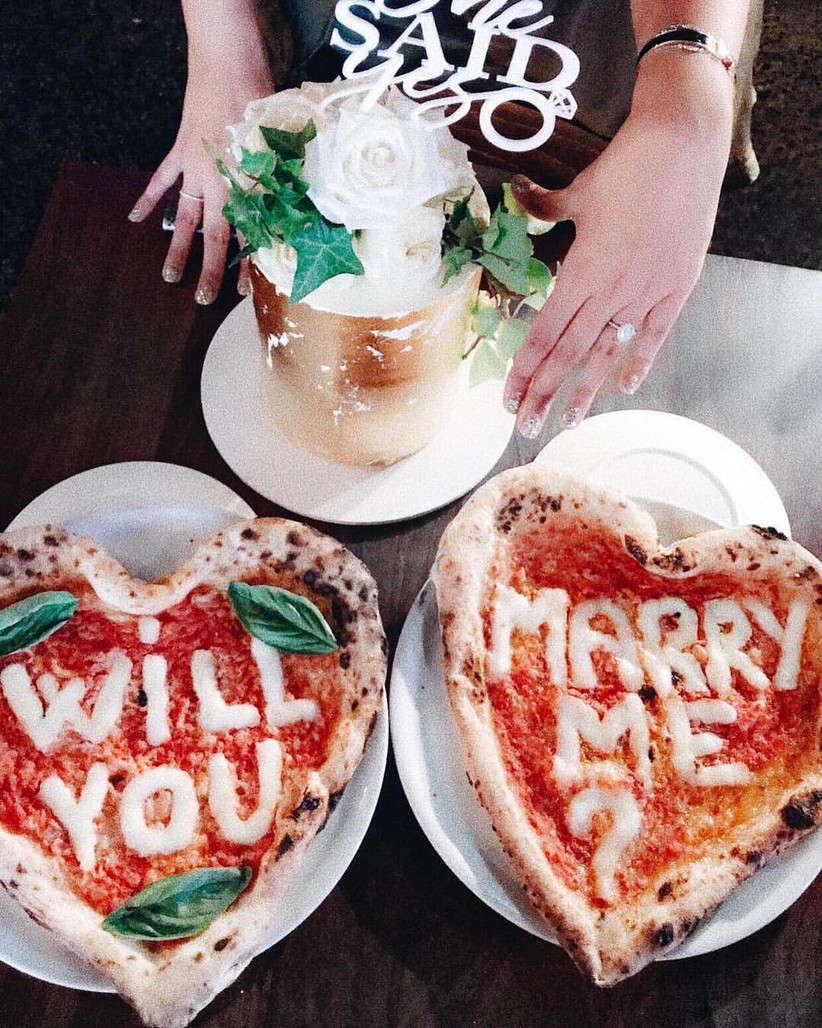 Image: Pinterest
Ask a restaurant to write out the question around the rim of your dessert or give you the "specials" menu which will actually be a love letter you've written your partner. Food and drink proposals in general are wonderful – slip the ring into the bottom of a glass of champagne or rest it on top of a home-cooked dessert. (We don't advise slipping it into food as a ring is a choking hazard.) What about writing it on a pizza?
READ MORE: 100 Incredibly Cute Proposal Stories
28. Marathon Proposal
There's the finish line, but one man took it even further by writing out "Will you marry me?" with his route and tracking it on the Nike+ app.
29. Friends and Family Proposal
Image: Pinterest
Again, know whether your partner would want this. If they'd like a public proposal, you can arrange an engagement party with everyone waiting for you with balloons and a marry me sign. The only person it'll be a surprise for is your partner. At home over Christmas is always nice too as they're back in their childhood home. Have friends and family waiting in a nearby pub until after the proposal if you want the question bit to actually be just the two of you.
30. Escape Room Proposal
Escape Rooms will often help you orchestrate a proposal – that can be doing it once you escape or even adding in extra clues. Just remember it can get tense in there as the clock's running out…
READ MORE: The Most Romantic Christmas Proposal Ideas
31. Pop the Question with The Proposers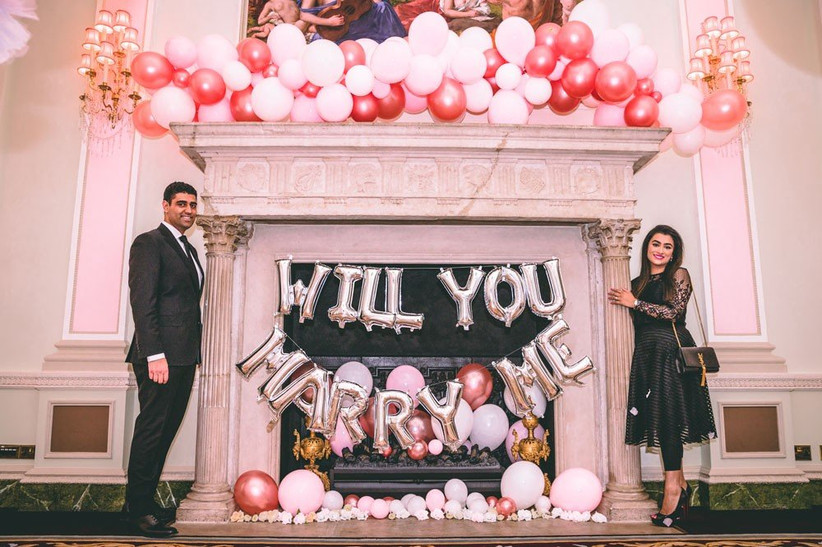 Make sure your proposal looks picture perfect by enlisting the help of The Proposers, an award-winning London-based romantic events planning agency.
The team are the experts in unique marriage proposal planning and have bags of experience, going to all sorts of lengths to make sure your proposal is one that neither of you will ever forget.
Recent projects have seen them take over Disneyland, abseil into caves to set up picnics and hire James Bond's speed boat! With a 100% yes success rate, anything is possible!
32. Boat Proposal
Whether that's a rowing boat, canoe, speed boat, canal boat, yacht or punt, out on the water is the perfect private, intimate and serene place to ask someone to marry you. Lots of public parks have rowing lakes or you could go canoeing in the glorious blue ocean on a holiday in Europe or further afield.
READ MORE: Alternative Engagement Rings They'll Love
33. Do it When They Least Expect It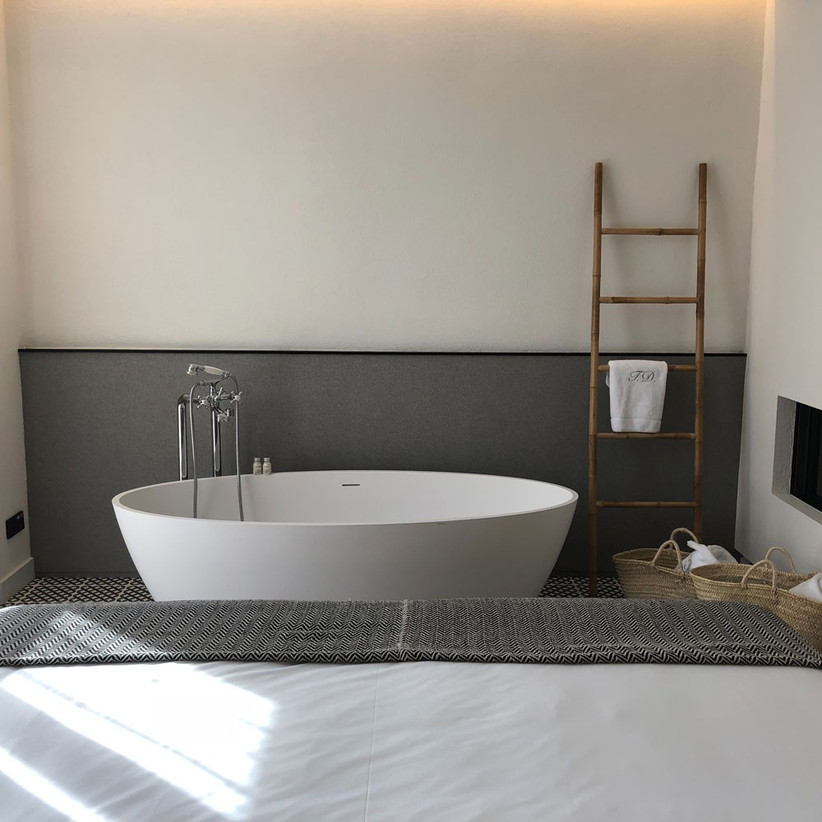 All these plans are well and good, but sometimes the moment just feels right and you know you want to ask then and there. If you're not one to go over-the-top and want to do something very understated, why not propose when your other half least expects it?
You could propose when they're relaxing in bed or in the bath, or even over breakfast on a lazy Sunday morning.
Our Favourite Proposal Props
READ MORE: Temporary Engagement Rings Until You find 'The One'
34. Will You Marry Me Confetti Balloon

Pop the question with this super-pretty balloon by Bubblegum Balloons.
Filled with helium, it will float out of its box on arrival to give your loved one the surprise of their life.
The handmade tail is made from luxury red hearts (some of which are glittery), and the balloon is filled with heart confetti.
What's more, the red colour scheme would be perfect for a Valentine's Day proposal!
35. The Reasons I Want to Marry You… Tag Book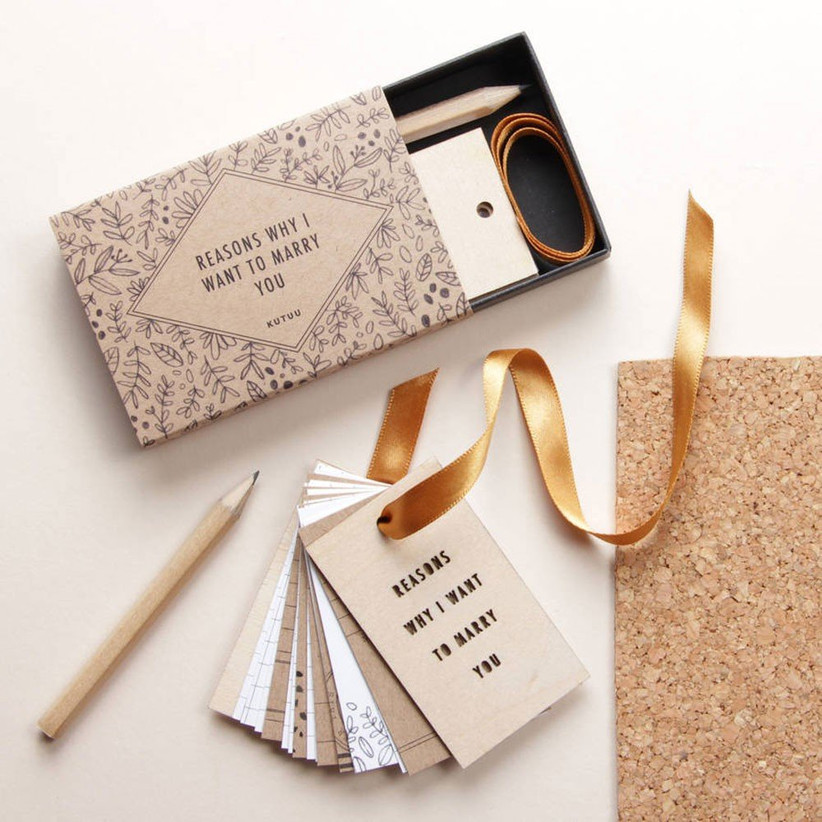 Let your fiancé or fiancée know all the reasons you can't wait to spend the rest of your life with them by writing them down in this adorable little tag book.
This set comes with everything you'll need, including two wooden covers, ribbon and pencils. Once you've filled it all out, you can pop it back in the gorgeous gift box and present it to them when you pop the question.
36. There's Something I've Been Meaning to Ask You Scratch Card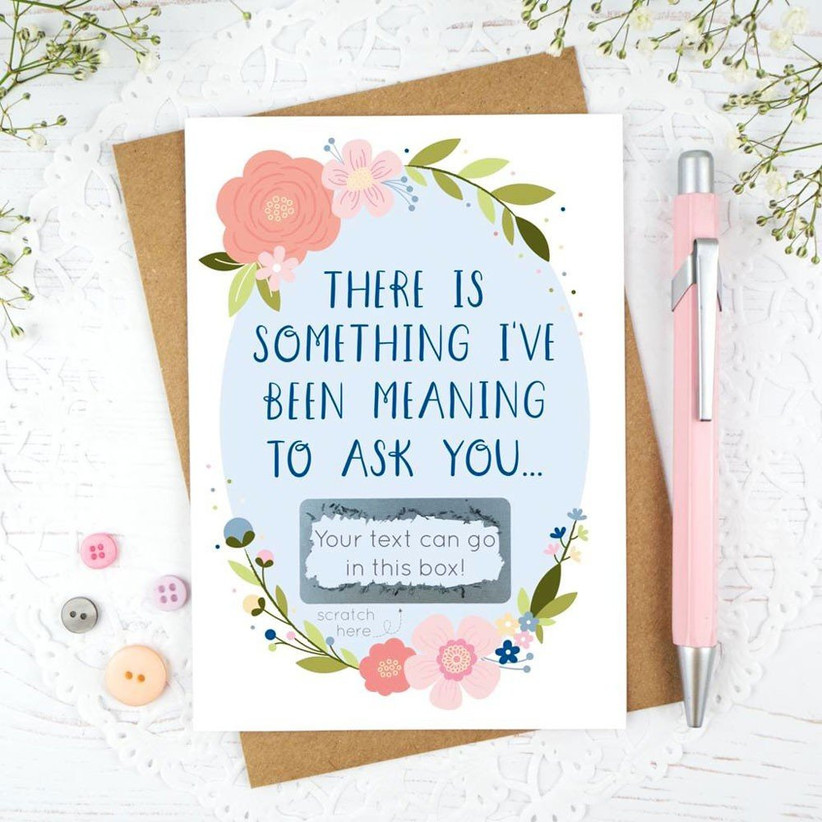 This personalised scratch card is the perfect and fun way to ask someone to marry you!
Each card is illustrated with a gorgeous, floral design, and the suspense of scratching off the surface to reveal a proposal is such a unique idea! Who wouldn't say yes to this?
37. Will You Marry Me Fortune Cookie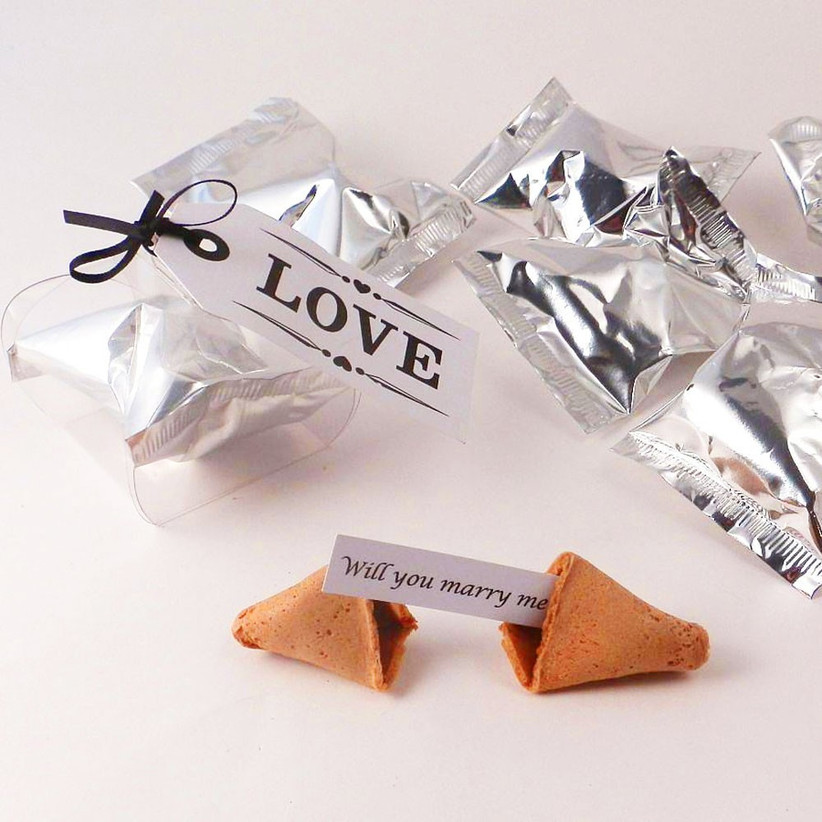 A fortune cookie with the words "will you marry me?" inside has to be one of the cutest ways to propose ever!
Surprise your other half at the end of a Chinese meal with this idea. The set comes with six random fortune cookies so that you can set the scene before you hand them the extra special one… just don't mix them up!
38. Personalised Marriage Proposal Destination Print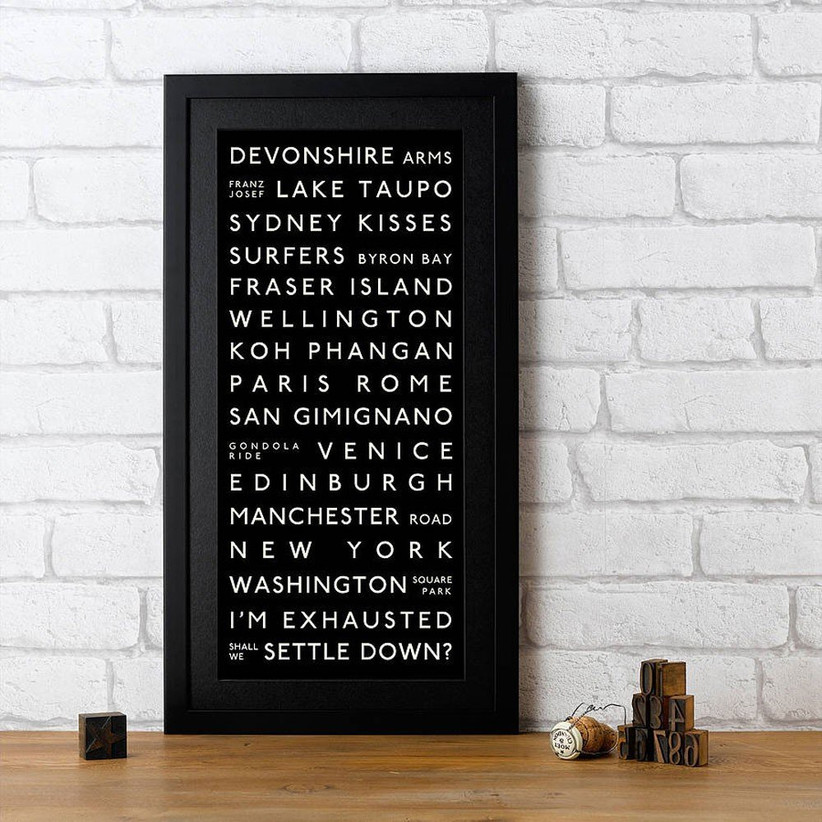 There are so many unique ways to propose, but none quite as stylish and everlasting as this gorgeous destination print from Not On The High Street.
However long you've been together, you're bound to have lots of places that mean a lot to you for different reasons – whether it's a first date location, first holiday or favourite restaurant.
You can personalise this print with all the places you've visited or that mean something to you as a couple, and finish the story with the big question… however you want to phrase it.
This print can be ordered in a variety of colours too. We love it!
39. Marriage Proposal Locket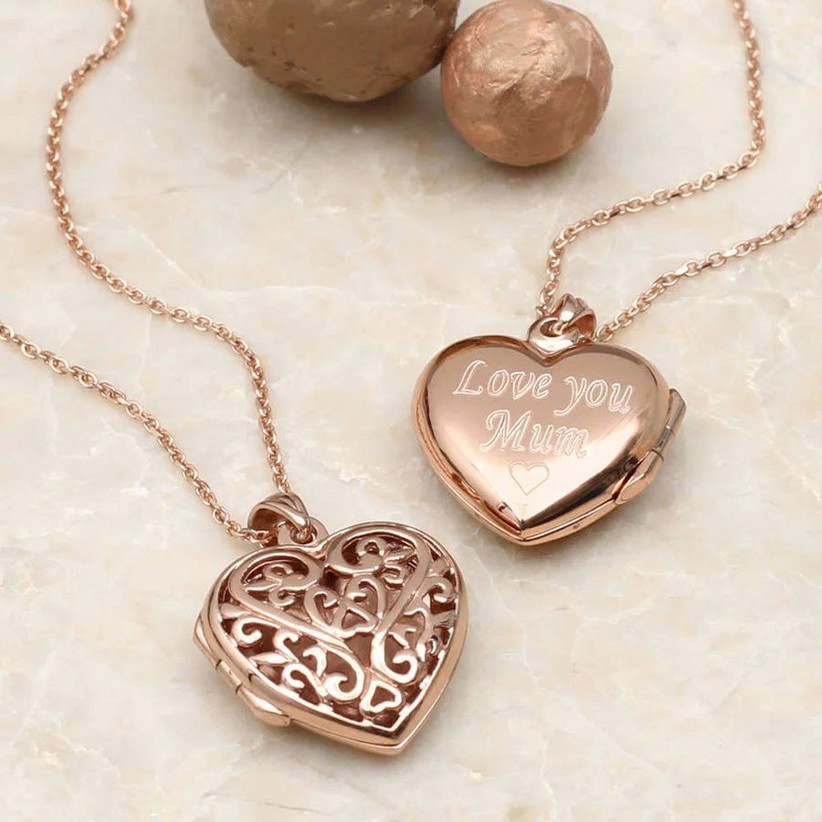 If you're looking for a unique way to propose, then your search ends here! This wedding proposal locket is made from 18ct rose gold and is totally stylish.
You'll be able to personalise the back of the locket with a "Marry Me?" message, and it will arrive in a beautiful gift box tied with a satin ribbon.
This is not only an awesome proposal idea, but a perfect gift that your other half will treasure forever, too.
READ MORE: Sapphire Engagement Rings We're Obsessing Over
40. Morse Code Marriage Proposal Mug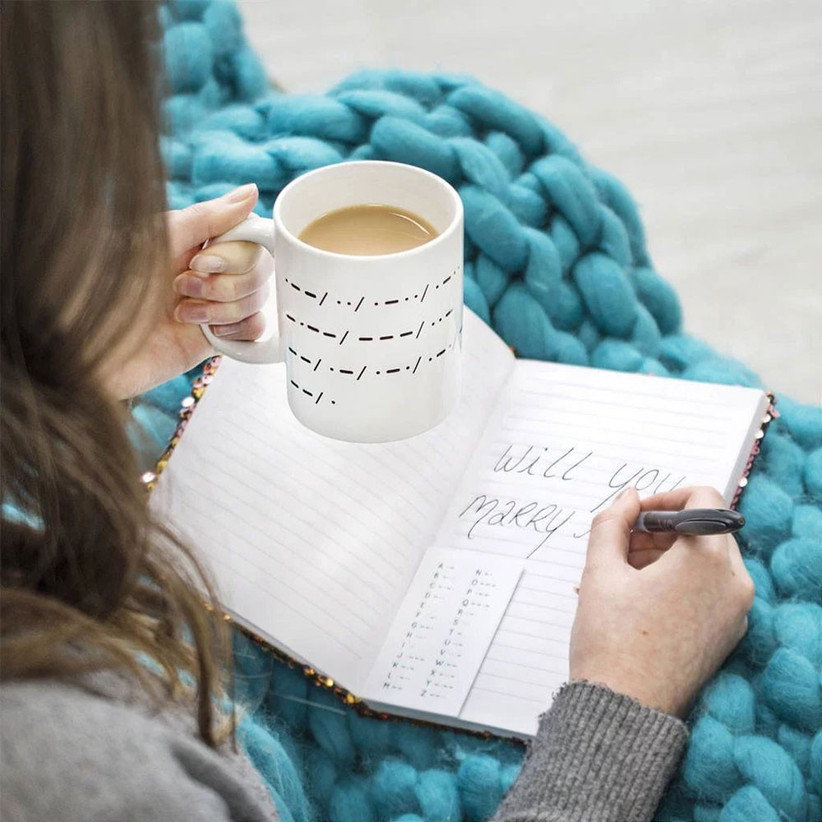 Make your proposal a bit of a puzzle with this unique mug, designed and printed by Ellie Ellie in Sussex.
This stylish design features black lettering reading "will you marry me?" in Morse code. Elegant and oh-so-fun, it lets you ask the most important question of your life in a truly memorable way.
Their face will be a picture as they begin to realise what you're asking; you'll cherish the memory forever!
41. Jigsaw Puzzle Proposal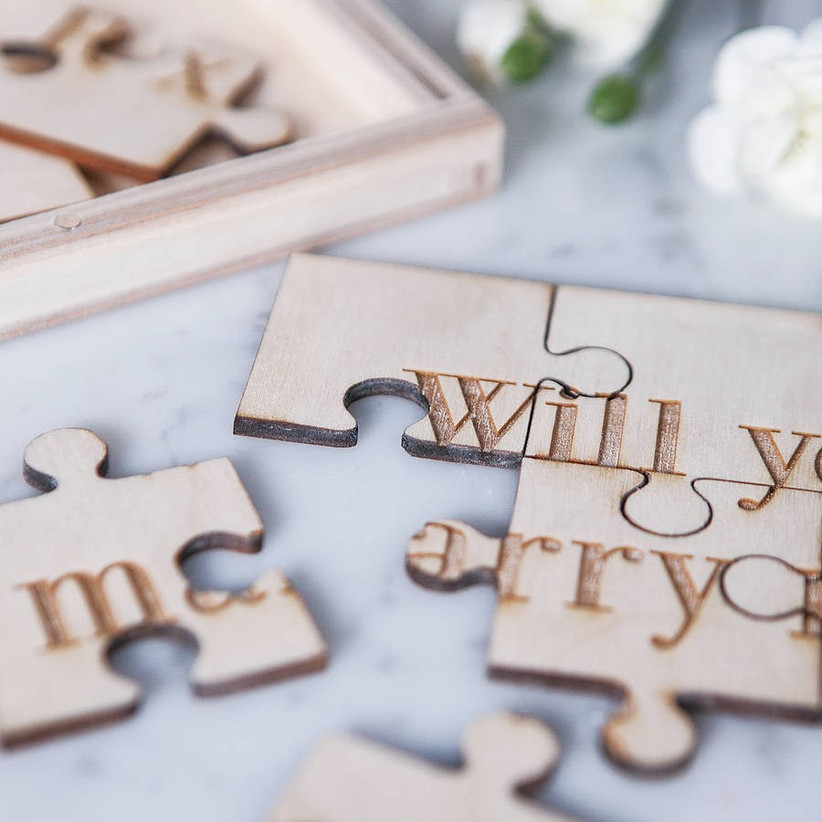 In keeping with the puzzle theme is this jigsaw which, when pieced together, reveals a personalised proposal message.
It is a fun way to build up the anticipation and will look fabulous when shared on Facebook and Instagram as a creative engagement announcement.
READ MORE: Rose Gold Engagement Rings That are Totally on Trend
42. Will You Marry Me Mug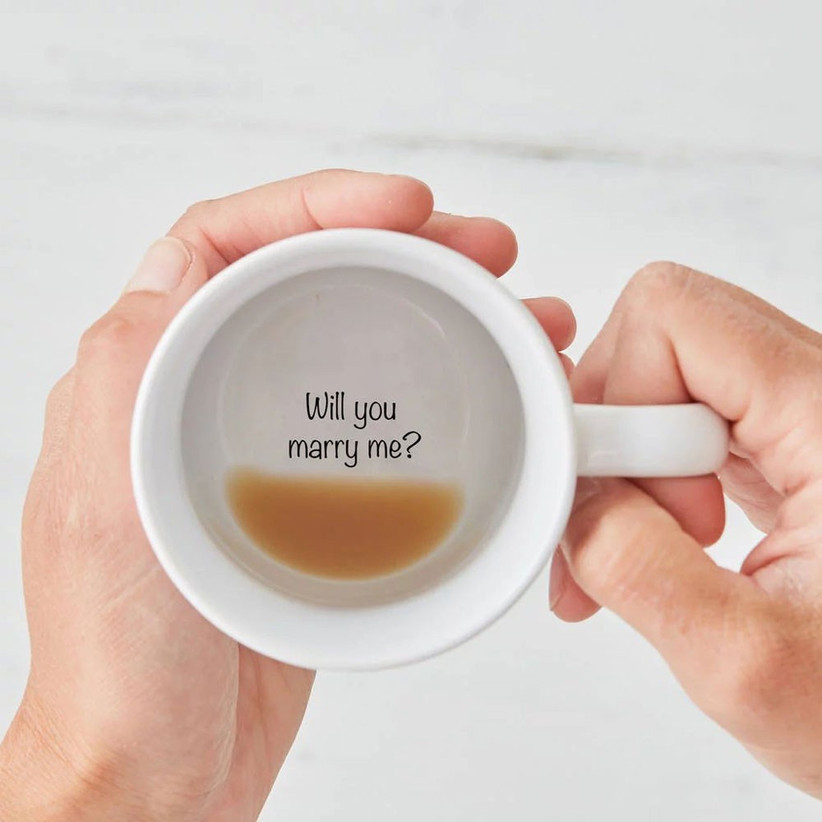 If you and your partner are total homebirds, why not make breakfast in bed and use this mug for your partner's cup of tea?
As they finish the drink, the most important question of their life will be revealed. One thing's for sure… it'll be the best cuppa they've ever had.
READ MORE: Our Favourite 'Just Engaged' Ideas From Etsy
43. Will You Marry Me Clothing Tag
We bet you've never thought of this idea! Brighten your partner's morning with this personalised strip of sew-in name tape.
As they go to put on their shirt on an otherwise dreary Monday, they'll notice this little surprise and their week (read: year) will be made!
You don't have to go all primary school-esque and sew it in the collar… you could hide it on a cuff or in a pocket. Then all you have to do is wait for your other half to find it! What a cute idea.
44. Personalised Proposal T-Shirts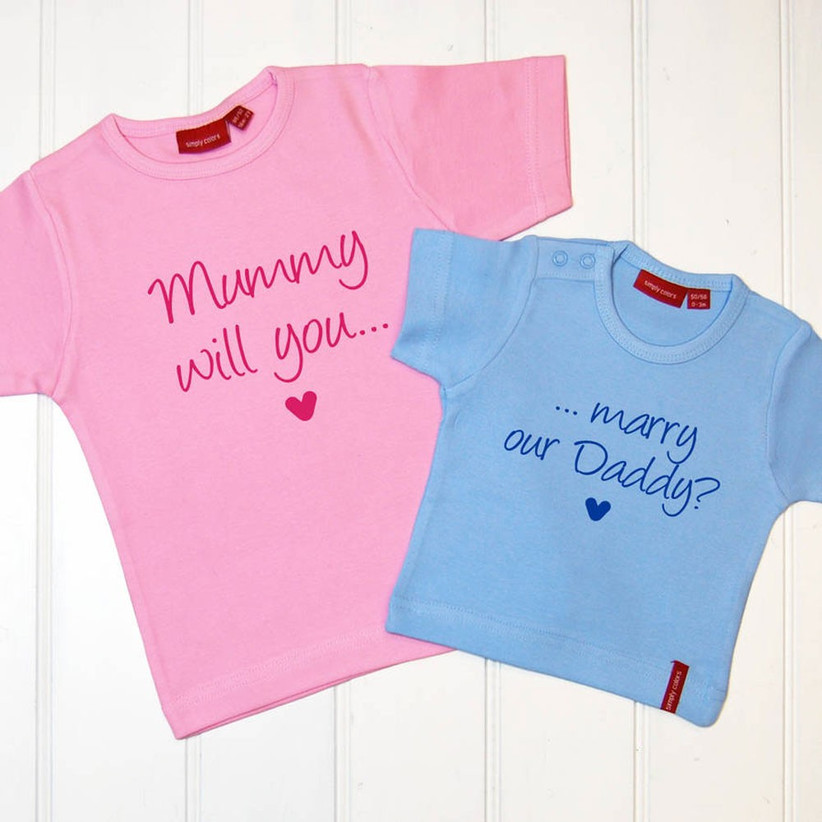 Have you got children you'd like to include in your proposal? Why not buy these super-cute personalised t-shirts for the most romantic way to pop to question?
Not only will your little ones love being involved, your future husband or wife will cherish having such an adorable memento of the occasion.
This is the most perfect way to propose to that special mummy or daddy.
45. Baby Proposal Vest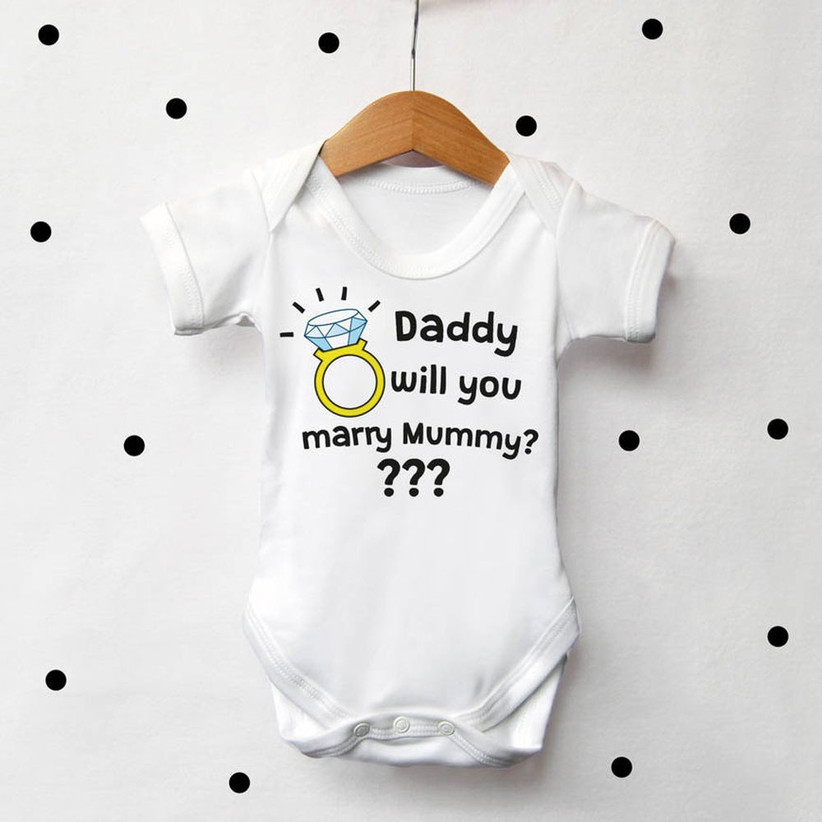 Or how about this adorable baby vest? It is so cute and would make such a lovely keepsake!
46. Pet Proposal Tags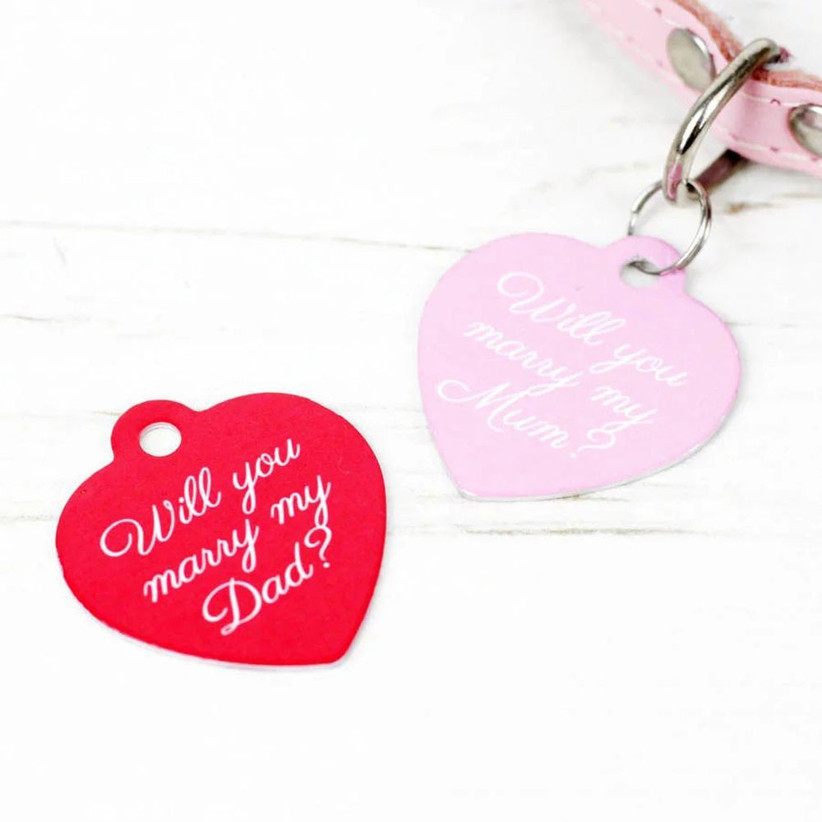 If you don't technically have children, but your pets have pretty much become your kids, get them involved with these awesome proposal pet tags!
Pop one on your dog's collar and wait until your other half notices. It will be such a great surprise!
READ MORE: Princess Cut Engagement Rings for Your Other Half
47. Personalised Couple's Moments Photo Book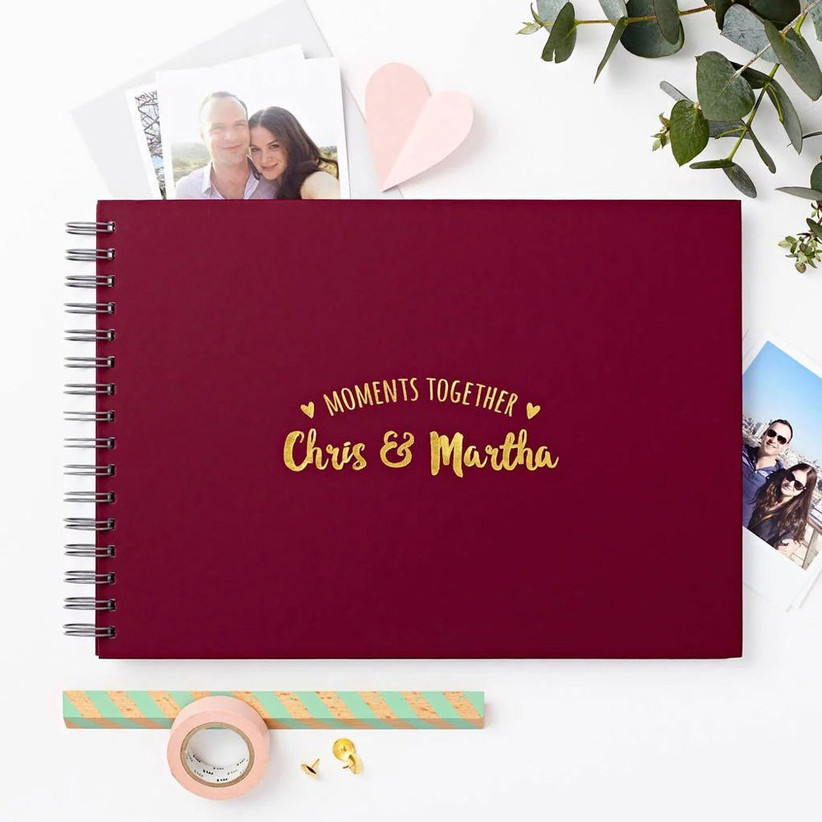 This personalised photo book is the perfect way to propose. It comes in a variety of colours, and not only can the front cover be personlised with your names, but the inside cover can incorporate your own proposal message!
Once they've said yes, your other half will love flicking through this book of memories and reminding themselves of all the special moments which got you to where you are now.
48. Message in a Bottle Proposal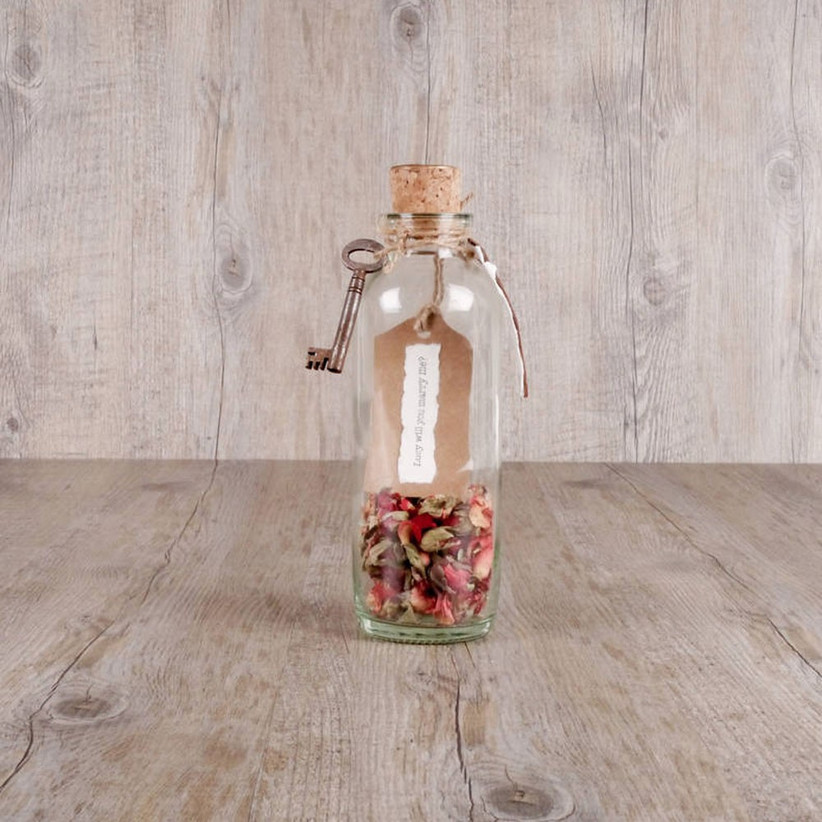 If you're hoping to host a vintage-inspired wedding, set the tone with your proposal and pop the question with this gorgeous message in a bottle gift.
You can choose between three different types of bottle: a vintage bottle containing chandelier crystals, a rose bottle containing dried miniature red roses, or a beach bottle containing coral sand and small shells. You'll be spoilt for choice.
49. Will You Marry Me Spoon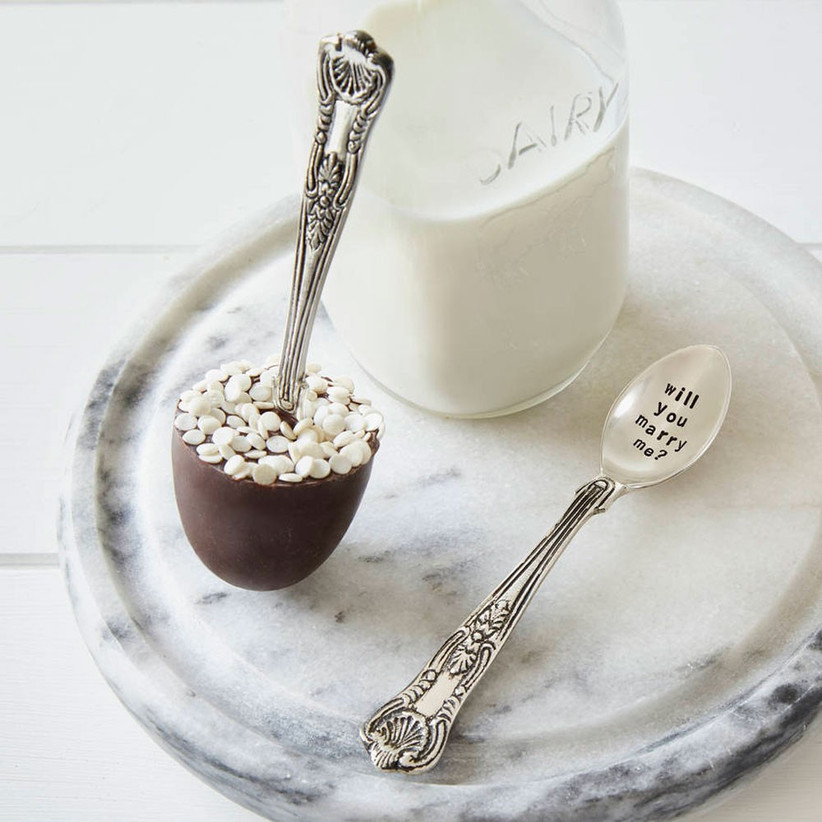 If you're proposing in the winter, then this personalised hot chocolate spoon is a great Christmas proposal idea.
The silver spoon comes encased in milk chocolate, so as you stir it into a mug of warm milk, your proposal message will be revealed.
Not only will the hot chocolate be absolutely delicious, but your partner will get the sweetest surprise they've ever had! We love this idea.
READ MORE: The Cushion Cut Engagement Rings We're Loving
50. Personalised Champagne Bottle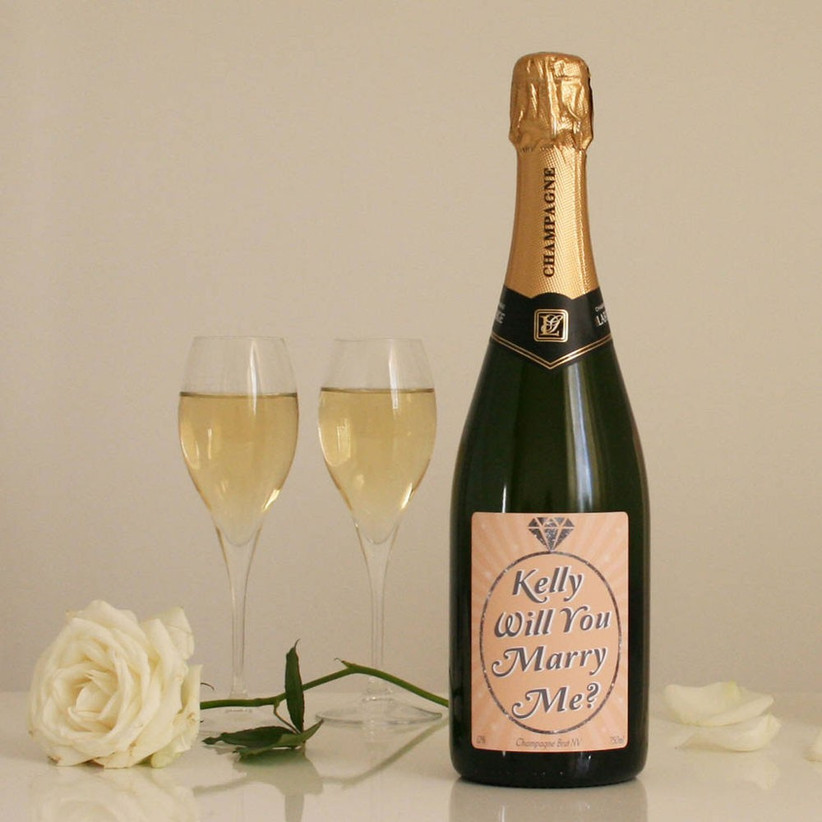 Quite literally pop the question with this personalised bottle of champagne by Bottle Bazaar.
Plan a romantic night in, then present this bottle to your loved one. If you're feeling shy, you can let the label do the talking, and wait to see the look on your partner's face as they read it. How romantic!
51. Miniature Record Proposal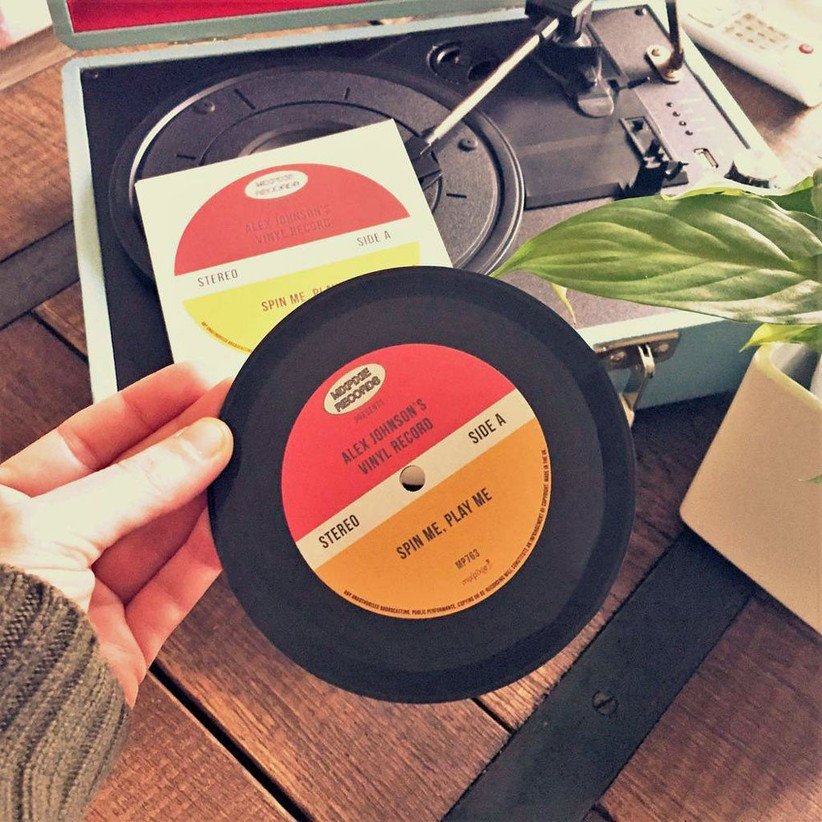 Is your partner a bit of a music-lover? If the answer is yes, this will be the perfect way to pop the question!
Simply record your own personalised message using your phone or your laptop, and it'll be cut onto one of these cute, miniature records.
You can even personalise this gift further with a range of album sleeves, record label designs and colours, and text to appear on the album and back covers.
READ MORE: 19 Beautiful Emerald Cut Engagement Ring Ideas
52. Christmas Bauble Proposal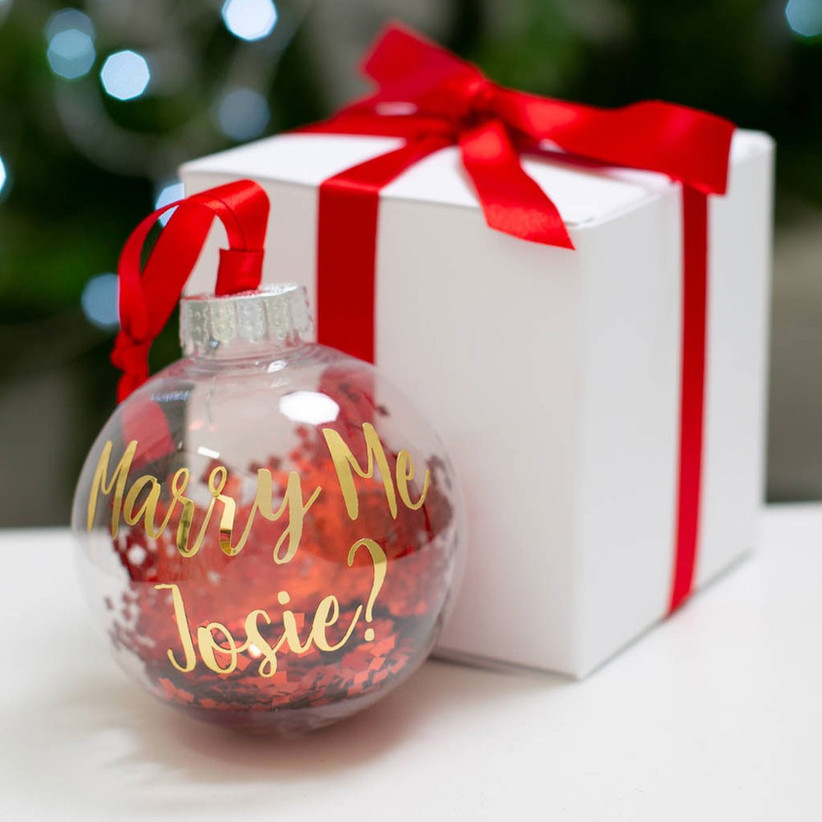 Are you planning to get engaged at Christmas time? Popping the question with this gorgeous personalised bauble would be such a romantic Christmas proposal idea.
Make decorating the Christmas tree even more special than it already is. As their face lights up with happiness, get down on one knee and present them with a ring. Who wouldn't say yes to that?!
53. Marry Me Balloons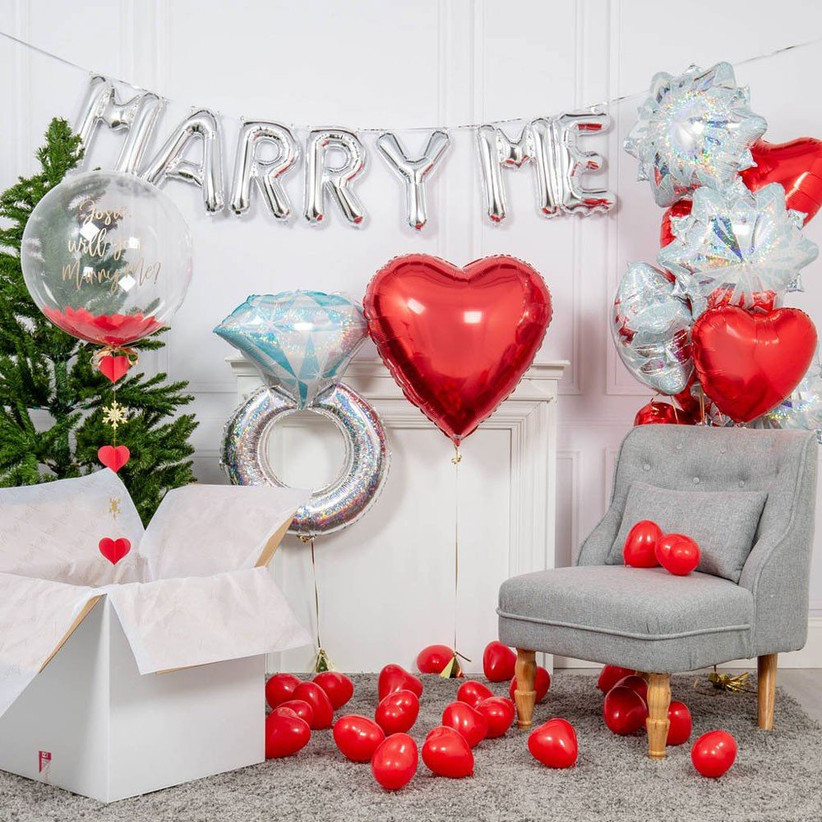 Why propose with just one balloon if you can propose with a whole set of them?
Decorate your living room, or in fact any space, with this set of inflatable proposal balloons.
You'll get an inflatable ring, a foil heart, air-filled "Marry Me" lettering and 28 air-filled miniature balloons which are perfect for scattering. When your proposal is this extra, your partner can only say yes.
54. Hire Out a Space for Just the Two of You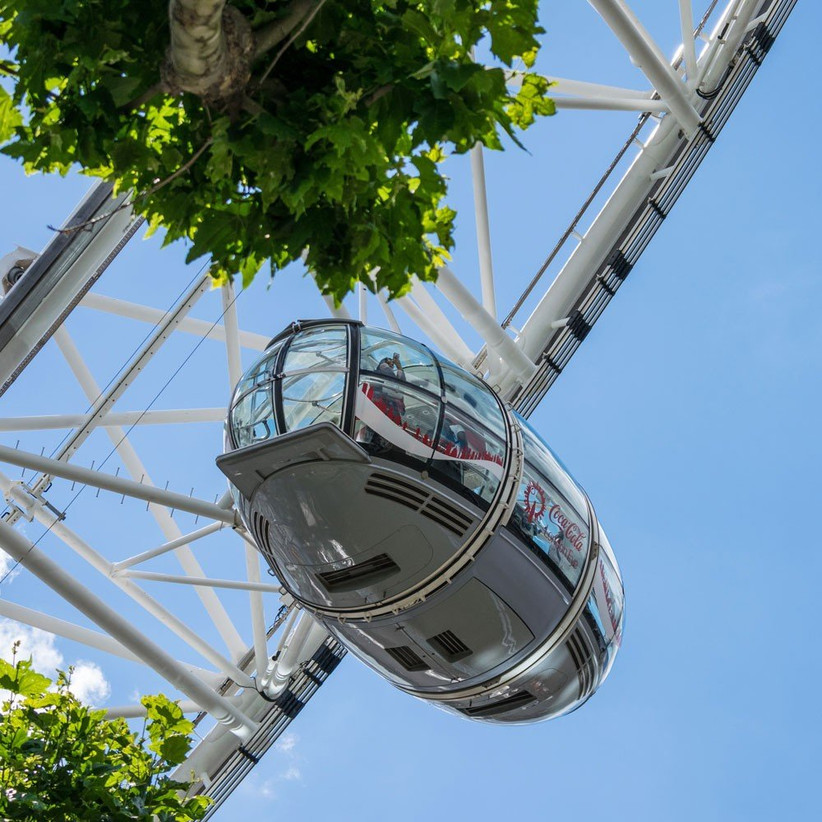 Why not take your other half on a date night to remember and hire out a private space just for the two of you?
We love the idea of hiring out a capsule on the London Eye. You'll have unforgettable city views as your backdrop for the big question, and the team will even treat you to a glass of champagne each and a box of chocolates.
READ MORE: The Best Spots in the UK for Minimoons (or Proposals!)
55. Book a Trip Away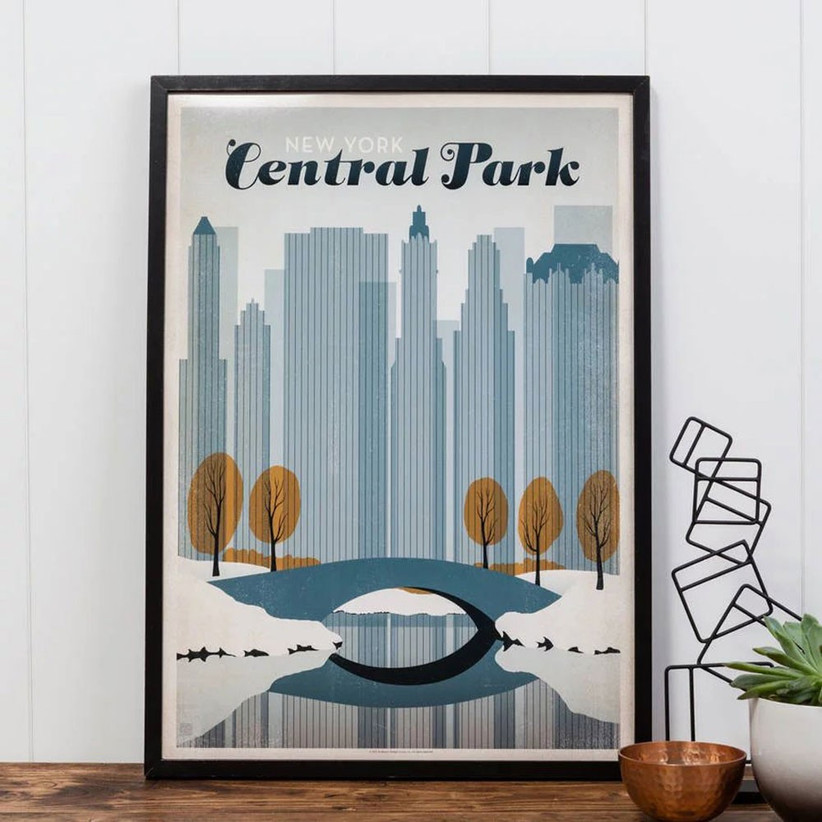 Why not head on over to Expedia? They have lots of fab deals for city breaks to places like New York, and we can't think of a more romantic backdrop for your proposal than Central Park!
Break the news of your trip by gifting your other half with this gorgeous print! It will look great on your bedroom wall.
READ MORE: The World's Best Honeymoon Destinations
56. Please Will You Marry Me Chocolates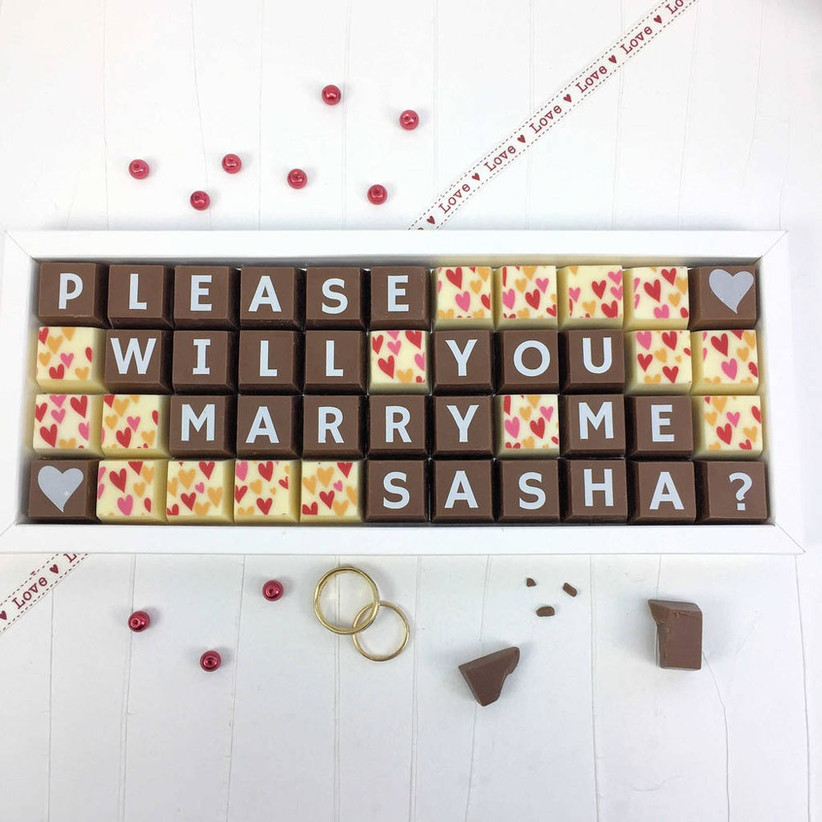 If your other half has a bit of a sweet tooth, treat them to this pretty box of chocolates to pop the question with.
All of the chocolates are solid and handmade in a selection of white, milk and dark chocolate with lettering on top.
To add personalisation, the blocks come with a choice of patterns and flavours, from strawberry to orange, so you can pick something your loved one will enjoy.
READ MORE: Our Favourite Halo Engagement Rings
57. Will You Marry Me Cake Topper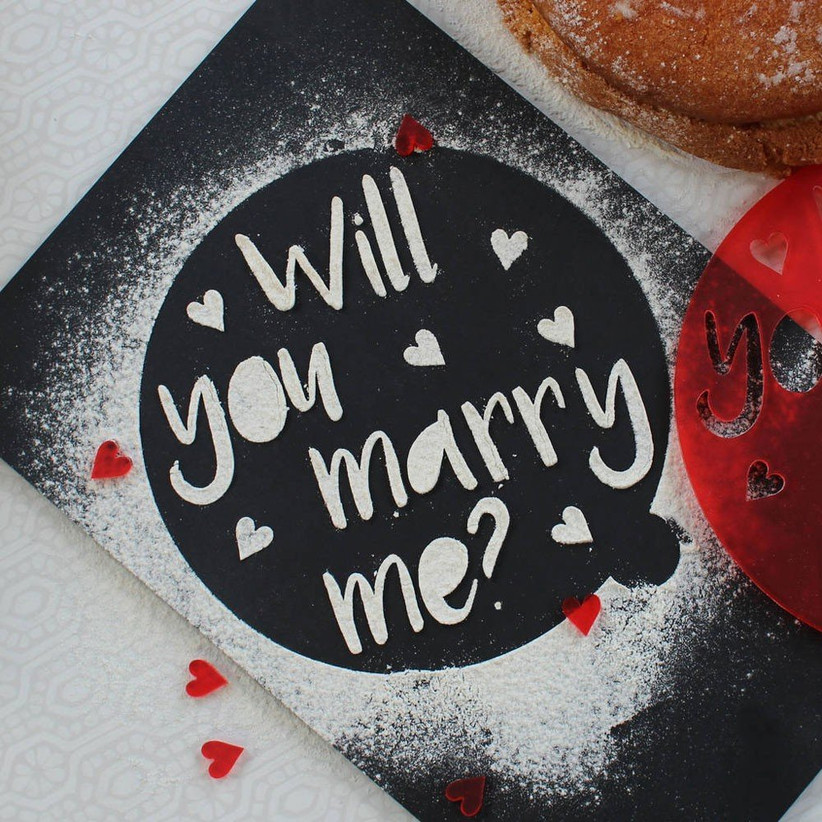 If you're a bit of a GBBO fan, let the programme inspire your proposal and showcase your baking skills.
Make a cake in your loved one's favourite flavour, then purchase this super-cute proposal cake stencil to dust the top with icing sugar in the shape of your question. They'll be so surprised (and you'll get a sweet treat to celebrate with!).
58. Light Box Proposal Message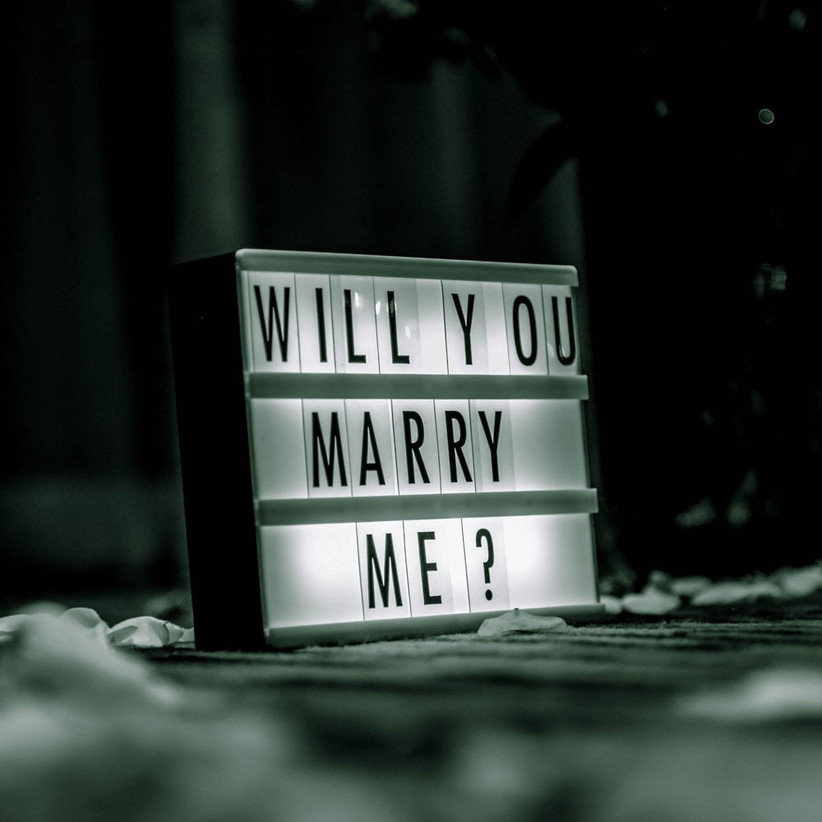 Light boxes are all the rage when it comes to on-trend interiors these days, so why not give yours a little bit of a make-over and have the lettering spell out the all-important question?
You could plan a cosy night in with your loved one – cook a lovely meal and then take them through to another room where the light box will take pride of place.
Just wait and see the look on their face when they notice it…
59. Personalised Ring Box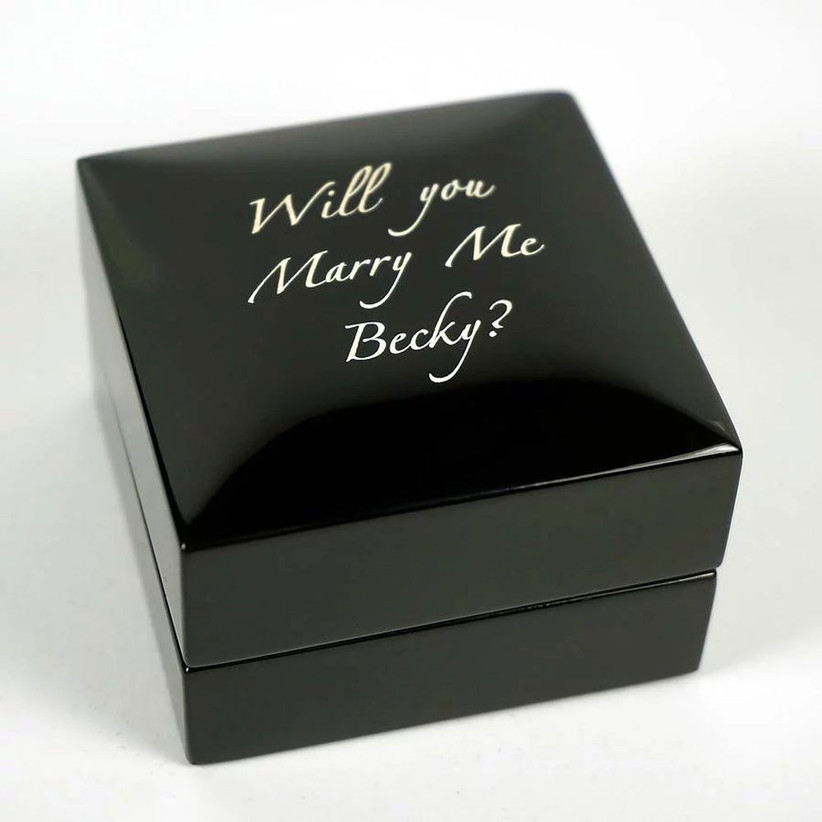 Let the box do all the talking with this personalised ring box from Not On The High Street.
We love that you can add your other half's name to the outside, and since it will house the most important piece of jewellery they'll ever receive, they'll treasure it forever!
60. Will You Marry Me Lantern Bags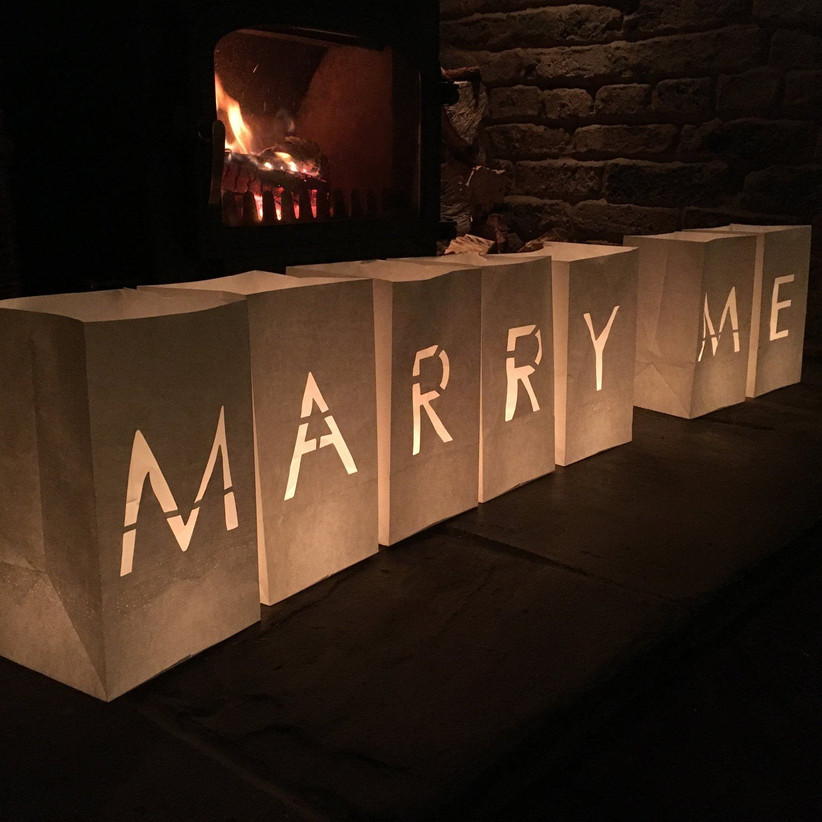 These cute paper lanterns can be filled with tealights and used inside or outside for the sweet evening proposal. They're flame retardant (essential) so don't bet on making your own version or the night could end in disaster. As they're light and easy to set up, it's a lovely idea if you're travelling abroad for the proposal.
Now you're inspired and know how you want to propose, make sure you browse all the engagement rings on site to find the perfect one to complete your proposal.