Proposal Ideas at Home: 33 Romantic, Private Ways to Propose
Nail your at home wedding proposal with these sweet, romantic and private ideas that are sure to blow your other half completely away
We have included third party products to help you navigate and enjoy life's biggest moments. Purchases made through links on this page may earn us a commission.
First off, congratulations! If you've found this article, chances are you're looking for proposal ideas at home, and that means you've found the person you want to spend the rest of your life with. It doesn't get much more exciting than that! However, we know it can be pretty nerve wracking, too.
But fear not, as you've come to the right place. We love at home wedding proposals, because, contrary to what some may believe, they are often the most romantic and intimate of them all. When it comes to coming up with the best at home proposal ideas, the more creative, imaginative and thoughtful, the better.
Whilst there are many ways to pop the question whilst out and about, private proposal ideas allows you to really think outside of the box whilst staying in the comfort of your own home. And one of the best things about an at home proposal set up is that it'll be the last place your partner probably expects to get engaged - it's perfect, really!
Proposal Ideas at Home: 33 Romantic Ways to Nail Proposing at Home
So, to help you nail proposing at home, we've rounded up 33 of the best proposal ideas at home, along with our top tips for popping the question in your own home. Ready to browse some of the best engagement ideas at home? So are we!
From scratch cards and hidden wall messages, to personalised picnic blankets and scavenger hunts, you're going to love these romantic proposal ideas, we just know it.
33 At Home Proposal Ideas They'll Adore
1. Make a Scratch Card
If you and your partner are one of those couples who loves a cheeky go on a scratch card, this at home proposal idea is going to blow your socks off.
Get your partner a personalised proposal scratch card with the date you met, the first place you lived and a secret wedding proposal message hidden underneath the scratch-off foil.
They definitely won't be expecting that...
2. Serve Breakfast in Bed
This simple at home proposal idea couldn't be more endearing – especially if your future fiancé is a pancake fan. Get a beautiful tray and dress it up with flowers and fresh fruit, then plate up an array of their favourite breakfast dishes on statement crockery.
If you want to ask them right away, print out a sign and include it in a frame on your display, or – to keep it a secret for longer – hide the food under the silver cloches you often get in fancy restaurants. Leave one dish free of food, but still pop a cloche on top – that's where you hide the ring.
3. Use a 'Will You Marry Me' Sign
One of our favourite wedding trends is the rise of the neon sign, so why not start things off early and incorporate this 'Will you marry me?' neon sign into your at home proposal?
Hang the sign against a wall in your house, or get yourself an elaborate stand to display it in, and watch your partner's jaw drop (for all the right reasons!) as they walk in and see what you've created.
We love this at home proposal setup because it gives you all the feels of a big elaborate proposal whilst in the privacy of your own home.
4. Lay Out a Candlelit Dinner
A candlelit dinner is a classic for a reason – it doesn't get much more romantic. Recreate a restaurant meal you both loved, cook the signature dish you know they can't resist or even order your ultimate weekend treat takeout.
To amp up the atmosphere, adjust the lighting, sprinkle petals everywhere, make a playlist, and get the drinks flowing. It's up to you which course you choose to actually ask, but fun ideas include icing your question onto dessert, or balancing the ring (carefully!) on top of one of the dishes. Just make sure it's visible enough not to be accidentally eaten (trust us, it's happened).
5. Get Your Pet to Help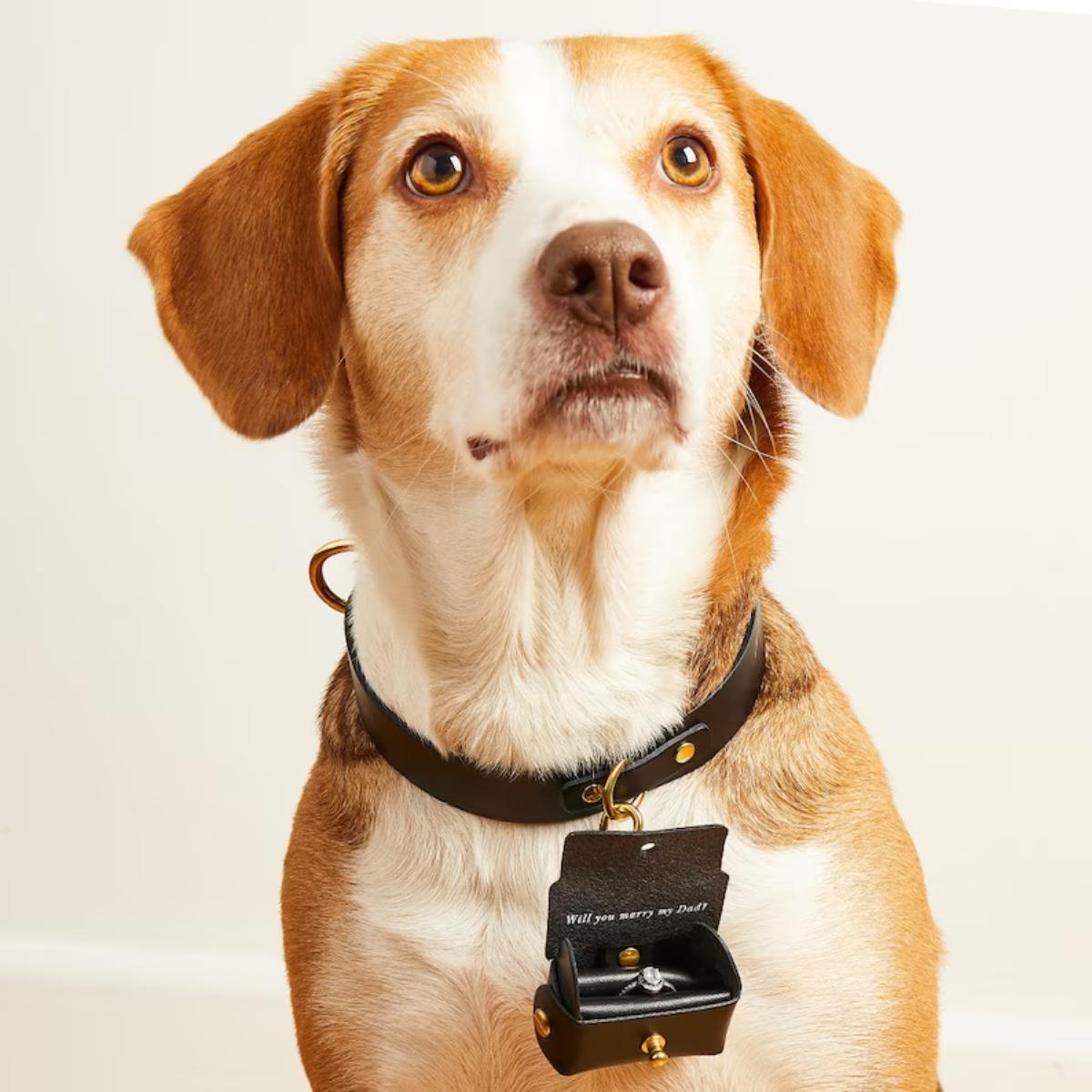 If your other half loves your four-legged friend just as much as they love you, and you're the type of couple who will definitely have dogs at your wedding, incorporating your pet into your at home wedding proposal is a super thoughtful idea.
Engagement rings are just the right size to carefully loop onto a collar, or you could get a tag engraved with the words 'Will you marry me?' if you want to present the actual jewellery in person. Bigger pets can also carry a piece of paper or card into the room for the ultimate sweet surprise.
But our favourite at home proposal idea? Bagging yourself one of these adorable pet collar ring boxes. They are stylish and subtle, so your partner won't know what's going on until your furry friend gets really close up. What's more, this could even double up as a ring box for couples who want their dog to be the ring bearer at their wedding!
6. Invite the Whole Family to Dinner
If you often host meals for your respective families and everyone gets along, this could be the ultimate place to propose at home. Some like to tell their loved ones ahead of time so they can have their cameras at the ready, while others prefer to spring the surprise on the entire group, not just their other half.
Either way, popping the question at a family dinner or gathering is a wonderful way to make everyone feel included, and initiating it can be as simple as standing up to make a toast. The reactions of your guests will make it even more emotional. Just make sure you know this would be something your partner would like.
7. Make a Proposal Gift Bag
Everyone loves a present, and one of our favourite at home proposal ideas is to put together a marriage proposal gift bag with little items for your partner to unwrap. This particular set includes sweet trinkets which all stand for different things you may feel for someone you want to marry.
For example, it has a peg, to keep you close, a globe, because they mean the world to you, a candle because they brighten up your day and gold, because they're worth their weight in it.
You could buy one like this, or better yet, put together your own. Giving your partner time to open each gift and read what each one means acts as the perfect warm up for a private proposal.
8. Host a Movie Night
For couples who love nothing more than a Netflix sesh, this low-key home proposal is nothing short of perfect. Suggest a chilled-out night in front of the TV, but have the film set up on the screen before your other half enters the room.
When you hit play, instead of the movie they're expecting, you can stream a slideshow or video of your happiest moments together, and have the last slide read 'will you marry me?' If you're real cinema buffs, you could even theme it as a 'trailer' to your marriage. Don't worry if you're not a natural director – there are plenty of apps that make this type of editing much easier than you'd think.
9. Use Christmas Decorations
If you're considering a Christmas proposal, you're going to love this. One of the most romantic proposal ideas to do at home, order a 'Will you marry me?' Christmas tree decoration and surprise your love during the festive period.
You could use the decoration to propose while decorating the Christmas tree together, or you could save it for Christmas morning, and hang it up once you've asked. We love the idea of popping the question in a private proposal and decorating your tree, or on Christmas morning just the two of you is ideal.
10. Pick a Playlist
There are two main options for a proposal with a playlist twist. The first is to incorporate songs that have been significant throughout your time together – your first date, your first kiss, and 'your song', if you have one.
The second is to string together songs that hint at marriage – from Marry You by Bruno Mars to Billy Idol's White Wedding, you're literally spoiled for choice. For a direct approach, send them the link, or simply play it in the background until they finally figure out your intentions.
11. Enjoy a Takeaway Together
One of the most romantic private proposal ideas can actually be to pop the question whilst enjoying your favourite takeaway.
We're serious! This may seem a bit casual, but it's the thought that counts, and there's nothing more thoughtful than hiding a proposal message inside a fortune cookie, right? It's absolute genius.
Order your takeaway, and as you collect it from the delivery driver, sneak your proposal cookie into the bag. Get your partner to open it as you enjoy your meal and hey presto - you've just proposed at home!
Plus, it costs just £3.30 to get a personalised one of these, giving you more dollar to spend on the sparkler itself.
12. Write a Poem
Putting pen to paper to share your emotions can often make you feel pretty vulnerable, but if you can't do that when you're proposing, when can you? Throw out the rule book and don't stress about making it a 'proper' poem – just work on conveying whatever you feel that makes you want to spend forever together, rhyming be damned.
You can read it aloud, but there's no obligation – you could also fold it up with a ribbon to hand over directly, or hide it in a beloved book and ask them to turn to a particular page.
13. Say it With a Book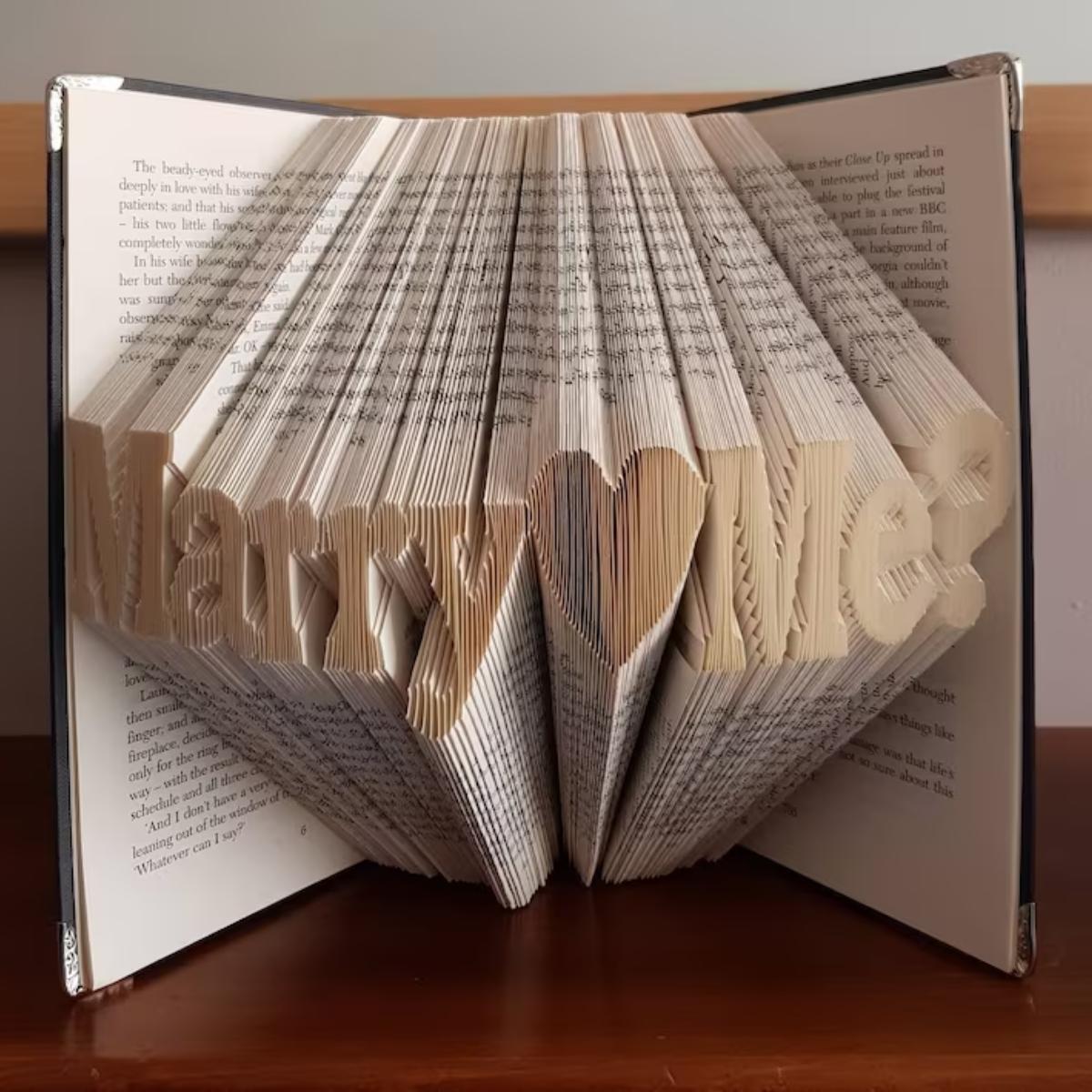 Is your partner an avid reader who just loves diving into a new book? If so, there's no at home proposal idea more perfect than gifting them a 'Marry me?' book.
This folded book art perfectly spells out the question you want to ask, and will be a huge surprise to your other half, and you can even personalise the text on the spine to add your names or the date you're planning to propose. So sweet.
14. Create a Website
Tech-savvy partners, this is the proposal you've been searching for. Even if you're not a pro-coder, building a website has never been easier, and there are lots of online tutorials to guide your progress (or amazing web developers you can hire to do the hard work for you, if you prefer).
Use the page to play your other half a video, show them your favourite pictures, or display a message you've written (a tick box quiz is a cute idea). Then send them the URL and watch as they scroll. Then turn your attention to the best wedding websites for your big day!
15. Use a Puzzle
You can buy proposal puzzles ready-made these days, but for something a little more individual, look to sites like Not On The High Street and Etsy. Both have lots of sellers who will craft a custom jigsaw, allowing you to include a name, specific message or sometimes even a photo. We love this 'Will you marry me?' design - it's really cute and fun.
We also love the quirkier option of a map puzzle, which gets you to piece together a picture of the location where you first met, or the place where you officially became a couple. Some inventive proposers have even put crossword puzzles in the local paper.
16. Step Up (Literally)
If the element of surprise is a major factor, you don't even have to get to the front door for an at-home proposal – ask your partner to marry you on your steps or porch by letting them walk up ahead of you, and then calling their name to have them spin around and see you on one knee.
This is an especially lovely idea if you've just moved in or bought your first home together; every time they walk over the threshold, they'll remember becoming a fiancé.
17. Surprise Them With a Secret Wall Message
One of the best things about at home proposal ideas, is you can be completely creative in a space that you know inside and out - which is exactly what you need to pull off this proposal setup.
Plan a date night indoors, be it a movie, romantic dinner or games night, and light this candle somewhere close to where you'll be sitting.
At first, your partner will probably just think it's another one of your candles burning, but as they get closer, they'll be able to read the words 'Will you marry me?' which will be flickering on the wall. Adorable, no?
18. Build a Fort
Twinkly lights, fresh flowers, artfully draped sheets and comfy pillows – we're talking the familiar fort of your childhood with the romance turned up. Have dinner inside, watch a movie or TV show or just get straight to asking; the choice is yours. Who knows, if everything goes well, you may even want to spend the whole night snuggling up inside.
19. Get Little Ones Involved
Children will usually be super excited to be part of such a special milestone with their parents, or family members, and make the whole thing feel even more joyous.
Some of our favourite ideas include getting little ones to wear clothing with a proposal printed on it, or asking older kids to craft a question poster that can be cherished forever.
Or, if they want more of a behind-the-scenes role, why not task them with the photography? Set them up at a good angle and let them capture the moment in the own creative way.
This particular baby-grow can be personalised with any message you want, so a little one could help propose to mummy, daddy, auntie, uncle, or whoever it is your partner is to them.
20. Make the Garden Gorgeous
Because of the natural flora and fauna, gardens are often the prettiest part of a home. You can use this to your advantage in the proposal, especially if your partner has a favourite season. You could opt for sunrise or sunset, or wait until night time and glow up the space with lanterns, candles and fairy lights.
Some even go all out with a custom-made arch or a message on a projector, but a circle of petals or candles on a patio table can work just as well.
21. Spell It Out
One of the most straightforward (and photogenic) ways to propose at home is to hang up a sign that will pop the question on your behalf: use anything from balloons to bunting, or even light-up or neon letters for a night-time proposal. How cute are these paper lanterns above – perfect for a cosy evening in.
If you want to get friends and family involved, you could also sneak them inside and get them to hold up cute homemade posters or banners – while your partner reads the messages and realises what's happening, you'll have time to get down on one knee so you can ask them out loud too.
22. Do a DIY spa
You don't have to go to a spa to get the same sense of relaxation. Draw a soothing bath with petals and tealights, have face masks and body scrubs at the ready and prepare all the tools for a DIY mani (neat nails are key for that first #isaidyes picture).
You can join in with the pamper sesh or let your sweetheart unwind in peace – either way, leave a pile of fresh towels and fluffy robe for the them once they're done, and put the ring in the dressing gown pocket for them to discover.
23. Set Up Afternoon Tea
A traditional afternoon tea spread includes scones, sandwiches, cakes and patisserie, but if there was ever a time to customise, it's now. If you're a dab hand in the kitchen a homemade afternoon tea will have major wow-factor, but there's also nothing wrong with ordering in, especially if you get the food from their go-to bakery – whatever you decide, just be sure to have the Champagne chilling in the fridge.
This is a proposal that can feel super relaxed or incredibly elegant, so it's down to you to set the mood – whether you go for cosy indoor picnic vibes or an intimate sit-down, candlelit affair, you know what's right for you as a couple.
Think about how you'll actually ask the question. Will you ice it on the cake? Will you get an engraved spoon or a stencil for their drink? Or will you just ask with a glass of bubbles in hand?
24. Reminisce Your Favourite Trip
Maybe it's your first holiday together, maybe it's the city you loved exploring the most, maybe it's the same sunny beach resort you return to year after year.
Whatever means the most to you, spend some time recreating the best bits of that unbeatable holiday – hang up the hilarious photos, recreate the delicious cuisine and cocktails, even wear sun cream that will instantly remind them of the trip. If you really want to take things to the next level and budget allows, you could put the ring in an envelope with two return tickets.
25. Have a Romantic Picnic
If you have a garden or a balcony, use it as the backdrop to a dreamy wedding proposal.
This at home proposal picnic blanket is gorgeous and can be personalised with both your partner's name and the date you're planning to propose.
And the best bit about this plan, is that they probably won't see the message until they've actually sat down!
26. Recreate Your First Date
Another brilliantly nostalgic proposal idea is to recreate your first date at home. If this happened at home, it'll be easy, if not you'll have to get a little more creative, but there are lots of ways to trigger the memories.
Wear the same outfit or fragrance, send the same text you did before you arrived, or rustle up the same meal. This is one of our all-time favourite ways to propose at home; it's sweet, fun and will make the whole thing feel incredibly special.
27. Fill a Room with Balloons
For an idea that's really visual and has major wow factor, set up a room that's absolutely overflowing with balloons and kneel down amongst them (we love the idea of a red and pink theme here, or maybe gold and silver to match their new jewellery). The pièce de résistance? A strand of helium balloons asking 'marry me?' over the spot where you've settled. Once they've said yes, you'll have so much fun taking selfies in this colourful set-up.
28. Get Creative With Paint
Got a decorating project on the go? Put the writing on the wall you're working on. Wait until you're home alone (or at least until they're out of the room) and paint out a heartfelt proposal to surprise your partner on their return.
If you go big, realistically you'll probably paint over it, so if you want a memento, consider adding a smaller heart or note of the date in an inconspicuous corner that you can keep permanently.
29. Organise a Scavenger Hunt
No matter how big or small your house or flat is, you can pull off this proposal – all you need is time to plan and a little imagination.
Starting at the front door when your partner arrives home, set up a series of clues that mean something to the two of you (from 'where I first told you I loved you' to 'the place where you sort your socks'), leading to them eventually finding either you down on one knee, or offering up a gorgeous ring.
Set up a camera on a tripod facing your final spot so you can record the experience and watch it back together once everything has sunk in.
30. Have a Photoshoot
Everyone wants a great photo of their proposal, so why not incorporate yours into your plan all along? Set up a cool backdrop (bedsheets and fairy lights are your friends here) or simply tell your partner you want to get a nice picture together.
Whether you set up a tripod or go handheld, make sure you're in control of the camera, then once you're a few photos in, pull the ring out of your pocket. The crucial part is to keep snapping so that you document the shock on their face in all of its glory – you'll never get an image this candid again.
31. Play a Game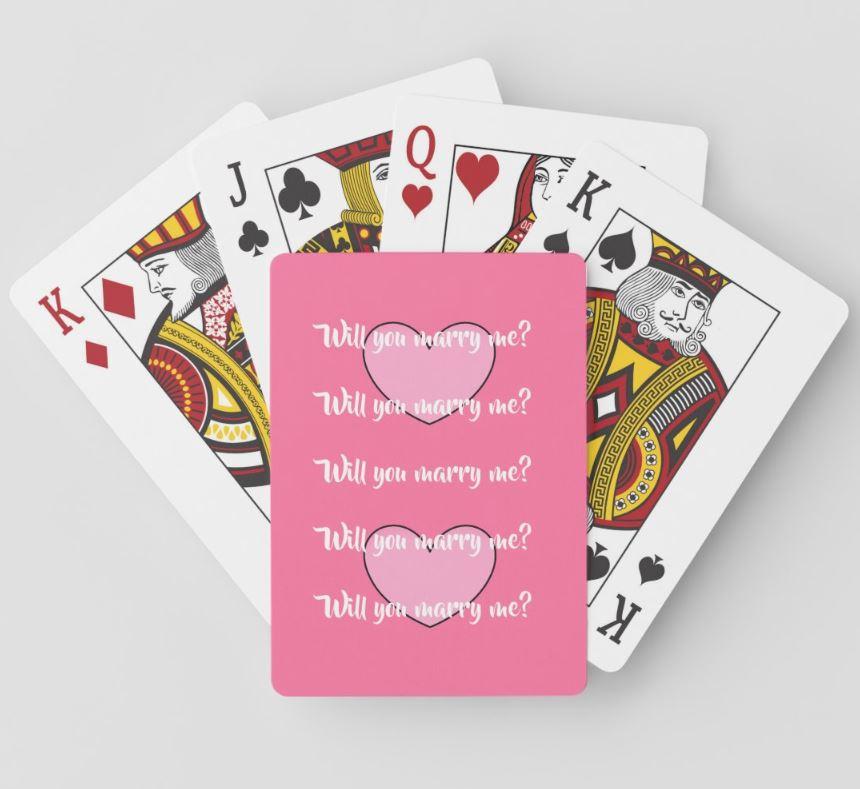 We still love a good Scrabble proposal, but that's just the tip of the iceberg when it comes to using board games to ask someone to marry you.
Classics that require you to decipher a phrase or message (think Charades or Pictionary) are perfect for a built-in 'will you marry me' moment, but you can also get custom board games that require your partner to get to the very end and uncover your plan as they play and custom playing cards. If you're feeling really adventurous, you could even consider drawing up with your own.
32. Throw a Surprise Party
Decorations aplenty, canapés and fizz ready to go, and everyone you love in one place?
We can't think of a better setting than a party for a grand gesture proposal at home. Obviously this works well for dates that are already special, like birthdays or anniversaries, but the biggest surprise of all would be a choosing a totally random spot in the calendar.
When they ask what the occasion is, it's time to tell them how you plan to make it a new one – the date you got engaged.
33. Create a Memory Box Set
It's simple but effective, and something they'll remember forever. Wrap up an elaborate memory box (boxes inside boxes, plenty of tissue, pictures, ribbons), either for a special occasion or 'just because', and watch as they open layer after layer.
By the end, they should find a ring-box sized parcel, like this trinket box – and if they still haven't figured out what you're asking by then, that's your cue to tell them just how much you love them, and that you want to make them your husband or wife.
How to Nail Proposing at Home
To ensure you absolutely nail your at home proposal ideas, whatever they may be, here are all of the things you need to think about and do.
1. Have a Plan
It sounds simple, but it's really important to have a plan when planning an at home wedding proposal. Even if you're mulling over the more simple proposal ideas, you want to have a clear plan of where and when you are going to pop the question.
2. Consider Timings
When planning a romantic proposal at home, you need to consider timings. For example, if you like the at home proposal ideas that involve candles, you'll want to plan your big moment for the evening, otherwise your partner will wonder why you're turning all the lights off. If you're doing a picnic, you'll want to keep the daytime free and so on.
3. Make Sure They're Not Busy
This sounds like an obvious one, but the risk with proposing at home instead of planning to go somewhere or do something, is that your partner may make plans or pop out to do something without necessarily letting you know. Don't let a spontaneous trip to the gym or them popping to the shops throw your plans off.
4. Prepare to Pivot
Having said that, it's not the end of the world if your plans change slightly, so prepare to pivot slightly if something does come up.
5. Use the People Around You
When planning any proposal, we'd always recommend enlisting a few family members or close friends to help you execute the plan perfectly. whether you need someone to get your partner out of the house for a few hours while you decorate, or you need someone to make 'fake plans' with them so they get ready, and then cancel at the last minute, having a few people in on the know is really useful.
Now you have everything you need to nail those proposal ideas at home, here are some gorgeous engagement rings you can buy online, and for when they (hopefully!) say YES, browse these unique ways to announce your engagement. Good luck!