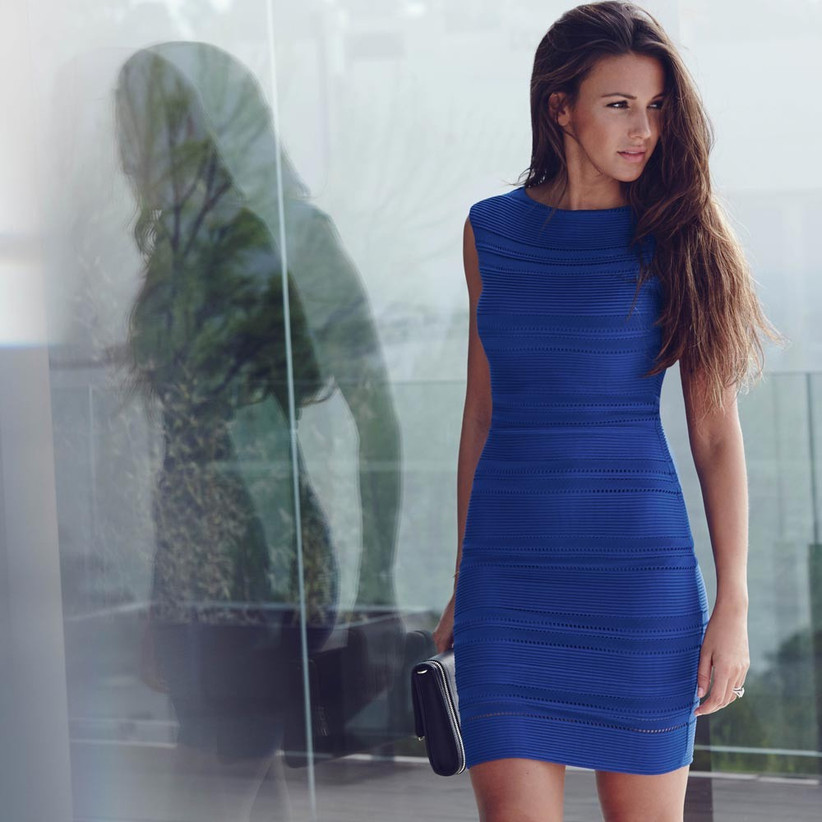 Are you planning on throwing an engagement party? If so, you need the perfect engagement party dress for the occasion! We've rounded up some of the best dresses for an engagement party, selected to suit all styles and budgets.
Why not watch some of our favourite DIY wedding makeup tutorials to help complete your look?
Glamorous
If you're planning a seriously fancy engagement party, you need a suitably glamorous engagement party dress to match – we've browsed the glitteriest and glitziest gowns to help you find the one. It's a tough job, but someone's got to do it…
This show stopping red gown (£329 from Dynasty London) will have everyone's eyes on you. Pair it with simple accessories to let the dress do the talking.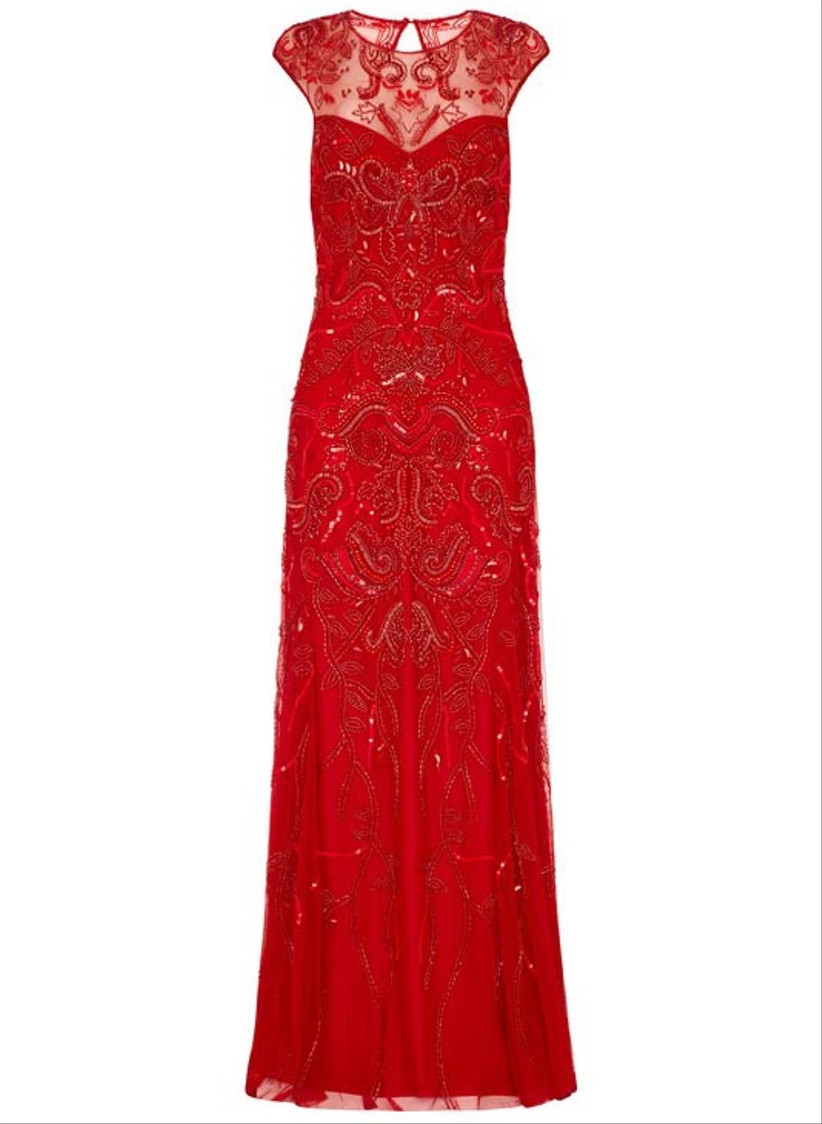 If you don't want a floor-length gown but you still want some glitter, this berry red dress (£265 from Dynasty London) with stunning embellishment on the shoulders and neckline is perfect.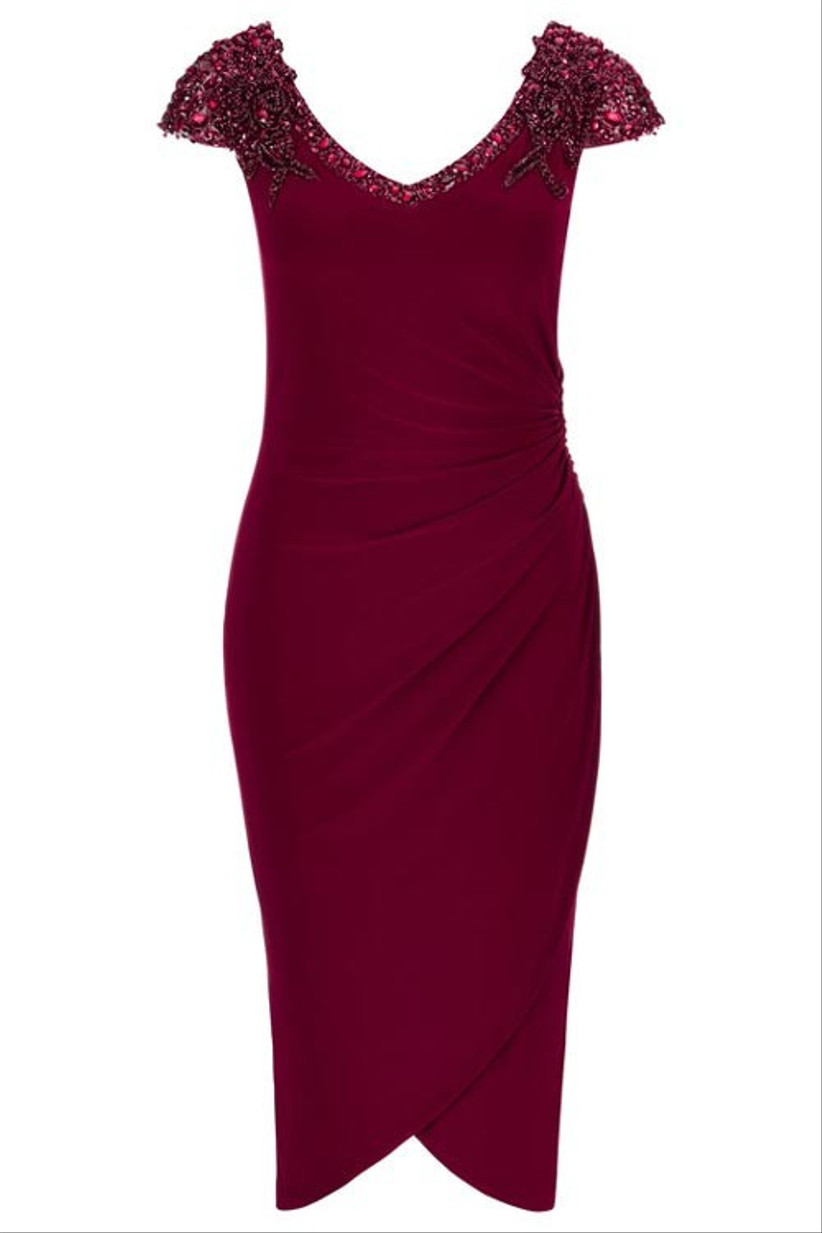 Those who love the idea of a floor-length dress but don't want glitter, this one shouldered red gown could be for you. The Aiko maxi dress costs £240 and is by Forever Unique at littleblackdress.co.uk.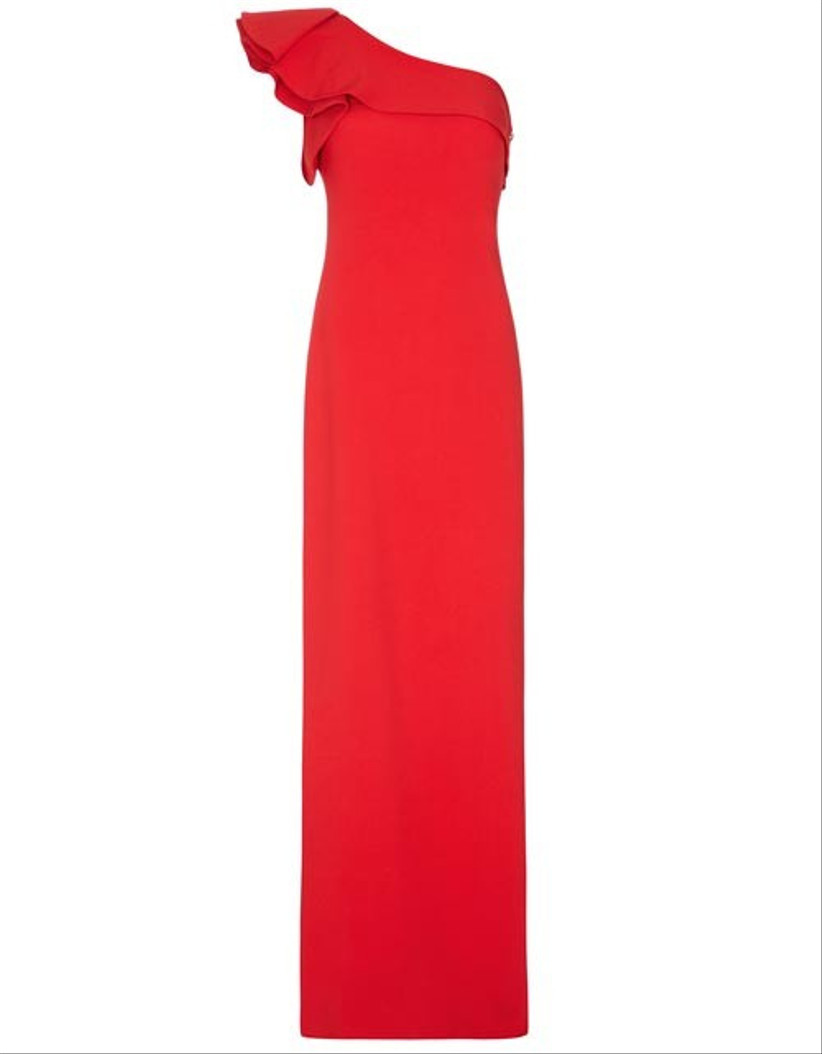 Fans of glitter will love this long sleeved ASOS dress, which costs £85. You can wear it time and time again for nights out with the girls too.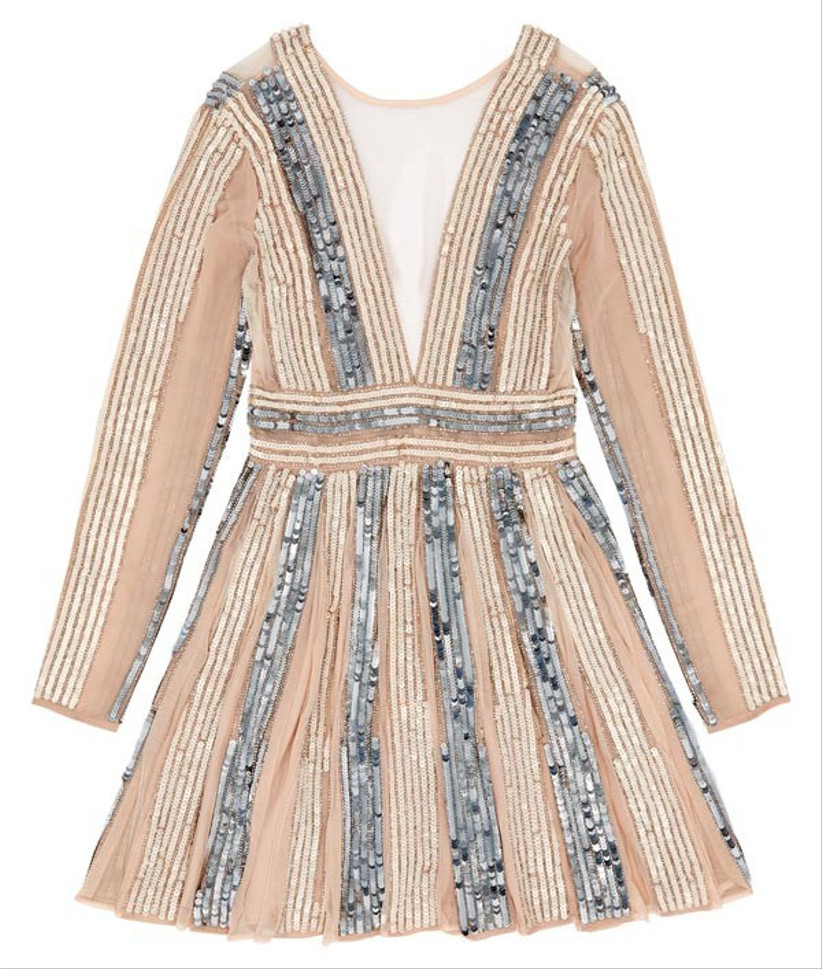 The Harper pencil dress (£80 from littleblackdress.co.uk) is perfect for curvy vixens that want to show off their shape. Add super high heels and smouldering makeup for Jessica Rabbit style points.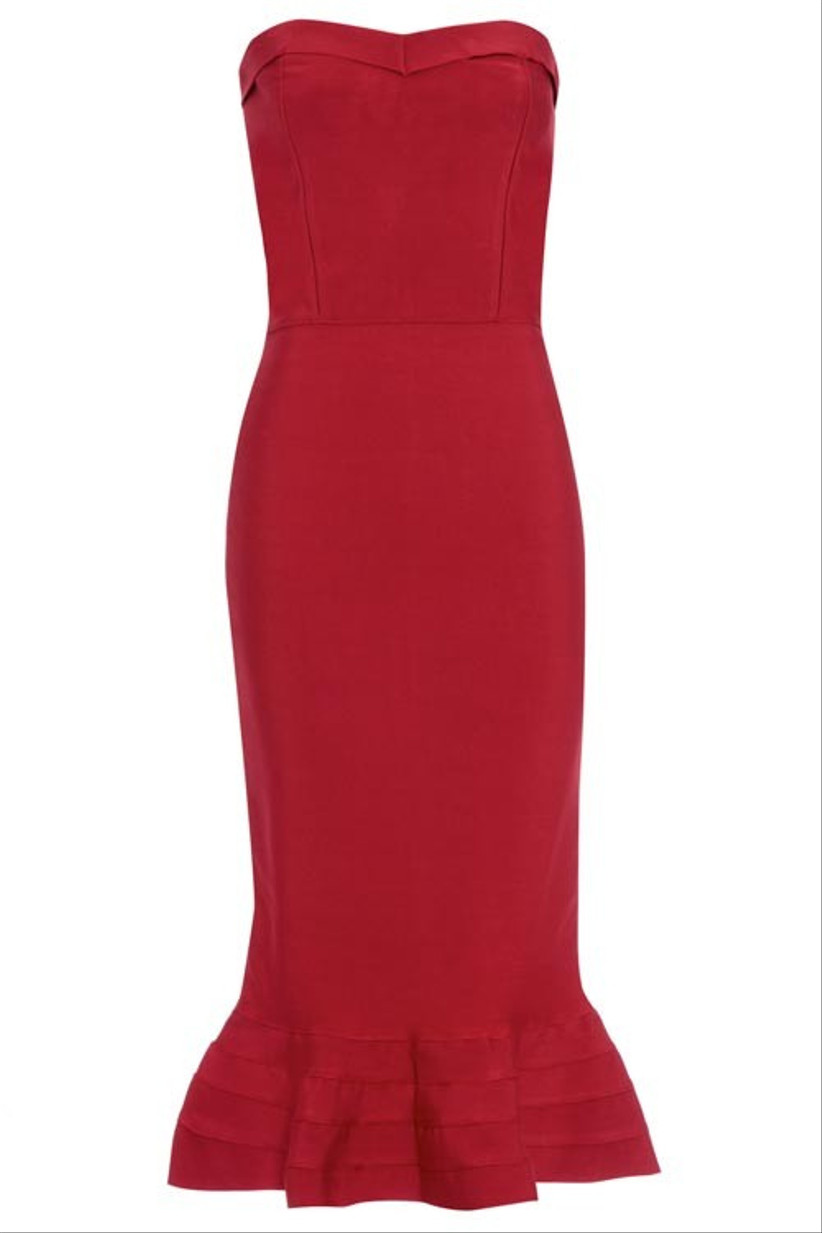 The Lacey Midi from Honor Gold at littleblackdress.co.uk (£95) is a great choice for those who want a glam but wearable look. This will be perfect to dance the night away in as you celebrate your engagement.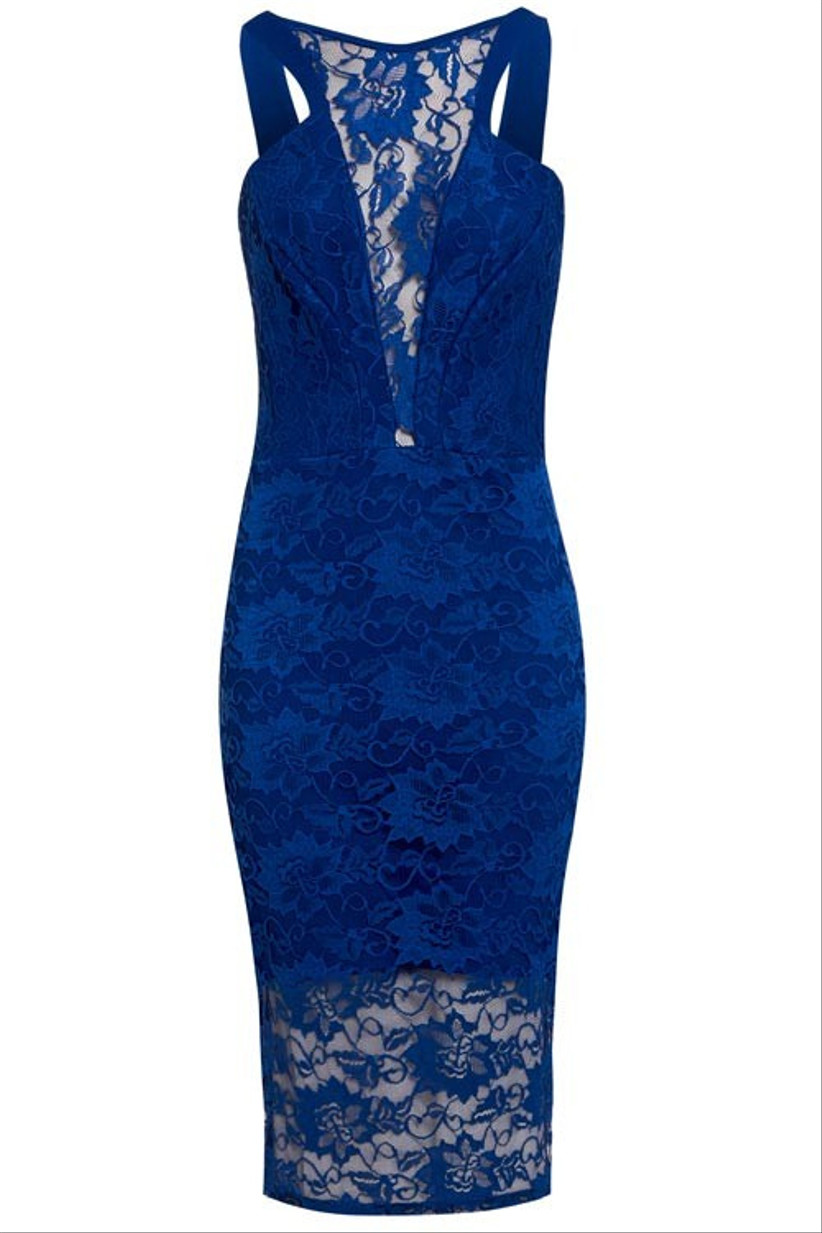 If we want to talk about celebrity weddings in 2015, we can't not discuss the bride of the year, Michelle Keegan. If you want to steal her style (and her hair, and her husband…), why not consider this slim-fitting blue dress from her Lipsy Love collection?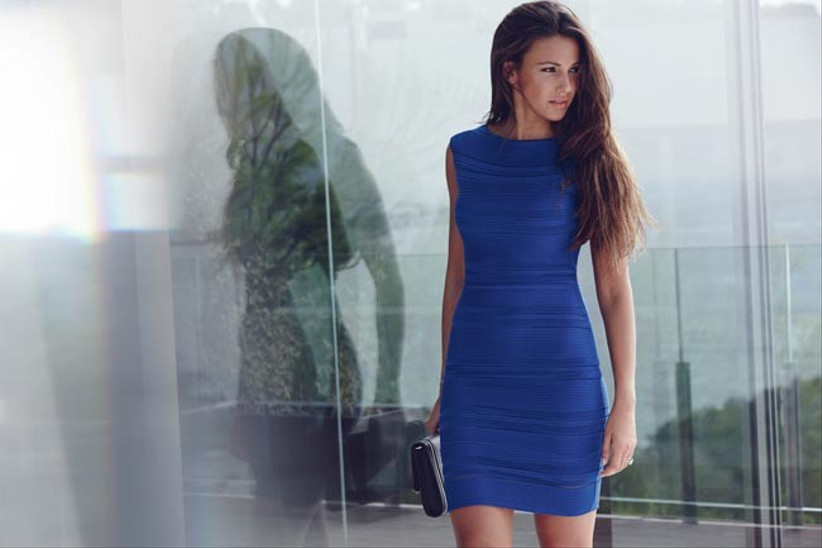 Phase Eight does high-end party wear like no one else. We love this detailed red dress which is styled to look like an on-trend two piece. It costs £140 and whilst you're buying it you might even find the perfect wedding dress for under £500.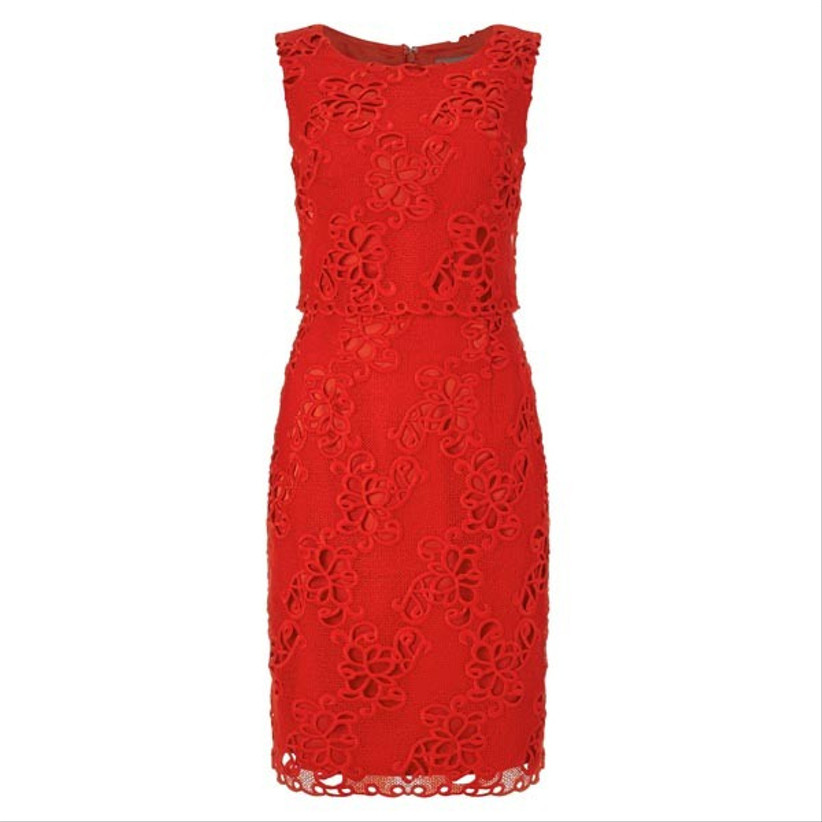 Talking of perfect party wear from Phase Eight, we just can't ignore this gorgeous floor length gown with detailed embellishment – it comes in at £350 and would also double up as an alternative wedding dress, if you're so inclined.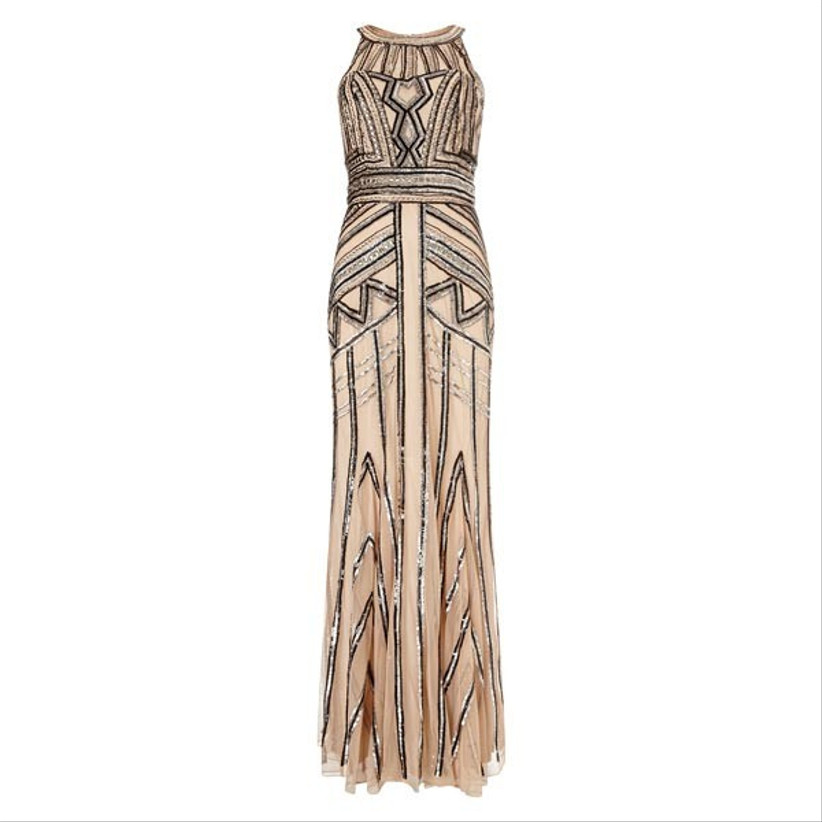 Get in with your 'something blue' early and rock this baby blue embellished gown from River Island (£120). It also comes in a pretty pink shade if you think it's a bit too soon to be talking something blue…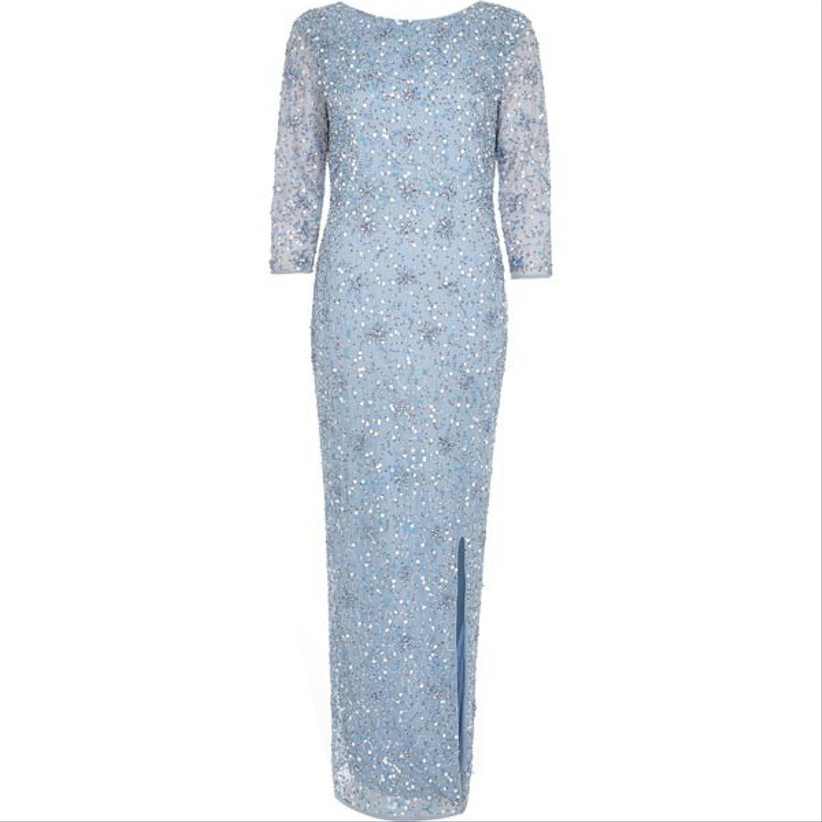 Here at Hitched we're obsessed with Virgos Lounge and I think it's clear to see why. The Amanda dress, which is an exclusive at littleblackdress.co.uk (£130) is literally the perfect party dress.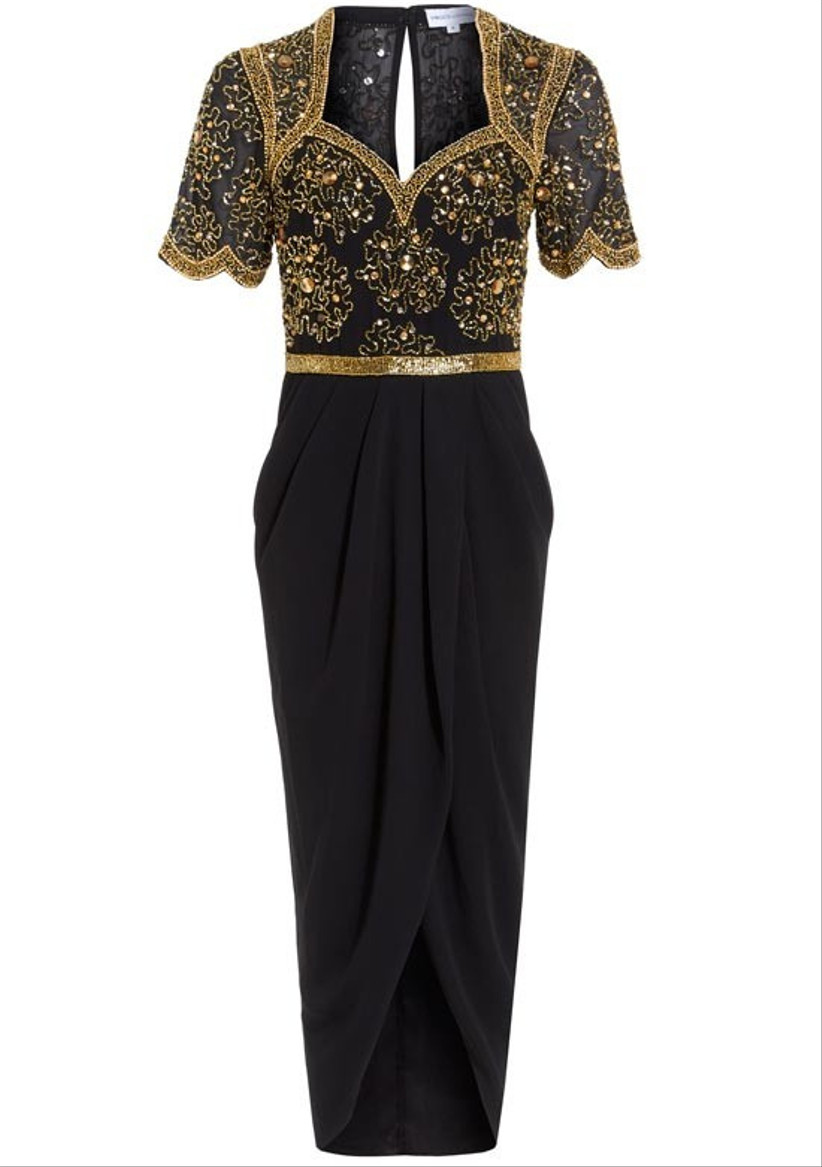 This one shouldered gold dress from Whistles is perfect for party girls who are looking for an engagement party dress they can bring out for parties time and time again. It'll also coordinate perfectly if you have a yellow gold engagement ring.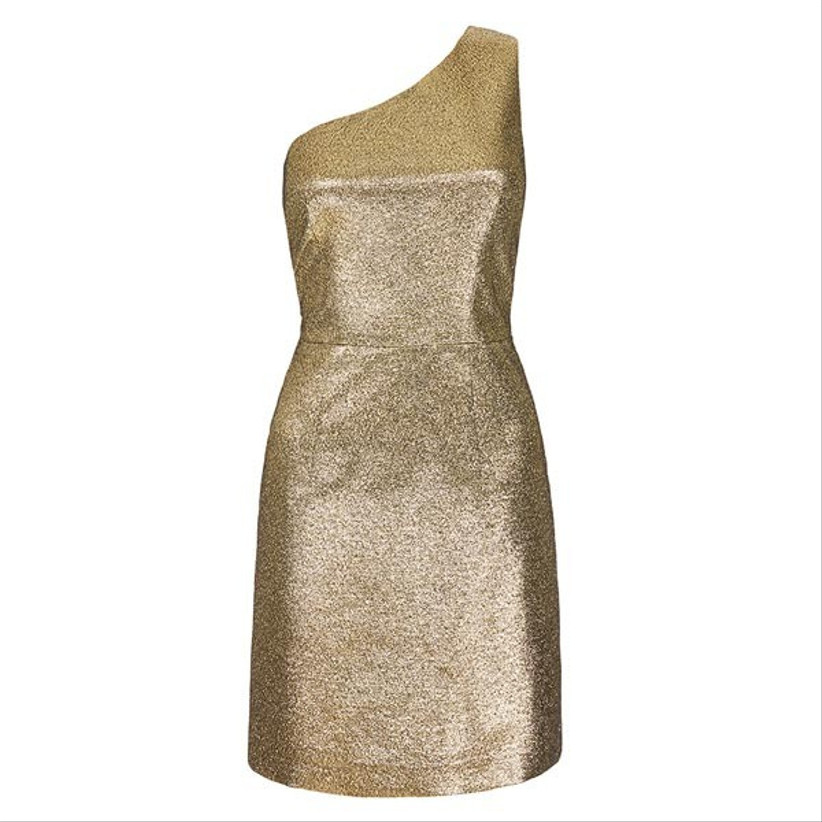 Girly girls will feel like a princess at their engagement party in this pink sequinned dress from ASOS (£150), complete with tutu style skirt. We love the flower detail around the neckline and sleeves.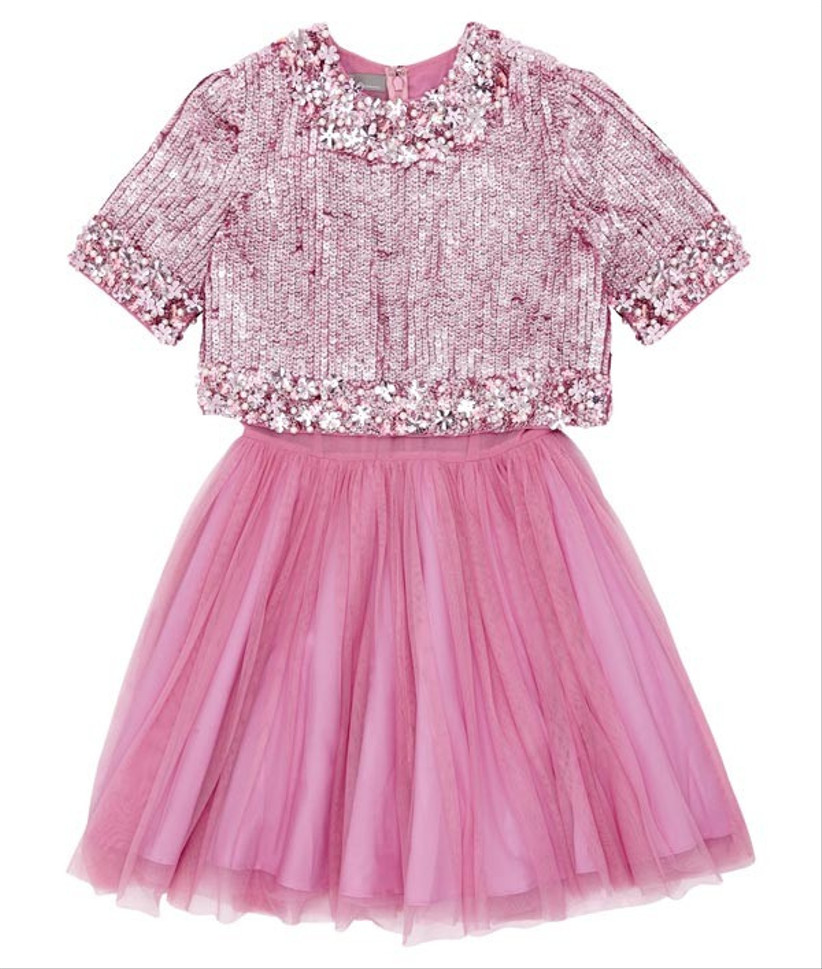 Bridal White
So you've just got engaged and are super excited to wear a wedding dress. Indulge yourself and opt for a bridal white engagement party dress, just to allow yourself a taste of what's to come…
This cute lace dress from Mint Velvet (£69) would appeal to 60s inspired brides – match it with a retro hairstyle, we have a range of retro wedding hairstyles to inspire you.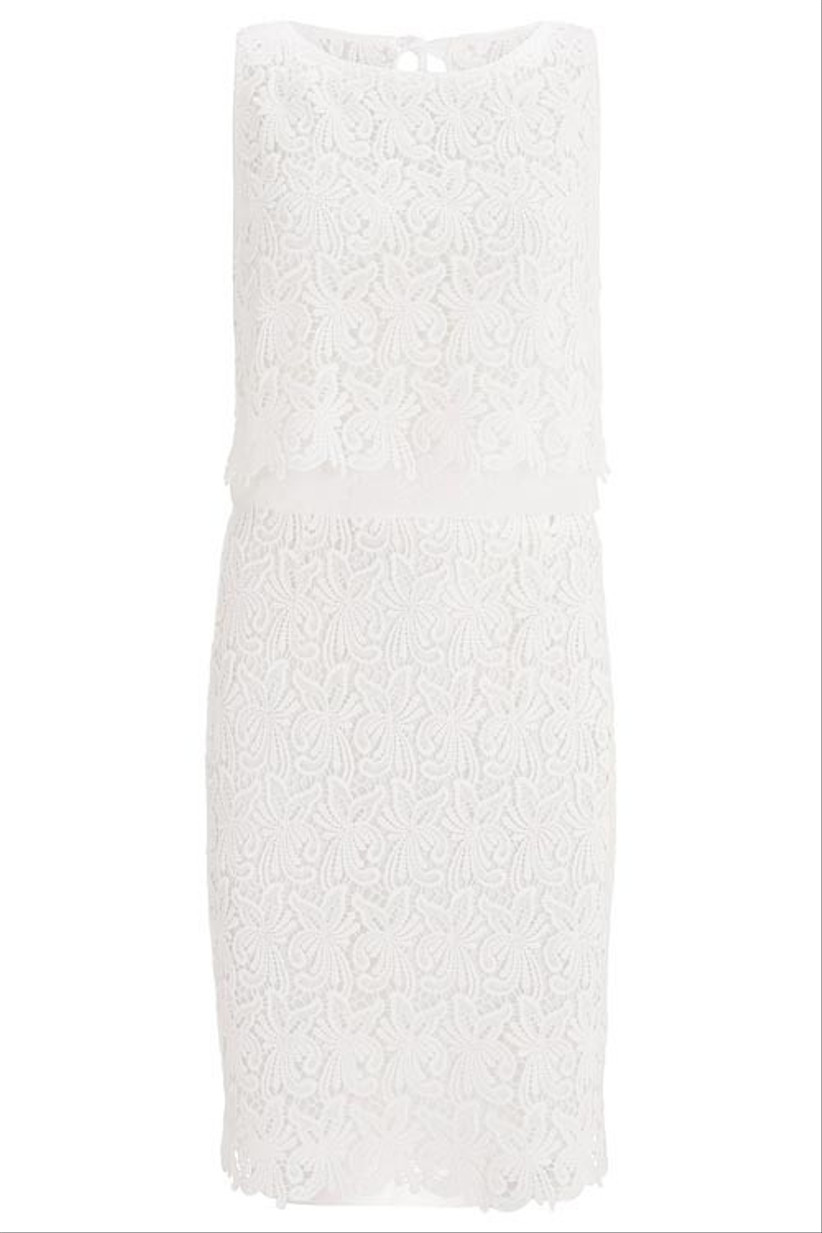 If the idea of wearing bright white doesn't faze you, consider this super stylish New Look dress – it's budget friendly too at just £22.99!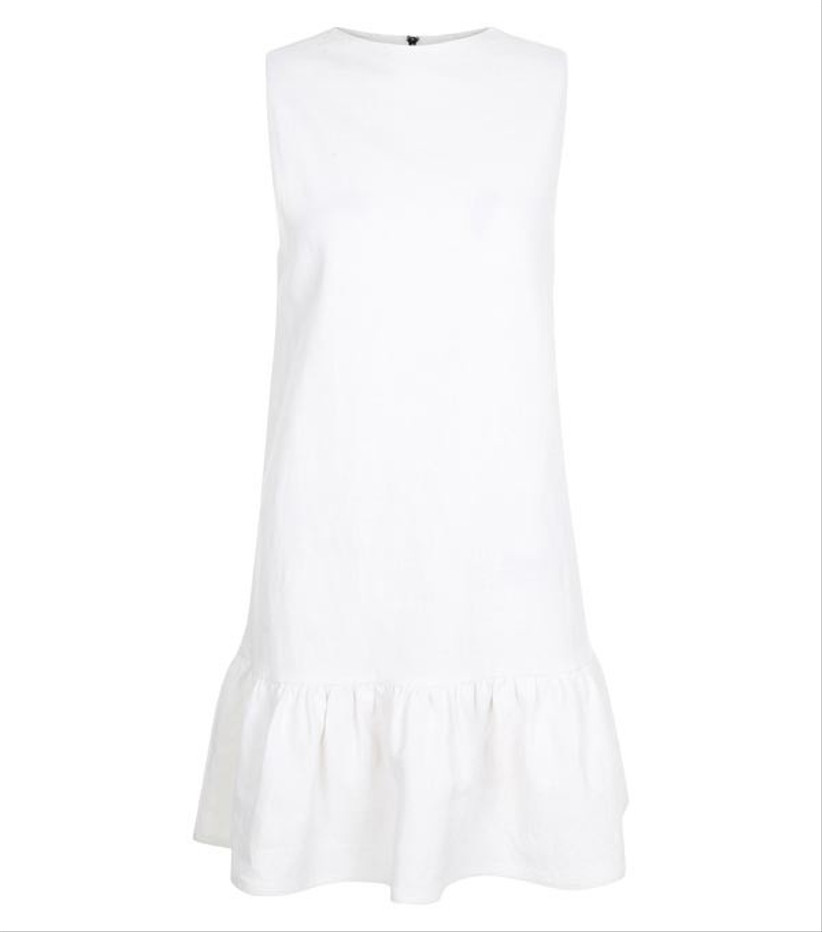 The lace overlay on this New Look dress (£39.99) is a dream choice for brides-to-be and can be worn time and time again, making it even more of a bargain.
This knee-length dress from Phase Eight (£150) is a great choice for a bride to be – we love the subtle lace-inspired floral detailing.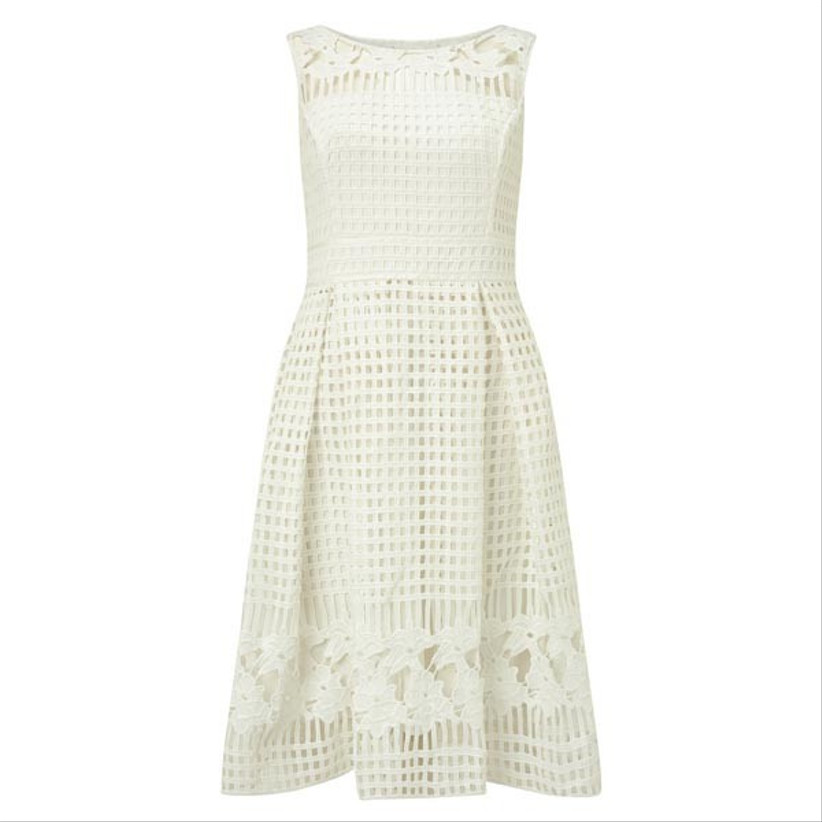 We love this pretty white A-line dress from River Island (£50) – the swirly embroidered appliqued pattern in black stands out and stops the look from being too bridal.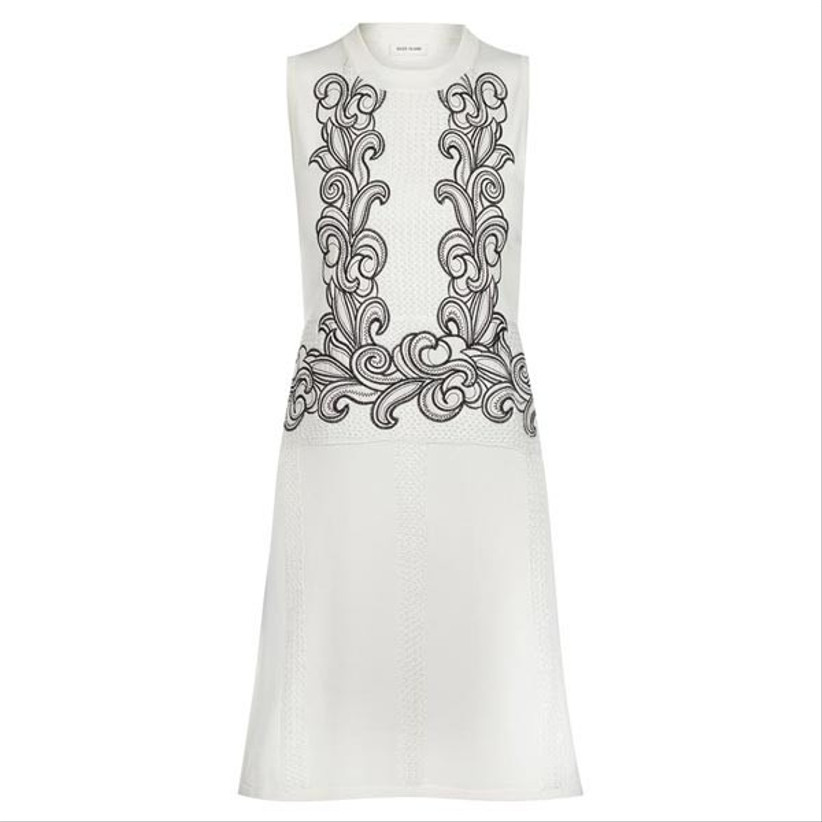 Has getting that rock on your finger made you extra keen to wear white lace? You can get away with it at your engagement party and for a reasonable price too – this white lace halter dress from Very is a steal at just £35.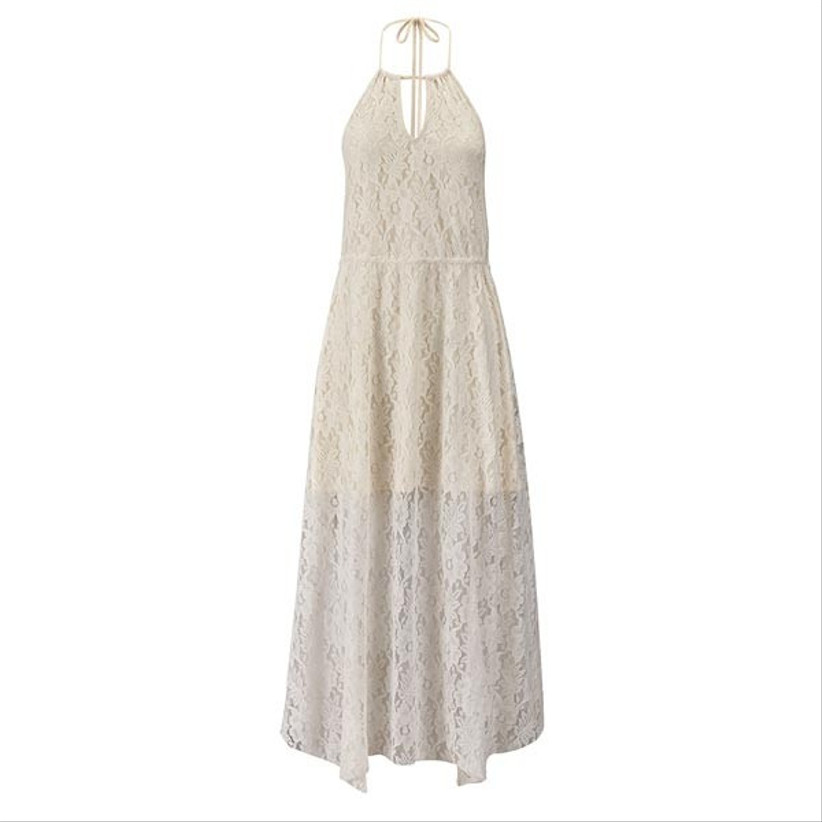 It is an engagement party and you can wear white if you want to! This cute Victoriana style dress from Wallis fits the bill, and is great if you want to show off your legs but cover up your arms.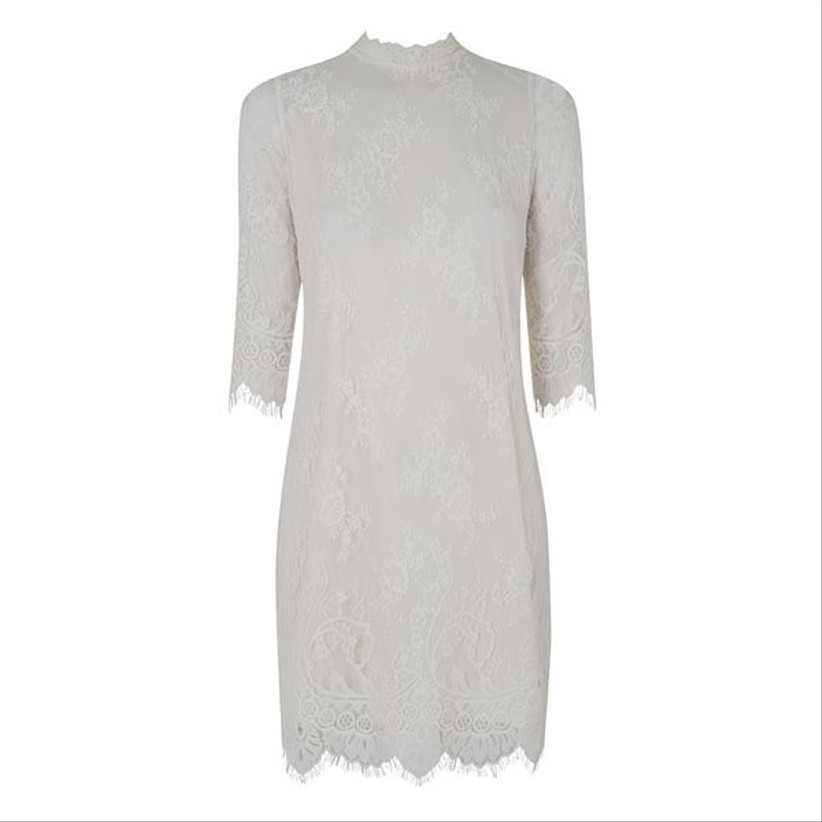 This 3D lace creation from ASOS will definitely make it clear to everyone at the party that you are the bride! Wear it again on your honeymoon to really prolong that 'bride' feeling.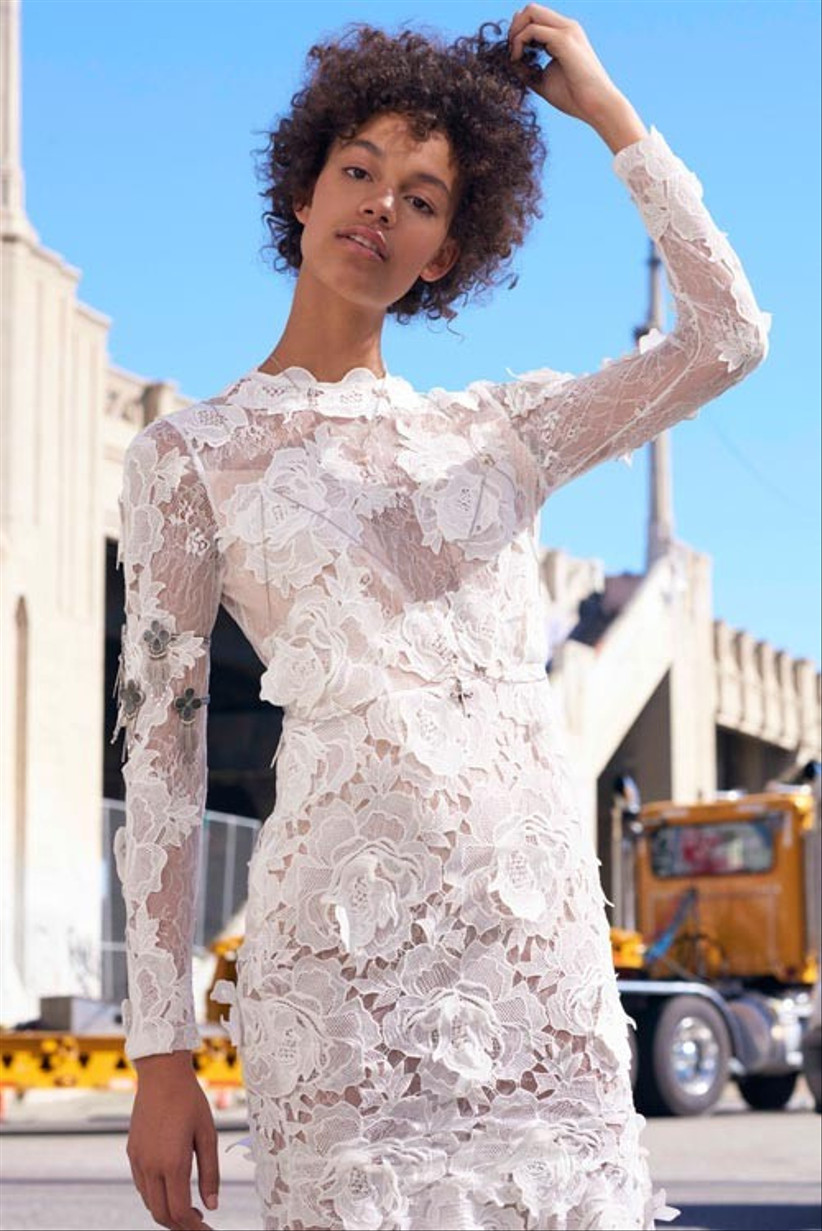 If you want a white gown on a budget, consider this elegant white empire line dress from BHS, which costs just £40. If this is your kind of thing, we have lots of Grecian style wedding dresses to tempt you with too.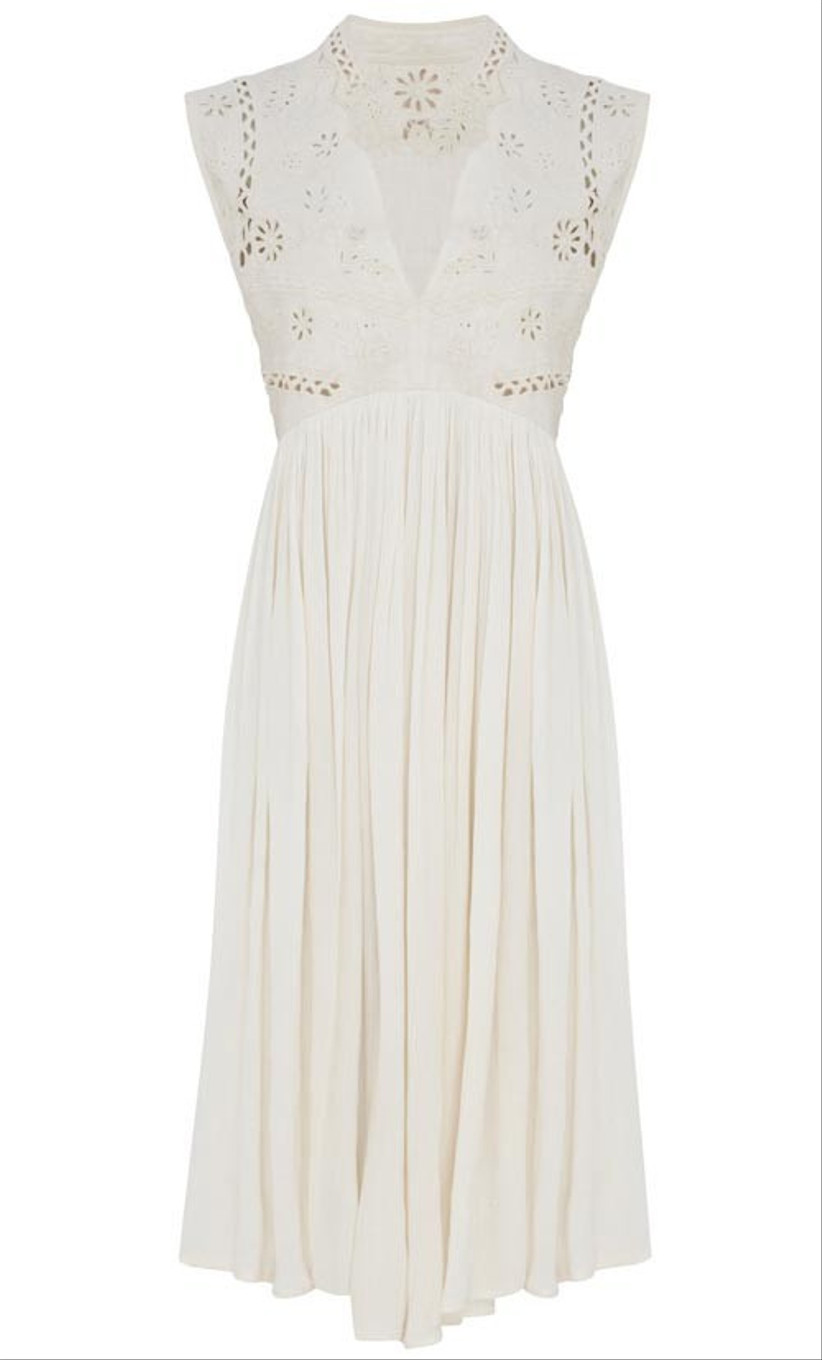 This stunning lace number from Debut at Debenhams (£120) was made for engagement parties. We are obsessed with the lace overlay and the high neckline will show off toned arms.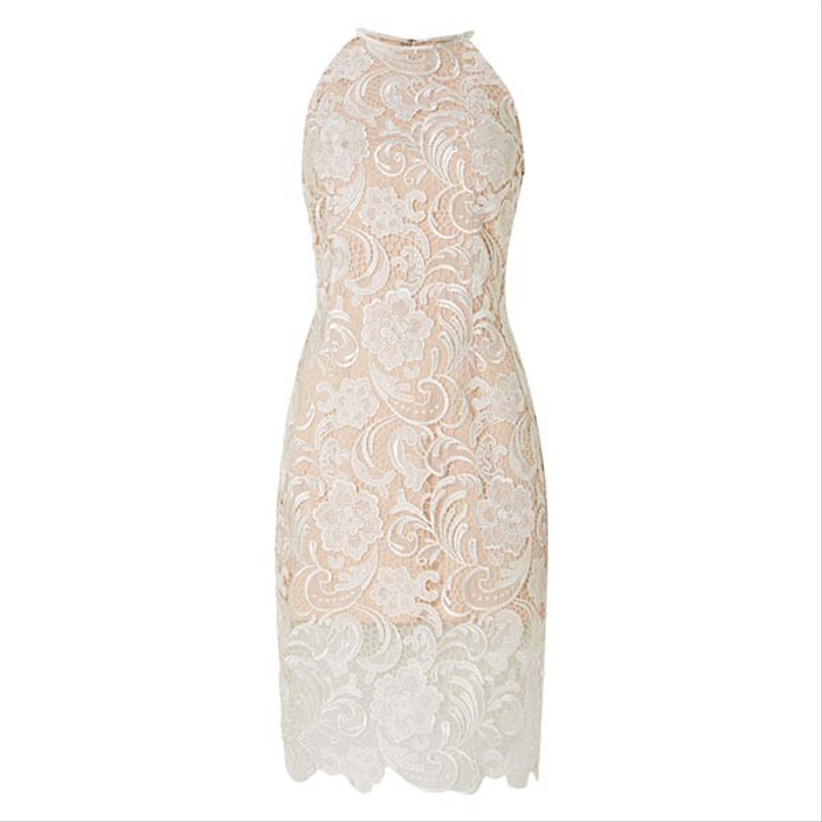 We're loving the elegant floor-length Tonia gown from Dynasty London (£369). Even if you don't pick it for your engagement party, we think it's an ideal beach wedding dress, or an option to change into for the evening reception.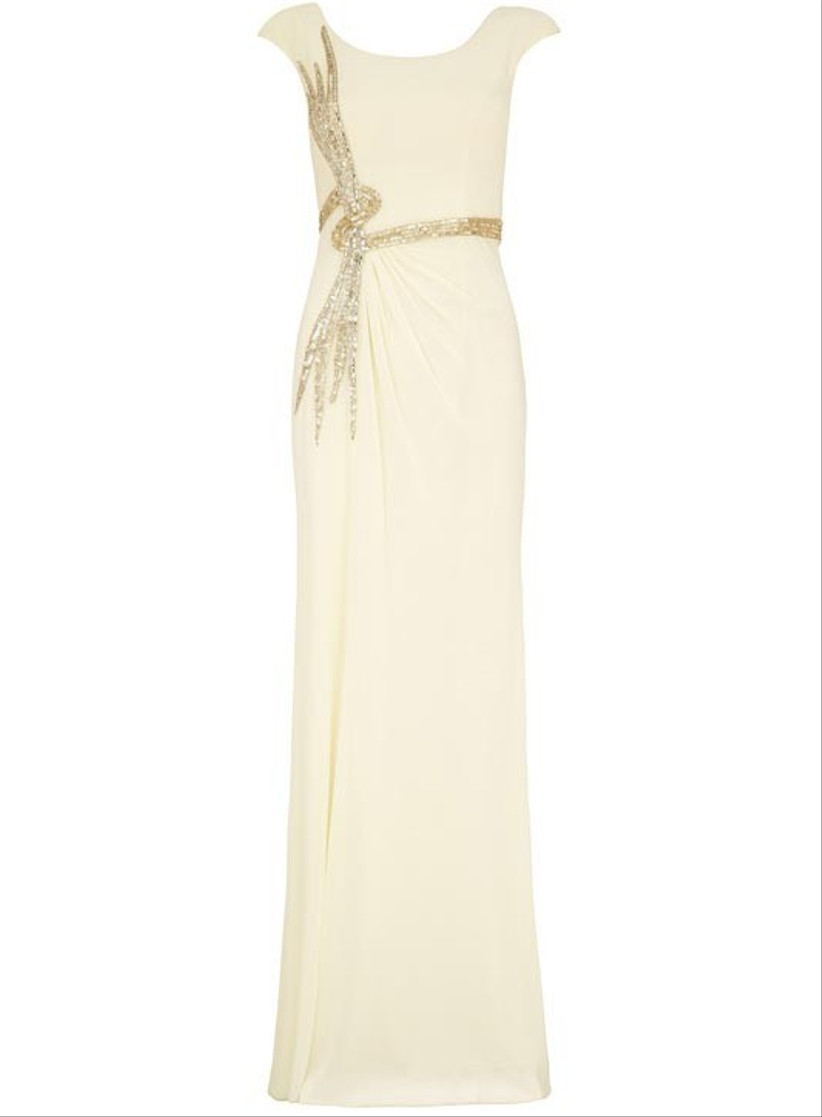 If you're conscious of your arms, consider this delicate lace dress from Evans, which costs just £30. Pair it with a pretty floral hair accessory for a wedding worthy twist.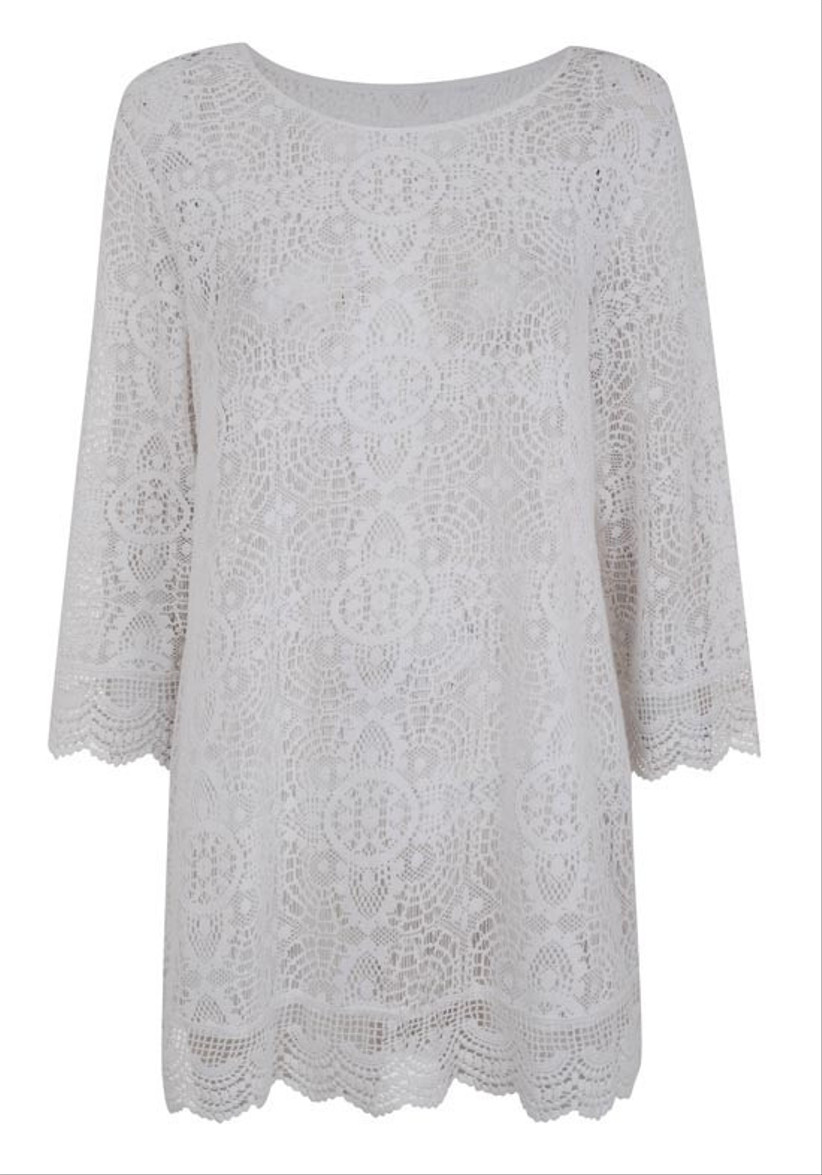 Style this brilliant white dress from Julien MacDonald at Debenhams (£70) with striking accessories to avoid looking too bridal, and opt for towering heels to make the most of the shape.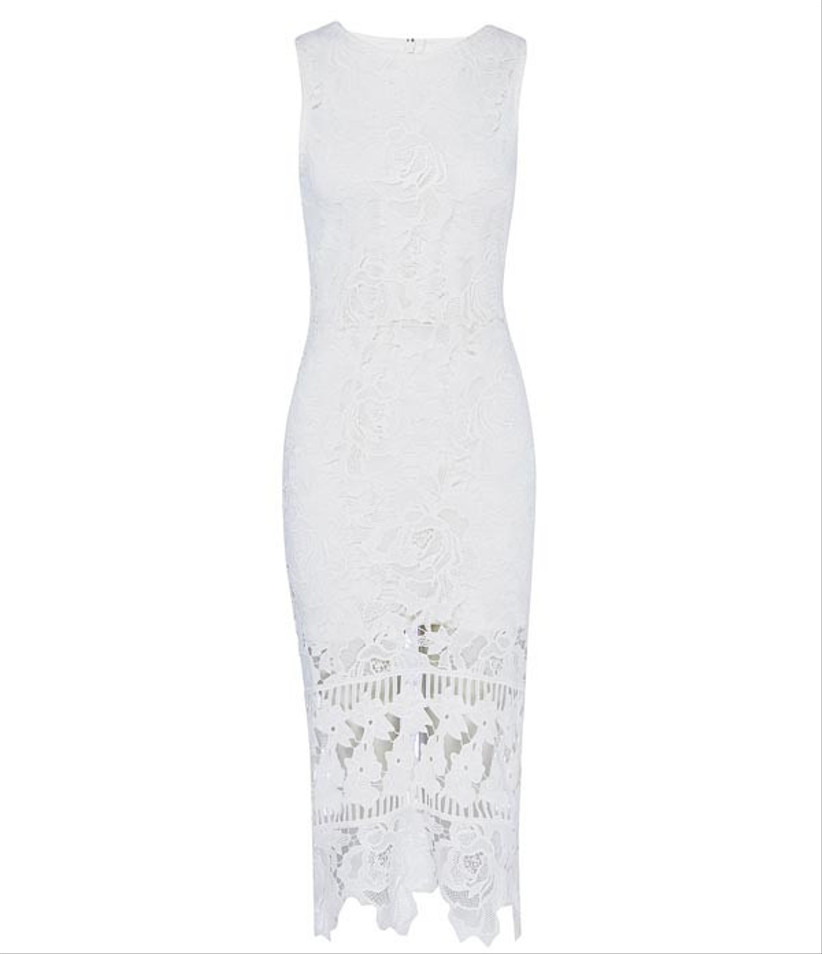 Sophisticated brides will love this midi-length white dress from Autograph at Marks & Spencer (£85). Pair it with glam earrings and an elegant up do to really accentuate the style.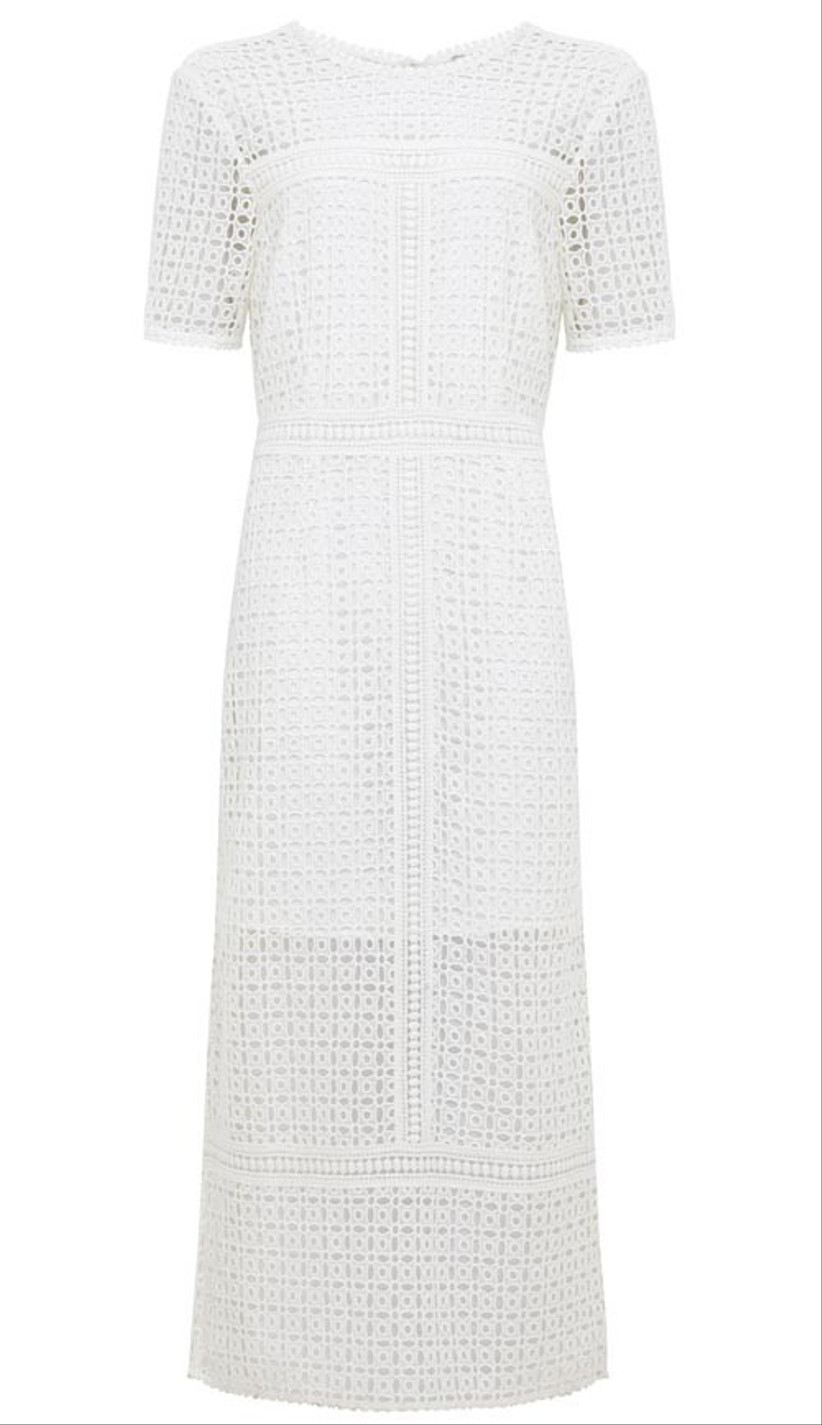 This stunning dress from Michael Kors at House of Fraser costs £185 is definitely worth splashing out on. It'll look amazing at your engagement party, and will be a holiday staple for years to come.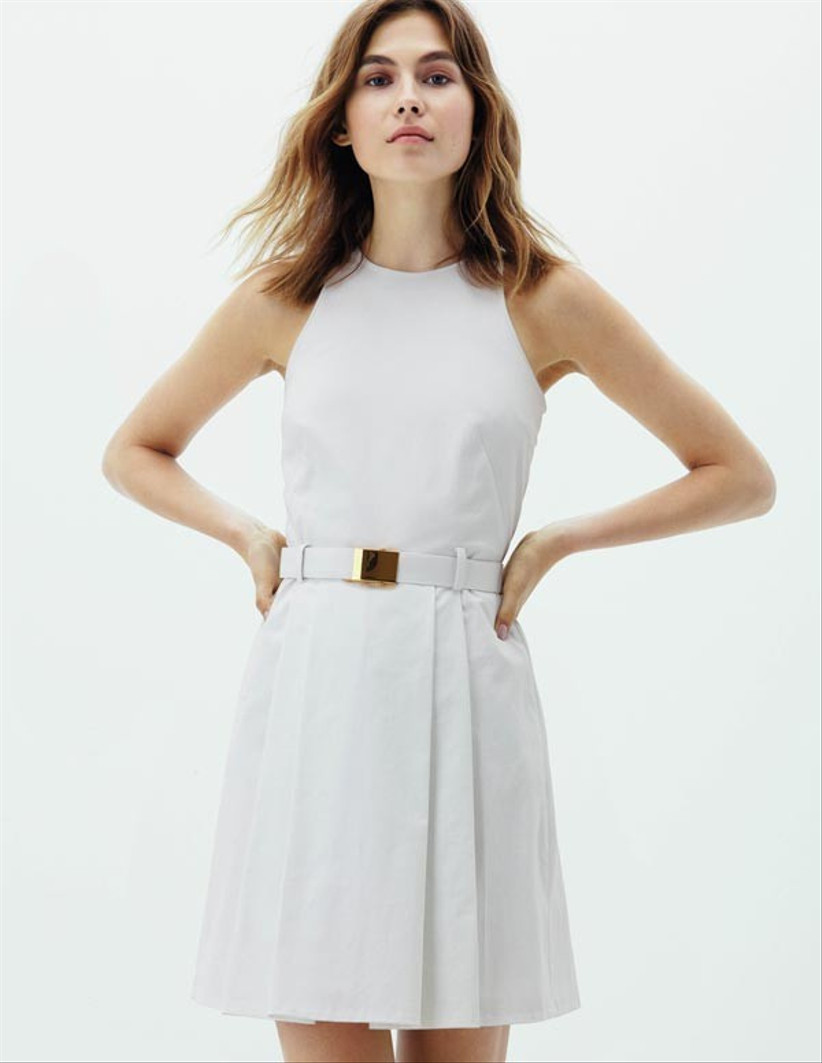 If you prefer a more glamorous look, this light dress with lace detailing and subtle iridescent beading could be perfect for you. It's £75 from Miss Selfridge.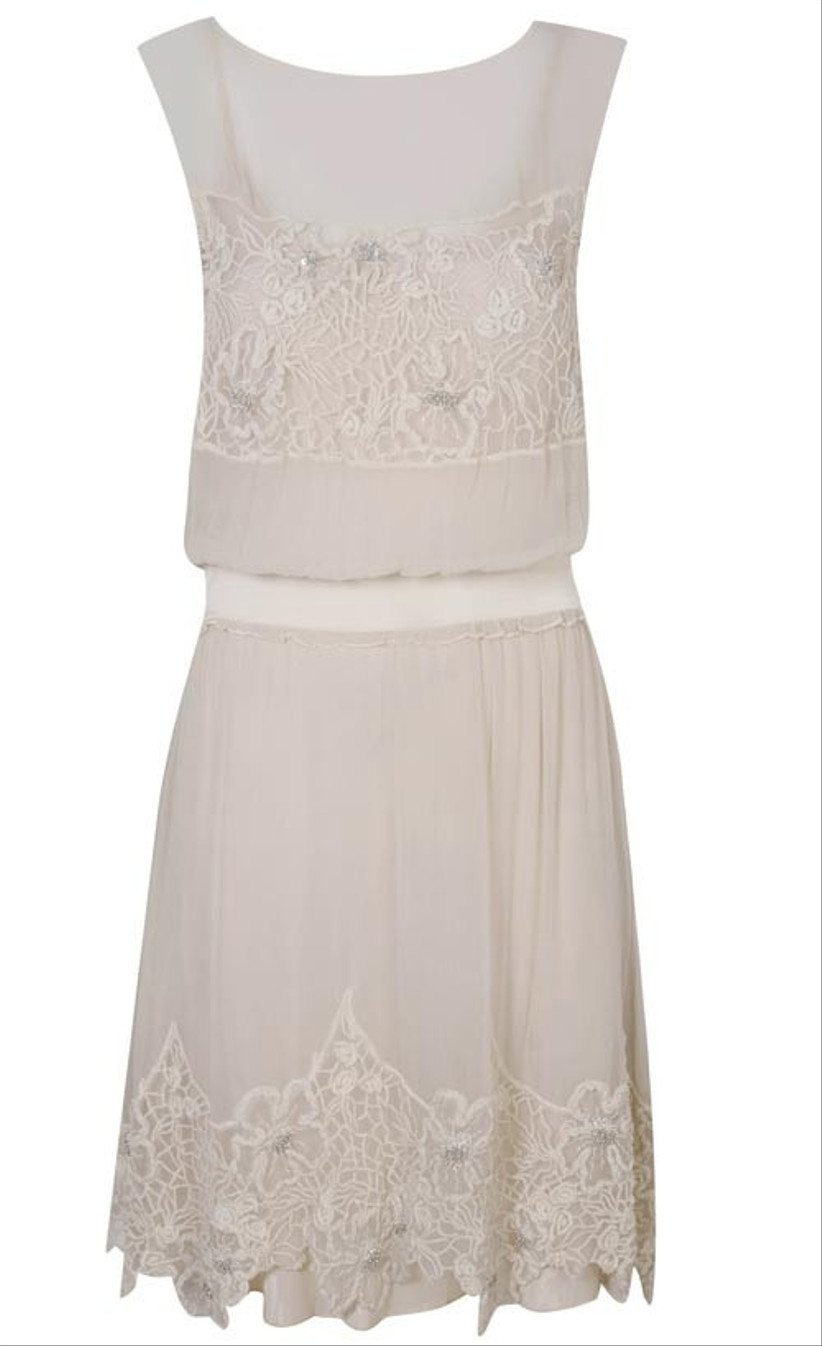 On trend brides-to-be will love the lace up front of this bridal white gown, £39 from Very. Pair it with strappy sandals and an eye catching clutch to glam it up.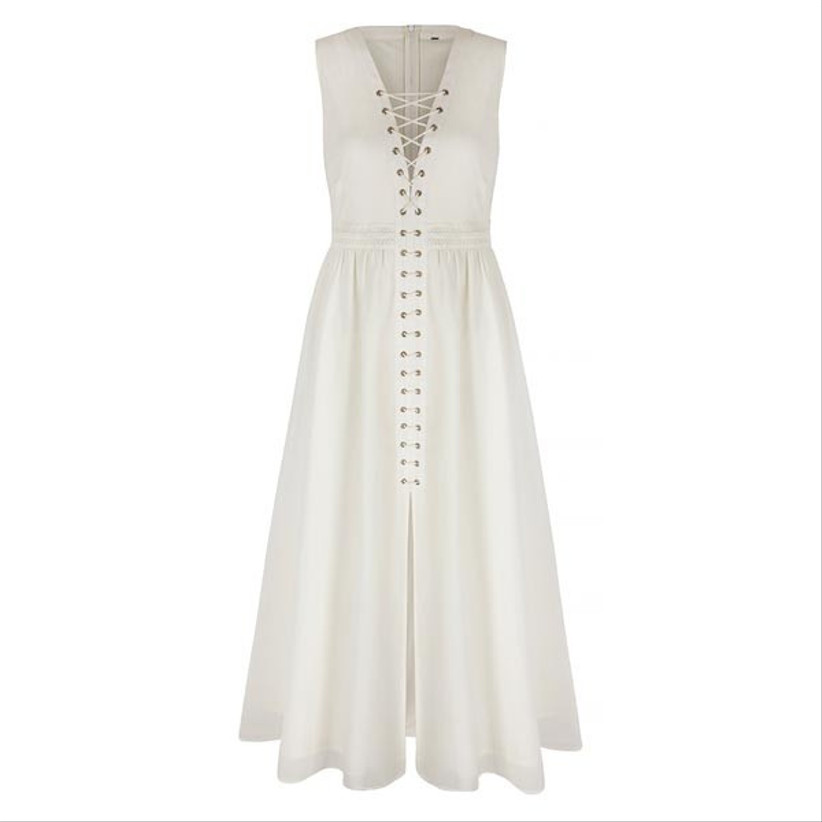 Brides who are celebrating their engagement party with a glamorous evening party should consider this flirty fitted dress from Very (£49). No one will miss the fact you're the bride-to-be in this gorgeous gown.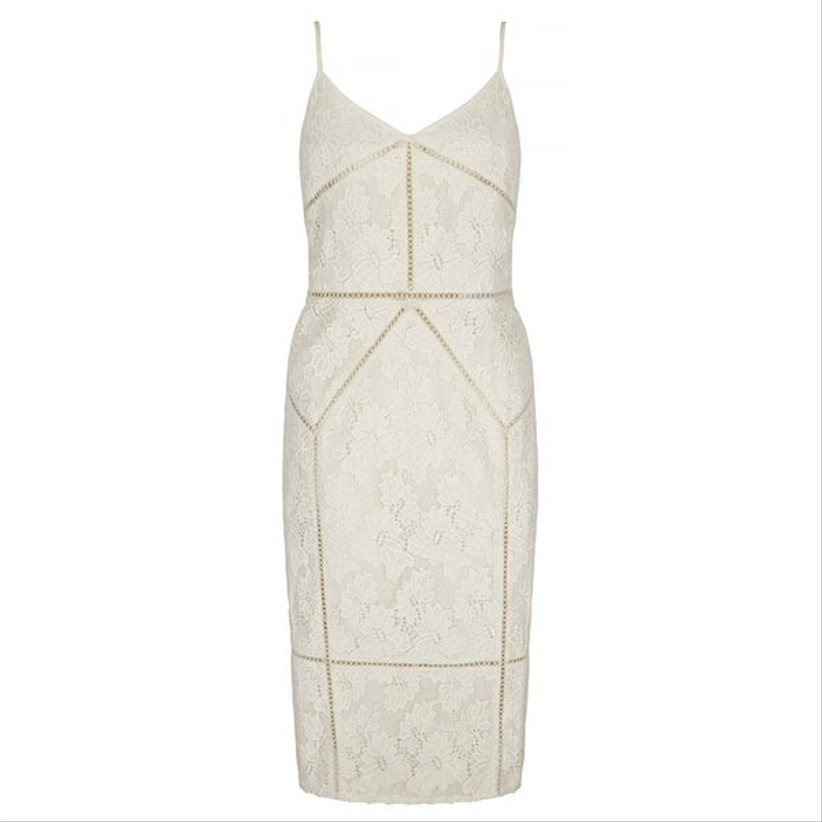 Casual
If you're planning an engagement party with a more laidback feel, such as a garden party, a barbecue or something similar, you still need a pretty dress but with a more relaxed look. We've rounded up our favourites that are perfect for a casual celebration.
This floral patterned dress from Little Mistress (£58) is super cute and would work well at a summery, outdoor celebration. Switch the belt to give it a more personalised look.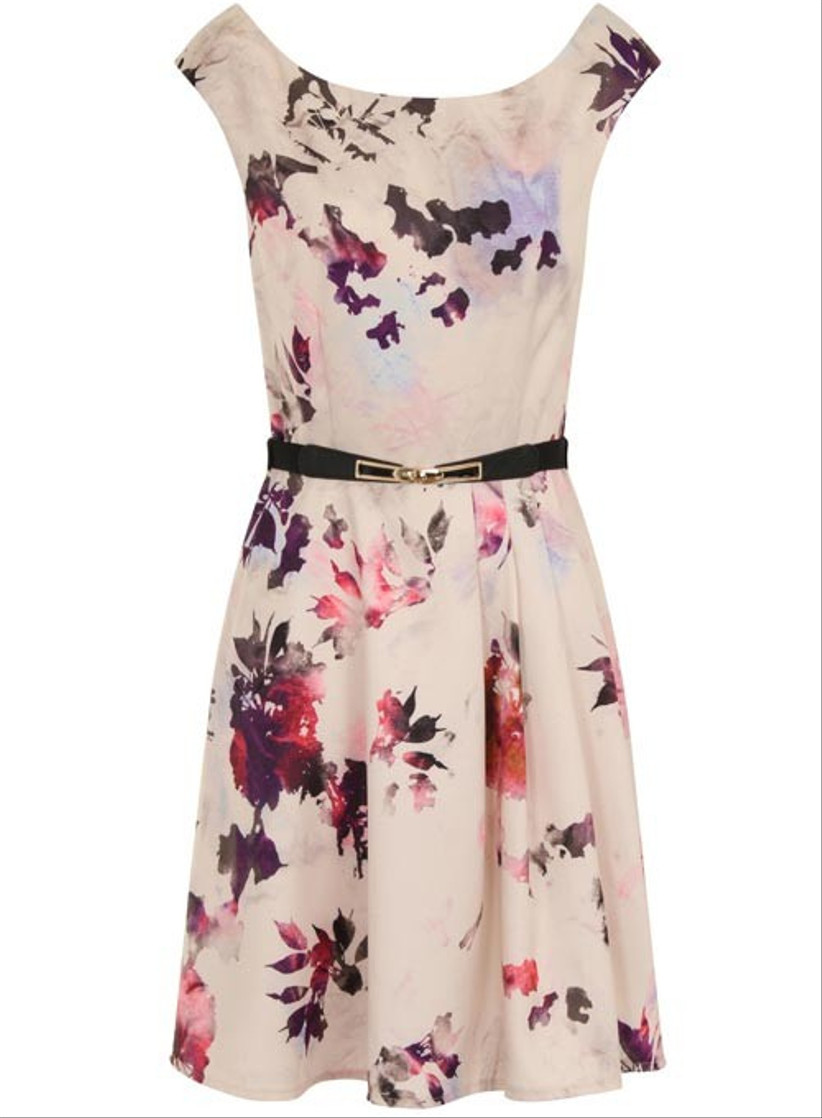 We love this slinky M&S dress (£69) which comes in a flattering pink hue. It'll look amazing with metallic accessories and a stylish braided up do.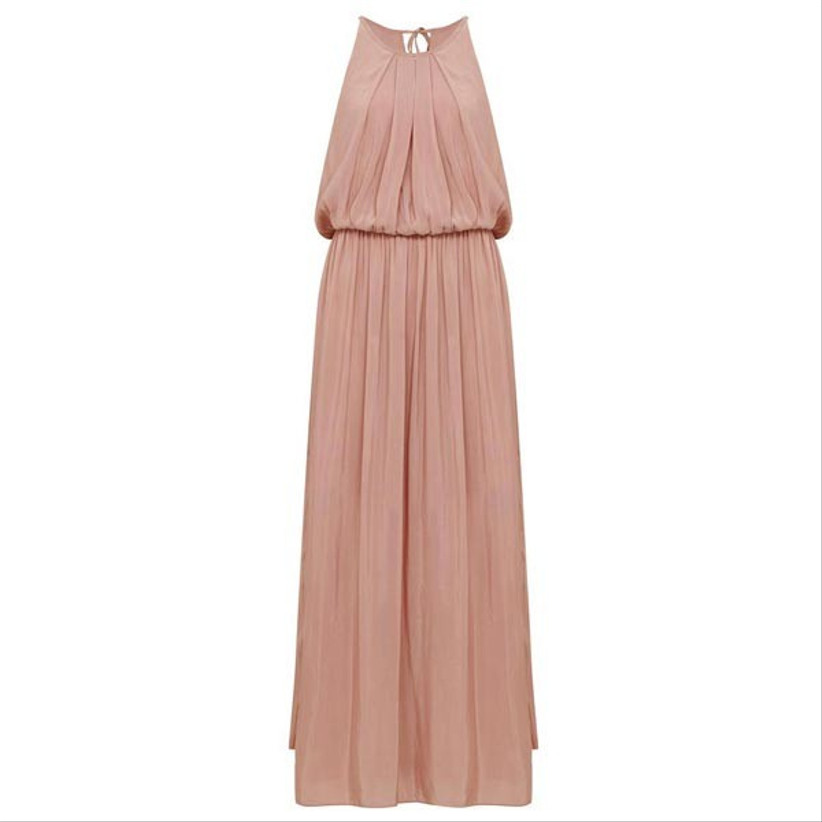 Brides who are a little daunted by the idea of wearing white could test the waters by wearing this nude coloured dress with white geometric detailing to their engagement party. It's £99 from Miss Selfridge.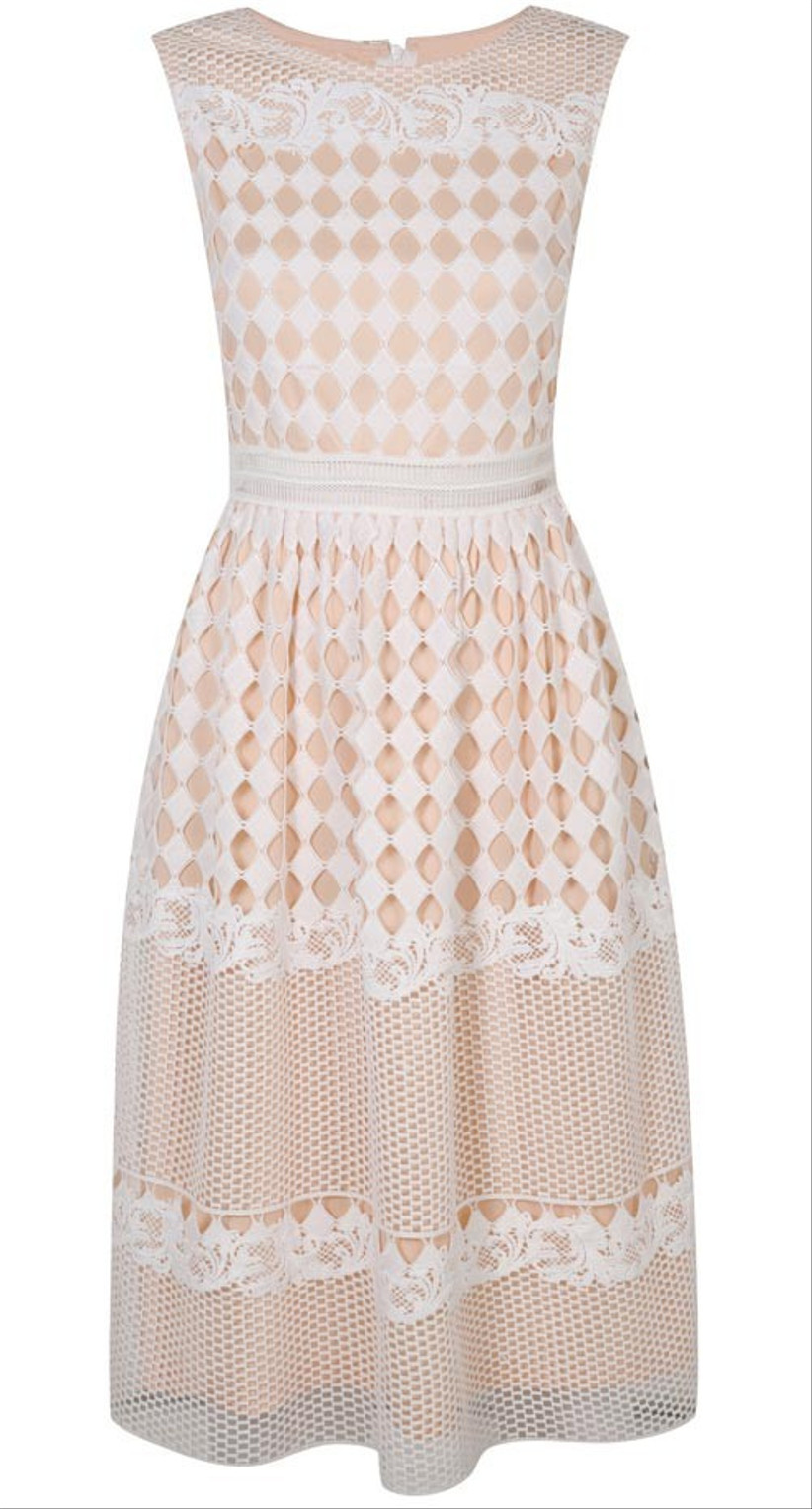 Those that like to make a statement with their fashion will love this floral dress from Phase Eight (£120). The elegant sleeves are super flattering.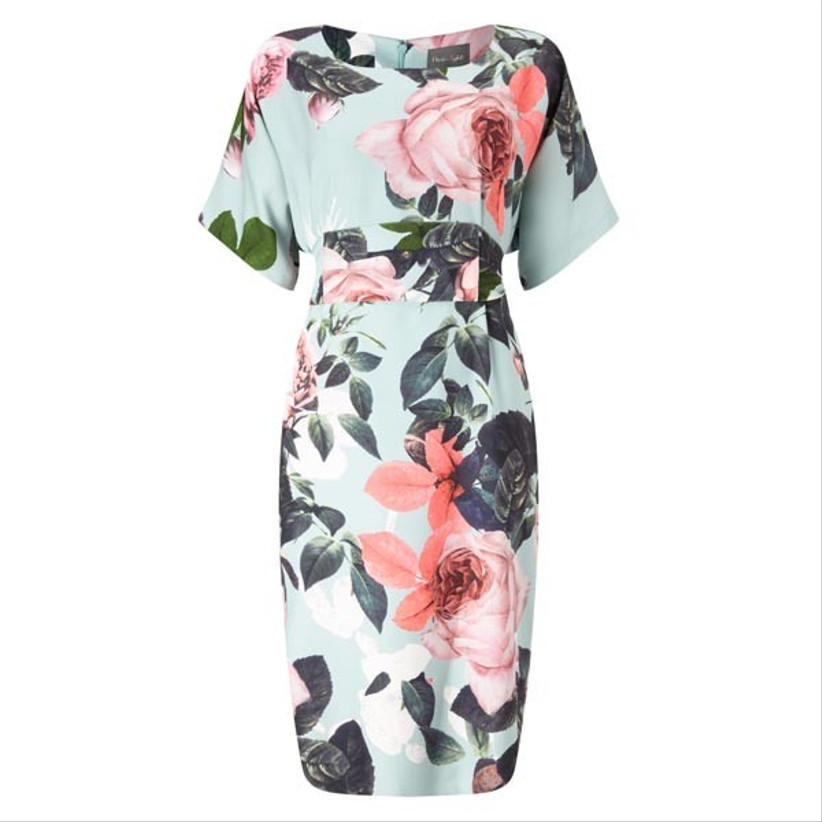 We also love this pretty pink Phase Eight dress (£160) – it could even work as a pink bridesmaid dress after the engagement party if you adore it as much as we do.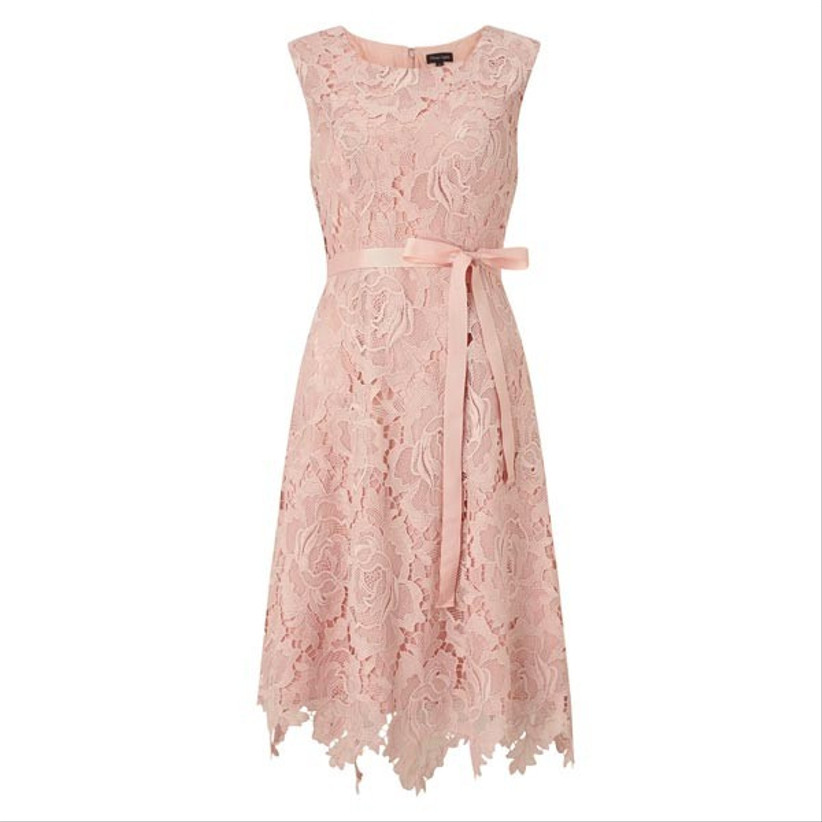 This delicate floral dress, £60 from River Island, is perfect for a garden party style engagement celebration. Pair it with simple accessories to avoid overpowering the pretty print.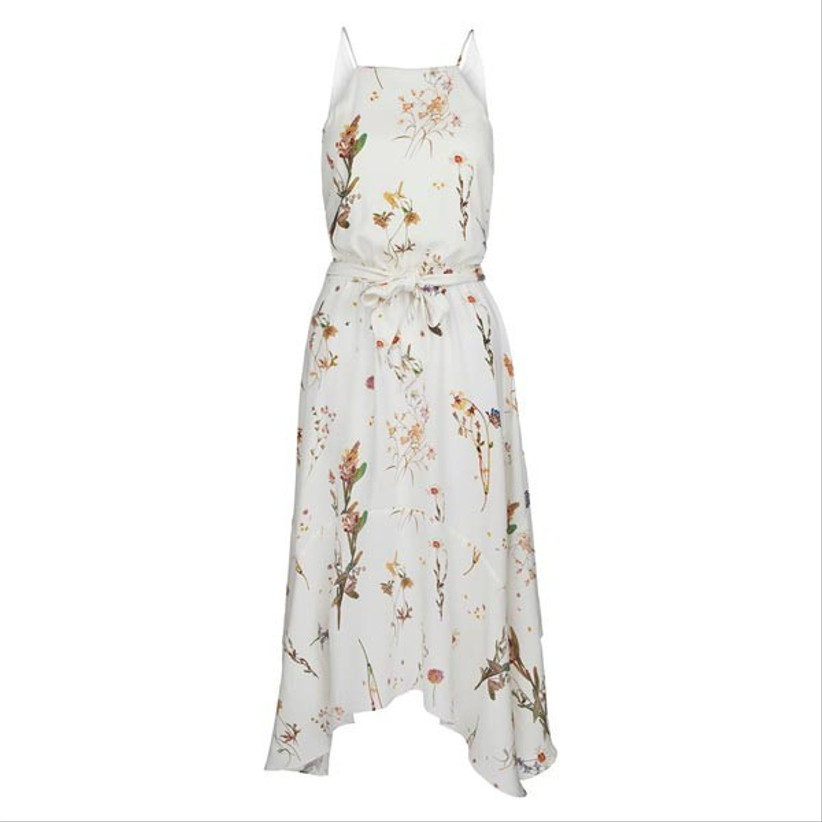 This delicate blue patterned dress from Very (£29) is gorgeous and ideal for a summery party. Pair it with a glass of Pimms and your sparkly engagement ring, obviously.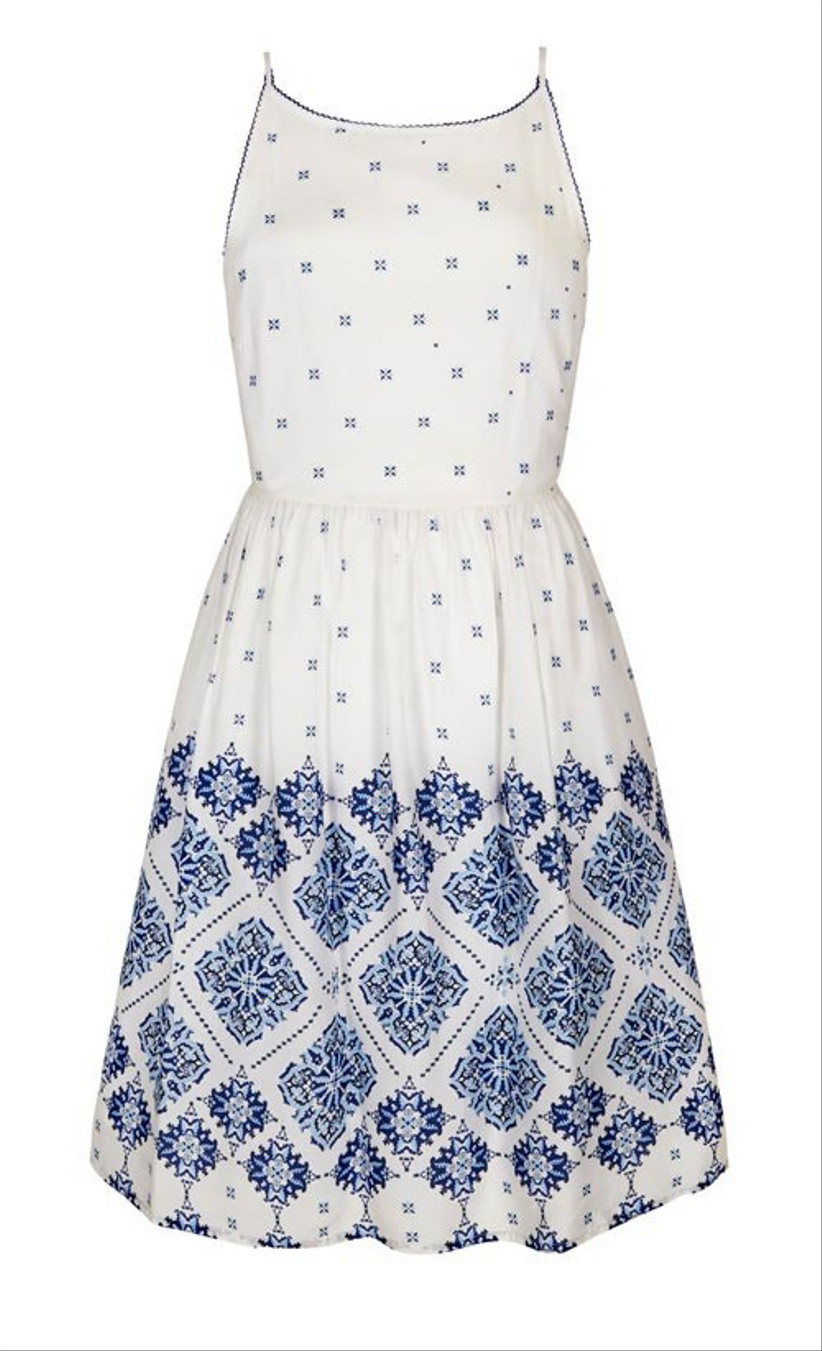 This striking, longer length dress from Wallis (£95) is designed to flatter curves. We love the soft pastel shade and the lace panels – this is a stunning choice for an elegant bride-to-be.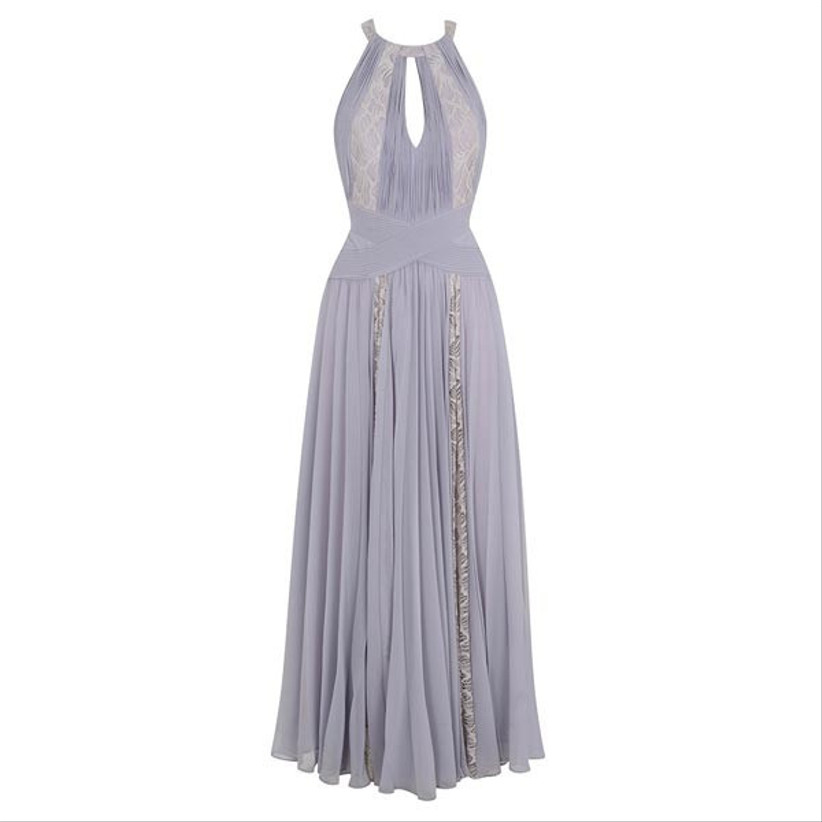 This floral embroidered gown from ASOS is too sweet. Team it with wedge boots to toughen it up a bit, or opt for strappy heels to keep it ultra-feminine.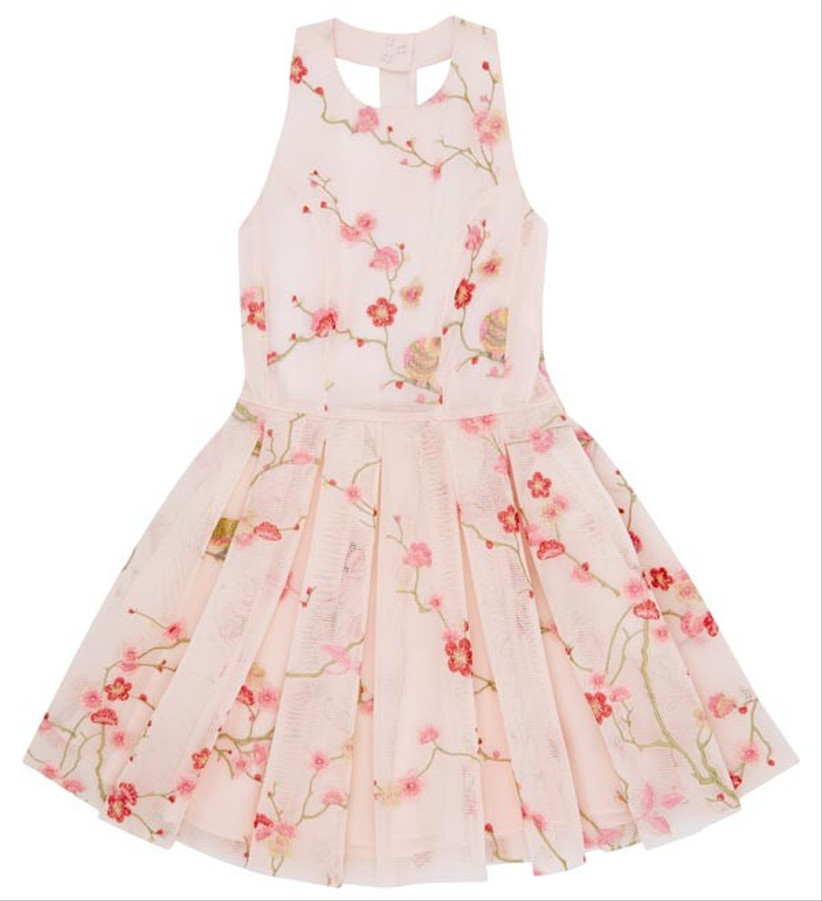 Girly girls will adore this fit and flare dress from Little Mistress (£70) – it's got gorgeous floral detailing on the shoulders and a waist belt that will cinch you in.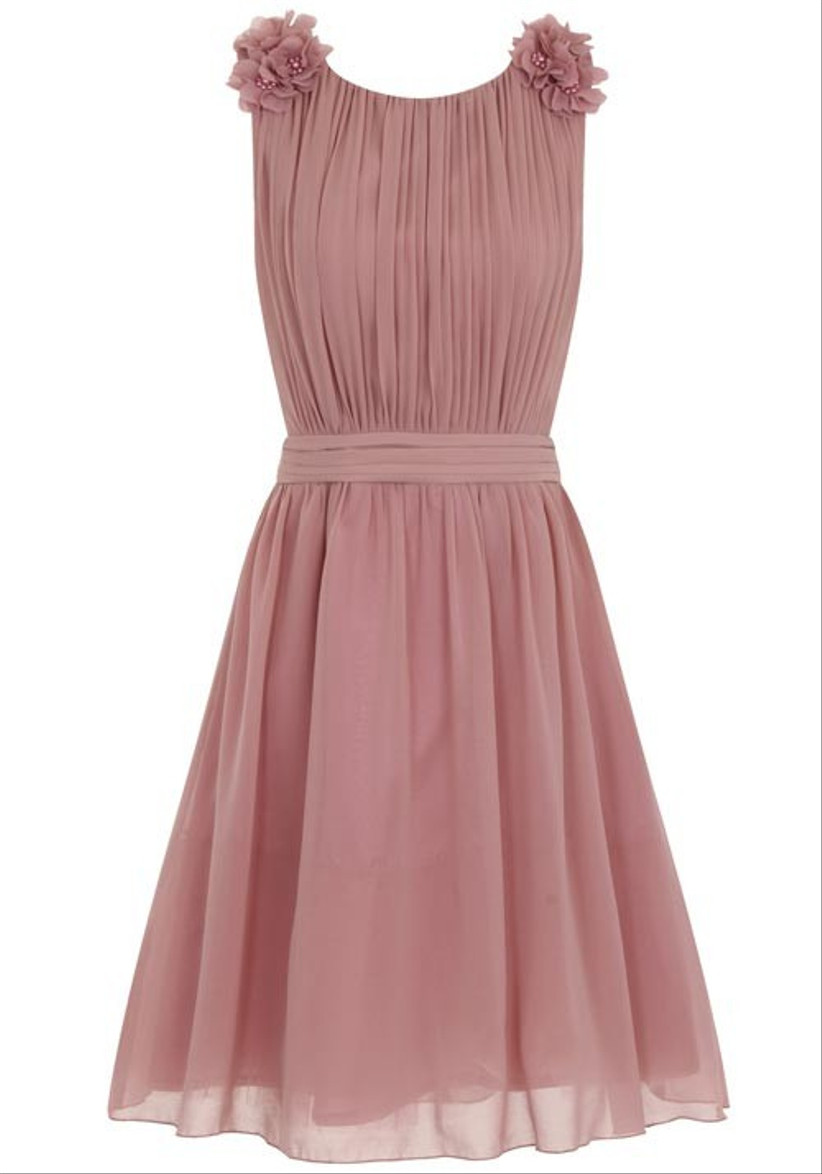 This lemon yellow gown, £85 from ASOS, is ideal for a spring wedding. Also, if you're considering a tea length wedding dress, opting for a dress like this will give you an idea of what it will feel like on your wedding day.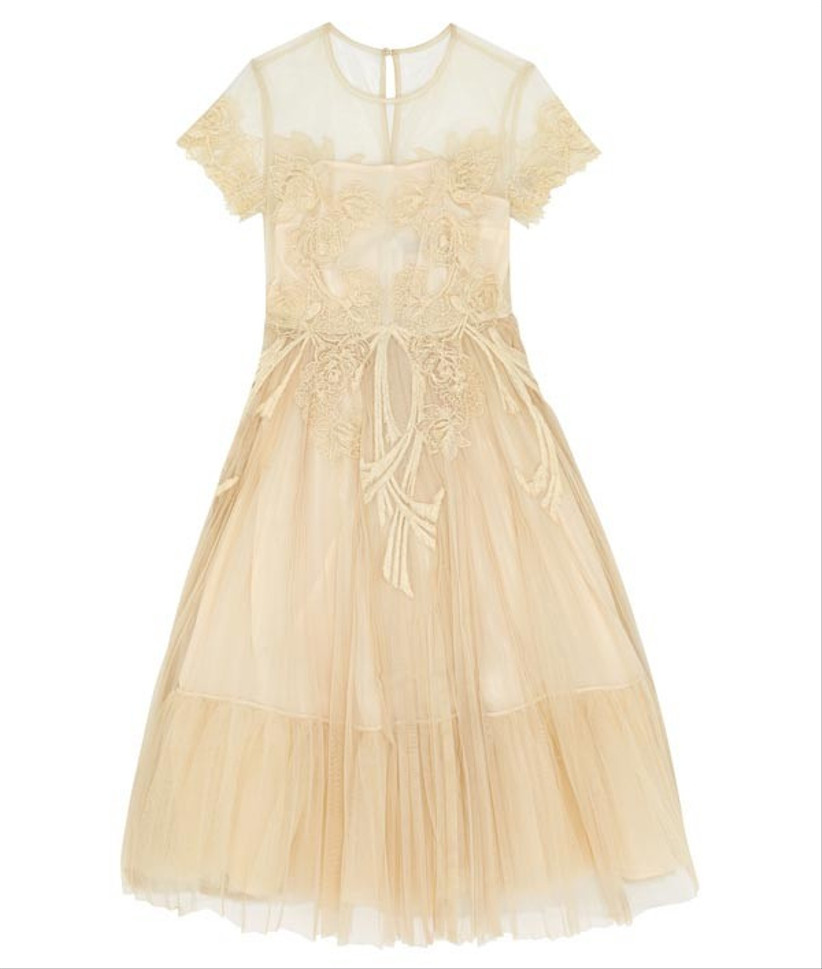 Vintage
Do you have your heart set on a pretty celebration full of vintage wedding ideas? If you're considering a vintage wedding dress why not start as you mean to go on with a vintage inspired engagement party dress…
Nude dresses will suit all skin tones, and skater style skirts skim over the figure, making this 50s inspired gown from Debut at Debenhams (£130) a seriously flattering choice.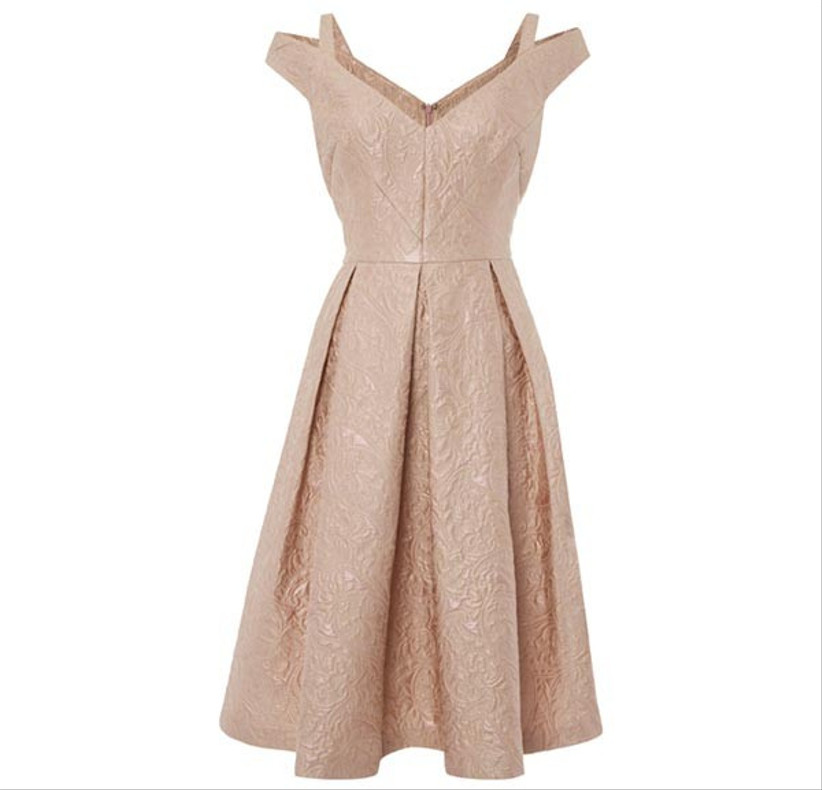 If you love the decadence of the roaring 20s, there are plenty of Gatsby inspired dresses for you to consider. The Liz dress from Gatsbylady at littleblackdress.co.uk is stunning.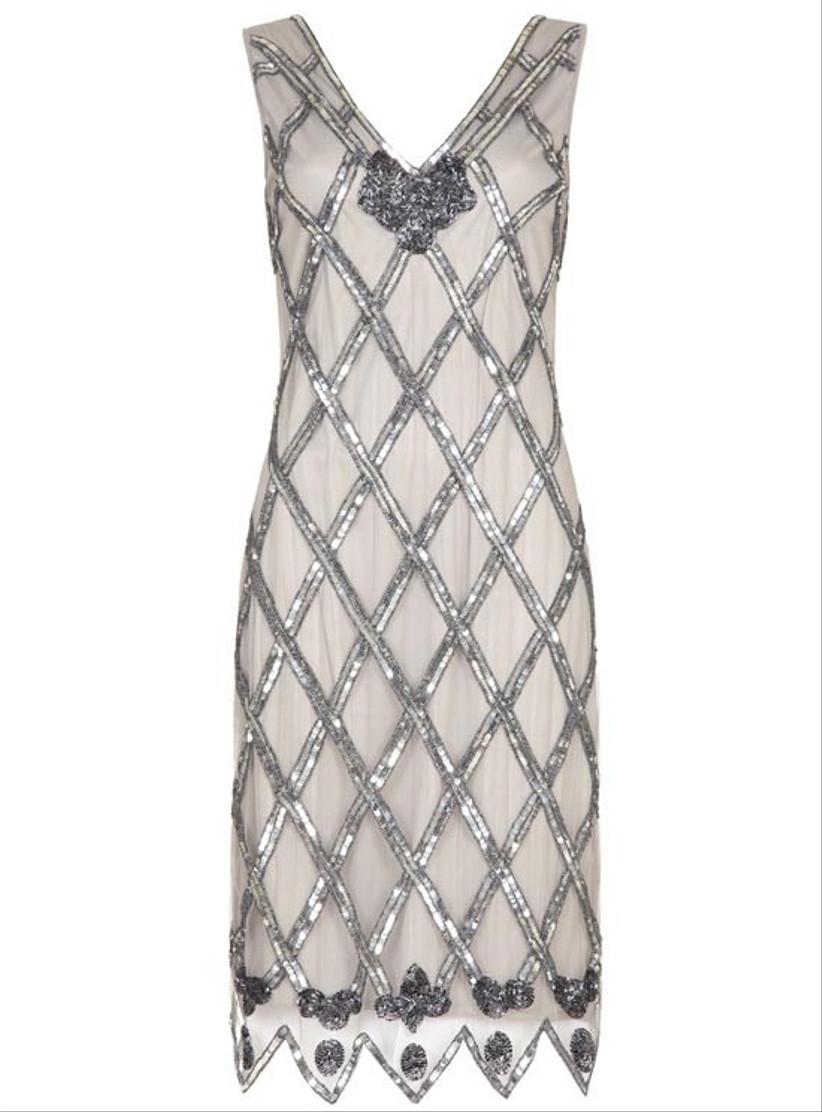 Brides who already have their hearts set on a 1920s style wedding dress, this Charleston dress, which costs £89, from Gatsbylady comes in mint and cream depending on how bridal you want to go.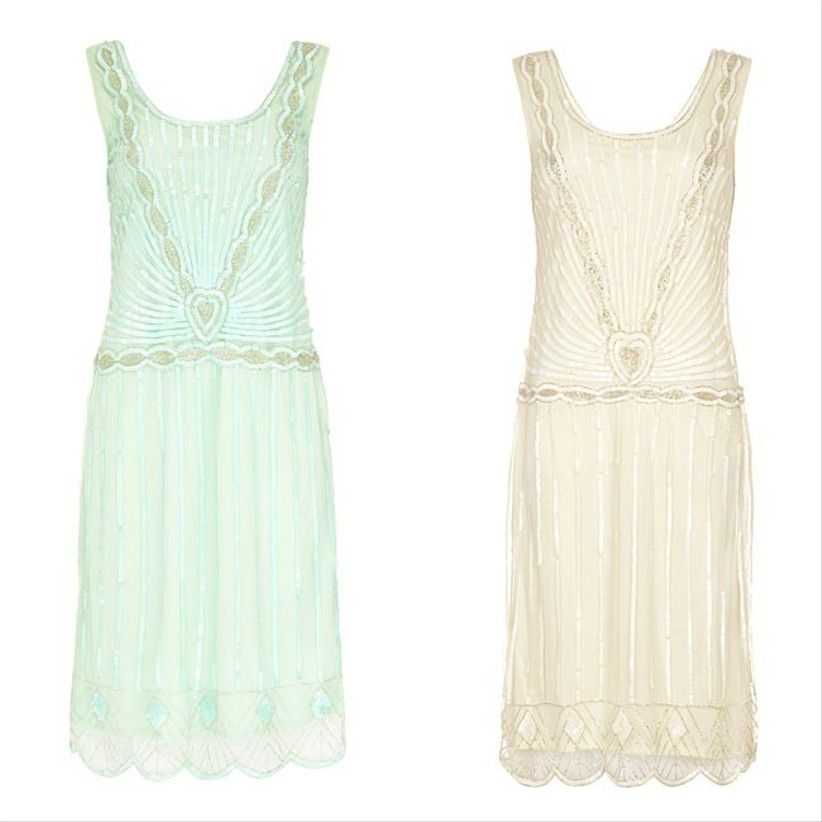 Another 1920s style gem, the Daisy dress by Gatsbylady has a super cute scalloped hem and lots of expensive looking beading but at £89 it's not unaffordable.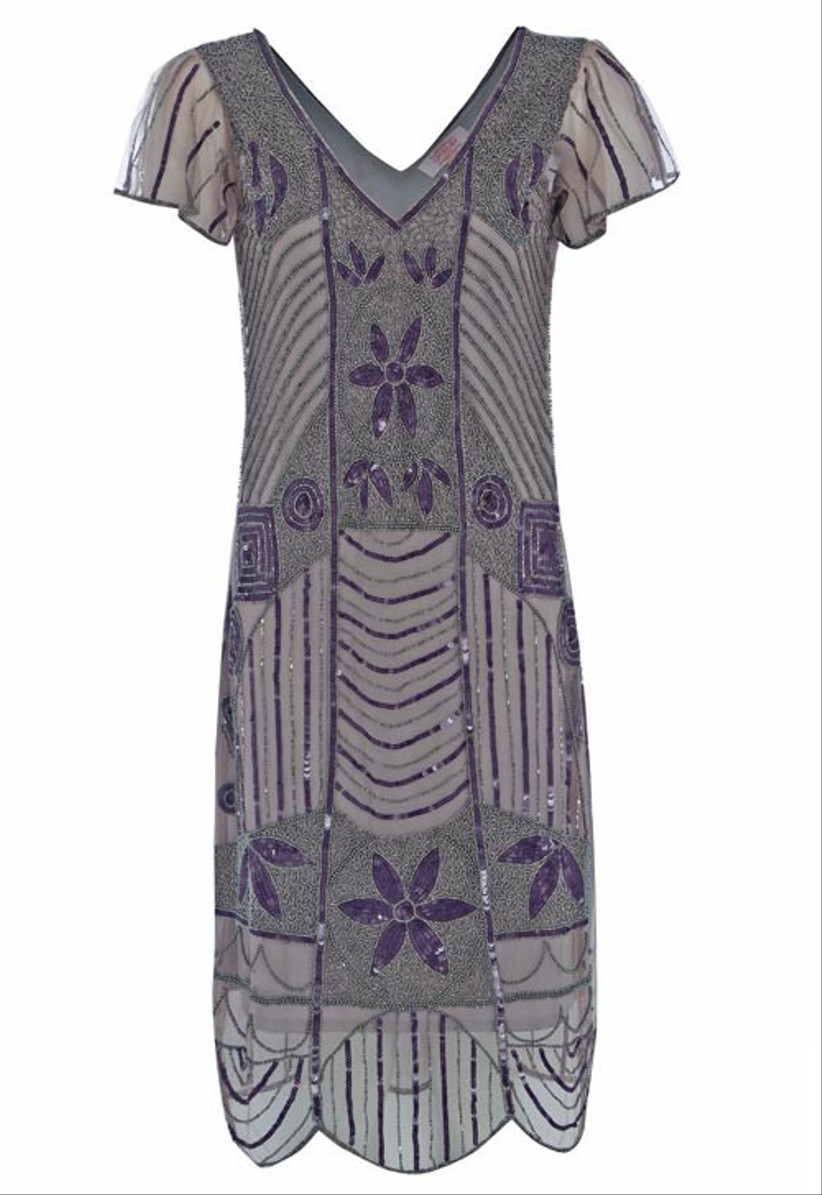 How gorgeous is this cream and gold embroidered dress from Little Mistress? At just £78, we think it'd definitely work as a wedding dress under £100 too. Pair with gold accessories for a stylish and coordinated look.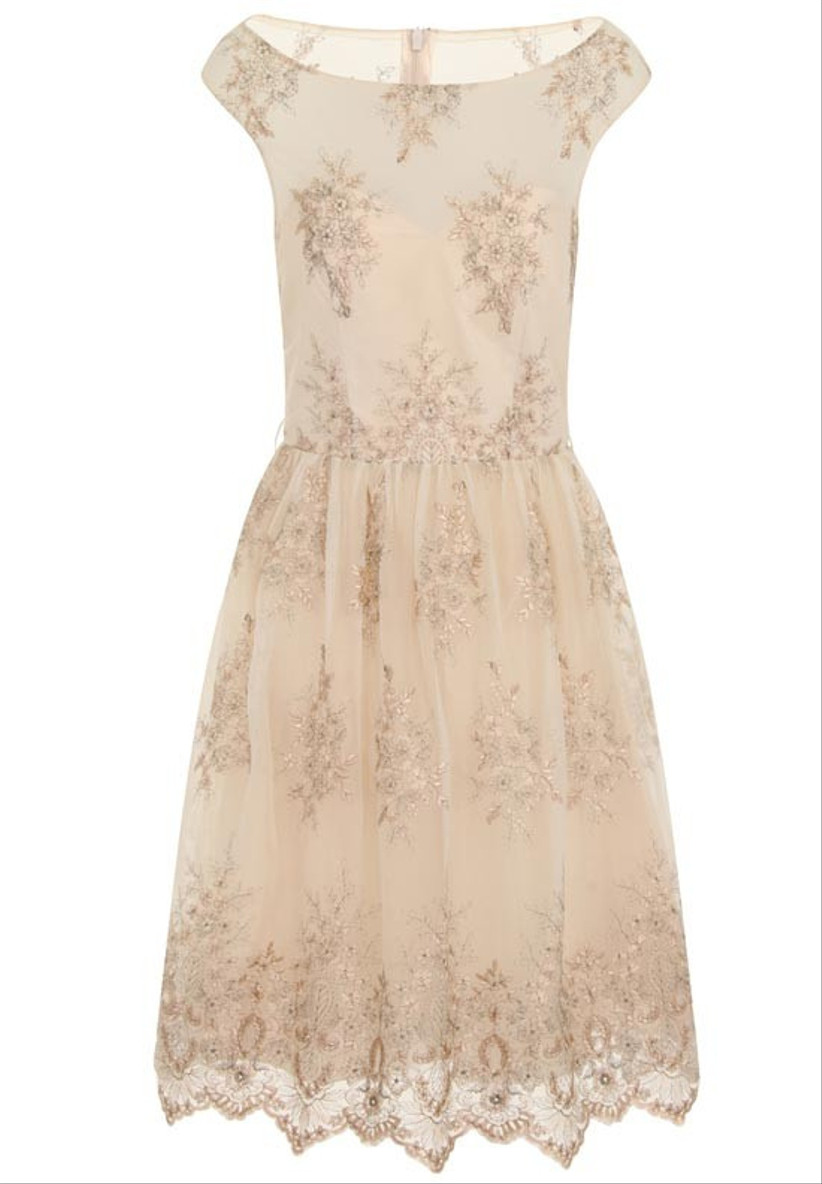 If the 50s is more your decade, you'll love this grey, metallic toned skater dress from Little Mistress. Priced at just £65, it looks much more expensive and has a flattering high neckline and capped sleeves.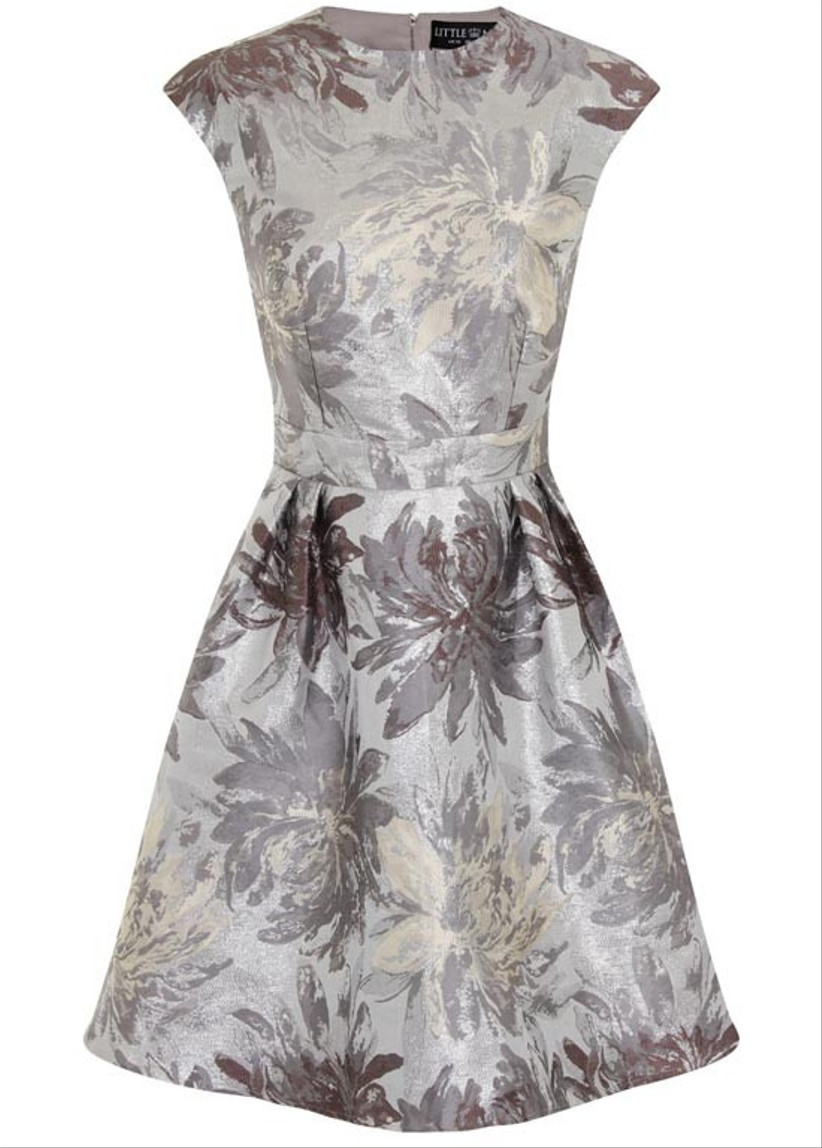 Boho brides inspired by the swinging 60s will love this floral patterned cherry blossom dress from Miss Selfridge (£45). It is ideal if you'd rather not have your arms on show, as the bell sleeves will conceal them.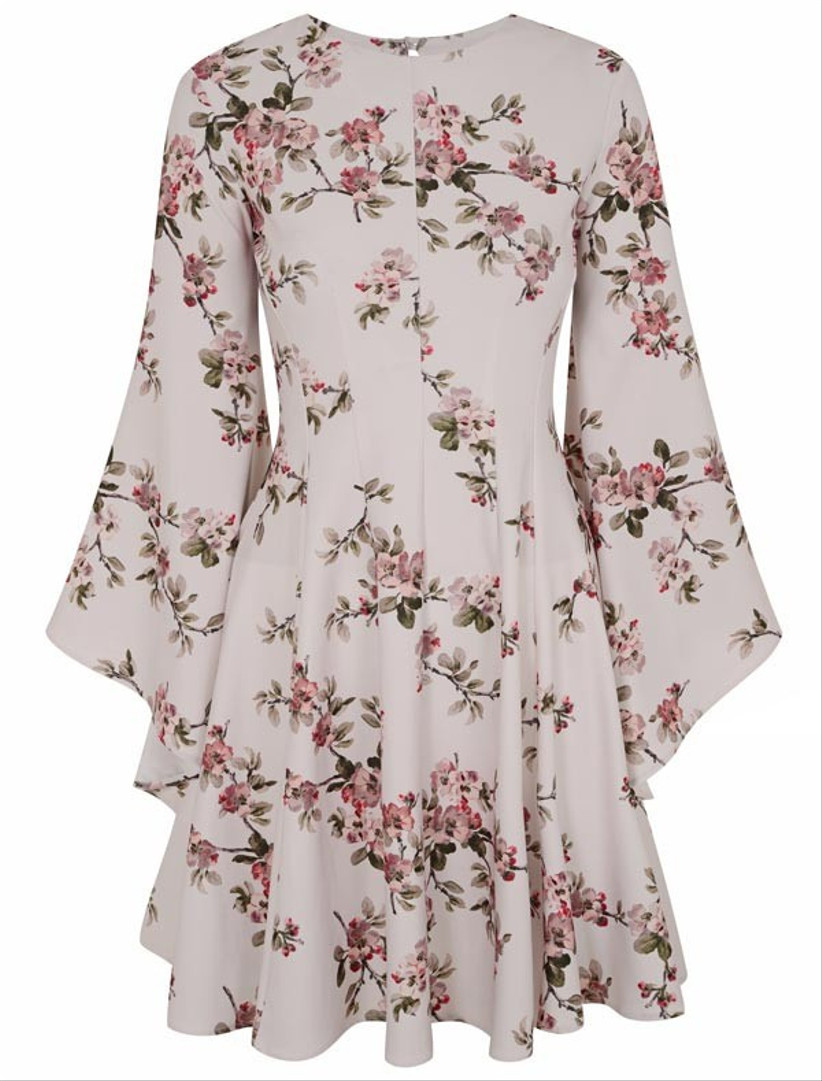 This long sleeved, nude toned dress inspired by the 70s will work all year round. Pair it with tights in the winter or bare legs and ballet flats in the summer. It's £59 from Miss Selfridge.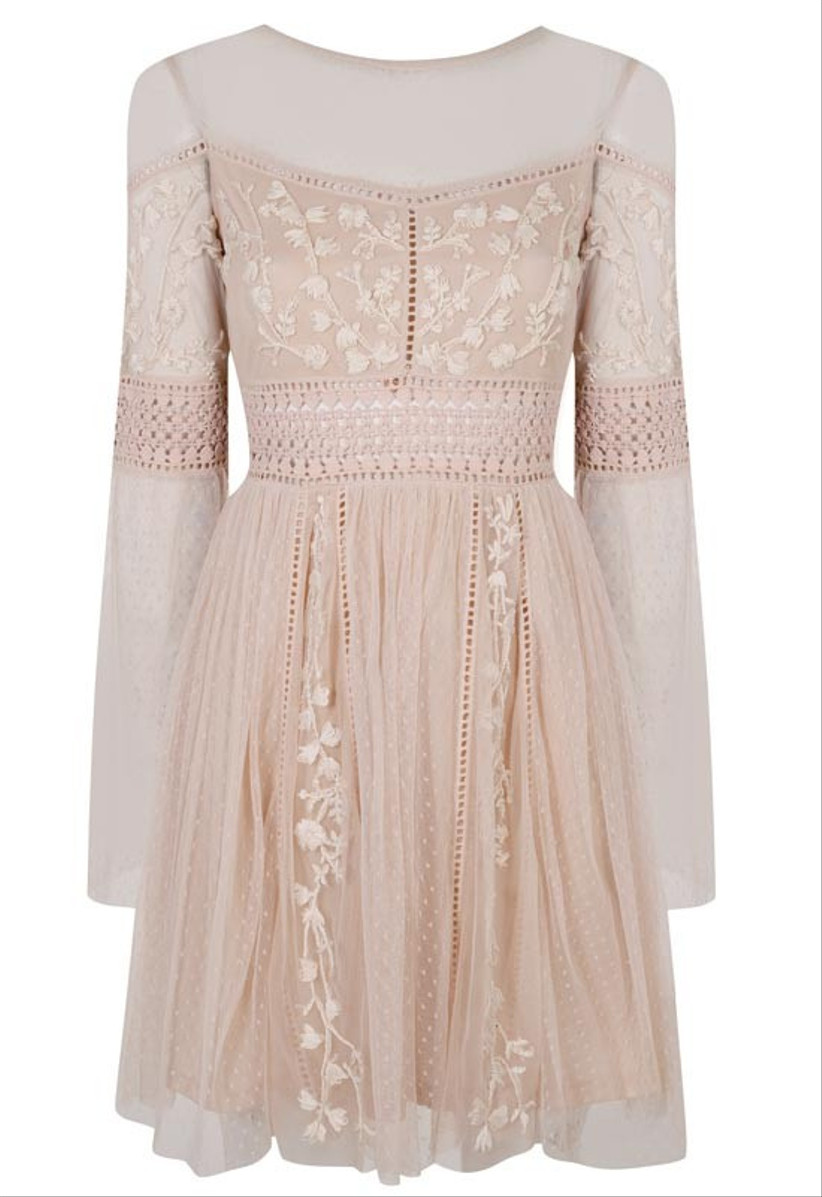 Edgy
Are you more about unusual, statement clothing? If a pretty dress or a glamorous gown isn't for you, we have some more cutting edge choices too. Make sure you check out our feature on unusual first dance songs too – they could be right up your street.
This striking sleeveless dress from Phase Eight (£250) will have all your guests gasping as you enter the room. The jewelled bodice is so striking, and the high neckline and tank-style sleeves are really unusual.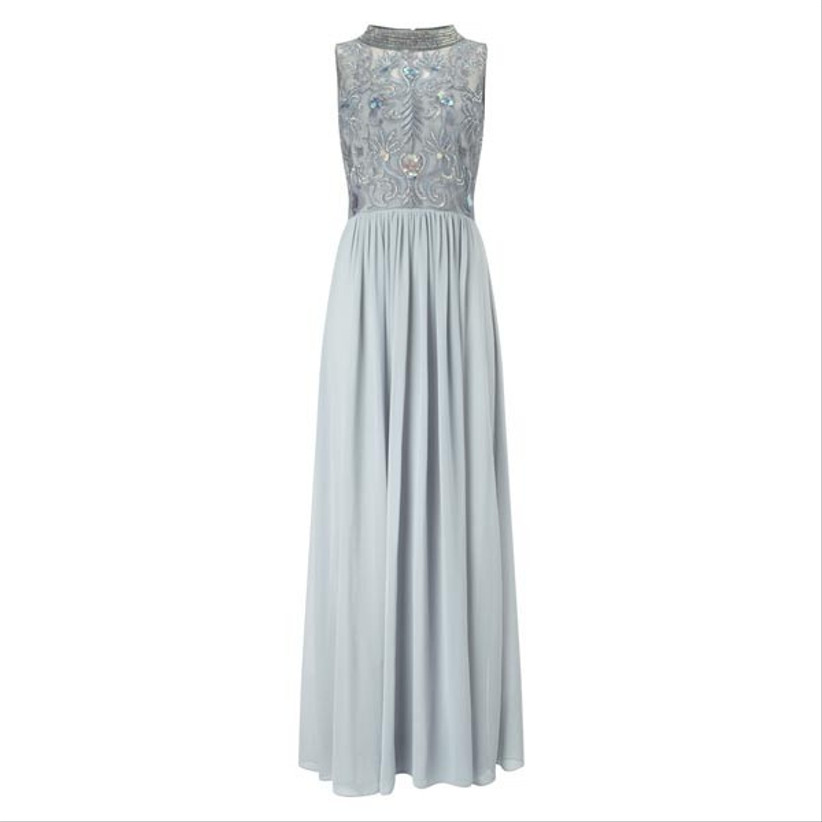 If you're more about making a statement with bold, bright colours, consider this shorter lace dress from Sonia H, which has a flared hem. The £300 dress is a great starting point if you love fishtail wedding dresses.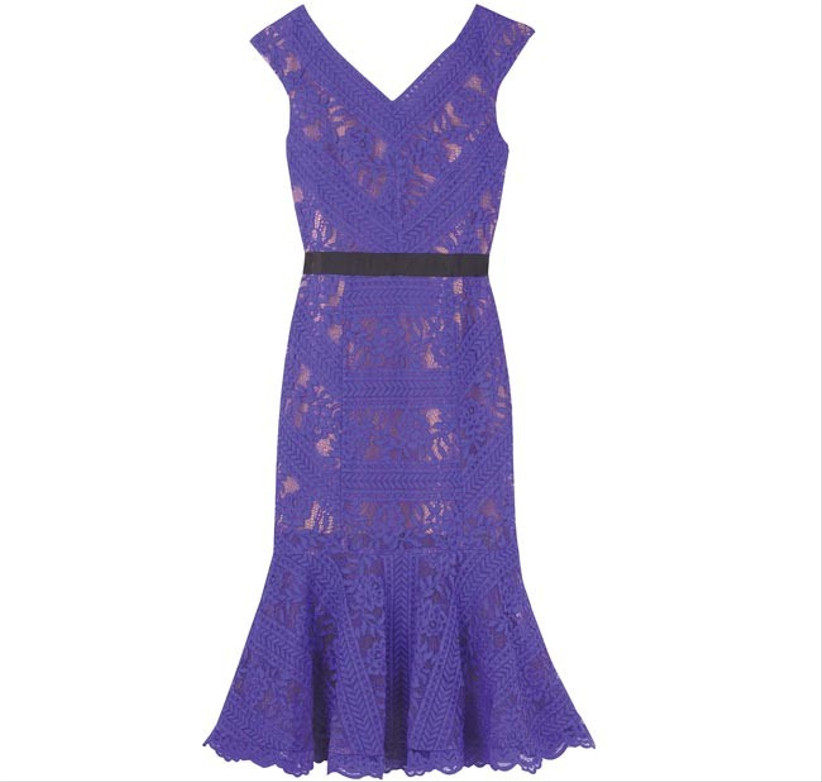 White dresses aren't for everyone, so if you don't want to rock bridal white at your engagement party, why not consider this gorgeous asymmetrical gown from Wallis, which comes in a striking pink ombre? We love the idea of pairing it with a leather biker jacket if you want to give it a tough edge.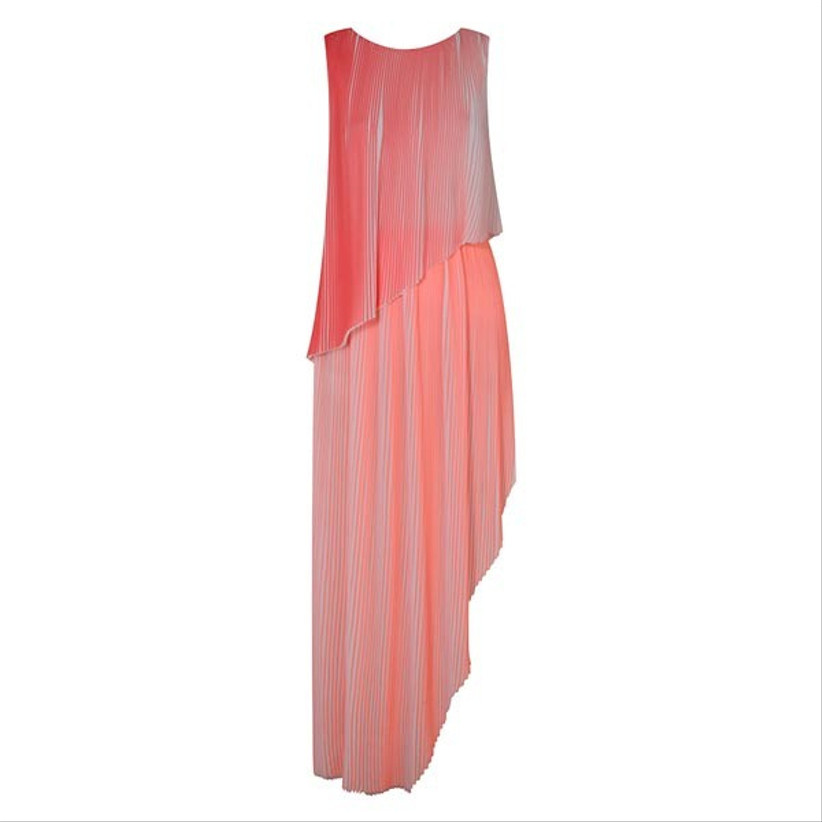 Love leopard print? This Ethologie by Jasper Garvida dress could be for you. The monochrome colour palette is stylish and would work well with colour pop accessories. The Allesandra dress is £105 from littleblackdress.co.uk.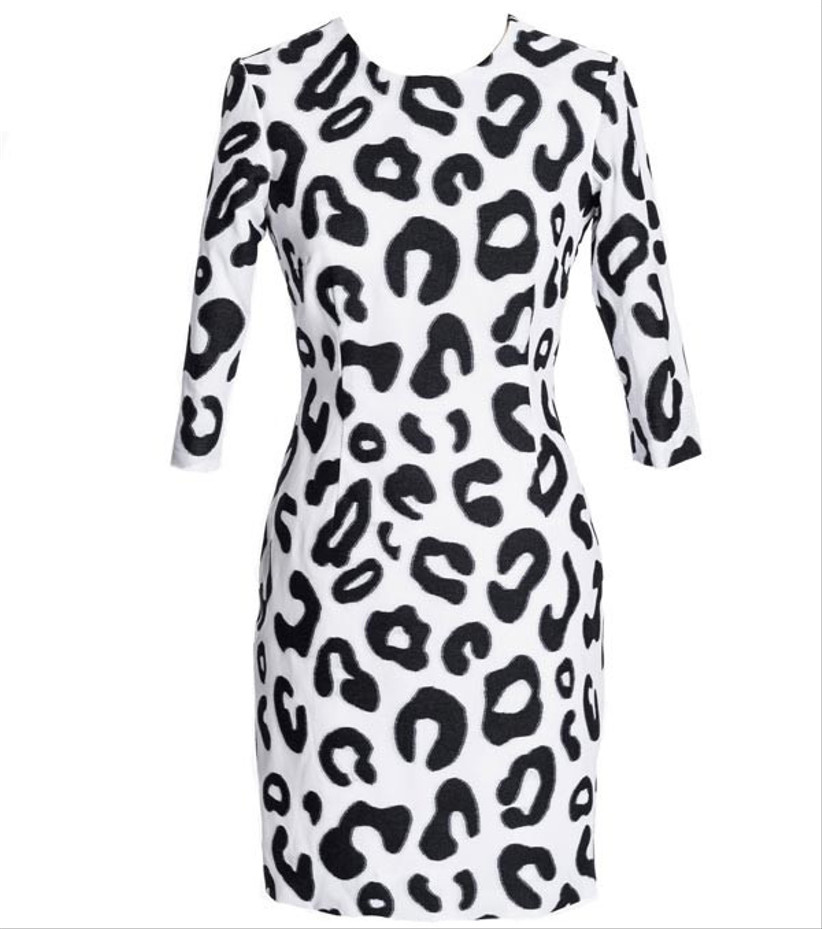 If the above dressed piqued your interest, how about this geometrically cut dress, also by Ethologie at Jasper Garvida. The Susanne dress is £105 from littleblackdress.co.uk.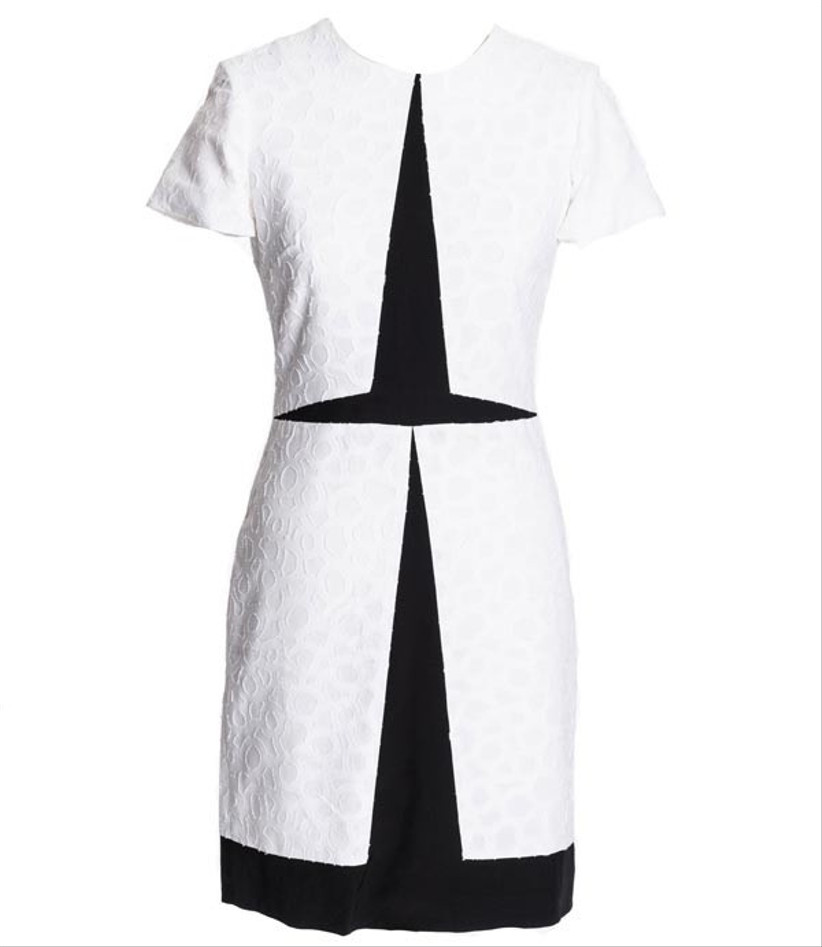 We are obsessed by the jaw-dropping feather neckline on the blush coloured Kate dress, which is £110 and available from littleblackdress.co.uk.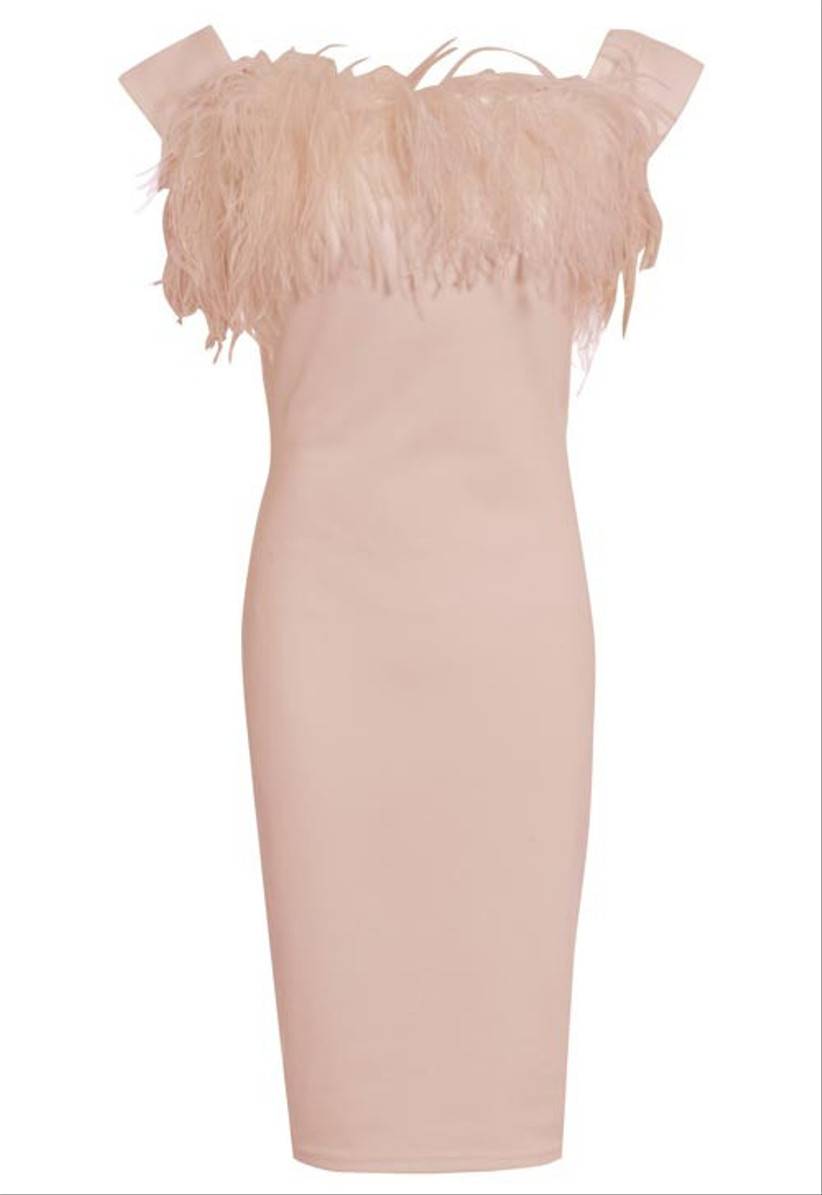 A stunning 3D detailed dress from ASOS in an eye catching pink shade. It also made it into our edit of the best summer wedding guest dresses so you might want to browse that too for more ideas.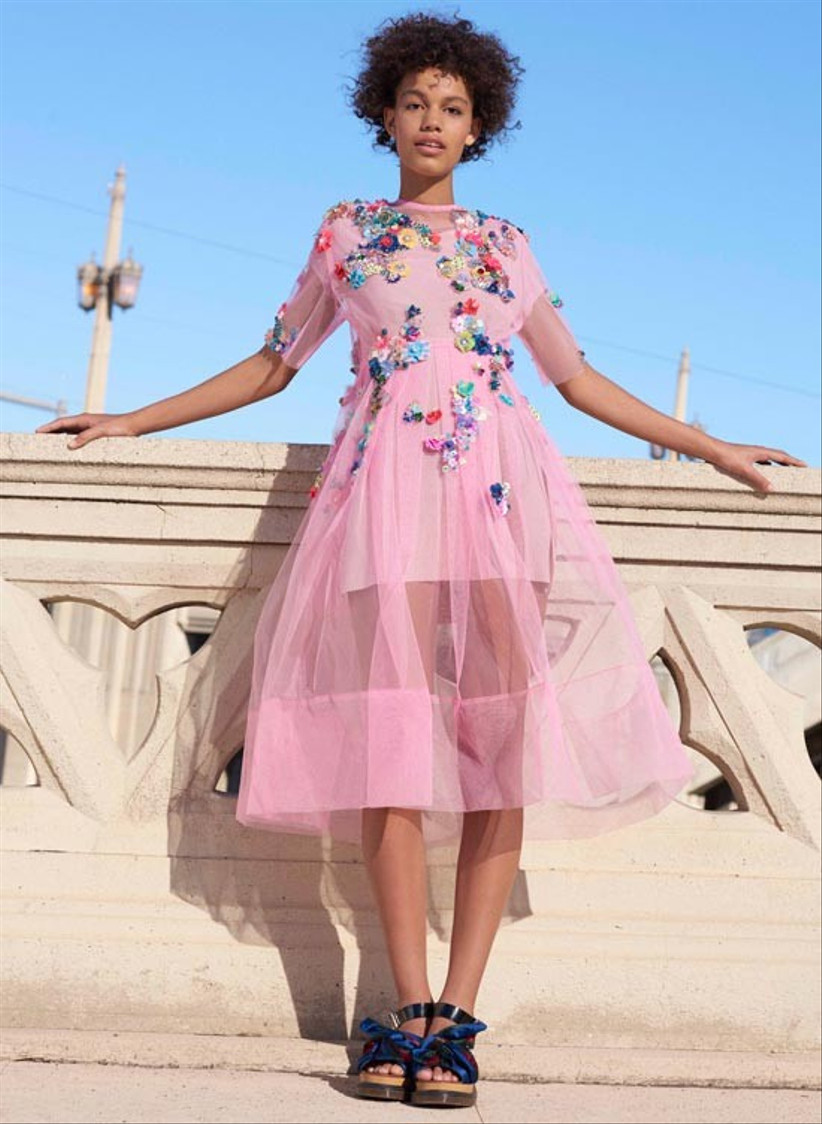 Brides who want to let their edgy side out to play but need to suit a sophisticated dress code should consider this grey wrap dress from Little Mistress. The £60 creation has a striking sheer crochet skirt.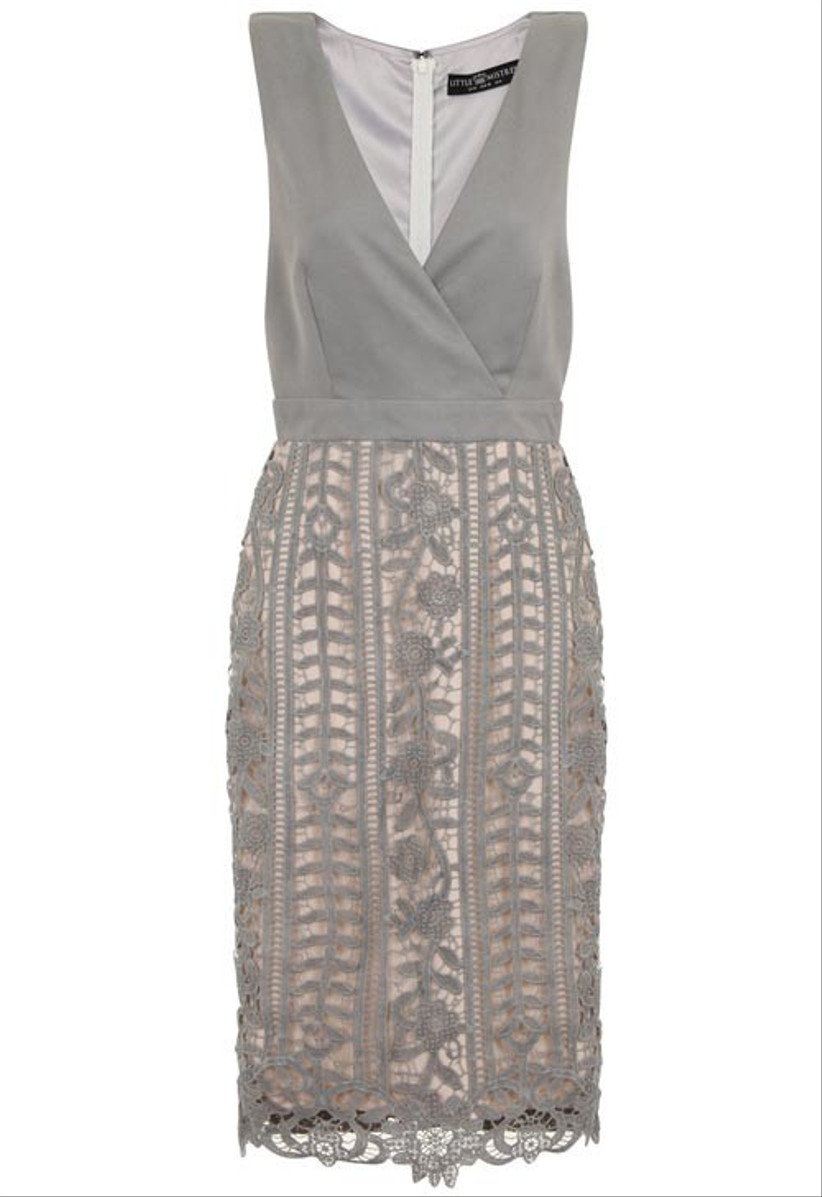 This nude pink toned dress from Marks and Spencer (£75) would suit a more casual engagement party. You can use the black detailing on the dress to match up your accessories for a coordinated but edgy look.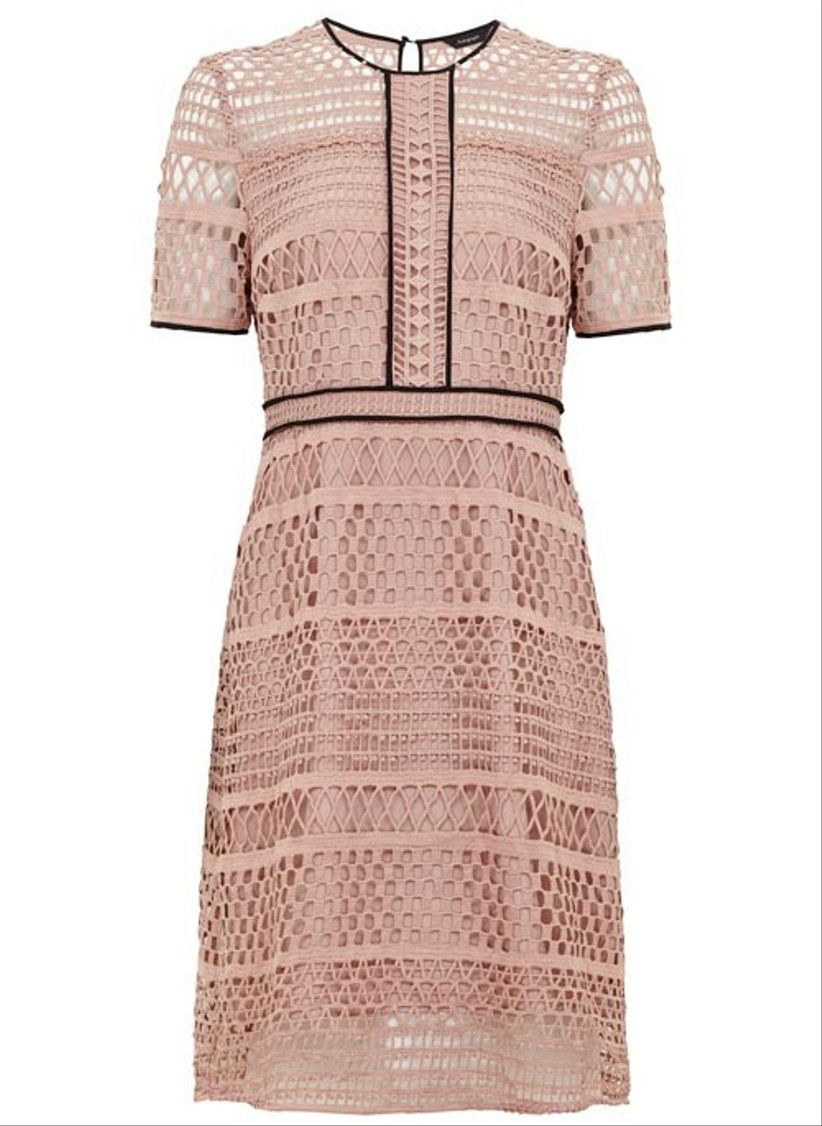 Are you obsessed with Millie Mackintosh's cool, boho style? Why not rock her Red Drape dress which is £65 at littleblackdress.co.uk. We can see it working amazingly with a smoky eye, a berry lip and bedhead hair.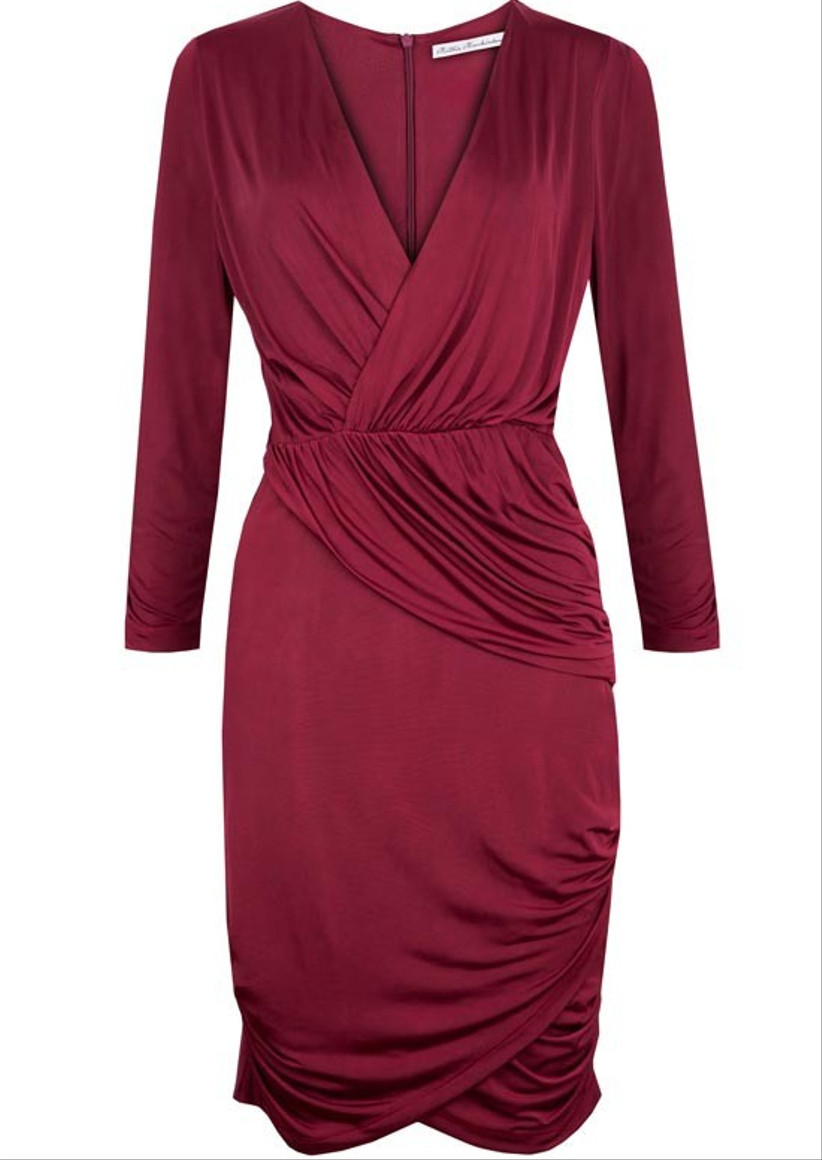 Are you looking for a dress that will cover your arms? The Brooklyn embellished dress in black from Lace and Beads at littleblackdress.co.uk costs £90 and covers your arms but is also sexy and stylish. This would work with bare legs and heels in the summer, and tights and boots in winter.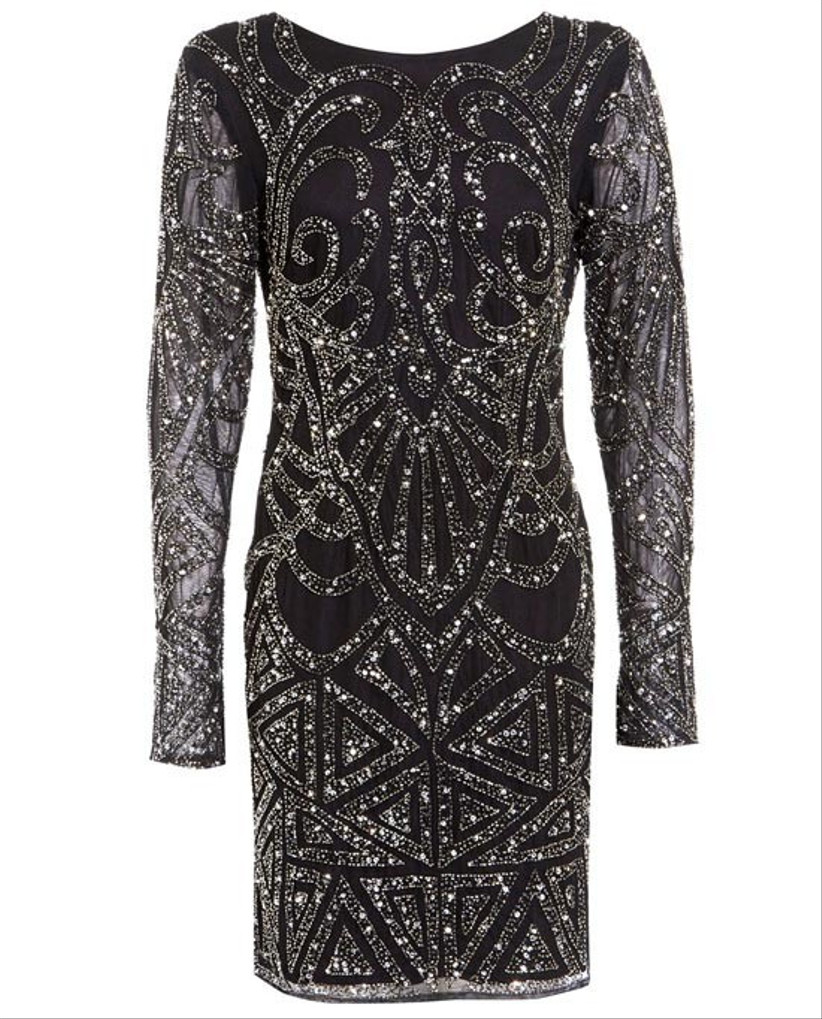 Once you've settled on your dream engagement party dress, why not read our ultimate guide to wedding hairstyles to help you find the ideal way to style your hair for the party?