Bridal Shower Decorations: 31 Beautiful Ideas Your Bestie Will Love
Transform any space into a beautiful bash for the bride with these bridal shower decoration ideas. We're talking stylish banners, balloons, floral backdrops and more - starting from just £3!
We have included third party products to help you navigate and enjoy life's biggest moments. Purchases made through links on this page may earn us a commission.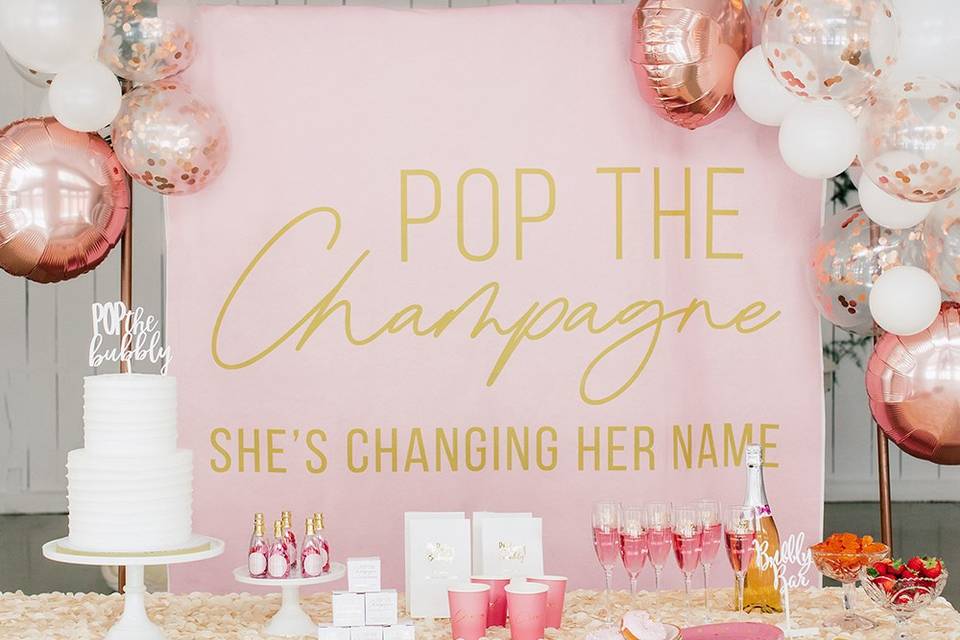 A bridal shower is a daytime event designed to shower the bride with gifts and celebrate her soon-to-be married status. In contrast to a typical hen party, it's a relaxed, family-friendly affair where everyone from great-grandmothers to her little sister can attend. In short, pack away the penis straws and save those for another night.
But how do you throw the ultimate bridal shower? The devil is in the detail when it comes to creating a special day that looks amazing and has a brilliant atmosphere, so a great place to start is with the decorations. Whether you decide to host a beautiful bridal brunch, a glamorous gala or a festival-style soiree, decking the place out with gorgeous decorations will transform the space into something unforgettable.
From balloon arches and neon lights to table confetti and cocktail toppers, we've compiled 31 beautiful bridal shower decoration ideas to get your venue looking totally Instagram-ready. Even better, many of these ideas are affordable or can be made DIY, so you won't have to break the bank to show the bride a good time. Now, all that's left to do is pick your theme and start shopping!
31 Bridal Shower Decoration Ideas
1. Rose Gold Mylar Foil Letter Balloon - £20, Hitched Shop
No helium is required with this gorgeous rose gold bride balloon from the Hitched Shop so it'll be easy and quick to set up. It will make a simple, yet effective centrepiece when paired with a display of circular balloons or flowers.
2. Pastel Pink Tassel Garland - £12.99, Hitched Shop
If an object at a bridal shower can be decorated, you can bet we'll be trying! Take these pink and gold tassel garlands from the Hitched Shop that have been pinned to the edge of a table. Little details like this will have a fabulous overall effect.
3. Tissue Paper Confetti - £3, Hitched Shop
Confetti isn't just for the wedding day y'know! Scatter this gorgeous peach, gold and white confetti mix from the Hitched Shop across tables or place inside clear balloons. You can also choose from a vibrant colourway with yellow and blue or a monochrome mix.
4. Battery Powered LED Lights in Warm White - £11.99, Hitched Shop
Although your bridal shower will likely take place in the day, if it goes on until the evening hanging up fairy lights will create a lovely ambience. These table lights from the Hitched Shop emit a beautiful warm white glow and would look amazing on table tops.
5. Printed Photo Backdrop - £40, Hitched Shop
How cute is this 'pop the Champagne, she's changing her name' backdrop? Hang up as a backer for your designated picture area and gather everyone in front for some amazing group photos. Say cheese!
READ MORE: How to Create a Beautiful Balloon Wall in 5 Easy Steps
6. Luxe Balloon Arch Kit - £39.99, Ginger Ray
You've probably seen balloon arches popping up all over the place and we're just as obsessed with them as everyone else! Ginger Ray is offering a luxe balloon arch kit with 200 balloons for an amazing price. Available at just shy of £40, pick from a wide range of different colours.
7. Yay Pink Ombre Donut Wall Stand - £19.99, Ginger Ray
Doubling up as a snack stand and a gorgeous focal decoration, we love this 'yay' donut stand from Ginger Ray. Fill with 17 rings and keep your guests supplied with sweet treats all day.
8. Gold Almost Mrs Scripted Banner - £5.99, Ginger Ray
Gold and green is a gorgeous colour combo, particularly if you know the bride is a fan of glitz and glamour. This 'almost Mrs' hanging banner will liven up a bare wall or a lonely corner if you're not too sure what to place there.
9. Pink Leaf Ribbon Backdrop - £24.99, Ginger Ray
If you love the idea of having a backdrop but want something suitable for a boho bride, look no further than this dreamy pink leaf set up. We love the addition of neutral flowers and pampas grass to accompany it.
10. Bleached Pampas Grass Decorations - £24.99, Ginger Ray
Speaking of pampas grass, if the bride-to-be has this trendy plant dotted around her house we bet she'll adore incorporating it into her bridal shower. Soft and whispy, it'll fit into almost any theme you decide to go for and look heavenly.
READ MORE: 17 Dreamy Ways to Use Pampas Grass in Your Wedding
11. 'Bride To Be' Cake Topper - £14.95, Here's To Us
As well as decorating the bridal shower venue, don't forget to adorn food and drink with décor too. You don't have to splash out on anything fancy, this simple white cake topper works wonderfully and could even be made out of card if you want to get crafty.
12. Bridal Shower Afternoon Tea Decorations Pack - £55, Bunting & Barrow
Create a stylish bridal shower afternoon tea with this dainty set from Bunting & Barrow. It contains a cake stand, napkins, paper plates, cups and saucers, plus a selection of beautifully designed games.
13. Bride To Be Muted Script Candle - £17, Kindred Fires
You can't beat a good candle for adding ambience to a room and this gorgeous pick from Kindred Fires comes with a sweet personalised message on the label from you and the bride crew. It will make a lovely keepsake for the bride to take away at the end of the day.
14. Paper Heart Honeycomb Decoration - from £3.74, Deco Pom Poms
These intricate honeycomb heart decorations will look great as table centrepieces or hanging from trees in the garden. They have a huge colour selection so you can match them to suit your bridal shower theme.
15. Prosecco Champagne Wall - £14.90, Super Sweet Party
We guarantee guests will be very pleased to see this elegant drinks stand propped up. With gold foil detailing and enough space to fit 10 glasses it's as pretty as it is practical. Pass the bubbles!
READ MORE: 15 Things You Should Never Say to a Bridesmaid
16. Pink Blush Balloon Ceiling Kit - £29.99, Party Delights
Make use of the entire space by decorating each and every corner - even the ceiling! Party Delight's balloon ceiling kit includes 160 pink, rose gold and white balloons, 15 rose gold tassels and streamers, balloon tape, clear twine and 100 glue dots for less than £30. Bargain!
17. White Dream Catcher Decoration - £12.99, Party Delights
Give the bridal shower a festival vibe by popping up a few white dream catchers from Party Delights. If you're having an alfresco event they'll work even better as they blow in the breeze. They're so gorgeous the bride may even want to re-use them for décor on the wedding day!
18. Foliage Light String - £8.99, Pretty Little Party Shop
Combine two pretty decoration trends in one - foliage and fairy lights. Place the string on tables, wrap around doorways or pop inside vases to create a blissful setting that will fill the venue with a relaxing ambience.
19. Rose Gold Ombre Cups - £4.29, Pretty Little Party Shop
Why drink out of plain cups at the bridal shower when you could be sipping from these beauties? Featuring a rose gold ombre design, they're only 50p per cup so no one will be left thirsty if you opt for these.
20. Pretty Party Napkins - £3.49, Pretty Little Party Shop
Despite a bridal shower being a little more relaxed than a hen party, we guarantee they'll be a few spilt drinks or cake smudges to clear up. Make sure it's done with style with these polka dot napkins from Pretty Little Party Shop.
READ MORE: The Best Hen Party Decorations for a Stylish Celebration
21. Floral Team Bride Paper Plates - £4, Hobbycraft
Alongside cups and napkins you're going to need some gorgeous plates as well if you're serving up food on the day. These chic 'Team Bride' plates from Hobbycraft come in a pack of 8 and will ensure your tableware is styled to perfection.
22. Team Bride Floral Guest Book - £15, Hobbycraft
Following the 'Team Bride' theme, Hobbycraft also offer this frame guest book. Combine your favourite photo of the bride and her crew with some heartfelt messages from her nearest and dearest. It's a great alternative to a traditional guest book and one that she can hang up as decoration at home post-party.
23. Bridal Shower Party Supplies Kit - £14.99, Amazon
If you have limited time to plan the bridal shower and need some brilliant decorations ASAP, your saving grace could well be this bridal shower decoration kit from Amazon. Available for next day delivery and containing enough decs to adorn the whole room, the bride will be none the wiser...
24. Bridal Shower Balloon Box - £22.99, Amazon
Also available on Amazon are these cool balloon boxes. Fill with balloons of your choice and we bet all the guests will be seriously impressed with this decoration. Or, you could even put flowers inside the transparent boxes.
25. Boho Seating - £POA, Forever and a Day Events
In all the excitement of planning the bridal shower you might forget to think about having seating that actually looks good. While a few chairs would do, we reckon this chill-out boho seating space made from lush velvet fabric will be perfect for a bridal shower brunch.
READ MORE: The 32 Best Hen Party Games
26. Bride Squad Cocktail Toppers - £4.99, Team Hen
Decorate drinks with these edible bride squad cocktail toppers. You can pop them on top of a foamed cocktail, prosecco or even a hot drink and they'll last up to 30 minutes. Alternatively, attach them to the rim with a mini peg and they'll stay all day.
27. Neon Love Table Lamp - £65, Red Candy
Neon lights look amazing at any event but they can often be pricey. Thankfully, we've found this affordable and adorable option at Red Candy for just £65. Giving off a tinkled pink glow, this lamp sends off a clear message that this bridal shower is all about feeling the love.
28. Tissue Paper Flowers - £8, Hobbycraft
Whether you use these tissue paper flowers as a wall decoration or have them hanging up above you, they'll add a stunning soft touch to any bridal shower. They come flat packed for easy transport if you have to travel to a venue and easily unfold to display.
29. Minimalistic Bridal Shower Welcome Sign Template - £6.71, Wishful Paper Boutique
Welcome guests to a bridal brunch with this sign template from Wishful Paper Boutique. You can personalise it with the bride's name and choose your font style, size and colour.
30. Countdown Bridal Shower Balloon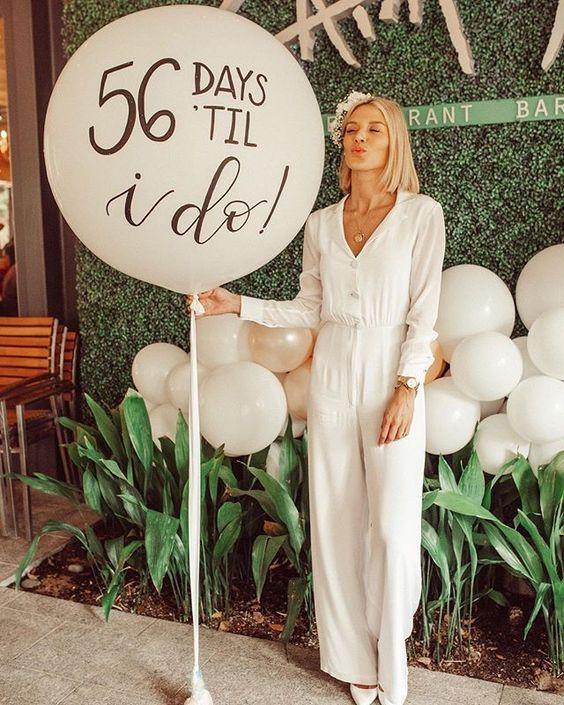 All you need to re-create this countdown to the wedding balloon idea, is a large white balloon and a sharpie. Oh, and a steady hand might come in useful too!
31. Flower Petal Ice Cubes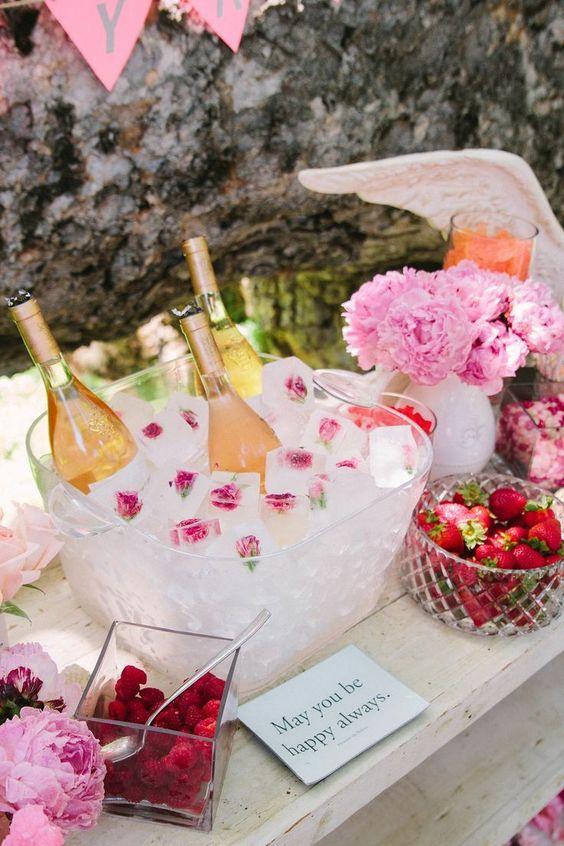 Upgrade your ice cubes by freezing them with a few petals or fruit. Just remember to make sure they're edible flowers if you plan on putting them in drinks!
An epic bridal shower wouldn't be complete without an amazing gift to give to the bride. Here're some sentimental bridal shower gift ideas that she's bound to love.