33 of Our Favourite Doughnut Wall Ideas (And How to Make Your Own)
Doughnut walls are still the most delicious wedding trend we've come across. Here are 33 that'll leave you and your guests drooling (plus some DIY doughnut wall tips)
We have included third party products to help you navigate and enjoy life's biggest moments. Purchases made through links on this page may earn us a commission.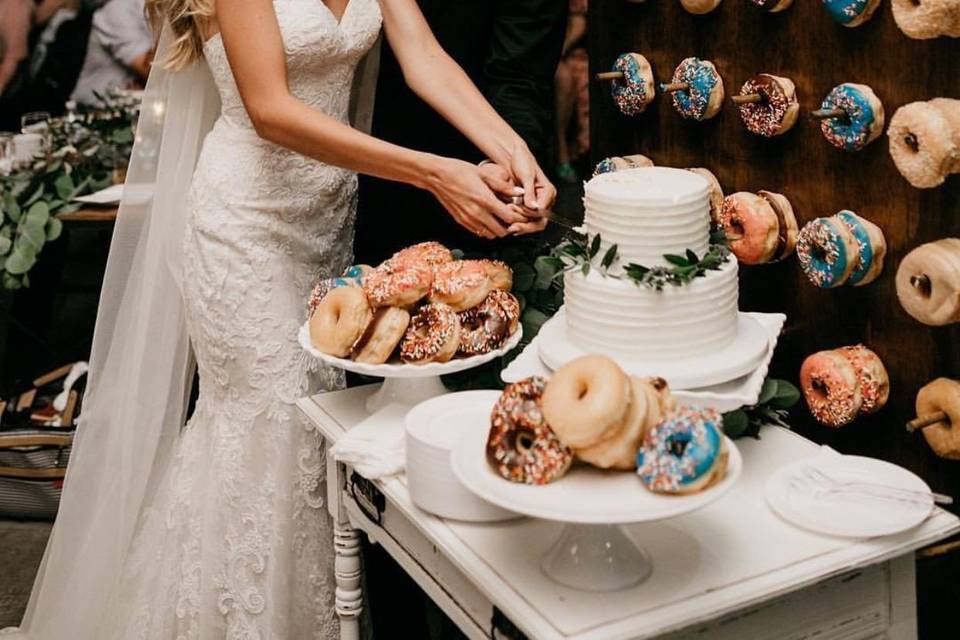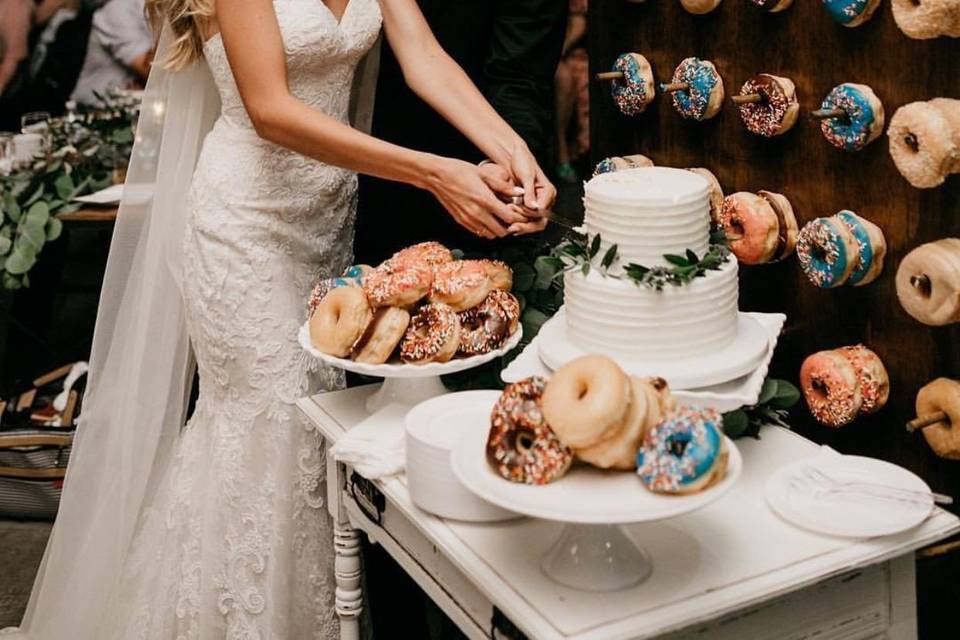 Doughnut walls have been hugely popular wedding decoration items for a while now, but they show no sign of going anywhere. And why would you want them to? You get delicious, sticky doughnuts and a cool focal point to a dessert station or addition to your cake table. When the late evening munchies hit your tipsy guests, we promise they'll all be clamouring for these iced beauties.
Sticklers for spelling, look away now. We've got lots of doughnut walls, but a few 'donut' walls using the American spelling have slipped in too. This is inevitable if you buy a doughnut wall from a US company, but if you hire or buy one from a UK supplier you should be OK. Either way, you guests know they're getting a yummy treat so they definitely won't mind!
Below, we've found you loads of doughnut wall and doughnut display inspiration, plus some *seriously* cool iced doughnuts. Want to DIY your own? Scroll on for the best doughnut wall stands you can buy and make.
The Best Doughnut Walls
1. Doughnut-Shaped Wall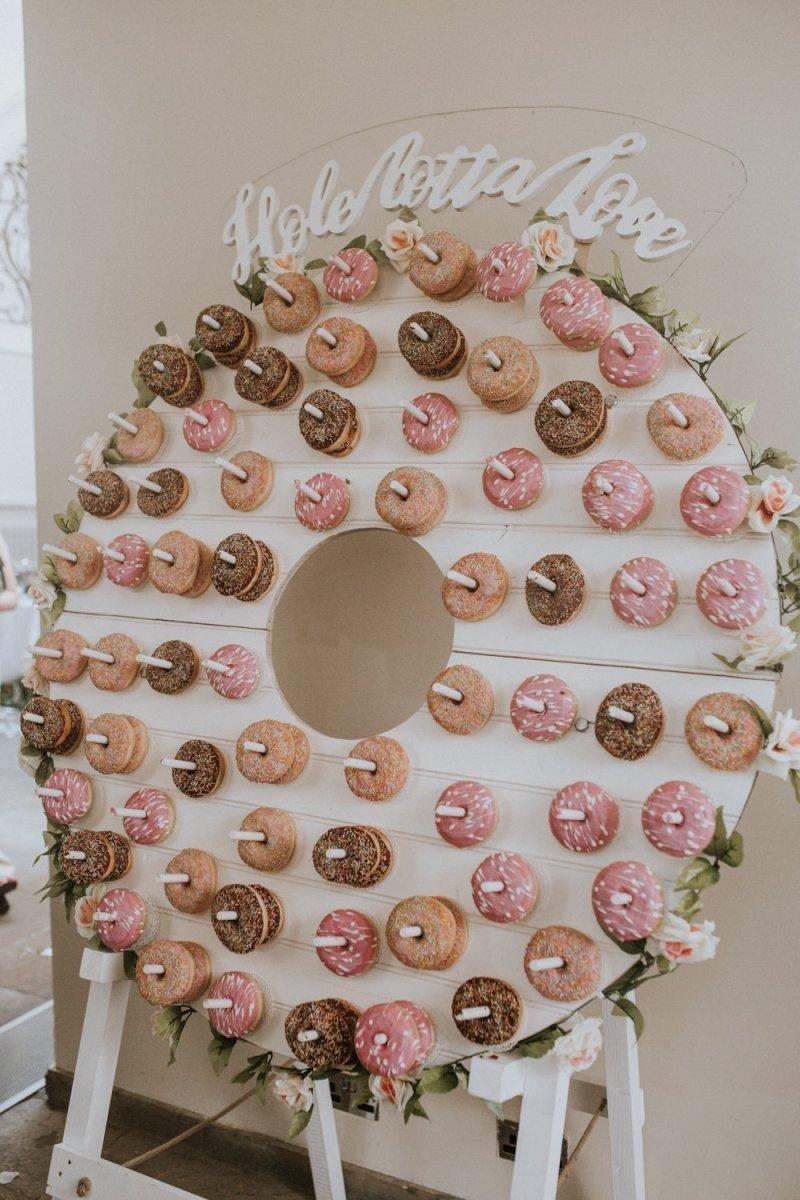 Image: Pinterest
What better way to display your doughnuts than on a wall shaped like one? We love this circular board which is framed by faux flowers and topped with three different kinds of doughnuts. A single flavour or three to four varieties of doughnut often makes the best mix for a wall.
2. Mirror Doughnut Wall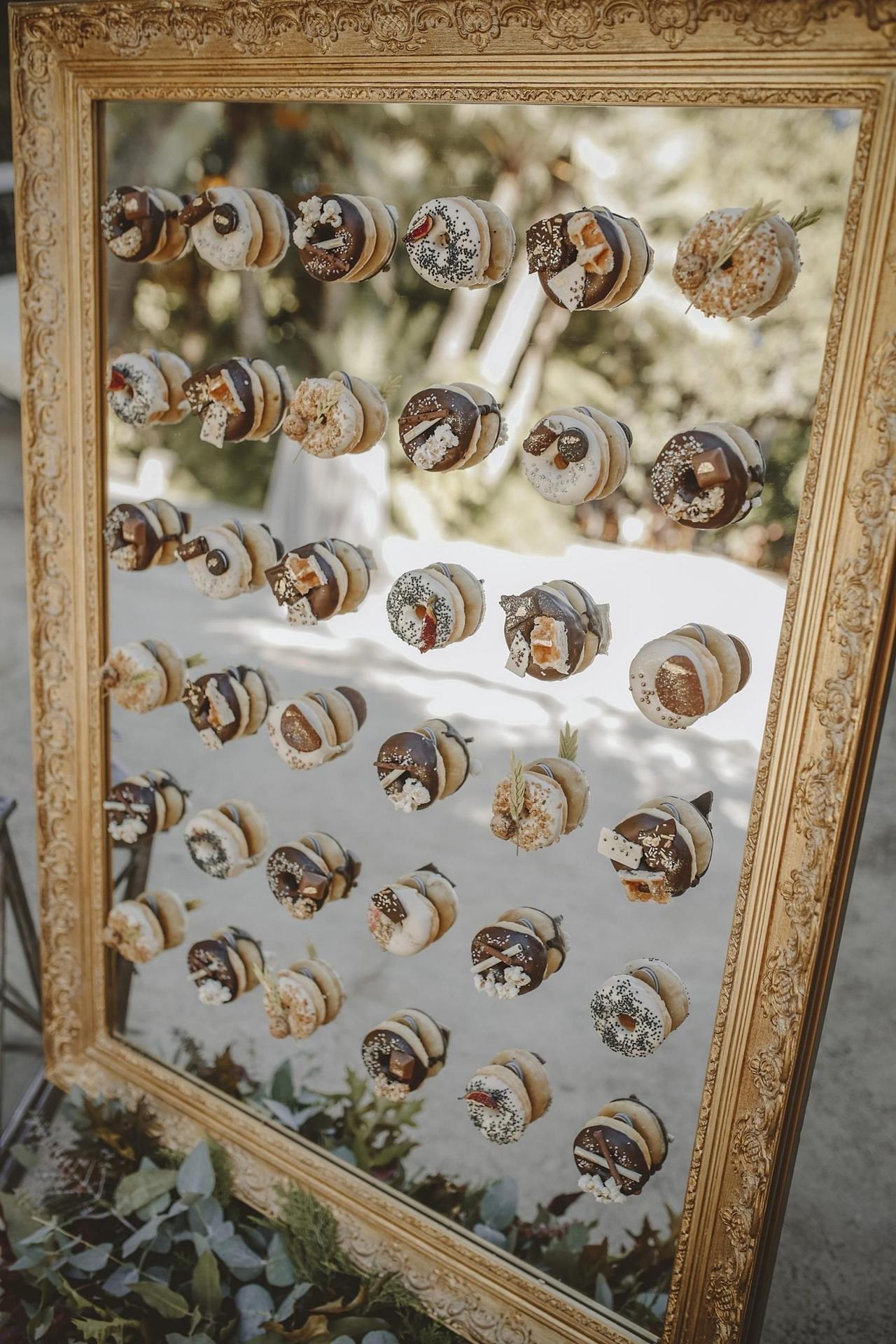 Image: Pinterest
This mirror doughnut wall is actually super simple to DIY. You just need a large mirror – gold looks amazing – and some self-adhesive hooks, then surround it with faux foliage.
3. Honeycomb Doughnut Wall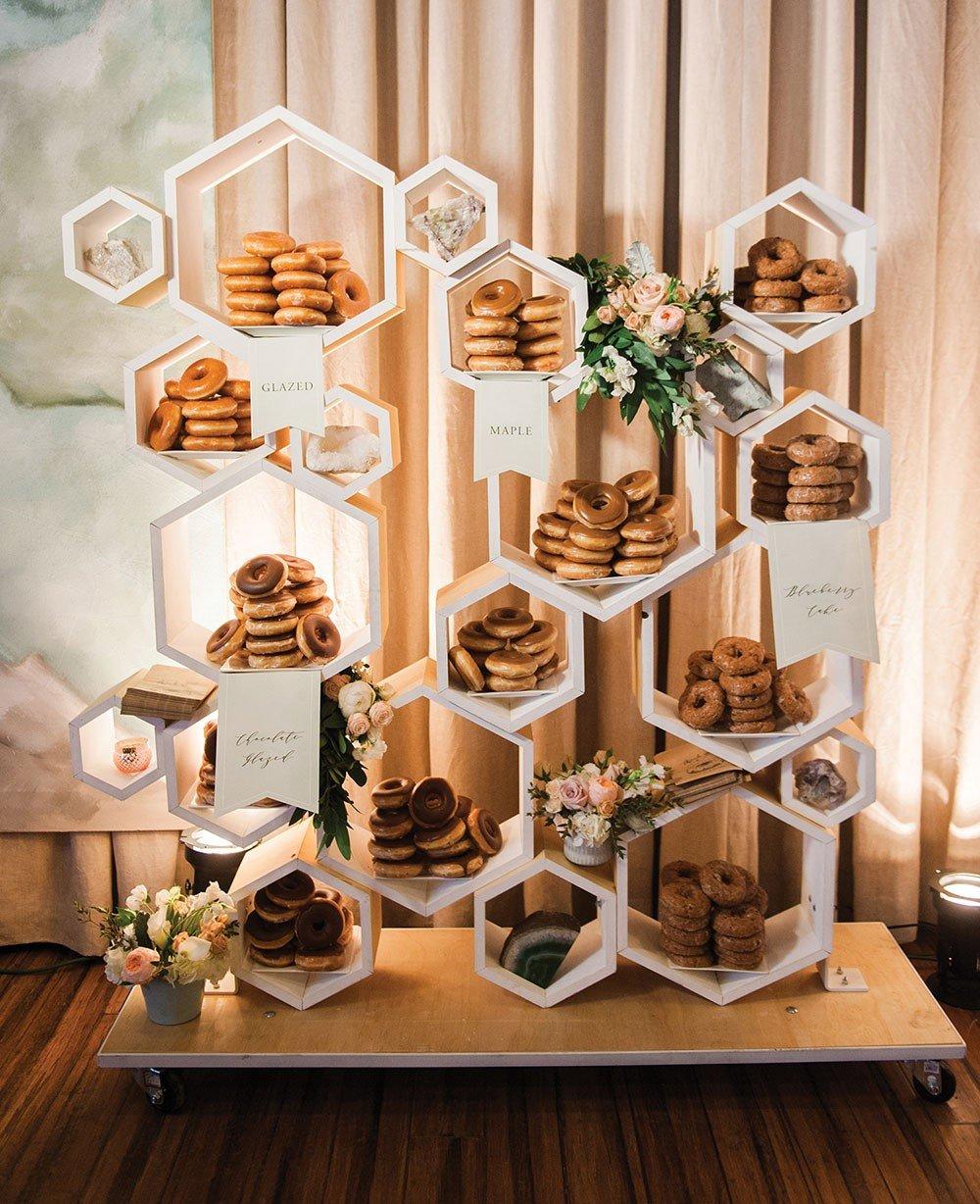 Image: Pinterest
We adore the honeycomb shape of this doughnut wall. It would work really well at a modern wedding which has lots of geometric design throughout. Go bold with what you accessorise your wall with: here you can see huge chunks of gemstones and amethyst mixed in with the flowers.
4. Pun Doughnut Wall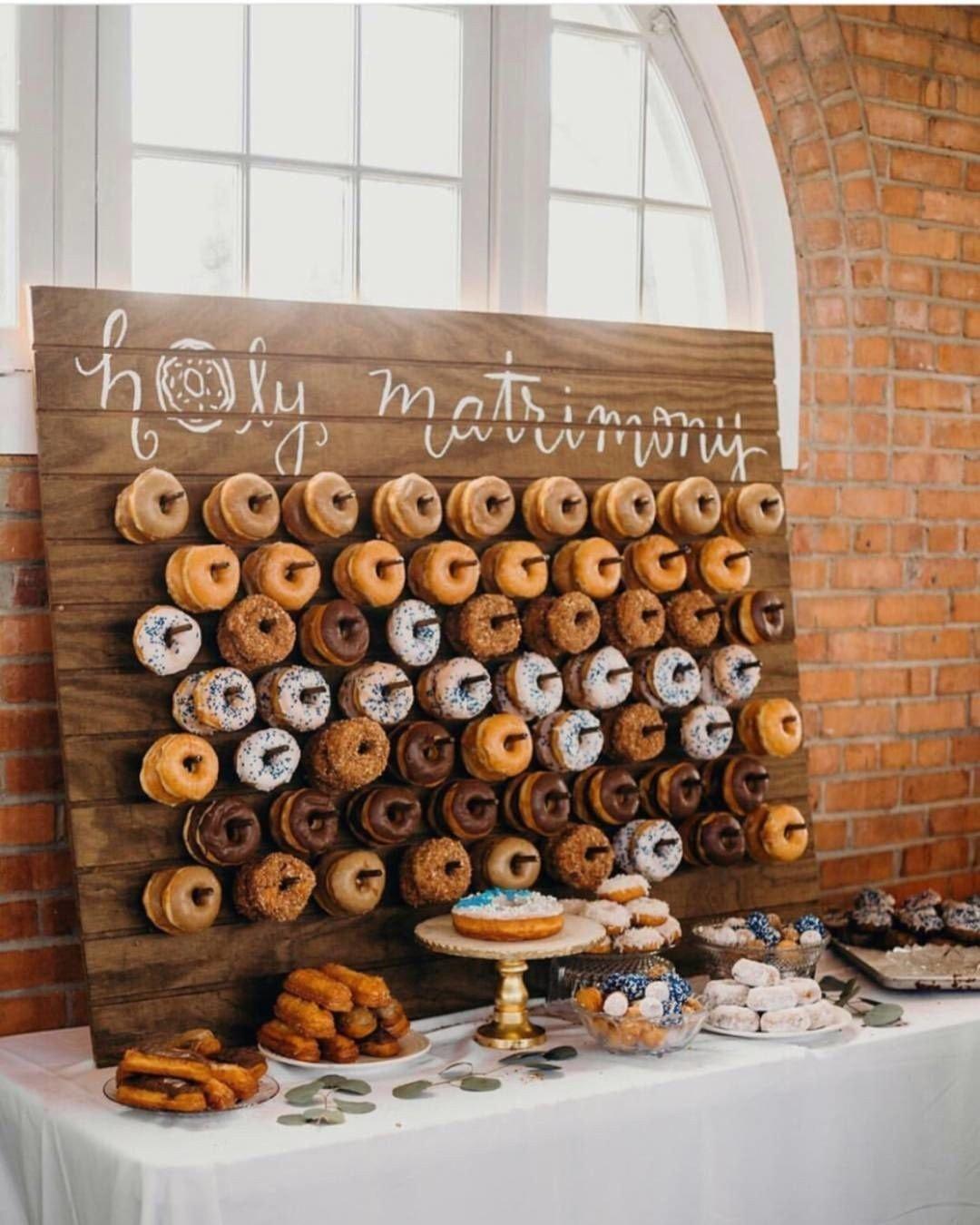 Image: Pinterest
Everyone love a good pun! Use one like holy matrimony, doughnut mind if I do, hole lotta love, you drive me glazy, I'm doughnuts about you, doughnut you want one?, thank you a hole bunch. They're funny and make for great photos if you put up a sign by your wall.
5. Floating Doughnut Wall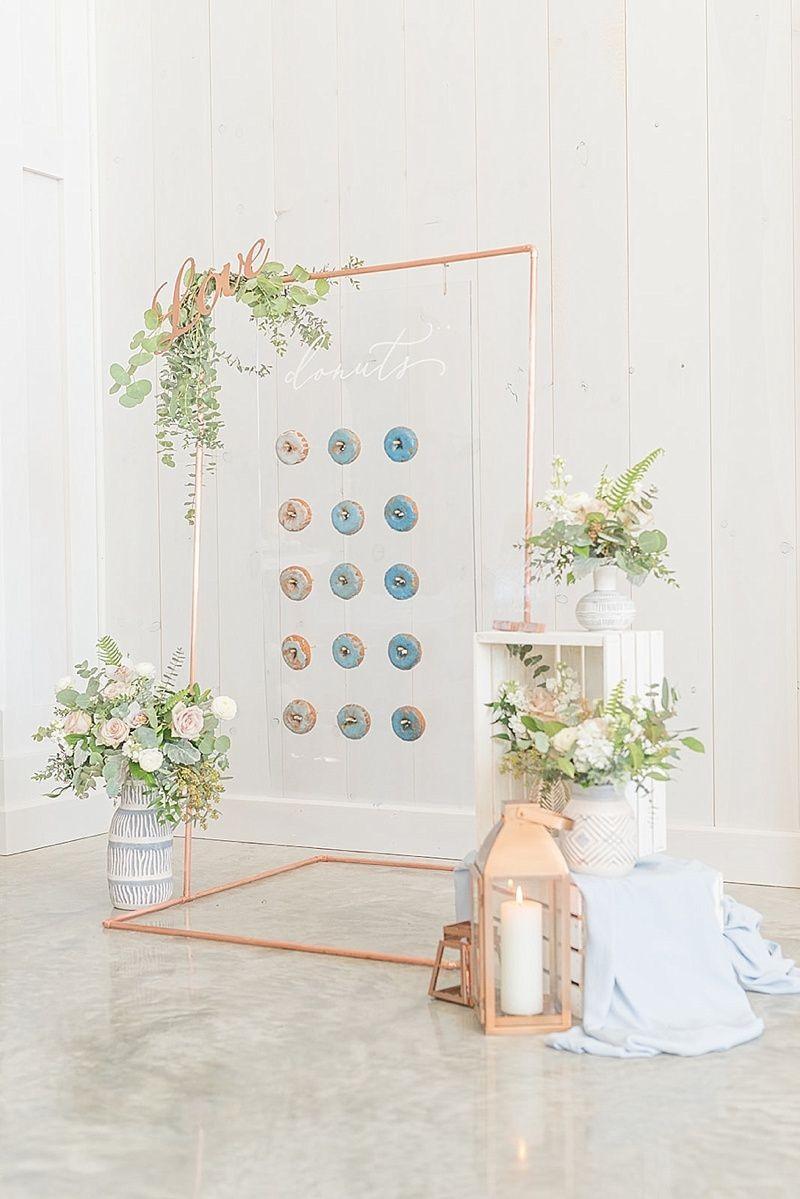 Image: Pinterest
Hang an acrylic doughnut wall from a frame for a seriously cool floating look. The look is accentuated with ombre doughnuts, flowers, lanterns and tumbling fabric in the same blue shade as the doughnuts.
6. Copper Hook Doughnut Wall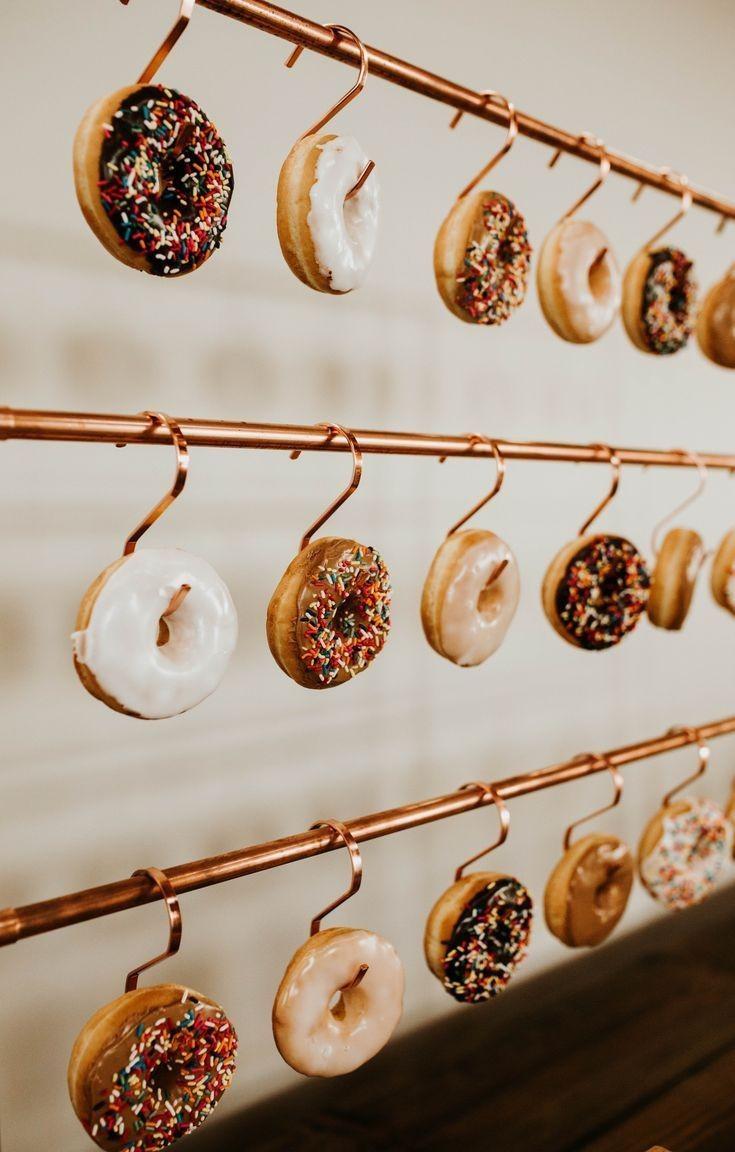 Image: Pinterest
This is another brilliant doughnut wall idea to DIY. You just need some lengths of piping (spray painted wooden dowels could do) and cheap hooks you buy from an hardware shop. It's a very sleek, modern and minimalist look which is ideal for warehouse weddings.
7. Doughnut Dessert Bar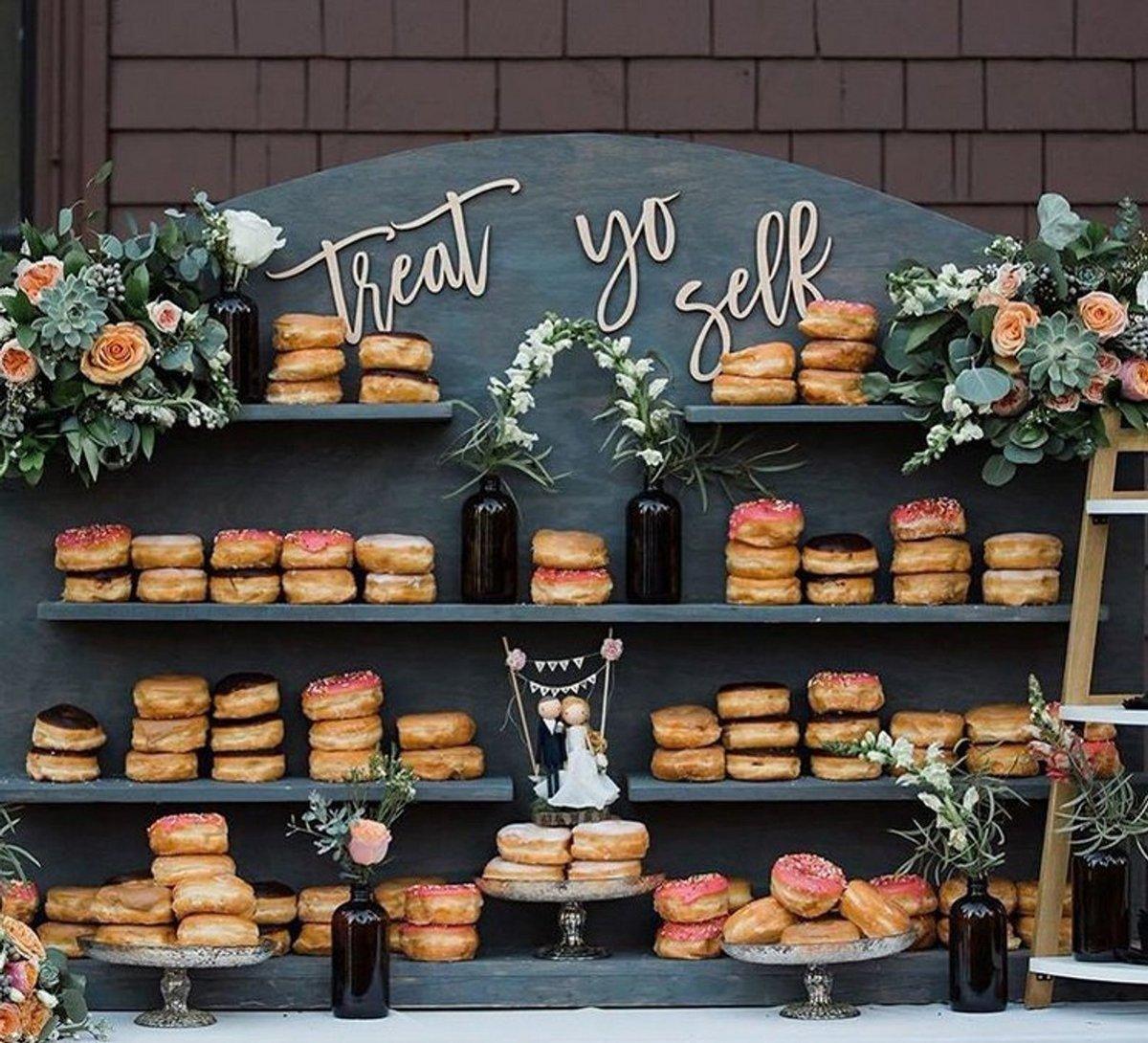 Image: Pinterest
Not all doughnuts need to be shown off face on. Perhaps, like us, you love seeing these delicious-looking stacked doughnuts piled high and taking centre stage in their own dessert bar?
8. Heart-Shaped Doughnut Wall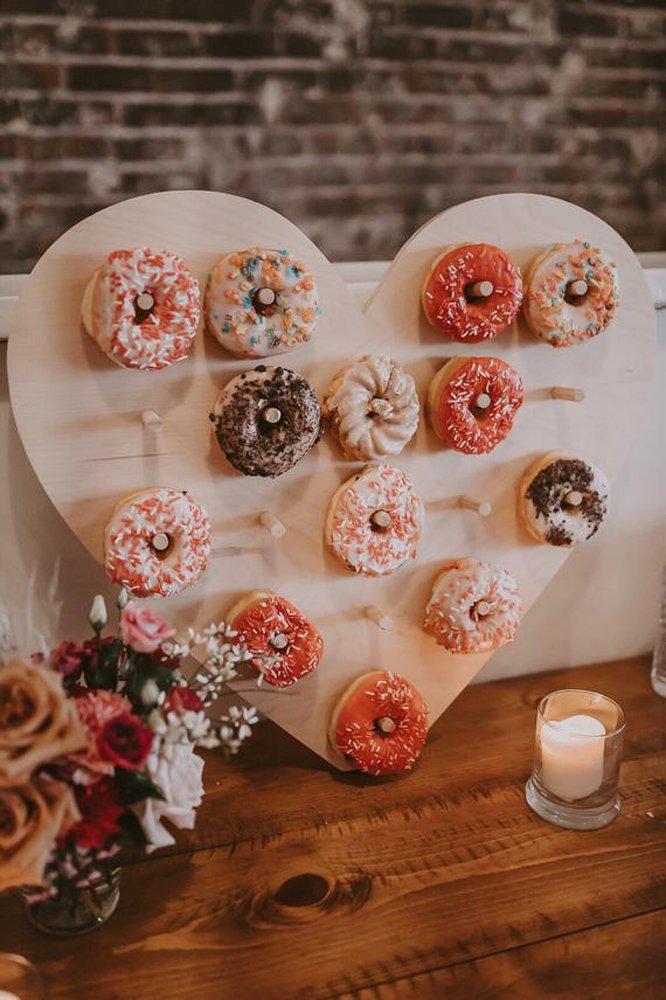 Image: Pinterest
Doughnuts are the real way to someone's heart, right? Show off your love for these doughy treats with a heart-shaped stand with loads of kitsch icings and toppings.
9. Contrast Backdrop Doughnut Wall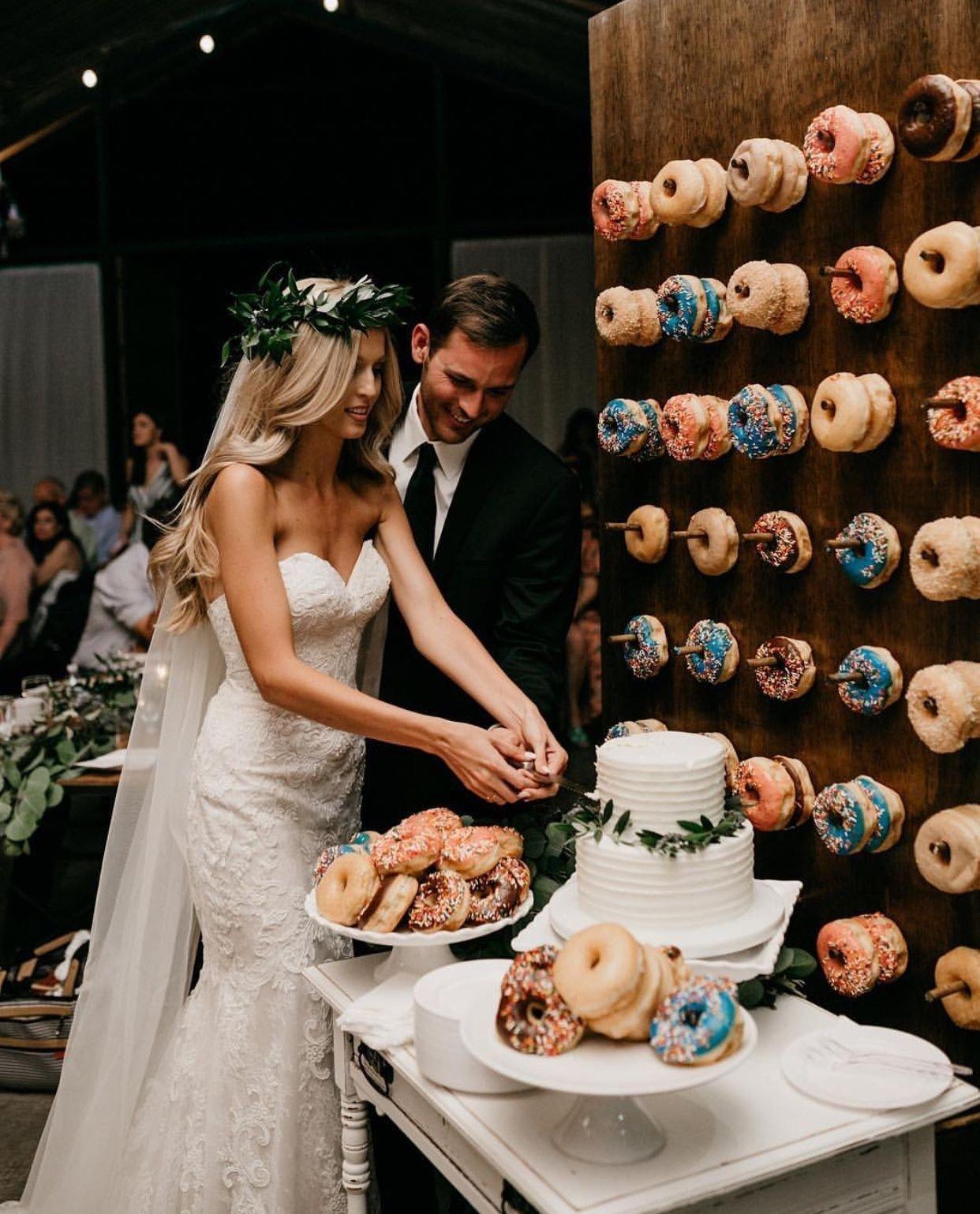 Image: Pinterest
Some doughnut walls will be free-standing, but we love using one as a backdrop to the cake cutting photos. A simple, pure white cake looks so striking against a dark doughnut wall and colourful pastries.
10. Initials Doughnut Wall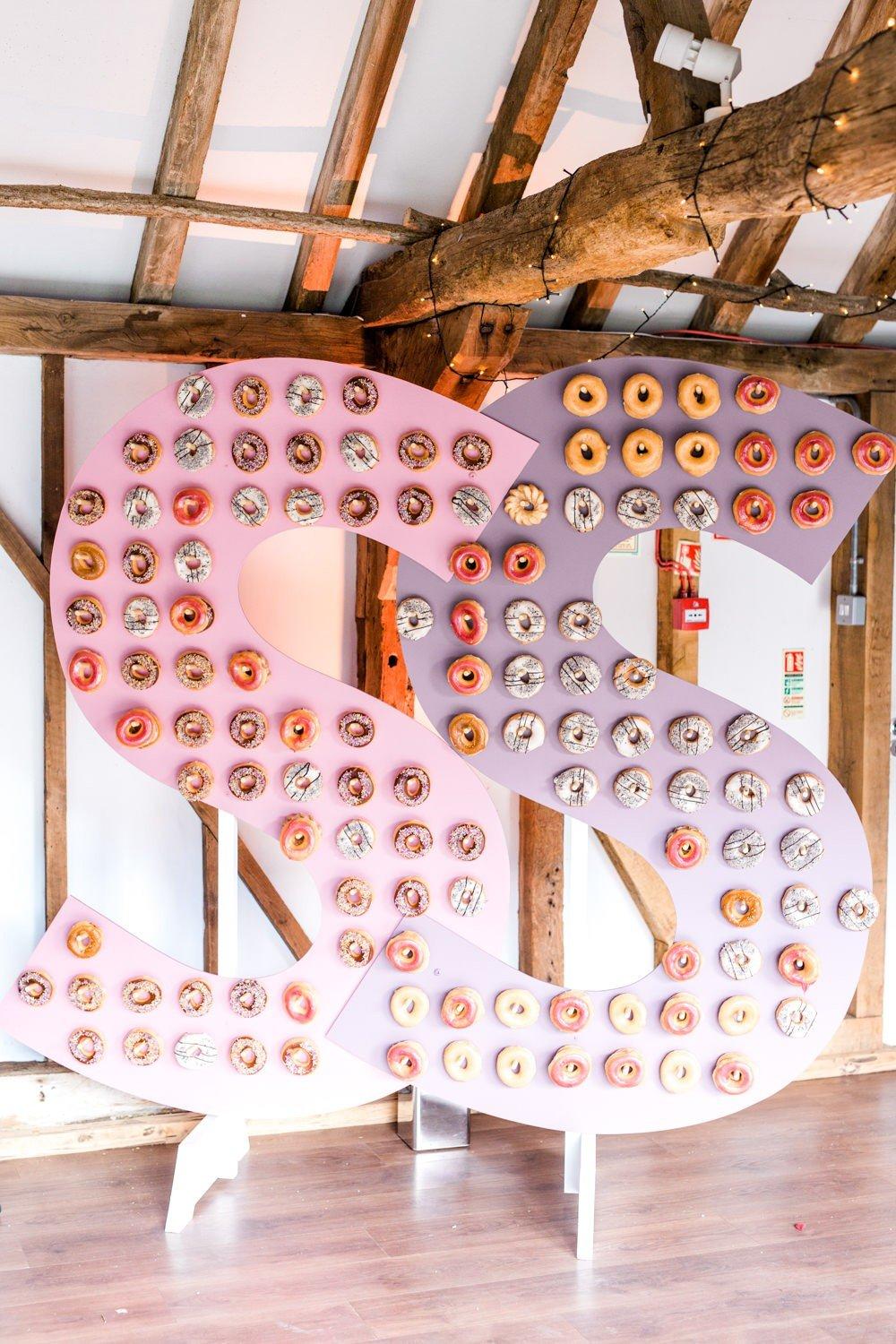 Image: Pinterest
How cool are these giant initial doughnut walls! You'll need to hire these or have them specially made up (unless your Dad's really good at DIY), but they make such a fab statement piece of décor. Your guests will want to pose with them as much as eat from them.
11. Pegboard Doughnut Wall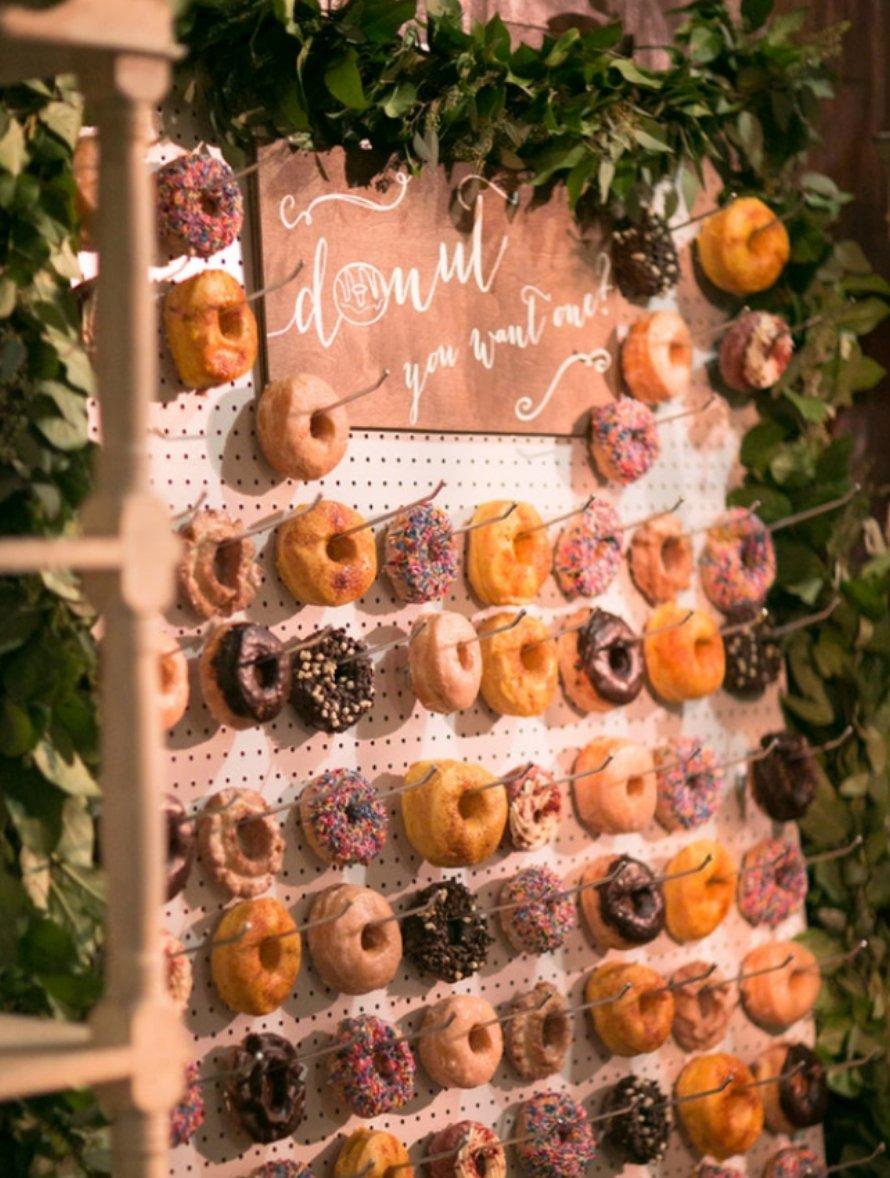 Image: Pinterest
This pegboard doughnut wall shows just how easy they are to DIY. The beauty of it is that you can make it whatever size you need to feed your guests: you don't have to make one this big or use pegs that hold as many doughnuts. Any size will look great though!
12. Stacked Doughnut Wall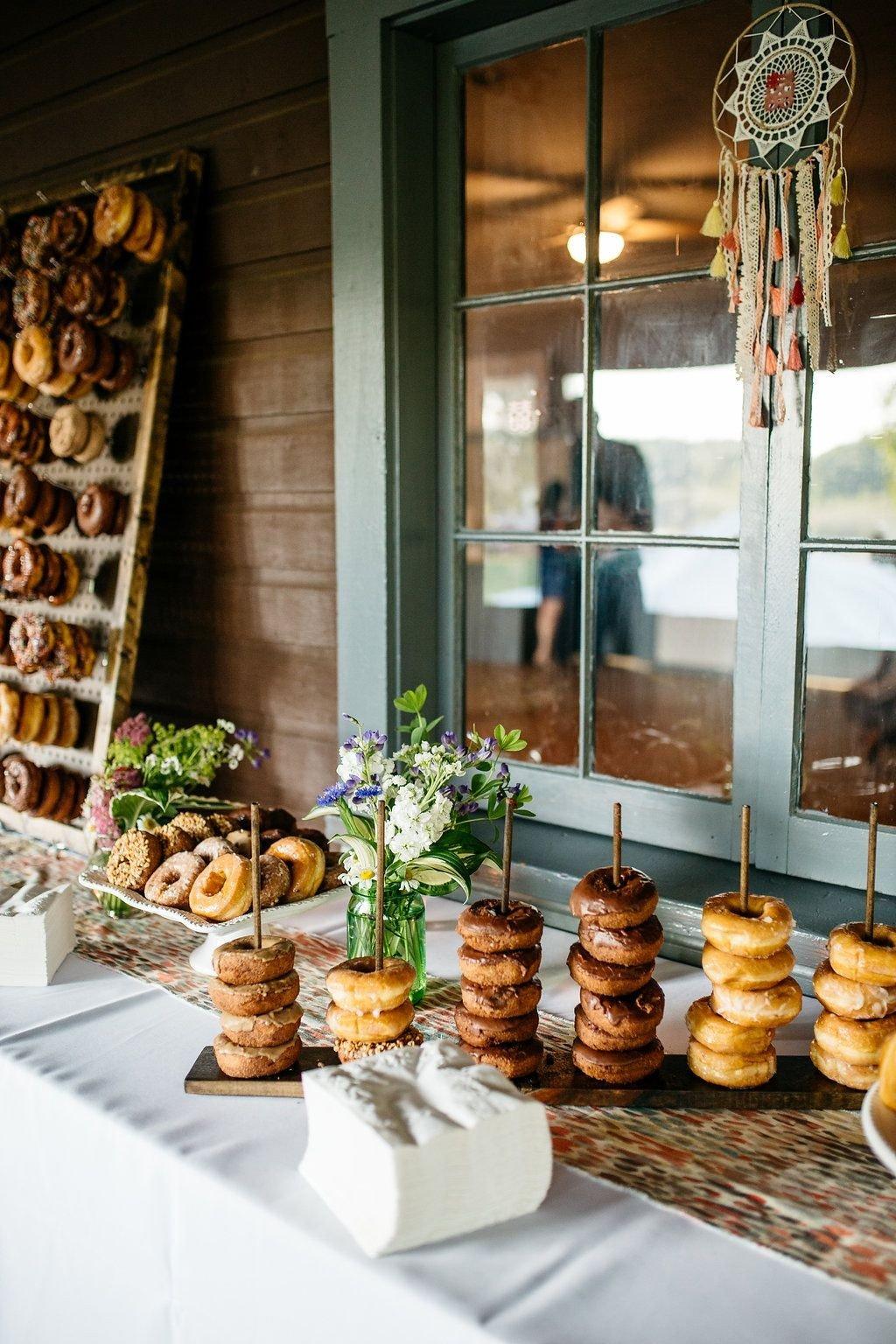 Image: Pinterest
This weeding has a bit of everything – a wall, platters of doughnuts and stacked doughnuts. If you want to create that illusion of a wall, but don't have a lot of height, stacked doughnuts on boards is a great way of serving them.
13. Mini Ring Doughnut Wall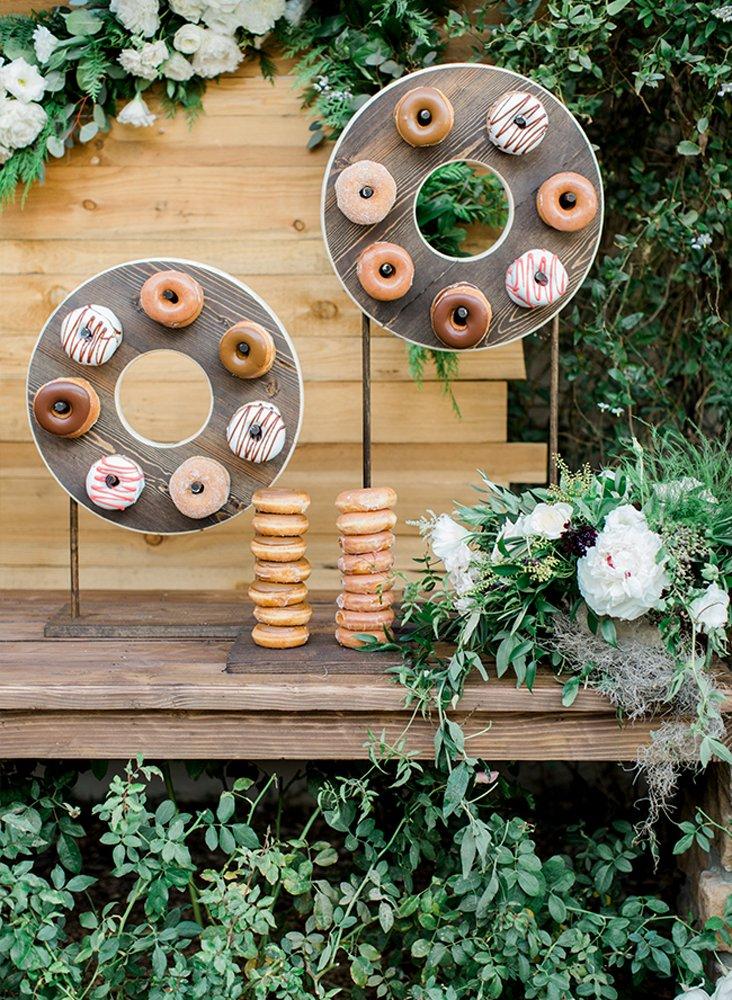 Image: Pinterest
Put the ring in ring doughnut with these mini doughnut hoops. Have lots at different heights and you can create a layered wall which will look awesome in photos.
14. Ombre Doughnut Wall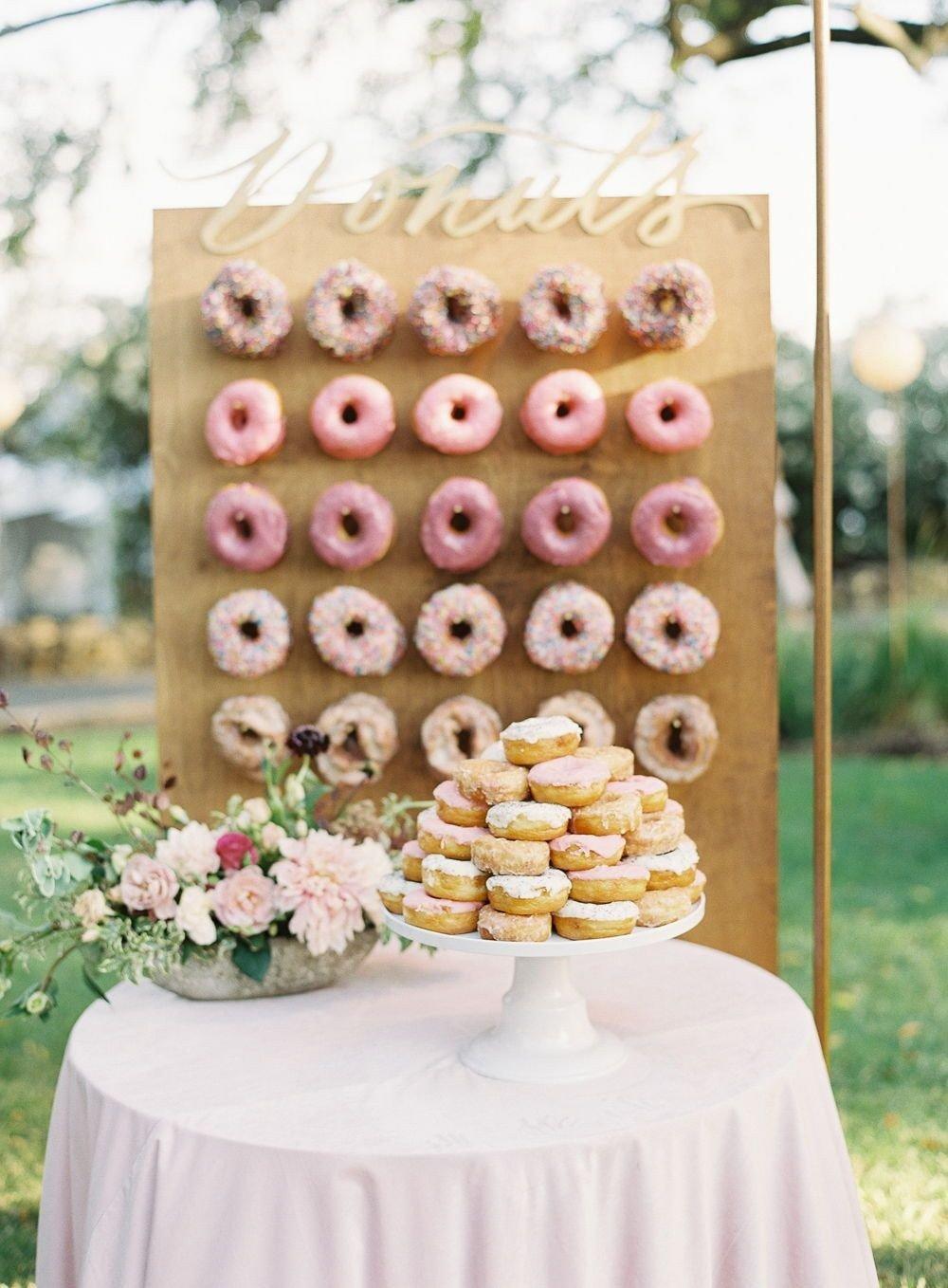 Image: Pinterest
Use different shades of the same colour icing for a wonderful ombre effect on your doughnut wall. The pink hues here look so good against the green outdoor setting.
15. Krispy Kreme Doughnut Wall
Image: Pinterest
You can order doughnut walls direct from Krispy Kreme that look like this! They come with 216 original glazed doughnuts and your choice of message in gold foil at the top. We're drooling already.
16. Doughnut + Doughnut Hole Wall
Image: Pinterest
Doughnut holes are one of the best bits of a doughnut. They're the bite-size little brothers made from the cut-out centre of a ring doughnut, fried and then glazed. What better thing than to serve a bowl of doughnut holes in front of the doughnuts they (could have) come from? Nothing wasted; all delicious.
17. Metallic Doughnut Wall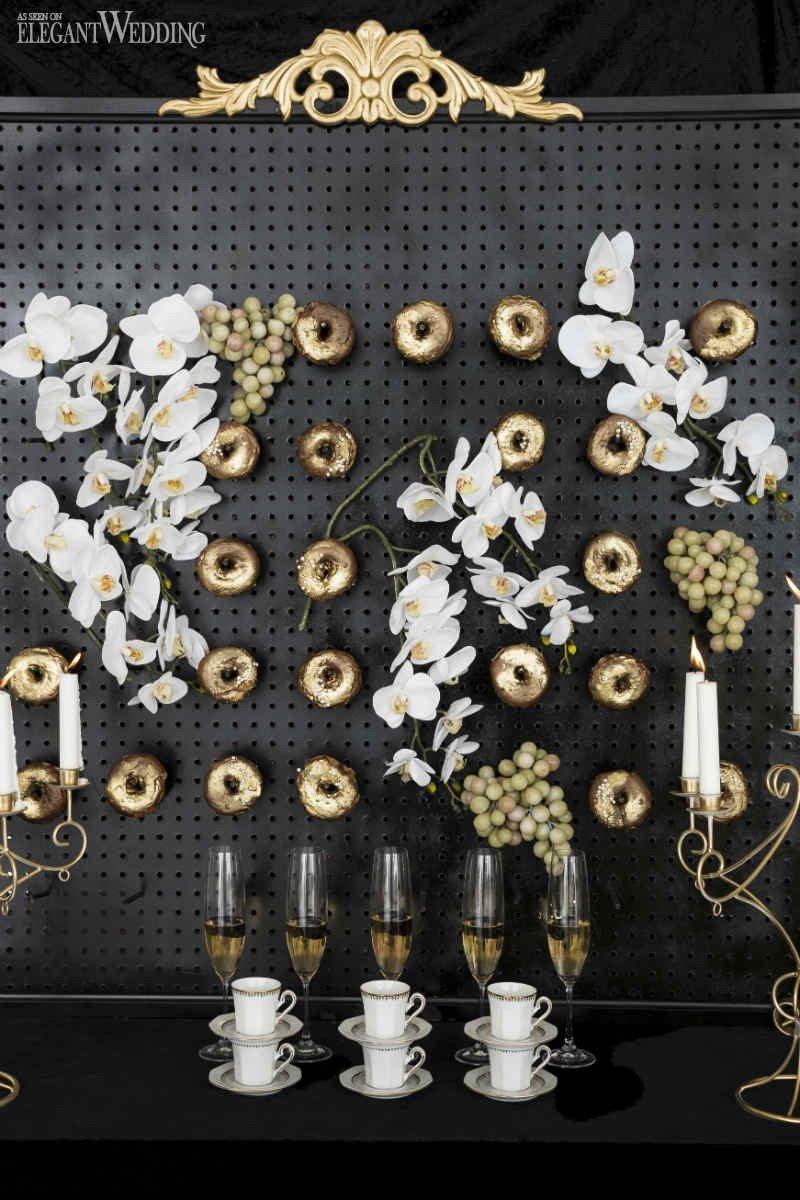 Image: Pinterest
You don't have to go as bold as a black background, but metallic painted doughnuts look incredible on a bold-coloured doughnut wall. Make sure you or your caterer use food-safe, edible metallic sprays or glitter food colouring.
The Best Alternative Doughnut Displays
18. Doughnut Tower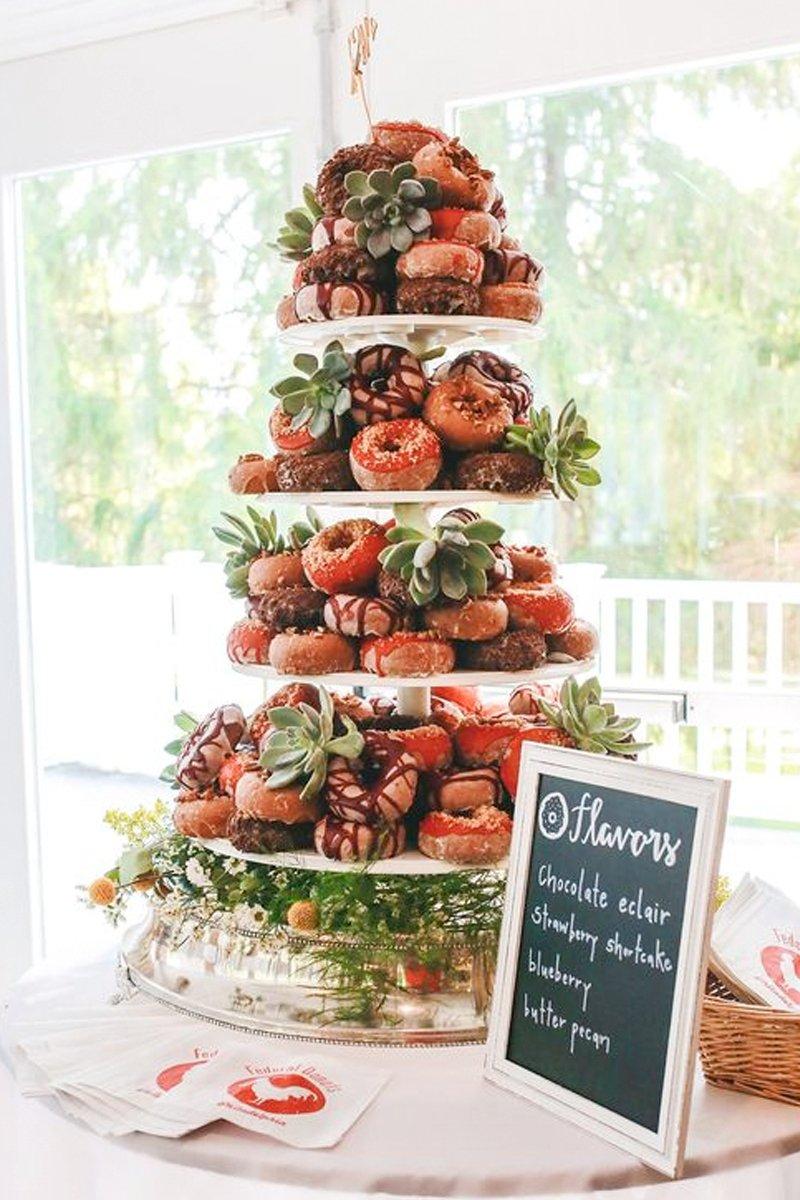 Image: Pinterest
Doughnut walls are just one way to display your sweet treats. We love a big doughnut tower, piled high with different flavours and decorated with flowers, succulents, fresh fruit, syrups and more. It just looks so appealing and is great if you want an alternative to traditional wedding cake.
19. Milk and Doughnuts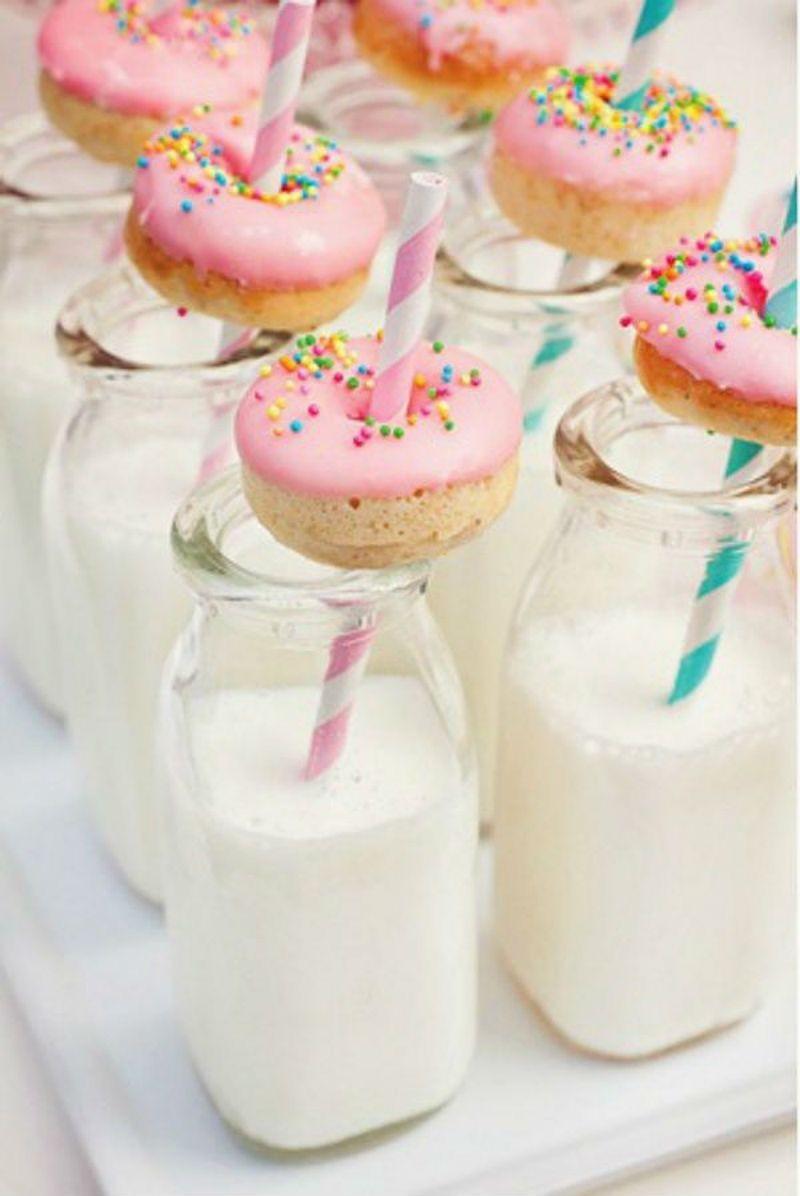 Image: Pinterest
Milk and cookies is a classic combo, but doughnuts and milk are equally as good. Top cute mini milk bottles with small pastel, sprinkle doughnuts and striped straws and display lined up on your dessert table. Kid especially will love these – you could bring them out for little ones when the adults have coffee.
20. Pick'n'Mix Doughnut Holes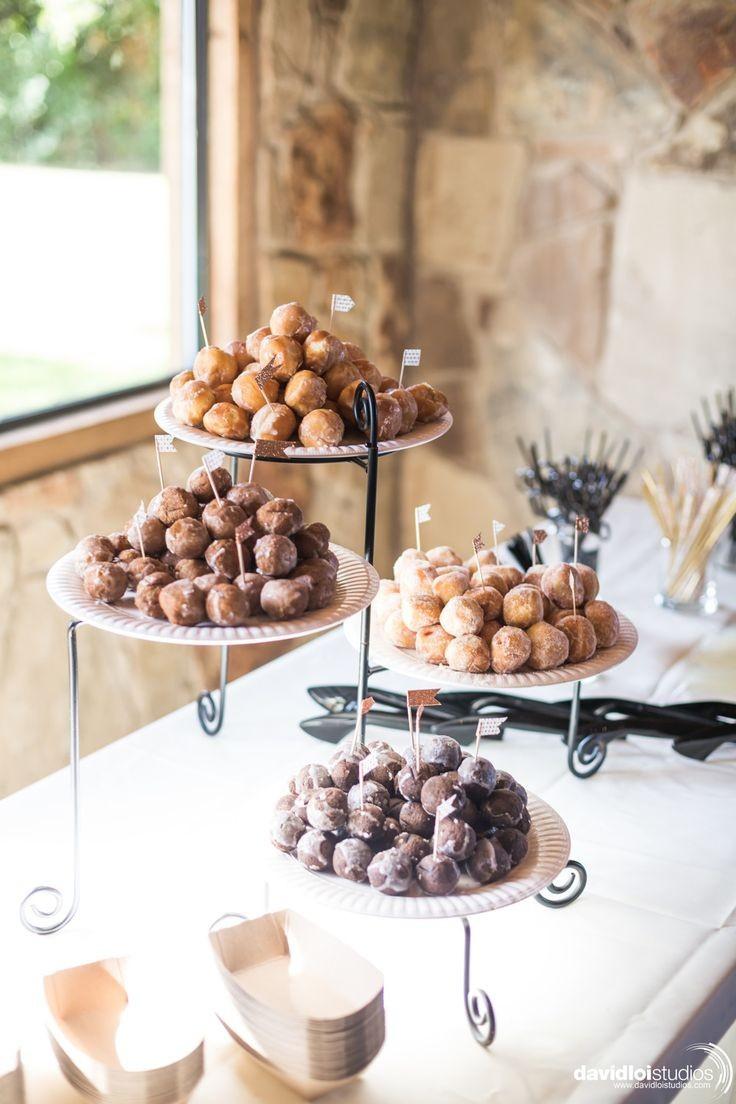 Image: Pinterest
Doughnut holes are little bursts of deliciousness, and much easier to eat after a big meal than a whole doughnut. Here, different flavoured holes have been served alongside bamboo bowls so you can pick 'n' mix your own combination.
21. Pastel Platters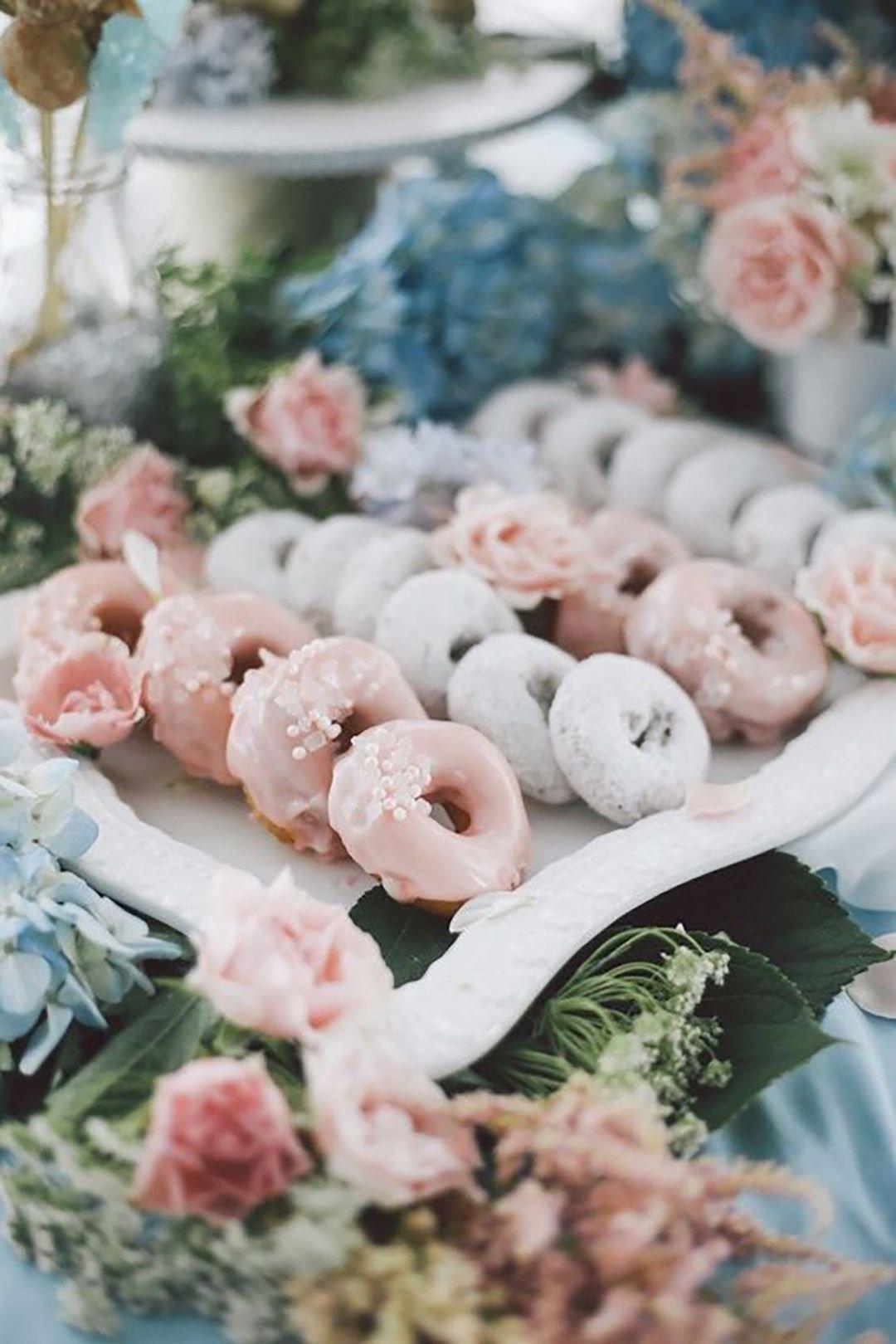 Image: Pinterest
Platters of doughnuts look amazing, for sure, but they look even better if you choose a colour scheme that ties in with your wedding. We love these pink and white doughnuts for a spring or summer wedding, served on a bed of fresh flowers and topped with pretty edible pearls.
22. Doughnut Hole Cones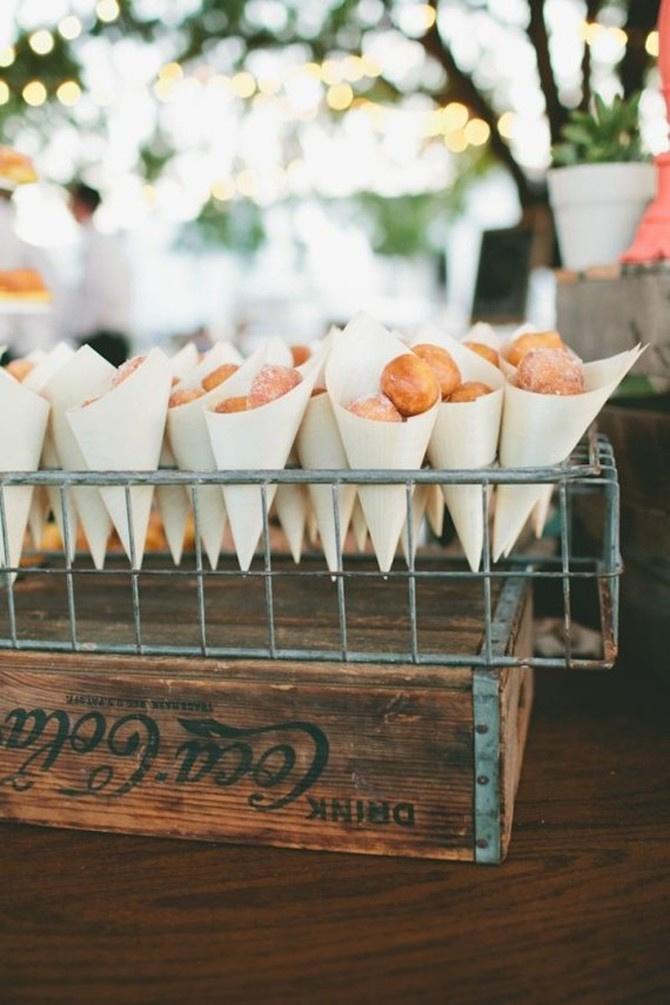 Image: Pinterest
Forget confetti! We want cones full of fried dough! These make a cool alternative to dessert or instead of churros as part of an evening street food-style meal.
READ MORE: 55 Unique Wedding Cake Flavours
23. Doughnut Hole Kebabs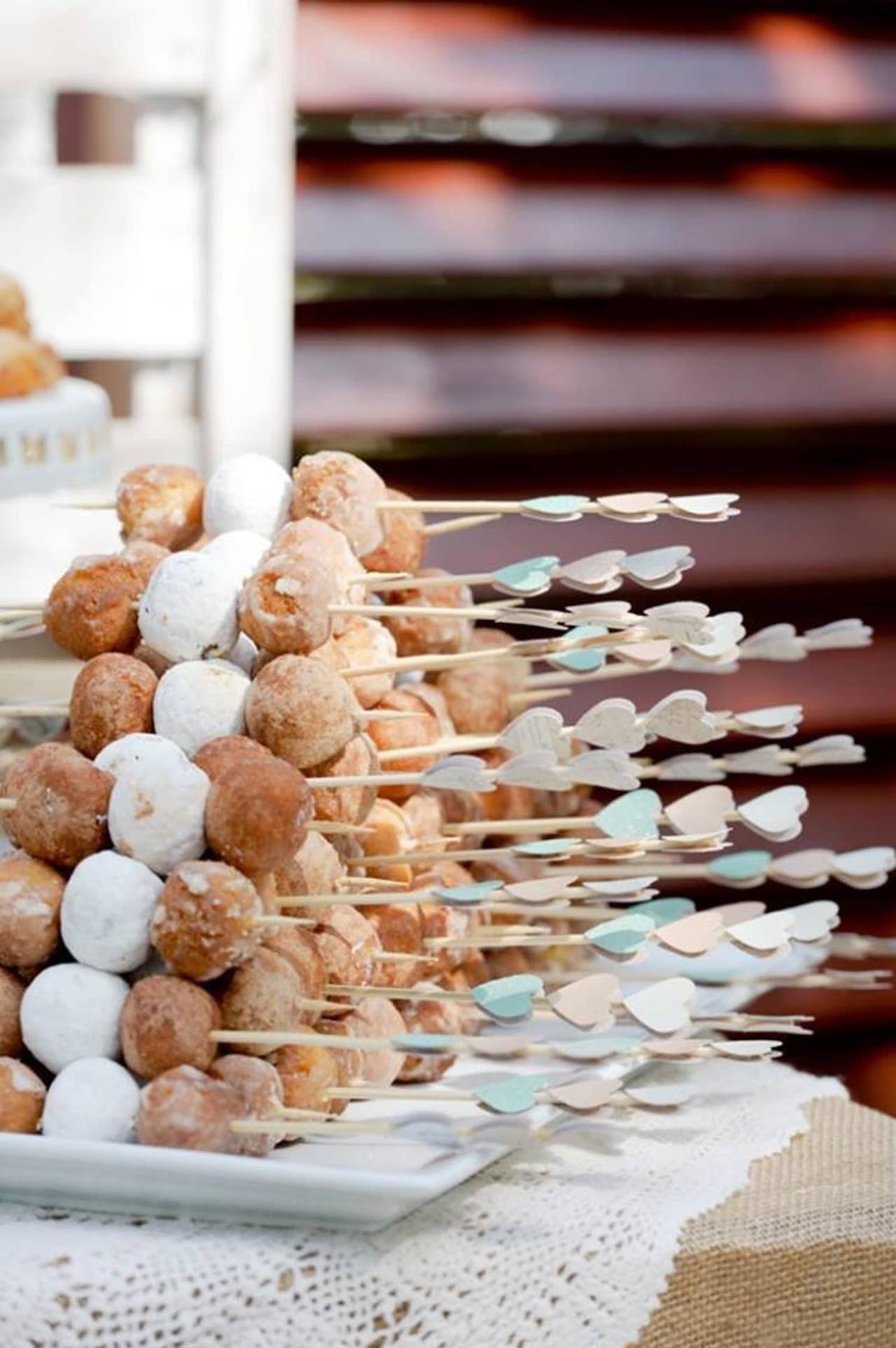 Image: Pinterest
Avoid sticky fingers with these doughnut hole kebabs! Thread three onto a stick and serve as part of a dessert table. All the fun, none of the mess.
The Coolest Doughnut Icing Ideas
24. Galaxy Doughnuts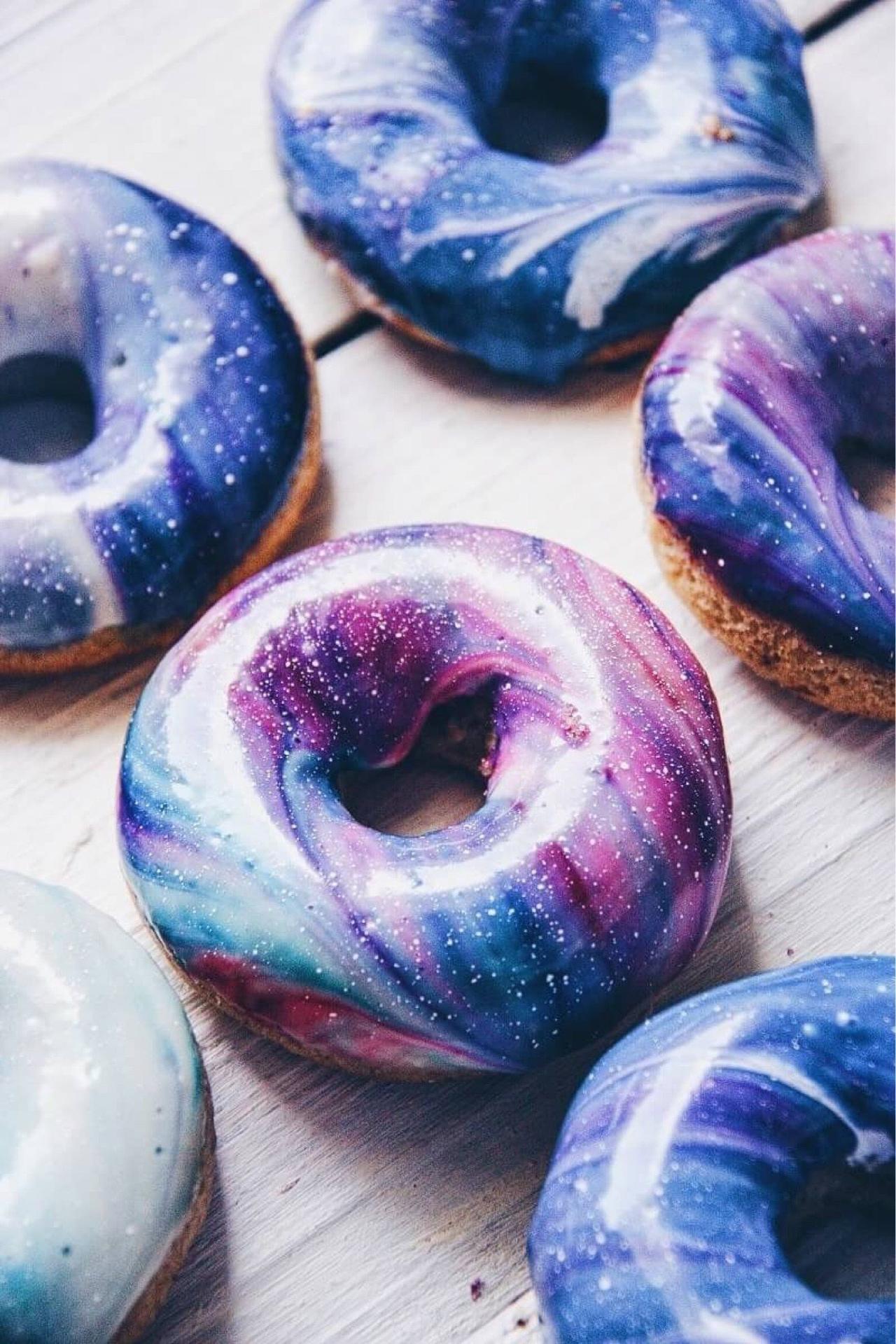 Image: Pinterest
We're obsessed with these marbled galaxy doughnuts that would look amazing at a celestial themed wedding, or twilight ceremony.
25. Red Velvet Doughnuts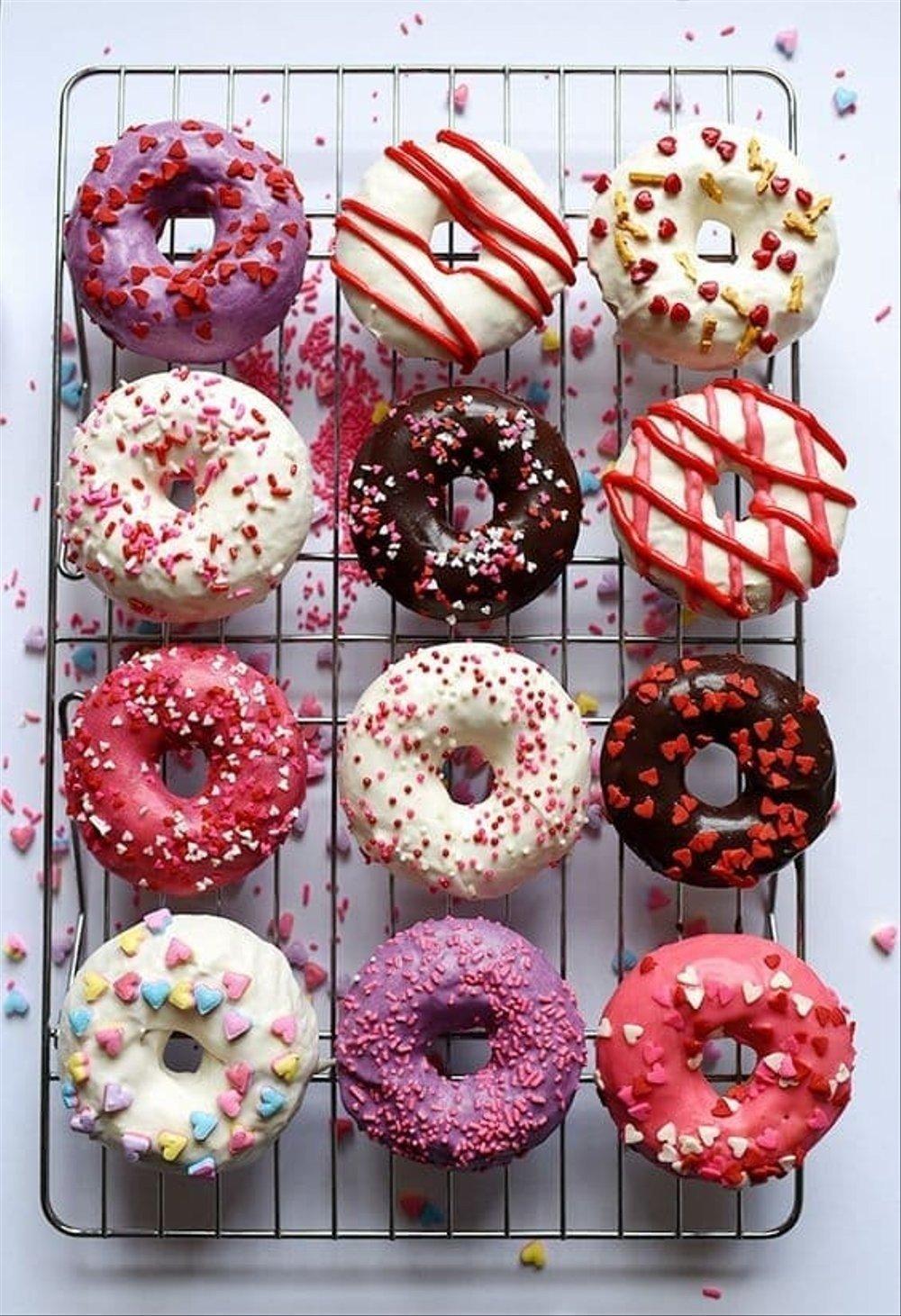 Image: Pinterest
Red Velvet is still one of the most popular flavours and we love the different love-related designs and sprinkles you've got all over these red delights.
26. Ombre Doughnuts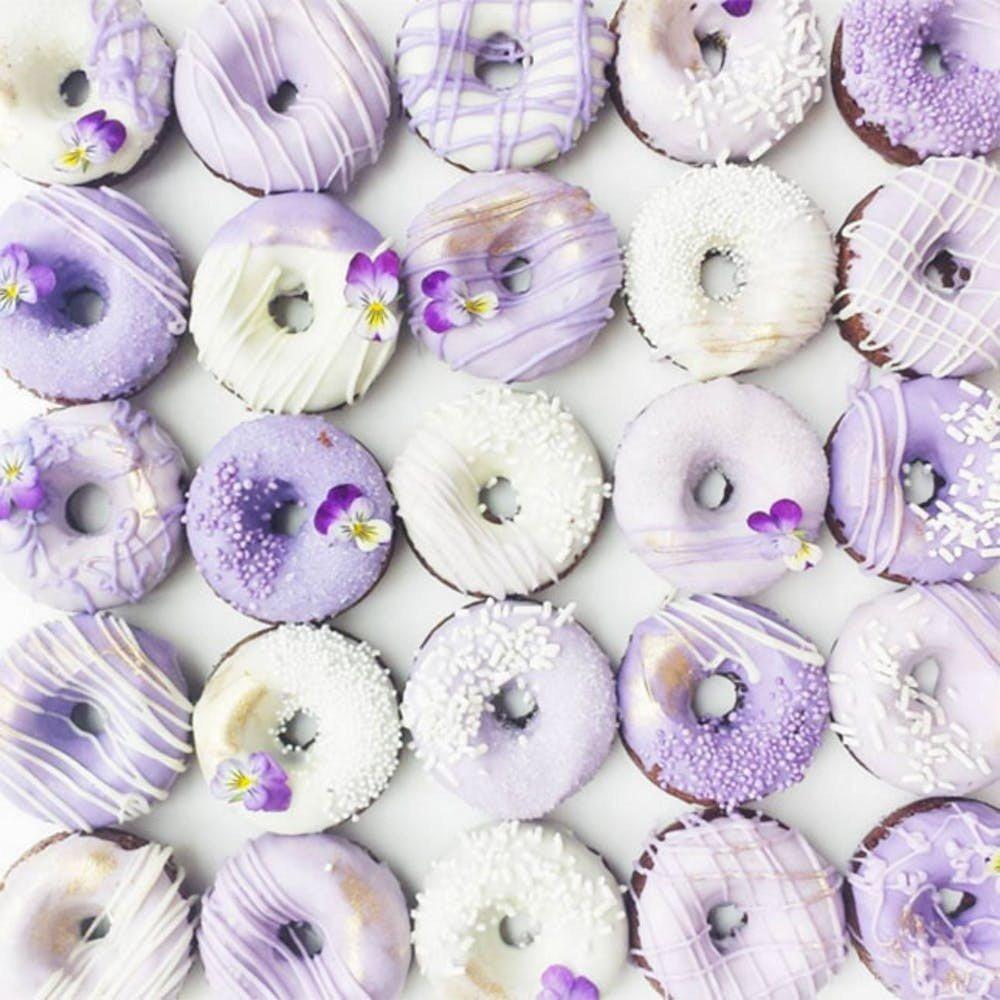 Image: Pinterest
For spring and summer, you can't get much sweeter than pink or purple ombre doughnuts. Top with edible flowers and pearls for an even cuter touch.
27. Pastel Doughnuts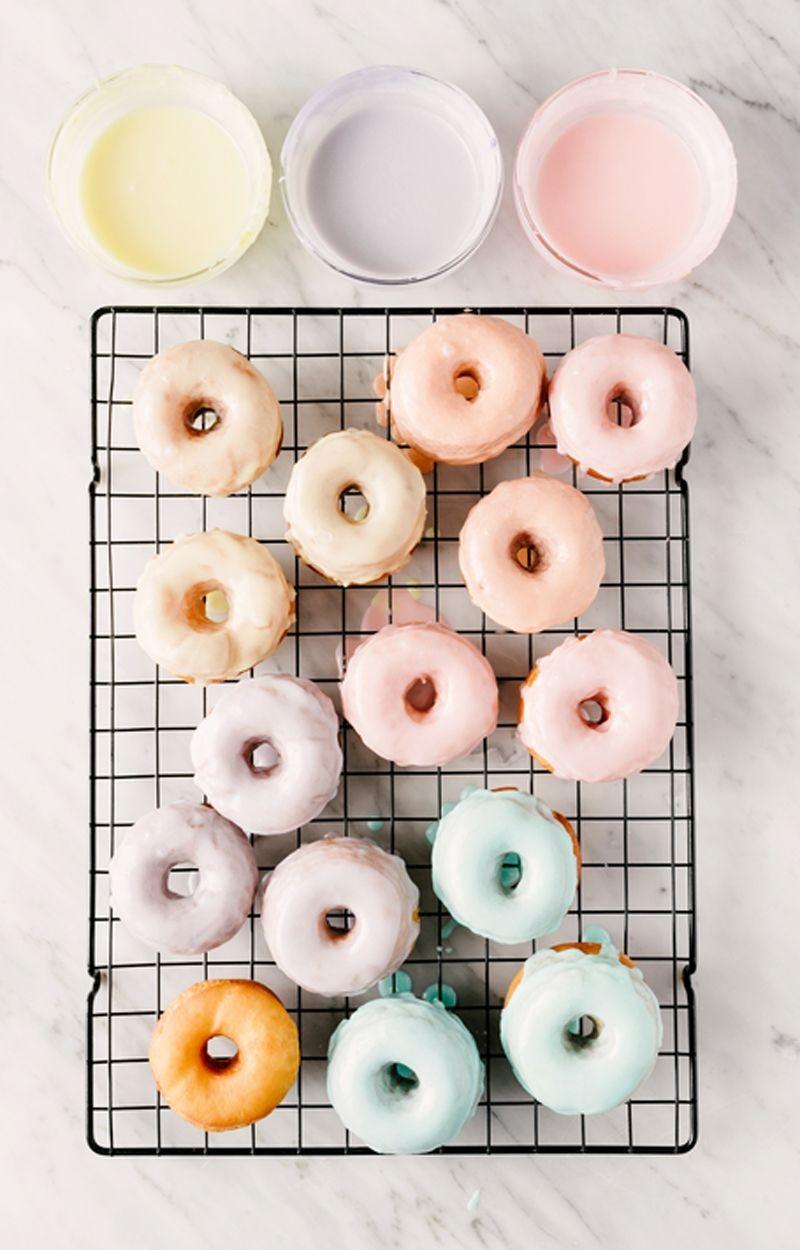 Image: Pinterest
Dripping pastel icing over plain doughnuts gives this cool effect, with icing ready to crackle as you dig your teeth in and a beautiful drip effect down the sides.
28. Gold Leaf Doughnuts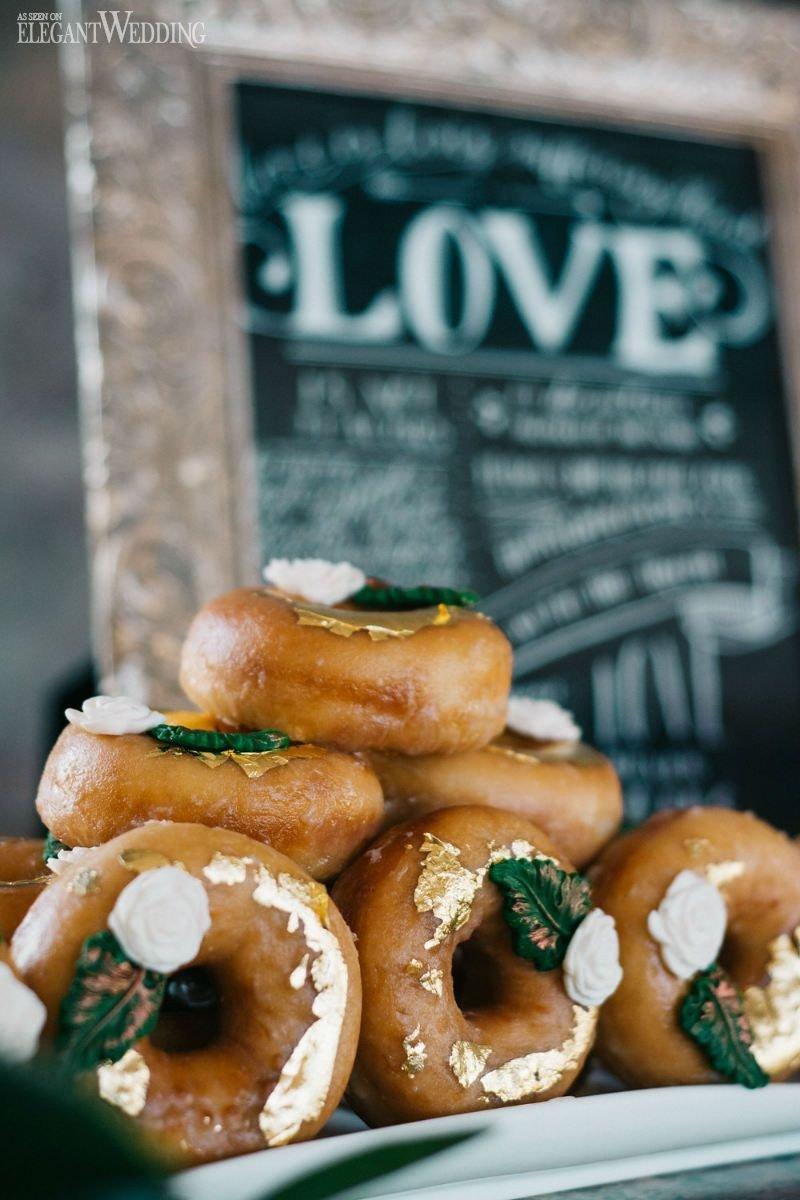 Image: Pinterest
Splash out on a little gold leaf and make your doughnuts dazzle. If you don't want to go full-on with edible glitter, this is the sophisticated way to do it.
29. Animal Doughnuts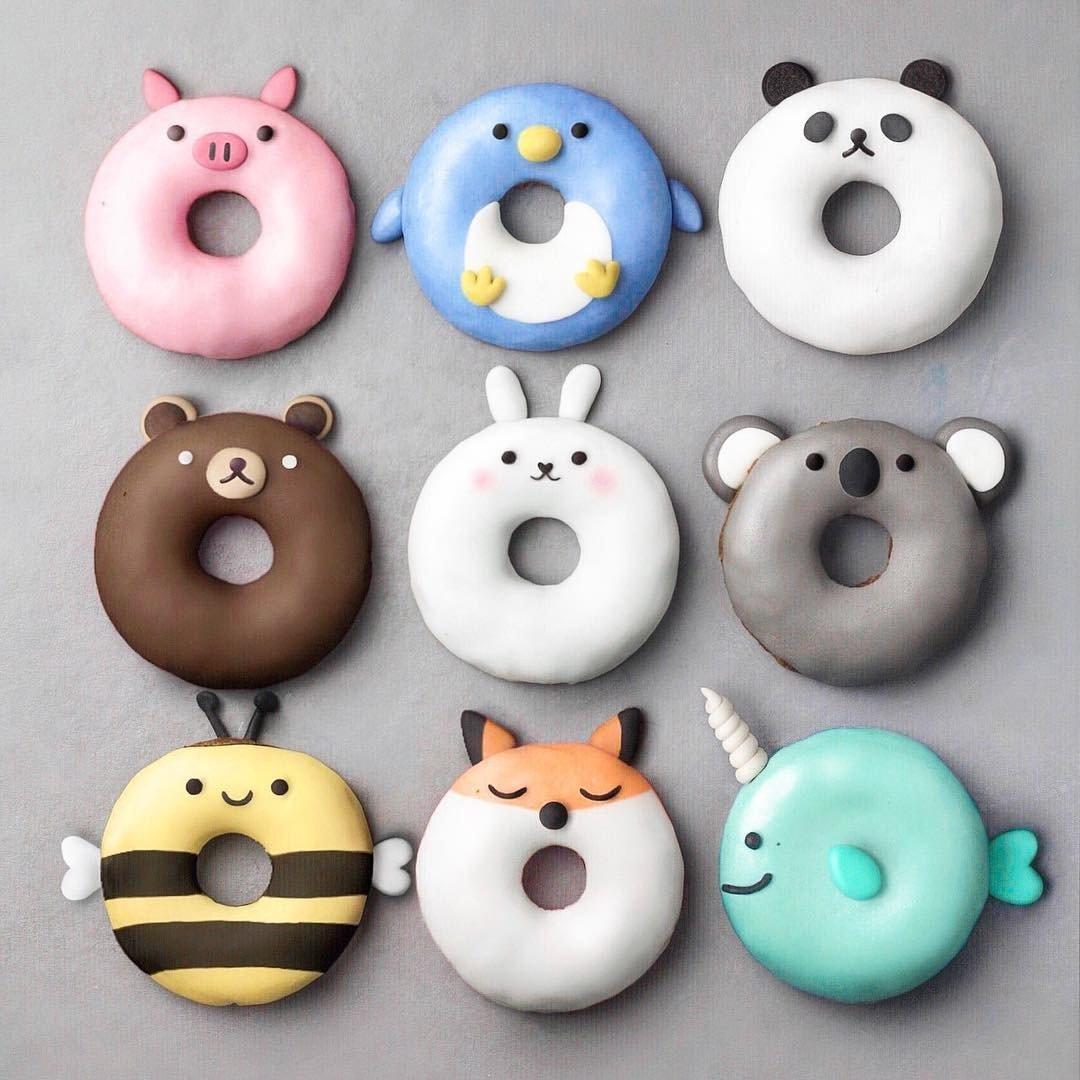 Image: Pinterest
You just put these animal doughnuts out for the kids, but we reckon they're too cute to hide away. Perfect for serving at an outdoor or nature-inspired wedding.
30. Rainbow Doughnuts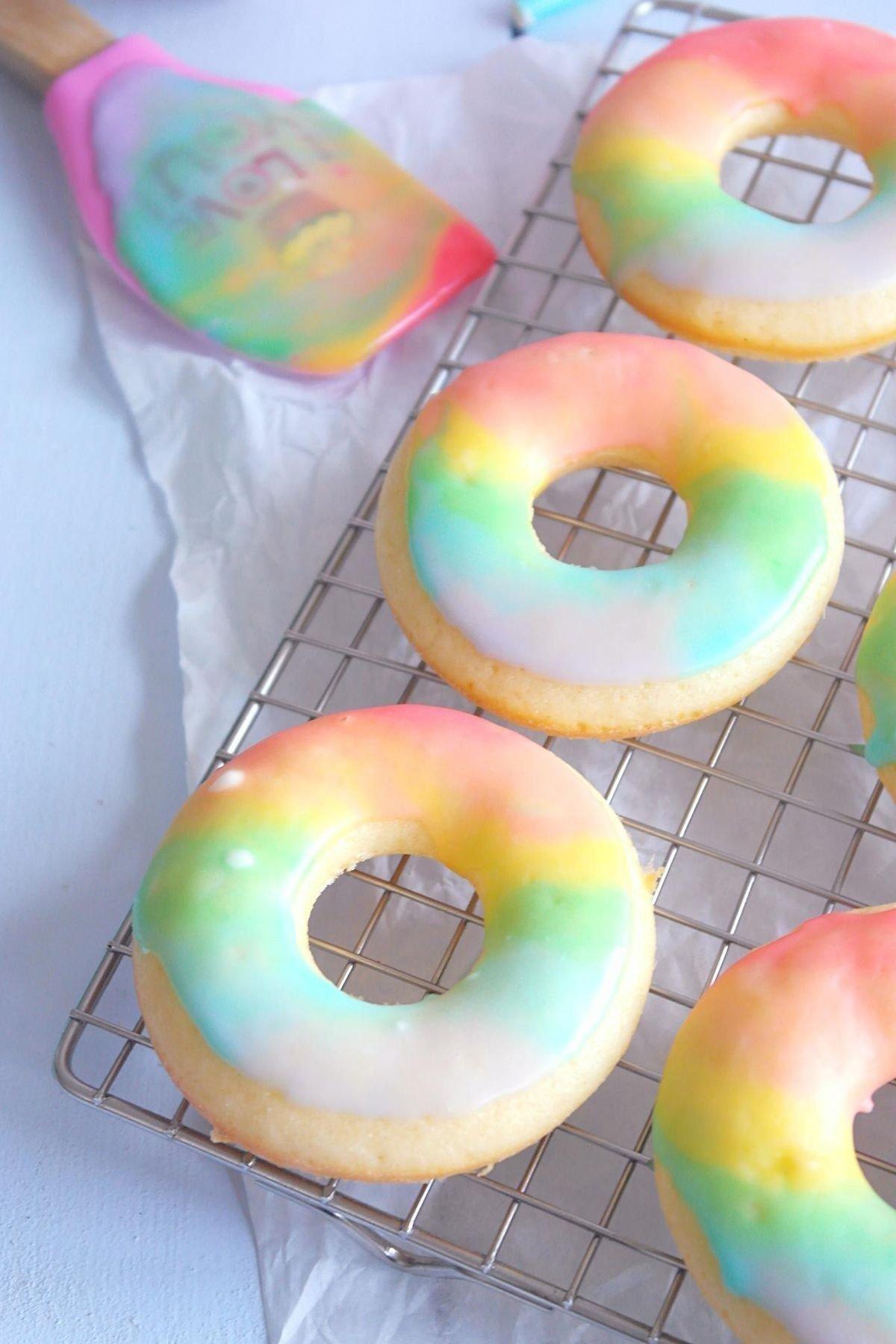 Image: Pinterest
Brighten up even the most British of wedding day weather with these vibrant and sunny rainbow doughnuts.
31. Feather Doughnuts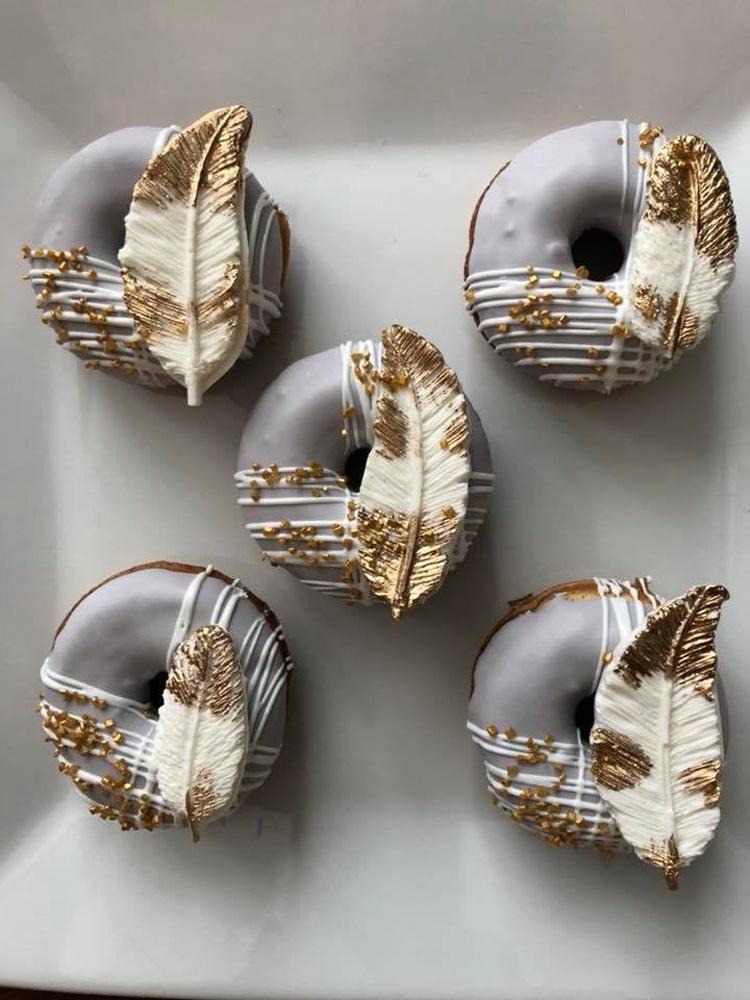 Image: Pinterest
For a sophisticated, chic doughnut look, add white chocolate and gold feathers to the top of grey and gold-nibbed treats.
32. Festive Doughnuts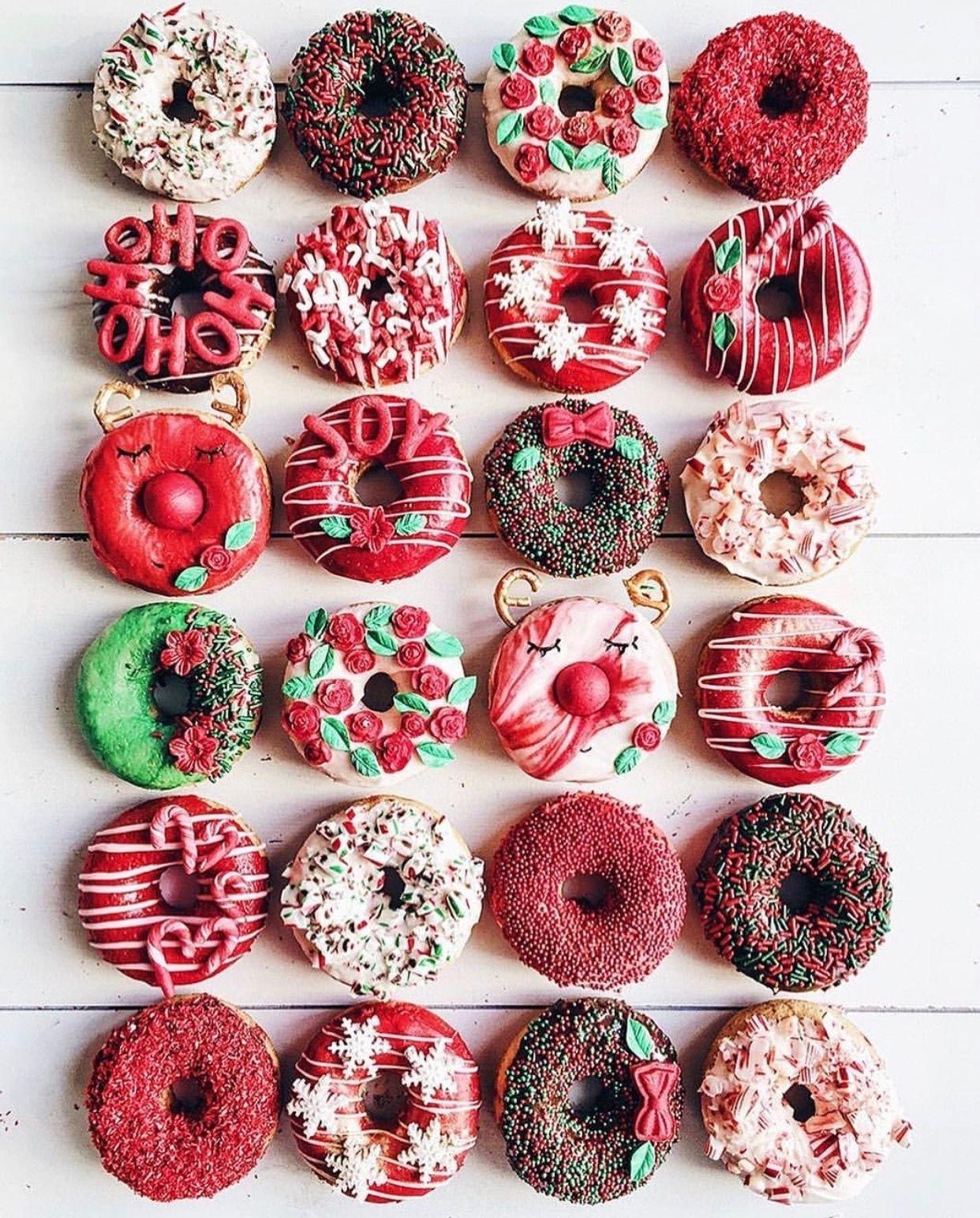 Image: Pinterest
You can try both Christmassy flavours – mince pie, gingerbread, mulled wine – and toppings. We've got our eye on that crushed candy cane one.
READ MORE: 11 Amazing Marble Wedding Cakes
33. Tropical Doughnuts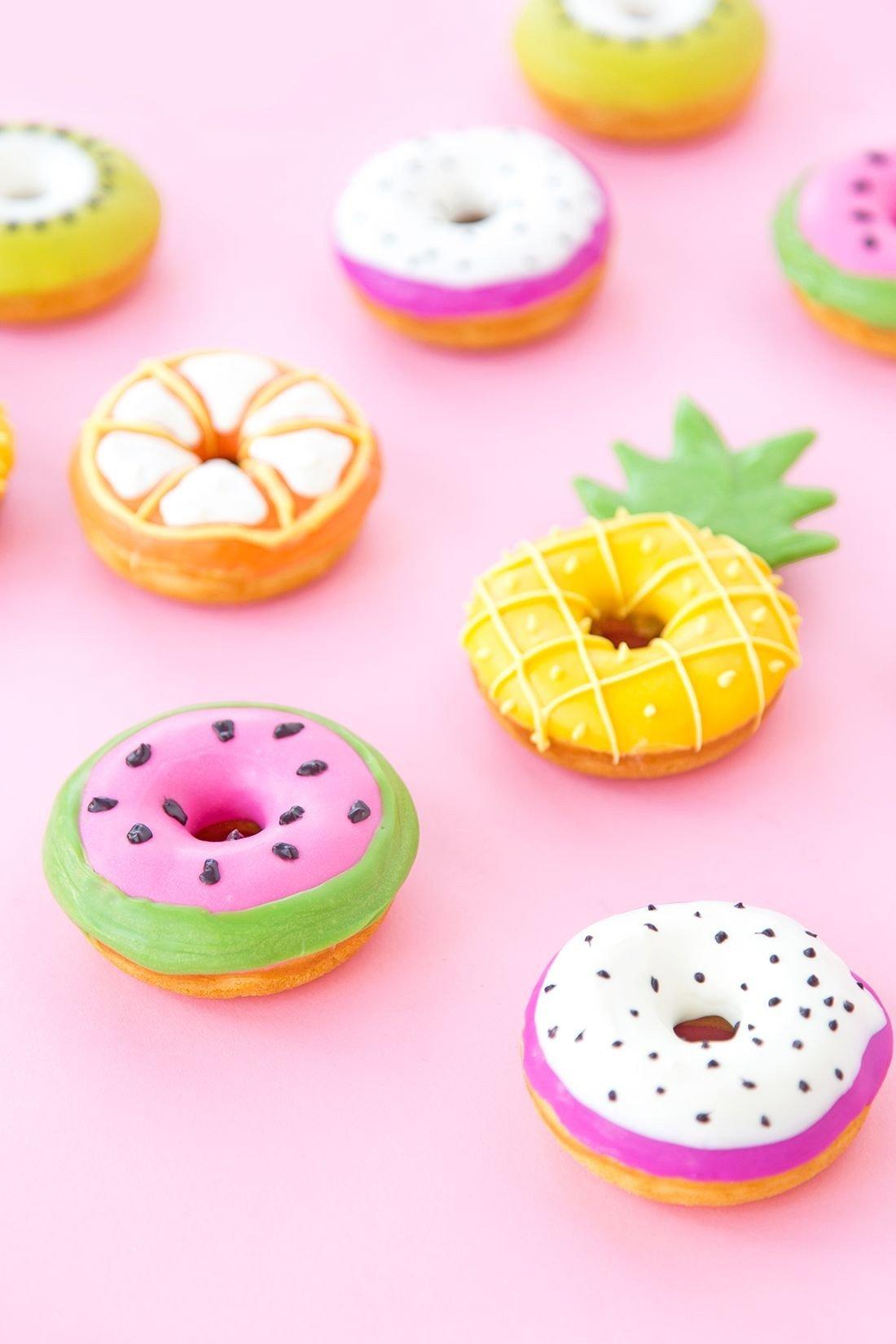 Image: Pinterest
Nothing screams summer or destination wedding like these tropical fruit slice doughnuts – the pineapple is a particular winner!
How to Make an Epic DIY Doughtnut Wall
The essential thing you need for a doughnut wall is a background board to hang the doughnuts off.
If you know someone great at DIY, they can easily cut up a square piece of wood (try Homebase) or thick cardboard and drill some wooden doweling into it to put the doughnuts on. You'll want to decorate it, but make sure you're using non-toxic paint so it doesn't harm the food.
Use a large mirror (make sure it's really clean if you find a vintage or second-hand one) and attach clear self-adhesive hooks (these Wilko ones are cheap) to hang doughnuts off.
Pick up a pegboard from the likes of Hobbycraft, Amazon or even IKEA and then all you need to do is attach hooks or dowel rods to hang the doughnuts from and decorate the frame.
Decorate with faux foliage and flowers as some people are allergic to pollen
The next obvious thing you need is doughnuts!
You can order cheap simple sugar or jam doughnuts in bulk from supermarket bakery sections.
Krispy Kreme are your go-to place for original glazed doughnuts for a good price and they deliver nationwide.
Speak to a local patisserie or cake maker if you want something unique, like marbled doughnuts.
For exciting flavours and vegan doughnuts, Crosstown Doughnuts are fantastic and can deliver across London and the surrounding areas. If you're elsewhere in the UK, you can contact them for a quote.
If that sounds bit too much like hard work, use one of these ready-made doughnut wall stands and just add your sugary treats:
Ginger Ray Gold Script Large Donut Wall – £24.99, Amazon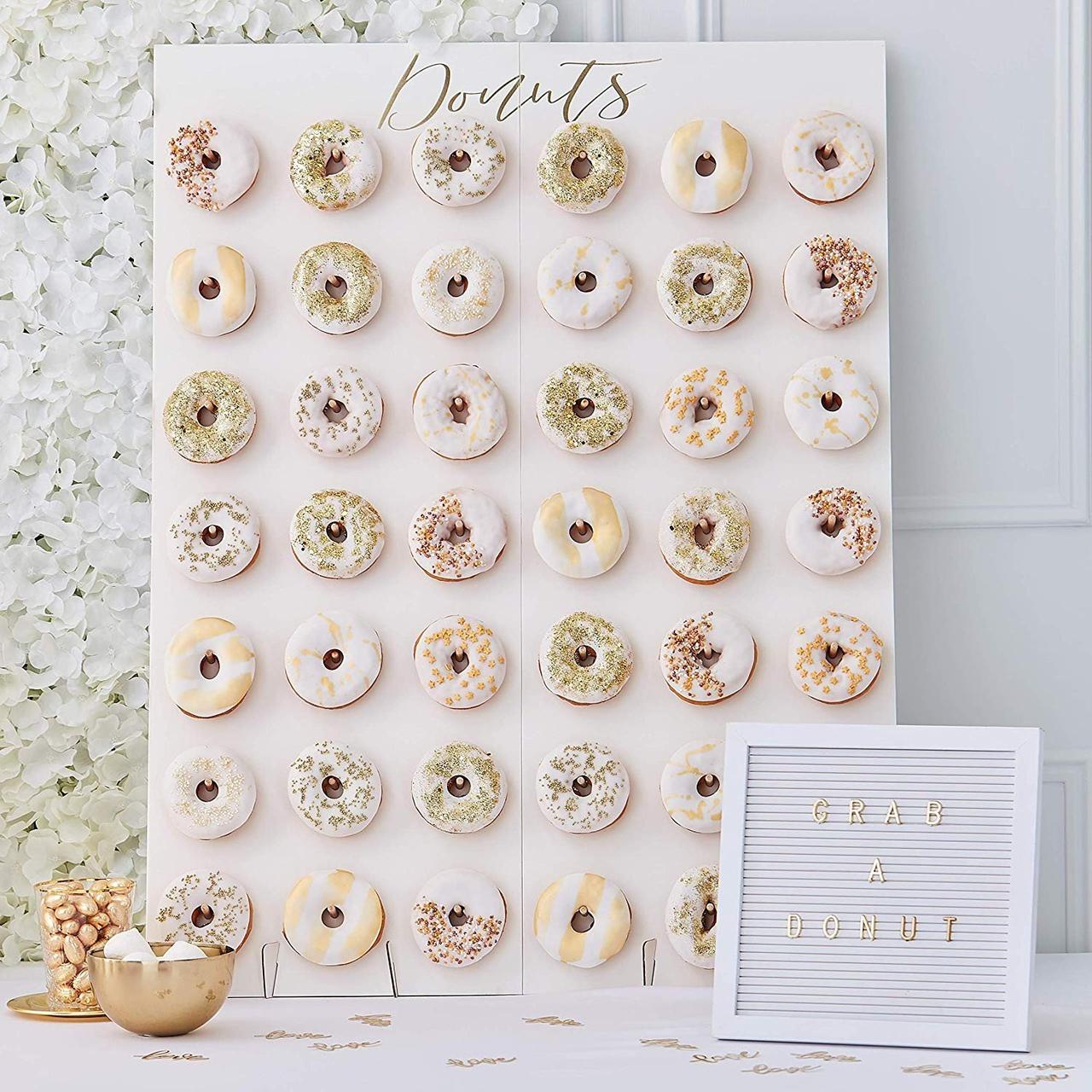 If you don't mind your doughnuts being spelt the American way, this large white and gold 'donut' wall is seriously chic. We love the white iced doughnuts with gold toppings to decorate it. This one can hold 42 doughnuts.
Ginger Ray Gold Foil treat Yourself Doughnut Wall – £9.99, Amazon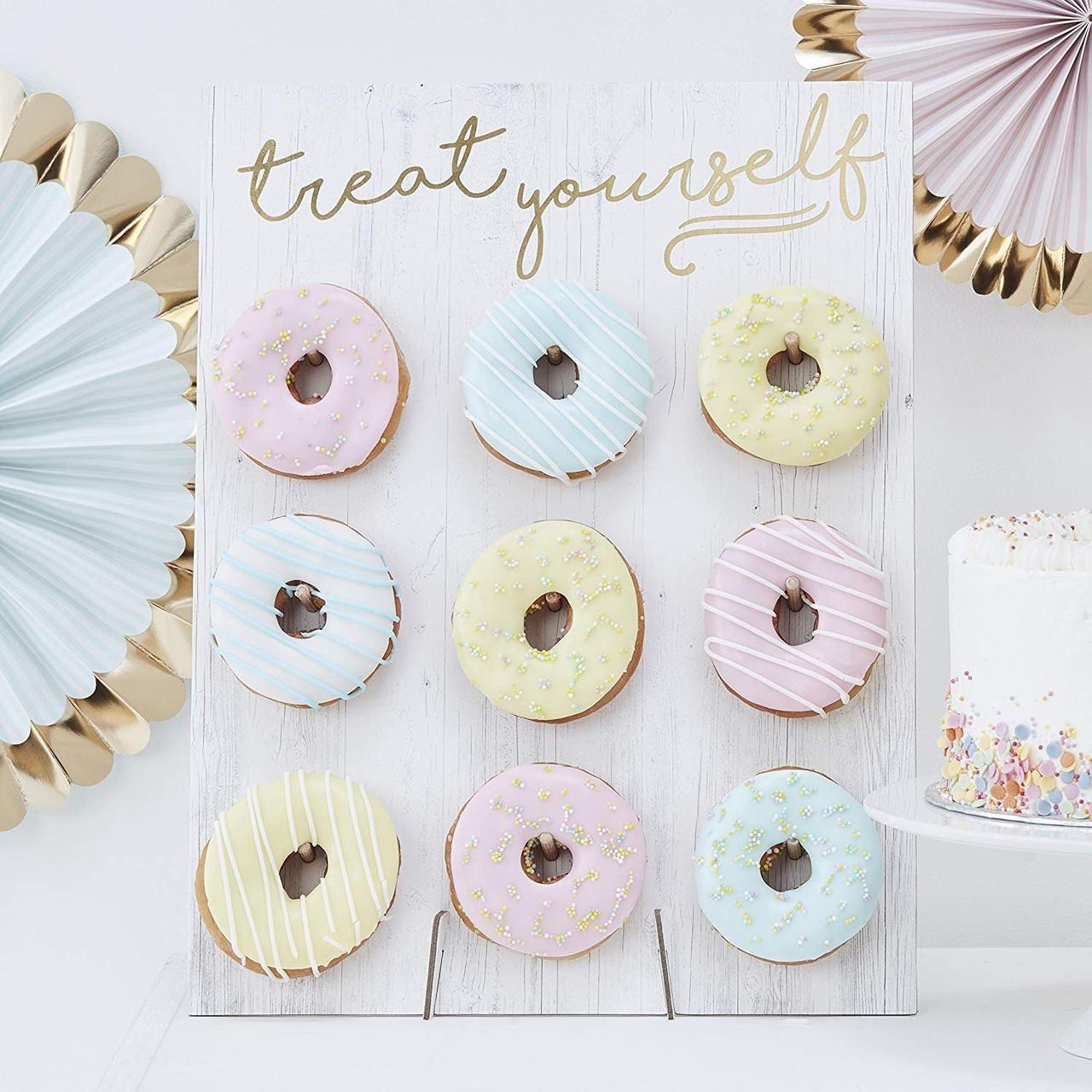 You can avoid any guests pulling you up on spelling by choosing this smaller 'Treat Yourself' doughnut stand which is equally as cute. It holds only nine 'nuts but can carry off pastel or bright coloured icing without being overwhelming.
White Laser-Cut Doughnut Wall – From £22.50, Etsy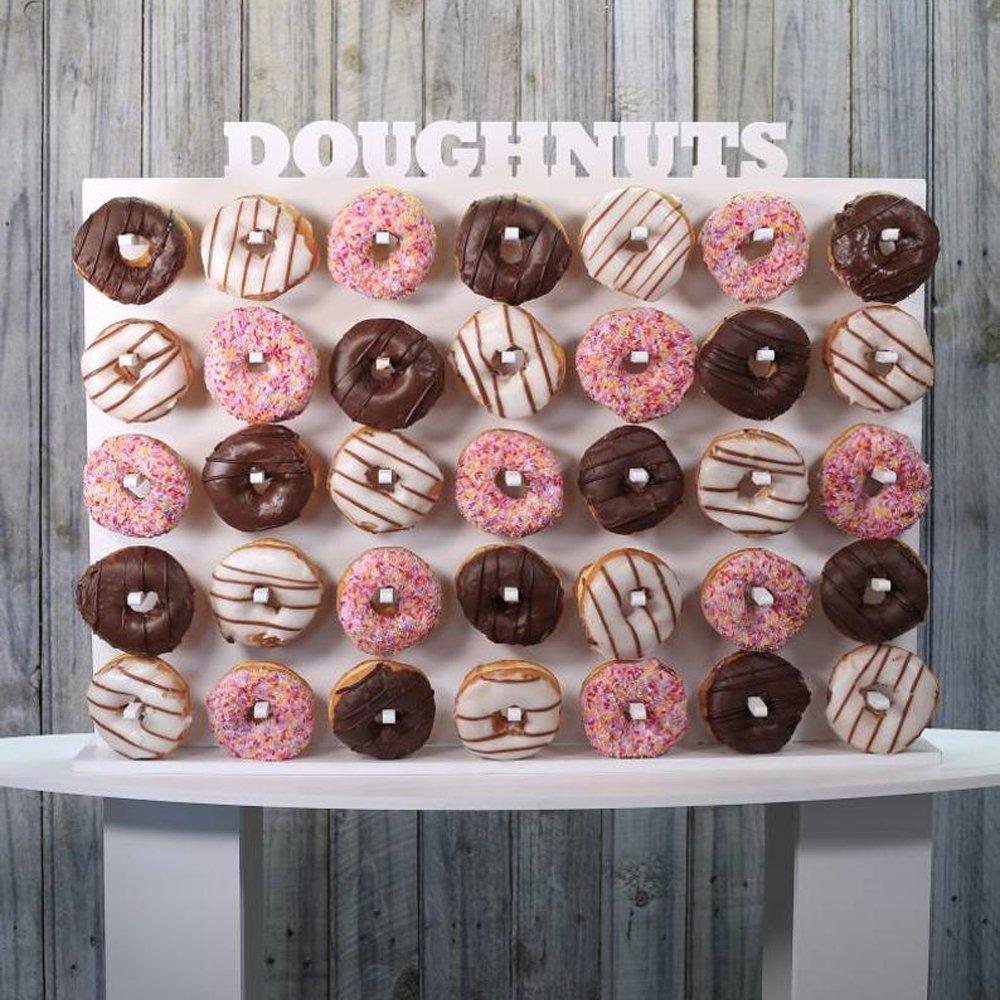 The problem with cardboard doughnut walls is that after one use with sticky doughnuts on, you'll need to dispose of it. This plastic version is easily cleanable and will last forever, meaning you can use it again at other parties or sell it on once the wedding is over. The £22.50 version holds nine doughnuts, but you can buy a board that holds up to 126.
YAY Pink Ombre Donut Wall Stand– £24.99, Etsy
Weddings are certainly happy occasions, so capture the mood with this 'Yay' doughnut wall. It fits together easily and looks great – especially with ombre pink doughnuts.
Ginger Ray Natural Kraft Finish Doughnut Wall – £14.99, Amazon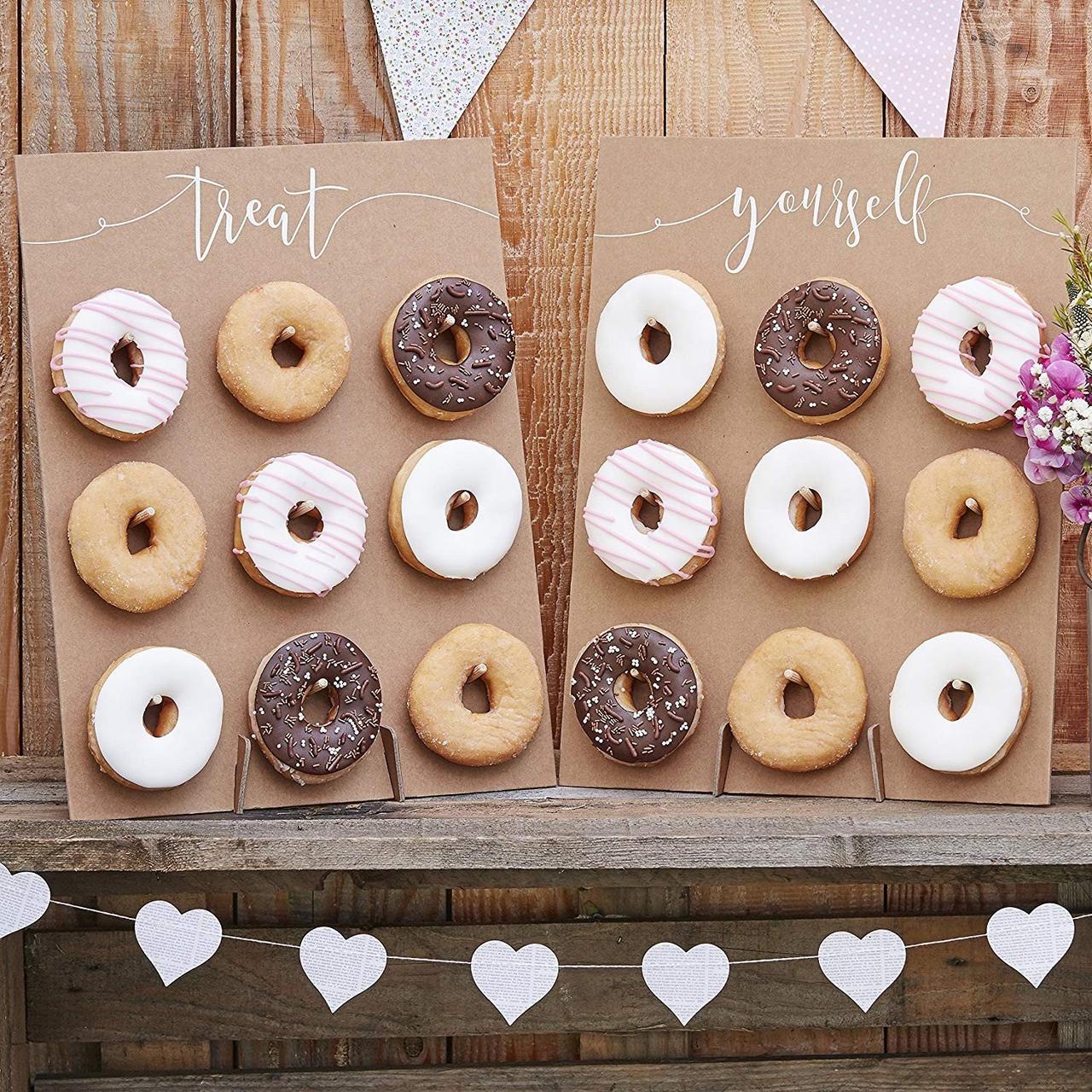 We love this rustic style doughnut wall which is split across two stands. It can hold 18 doughnuts and would look brilliant as part of a dessert table, especially at a barn or outdoor wedding.
READ MORE: How Much Does a Wedding Cake Cost?
Doughnut Stand – From £9.00, Etsy
Another rustic way to serve your doughnuts is on these wooden stands. These come in short, medium, and tall sizes, so you can play with the look of your dessert table. You can also choose from different colours to match your wedding palette.
Rainbow Pastel Doughnut Wall – £12.99, Amazon
For something more fun that would suit a festival wedding, how about this pastel rainbow doughnut wall? It can hold 14 doughnuts and is incredibly cute!
Doughnut Wall and Acrylic Stand Set – £22.99, Amazon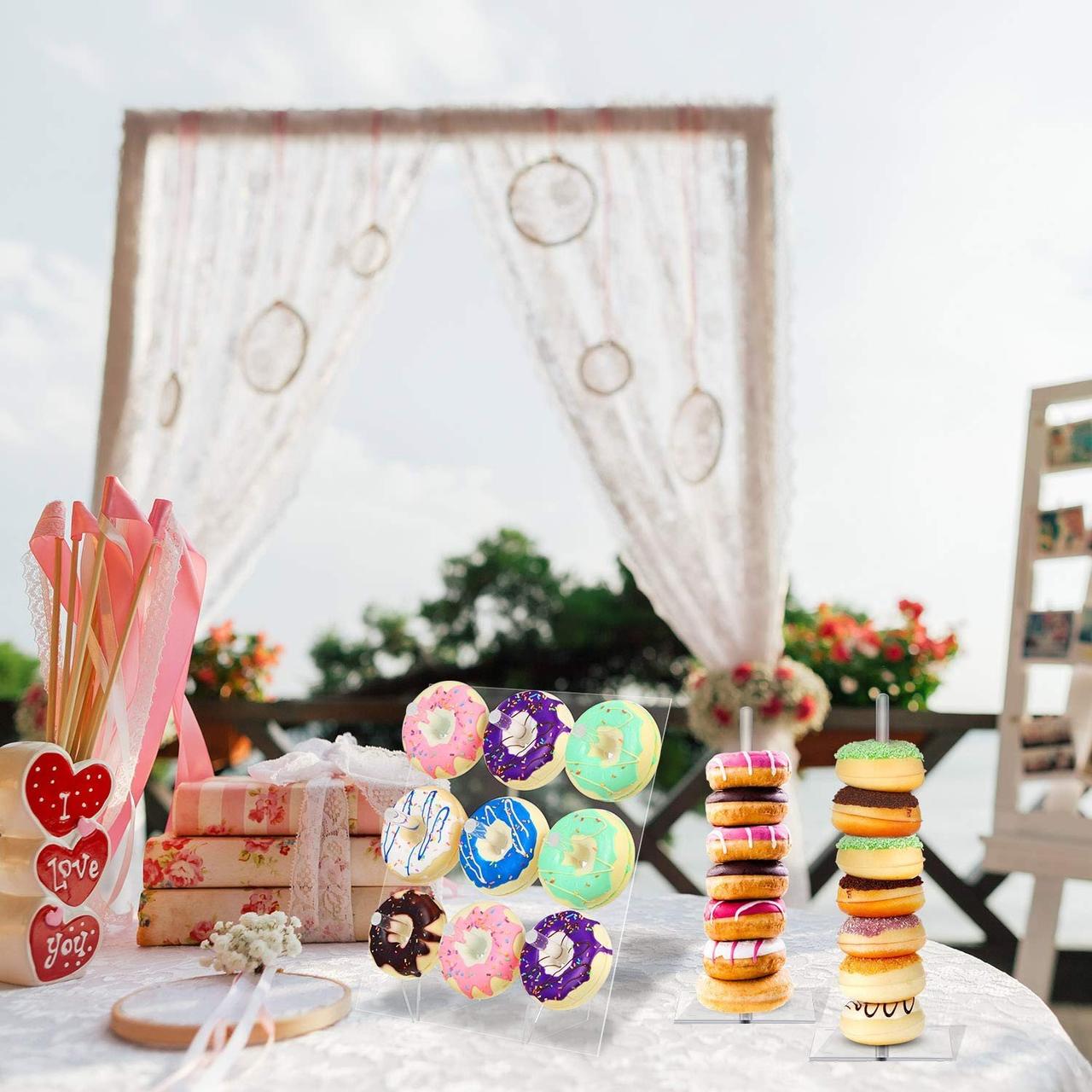 This set (excuse their oddly photoshopped picture) is actually great for displaying your doughnuts. You get a wall that holds 18 and two vertical acrylic stands so you can stack them up too for a different look. If you're trying to create the idea of an abundance of doughnuts, stands like this do the trick easily (plus they're wipe clean!).
Acrylic Display Stand – £13.98, Amazon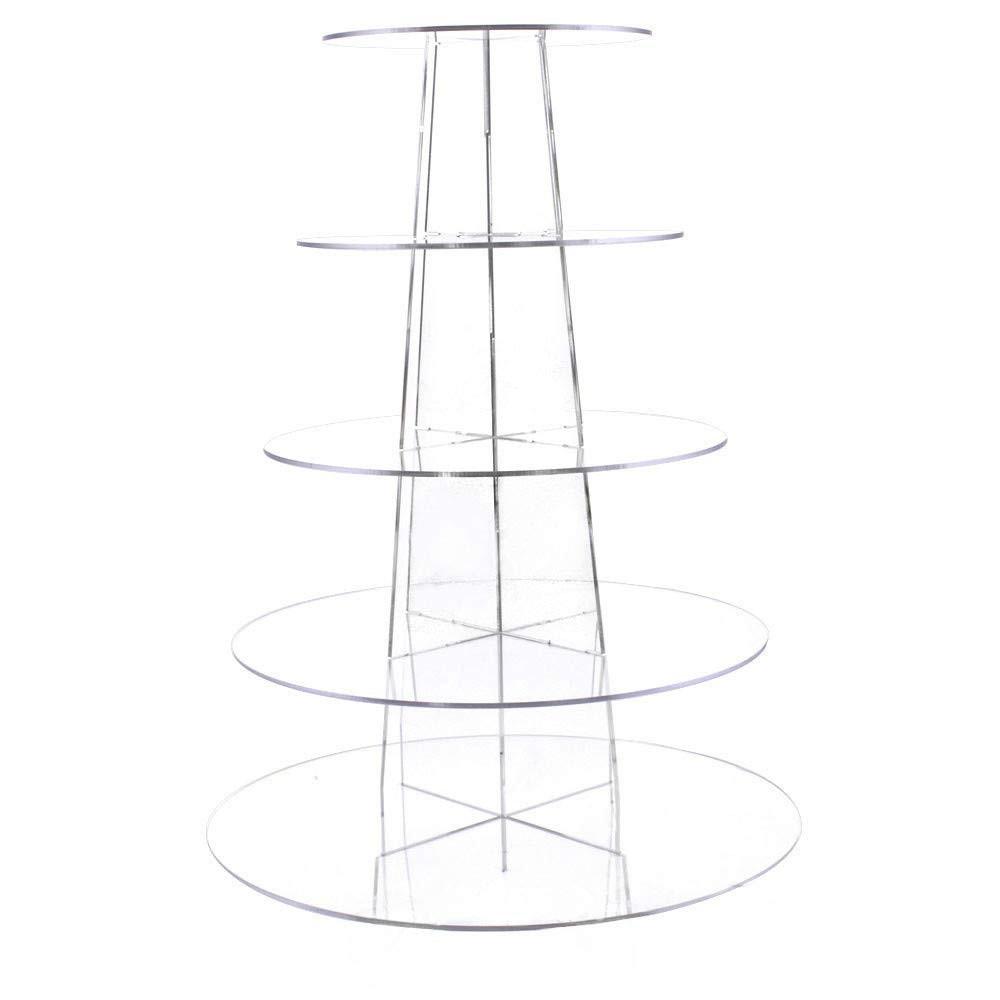 While you're more likely to see acrylic towers like this for cupcakes, they work so well with doughnuts too. If you have patterned doughnuts you'l be able to see the colours beautifully. It does need regular replenishing though as the acrylic looks sticky with nothing on it.
Personalised Doughnut Bags – From £9.99, Etsy
If you want to let your guests take a doughnut home, leave a stash of these personalised paper bags on the table.
'Donut' Gold Sign – £30.67, Etsy
You'll want to top the doughnut wall with a sign so your guests know where to head. We love this laser-cut gold one.
Still unconvinced? We've got another trend you'll absolutely adore – the geode cake. Here's nine of our favourite examples.