The Ultimate Guide to Bridal Showers: Etiquette, Themes & Bridal Shower Ideas
Planning a bridal shower and not sure where to start? From who to invite and the best themes to how to split the bill and what food to serve, we've got all the best bridal shower ideas right here
We have included third party products to help you navigate and enjoy life's biggest moments. Purchases made through links on this page may earn us a commission.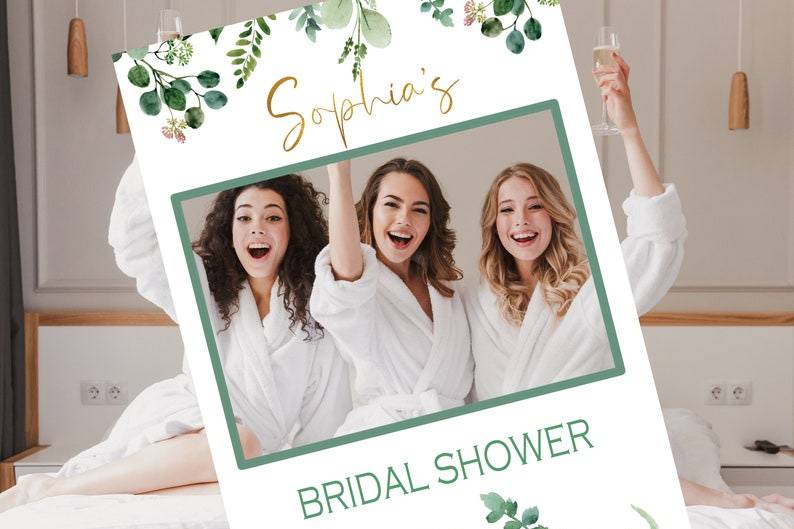 Looking for bridal shower ideas but have no idea where to start? You've come to the right place.
Traditionally, bridal showers have been something associated with American weddings, but they're becoming increasingly popular here in the UK. A bridal shower is not the same as a hen party; this is an event you'll throw in addition to the hen. A bridal shower is a daytime event in which the close female relatives of the bride - and sometimes of her partner - join her friends to celebrate the upcoming wedding with gifts and fun games. It's a family-friendly event (unlike the hen) where everyone from the bride's mum to little sister can attend, and she'll be given presents which are typically to help build the new couple's home.
In America, the couple may have bridal shower gift registry or a lingerie registry (yes, that's a thing!), but in the UK, it's much less about gift-giving and more about pampering the bride-to-be and socialising with the women of the wedding party - although it doesn't have to be women-only.
The kind of bridal shower you throw depends on the bride or brides; there are no hard and fast rules. For example, it could be a low-key brunch at the maid of honour's home, it could be a spa day, it could be a flower arranging class, or it could be lunch at a nice restaurant. The essentials are that there is food and drink on offer, some cute games are played, and the bride is usually given a few lovely gifts.
To get you started on the road to the perfect bridal shower we've answered the most frequently asked questions about bridal showers. We've also rounded-up our favourite bridal shower themes, making plenty of suggestions for how you can nail them. Once you've chosen a theme, you can decide on the details with our best bridal shower ideas, from invites and food ideas to games and locations. Happy planning!
Everything You Need to Know About Bridal Showers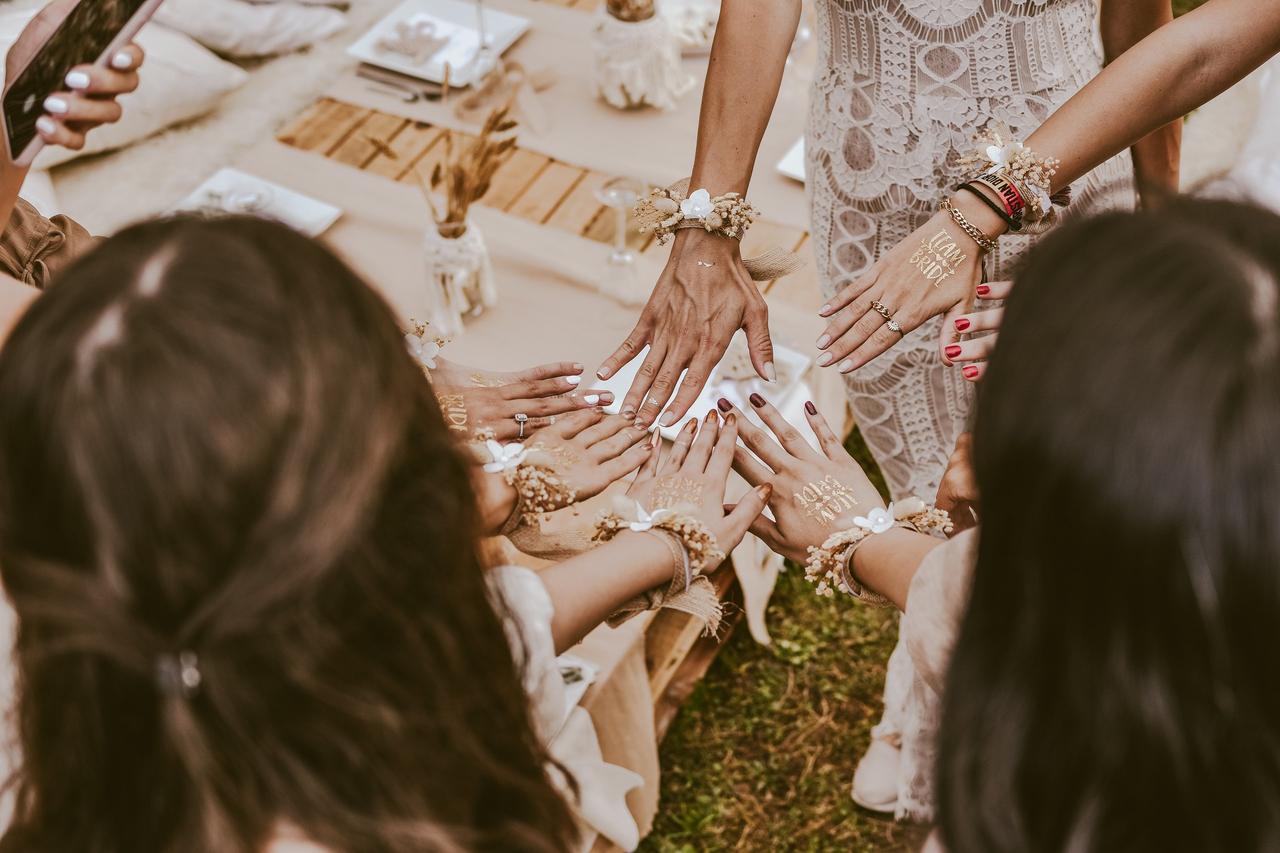 Let's get those burning questions out of the way before you start your planning.
Who Hosts the Bridal Shower?
The maid of honour typically hosts the bridal shower with the bridesmaids. However, they may be busy with planning hen do ideas so it can be normal for the bride's mother, sister, aunt, grandmother or even future mother-in-law to host the bridal shower instead.
You need to make it really clear if you are having a bridal shower in addition to the hen party and who is invited to what. The bridal shower will be PG-13 so mums are welcome but we doubt the same can be said for the hen do! It might be easier to split the responsibilities up between your family for the bridal shower and your bridal party for the hen do.
Typically the bride or brides don't have anything to do with planning their bridal shower, but we wouldn't keep it a surprise from them. You'll want their input on theme, date, location and who to invite. Discover the best bridal shower decorations here.
What's Supposed to Happen at a Bridal Shower?
Anything you like! While, as we mentioned, bridal showers are not traditionally the boozy affairs hen parties can often be, it's up to you what your shower involves. Popular ideas include afternoon tea, picnics, BBQs and spa afternoons. Basically, if it feels like your mum and gran could be involved, it's probably bridal shower material.
Gifts are often given at the bridal shower but they don't need to be anything major. Signing a group card or simply bringing something for the buffet is more than acceptable. Games are often part of bridal showers too, just leave the naughty hen do games for the official hen party.
What Are Some Fun Things to Do at a Bridal Shower?
Flower arranging, party games such as charades, lawn games, guess the dress games, painting by numbers, crafting... the possibilities are endless! Once you've nailed down a theme, it'll be easier to decide on the activities you'd like to do.
What Should You Not Do at a Bridal Shower?
When it comes to bridal shower don'ts, it's pretty much the same as any other party: don't bring an uninvited plus-one, don't ignore the dress code or theme and don't forget to mingle with those you haven't met yet. Oh, and don't invite anyone not invited to the wedding, things can get very awks very fast.
How Do You Plan a Simple Bridal Shower?
A bridal shower doesn't need to be a big party. It can be anything from a laidback lunch to a night in with some snacks. If you know the bride isn't keen on fuss, don't sweat it when it comes to organising complicated games or extravagant décor, simply gather her favourite people and food and allow the day to unfold naturally.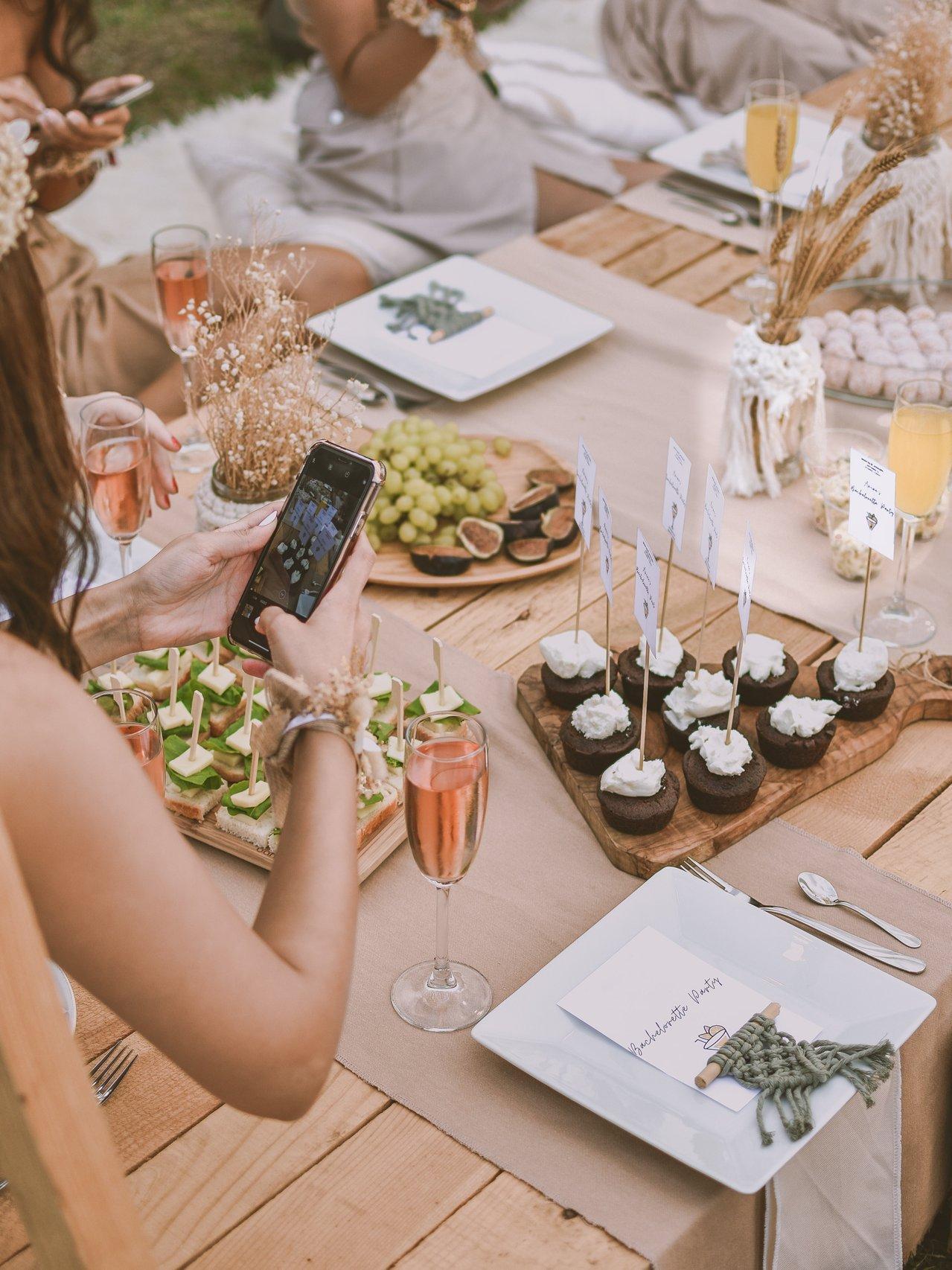 Who Pays for the Bridal Shower?
Whoever is hosting is expected to foot the bill for things like decorations, games and prizes, plus food and drink if they are hosting at home. This usually means the maid of honour and bridesmaids chip in but the bride's family may be happy to help too. The best kind of guests will always ask what they can do to help and it's much appreciated; delegate games or items like dips to trusted invitees.
It's best to have a chat with the bride early on about the budget for the bridal shower. If she wants an activity or to go out for a meal, you'll need to ask the guests to pay for their own part and make this clear right from the start.
Who Is Invited to the Bridal Shower?
Traditionally, you only invite people to the bridal shower who are invited to the wedding and it's customary for it to be women-only. However this is changing and male friends and relatives are often invited too. You may prefer to call it a "wedding shower" (not all weddings involve a bride, for one!) and you can have both of the engaged couple as guests of honour if that suits you better.
The bride's female relatives, bridal party and close friends are the main invitees of the bridal shower, but you can open it up to her partner's family too. Bridal showers can be anything from intimate events of 10 people to much, much larger celebrations.
You don't have too be too worried about sticking to tradition and it can be a great opportunity to celebrate with those who aren't coming to the wedding or the hen party, for example, colleagues or close family friends of your parents. Essentially it's just a lovely brunch or lunch with people the bride cares about so don't get too caught up with tradition - especially if you make it clear that gifts are not required.
Does Everyone Have to Bring a Gift to the Bridal Shower?
In the US, it's customary for everyone to bring the bride a present, but honestly, that's not necessary in the UK. The typical bridal shower gifts are items for the home, lingerie, jewellery or family heirlooms (from the bride's family to her, obviously; don't raid your grandma's jewels just yet).
In the UK, we'd recommend that you ask whoever is planning the bridal shower if you can bring anything, such as prosecco or a dessert platter, and then maybe bring the bride a lovely card, some flowers or a small bride-to-be gift. The hen party itself can be expensive, as will a gift you choose to buy from the wedding gift list, so it's understood that the bridal shower isn't about gifts in the UK.
If you want to do gifts and are having a fun theme, how about setting a spending limit and ask guests to bring a gift along that theme or that represents their relationship with the bride?
READ MORE: Cheap Hen Do Ideas Under £100pp
When Does the Bridal Shower Take Place?
Bridal showers take place anywhere from two to six months before the wedding. You need to make sure all the guests have enough notice so we'd recommend you send out paper or digital invites six weeks before the event. That time before the wedding can be incredibly busy, especially weekends, so check in with the bride which guests are absolute must-haves at her bridal shower and arrange the date so all of them can attend.
It normally takes place a few months or weeks before the hen party and is the first event to kick off your pre-wedding celebrations. However, you can actually combine the bridal shower with the hen party if it works for your timeline - the family-orientated bridal shower in the daytime, and once mum and grandma have left, the raunchier part of the celebrations start!
READ MORE: The Best Bridal Shower Games
If There is a Groom, is He Involved?
He can be! Firstly, you can host a joint wedding shower for the couple and make it an inclusive event. Alternatively, he can pop in at the end for some of the games or just to say thank you to everyone for being part of their wedding celebrations. If there are two grooms, why not throw a groom shower?
What Do You Wear to a Bridal Shower?
Like we said, bridal showers are PG-13 so, as a guest, wear something you'd be happy to stand next to their grandma for a photo in. The theme of the party will guide whether it's a more formal or casual affair, and you should mention dress code in the invites, such as tea dresses for an afternoon tea theme or maybe a colour theme.
The bride can wear what she wants, but we love a cute white outfit, like a fun playsuit or short dress. It's a great excuse to buy yourself a new outfit and we recommend something that can be re-worn on your honeymoon to bring together your whole wedding experience - from the bridal shower to the big day to the honeymoon and the rest of your lives!
READ MORE: The Cutest Hen Do Outfit Ideas
16 of the Best Bridal Shower Themes
First thing's first when you're putting together your friend's bridal shower: the theme. When deciding on bridal shower themes have the bride, or brides, at the forefront of your mind.
What kind of personality do they have? Would they love nothing more than waking up in a muddy field over three days to dance the nights away at a festival, or are they more a baking and pamper night kind of gal? Whatever you decide it's the personal touches that bring everything to life, and make the party super special – so don't be afraid to put your own spin on our ideas below.
1. Floral Themed Fun
It's a cliché, sure, but most women love flowers. If your pal has a panache for petals then why not go all out and throw a floral-themed bridal shower? You could head off to a flower crown-making workshop, or organise a course where you learn how to make DIY wedding bouquets, then grab a fancy lunch in the kind of place that would serve up meals with edible flowers. Head home to play games and drink botanical-inspired cocktails made with flavours of rose and lavender.
Must Buy: A selection of floral-themed bridal shower games, this set from Etsy is less than £10 and you can edit the PDFs for your bride and print them at home.
2. A Pink Party
Whether you like sugary shades or fuchsia pops, it can be made into a pretty punchy theme. Make everyone wear something pink (doesn't have to be on a Wednesday - on any day, we wear pink!), serve up retro pink wafer biscuits and strawberries to dip in a chocolate fountain, play kids' games like pass the parcel and serve only rosé wine and prosecco. Top tip: a little raspberry puree or pomegranate juice will make any drink pink.
Must Buy: A pink pass the parcel set from Etsy for those nostalgic vibes.
3. A Pool Party
There's no two ways about this, you're going to need a pool to pull this bridal shower idea off. But depending on your expectations that could be a blow up number in your back garden, or an infinity pool in Ibiza. Whatever your budget you can make this work: it could be a fun day at the local lido or a posh pool at a spa.
This is perfect if your pal loves a holiday more than anything else and gives you all a good excuse to lie around chatting by the side of a pool all day, drinks in hand. Make sure to grab plenty of fun inflatables, get plastic cocktail glasses and arrange for everyone to bring their swimwear A-game.
Must Buy: No pool party is complete without an inflatable drinks holder and we're obsessed with this engagement ring one from the Hitched Shop.
READ MORE: The Best Bride Swimsuits & Bikinis
4. Afternoon Tea Party
An afternoon tea is certainly not going to provide any scandalous stories, but is a pretty good option for foodie friends. If you're looking to keep costs down you could assign all your hens a job when it comes to the spread – get someone on sandwiches, someone on scones, someone else on cakes etc – and host it at home.
For a something a little flashier booking into a nice hotel to allow for some pampering, and don't forget to add the Prosecco option.
Must Buy: Set your scones and sandwiches on a beautiful personalised afternoon tea cake stand with the bride-to-be's name.
5. Unwind at a Spa Day
A spa day is a really lovely way to get some down time in with your girls before the wedding madness kicks off. If you're doing it at home, why not get everyone to bring their own dressing gown and face mask and take it in turn to do each other's nails? Don't forget to make up plenty of flavoured waters and serve up fresh fruit platters for a saintly snack.
If you feel like splashing out, book into a spa or hire a mobile masseuse and let the professionals take care of you. Plus, after all the detoxing you'll be ready for a good re-toxing (which is where the wine actually secretly comes in).
Must Buy: For £10, you can get this Garnier Sheet Mask Bundle from Boots with three sheet masks and two eye masks.
6. Cocktail Making for a Crowd
There's no better way to enjoy cocktails than when surrounded by a crowd of your favourite people. For a fully cocktail-themed day, you could organising a cinema-style viewing of a James Bond film, get everyone to come in black tie and challenge each person to make their own signature cocktail. Alternatively, watch Coyote Ugly and go for a little more relaxed cocktail making with a little sexy dancing mixed in. The best way to do this on a budget is assign each guest a bottle of spirit, mixer or garnish to bring.
If there's budget, you can get someone to come to your party place and mix up drinks for you, or you could head to a bar or hotel for a masterclass in mixology.
Must Buy: Treat the bride-to-be to this gorgeous rose gold cocktail making kit with a shaker, stirrer, jigger and more.
7. The Perfect Picnic
If your bridal shower planning is for a summer celebration, then a big picnic could be perfect. They offer up the opportunity for everyone to contribute in a small way for big impact.
Ask everyone to pitch in with the food and drink, throw down lots of lovely mix 'n' match blankets and cushions, string up some bunting or balloons and that's the job done. To raise your game, add small tables and wildflowers in bud vases. For further fun why not provide park games, like rounders or frisbee?
Must Buy: This personalised picnic basket is adorable and will get plenty of use after the big day too!
8. Dance Class Divas
There's something seriously satisfying about working up a sweat. We think it's probably something to do with knowing how many calories you can consume afterwards.
If you know the bride is an active gal then why not organise a dance class? Most studios offer package deals for group, and you can choose themed classes for even more fun, like Beyoncé or ABBA dance classes. Otherwise, feel free to learn some cute TikTok dances at a brunch at the maid of honour's house and post them online.
Must Buy: A pink leotard for the bride, obviously.
9. Wine Tasting
Is your friendship often found to strengthen over a glass or two of vino? If so, then wine tasting could be the perfect. Get your gaggle of your loved ones together and head off to a vineyard or wine shop for the afternoon, to make your way through different types of reds, whites and rose options. We know you're meant to probably spit each taster out, but we won't tell if you don't.
Alternatively host a wine tasting at home, and ask each guest to bring their favourite bottle of wine.
Must Buy: Wine tasting score cards that you can print at home to make your day-drinking look like real work.
10. A Music Festival
Festivals aren't everyone's cup of tea, but people who love them really love them. A festival theme could be a few beers, a good playlist and some floral headbands round your back garden, or it could be a full weekend away with all your best friends indulging in good music, street food and very little sleep at one of the many of the summer's offerings.
If you're looking for what to put in the playlist, how about asking every guest for a recommendation? You'll get a diverse line-up from across the decades to disco dance to.
Must Buy: Amazon sell this 16 piece collection of floral headbands for less than £20 so you can gift everyone one as they arrive.
READ MORE: Our Favourite Festival Hen Party Ideas
11. A Collective Camping Trip
While a bridal shower is typically only an afternoon, there's no rule that says you can't spend a couple of days celebrating. We love a camping bridal shower for its ability to bring us back down to earth.
You can book a night away at a campsite, go glamping at a snazzy site with high-end showers and toilets, or even pitch up in your own garden. For full out effect make sure to bring marshmallows to toast and enough sleeping bags for everyone to snuggle down in.
To be quite honest, you could pack the best of camping into one day if you start with an afternoon of camp activities like dream catcher making, playing family card games or having egg and spoon races. In the evening, light a fire pit, cook some sausages on a BBQ, crowd round the fire for s'mores and ghost stories and relive that summer camp vibe.
Must Buy: Massive marshmallows for toasting over an open fire. You can get them from most supermarkets in their American food section.
12. A Disney Princess Party
There's always one princess in a group, and if yours just happens to be the bride then maybe a princess party is perfect. Kick things off with a little tiara-making crafting, provide DIY photo booth princess props and grab some Prosecco glitter for cocktails fit for a crowned princess.
You can adapt some of our Disney princess hen party ideas easily for the bridal shower.
Must Buy: Prosecco glitter, duh!
13. Karaoke Queens
Does your bride love being the centre of attention? If so there's nothing else for it, you're going to have throw a bit of karaoke in the mix for her bridal shower.
Either book yourselves into a karaoke bar that offers up private rooms, or hire a karaoke kit and do a DIY version in your front room. One thing's guaranteed, you'll be fighting each other to get on the mic all night. There's so many Instagrammable extras you can make for the party, like microphone shaped cookies and VIP lanyards.
Must Buy: A personalised mirror ball to hang from the ceiling and kick start those party vibes!
14. Team Games
There's no bridal shower bible that says you can't celebrate with your other half and have a "wedding shower". If the bride and their partner have close knit groups of mates made up of both boys and girls then this can be a really fun way to get to know all their pals before the big day. Think of something fun that everyone would like to do – like team games in a local park, a scavenger hunt race or a fun obstacle course. It's all a bit silly and ends with everyone having a well deserved drink.
Must Buy: This croquet set will provide plenty of fun and last for years after the shower!
15. Retro Kids' Party
Sometimes getting married can feel a bit grown up and scary, so to counteract that we love a good old fashioned kids' party theme. We're talking balloons everywhere, party games, a load of sugary treat and one fabulous addition: some booze. Make sure to pack up party bags for everyone, and don't forget sprinkle-topped cake!
Must Buy: These cute confetti balloons to decorate.
16. Bridgerton Tea Party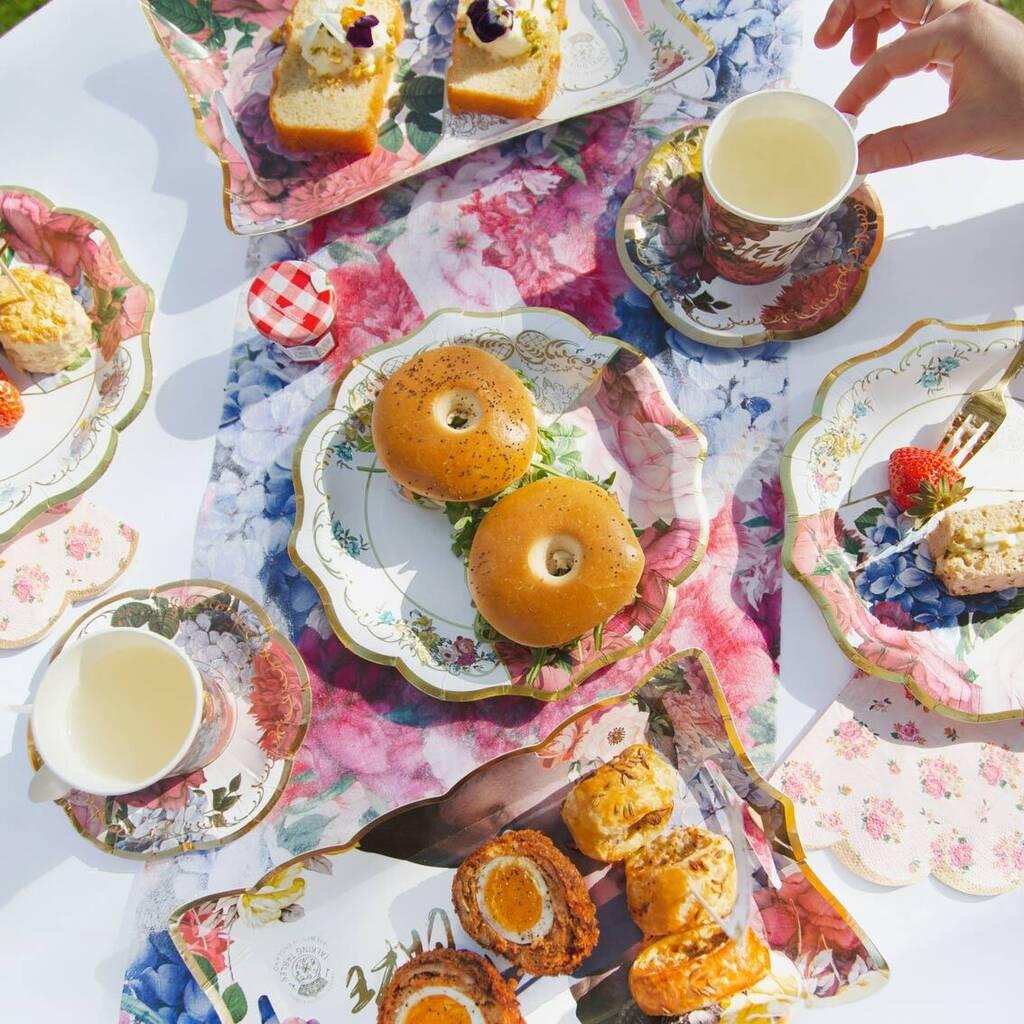 Throw a party worthy of the ton and invest in the Bridgerton themed tea party set above. Ask everyone to come in their flashiest dresses and let the bride choose a diamond, wear glittering tiaras, gift bee themed party favours, play instrumental versions of your favourite Ariana Grande tracks...Or you know, simply grab a prosecco and re-watch those Duke of Hastings scenes from season one.
Must Buy: This wisteria garland to transform your place into the Bridgerton's Mayfair home.
READ MORE: 23 Bridgerton Wedding Ideas
Bridal Shower Ideas
From where to host the shower to what to serve and how to decorate, we've detailed our best bridal shower ideas below.
1. Bridal Shower Locations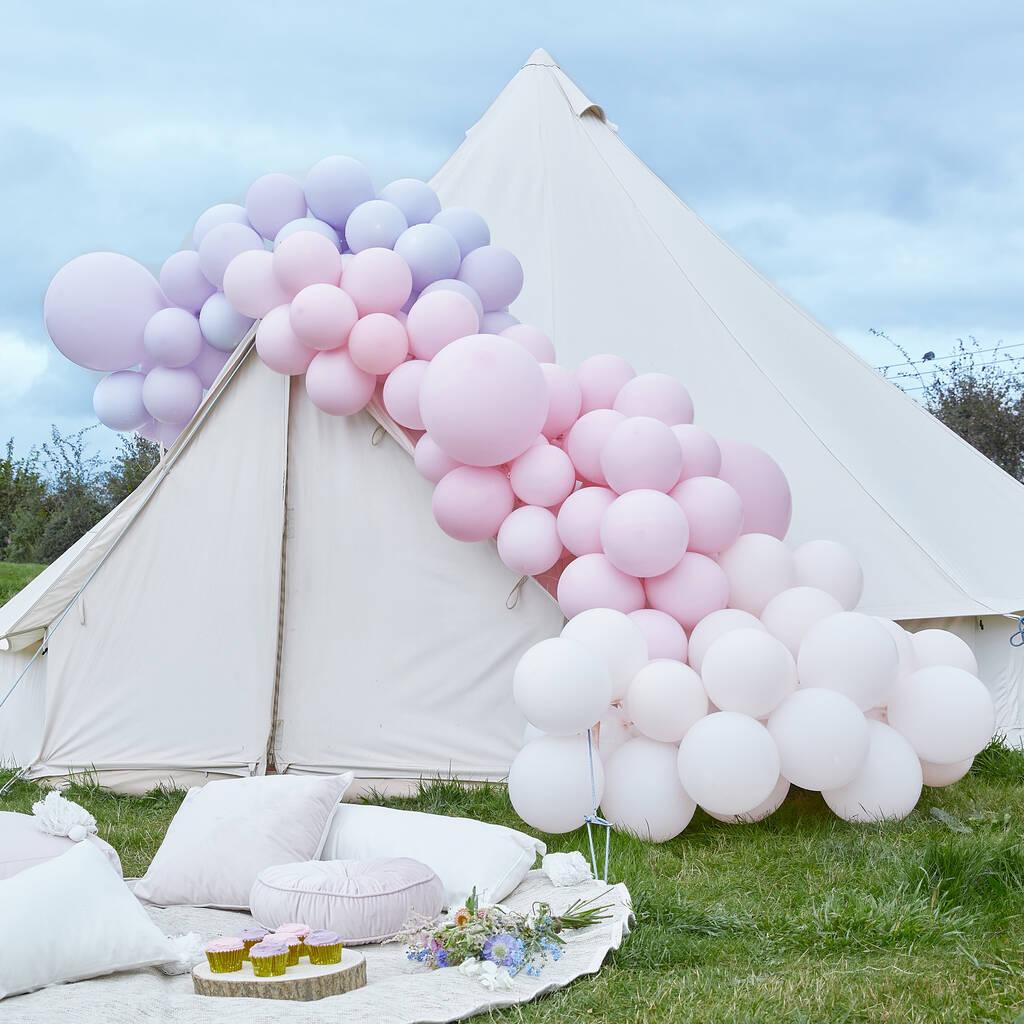 Nailed your theme? The next step is to agree the day, location and guest list for your shower. Here's a few set-ups we love:
A backyard bridal shower at a relative's house with BBQ burgers and a rustic table setting that features lots of greenery is a gorgeous, low-key idea for a relaxed bridal shower.
Gather everyone in their PJs and have a slumber party. You could do this in a hotel or hire a big country house for a weekend. It's a grown-up version of your favourite teenage activity and will bring back all the nostalgia.
Set up a picnic on the beach with rugs and a parasol and lots of towels for those brave enough to take a dip. Get fish and chips from a local chippy and eat it all on the sand and play beach games.
Whether it's a real pool or a paddling pool, fill it with balloons and floaties and set up a tiki bar for a tropical vibe that can be done easily in a back garden.
Indoor bridal showers can be absolutely wonderful with just a few decorations - that could be anywhere from your house to a favourite restaurant for brunch or lunch.
If you're in the countryside, how about setting up a boho style tipi with rugs on the floor for everyone to sit on and plenty of pampas grass to decorate? Somewhere with an amazing view (and preferably toilets nearby) would be the dream spot.
Remember, if you decide to host the bridal shower outdoors in a public park or garden, remember to clean up everything with you when you leave. We only have one planet, after all.
2. Bridal Shower Invitations
After all that's been decided, you'll need to figure out how you share all that information, which can either be via paper invitations, a digital e-vite, a simple email or even a WhatsApp group.
Invites are a nice way to introduce your planned theme and get everyone excited and then you can continue that theme throughout the shower.
Here are our favourite invite ideas:
Send an e-invite. Websites like Paperless Post offer free designs that you can send to everyone's email addresses that pop open like little virtual invites. Cute and cheap.
Design your own invites for free. We love Canva, which is a graphic design software that allows you to drag and drop into their templates, so you could update with pictures of the bride or customise your invites depending on the theme. You can then use the same designs in all your stationery for the bridal shower (menus, signs, place cards etc) so that you can tie everything in, right from the invites.
Buy a download and print pack designed by a small creative business. We love Etsy for their selection of bridal shower invitations, they have options for any theme you could think of.
READ MORE: 22 Hen Party Bag Filler Ideas
3. Bridal Shower Decorations
When it comes to bridal shower decorations, we always think less is more. Treat yourself and yours gals to a few well-thought-out decorations instead of going overboard with balloons and bunting on every last surface available. Once you've got you bridal shower ideas sorted in terms of a theme you can work out where best to blow the budget on decorations.
Here are some of our favourite ways to make maximum impact with just a few little bits and bobs.
Put up some paper decorations. You can buy really pretty paper chains, honeycomb pompoms or paper fan decorations in all sorts of colour-ways, to suit any theme, and they're often really affordable. Their large size means you get your theme across pretty sharpish without having to faff with too much décor.
Invest in a welcome sign. If you're going to be putting on a party then you may as well make the first impression count. Welcome signs are the perfect way to set the tone of your day from the off.
Throw together a DIY photo booth. Everyone loves an excuse to take some silly snaps. Pull together a photo booth background and some fun photo booth props and you've got yourself a seriously good selfie station. You can even download apps now that turn your pictures into old fashioned-looking photo strips.
Create a few different stations which are basically décor themselves. A bar station or Prosecco station with a few different garnishes will look gorgeous on a table with a rustic sign, while a sweet table with bowls of colourful pick and mix and a bit of confetti scattered between will add zingy bright shade to a room or outdoor table.
Balloons add height and texture to a display and instantly make it look stylish. Go for metallic balloons and turn them into an arch, a balloon wall or get ones that spell out a world like Love.
4. Bridal Shower Food
The final thing on your to-do list is probably the bridal shower food, a pretty big part of any party. Bridal showers are usually centred around a brunch or lunch so making sure everyone is fed and happy is pretty important.
When it comes to the food presentation is key: you can dress up a few sandwiches with cute tea party tags, or make crisps and dips look pretty exciting just by decanting into cool bowls. Here are some of our quick fixes for bridal shower food on a budget.
One word: Pizza. Who doesn't love a good hunk of dough covered in their favourite toppings? Get everyone to chip and in for a delivery a couple of hours before you plan on heading out and we can nearly guarantee you'll get yourself hero status.
Get together a grazing platter. Ask everyone to 'bring some beige', like crisps, nuts, sausage rolls, bread etc and dress it all up with some roasted vegetables, fancy dips and some colourful slices of fresh fruit on large boards or plates. This approach means everyone can nibble their way through the night at their own pace, and you won't have to faff about with table settings or making sure everyone has had enough to eat.
For a French-themed bridal shower, how about delicious cheese and ham croissants?
If you're you having a travel-themed bridal shower, get the guests to bring a plate of international food or put on a grazing spread with flavours from around the globe.
Skip out on savoury and do a dessert bar. Sometimes there's nothing better than a good dose of sugar. A dessert bar is perfect for brides with a super sweet tooth, and can be a good way to get everyone to contribute. Ask everyone to bring along their favourite desserts and assemble them all on one long table. You could dress up the offerings with cake toppings and cute paper plates and napkins.
Pancake or waffle bars are great for brunch as you can make (or buy) them in advance then just need to warm up as needed and provide some delicious toppings. Who doesn't love brunch food?
A BBQ is a summer classic and it allows everyone to bring something they'd love to grill. Make some salads - or buy some pre-made for ease - and put together a jug of Pimm's for instant summer tastiness.
There's literally nothing better than a doughnut wall, right?
5. Bridal Shower Games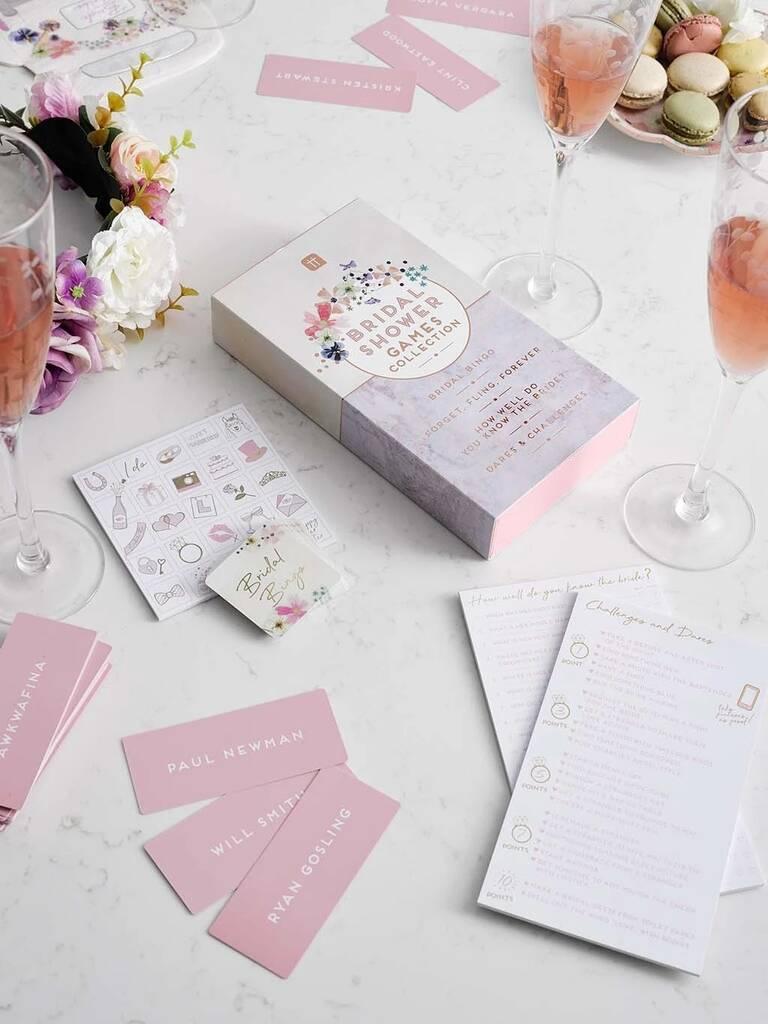 We have a whole list dedicated to the best bridal shower games so that's the go-to place to plan your activities. However, we've treated you to a few special ones here too:
Play a this-or-that game and see who knows the bride best - you can feel printable versions on Etsy.
Write down your favourite memory with the bride or how you first met and keep it anonymous. She then has to read them out loud and reveal who the embarrassing or funny story is from!
Make a fun playlist for the bridal shower and play old school games like musical chairs.
Early bird? What about a bride-to-be breakfast instead of a bridal shower lunch?