How to Host a Hen Party at Home
Planning a hen party at home but not sure where to start? We've got all the info and inspo you need right here!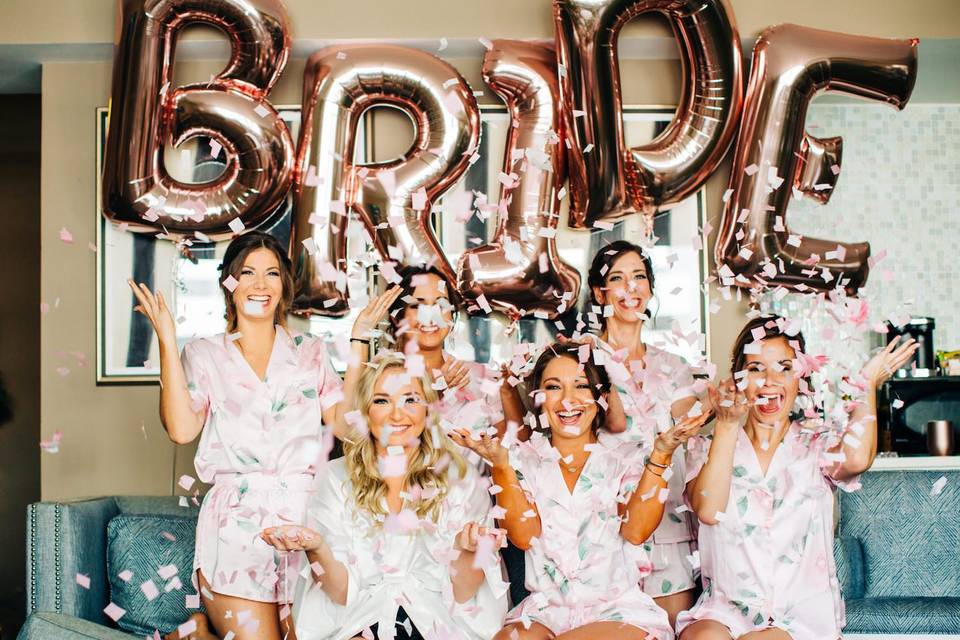 While weekends in European cities and nights out on the town are certainly popular hen party choices, we reckon a hen party at home can be just as memorable.
We all know by now that it's not the place that makes the party but the people, and as long as the bride-to-be has her best girls (and boys!) around her, she'll have the perfect send-off into married life. Trust us.
All you need to create the perfect hen party at home is plenty of fun hen party ideas and hen party games, some delicious food and drink and an open mind.
To help you on your way to home hen party heaven, we've put together this fail-safe planning guide. All you need to do is follow the five steps below, pick out your fave ideas and get ready to party!
READ MORE:
The Basics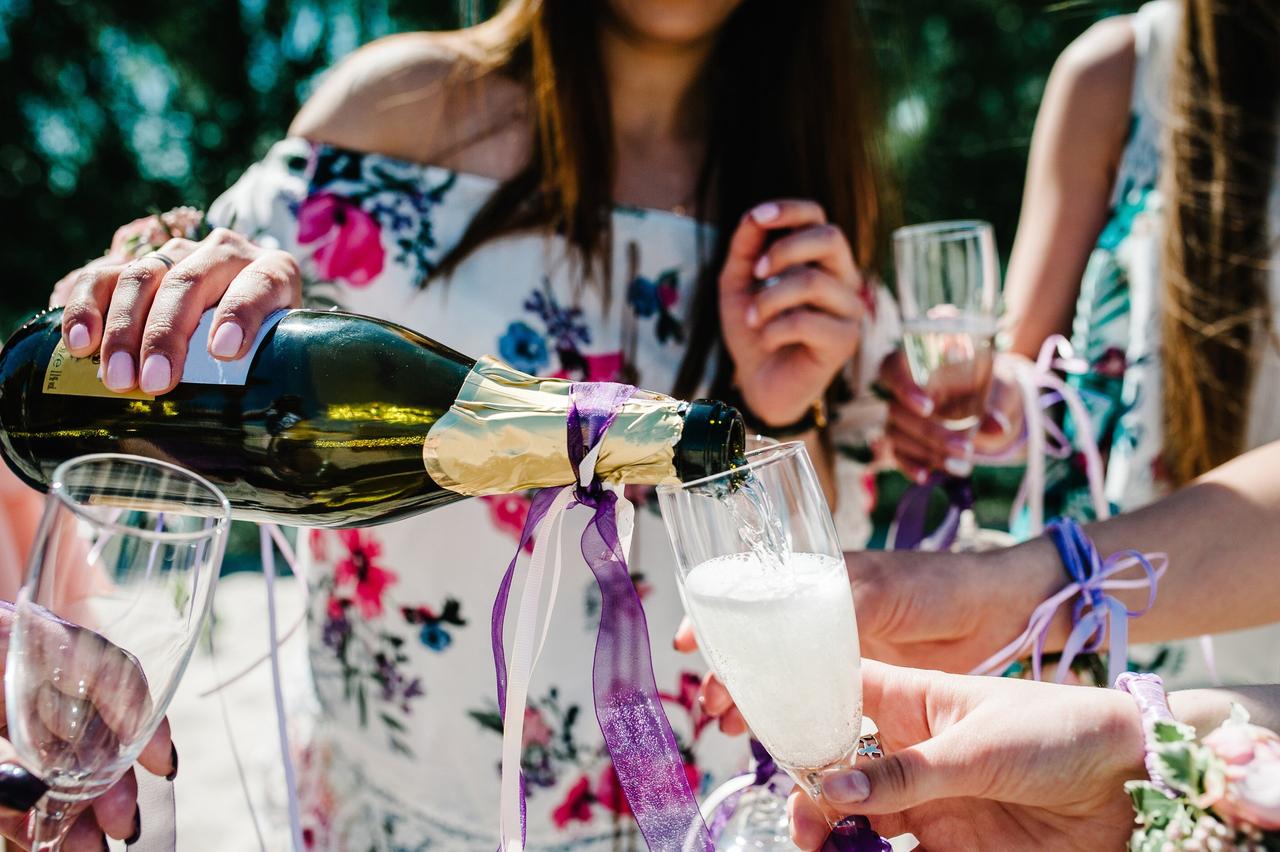 Subtly find out what the bride would like. If you've been tasked with organising her hen do, chances are you'll already know the kind of thing she'll like, and whether she'll find penis straws absolutely hilarious or completely gross. If you're really struggling, perhaps mention a hen do you or a friend went to recently and gauge the bride's reaction to the activities involved. Or ask the other hens for ideas and see if a common theme emerges.
Check your guest list and then check it again. It's totally fine to ask the bride who she would like to invite, just make sure everyone's been invited to the WhatsApp group and given plenty of notice so that they can book time off work etc.
Choose a setting. Is it going to take place at your home, the bride's home or someone else's? Before you go any further with your planning, you'll need to make sure you have a suitable home to host in.
READ MORE: Hen Party Planning: How to Plan a Hen Do If You've Never Done It Before
1. Set a Budget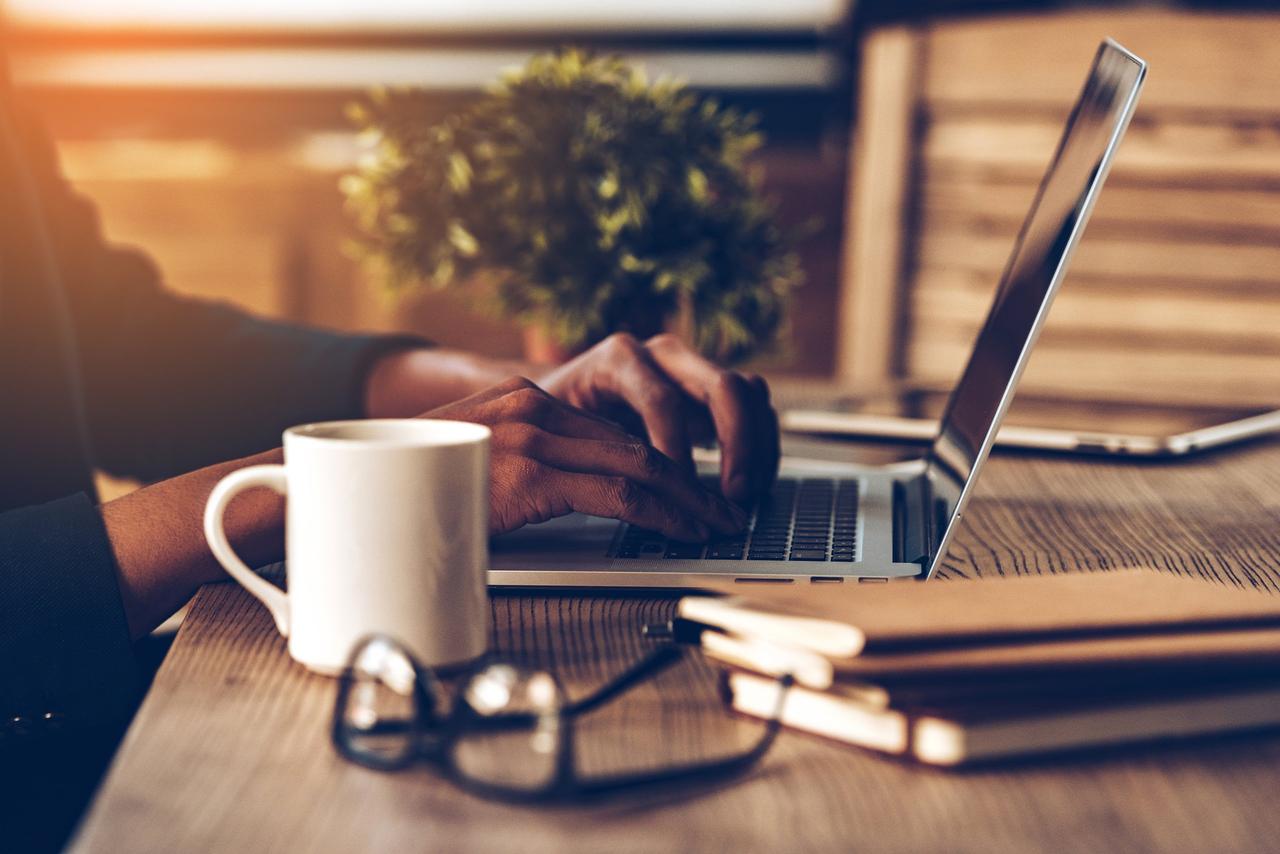 Just because you're hosting a hen party at home, it doesn't mean things aren't going to get pricey. There's food, drink, décor, accessories and more to buy, and so it's important to have the money conversation with the rest of the hens early on in the planning process.
Take a look at the ideas below and decide on your favourite, once you've done this you can work out a rough cost and put it to the rest of the hens. Do your research and make sure that if you're bringing in beauty treatments or professional catering, you have an accurate price to quote to the other guests.
Once you've all agreed on a spend limit, you can start thinking about the fun stuff!
2. Decide on a Key Idea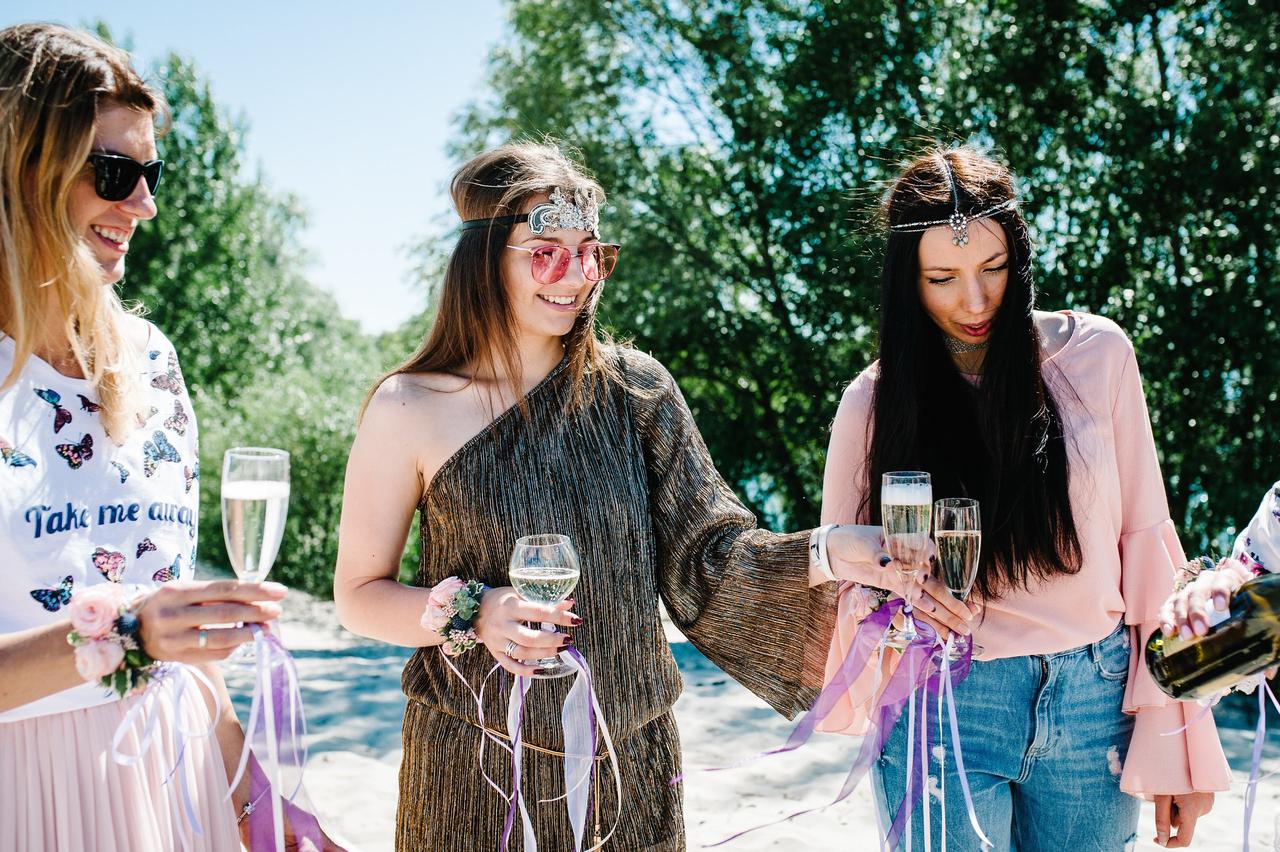 Is the party going to be a sleepover, dinner party, garden festival, picnic or something else? Deciding on a key hen party theme is a great starting point. To get you inspired we've listed our favourite ideas below.
Old School Sleepover – think bride tribe pjs, popcorn, noughties romcoms, games and plenty of prosecco.
Dinner Party – if the bride-to-be is a real foodie at heart, why not host a dinner party? You can each bring a dish or get a chef in to cook for you – fancy!
BBQ – everyone loves a summer BBQ and they're pretty easy to pull together. All you need is a volunteer to do the grilling honours!
Garden Festival – set up a glitter stand, keep the tunes - and the Pimms - flowing and incorporate a BBQ. Throw in a festival-themed dress code and voila! Instant festival vibes in your back garden.
Bottomless Brunch – let's be real, who doesn't love a bottomless brunch? Mimosas, croissants, eggs benedict and bacon will all combine to make one very happy bride-to-be.
Home Spa – download Spotify's best panpipes playlist (or you know, whatever you fancy), light some scented candles and indulge in some face masks and nail painting. To take it up a notch, book a beauty therapist to come in and do home treatments – pure bliss.
Cocktail Making – fancy yourself as a bit of a mixologist? A cocktail making session will be a guaranteed hen party hit. Source some simple cocktail ideas - there are plenty of them on Pinterest - and buy the key ingredients as well as some fun straws (penis or otherwise) and umbrellas. Offer prizes for the best execution and give everyone a nickname that must be used at all times, the forfeit for saying a real name instead of a nickname can be a shot!
Afternoon Tea – tiny sandwiches, cream scones, miniature cakes and fizz, what's not to love? We'd totally incorporate a classy dress code and some plush décor if we were you, which leads us very nicely onto our next step…
3. Set the Scene
If you're at home, we think it's extra important to invest in some hen party decorations to give the space that all-important party atmosphere. Balloons, streamers, banners, fun props and flowers are all simple decorative touches that can have a transformative effect. You can easily pick these up at Ginger Ray, Not on the High Street and Etsy.
Here are some of our favourite hen party décor ideas from Pinterest to get you feeling inspired:
Wild Florals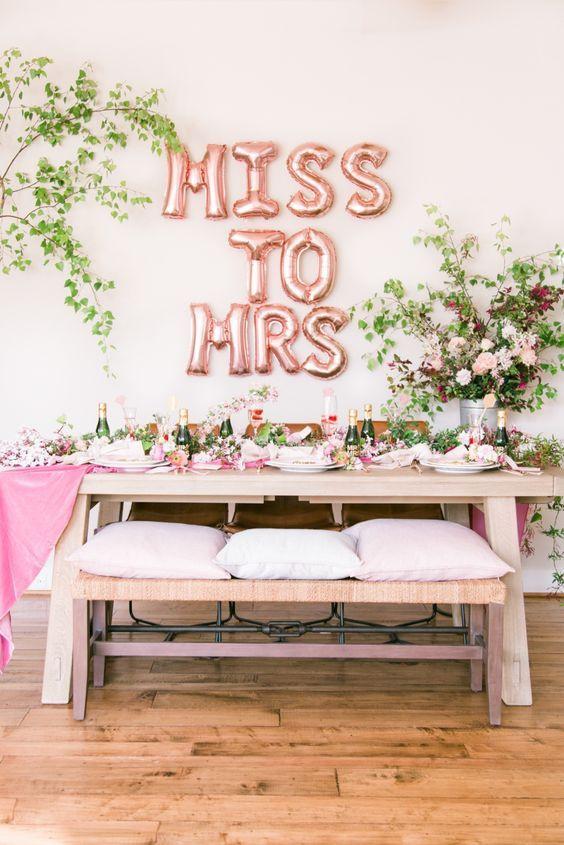 Flowers can lift any room and they don't have to be pricey, overly styled bouquets. Pick up a mixture of stems and foliage from the supermarket or your local florist or market and fill jugs, buckets and jam jars with a mix of stems at different heights. If you're feeling really creative, give this greenery table garland a try - it's easier than it looks!
Bedroom Balloon Display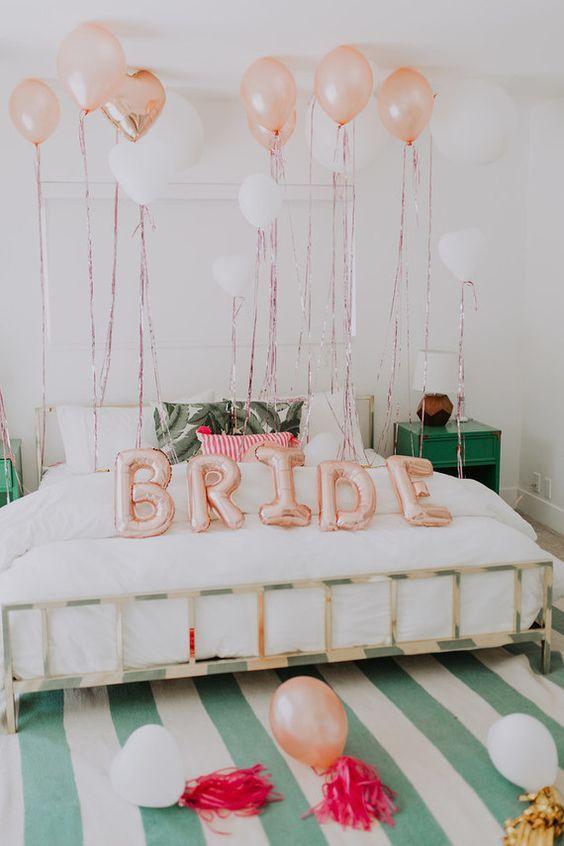 If you're having a sleepover, we think a few bedroom balloons will go down a treat. We love the long streamers draping from the balloons onto the bed in this pic and the rose gold lettering. This would make for an amazing Instagram shot of the bride-to-be!
Hen Fest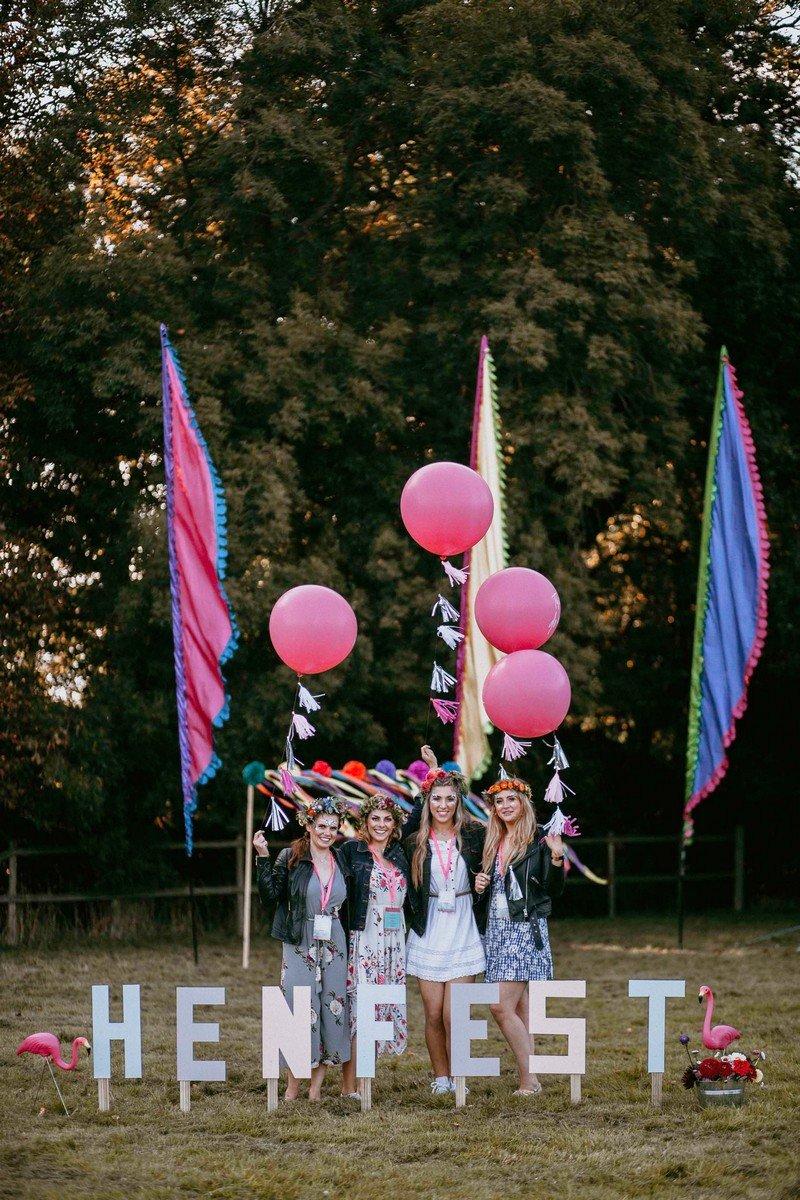 You'll be surprised at just how easy it can be to create an authentic festival atmosphere in your garden. Lettering made from coloured card and wooden pegs, tasseled balloons, flags and bunting in bright hues will all liven up the space and get guests in the mood to party. Throw in some flower crowns and you'll be in hen do heaven!
Fun Photo Props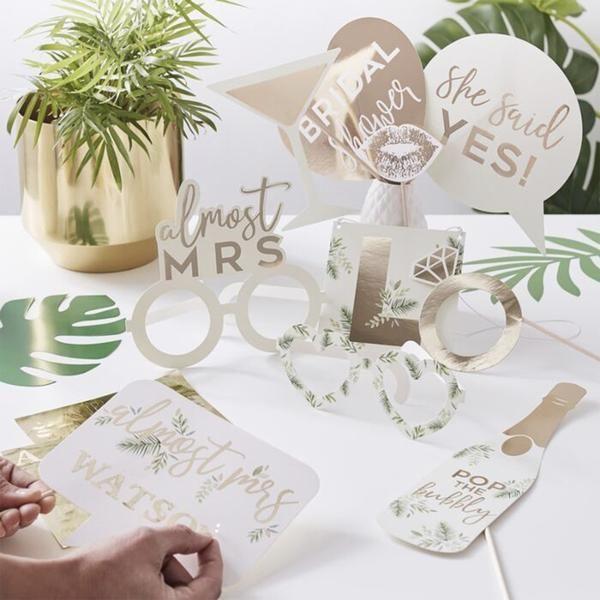 You'll want to get plenty of snaps on the night to look back on and sometimes a few fun props can help to alleviate any camera shyness. To add a retro spin, set up a photo area with an instant camera such as this one from Amazon - you can dish out the photos as party favours at the end of the night!
Colour Coordinated Details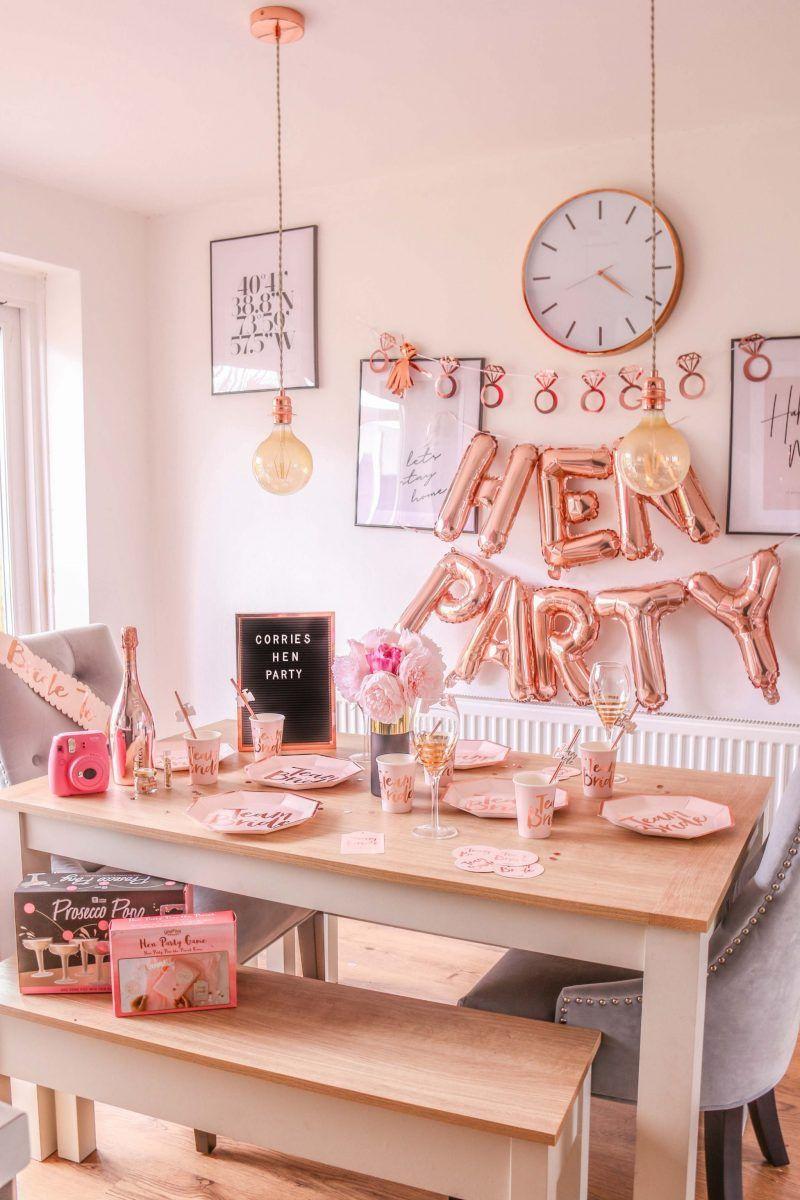 To give the hen a truly put-together feel, buy paper plates, cups and straws that match the balloons, bunting and sashes. This idea works particularly well if the bride is obsessed with a certain shade!
Tropical Touches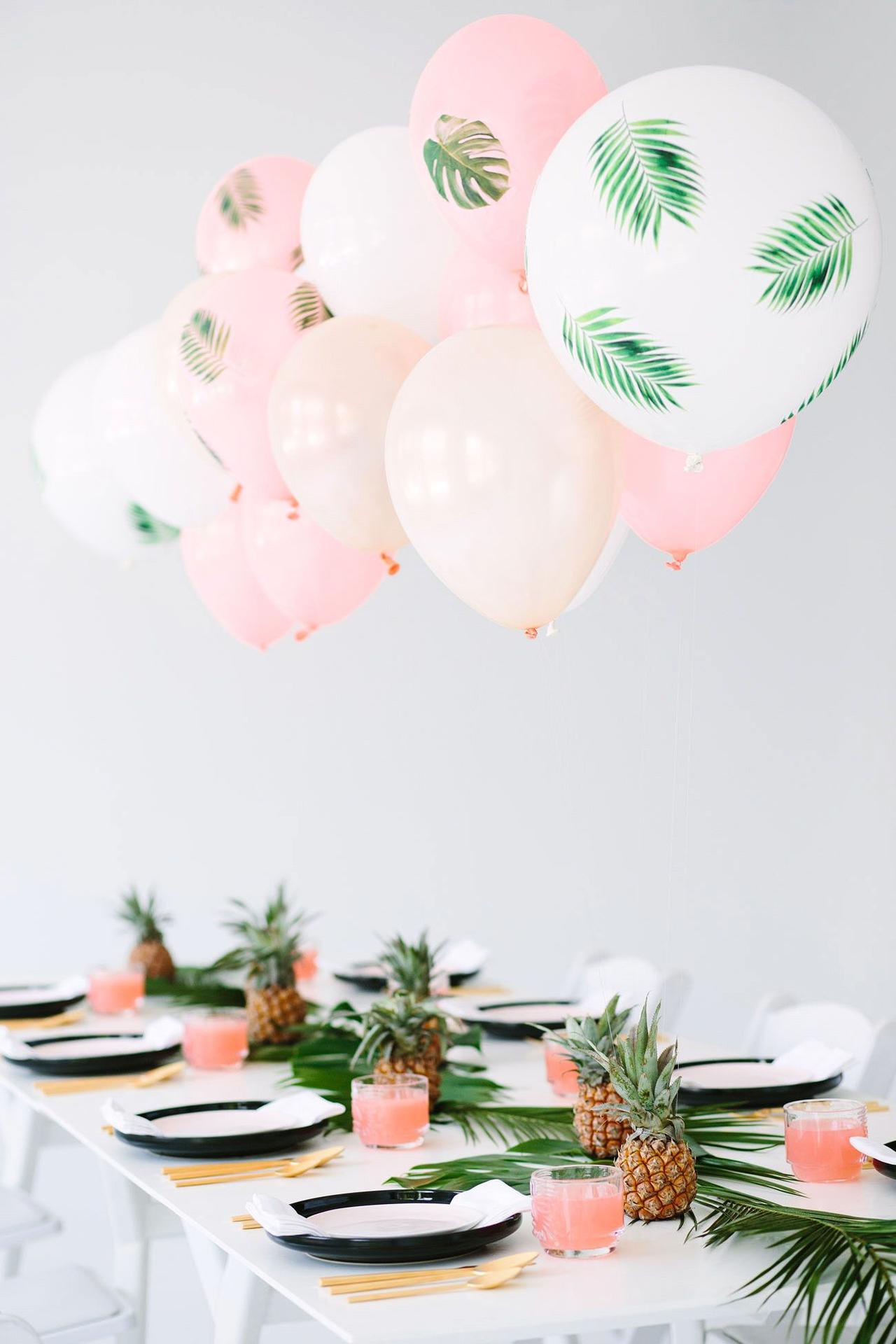 You can't go wrong with a tropical theme. Fun and fresh, palm prints and splashes of pink will make hens feel miles from home! The easiest way to achieve the look is with printed balloons and a pineapple or several!
Green, White and Gold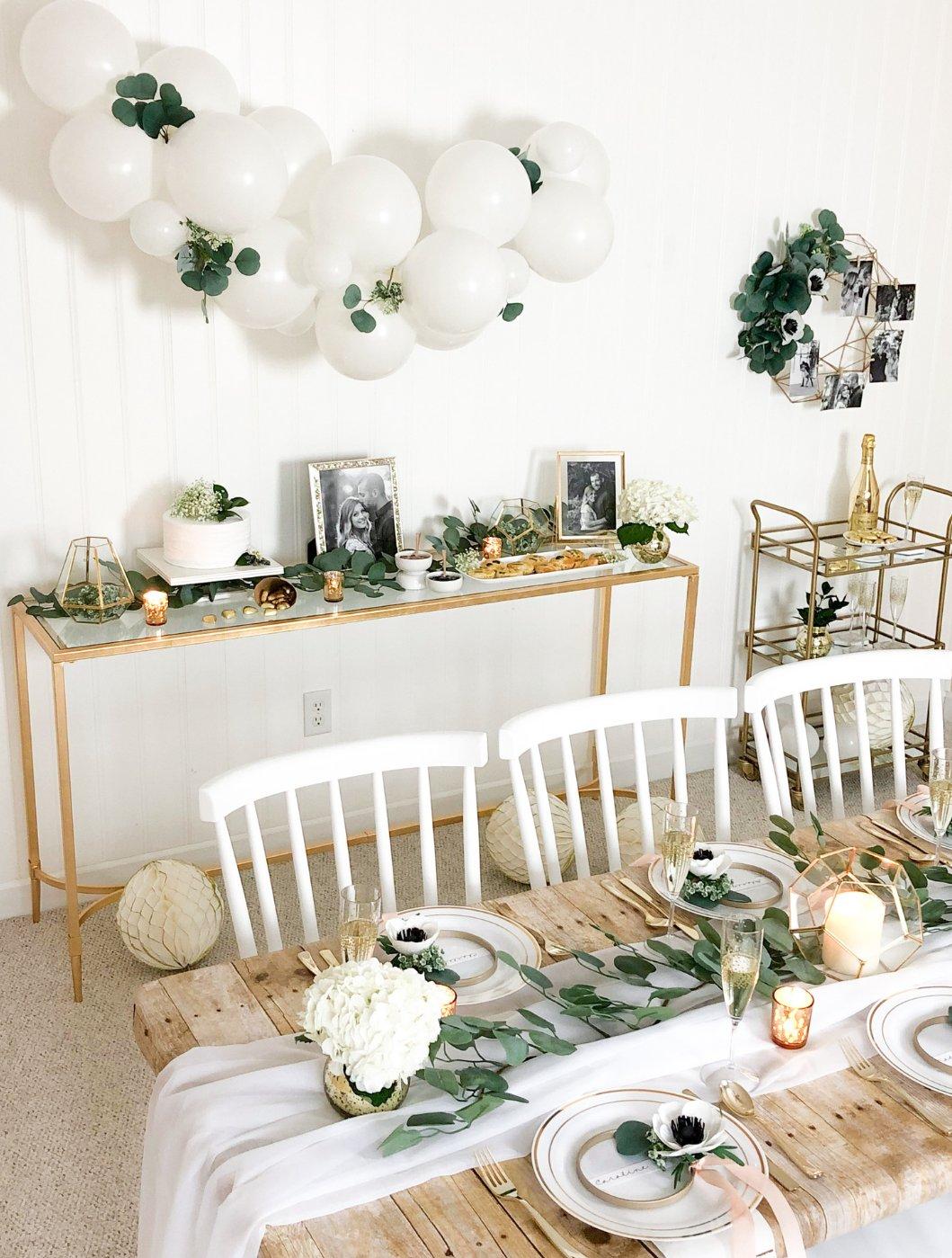 This muted palette will give proceedings an air of sophistication that's perfect for dinner party hen dos. Eucalyptus leaves, gold votives and simple white balloons and blooms are all you need to create this stunning setting.
Party Sign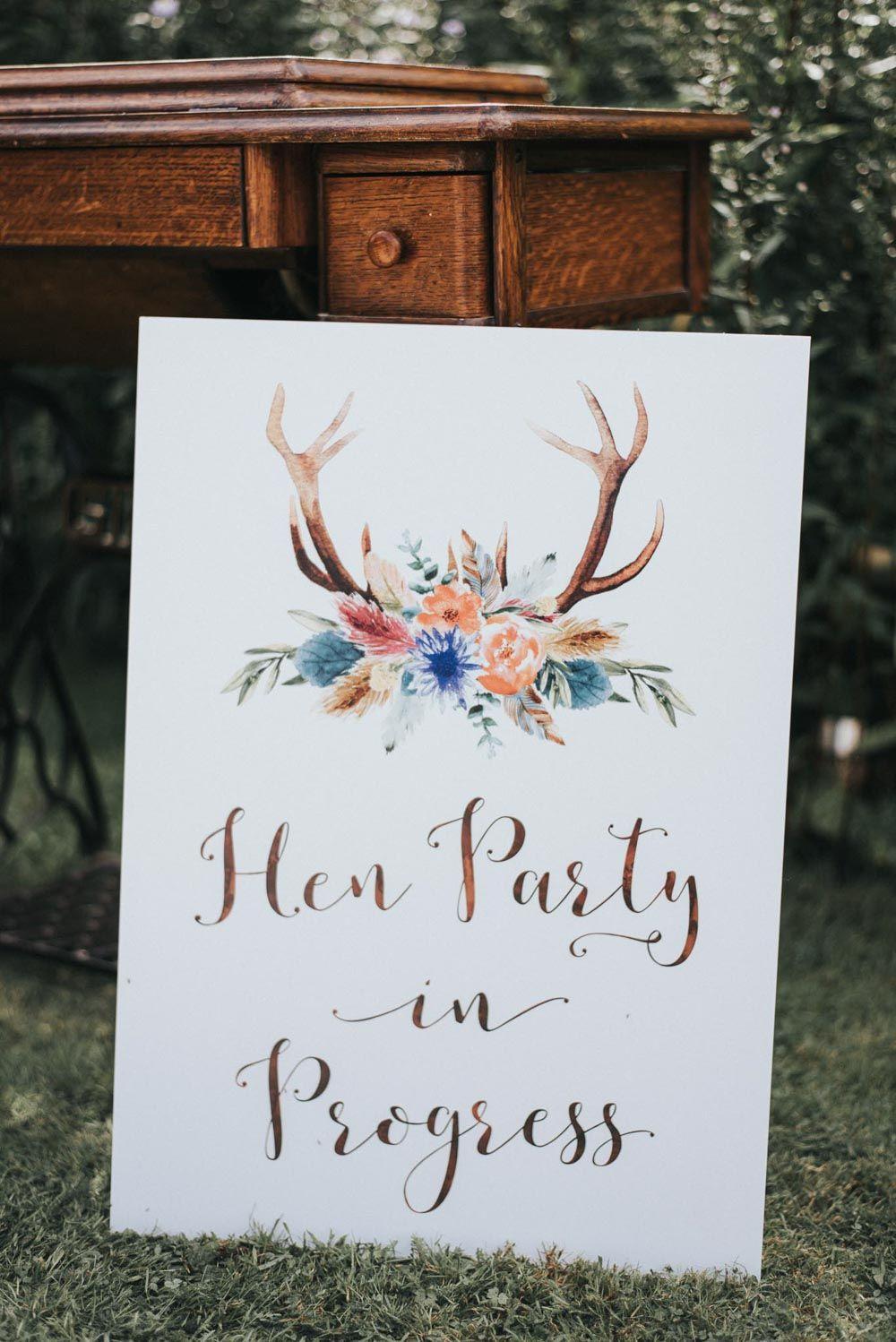 A sign like this one is not only a stylish decorative touch but also a practical purchase for hens partying at home. A sign letting any visitors (or husbands-to-be!) know that an area is off limits can help to keep the party private and your Never Have I Ever confessions secret!
Party Bags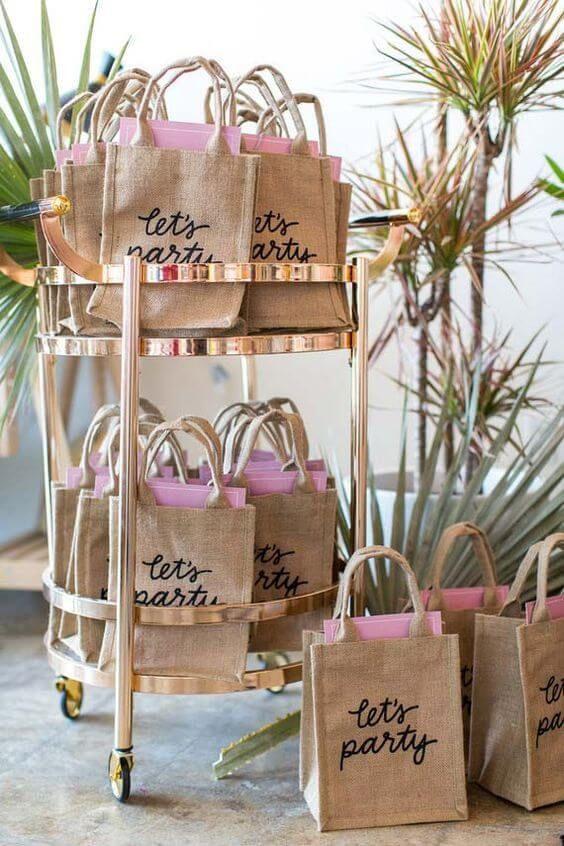 Party bags aren't just for kids, you know. In fact, hen party bags can be filled with far more than just sweets and party whistles: add mini bottles of prosecco, sashes, transfer tattoos and hangover kits!
Balloon Arch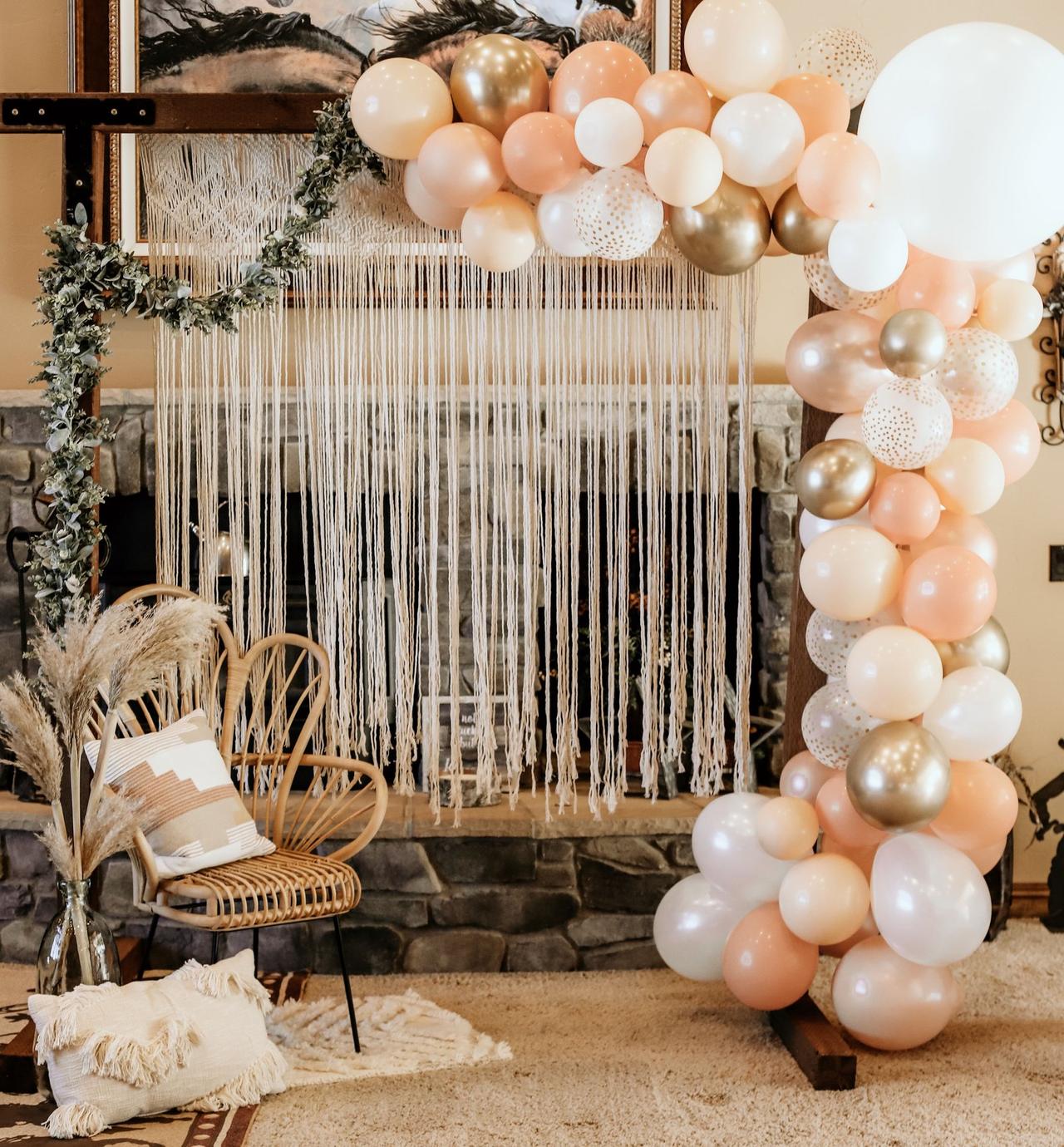 A balloon arch is a cheap and easy way to give a space some serious wow-factor. Plus, it can be used as the designated selfie-taking area! Follow our How to Create a Beautiful Balloon Wall guide to nail the look.
4. Start the Fun
As there's likely to be guests who haven't met before in attendance, we think ice breakers are a hen party essential. A quick - and preferably silly - game at the beginning of the evening will get everyone mingling and laughing together.
Here are some of the best hen party games guaranteed to get guests bonding:
Never Have I Ever – it's not just a university halls of residence classic, you know! Start off with relatively safe statements and work your way up to the risqué.
Pin the Trunk on the Hunk – pin up a large poster of the bride's celeb crush, create a 'trunk' and take it in turns to pin it on blindfolded. Giggles guaranteed.
The Toilet Paper Wedding Dress – split the hens into teams and have them create the most beautiful wedding dress they can from toilet paper. The bride can pick the winners and give out a prize.
Would She Rather – test out your knowledge of the bride by putting on a round of Would She Rather. Write your own conundrums or order some readymade cards online and have the hens work individually or in teams to make their selections. The winner/s receive a prize.
Prosecco Pong – line up a selection of cups (plastic or paper cups only!) and divide the hens into teams. Have each team member take it in turns to toss a ping pong ball into the opposing team's cups. If the ball lands in your cup, you have to down in!
If nothing here takes your fancy, we've got plenty more! Check out our full list of hen party games.
5. Keep the Food and Snacks Flowing
If you're hosting a dinner party, BBQ or afternoon tea, we reckon you should still keep some nibbles on-hand for guests to munch on before serving the main event or to accompany drinks later on. While hens are pretty much expected to get tipsy, having plenty to line stomachs with can mean the difference between memorable and messy.
Make sure you find out if guests have any allergies or intolerances before you head to the shops, and make sure there's plenty of soft drink offerings for teetotal and pregnant hens.
We recommend setting up a designated self-serve bar area. Include a big ice bucket filled with wine, fizz and soft drinks as well as glasses, stirrers, cocktail ingredients and straws. Not only will a bar look stylish, it also makes your life way easier as you won't be tied to serving drinks all night long.
Here are some of our favourite food, snack and bar ideas:
Grazing Board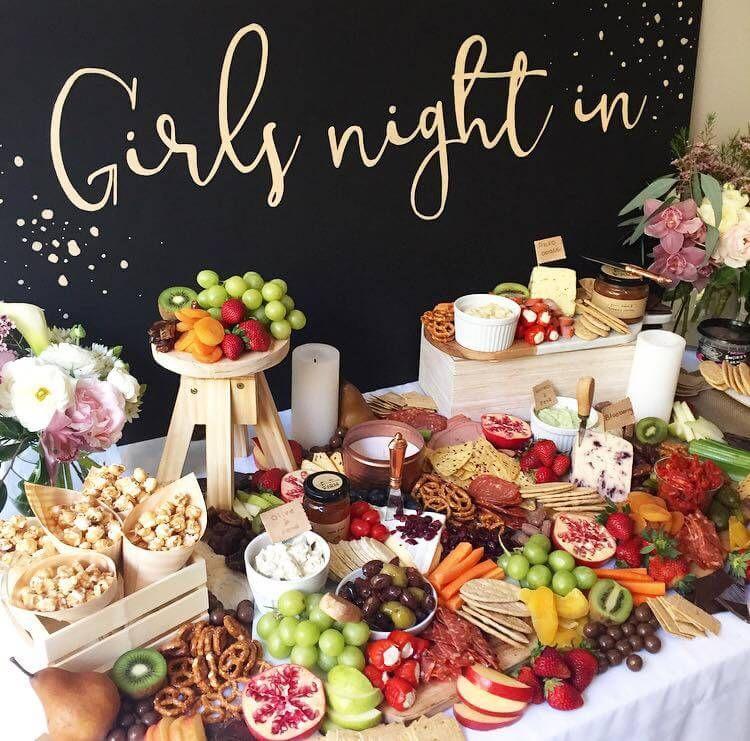 More like a grazing display, this array of goodies is a treat for the eyes and the tastebuds! We love the mixture of fruit, cheese, olives, meat and popcorn - there's something for everyone here!
Welcome Drinks
Donuts, strawberries and prosecco, are we in heaven? This little selection looks super stylish - especially with the hand-tied straws and pastel florals - and would make for a great welcome drink table!
Sweat Treats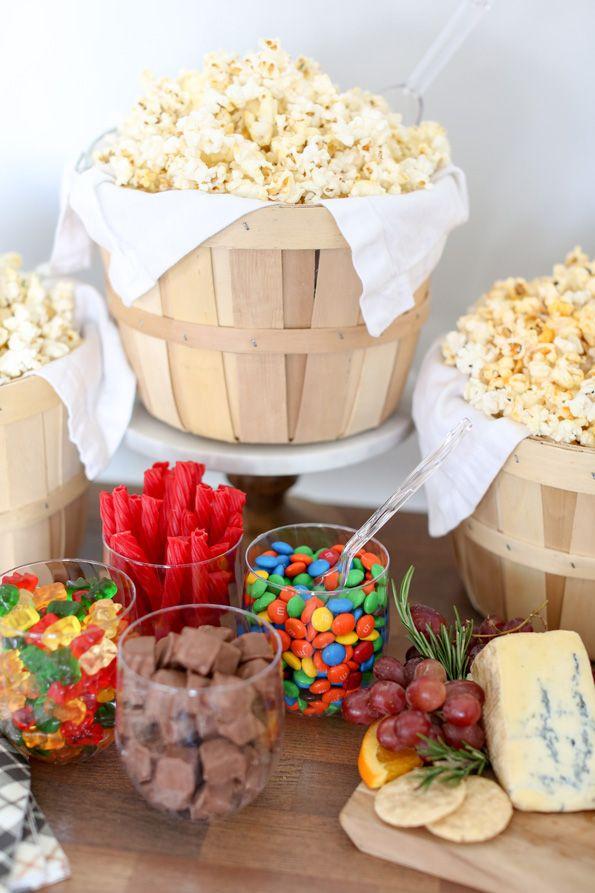 If you're hosting a sleepover hen party and a movie session is on the cards, we'd definitely stock up on popcorn, chocolates and nostalgic sweets!
Taco Bar
A taco bar is way less stress than a formal sit-down meal: You can prepare salsas and toppings ahead of time and then serve up hot fillings for guests to help themselves to on the day. Make sure you remember to lay out some authentic tequila shots!
Mimosa Bar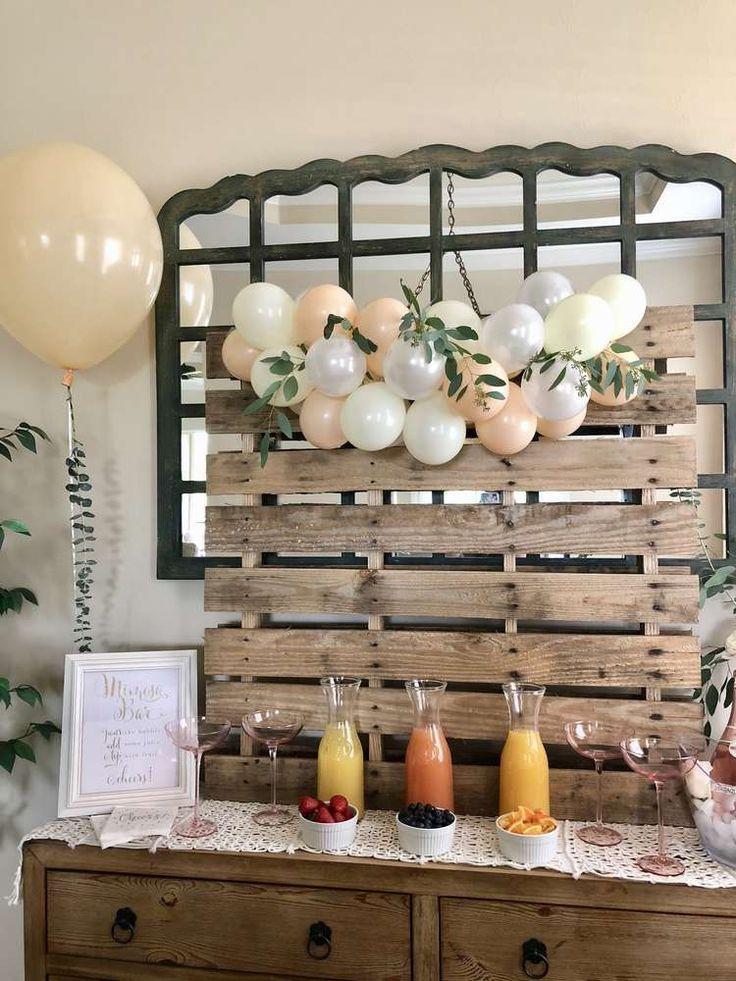 A bottomless brunch hen party wouldn't be complete without a mimosa bar! Add traditional orange juice as well as pineapple and grapefruit juice to the table to mix things up. A selection of chopped fruits will add a sophisticated feel (and one of your five a day!) and the fizz will take pride of place in an ice bucket.
Brunching Board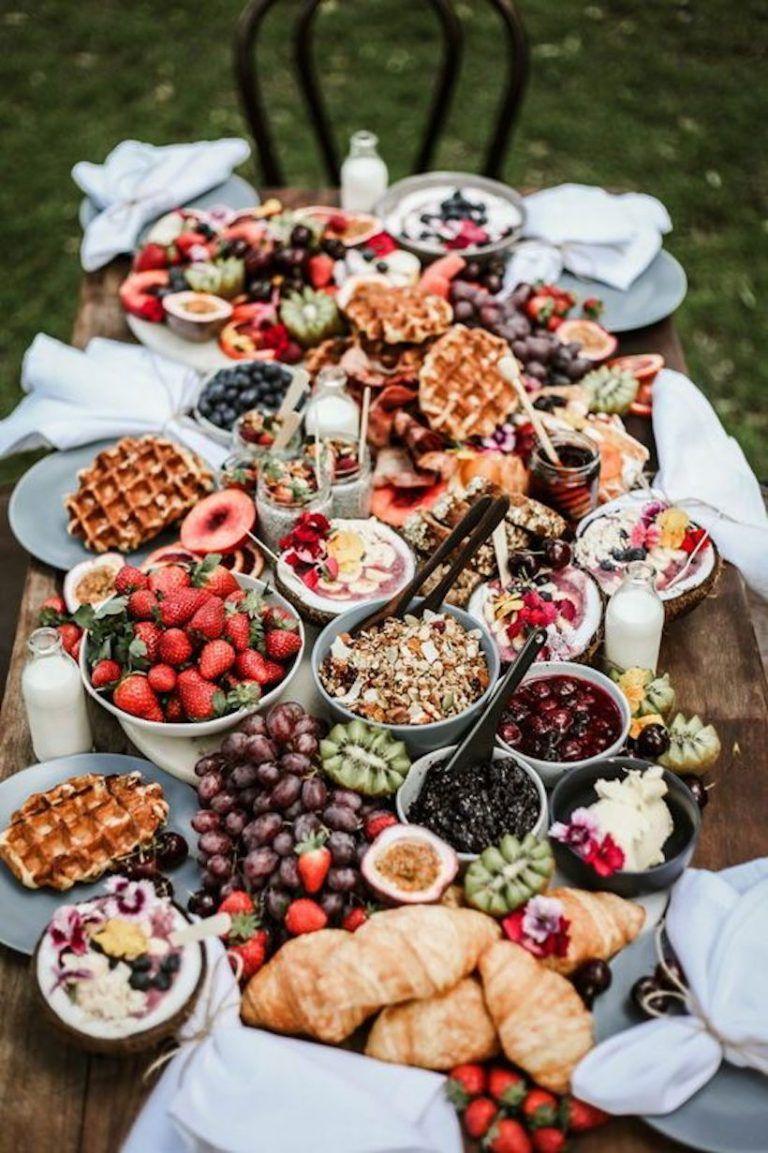 The beauty of a brunching board is that it can be prepared ahead of time: All you need to do on the day is heat up croissants and waffles!
Ring Donuts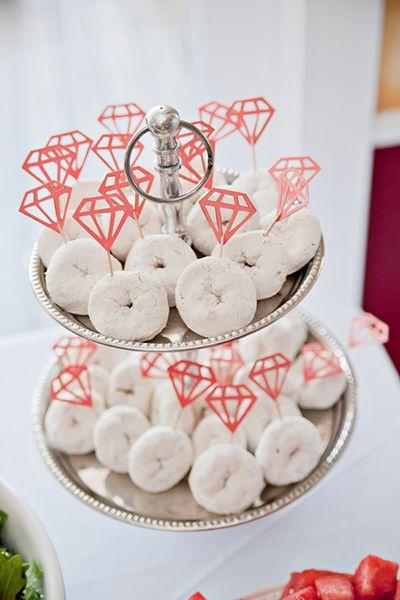 A diamond topper is a simple yet effective way to jazz up a donut or cupcake display and give an afternoon tea a hen party makeover! You can get 12 from as little as £7.50 on Etsy.
S'more Stand
If you've got a fire pit or BBQ, take a little inspiration from our friends across the pond and set up a s'more table. You can't go wrong with gooey marshmallows and chocolate encased in biscuit, trust us.
Hopefully by now you'll be brimming with home hen party ideas but if you'd like even more inspiration head over to our Stag and Hen section.