Personalised Wedding Invitations: 16 Unique and Bespoke Ideas You'll Adore
From comic book invitations to bespoke wedding venue illustrations - these personalised wedding invitation sets are just to die for!
We have included third party products to help you navigate and enjoy life's biggest moments. Purchases made through links on this page may earn us a commission.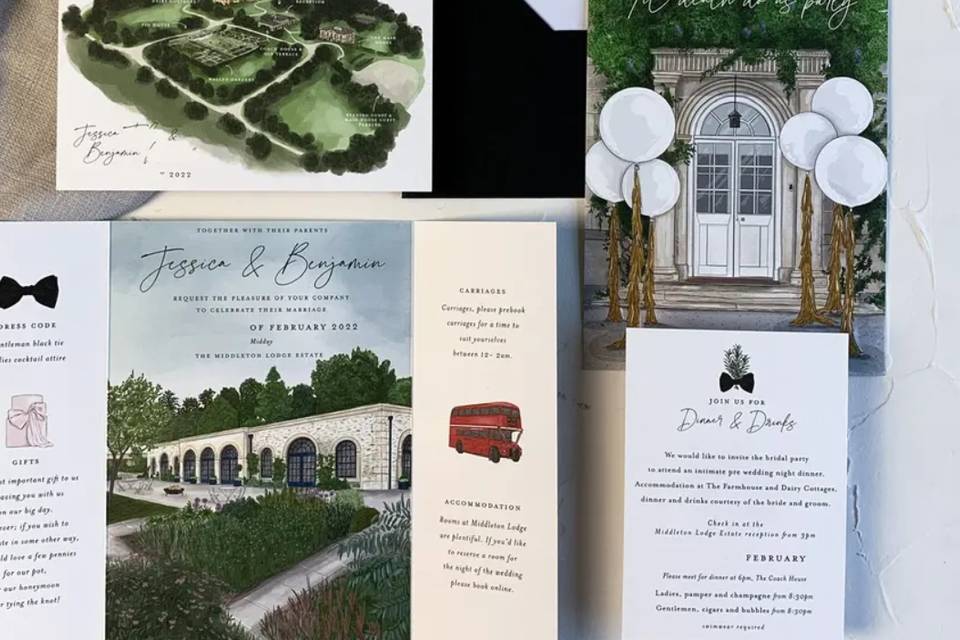 Making your wedding as bespoke and tailored as possible is something that's becoming increasingly popular amongst many couples, so it's no wonder the popularity of personalised wedding invitations is also on the rise. The ability to customise and personalise wedding invitation packs allows you and your partner to design and create something completely bespoke and special for your guests to receive.
UK personalised wedding invitations come in many different styles and the level of personalisation will differ depending on the wedding stationery supplier, and of course, be dependent on your wedding budget. The general rule of thumb for personalising wedding stationery and designing your own wedding invitations is the more customisation, the more expensive it can be.
The level of customisation on your personalised wedding invitations can vary from adding a picture of you and your partner or altering the fonts to your favourite style, all the way to having companies such as A&J Personalised Comics or Photo Press design you your very own bespoke newspaper or comic wedding invitation.
Personalised Wedding Invitations: Our Top Picks
Designing personalised wedding invitations really is a wonderful way for you to begin your wedding planning journey and we're sure you'll find your dream design here.
From caricatures by Standout Stationery and watercolour designs by Carol Binnie, to bespoke illustrations by Otto & Nibs and some amazing picks from Hitched Stationery, our roundup of the most unique personalised wedding invitations includes some of the most talented wedding stationery suppliers who's bread and butter is creating bespoke, personalised designs.
1. Forever Simple Personalised Wedding Invitation - From £0.86, Hitched Stationery
We love how chic and simplistic this personalised wedding invitation design is. The Forever style gives couples the option of seven different colour themes and three different shades for the foil 'Love is forever' text.
You can personalise your design with a picture of you and your partner and we love the fact that the picture is the star of the show! Production takes around 5-6 days and you can choose from two styles of paper for your design.
2. Chic Scallop Customisable Wedding Invitation Pack - £30, Papier
We're head over heels for this personalised wedding invitation pack from Papier. The Scallop design can be purchased in a choice of two colours. Not only that, Papier offer free customisation on all of their wedding stationery so you can tailor your wedding invitation set to suit you. You basically get to design your own wedding invitation with the expertly designed templates on Papier - what a treat!
3. Personalised Comic Wedding Invitation - £POA, A&J Personalised Comics
Comic fans will go wild for the designs by stationery suppliers A&J Personalised Comics. Their talented team work meticulously to create the most incredible bespoke comics and wedding stationery.
They offer personalised wedding invitation comics, comic sketch prints and wedding photo comics that are completely tailored to your personal vision. Anyone looking for unique wedding stationery that you and your guests will never forget, these guys are the wedding stationery suppliers for you!
READ MORE: Our Favourite Superhero Wedding Ideas for Comic Fans
4. Bibi Floral Personalised Wedding Invitation Set - £30, Papier
Exuding romance and whimsical vibes is the Bibi wedding invitation design from Papier. We love the combination of cursive fonts and classic ones - the contrast is so well executed!
The pastel pink background is the perfect fit for the floral illustrations that lay above - but as with all Papier wedding invitations, you can customise the colour scheme and font colour with a choice of more than 40 shades. Delivery and production time takes a total of around 6 days so they are a great supplier for couples who want a quick turn around.
5. Personalised Illustrated Wedding Invitations - £POA, Otto & Nibs
The insanely talented team at Otto & Nibs create the most contemporary-yet-classic illustrated wedding stationery designs completely bespoke and tailored to yours and your partner's style. Their illustrations range from stunning drawings of couples' pets and intricate designs of wedding venues to bow tie details on menu cards and letter pressing and calligraphy.
There's no ask that's too much for this wedding stationery supplier and if you ask us, wedding invitations really don't come much more personalised than these.
READ MORE: Your Guide to Wedding Invitation Wording and Etiquette
6. Painterly Modern Personalised Wedding Invitation Set - £30, Papier
How cool is the Painterly stationery set from Papier? The smudge-like painted brush strokes give this wedding invitation a real artistic feel and the choice of green botanical colours is just perfect.
This customisable wedding invitation pack can be ordered in this green shade (perfect for a botanical wedding theme) or in an equally as beautiful pastel pink design. Customise the wedding envelope inserts, font and text alignment to ensure your wedding invites are exactly what you want.
7. Magazine or Newspaper Personalised Wedding Invitations - £POA, Photo Press
If you're looking for wedding stationery that is completely unique and personalised, consider getting a wedding invitation magazine to send to your guests - how cool would that look!?
The team at Photo Press specialise in alternative wedding stationery and help couples to create something completely different for their special day. With designs such as wedding invitation tabloid newspapers and thank you magazines instead of thank you cards, these guys define the word unique and will even cater to themes for your newspaper such as Harry Potter, Marvel and more!
READ MORE: Completely Unique and Unusual Wedding Themes
8. Tonal Minimalist Personalised Wedding Invitation Pack - £30, Papier
The Tonal set from Papier offers couples a modern and simple wedding invitation with plenty of life to it. The trendy colours make this simplistic wedding invitation design bold and memorable. Like with all Papier wedding stationery, you can customise your design to suit your wedding style. Add an information card, RSVP and matching envelope and choose from more than 40 colours!
9. Blue Floral Personalised Wedding Invitation - From £1.58, Hitched Stationery
If you're having a winter wedding theme but still want to embrace floral wedding stationery, you'll love the Shades of Blue three piece wedding invitation from Hitched Stationery. Choose from five different types of paper including nature, lino or perla and personalise your wedding invitations with a picture of you and your partner. Ideal for those in a hurry, the production time is just five to six days.
10. Personalised Watercolour Wedding Invitations - £POA, Carol Binnie Art and Cards
Similarly to the fantastic work by Otto & Nibs, Carol Binnie Art and Cards specialise in creating stunning bespoke illustrated wedding stationery.
Carol's niche is watercolour illustrations and particularly excels in floral and architectural designs, meaning you could include a bespoke watercolour of your wedding bouquet or a replica of your wedding venue on your wedding stationery. What better way to give your guests a taste of what's to come than a glimpse in watercolour?
READ MORE: The Best Websites for Ordering Wedding Stationery
11. Riviera Modern Floral Personalised Wedding Invitation Pack - £30, Papier
Combining both modern and vintage notes, the Riviera wedding invitation set from Papier is a truly unique design. Printed on textured Mohawk paper, this style can be customised to suit your wedding style including adapting colours and changing the alignment. You can also order a sample first to see if it's what you're after.
12. Blue Sprigs Romantic Personalised Wedding Invitation - From £, Hitched Stationery
There's something so romantic about the Blue Sprigs design from Hitched stationery. Available to order in either a blue or pastel green colour theme, the subtle leafy illustrations and minimalist styling would suit a whimsical wedding theme perfectly.
You can choose from five different types of paper when ordering these personalised wedding invitations, but we'd recommend something textured such as the nature paper to add to the whimsy vibe. You'll want to allow between five to six days for production.
13. Monogram Personalised Wedding Invitation Pack - £30, Papier
Embrace those regal vibes with a monogram invitation like the Monogram design from Papier. The minimalist style is both striking and classic at the same time - perfect for couples who stand by the 'less is more' mantra. If you want to add a bit of colour, Papier offer RSVP envelopes with coloured inserts which you could match up to your wedding colour scheme - what could be more personal than that?
READ MORE: Wedding Money Poems - How to Ask for Money Instead of Gifts
14. Caricature Personalised Wedding Invitations - £POA, Standout Stationery
Inject some fun into your personalised wedding stationery by having Standout Stationery create bespoke caricatures for your wedding invitations. You could have caricatures of you and your partner on all of your wedding invitations, or go one step further (if you're feeling really extra) and get a caricature of each of your guests on their wedding invite.
The talented team also offer caricature stationery for wedding table plans, wedding favours, guest place names and even life-size caricatures of you and your partner for guests to take picture with you on the day! There's a personalised stationery token around each and every corner with these guys.
15. Handwritten Script Personalised Wedding Invitation Set - £30, Papier
There's something so chic about the Script wedding invitation set from Papier. The handwritten fonts give it a classic feel while the combination of pastel pink and gold hues give it a real luxurious feel.
The set, as with all Papier stationery, can be bought with an information card, RSVP, RSVP envelope, matching menu cards and more - so every inch of personalised wedding stationery for your nuptials can match.
16. Trend Simple Gold Personalised Wedding Invitation - From £1.58, Hitched Stationery
Modern couples who want a personalised wedding invitation that's sleek in style will love the Trend design from Hitched Stationery. Both the foil colour and colour scheme can be personalised to suit and match your wedding colour scheme and couples have the choice of two different styles of paper to have the invite printed on. The production time on these is approximately five to six working days.
What Are Personalised Wedding Invitations?
Personalised wedding invitations are wedding invites that allow you to customise the design outside of just your names and wedding details. Having the ability to change the colour schemes, alignment of the text and add extras to your wedding invitations gives couples the opportunity to make theirs feel uniquely their own.
Should You Make Personalised Wedding Invitations for Everyone?
If you really want to go the extra mile, you could personalise your wedding invitations for each guest - but if you're going to do this bear in mind the impact it will have on your wedding budget.
Customising wedding invitations with names or pictures of individual guests is a lot more work for your wedding stationery supplier and you'll have to pay for their time.
If you want to save money, our advice is to order your wedding invitations in one design that you've personalised and customised to your taste, and then add individual names on yourself. Handwriting names onto each invitation will take you an hour or so, but the admin that goes into printing for your suppliers will take much, much longer!
Now you have your personalised wedding invitation design sorted, it's time to map out the logistics. Here's our guide on when to send save the dates and wedding invitations.