Christmas Wedding Songs: 50 Festive Picks for December Weddings
Looking for Christmas wedding songs? We've got the best and most festive Christmas songs for every wedding moment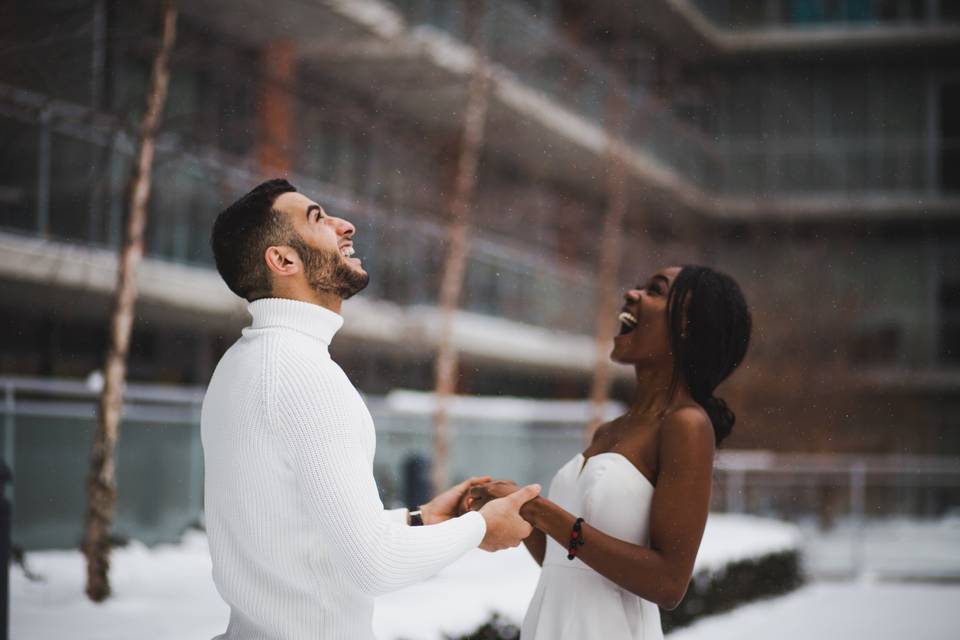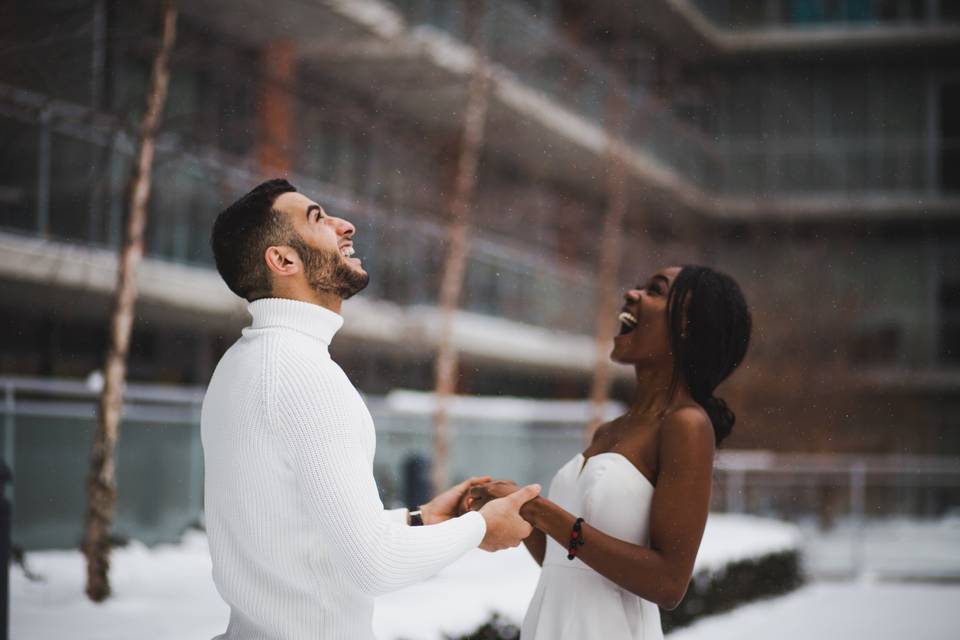 Are you getting married at Christmastime? If you're planning a magical winter wedding, you need a romantic Christmas playlist to match! We've rounded up the best Christmas love songs for your wedding.
These romantic Christmas wedding songs will provide the perfect soundtrack to your December wedding, whether you're looking for fun festive sounds to bring the Christmas spirit to the dance floor, or a romantic Christmas song to walk down the aisle to, our Christmas wedding playlist has every December wedding song for a festive celebration you could ever need!
READ MORE: How to Juggle Wedding Planning with Christmas
The Most Magical Christmas Wedding Songs
Modern Christmas Wedding Songs
If you want the playlist at your wedding to have a modern but merry feel, you need to add these modern-day Christmas classics to your wedding playlist. All of these contemporary Christmas songs are perfect for any wedding moment, from your walking down the aisle song to a festive first dance.
1. One More Sleep - Leona Lewis
2. Winter Song - Sara Bareilles & Ingrid Michaelson
3. Have Yourself a Merry Little Christmas - Sam Smith
4. Spending All My Christmas with You - Tom Odell
5. All My Christmases - Jillian Edwards
6. This Christmas - Mary J Blige
7. You Make it Feel Like Christmas - Blake Shelton & Gwen Stefani
8. Underneath the Tree - Kelly Clarkson
9. Like It's Christmas - Jonas Brothers
10. Christmas Isn't Christmas - Dan + Shay
11.Home For Christmas - N*SYNC
12. December - Ariana Grande
13. Christmas Tree Farm - Taylor Swift
14. Cold December Night - Michael Buble
15. Mistletoe - Justin Bieber
16. Snowflakes of Love - Toni Braxton
17. Love is Christmas - Sara Bareilles
Fun Christmas Wedding Songs
If you're looking for wedding party songs that have a festive feel for your December wedding, you need to add all these anthems to your playlist - from a classic country wedding song from Dolly Parton to Rudolph and his red nose. You just know someone will pull a Santa hat out and you'll all be shouting along - strong office Christmas party vibes, but honestly, we kind of like that.
18. All I Want For Christmas - Mariah Carey
19. Rockin' Around the Christmas Tree - Brenda Lee
20. Rockin Robin - The Jackson 5
21. Jingle Bell Rock - Bobby Helms
22. Rudolph the Red Nosed Reindeer - Ella Fitzgerald
23. You Make it Feel Like Christmas - Neil Diamond
24. A Christmas to Remember - Dolly Parton & Kenny Rogers
25. Christmas Through Your Eyes - Gloria Estefan
26. Merry Christmas/Happy Holidays - N*SYNC
27. Last Christmas - Wham!
28. Wit It This Christmas - Ariana Grande
29. Christmastime (Don't Let the Bells End) - The Darkness
30. Stay Another Day - East 17
31. Merry Christmas Everyone - Shakin Stevens
32. I Wish It Could Be Christmas Everyday - Wizzard
33. Step Into Christmas - Elton John
34. Wonderful Christmastime - Paul McCartney
35. Santa Claus is Coming to Town - Bruce Springsteen
Old-Fashioned Christmas Wedding Songs
Want some old-timey romance at your Christmas wedding? These old-fashioned Christmas love songs are absolutely perfect for adding a nostalgic winter feel to your wedding day, and so many of them are ideal for a first dance at a winter wedding. Browse our edit of vintage first dance songs for even more old-school classics.
36. It's Beginning to Look a Lot Like Christmas - Perry Como
37. Let It Snow! Let It Snow! Let It Snow! - Frank Sinatra
38. Winter Wonderland - Dean Martin
39. Santa Baby - Eartha Kitt
40. Silent Night - Nat King Cole
41. I've Got My Love to Keep Me Warm - Ella Fitzgerald
42. The Christmas Song - Nat King Cole
43. Kissing by the Mistletoe - Aretha Franklin
44. Baby It's Cold Outside - Dean Martin
45. Have Yourself a Merry Little Christmas - Luther Vandross
46. White Christmas - Bing Crosby
47. Don't Save it All For Christmas Day - Celine Dion
48. That's What I Want for Christmas - Nancy Wilson
49. Driving Home for Christmas - Chris Rea
50. I'd Like You For Christmas - Julie London
Now you've got the most magical Christmas wedding playlist, make sure you check out our round up of the best Christmas wedding ideas to make sure your day is full of festive fun!