Wedding Invitation Paper: From Seed to Cotton Paper
You can't judge a book by its cover, but can you just a wedding invitation by its paper? We've explained the different types of wedding invitation paper!
We have included third party products to help you navigate and enjoy life's biggest moments. Purchases made through links on this page may earn us a commission.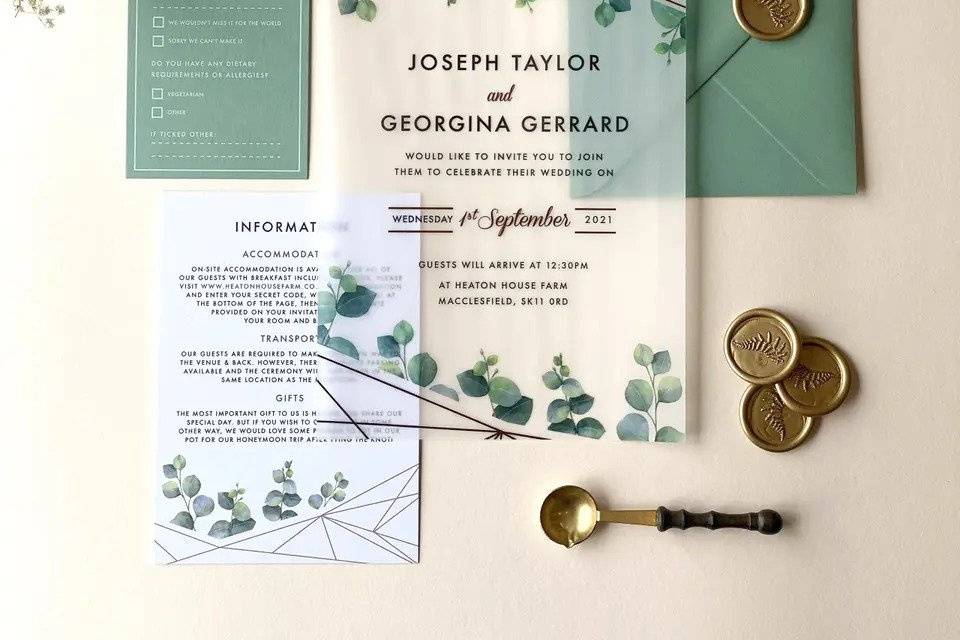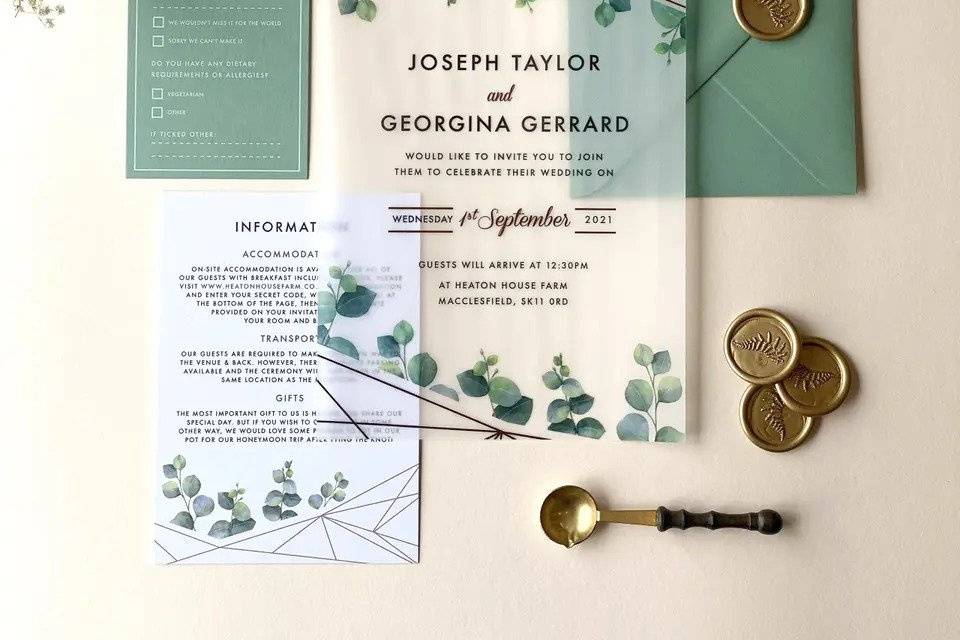 Every wedding planning couple knows the importance of the wedding invitation. This essential piece of wedding stationery will set the tone for your event and reveal details about your style - will it be classic, rustic or seasonal? But before you come to style, the first thing you have to decide on is your wedding invitation paper.
With very few among us identifying as paper experts, it can be difficult to figure out what paper is best for wedding invitations. If you're stuck on what the differences are between linen and cotton paper, don't worry - we've got you covered.
Read on for our top tips and expert input on choosing your wedding invitation paper.
What Paper to Use for Wedding Invitations?
There's a wide range of choices when it comes to choosing your invitation paper. Award-winning wedding stationery supplier June Glackin of Junie Poonie suggests a couple of things to bear in mind when making your decisions:
"Consideration is key when it comes to stationery, there's so much to think about; not only how it will look, but how it will feel, along with how it will make your guests feel, let it be an experience in itself, whether that be in the form of personalised printed envelopes or a touch of embossing, [think] stroke-worthy and they haven't even been opened yet!
"Papers and card stocks come in all shapes and sizes, along with different weights (GSM - how thick the card feels). If you're working to a tight budget, make it work as hard as it can, look at design options that minimise lots of different pieces of card and have all the information you need on one well designed folded invitation as this cuts down on printing cost.
"Think outside the box, a well-designed folded invite could be on an A3 sheet that just keeps unfolding, again all experiential for your guests (and who said it had to be on card, a lovely thick paper could easily do the trick to keep costs down without compromising on style)."
Keep reading to find the paper perfectly suited to your type of ceremony.
Seed Paper Wedding Invitations
If you're planning an eco-friendly wedding, then your wedding invitations HAVE to be seed paper! This environmentally conscious product is made from recycled paper waste that is turned into pulp and embedded with seeds before being re-purposed as paper once again.
Another great thing about seed paper is that once you're finished with it, there's no need to throw it away - you can plant it in the ground to grow some beautiful plants. Check out this recyclable wildflowers invite design from Olivia Morgan Ltd, perfect for a spring wedding or summer wedding.
Cotton Paper Wedding Invitations
Cotton paper is well known for its softness, durability and timelessness - just look at the Etsy design above to see what we mean. This is one of the more expensive options, so perhaps not the best option for couples planning a wedding on a budget. However, if you're willing to splash out on invitations that feel luxurious and are guaranteed to stand the test of time, then cotton is the one for you.
Vellum Paper Wedding Invitations
Traditionally made from calf skin, most vellum paper nowadays is made from a blend of cotton fibres. As it comes in a range of thicknesses, there are plenty of creative ways to use vellum paper for wedding invitations to create a sleek and modern effect.
Extra thick vellum paper can be printed on and used as the paper for your invitation, like the above invitation by Rodo Creative - you can even use it as an overlay over an abstract design for a cool effect.
June advises: "Vellum, that thin almost tracing paper vibe can make an amazing statement piece, though I would say to keep the sizes small as however beautiful it may be, it can also crinkle and fold easily and isn't very forgiving with greasy fingers or heavy handedness."
If you don't want to go all out vellum, you can always use transparent vellum as an envelope or belly band for your invitations. This Ivy Moon Design and Print invite uses a vellum cover to add extra texture.
This is a great option if your wedding invitations contain lots of information - find out what to include in your wedding stationery here.
How to Use Vellum Paper for Wedding Invitations
For tips on how to use vellum paper for wedding invitations, see the handy video below:
Linen Wedding Invitations
Textured, elegant, luxurious - these are just a few of the words you could use to describe linen paper. Linen paper features lots of eye-catching details, so it works best when paired with a more simple design, as this will allow it to truly shine - just look at this effortlessly elegant invitation by Wedding and Party Wishes.
Acrylic Wedding Invitations
If you want to go for something completely different, using acrylic is a great way to stand out from the crowd. Designs like this elegant black and white invitations by Twenty-Seven will make a stylish addition to your guests homes and are sure to get them excited for the ceremony to come.
If you're not sure when to send out your invitations and save the dates, check out our handy guide.