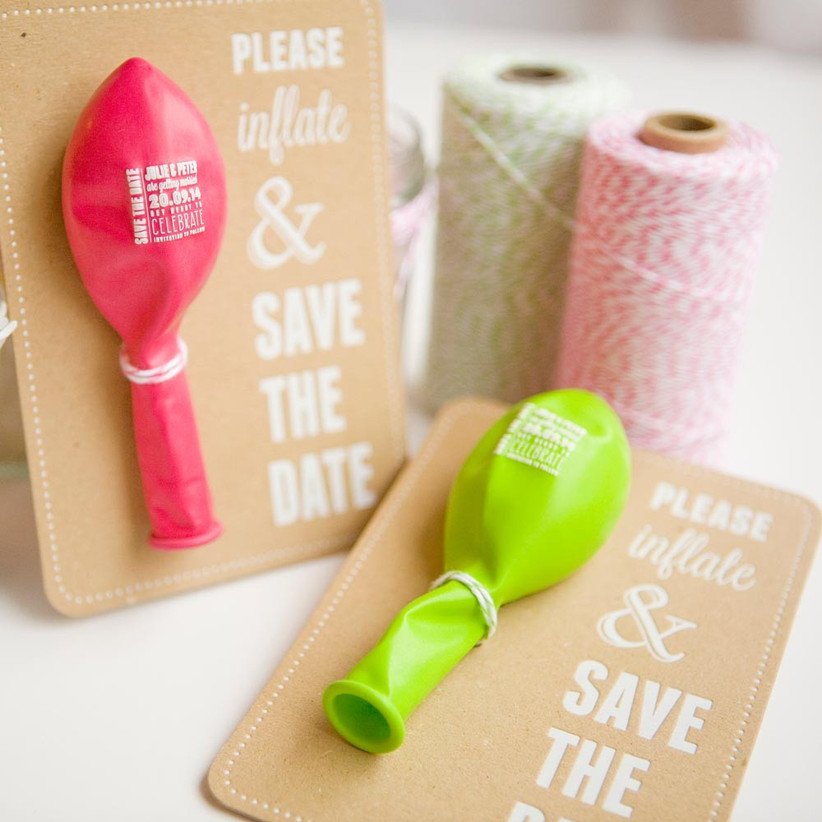 If you're a non-traditional couple and you really want to amaze your guests, consider sending them alternative wedding invitations. By choosing unusual wedding stationery, you'll definitely grab your guests' attention and get them excited for your wedding.
We've also got 43 unique save the date ideas if you need even more inspiration.  
Paper Aeroplane Invitation
This paper aeroplane invitation from Hip Hip Hooray is ideal if you're looking for travel themed wedding ideas, or if you just want to amuse your guests for a while – they'll love sending it flying through the air and definitely won't forget your wedding date.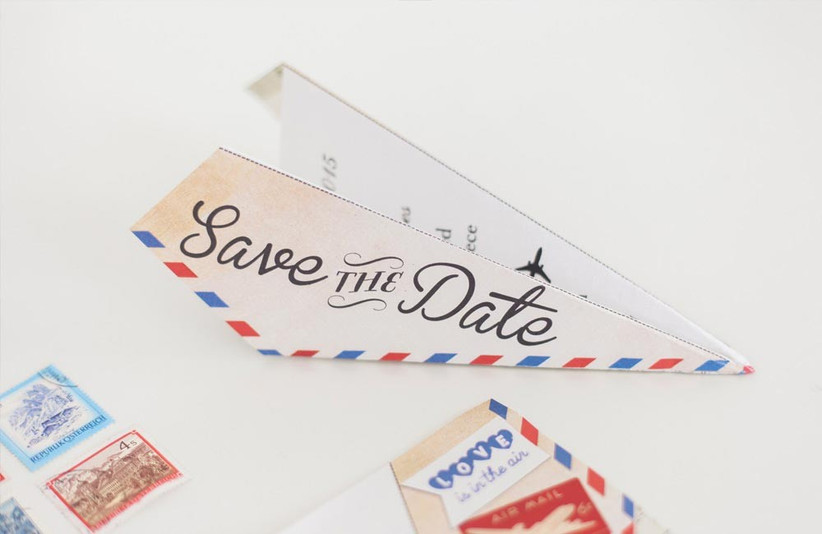 Tea Towel Wedding Invitation
Every time your guests do the washing up, they'll be thinking about your wedding if you choose to invite them by tea towel. We love the cool, customisable designs from The Original Wedding Tea Towels.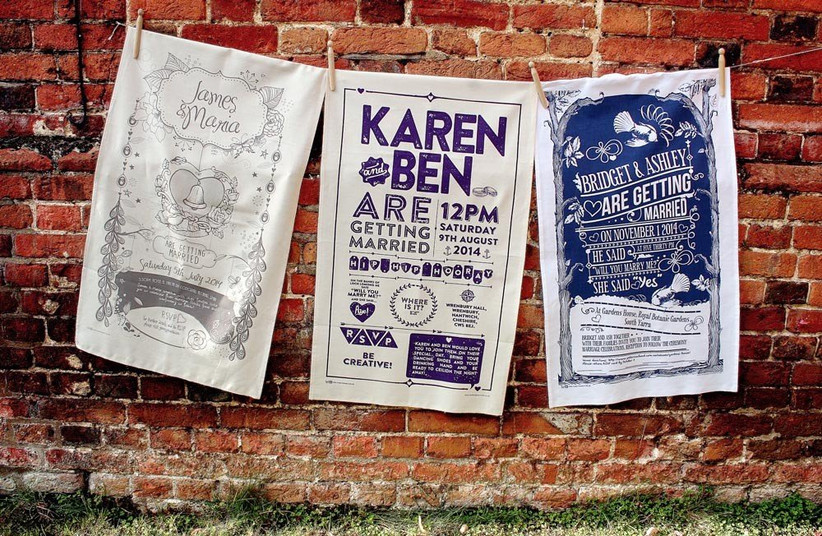 Ticket Invitation
If you've planned the perfect festival style wedding, then you need a ticket style invitation to match. We love this personalised festival ticket wedding invitation available at Not on the High Street.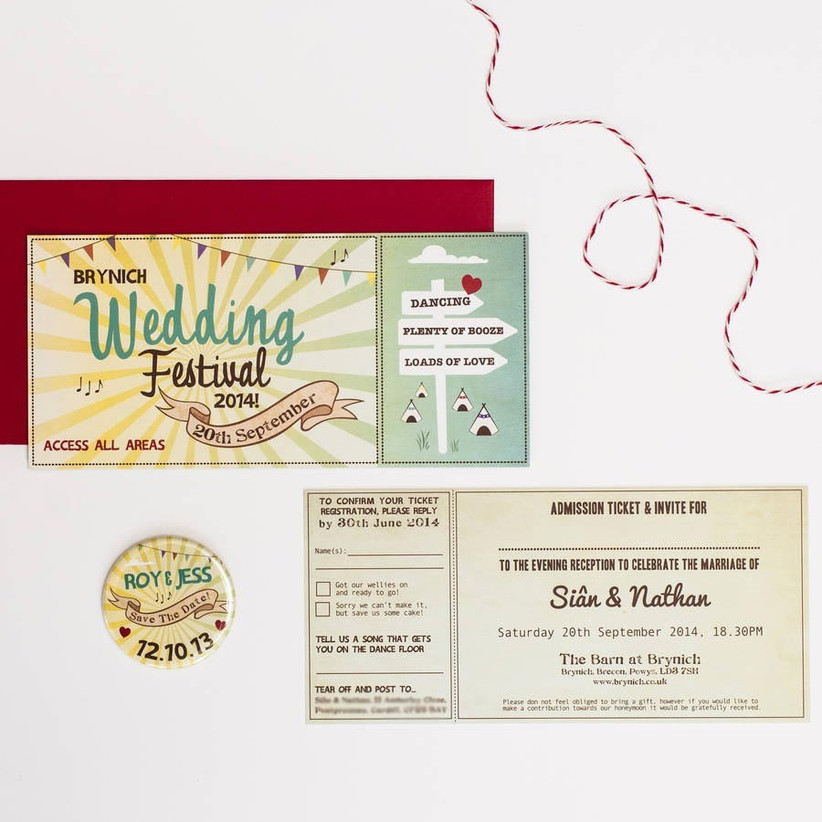 Alternatively, if you're more about cosy nights in front of a film, these cinema ticket wedding invitations might be more your thing. If you're looking for movie-inspired wedding ideas, make sure you browse our edit of the best wedding venues from TV and film.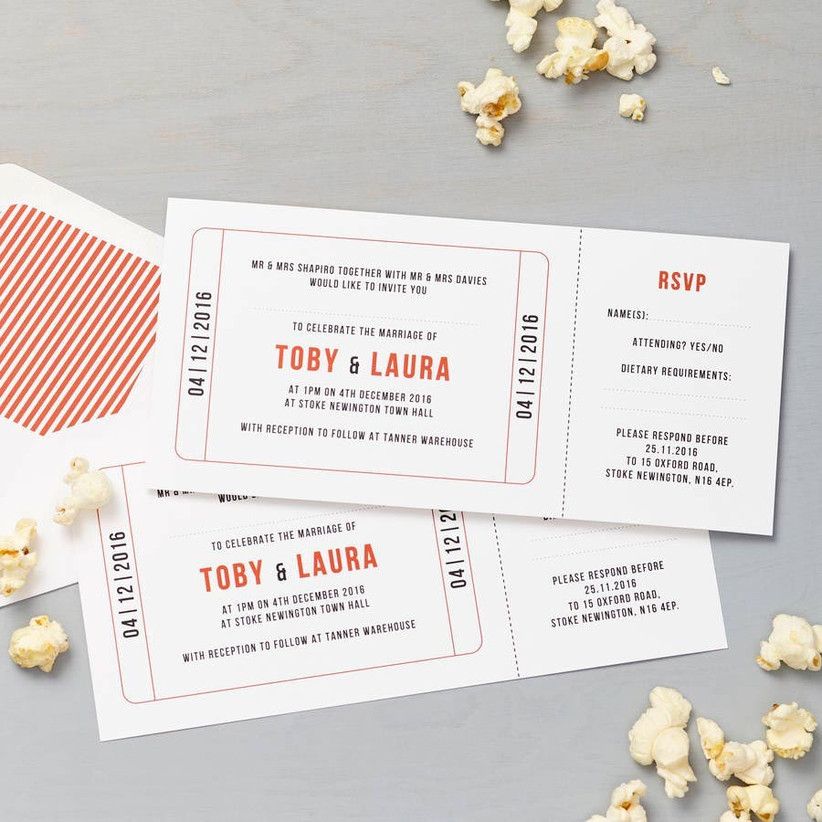 Wooden Wedding Invitations
Whilst paper invitations are a classic choice, they have some flaws. They crumple easily and if they get wet they're pretty much ruined. You could avoid these potential pitfalls with a wooden wedding invitation. We love this one from Inspirwood. It'd be ideal if you've chosen a woodland wedding venue.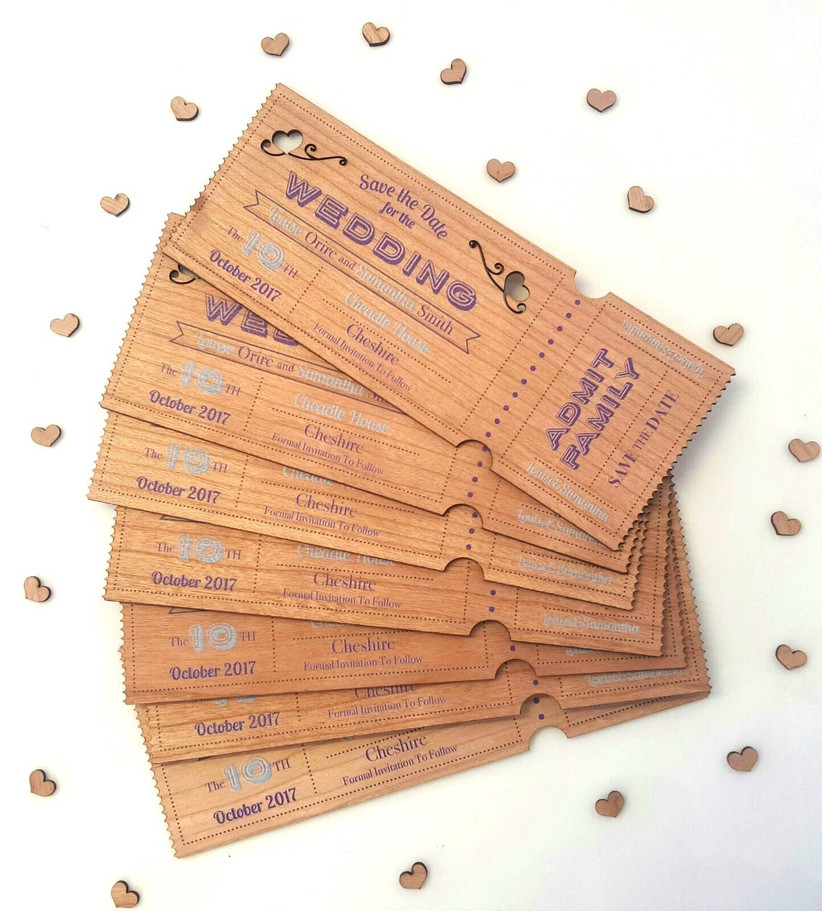 Instagram Wedding Invitations
Are you and your partner big fans of Instagram? Share the love and try to boost your follower count with these amazing Instagram themed wedding invitations. You can even share pictures of them on your own Instagram page – Insta-ception!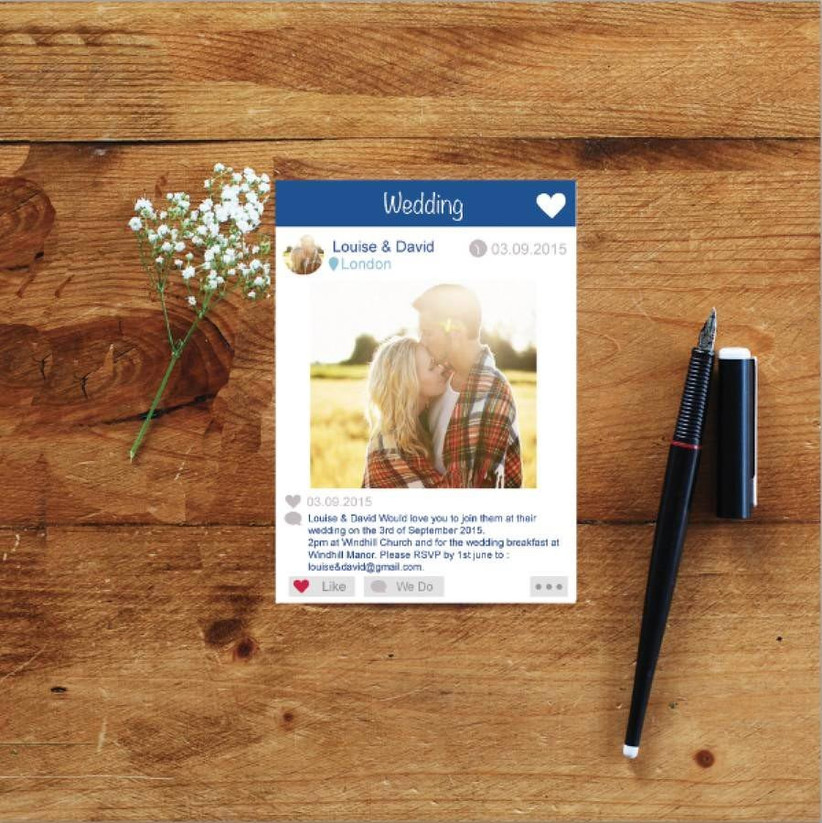 Map Wedding Invitation
If you're marrying abroad or have even shared a special journey together, why not map it out on your wedding invitations? Drawberry Jam create bespoke designs, including beautiful maps like the one below.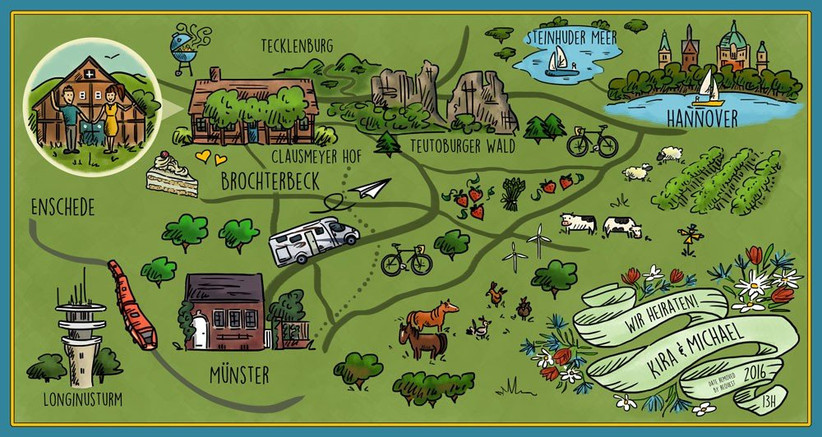 Board Game Invitation
Do you and your partner love a good, competitive board game? This Monopoly themed invitation from PaperTruly is amazing. Continue the theme with a quirky table plan and Monopoly inspired table names to match.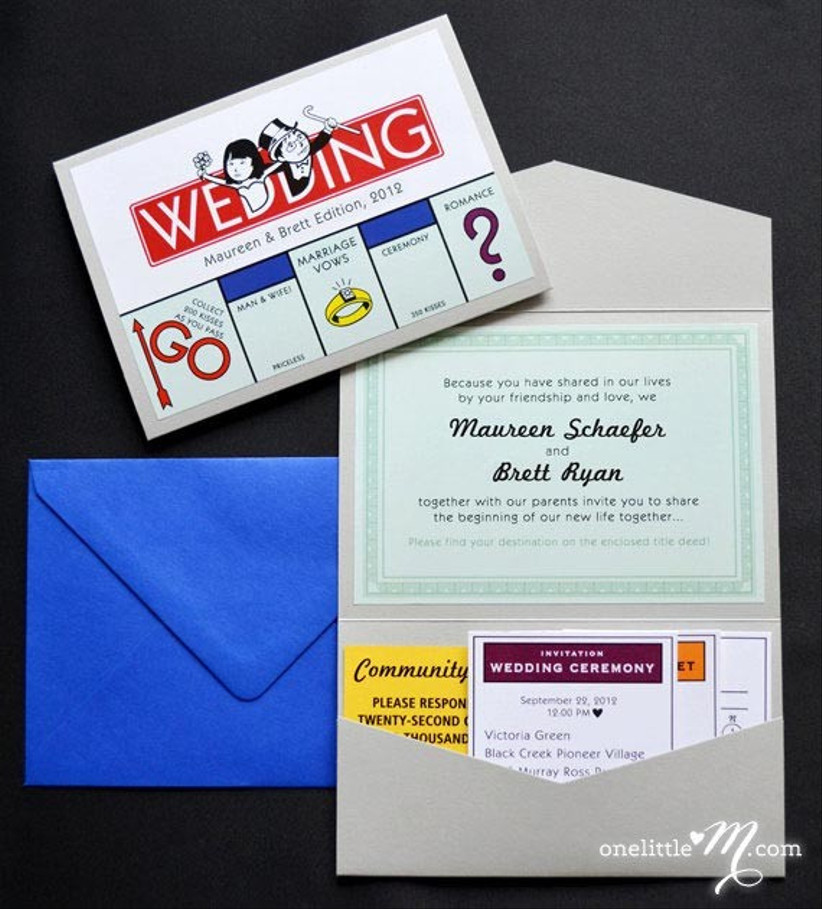 Puzzle Wedding Invitation
Have you found the missing piece of your puzzle? Let your guests share in your joy by giving them their own puzzles to do. Inspire Me Creations have a wooden puzzle invitation you can personalise. Your guests will want to keep this forever.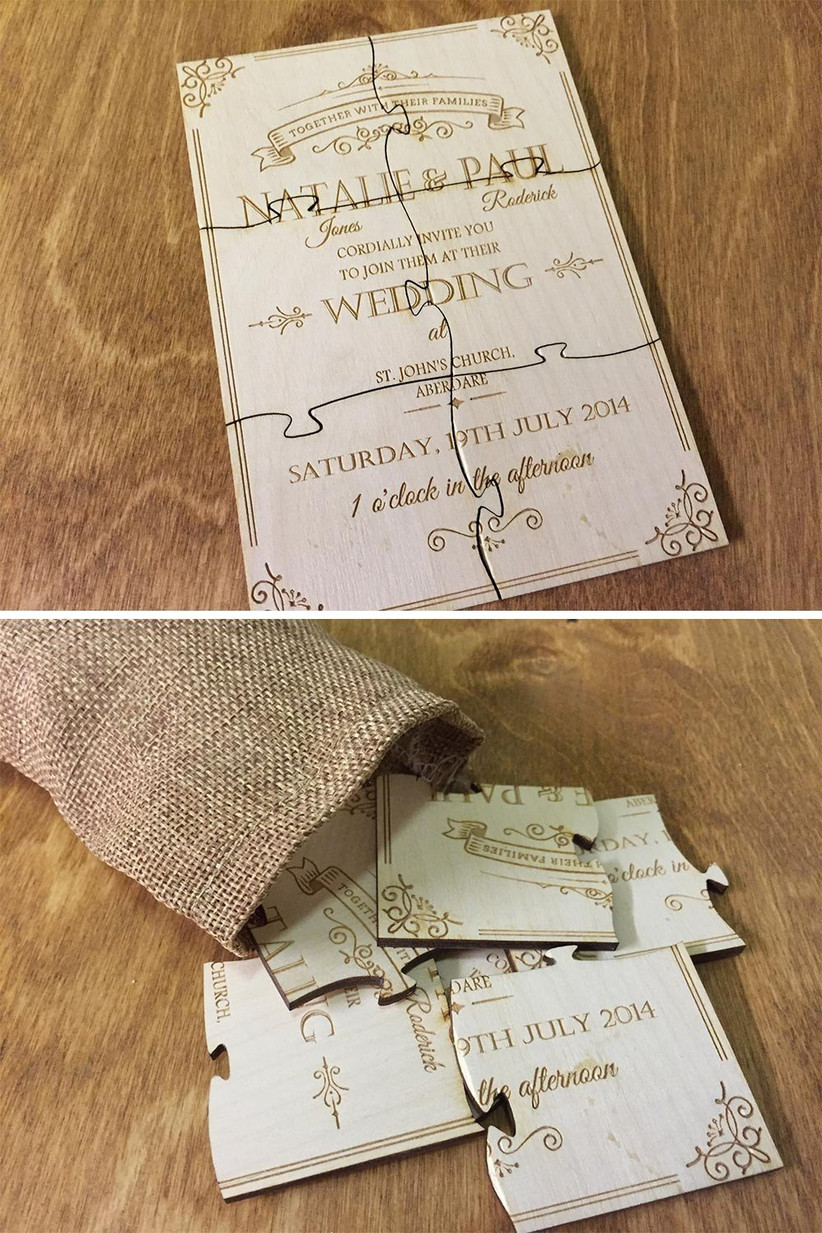 Mug Wedding Invitation
Add to your guests' mug collections by giving them a mug wedding invitation, like the one below from Planet Cards. Hopefully your guests will use it daily as a reminder of your big day.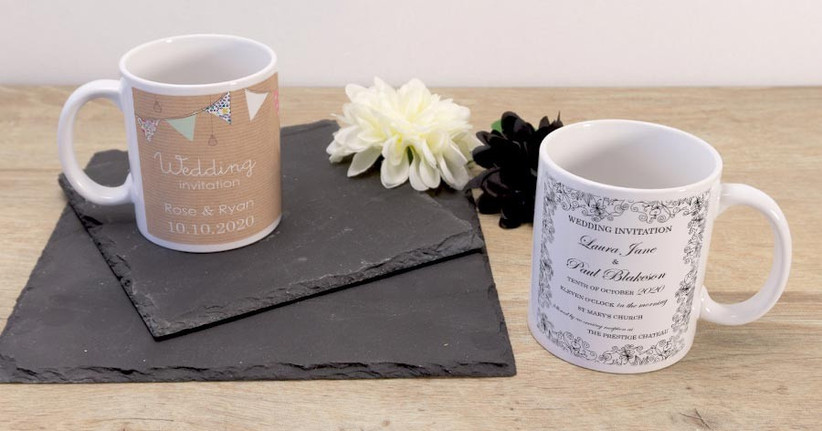 Magnet Wedding Invitation
Alternatively, make sure the date 'sticks' in their mind by giving them a magnet wedding invitation from Planet Cards to put on their fridge – they'll think about the big day every time they go to get the milk out.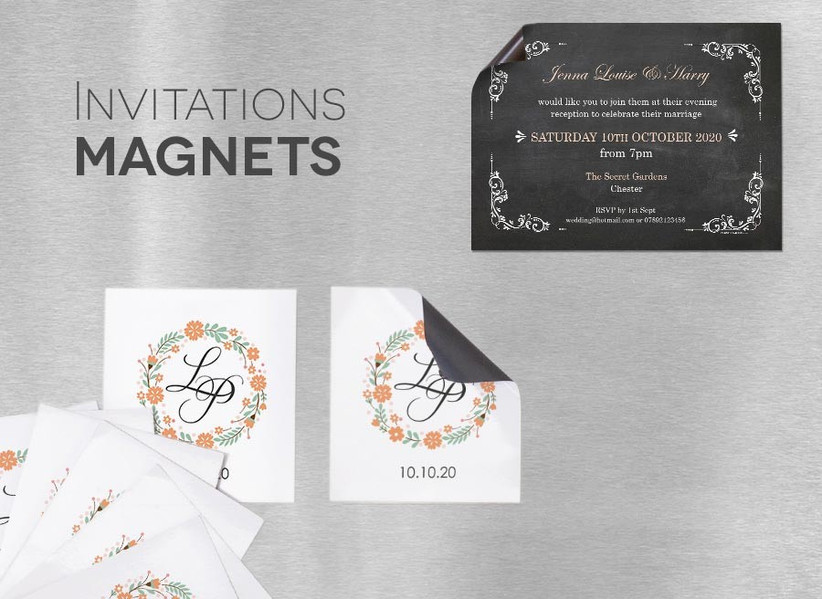 Book Themed Wedding Invitation
If you've found the perfect library wedding venue, why not give your guests a hint of what's to come with this Penguin Classic style wedding invitation, from Not on the High Street. There's a whole stationery suite available and you can pick the wording.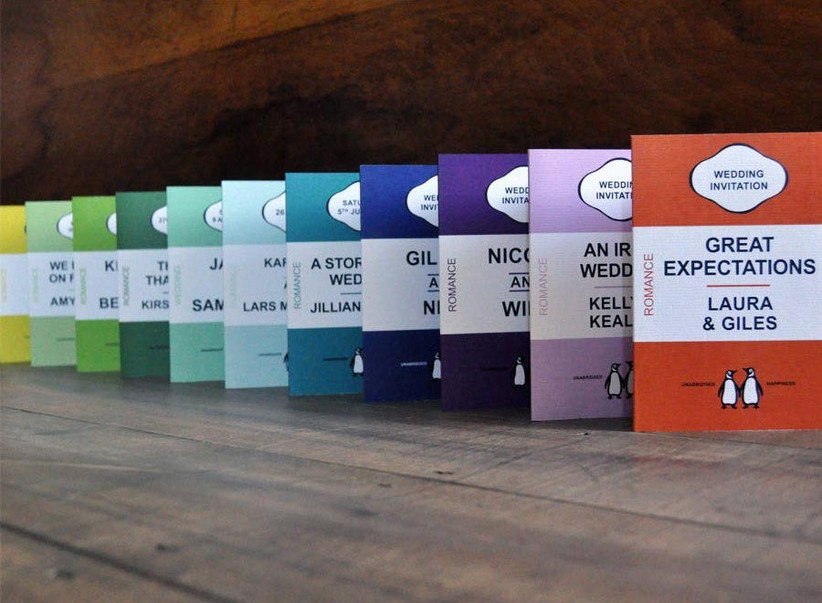 Another stunning option for literary lovers are these old fashioned book style invites. You can even get matching bookmarks to use as place cards to continue the theme. It's the ideal choice if you consider your love story to be one of the greats.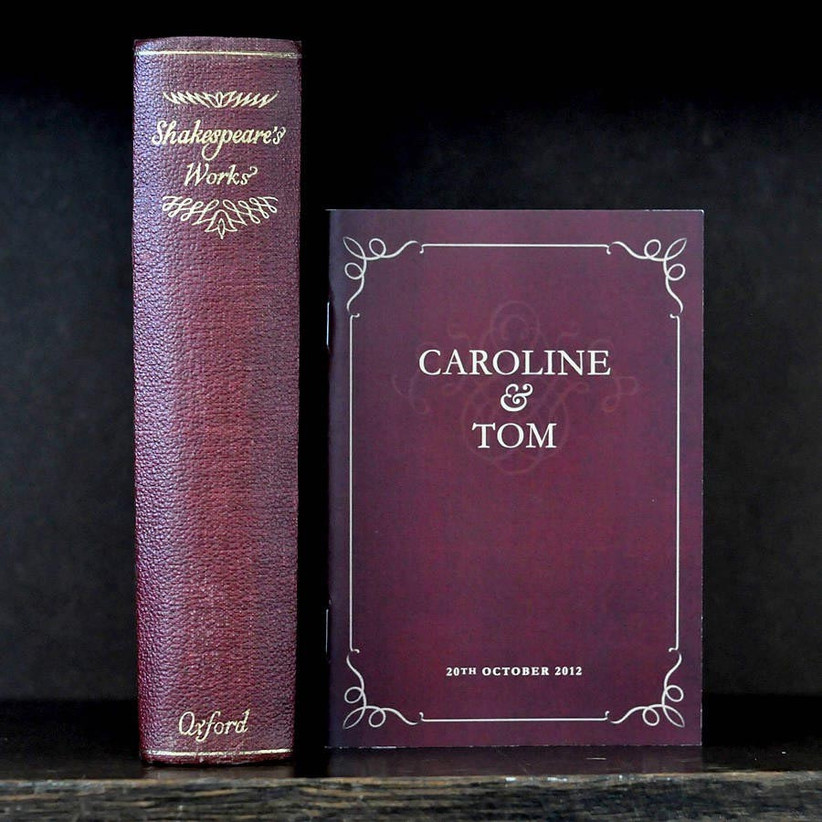 Balloon Wedding Invitation
We adore this idea – make sure your guests 'inflate and save the date' by sending them these super cute balloon invitations from White Knot. You can spot this idea and other cool ones in our round up of unique save the date ideas. If you love this idea you can use the exclusive code '15hitched2016′ and save 15% off your order!*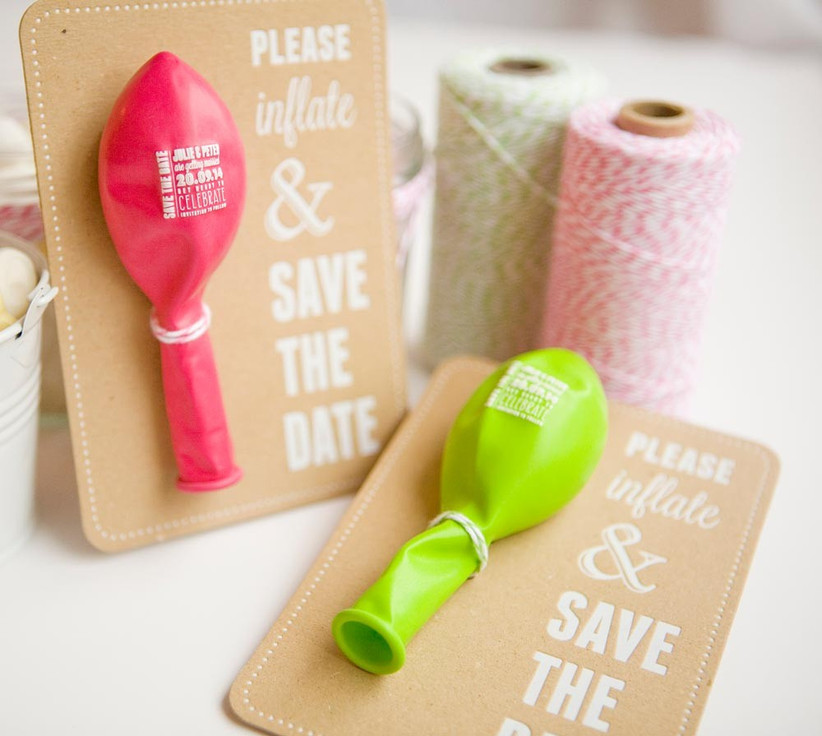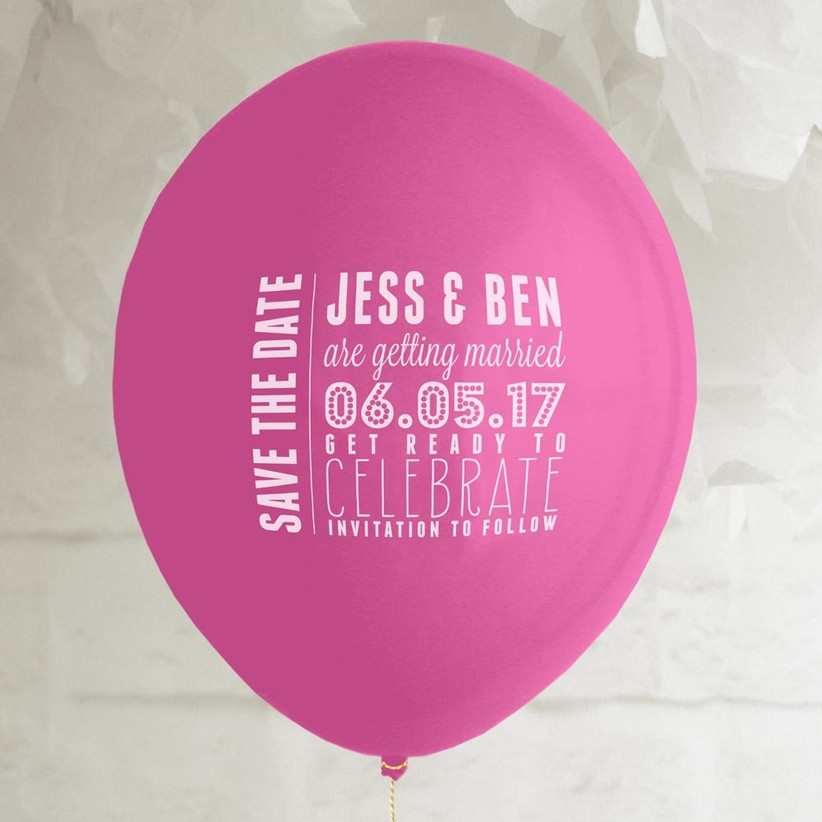 Acrylic Wedding Invitation
How cute is this laser-cut, acrylic wedding invitation? It'll definitely grab your guests' attention and will become a keepsake from your wedding. We have even more laser-cut wedding invitation ideas if this appeals to you.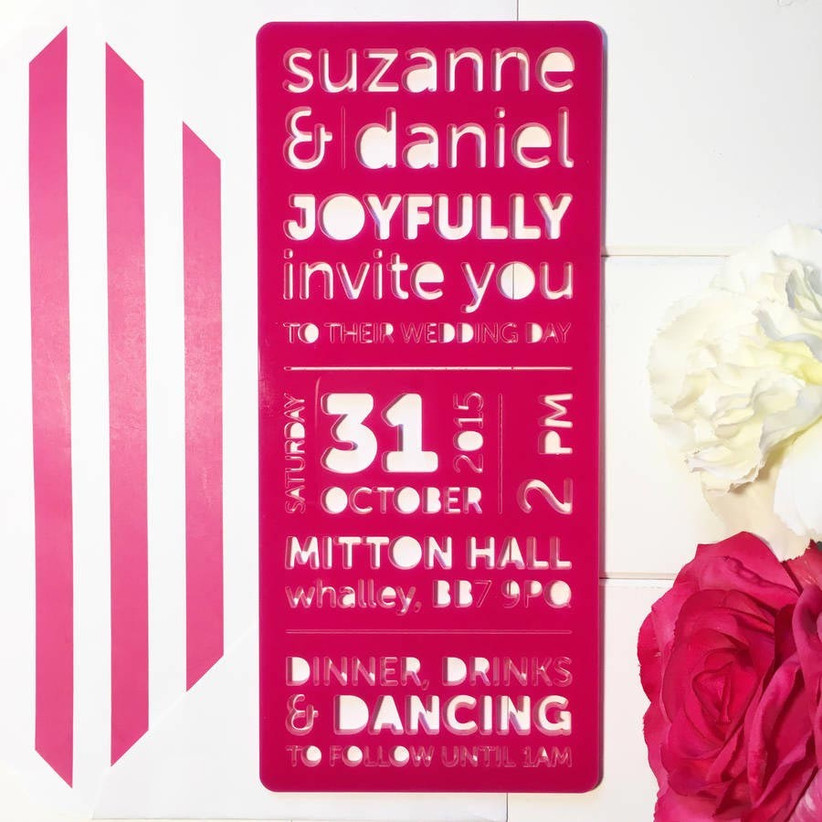 Boarding Pass Wedding Invitation
Jet-set brides and grooms should consider this boarding pass style wedding invitation from Hip Hip Hooray. If you're heading abroad for your wedding these will suit the theme perfectly and you could customise it with your chosen destination.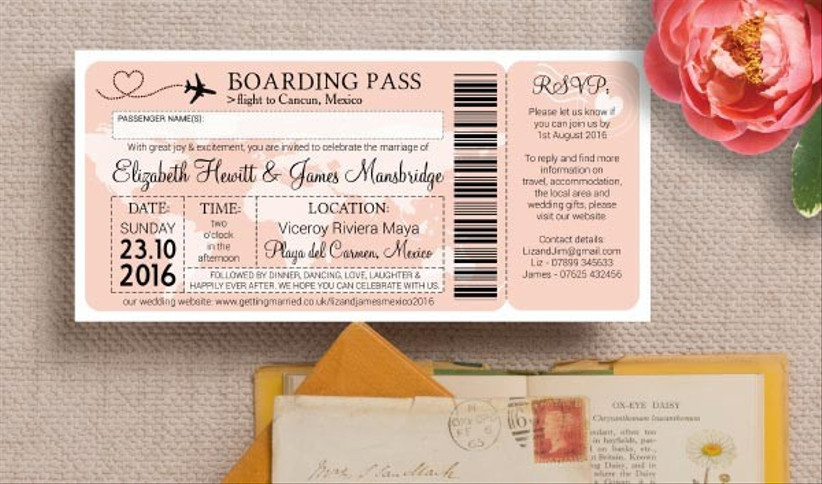 Paper Flower Wedding Invitation
If you're looking for floral wedding ideas, take a closer look at this paper rose wedding invitation. It comes with five removable petals which can be customised with your wedding date, time and venue information, as well as an 'RSVP petal' and an additional blank petal in case you'd like a paper rose bouquet guest book to be made up from them.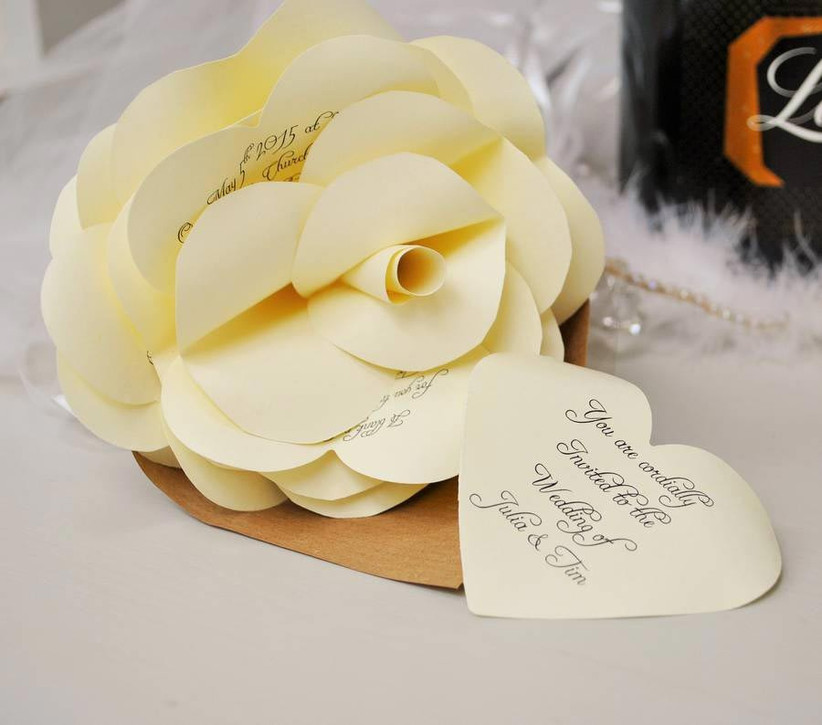 Scratch Card Wedding Invitation
How lucky are you and your guests feeling? Send out some scratch card style wedding invitations to add some suspense to the proceedings. They come in a range of colours and you can personalise the message underneath the scratch panel.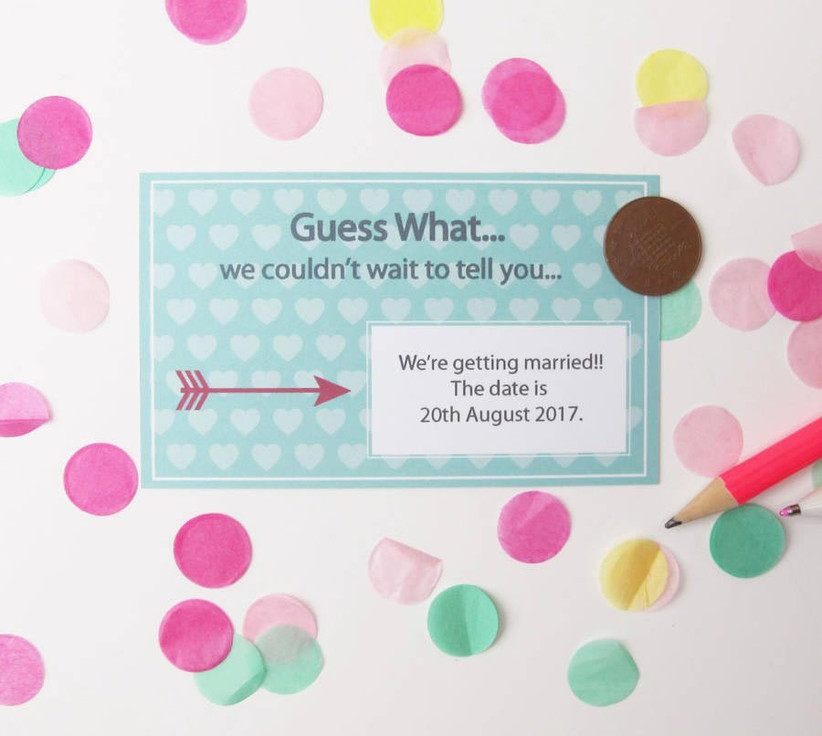 If you're partial to a scratch card, they also make a good affordable wedding favour – browse our round up of the best wedding favours for £1 or less for more ideas.
Passport Wedding Invitation
Whether you're jetting off for a wedding abroad or you just love travelling, this passport style wedding invitation is the perfect way to include your interests in your wedding theme. It's available from Hip Hip Hooray in a choice of colours.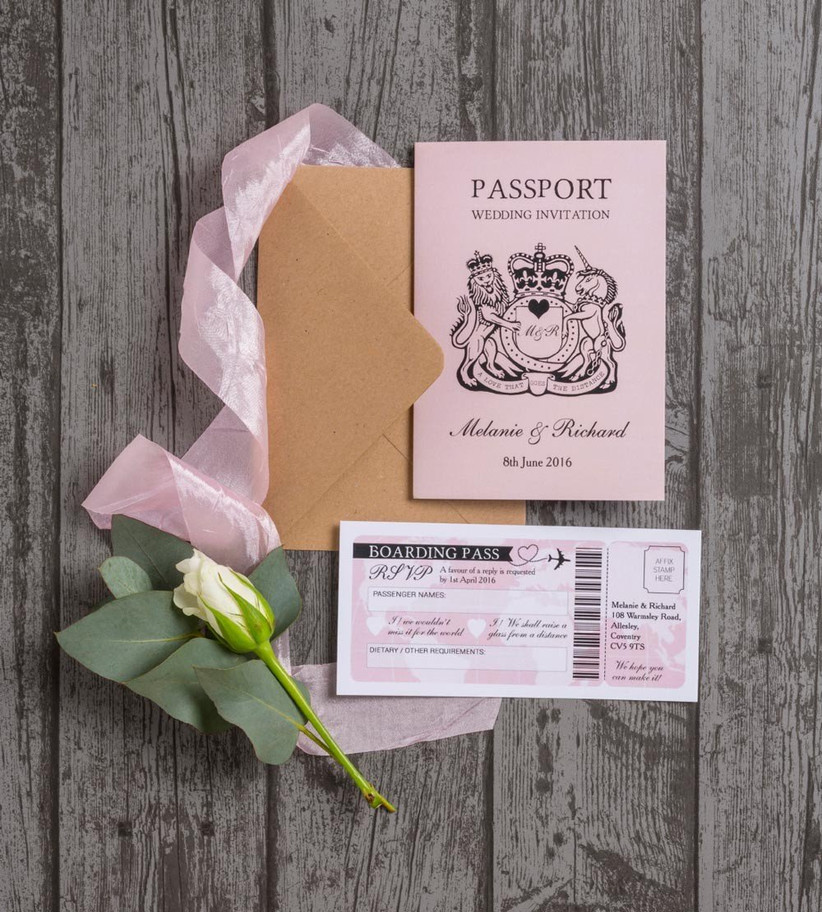 CD Wedding Invitations
Share your passion with your guests – if you love music consider making your own mixtapes and giving them out in these CD sleeve wedding invitations. You could also do a photo slideshow, holding up signs with wedding information, or use DVDs with a short film about your story. It's the ideal option for creative couples.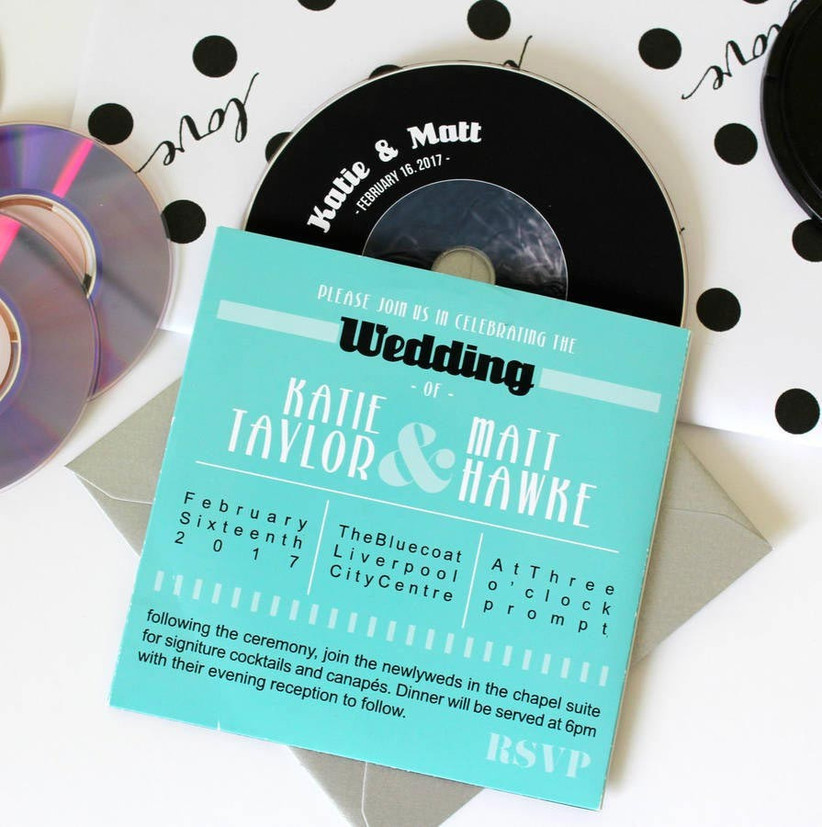 If you're still undecided when it comes to picking out wedding invitations and you're not sure if alternative wedding invitations will work for your wedding style, make sure you browse our edit of beautiful vintage style wedding invitations to inspire you.
*Offer expires 31/12/2016