27 Rustic Wedding Invitations Made for Barn Weddings
Planning the perfect rustic wedding in a barn? If you're all about the log slices and wildflowers, you need to see these rustic wedding invitations
We have included third party products to help you navigate and enjoy life's biggest moments. Purchases made through links on this page may earn us a commission.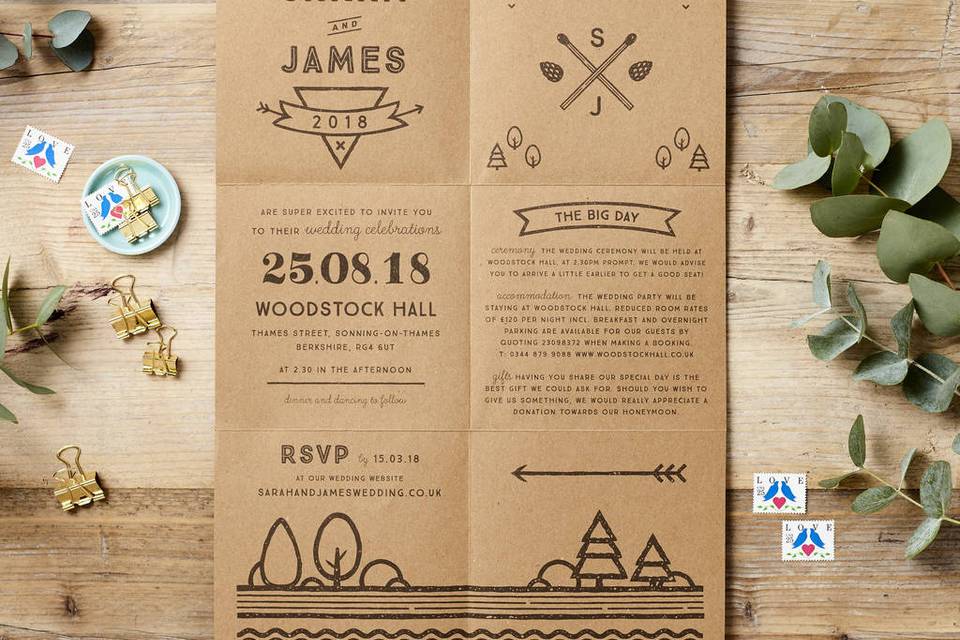 Your wedding invitations are the first glimpse of your wedding theme for your guests. They're also one of the first things you're likely to buy, along with lots of wedding stationery, of course! If you're planning a rustic wedding, a vintage theme or are making lots of cute DIY décor, then these rustic wedding invitations are a fantastic way to show off your theme.
As our pick of rustic wedding invitations shows, rustic can mean lots of different things. Whether you love handmade, vintage, one-of-a-kind, distressed-looking or shabby chic wedding invitations, we've found the invite of your dreams.
Make sure to check out our DIY advice for making your own homemade rustic wedding invites at the end!
Rustic Autumn Wedding Invitations
1. The Maple Leaf Wedding Invitation - from £60, Wonder Wedding Stationery
This rustic wedding invitation design by Wonder Wedding Stationery is made from luxury textured paper and comes with matching white envelopes. The vibrant orange leaves add a gorgeous pop of colour that contrasts against the crisp background perfectly.
2. Enchanted Forest Wedding Invitation - from £3, Russet and Gray at Not On The High Street
Woodland animals are an adorable touch to incorporate into an autumn wedding invitation. This enchanting style by Russet and Gray features a stag, woodland creatures and natural ferns for a laid-back finish.
3. Woodside Wedding Invitation - from £2.40, Bee Invited Wedding Stationery
This beautiful bundle wedding invitation by Bee Invited Wedding Stationery has lots of extra details that make all the difference. Just take a look at the rustic twine, wood-effect band and copper leaf label!
Brown Rustic Wedding Invitations
4. Vintage Mountain Wedding Invitation - from £2.61, Hitched Stationery
Kraft paper is a popular choice when it comes to rustic wedding invitations but you don't have to have your whole set made from this material. We're obsessed with this mountain design by Hitched Stationery - the natural greens and blues complement the brown Kraft edging beautifully.
5. Woodland Foldout Wedding Invitation Poster - from £3, Doodle Love at Not On The High Street
For a unique twist on brown rustic wedding invitations consider this foldout poster by Doodle Love. Your guests are bound to appreciate all of your wedding information being on one handy sheet!
READ MORE: 23 Vintage Wedding Invitation Styles
6. Happily Yours Wedding Invitation - from £3.80, Love Wedding Print at Not On The High Street
Another unusual style of rustic wedding invitation is this vintage inspired design by Love Wedding Print. The Kraft sleeve is a playful idea, containing an invitation sheet, wedding information sheet and an RSVP postcard.
7. Sweet Leaves Wedding Invitation - from 75p, Tigerlily Wedding Stationery at Not On The High Street
The vintage font on this brown wedding invitation by Tigerlily Wedding Stationery really accentuates the rustic style and you can choose the twine colour to suit your wedding theme.
8. Floral Wooden Wedding Invitation - from £4.25, Sophia Victoria Joy at Not On The High Street
It doesn't get much more rustic than a wedding invitation crafted from wood! Sophia Victoria Joys' creation is engraved in the UK and will give a wonderful first impression to your wedding guests.
9. Burlap Wedding Invitations - from £1.50, SK Wedding Stationery at Etsy
There's so many cute touches on these shabby chic wedding invitations: the burlap wrap, twine and little wooden heart. This style will work across all the seasons and if you want to personalise them, how about tucking in a dried wildflower or a sprig of lavender among the twine?
10. Henley Rustic Kraft Wedding Invitation - from £1.50, Megan Claire at Not On The High Street
The candy cane coloured ribbon on this Kraft wedding invitation by Megan Claire is giving us festive feels so if you're planning a winter wedding this could be the pick for you. It's classic, yet with a contemporary touch.
READ MORE: 29 Enchanting Winter and Christmas Wedding Invitations
11. Personalised Woodland Wedding Ticket Invitation - from £2.50, Laura Danby at Not On The High Street
Planning a festival wedding? These personalised wedding invitations by Laura Danby will be just the ticket! We adore the addition of the little lovebirds.
Rustic Barn Wedding Invitations
12. Woodgrain Lace Wedding Invitation - from £1.13, Hitched Stationery
Barn wedding venues often have a lovely rustic feel to them, so if you are choosing to get hitched at one, why not reflect this in your wedding invitations? This design by Hitched Stationery features a delicate lace trim and a natural wood backdrop.
13. Fairylights Wedding Invitation - from 65p, Sienna Mai at Not On The High Street
You may choose to have gorgeous strings of twinkling fairy lights at your wedding - in which case this invitation by Sienna Mai will be seriously fitting! We adore this idea for an atmospheric twilight wedding.
14. Rustic Country Wedding Invitation - from £1.50, Julia Eastwood at Not On The High Street
An unusual design will capture your wedding guest's interests when they receive your wedding invitation - Julia Eastwood's glorious rustic wedding invitation features wooden elements and wildflower sprigs making it perfect for a spring soiree.
15. Blackboard Wedding Invitation - from 65p, Sienna Mai at Not On The High Street
This blackboard style wedding invitation by Sienna Mai is seriously fun! It's a really affordable option available at just 65p per card - perfect if you have a large guest list.
READ MORE: The Best Places to Buy Cheap Wedding Invitations
Floral Rustic Wedding Invitations
16. The Sunflower Bouquet Wedding Invitation - from £66, Wonder Wedding Stationery
Sunflowers and rustic weddings are a match made in heaven so if that's your flower of choice keep the theme consistent with this beautiful wedding invitation by Wonder Wedding Stationery.
17. Wild Wreath Wedding Invitation - from £1.13, Hitched Stationery
How pretty is this floral wreath wedding invitation? Available from Hitched Stationery, choose from pearl, matte or textured card and four different layouts.
18. Personalised Folded Spring Wedding Invitation - from £3, Littlebird Weddings at Not On The High Street
A card style wedding invitation is a lovely option as your wedding guests can prop it up on the side. This rustic spring design from Littlebird Weddings comes with a Kraft envelope and is fished with twine.
19. Natural Monogram Wedding Invitation - from £2.50, Hitched Stationery
Sophisticated and elegant, this simple wedding invitation by Hitched Stationery proves a rustic wedding invitation can still be chic! It comes in pink, navy or gold, to suit your personal style and taste.
20. Hand Drawn Wedding Invitation - from 95p, Farrah & Eve Paper Co. at Not On The High Street
Another simple design comes in the form of this beautiful set by Farrah & Eve Paper Co. The hand drawn illustrations are truly breathtaking!
READ MORE: When to Send Save the Dates and Wedding Invitations
Shabby Chic Rustic Wedding Invitations
21. Daydream Wedding Invitation - 99p, Feel Good Wedding Invitations at Not On The High Street
The torn edge on this watercolour-washed design really adds to that shabby chic, distressed feel. This is a very elegant take on a rustic wedding invite and each one comes wrapped in twine and vellum wrap with a wax seal for lots of texture and to make it an experience to open!
22. Greenery Wedding Invitation - from £1.20, Made by Wood & Wood
Cool couples will no doubt adore this fabulous design by Made By Wood & Wood. It's minimal and not too in your face but is certainly special enough to impress your wedding guests when they receive them.
23. Handmade Paper Wedding Invitation - from £9.99, Say It With Print
Distressed edging is a beautiful way to nod to a rustic wedding - even better when it's topped off with a delicate and frayed ribbon bow this gorgeous set by Say It With Print. And don't even get us started on that wax seal!
24. Wreath + Star Wedding Invitation - from 65p, Fig + Fern Studio at Not On The High Street
We don't know which element of this wedding stationery suite we love more - the washed blue backdrop, delicate floral illustrations or the bespoke map design. It's something a little different and that's why it caught our eye!
25. Wildflower Seeds Rustic Wedding Invitation - from £25.97, Flower Seed Paper at Etsy
This simple design does good as well as looks good. Your guests can actually plant the invite after the wedding and it'll grow into wildflowers. These invites really are one-of-a-kind and this fern and seed paper has a cool, original look.
26. Stamp Wedding Invitation - from £38, English Stamp Company at Not On The High Street
A personalised stamp is a really great way to make your own rustic wedding invitations. Any little smudges or less pigmented bits just adds to the shabby chic vibe – the whole idea of rustic is to get away from polished. Guests will love to see that you've handmade their invite and wedding stamps are a cool way of doing it quickly.
27. Grace Wedding Invitation - from £1.80, Ivy White
Planning a summer garden party? You need these adorable wedding invitations by Ivy White! We're big fans of the scalloped purple heart and the intricate typography.
7 Tips for DIY Rustic Wedding Invitations
1. Buy lots of brown Kraft card to use as the base for the invitations.
2. Put any drawing or calligraphy skills to good use and decorate your invites with lots of little illustrations for an extra personal touch – you could even do an individual drawing for each guest if you have the time!
3. Tie with brown string or twine for a rustic touch and to keep the invites and RSVP cards all together.
4. Make mini bunting for your shabby chic wedding invitations by cutting out small triangles from different coloured fabric swatches. Stick a piece of string or draw a line on your invites and carefully stick the fabric triangles along it with a thin application of glue. This would be great on the outside of a card with a simple stamp of all your wedding info on the inside.
5. Stick a strip of lace or patterned fabric onto your invites to add a vintage touch.
6. Add brown luggage tags to your shabby chic wedding invites and write the name of your guests. Make your own from pieces of card by cutting out rectangle shapes with one pointed end.
7. Don't worry if your invites look a bit scruffy or dishevelled, that's the whole idea of shabby chic!
Still undecided on your wedding invitations? They are lots more designs to explore at Hitched Stationery!