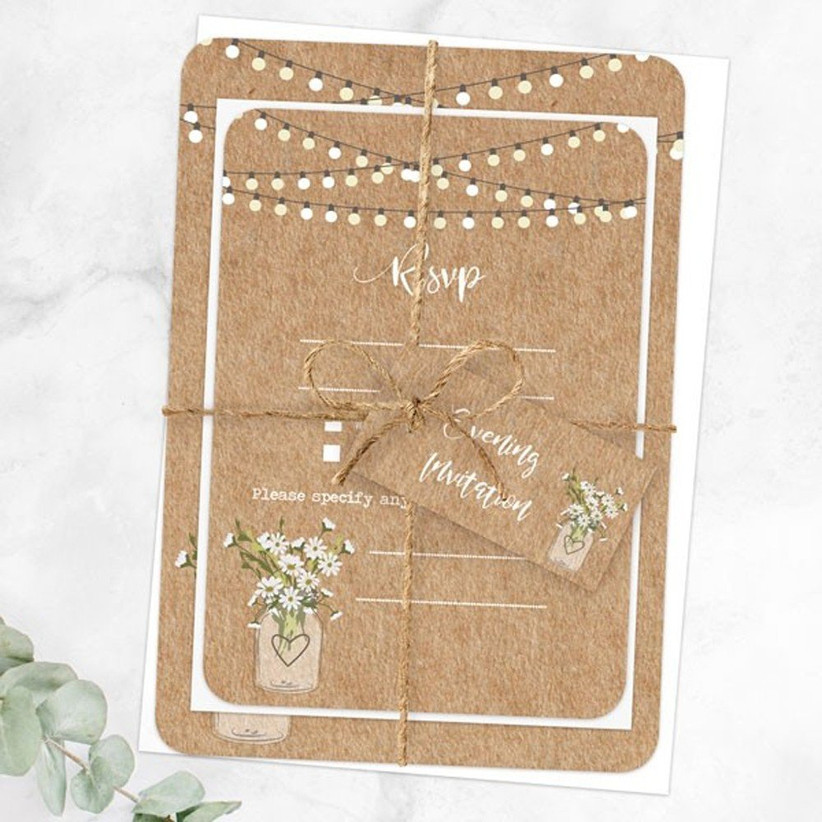 Your wedding invitiations are the first glimpse of your wedding theme for your guests. They're also one of the first things you're likely to buy, along with lots of wedding stationery, of course!
If you're planning a rustic wedding, a vintage theme or making lots of cute DIY décor, then these rustic wedding invitations are a fantastic way to show off your theme.
READ MORE: The Ultimate Wedding Invitation Wording Guide
As our pick of rustic wedding invitiations shows, rustic can mean lots of different things. Whether you love handmade, vintage, one-of-a-kind, distressed-looking or shabby chic wedding invitations, we've found the invite of your dreams.
Make sure to check out our DIY advice for making your own homemade rustic wedding invites at the end!
Spots and Allsorts Rustic Wedding Invitation, Gray Starling Designs – £2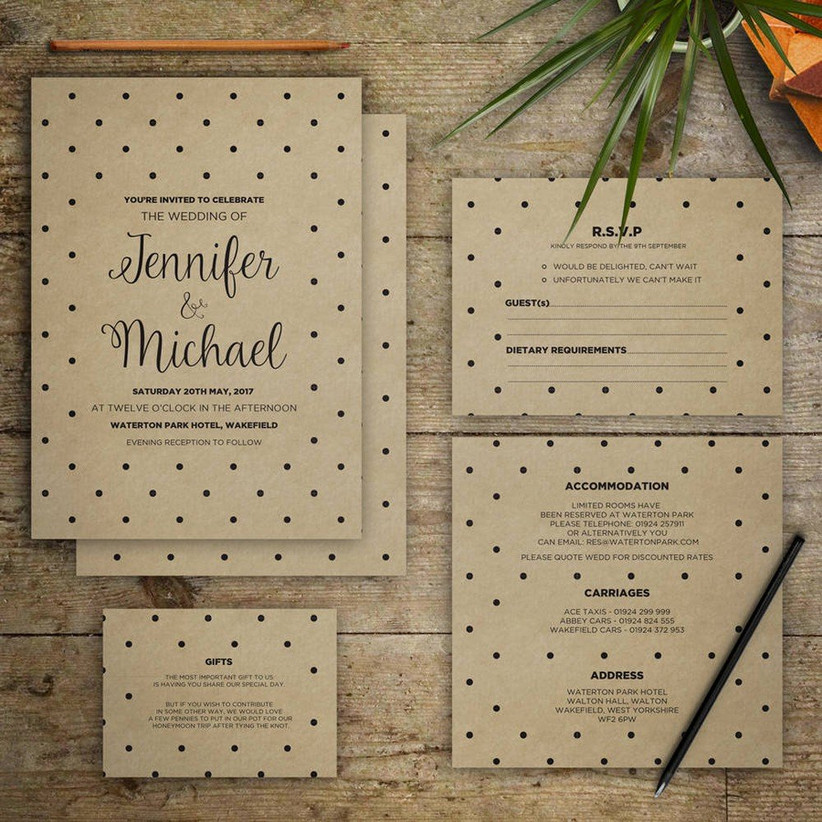 The polka dot design has a great '50s feel and is perfect for a rustic or vintage themed wedding. Combined with the homespun brown kraft paper, you've got the recipe for some fab rustic wedding invitations.
Chalkboard Rustic Wedding Invitation, Paperpair – £2.20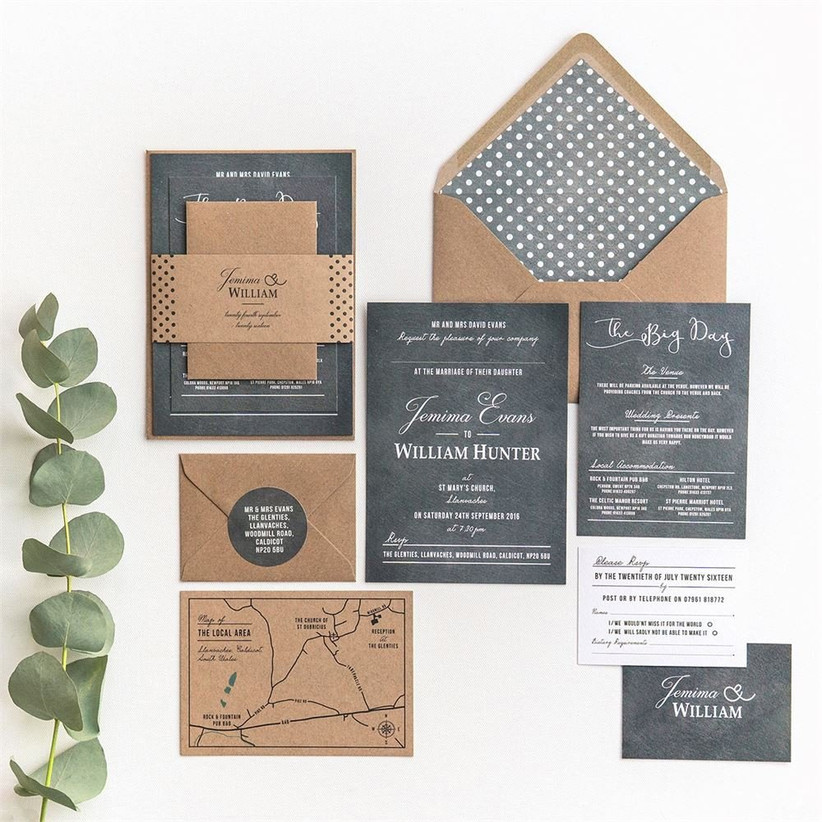 What DIY wedding is complete without a chalkboard sign? They're excellent as a guestbook idea or for some brilliant wedding signs, but the chalkboard look is also ideal for your wedding invites. The grey and brown colours look very cool together – hello, shabby chic!
Bunting Rustic Wedding Invitation, Imagine DIY – Kits from £20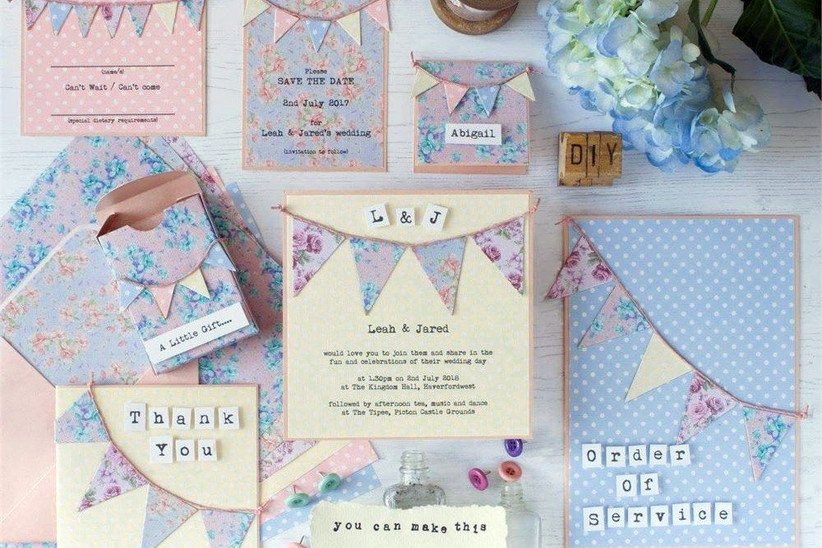 Handmake your own invites with one of the gorgeous kits from Imagine DIY. We absolutely adore this floral bunting set, with plenty of Cath Kidston-esque prints and a glorious village fête feel. These are perfect for a summer wedding and we're a sucker for that typewriter font.
READ MORE: 10 Unusual DIY Wedding Invite Ideas
Wildflower Seeds Rustic Wedding Invitation, Etsy – £22 for 6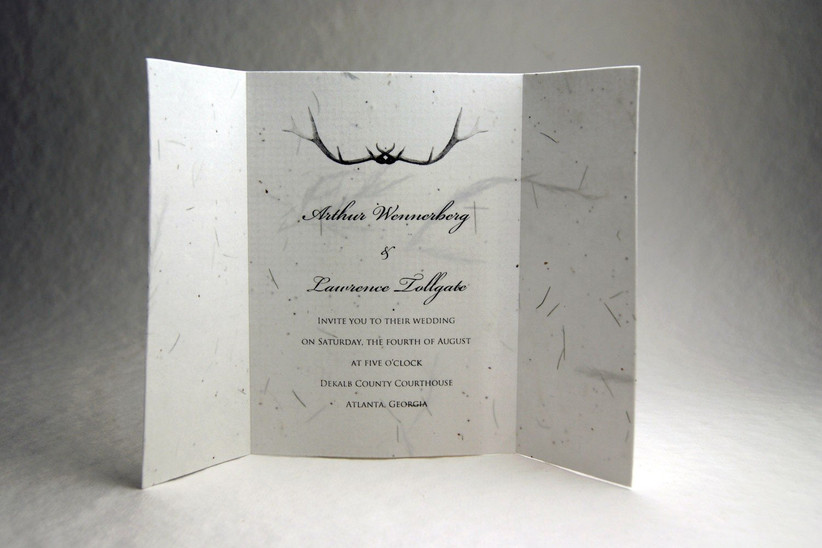 This simple design does good as well as looks good. Your guests can actually plant the invite after the wedding and it'll grow into wildflowers. These invites really are one-of-a-kind and this fern and seed paper has a cool, original look.
Woodland Illustrated Rustic Wedding Invitations, Summer Lane Studio – £2
Rustic and woodland wedding ideas go hand-in-hand. These beautifully illustrated woodland invites are a fantastic idea for an autumn wedding date and the whole brown and cream colour scheme is simple and chic.
READ MORE: Unique Save the Date Ideas You'll Love
Torn Edged Rustic Wedding Invitation, Feel Good Wedding Invitations – £1.69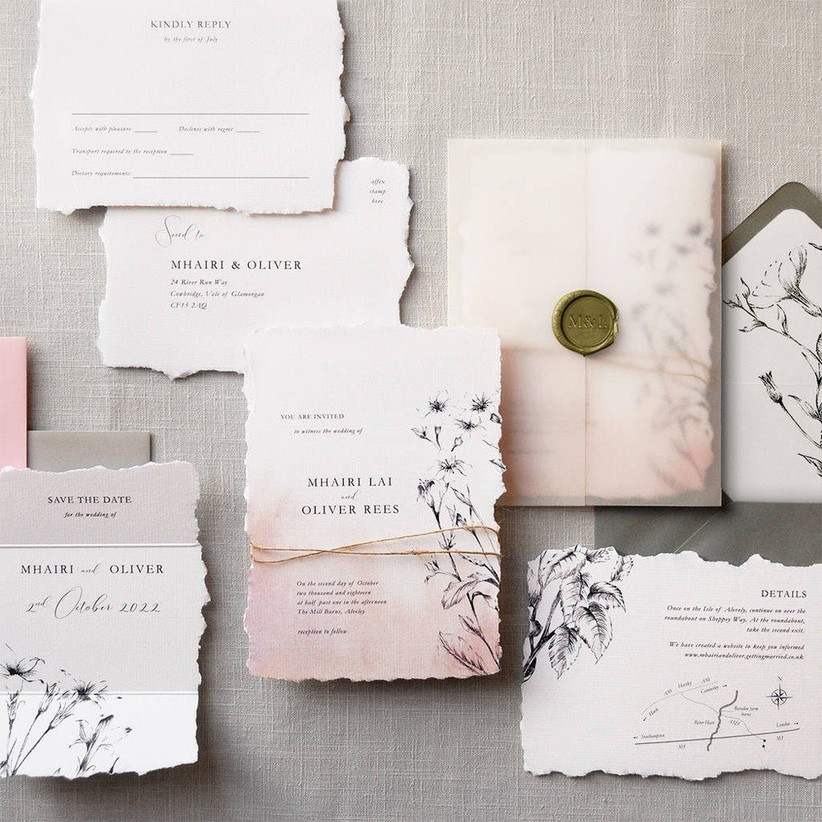 The torn edge on this watercolour-washed design really adds to that shabby chic, distressed feel. This is a very elegant take on a rustic wedding invite and each one comes wrapped in twine and vellum wrap with a wax seal to add lots of texture and make it an experience to open!
Botanical Rustic Wedding Invitation, Amanda Michelle Design and Stationery – £1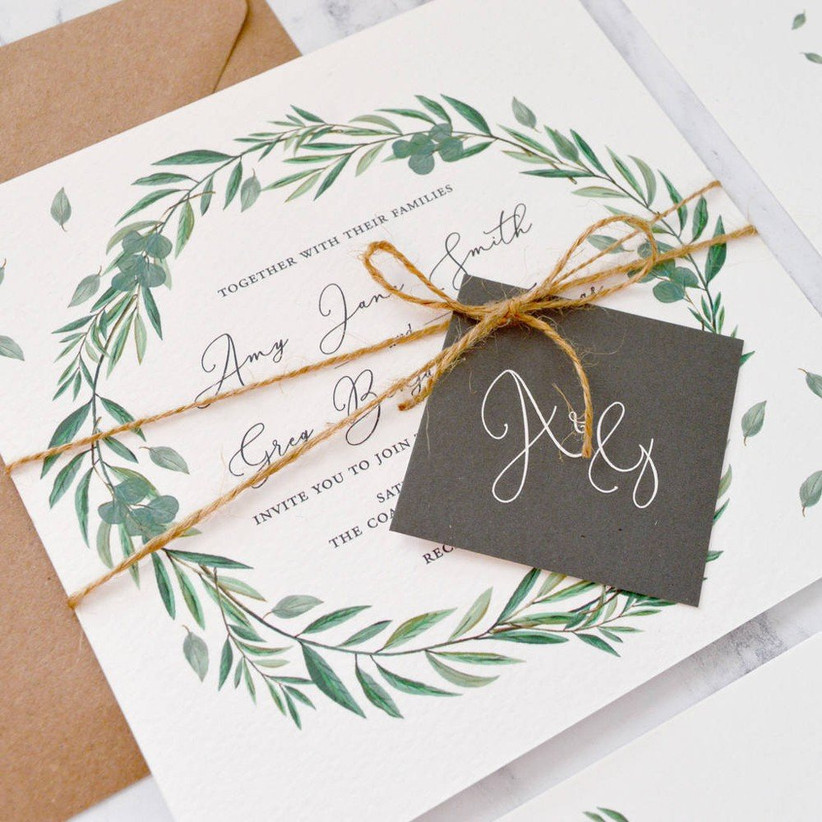 A rustic wedding theme really lends itself to lots of greenery and foliage for that verdant country feel. This modern eucalyptus leaf design is complemented by some traditional twine and a simple brown envelope. It's a beautiful mix of textures.
READ MORE: How to Make Marble Wedding Invites at Home
Burlap Rustic Wedding Invitations, Etsy – £1.50

There's so many cute touches on these shabby chic wedding invitations: the burlap wrap, twine and little wooden heart. This style will work across all the seasons. If you want to personalise them, how about tucking in a dried wildflower or a sprig of lavender among the twine?
Laser Cut Rustic Wedding Invitiations, Etsy – £2.50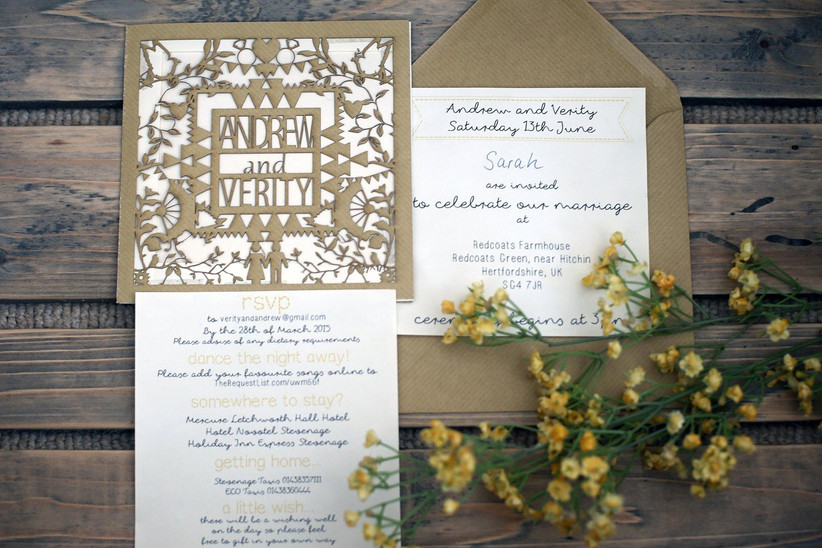 Laser cut invites are one of our favourite looks. The intricate design on this laser cut card mixes floral shapes with sweet wedding symbols like a ring and champagne glasses and it really stands out against the contrasting ivory background.
READ MORE: The Best Way to Ask for Money Instead of Gifts
Mason Jar Rustic Wedding Invitiation, The Card Gallery – £0.95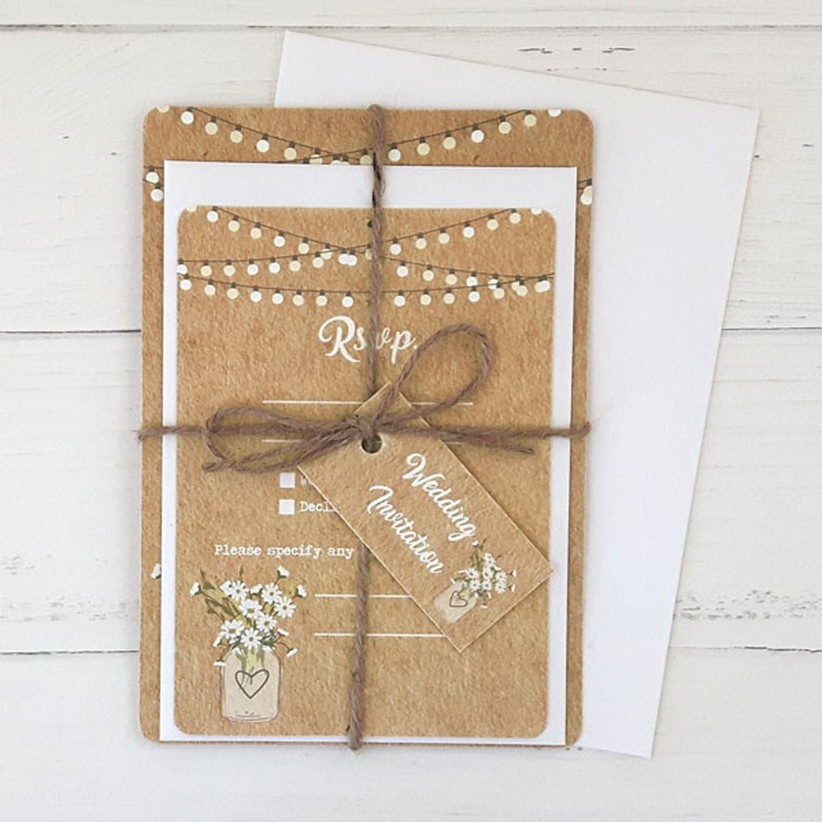 If mason jars and fairy lights will be making an appearance at your wedding then these paper-effect invites are a great teaser for your theme and decor. In case we haven't made it clear enough yet, twine will be your best friend in any shabby chic wedding.
Natural Rustic Wedding Invitiation, Paperchain – £2.50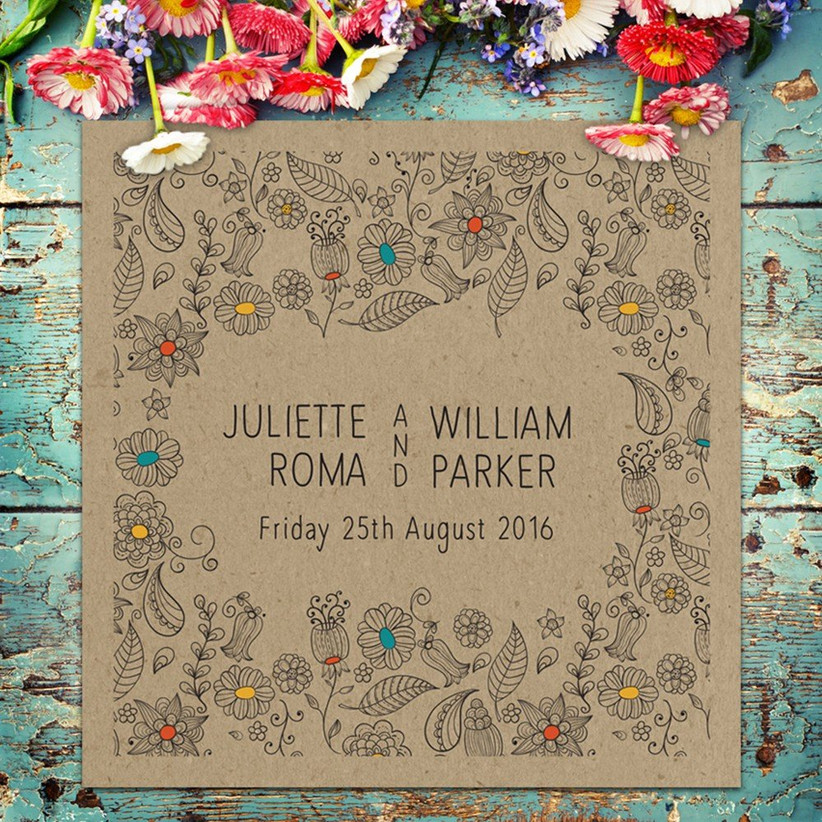 This fab eco range of wedding stationery is made with 100% recycled card but don't think that means any less quality – this is gorgeous stuff! The little pops of colour really brighten this simple card and they can be changed to match your wedding scheme.
READ MORE: 9 Ways to Save Money on Your Wedding Stationery
Stamp Rustic Wedding Invitiation, English Stamp Company – £42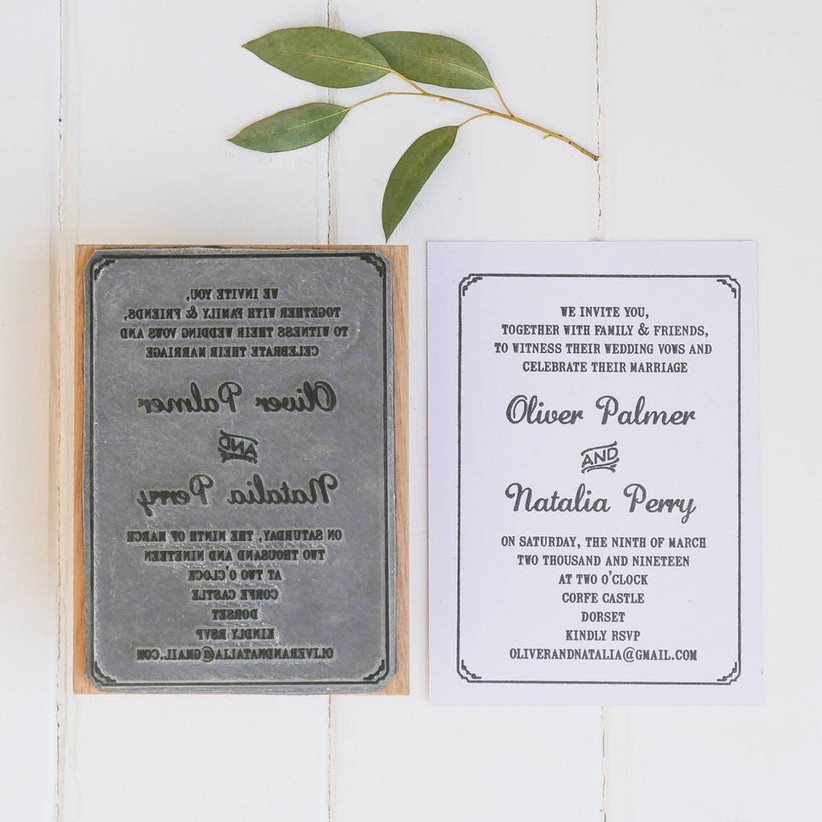 A personalised stamp is a really great way to make your own rustic wedding invitiations. Any little smudges or less pigmented bits just adds to the shabby chic vibe – the whole idea of rustic is to get away from polished. Guests will love to see that you've handmade their invite and stamps are a cool way of doing it quickly.
Fabric Rustic Wedding Invitiation, Toast Wedding Stationery – £2.50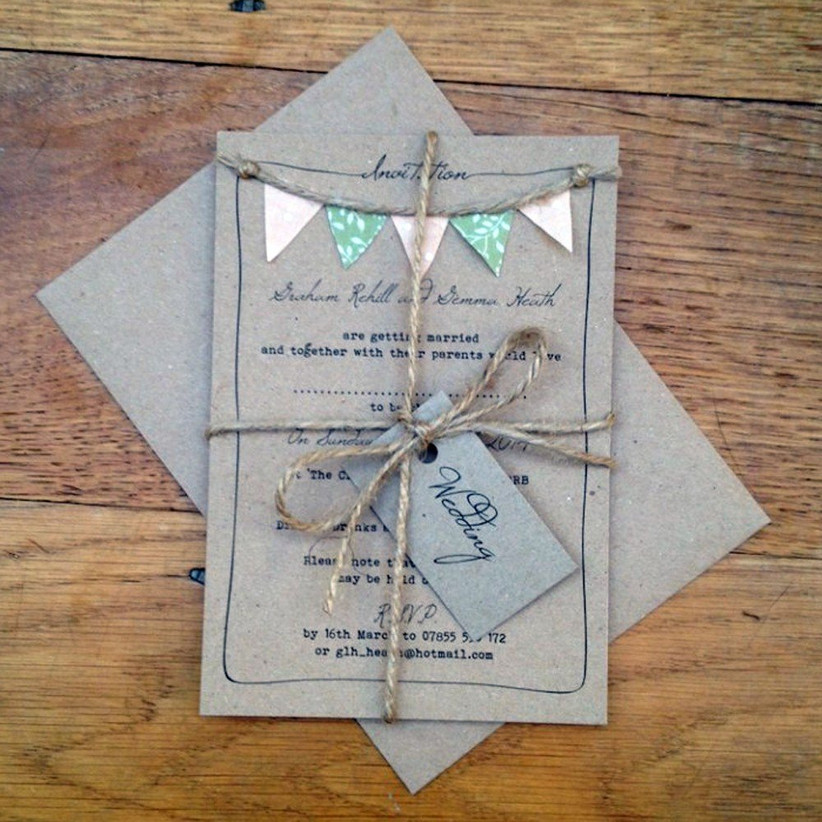 This whimsical handmade invite is shabby chic perfection. The typewriter font really complements the delightful string of fabric bunting, which comes in so many different patterns. Everything is tied together beautifully with string so it looks like a cute little parcel – your guests will adore how pretty it looks!
READ MORE: 29 Beautiful Floral Wedding Invite Designs
Tips for DIY Shabby Chic Wedding Invitations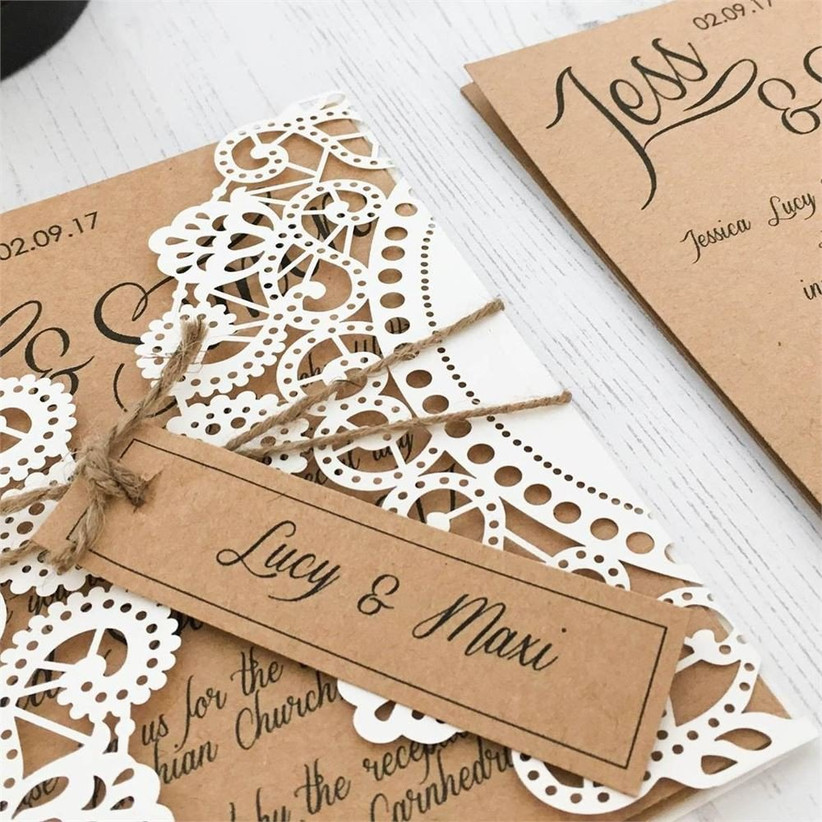 Image: Imagine DIY
Buy lots of brown kraft card to use as the base for the invitations.
Put any drawing or calligraphy skills to good use and decorate your invites with lots of little illustrations for an extra personal touch – you could even do an individual drawing for each guest if you have the time!
Tie with brown string or twine for a rustic touch and to keep the invites and RSVP cards all together.
Make mini bunting for your shabby chic wedding invitations by cutting out small triangles from different coloured fabric swatches. Stick a piece of string or draw a line on your invites and carefully stick the fabric triangles along it with a thin application of glue. This would be great on the outside of a card with a simple stamp of all your wedding info on the inside.
Stick a strip of lace or patterned fabric onto your invites to add a vintage touch.
Add brown luggage tags to your shabby chic wedding invites and write the name of your guests. Make your own from pieces of card by cutting out rectangle shapes with one pointed end.
Don't worry if your invites look a bit scruffy or dishevelled, that's the whole idea of shabby chic!
If you need more tips on what to consider when choosing your wedding stationery, then you can browse Hitched for lots more helpful advice.