10 Creative and Gorgeous DIY Wedding Invitation Ideas
Looking for an interesting and unique way to DIY your wedding invitations? We have 10 fabulous techniques that almost anyone can master...
We have included third party products to help you navigate and enjoy life's biggest moments. Purchases made through links on this page may earn us a commission.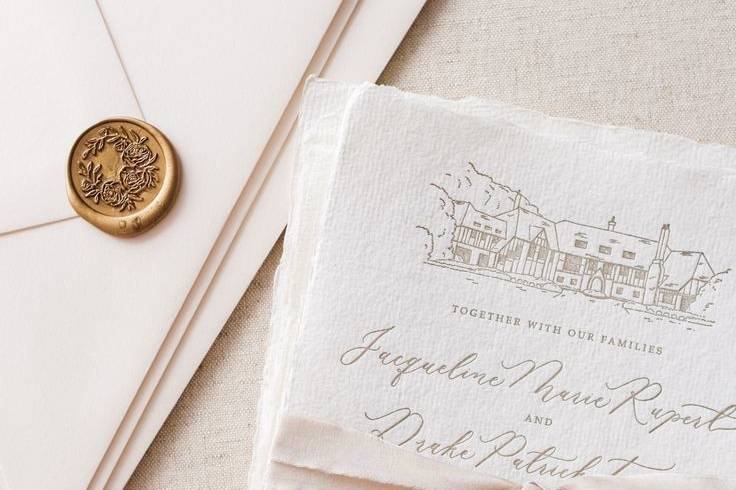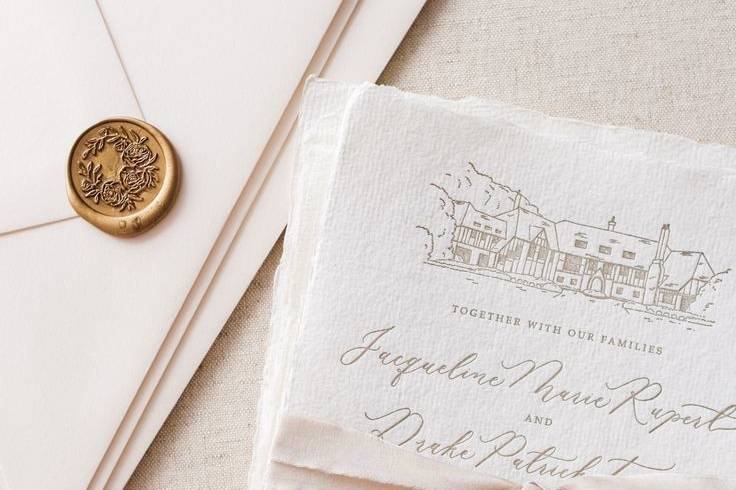 If you're a hands-on couple who want to get creative with your wedding stationery, or just want to save money on your wedding invites, you'll love our top tips and tricks for making DIY wedding invitations.
From making the wedding invitations yourself to smaller additions that'll give your professionally-made stationery a little DIY flair, we have a range of amazing ideas and unusual ways to create the most beautiful DIY wedding invitations.
Once you've made them, make sure to check out our guide to wedding invitation wording – we cover everything from what to write if it's a second marriage, to same-sex weddings, church services and more!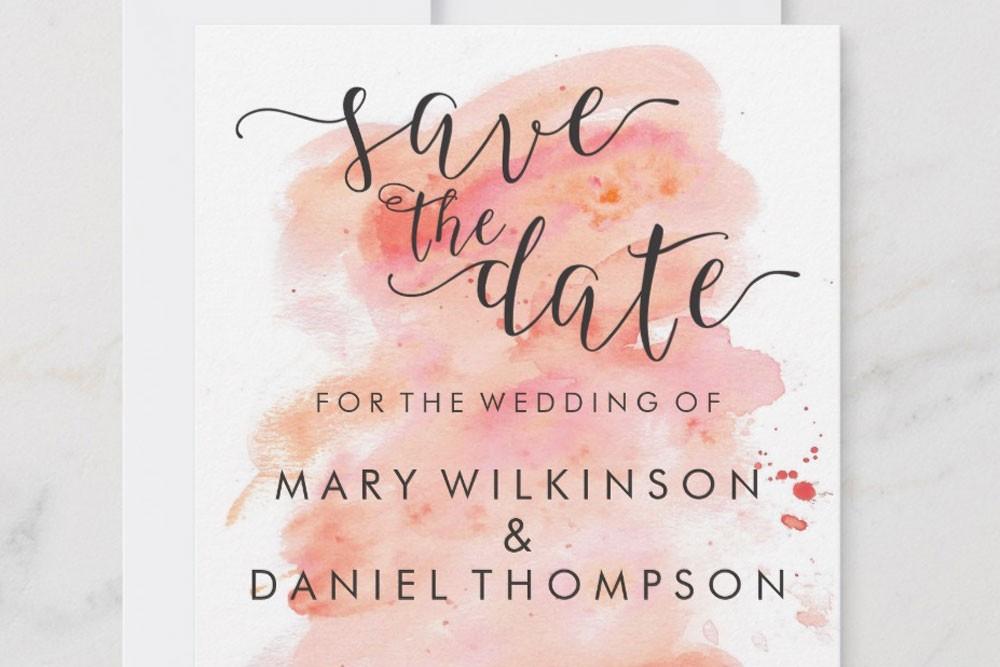 Image: Pinterest
1. Watercolour DIY Wedding Invitations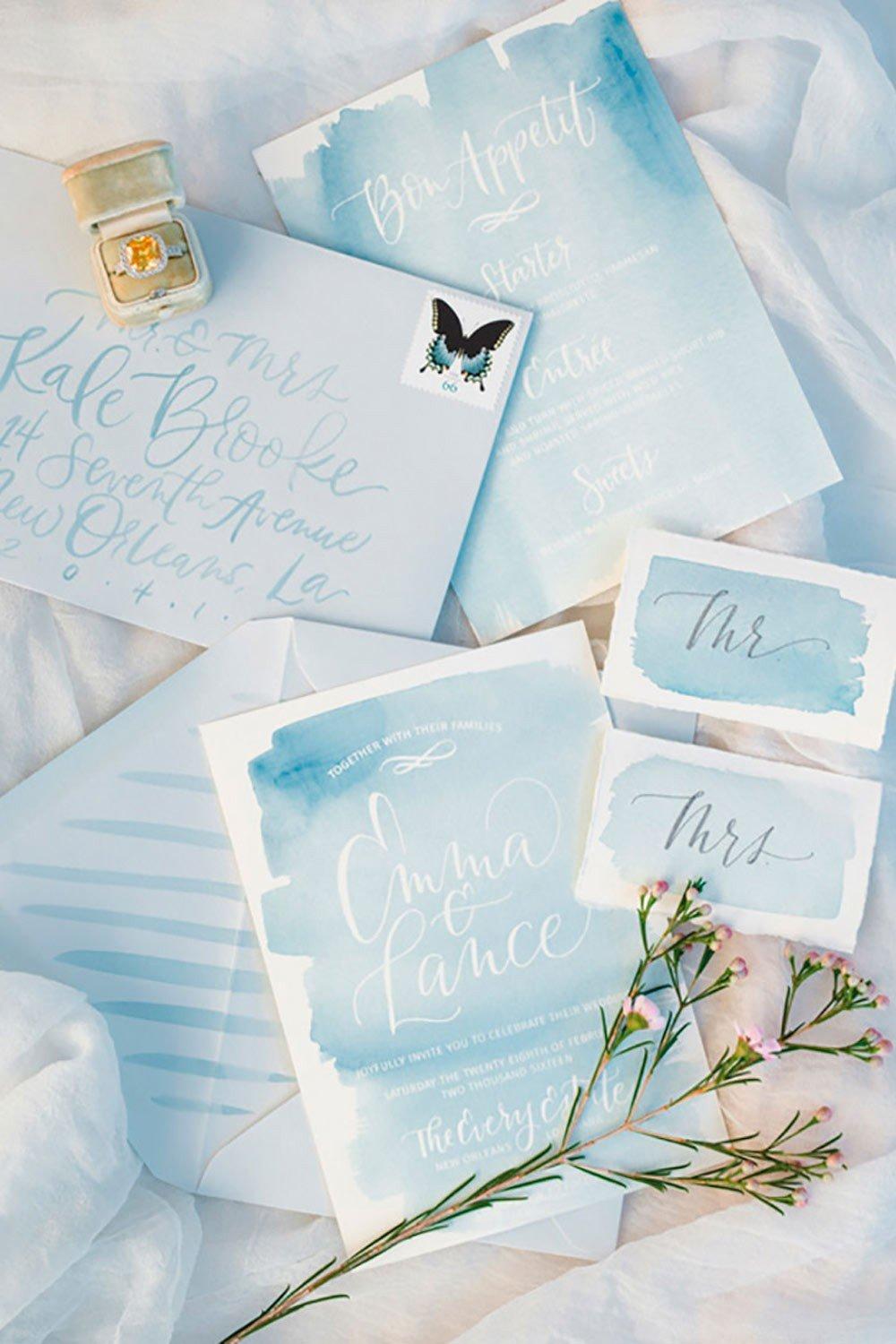 Image: Pinterest
The great thing about watercolour is it's easy to do and there's no right or wrong, it's not meant to look perfect so even the most amateur DIY couples can do it – we promise!
You Will Need:
A small paintbrush
Some water
Watercolours in the shade of your choice (when it comes to pans or tubes, it doesn't matter but make sure you buy professional grade watercolour paint to get the most pigmented colour!)
Quality, professional-grade watercolour card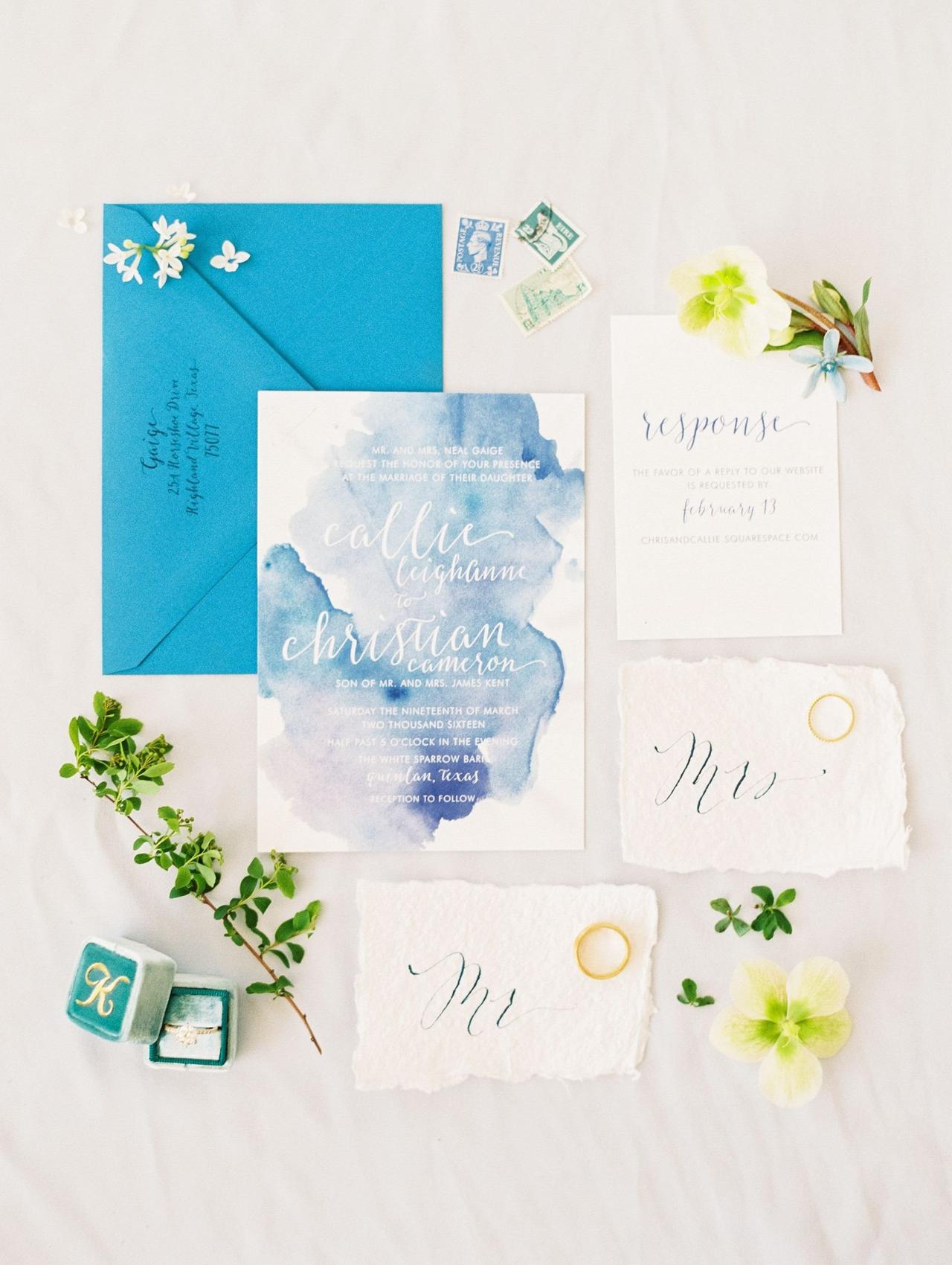 Image: Pinterest
Step One
If you're using paint from the tube, squeeze a little of each colour out onto a piece of card – this will make mixing a lot easier!
Step Two
Wet your paint brush thoroughly and then dip into the colour you've chosen. If you're mixing colours for a two-tone effect, dab some of the original colour into the secondary colour with the wet brush.
Step Three
Liberally apply the watered down paint from your brush onto the card in a zig-zag motion, allowing the colour to be more pigmented in places. Dip the wet brush into unmixed colour if you'd like more of that shade and remember to avoid being too neat – it's all about looking effortless!
Step Four
For an added effect, dip your brush into unmixed colour and use your finger to flick the paint over what you have already applied. Then leave to dry and ta-da! Instant, arty invites that will impress your guests!
2. Hand-Painted DIY Wedding Invitations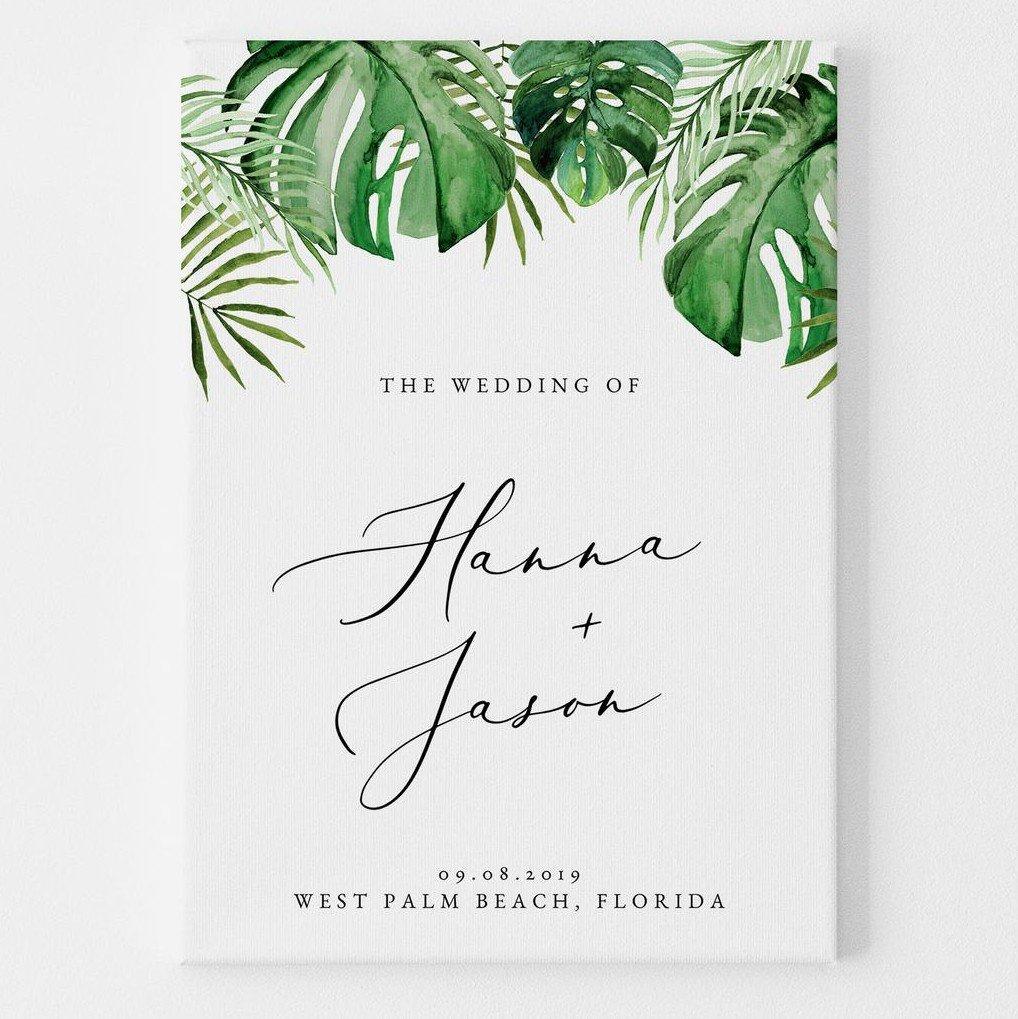 Image: Pinterest
If you've got an artistic flair, why not set to work making some hand-painted invites? A step up from watercolour splashes, these invites will involve some careful design work on your behalf as well as careful attention to detail.
You Will Need
Good quality acrylic paints
Brushes in a range of sizes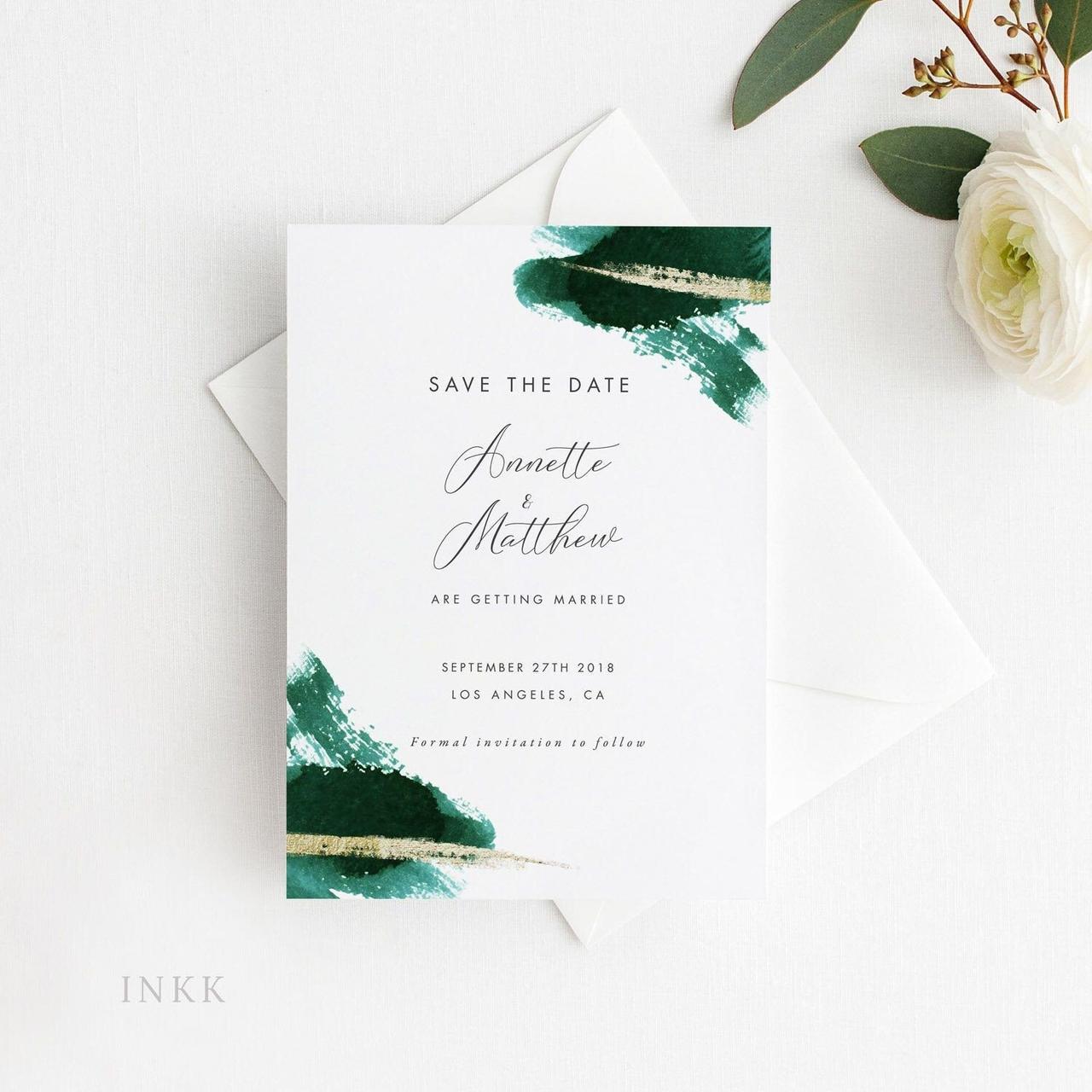 Image: Pinterest
Step One
Decide on a design that will complement the theme of your wedding and be easy to achieve given your individual skillset. If you want to have a go at designing something a little more tricky like the leaf design above, grab a piece of scrap paper and have a few test runs first.
Step Two
Use a fine paint brush to draw on the designs you've chosen. Leave the first stage of your painting to dry, and then come back and add details and different shades.
Step Three
Leave to dry and you're done! If a design is a bit hard, you could always attempt a simple brush stroke design like the one above with your paints. Use different sized brushes to add random brush strokes to corners and layer over metallic shades for an effortless look that you can still say you hand-painted!
3. Calligraphy DIY Wedding Invitations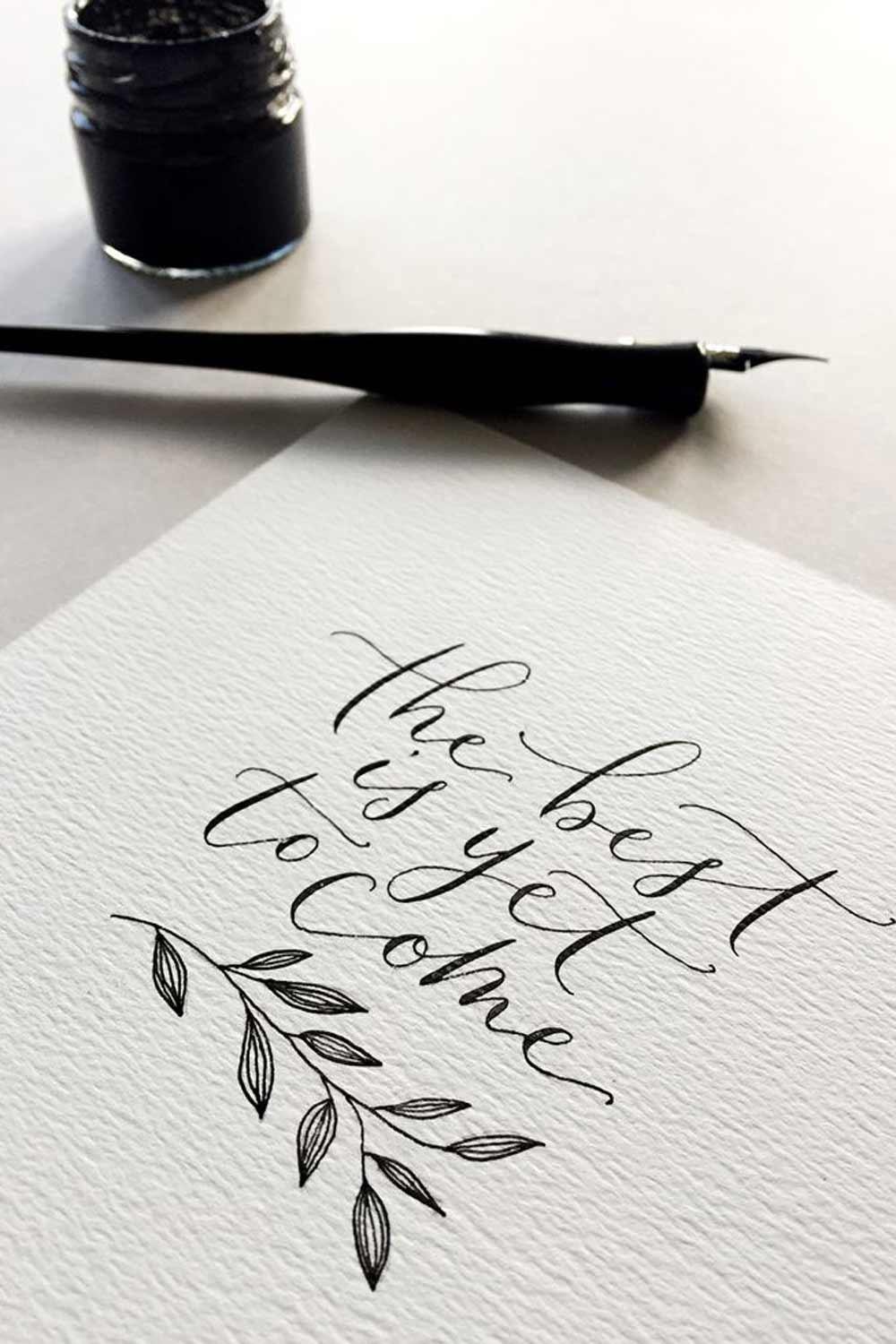 Image: Pinterest
If the entire design of your wedding stationery isn't something you're comfortable doing yourself, why not take up calligraphy? It's the perfect way to add some DIY into your wedding invitations, especially if you're going for an elegant and sophisticated theme. We've got a great tutorial on doing modern brush pen calligraphy for your day and it looks amazing on everything from invites to place cards.
You Will Need
Some modern calligraphy pens in the colour of your choice
High quality, bleedproof card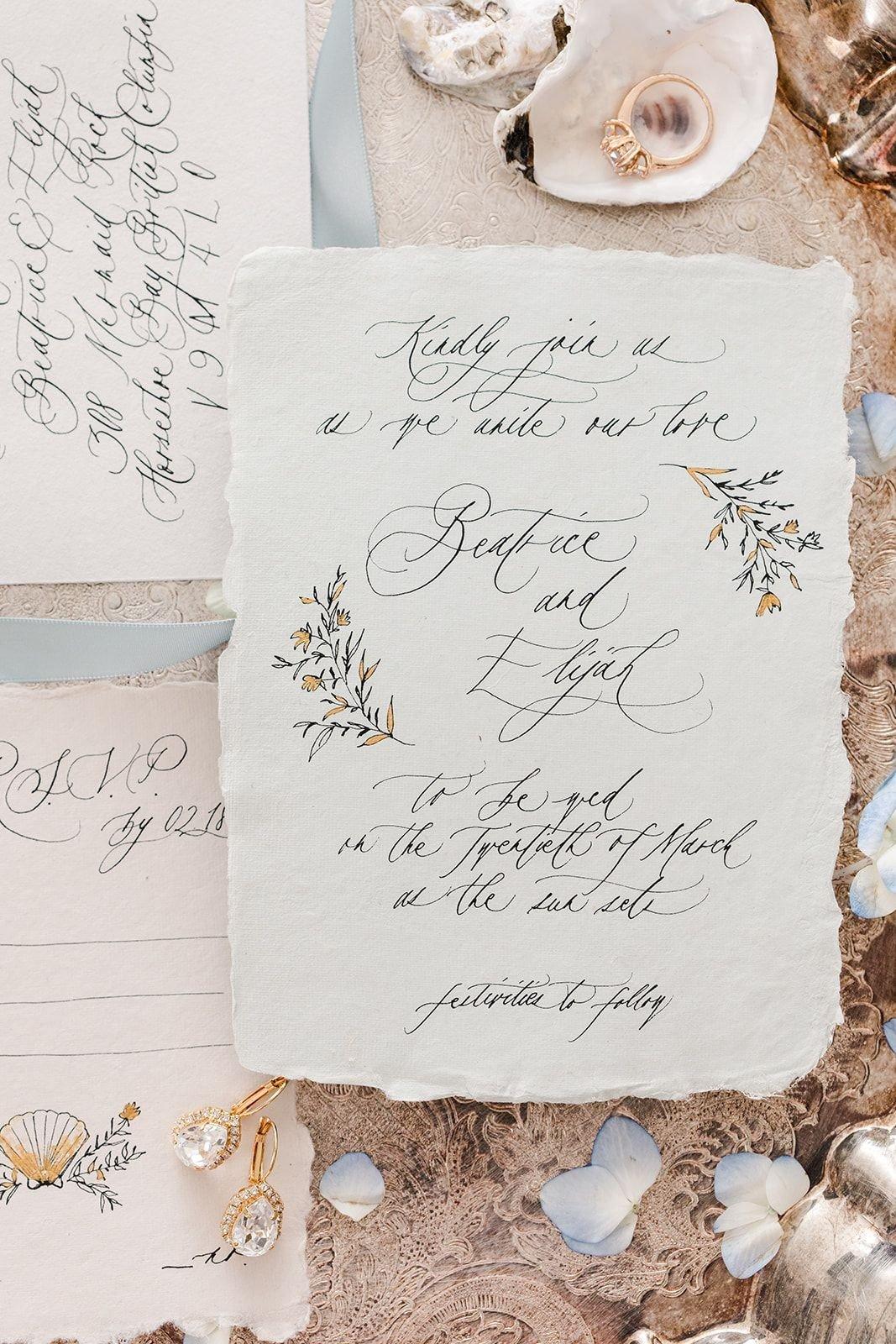 Image: Pinterest
Step One
Head to the Hitched Instagram page for our beginners calligraphy tutorial. Watch it as many times as you need to before using a piece of scrap paper to begin writing the alphabet. Continue to practise until you've built up the muscle memory required to write each letter effortlessly and combine the tail of each letter to make the words appear joined up.
Step Two
Use a pencil to sketch out the rough outline of the placement of your letters.
Step Three
Carefully add your letters with your calligraphy pen, ensuring each letter is in proportion with the next. If you've practised each name or sentence before you begin writing, you can have it next to your card to use as a reference as you write.
READ MORE: How to Do Modern Calligraphy for Your Wedding: Your Step-by-Step Guide to Brush Lettering
4. Ribbon DIY Wedding Invitations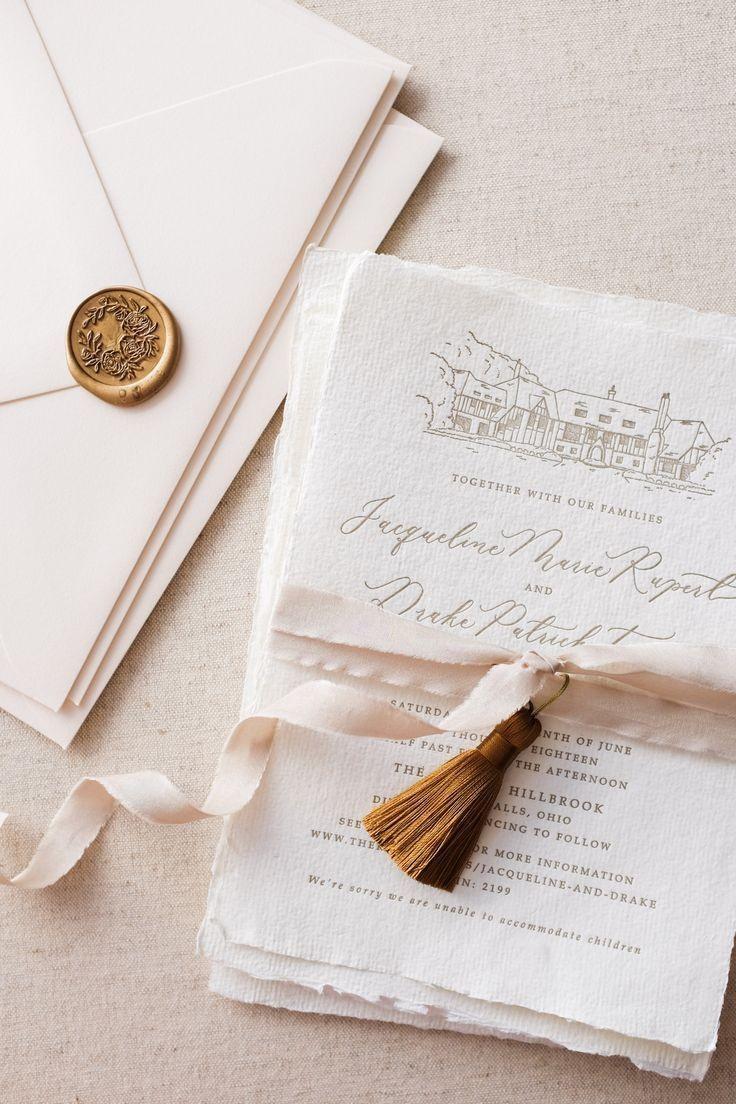 Image: Pinterest
A ribbon or bow is a great addition to existing invites for those who aren't feeling too confident with their crafting skills! It's a really clever way to incorporate your wedding colour scheme or theme too.
You Will Need
High quality ribbon or thread that matches your colour scheme
Fabric scissors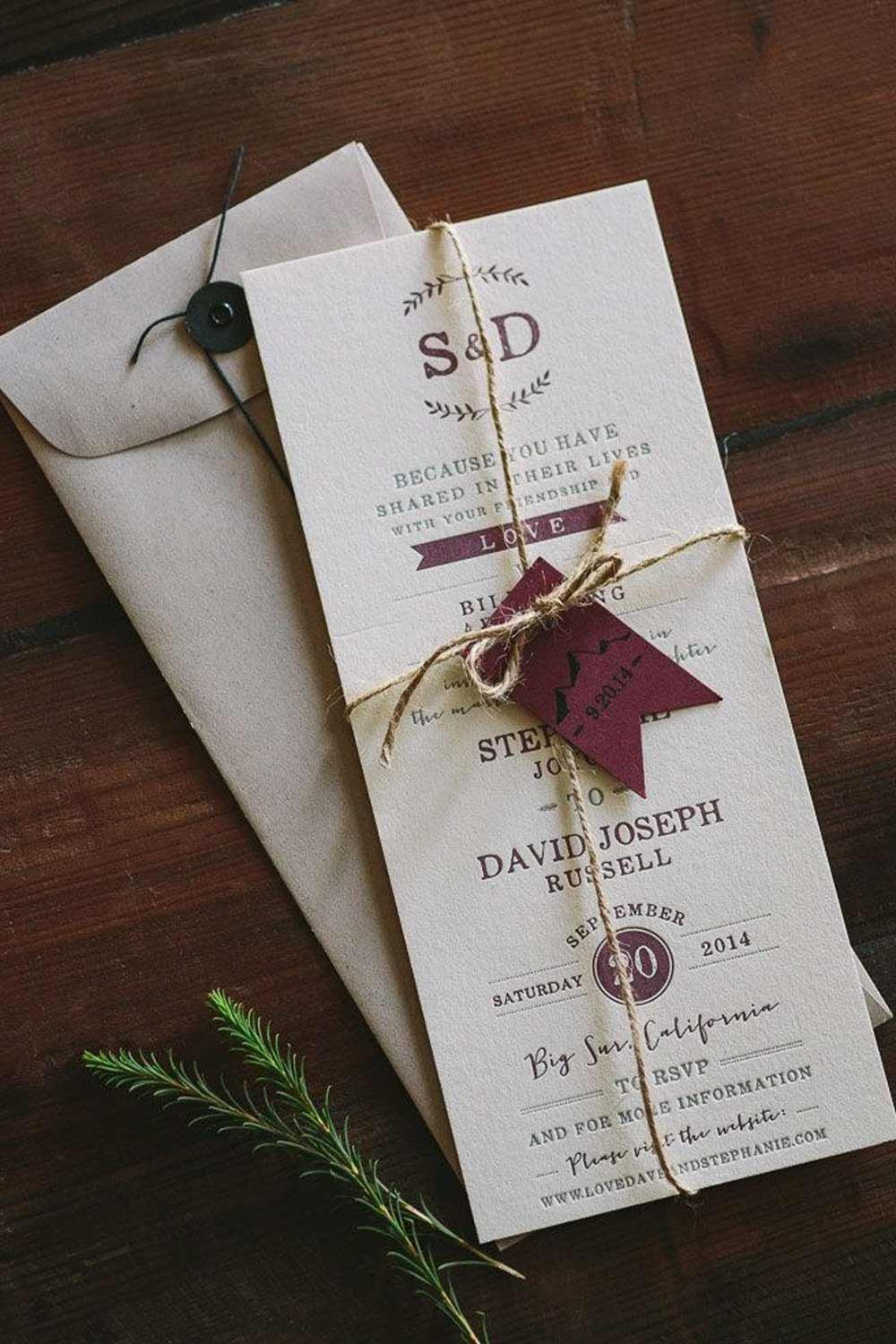 Image: Pinterest
Step One
Before you cut your ribbon or thread, play around with how you would like to tie it to your invitations. You can choose to tie it straight around the middle, parcel-style, or thread it through a hole in the card. Once you're happy, trim the ribbon or thread, making sure to cut the ribbon diagonally across to avoid fraying.
Step Two
Tie the bow or knot and incorporate any tags or tassels you want to add before you tighten it. Easy!
READ MORE: Elegant Wedding Stationery
5. Real Flower DIY Wedding Invitations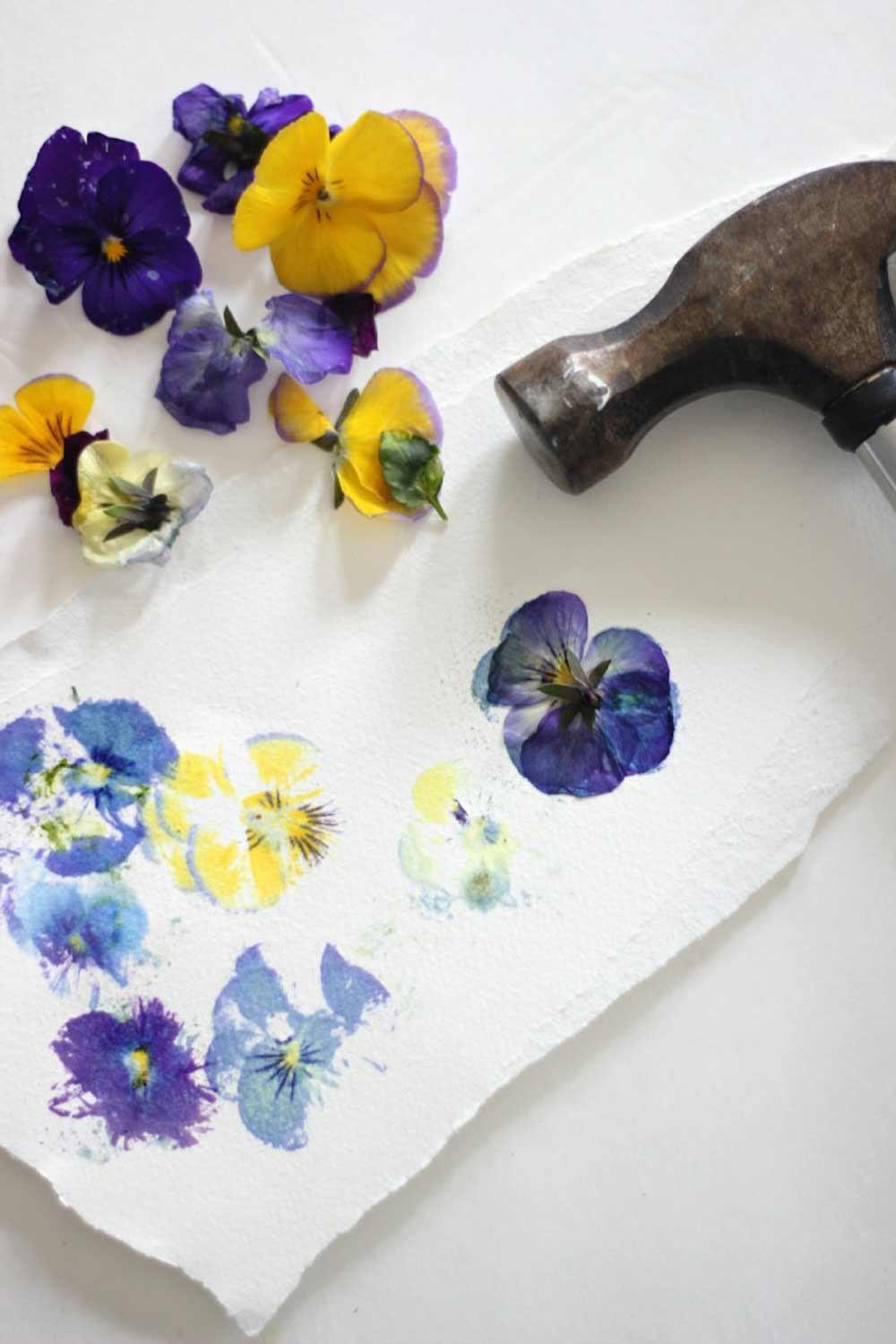 Image: Pinterest
If you're looking for ways to incorporate more flowers into your wedding, why not consider using dried or pressed flowers in your wedding invitations? This is such a nice way to turn shop-bought or printed wedding invitations into something totally unique.
You Will Need
Dried or fresh flowers of your choice
A hammer
String or wax seals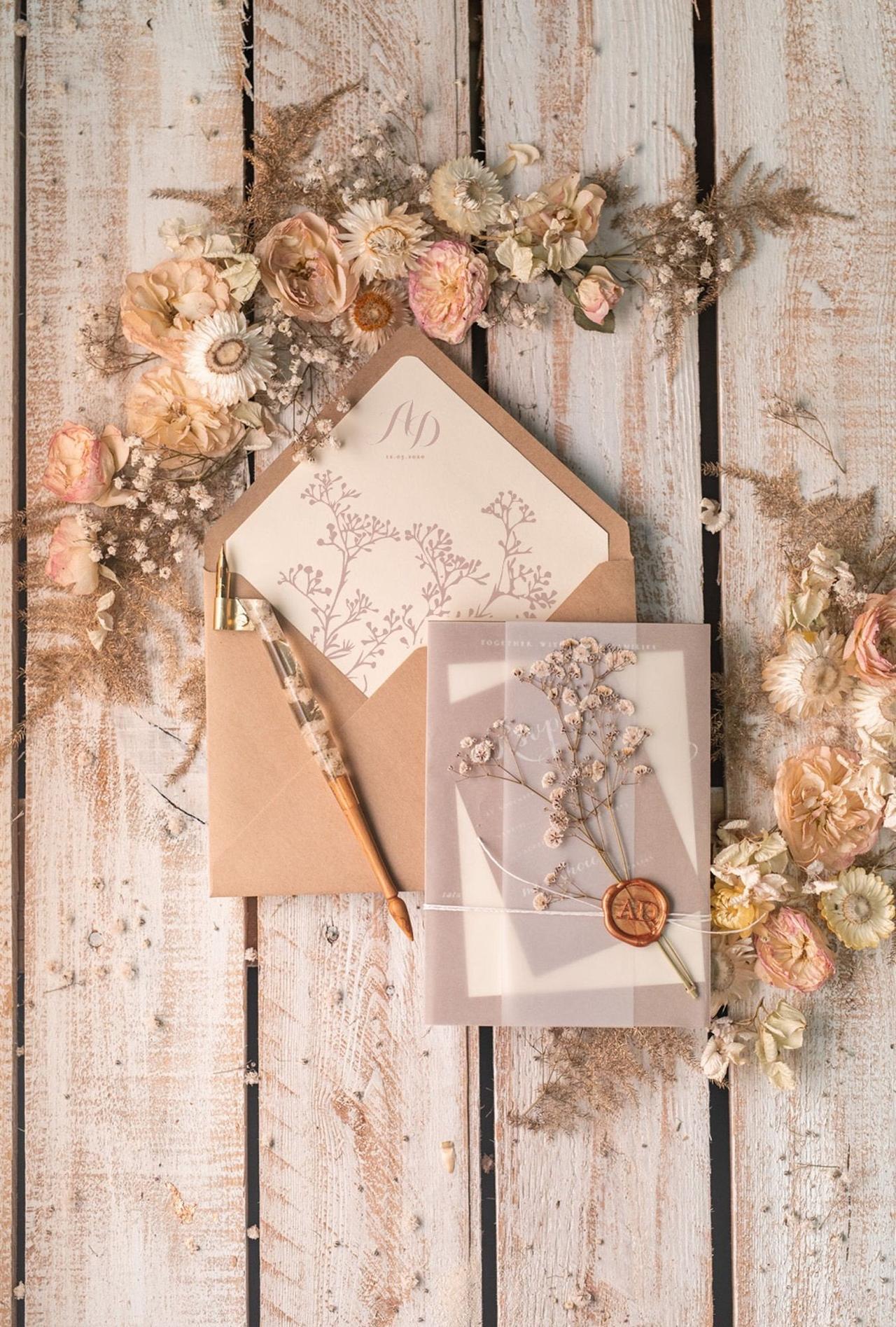 Image: Pinterest
Step One
For the hammered fresh flowers, pull the heads of your chosen flowers from their stems and place them where you would like them on the card (watercolour card works best).
Step Two
Once you're happy with the pattern of the flowers, use a hammer to press them into the card until they're completely flat and the natural colours transfer.
Step Three
Peel the flowers away et voila! You have floral prints. If you can't quite bring yourself to pull apart and hammer your blooms, you could always use small sprigs of dried florals and tie them or wax seal them onto your invites!
READ MORE: Floral Wedding Invitations
6. Gold Leaf DIY Wedding Invitations
Add some glamour to your wedding stationery with gold leaf. It's easy to buy online and will give your gorgeous wedding invitations instant opulence.
You Will Need
Gold leaf flakes or gold paint
Crafting glue
Dried leaves
Step One
Arrange your dry real leaves onto the card to get the right placement.
Step Two
Once you're happy with your placement, dip or paint the leaves into your gold paint and gently press them onto the card in the places you've decided on. It doesn't matter if the full surface doesn't transfer to the paper – a slightly unfinished look is what you're aiming for!
Step Three
Leave to dry and you're done! If you don't fancy getting out the paints, you can always just add some craft glue to the corners of your invitations and press on some gold leaf flakes for some effortless glam.
READ MORE: The Best Glittery Wedding Stationery
7. Envelope Liner DIY Wedding Invitations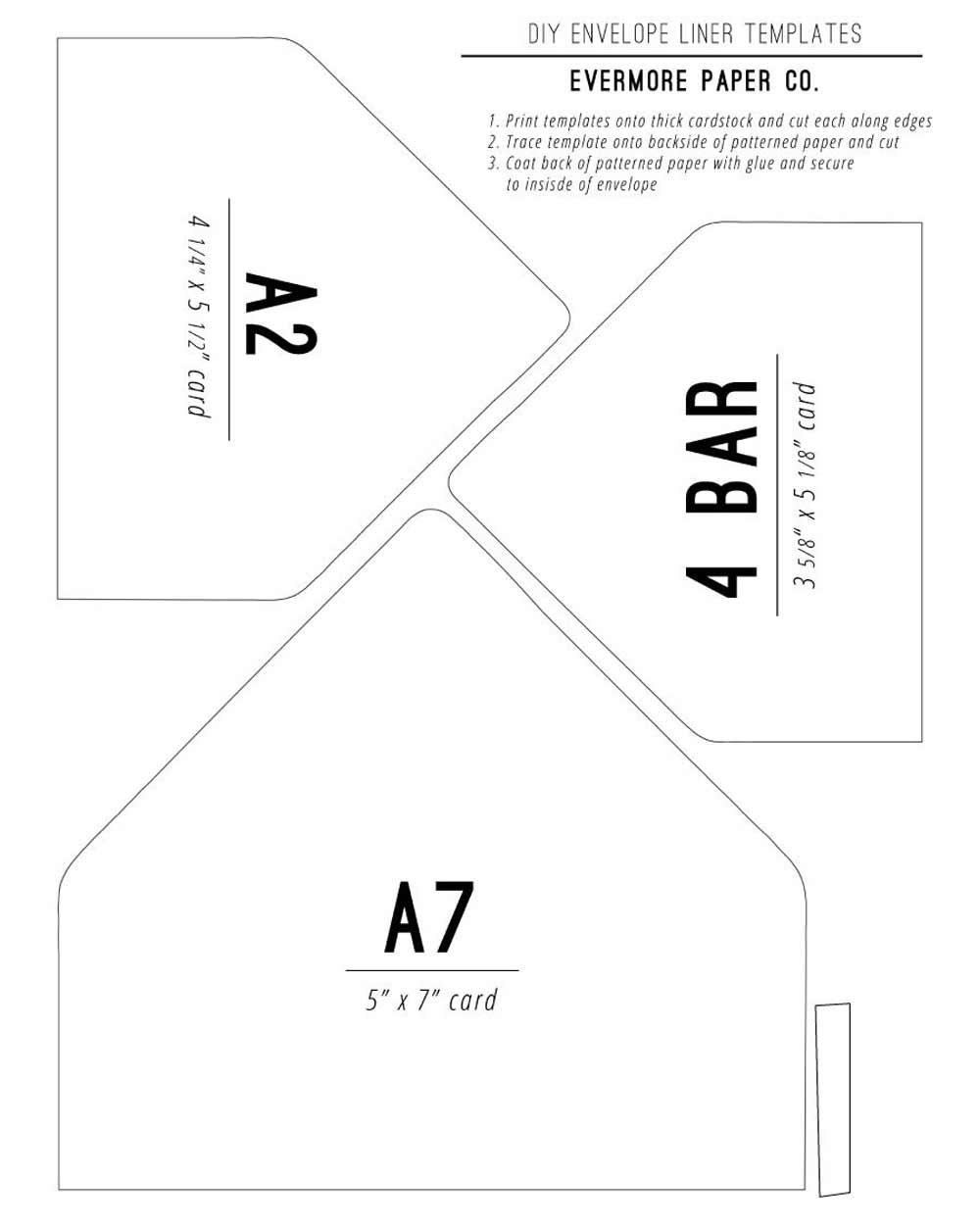 Image: Pinterest
If DIY wedding invitations aren't quite your thing, why not give making your own envelope liners a whirl? It adds a personalised touch without you having to paint or draw anything. Templates like the above are so easy to follow.
You Will Need
Envelopes that fit the liner size you have chosen
Some pretty paper that matches your wedding theme
Scissors
Glue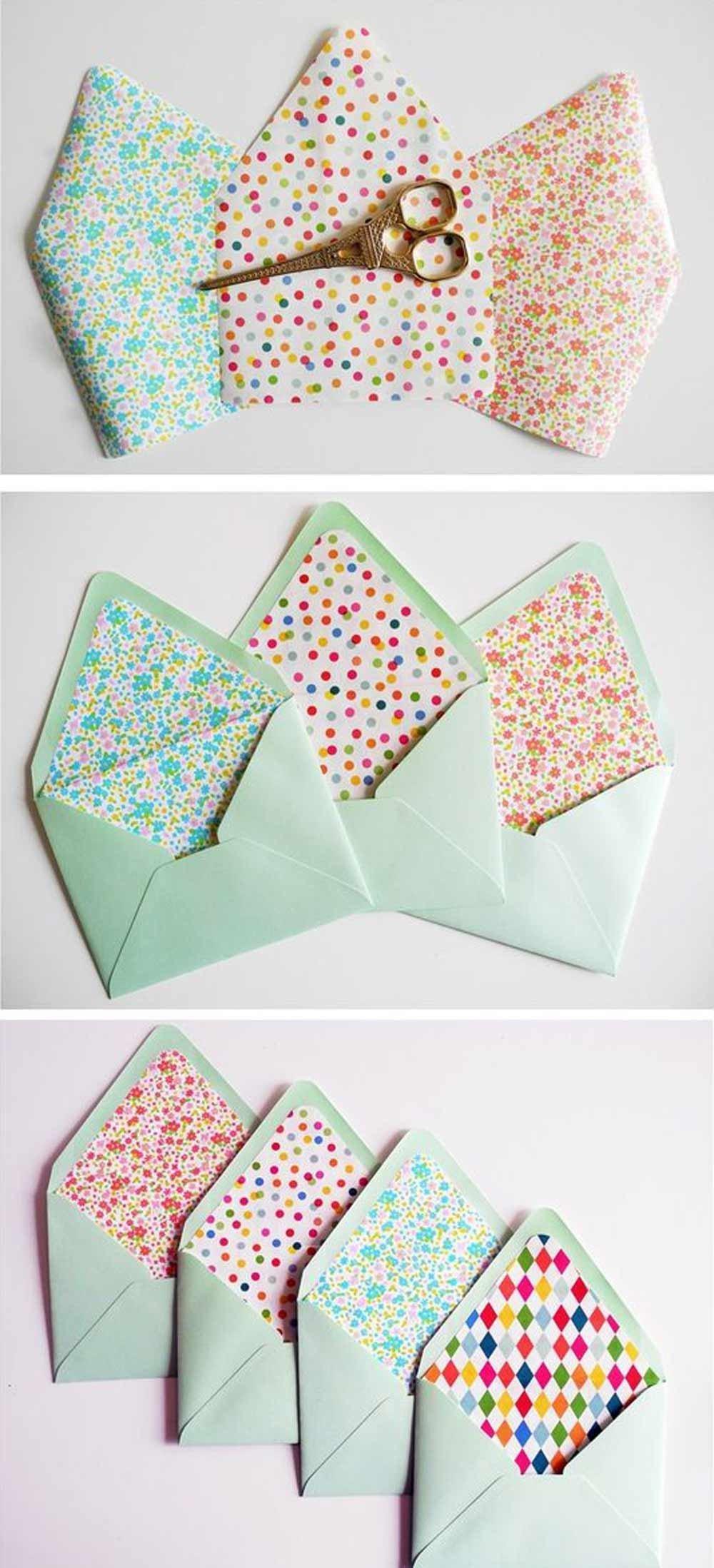 Image: Pinterest
Step One
Print the envelope liner templates above and cut them out.
Step Two
Place the template over a sheet of your chosen liner paper, trace around the edge and cut them out your patterned paper.
Step Three
Use a pritt stick to apply a light layer of glue across the back of your liner (make sure you go right to the edges!) and carefully press it onto the inside of the envelope. Make sure it's totally dry before slotting your invites inside to avoid them getting accidentally stuck down.
READ MORE: Vintage Wedding Invitations
8. Stamp DIY Wedding Invitations

Image: Pinterest
One way to add a DIY touch to your wedding invitations without having to get messy with paints or glue is to use a personalised wedding stamp. You can make stamps easily yourself with foam and ink, or purchase one with your initials or wedding date on.
You Will Need
Some stamp foam
Scissors or craft knife
A printer
Ink in the colour of your choice
Spray glue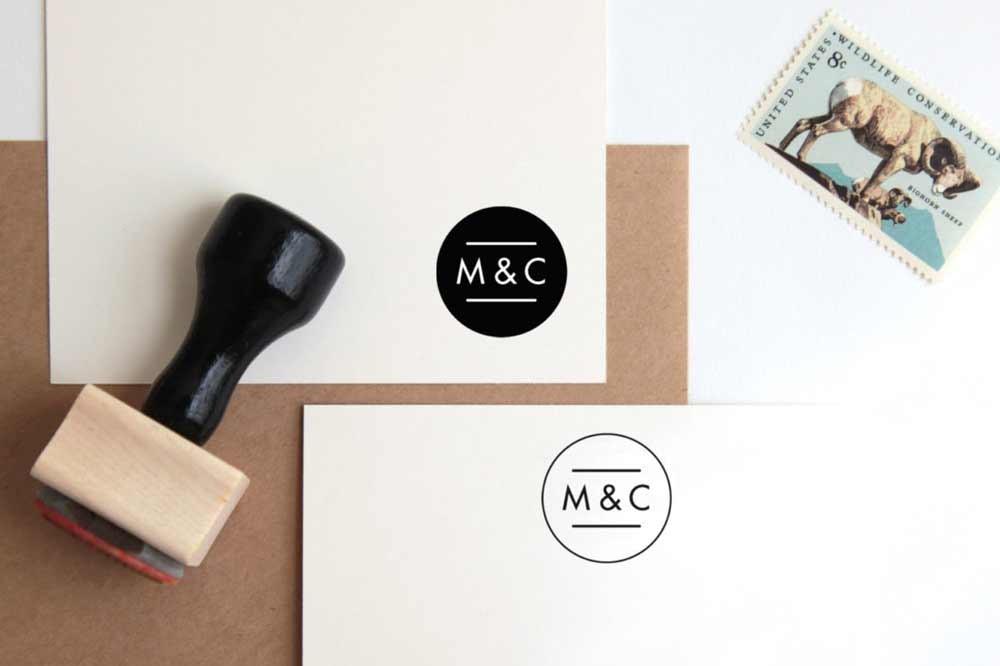 Image: Pinterest
Step One
Print out (or draw if you can!) your design in the size that you would like your stamp. Your design could be your initials or a more intricate design.
Step Two
Roughly cut out your design, so if its initials just cut the excess paper away from around them, and then use the spray glue to stick them to your foam.
Step Three
Carefully cut out your design. Letters will need to be individually cut out.
Step Four
Glue the letters or design onto your wooden stamper or a piece of cork and once they're dry, you can dip them into your ink and apply your personalised stamps to your stationery!
READ MORE: The Best Wedding Stamps
9. Wax Seal DIY Wedding Invitations
A wax seal is another easy finishing touch for those of you who are new to wedding DIY. They're cheap, simple and create a regal impression that will impress your guests!
You Will Need
A tealight
Sealing wax
A teaspoon
A stamp of your choice
Step One
Make sure your stamp is completely cool. Next, put some of your sealing wax onto a teaspoon and hold the teaspoon over a lit tealight. Gently allow the wax to melt to the point that it's completely smooth.
Step Two
Gently pour the wax over the point of the sealed envelope – try to pour it in a rounded shape.
Step Three
Take your stamp and press it into the wax. Let it mostly set and then lift it straight up without dragging the wax.
10. Cut Out Design Wedding Invitations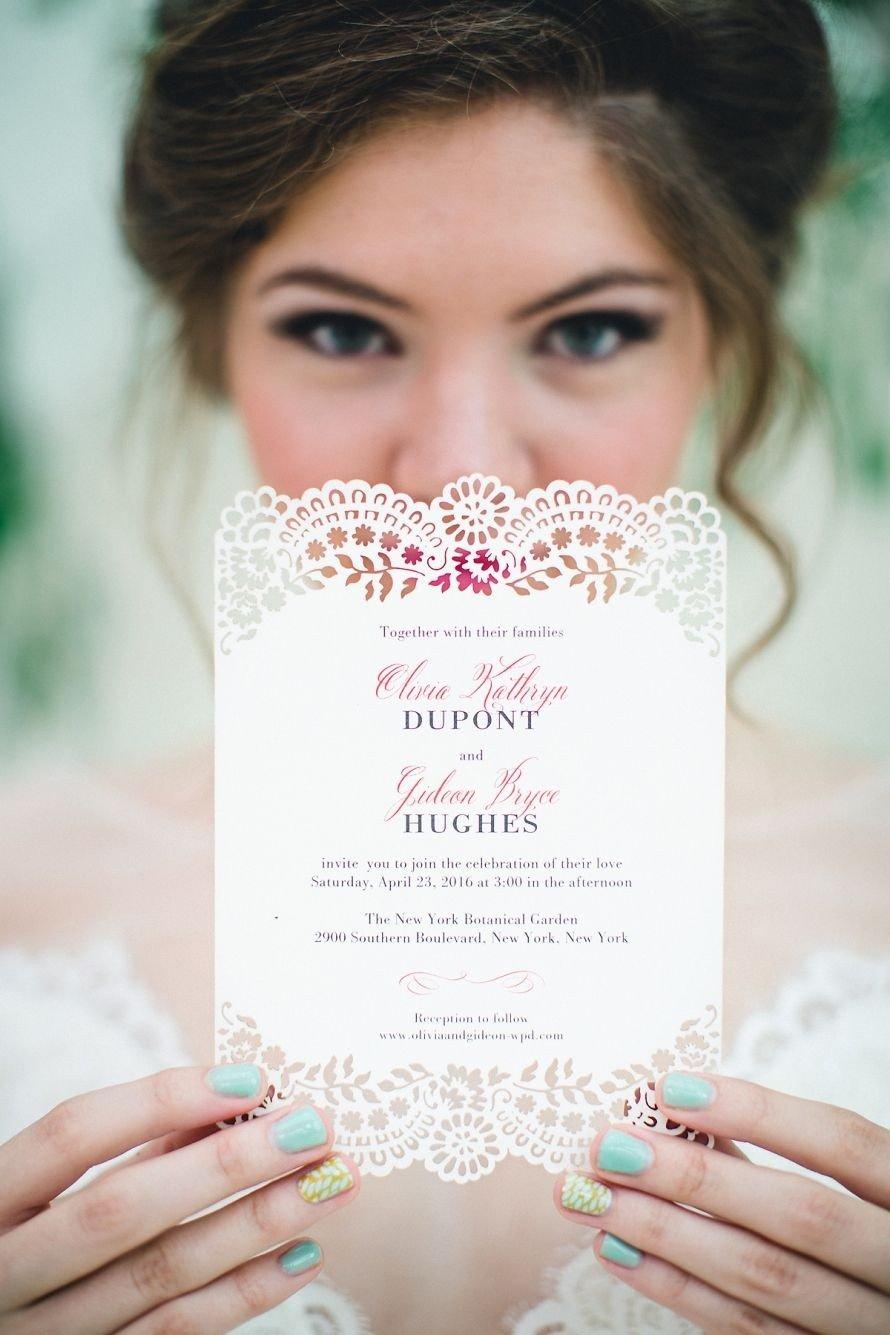 Image: Pinterest
A super simple way to make your mark on your shop-bought or printed invites is to use a pattern cutter to make a cute trim or cut-out design along the edges of your stationery.
You Will Need
A pattern cutter or punch
High quality card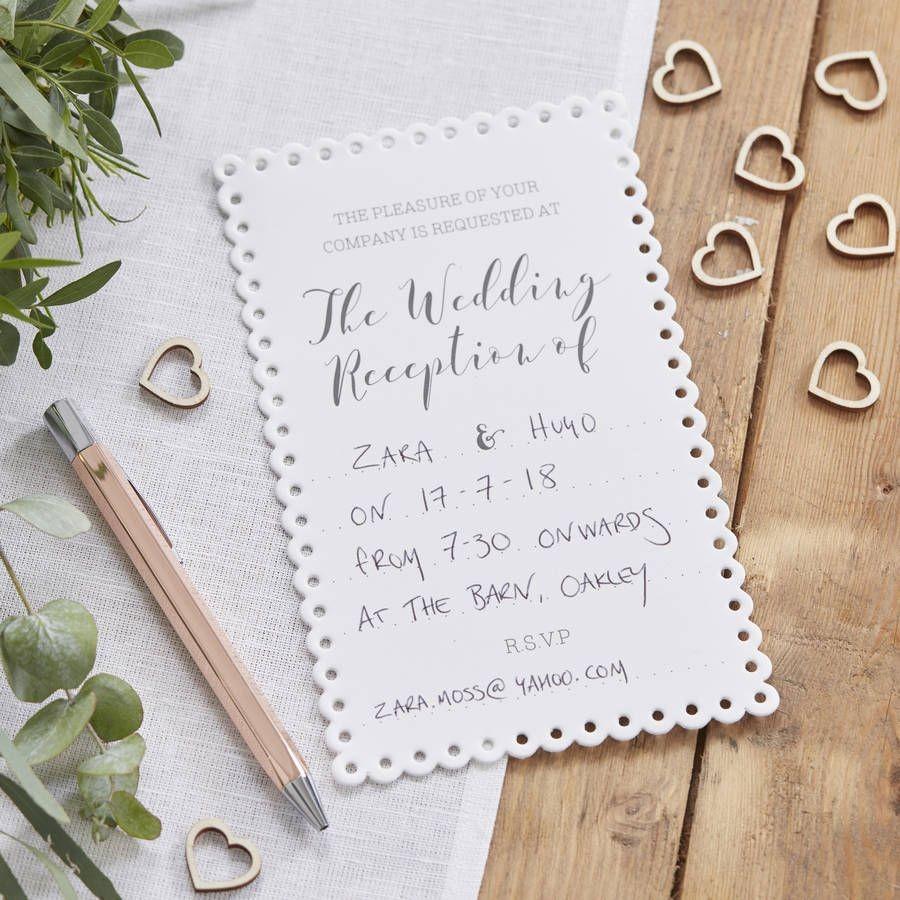 Image: Pinterest
Step One
Decide on how you would like your invitations to look. Perhaps you'd like to take the cut-out design all the way around the outside or just keep it at the bottom? If you're experienced at paper cutting, you can print out more intricate designs to use as a template.
Step Two
Carefully use your pattern cutter to go around the edge and clamp the card like a hole punch. Make sure that the pattern is evenly spaced and you've got the cutter lined up in the right place before pressing down.
For more wedding stationery inspiration, check out our round up of the best botanical wedding invitations – it's such a big trend right now!