How Much Do Wedding Invitations Cost?
Wondering how much wedding budget to set aside for your invites? We chatted to the experts who told us how much couples spend on average, plus their top tips for getting a luxe look for less.
We have included third party products to help you navigate and enjoy life's biggest moments. Purchases made through links on this page may earn us a commission.
We'll level with you, asking how much wedding invitations cost is kind of like asking 'how long is a piece of string?'. That's due, in part, to the sheer level of options available.
When it comes to wedding invitations, the choices are endless. You can send out anything from pre-made cards with popular designs to custom pieces with foiled lettering or even eco-friendly digital invites sent via email.
With so many options on offer it can be tricky to guess how much your wedding stationery will cost and how much of your budget you'll need to allocate to your invites.
To help give you an idea, we chatted to some wedding stationery designers and put together the guide below to help you figure out how much you might need – and how you can save ££s.
READ MORE:
What's the Average Spend for Wedding Invitations?
How much couples spend on wedding invitations can vary depending on the type of invitations they want and the number of guests they're sending them out to, but to get an idea of average spend we chatted to Becky Doherty, Creative Director at Rodo Creative: "The average amount we see couples spend on wedding stationery is around £300 for an invitation package. This could include a bespoke invitation, information card and an RSVP card with quantities around the 40/50 mark."
What Factors Will Affect the Cost of Wedding Invitations?
There are plenty of factors that can drive up the cost of wedding invitations such as bespoke designs, the printing method used and any added accents – all of which can mean a difference of 100s of pounds.
1. Bespoke Designs
'Off the shelf' designs are much cheaper as stationers can simply input your details into the template that already exists and print them out. Bespoke designs may take hours of the stationer's time and involve sending proofs over to you for approval before finalising and printing, meaning you'll pay more in labour costs.
You'll also pay more for selecting heavy duty paper or paper with a pearlescent sheen while flat matte papers tend to cost less. If you have a particular look in mind when it comes to paper, it's worth factoring that in with the cost of bespoke design. While the difference per sheet will be pennies, it soon adds up.
2. Printing Methods
There are a range of different printing methods that can be employed when creating wedding stationery and they each differ in look and price:
Digitally printed invitations are the most budget friendly as they involve creating the file on a computer and allowing the printer to mix the colours and simply print them onto the paper or card with no indents.
Offset printing offers a similar flat look to digital printing but with a higher quality and more vibrant finish achieved using a rubber stamp-like cylinder that presses the ink onto the paper. Offset printing is slightly more expensive than digital printing.
Engraved printing is the most expensive printing method as it uses a metal plate etched with a design and filled with ink that is then pressed onto the back of the paper using over 1,000 kg of pressure to create a raised look.
Thermography mimics the look of engraved invitations and involves using ink and powder deposited on top of the paper to create a raised look, it's more expensive than digital printing but only by a fraction.
Letterpress involves using a raised surface, likes a plate, etched with letters or images that is then coated with ink and pressed onto the front of the paper to leave an indented impression. As a labour intensive printing method, you can expect to pay more for letterpress than thermography or digital printing.
Foiled lettering is created using a similar method to letterpress. A heated copper plate is used to push the foil into the paper and leave an impression. Again, as the process is quite labour intensive, foiling tends to be pricier than other printing methods.
Jo Crum, Owner of Crum&Co., explained how these methods can affect cost: "In terms of cost, at one end of the scale you have digitally printed, semi-custom invitations (where the design is fixed but the text and colours can be changed), which start at around £120.
"At the other end of the scale is foiled and letterpress, custom invitations (so a bespoke design), which start at around £500. Extras like envelope addressing will also add to the cost."
If you love the idea of something like foil stamping but not the idea of parting with 100s of pounds, there are ways of incorporating it without breaking the bank. It's always worth going to your preferred stationer with a vision and budget in mind and seeing what they can come up with.
"Crum&Co. offer a range of pre-foiled semi-custom stationery, (where the generic details are foiled and then the customer-specific information is digitally printed on), which start at around £135. This is a great way to include the beauty of foiling on your stationery at a fraction of the usual cost."
If you're on a really tight budget, Becky suggests making the most of your invitation cards with a digital print that can be used on both sides – note that indented designs will not be suitable for this – or even sending invitations digitally: "We recommend adding double sided options to your invitations to save on paying for additional information/RSVP cards. Also, we are now offering digital files which you can email to guests. This cuts the costs down massively as there are no print fees included."
READ MORE: Wedding E-Vites: Digital Wedding Invite Wording & Ideas
3. Design Accents
The more detailed your wedding invitation designs become, the more they will eat into your budget so it's wise to read up on the different kinds of add-ons available and consider whether or not they're a must for you.
Here are some of the most popular wedding invitation add-ons:
Debossing and embossing are achieved using a similar process to letterpress but without the ink. Basically, stationers use a press to create an indent in the paper, known as debossing, or to create a raised pattern, known as embossing. This method is usually used for small patterns or monograms and, like letterpress, can be pricey due to the labour involved.
Edging is a method used to paint the edges of an invitation to create a more luxe look. Think gold edged pages in books and you're along the right lines. You can expect to pay around £100 more on top of your invitation package for this.
Wax seals have a traditional and formal look, but they can add around £200 to the overall cost of your wedding invitations.
Belly bands and twine wraps used to keep invitations, RSVPs and information cards together can add around £1 to the cost of each invitation.
READ MORE: 10 Creative and Gorgeous DIY Wedding Invitation Ideas
What Can You Get for Your Budget?
£0-£100
In this price bracket you'd be looking at pre-made designs digitally printed on kraft paper with few customisable options besides your names, the date and location. Tip: if you're up for getting creative, you can use DIY wedding invitation ideas to customise existing designs and create a luxe look for less.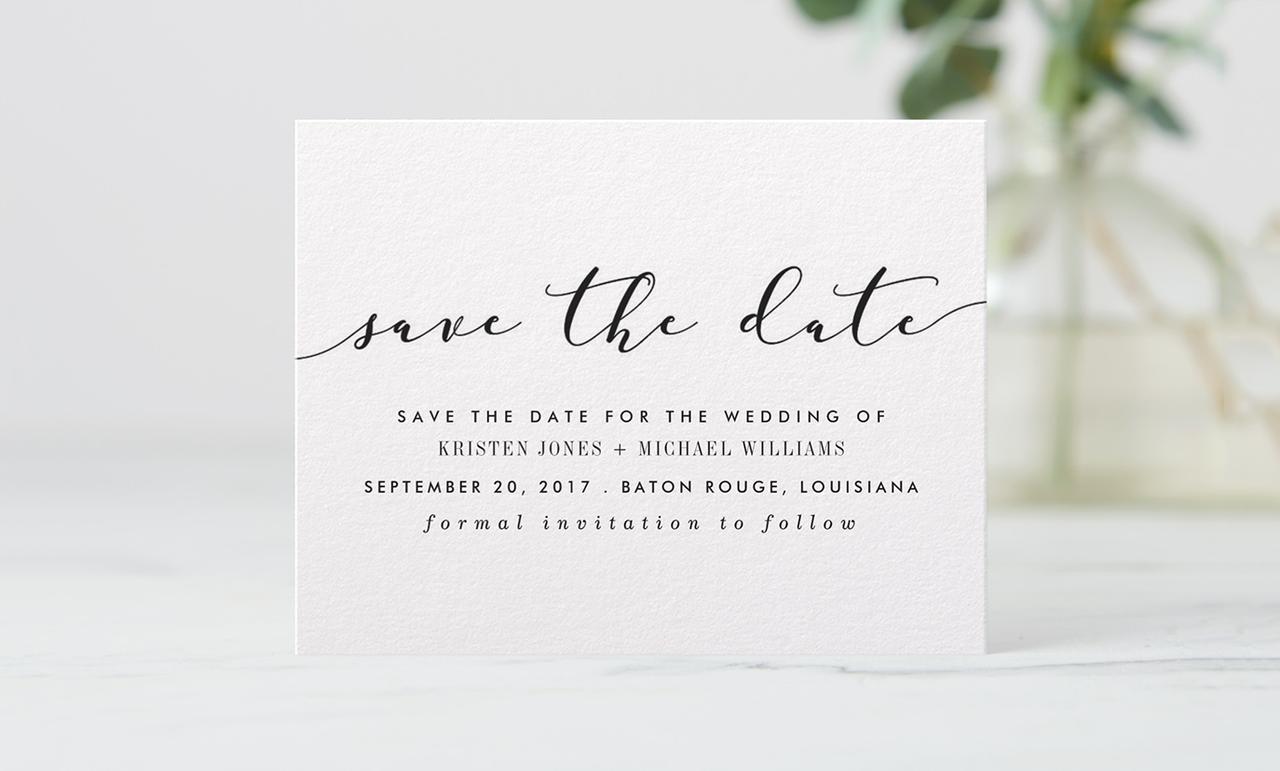 £100-£200
Spending between £100 and £200 will allow more room for customisation of pre-made designs as well as an embellishment or two. According to Jo, at Crum&Co. you can get a digitally printed set of invites incorporating the colours of your choice from around £120 and digitally printed invites with pre-foiled generic lettering, like the one below, from approximately £135.
£200-£400
At this price point you can get a bespoke design including information and RSVP cards from around £300, according to Becky from Rodo Creative. If you have a little more room in your budget you can think about adding an extra detail such as embossing or debossing, painted edging or twine wrap.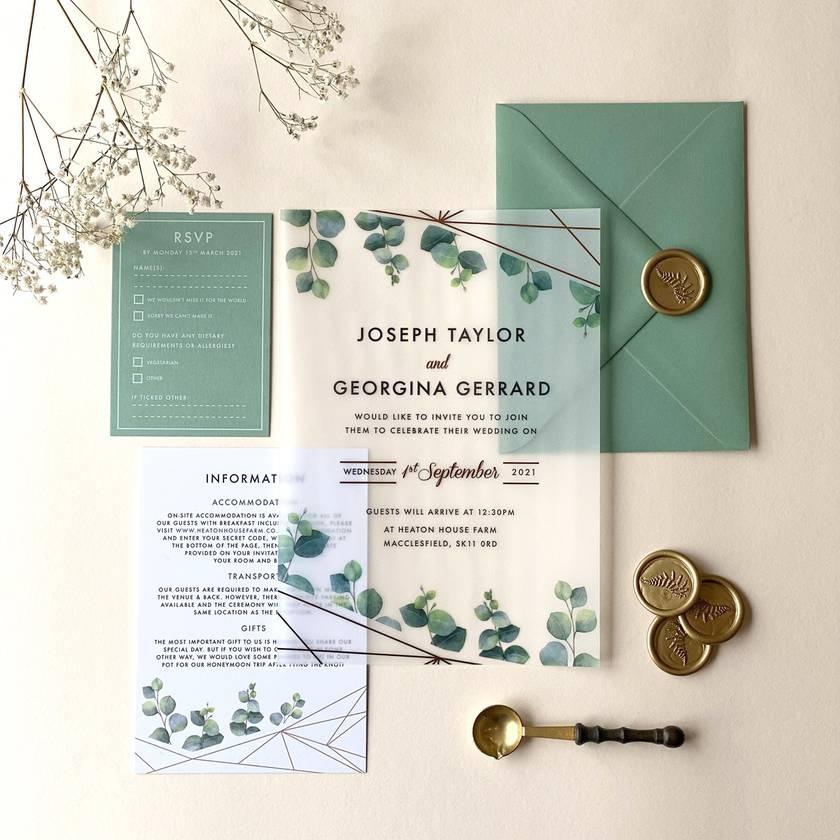 £400-£500
With a stationery budget between £400 and £500 you can move away from digital printing and choose more pricey methods such as thermography and offset printing. You can also opt for pearlescent paper and additional details such as addressed envelopes and wax seals.
£500 & Over
For £500 or more you can get bespoke letterpress, foiled and engraved designs with embossed or debossed patterns, painted edges, wax seals, ribbons and belly bands. Basically, if you're a stationery enthusiast and want to go all out with your invites then this is how much you'll need to allocate to get all of those high-end features in.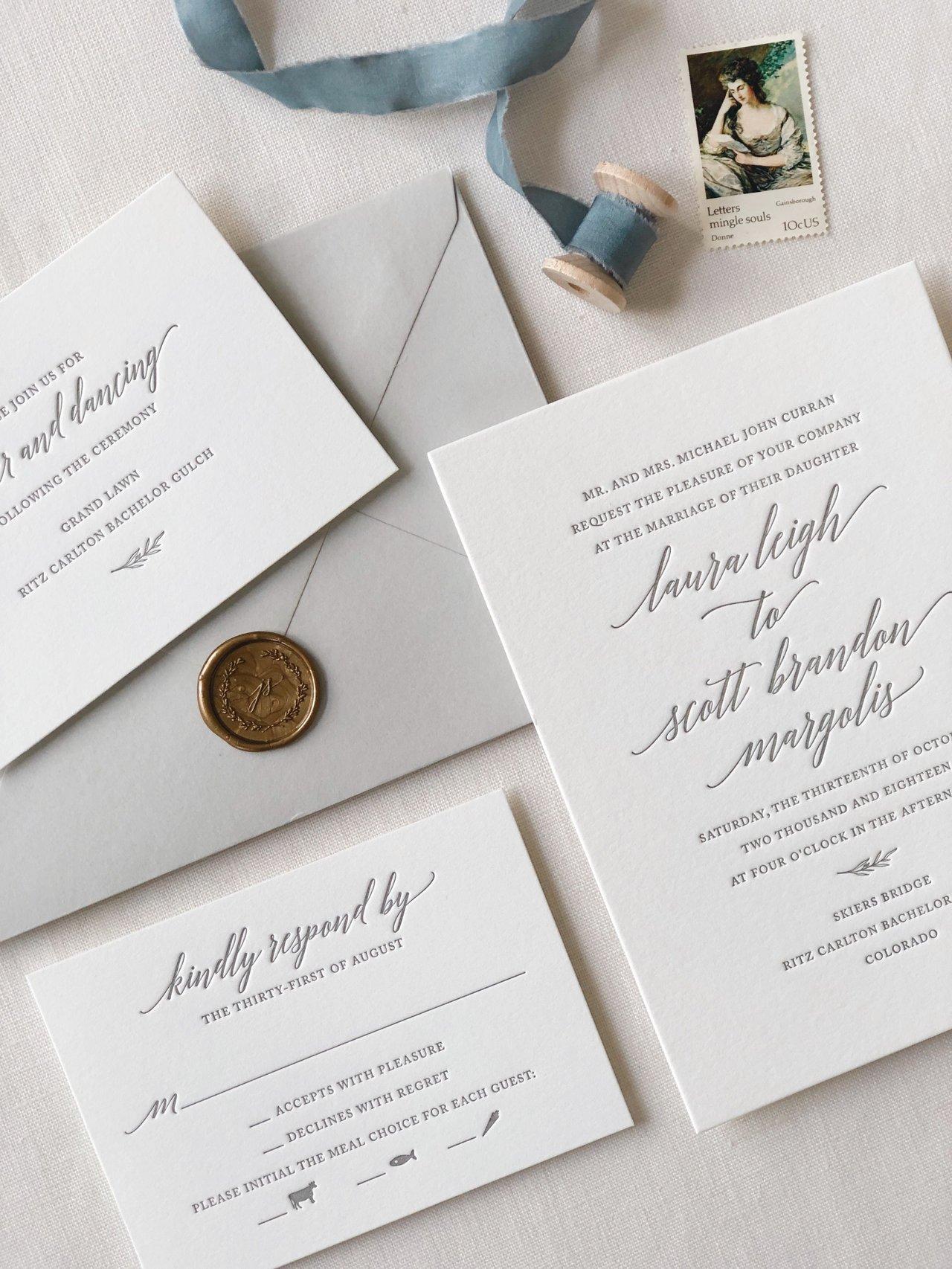 If all this talk of RSVP cards has got you feeling confused, check out our article answering all of your burning question including What Does RSVP Mean?