How Much Do Wedding Invitations Cost? We Asked the Experts
Wondering how much wedding budget to set aside for your invites? We chatted to the experts to find out how much wedding invitations cost
We'll level with you, asking how do much wedding invitations cost is kind of like asking 'how long is a piece of string?'. That's due, in part, to the sheer level of options available.
When it comes to wedding invitations, the choices are endless. You can send out anything from pre-made cards with popular designs to custom pieces with foiled lettering or even eco-friendly digital wedding invitations sent via email.
With so many options on offer it can be tricky to guess how much your wedding stationery will cost and how much of your budget you'll need to allocate to your invites.
To help give you an idea, we chatted to some wedding stationery designers and put together the guide below to help you figure out how much you might need – and how you can save money on your wedding stationery, if you need to.
What's the Average Cost of Wedding Invitations in the UK?
How much couples spend on wedding invitations can vary depending on the type of invitations they want and the number of guests they're sending them out to, but to get an idea of average spend we chatted to Becky Doherty, Creative Director at Rodo Creative: "The average amount we see couples spend on wedding stationery is around £300 for an invitation package.
"This could include a bespoke invitation, information card and an RSVP card with quantities around the 40/50 mark."
This tallies with our average cost of wedding data, which reveals that couples are - on average - spending £300 on stationery and paper goods. This number includes a number of variables though, including those who print their own wedding stationery, and use things like wedding e-vites as well as traditional wedding stationery.
Gillian Angus from Bee Invited also sheds some light on the question of how much do wedding invitations cost: "Our wedding invitations typically cost around £150-200 for 50 invitations (100 guests) and for 75 invitations (150 guests) is £200-250."
What Factors Will Affect the Cost of Wedding Invitations?
There are plenty of factors that can impact the average cost of wedding invitations such as bespoke designs, the printing method used and any added accents. The more time it takes for the stationer to create it, the more the wedding invitations cost.
1. Bespoke Designs
'Off the shelf' designs are much cheaper as stationers can simply input your details into the template that already exists and print them out. Bespoke designs may take hours of the stationer's time and involve sending proofs over to you for approval before finalising and printing, meaning labour costs will need to be factored in.
You'll also pay more for selecting heavy duty paper or paper with a pearlescent sheen while flat matte papers tend to cost less. If you have a particular look in mind when it comes to paper, it's worth factoring that in with the cost of bespoke design. While the difference per sheet will be pennies, consider how much more you'll need to budget if you're planning on 100 invitations.
Gillian says, "Bespoke design is usually the most expensive as you are commissioning a designer to create something unique to you. You need to allow around 5-6 months for a fully bespoke design so bear this in mind."
Nina Jackson from The Liquid Letter says: "The most cost efficient option of wedding invitations are semi custom designs. If you can find something you love within an already designed invitation suite, then you are really saving money. The designer just needs to add your details and personalize them and they go off to print."
2. Printing Methods
There are a range of different printing methods that can be employed when creating wedding stationery and they each differ in look and price:
Digitally printed invitations are the most budget-friendly as they involve creating the file on a computer and allowing the printer to mix the colours and simply print them onto the paper or card with no indents.
Offset printing offers a similar flat look to digital printing but with a higher quality and more vibrant finish achieved using a rubber stamp-like cylinder that presses the ink onto the paper. Offset printing is slightly more expensive than digital printing.
Engraved printing is the most expensive printing method as it uses a metal plate etched with a design and filled with ink that is then pressed onto the back of the paper using over 1,000 kg of pressure to create a raised look.
Thermography mimics the look of engraved invitations and involves using ink and powder deposited on top of the paper to create a raised look, it's more expensive than digital printing but only by a fraction.
Letterpress involves using a raised surface, likes a plate, etched with letters or images that is then coated with ink and pressed onto the front of the paper to leave an indented impression. As a labour intensive printing method, you can expect to pay more for letterpress than thermography or digital printing.
Foiled lettering is created using a similar method to letterpress. A heated copper plate is used to push the foil into the paper and leave an impression. Again, as the process is quite labour intensive, foiling tends to be pricier than other printing methods.
If you love the idea of something like foil stamping but not the idea of parting with hundreds of pounds, there are ways of incorporating it without breaking the bank. It's always worth going to your preferred stationer with a vision and budget in mind and seeing if they can work with that.
If you're on a really tight wedding budget, Becky suggests making the most of your invitation cards with a digital print that can be used on both sides – note that indented designs will not be suitable for this – or even sending invitations digitally: "We recommend adding double sided options to your invitations to save on paying for additional information or RSVP cards.
"Also, we are now offering digital files which you can email to guests. This cuts the costs down massively as there are no print fees included."
3. Design Accents
The more detailed your wedding invitation designs become, the more they will eat into your budget so it's wise to read up on the different kinds of add-ons available and consider whether or not they're a must for you.
Here are some of the most popular wedding invitation add-ons:
Debossing and embossing are achieved using a similar process to letterpress but without the ink. Basically, stationers use a press to create an indent in the paper, known as debossing, or to create a raised pattern, known as embossing. This method is usually used for small patterns or monograms and, like letterpress, can be pricey due to the labour involved.
Edging is a method used to paint the edges of an invitation to create a more luxe look. Think gold edged pages in books and you're along the right lines. You can expect to pay around £100 more on top of your invitation package for this.
Wax seals have a traditional and formal look, but they can add around £200 to the overall cost of your wedding invitations.
Belly bands and twine wraps used to keep invitations, RSVPs and information cards together can add around £1 to the cost of each invitation.
Why is it Important to Invest in Good Quality Wedding Invitations?
As they're sent out months before the wedding day arrives, your wedding invitations are often the first impression that guests will receive of your wedding. This means that they will can establish the tone of your day, as well as clearly communicate your wedding theme and unique personalities as individuals and as a couple.
Gillian says, "High quality invitations really set the scene for your wedding, revealing a glimpse to family and friends of what is to come on your big day. A good quality invitation usually gives you more options to customise using design and colour to provide a hint of your wedding day vibe."
Good quality wedding invitations not only look impressive, but they also show that you're putting a lot of thought and effort into every detail of your wedding.
It's also important to remember that your wedding invitations will most likely be displayed in your guests' homes, on fridges or notice boards, so you want to make sure to give them a visual treat. Not only that, some guests might want to keep their beautiful invitation as a keepsake of your wedding celebration.
Gillian also comments, "Your guests will truly love and appreciate a beautiful quality invitation, receiving it makes them feel special. My customers tell me that their guests often get in touch to say how much they liked their invitation, so it certainly makes a worthwhile impression."
Nina offers some further advice: "Whatever invitations you choose, I recommend making sure the paper is of good quality. My personal preference is paper with a minimum of 300gsm weight, which is heavyweight cardstock, gently textured and off white. This gives your invitations a more luxurious feel."
Wedding Invitations Packages and Price Lists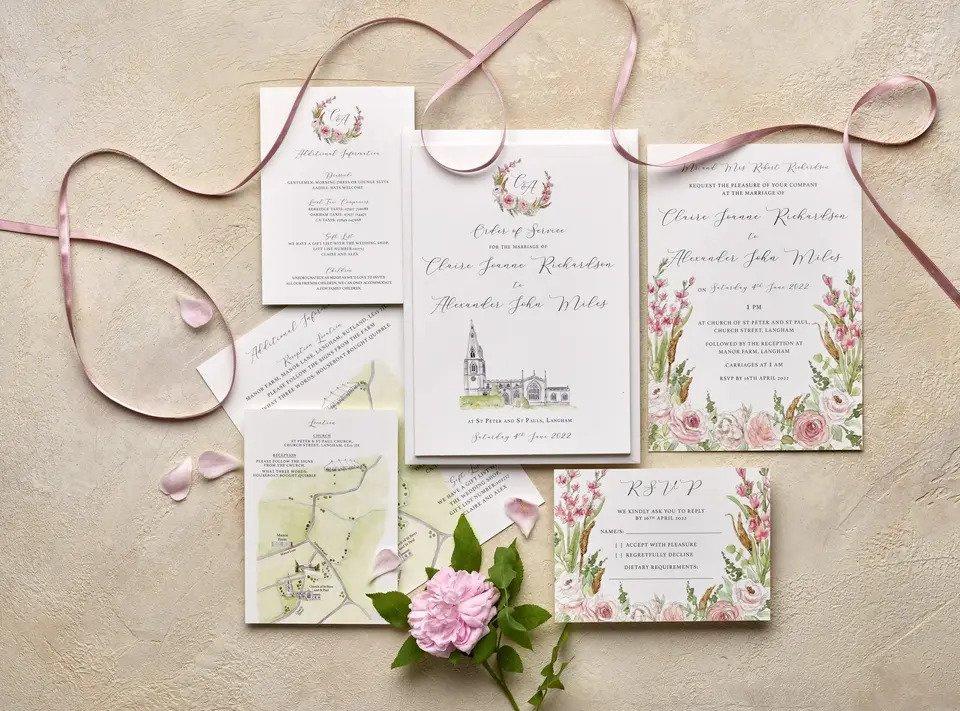 The prices brackets below can act as a rough guideline to what you'd expect to pay, but will be heavily influenced by the factors above. Remember - there are exceptions to every rule!
£0-£100
In this price bracket you'd be looking at pre-made designs digitally printed on kraft paper with few customisable options besides your names, the date and location. Tip: if you're up for getting creative, you can use DIY wedding invitation ideas to customise existing designs and create a luxe look for less.
£100-£200
Spending between £100 and £200 will allow more room for customisation of pre-made designs as well as possibly an embellishment or two.
Gillian sheds light on the prices of some Bee Invited wedding invitations: "Our wedding invitations typically cost around £150-200 for 50 invitations (100 guests)."
£200-£400
At this price point you can start to get bespoke designs including information and RSVP cards from around £300, according to Becky from Rodo Creative. If you have a little more room in your budget you can think about adding an extra detail such as embossing or debossing, painted edging or twine wrap.
Nina explains how the size of your wedding guest list can affect the cost of your wedding invitations: "If you have a wedding with about 100 guests, you will probably need 50-60 invitations, as most of your guests will be couples and families. For semi custom invitations pricing probably starts around £3 - 4 per invitations, for fully custom invitations it can be multiples of that.
"So, if you are willing to go with a pre-existing designed invitations then you are looking at a minimum of around £200 for 100 guests, if you have a wedding with about 150 guests, you would need 75-85 invitations, which brings you to around £300 as a starting point."
£400-£500
Having a larger budget means that you can go a little crazy with embellishments! Nina says, "Embellishments like wax seals, ribbons, envelope liners and envelope addressing are usually charged additionally, so the cost can really vary once you add these details on."
With a stationery budget between £400 and £500 you can move away from digital printing and choose more pricey methods such as thermography and offset printing. You can also opt for pearlescent paper and additional details such as addressed envelopes and wax seals.
£500 & Over
For £500 or more you can get bespoke letterpress, foiled and engraved designs with embossed or debossed patterns, painted edges, wax seals, ribbons and belly bands. Basically, if you're a stationery enthusiast and want to go all out with your invites, then this is how much you'll need to allocate to get all of those high-end features in.
How Can Couples Save Money on Their Wedding Invitations?
There are lots of different creative ways that couples can save money on their wedding invitations without compromising on style.
Simplifying the design of your wedding invitations is a great way to keep costs down while also achieving an effortlessly elegant minimalist style. Using fewer colours and design elements is perhaps one of the easiest ways to reduce printing costs.
And speaking of printing costs, using print-at-home invitations is another great way to keep costs down! Many online stationery designers offer downloadable templates for you and your partner to customise, download and print by yourselves.
Nina says, "Digital prints are always more cost efficient rather than anything more elaborate like letterpress or gold foiling."
However, if you do opt for professionally printed invitations, make sure to consider the type of wedding invitation paper you're using. High quality materials such as vellum and cotton are sure to drive up the cost of your invites, whereas card stock and other materials can help accommodate couples working with lower budgets.
The best way to cut costs involves not using paper at all. Digital wedding invitations are the way forward in our online, paperless, modern society. Giving guests the opportunity to RSVP via email or your wedding website will also save on costs, as you won't have to include an RSVP card.
Gillian says, "To save costs you could have your own wedding website for your guests to obtain further information and you could ask the guests to respond by email instead of returning an RSVP card. This will keep the costs down, but do consider that a few guests may not have the ability to use websites or email."
If all this talk of RSVP cards has got you feeling confused, check out our article answering all of your burning questions including what does RSVP actually mean?