Wedding RSVP Wording: How to Word Your Wedding RSVP Card
Make sure you get your wedding RSVP wording just right by reading up on all the options - from formal to funny
We have included third party products to help you navigate and enjoy life's biggest moments. Purchases made through links on this page may earn us a commission.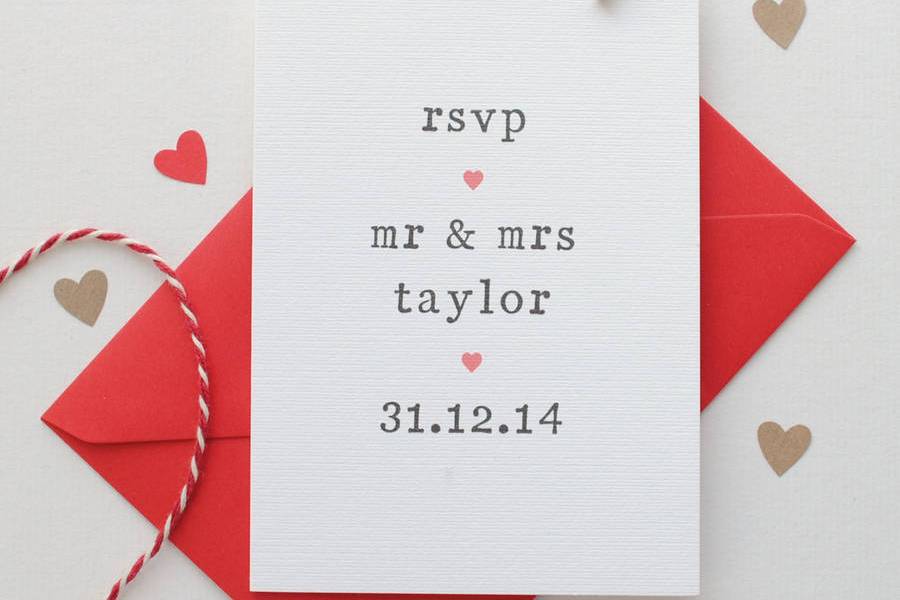 Perfecting your wedding RSVP card wording is a vital first step that will not only set the tone of your wedding day, but ensure you receive swift responses and aren't left having to chase. It's helpful to follow the tried and tested practices of wedding card RSVP wording, and then put your own spin on them if wanted depending on what vibe you are intending to achieve.
Wedding RSVP cards are an important part of your
wedding stationery
suite - either as separate inserts or included on the invitation itself, they serve as a practical way that allows your guests to let you know whether they can attend your wedding so you can keep track of headcount and move onto other tasks on your
wedding planning checklist
.
From funny wedding RSVP card wording that'll have your guests giggling, to fail-safe formal wedding RSVP templates, we've outlined several ways you can word your wedding RSVP cards as well as what to include and top tips for writing and sending your cards.
READ MORE
Five Wedding Card RSVP Tips
1. Give a Clear Deadline
Your RSVP deadline is one of the most important parts of your RSVP cards. Typically, your date to receive these back by should be around four weeks before the wedding so you can let vendors know. Remember to give yourself a time margin for any late replies so the process is as smooth and accurate as possible.
2. Send Them Early
When sending your wedding invitations and RSVP cards it is always best to send them as soon as your wedding date and venue is confirmed so you can get in your guests' diaries early. If you haven't sent save the dates, we recommend sending them four to six months before your wedding date, and if you have, at least eight weeks before.
3. Opt For Matching Stationery
If you've chosen to have separate RSVP cards, ensure a seamless look by opting for a matching stationery suite or RSVP cards with a similar design to your invites. There are tons of gorgeous wedding RSVP card styles to choose from on Hitched, plus their matching invitations, menu cards and more.
4. Leave Blank Space
If possible, leave room for your guests to get creative! Whether that means leaving you a special note or offering up a fun suggestion for your wedding day, it's a great way to make your wedding RSVP cards unique.
5. Add Personality
Another way to make your wedding RSVP cards unique is to inject your own personality into your wording. That doesn't mean you have to completely break tradition, but subtle changes will make them special to you as a couple.
What to Include on Your Wedding RSVP Cards
Request line outlining your request for a reply - the language you choose for this part tends to set the tone for the rest of the card
RSVP deadline date - base your deadline date around when your vendors will need the final headcount
Names - add a line to prompt your guests to include their names so you can keep track. The last thing you want is an RSVP reply with no name attached!
Response options - a simple response option, such as tick boxes, will make it easy for guests to respond
Space for guests to enter who can make it - this is especially important if you are allowing plus-ones and children
Dietary requirements - if you are asking them to decide their meal in advance or if they have special requests
Extra details - for example, we love the idea of leaving space for guests to write down a wedding song request that will get them on the dance floor
How to Word a Wedding RSVP
The wording of your wedding RSVP cards should match the style of your wedding - be that a formal black tie event or a relaxed and informal affair. These wedding RSVP examples cover wording ideas for all kinds of weddings that you can adapt to suit your personality.
Formal Wedding RSVP Wording
'We Kindly Request'
Name(s):
We kindly request your response by (date)
We would be delighted to attend
We regretfully decline
'A Favour of Response'
Name(s):
A favour of response is kindly requested before (date)
Joyfully accepts
Regretfully declines
'Please RSVP'
Name(s):
Please RSVP no later than (date)
Will attend
Unable to attend
Casual Wedding RSVP Wording
'Tie the Knot'
Name(s):
Please watch us tie the knot. RSVP by (date)
Will be there to celebrate
Will be toasting from afar
'Can't Wait'
Name(s):
Will you be joining us? Please RSVP before (date)
Can't wait!
Sadly I/we can't make it
'Ready to Eat, Drink...'
Name(s):
Please let us know before (date)
Ready to eat, drink, and see you get married!
Sorry, have to miss out on the fun
Funny Wedding RSVP Wording
'Hell Yeah'
Name(s):
Will we see you when we say 'I do'? Please RSVP by (date)
Hell yeah!
Damn it, can't make it
'Yay or Nay'
Name(s) of our fabulous guests:
Are you in? Please RSVP by (date)
Yay
Nay
'Check All That Apply'
Name(s):
Check all that apply. Please respond by (date)
Yes because:
I'm being made to
Free food and drink
I wouldn't miss it!
No I will not be attending because:
I'm.. um... busy that day
I literally don't know who you are
I'm not free but I'll be there in spirit!
How to Word Wedding Invitations with an Online RSVP
You can ask your guests to send their responses to you via email or text, or to submit their RSVP on your wedding website.
If you are adding the RSVP information at the bottom of your invitation and wanting an online response, remember to include your email address, phone number and the deadline date.
Looking for unusual wedding invitations? Check out these unique wedding invitation designs