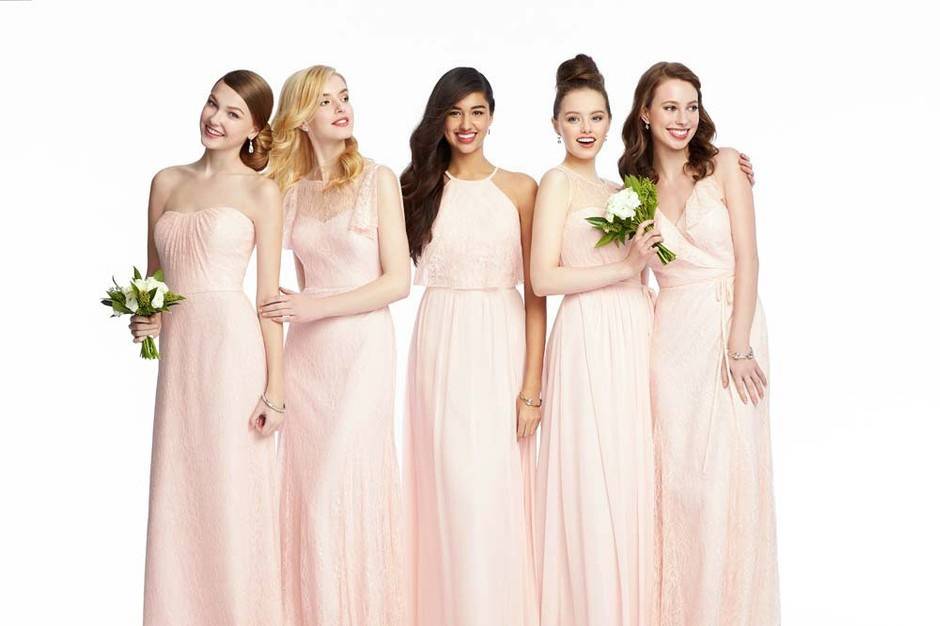 Hailed as one of the most romantic hues, pale pink is a wonderful choice for any wedding colour scheme and in particular the bridesmaid dresses. A pretty pink bridesmaid dress in a lighter shade is an utterly gorgeous look for your best girls and the colour is so flattering in any material. We've handpicked 19 of our favourite pale pink bridesmaid dresses which we think you and your maids will adore.
Style 2851 – Dessy
Kicking off our favourites list is this stunning satin number from Dessy. The combination of satin with a pale pink hue is something really special and the result is a beautiful look for any bridesmaid. We love how the bust is highlighted with a romantic sweetheart neckline and ruching at the waist, with the material spilling elegantly to the floor. Pair the dress with a classic half up half down wedding hairstyle and some gold or silver earrings.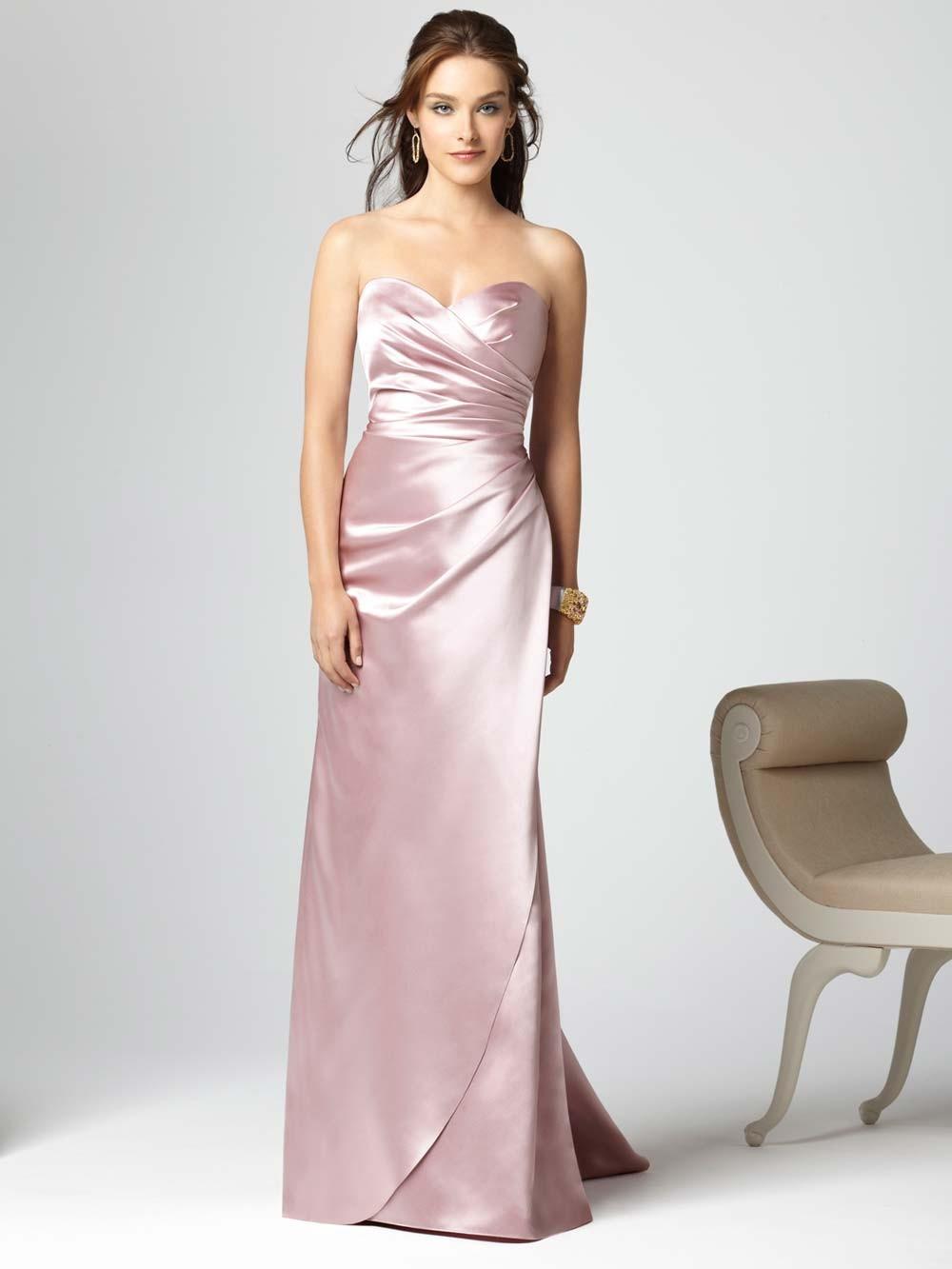 Style 8471 – Sorella Vita
Sorella Vita bring you this short and sassy pale pink bridesmaid dress which has a dreamy, dusky hue. The shorter length provides a fun and effortless look for your girls and the strapless neckline is a versatile style to flatter most bust shapes. Take a closer look at the bodice so you can admire the intricate crossover detail. Pair with silver bridesmaid shoes and a statement bracelet to finish the look.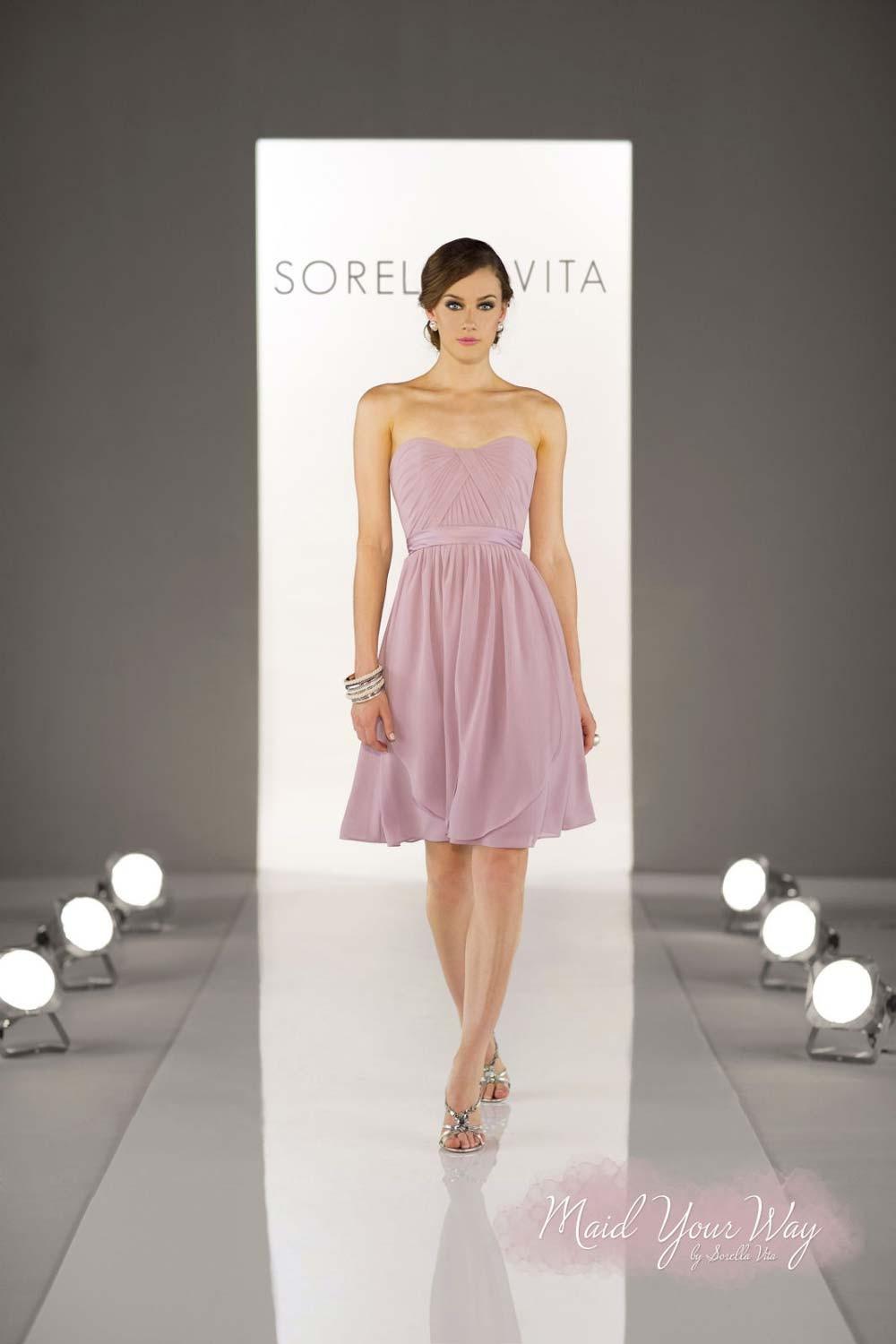 Mix and Match Bridesmaid Dresses – Dessy Group
If you have a large bridal party then it's not always easy to please everyone – this is why mix and matching the style of the bridesmaid dresses within the same colour palette is a great solution. Pale pink is such a versatile colour when it comes to style and material, as proven by this gorgeous selection of bridesmaid dresses from Dessy and Jenny Yoo. Every dress is unique in it's own beautiful way yet every style seems to work perfectly with the next. Finish off these pale pink bridesmaid dresses with simple white bouquets and a swipe of pink on the lips so that your best girls are wedding ready!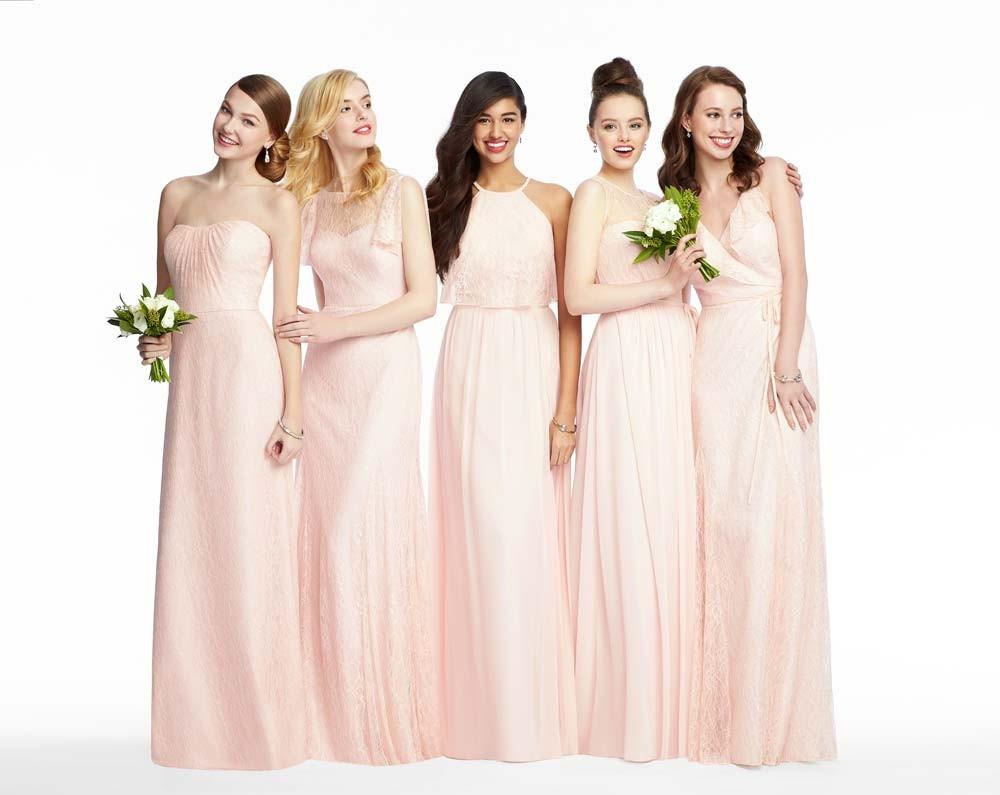 From left to right: Dessy style 2952; JY Jenny Yoo style 520; Dessy style 6733; Dessy style 673 and JY Jenny Yoo style 519
Style 50162 – Kelsey Rose
Style 50162 from Kelsey Rose has the prettiest lace detailing from head to toe, giving the dress the most romantic of vibes. The cowl neckline is a classy look and complements the slim column shape of the dress. If you're looking for a pale pink bridesmaid dress that provides a fuss free silhouette for your bridal party then this gown ticks the boxes – just be wary of snagging the delicate material!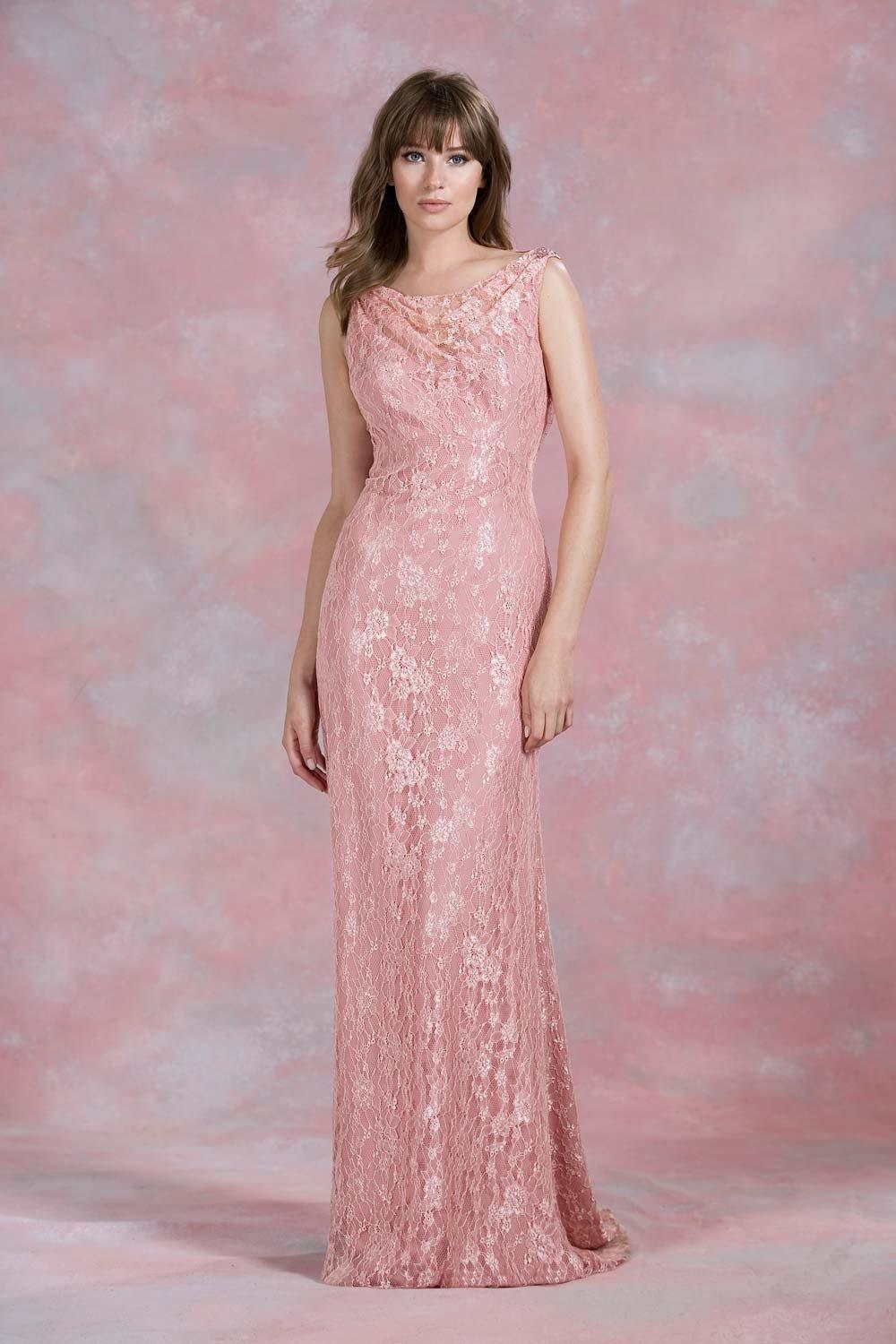 Style 29120 – Ronald Joyce
This elegant column bridesmaid dress from Ronald Joyce is crying out to be paired with a lovely Grecian wedding dress. The v-neckline allows for a statement necklace, preferably a silver one to go with the thin sparkly waistband. Not only is the front of the dress lovely to look at, the straps also lead into a draped cowl back with low cut out detail which adds interest. The exposed skin at the bust is balanced out with a floor length skirt and the baby pink hue to keep the look sugary sweet.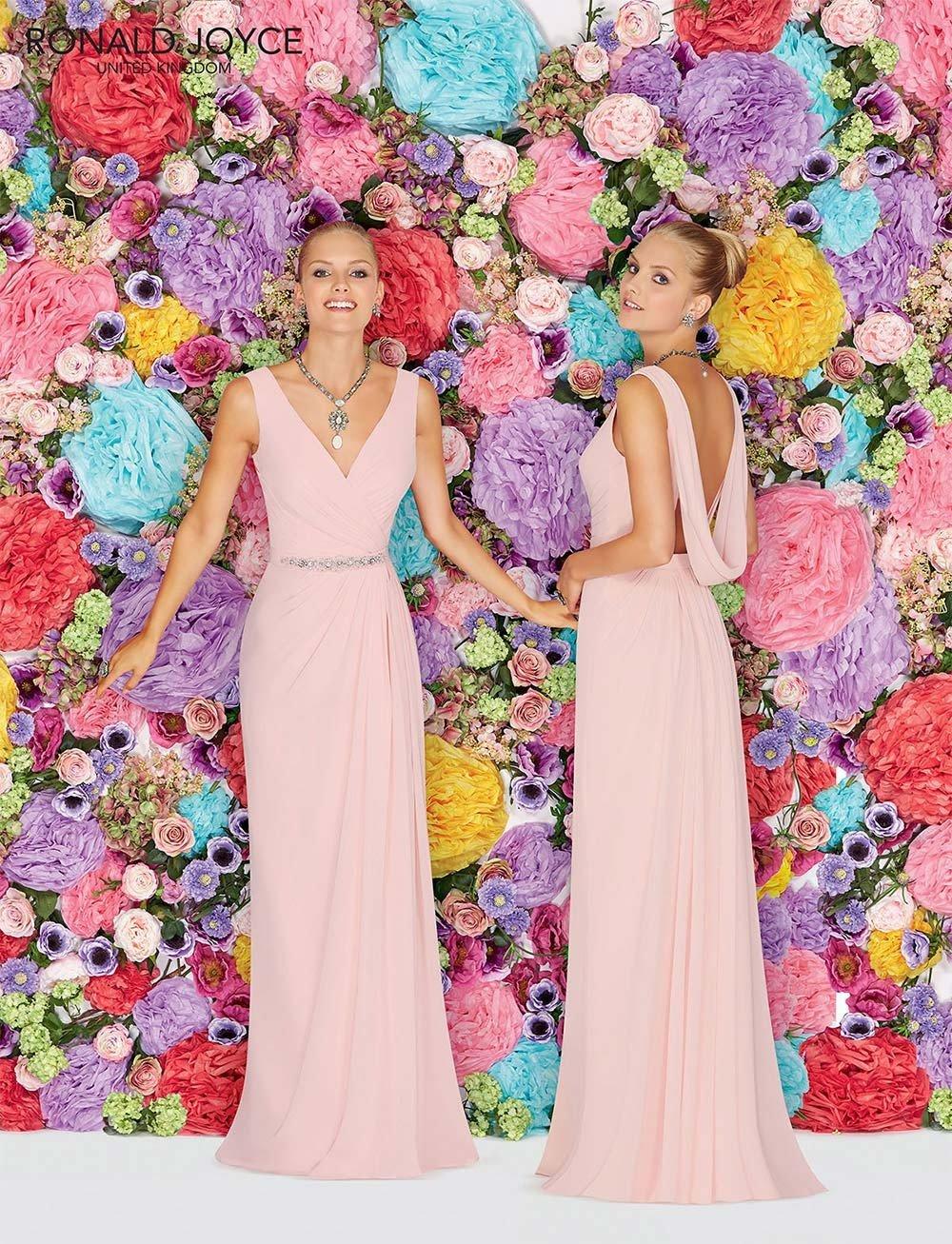 Style 522 – Alfred Angelo
The super girly style 522 from Alfred Angelo is ideal if any of your bridesmaids are obsessed with all things pink and cute. We love the divine pale pink shade of this prom style bridesmaid dress and love the sheer overlay which softens the colour even further. White is a great contrast against pale pink, as proven with the embroidery at the hem and along the waistband. Pair with white heels and pearl accessories to give the dress a grown up look.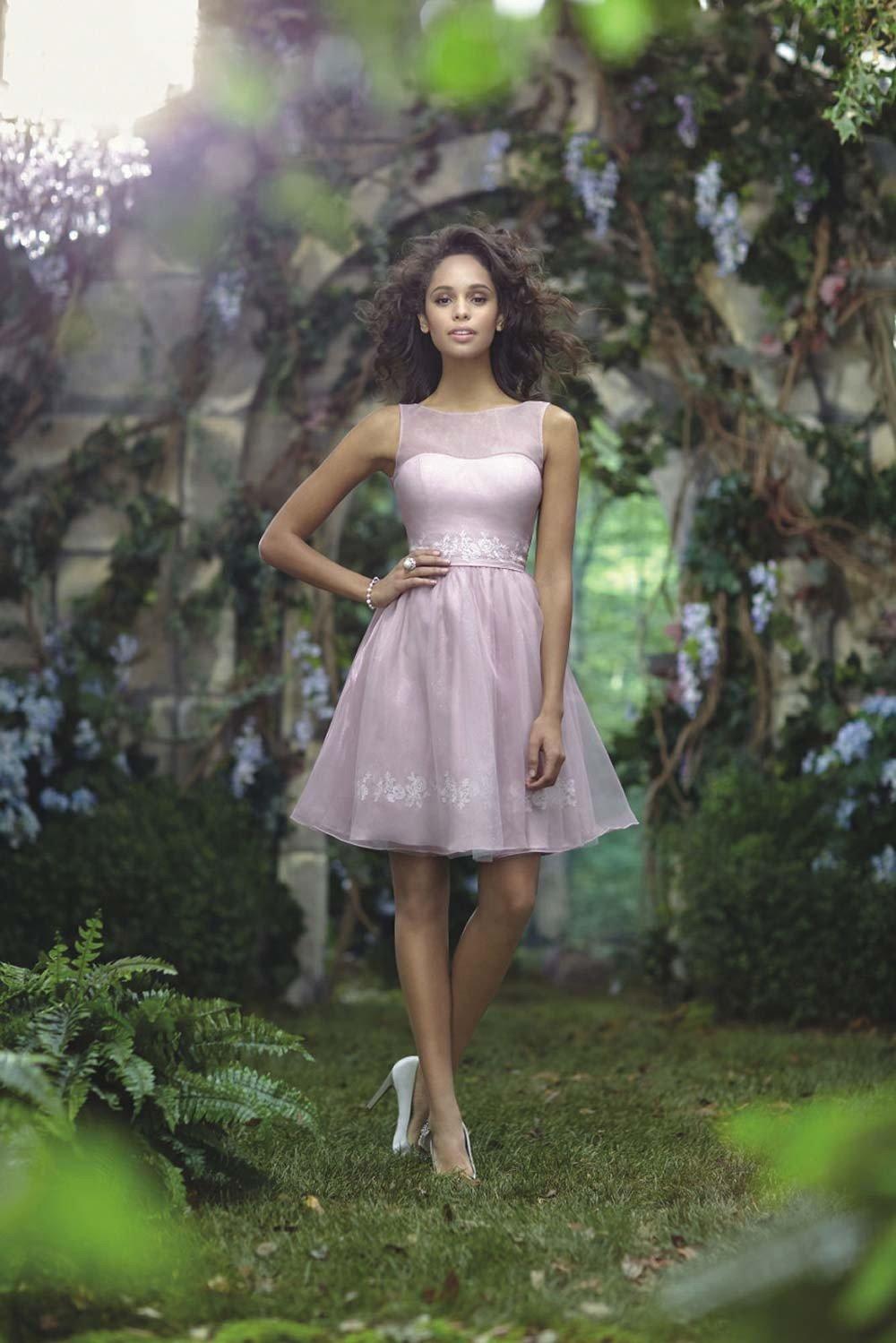 Style 2963 – Dessy
A pale pink number like style 2963 from Dessy would make a lovely vintage bridesmaid dress if your wedding theme will be a throwback to stylish eras gone by. The detailing on the sheer overlay bodice is simply stunning – wear some elegant drop earrings to accentuate this. One thing we love about the draped column shape of the dress and the tied waistband is that it will create a beautiful hourglass silhouette. Style 2963 is an all round winner in our eyes!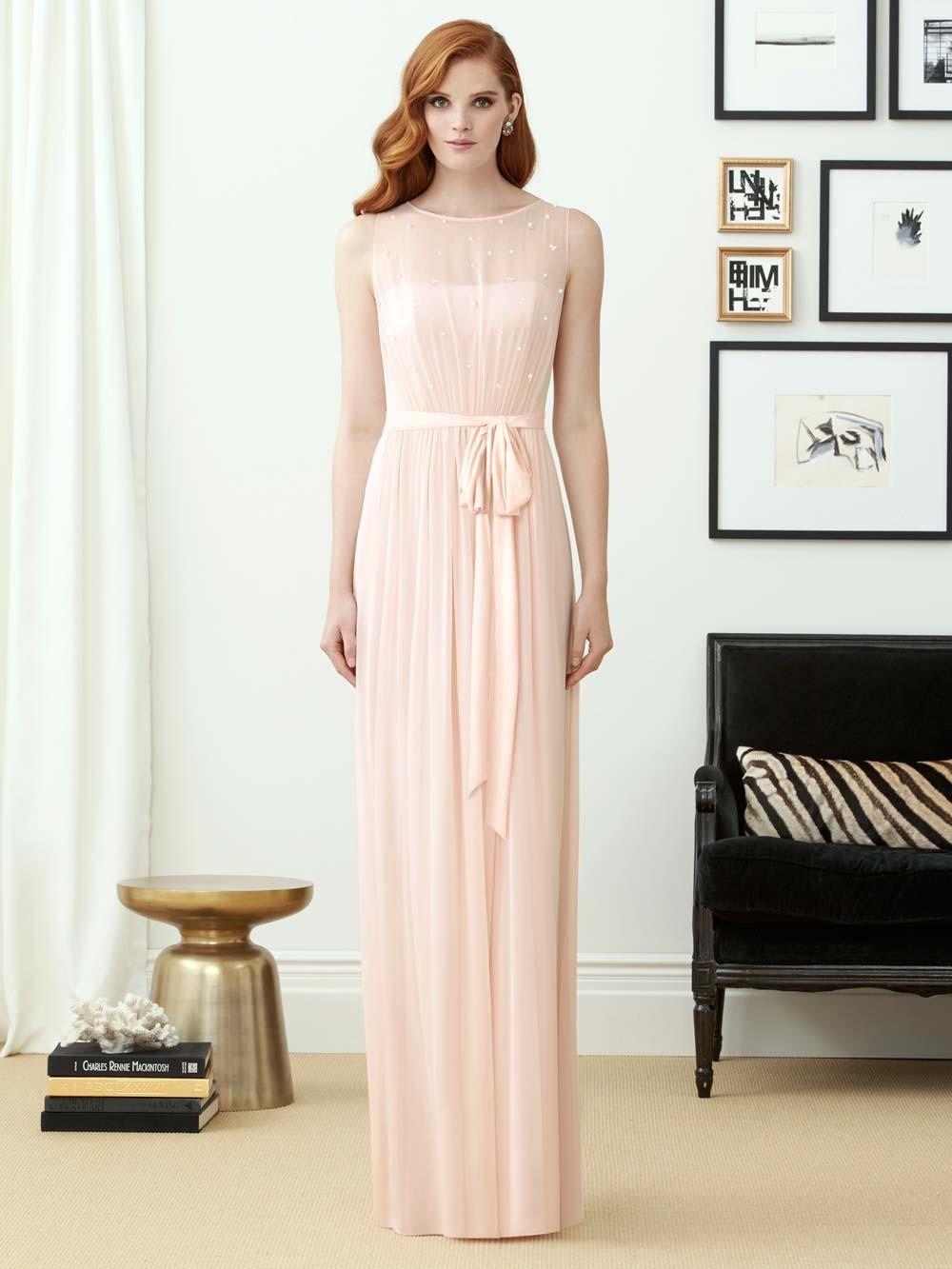 Style 1226 – Kelsey Rose
Another great option if you're considering mix and matching your bridesmaid's looks is style 1226 from Kelsey Rose. Available as a strapless or non-strapless style, this versatile dress comes in a simple yet super flattering column shape. The cinched waist will give definition to the figure and the flowing material will allow your girls to move about with the utmost ease. Play up the girly pale pink shade by opting for hairstyles with plaits.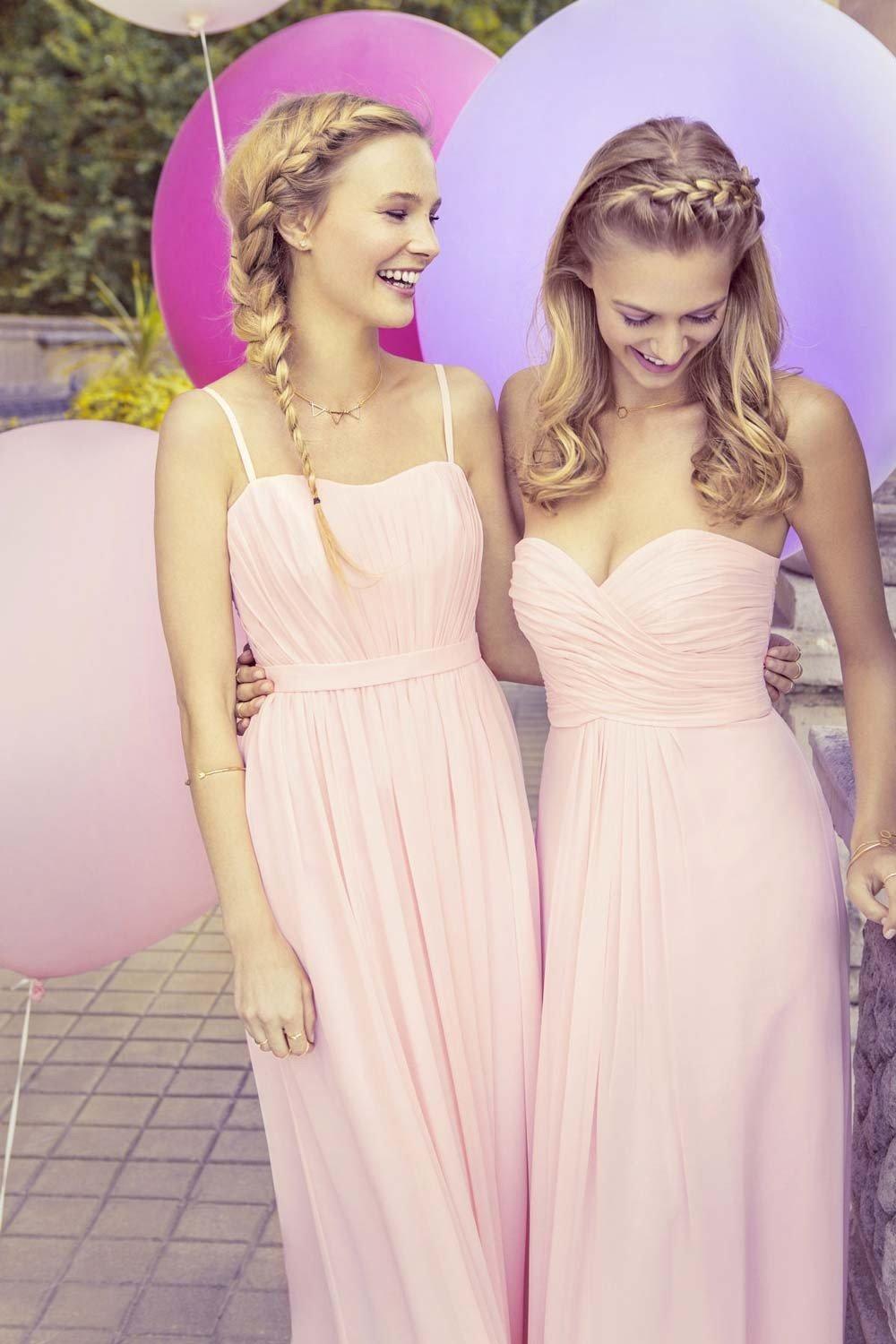 Style 190S – Alexia Designs
We're obsessed with the combination of white lace and pale pink and style 190S from Alexia Designs only fuels this more! The pink skirt is a short and sweet length that falls just above the knee and the white lace overlay on the bodice is just perfection. This gown will stun from the back too, as the lace is highlighted with sweet, button-up detail. Style 190S is the ideal pairing for a lace wedding dress.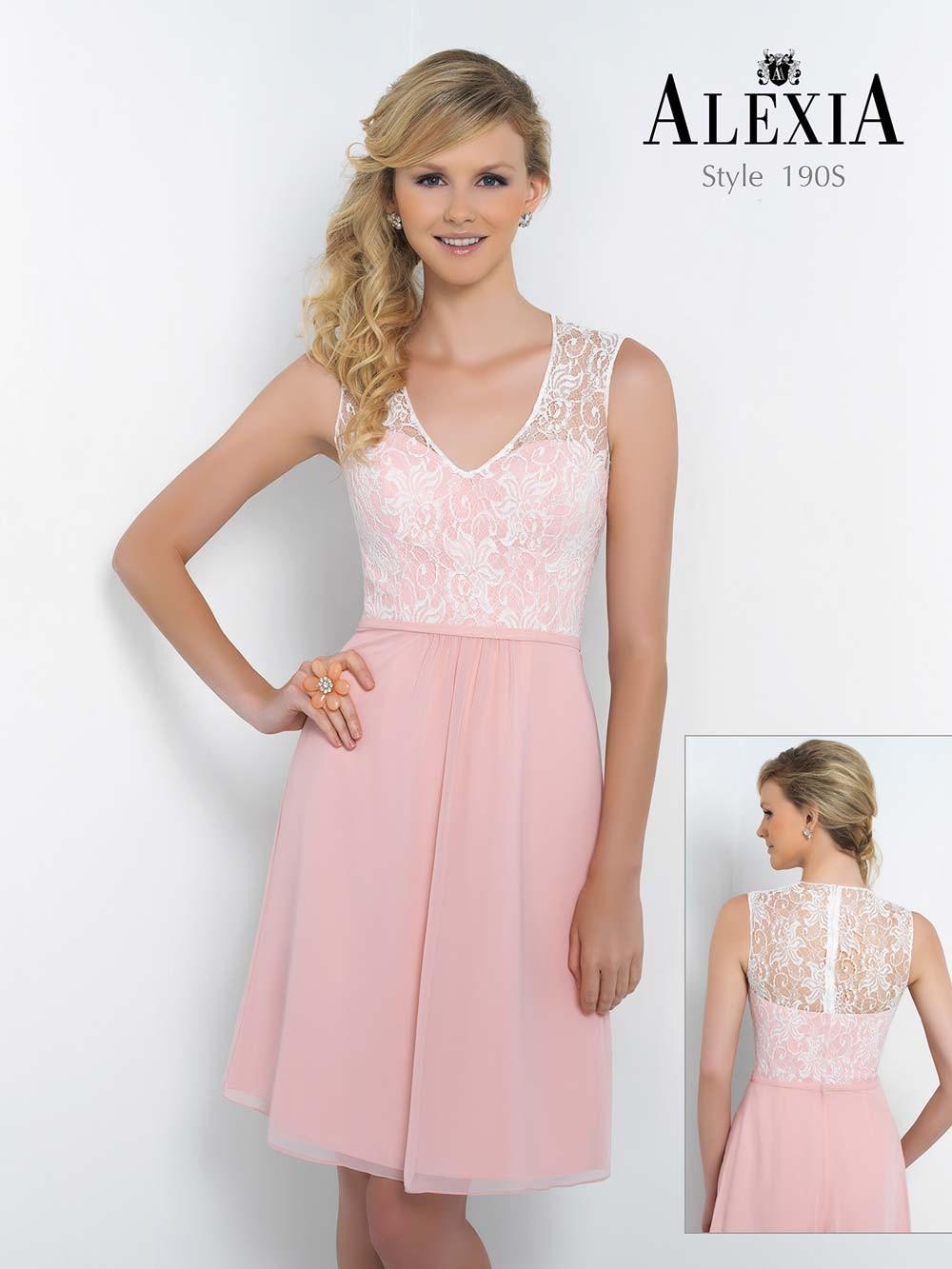 Style 50166 – Kelsey Rose
Kelsey Rose offer up another beauty of a pale pink bridesmaid dress with style 50166 – the tulle skirt makes us reminisce about our childhood dreams of being a ballerina! The sparkly V-neck bodice give this dress a grown up, modern twist which is handy if your maids are worried about looking too girly in a pale pink bridesmaid dress.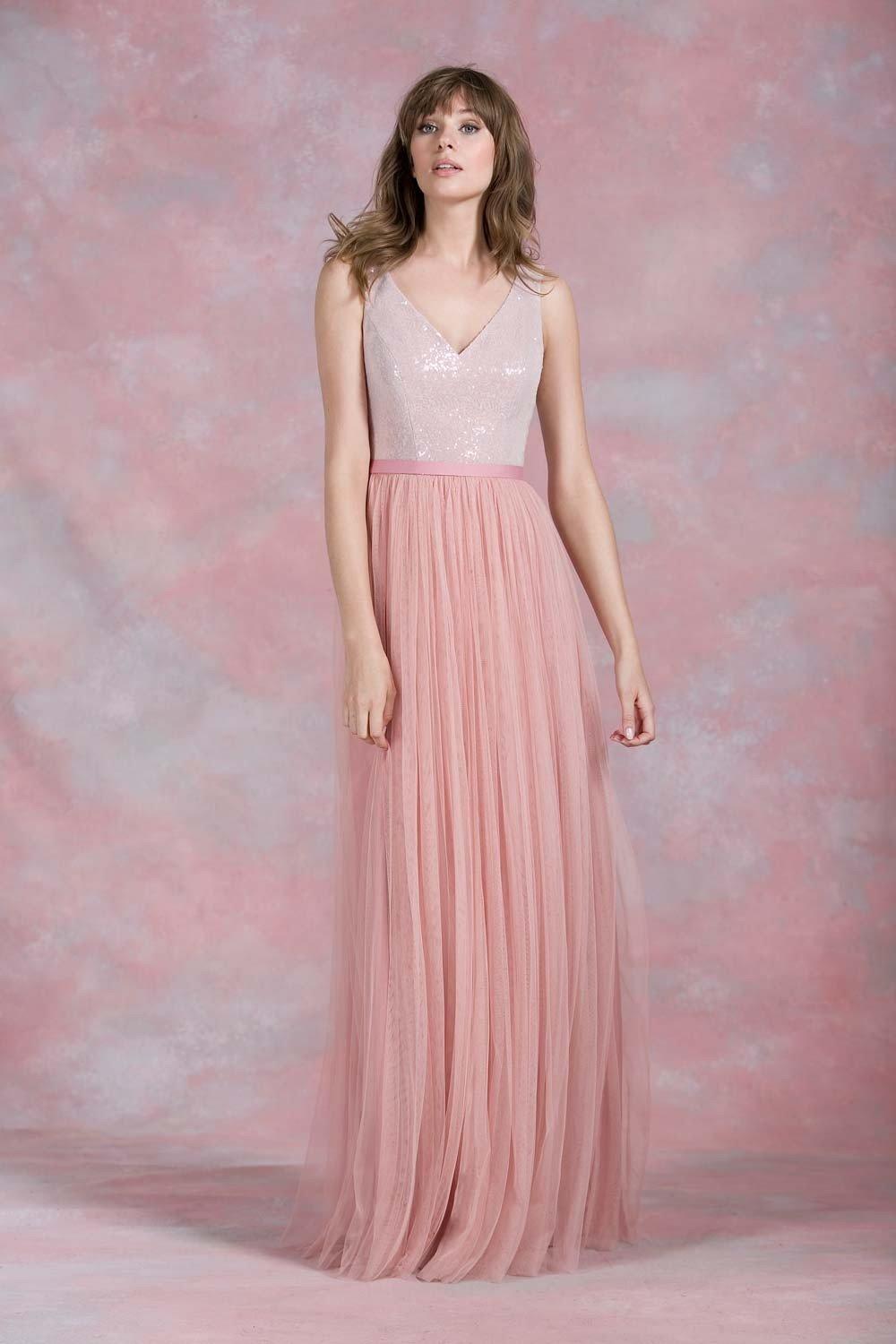 Style B153061 – B2
Your maids will fall in love with the oh so sweet style B153061 from B2. The lace combined with the delicate baby pink colour is a match made in heaven and works perfectly for this style. Fuss free and totally versatile, we think this style is perfect for your bridesmaids. There are loads of ways to style up this dress, but if you're planning a summer wedding we personally recommend loose, wavy hair and a small necklace to keep the look laidback.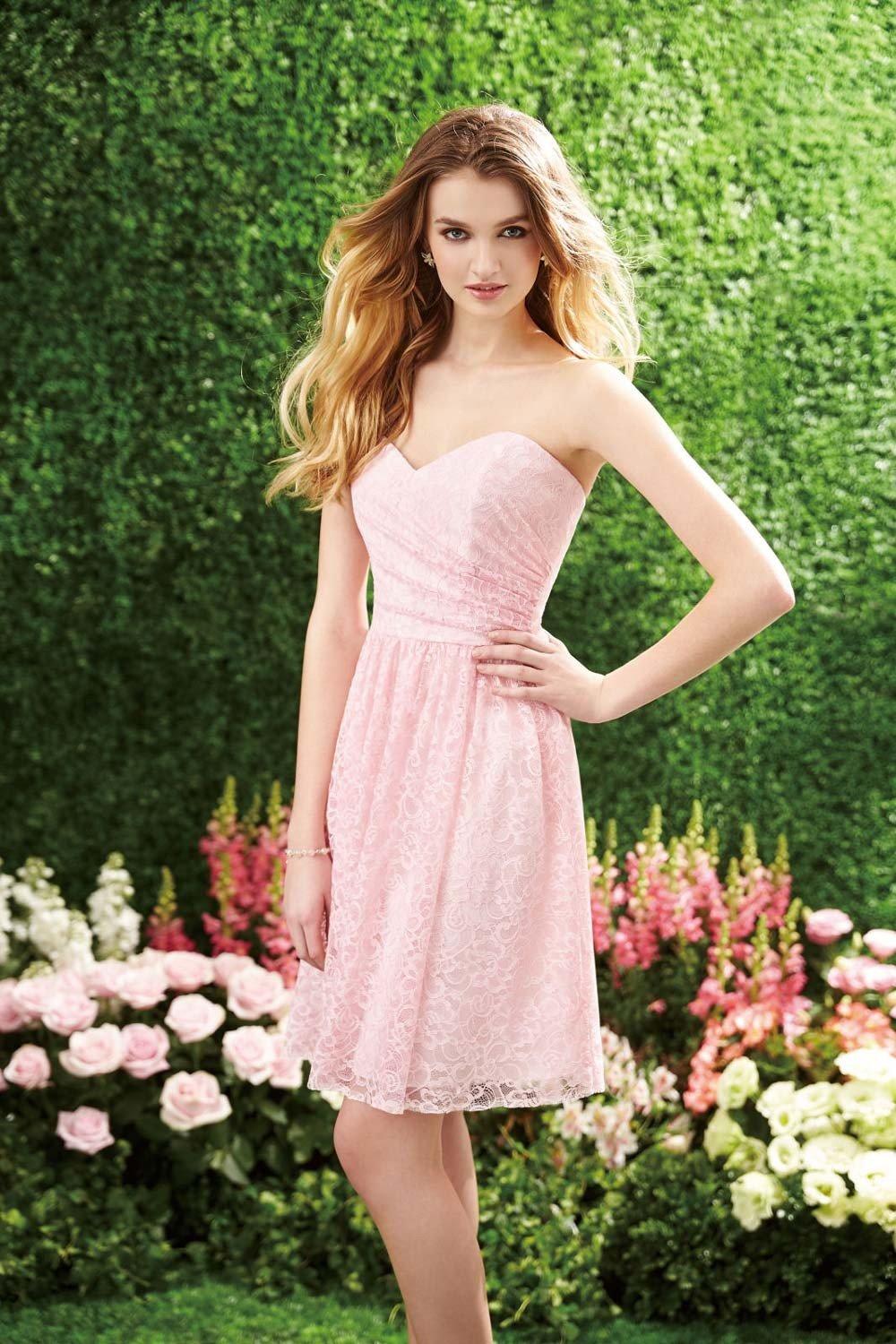 Style 4134 – Alexia Designs
Pale pink is given a chic, grown up twist with this fabulous dress from Alexia Designs (style 4134). The material gives off a lovely shine and the figure hugging shape is complemented with a demure neckline. The dress can be worn in a relaxed way with loose, flowing hair, or you could glam it up with pearl accessories for ladylike sophistication. A wedding hairstyle with flowers would be a great way to set off a pale pink bridesmaid dress.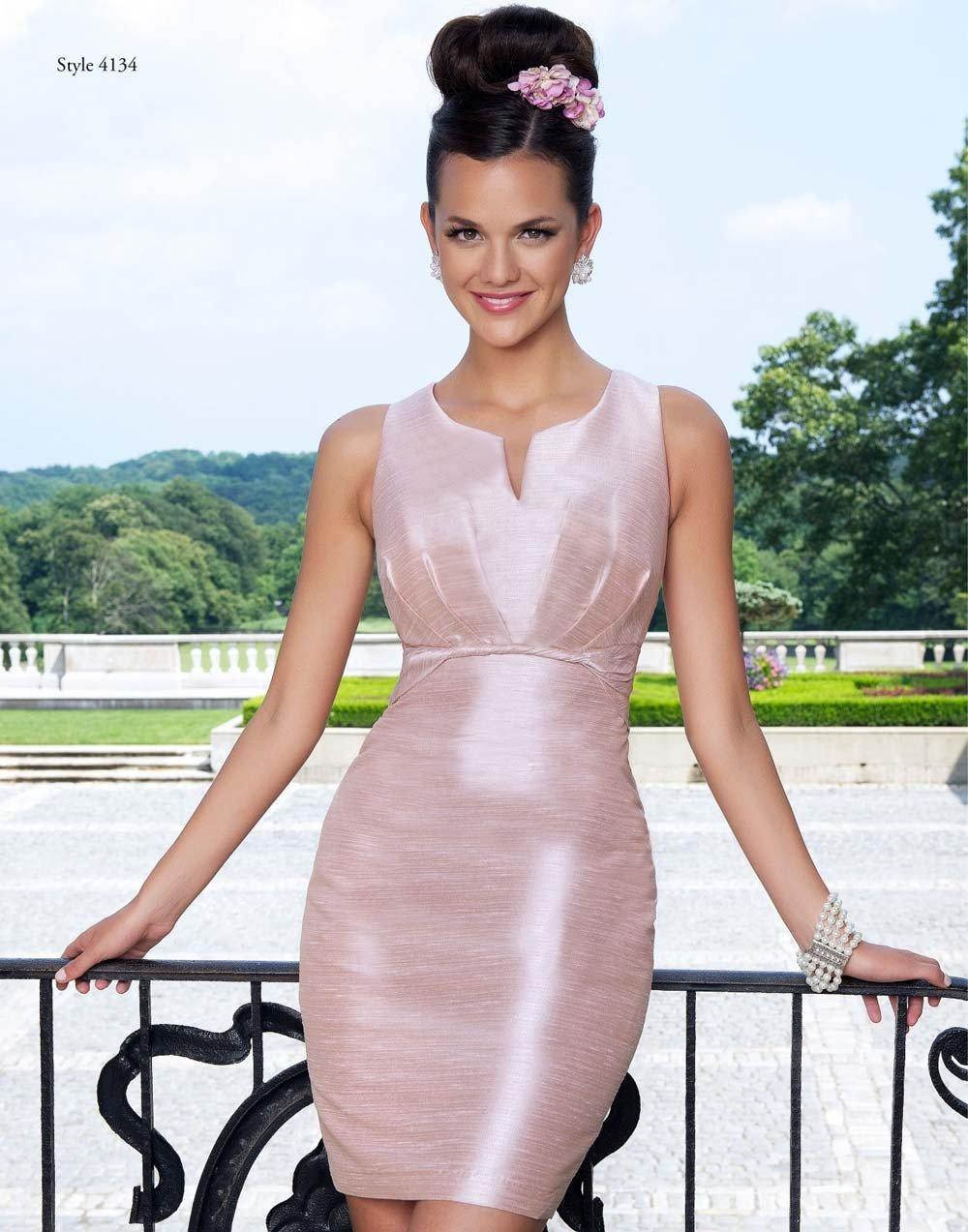 Style E17 – Love by Enzoani
We absolutely love the metallic high-shine glamour of this pale pink bridesmaid dress from Love by Enzoani (style E17). The gold embellishment would definitely lend itself well to any rich jewel tones in your décor or colour scheme. The dress clings to the body right down to the hips, creating curves in all the right places. Pile your bridesmaid's hair into an updo and keep accessories to a minimum as the dress is such a statement look by itself.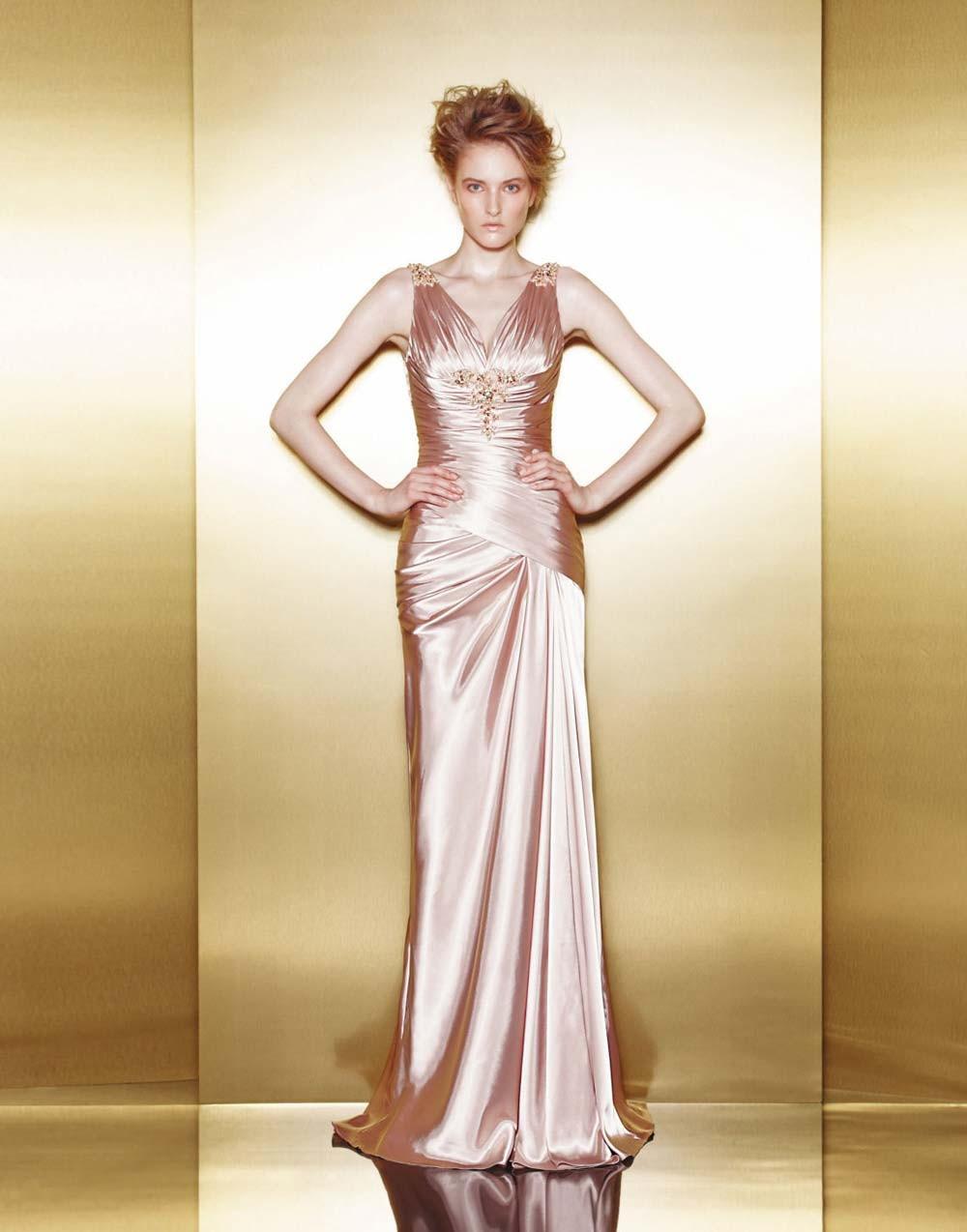 Style B173015 – B2
We're a big fan of this strapless floor length gown from B2 (style B173015). The twist of material at the waist is so gorgeous and is the only detail that this effortless dress needs. Style B173015 also has many versatile elements to it – the beautifully light colour would be suited to a range of skin tones plus the strapless neckline makes it easy for the dress to be styled with accessories or a jacket.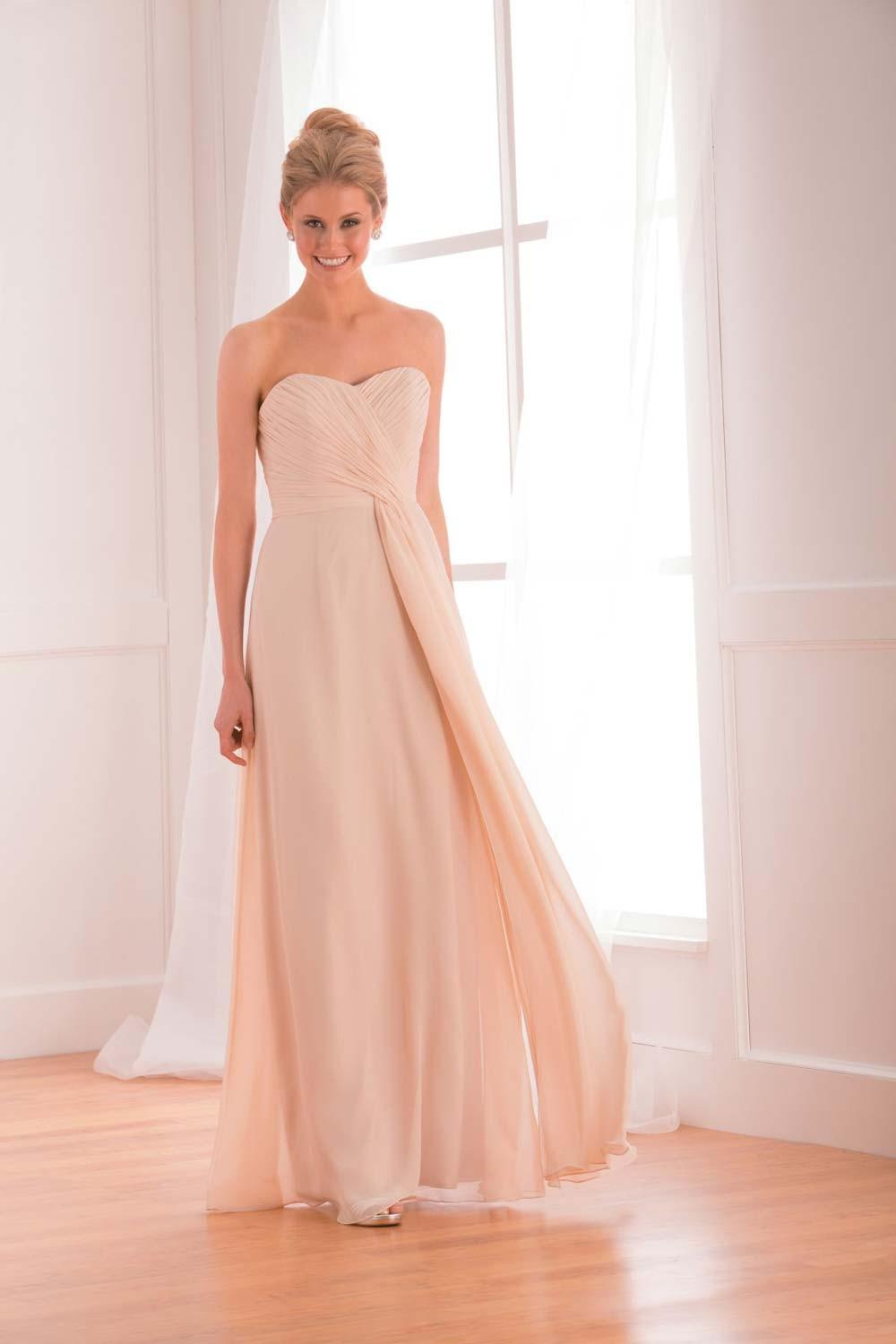 Style LR178 – Lela Rose Bridesmaid
This simple knee length dress has been jazzed up with drapes of fabric for a gorgeously Grecian vibe. The wide V-neckline is a flattering way to show off the décolletage and would be the ideal frame for a pretty necklace or statement wedding hairstyle. We think style LR178 from Lela Rose Bridesmaid is just so elegant and you could easily style it up to suit a variety of wedding themes.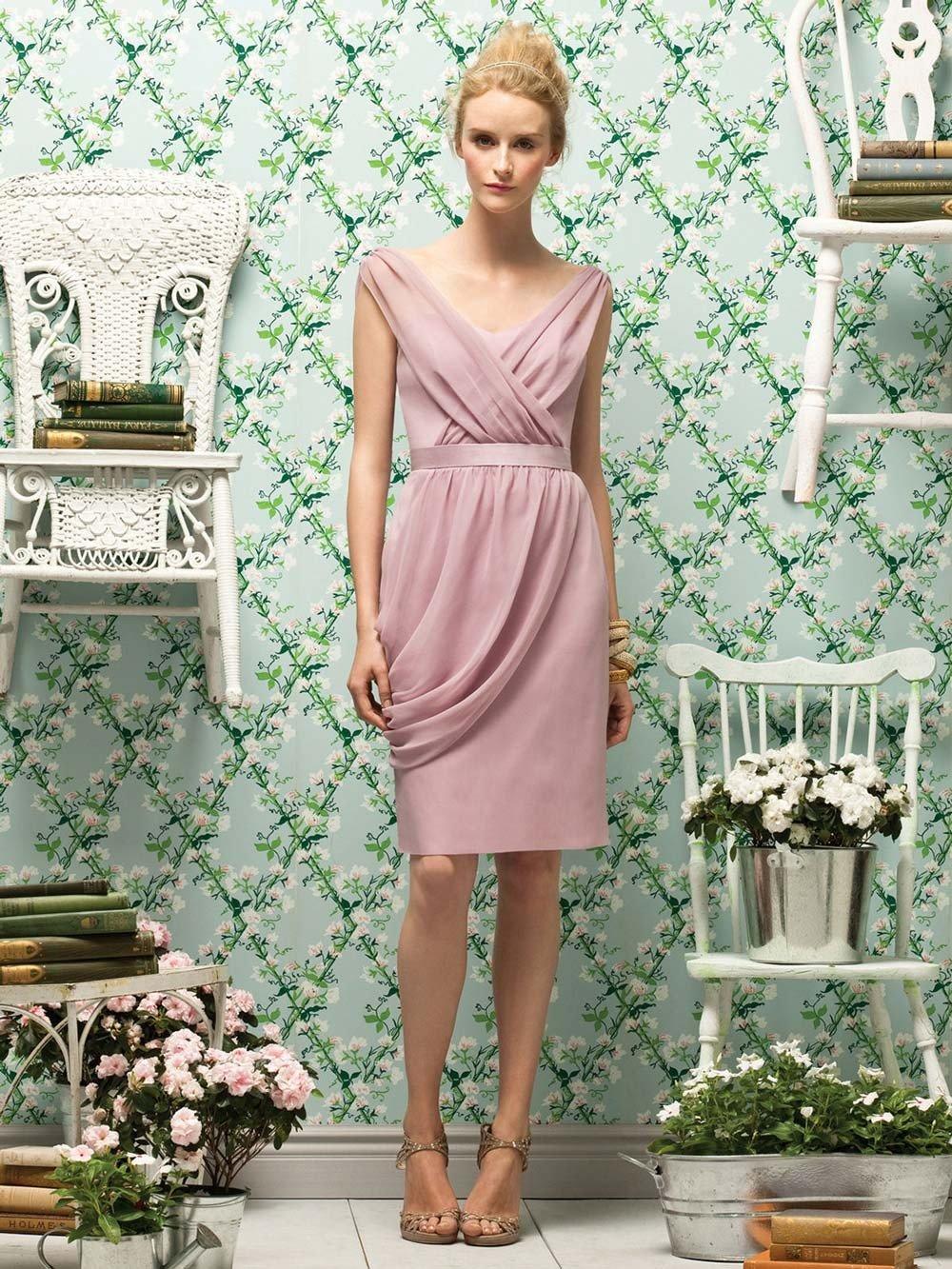 Style 20453 – Mori Lee Bridesmaid
Oh how we love this ever so pretty style from Mori Lee Bridesmaid! The floral off-the-shoulder straps expose the shoulders in a flattering yet classy way and the fitted bodice and flowing skirt work so well with the gorgeous material. This bridesmaid dress is ideal if you're planning a picturesque country garden wedding, plus it would also lend itself well if you're wearing a floral wedding dress.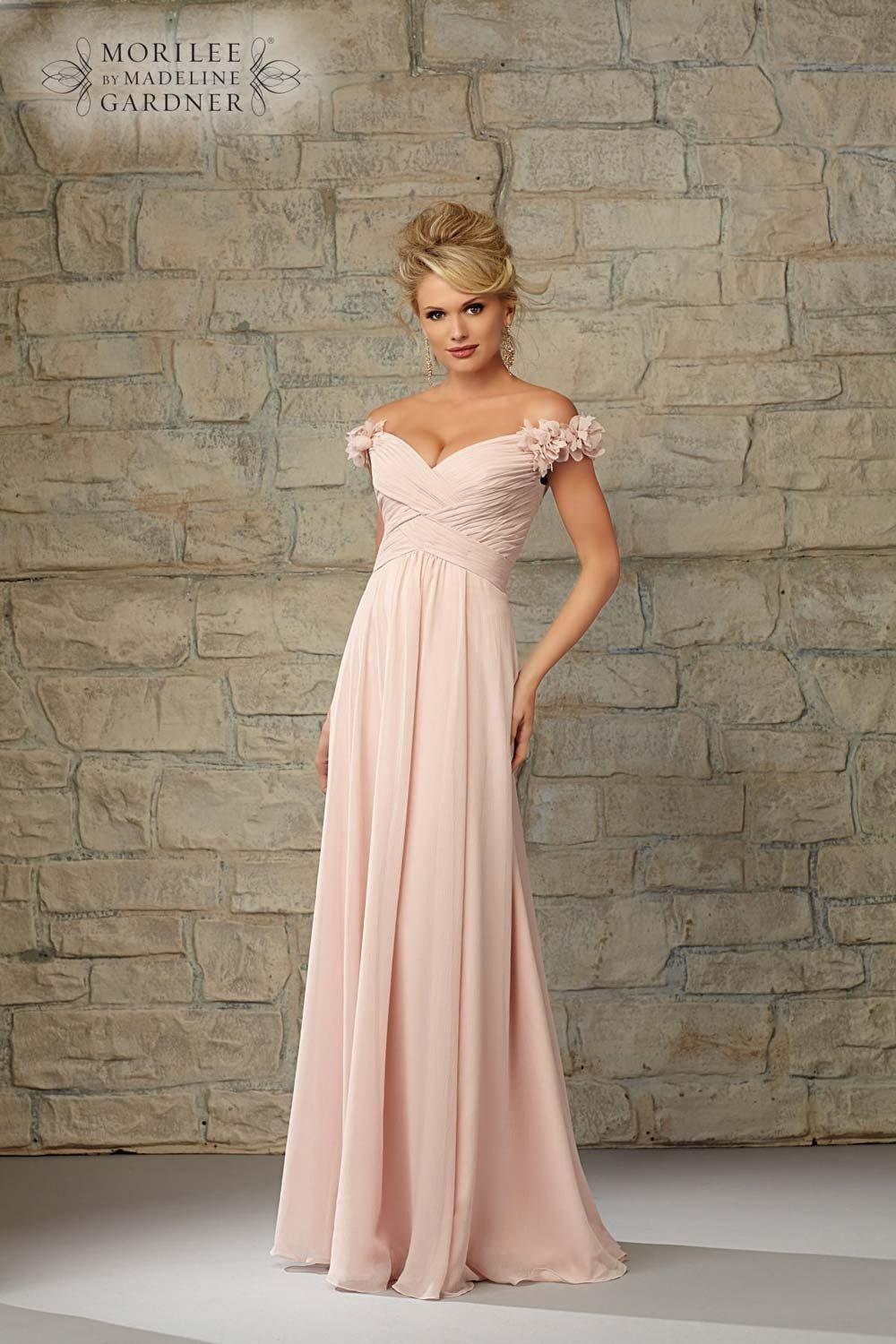 Style 725 – Mori Lee Bridesmaid
Mori Lee have done it again with this incredibly sweet lace style for your bridesmaids. Style 725 is tied at the waist with an adorable pink bow that finishes the dress off like a perfect parcel. The wide, boat neck is a flattering look and the sheer lace overlay reveals the romantic sweetheart neckline underneath. We think this dress is perfect for a spring or summer wedding, as the blush pink hue would be so suited to the pastel colour schemes that are popular around this time of year.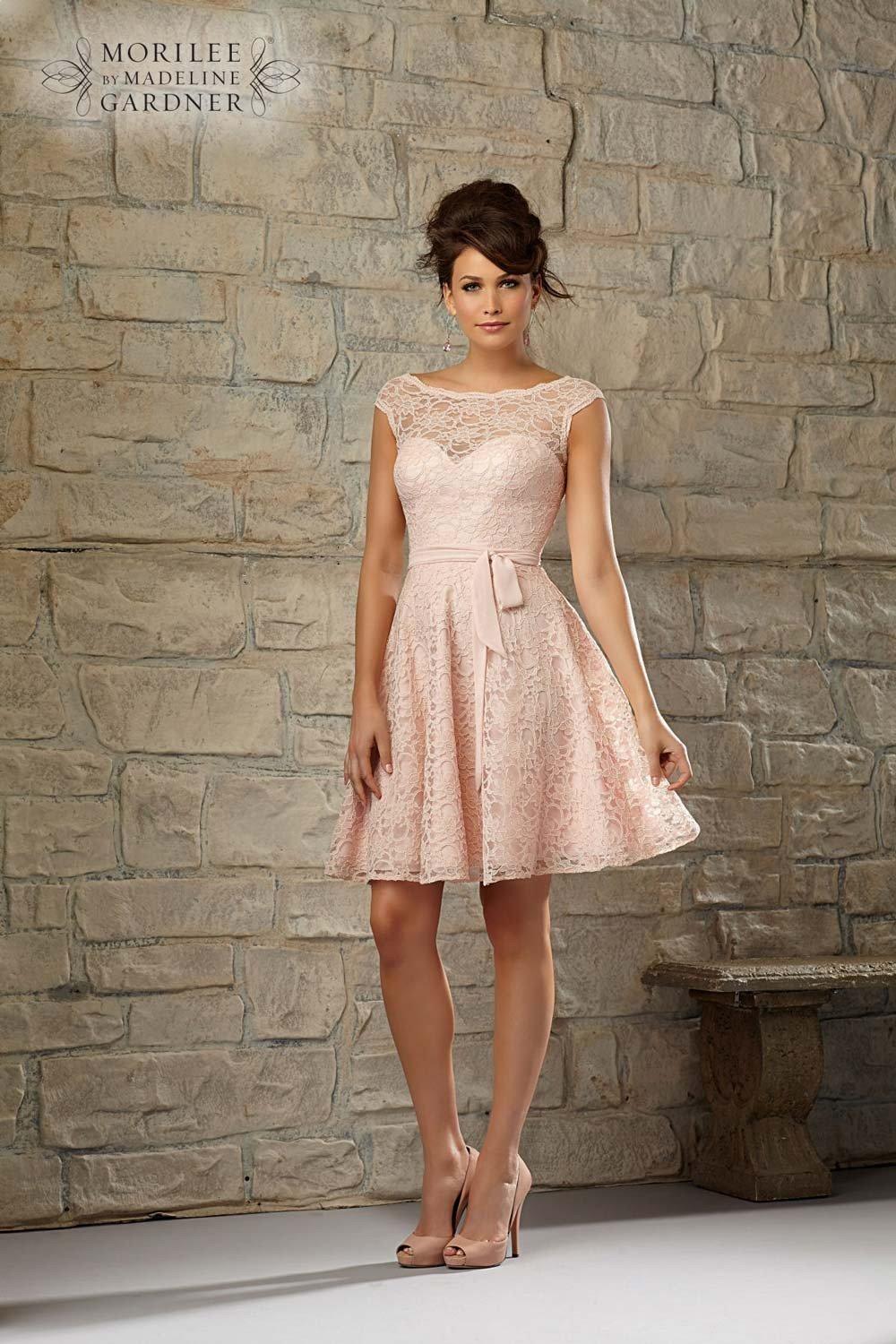 Patience in Flamingo – Berketex Bridesmaid
This super cute dress from Berketex Bridesmaid is a style that younger maids will absolutely love! Mini bridesmaids will feel like a total princess in this pale pink dress that has a ball gown skirt worthy of their favourite fairy tale.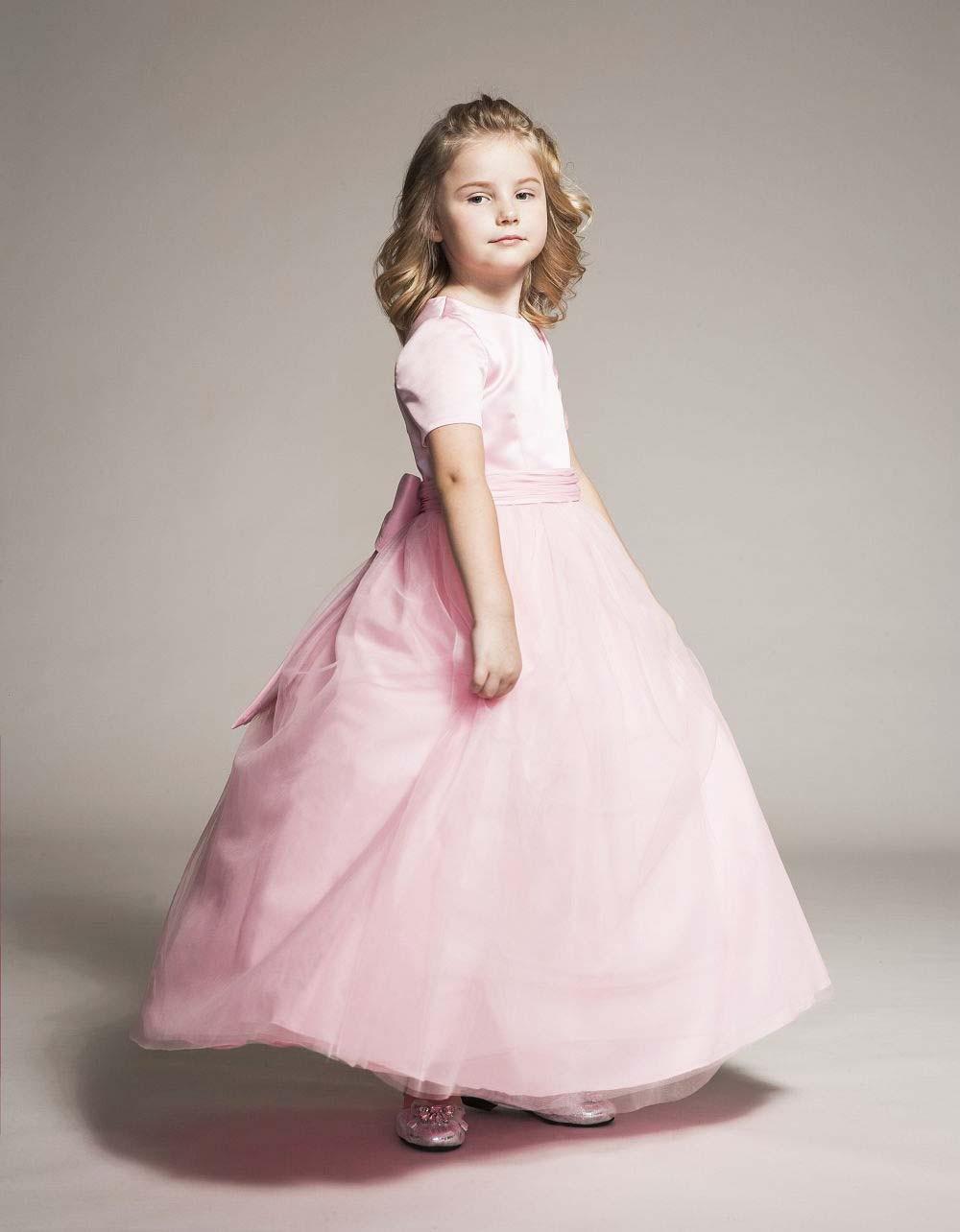 Style B163007 – B2
The super sassy style B163007 from B2 is a fun and floaty short style with a pretty crossover V-neckline. The stylish cut and colour of this dress makes it ideal for fashion conscious maids who are picky about being put in a full length gown. One things for sure, this dress is an effortlessly stylish look for your best girls – whether you choose to glam it up with lots of accessories or keep it low key with strappy sandals and relaxed hair to complement a fab beach wedding dress.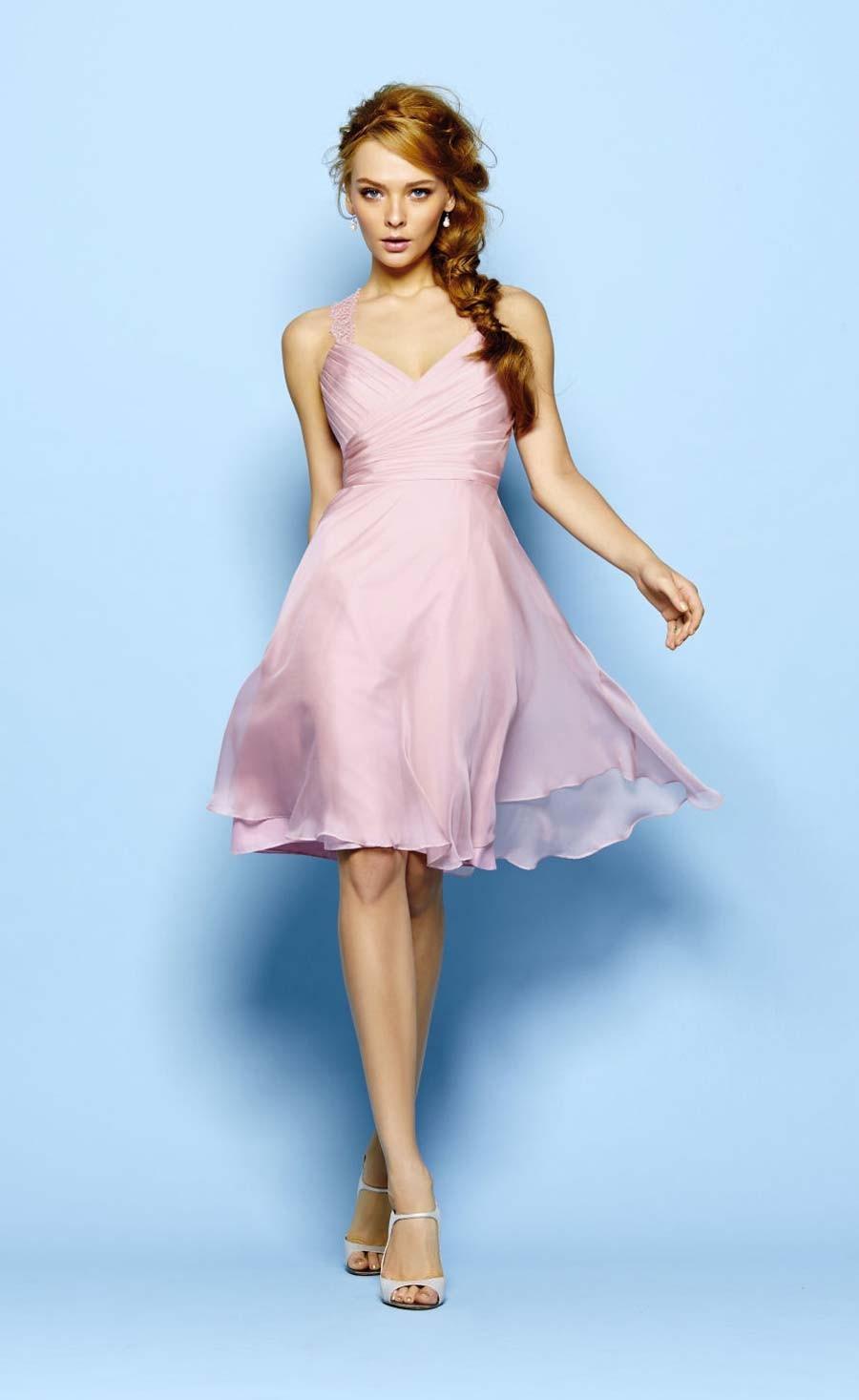 A pale pink bridesmaid dress would also pair well with a white bridesmaid dress if you want to mix and match your bridal party – don't miss our pick of the best styles.