Second Marriage Wedding Dresses: The Rules and Etiquette Revealed
How do you choose your bridal style if it isn't your first time down the aisle? Here are the REAL rules about second marriage wedding dresses (along with 27 of our favourite gowns)
We have included third party products to help you navigate and enjoy life's biggest moments. Purchases made through links on this page may earn us a commission.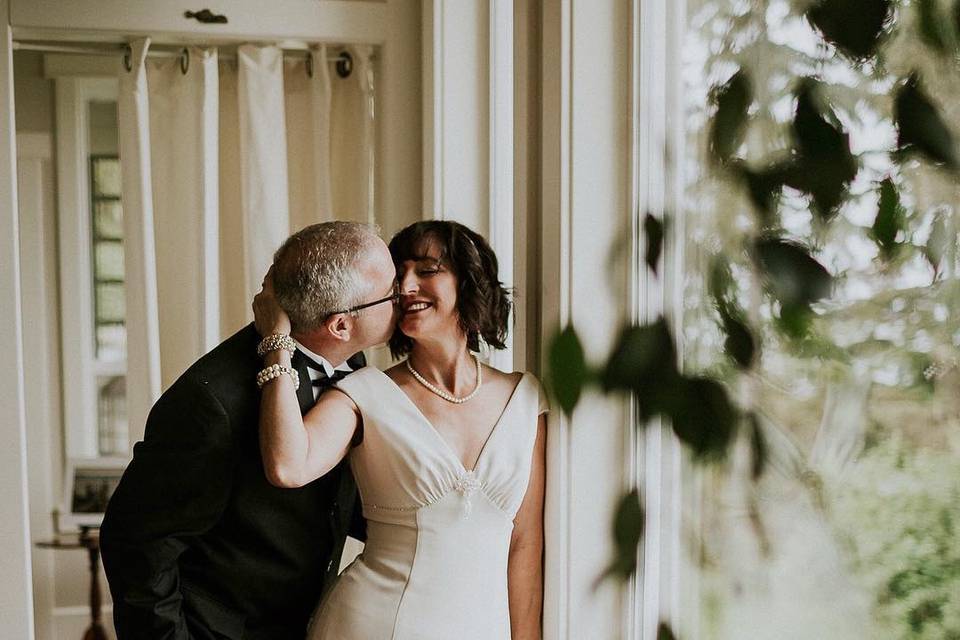 Browsing second wedding dresses should be just as enjoyable as for your first marriage - maybe even more so.
However, uncertainty over remarriage etiquette can take the shine off the shopping process for even the most excited to-be-weds. One of the biggest questions we're asked is whether you can still wear a white wedding dress at your second wedding - spoiler alert, you totally can.
When Meghan Markle married Prince Harry, it was her second marriage, and she chose not one but two white wedding dresses, looking confident and radiant in both. Yet some to-be-weds seem convinced that a second marriage means white is firmly off the list of potential bridal palettes.
If you're above the average age for marriage in the UK (which, according to our National Wedding Survey, is 33 for women), you may also be wondering whether you need to be looking at age-appropriate styles - and also wondering what exactly 'age-appropriate styles' even means! We've got some gorgeous wedding dresses for mature brides here.
Here's the truth about what's appropriate to wear to marry again and some beautiful second marriage wedding dress ideas.
The Best Second Wedding Dresses for 2022
1. Clovelly Wool-Crepe Gown – Roland Mouret, £1,077
If you went for a dramatic dress last time, you may want to wear a dress that wows in a different way for your second wedding. This Roland Mouret gown is so refined, combining a timeless silhouette with uniquely chic shoulders.
2. White Joni Tulle and Crepe Gown – Rime Arodaky, £3,435.60
Conversely, if you kept your look simple the first time, you may be in the mood for something more showstopping for your second wedding dress. Rime Arodaky is the designer to know for sophisticated bridal sexiness. We love her jumpsuits, but she also gives great dress, like this stunning gown with a plunging bodice of Swiss-dot tulle.
READ MORE: Women's Dress Size Chart: How to Measure Yourself for a Wedding Dress and Bridal Separates
3. Style D3340 – Essense of Australia, £POA
A mermaid silhouette is flattering on most body shapes and has lots of impact. Combined with a beautifully draped design on the rest of the dress, Essense of Australia has made a chic and refined gown that's sure to delight and dazzle.
4. ERDEM Austin Cape Effect Sequinned Chiffon Dress – Net-a-Porter, £2,490
This sequinned, chiffon dress by Erdem is a perfect pick for a second wedding as it's still got a bridal feel, but also has a more grown-up, chic vibe. We love the cape effect.
5. Style 88019 – Justin Alexander, POA
This sleek design is a ballgown for brides who think they don't like ballgowns. You get the statement full skirt and silhouette, topped off with a romantic yet sleek sweetheart neckline.

Buy It Now
6. Everly - Grace Loves Lace, POA
Decided to have your second wedding abroad? We think these Grace Loves Lace bridal separates would help you put together a fabulously boho and carefree look for a beach celebration.
READ MORE: 30 Beach Wedding Dresses Perfect for a Destination Wedding
7. Jennifer Long Sleeve Dress – Monsoon, £499
A wedding dress with sleeves doesn't have to feel heavy. This Monsoon dress has embroidered mesh sleeves that enhance the overall feel of delicate romance, and it's also available in up to size 22, making it an excellent choice if you're looking for a plus size wedding dress.
8. Sophie Dress – Julietta by Morilee, POA
Create a glamorous look for your second wedding with this off-the-shoulder, mermaid dress from Mori Lee. You can remove the cap sleeves to switch up your look from day to night.
9. Olympia Dress – Pronovias, POA
If you like the idea of a boho second wedding dress but don't want to go too ethereal, Pronovias's glorious Olympia could be the gown for you. It features a form-skimming silhouette, flowing skirt and delicate lace touches.
10. Rose Wedding Dress – Whistles, £599
What we love about the Whistles bridal collection is that they take classic wedding dress features and give them a contemporary spin. Take this Rose dress: it's a popular off-the-shoulder style but with a high-low skirt and scalloped hem - the modern way to do pretty, and it comes in sizes up to an 18.
READ MORE: The 47 Best Wedding Dresses on the High Street
11. Style 222 – Jesus Peiro, POA
Remember that pared-back style we were talking about earlier? This Jesus Peiro dress is a prime example. It's utterly elegant, and you can make it your own through your accessories - or keep things totally simple for a minimalist look.
12. Leia Dress – Rita Colson, POA
For your second wedding, you may want to go all-out with a unique look. If so, check out Rita Colson's Leia, which manages to be both daring and oh-so-pretty.
13. Arielle Dress – Savin London, POA
Sticking with the unique but pretty theme for the moment, Savin London's Arielle dress makes for an enchanting look your guests are unlikely to have seen before.
READ MORE: Alternative Wedding Dresses: The Best Statement Styles
14. Portia Top & Brooke Skirt – Charlie Brear, POA
High necks feel so fresh. If you don't want to commit to the look for the entire wedding, however, pair Charlie Brear's Portia top with the Brooke dress - you can remove the top as the party really kicks off to reveal your strappy gown. After all, it's a special occasion - why not treat yourself to two bridal looks?
15. Juela Sequin Dress – AllSaints, £199
Fancy breaking all the bridal 'rules' at your second wedding? This AllSaints dress does just that: it's black and it's covered in sequins. We absolutely love it.
16. Bayler Dress – Maggie Sottero, POA
This chic strapless sheath is one for the minimalists. It'll look elegant styled with a bridal cover-up or just on its own.
17. Luciana Dress – Caroline Castigliano, POA
Caroline Castigliano's designs are all about grown-up glamour - which makes them perfect for a second wedding. The Luciana dress features a high-impact silhouette and a sinuous shawl collar neckline.
READ MORE: 28 of the Best Designer Wedding Shoes That Are Worth Blowing the Budget for
18. Long-Sleeved Wedding Dress – Stella York, POA
Illusion sleeves are a great way to go if you're not 100% on board with baring your arms for the whole wedding but you don't want to feel swamped. This Stella York dress proves the point perfectly, with those floral-bedecked sleeves pairing beautifully with the delicate chiffon skirt.
19. Olena Dress – Enzoani, POA
Enzoani are on the luxe end of the wedding dress scale - but if you can afford to, why not splash out for your second wedding? We're in love with their regal Olena dress, with those illusion side panels adding a touch of magic.
20. Livia Velvet Shift Dress – Boden, £39.20
If you want to wear a colour other than white but still want to stand out, take a closer look at Boden's Livia shift dress. The ruby shade is stunning, and the velvet fabric makes it perfect for winter weddings.
21. Embellished Column Wedding Dress – Annasul Y, POA
If you want to keep things covered up in the cleavage area - and hey, that's not an age thing, it's a personal style thing - there are plenty of wedding dresses with high necklines. We're drawn to the undeniable elegance of this Annasul Y gown, which is cut flatteringly around the collarbones.
READ MORE: The 21 Best High Neck Wedding Dresses
22. Marlène Dress – Valentine Avoh, POA
If you don't want your look to include much cleavage but aren't that keen on high neck wedding dresses, look for dresses with overlay necklines, like this Marlène gown. Overlays are often floral, so it's really refreshing to see a cool geometric lace used here.
23. Cut-Out Midi Dress – & Other Stories, £85
Now this dress is how you do city-wedding glamour: beautifully draped details and unique cut-outs. The creamy shade nods to traditional white but is easier to wear.
24. Demi Dress – Chi Chi Bridal, £155
Chi Chi's stylish maxi has the perfect plunge. The long sleeves and high neckline create an elegant dress that complements your figure without being too revealing. With a £98 price tag, it's ideal if you're having your second wedding on a budget.
25. Amelia Dress – House of Mooshki, POA
You may not want a maxi or a mini - so go midi! That way you get to show off your shoes without worrying about any accidental getting-out-of-the-car flashing incidents. This House of Mooshki dress feels agelessly romantic, with a shape that'll help you bring out your inner ballerina.
READ MORE: 37 of the Best Short Wedding Dresses for Every Style of Bride
26. Vianne Maxi Dress - Solace London, £295
This bias-cut maxi is just so cool, from the cowl neck to those split bell sleeves. We love the fact that the design manages to be both of-the-moment and timeless.
27. Cream Atalanta Stretch-Knit Midi Dress - Galvan, £650
It's elegance all the way with this cream dress. That perfectly judged fitted silhouette is super graceful, and you can style the dress up or down depending on your bridal tastes.
28. Brinkley Lynette – Maggie Sottero, POA
It's your wedding day - why not go for all-out glamour? This fairytale dress has a statement skirt, a glorious beaded bodice and the prettiest of dropped straps.
Your Second-Wedding Dress Questions Answered
Can Your Wear White for Your Second Wedding?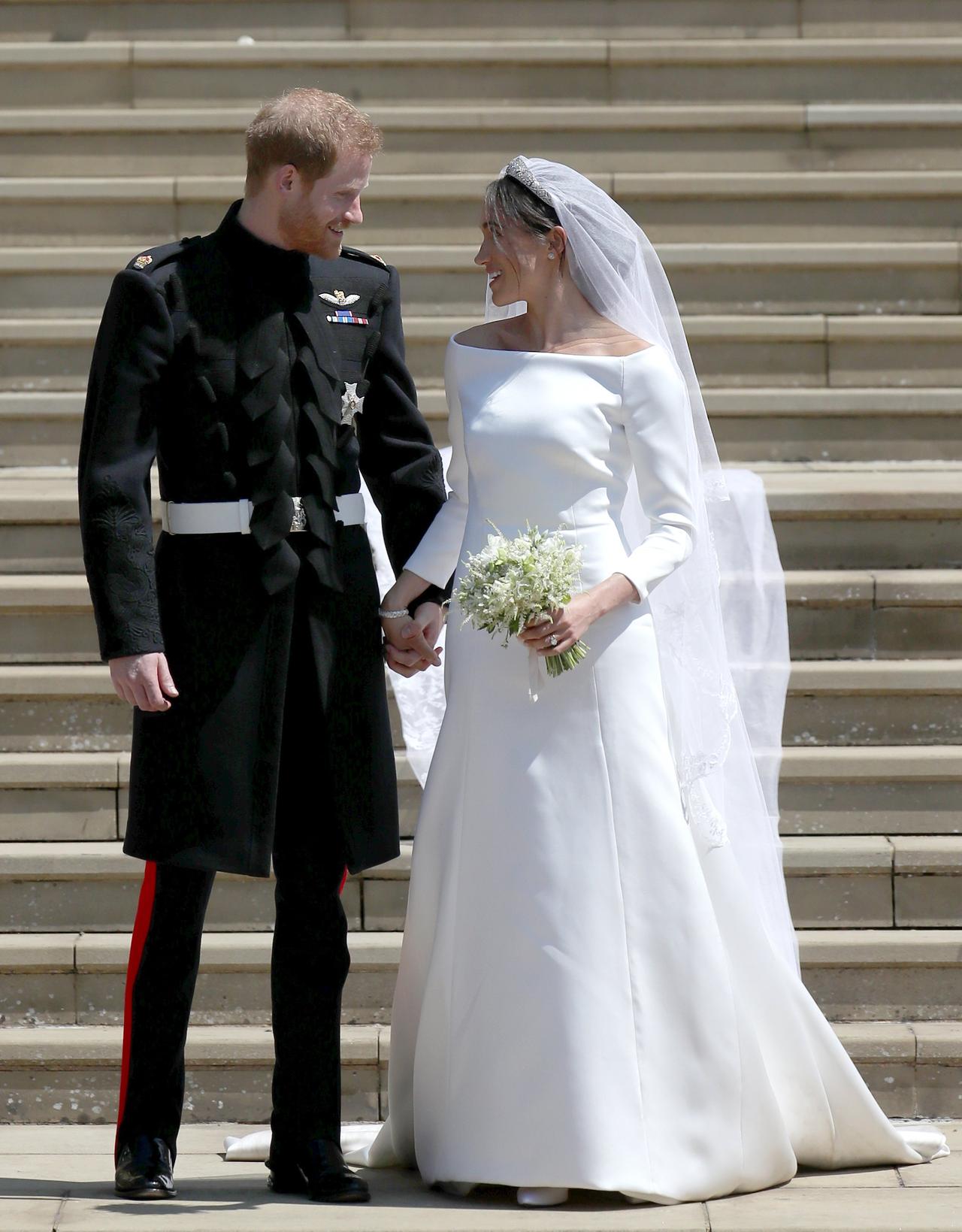 Firstly, let's break down this whole brides-in-white business. It wasn't until Queen Victoria wore an ivory lace number in 1840 that white dresses became the fashion for British weddings. Before then, it was actually traditional for brides to wear red, and white was worn for mourning. Only later did the symbolism of purity, innocence and virginity become associated with white – it certainly hasn't been the case that brides always wore the colour.
The point is that no bride has to wear white, but anyone can wear white. If you want to follow this much-more-modern-than-you-think Western wedding tradition, go for it!
Sadly, you may encounter ignorant people who say wearing white again is "inappropriate" or a breach of etiquette. They are entirely wrong. You can wear whatever you want for your wedding, whether it's your first, second, third, fourth, fifth – you are in love and getting married and should celebrate the occasion with the joy it deserves. Just look at Meghan and Harry – try telling them they should have married quietly.
See which celebrities chose non-white wedding dresses here.
What Colour Does a Bride Wear for Their Second Wedding?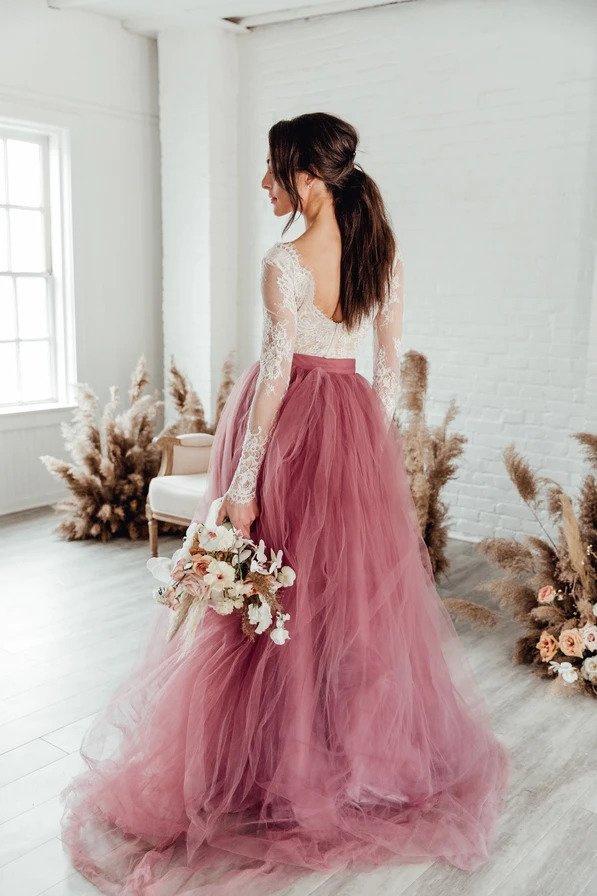 White, as established, is fine, but any other colour will work, too. Be guided by colours that suit you and make you feel good. One thing to be aware of is that you may not be able to marry for the second time in a religious building, depending on your religion. This means your second wedding could take place at a registry office or venue licensed for civil ceremonies, and these are generally much more relaxed. You might have dressed modestly in traditional white in a church, for example, but be happy in a stunning pink gown in a registry office.
To put a twist on tradition, you could also choose to stick with white but wear something ultra-chic like a bridal jumpsuit or wedding trouser suit instead of a dress.
Should a Second Time Bride Wear a Veil?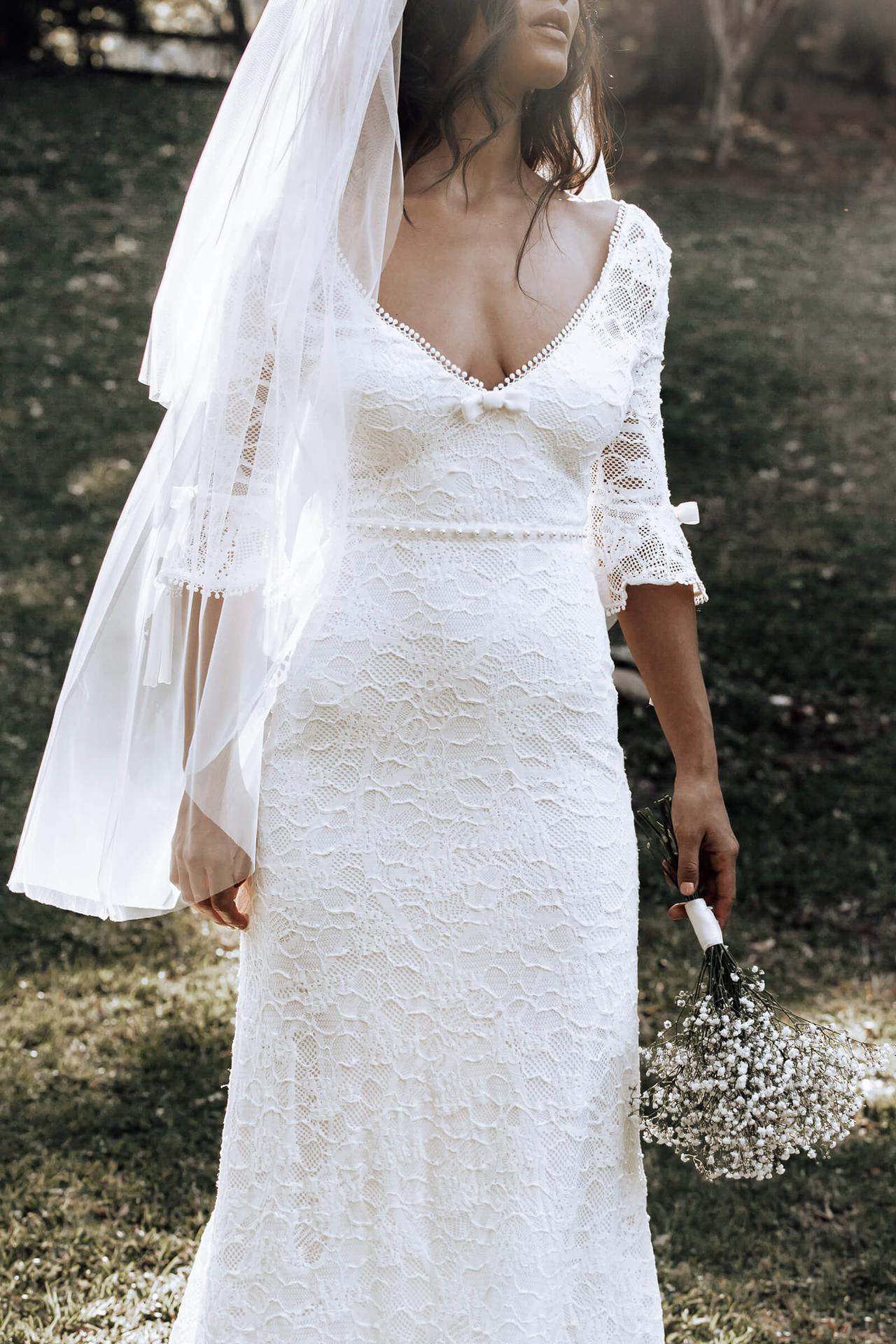 Absolutely, if that's what you want! There really is no etiquette that says you shouldn't. All you need to consider is whether a veil will suit your personal style, be comfortable to wear and go well with your outfit and hairstyle.
Of course, if you're planning on wearing a non-traditional bridal outfit, a veil might look a bit much. In that case, it's worth investigating other bridal hair accessories, from silk ribbons to headpieces.
READ MORE: The 7 Types of Wedding Veil & Our Favourite Designs
Second Marriage Wedding Dresses: The Dos and Don'ts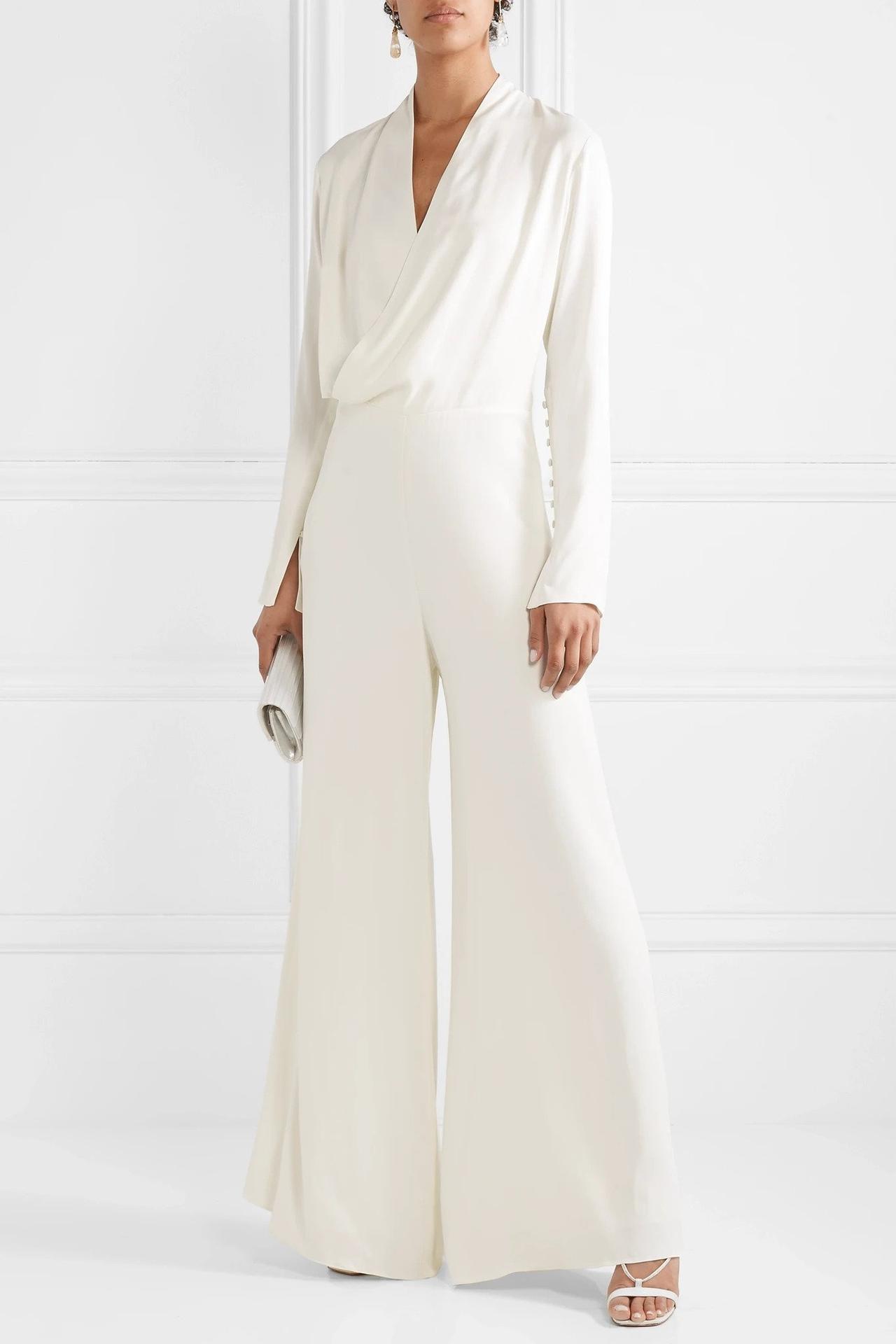 Peta Hunt, a bridal fashion expert, has a simple tip for dressing for your second wedding: "If at first, you don't succeed – go dramatically different the second time!"
You want to avoid anything that resembles your first dress for obvious reasons and also because it's likely your tastes have developed. "Hopefully, you'll be older and a little wiser and have found your personal style," she says.
What's more, wedding fashion doesn't stand still. The types of dress you can get will have changed from your first marriage, so there will be plenty of options available that weren't on the market the first time around. Check out our round-up of the hottest wedding dress trends to see what's new.
Other than choosing a different wedding dress style, there are some simple expert tips that will help you find the look you deserve.
Do Choose the Dress for You, Not Your Preconceptions
"Forget about your dress being age-relevant – you need to work out the right shape for you and look for a dress that suits your venue," says Peta.
Think about what kind of day you're going to be having. "How about a chic suit and jacket in the style of Jackie O? It's perfect for a city wedding," says Peta. "For a countryside celebration, you could consider a boho dress if the aesthetic is laidback, or something more ballgown-inspired if it's super-formal. For an evening wedding, a beaded dress or jumpsuit can work well."
READ MORE: 35 Stylish Wedding Jumpsuits
"Whatever style you choose, the key is to make sure to pick a fabric that flatters," says Peta. "Crepe is good, as well as classic lace or silk."
Don't Be Afraid of Pattern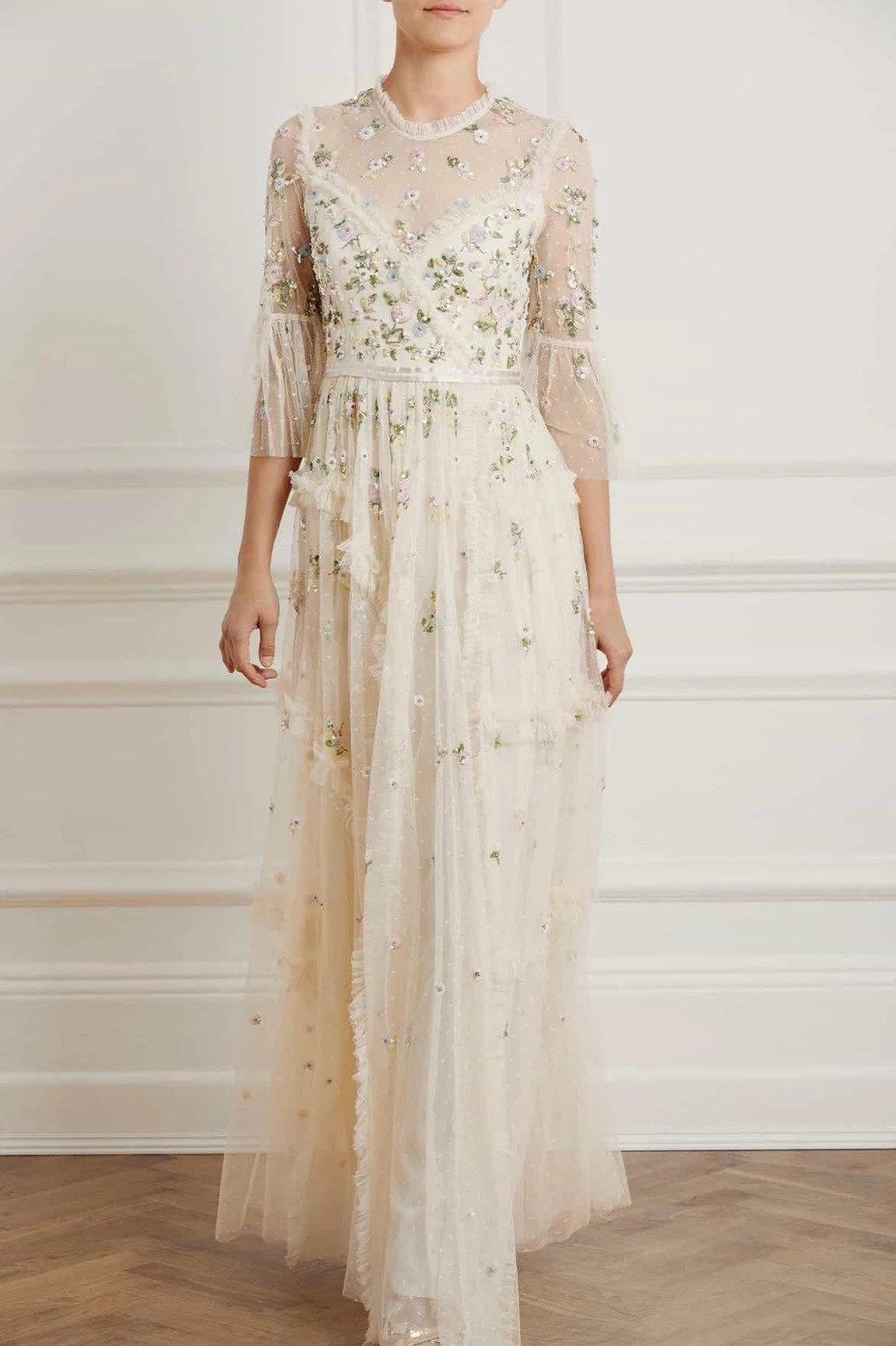 If you're thinking along alternative lines, you don't have to go for a block colour. Explore polka dot, floral, geometric – whatever feels right.
Do Pare It Back
"If your bridal style this time around is all about elegance, a good rule is to try to take it all down a bit," explains Peta. This is relevant whether your second marriage is in your 30s or your 60s. "It comes down to focusing on quality. Go for a simple, perfectly cut dress and splash out on a pair of shoes or great jewellery. Don't forget good underwear, too!"
READ MORE: 50 of the Best Simple Wedding Dresses
Or Don't Pare It Back...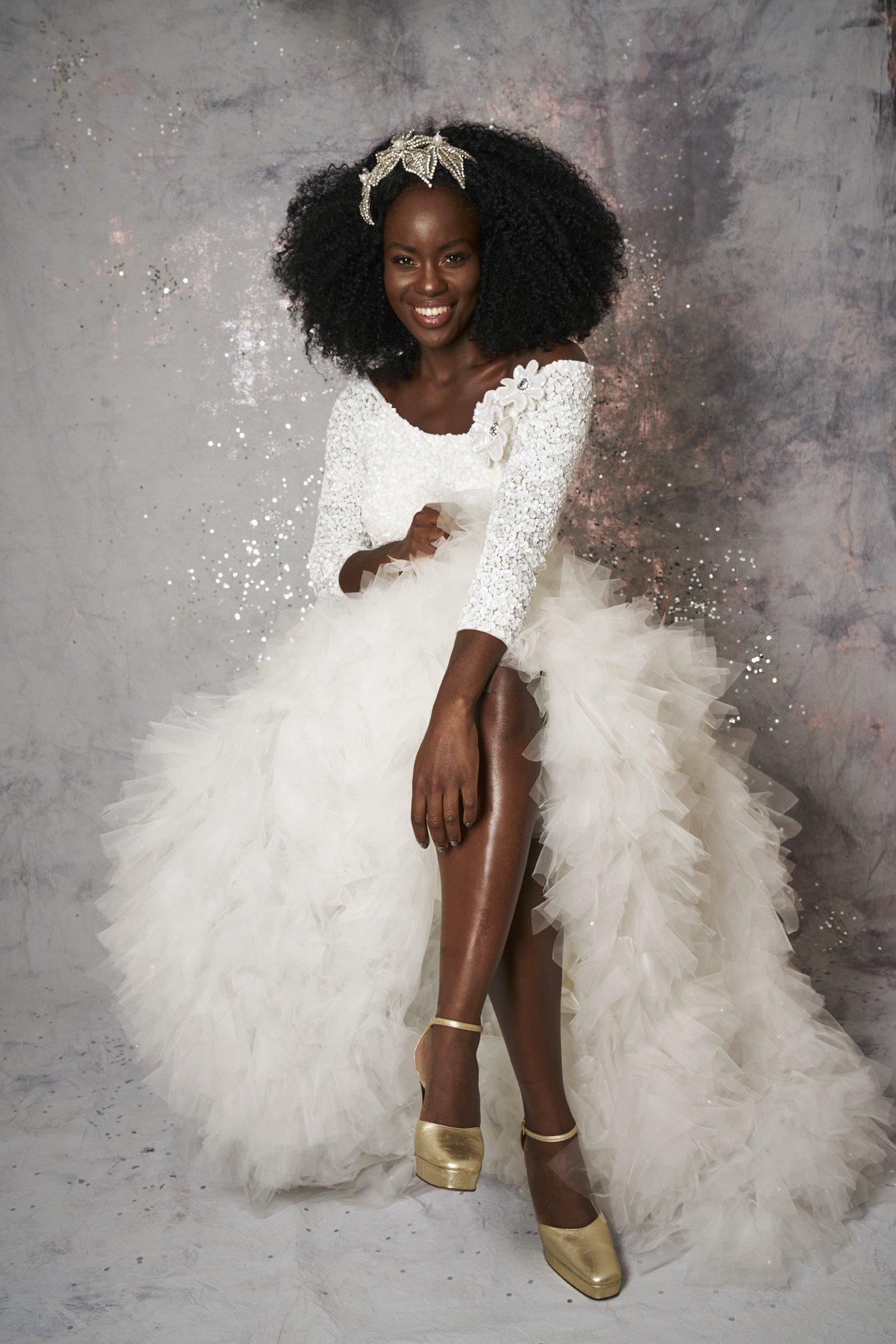 Remember, this is your wedding - if you want to go for high-octane glamour, we say do your thing and look amazing.
Do Find a Muse
"Think about a style icon and look at what type of outfits they pick," says Peta. "There's lots of dress inspiration to be found on the red carpet to suit to-be-weds of all ages. Think Sophia Loren, Lauren Hutton, Charlotte Rampling, Helen Mirren, Pat Cleveland, Jane Fonda and Ines de la Fressange."
Did your wedding shoes hurt your feet the first time around? We have the solution: an edit of comfortable wedding shoes that look as amazing as they feel.