Bridesmaid Jewellery: 28 Affordable Gifts Your Besties Will Love
Whether you're looking for accessorises for your bridesmaids to wear on your wedding day, or as gift to thank them for all their support, these bridal jewellery ideas are gorgeous, thoughtful and affordable
We have included third party products to help you navigate and enjoy life's biggest moments. Purchases made through links on this page may earn us a commission.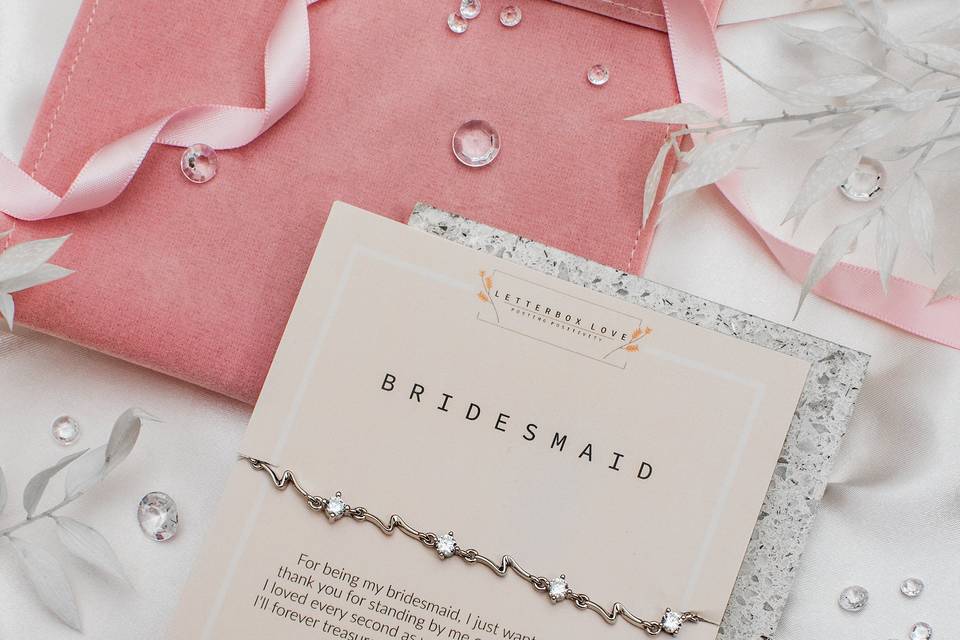 Finding the perfect jewellery to complete your bridesmaid outfits can be a really fun task - but it does come with its fair share of challenges too! You'll want to give your bridesmaids accessories that they'll all feel comfortable wearing and treasure forever, while still keeping in mind your own personal taste and wedding theme.
The key is to pick jewellery that will complement the colour and style of your bridesmaid outfits - so if you haven't selected those yet we recommend doing so first! Then you can decide on the metal type and whether you should stick to something simple or go for a statement piece, and mix and match their jewellery, or keep it all cohesive.
Whatever you choose, we bet your besties will love receiving a special piece of bridesmaid jewellery to wear on the big day. Better yet, you could even ask them to be your bridesmaid with some sentimental jewellery, or give to them as a thank you gift on the morning of the wedding.
From glittering necklaces and photo-filled lockets to subtle bracelets and beautiful bangles, we've picked out some of our favourite bridesmaid jewellery ideas – and there is something to suit every budget.
The Best Bridesmaid Jewellery Sets
If you want your bridesmaids to look super coordinated then a bridesmaid jewellery set would be perfect for them. It can often work out more cost effective to buy the jewellery as part of a set rather than individually.
1. Attract Rectangular Set – £115, Swarovski
Gift your bridesmaids jewellery that they can keep forever by investing in this beautiful turquoise necklace and earring set from Swarovski. It also means that you can have your bridesmaids as your something blue!
2. Sterling Silver Birthstone Earrings and Necklace – from £14, Hurley Burley
We love the idea of mismatched bridesmaids and these birthstone earrings and necklace sets would be a perfect way to do this. The same style of earring and necklace are available in each of the 12 birthstones so you and your maids can wear the same style in various colours.
3. Pearl Bridesmaid Jewellery Set – from £32, Joyby Corrine Smith
This gorgeous pearl bridesmaid set is just over £30 for the earrings and the necklace. The words 'I couldn't say I do without you' make this a perfect 'Will You Be My Bridesmaid?' gift and then your bridesmaids can keep the jewellery to wear on the wedding day.
4. Personalised Bridal Party Heart & Crystal Jewellery Set - £30, Hitched Shop
We also adore this crystal necklace and earring set from the Hitched Shop as a way for you to pop the question to your bridesmaids. It can be personalised with their name which adds an extra special touch.
5. Bridesmaid Necklace & Earrings Set– £21.99, Annette Rose Co
If your wedding is all about glitz and glamour, it's only right that your bridesmaids follow suit. This super sparkly set looks a lot more expensive than just £21.99 and would work as a great way to amp up a simple and elegant outfit.
READ MORE: 15 Things You Should Never Say to a Bridesmaid
The Best Bridesmaid Necklaces
A necklace is a perfect gift for your bridesmaids if you want to create a more uniform look, as this means all your bridesmaids will have the same neckline in their outfit.
6. Personalised Swarovski Crystal Necklace – £30, Hitched Shop
We love the idea of combining your bridesmaid thank you gift with your bridesmaid jewellery and this necklace from the Hitched Shop is a beautiful choice – and the price is just £30. You can choose between bestie, love, bridesmaid or maid of honour.
7. Bridesmaid Thank You Necklace – £25, Attic
This gorgeous thank you necklace from Attic can be personalised with the initial of each bridesmaid so they can have something that is both matching and unique to them. We suggest giving this on the morning of your wedding to say thank you for all their support.
8. Leaf Necklace – £10.40, Spot The Trend
These leaf necklaces from Spot The Trend are just £12 each and you can choose from a gold plated or silver plated finish. If you are having a botanical theme to your wedding day then these bridesmaid necklaces would perfectly suit your theme.
9. Circle of Sparkle Necklace – £90, Pandora
Give your bridesmaids some sparkle with the Circle of Sparkle necklace by Pandora. Available in a variety of chain lengths, you can choose something that works well with the neckline of your bridesmaid dresses.
10. Cosmic Emerald Pendant Necklace – £65, Astrid & Miyu
This drop star emerald necklace from Astrid & Miyu would work wonderfully with a V-neckline as it'll hang delicately down. We love the rose gold finish but it's also available in gold and silver if that's more to your taste.
11. Pacific Opal Drop & Coin Necklace – £35, Orelia
Gold coin necklaces are a really trendy choice and this 18k gold plated option is made even better with the addition of a Swarovski pacific opal stone. You can make the necklace unique to each of your bridesmaids by engraving the coin with their initial or zodiac sign.
12. Family Birthstone Heart Personalised Necklace – £26, Bloom Boutique
Planning on having your siblings or cousins as your bridesmaids? Bloom Boutique's family birthstone necklaces have an adorable heart design that can be filled with up to five birthstone crystals to represent the entire crew. How cute!
13. Margaret Sterling Silver Locket Necklace – £46, Rock n Rose
This sterling silver locket from Rock n Rose is the ideal combination of edgy and dainty and it'll look gorgeous no matter what colour your bridesmaids are wearing. But the best bit? The locket opens to reveal space for two photographs so you can place your favourite snaps of you and your loved one there for them to find.
14. Signature Name Necklace – £69, Abbott Lyon
If you love the idea of giving your bridesmaids personalised jewellery but don't want anything too bold, consider this subtle signature name necklace. Part of the Georgia Kousoulou X Abbott Lyon collection, you can even add a birthstone charm and choose from varying types of chains.
The Best Bridesmaid Bracelets
Matching bracelets for your bridesmaids would be a beautiful gift for the morning of the wedding - you could even get your wedding photographer to take photos of you and your maids close up all holding your bouquets and wearing your matching bracelets.
15. Bridesmaid Bracelet – £16.99, Letterbox Love
This beautiful bracelet from Letterbox Love serves as the perfect gift to give your bridesmaids after the wedding. The lovely poem will show them how much you appreciated all their help, and the stylish design will look great with any outfit.
16. Petal Bracelet – £125, Monica Vinader
Fashion-forward bridesmaids will be over the moon to receive jewellery from uber-cool brand Monica Vinader. The petal bracelet might be over £100 but it's a timeless piece that won't tarnish and can be worn for a lifetime.
17. Bridesmaid Heart Charm – £30, Pandora
If you know your bridesmaids collect Pandora charms (or even if you gift them their first one), this adorable heart charm is seriously special. You can even opt for them to be sustainably packaged in a gorgeous gift box so all the hard work is done for you. Perfect while you're busy wedding planning!
18. Shining Spade Pearl Line Bracelet – £70, Kate Spade
Pearls and weddings are a match made in heaven and this gorgeous gold Kate Spade bracelet will no doubt make your bridesmaids smile. In fact, we reckon you might want to buy a matching one for yourself to wear on the big day too!
19. Love Silver Bracelet Stack – £88, Annie Haak
Annie Haak are iconic for their stunning stacking bracelets and up there with our favourite design has got to be the love silver bracelet. Hand-threaded in the UK, the dainty design and sweet heart charms make it so wedding appropriate.
20. Velvet Sky Bracelet – £54, ChloBo
Who says you have to stick to metal for your bridesmaid jewellery? This beaded bracelet from ChloBo is handmade from Labradorite which is believed to provide strength and help you feel balanced.
The Best Bridesmaid Earrings
Matching earrings are a subtle way to add some style and will really shine if your bridesmaids are wearing up-do hairstyles.
21. Wildflower Daisy Chain Hoop Earrings – £22, Estella Bartlett
A fun twist on the classic hoop, Estella Bartlett's wildflower daisy chain earrings can be worn by your bridesmaids on the wedding day, and for seasons to come. Prefer a silver finish? They're available in that too!
22. Pearl Encrusted Domed Hoop Earrings – £30, Orelia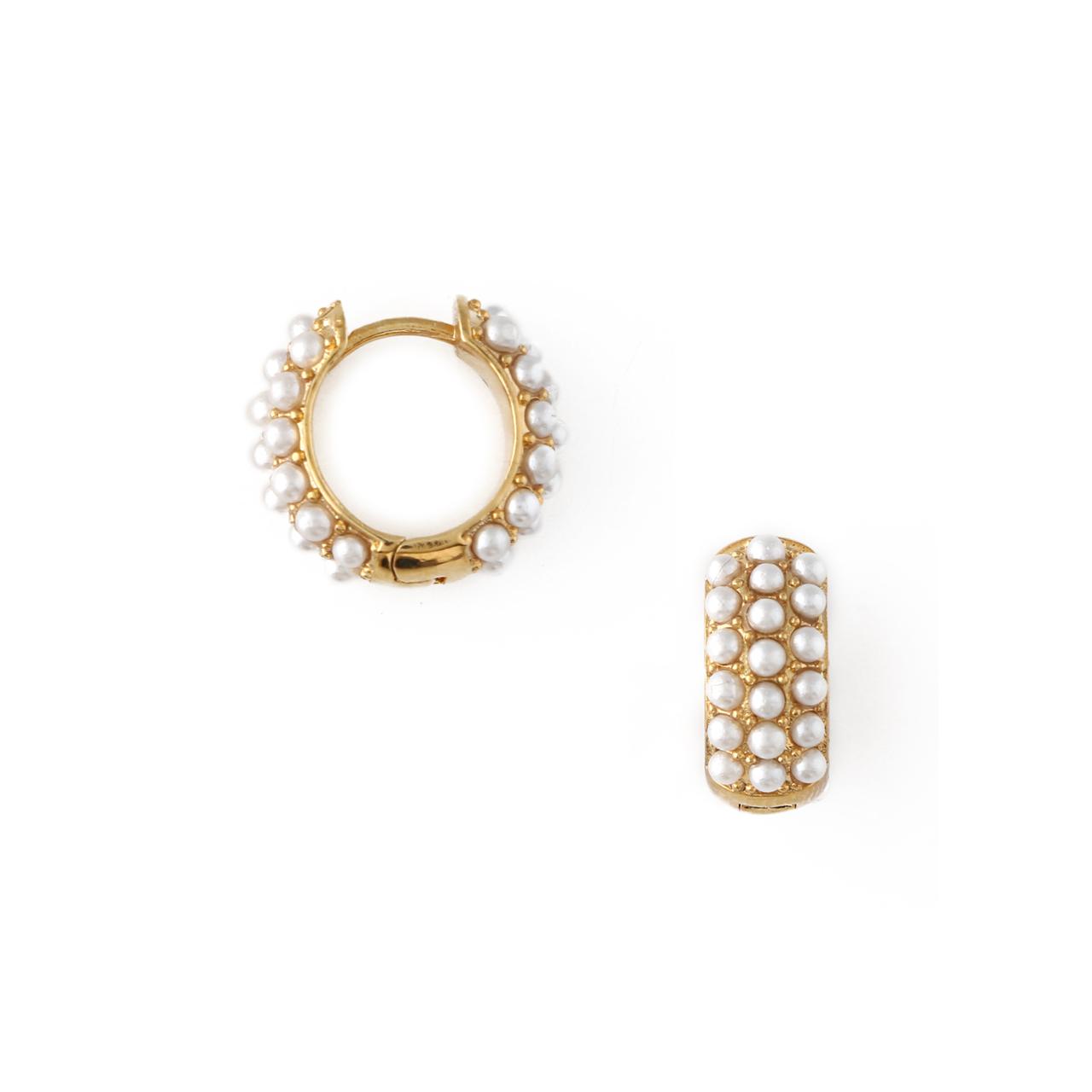 Part of the Orelia collection with radio presenter Vick Hope, these pearl encrusted hoop earrings look so luxe. Your bridesmaids will never know you bagged these beauties for just £30 each!
23. Personalised Gold Statement Earrings – £28, Bloom Boutique
Teardrop earrings create a really flattering look and these champagne gold plated numbers from Bloom Boutique will take your bridesmaids from your reception to the evening party so elegantly.
24. Circle Stud Earrings – £35, Ernest Jones
These glittering circle stud earrings from Ernest Jones are a classic and subtle style that your bridesmaids will love. You could gift them when you ask 'Will you be my bridesmaid?', or you could give them on the morning on your wedding.
25. Love Stud Earrings – £29, Abbott Lyon
What could be more wedding appropriate than gorgeous earrings etched with the word 'love'? Made from 18k gold plated sterling silver, treat your bridesmaids to these cute studs from Abbott Lyon and we bet they'll be wearing them long after the big day.
26. Auden Tiny Teardrop Turquoise & Gold Plated Huggie Earrings – £26, Oliver Bonas
If you're having a destination wedding nothing will compliment a coastal setting more than a touch of turquoise and these Oliver Bonas earrings are ticking all of our style boxes. Just imagine these beauties paired with a golden glow and a sea breeze...
27. Charlotte Studs – £29, Olive + Piper
We're obsessed with a sparkling earring and the Charlotte Studs from Olive + Piper have left us swooning. They're elegant, sophisticated and you can even gift your bridesmaids the matching bracelet too!
28. Art Deco Nepal Stud – £36, Vurchoo
Not only will these art deco earrings from Vurchoo's Studs of Hope collection look amazing on your bridesmaids (especially paired with vintage-style makeup and hair), every design sold helps children off the streets and into education in partnership with charity Teach A Man To Fish.
Looking for more jewellery ideas? Browse our best bridal jewellery for every budget.