We've all seen the pictures of wedding parties in classic maxis - but short bridesmaid dresses can be every bit as chic.
Whatever look you want to create, from glamorous boho to timeless elegance, we guarantee there's a short dress to suit the style. 'Short' doesn't have to mean an eyebrow-raising hemline - we're talking everything from on the knee upwards, so you can easily find a hem length your bridesmaids are happy with.
Choosing short bridesmaid dresses often means you can get away with bolder hues and stronger patterns that would swamp your bride squad if worn at maxi length. However, you can also get shorter styles in pared-back hues and delicate designs if that's more your aesthetic.
What's more, short bridesmaid dresses aren't just for spring and summer. Choose the right fabric and you can put together autumn and winter bridesmaid outfits that look as good as they feel.
Dive into our edit of the best short bridesmaid dresses to buy right now.
We have included third party products to help you navigate and enjoy life's biggest moments. Purchases made through links on this page may earn us a commission.
1. The Billie Dress – £180, Vanessa Cocchiaro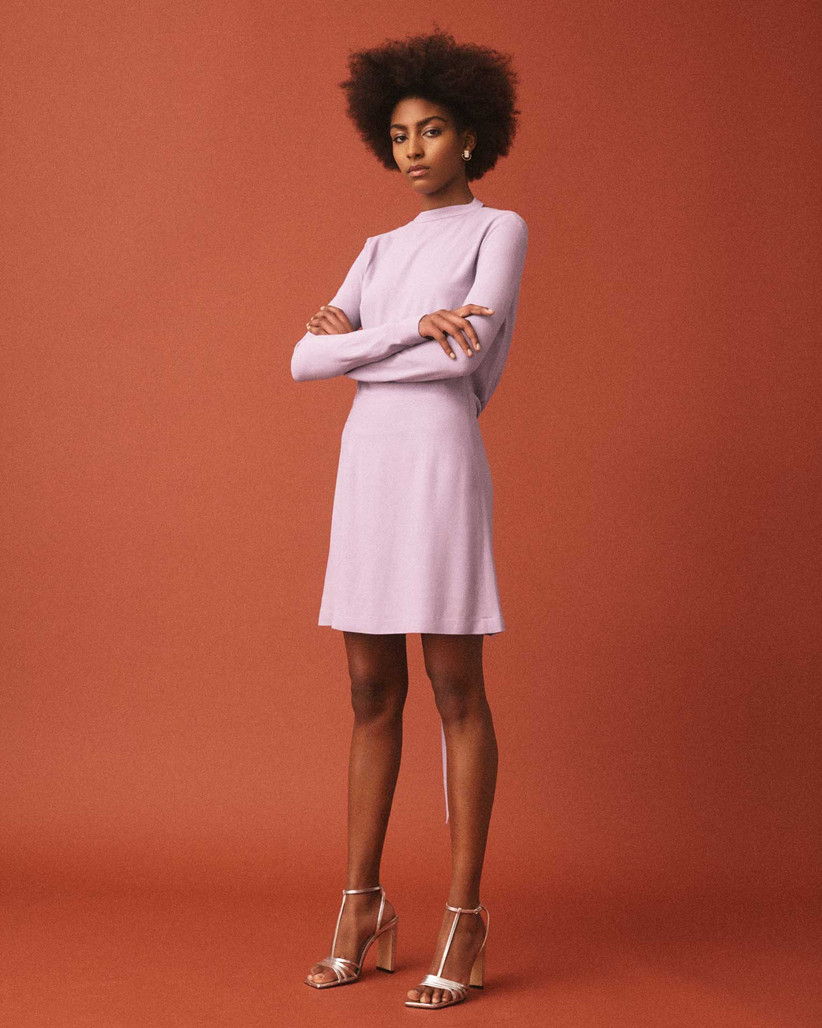 You can always rely on Vanessa Cocchiaro for an elegant bridesmaid look, and the Billie dress is no exception. The high neck and long sleeves pair perfectly with the shorter hemline, and it has a deliciously sexy open back.
2. Rococo Bodice Midi Dress – £195, Needle & Thread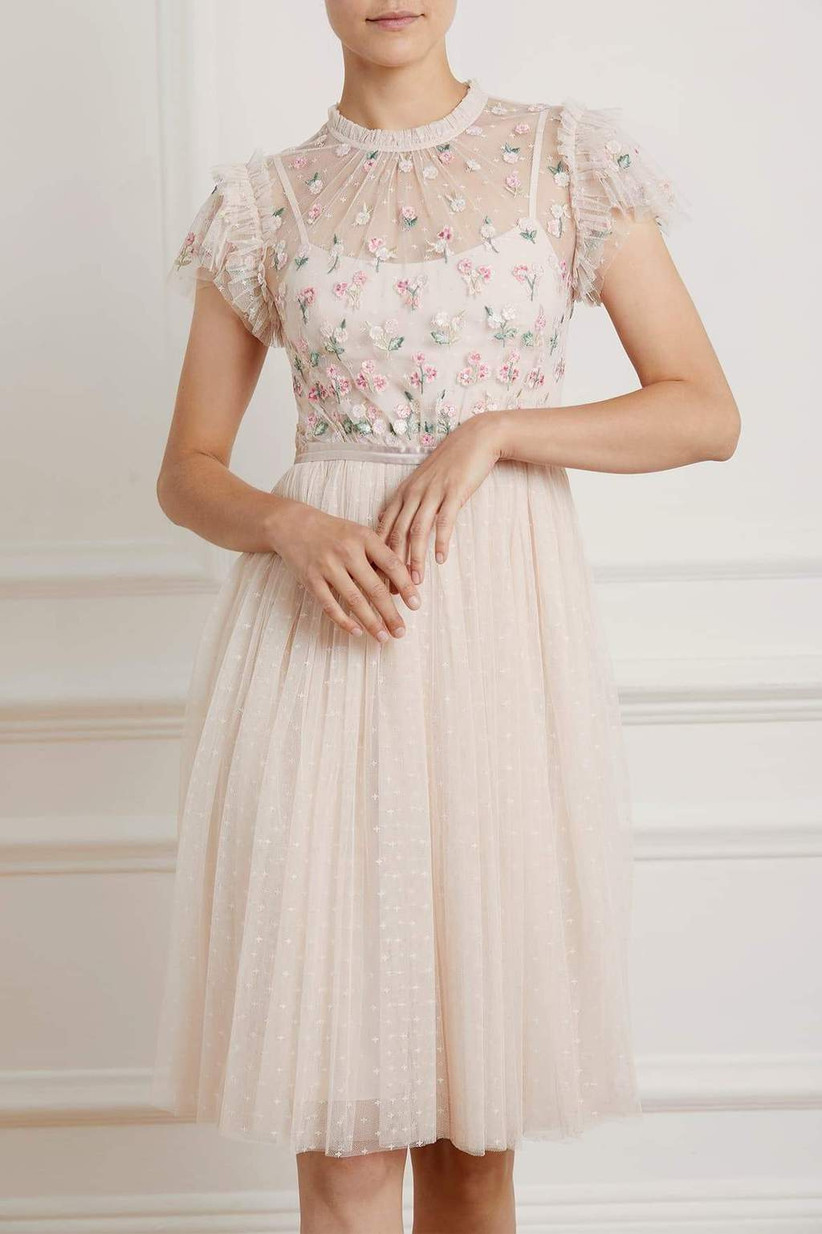 This bewitchingly pretty dress is billed as a midi, making it an ideal length if your bridesmaids want to go short but not too short. There are sequins across the intricate bodice to give subtle sparkle.
3. Faith Contrast Fitted Dress – £160, Phase Eight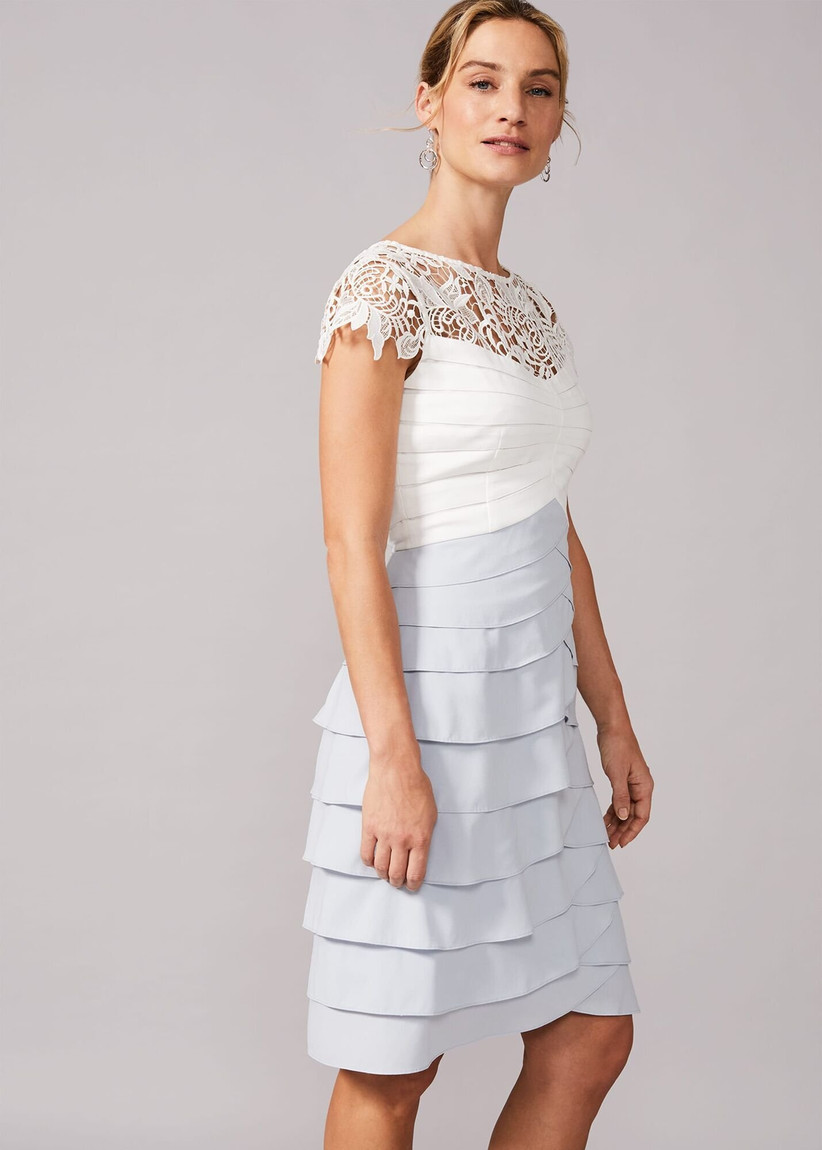 We do love a contrast bodice, and Phase Eight's Faith dress is a perfect example. Going short means you can get away with more intricate designs - if the layered skirt were floor length, it would overwhelm your bridesmaids' look.
4. Silky Satin Mini Dusk Dress – £140, Grace Love Lace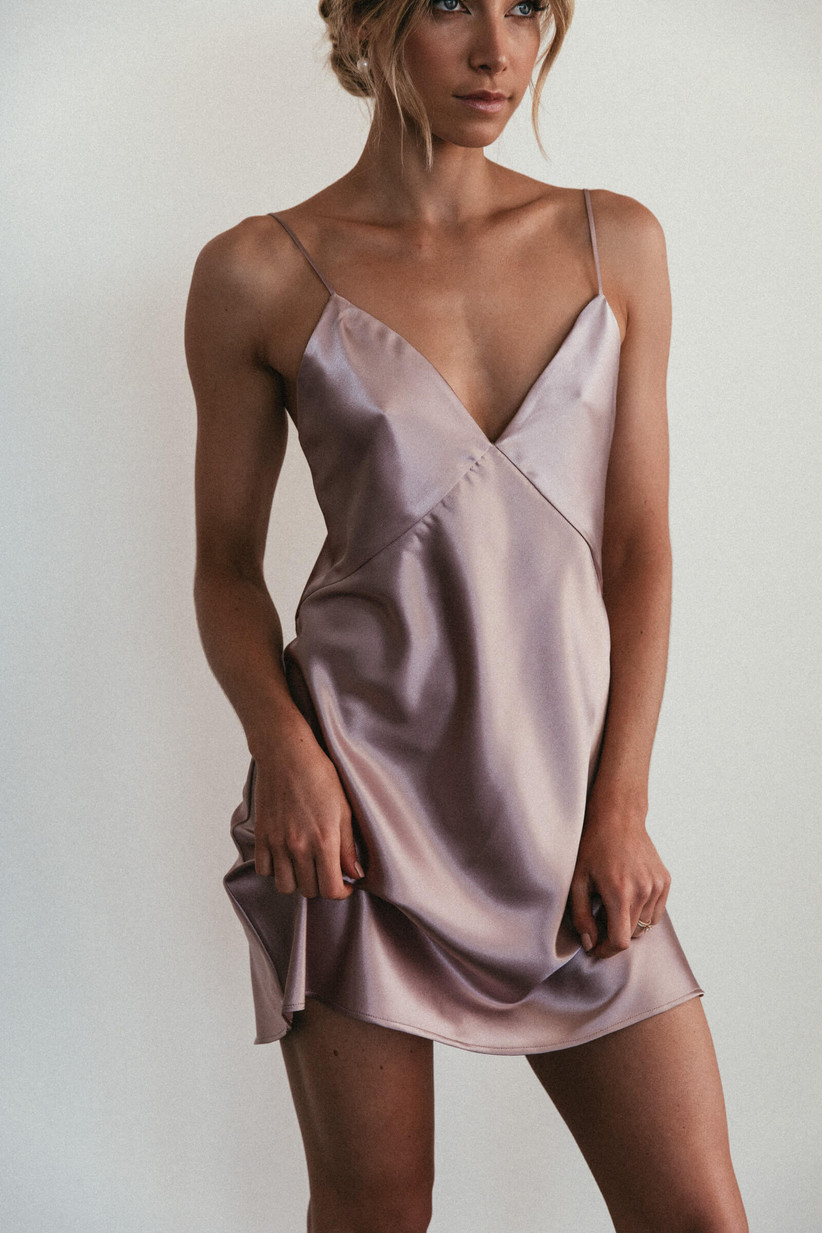 This short, chic slip dress would be idea for bridesmaids at a sunny destination wedding on the beach. It's available in three other colours.
5. Printed Dress – £29.99, Zara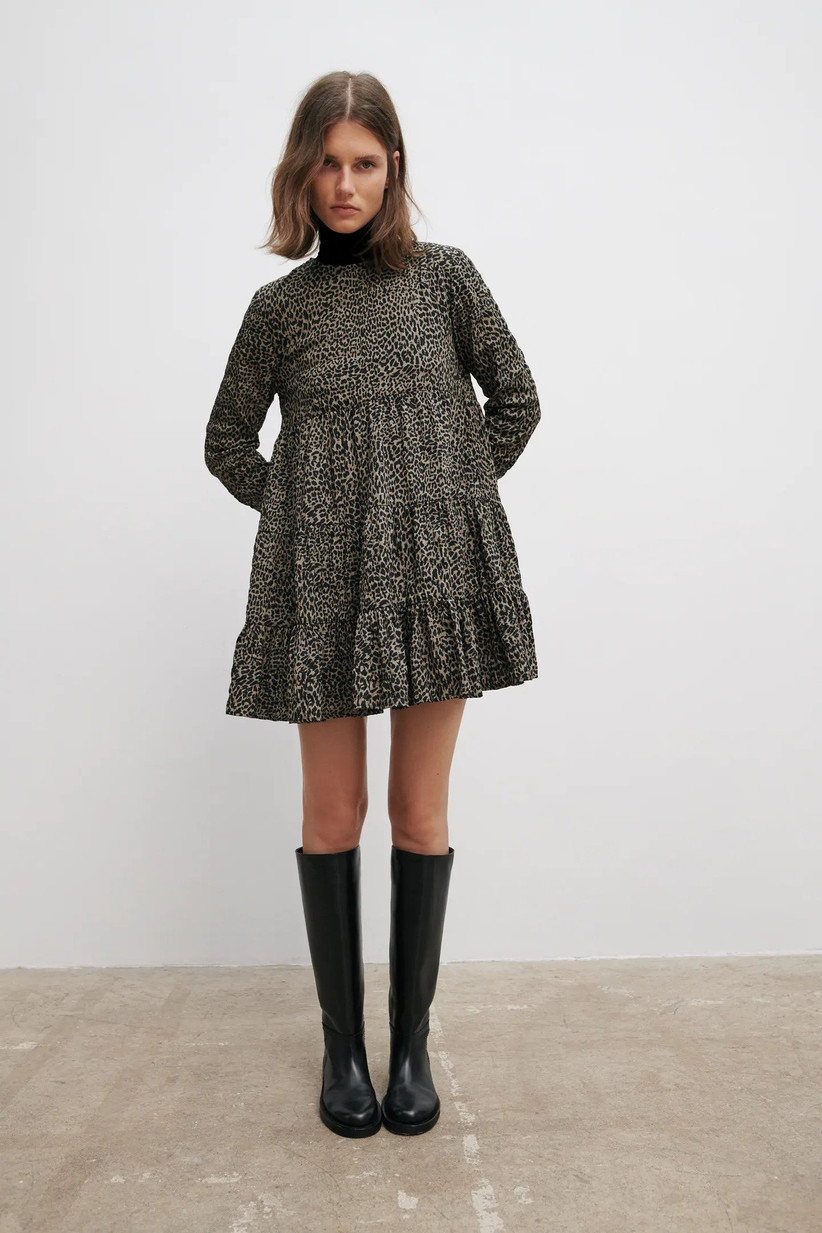 We love this short Zara dress for bridesmaids at an autumn wedding. The silhouette feels fresh and contemporary, and animal print is a point of difference.
READ MORE: 42 Stylish Autumn & Winter Bridesmaid Dresses Your Girls Will Love
6. Harlow Cherry Blossom Mini – £125, Kitri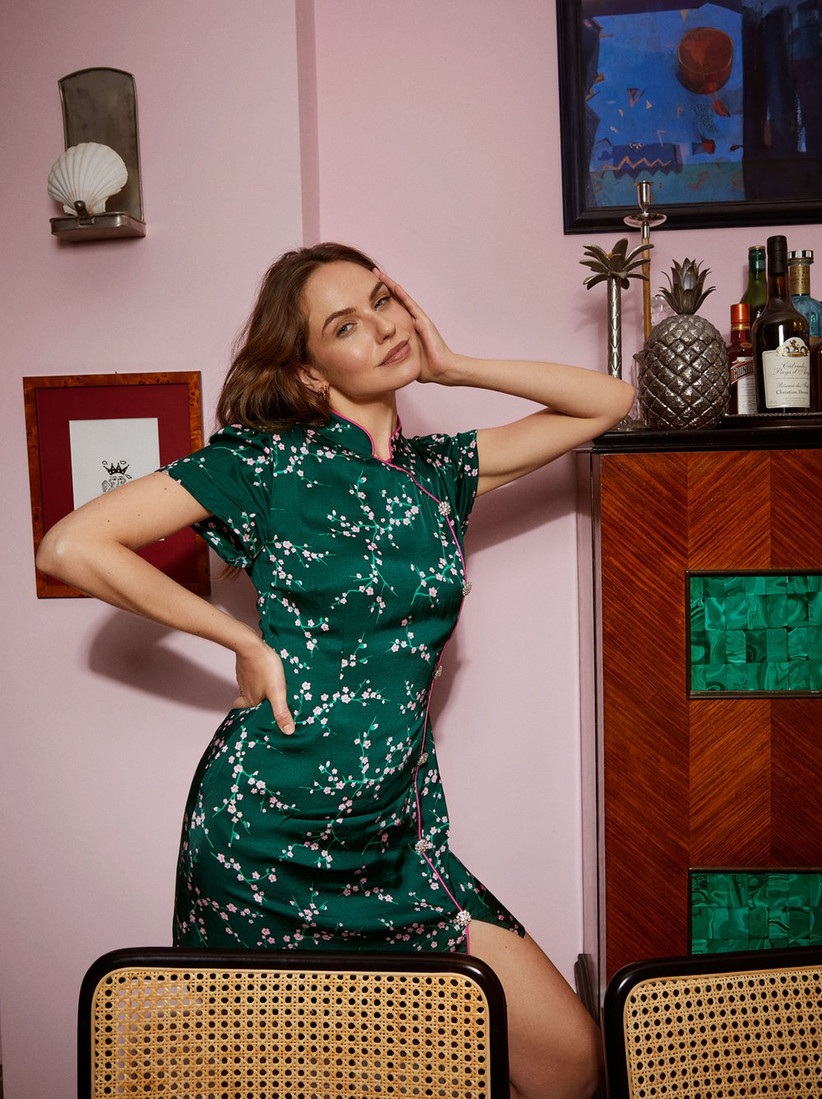 Kitri is great for vintage-inspired prints, as seen on this cherry blossom mini. The Cheongsam-inspired design is particularly pleasing.
7. Midsummer Lace Dress – £330, Needle & Thread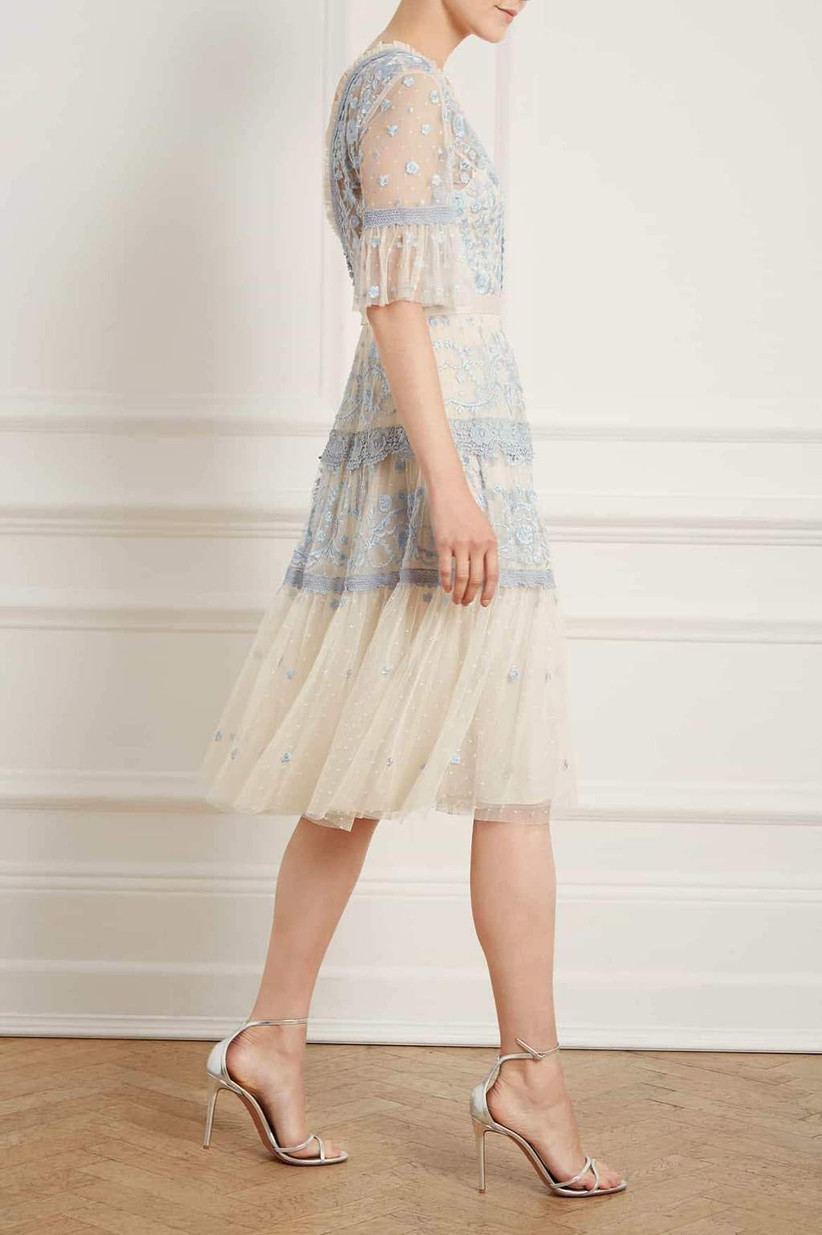 This ethereal dress is just so pretty, with flower motifs inspired by Victorian lace. That light-as-air tulle skirt will look amazing on your bridesmaids in the photos.
8. Satin Frill Skater Dress – £59, Oasis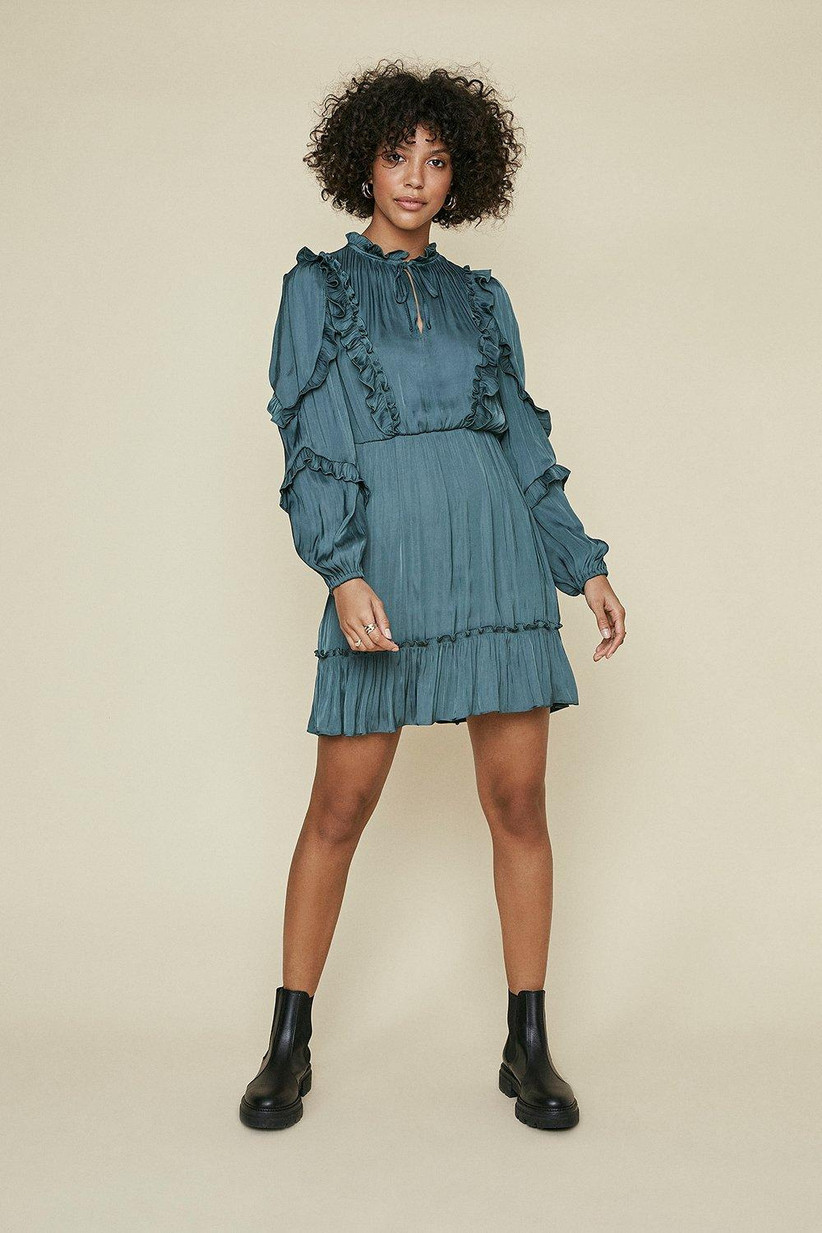 Want an elegant bridesmaids' look for under £60? It can be done! This short satin frock has romantic frills and is a chic shade of green.
9. Lace Cap Sleeve Shift Dress – £59, Coast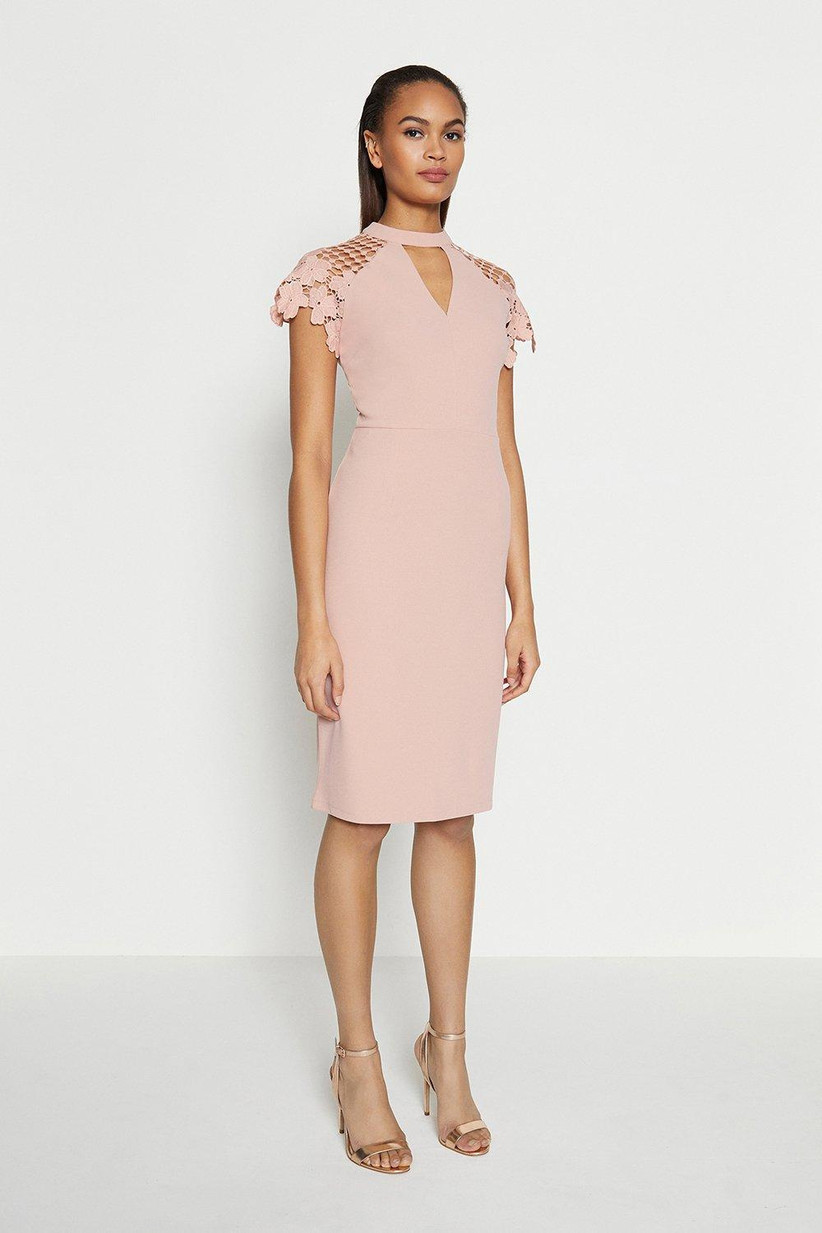 Another wonderfully elegant proposition, this blush Coast dress proves that a shorter bridesmaid outfit can be nothing short of regal. The lace cap sleeves keep it interesting.
10. Blue Mini Azalea Dress – £270, Self-Portrait
Got some fashion-loving bridesmaids on your hands? They'll certainly thank you for putting them in a mini Azalea, the short version of Self-Portrait's modern classic dress. It's available in other colours, but we particularly like this icy blue.
READ MORE: 35 Unique Bridesmaid Dresses Your Girls Will Want to Wear
11. Kim Dress – £300, Reformation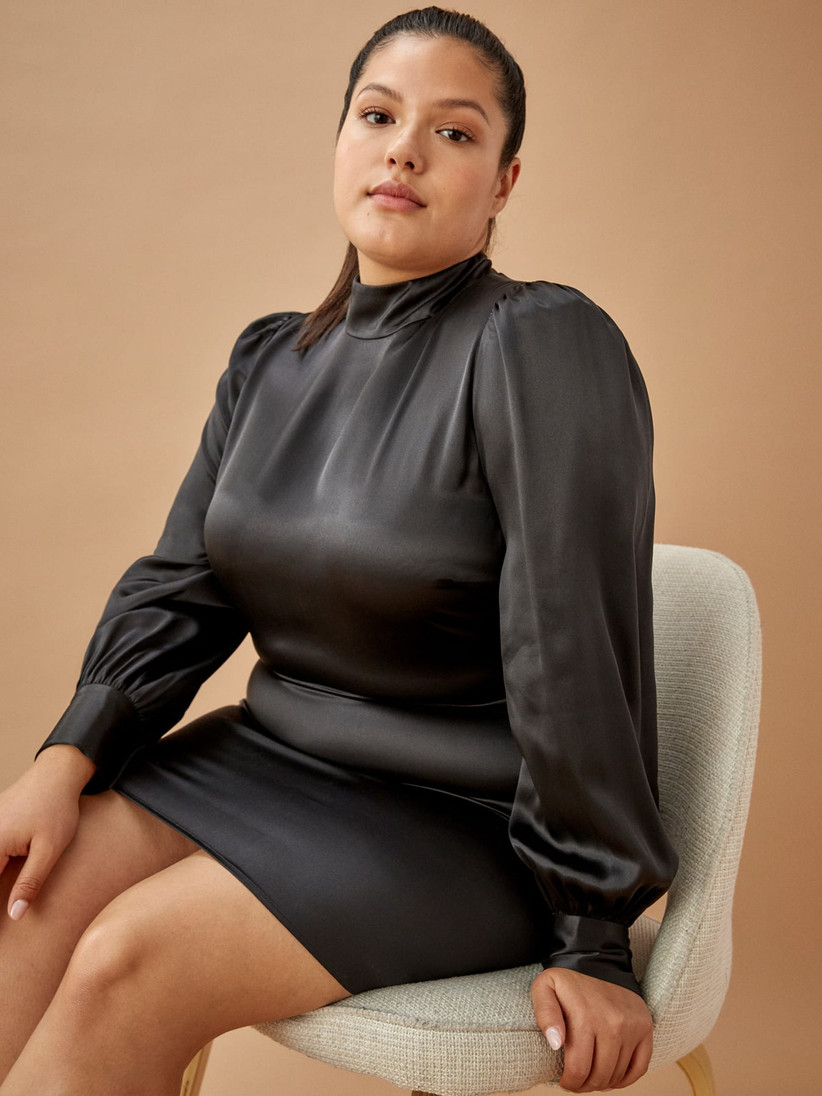 Who says bridesmaids can't wear black? Reformation's sophisticated Kim dress will win over any doubters. The higher neck perfectly balances the shorter hemline.
12. Dara Jersey Dress – £70, Boden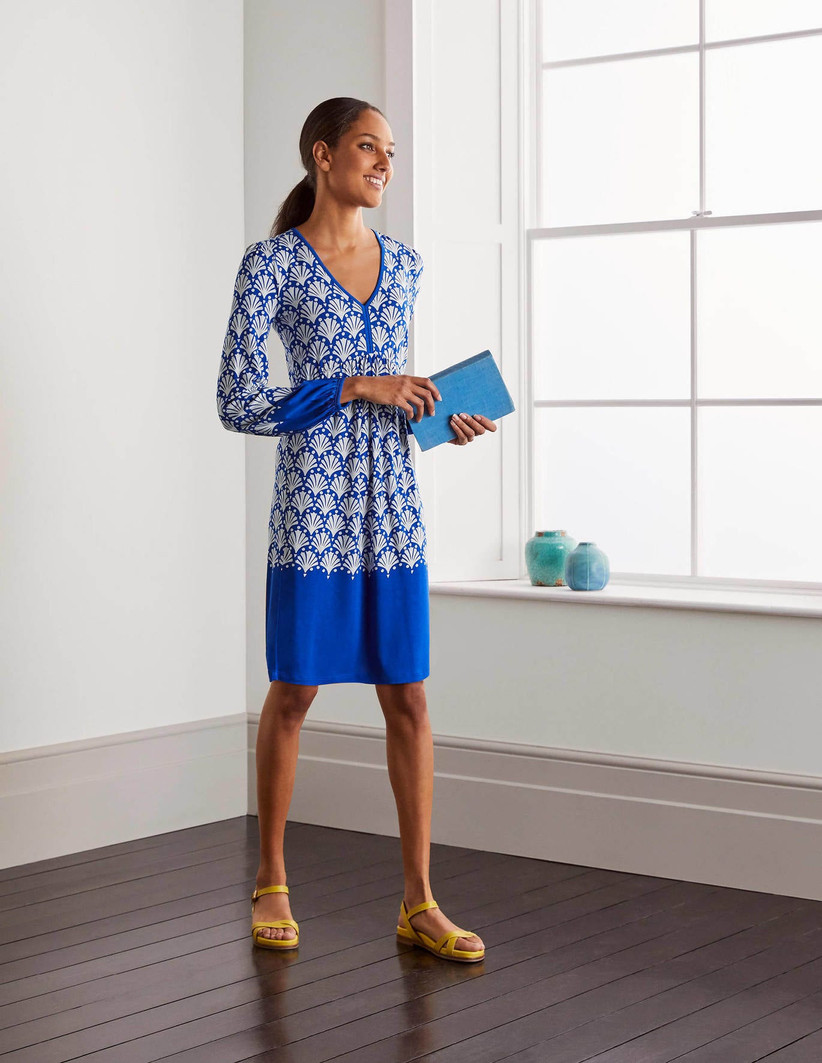 We'll be honest, Boden wouldn't normally be our first port of call for a bridesmaid dress, but this kaftan-style dress is just so cool. It would look incredible on bridesmaids at a summer wedding, particularly one with West Coast beach vibes.
13. Candace Dress – £75, Chi Chi London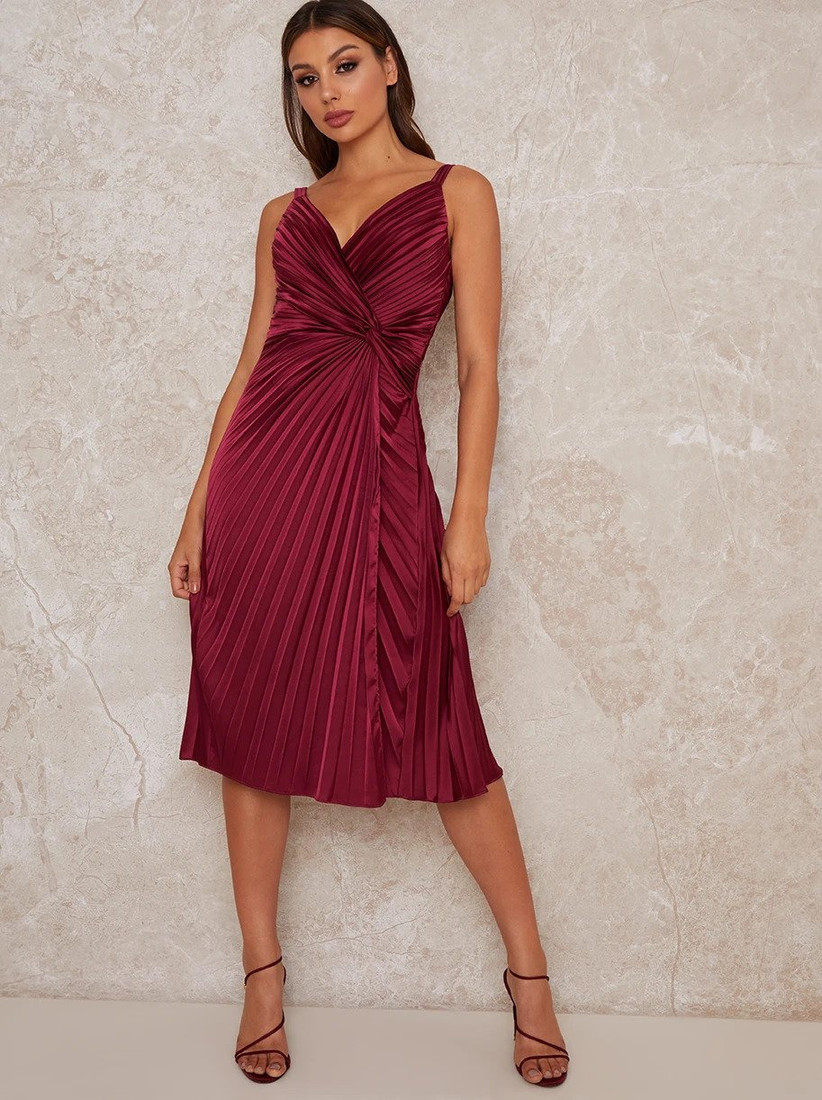 Most of Chi Chi London's bridesmaid collection is on the longer side, but we've fallen hard for the shorter Candace dress. It's the subtle way to do sexy.
14. Black Floral High Neck Mini Dress – £22.99, New Look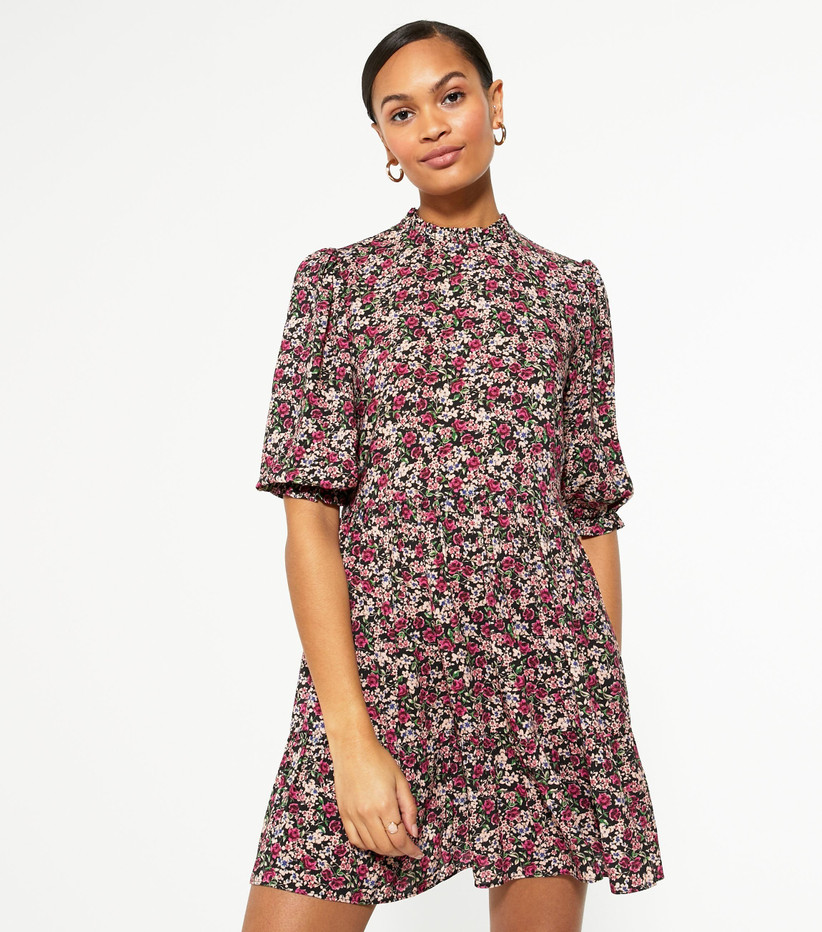 This floral mini is an absolute bargain, and would be just the thing for bridesmaids at a laidback spring or summer wedding.
15. Adrianna Papell Mikado Bardot Knee Length Dress, Coral Punch – £175, John Lewis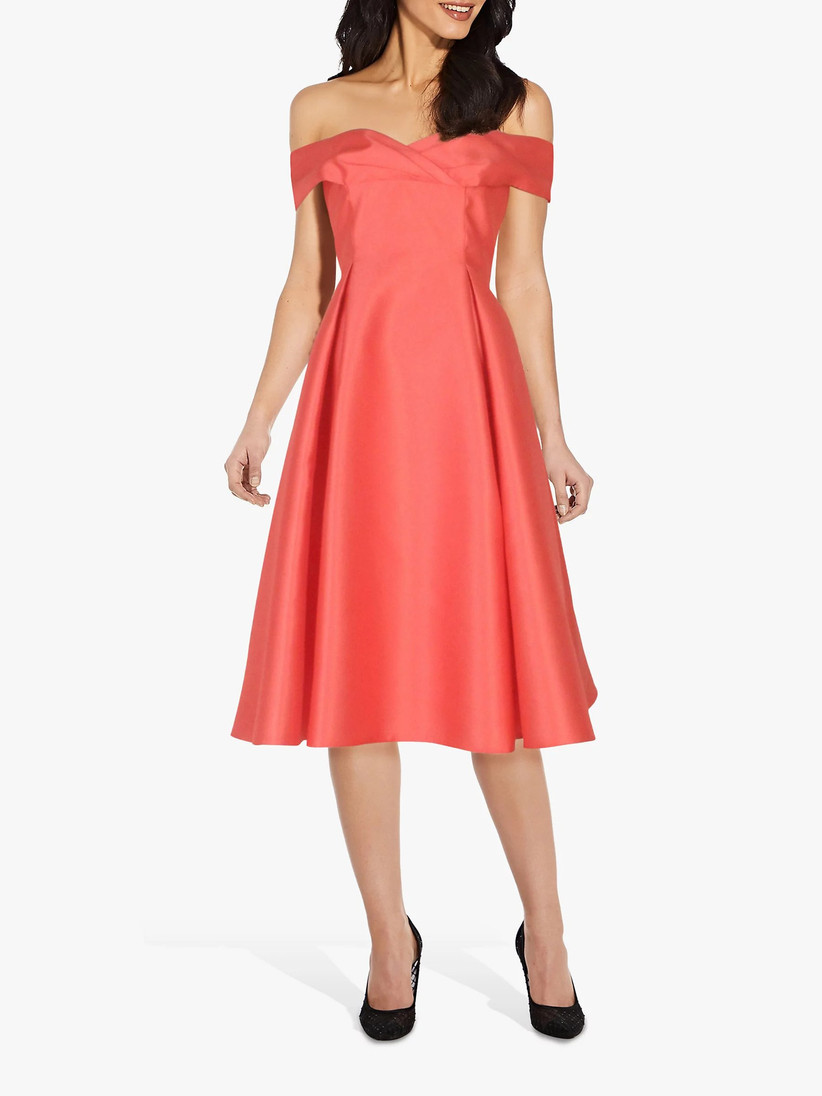 This knee-length dress has a gorgeous silhouette, with that flatter-all Bardot neckline and the flared skirt. If you're wearing an off-the-shoulder wedding dress, this bridesmaid style would compliment your look beautifully.
16. Fabric Flower-Covered Dress – £229, H&M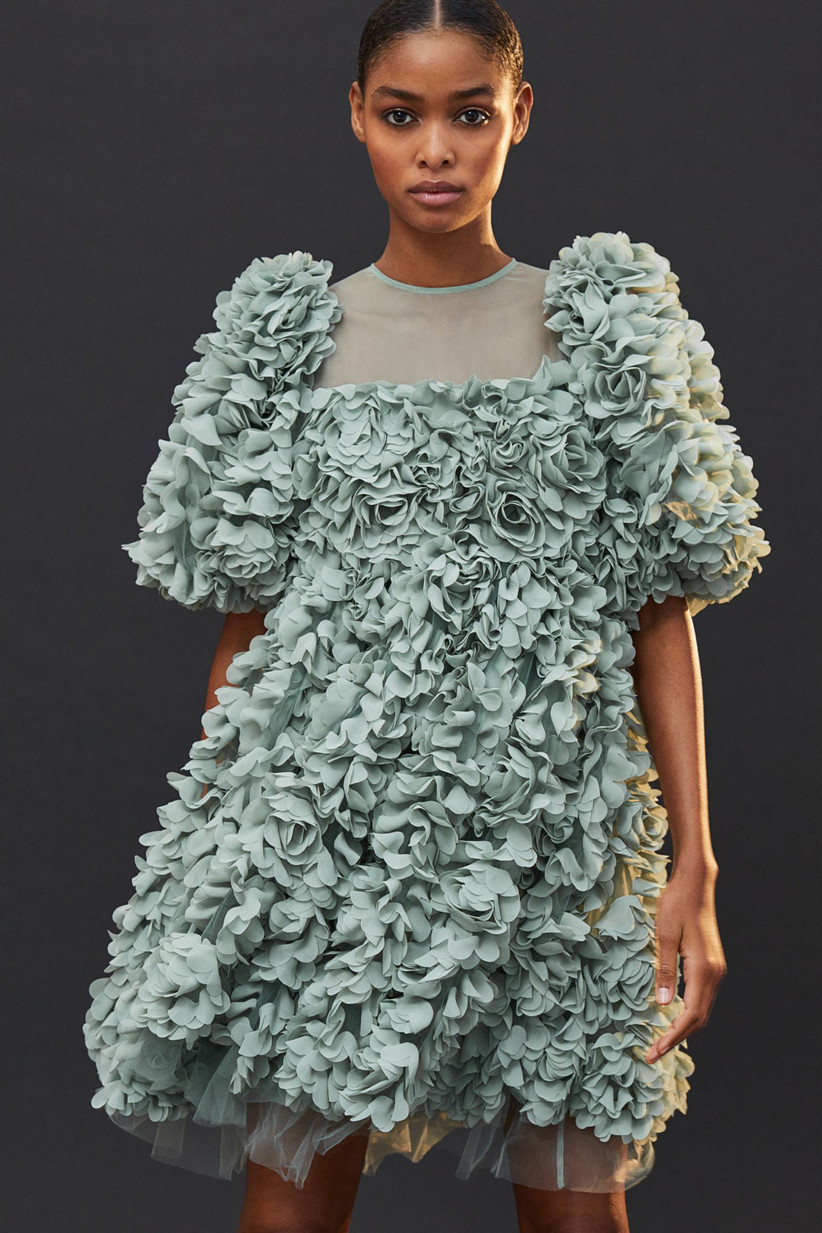 If your bridesmaids are happy to make a statement, this flower-bedecked mini dress is the way to do it. Just think how amazing it would look in the wedding photos.
READ MORE: The 35 Best High Street Bridesmaid Dresses for 2021
17. Tiered Mini Lace Dress – £75, & Other Stories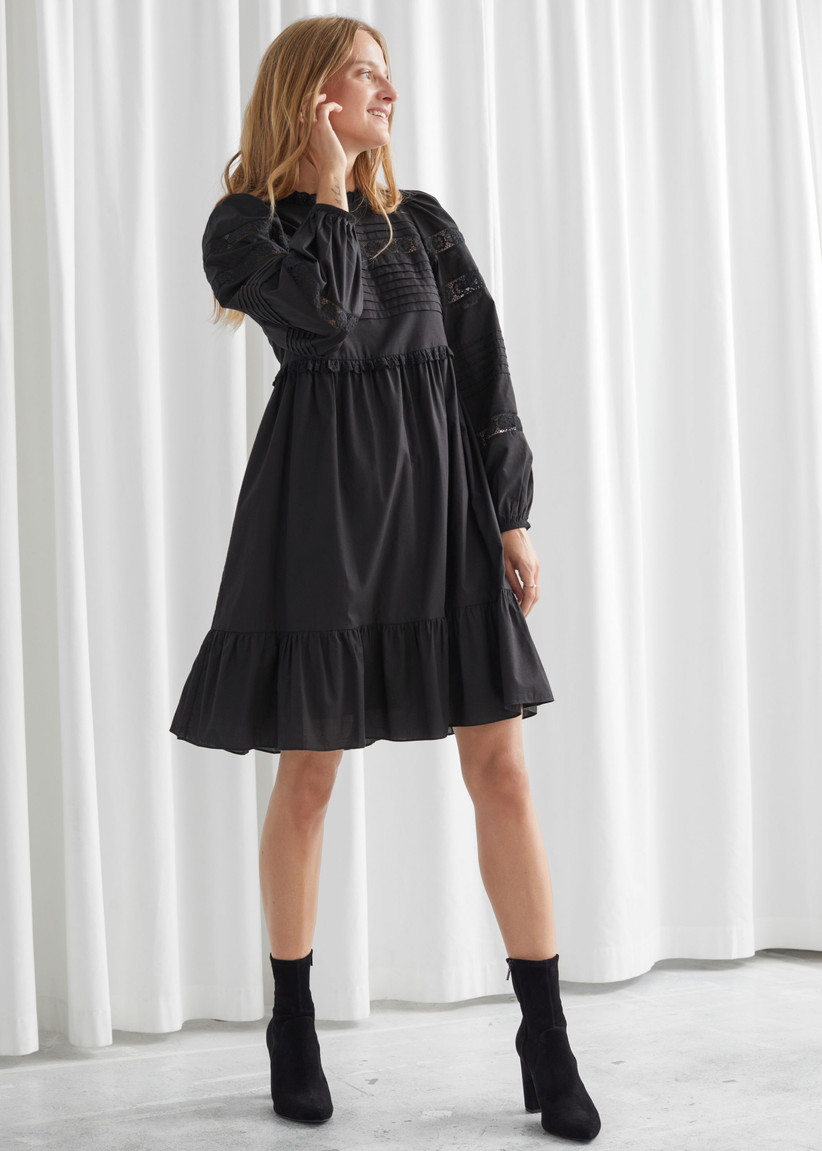 The design of this tiered mini dress is pure folk, but the fact that it's in black lends in a note of sophistication - ideal for a laidback-chic bridesmaid look at a summer wedding. It's one they'll definitely wear again.
18. Glitter-Spotted Mesh Dress – £34.99, H&M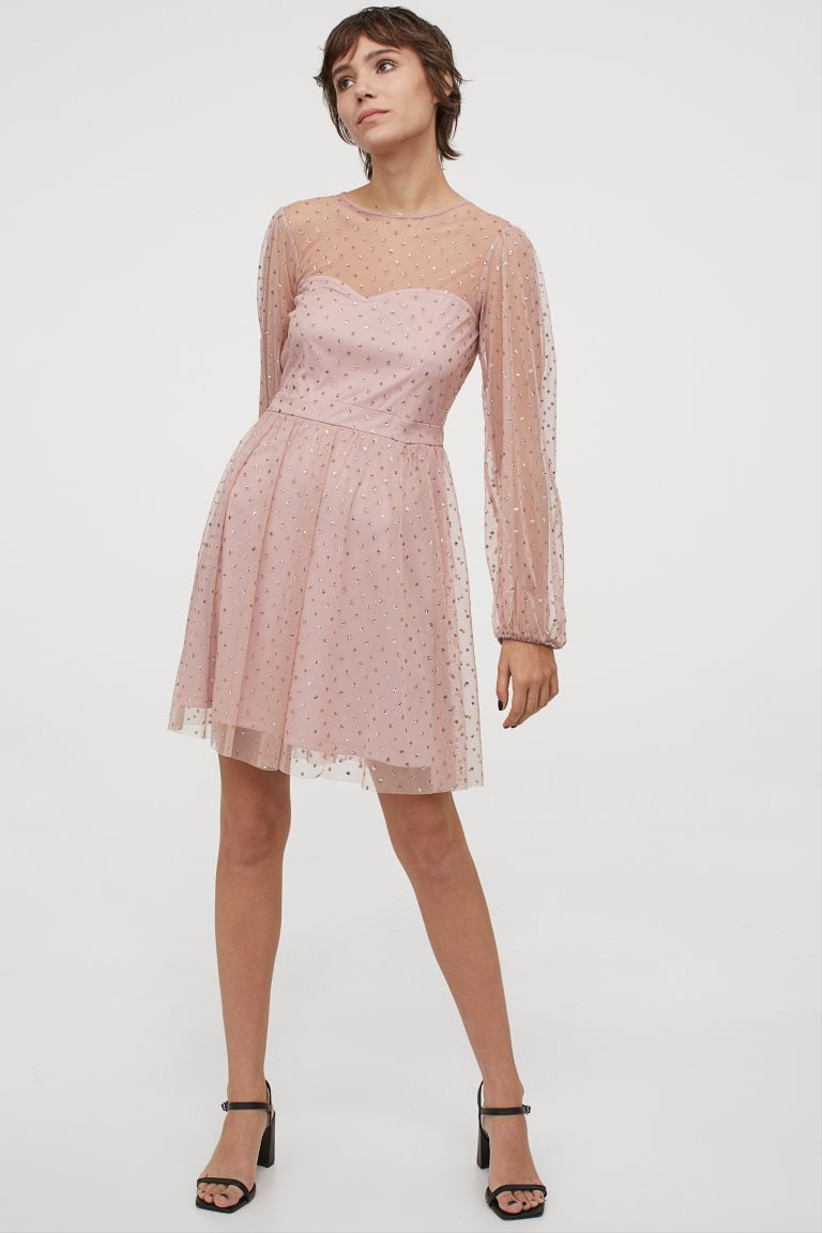 If you want a pretty bridesmaid look, check out this H&M mesh dress. All the pink and glitter would be a bit much on a longer dress, but the fact that this is short keeps the overall effect elegant.
19. Christine Dress – £235, Reformation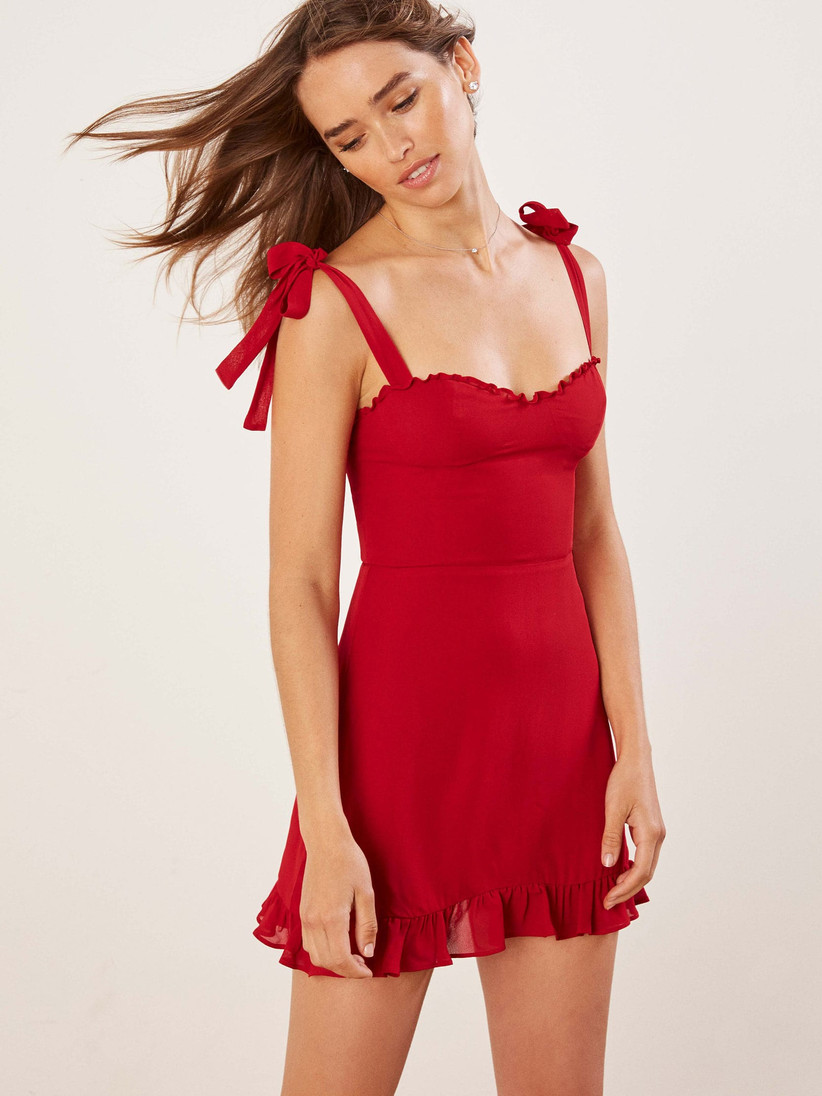 Reformation's Christine dress is an absolute knockout, bringing together a short hemline, a beautiful sweetheart neckline and just the right amount of ruffle. It's also available in black, ivory and a floral print, so you can have your bridesmaids in the same style but different colours.
20. Off Shoulder Cut Out Mini Dress – £95, & Other Stories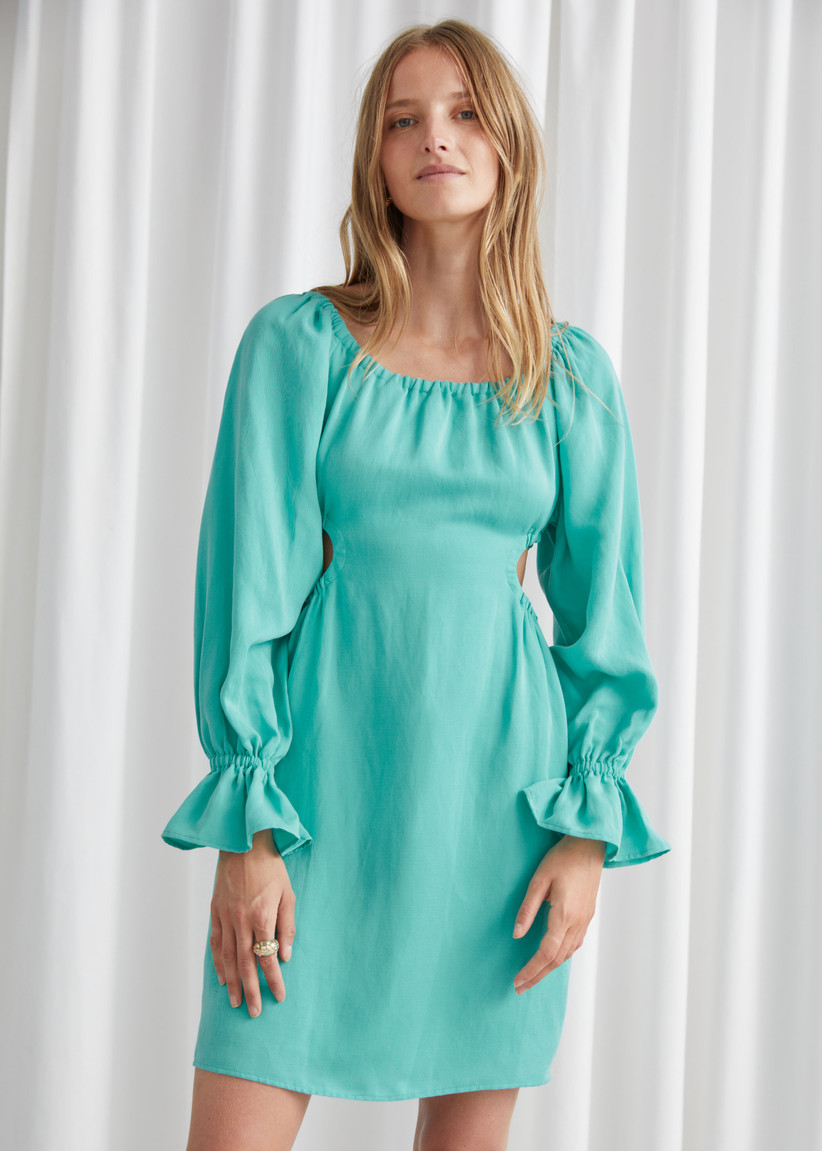 Everything about this dress says cool summer bridesmaid, from the turquoise colour to the puffed sleeves; just add statement gold jewellery. Cut-outs at the waist make it feel super-fresh.
21. Lizzy Embroidered Dress – £135, Phase Eight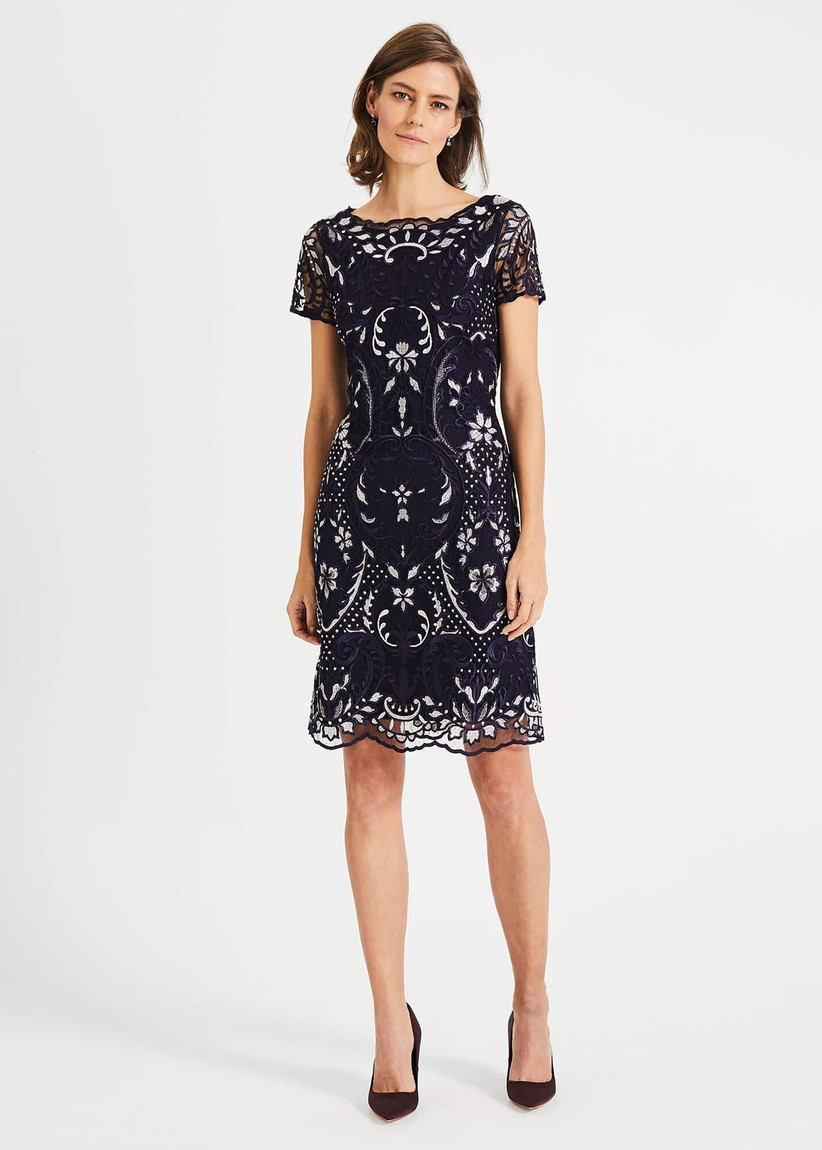 This navy short bridesmaid dress is very refined - we're pictured it at a smart country house wedding, but with the right accessories, it could work just as well as at city celebration, too.
READ MORE: How Many Bridesmaids Should You Have?
22. Sequin Halter Tier Dress – £129, Coast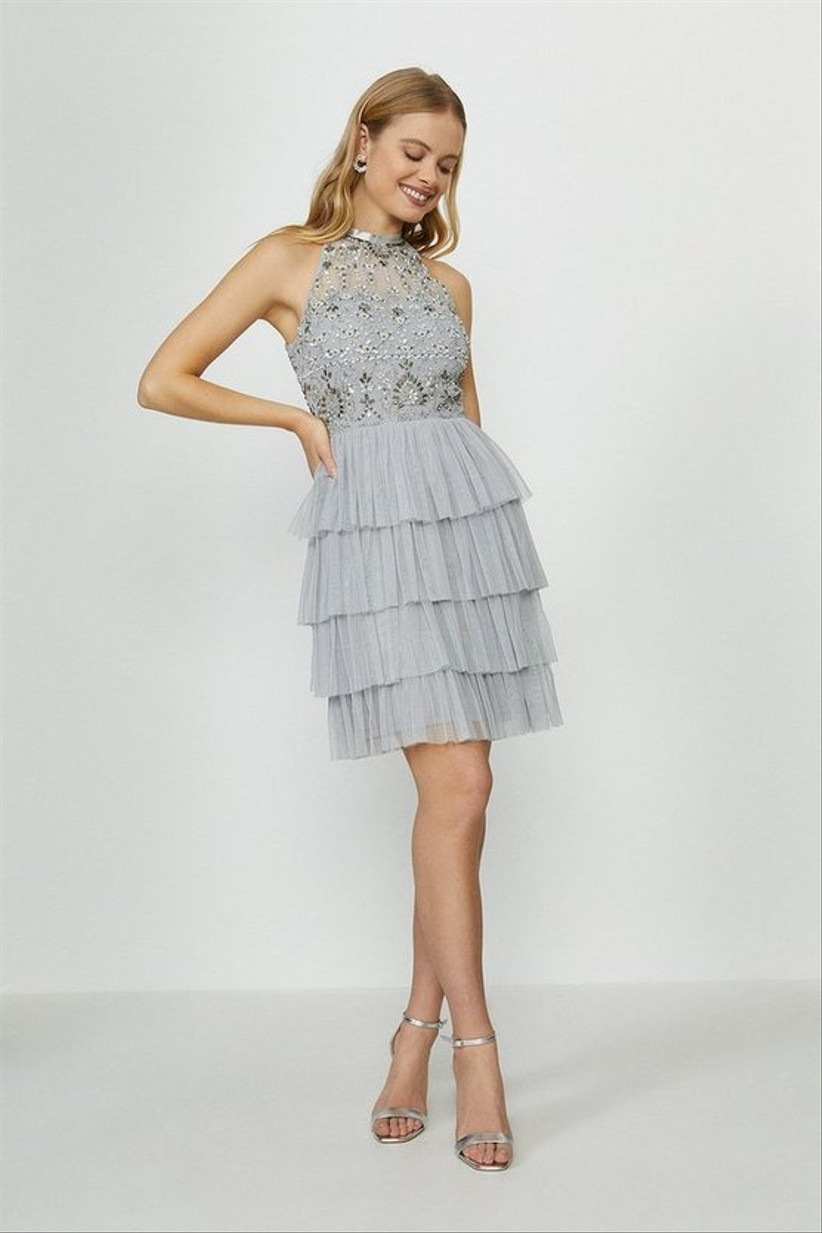 This beautiful dress is a contemporary take on the classic bridesmaid look of embroidered bodice against tulle skirt - the tiers, halterneck and the addition of sequins make the overall look feel fresh.
23. Floral V-Neck Puff Sleeve Mini Tea Dress – Nobody's Child at Marks & Spencer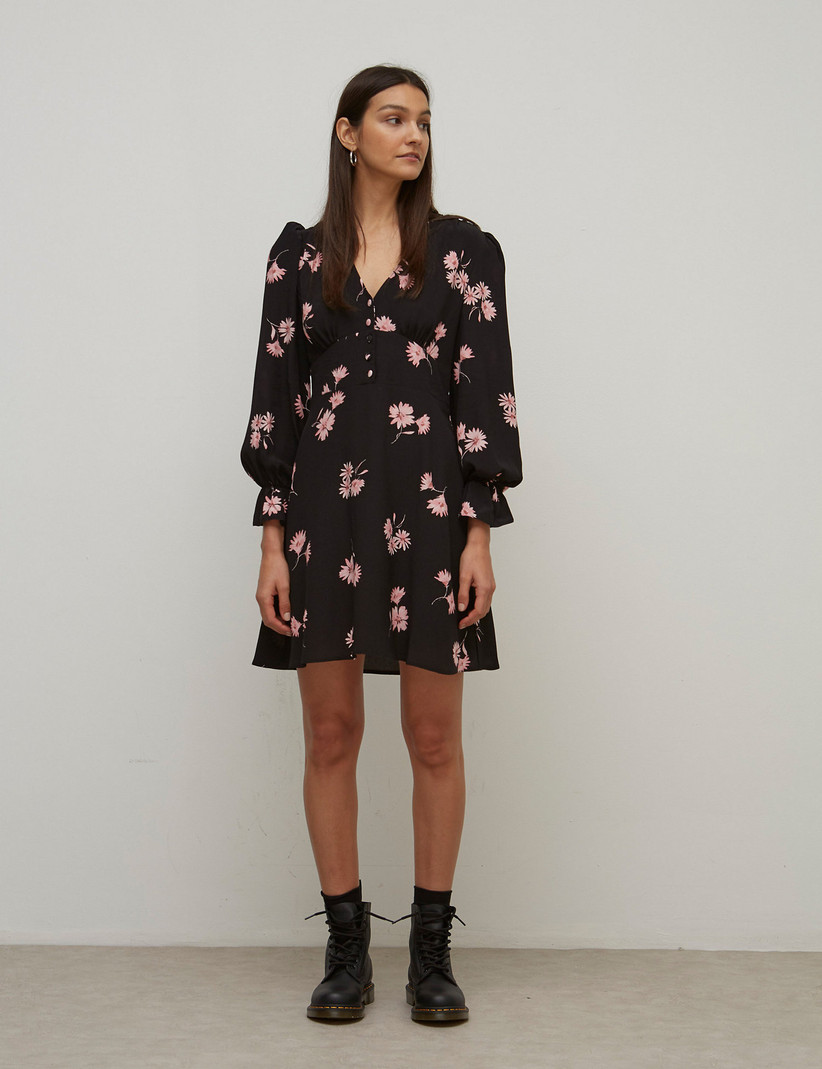 This short tea dress could easily be accessorised to turn it into a very stylish bridesmaid outfit that we reckon will become one of their post-wedding wardrobe staples.
24. Mesh Dress – £12.99, H&M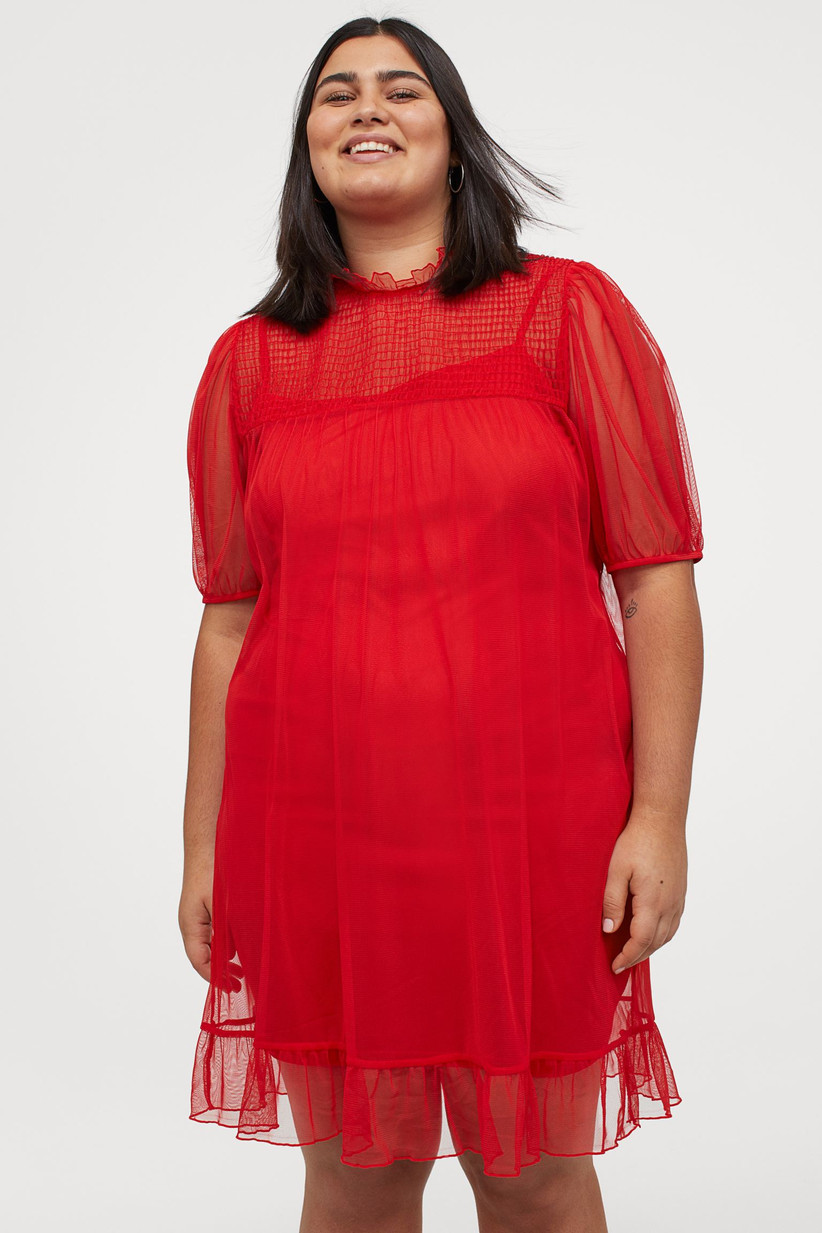 At the sub-£15 mark, this short red dress is an excellent price point for a bride on a budget. It features a fitted under-dress in jersey, with a floaty mesh dress on top, and it's giving us serious boho-glam vibes.
25. Relaxed Tuxedo Dress – £69, Warehouse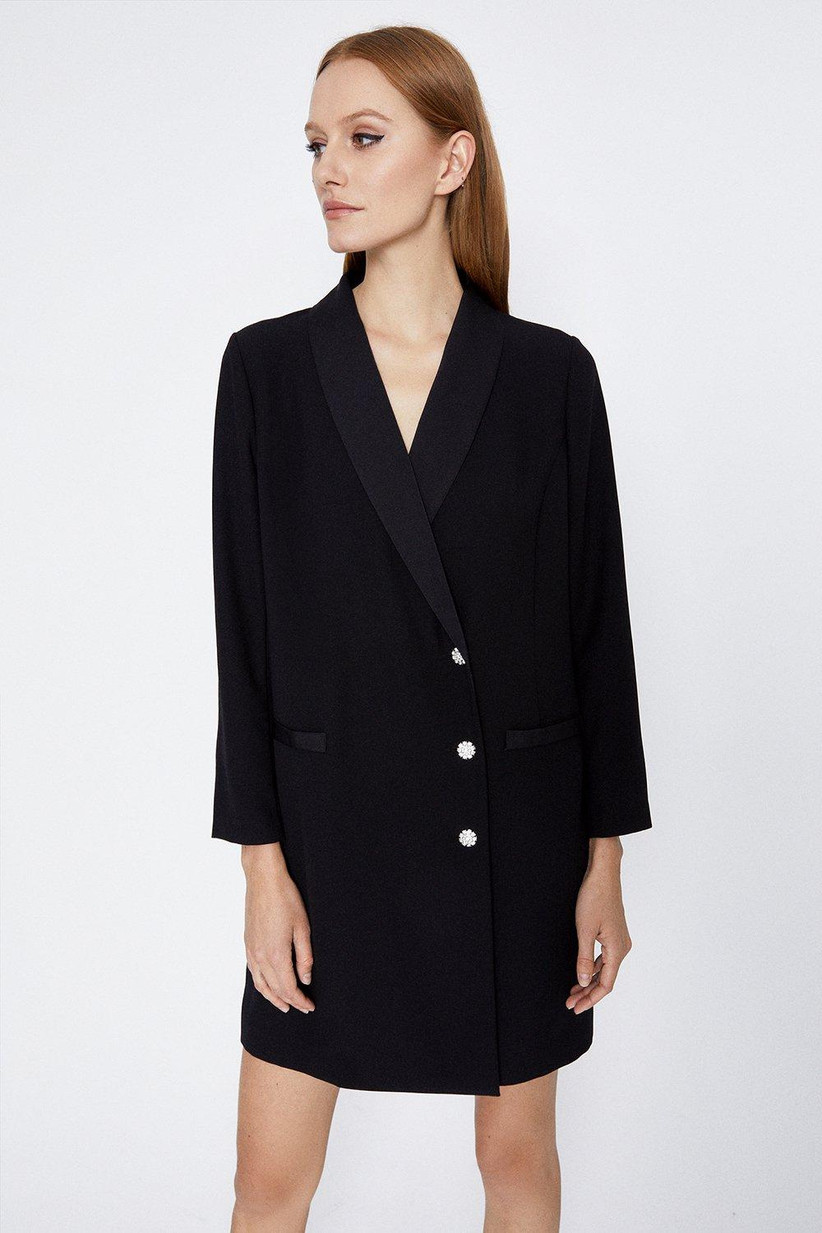 A short tuxedo dress makes for a bridesmaid's look that's perfect at a city wedding - and this Warehouse design is very chic indeed. It's also available in green.
26. Zadi Frill Neck Full Skirt Dress – £199, Ted Baker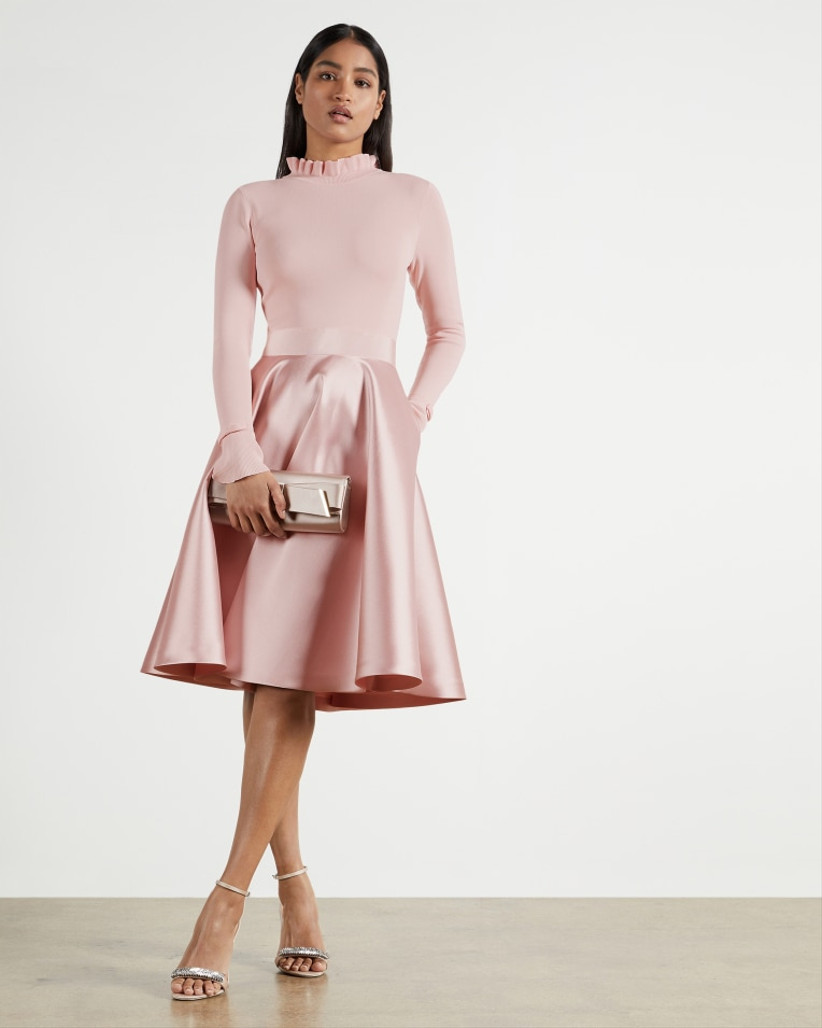 Looking for something ultra-romantic for your bridesmaids? You may want to call off the search now you've seen this Ted Baker dress. The colour is very pretty, and we love that full, satin-look skirt.
READ MORE: Bridesmaid Gifts: 30 Ideas to Suit Every Budget
27. Didi Dress – £235, Rixo
Rixo are known for their midis and maxis, but they do some rather fabulous minis, too, like the short Didi dress. If your bridesmaids love their labels, this is a smart and chic choice.
28. Adella Slip – £78, Free People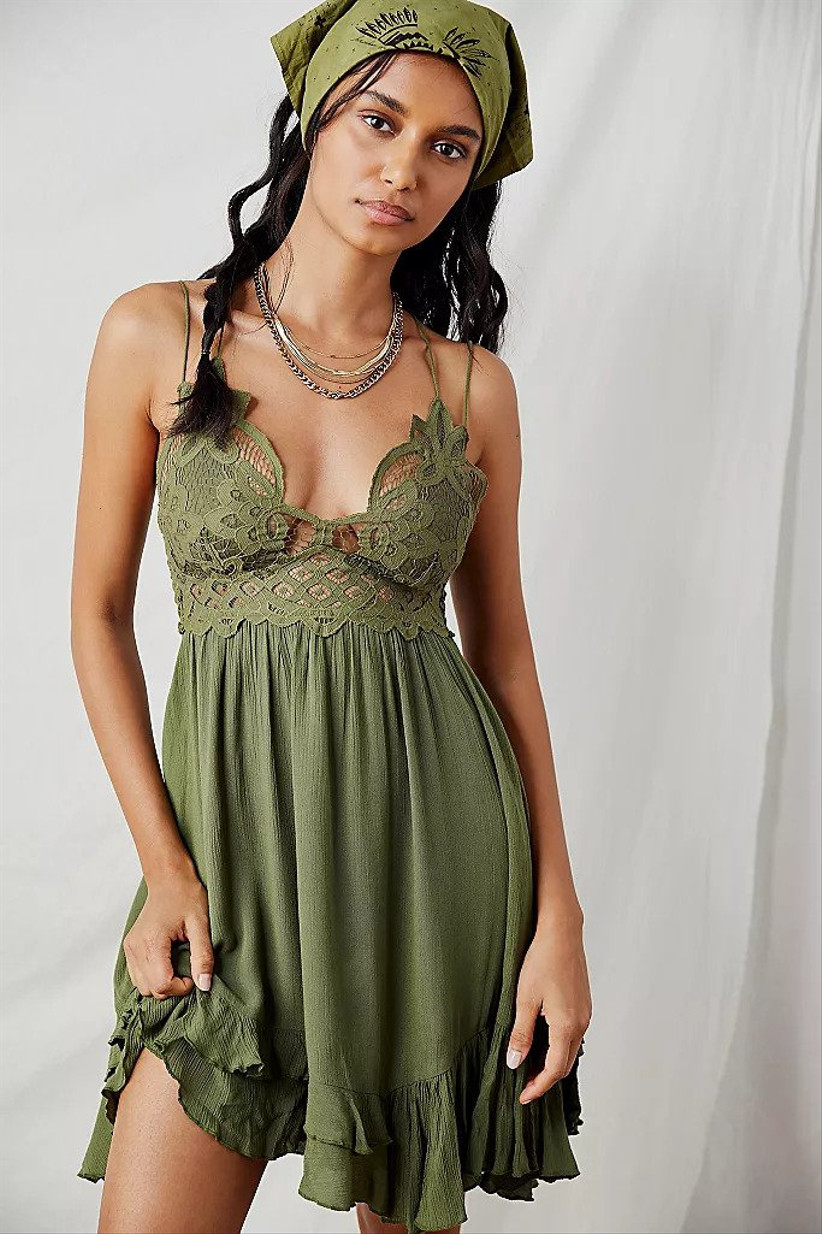 The Adella slip is the ideal short bridesmaid dress for a festival-style wedding. It comes in a whole range of colours, so you're bound to find one to suit your palette.
29. Satin Dip Hem Dress – £109, Coast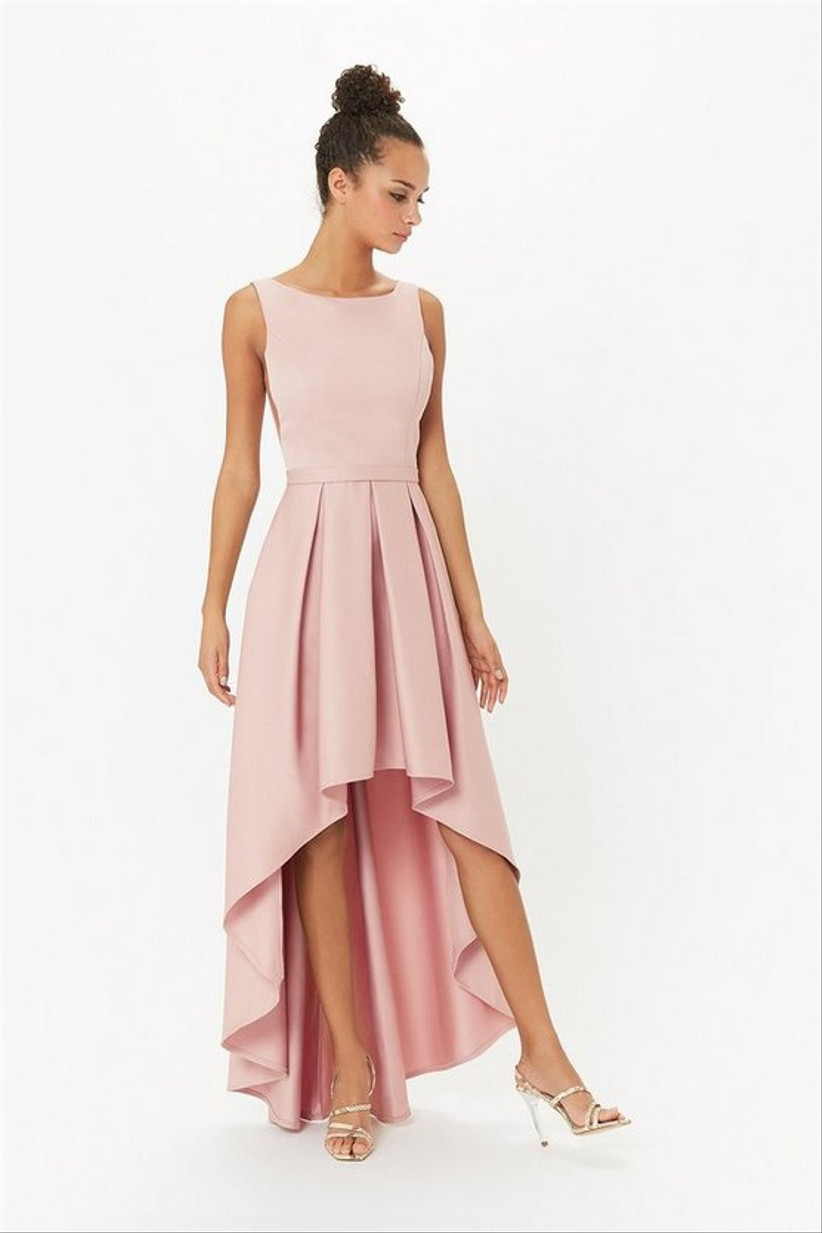 Don't want to commit to short or long for your bridesmaids' dresses? This high-low gown means you don't have to! It's a timeless style that each of your girls can make unique through her accessories choices.
30. Contrast Tweed Dress – £329, Maje
Bring some Chanel vibes to your wedding with this short tweed dress. It's such a refined choice for a bridesmaid look.
31. Sequin Stripe Mini Dress – £94, SilkFred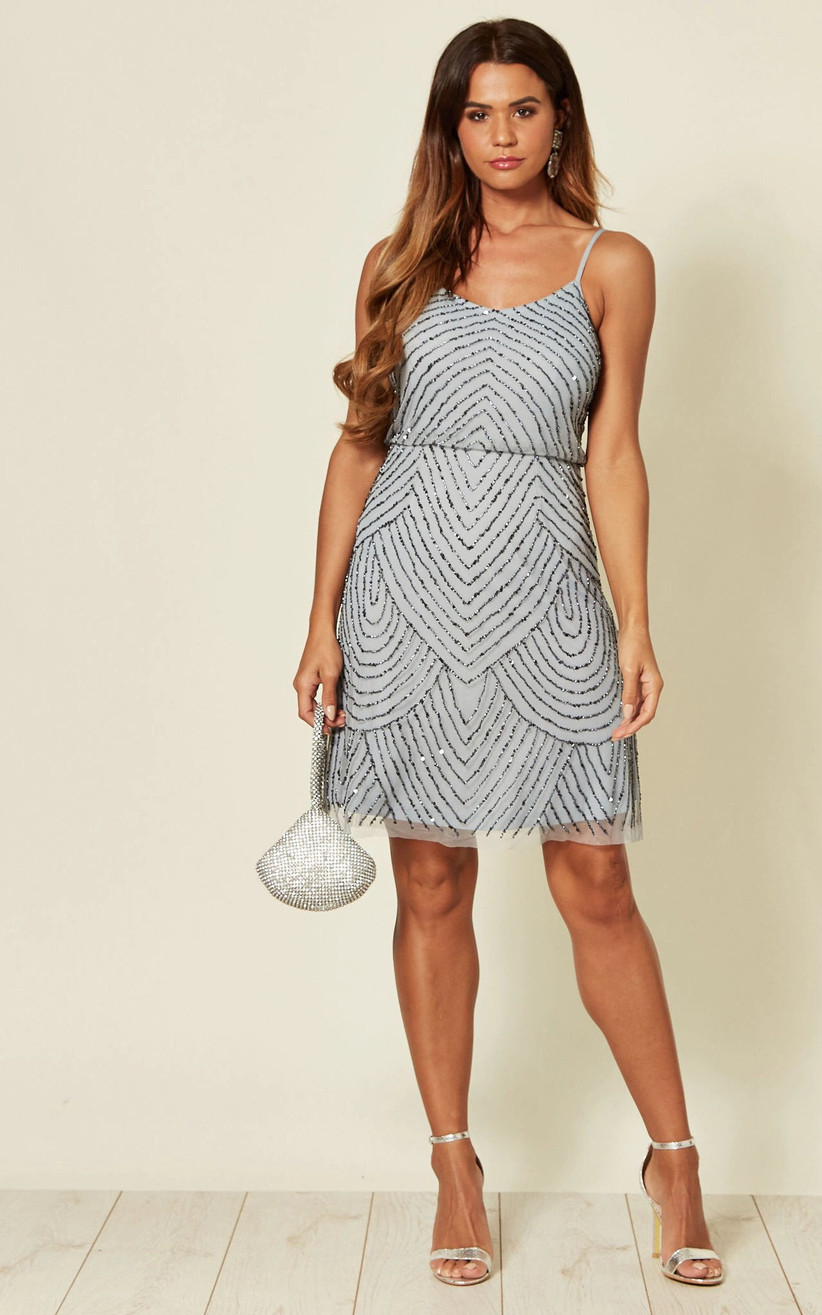 Let your maids sparkle in this sequin stripe dress. It's glamorous, but subtly done - they can amp up the effect with metallic accessories or keep it pared-back.
32. Smocking Detail Satin Dress – £14.99, H&M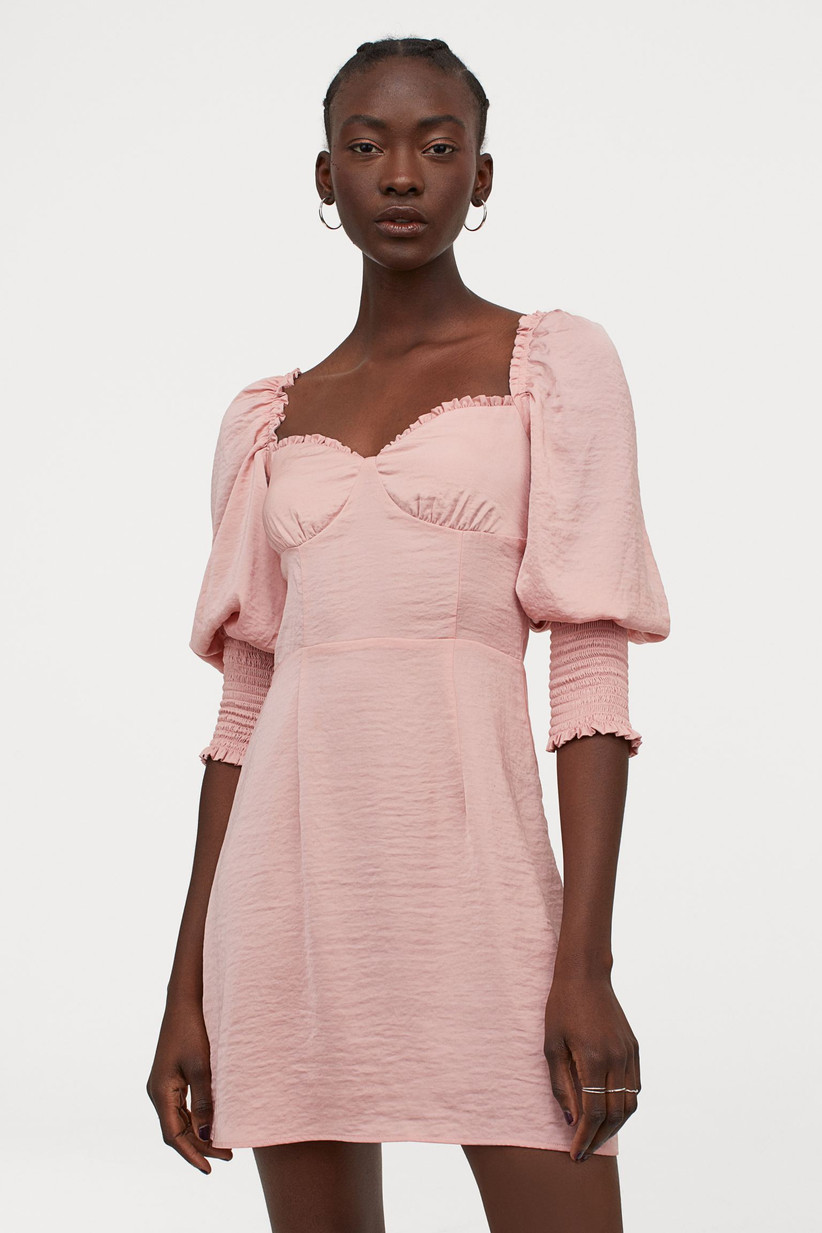 This light, pretty dress is perfect for a spring bridesmaid look, but it runs small so do consider sizing up for the right fit.
33. Mini Tiered Hem Dress – £55, Oasis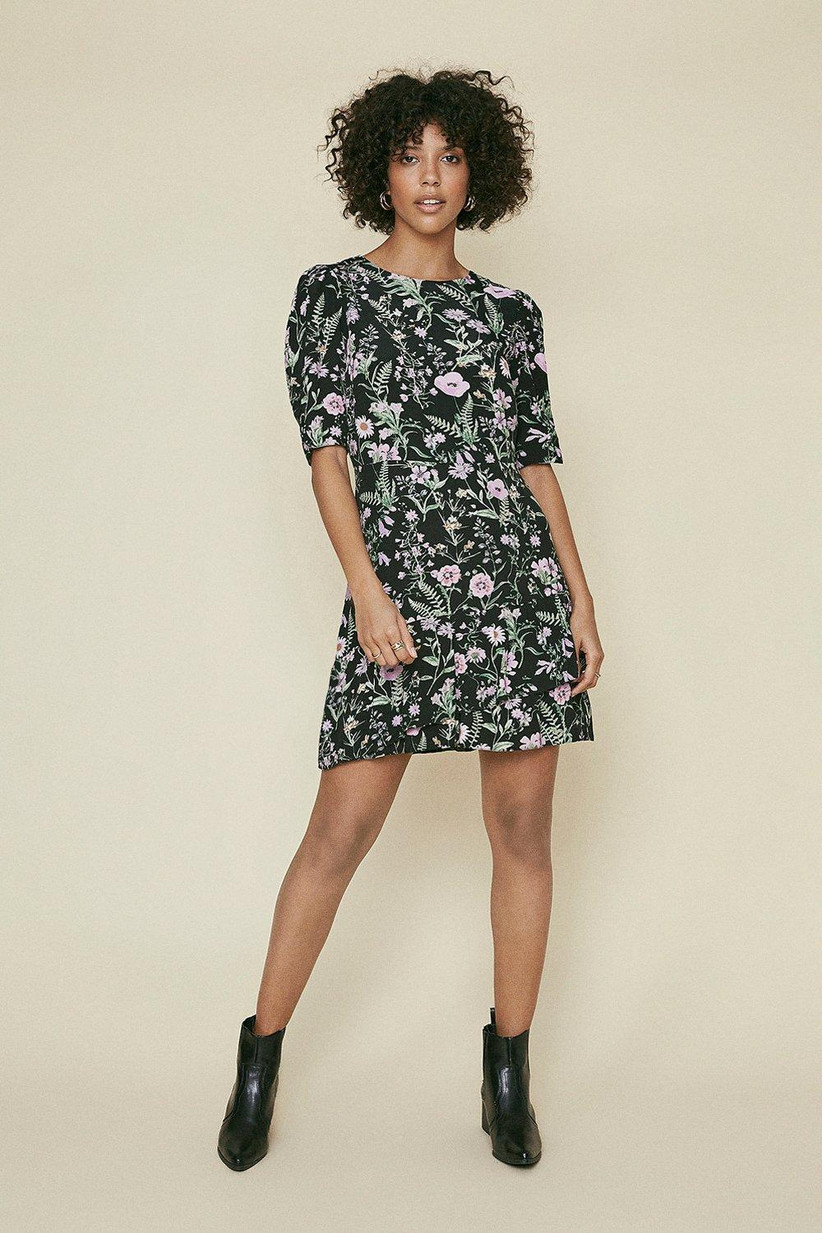 We love the floral print on this short dress - it's romantic without being sugary. Depending on how you accessorise it, this would look just as good at a laidback wedding as at a formal affair.
Don't forget that other essential bridesmaid outfit - the one for the wedding morning! We've pulled together our favourite bride and bridesmaid gowns and pyjamas.