Black Diamond Engagement Rings: 21 Unusual Designs
A black diamond engagement ring will truly stand out from the crowd - read on to explore 21 of the most captivating and unique designs
We have included third party products to help you navigate and enjoy life's biggest moments. Purchases made through links on this page may earn us a commission.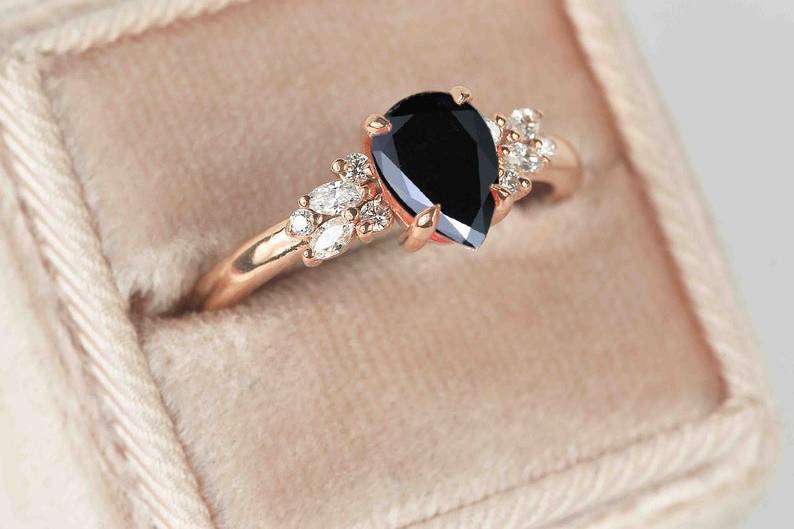 Remember the finale of Sex and the City 2 where Mr Big presents Carrie with a five-carat Italy Malkin black diamond engagement ring and she asks, "Why black?", to which he responds, "Because you are not like anyone else"?
Well, we still can't stop thinking about that captivating rock and if you want to emulate Carrie Bradshaw's style with a bold and edgy black diamond ring too, we've scoured out the best available to buy now. Covering all of the 2022 engagement ring trend styles, including trilogy, pear and oval cuts, there's something in our edit to cater for all kinds of couples and budgets.
What is a Black Diamond?
Black diamonds are diamonds with a very high number of inclusions - while an inclusion on a white or colourless diamond may show up as tiny dark specks, extremely high levels of them mean the diamond appears completely black.
Are Black Diamond Rings Expensive?
Black diamonds are actually one of the most rare diamond colours, yet they tend to be less expensive than white diamonds. They come with all the same properties as white diamonds, meaning they are incredibly durable and excellent for everyday wear, but they'll allow you to fit a much larger diamond into your budget.
21 of the Best Black Diamond Engagement Rings
1. Round Solitaire Black Diamond Ring - £312, ABELINI
As a black diamond is so distinctive, opting for a simple round solitaire engagement ring like this one from ABELINI will still mean it makes a statement. Available in white, rose or yellow gold, it's a real steal at just over £300.
2. Halo Trilogy Black Diamond Engagement Ring - £710, ABELINI
Trilogy engagement rings are timeless and classic, so we love the edgy update the black diamonds are giving in this ABELINI ring. Featuring a glamorous halo of white diamonds around each black diamond, it'll sparkle and shine under the light.
3. Bea Suite No. 04 - $10,500, approx. £7,864, Anna Sheffield
Anna Sheffield has a beautiful collection of black diamond engagement rings to choose from but Bea suite No. 04 really caught our attention. You can purchase the three stone ring individually or add on the white diamond curve band as shown above for even more glitz.
4. Black Diamond Cluster Engagement Ring - from £490, Diorah Jewellery
If you don't want a single black diamond centre stone, consider this gorgeous cluster ring from Diorah Jewellery instead. It's the perfect choice if you want to ensure your black diamond engagement ring is delicate and dainty.
5. Black Diamond Trilogy Ring in 18ct White Gold - £1,050, Lilia Nash Jewellery
This trilogy ring by Lilia Nash Jewellery features three rose cut black diamonds, held with hand-formed prong settings in 18ct white gold. It makes for a really unusual finish and one we think stylish couples will adore.
READ MORE: The Top Engagement Ring Trend for 2022
6. Black Diamond & Rose Gold Ring - from £3,000, Rachel Boston at The Cut; London
The centre stone in this engagement ring by Rachel Boston is one of the most stunning gems we have ever seen. Featuring a one of a kind stormy black diamond that has been naturally created, it complements the warm 18k rose gold double band perfectly.
7. Pear Black Diamond Engagement Ring - from £1,990, Brilliant Rings
This pretty pear cut black diamond engagement ring from Brilliant Rings is available in rose gold, yellow gold, white gold or platinum depending on your taste. The delicate floral style white diamonds contrast against the bold black centre stone beautifully.
8. Black Diamond and Yellow Gold Solitaire Ring - £255, Myia Bonner

Myia Bonner's black diamond and yellow gold ring is ideal for those who prefer minimalistic jewellery. It'll stack perfectly next to a wedding band, or make a great temporary proposal ring!
9. Double Square Band with Pear Black Diamond Ring - £4,450, Jo Hayes Ward
Bold yet elegant, this engagement ring by Jo Hayes Ward features a show-stopping double square band made from shimmering gold and a matching black checkerboard rose cut diamond. It's an unusual design and one you might not have seen before!
10. Between Past & Future Black Diamond Ring - £1,263, Franny E Jewelry
The Between Past & Future ring by Franny E Jewelry ensures your partner will have a one-of-a-kind piece as this ring is made to order by hand in Canada meaning no two are alike. They also offer a lifetime guarantee!
READ MORE: 33 Beautiful Ruby Engagement Rings We Love
11. Patira Ring - $2,650, approx. £1,984, Mociun
This ring from Mociun is the perfect example of a black diamond engagement ring with an elegant finish. A centre round cut champagne diamond is flanked by smaller white and irradiated black diamonds which looks simply dreamy.
12. Five Triangle Ring - $2,600, approx. £1,947, Mociun
The five triangle ring from Mociun has a contemporary and masculine feel to it so it would make a beautiful men's engagement ring. It's pared back enough for everyday wear but still stands out thanks to the geometric black stones.
13. Black Diamond Mandala Engagement Ring - $2,300, approx. £1,723, Artemer
The black diamond mandala engagement ring from Artemer will certainly not go un-noticed! Not only is the centre sparkling with gorgeous grey and black diamonds, the delicate band is adorned with beautiful baguette cut white diamonds too.
14. Black Diamond Arch Ring - $629, approx. £471, Jennie Kwon Designs
Jennie Kwon Designs love incorporating unexpected twists into their jewellery and the black diamond arch ring is a fabulous example of this. The golden arch hovers gracefully above the bezel-set black diamond for a cool, architectural design.
15. 18ct White Gold Black Rose Cut Diamond Ring - £2,995, Muse by Tom Foolery London
Part of Tom Foolery's in-house contemporary collection Muse, this 18ct white gold engagement ring is captivating at every angle thanks to the baguette diamond encrusted band and stand-out black centre stone.
READ MORE: 42 Simple Engagement Rings for Modern Brides
16. Black Diamond & 9ct Rose Gold Mini Hex Ring - £1,139, Meadowlark at Tom Foolery London
A round of applause is in order for Meadowlark's hexagonal 9ct rose gold and black diamond engagement ring. This jewellery designer is also A-list approved, being worn by the likes of Rihanna and Florence Welch. You can browse even more beautiful celebrity engagement rings here.
17. Black Diamond Pave Ring - £2,500, Sophia Perez
Handmade in Sophia Perez's London studio, this black diamond pave ring is sure to be a winner if you whip it out when proposing. Featuring a pear cut black salt and pepper diamond, with a white diamond 18k yellow band, it looks seriously luxe.
18. Fine Twig Black Diamond Ring - from £375, Alex Monroe
Alex Monroe's designs lend themselves perfectly to the black diamond engagement ring trend as they are so unique! Inspired by nature, this fine gold twig band features a delicate black diamond which complements the simple setting perfectly.
19. 14ct Rose Gold Black Night Quartz and Diamond Ring - £770, Suzanne Kalan at Liberty
A black night quartz looks just like a black diamond for a fraction of the price tag so it's a really great alternative. This dazzling design by Suzanne Kalan is less than £800 which is a relative bargain considering it features 14 carat rose gold and a number of white diamonds.
20. Colette 18ct White Gold and Black Diamond Ring - £4,500, the Alkemistry London
For those who love to make a statement, rest assured you'll do just that with this fabulous ring placed on your finger! The intricate and detailed design reminds us of a glistening snowflake so we think it would be perfect for a Christmas proposal.
21. Princess Cut Solitaire Black Diamond Infinity Ring - £709, Angara
The infinity knot white gold band that holds the black diamond centre stone on this ring by Angara is a really sentimental touch to your engagement ring - highlighting how the love you have for your partner will last for an eternity. It's such a thoughtful idea and one your partner is bound to appreciate.
Not into traditional engagement rings? A moonstone engagement ring might be just what you're looking for!