Don't get us wrong, we love a good old fashioned diamond engagement ring, but there's something more than a little tempting about plumping for a birthstone engagement ring.
Not only are the stones absolutely stunning but they also give an even more personal touch to a piece of jewellery you'll wear for a lifetime. Birthstone engagement rings can also be worn as solitaires or paired with diamonds – giving you the best of both worlds.
If that's not enough to convince you, we'd also like to point out that alternative stones are very popular amongst royalty. Kate Middleton's sapphire engagement ring is one of the most famous in the world, and we're more than a little in love with Eugenie's pink sapphire sparkler and the ruby ring once worn by Princess Margaret. We don't know about you, but we reckon if gemstones are good enough for royalty, they're good enough for us!
Not sure what your birthstone is? We've got you covered with our month-by-month guide plus some dazzling birthstone engagement rings that are available to buy right now.
We have included third party products to help you navigate and enjoy life's biggest moments. Purchases made through links on this page may earn us a commission.
January – Garnet
Although garnets are most popular – and budget friendly – in red hues, they can actually be found in almost any colour, making them a super-flexible gemstone. Green is the rarest shade and garnets in this colour also have a spectacular amount of fire due to its high dispersion, and so you can expect to pay more for a garnet in this colour.
18ct Pink-Gold and Rhodolite Garnet Ring – £1,770, Boucheron
We adore this pear-shaped garnet set in 18ct rose gold from Boucheron. We reckon with its engraved setting and striking stone colour the wearer will easily stand out from the crowd.
February – Amethyst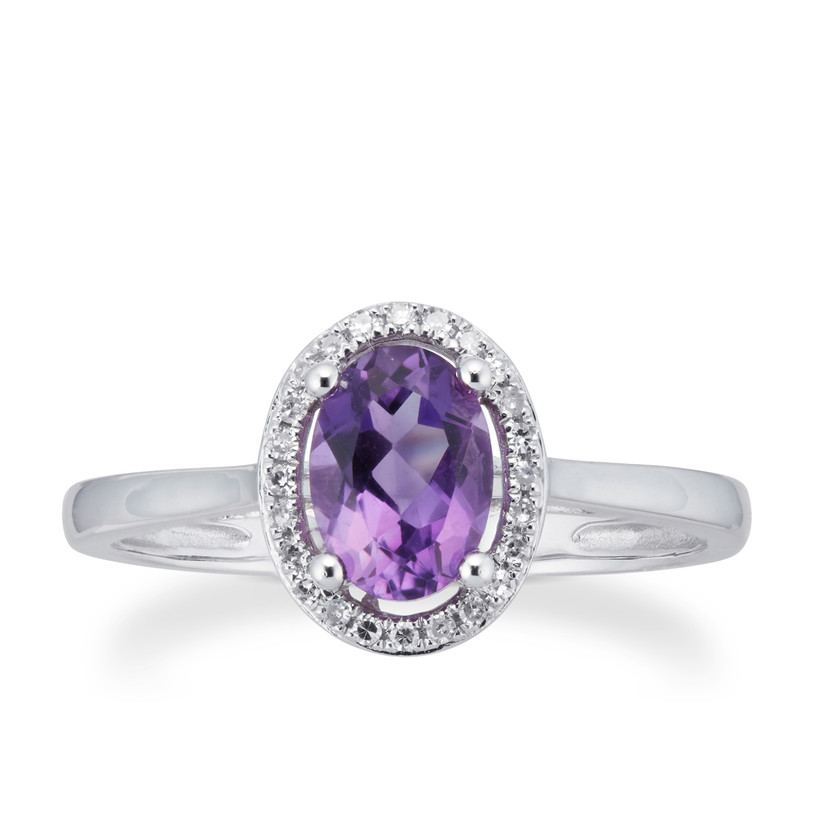 Amethysts are the purple variety of the quartz mineral and are thought to have protective and purifying qualities. The word amethyst literally means "not intoxicated" and so it's supposed to help the wearer keep a clear head. While we can't promise these special powers (especially on the hen do!) we can attest to its stunning violet colour and reasonable price tag.
9ct White Gold Amethyst and Diamond Oval Ring – £550, Goldsmiths
Offering a unique twist on a classic design, we'd be lusting after this beauty if we were February babies. The floating halo adds subtle sparkle while letting that incredible violet amethyst shine.
March – Aquamarine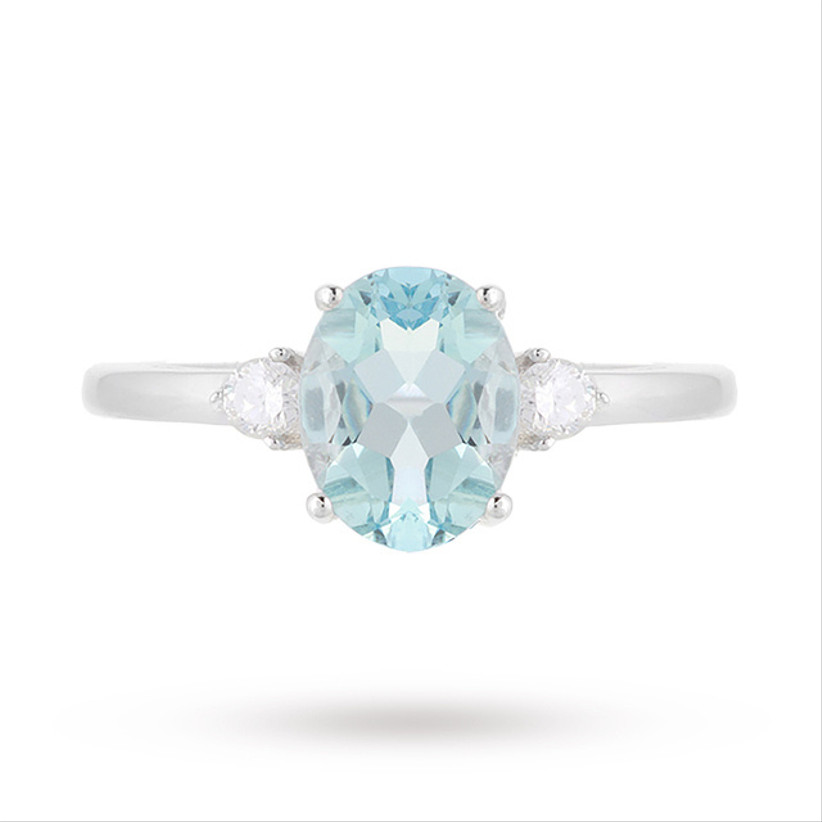 Like emeralds, aquamarine comes from the mineral beryl and is characterised by its vivid blue colour. The name comes from the Latin for seawater and the stone was once said to calm the waves and keep sailors safe at sea. March's birthstone was also said to enhance the happiness of marriages – sounds pretty good to us!
9ct White Gold Aquamarine and Diamond Oval Ring – £480, Goldsmiths
How pretty is this pale blue aquamarine oval? Set in white gold and flanked by two brilliant round diamonds, we're kind of getting Elsa from Frozen vibes and we're here for it.
READ MORE: Your Complete Guide to Wedding Ring Engraving (Plus 56 Sweet Ideas)
April – Diamond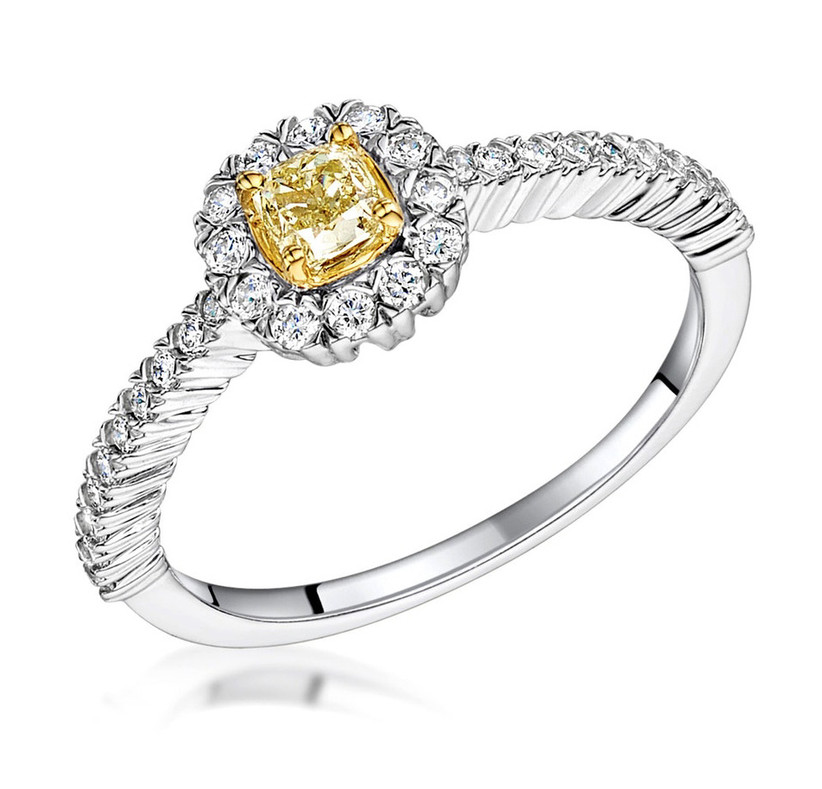 Lucky April babies are spoilt for choice with the traditional engagement rock as their birthstone. While diamonds may be the most popular engagement ring stone, it doesn't mean you can't stand out from the crowd if this is your birthstone. Diamonds come in a range of fancy colours from canary yellow to pink, so you can still rock a unique rock.
Alicia Yellow Diamond Engagement Ring – £1,189, The Diamond Store
How stunning is this bright yellow diamond? Surrounded by white diamonds in a halo with a diamond encrusted band, the Alicia ring is a real showstopper!
READ MORE: Yellow Diamond Engagement Rings: 13 Unique Designs for Stylish Brides
May – Emerald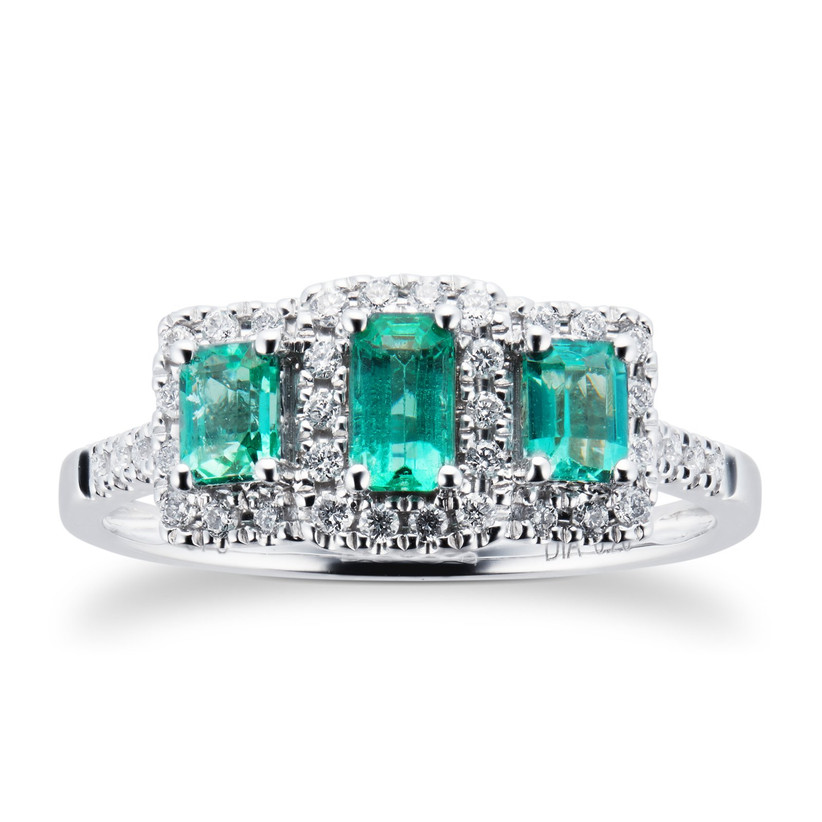 The Pharaoh Cleopatra was said to be a great lover of emeralds and looking at their deep green shade and typically large spread – the amount of finger the gem covers when looking at it face up – it's no wonder. Many emeralds are cut into rectangular, step cuts known as emerald cuts, although they come in all shapes, and the most desirable shades are blue-green to pure, vivid green.
9ct White Gold Emerald and Diamond Three-Stone Ring – £1,000, Goldsmiths
Can't get enough of that gorgeous colour? Plump for three stones instead of one with this stunning trilogy ring. With three emeralds, each surrounded by diamonds, this ring demands attention.
June – Pearl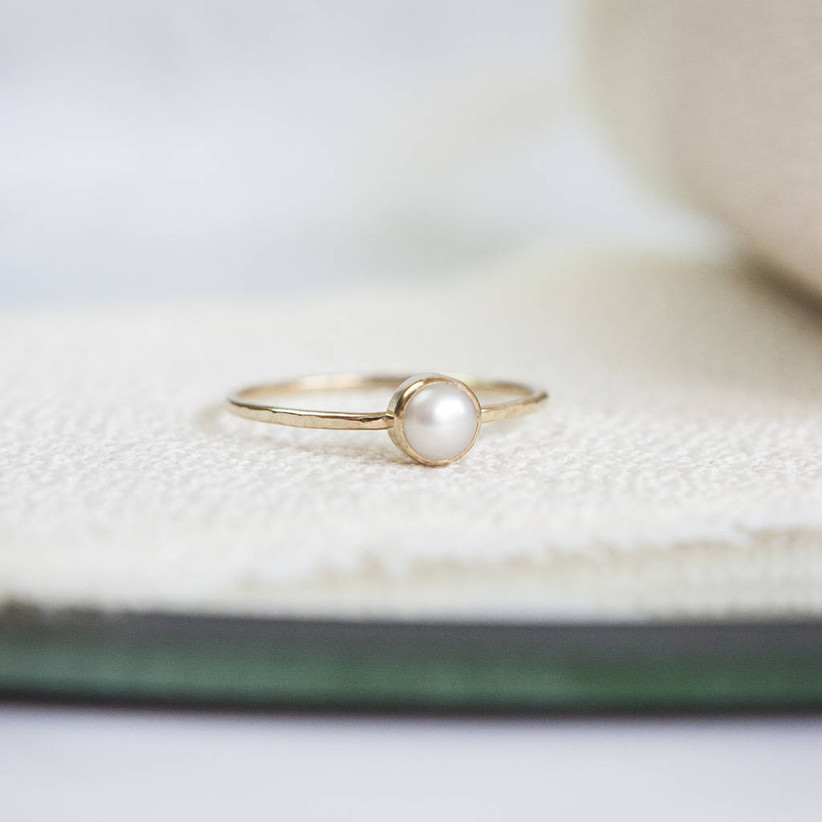 Classic and beautiful, pearls are one of the most popular and wearable gemstones of all time – great news for June babies! Pearls mostly appear in ivory or white, but they actually come in a range of different hues, giving brides-to-be plenty of opportunity to rock something unique. The only thing you need to seriously consider with pearls is care, they are 2.5-3.0 on the Mohs Scale of hardness – diamonds are 10 to put it into perspective – so you'll need to take extra care of this precious gem, should you choose it for your engagement ring.
Odessa Pearl Ring – £160, Lauren Hunt Jewellery Designs
This delicate 9ct gold and pearl ring is the perfect pick for understated brides-to-be. Plus, it's also a great choice if you plan on following the wedding ring stacking trend.
July – Ruby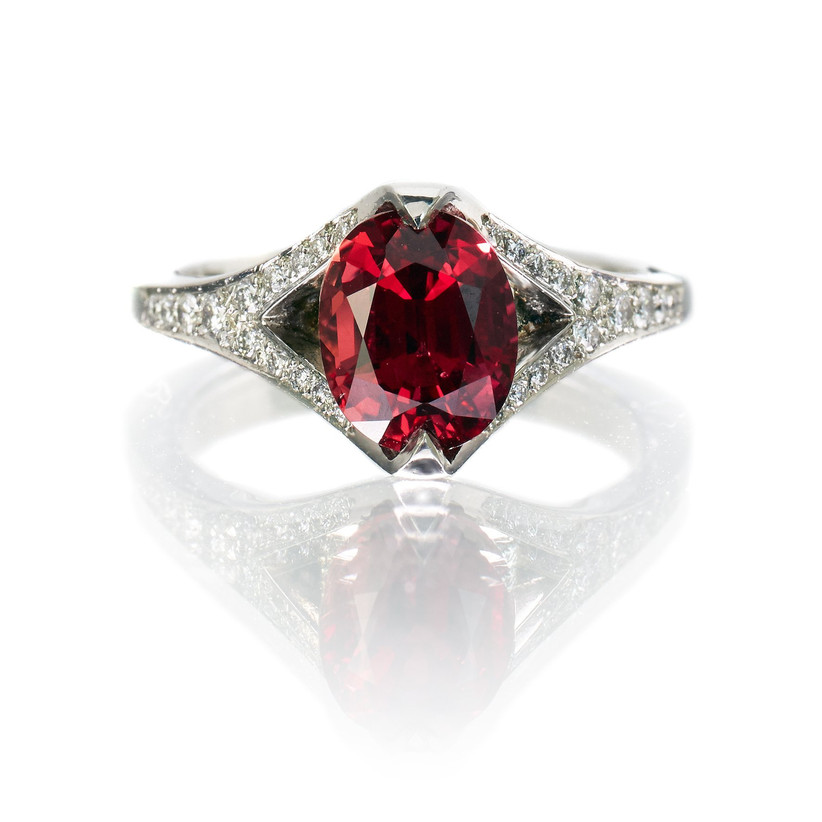 Rubies are some of the most coveted gems and their colour represents love and passion – ideal for engagement rings. When it comes to colour, deep reds with a hint of purple are the most prized among rubies, but they come in a range of stunning pink and red shades. Not only are these rosy hued beauties aesthetically pleasing, they're also a 9.0 on the Mohs scale of hardness, making them a practical choice for everyday wear too.
Ruby and Diamond Ring – £POA, The Cut; London
We're getting real regal vibes from this oval ruby and split pave band ring from The Cut; London. The two-claw setting gives in a unique and contemporary vibe that you're unlikely to see on anyone else's finger.
August – Peridot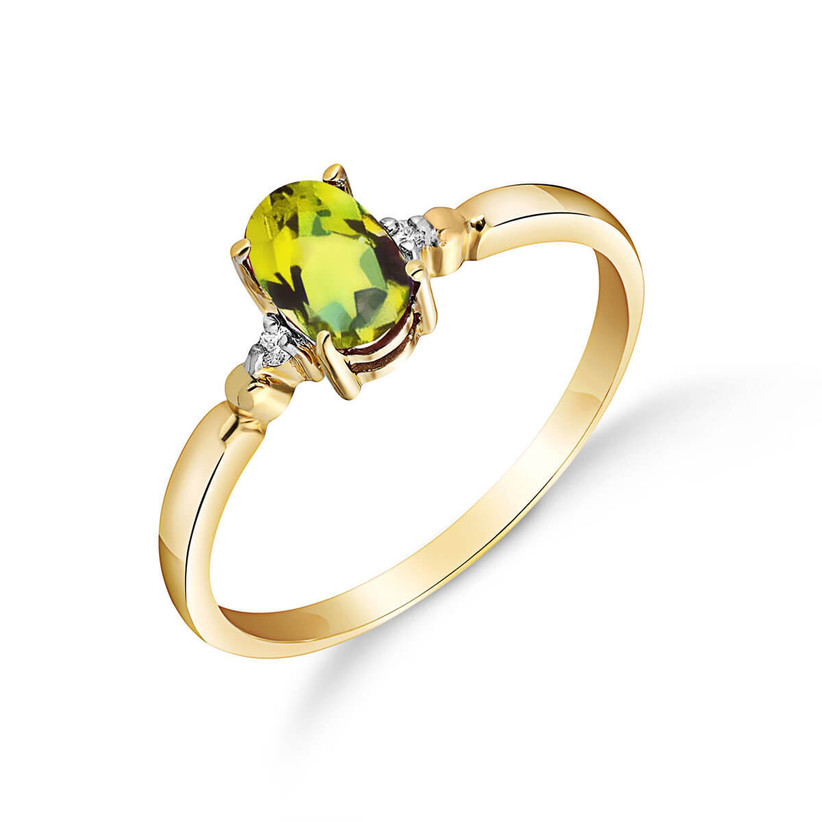 Peridot crystals have been found in comet dust brought back from space, in meteorites, in lava and deep in the earth's mantle, making them a pretty exciting gemstone. The stone was prized by the ancient Egyptians who called it "the gem of the sun" thanks to its vibrant yellow-green shade. Available in a variety of sizes and cuts, this is a great diamond alternative for those looking for something that really stands out.
Peridot and Diamond Allure Ring – £255, QP Jewellers
We love the vibrant green of this oval peridot and diamond ring. Set in 9ct gold, we reckon it's a great choice for lovers of warmer toned metals and stones as well as traditional styles.
September – Sapphire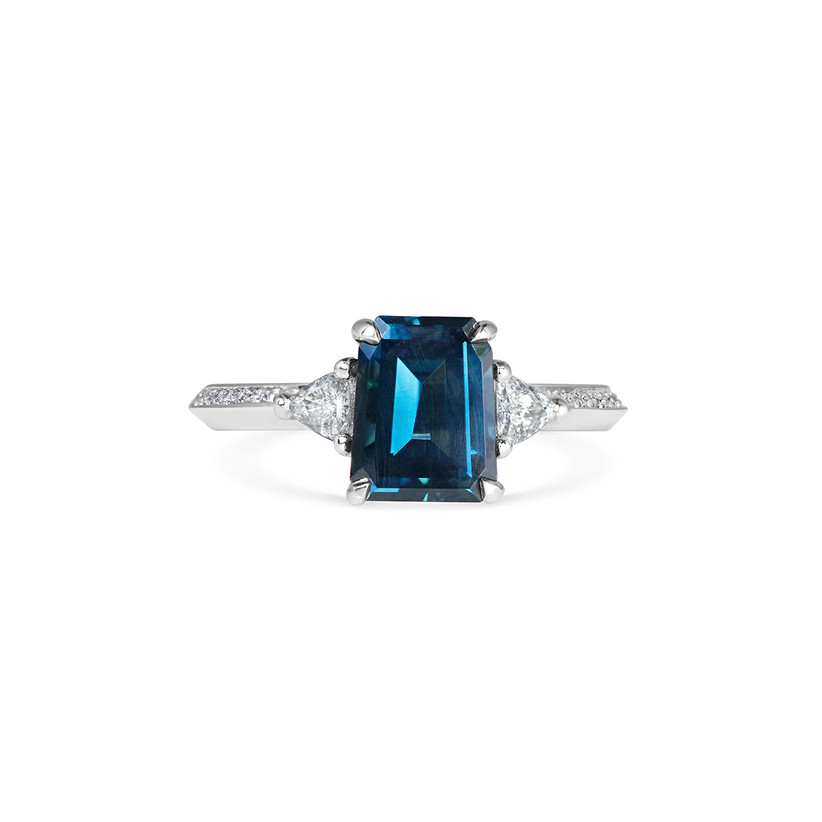 As Kate Middleton's sapphire engagement ring is one of the most famous rings in the world, many associate the gem with the colour blue, but did you know they also come in many other shades? Available in green, yellow, orange, pink and purple, you're spoilt for choice when it comes to this gem. It's also known to be so durable that synthetic sapphire is used to make spacecraft!
Blue Sapphire Ring – £POA, The Cut; London
Check out this rectangular cut sapphire framed with trillion cut diamonds. We love the added sparkle of the pave diamonds on a knife-edge band too – so unique!
October – Opal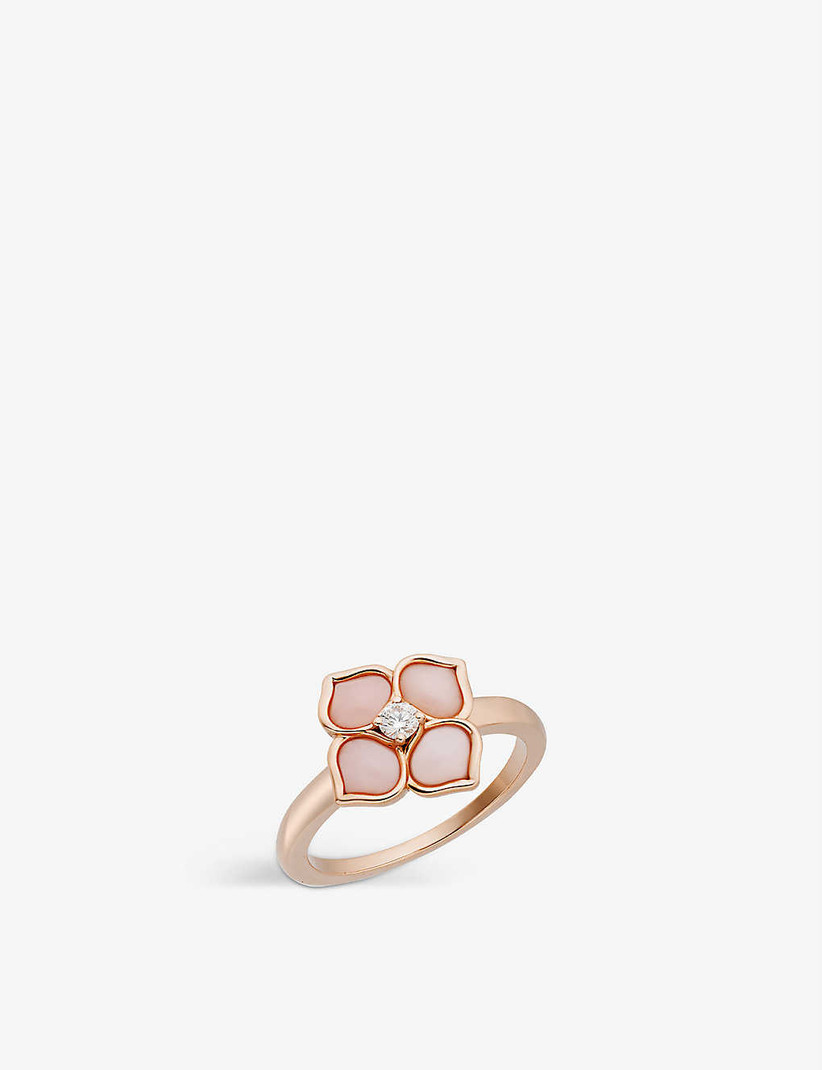 With a kaleidoscopic mix of colours, opals can satisfy the tastes of many and mesmerise wearers. Opals come from regions such as Australia and are formed from silica deposits found in cracks and between the layers of sedimentary rocks. Opals come in white or light shades, black, clear, pink or orange-red tones and the better the play-of-colour – the spectral colours seen from different angles – the more desirable they become.
La Fleur Imperiale Rose Gold, Pink Opal and Diamond Ring – £2,260, Chopard
Girlie brides-to-be will adore this pink opal floral ring from Chopard. It makes for a great alternative to traditional solitaire and halo designs and combines the best of both worlds with a diamond at its centre.
November – Topaz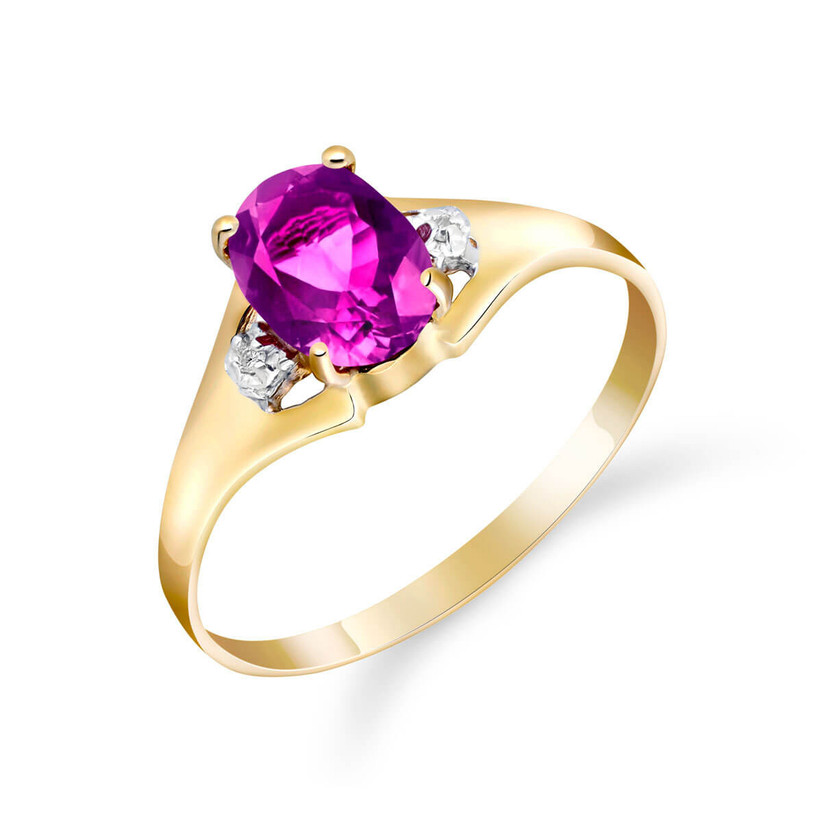 Topaz has one of the broadest colour ranges of all gemstones due to impurity elements or defects in its crystal structure. What may be considered a defect by science, is considered a blessing by topaz wearers thanks to a richness of, particularly pinks and purples, that can rival the pricier sapphire stones.
Pink Topaz and Diamond Desire Ring – £245, QP Jewellers
How stunning is this rich pink topaz ring? We think there's something super luxurious about the combination of pink topaz, diamonds and yellow gold and we love the simplicity of the band, ensuring that vibrant stone is centre stage.
December – Tanzanite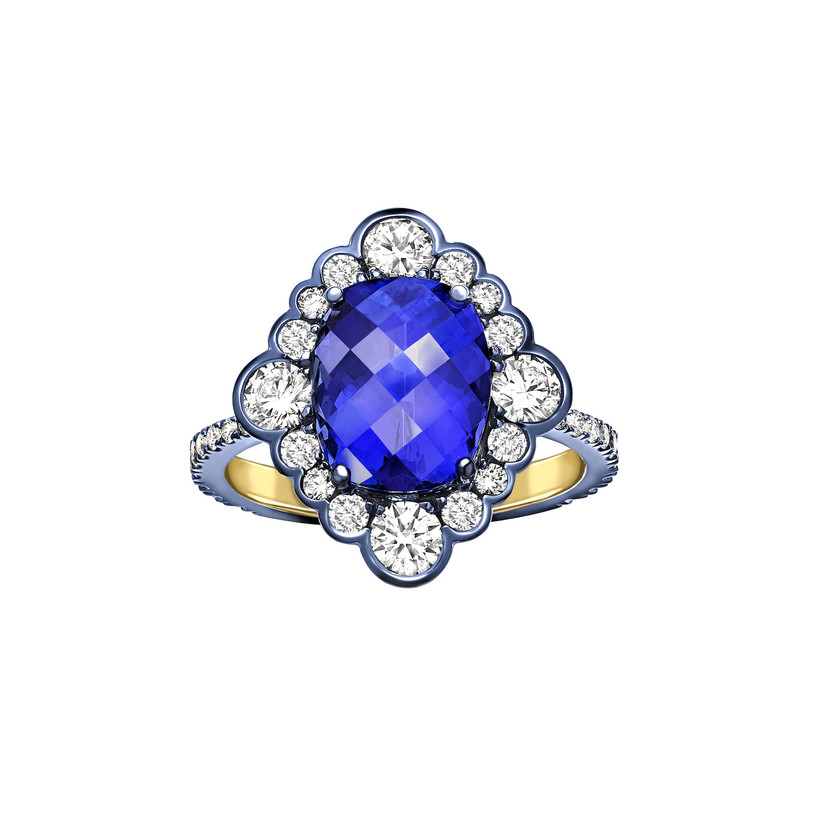 When it comes to gemstones, tanzanite is the new kid on the block. Discovered in 1967 in the hills of northern Tanzania – the only source of tanzanite – this gem comes in a range of blue and violet shades. In order to get the best colour saturation, tanzanite stones need to be around five carats – perfect for anyone after a big rock!
Blue Tanzanite and Diamond Ring – From £3,000, The Cut; London
We love this oval tanzanite ring, surrounded by diamonds and set in blue rhodium plated platinum - it's guaranteed to catch the eye of many admirers!
Before you start shopping, polish up your engagement ring vocabulary and read up on the 25 engagement ring styles you need to know about.