The classics will always have their place, but how do you approach choosing an engagement ring if your style is anything but standard issue? Whether you're picking a ring yourself or in need of unique engagement ring ideas for a less than traditional bride, we've got your ultimate offbeat ring edit. Speaking of which, sustainable British jeweller Sophia Perez reckons that individualised rings are the future:
"Each bride-to-be that I meet has a unique aesthetic and personality, so it makes perfect sense to me that their engagement ring reflects this.
"I'm seeing more and more women choosing their own engagement ring, which I really love. They no longer want to be given a conventional ring that looks like so many others. Our clients know what to look for in a ring – they want to know about the ethics behind particular pieces and they also want it to be one-of-a-kind.
"My team and I love creating something new each time and enjoy the process of working together with couples on the design of a ring and the choice of stones. We offer unique diamonds so that each one is totally different from the next and we find that often our clients are drawn to one stone in particular that they feel reflects a part of themselves or their relationship. This, combined with their own design being handmade, creates a ring that's incredibly special as well as being visually unique."
Whether you go bespoke or not, be inspired by these unique engagement rings that are anything but run of the mill.
NB: We have included third party products to help you navigate and enjoy life's biggest moments. Purchases made through links on this page may earn us a commission.
The Best Unique Engagement Rings for Non-Traditional Brides
1. Watermelon Trilogy Ring – £3,000, Sophia Perez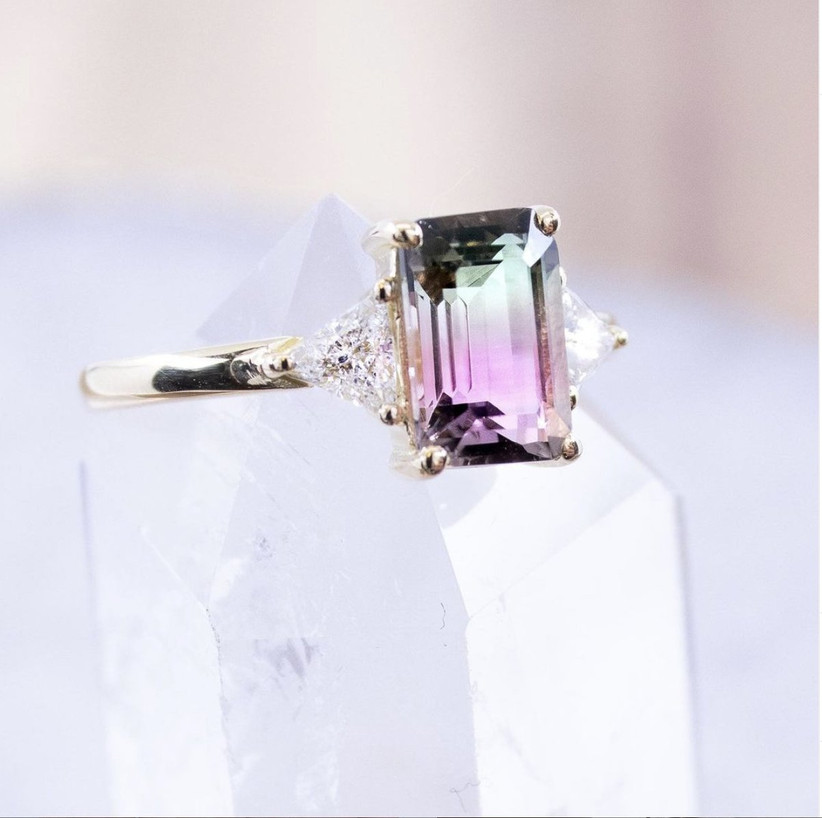 Starting with one of Sophia's own creations, this unusual pink and green tourmaline emerald cut engagement ring is a thing of seriously rare beauty. Set in 18 karat recycled gold and flanked by two triangular diamonds, you can bet your bottom dollar that it'll attract admirers wherever and whenever you wear it (not that that matters – your ring choice is ALL yours).
2. Dinny Hall White Gold Sheba Round Green Sapphire and Diamond Ring – £2,500, Liberty London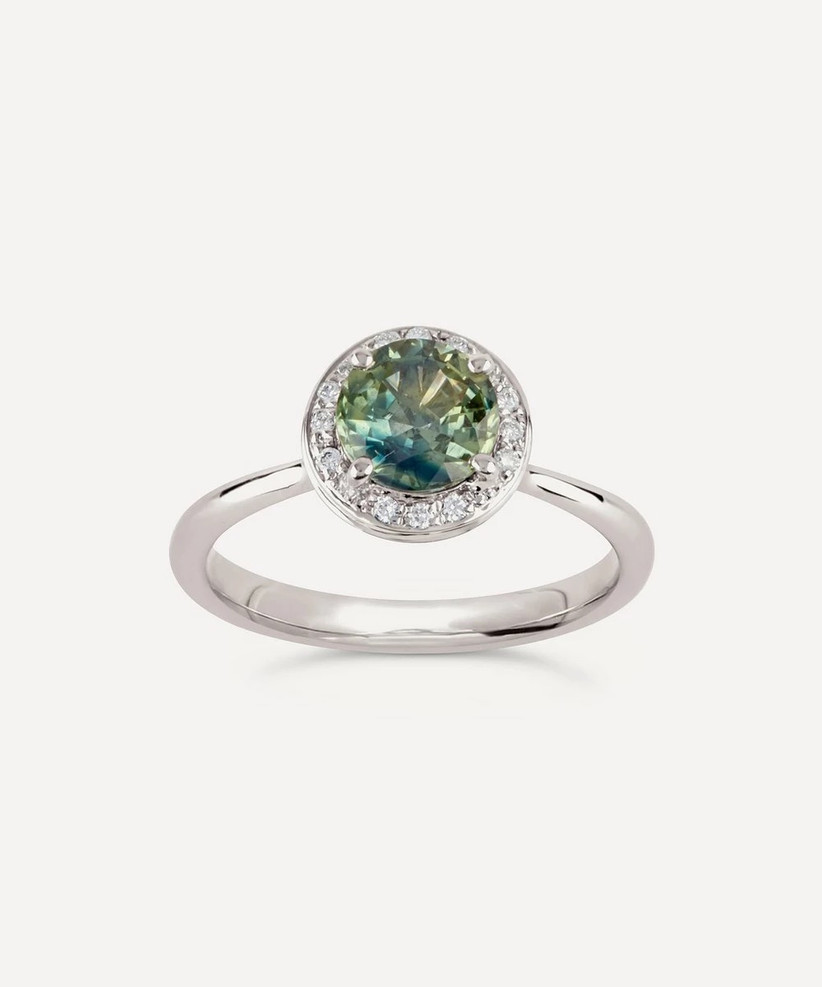 Another striking gem, this glinting green gold sapphire is quite the shapeshifter – its shade alters with the light and time of day. It's an engagement ring that you'll never, ever get bored of and the halo of white diamonds surrounding the central jewel makes it 'pop' all the more.
3. Athena Mauve Sapphire Ethical Engagement Ring – £1,790, Lebrusan Studio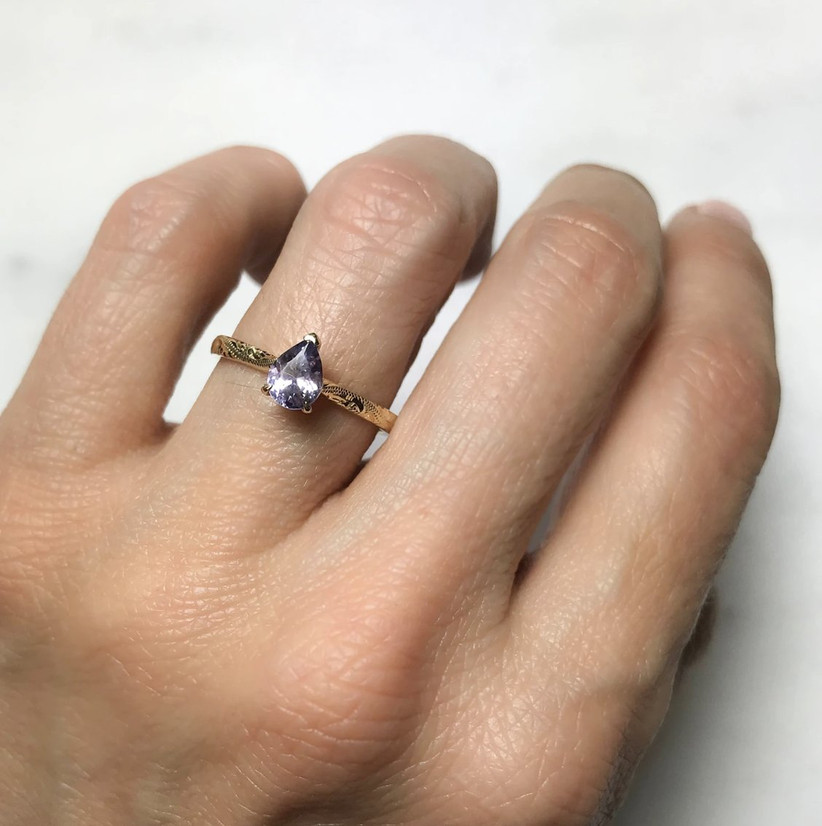 More quirky sapphire inspo, this time in the form of a pear cut Sri Lankan mauve gem. The etched 18 karat recycled gold band adds even more character.
READ MORE: 30 of the Best Moissanite Engagement Rings for Eco-Friendly Brides
4. Oval Cut Yellow Sapphire Engagement Ring – POA, Alicia J Diamonds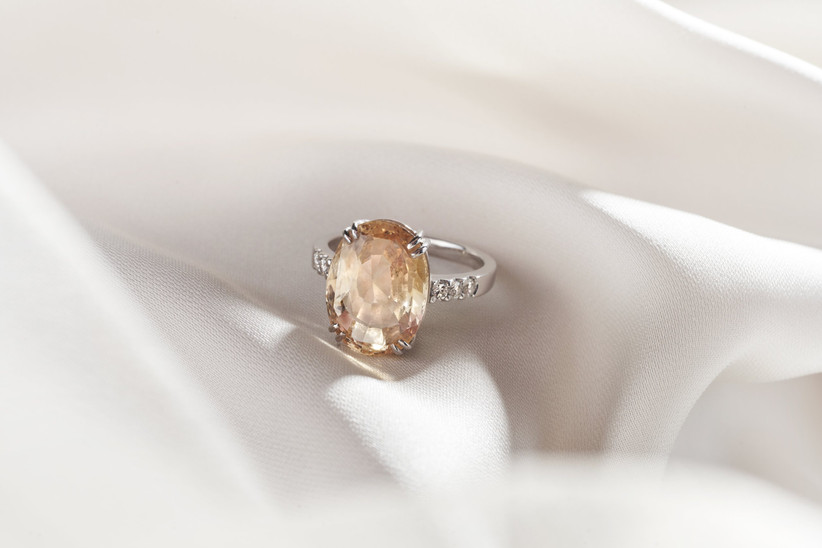 The refreshingly different sapphire inspo keeps coming, this time in yellow with a white diamond studded band.
5. Kira Ring – £6,150, Michelle Oh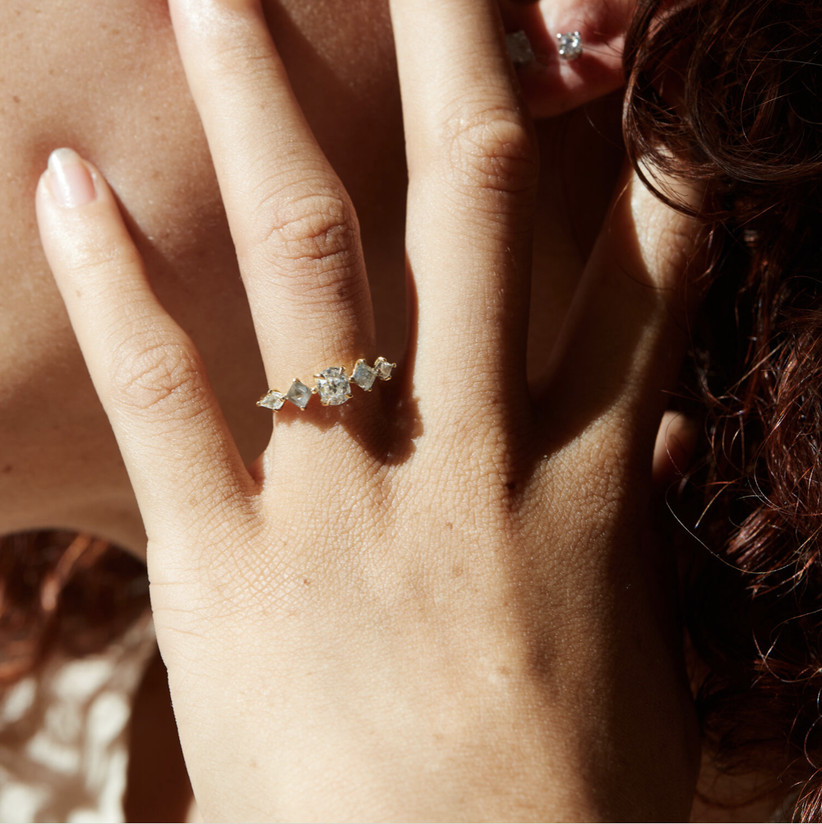 From exceptional hues to unusual cuts, this five diamond ring is just the thing for brides craving a surprising, ethereal setting.
6. Pomellato 18 Karat Rose Gold, Diamond and Moonstone ring – £1,470, Net A Porter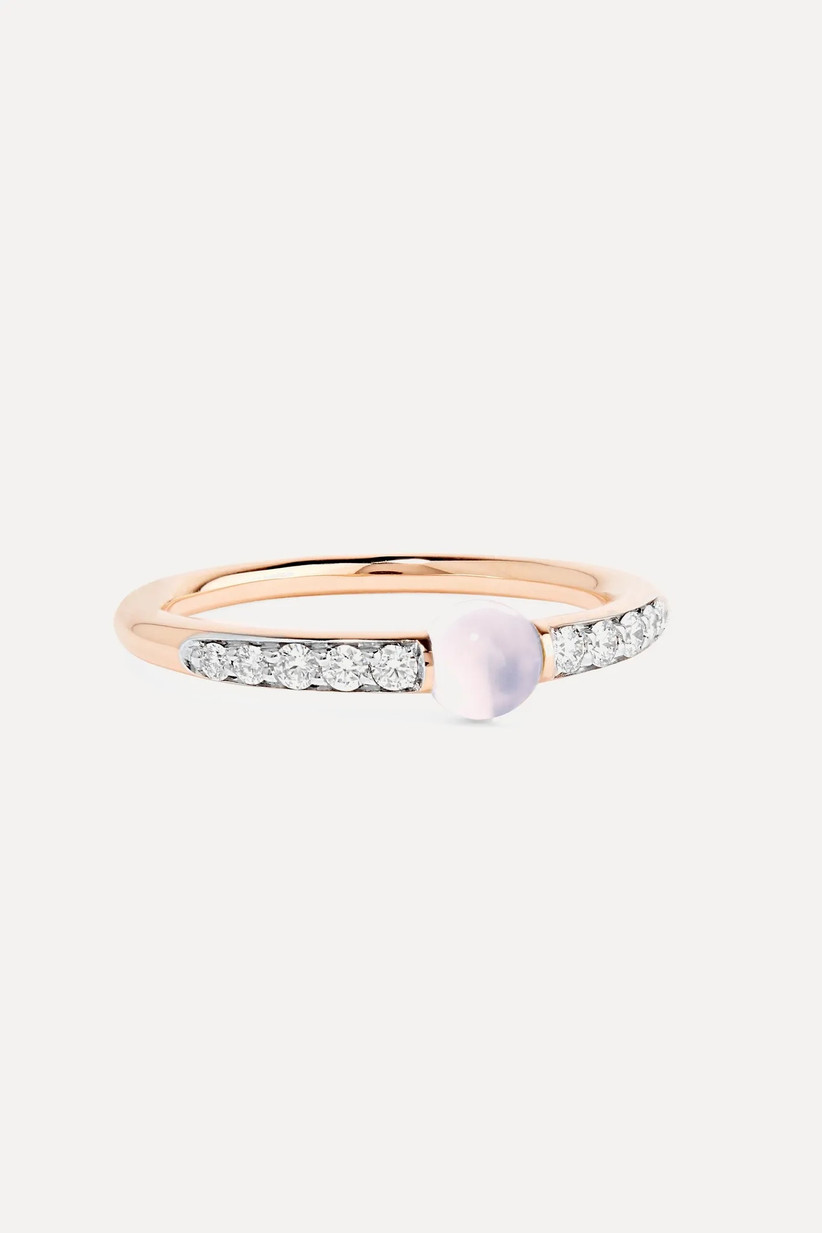 Love the cloudy mystique of moonstone but don't want to forgo the traditional diamonds? This slim, elegant ring combines the best of both worlds.
7. Pearl Engagement Ring – £279, Love Rings Design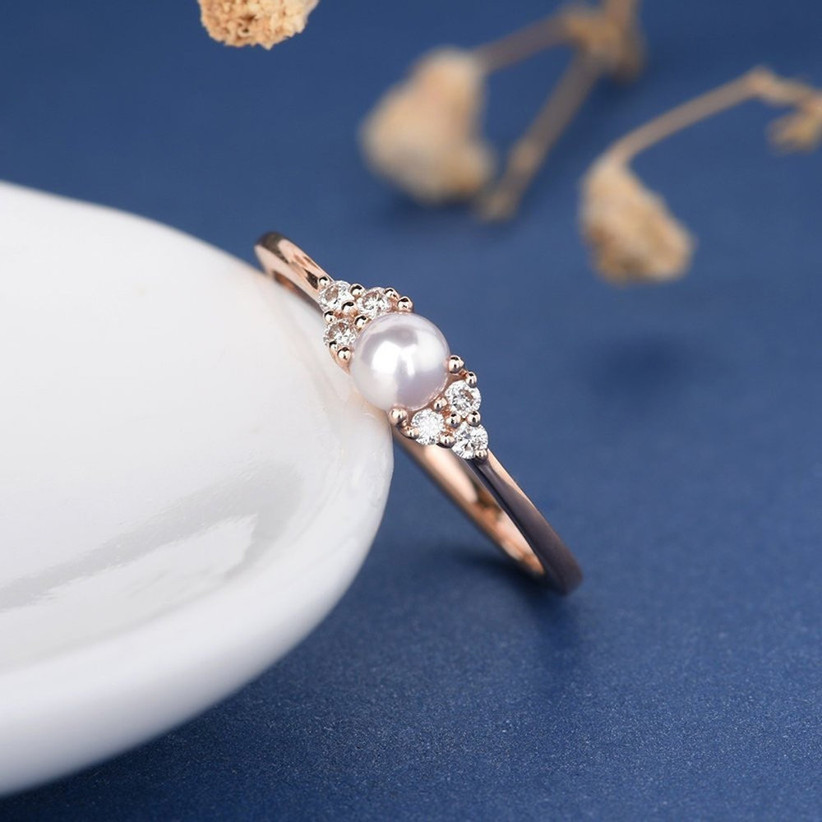 Vintage brides will love this pearl and rose gold engagement ring. The delicate setting is timelessly stylish and the central pearl is surrounded by six glinting diamonds.
READ MORE: 38 of The Best Budget-Friendly Rings for 2020 & 2021
8. Anissa Kermiche Age of Innocence 14 Karat Gold, Pearl and Garnet Ring – £430, Net A Porter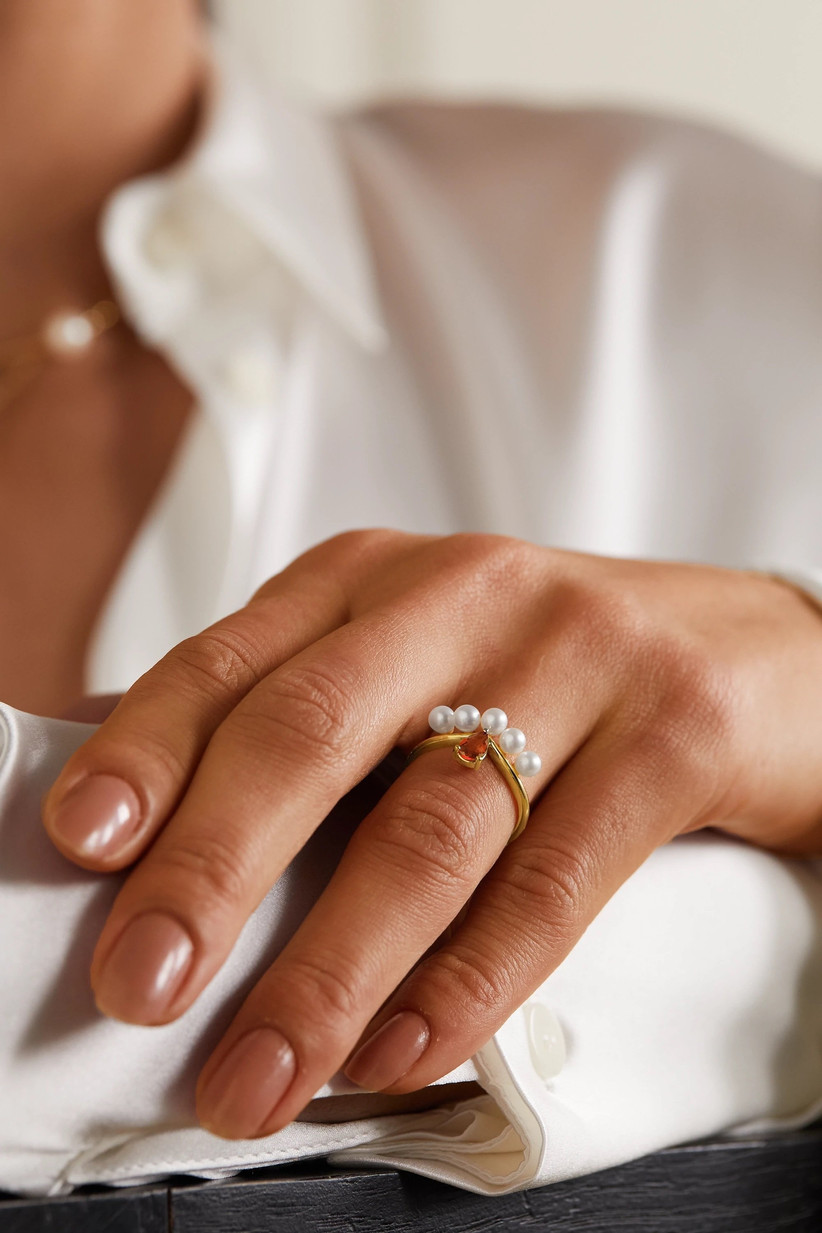 Pearls aplenty in a modern, cutting-edge setting. A pear-cut garnet floats above five dainty pearls to form a ring that's both directional and romantic.
9. Suzanne Kalan Rose Gold Diamond Cut Black Night Quartz and Diamond Ring – £770, Liberty London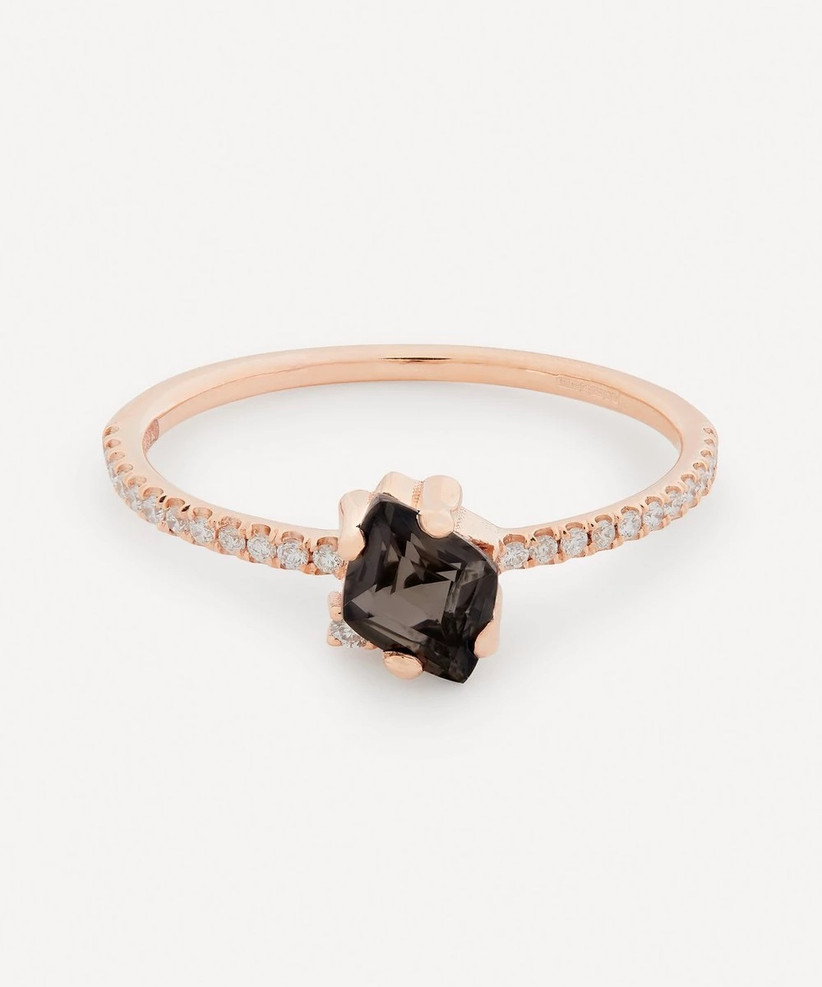 An edgy angle, glimmering black stone and sleek pavé diamond band make this the perfect ring choice for gothic brides. An asymmetric diamond 'hidden' in the claw makes it all the more cool.
10. Birks Splash Diamond Ring – £4,500, Mappin & Webb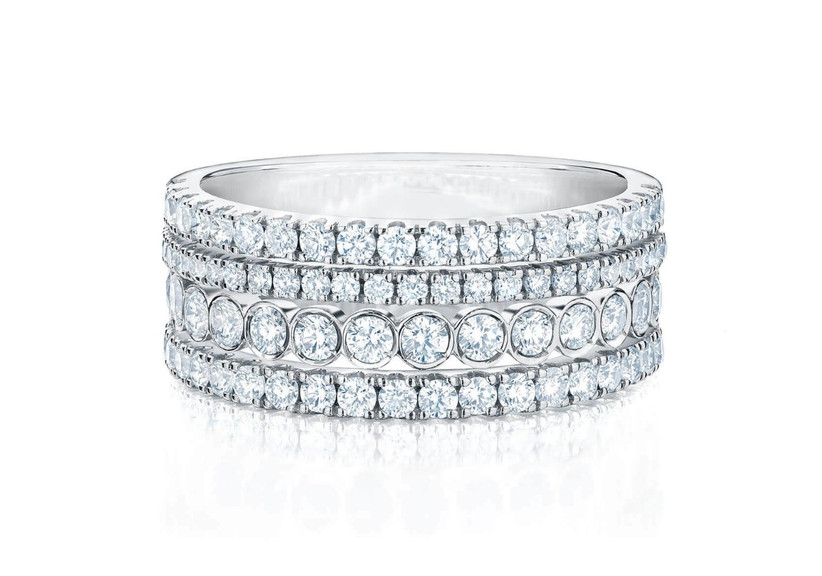 If a traditional stone on a simple band just isn't 'you' then throw the kitchen sink at the situation with four bands of precious stones. The Splash ring features three bands of diamonds with the choice to opt for an additional band of blue or pink sapphires, or just stick to a quartet of diamonds. Made by a brand beloved by the Duchess of Sussex, you'll be in esteemed company if you opt for this sparkler.
11. The Serena Ring – £1,405, Kimai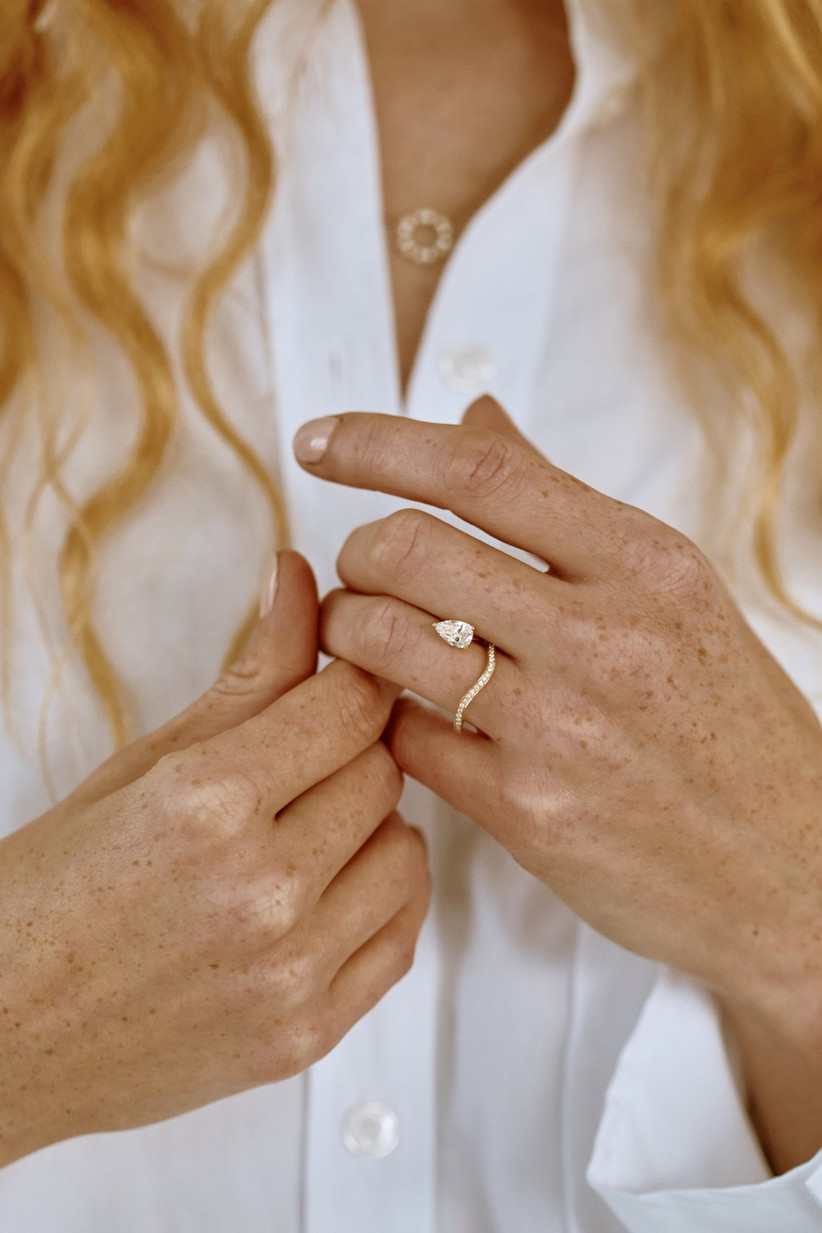 A pear-cut diamond crests above a wave of white diamonds in a recycled gold band. This is part engagement ring, part a work of fine art.
12. Pebble Solid Gold Diamond Engagement Ring – £655, Alison Moore Designs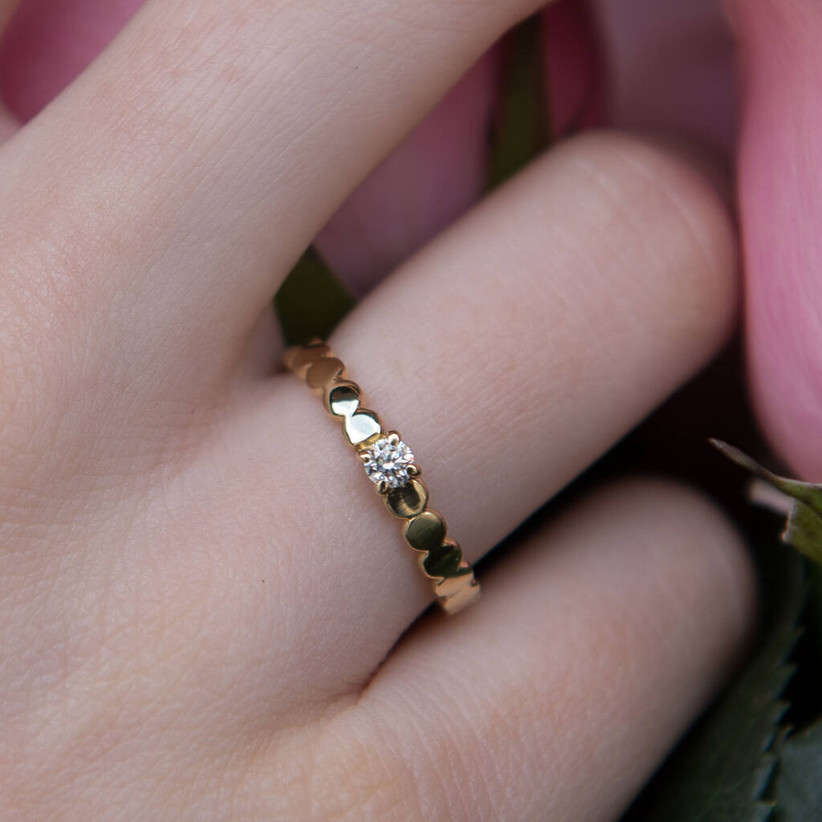 Another floating diamond option, this time centred in a pebble band. The ring is available in white or yellow gold at different karat levels to cater for all tastes and budgets.
READ MORE: Thinking of Buying an Engagement Ring Online? Read This First
13. Semilla Fairtrade Ethical Engagement Ring – £879, Shakti Ellenwood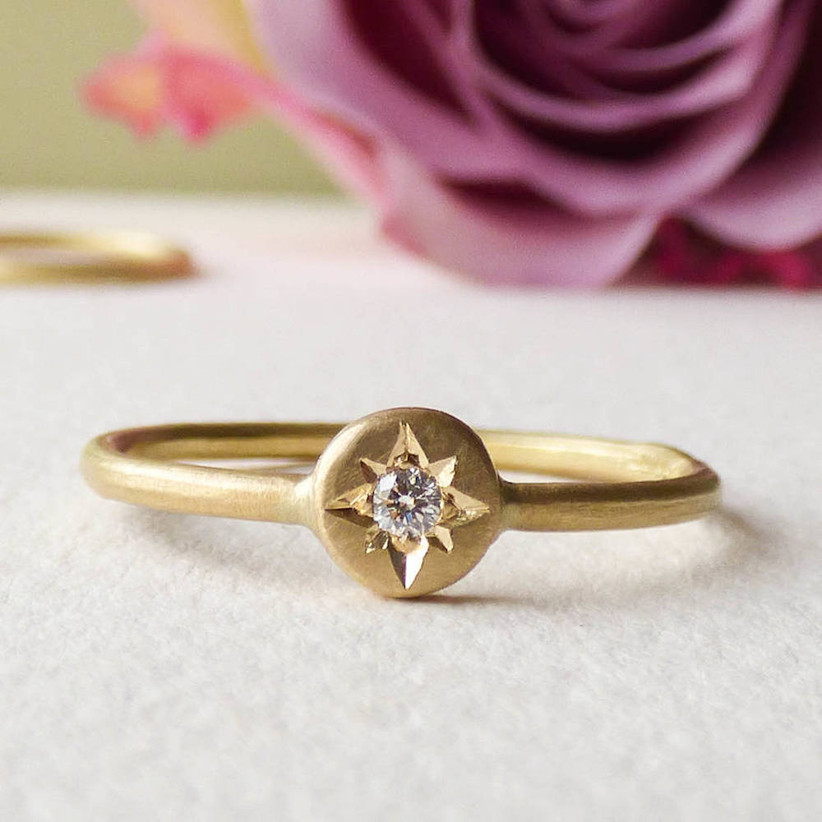 This fairtrade engagement ring by Shakti Ellenwood is a gorgeous option if you're after an understated, ethically sourced design and we love the star shaped setting – it's a nod back to the Victorian era.
14. Braided Yellow Gold Ring – £2,790, Lebrusan Studio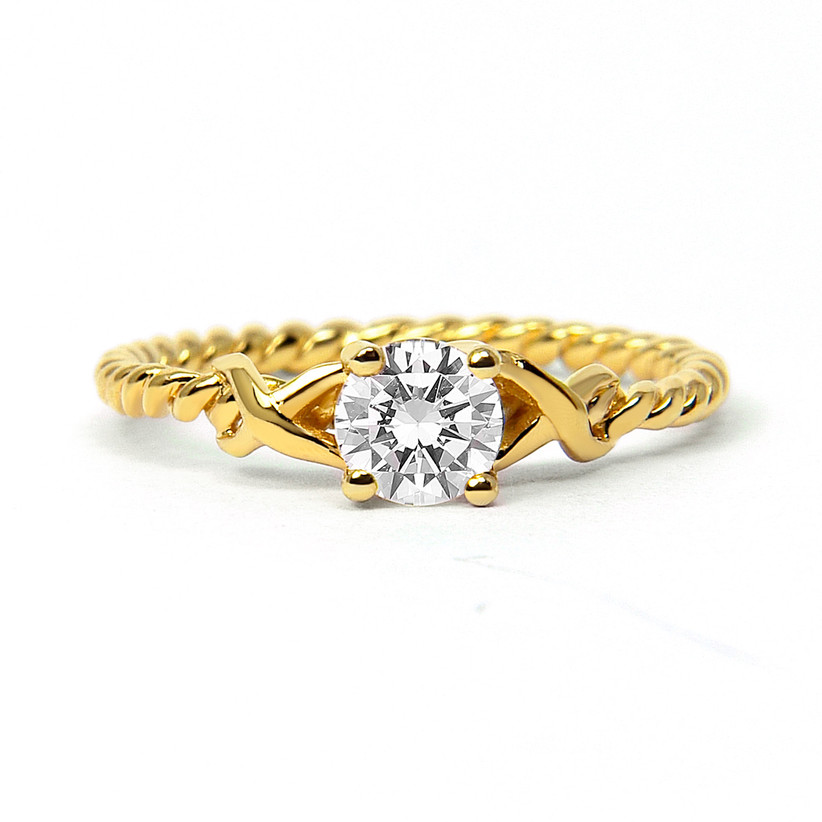 If you adore the combination of yellow gold and white diamonds but fancy something with a point of difference, this braided fairtrade gold band featuring a solitaire diamond makes for a literal twist on a much-loved style.
15. Kojis Gold Antique Diamond Twist Ring – £2,950, Liberty London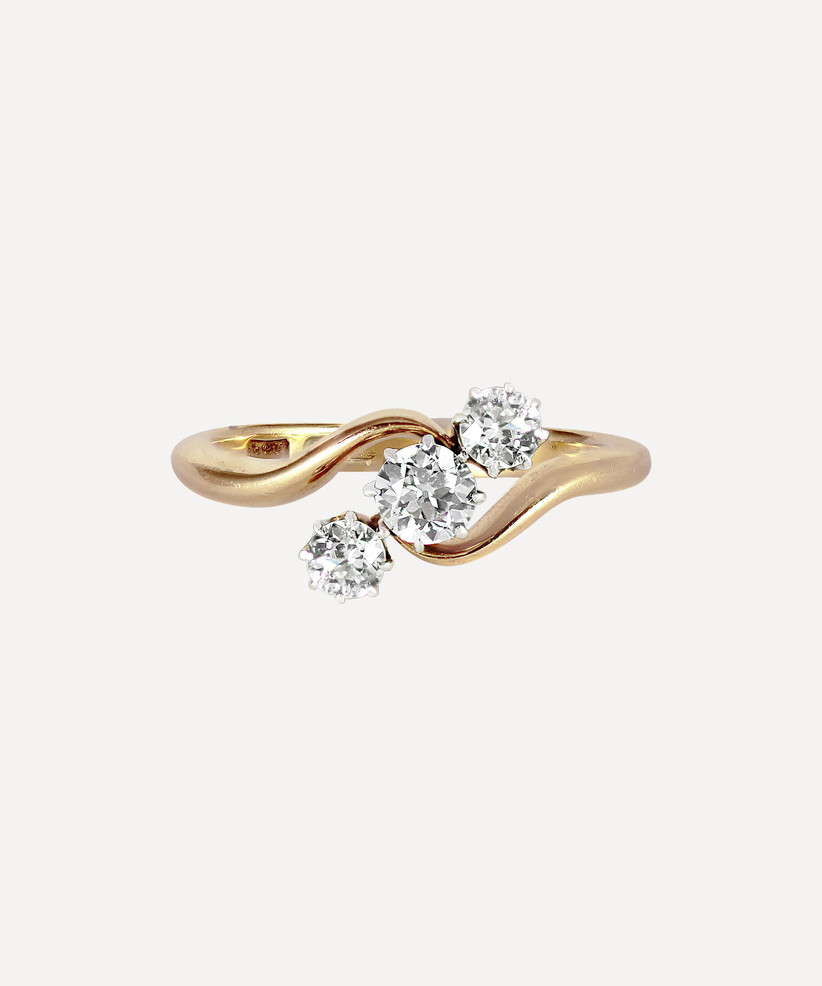 Talking of twists, this arty ring is actually anything but modern – it dates back to the beginning of the 20th century and epitomises Edwardian era style. Old European cut white diamonds float on the diagonal upon a tapered 18 karat gold band. This is one to hand down the generations.
16. Emerald Cut Diamond Buckle Ring in Yellow Gold – £5,465, V by Laura Vann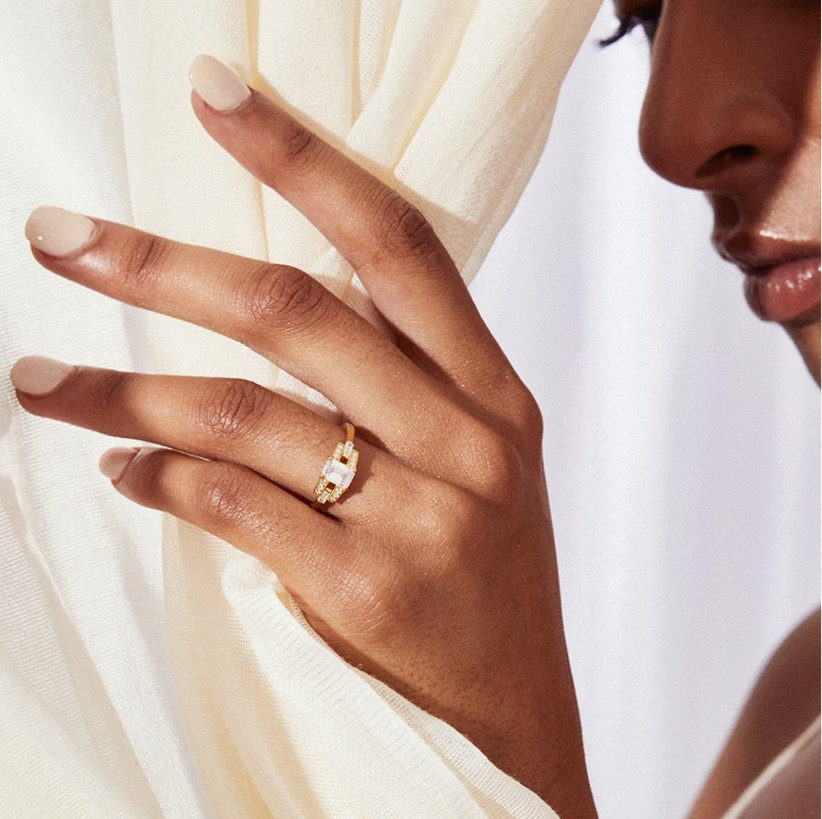 Baguette, round and emerald cut diamonds combine to form a truly remarkable art-deco style piece inspired by jeweller Laura's very own engagement ring. You know if a pro picks it, it's got something special going on.
17. Aditi Gold Morganite Zodiac Ring – £1,890, Flora Bhattachary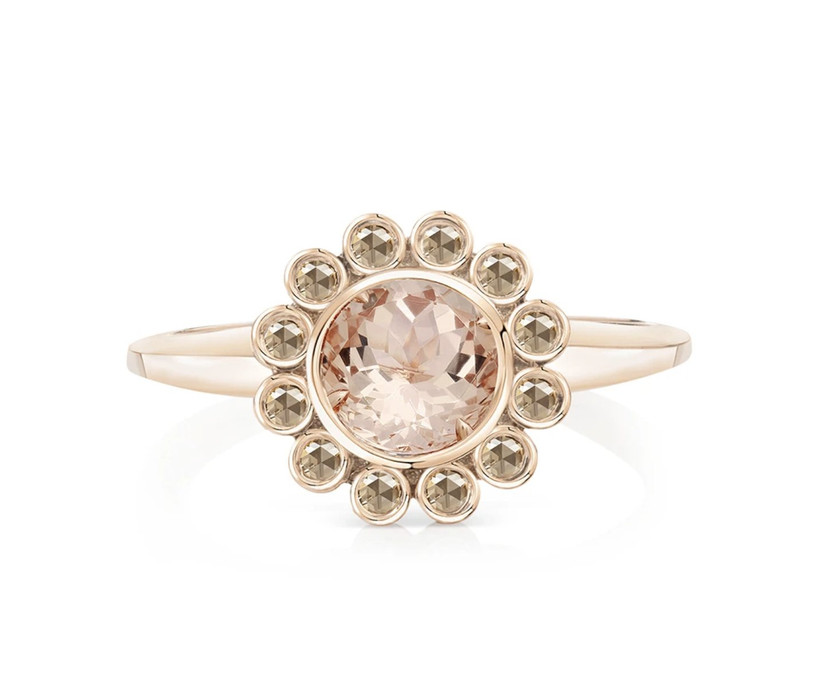 A heart of peach pink morganite surrounded by a halo of champagne diamonds makes for a bejewelled bellini of an engagement ring. The recycled 18 karat rose gold band is in keeping with the pink theme (Aditi is considered to be the mother of the gods and the zodiac, thus this ring was created with feminine energy in mind).
READ MORE: What is Morganite? Everything You Need to Know About the Engagement Ring Trend
18. Oval Engagement Ring – £3,100, Lily Kamper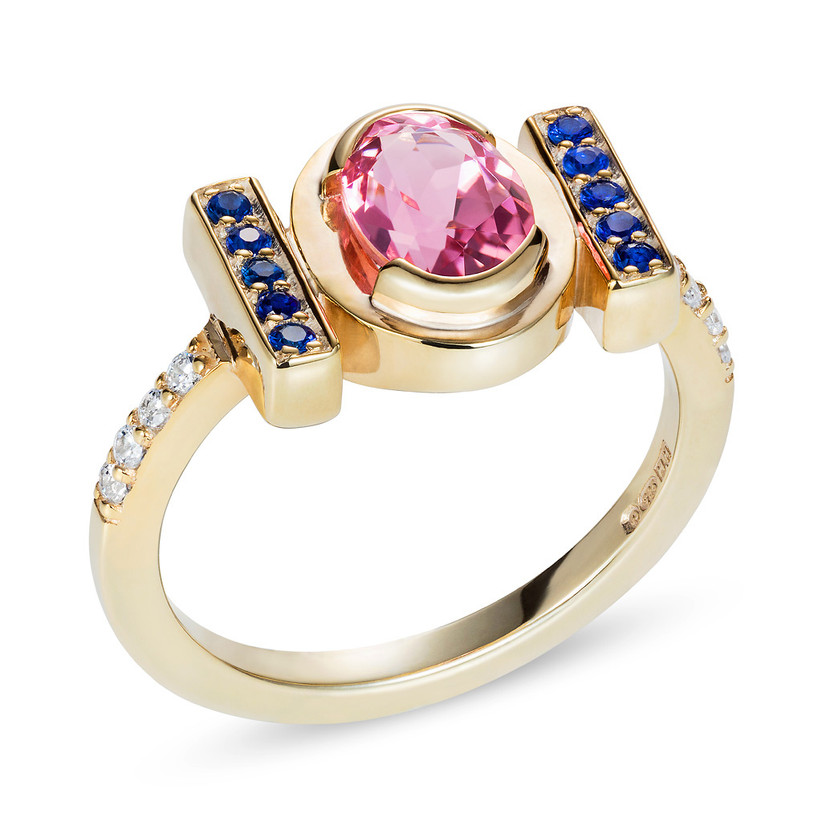 From peach pink to fuchsia tourmaline, this bright design is a celebration of stylish colour blocking in jewel form. Dark blue sapphires and a line-up of white diamonds flank the bold central stone to brilliant effect.
19. Calypso Ring – £3,115, Gee Woods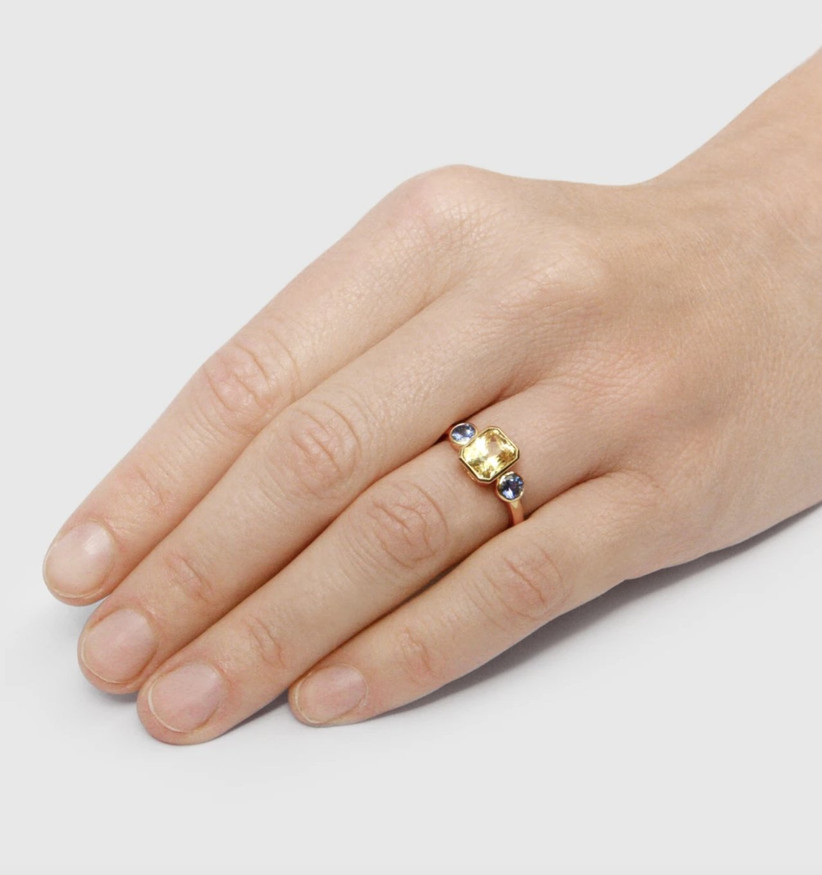 A similar idea with a softer design, this 18 karat yellow gold band showcases a pale lemon sapphire with deep blue sapphires at its shoulders. The cut of the gems comes off as retro but the colour combinations are beautifully modern.
20. Dinny Hall Gold Opal and Diamond Trilogy Ring – £625, Liberty London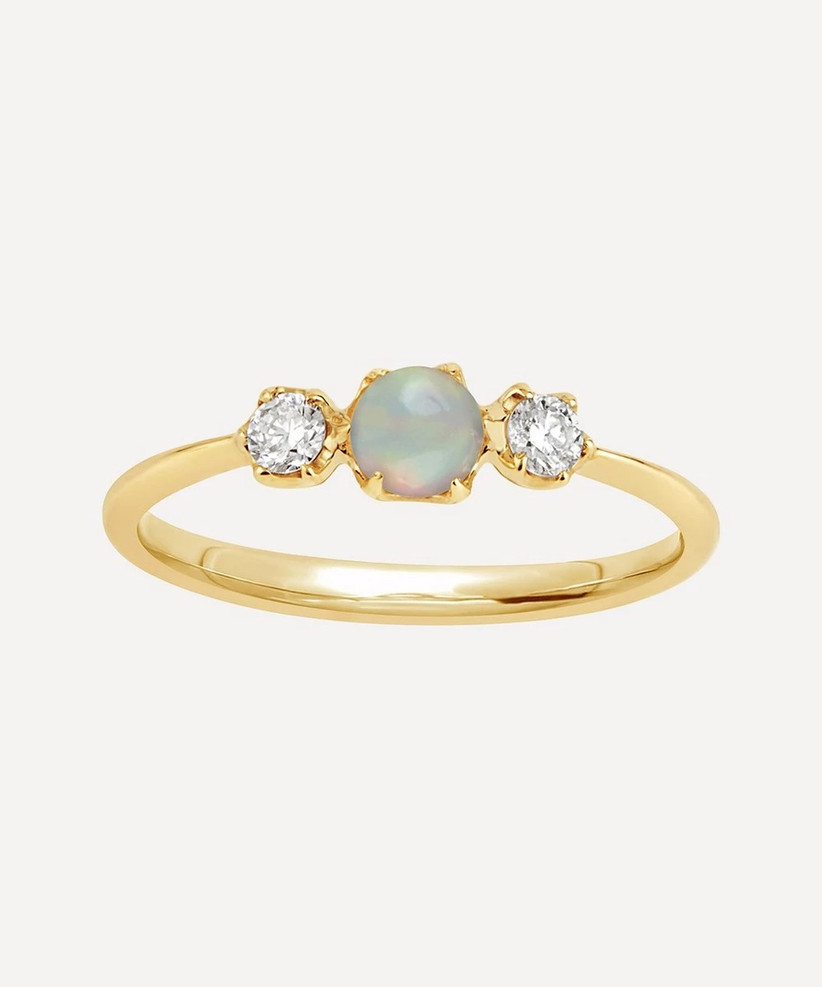 A luminous opal and diamond trio intended to convey 'iridescence', this delicate, unusual ring is at once subtle, dreamy and eye-catching. Want.
21. Kite Cluster Ring – £2,400, Ellie Air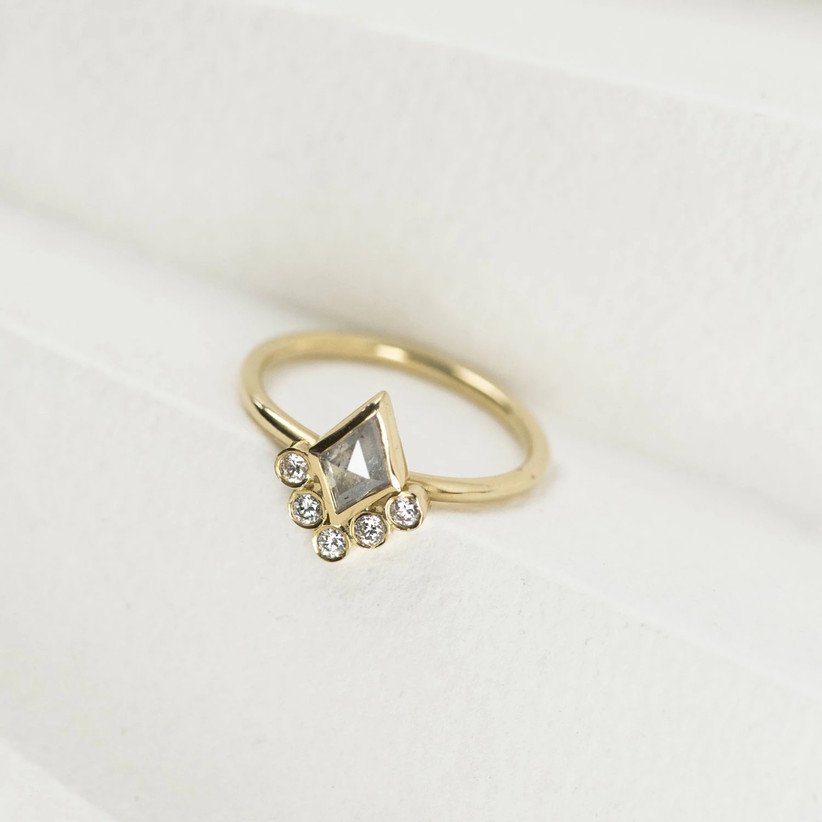 Grey diamonds are growing in popularity thanks to their depth and lustre and this kite shaped stone makes this ring look especially contemporary. A demi-halo of diamonds adds a delicate finish to an otherwise angular design.
22. Pear Shaped Pavé Set Diamond Ring – £4,000, Sophia Perez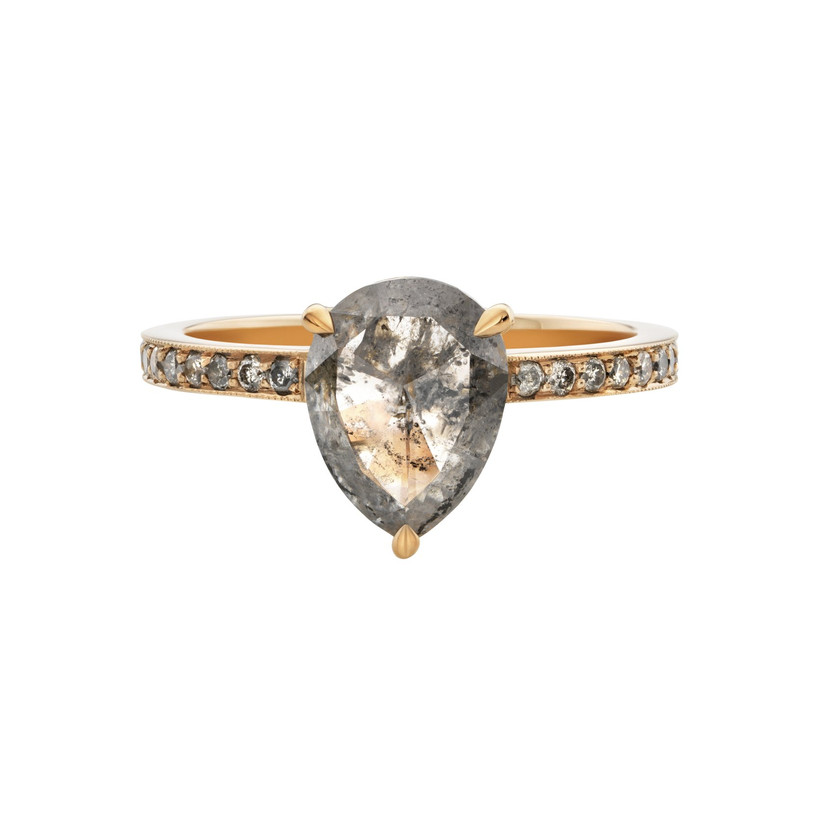 Salt and pepper diamonds are a chic combination of light and shade and this pear-cut sparkler set in a grey diamond studded 18 karat rose gold band showcases the unique stone to the max.
23. Rachel Boston Chocolate Diamond Ring – from £3,000, The Cut
Chocolate and diamonds? Does it get better? We think not. This striking shield cut diamond Dairy Milk us set in glimmering 18 karat gold and is sure to go down a treat.
24. The Billie Ring – £1,490, Kimai
If picturesque, off-kilter placement appeals, this perlee recycled gold band with a suspended oval cut lab diamond will take your breath away. Engagement rings don't come more unique than this.
25. Mon Cheri Engagement Ring – £4,000, Zoe & Morgan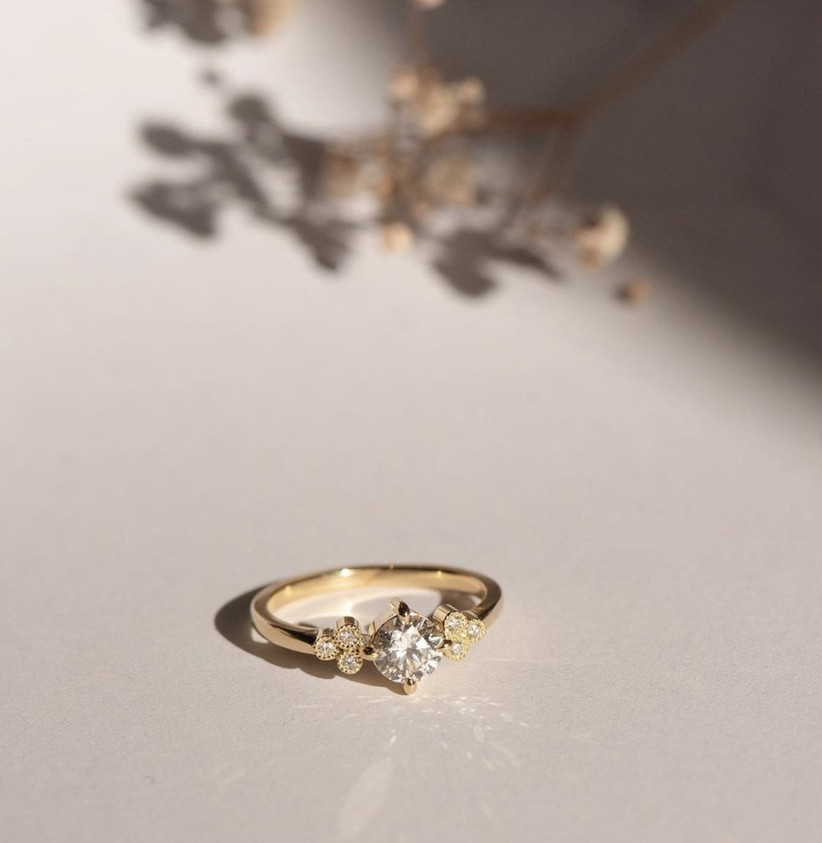 Quietly opulent, this vintage style engagement ring features a classic round central stone setting with six millegrain set round diamonds either side for additional subtle spangle.
26. Claude Ring with Stone – £5,019, Meadowlark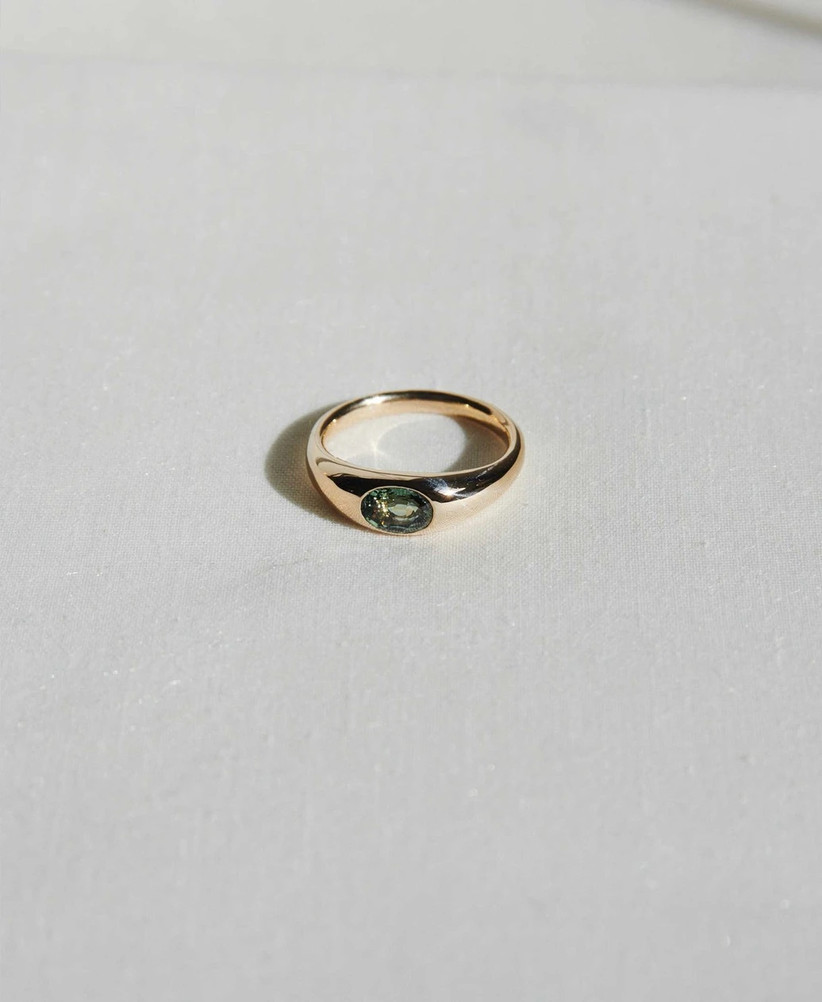 Available in a range of precious metals and stones, this modern, polished engagement ring is stunningly simple and can be tailored to suit the wearer, whether they favour white diamonds and rich gold or pink tourmaline on platinum.
Need more 2020 engagement ring ideas? Here are 5 engagement ring trends you need to know about.