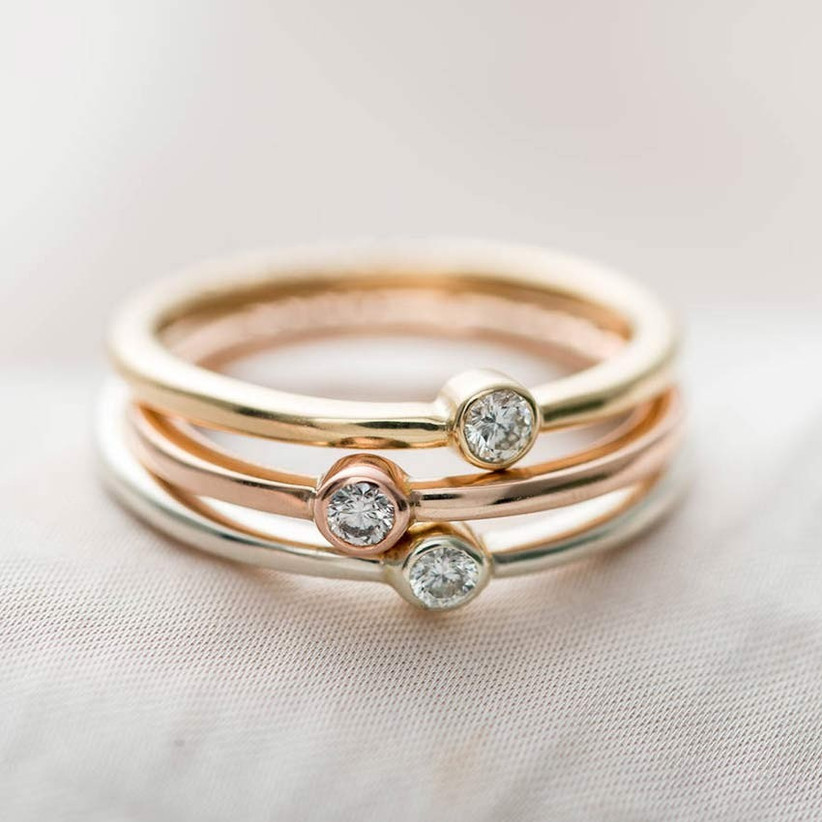 Are you shopping for the ideal engagement ring? If you know that a run-of-the-mill engagement ring just won't cut it with your other half then take a look at our selection of the most stunning alternative engagement rings that will delight the untraditional person in your life!
Once you've found your dream engagement ring, make sure you check out our guide to choosing your wedding rings.
Queen of Hearts Oval Diamond Ring – Chupi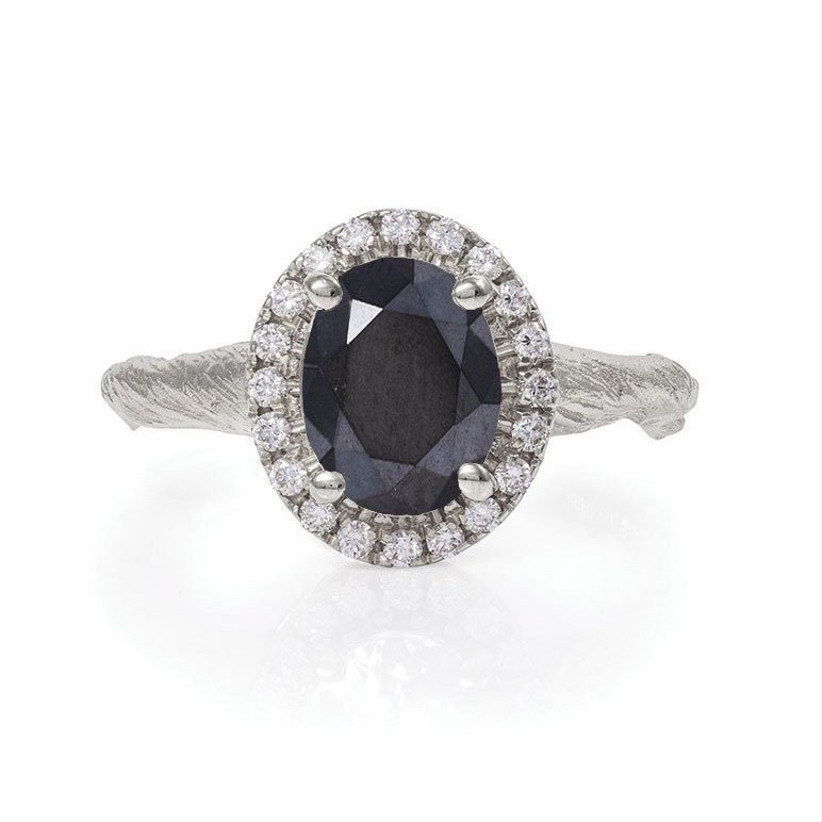 A black diamond makes a real statement and we love this oval halo style from Chupi. An oval black diamond is surrounded by a halo of diamonds mounted onto a textured white gold band. The quirky person in your life is sure to love this elegant and unique design!
Gold and Grey Diamond Ring – Anna Sheffield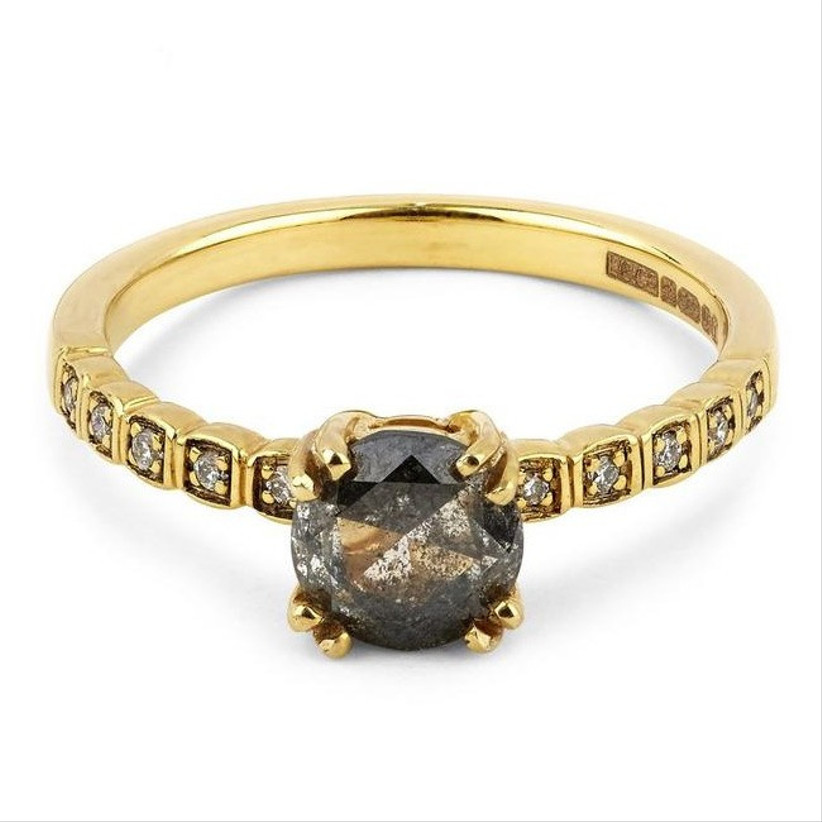 We love how this gold and grey Anna Sheffield engagement ring – available at Liberty London – has a traditional shape and style but with a completely non-traditional grey diamond. This combination of the traditional and the unique makes for a really stunning engagement ring.
Atrium Diamond Halo and Baguette Sapphire Ring – Polly Wales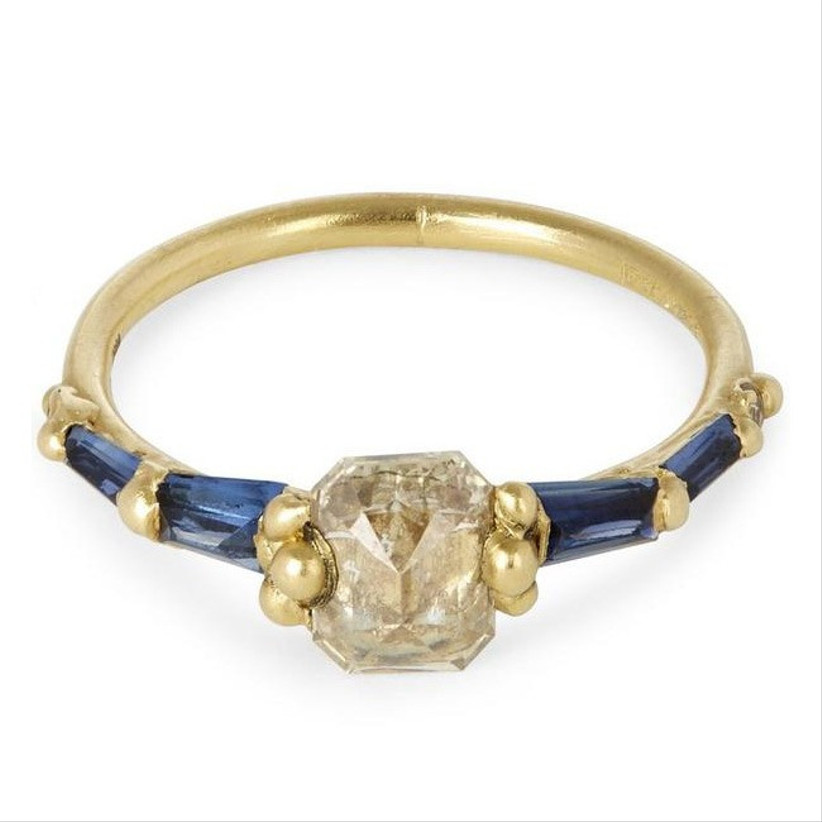 This diamond and sapphire ring by Polly Wales – available at Liberty London – is simply stunning! Four baguette sapphires beautifully frame an inverse emerald cut diamond and we adore the beautifully hand-finished band.
READ MORE: Sapphire Engagement Rings – Our Favourite Dazzling Styles
Rose Gold Vermeil Diamond Ava Button Ring – Monica Vinader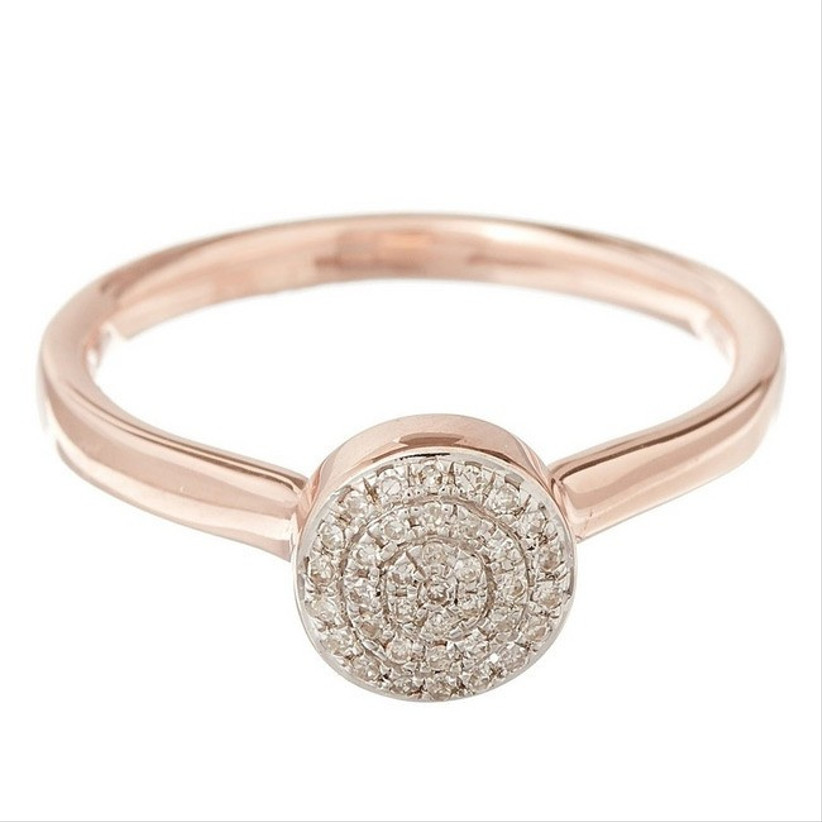 If you are planning a wedding on a budget then this Monica Vinader ring from Liberty London will give you all the style and beauty of an unusual engagement ring but without the hefty price tag! We can't quite believe this gorgeous rose gold and diamond wedding band is just £250.
READ MORE: Rose Gold Engagement Rings – Our Favourite Dreamy Designs
Love Is All Grey Diamond Ring – Chupi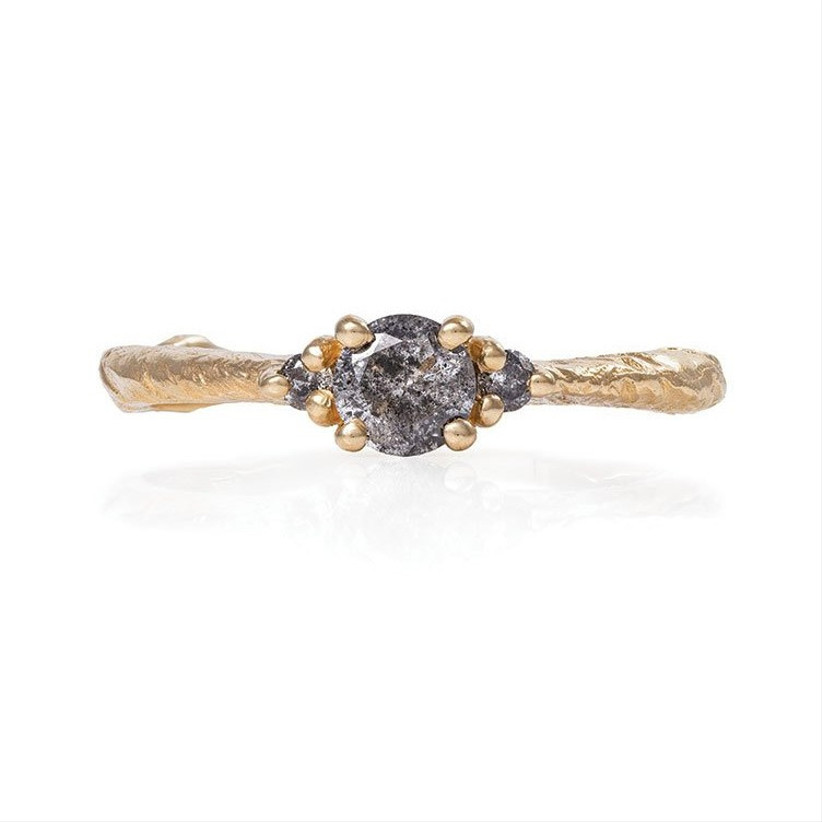 There's something so magical about grey diamonds, speckled with glitter and each one completely different. The Love Is All ring from Chupi is a yellow gold textured band that leads to an impressive grey diamond, we are in love!
Natural Ceylon Padparadscha Ring – Diorah Jewellery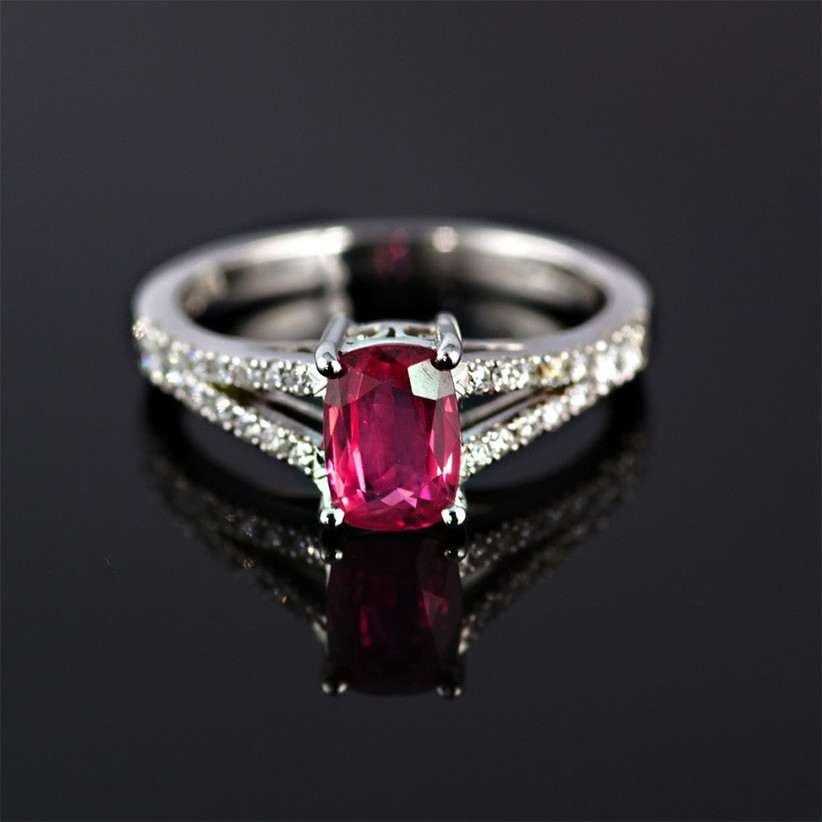 This pretty white gold engagement ring from Diorah Jewellery features an unusual ceylon padparadscha gemstone. The padparadscha name means "lotus blossom" and has a pretty pinkish orange colour which gives a really unique finish.
Pearl Engagement Ring – Love Rings Design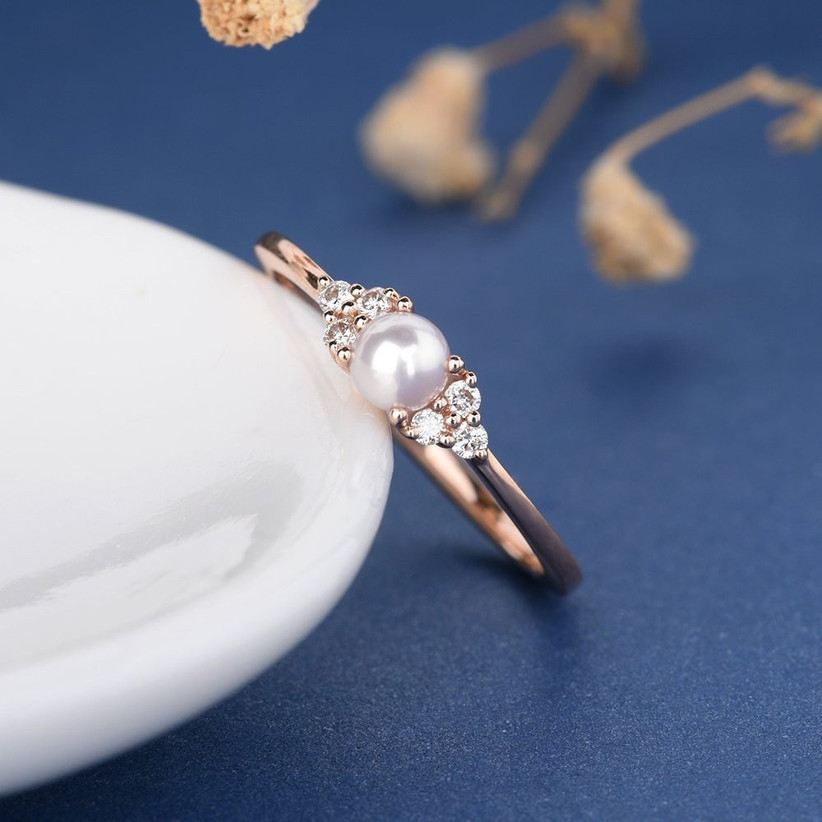 Vintage brides will love this pearl and rose gold engagement ring from Love Rings Design. The delicate setting is super stylish and the central pearl is surrounded by six beautiful diamonds.
Personalised Gold Diamond Engagement Ring – Posh Totty Designs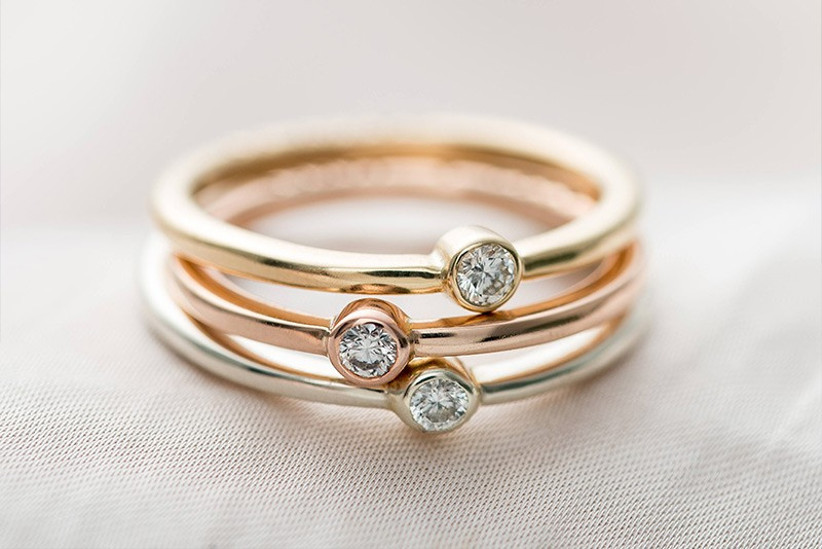 You can wear this pretty Posh Totty Designs ring by itself or stack three rings on top of each other to make a bold statement. Available in yellow gold, white gold or rose gold, you can also have the rings personalised with phrases like 'Marry Me', 'I love you' or your loved one's initials.
Rose Gold and Emerald Twig Engagement Ring Set – Caroline Brook Jewellery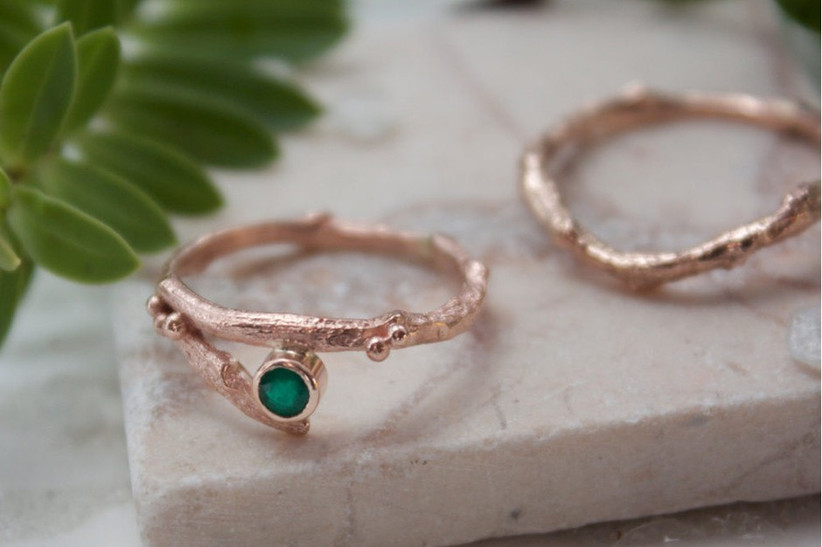 Cast in rose gold from a real twig, rustic brides will adore this pretty rose gold and emerald engagement ring from Caroline Brook Jewellery. You also won't need to worry about where to find a wedding band to match as this ring as it comes with a beautiful coordinating wedding band.
Princess Cut Black Diamond Skull Bones Ring – Thomas Brothers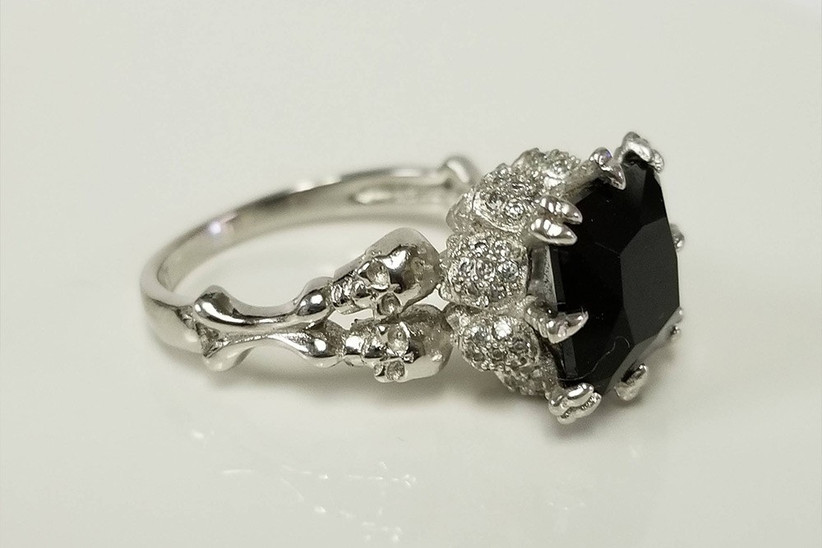 If you are planning a gothic themed wedding day then this black diamond skull ring from Thomas Brothers is sure to suit your style. The princess cut black diamond is framed by 12 decorative skulls and is ideal for someone who wants to celebrate their unique style.
READ MORE: 17 Spectacular Prrincess Cut Engagement Rings
White Gold Diamond Aquamarine Ring – John Lewis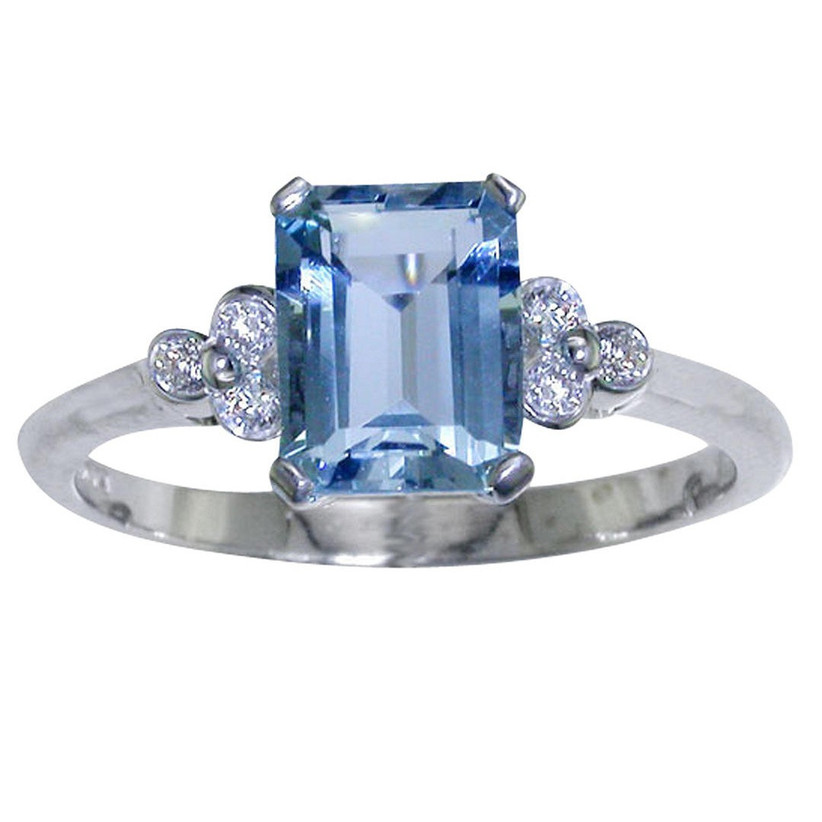 If you are looking for a unique style of engagement ring but you still want something that will be timeless and classic then this white gold and aquamarine engagement ring from John Lewis could be just what you have been searching for. We adore the vintage style and the aquamarine is a perfect stone choice for March brides.
Gold Five Princess Cut Diamond Halo Ring – Polly Wales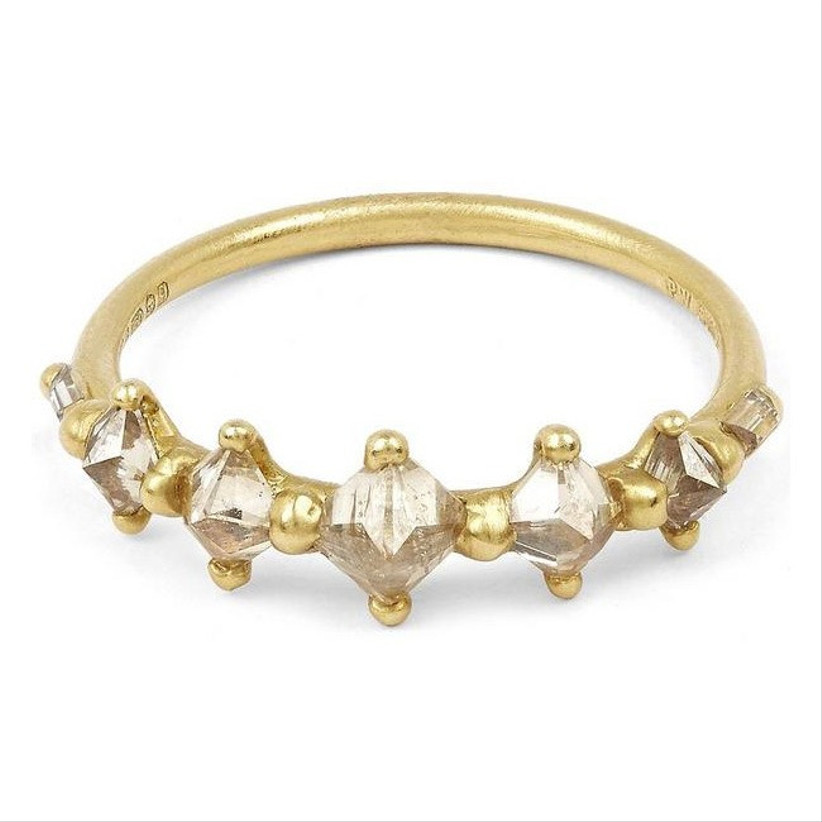 Why have one diamond when you can have seven! How gorgeous are the champagne diamonds on this Polly Wales engagement ring? Five inverted princess cut diamonds are flanked by two glittering baguette cut diamonds to create a stunning and unusual engagement ring – available at Liberty London.
Rose Gold Heart Ring – Heather Scott Jewellery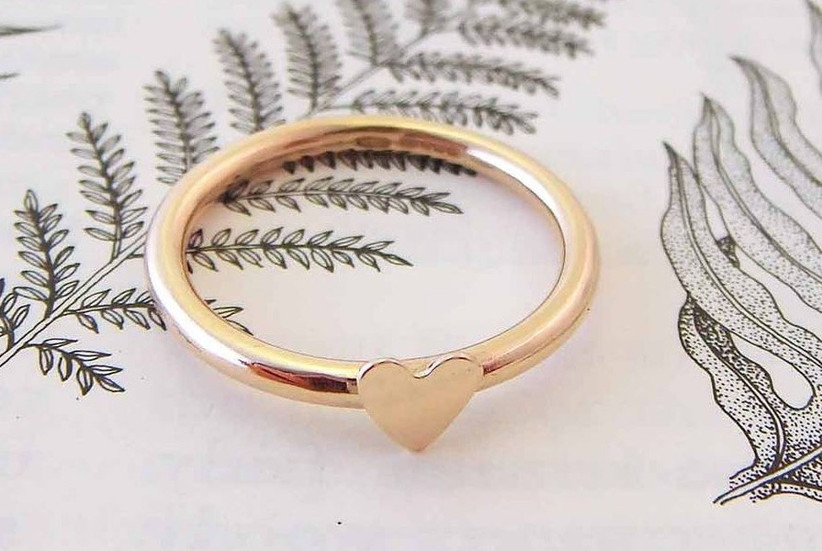 For a sweet and simple engagement ring you can't go wrong with this beautiful heart ring from Heather Scott Jewellery. Priced at just £175, it would also make a perfect placeholder ring to use for proposing.
Birks Splash Diamond Ring – Goldsmiths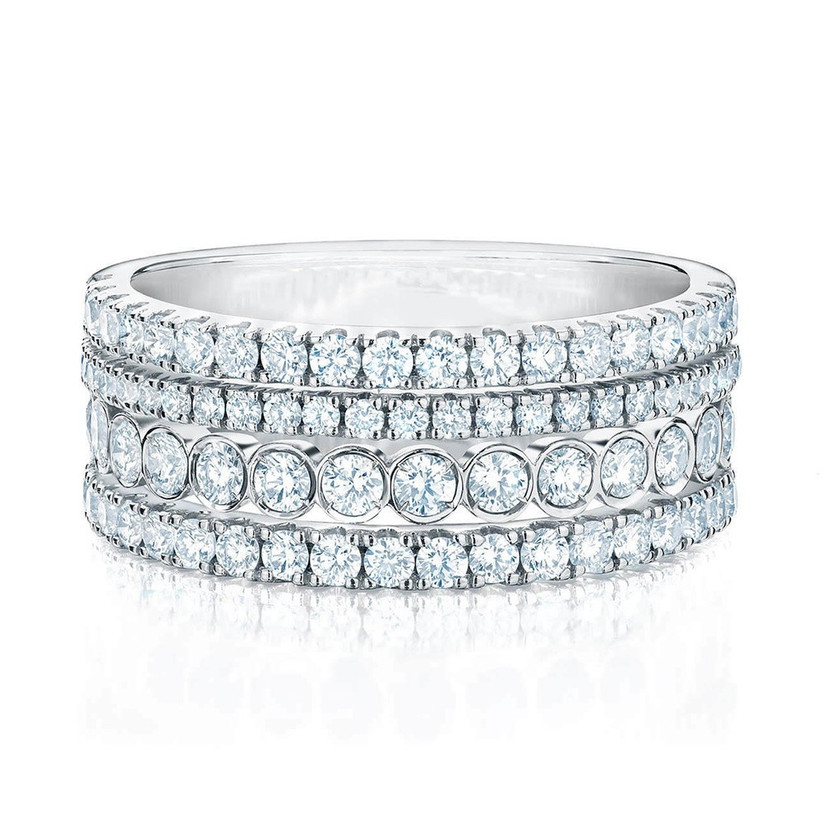 If a traditional stone on a simple band just isn't you then how about swapping the traditional style for four bands of precious stones. The Splash ring – available at Goldsmiths – comes with three bands of diamonds and then you can choose from a band of blue sapphires, pink sapphires or stick with an additional band of diamonds. It's a brand loved and worn by the Duchess of Sussex so you will be in great company.
Le Vian Vanilla Gold Sapphire and Diamond Ring – Ernest Jones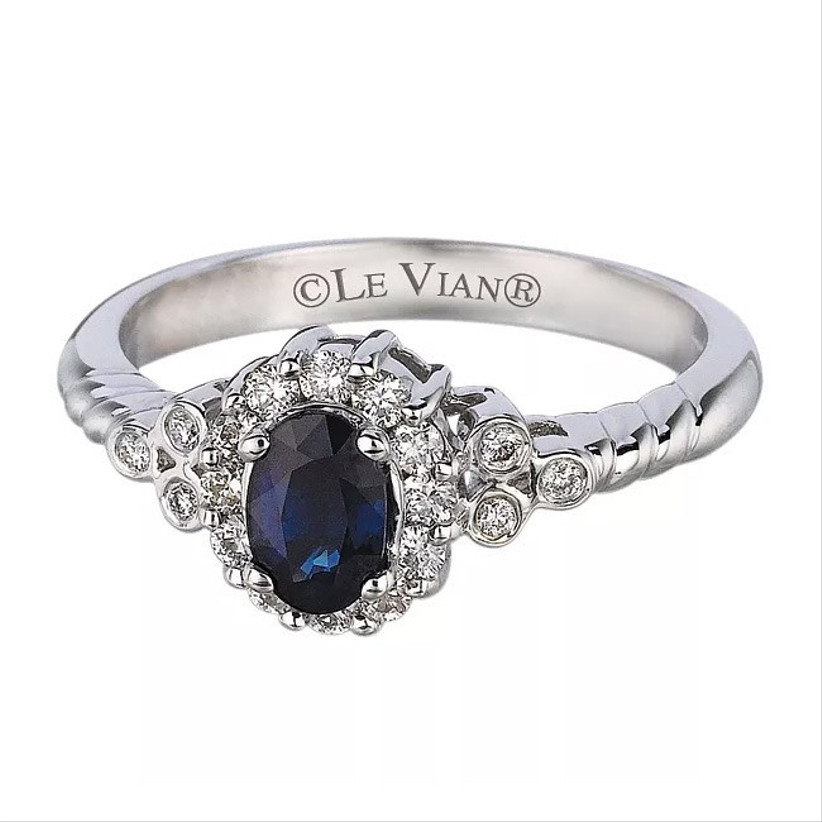 If you want to embrace some of the Duchess of Cambridge's style then opt for a sapphire as your engagement ring centre stone. This diamond and sapphire ring from Ernest Jones is simply stunning and would look amazing teamed with a diamond wedding band.
Henrietta Ring – Swarovski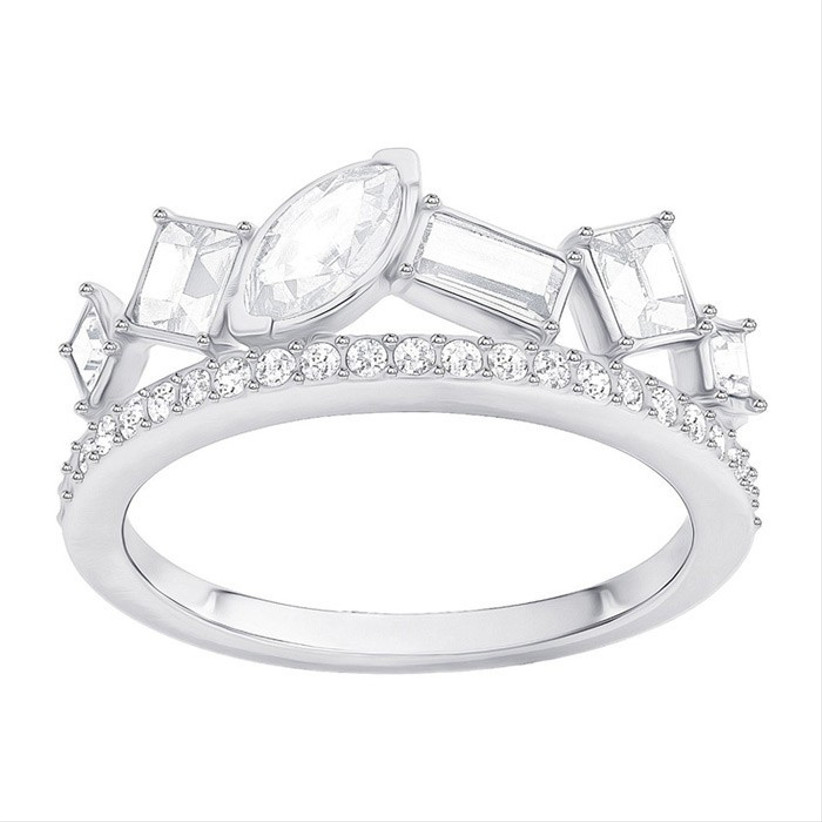 We think the Henrietta ring by Swarovski makes the perfect placeholder engagement ring – priced at just £85. It's so quirky and beautiful that you probably won't even want to replace it!
READ MORE: Temporary Engagement Rings – Proposal Rings to Pop the Question With
Blue Topaz Sterling Silver Ring – William White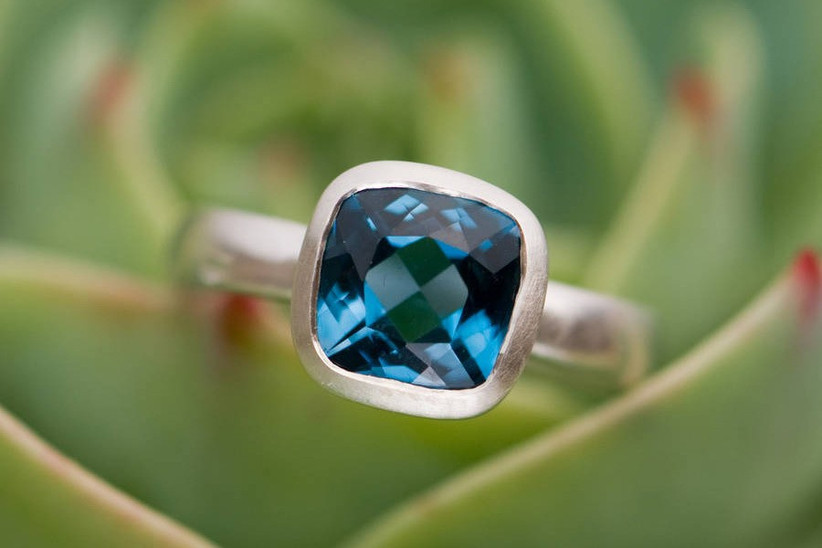 This blue topaz and sterling silver ring from William White is an absolute bargain at just £160. It's a striking and beautiful alternative to a traditional diamond engagement ring.
Pebble Solid Gold Diamond Engagement Ring – Alison Moore Designs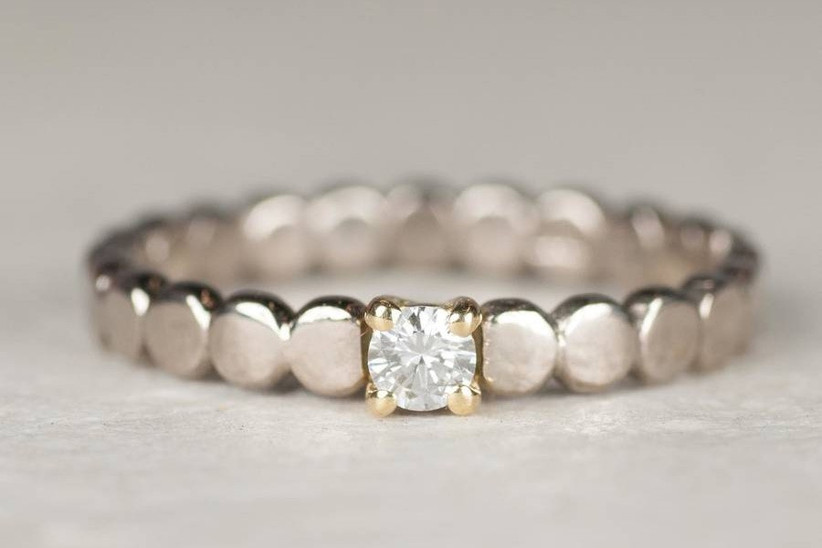 This gold pebble engagement ring from Alison Moore Designs is so different and is available is white gold or yellow gold – we are obsessed with it!
Semilla Fairtrade Ethical Engagement Ring – Shakti Ellenwood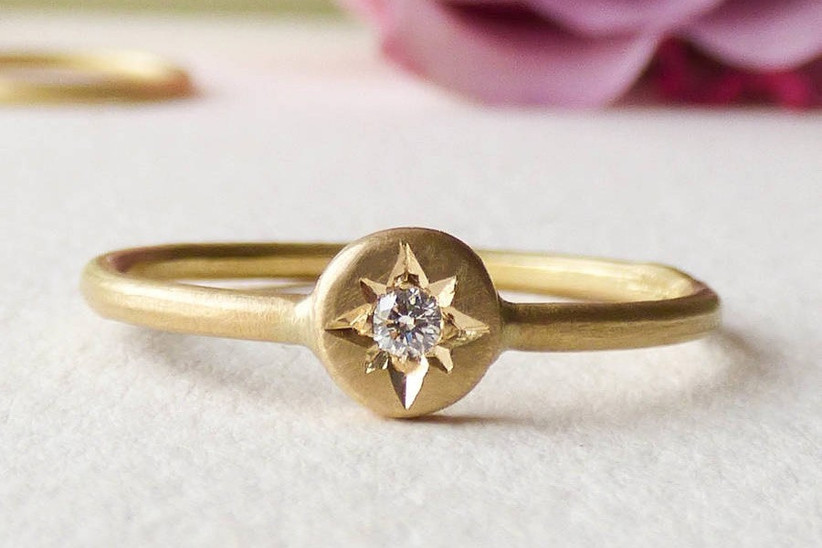 This fairtrade engagement ring from Shakti Ellenwood is the perfect choice for an ethically sourced design and we love the star shaped setting which has a nod back to the Victorian era.
Gold Multi Stone Engagement Ring – William White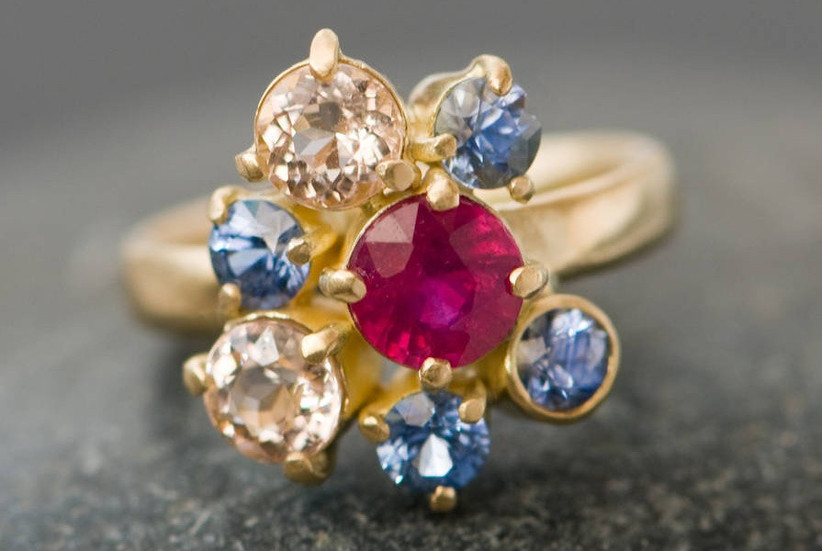 This beautiful cluster ring from William White includes a ruby, blue sapphires and morganite and is the perfect option for brides that want something quirky and colourful and so different from your usual engagement ring.
If you've fallen in love with one of these alternative engagement rings and feel like your own ring doesn't quite live up to them, follow our advice on what to do when you hate your engagement ring.