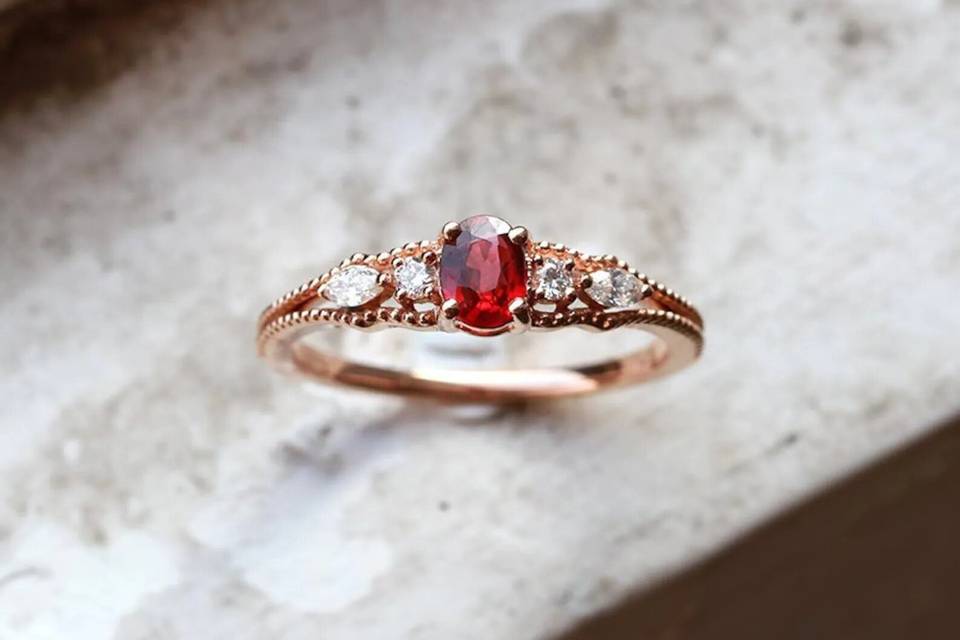 Rich and decadent, the ruby is often referred to as 'the King of precious stones', so it seems only right that they take pride of place at your proposal in the form of a ruby engagement ring.
Coming up trumps as the most durable gemstone (measuring nine out of 10 on the scale of mineral hardness), they also make the perfect choice for an engagement ring as they'll withstand everyday wear, giving you the opportunity to pass this special piece of jewellery down through generations.
Typically red in colour, rubies come in a wide range of differing shades, from striking scarlet and bright berry to soft pink and light coral, meaning they have lots of scope to suit all styles.
If you have your heart set on a ruby engagement ring or perhaps have a soft spot for coloured stones but aren't quite sure which jewel to settle on, we're predicting our round-up of the best ruby engagement rings might just have you sold.
1. Vintage Diamond Halo Ruby Engagement Ring - £4,149.36, Blue Nile
We're starting off our round-up with this showstopper from Blue Nile that features a stunning ruby surrounded by a halo of diamonds. You can customise your ring in 14k platinum, white, yellow or rose gold and choose between an oval, cushion or round cut ruby.
2. Solar Eclipse Ethical Ruby Engagement Ring - £1,990, Lebrusan Studio Jewellery
The round cut ruby showcased in the Solar Eclipse ring from Lebrusan Studio Jewellery has been ethically sourced from conflict-free zones and harvested in a responsible manner, before being sustainably crafted into this gorgeous ring by skilled craftsmen in the UK.
3. Pear Shape Halo Ruby Engagement Ring - £580, ABELINI
A pear cut ruby and rose gold engagement ring is a glamorous style that ticks off two trends in one! This design from ABELNI is also adorned with a halo and band of glittering diamonds giving it a magnificent sparkle.
4. 18ct Yellow Gold Ruby Ring - £1,365, Catherine Mannheim at Tom Foolery London
Catherine Mannheim's creations are influenced by her love of ancient jewellery and artefacts - take this handcrafted ruby ring for example. The 18ct yellow gold band has an organic hammered texture which compliments the round ruby centre stone perfectly.
5. Ruby & Diamond Blood Moon Cosmic Witch Ring - £1,050, Sofia Zakia at Tom Foolery London
For a ruby engagement ring that's a little bit different, consider this intricate style by Sofia Zakia. Inspired by the lunar phases, the diamonds twinkle like stars around the full ruby moon for a magical and enchanting finish.
READ MORE: 35 Beautiful Moonstone Engagement Rings
6. My Heart, My Eye Ring - £4,900, Jessica McCormack
The My Heart, My Eye ring by Jessica McCormack is such a romantic piece to propose to your partner with, featuring a secret message of 'my heart, 'my eye', 'until I die' engraved onto the band. If you met when you were teens this would be a lovely nod to young love.
7. Ruby Sunbeam Wedding Band - £1,595, Phoebe Coleman
Technically this ruby ring by Phoebe Coleman is a wedding band, but we love the idea of having it as an engagement ring. The unique sunbeam design adorned with warm rubies is simply perfect for a sunny beach proposal.
8. Star Cushion Ruby Platinum Ring - from £3,150, Fenton
Fenton are one of our go-to jewellery brands when it comes to coloured stones and you can see why with this gorgeous star cushion cut ruby platinum ring. We adore its vintage design but you can choose from a number of different styles, cuts and metals depending on your taste and budget.
9. 9ct Yellow Gold Pear Cut Ruby & Diamond Ring - £425, Goldsmiths
How fabulous is this yellow gold pear cut ruby and diamond engagement ring from Goldsmiths? It's a really affordable option and is a brilliant example that you don't have to spend a fortune to obtain a gorgeous ruby engagement ring.
10. 18ct Yellow Gold Ruby & Diamond Three Stone Ring - £1,800, Goldsmiths
Another beautiful piece from Goldsmiths is this 18ct yellow gold ruby and diamond trilogy engagement ring. It's a statement number but why stick to just one ruby when you can have three...
READ MORE: 35 Dazzling Emerald Engagement Rings
11. 18 Carat Gold Tension Ruby Ring - £1,100, Anthony Blakeney
This delightful design from Anthony Blakeney is clean and minimalistic, allowing the beautiful Burmese ruby stone to take centre stage. Choose from a nine or 18ct white gold, platinum and palladium, or 9ct yellow gold band.
12. Love Is All 14K White Gold Ruby and Diamond Ring - £3,000, Chupi
Aptly named 'Love is All', this ruby ring from Chupi is ideal for an engagement. The ruby centre is flanked by two diamonds on a 14-carat white gold band for a delicate and pretty look.
13. Sophia Antique Ruby and Diamond Engagement Ring - £1,350, The Vintage Ring Company
If you're after a sentimental piece, a lovely alternative to a family heirloom is an antique engagement ring from The Vintage Ring Company. Sophia is a classic Victorian style ring that features five fabulous stones - traditionally said to symbolise the five stages of a romantic relationship.
14. 18ct White Gold Ruby Halo Ring - £1,250, Chisholm Hunter
Chisholm Hunter never disappoint with their engagement ring offerings - think lots of sparkle, statement pieces and trend-led designs. We're obsessed with this 18ct white gold ruby halo ring and reckon your partner will be over the moon with it too!
15. Eden Round Ruby & Diamond 18k Rose Gold Vine Ring - £1,489, Lily Ark Wright
Add texture to a traditional round ruby engagement ring by opting for a design with a twisted band. Better yet, have it adorned with dazzling diamonds like this rose gold pick by Lily Arkwright.
READ MORE: 52 of the Best Rose Gold Engagement Rings
16. Platinum Oval Ruby & Diamond Halo Ring - £8,500, Steven Stone
Another halo ruby engagement ring is this beauty from Steven Stone. The gold prongs add a unique vintage twist to the otherwise contemporary fashion-forward design and we love the effect the two-tone metal gives.
17. Bea Suite No. 16 - $14,400 (approx. £10,720), Anna Sheffield
Bea Suite No. 16 by Anna Sheffield is on the pricier end of this ruby engagement ring round-up but it's a magnificent option if you have the budget and one that definitely won't go unnoticed when placed on you partner's finger.
18. Rennie Ring - £6,000, Rachel Boston
The Rennie ring by Rachel Boston celebrates vintage design with its striking silhouette featuring a white oval diamond centre surrounded by rubies that have been hand-cut in London. It's a lovely option if you want to incorporate ruby into your engagement ring without making it the focal point.
19. Four Circle Ruby Ring - £2,290, Shimell and Madden
Calling all cool couples - Shimell and Madden may have created your dream engagement ring. The central ruby stone is set within a geometric sequence of gold rings giving it a really futuristic feel that you don't often find.
20. Dainty Birthstone and Diamond Ring - £80, Carrie Elizabeth Jewellery
Ruby is the birthstone for July so if your partner was born in that month it would be a lovely idea to propose with this dainty birthstone ring by Carrie Elizabeth Jewellery. It will also easily stack next to a wedding band!
21. Camila Cluster Ruby and Diamond Ring - £1,124.41, Angelic Diamonds
From the intricately placed diamonds surrounding rich rubies, to the 18k yellow gold setting, the Camila cluster ring is a sight to behold! Angelic Diamonds also offer a free design service for any customised changes that you may require.
22. Vintage Inspired Two Stone Ruby Ring - £789, Angara
Angara offers couples the flexibility to purchase an engagement ring like this ruby wonder that fits within their budget by giving the option to choose the gemstone quality, metal type and carat weight. You can also pay in easy instalments!
23. Vintage Ruby Engagement Ring - from £205.95, Justin Jewelry Shop
This rose gold and ruby engagement ring from Justin Jewelery Shop has nearly 100 five star reviews and if you want to be their next one we recommend you purchase pronto, as this is one of their best-selling styles.
24. Vintage Style Oval Ruby Ring - £4,039, Angara
A ruby gemstone lends itself perfectly to a natural leaf design as it'll look just like a romantic red rose upon your partner's finger. This style from Angara boasts a 14ct white gold band which adds to its elegant appeal.
25. White Gold Ruby and Diamond Deco Cluster Ring - £1,100, Avanti
Go big with this stunning sparkler from Avanti and we can guarantee you'll have one happy spouse to be! It's a timeless way to incorporate art deco jewellery into their collection and will never go out of style.
READ MORE: Top Tips for Choosing a Vintage Engagement Ring
26. Ruby & CZ Gallery Ring - £219, Ruby & Oscar
For a ruby engagement ring that doesn't scrimp on sparkles, a cluster ring is a brilliant choice and this Ruby & Oscar creation will certainly catch the light. It's perfect for anyone who loves a statement-making ring.
27. Ruby & Diamond Flank Ring - £219, QP Jewellers
This ring from QP Jewellers is available with a number of other gemstones including emerald and peridot as the centre piece but we definitely have a soft spot for this pear cut Burmese ruby.
28. Ruby Cluster Ring - £1,920, Ruth Tomlinson
This ruby engagement ring is undeniably crafted by Ruth Tomlinson and we adore it. Just look at the rich rubies nestled amongst polished granules of yellow gold on a gently textured band!
29. Efflorescence Ethical Pink Ruby Engagement Ring - £2,773, Lebrusan Studio Jewellery
Another beauty from Lebrusan Studio Jewellery that we can't get enough of is this ethical engagement ring. It truly showcases the breadth of colours that rubies can come in, from deep red hues to this pretty pale pink.
30. Solitaire Ruby Engagement Ring - £207.51, AHBogem Studio
Bold and beautiful, this solitaire engagement ring has a dazzling centre jewel cut in a clean baguette. It offers glitz and glamour without the high price point.
READ MORE: 35 Stylish Men's Engagement Rings
31. Pre-Owned 3ct Oval Ruby and Diamond Cluster Ring - £6,250, Avanti
For a ruby alternative to Princess Diana's signature sapphire engagement ring, look to this gorgeous pick from Avanti. It has been pre-owned making it a lot more sustainable and affordable than if you were to buy brand new.
32. Ruby and Silver Diamond Trilogy Ring - £3,650, Laura Lee Jewellery
This ruby engagement ring by Laura Lee Jewellery is ideal for anyone who likes a small, yet impactful design. The two shimmering pear cut diamonds compliment the pink-hued centre ruby perfectly and the mix of metals adds an interesting touch.
READ MORE: 42 Simple Engagement Rings for Modern Brides
33. Ruby Gold Ring - £500, Sophia Perez
This petite ruby and gold engagement ring by Sophia Perez is handmade in her London studio and comes in at just £500. If you swoon for a classic oval single stone style, this will give you that look for a fraction of the price you'll find elsewhere.
Make sure you browse these proposal ideas to find the perfect way to pop the question.