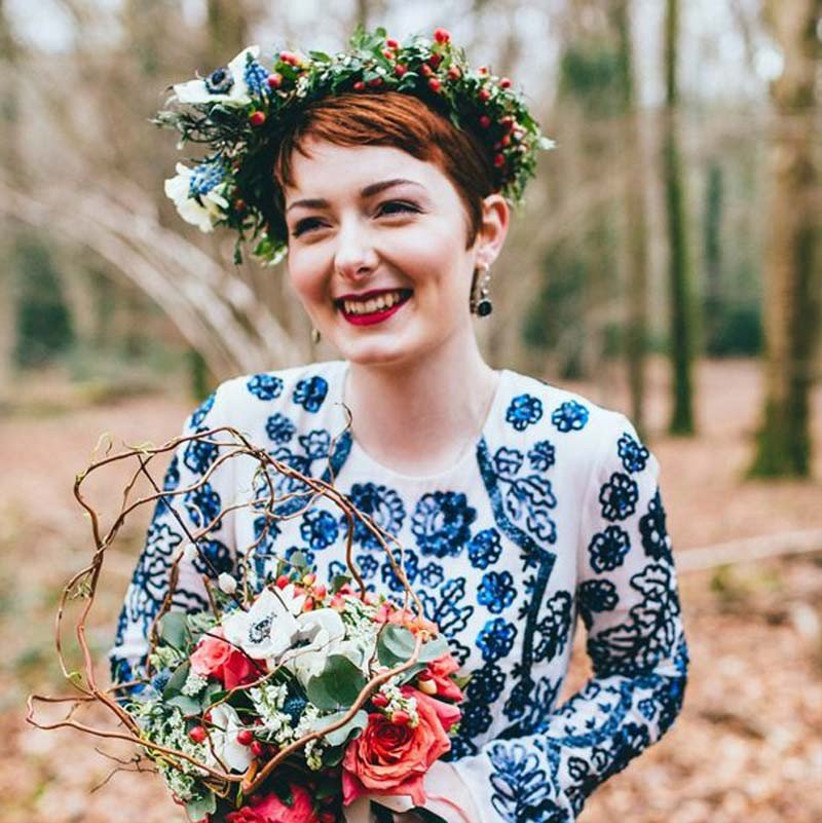 Stylish, short hair is such an on trend look, but it can sometimes feel like you're limited when it comes to choosing a wedding hairstyle. We can assure you that this is definitely not the case.
The beauty of short hair is that it's just as easy to create bold, dramatic looks as it is softer styles, plus you can pull off pretty much any type of hair accessory – lucky you!
From chic, slicked back styles to vintage inspired waves and headbands, we've found lots of gorgeous wedding hairstyles for short hair that will inspire you.
Rustic Beauty
How stunning does this bride look? Photographed by Wedding Photography to Love, her gorgeous pixie cut lends itself beautifully to the statement flower crown. If you fancy having a go at making something like this, check out our step by step on how to make your own wedding flower crown.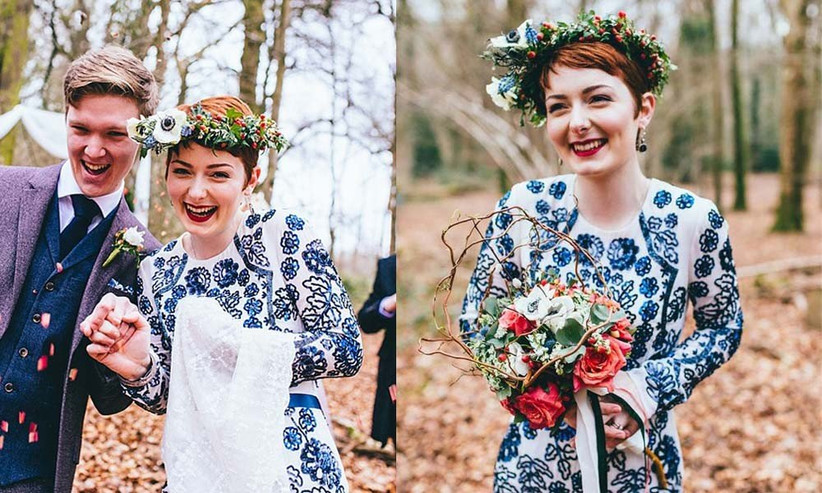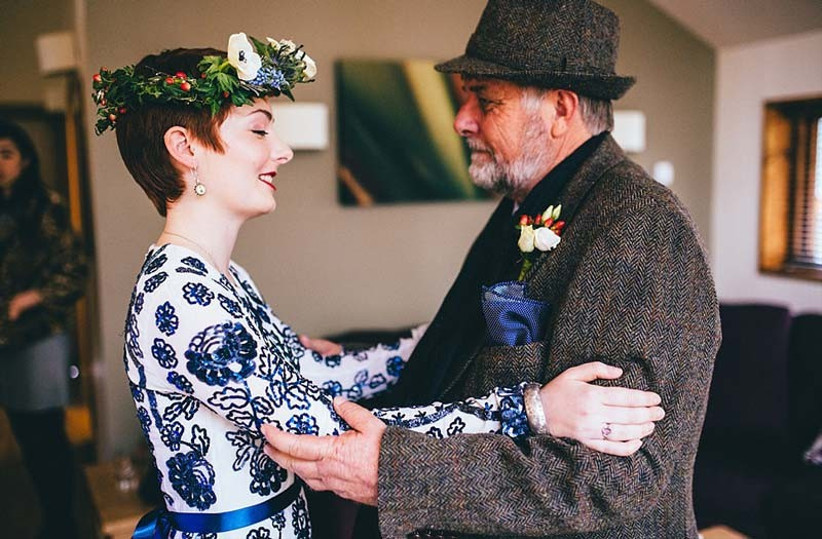 Victory Rolls
If you're planning a vintage inspired wedding then adding some victory rolls to your hair would be a show stopping way to nail the look. This look won't be achievable for a pixie cut, however if you have hair that's slightly longer than your chin then you should be able to create fabulous victory rolls.
Amanda from Lipstick and Curls gave us her top tips for achieving this style yourself: "Part the hair neatly in a centre or a side parting. Then make a section from the top of the crown down to behind the ears, creating a V shape with the front section of the hair. Take each section of the V then either tong or roller the hair, just to curl the ends. Then take your curls at one side of the V and backcomb small sections from the root to half way up the hair shaft.
"Gently smooth over the hair with a bristle brush then take some fine hairspray and spray either side. Now place your hand back on the top of your head and lay the hair over it. This time wind it around the fingers until you have a nice circle shape sat on the front of the head. Then with you other hand, take a hair grip and secure by putting the grip flat to the head to secure the roll.
"Then repeat on the other side. If you have an off centre parting they need not be symmetrical. You can also experiment with different methods of rolling the hair and different quantities as the same method still applies."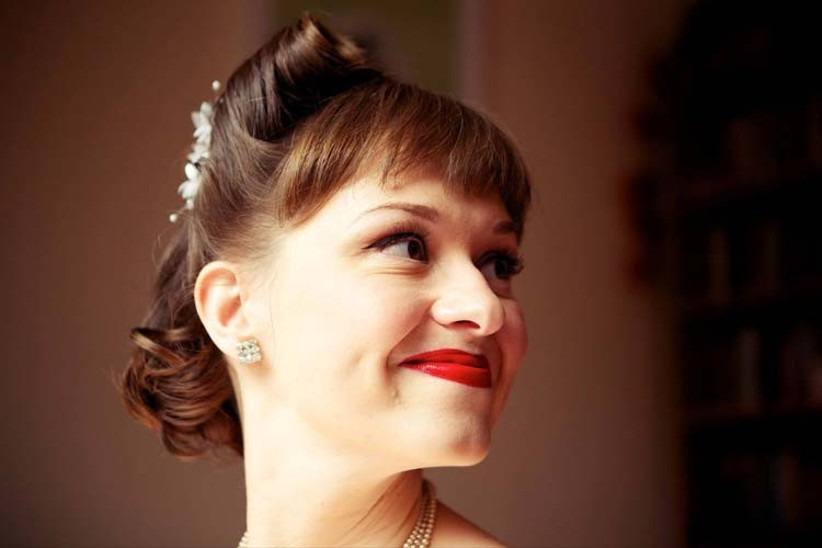 Romantic Florals
A floral fascinator placed on one side of the head is a great way to do effortless bridal beauty, your hair just needs to be slicked back and pinned in place. If you have a pixie cut then you're lucky- you can easily pull off flowers in your wedding hair.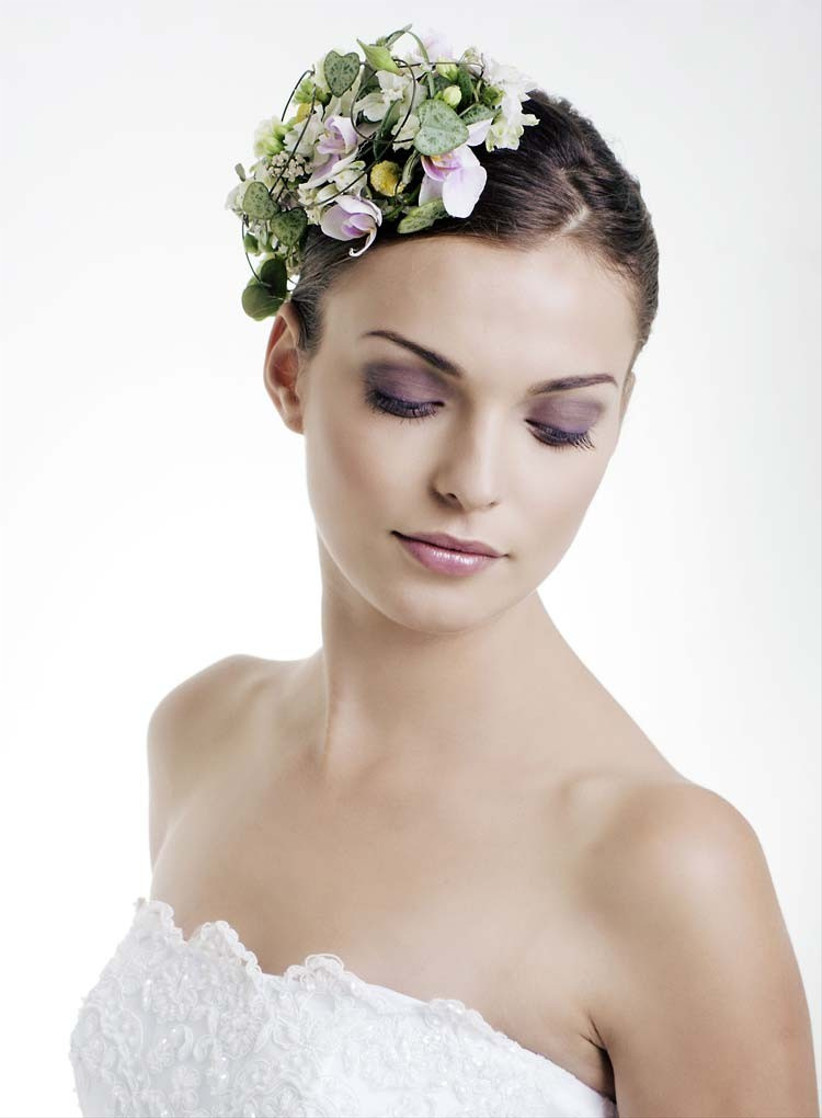 "Short haired clients often ask us whether they should get extensions for their wedding day," says Laura from The Bridal Stylists. "If you've always had short hair, we say embrace as then you will look back at the photos with no regrets."
The addition of pink flowers to this bride's super short crop is a pretty and summery look – the flowers also match the couple's bouquets!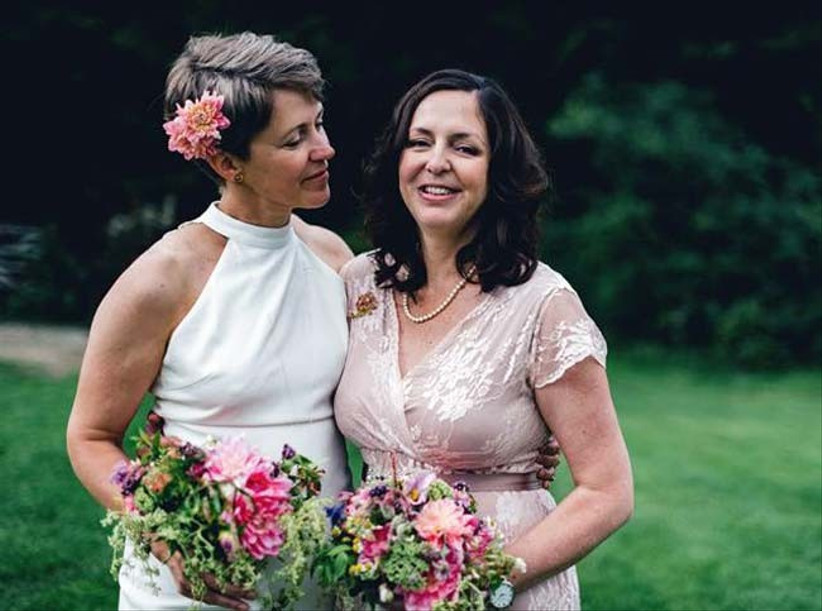 Image credit: Jacqui McSweeney Photography
Vintage Vixen
We adore this 50s inspired style from Lipstick and Curls. Wavy ends and volume combine with a floral fascinator and red lip for one seriously stylish bridal look.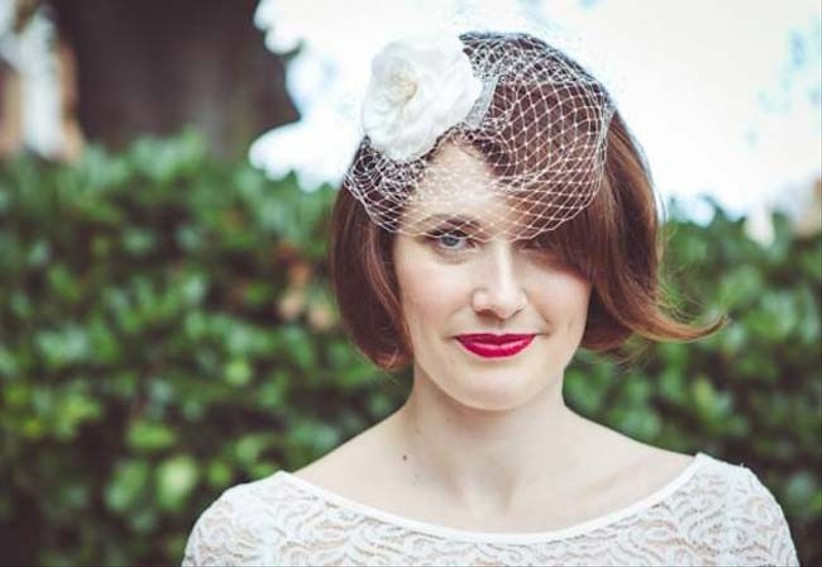 Short hair works extremely well with wedding hairstyles that have a retro theme, like this tightly tonged style that has been finished off with a fascinator. Short hair can still be curled with a small wand, but if your hair is too cropped to pull off this style then let it grow out to your chin before the big day.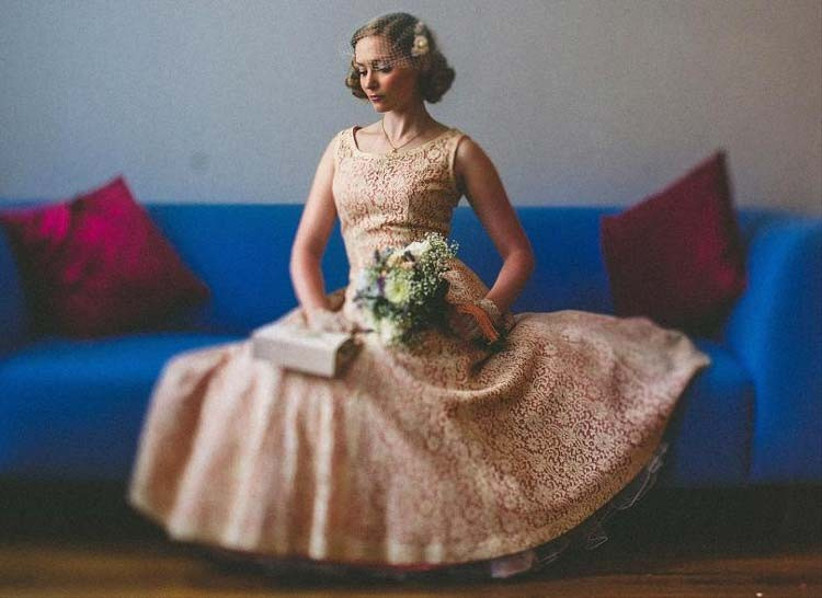 Image credit: Lipstick and Curls
If you feel like having a fringe is restricting your search for short wedding hairstyles, then just take a look at this pretty brunette bride. Her fringe works so well with the netted fascinator. Any lengths can be pinned back into an easy bun as it's the front of this style that does all the talking.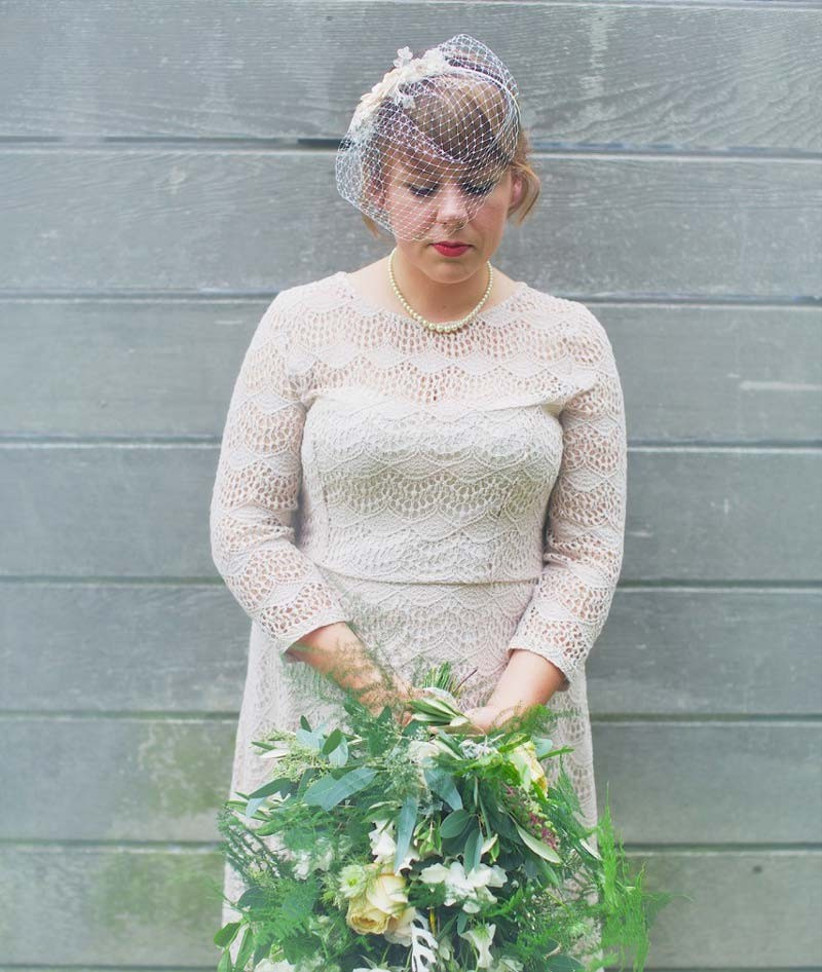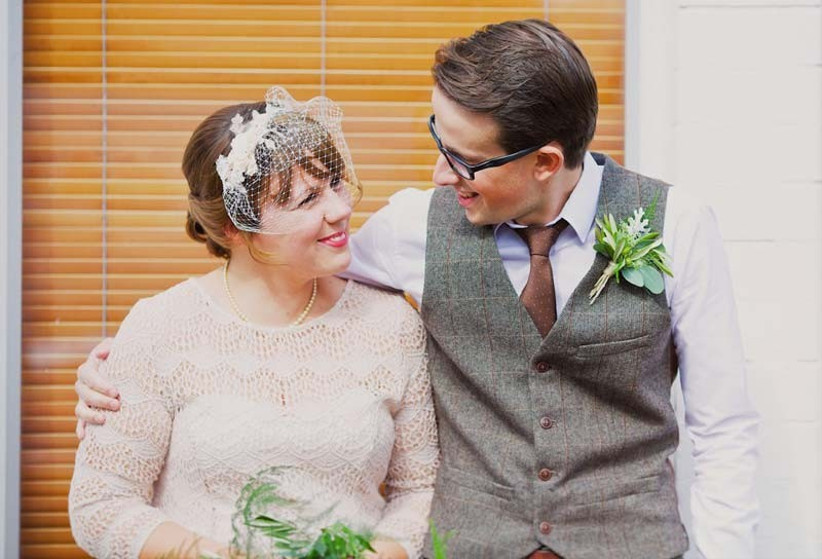 Image credit: Benjamin Stuart Photography
Sleek and Straight
"If your hair is below your ear then more can be done with your styling than you think,' says Amanda. 'If you can grow your hair to you jawbone then you have more choice when it comes to styling for the big day. Smooth, sleek and simple styles look great on brides with bobs."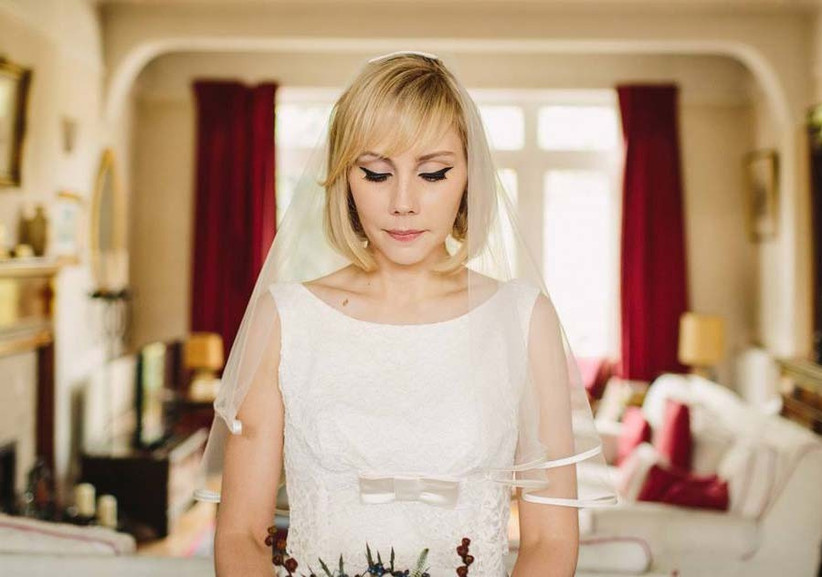 Image credit: Lipstick and Curls
Frankie Bridge's Pixie Cut
We love swooning over the latest celebrity wedding dress here at the Hitched office. However, not only did we love Frankie from The Saturday's strapless wedding gown, we were also obsessing over how she'd styled her famous brown pixie cut! A sweeping side fringe, an embellished headpiece and a long wedding veil are a winning combination.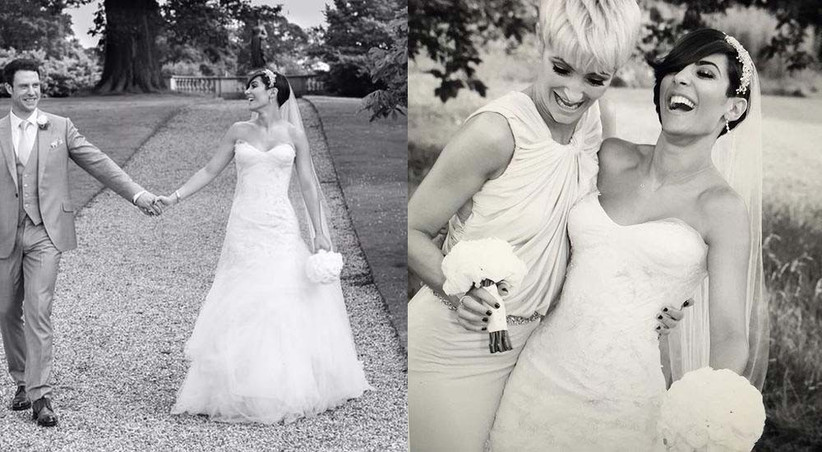 Image credit: instagram.com/francescabridge
1920s Inspired
To achieve 1920s glam that Daisy Buchanan would be jealous of, pair a short wedding hairstyle with some sparkly silver accessories from Jo Barnes Vintage and a 1920s inspired wedding dress of course.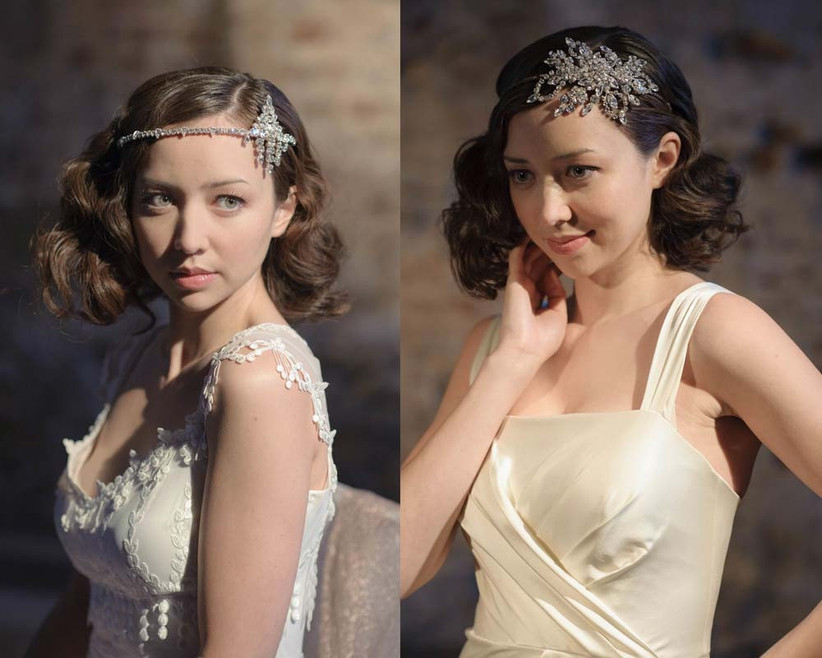 We can't stop obsessing over this bride's beautiful embellished headband. Paired with her short tousled waves, it's the perfect 1920s look.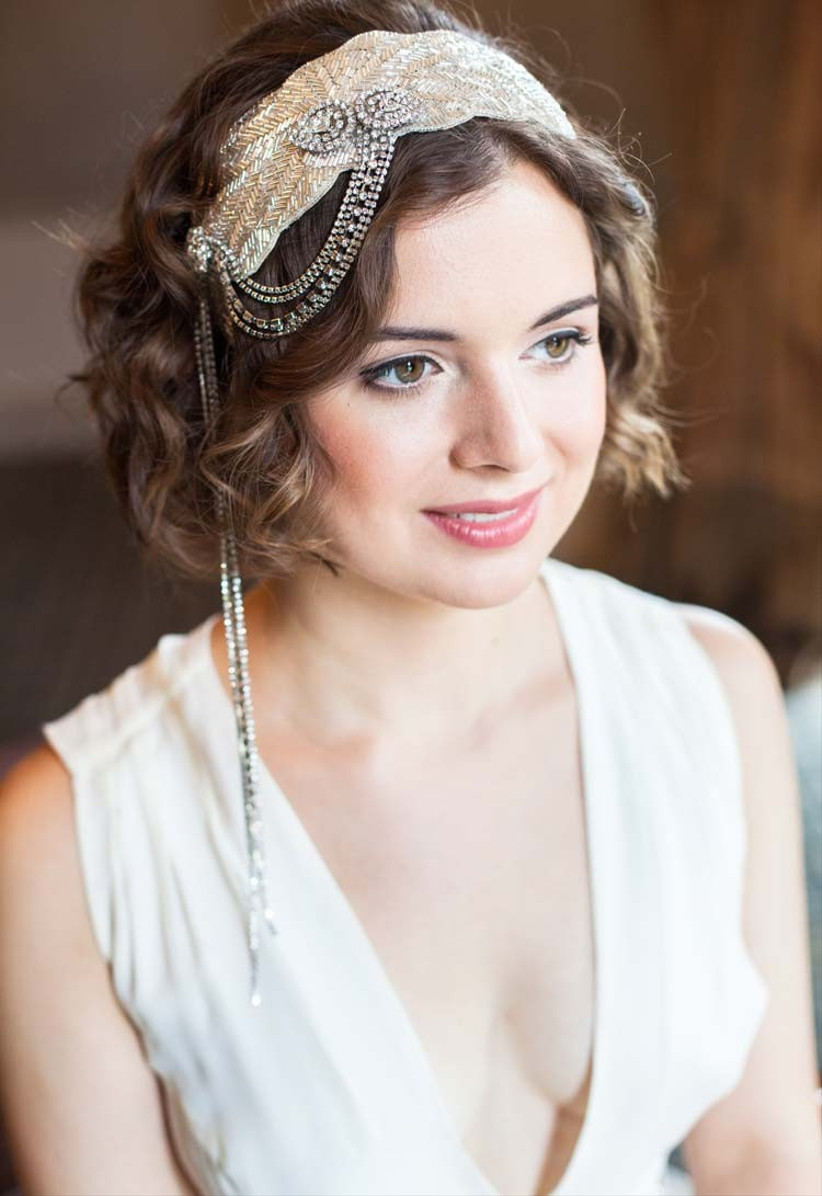 Image courtesy of The Bridal Stylists
To nail 1920s chic with hair that's above shoulder length, wear an embellished headband across your forehead and team with loose waves and curls. A red lip and defined eyes would beautifully complete the look.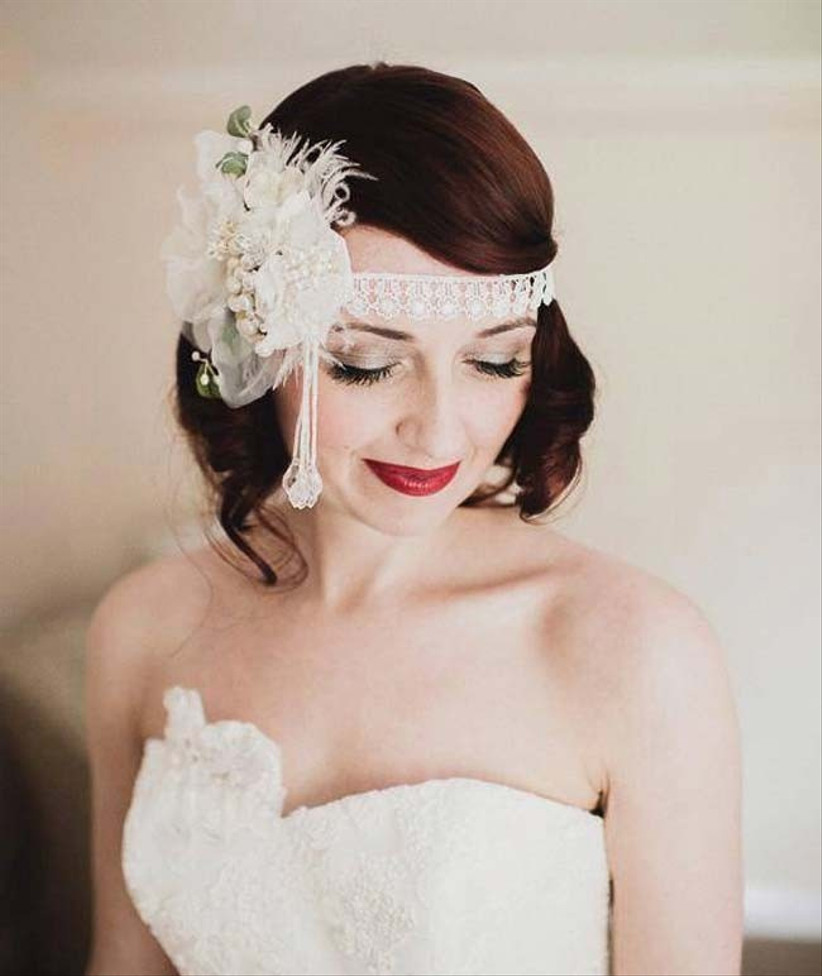 A Touch of Sparkle
We love this bride's elegant silver headpiece which is the finishing touch to her stylish, brushed-out waves.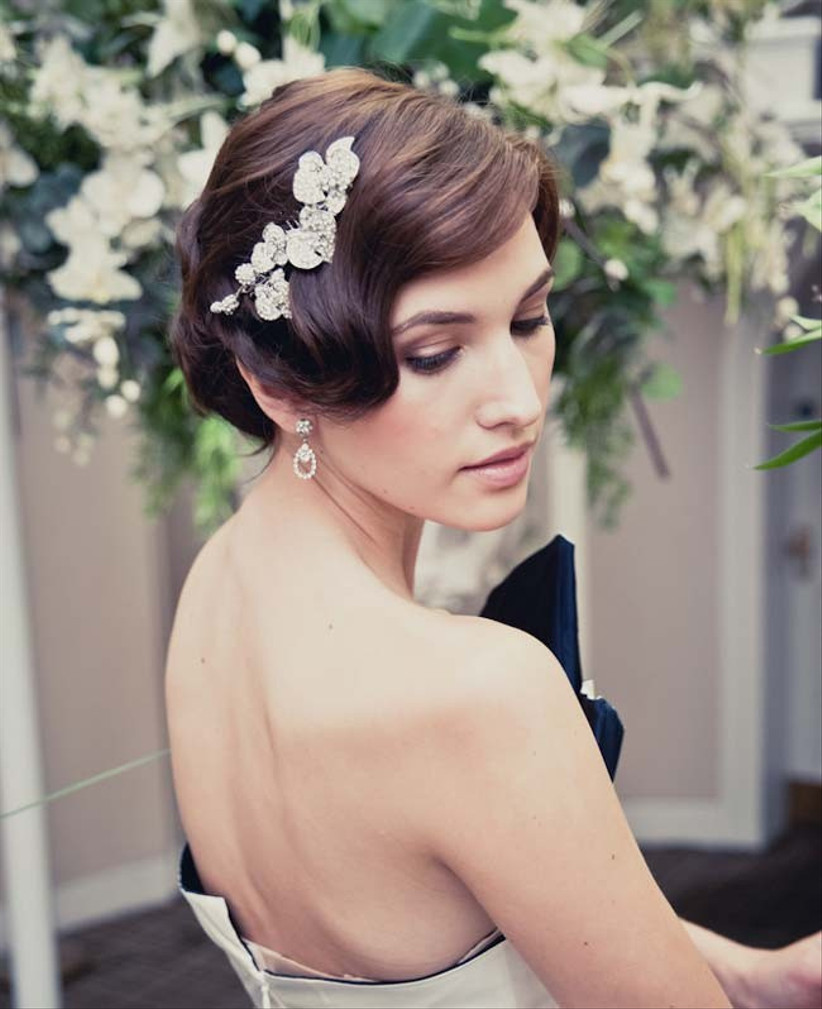 Image credit Scott Hamilton Photography; Styling by The Bridal Stylists
If you don't want to overshadow your look with a huge headpiece then consider highlighting a short hairstyle with some small sparkles, like a stunning gold or silver hair slide.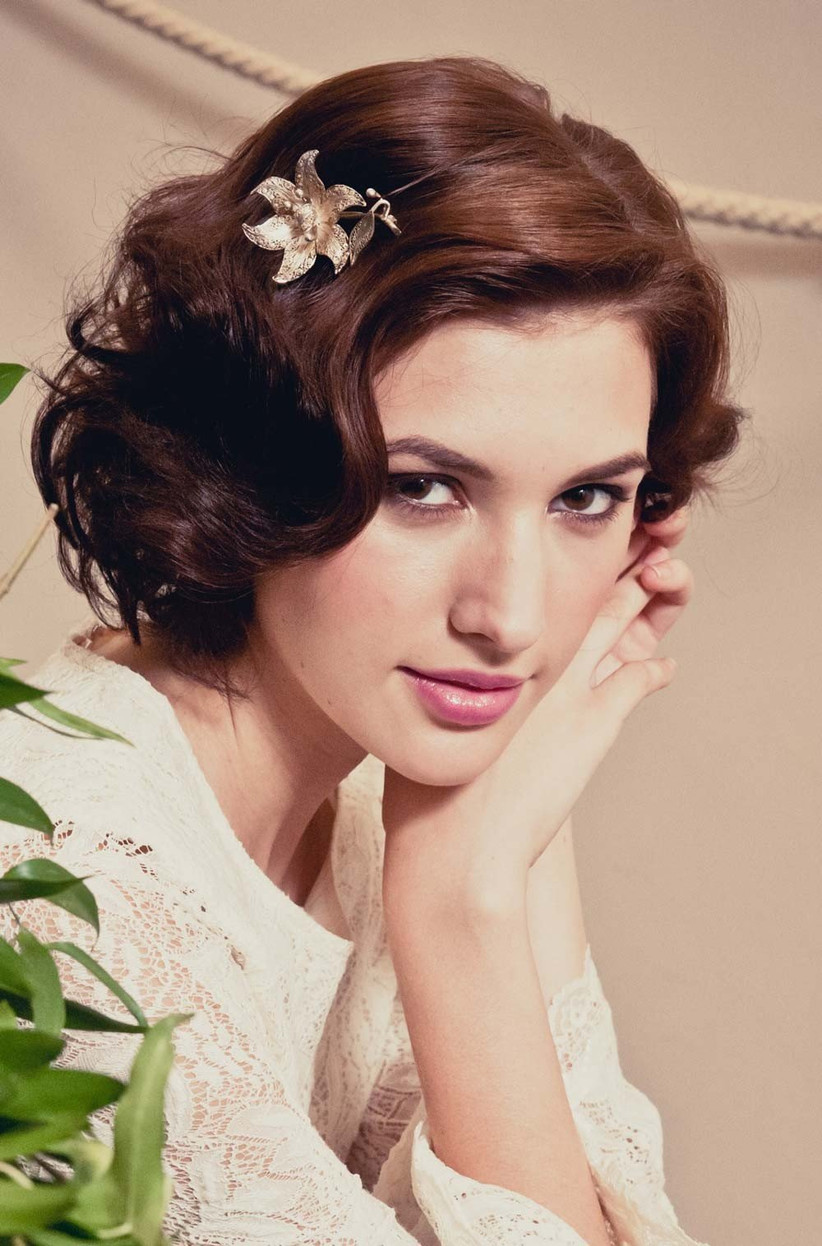 Image courtesy of The Bridal Stylists
"My advice for brides with a very short style is to accessorise," says Amanda. "Wearing a simple hairstyle opens up more choice when it comes to head attire, so there's no need to stray far from your usual style. You could consider fascinators, slides and grips, headbands and tiaras."
If you're considering some sparkly wedding hair accessories, then take a look at the pretty range of tiaras, hair slides and combs from Ivory & Co.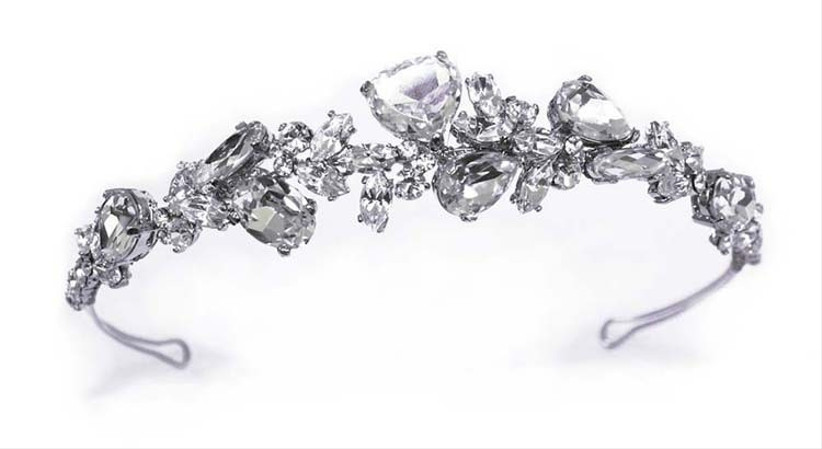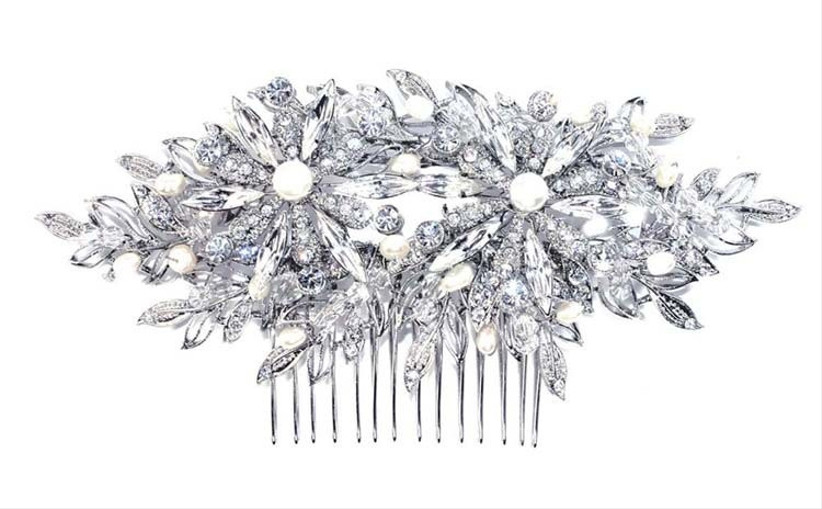 Bold Bridal Beauty
You may have read Vicky and Ben's inspirational real wedding and in particular how Vicky styled her beautiful bridal look. If you have a short crop like Vicky then this leaves lots of room to accessorise and play around with bright colours on your eyes and lips.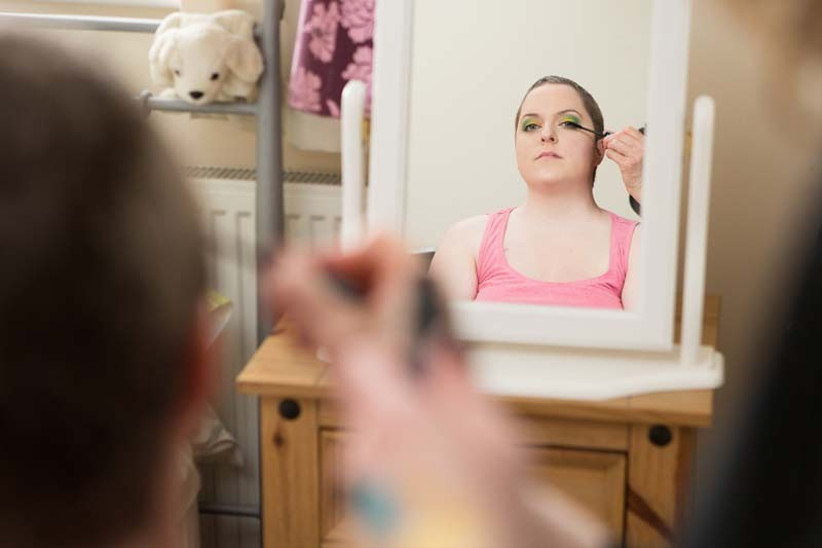 Edgy Texture
If you consider yourself as a bit of an alternative bride, then opting for a messy and textured short wedding hairstyle is a great way to add some edge. Wearing a gothic wedding dress? Even more reason to rock this look!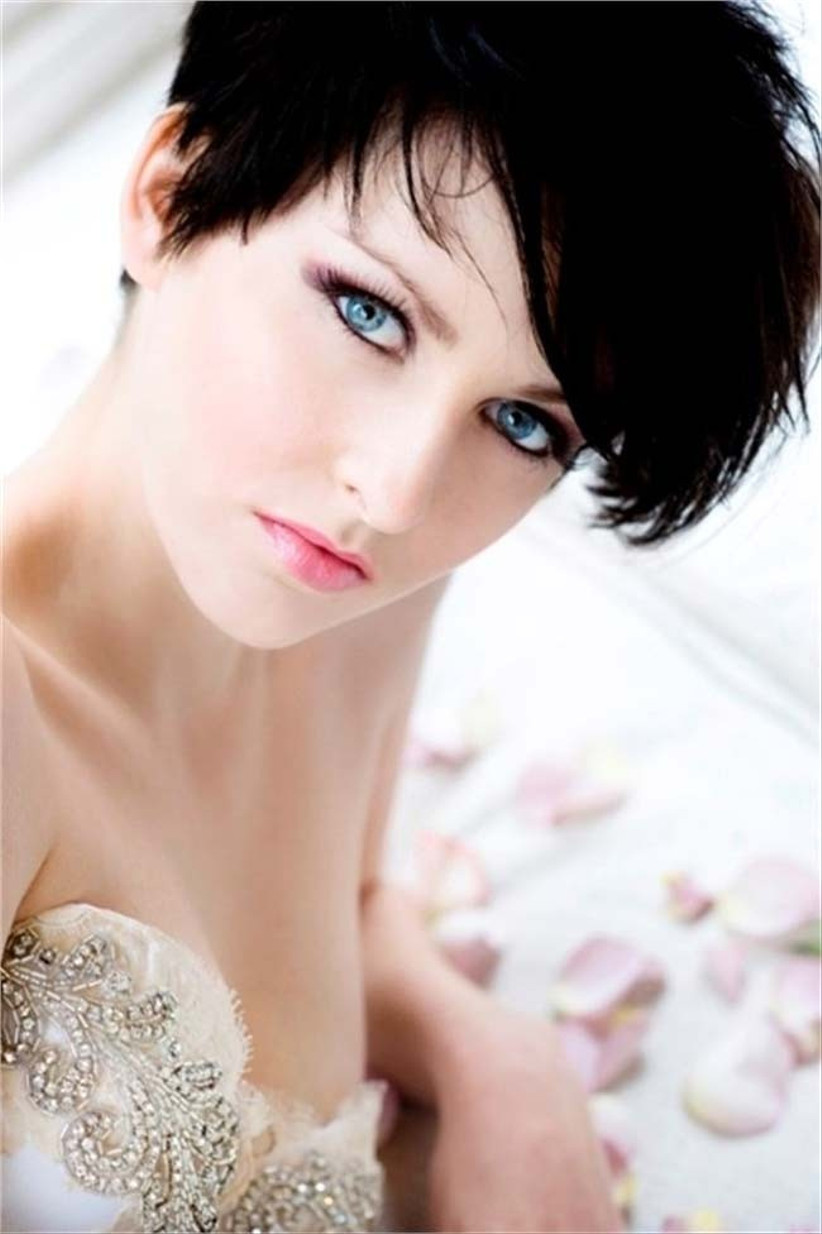 Image credit: Brides and Beauty
Statement Florals
"If your hair is short then we suggest adding some fresh flowers or a hair accessory to compliment the style and really bulk out the design and finish it off," says Laura.
"Whether you choose a cluster of fresh flowers on one side, a statement flower crown or a beautiful and delicate embellished hair band, your accessories will draw attention to your face and pull together your whole look."
If you're opting for a flower crown as vibrant and colourful as this one, then all you need are loosely pinned, wavy lengths to add to the boho vibe.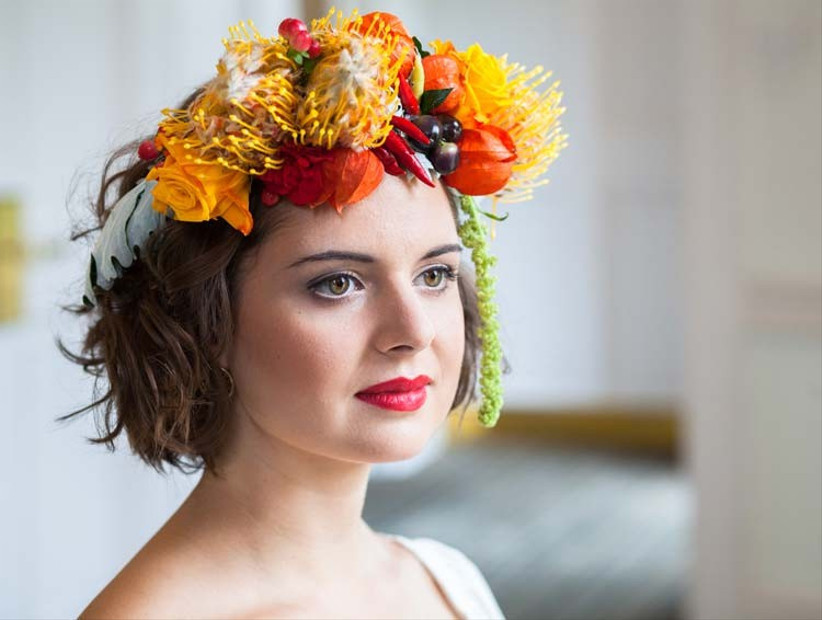 Image courtesy of The Bridal Stylists
Laidback Waves
Short hair holds bouncy curls extremely well because of its lightness, so take advantage of this and use a small curling wand to create lots of gorgeous waves. Use the tong to create different size curls and gently separate them with your fingers as you go.
If you're wearing a beach appropriate wedding dress, then add to the laidback vibe by using sea salt spray to give texture to a layered bob.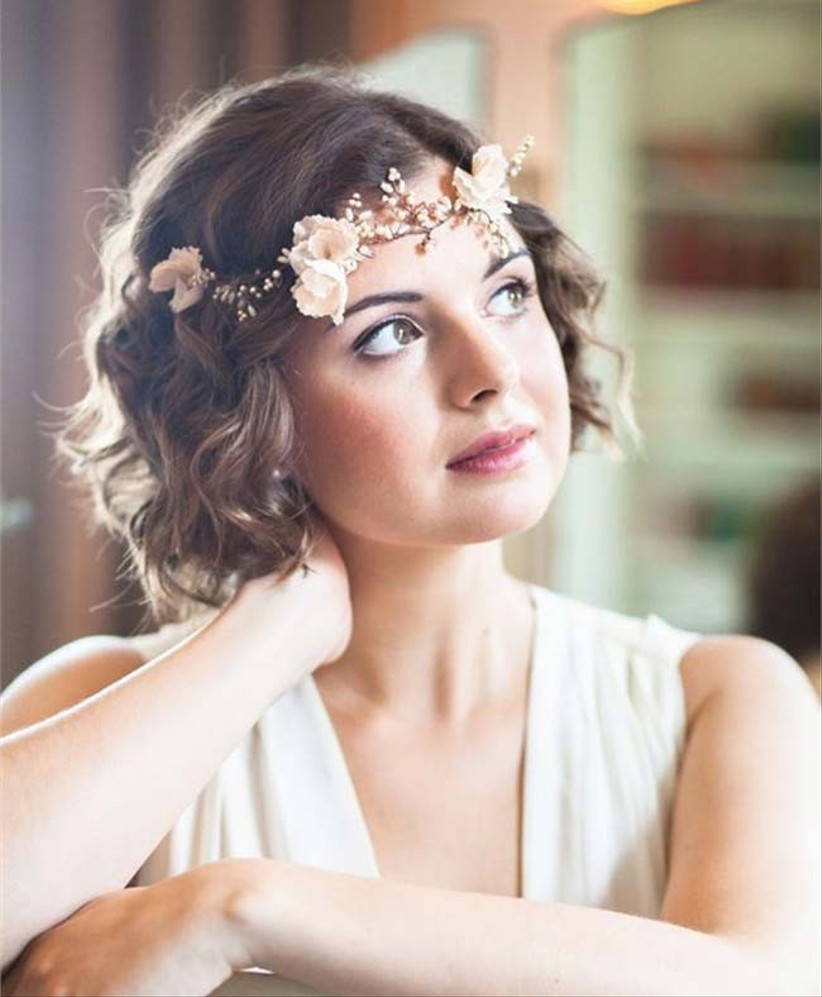 Image courtesy of The Bridal Stylists
Backcombed Layers
Styled by Jessica Short Hair and Makeup, this bride's fashionable platinum crop has had the layers backcombed for a textured and glamorous look.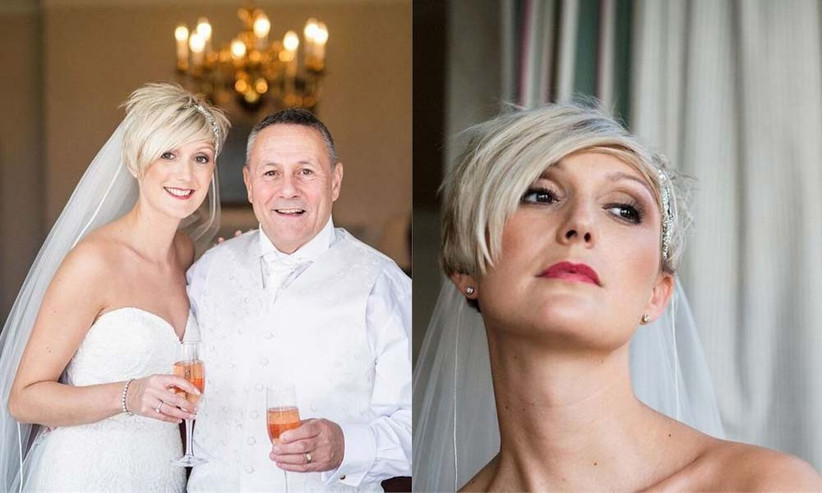 Fabulous Flicks
If you want a wedding hairstyle for short hair that's not straight or super curly, then why not consider some sassy flicks instead? We love this brides style and how she's complemented her fashion forward bridal separates with her blonde crop.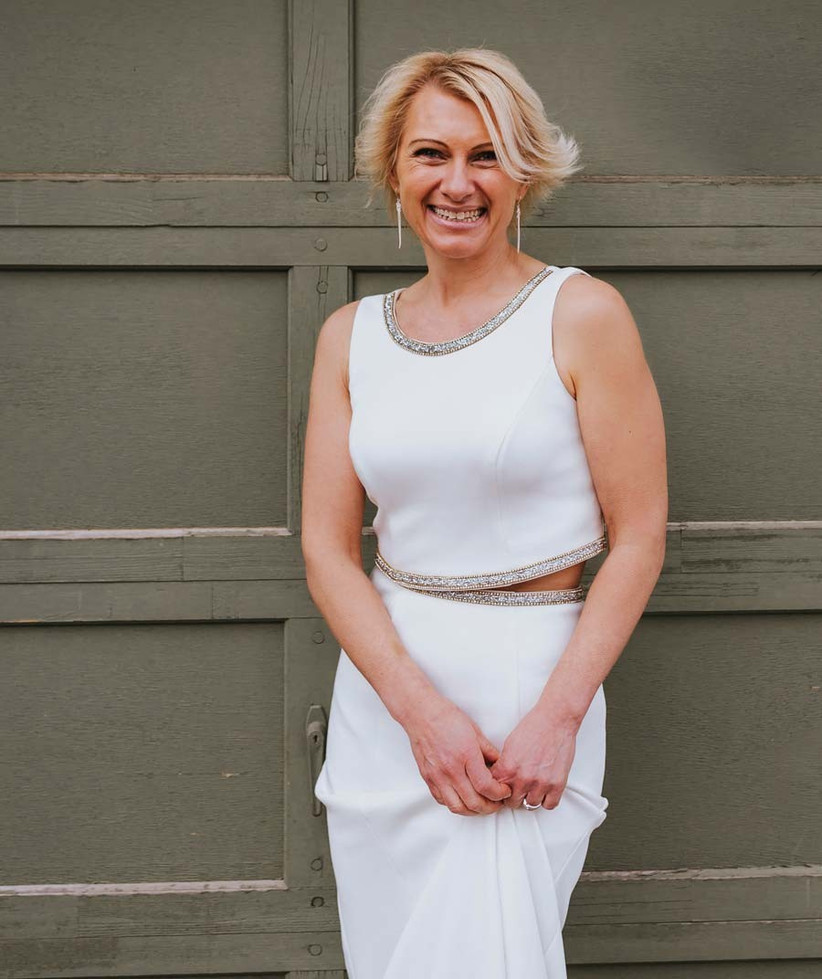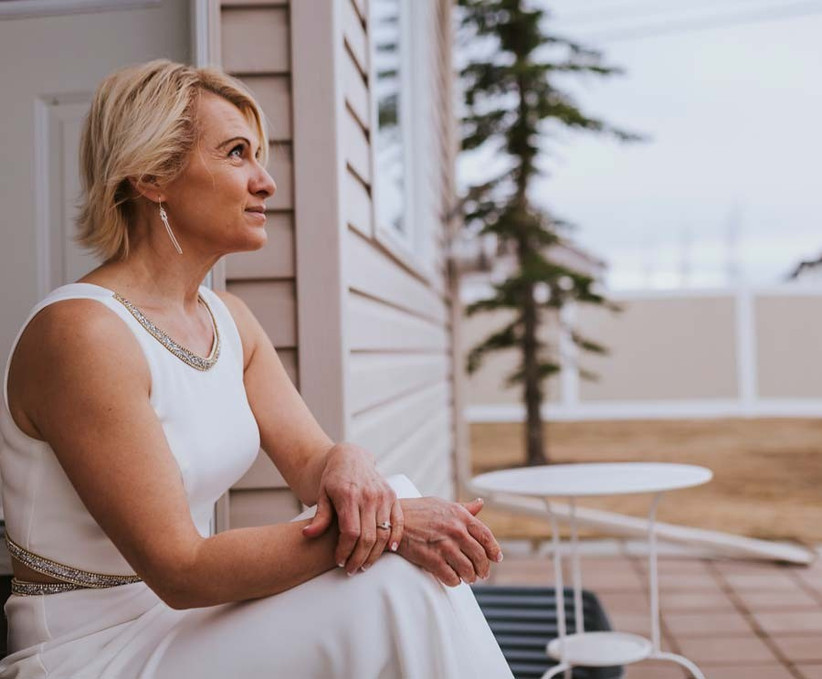 Image credit: Benjamin Stuart Photography
Beautiful Bob
How gorgeous is this brides auburn bob? The addition of a slim silver tiara is the crowning glory to her smooth and sleek locks. The stunning photographs were taken by RS Brown Photography.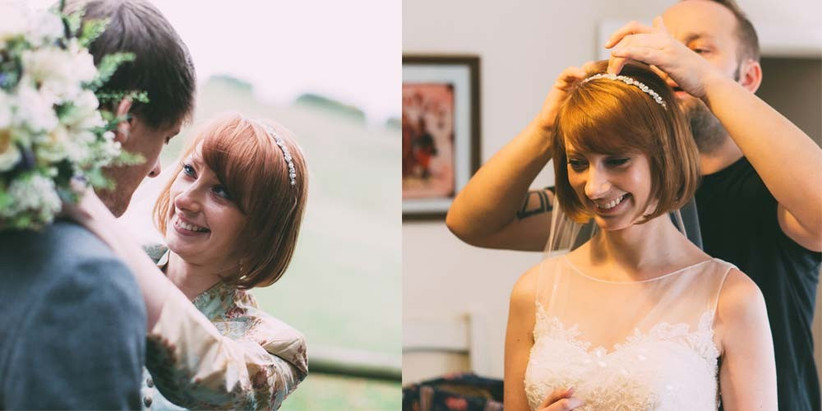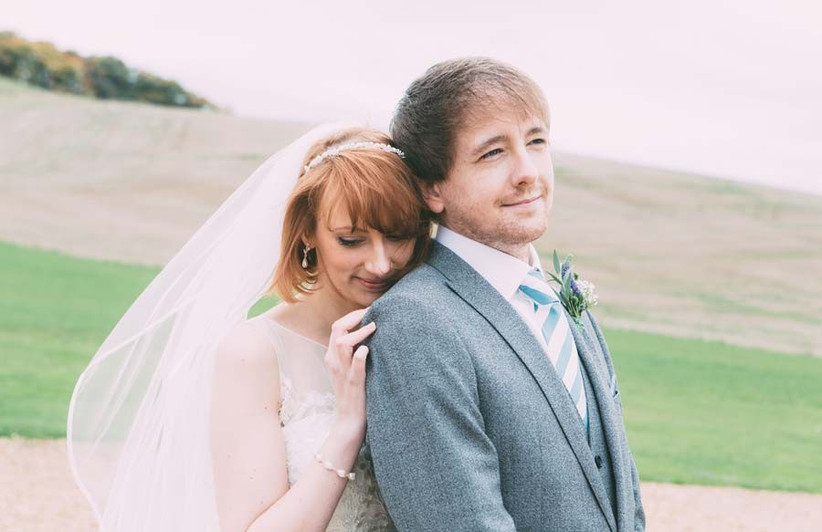 Festival Style Accessories
If you're planning a festival themed wedding and need some appropriate wedding hairstyles for short hair, then consider adding some beautiful boho accessories to your tresses. We love Orelia's range of amazing pieces which include headbands, flower crowns and hair rings (rings that can be plaited into your hair).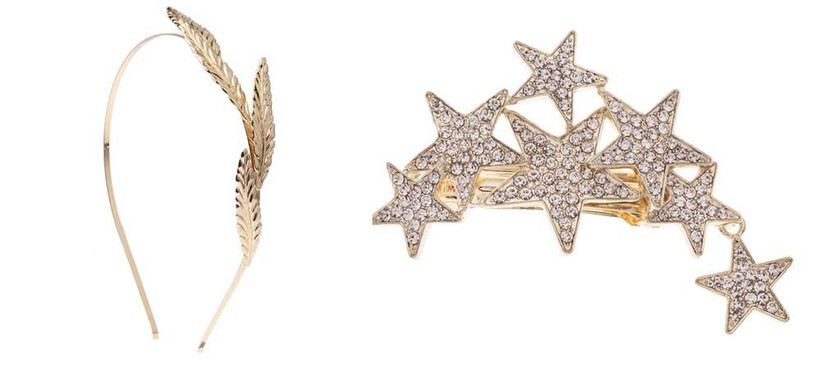 Got any more hair dilemmas? We solve your wedding hair problems over on our beauty pages.