35 Creative Table Name Holder Ideas (and How to Make Your Own)
Whether you want to get crafty or keep it simple, we've got ideas aplenty for displaying your wedding table names or numbers in these seriously Instagrammable table number holders.
We have included third party products to help you navigate and enjoy life's biggest moments. Purchases made through links on this page may earn us a commission.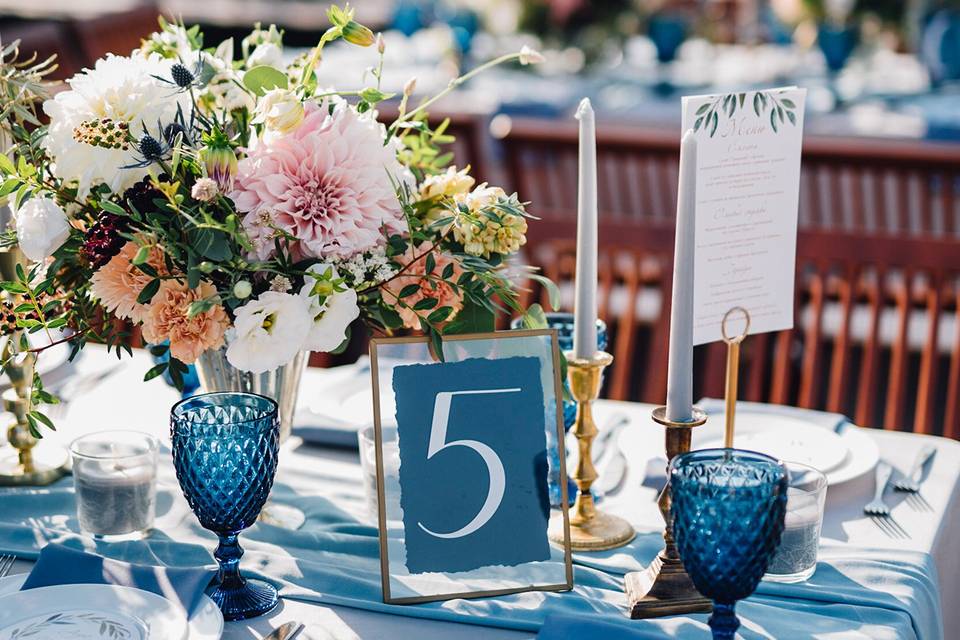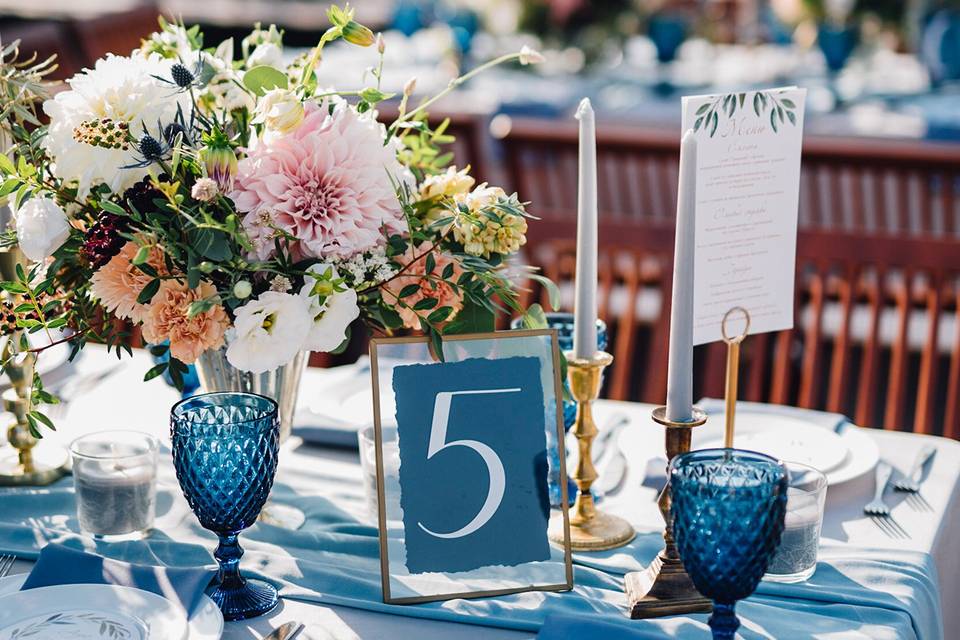 Maybe you've spent months deliberating over the perfect wedding table names or perhaps you're sticking to a straightforward numerical table plan – either way, you can incorporate table names or numbers into the overall design of your wedding day incredibly effectively.
From reflecting the theme of your wedding, your joint loves as a couple, where you met or your wedding colour scheme, table number and name holders needn't be a boring afterthought, as the following inspiration proves.
READ MORE:
Minimalist Table Name Holders
1. Industrial metal work provides a stylish contrast with floral arrangements on tables - this copper table number holder makes a simple statement all by itself. Repurpose the frame to display photos after the wedding.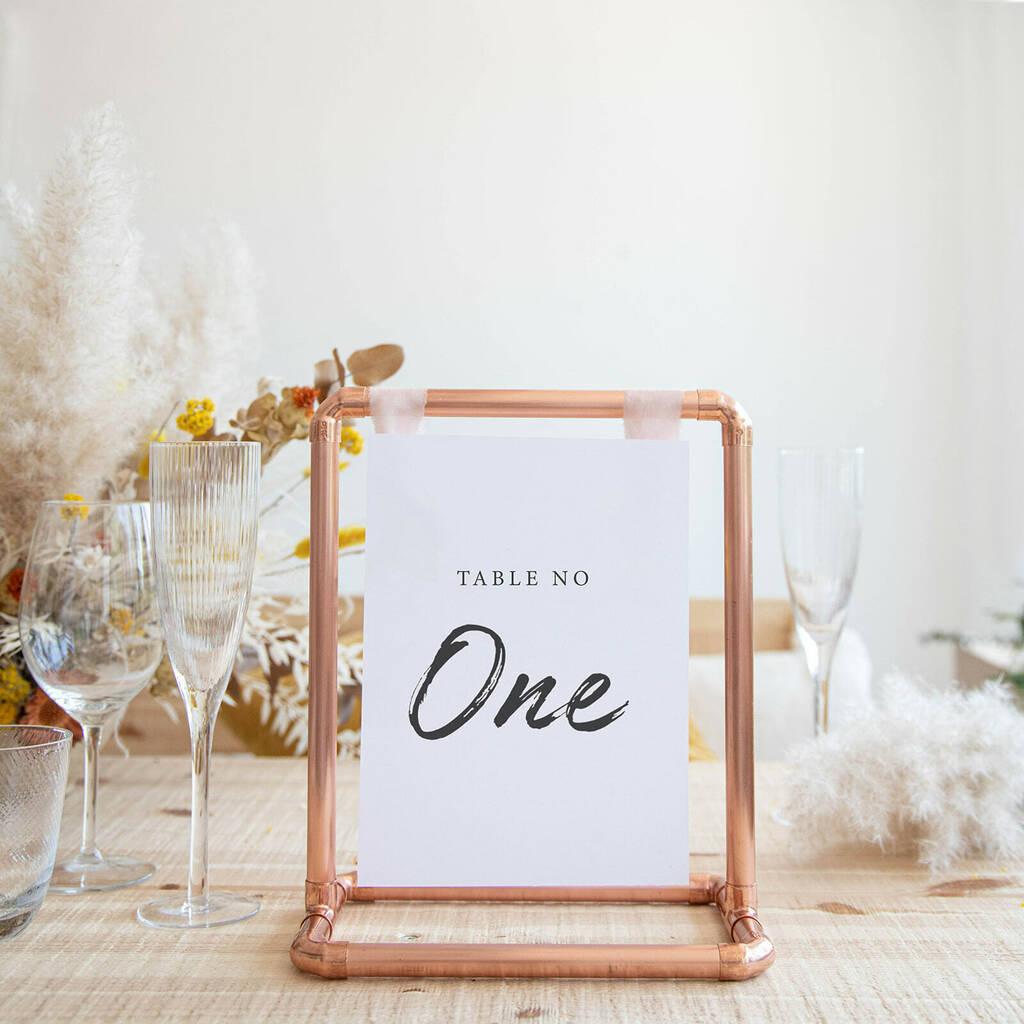 2. Guests can't fail to find their table if you go for this sturdy iron table number holder. The rustic wooden base makes the perfect canvas for draped foliage or delicate florals.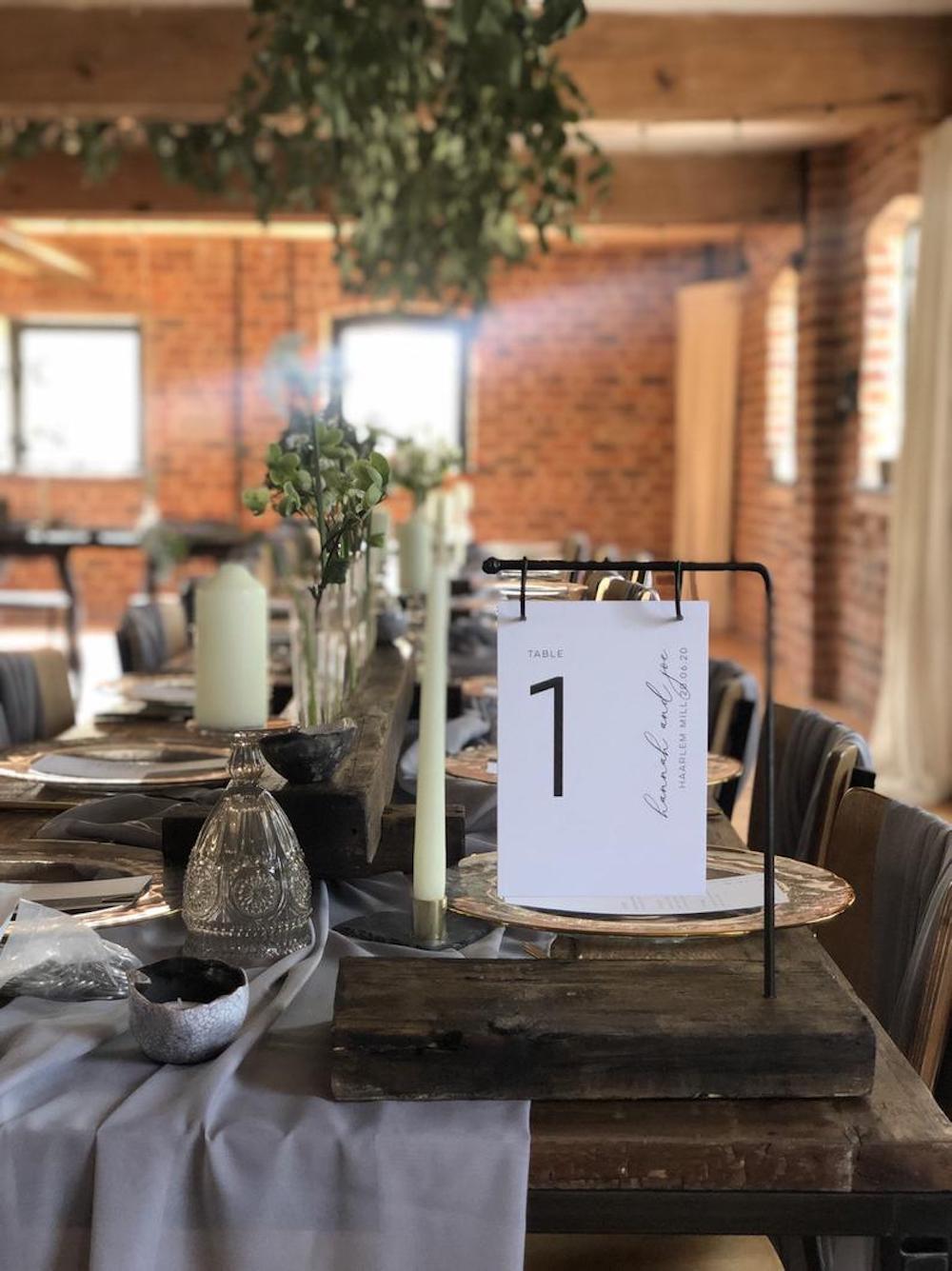 3. Express your endless love (or just make sure table numbers stay upright) by way of a gold 'infinity' table number holder. It's not totally dissimilar to a giant paperclip but far, far more elegant. Speaking of stationery inspired table name holders…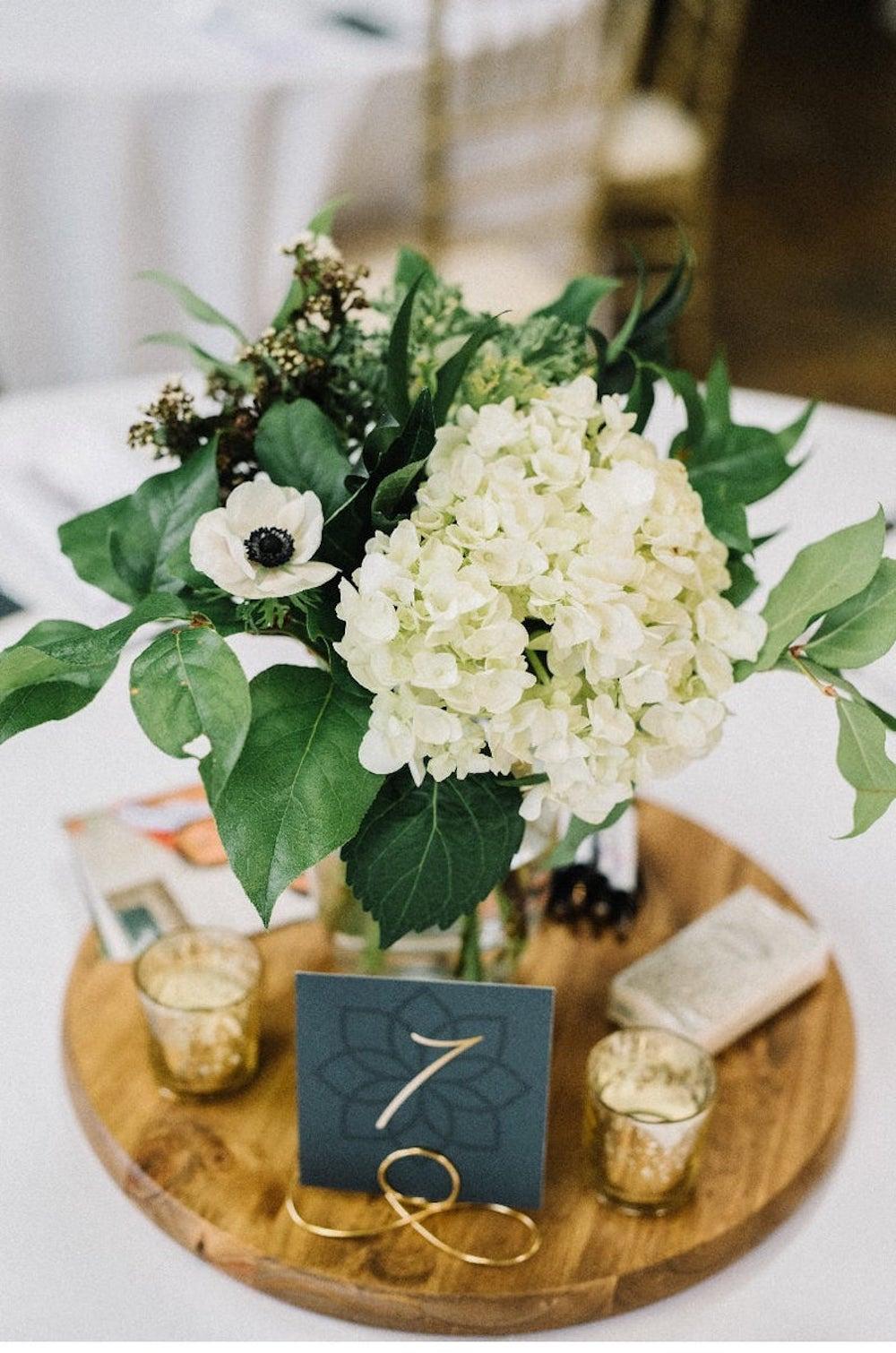 4. A clipboard table number holder doesn't seem all that chic – until you clock this wooden board plus rose gold bulldog clip idea. Style paper colour and lettering according to your wedding colour palette for a harmonious effect.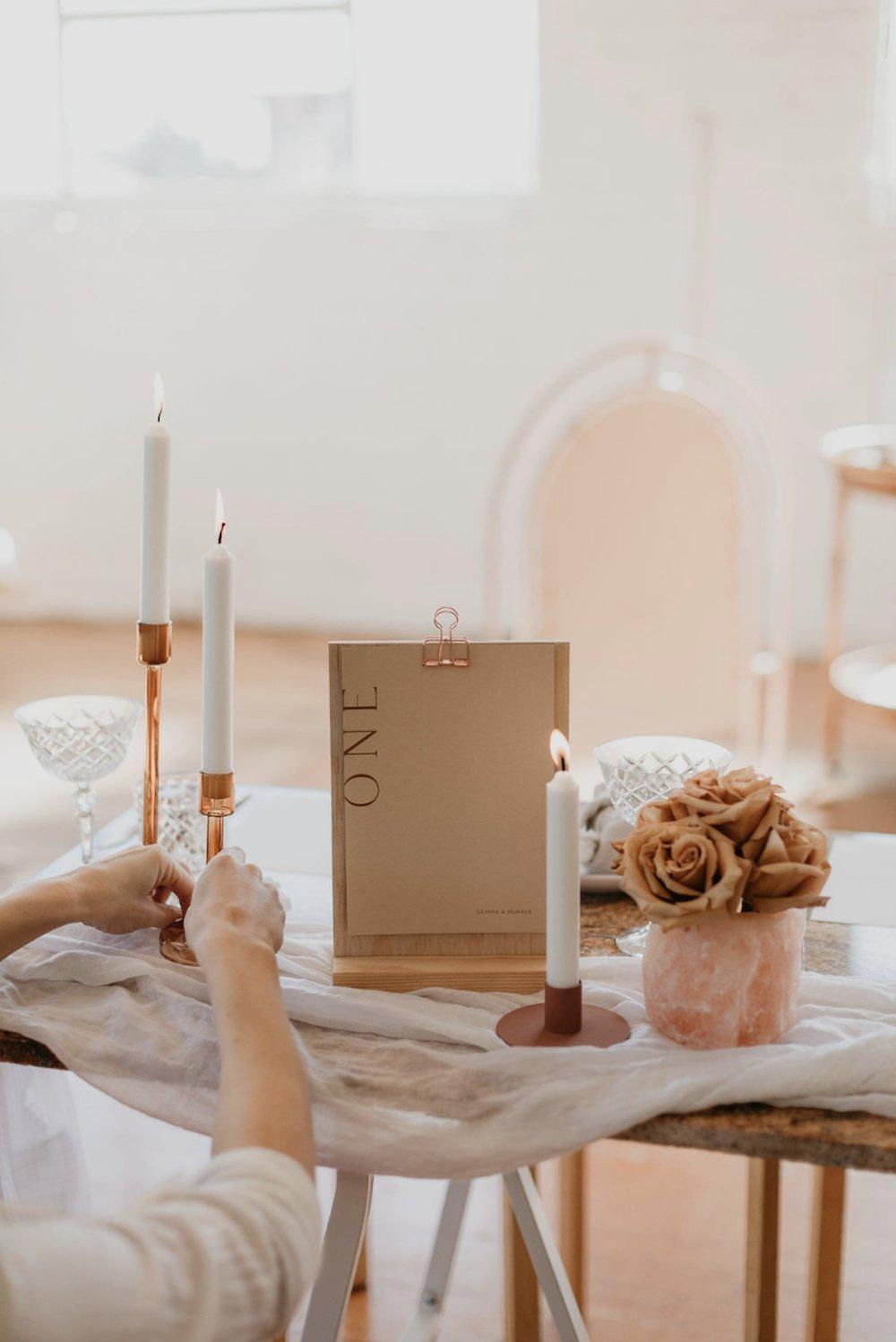 5. Planning a celestial themed wedding? A metallic geometric table number holder will do nicely.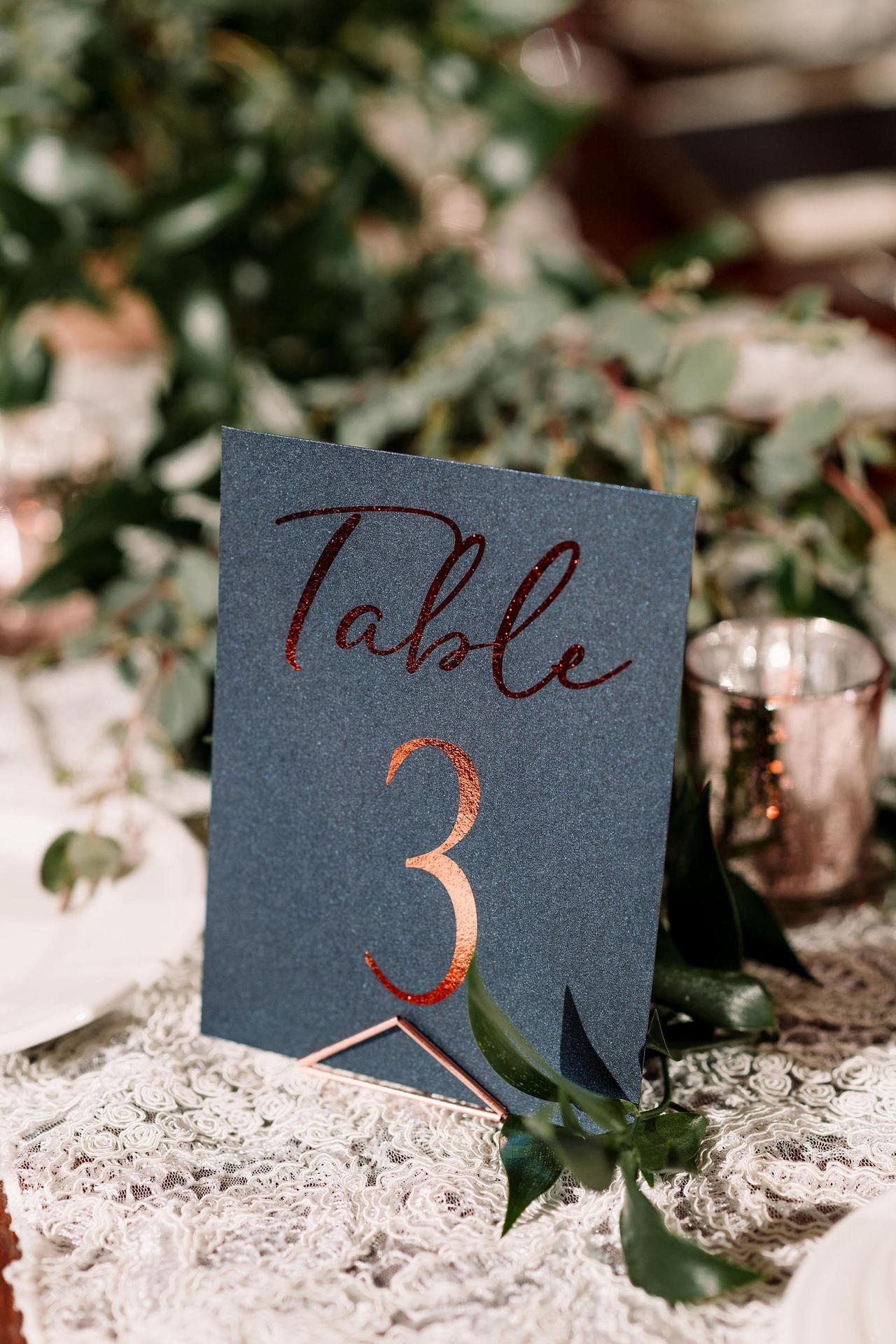 6. A giant upturned wooden peg is probably the most convenient yet elegant way to display wedding table numbers or names, plus the peg collection is sure to come in handy for laundry sessions after the honeymoon phase is over.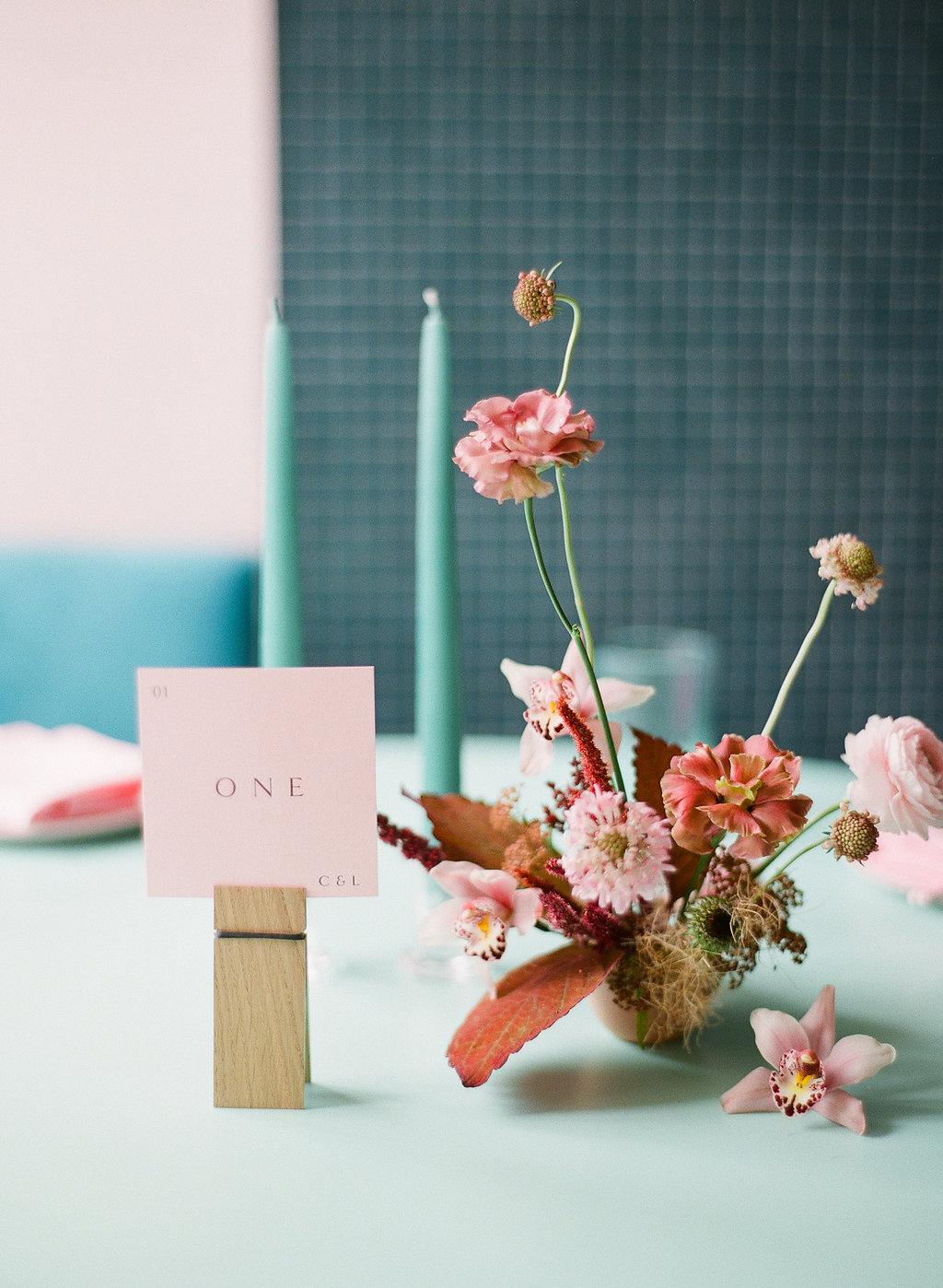 7. Want to jazz up the peg idea? These 'bride and groom' pegs are a sweet addition to your wedding tables, or consider getting arty and painting pegs to your exacting specifications. It's a cheap wedding styling hack that will make you smile whenever you hang out the washing for years to come.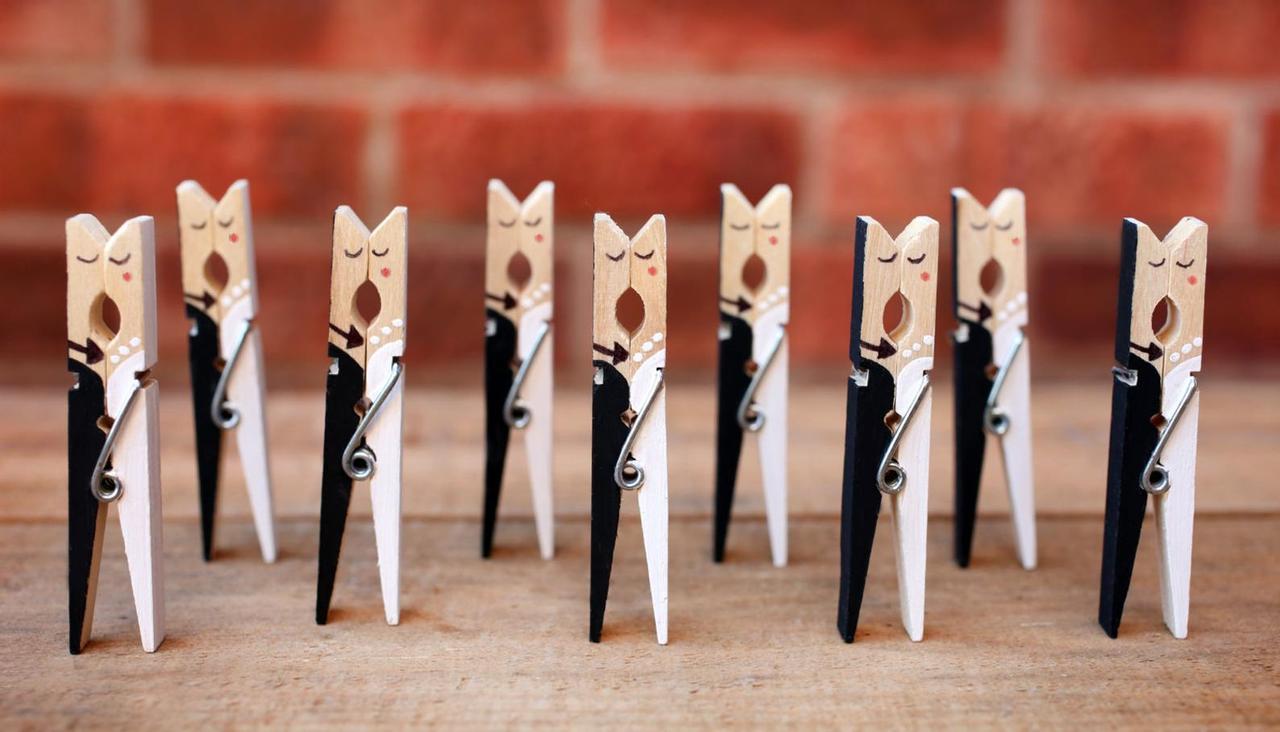 READ MORE: Does a DIY Wedding Actually Save You Money?
Acrylic Table Name Holders
8. Acrylic table name or number holders suit every wedding tablescape – customise fonts, borders and illustrations to your wedding theme. This clear acrylic table number design allows flowers and styling details to shine on through. It also looks beautifully delicate yet the hardy acrylic ensures that your table displays are sturdy and good to go on the big day. Just give each table number or name a quick buff with a dry cloth to remove any rogue smudges before the big day.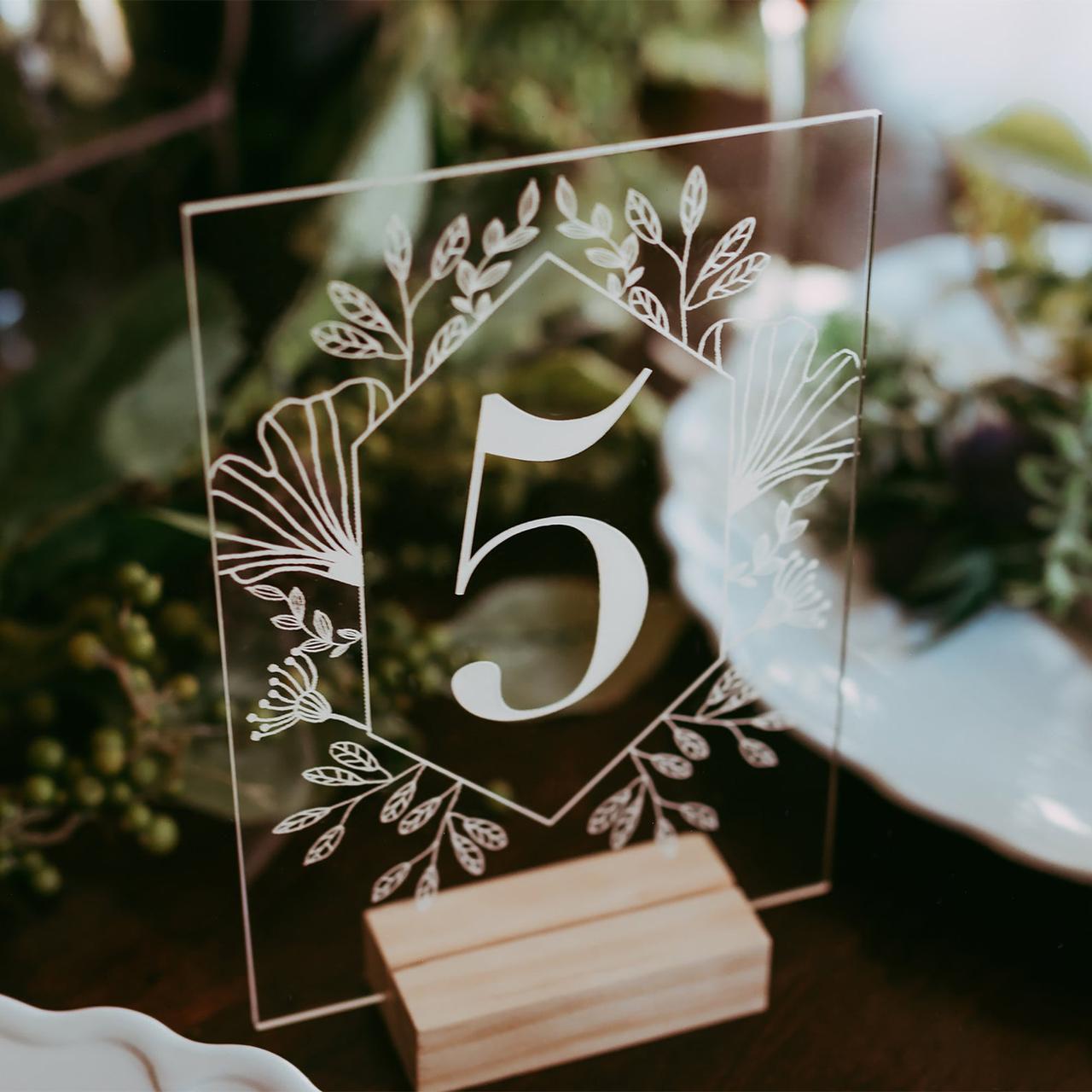 9. If you love acrylic but crave a bit more texture on your tables, this frosted acrylic table number holder is just the ticket. Mix up fonts and calligraphy styles for a modern, romantic feel.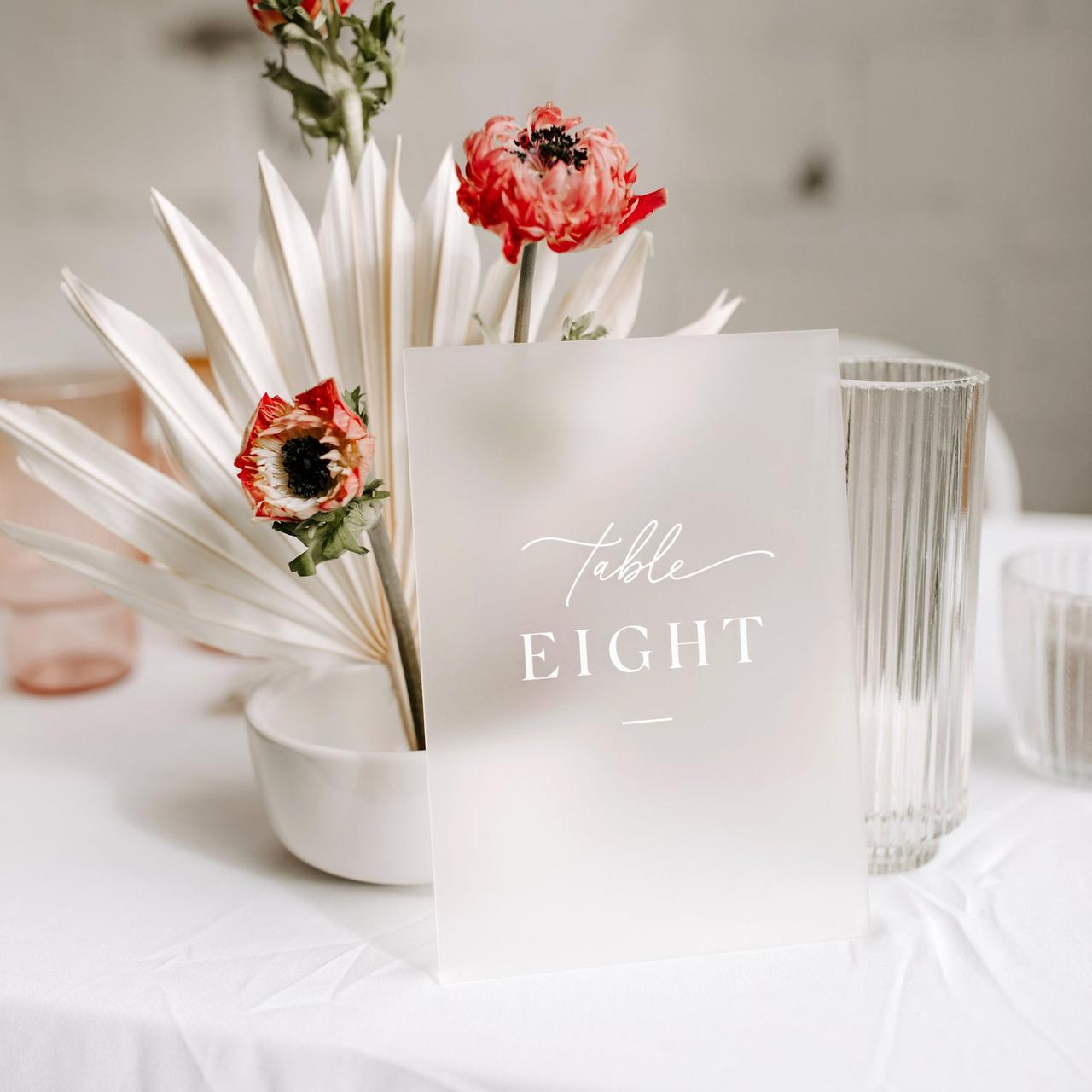 10. Acrylic signs and table displays needn't all resemble glass, as these coloured acrylic table numbers demonstrate. Pick a key shade in your wedding colour palette and either commission table numbers or names from a wedding sign maker or rent them for your wedding breakfast.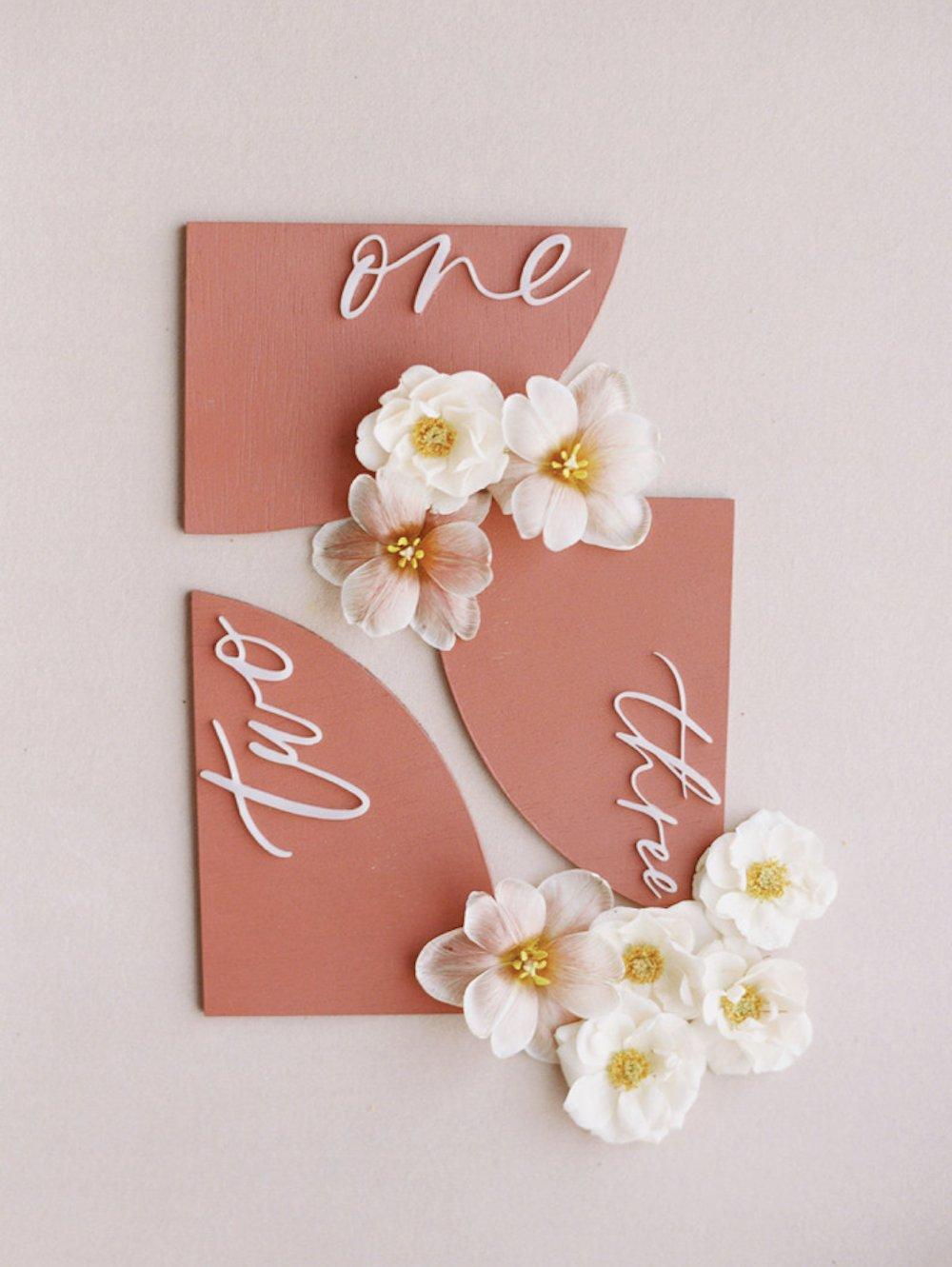 Photo Frame Table Name Holders
11. Photo frames are an effortless way to clearly display table numbers or names and you'll get plenty of use out of them after the wedding too. A gold photo frame table number holder is classic, luxe and highly likely to be used again.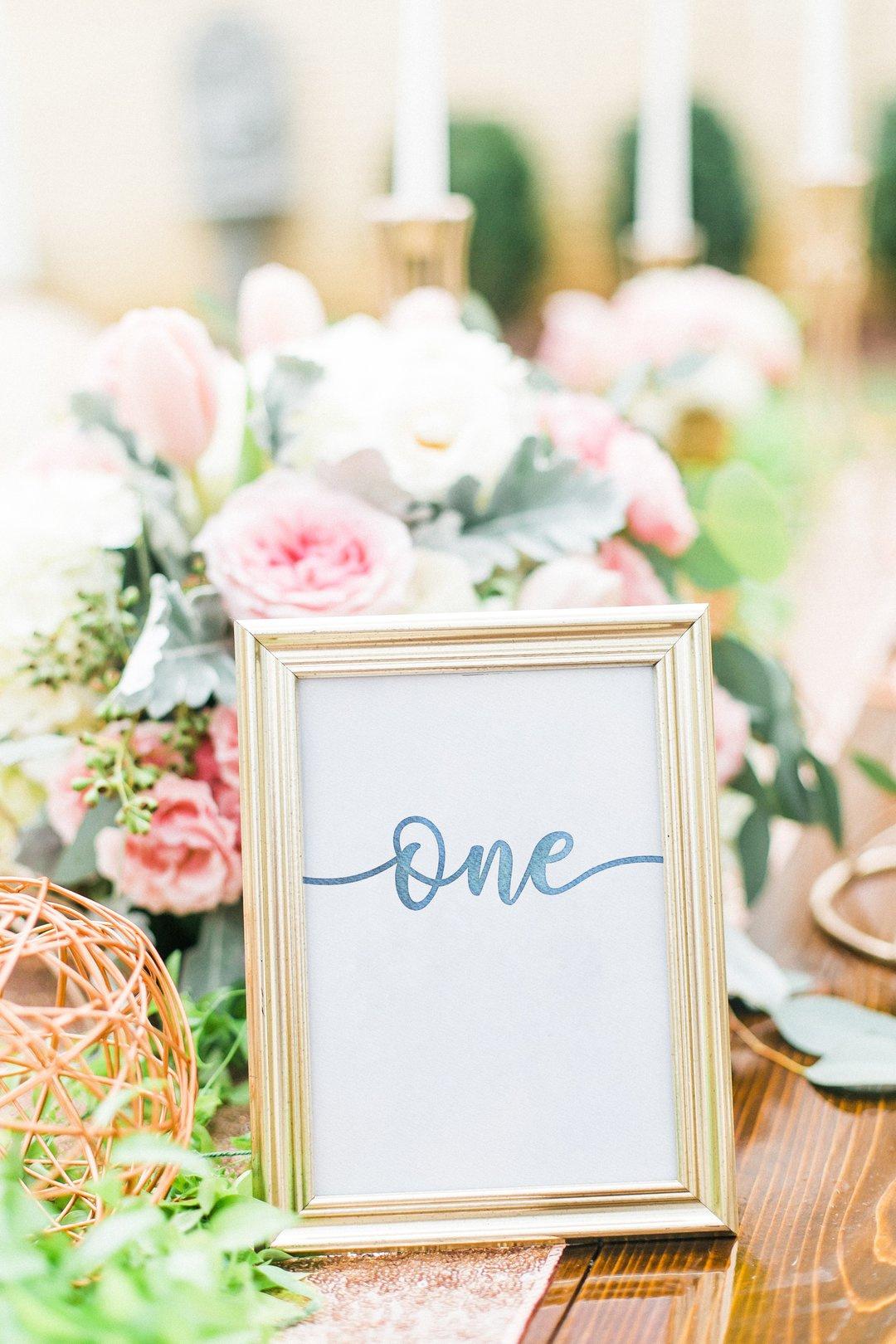 12. If you want to create more of a vintage vibe choose ornate antique gold photo frame table number holders. The more mismatched the photo frames, the better – a variety of styles will keep things cool and eclectic.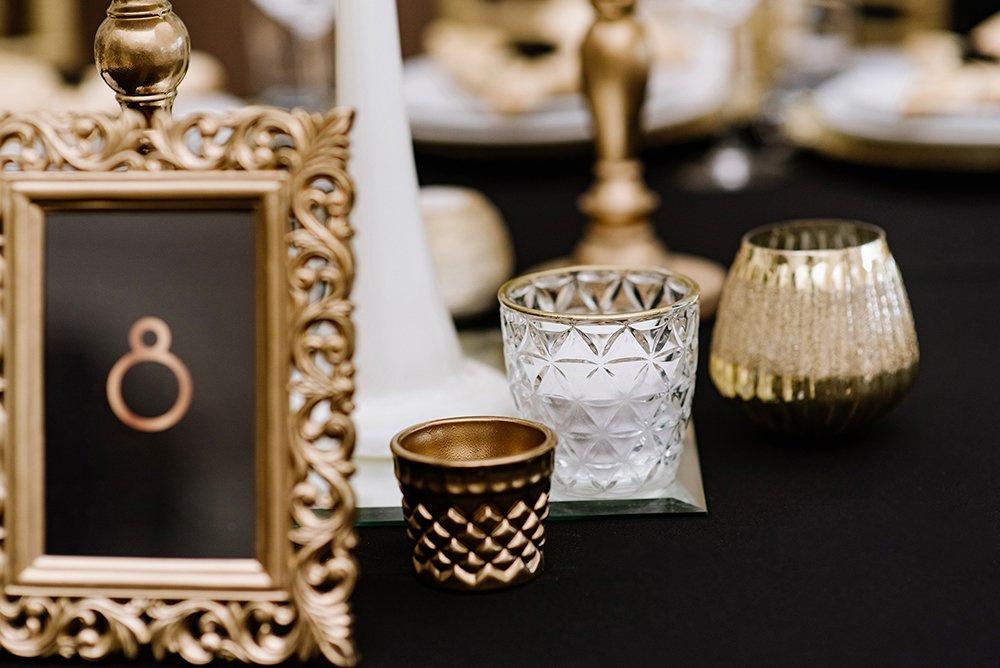 13. A clear glass photo frame lets your table names do the talking. You can display table names in clear frames in either portrait or landscape and the lack of a distinct border will make displays look as though they're suspended in the air. Dreamy scenes all round.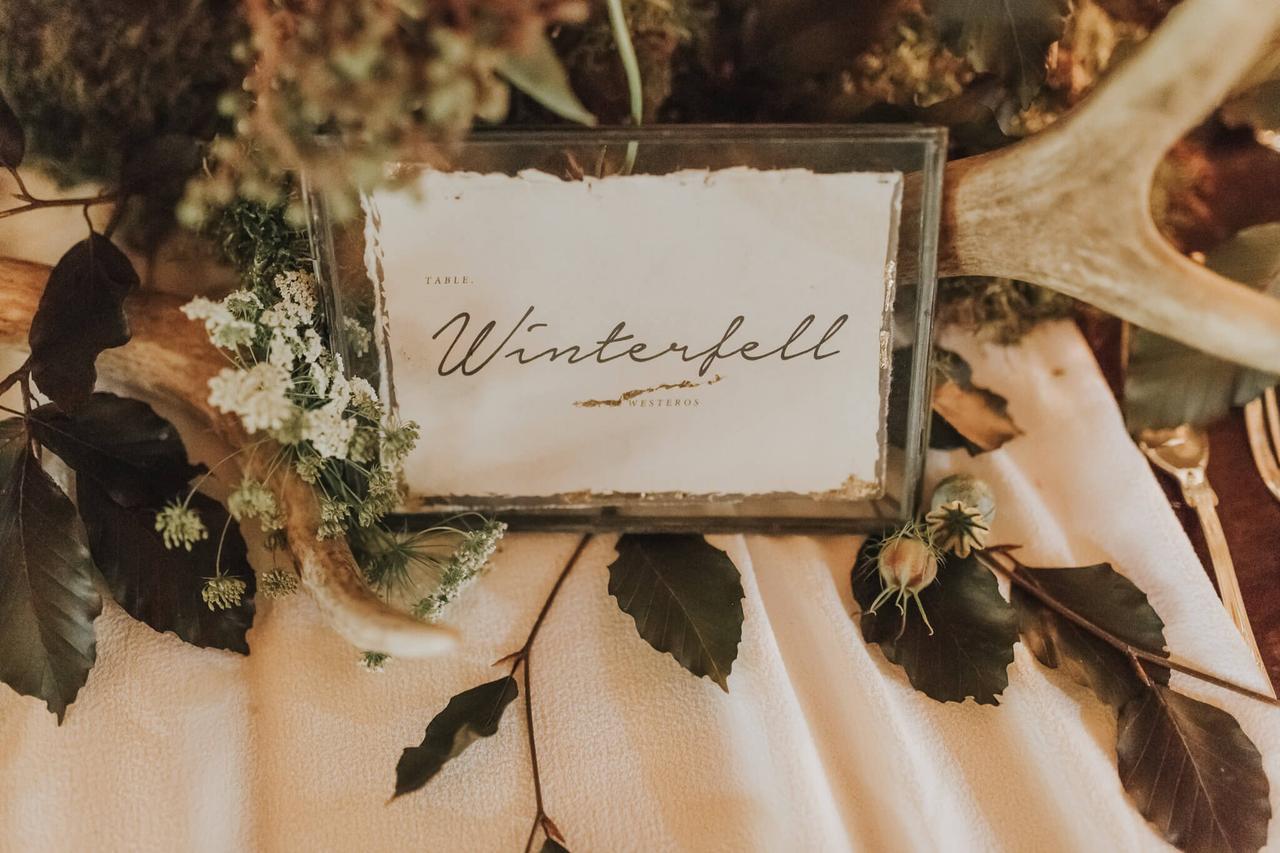 Nature Inspired Table Name Holders
14. Photo frames also make for an easy way to present pressed flowers table number displays. Press and dry flowers that feature in your bridal bouquet or overall floral design, slip them into the photo frame and then transfer a block coloured or metallic table number over the glass.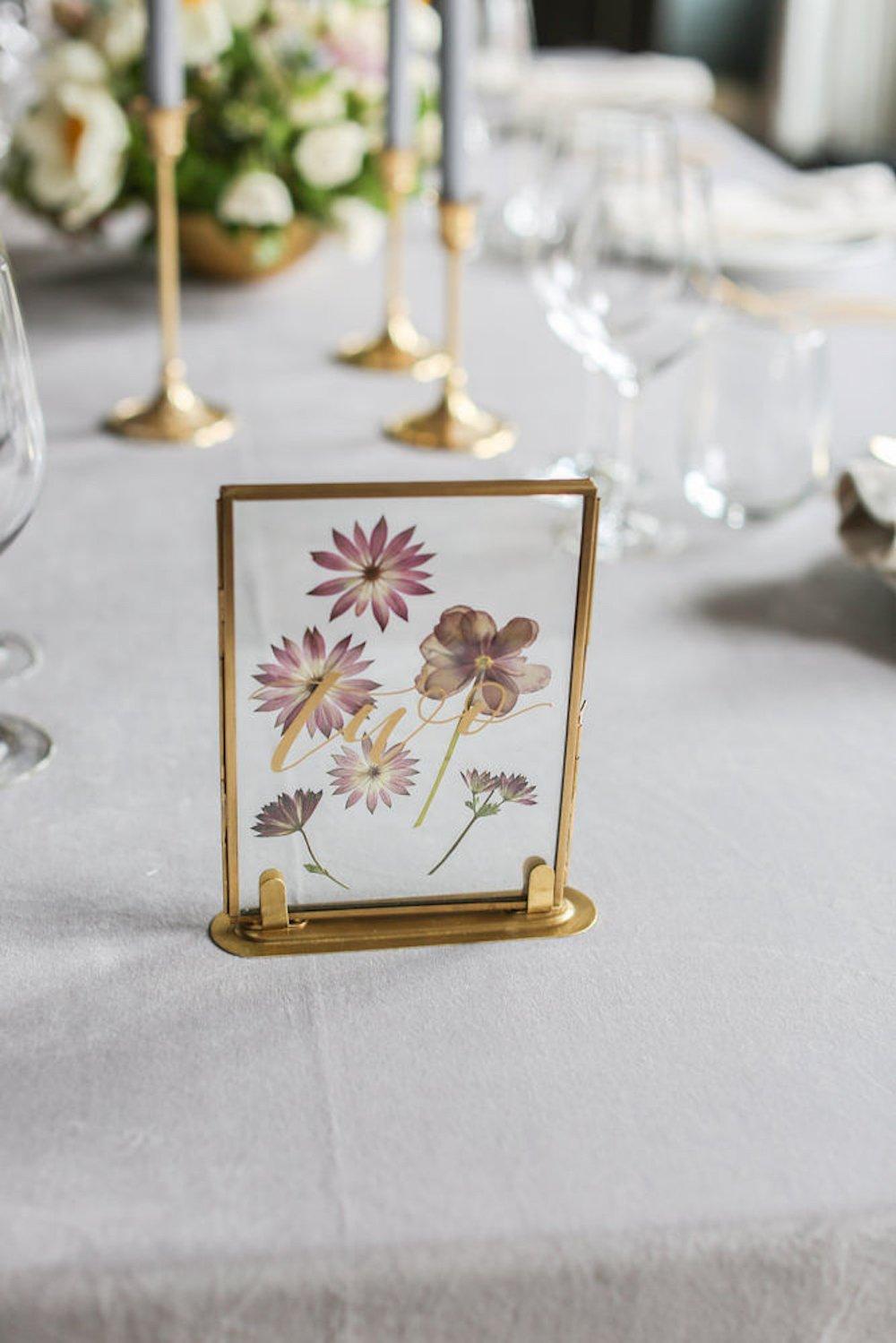 15. A pressed flower acrylic table number display ticks a lot of wedding styling boxes. Floating flowers in chunky acrylic looks modern while simple white lettering promises not to detract from your dried blooms of choice.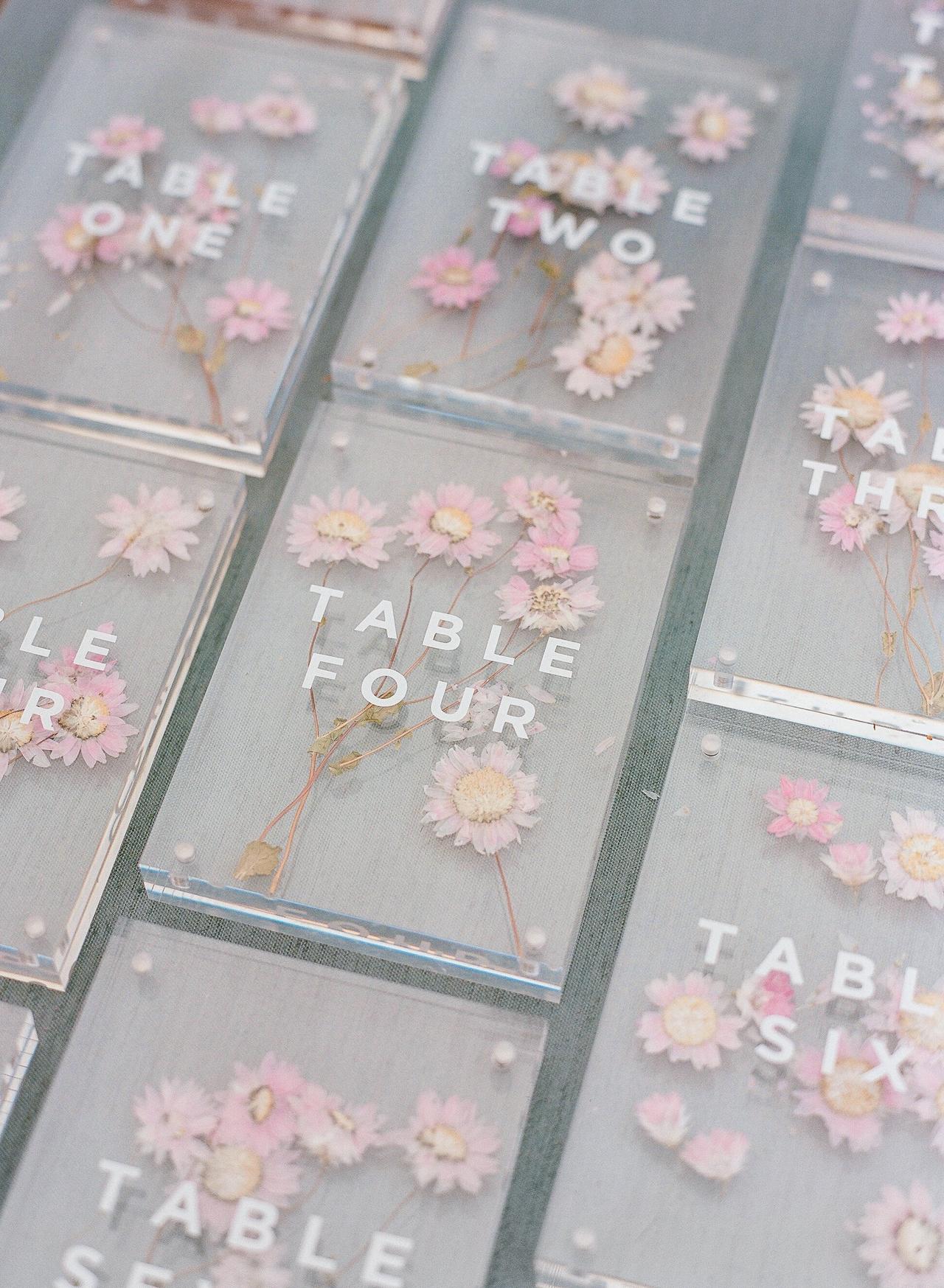 16. If a rustic wedding is on the cards, a driftwood table number holder is an appropriately organic choice. Deck driftwood out in flowers and leaves and attach table numbers or names with wire or plastic so that guests know where they're headed.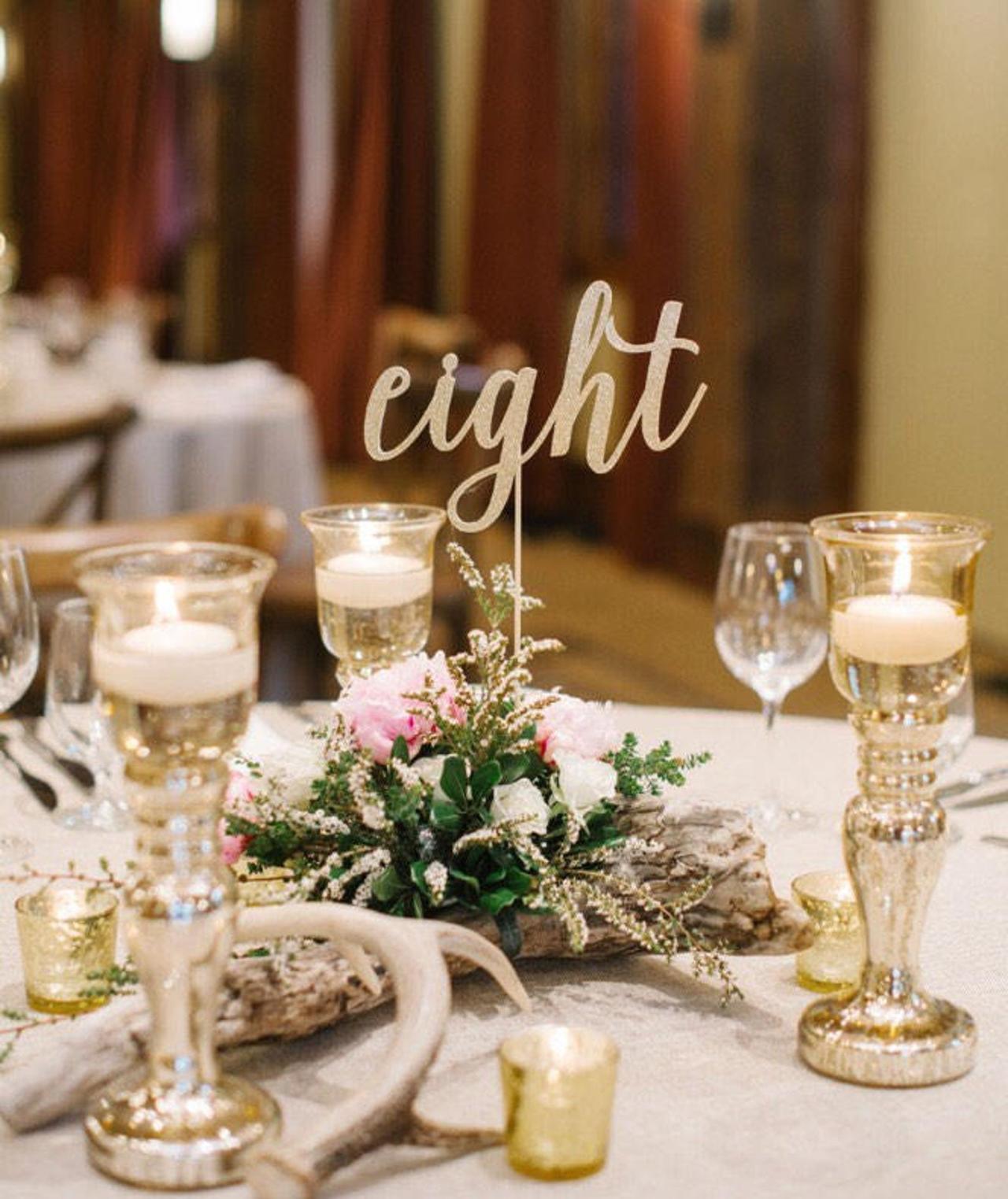 17. Wooden table number holders never look out of place. Go to town on lettering or calligraphy and keep the table number holder neutral with these cute baby tree stumps.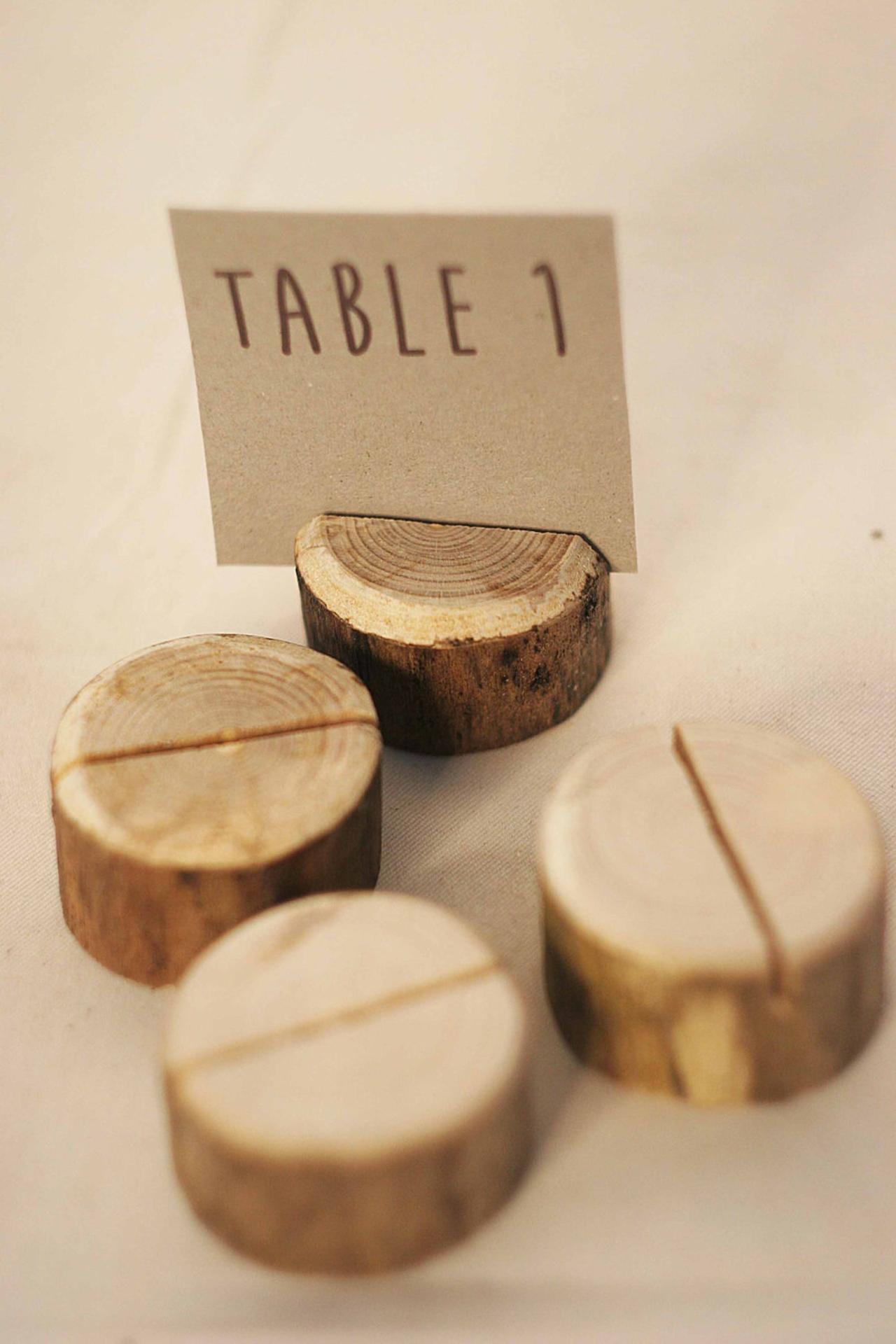 18. Combine a centrepiece and table name or number display by using a vase of flowers as a table name holder. Write table names onto a mini chalkboard, poke it into the middle of a bouquet and you're away.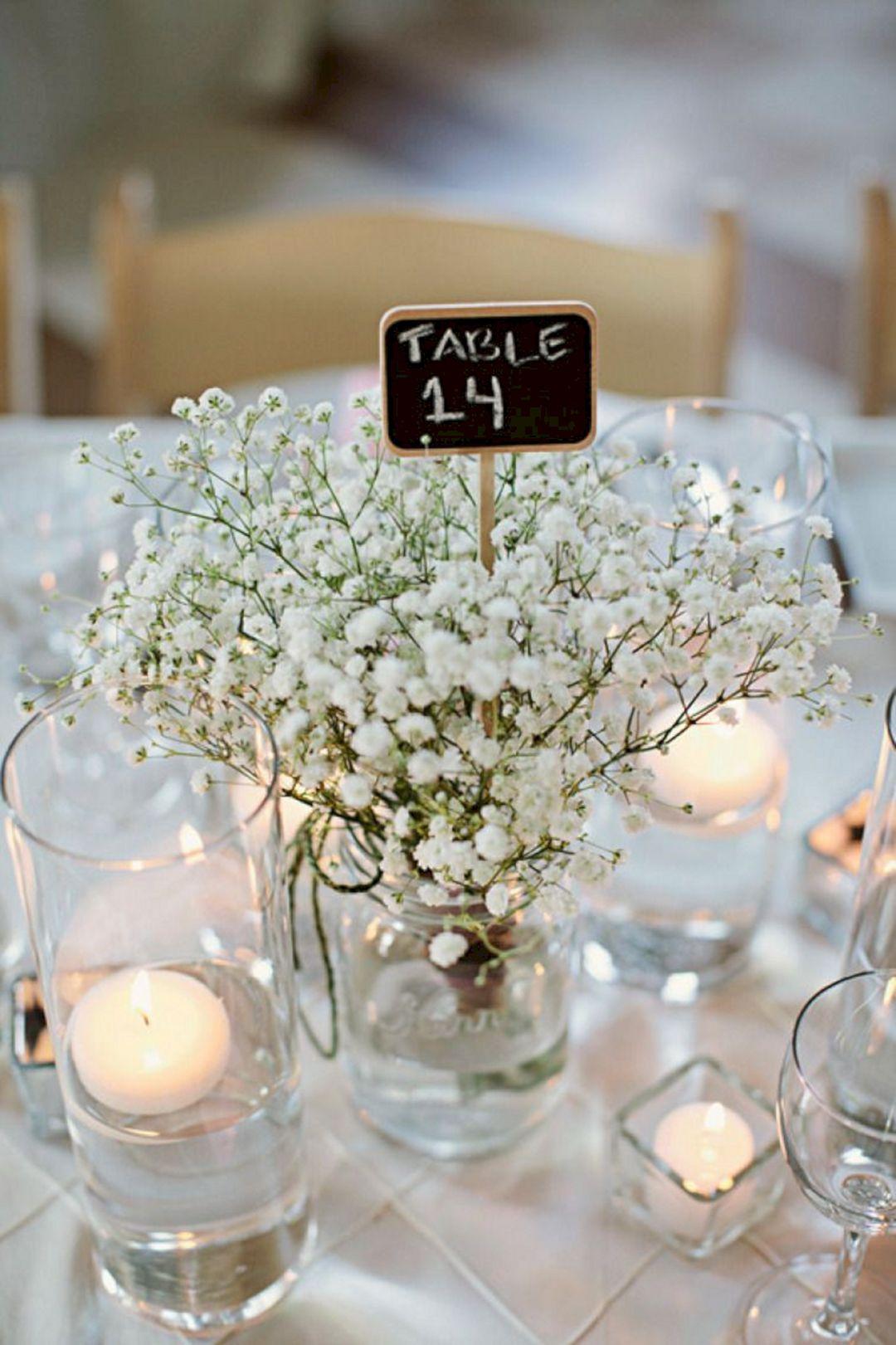 19. A table number holder that doubles up as storage for married life is about as practical as wedding table design comes. A personalised plant crate will earn its keep and makes for a bold tablescape table number holder and impressive centerpiece. That's a lot of boxes ticked, quite literally.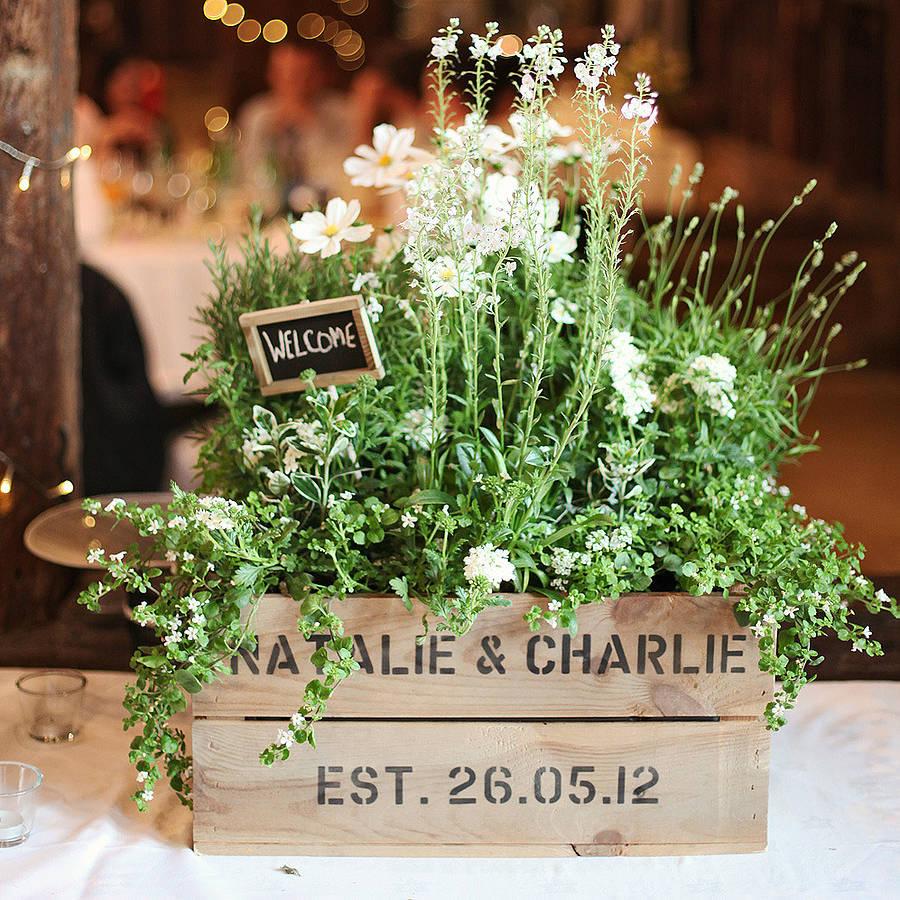 READ MORE: How to Preserve Your Wedding Flowers
Bottle Table Name Holders
20. Empty wine bottle table number holders are incredibly efficient - they do double duty as vases and you can plan to 'vacate' the bottles ahead of time, if you catch our meaning. They'll look all the better if they don't match, so treat yourselves to a variety of your favourite bottles before your wedding day. Possibly seek some help with that if you're planning a large wedding.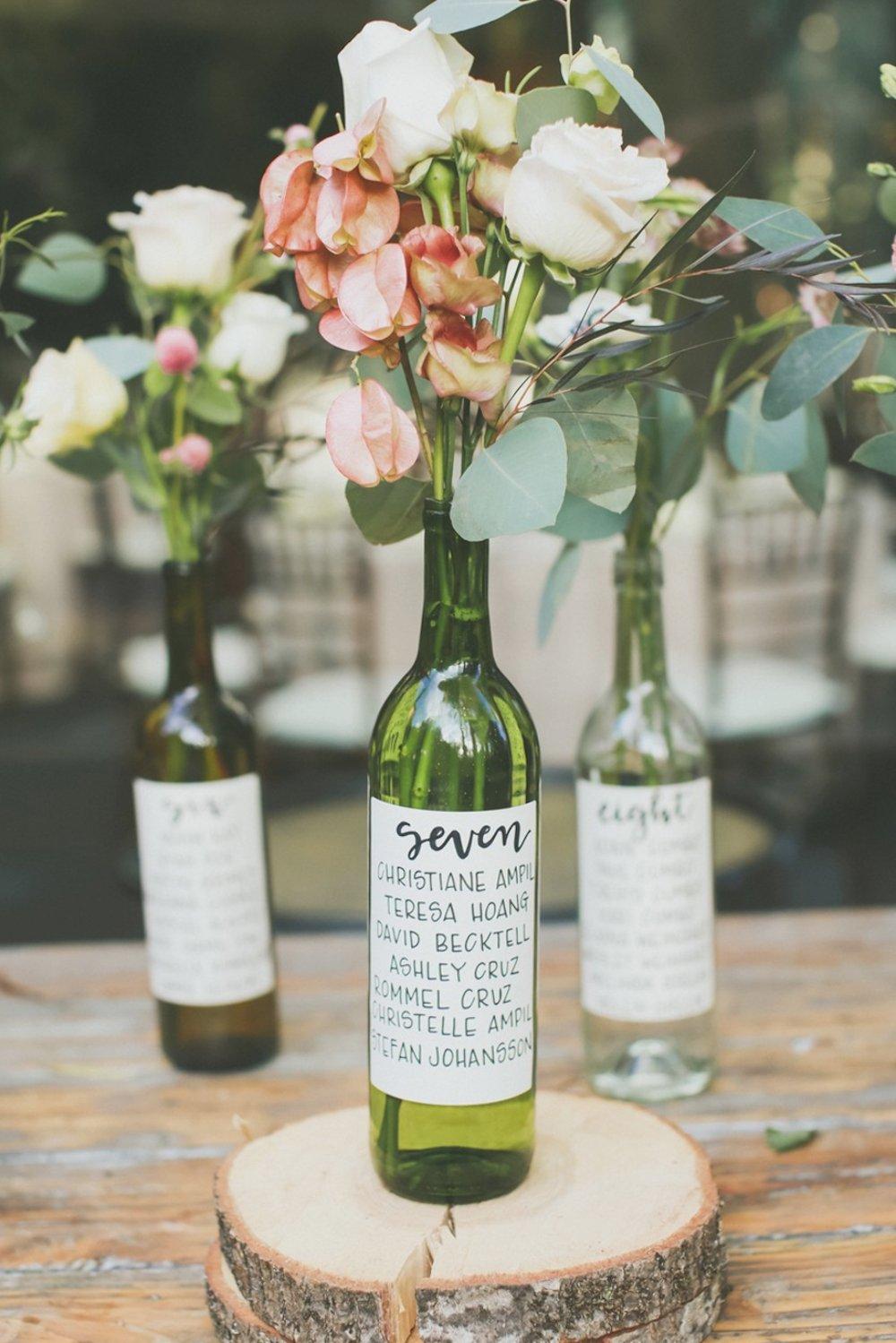 21. Old gin, rum or whisky bottles make for brilliantly personal table name displays, especially if you pick a bottle that you're partial to. Stick table names or numbers on as labels or paint numbers or names onto clay bottles if you're gifted in the art department and have the time.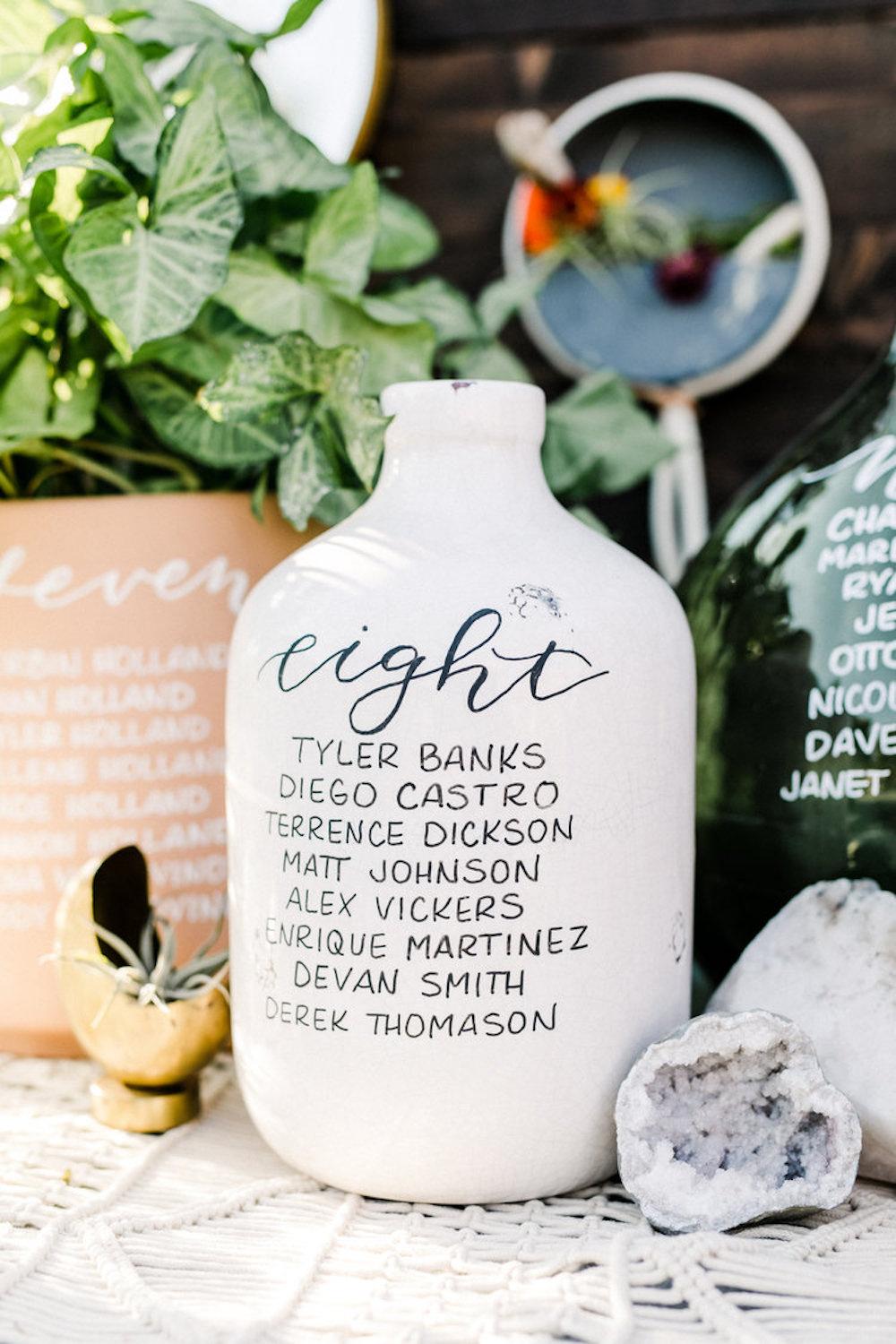 22. Using wine corks as table name holders is a genius way to ensure that none of your wedding wine tasting sessions are in vain.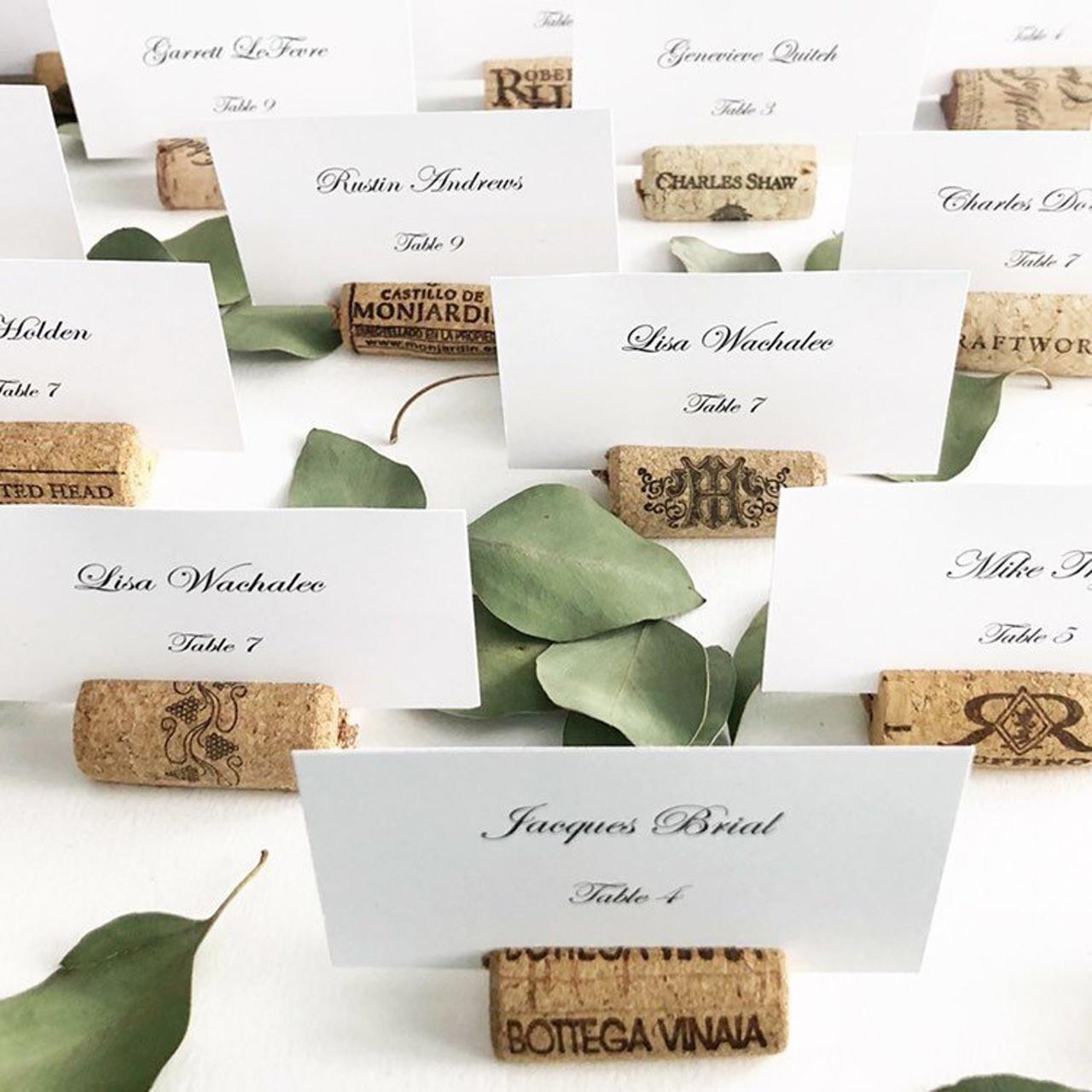 READ MORE: How to Do Modern Calligraphy for Your Wedding: Your Step-by-Step Guide
Nautical Table Name Holders
23. Sail into married life by way of paper boat table number displays. Keep each boat on course by securing it into packed sand in a jar. If you're planning a seaside wedding, this table number holder is a no-brainer.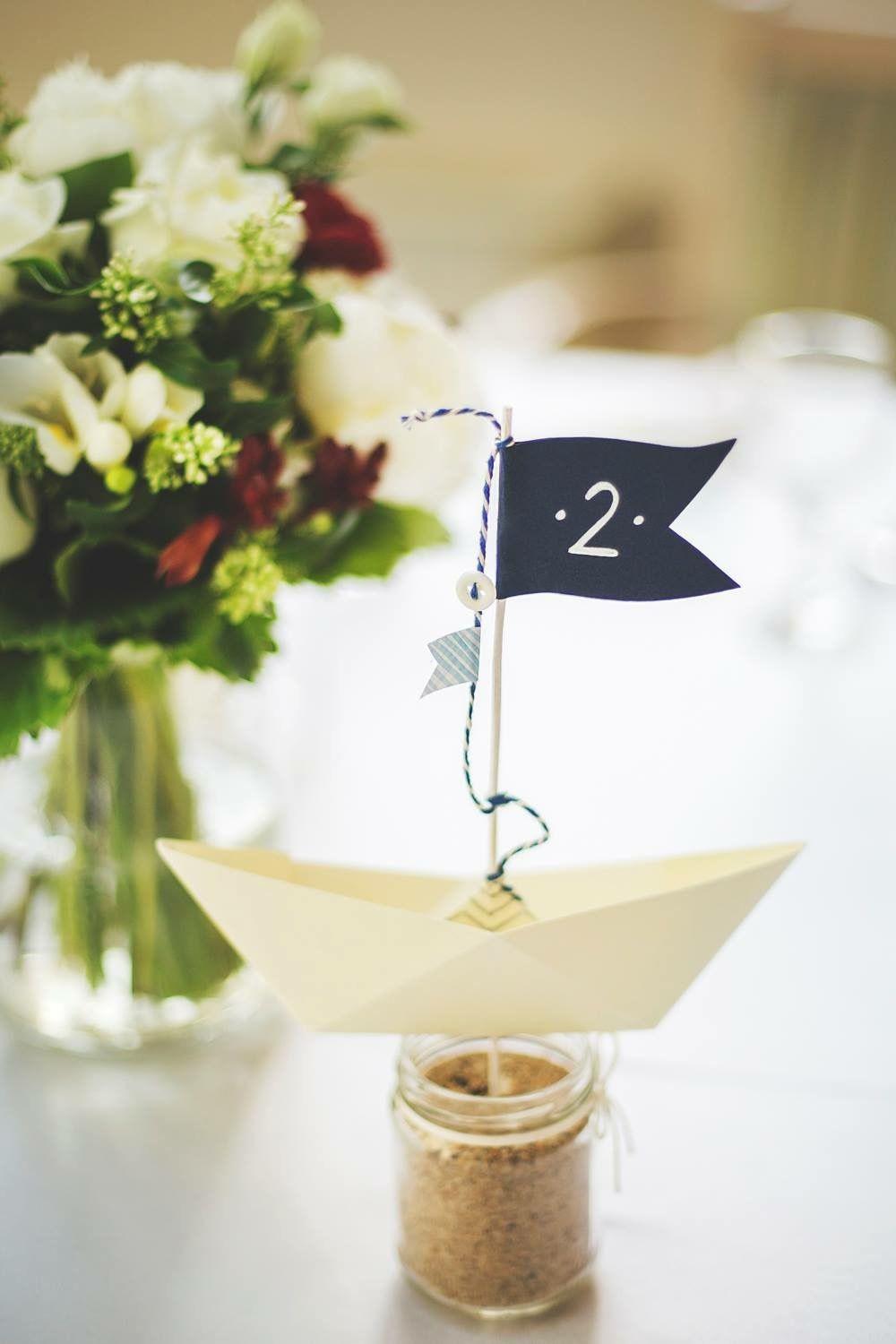 24. A sailor's knot makes for a reliable table number or name holder. Use chunky twine or hemp rope to display table number cards - opt for a colour palette of blues, whites and greens to enhance the nautical theme.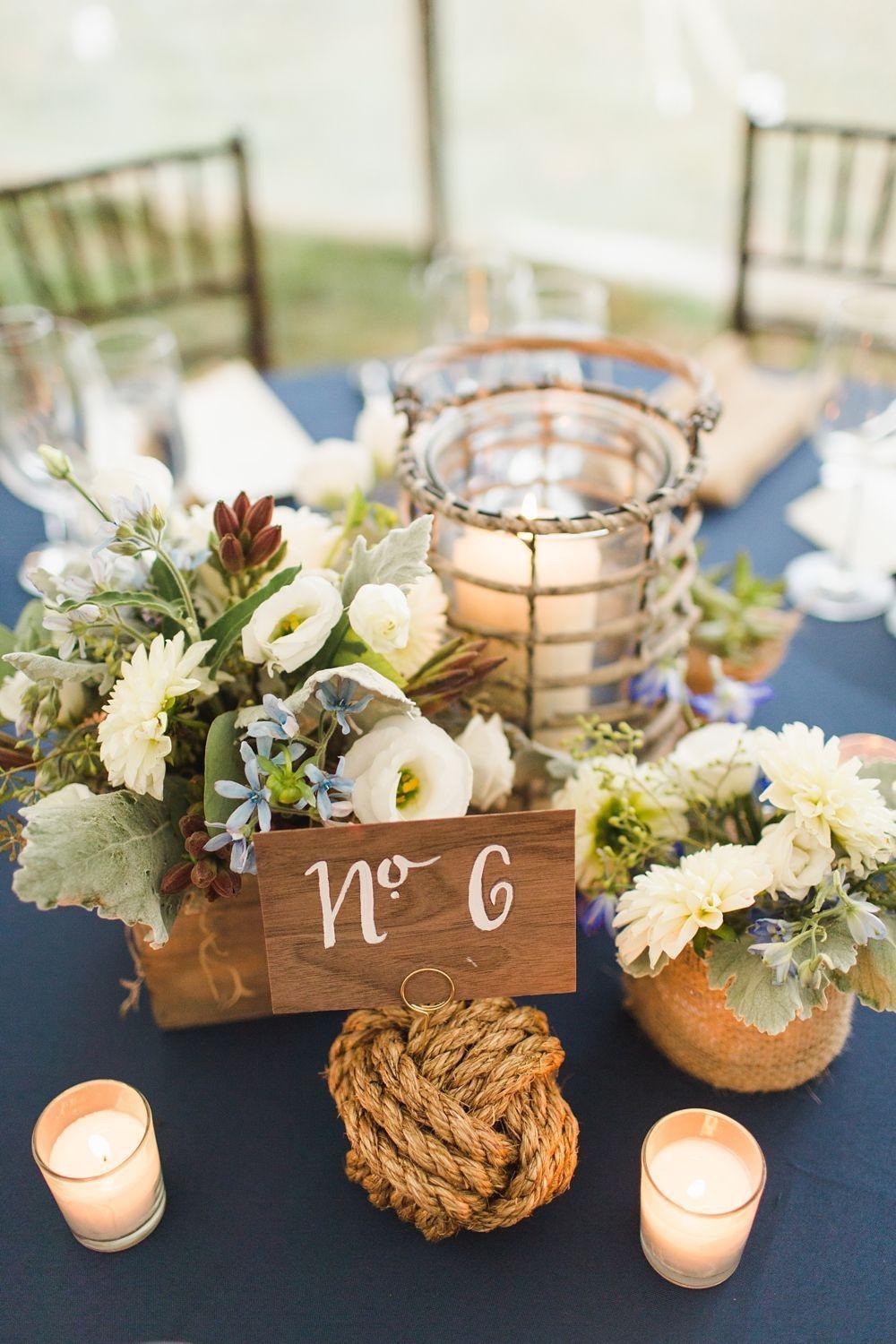 Travel Themed Table Number Holders
25. Animal figurines roaming around tables will welcome guests to their table with a smile. Pick animals that bring to mind a favourite destination or reflect your honeymoon choice - safari honeymoon planners take note.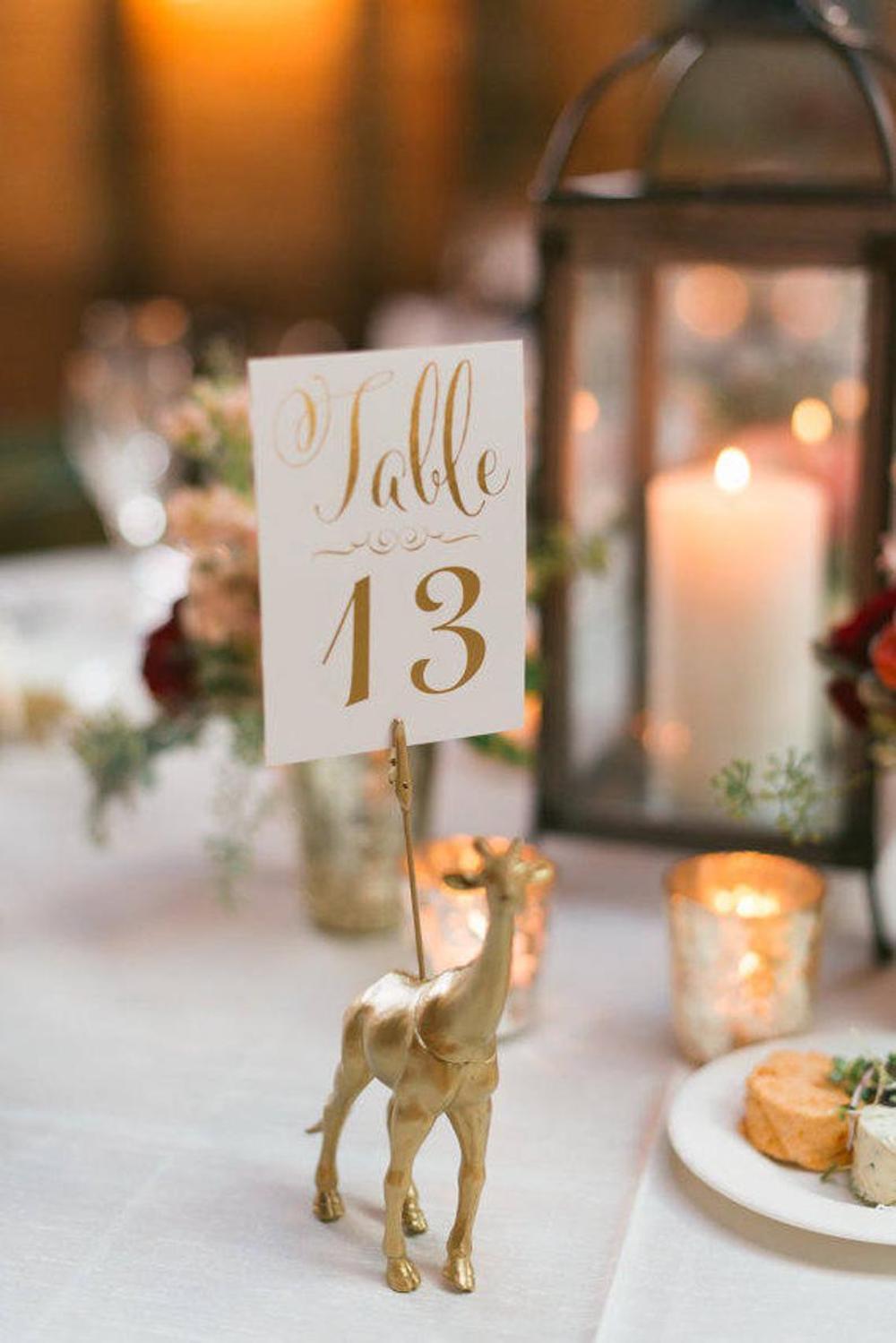 26. Mini globe table name displays are the ideal choice if your wedding is infused with a sense of wanderlust – paint meaningful destination names onto globes in metallic ink.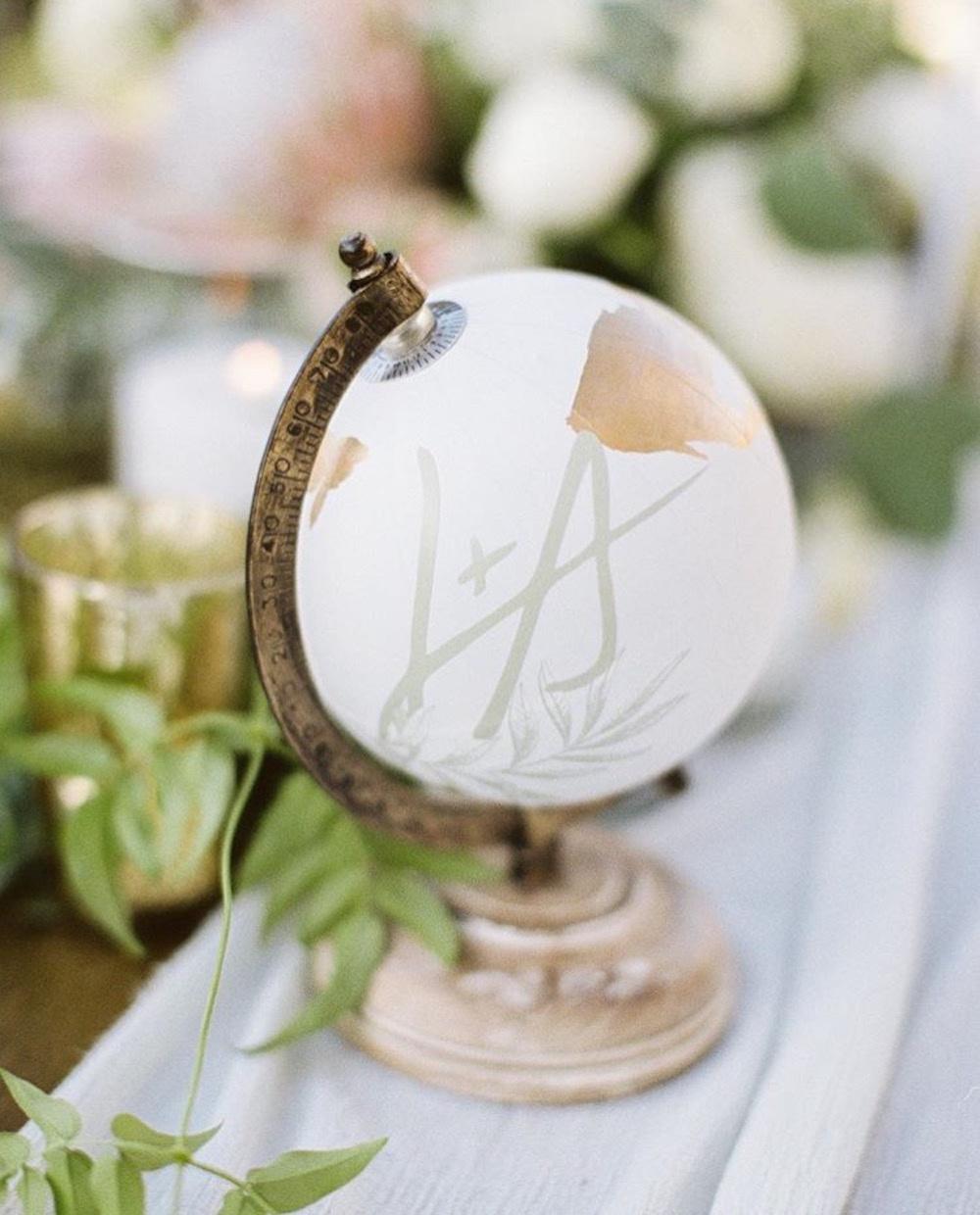 27. If you're planning a pre-wedding break to the Med, pick up some house name tiles to use as wedding table numbers. Traditional Spanish and Portuguese tiles are a design feature in themselves and you'll be transported back to sun soaked shores and tapas in plazas as soon as your wedding reception kicks off. Bliss.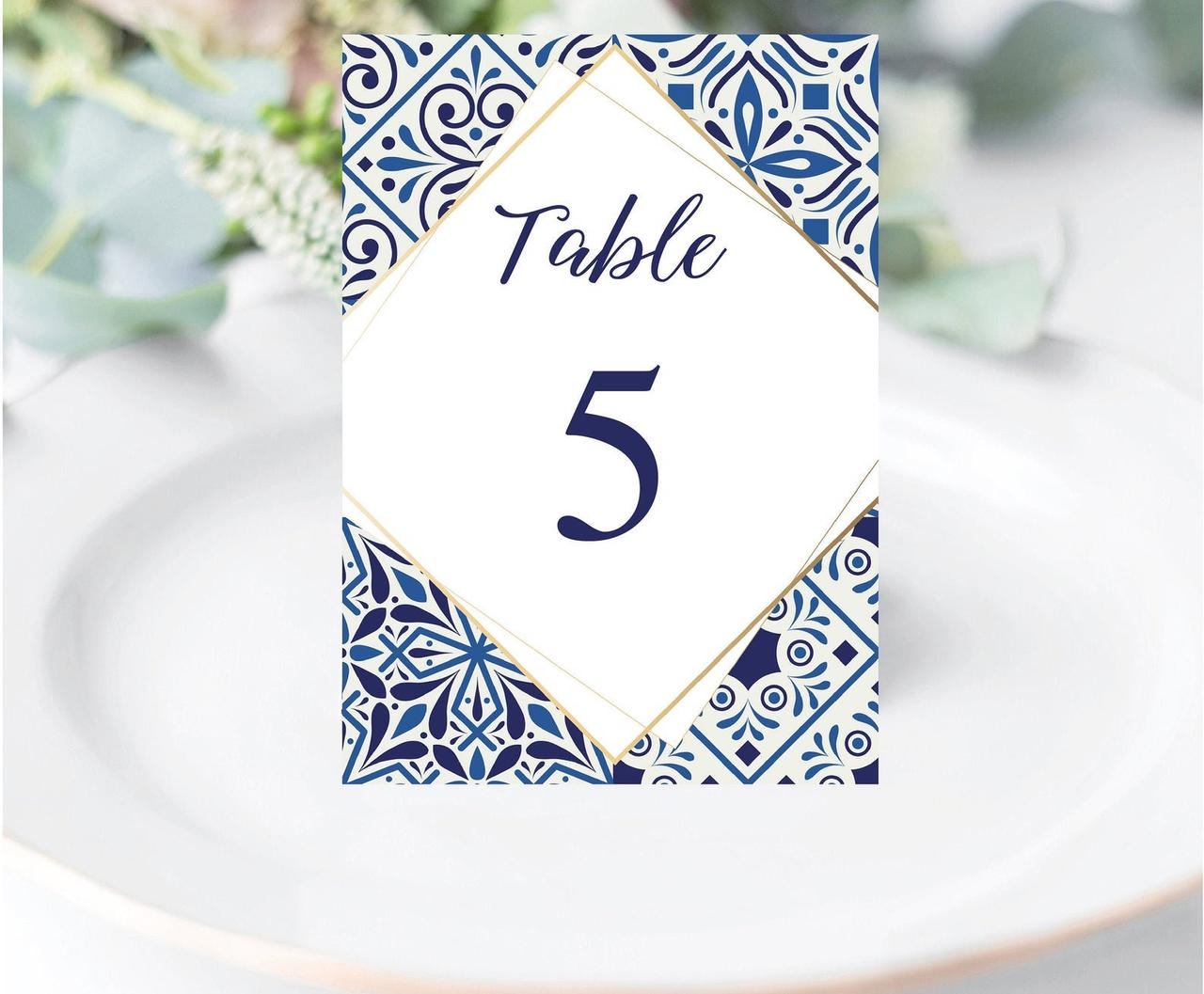 READ MORE: The Ultimate Guide to Wedding Themes
Hobby Inspired Table Name Holders
28. Both bookworms? Name tables after your favourite novels and display table names as book covers on mini easels.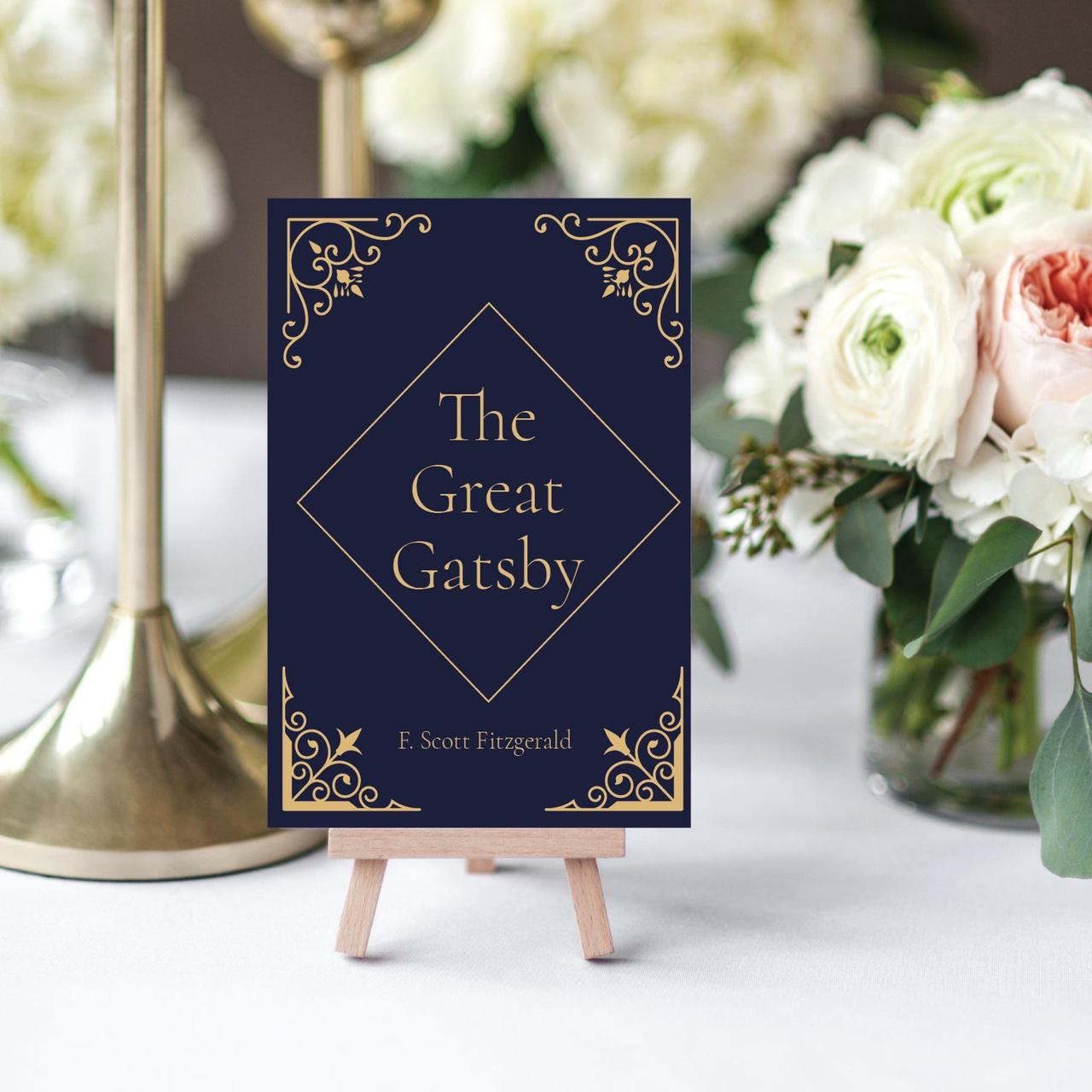 29. If you can't agree on your titles or authors of choice, an antique book cover table number holder is a subtle nod to your literary inclinations.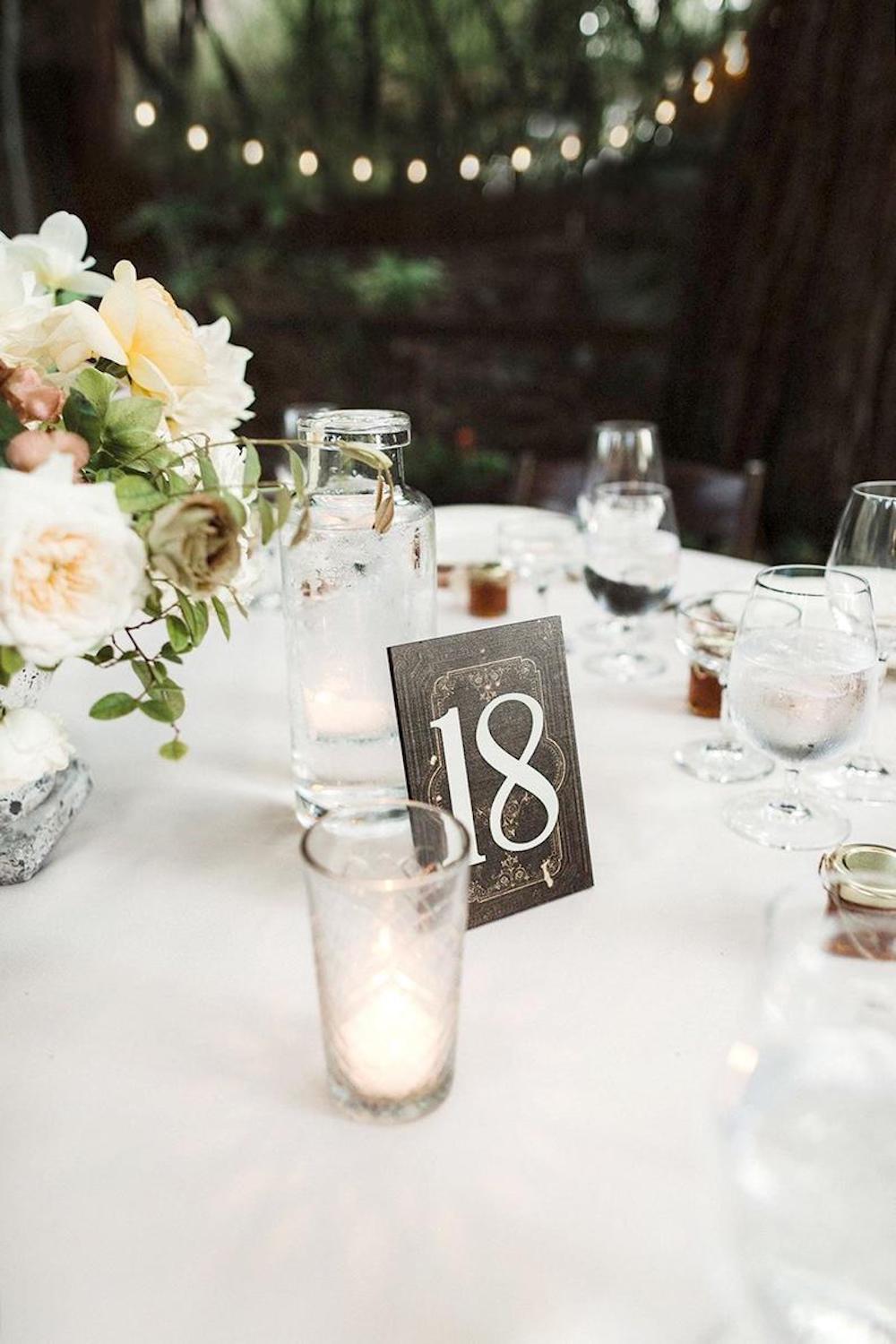 30. More wordplay, but of the board game variety. Scrabble tile table names can be assembled easily on the morning of your wedding - just expect guests to tinker with the letters when they sit down. It's all part of the fun.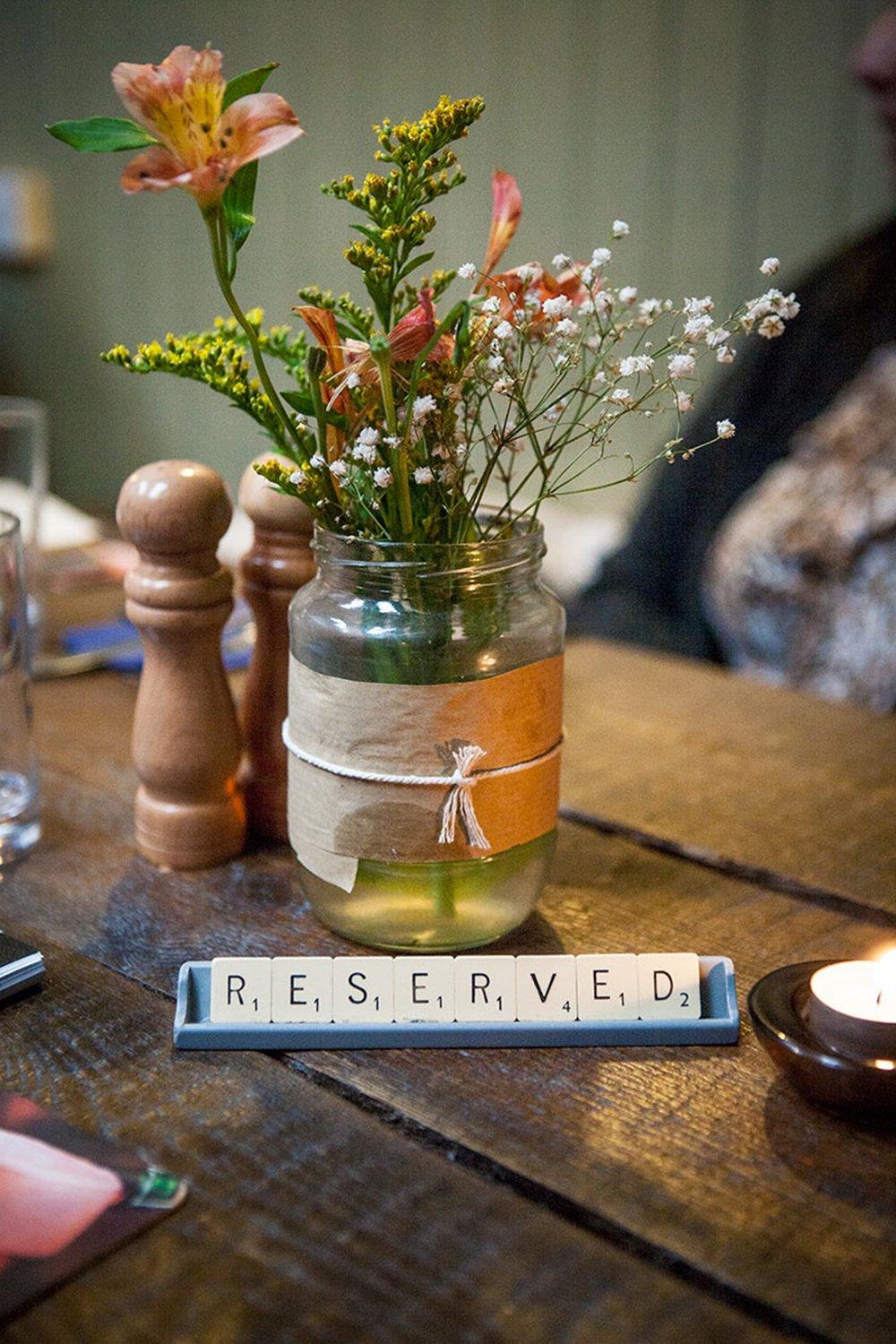 31. Keen hikers or climbers will fall over themselves to recreate this wooden mountain table name holder idea. Take wedding guests down the 'path' of your relationship by naming wedding tables after your favourite peaks. Bonus points if you manage to recreate the topography.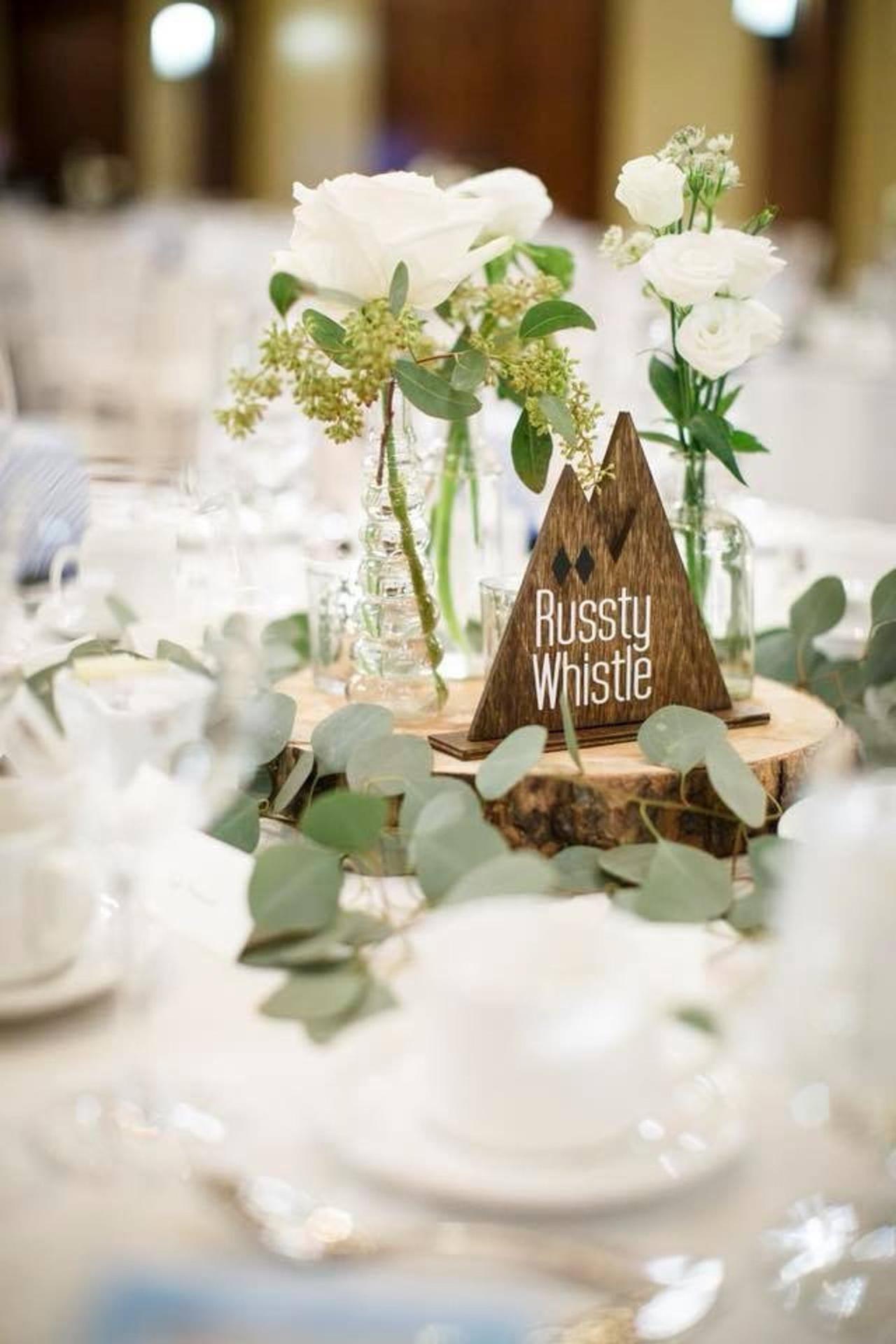 32. Foodies can combine details of their wedding meal and table number or name displays in one design with these 'menu' table number holders. It's news you can use.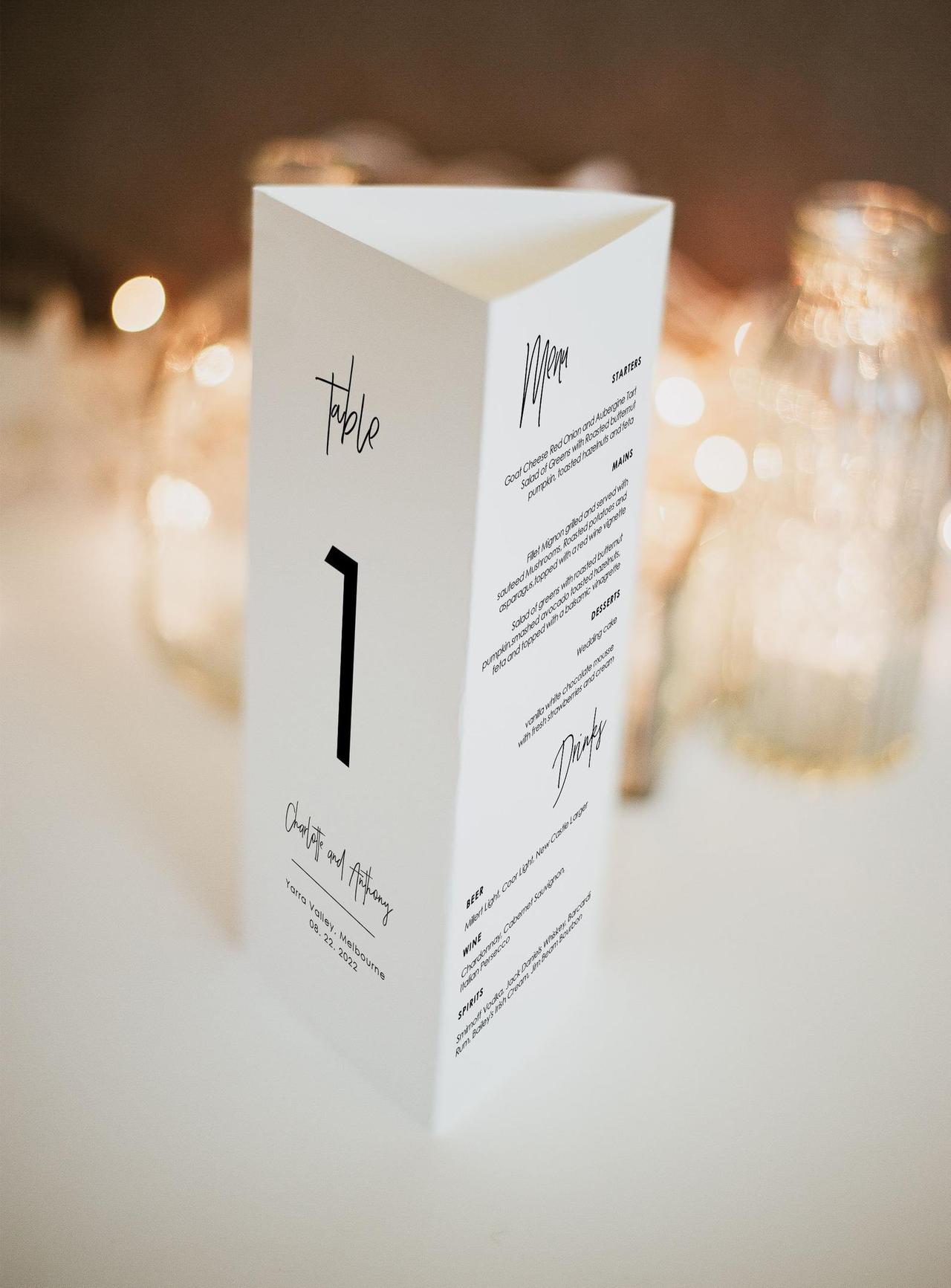 READ MORE: Fabulous Wedding Venues for Foodie Couples
Christmas Wedding Table Name Holders
33. Festive or winter weddings demand pine cones and they make for inexpensive natural table number holders too. Tuck labels into the pine fronds for an easy but aesthetically pleasing wedding table display.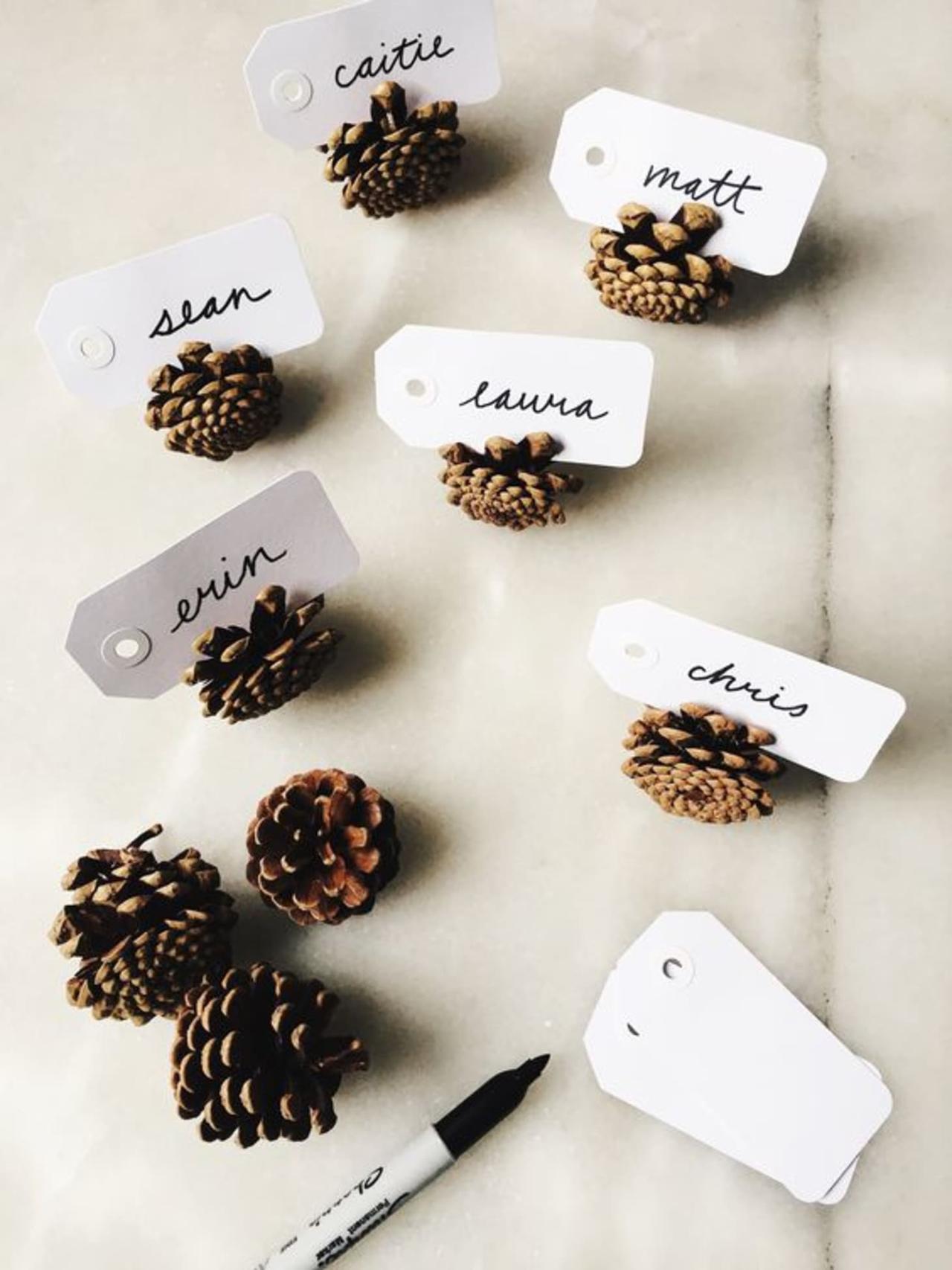 34. Baubles are another Christmas wedding table number holder hack. Turn a bauble upside down and attach a piece of card into the wire loop and you're done. Dip baubles into metallic paint or glitter if you're feeling especially 'extra'.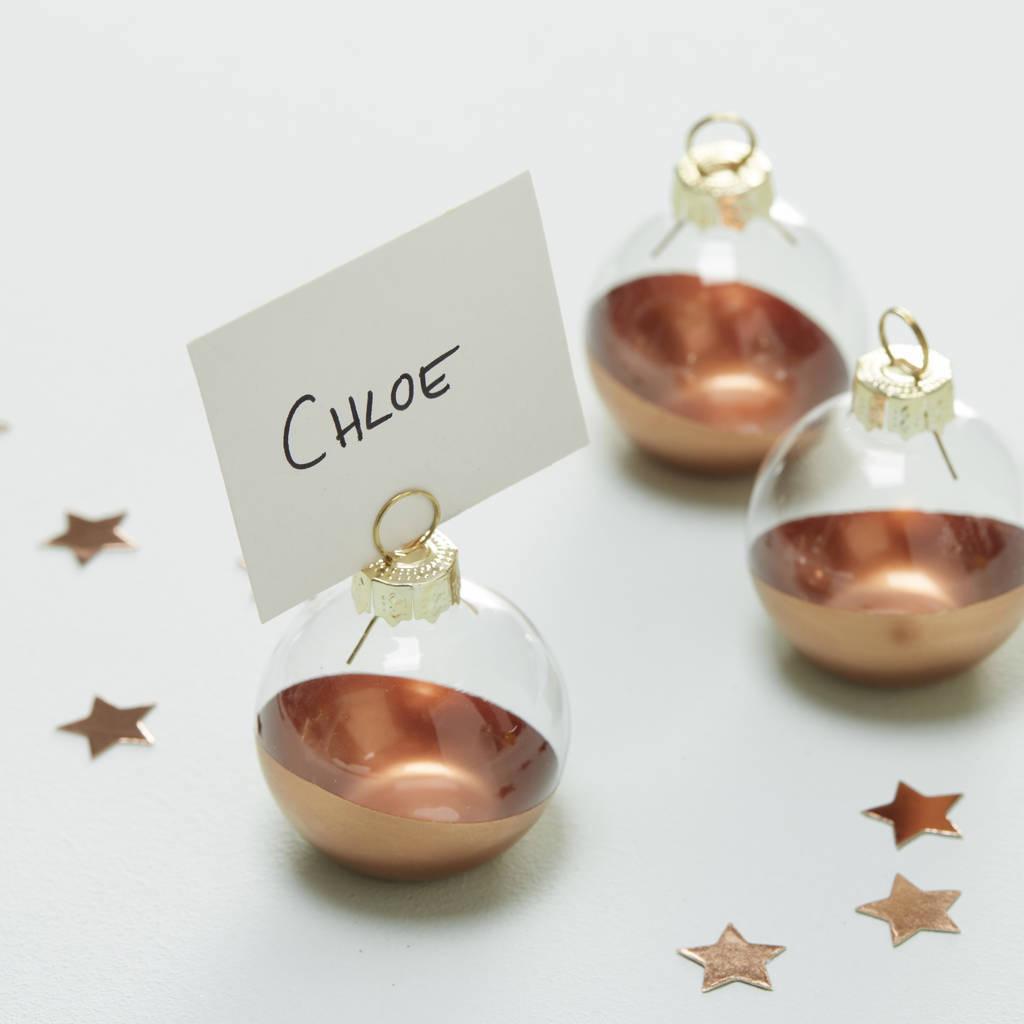 35. Give an upright metal table number holder some seasonal sparkle with an altogether more dazzling model. This rose gold and crystal 'snowflake' table number holder will catch the light (hopefully meaning that your guests sit down promptly) and is much more likely to find a future use than a plain metal table number holder.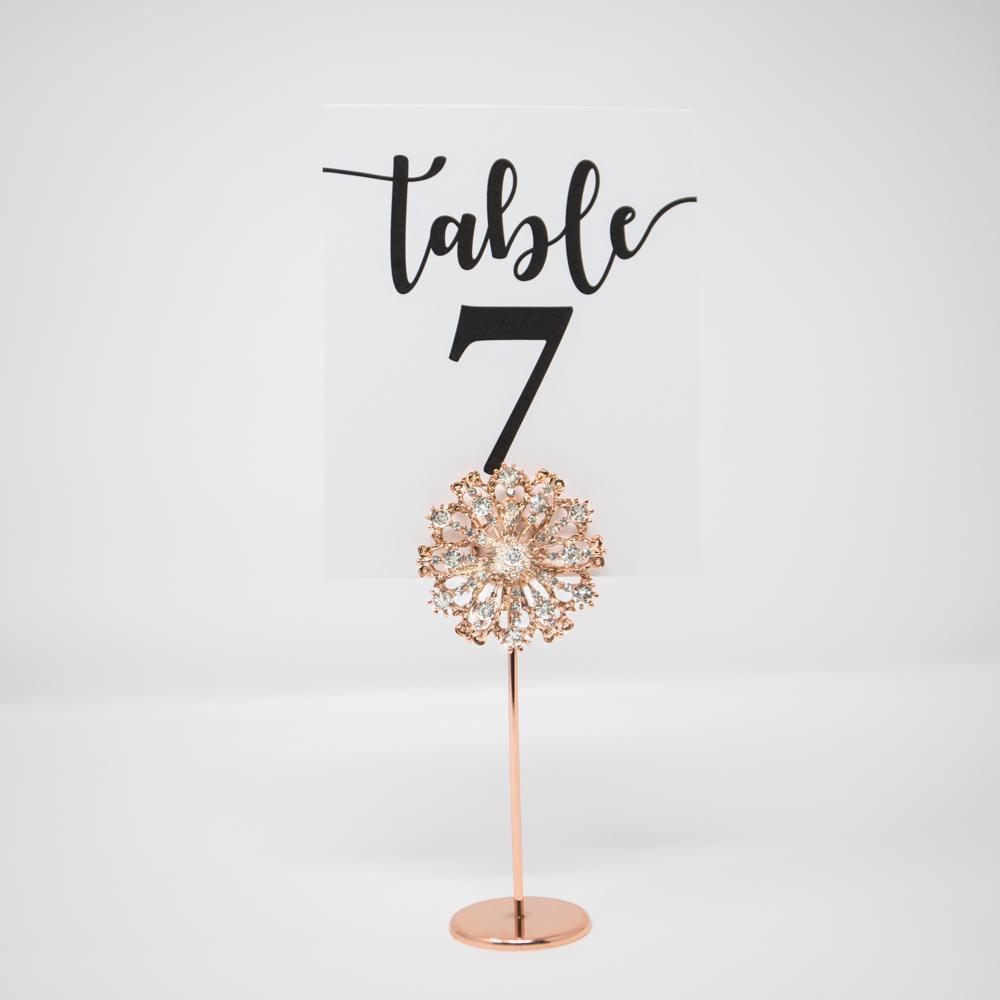 How to Make Your Own Acrylic Table Number Holder
Jenni Cabrelli, founder of The Handmade Sign Company, has created a simple step-by-step for stylish DIY acrylic table names and numbers. Just make sure you have the window cleaner on hand before you begin…
Step 1
Draw around your piece of acrylic onto paper first, then sketch out your design in pencil onto the paper. Once you're happy, simply lay your acrylic over the top and trace over your design with a paint marker pen, or traditional nib and ink on smaller pieces.
Step 2
Make sure you give your acrylic a good clean with glass cleaner before lettering to remove any leftover residue from the protective film that they are supplied in. Acrylic can scratch easily, so be careful not to scrub when cleaning.
Step 3
After you've finished tracing your design onto the acrylic be sure to wrap each piece separately to keep them looking pristine.
Step 4
Want your lettering to stand out more? Choosing frosted acrylic, or back painting clear acrylic, looks striking and also makes signs easier to read for guests. If you're feeling even more crafty, experiment with styling – add some dried flowers or large monstera leaves placed behind the back of the acrylic for extra impact.
Writing your own vows? You'll want to show them off in one of these keepsake wedding vow books.