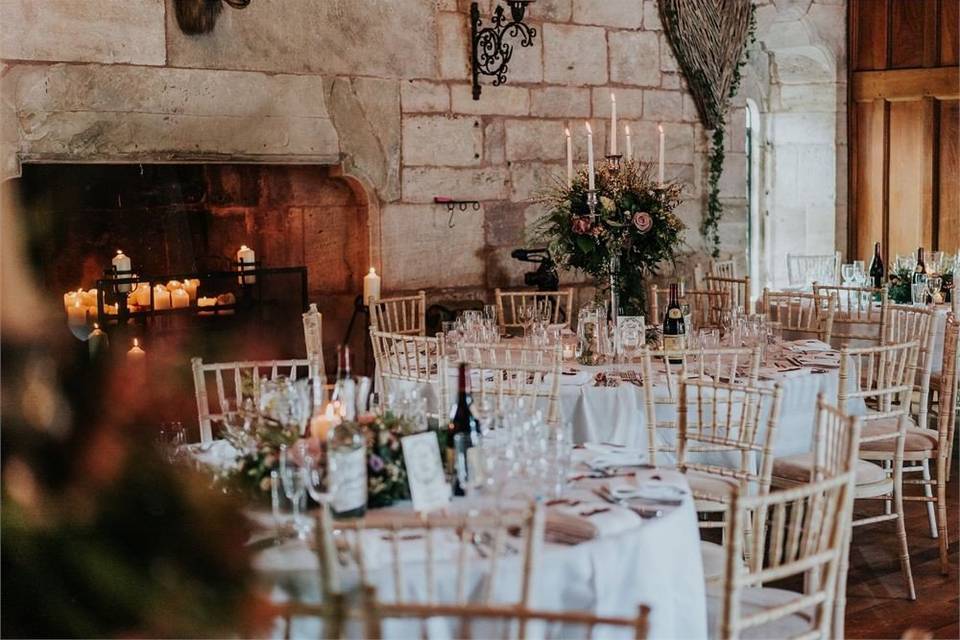 While you could host a bit of a free-for-all and let your guests sit wherever they like during your wedding breakfast, most couples do tend to put together a wedding seating plan that they'll transfer to a wedding seating chart. If nothing else, it makes the transition from reception drinks to wedding breakfast a whole lot simpler.
Making a wedding table plan also makes things much easier for the staff at your wedding, because they know who is sitting where and eating what. Many wedding venues will actually make assigned seating mandatory.
That said, deciding on seating arrangements for your wedding guests can seem like an overwhelming task. Who do you want closest to you? Should you have a singles table? Will everyone get on?
If you follow these seven simple steps, arranging your wedding tables will be a breeze. Seriously – you'll ace it like a pro.  And once you've arranged your wedding tables, check out these beautiful wedding table plan ideas for every wedding style.
1. Get Your RSVPs in Early
Image: Thorpe Garden
How can you figure out where everyone is going to sit if you don't know who is coming? Getting your RSVPs back in plenty of time is crucial to the planning of your seating chart.
When you send your wedding invitations, set a generous RSVP date. Then, politely ask the mother of the bride or groom to chase any guests who don't respond in time.
Involving the mother of the bride or groom can actually be really helpful when it comes to arranging your wedding tables. It's a job they'll both be happy to get involved in, especially when it comes to seating friends of parents (who you don't know that well).
READ MORE: Every Mother of the Groom Duty You Didn't Know Existed
2. Think About Your Table Shapes
Image: Brinsop Court Manor House & Barn
Once you know who will be attendance at your wedding breakfast, you need to consider your table shapes. Will you be having circular tables? Square tables? Or how about long tables which run down the centre of your wedding reception space?
Different table shapes have different advantages. For example, you can fit more people into your wedding venue if you choose rectangular tables, but circular tables make it easier for your guests to chat to each other.
Since the shape and size of your tables will determine how many people can fit around them, this is a good place to start.
READ MORE: The Best Banquet Hall Wedding Venues
3. Decide Who You Need Close to You
Image: Brinsop Court Manor House & Barn
The next step is to think about who you'd like to be sat on the tables closest to yours.
If you're having a top table, find out how many people it seats and go from there. The top table is the best table in the house, so it should be home to both sets of parents and your wedding party. You might also like to include their dates, if there's space.
If your parents are divorced, don't worry – we've linked our guide to seating divorced parents at a wedding below. There are lots of options, namely putting each parent and their new partners at opposite ends of the table.
If you're not having a top table, consider asking each member of your wedding party to host a table. Assign them (and their partner) to a table full of mutual friends so that no one feels uncomfortable.
READ MORE: How to Seat Divorced Parents at a Wedding
4. Organise Guests by Groups
Image: Hayne House
Now it's time to think about grouping everyone else!
It's a good idea to sort guests according to how you know them such as school friends, university friends or friends of parents.
You don't need to seat everyone in the groups they belong to, but you should make sure everyone has at least one or two people on their table that they know and get along with. This will ensure everyone feels comfortable and has a good time!
Don't seat two people together who have a history which could cause problems, don't seat a single person on a table full of couples, and avoid "single's tables" or anything similar. It can be a bit embarrassing for everyone involved.
READ MORE: The Best Wedding Table Games to Break the Ice
5. Consider Having a Children's Table
Image: Paschoe House
If you've decided to invite children to your wedding, consider having a children's table. This is a great way to keep them occupied with colouring books and activities while also allowing their parents to chat and enjoy their time.
That said, if there are only a couple of children at the wedding, seat them with their parents… and don't put the children's table too far away. Kids get anxious when they can't see their parents, and harrowing screams don't add anything to a romantic wedding breakfast ambience.
6. Make a Digital Seating Plan
Image: Almonry Barn
The next step is to create a digital seating plan using the Hitched table planning tool. It's a really easy way to begin to visualise what your wedding breakfast is going to look like. You can drag and drop your guests' names and the tables to make it as accurate as possible… and you can rearrange things as many times as you like!
As you're doing this, you should keep your wedding venue in mind. Do you have older guests who might want to be seated a little further away from your band or DJ? Are there guests in wheelchairs who need easy access to an exit? You could also think about whether you have any younger guests who will want to be out of their seat and dancing. Seat them a little closer to the dance floor.
When you come to getting your wedding table plan printed (and showing your caterers where everyone is sitting), everything will be a whole lot easier if you've created a digital version.
At this point, it's probably worth mentioning that if you're not into the whole strict table plan thing, you might like to consider assigning tables only. If you choose this, your guests will be told their table number but not their place on the table. It could make everyone feel more comfortable, but it might be trickier for your waiting staff.
7. Make or Buy a Clear Wedding Table Plan
Image: Brinsop Court Manor House & Barn
When it comes to communicating your wedding seating table with both your guests and your caterers, it needs to be done so clearly.
Think about ordering a large, clear wedding table plan which fits your wedding theme. You should also put name cards at every seat to enable guests to find their spots quickly.
Generally speaking, we'd advise that you don't order your wedding table plan until one month before the wedding. Some table plans can cost a lot of money, and if someone drops out at the last minute, you'll have to pay to have it re-made. This is not a risk worth taking!
READ MORE: 7 Ways to Re-Use Your Wedding Dress After the Big Day
Now you've decided where everyone is sitting, you can start to think about some finishing touches. Will you treat your loved ones to wedding favours? We've got 101 amazing wedding favour ideas here.