Wedding SOS: How Should I Seat Divorced Parents At My Wedding?
Parents take important roles in your big day, but if they are divorced, how to seat and involve them can be tricky - here's how to handle it
We have included third party products to help you navigate and enjoy life's biggest moments. Purchases made through links on this page may earn us a commission.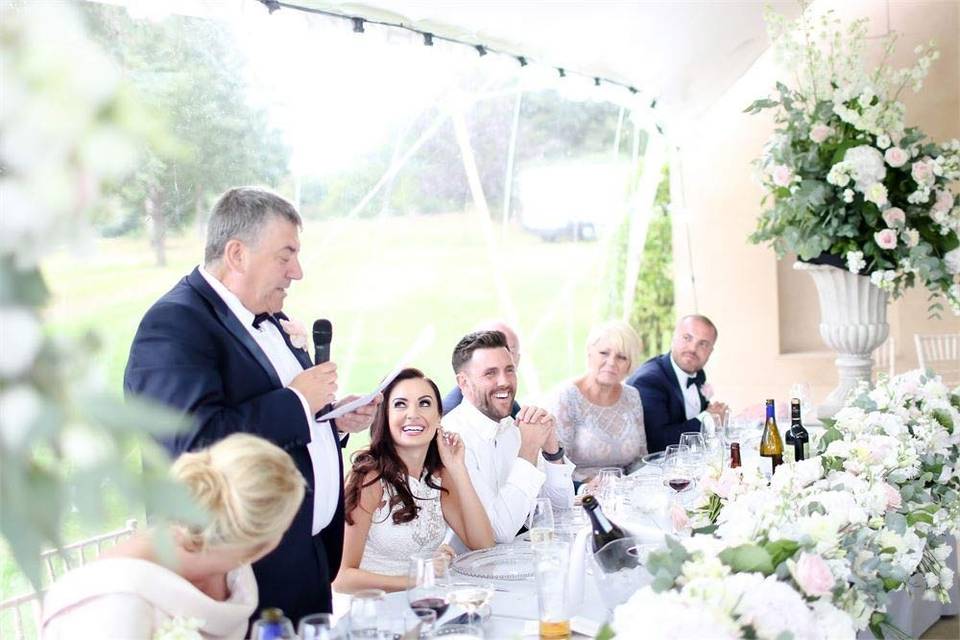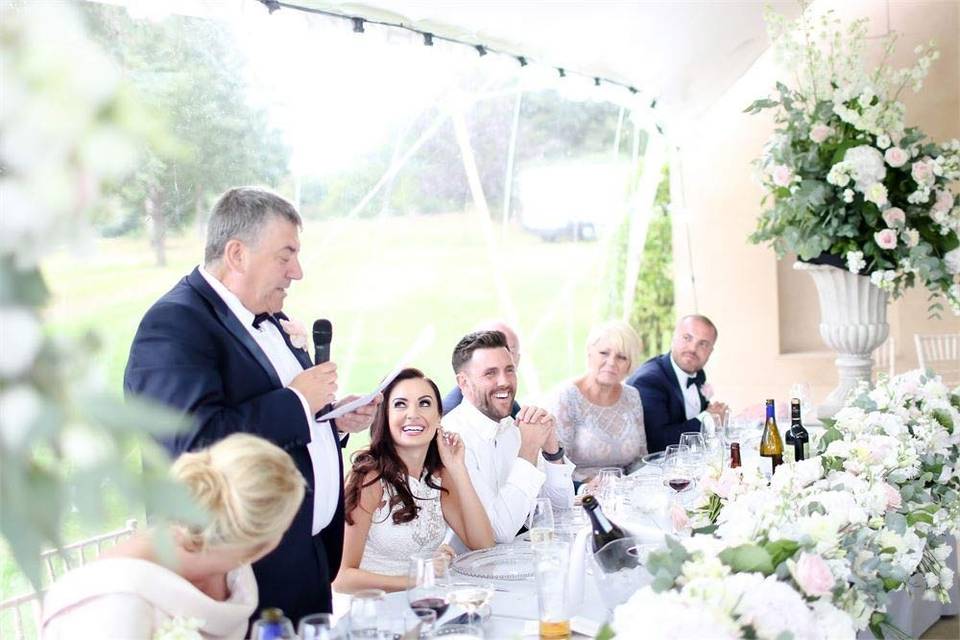 Any wedding guests with a history can make planning a wedding tricky, none more so than when it's the bride or groom's divorced parents.
For many couples, it's incredibly important that both their parents are present and sat close to them during the wedding breakfast. There's also factors like the father of the bride speech to consider when table planning, so how can you avoid arguments and uncomfortable moments?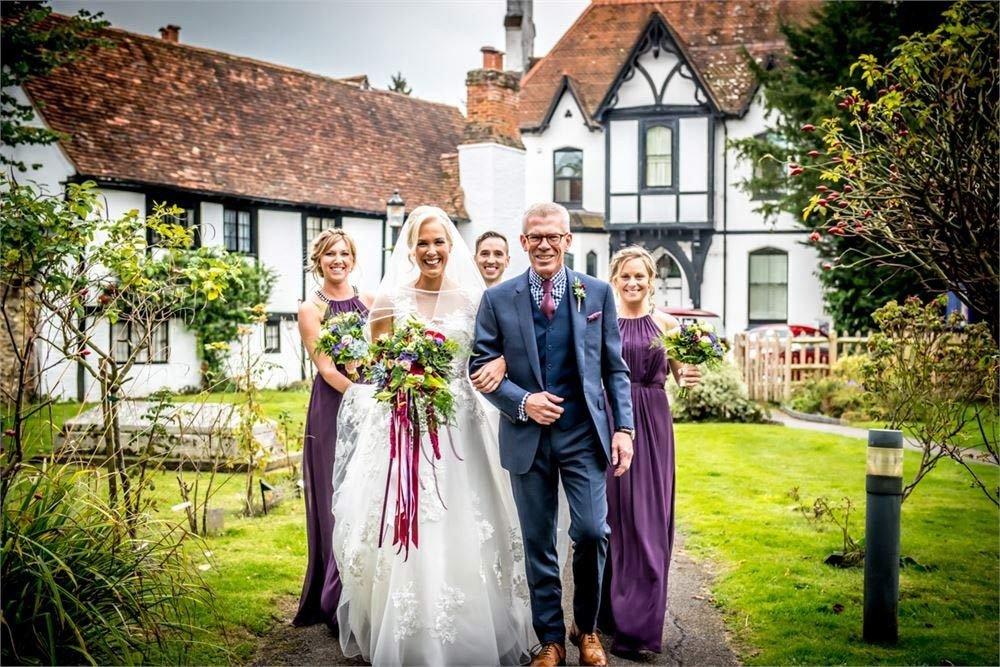 Image: Wendy Aldiss Photography
Traditional ways of seating the top table often will simply not work when separated, divorced, widowed or re-married parents are brought into the equation.
When there's a father and stepfather involved, difficult family politics can come into play over who walks the bride down the aisle or does the father-daughter dance. And first you've got to navigate the names on the wedding invites!
Here's how to deal with these common wedding planning problems if you have divorced parents, featuring expert advice from leading British etiquette coach William Hanson.
Wedding Invitations From Divorced Parents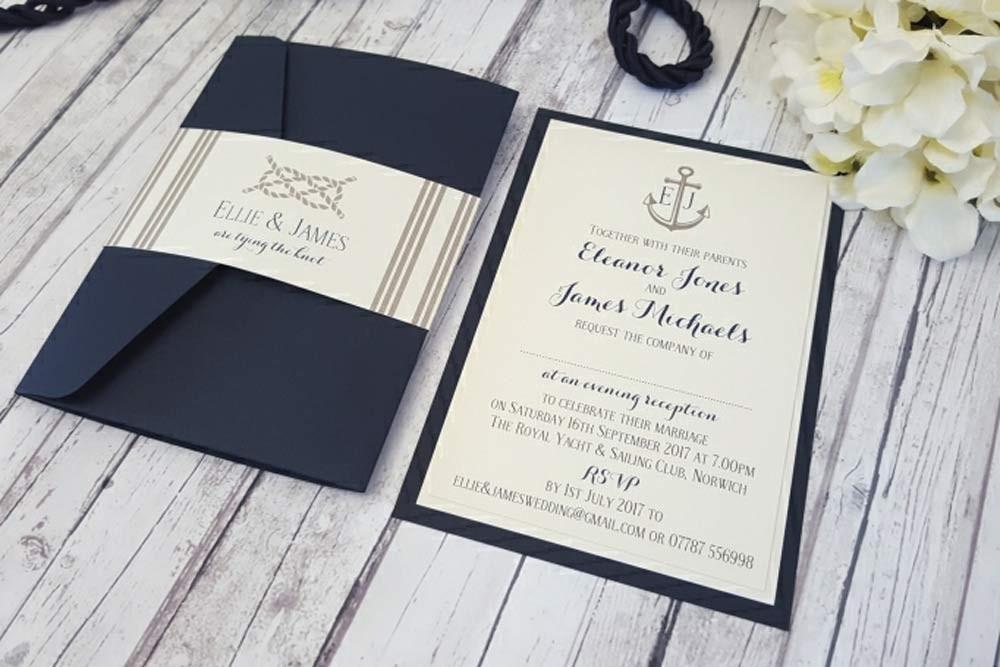 Image: Here Comes The Bride
Traditionally, wedding invites are issued by the bride's parents who in the past would have picked up the bill. As it is still common for parents to contribute financially to the wedding, they may want their names on the invite. Usually, even if the bride's parents are remarried, only her parents are listed on the invite.
For divorced parents who aren't remarried, etiquette expert William says the invite should be worded:
Mr John Smythe and Ms Julia Smythe (use the bride's mother's current surname)
request the pleasure of your company
at the marriage of their daughter
Susan Mary (etc)
If the mother has remarried, her new surname is used:
Mr John Smythe and Mrs Henry Cuesta (the name of her new/second husband)
request the pleasure of your company
at the marriage of their daughter
Susan Mary (etc)
READ MORE: How To Ask For Money Instead Of Wedding Gifts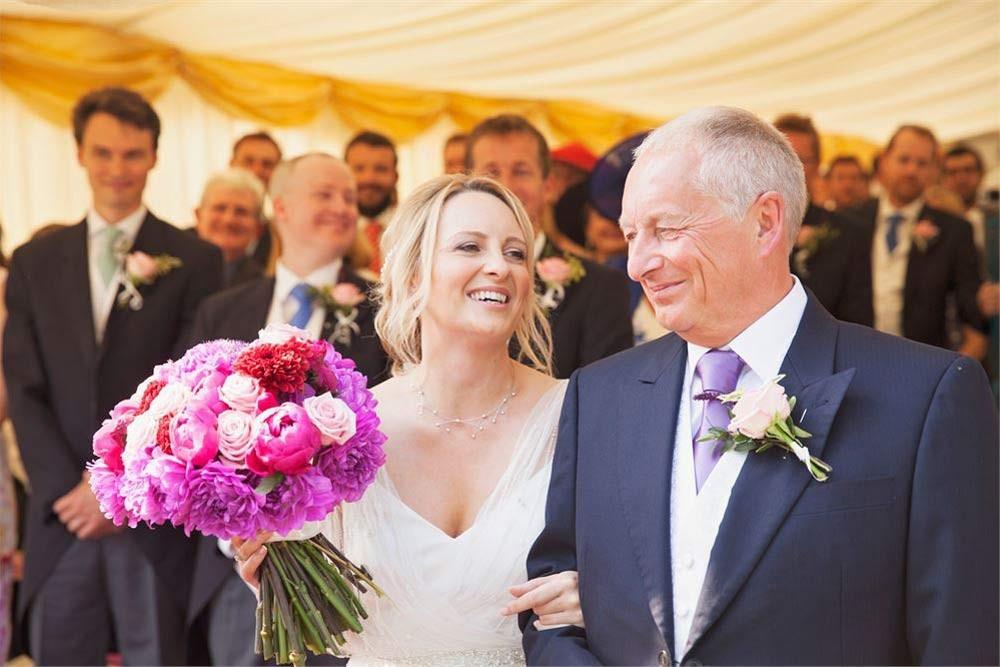 Image: Hayley Jane Photography
William adds, "This said, today it is often easier and more practical to have the invitations come 'from' the engaged couple rather than have complex and multiple names.  But some parents don't like their name not getting top billing if they are paying for the wedding (which I personally think is a little selfish!)"
You can include your parents with the simple line, "Together with their parents, [you] and [your partner] invite you to join them for their wedding…"
Top Table Seating Arrangements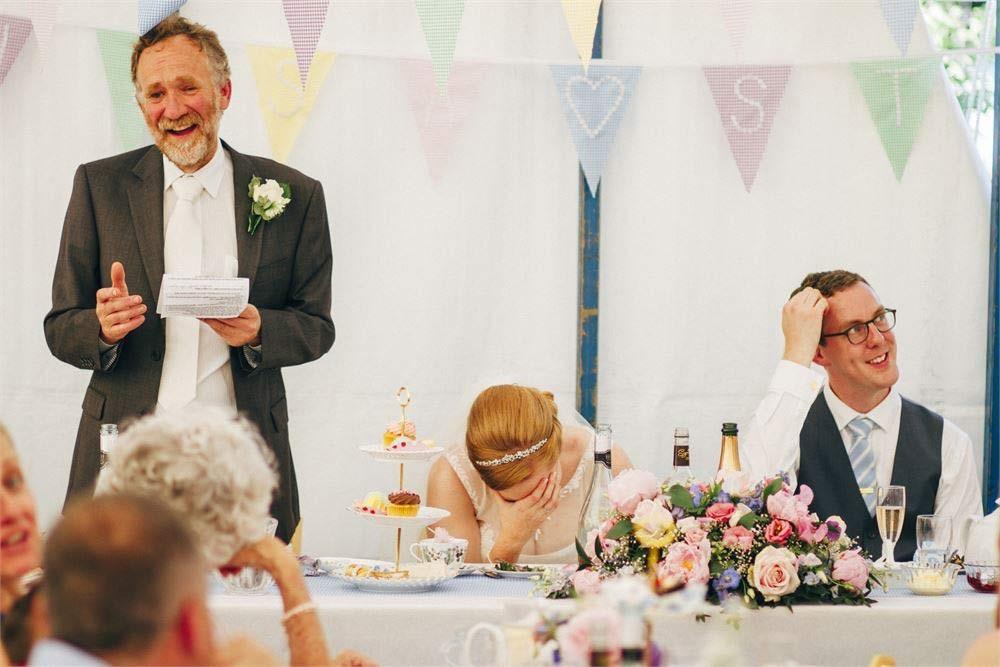 Image: Liam Smith Photography
READ MORE: Arrange Your Seating With Hitched's Table Planner Tool
Traditionally, the top table is seated as follows: maid of honour, groom's father, bride's mother, groom, bride, bride's father, groom's mother, best man.
With divorced, separated or remarried parents, working out who makes the cut for the top table and where they will sit can be a huge headache, especially if there's any bitterness or accusations of special preference.
William recommends abandoning the top table altogether – venue permitting – and choosing long tables if you have divorced or remarried parents.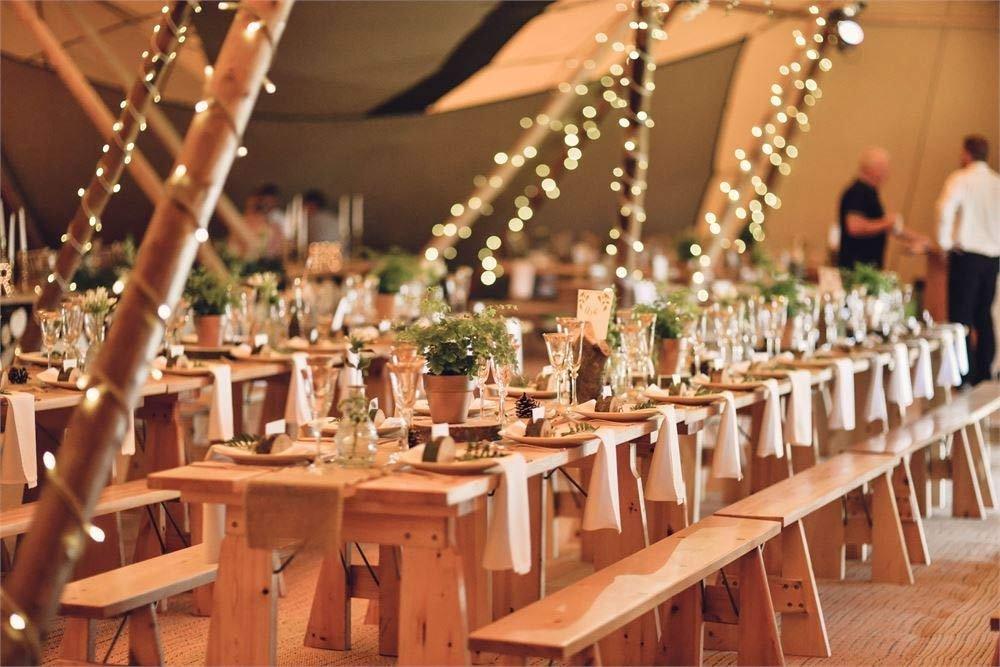 Image: Scrivelsby Walled Garden
He says, "Have one long table so everyone will then feel included. If you have a complex and political family structure then it may be best to consider and find a venue that will allow this.
"Or the top table could be the bride, groom and then the best man, chief bridesmaid and their respective partners. The family can go on other tables, close to the top table. Not an ideal solution but sometimes creativity needs to step in.
"I suggest avoiding numbering tables. Use names of flowers or precious stones instead so Great Aunt Maud isn't put out she is on table 38 when her twin sister Great Aunt Florence is on table 4!"
Other than a traditional top table, you could also have a "sweetheart table" which is just for the bride and groom and gives you a nice bit of time alone. Your parents can then host their own tables, which will make them feel very involved.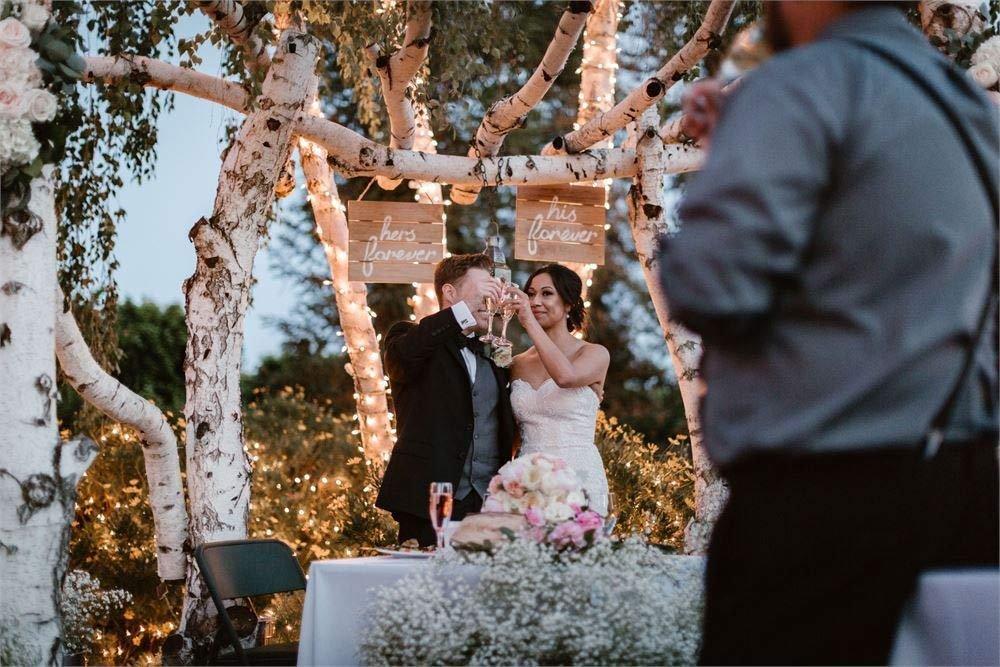 Image: Silent Valley Photography
READ MORE: 47 Fun Table Name Ideas
Alternative Top Table Seating Plans
If having a top table is important to you, here are some templates for how to seat divorced and remarried couples at a wedding and keep your top table harmonious.
If The Bride's Parents Are Divorced And Remarried
From left: bride's stepfather, maid of honour, groom's father, bride's mother, groom, bride, bride's father, groom's mother, best man, bride's stepmother.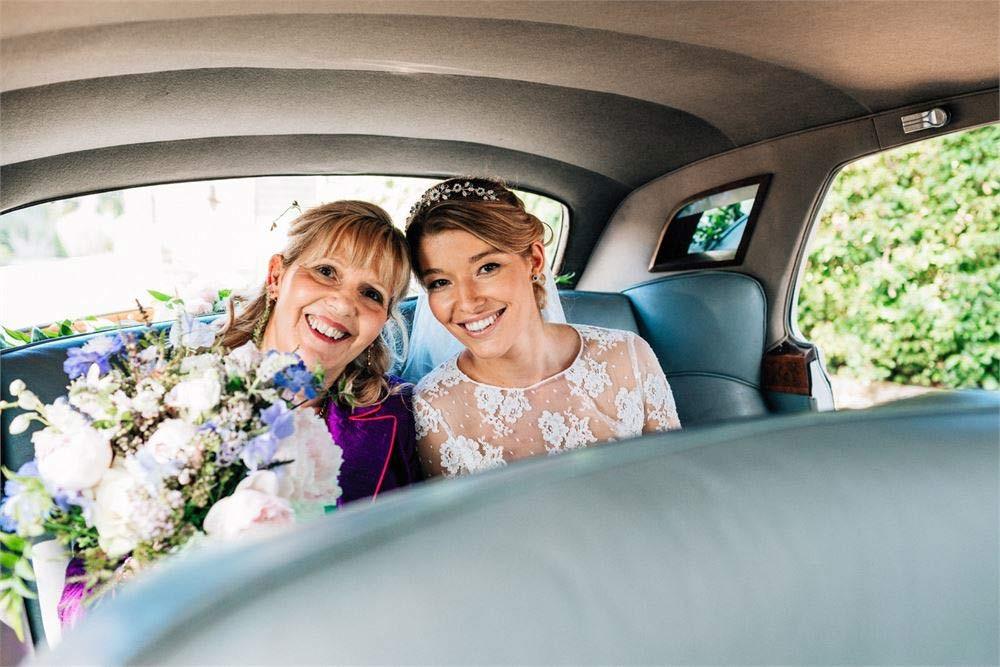 Image: Damion Mower Photography
If The Groom's Parents Are Divorced And Remarried
From left: best man, groom's stepmother, groom's father, bride's mother, groom, bride, bride's father, groom's mother, groom's stepfather, maid of honour.
If Both Parents Are Divorced And Remarried
From left: groom's stepmother, bride's stepfather, maid of honour, groom's father, bride's mother, groom, bride, bride's father, groom's mother, best man, bride's stepmother, groom's stepfather.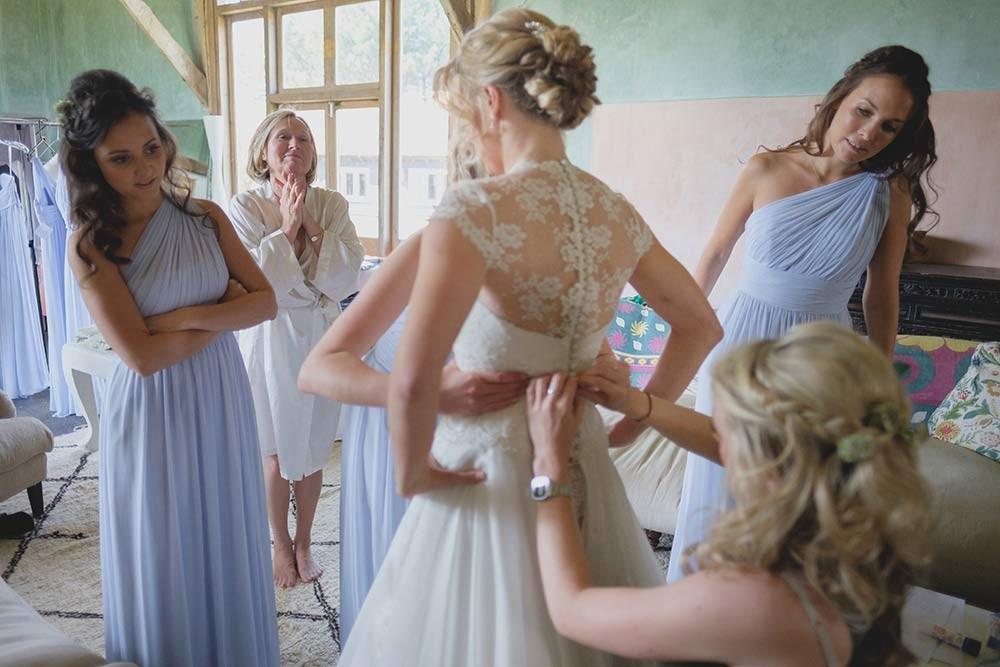 Image: Linus Moran Photography
READ MORE: What Should I Do If A Friend 'Steals' My Venue?
If A Parent Is Widowed
As it is traditional for the top table to alternate male and female, follow the traditional seating plan and even out the look of the top table with an additional bridesmaid or groomsman depending on the gender of the living parent. However, the parent may prefer to not sit on the top table and be seated with close family or friends instead.
William says this is a situation when a top table may not be the right option.
"You may wish to consider one big table or if not then having a smaller top table would be fine – there is a valid un-political reason here and so common sense should dictate the seating plan," he says.
If A Parent Has A New Partner But Is Not Married
In this situation, especially if you do not know their partner particularly well, it is perfectly acceptable to not seat the new partner on the top table. Make them feel comfortable by placing them on a nearby table with people they know, and fill the space on the top table with a bridesmaid or groomsman.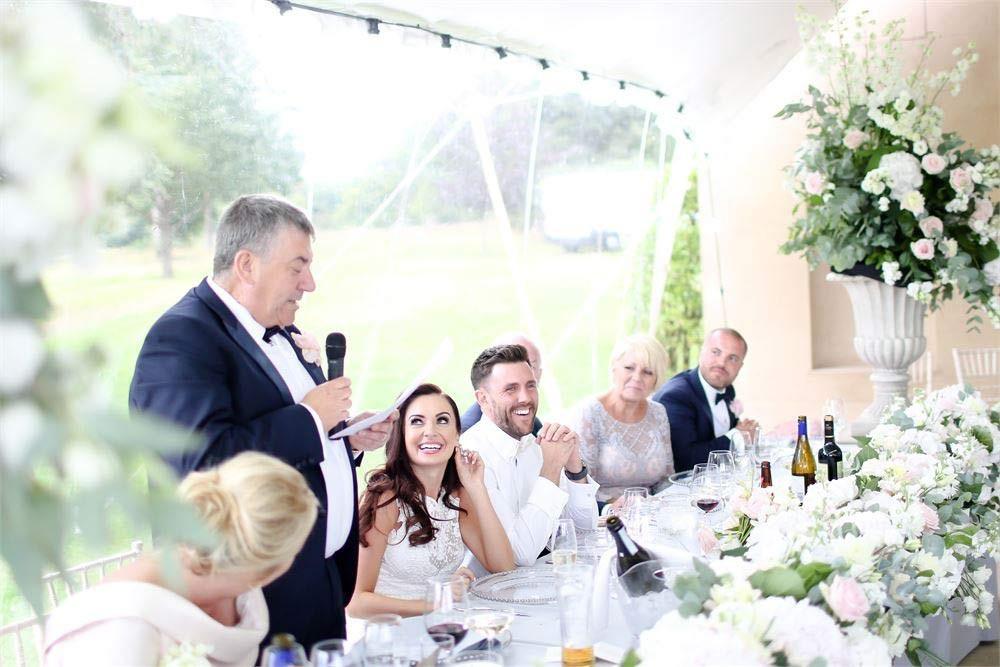 Image: Leslie Choucard Photography
What About No Seating Plan?
If you're tempted to go with no seating plan and hope your family will sort themselves out, don't.
William says of having no seating plan, "It's not bad etiquette but it is bad planning!  There is always chaos at any event where there is no seating plan.  They are there to help, not hinder.
"People like being directed and told where to sit as it takes away a decision and makes their life easier.  It really is better to put people literally in their place!"
The Walk Down The Aisle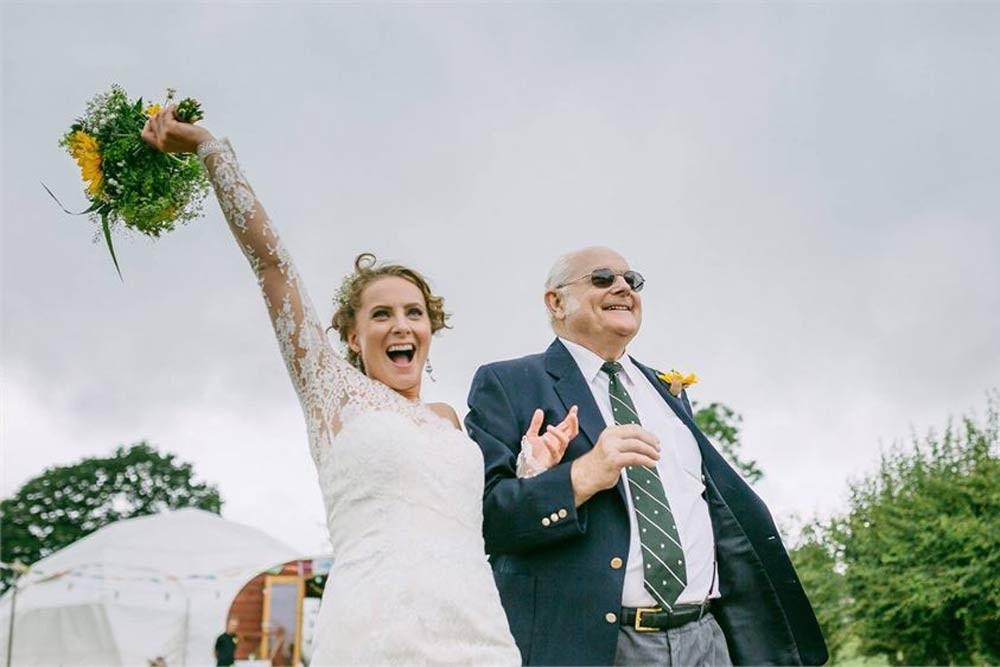 Image: Lucie Hamilton Photography
READ MORE: Unique Wedding Venues You Won't Have Considered
Traditionally, a bride's father walks her down the aisle and gives her away. However, if she is close to her stepfather as well, the bride may want to include him in some way in the big day. There are plenty of key father-daughter moments where she can make a diplomatic choice between who she asks, such as the ride to the ceremony, the walk down the aisle, and the father of the bride speech.
However, there are some moments where etiquette can dictate who accompanies her, says William.
"It really should be the biological father who walks the bride down the aisle, if the biological father is still alive and relations are good.   The stepfather can be involved by perhaps making the father of the bride's speech at the reception.  Having the stepfather escort the bride in the car is fine but it isn't a very visible role for the guests and so the stepfather may be a little put out about it.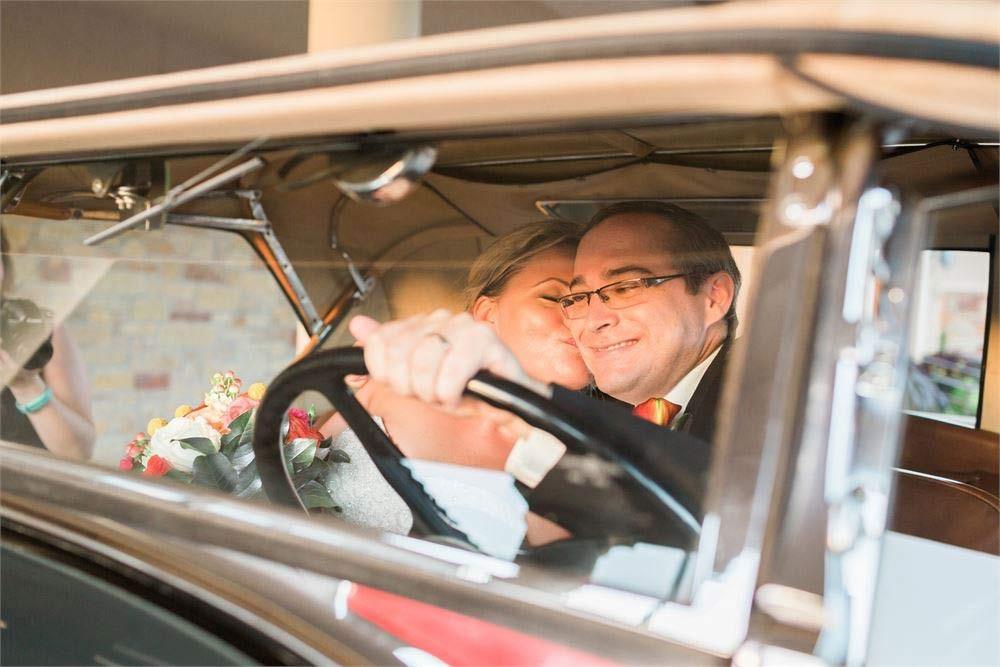 Image: La Belle Bella Photography
"The best solution is to talk about it with everyone ahead of time and try to come to an amicable and sensible solution that doesn't result in the stepfather leading the bride half way down the aisle and the biological father doing the remaining 50% of the aisle! (It's happened…)
"Parents – biological and step – should remember that the day is not about them and their egos, it is about the bride and groom."
What duties a bride asks of her father and stepfather are dependent on her relationships with them. Go with what will make you happiest and ask parents to be understanding. If choosing another family member, like a grandparent, will avoid hurting anyone, then pick this option.
The Receiving Line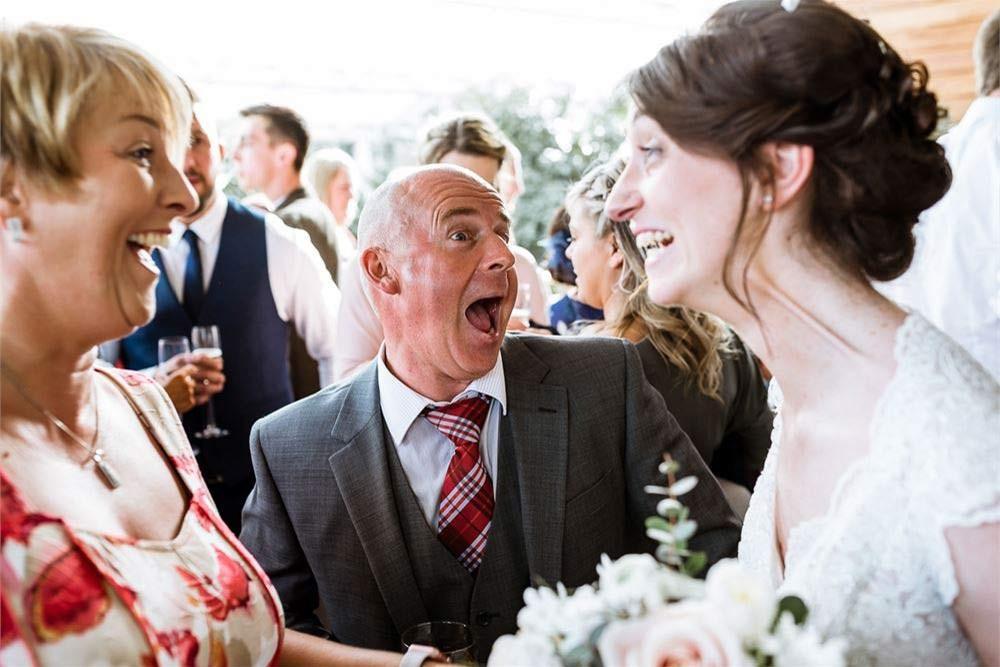 Image: Andrew Craner Photography
READ MORE: Wedding Table Decorations Your Guests Will Love
A receiving line is a great way to greet all your wedding guests, and involves a couple and their parents lining up to say hello to guests and thank them for coming as they walk past you out the ceremony venue or into the reception. Commonly, the order for the receiving line is: bride's mother, bride's father, newlyweds, groom's mother, groom's father.
If parents are divorced, they should not stand next to each other and your maid of honour or best man can be placed in between, both as a buffer and to show the couple are no longer together. If a parent is remarried, it is your choice if their new spouse joins the receiving line, in which case they would stand together.
If you think your parents cannot stay civil this close to each other, keep the mothers in the receiving line and ask the dads to mingle with guests.
The Father Of the Bride Speech And Father-Daughter Dance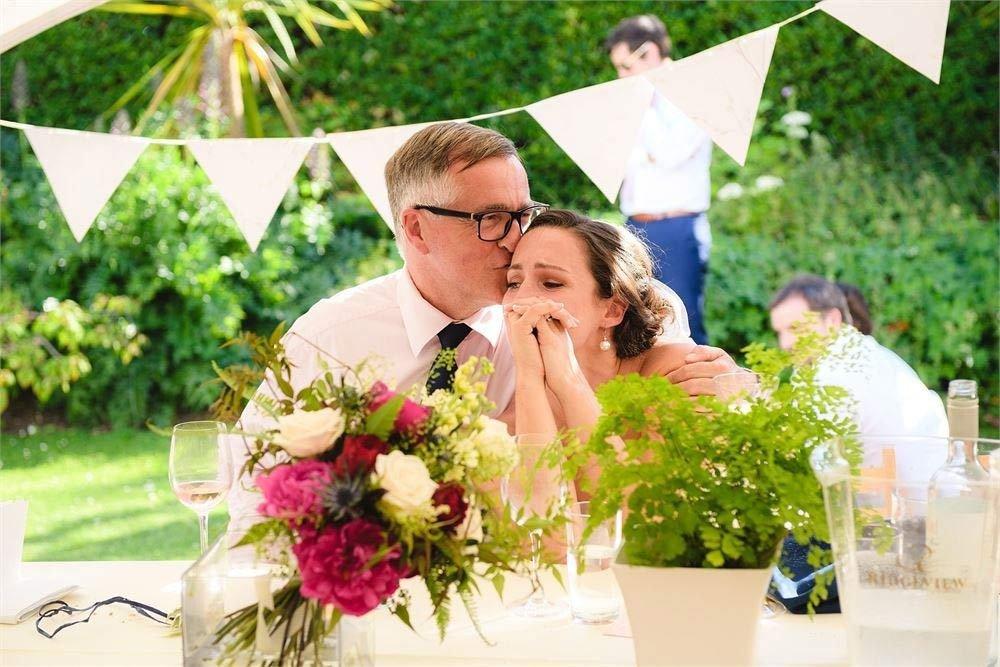 Image: Amanda Forman Photography
If you are going with tradition, it would be the biological father who makes the speech and does the father-daughter dance, and you could ask you stepfather to perform a different duty on the day. If your father and stepfather are on good terms, then they may enjoy doing a joint speech where both get a chance to express their pride for their daughter and both could do their own dance with you with a music choice that reflect their personality or your relationship.
If you have lost your father, the father of the bride speech can be skipped or you could ask an alternative male family member or even your mother to do a speech instead. Similarly, a brother or uncle could step in for the father-daughter dance or you could skip it.
READ MORE: 37 of the Best Father-Daughter Dance Songs
What If My Parents Still Complain?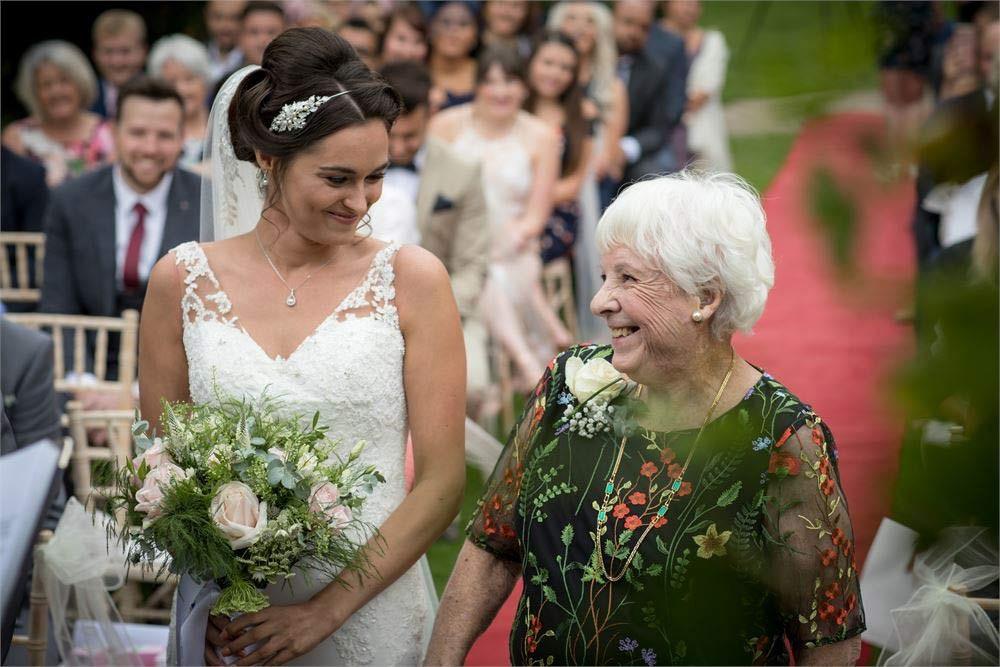 Image: Jeff Oliver Photography
Keep in mind it is your big day and parents will need to be accommodating – you'll do the best you can with seating and planning arrangements but you can't make everyone happy all the time.
READ MORE: How To Plan An Amazing Wedding On A £10,000 Budget
If someone is really grumbling about the seating plan, explain that you want everyone to feel comfortable, including yourself, on your wedding day and if they'd be happier on a different table, you can move them there. Then you've given someone an option, it's their choice whether they stay on the top table or are moved elsewhere, and you shouldn't be made to feel guilty about their decision.
You can find more advice and etiquette for parents paying for your wedding here or take some photo inspiration from our gallery of emotional father of the bride photos.