31 Fun and Delicious Wedding Canape Ideas
Canapés can be one of the most interesting, ambitious, visually stunning and delicious treats on your wedding day. Check out 31 fun ideas...
We have included third party products to help you navigate and enjoy life's biggest moments. Purchases made through links on this page may earn us a commission.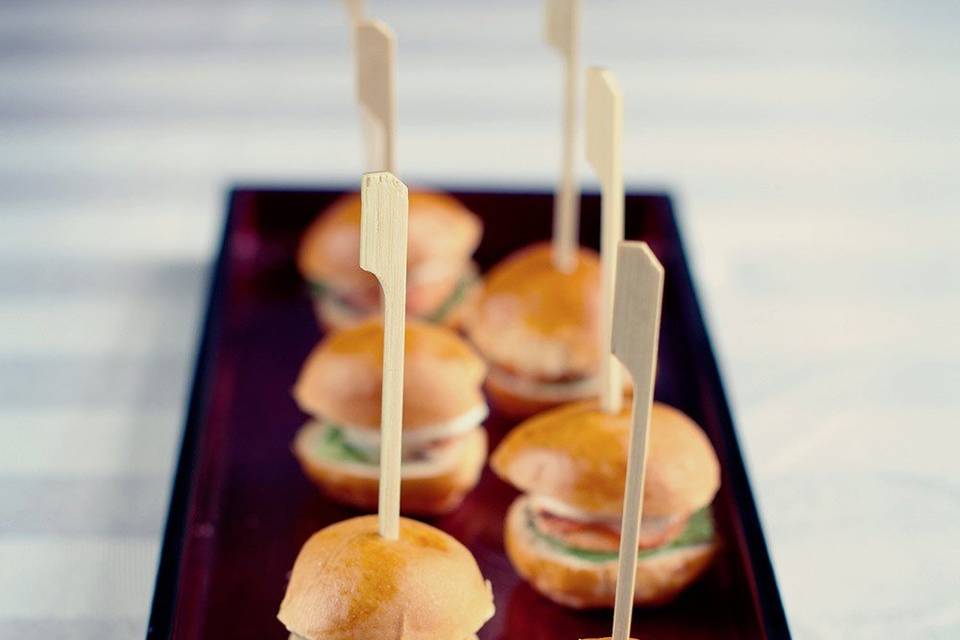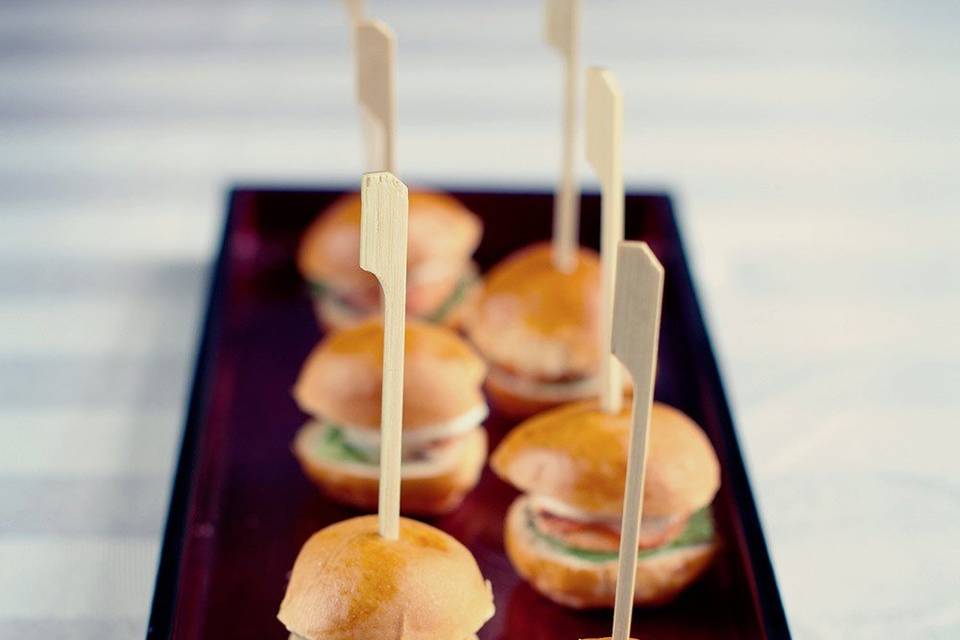 Whether you're a passionate foodie, or you want everything on your wedding day to look wonderful, serving amazing canapés is sure to impress your guests – and tickle their taste buds!
Canapés are also a brilliant way to stave off guests' hunger pangs if there's a significant gap between the ceremony and the wedding reception – and they go seriously well with a beautiful flute of champagne.
If you're looking for fun wedding canapé ideas, we've found 31 inspirational bites to turn up your appetite – and your creativity. Whether you have a fresh Spring menu or you will be serving some delicious winter wedding food, you should find a menu perfect for you!
Designed by The Brewery in London, these colourful canapés are made with cubed salmon, sour cream and caviar and served with fabulous pea veloute pipettes.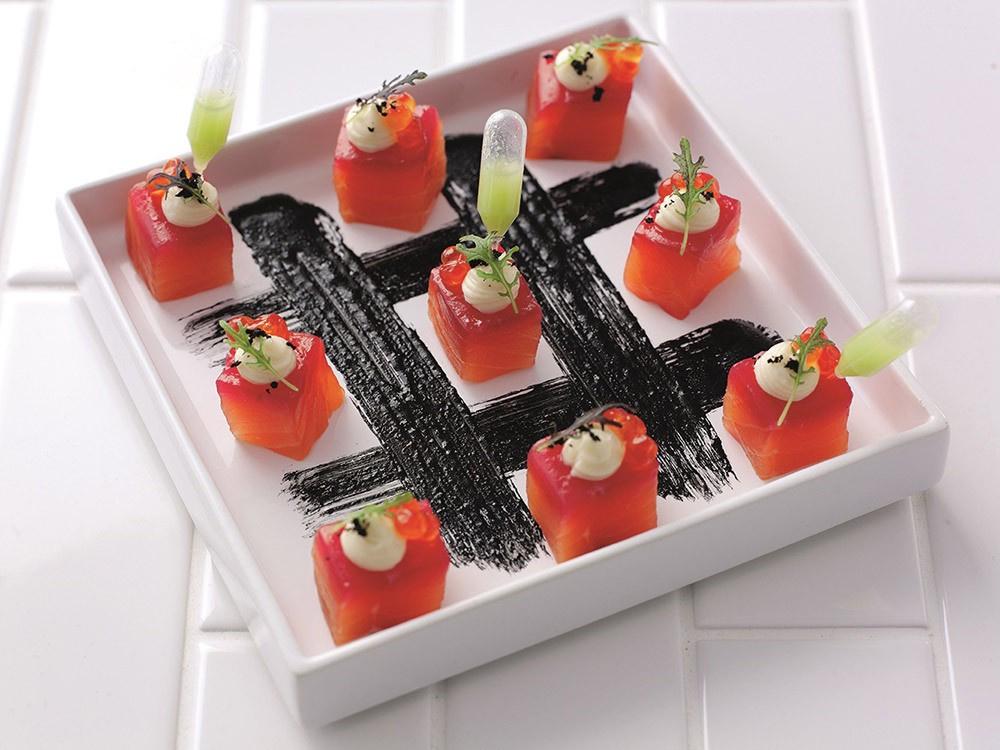 If you're looking for a summer wedding canapé idea, it's hard to beat Michelin starred chef Josh Eggleton and the Pony Kitchen team's Pimm's rocket lollies. Great to refresh reception guests as they relax on a lawn or terrace, they feature a strawberry puree layer, a ginger and Pimm's layer and a refreshing cucumber and citrus layer.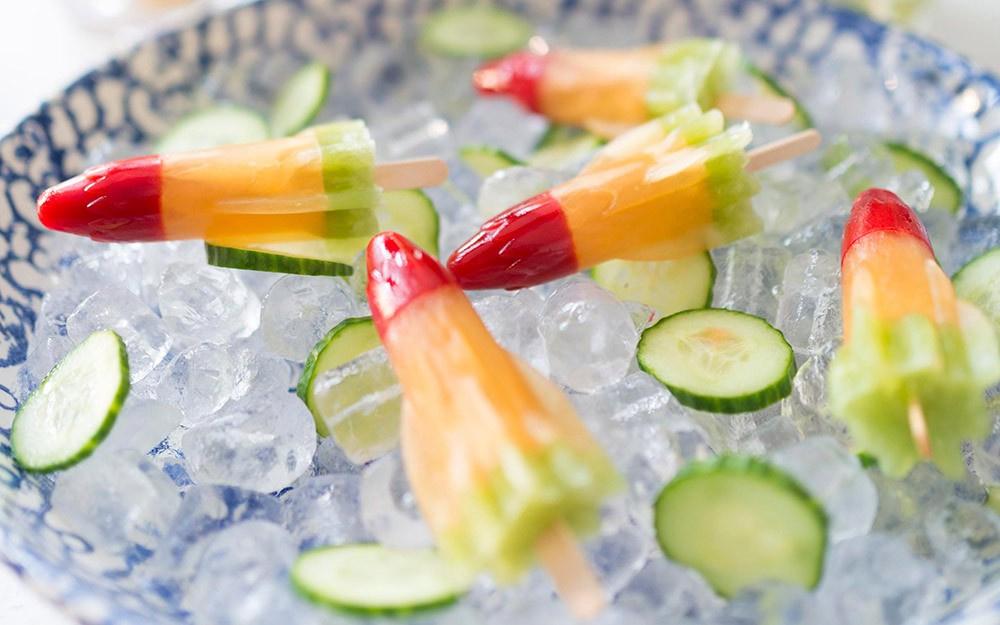 Deelishus Catering served these classic blinis with red and yellow light sticks for an unusual effect.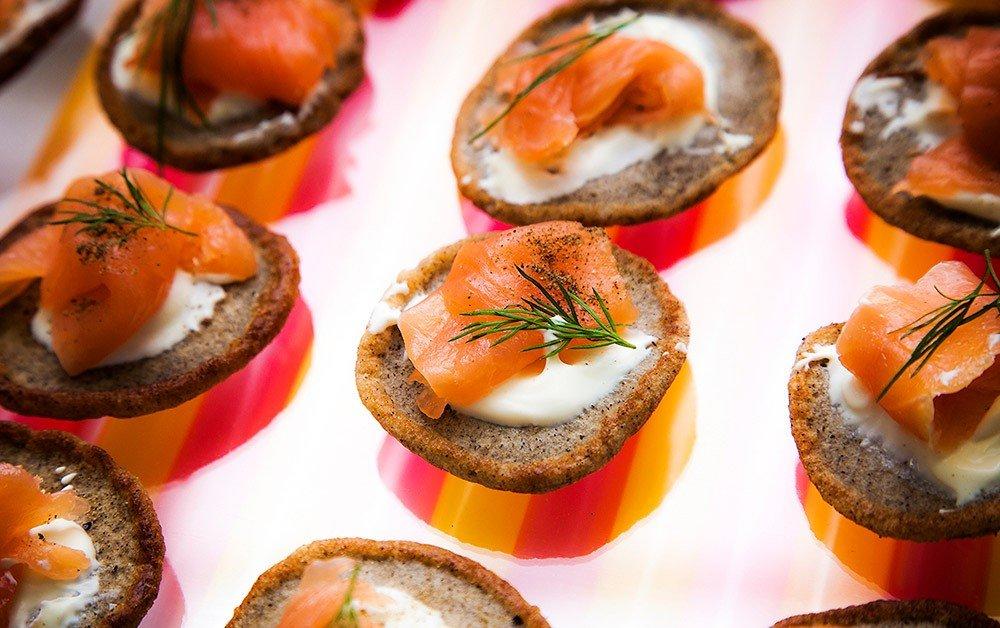 They may look like little burgers, but these creative canapés are made with lobster. Designed by Food by Dish the succulent lobster sits on a beautifully soft, miniature bun.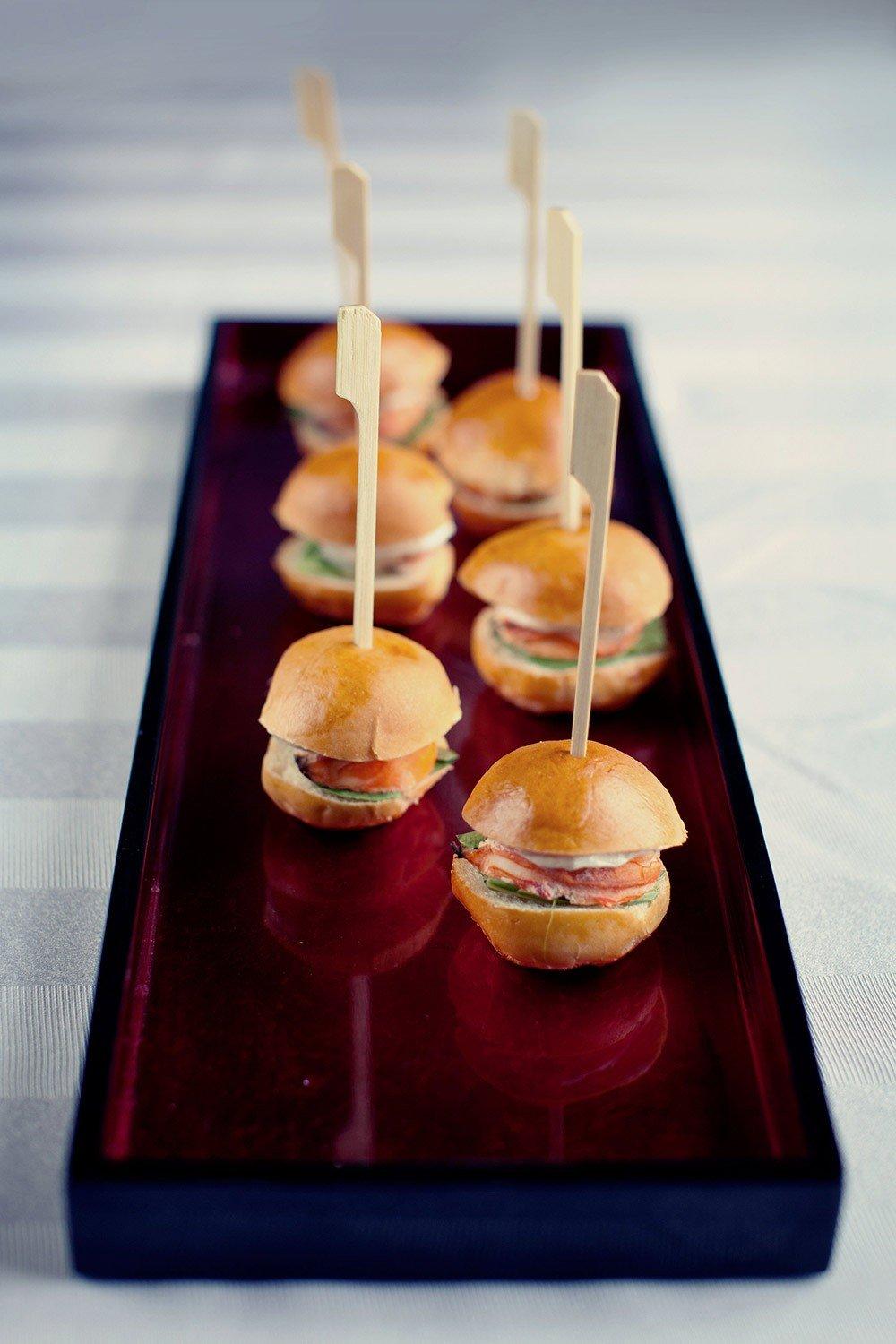 We're willing to bet your guests have never tried scallops like this before: Josh Eggleton and team devised these "scallop pops" – fresh scallops covered in dry cured ham.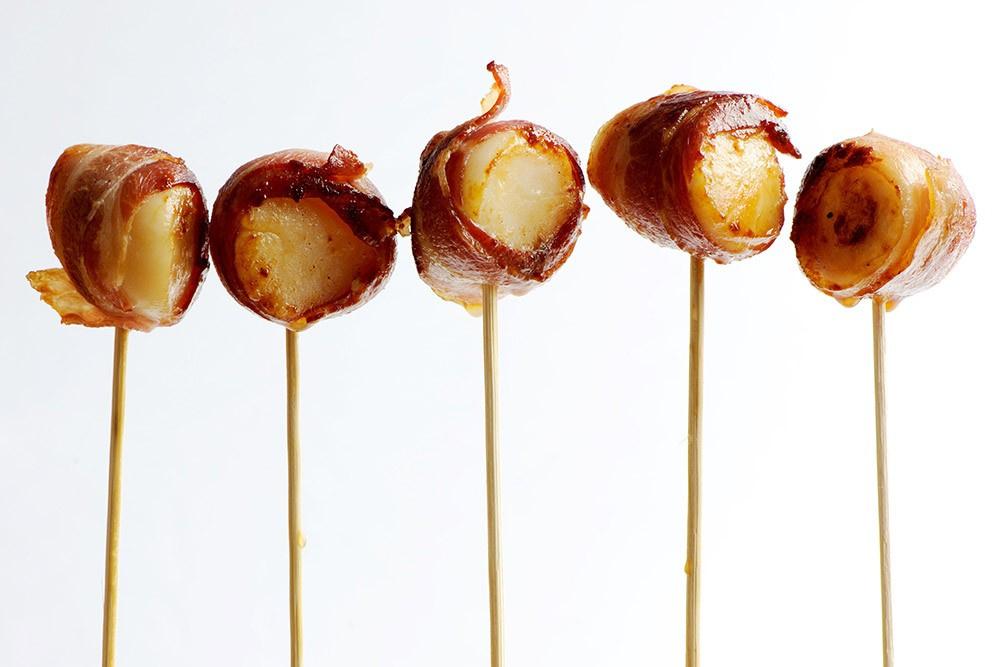 Sticking with the seafood theme, if you're having a beach or seaside wedding venue, how about this beautiful beach party platter from PenniBlack? Tuck into crispy chilli, baby octopus, buckets of beer battered fish, chips and mushy peas, tiger prawns, "strawberry ice cream" seafood cones filled with crab, avocado and salmon, and a crunchy samphire, halva sand, blue Curacao and sauternes jelly garnish.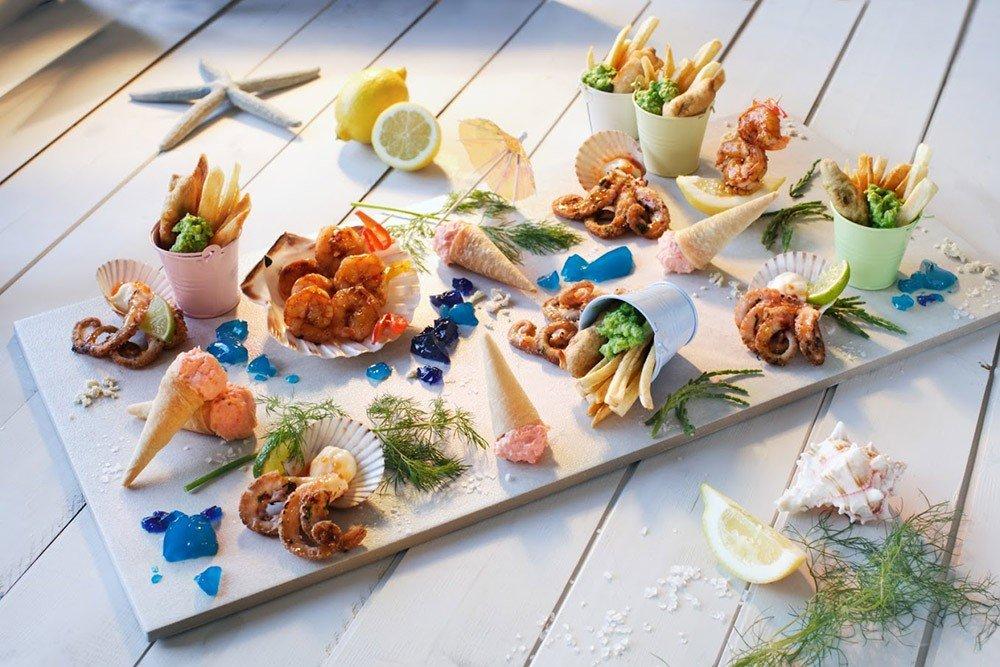 For a simple, delicate canapé – that's still lots of fun – James Hurworth at Mustard Catering cooks these tiny quails eggs one by one for each guest to savour.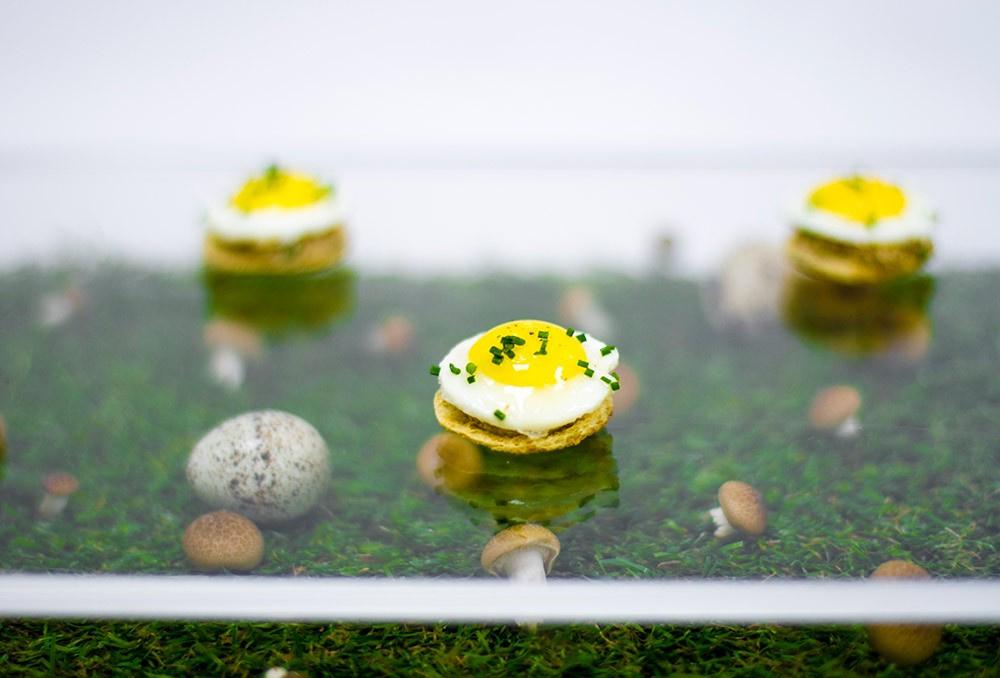 Liquid canapés go down a treat – and shot glasses make the perfect receptacle. Created by French chef Julien Carlon from Cigalon in London for Olivence, the Provence Olive Oil Society, this watermelon gazpacho is made with Castelas fruit noir olive oil, watermelon, red pepper, garlic, ripe tomato and Espelette pepper.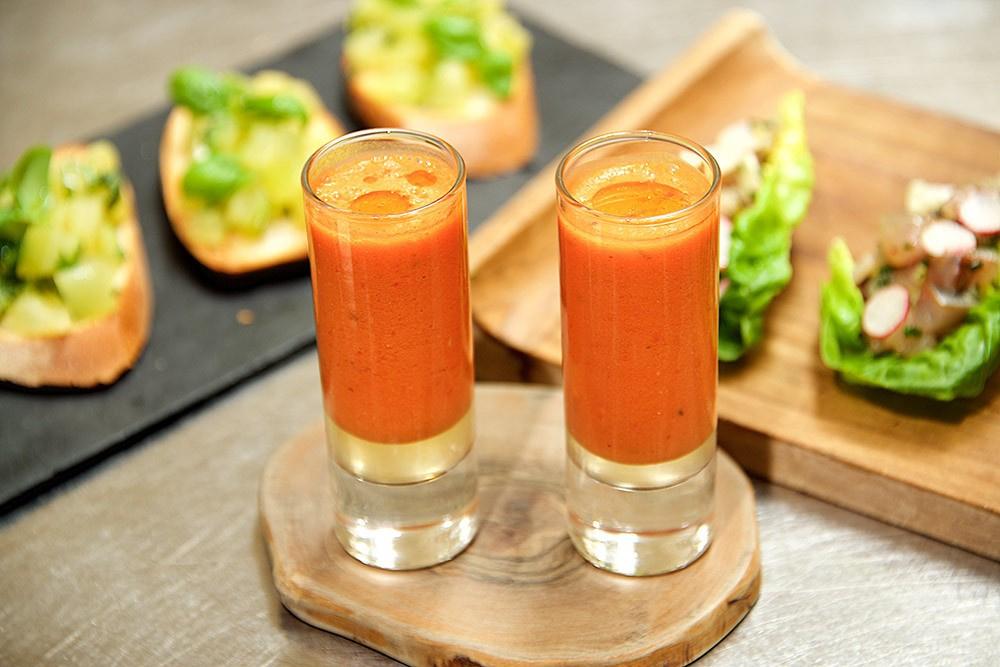 Caesar salad is a classic starter – and the At Home Catering team has turned it into an inspired canapé idea by serving as a wrap – using a roll of prosciutto.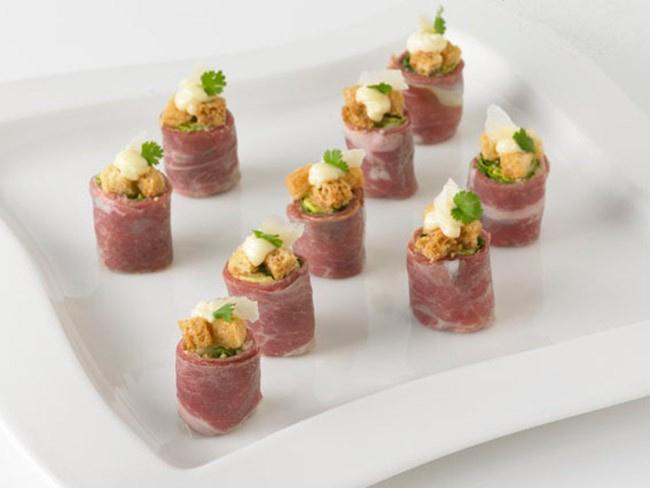 Carpaccio brings a flash of colour to your canapés: made by Beales Gourmet these beef carpaccio ciabatta toasts are served with truffle mayo.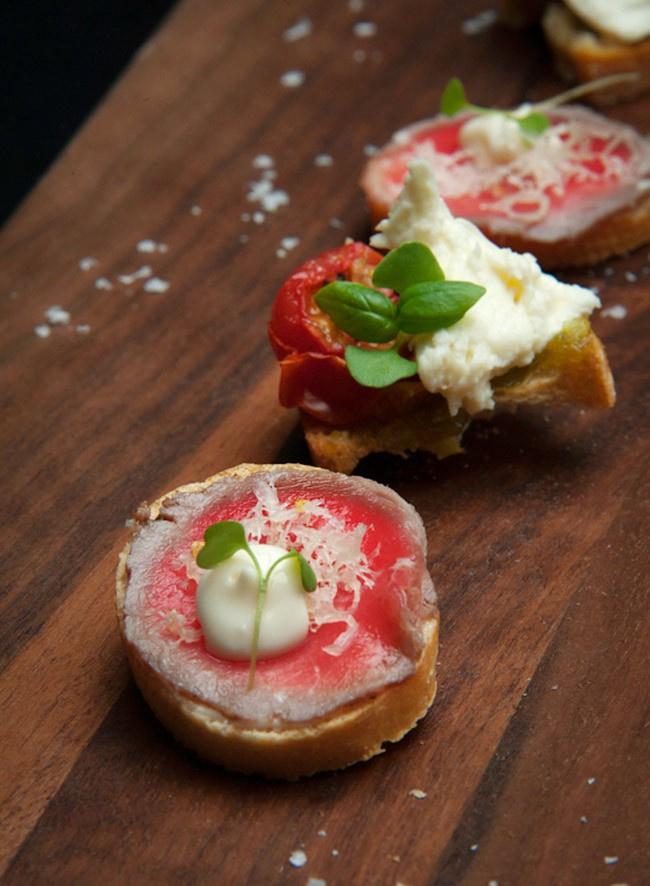 If you love Indian food check out Gail Dandy's little poppadoms filled with chicken bhuna and served with raita. If you are planning a wedidng with an Asian menu then you might also wantto look at some of our favourite Asian wedding venues.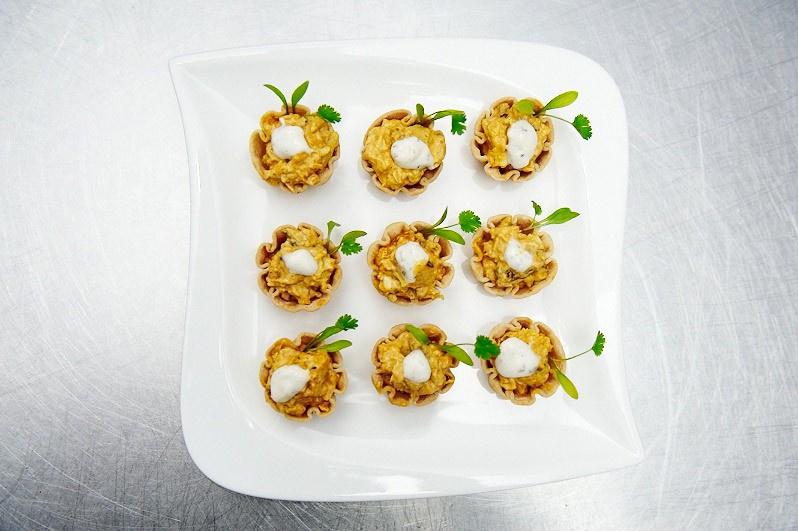 Served on salad spoons, Beales Gourmet created these mouth watering canapés: feta and courgette roulade and grilled chicken Caesar.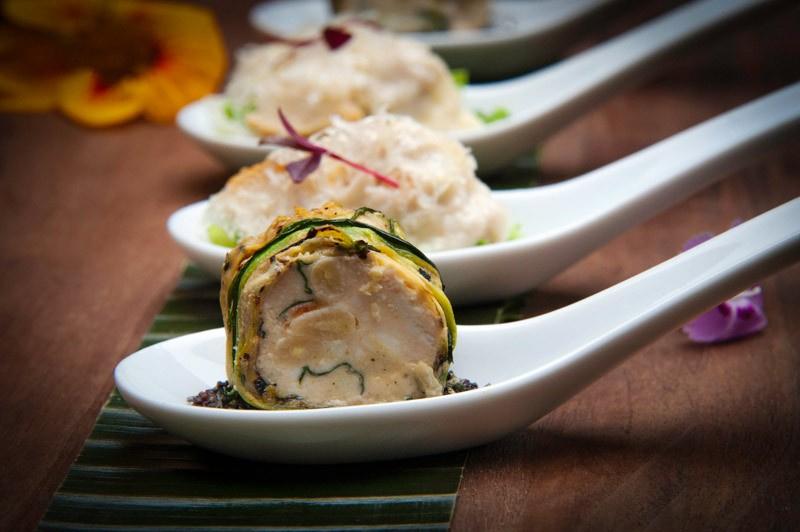 Another twist on a much-loved French starter, these colourful tuna nicoise skewers by At Home Catering look breathtaking.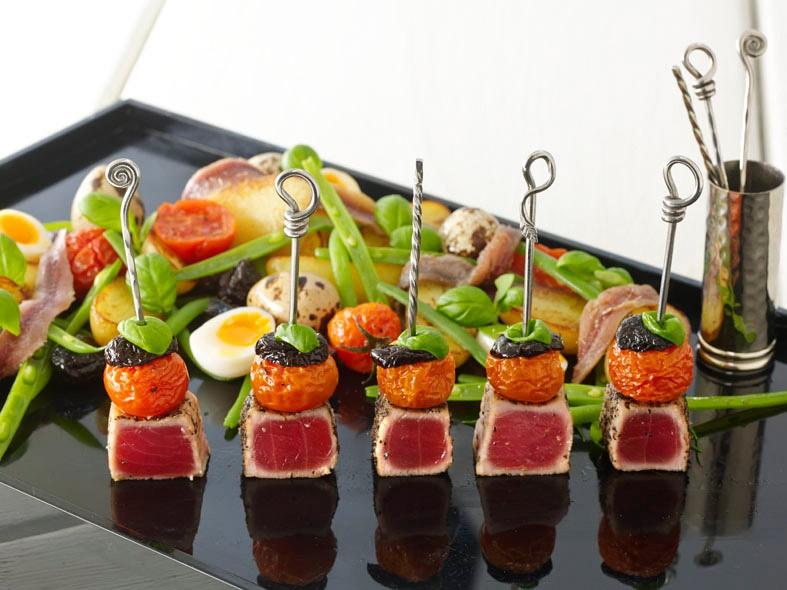 Caroline Gent jazzes up these crisp and simple wild mushroom arrancini with fresh flowers.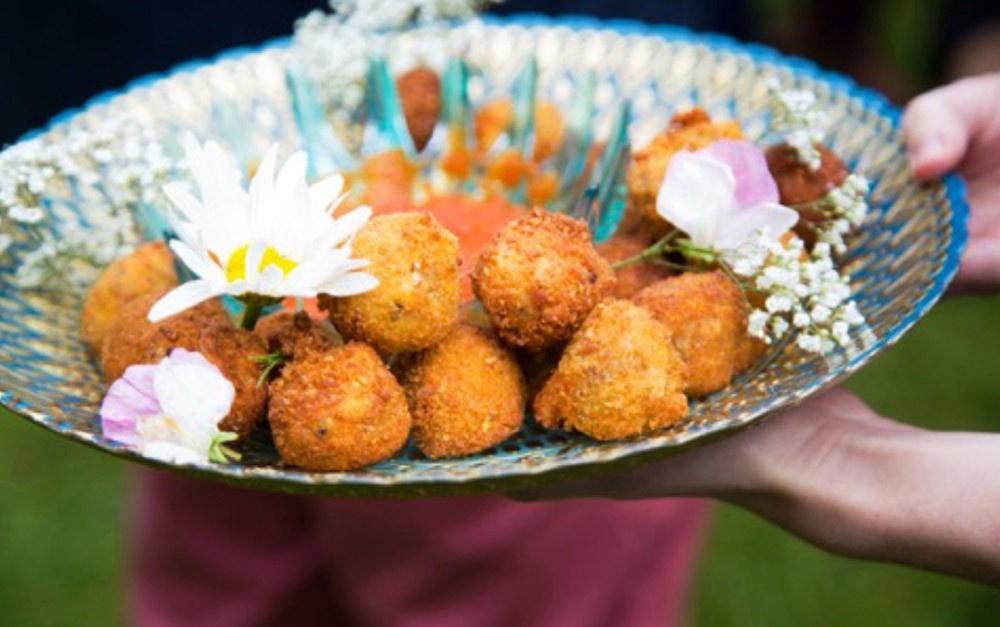 PenniBlack's tribute to the classic pub platter is genius: this one showcases a mini "Pint of Guinness" (a broth of beef, mushroom and porter beer with a truffled cream topping), mini beef burgers with vintage cheddar and tomato chilli jam, mixed game and blueberry puff pastry pies, "Jenga" fries and plant pot dips, courgette plant pots with pepper and asparagus "plants".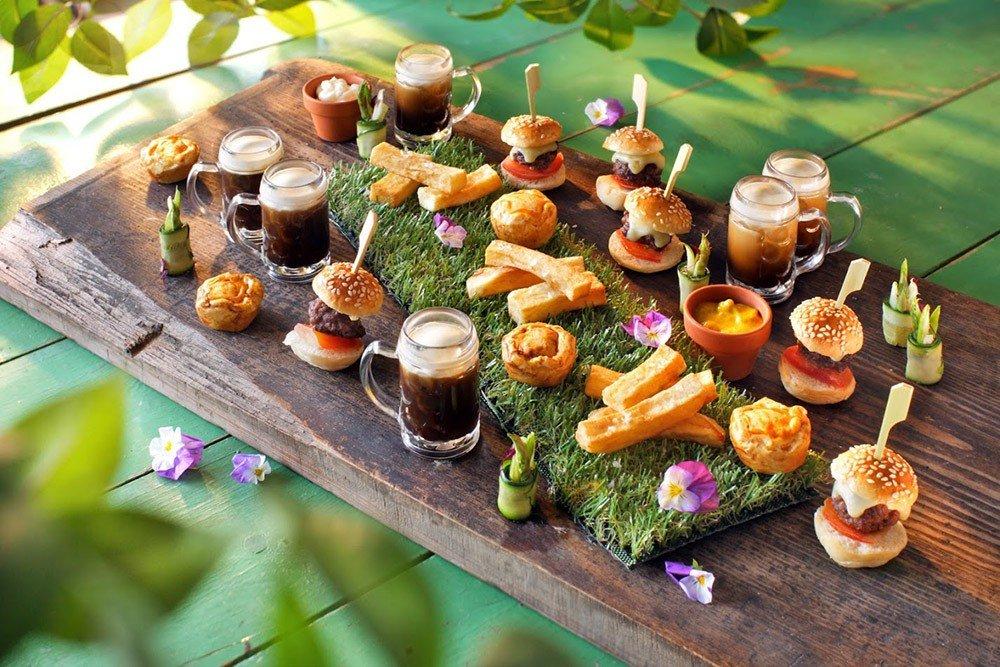 Deelishus Catering use picture frames to serve their canapés – you could use framed photos of the bride and groom, fun snaps of the guests or images that suit your wedding theme.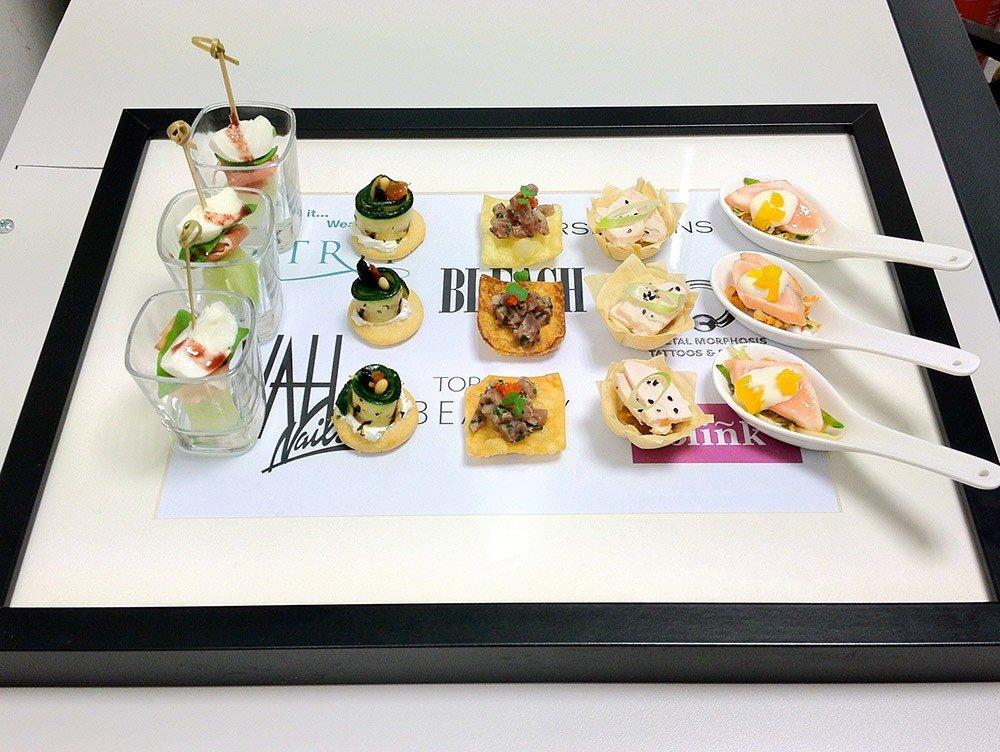 Talking of beautiful presentation, these beetroot and basil treats by Josh Eggleton look almost too good to eat served on silver spoons.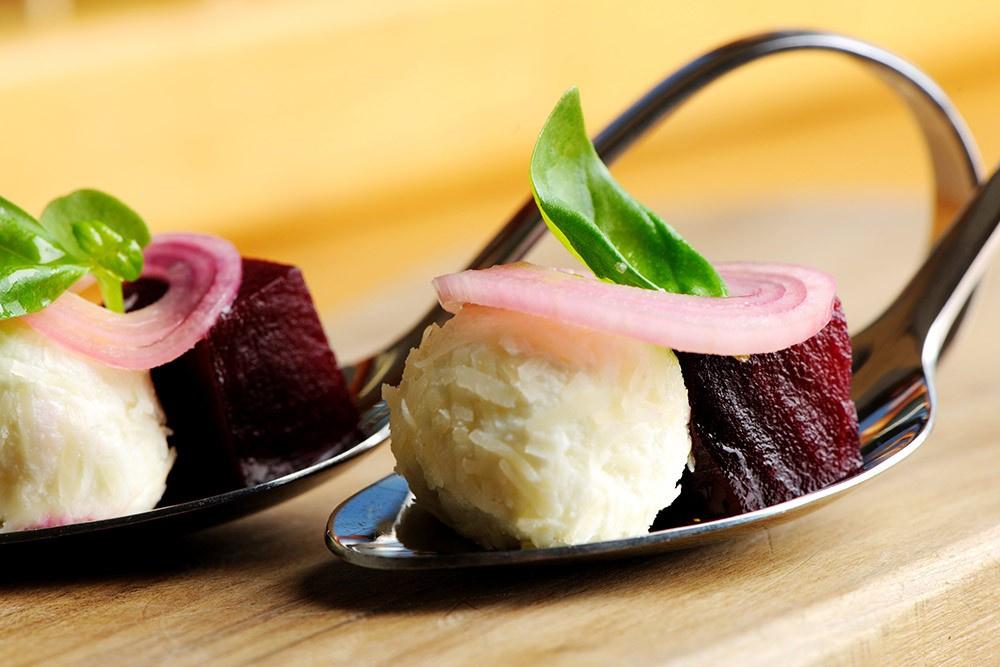 Having a Bond-themed wedding? Or a cocktail reception? Check out these smoked salmon martini canapés by At Home Catering.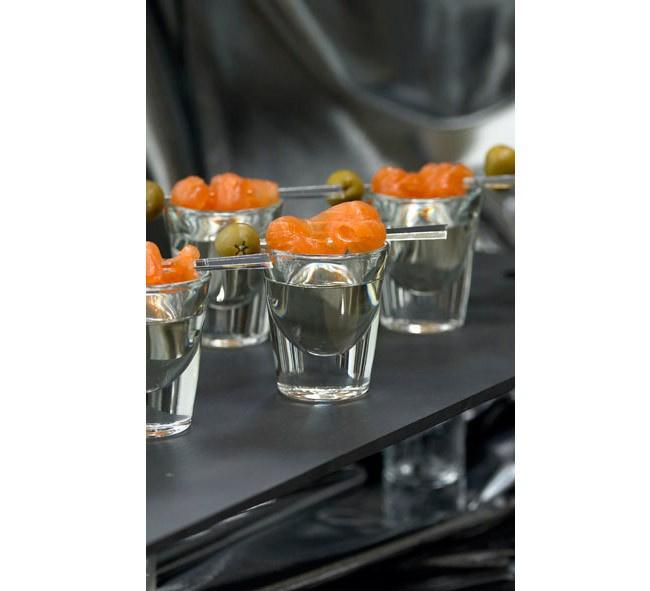 Simple canapés can look stunning served on gleaming porcelain platters. Keith Goddard Catering made these beautiful bites with crispy polenta, tomato fondue, tomato salsa, pickled shallot and baby basil.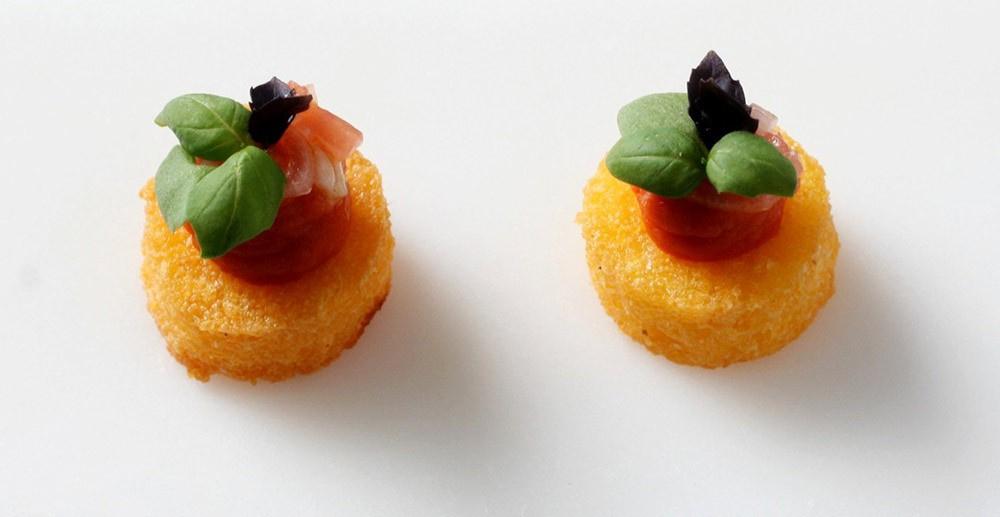 If you're looking for a fun, Great British canapé, these toasty bites by Beales Gourmet are just the ticket: treat guests to Cumberland sausage and mash with Dijon foam on toast, and duck liver parfait with fig chutney and Sauternes foam on brioche toast.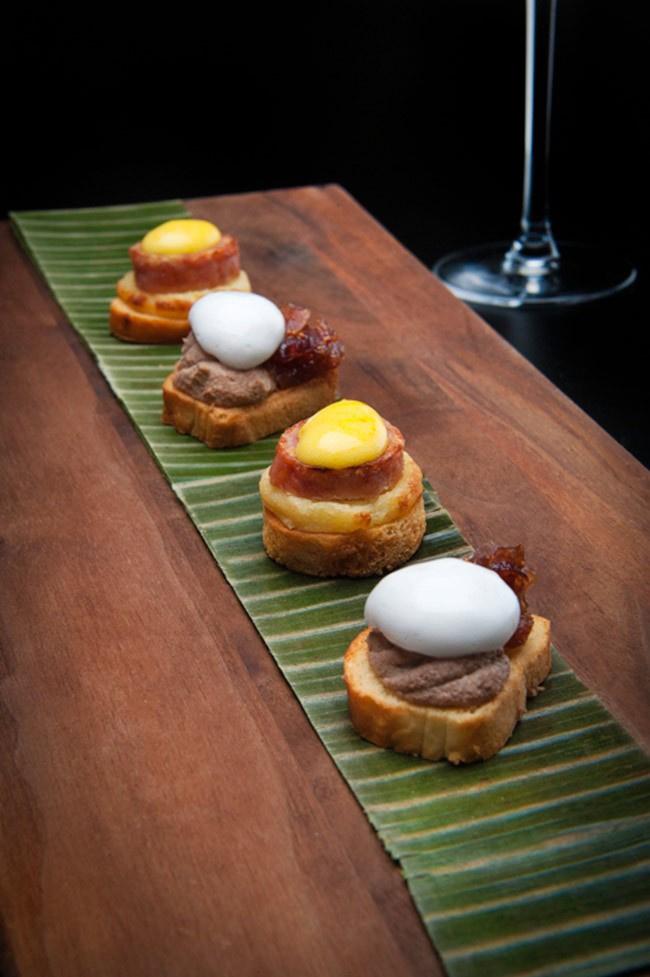 For a twist on tradition, Sarah Hammond, food director at Rhubarb created these cute salmon and cucumber sandwich canapés. To get this effect, Sarah rolls bread through a pasta machine, to a 2mm thickness, then fills with salmon and pan-fries.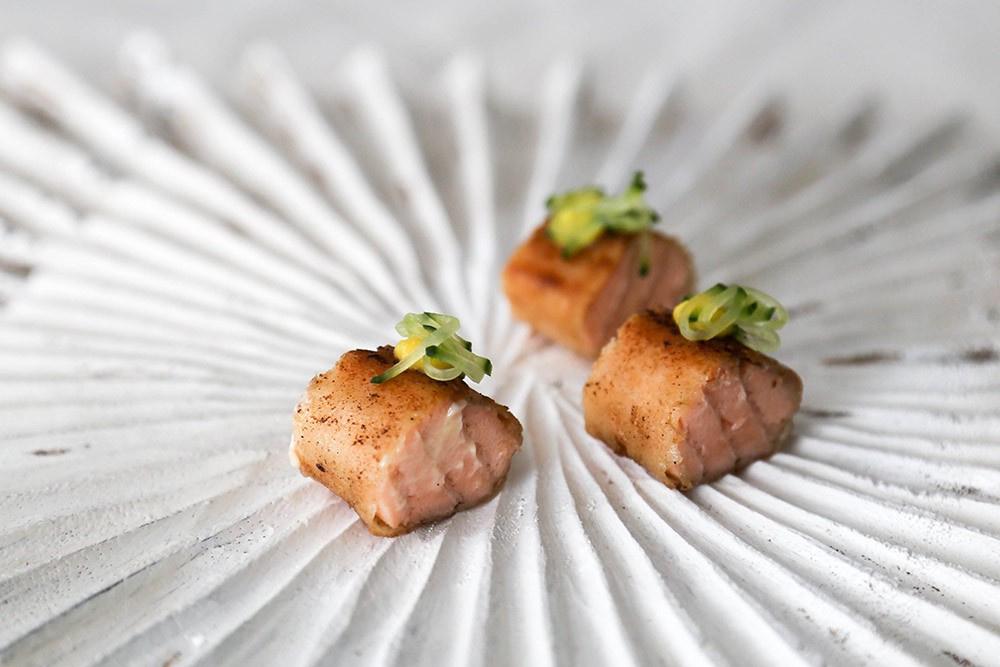 Charcuterie canapés go down a storm with meat lovers – and for something a little different, Great Glen supplied the wild venison charcuterie for these meaty creations.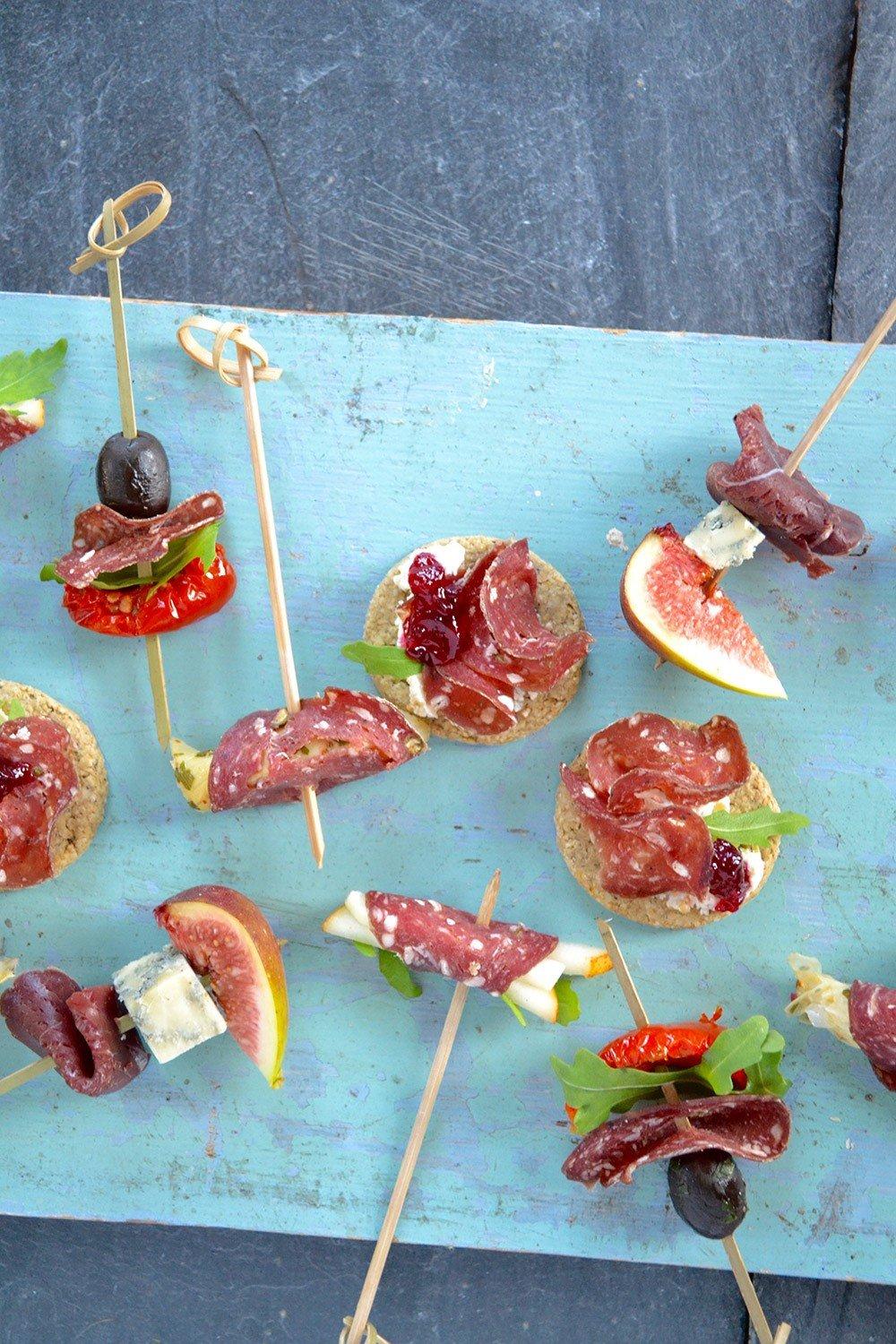 Fancy a rather refined club sandwich? The Brewery made these delightful club canapés using crispy chicken skin, rosemary scented mascarpone and pancetta jam.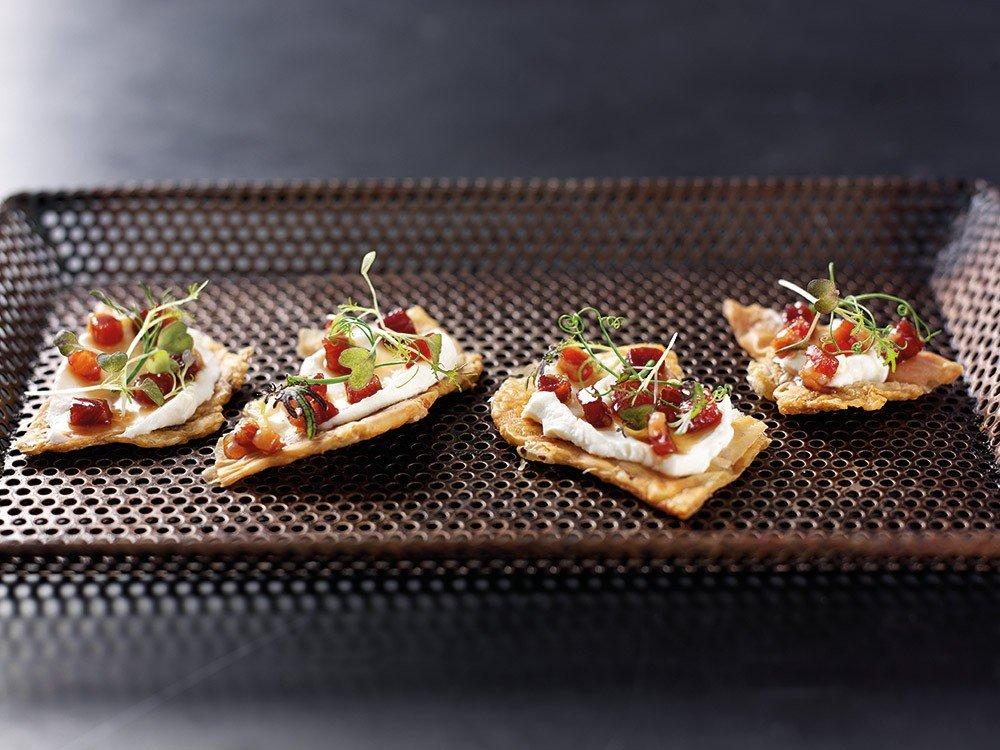 More in the way of finesse from Rhubarb's Sarah Hammond who takes a classic Indian starter to a sophisticated level with these elegant turkey bhajis.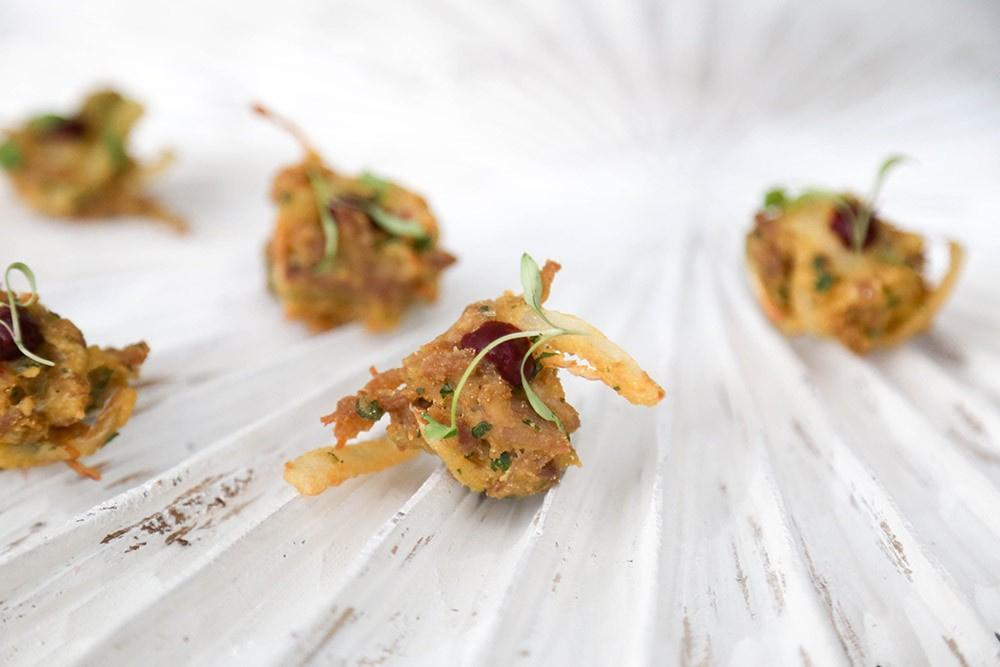 Tuna is a great canapé ingredient. Designed by Food by Dish and served on sticks, this light, yellow fin tuna canapé with cucumber, pickled carrot and radish is great with a glass of champagne.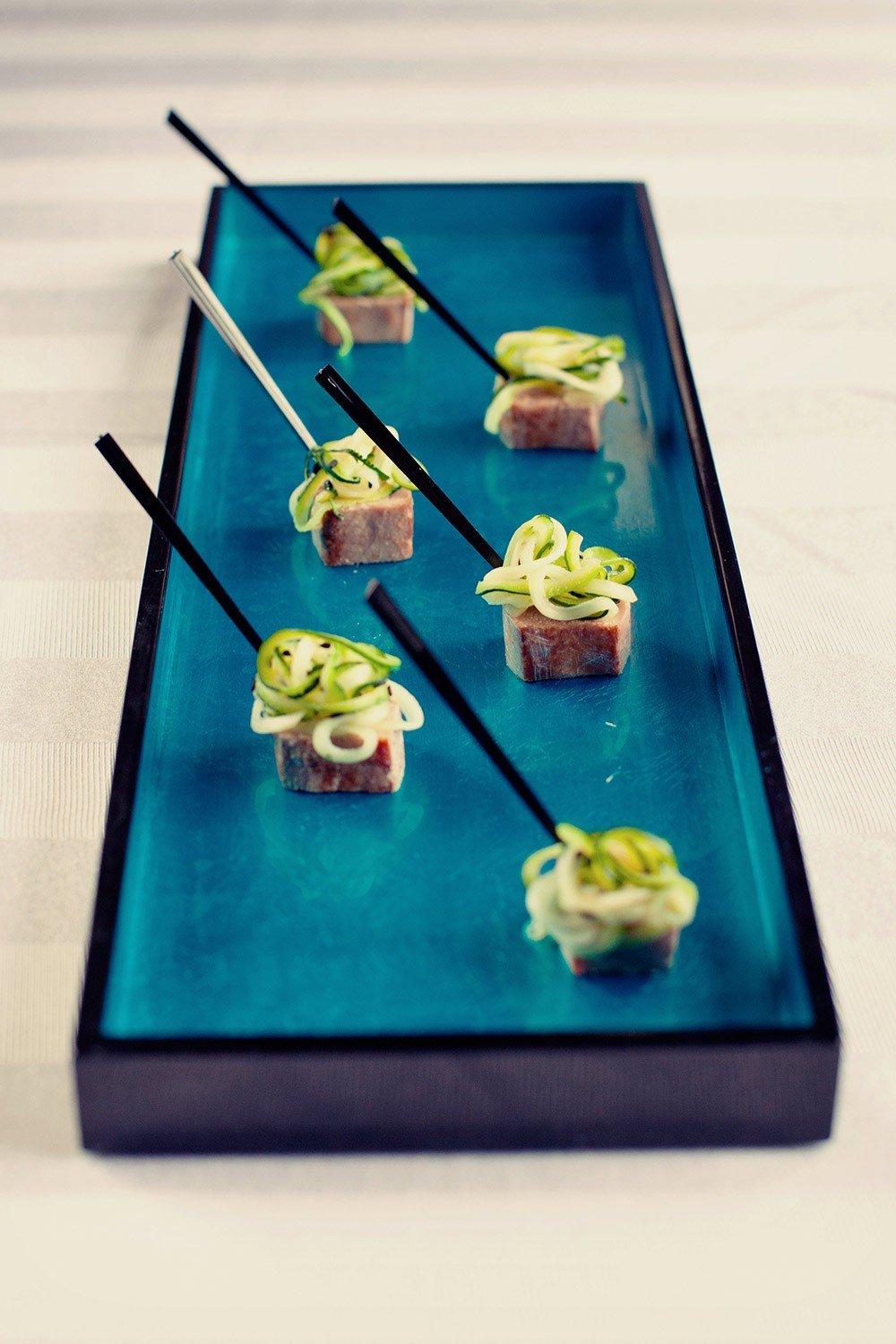 A floral touch makes Beales Gourmet's tempura king prawn canapés, with a sweet chilli dip, look divine.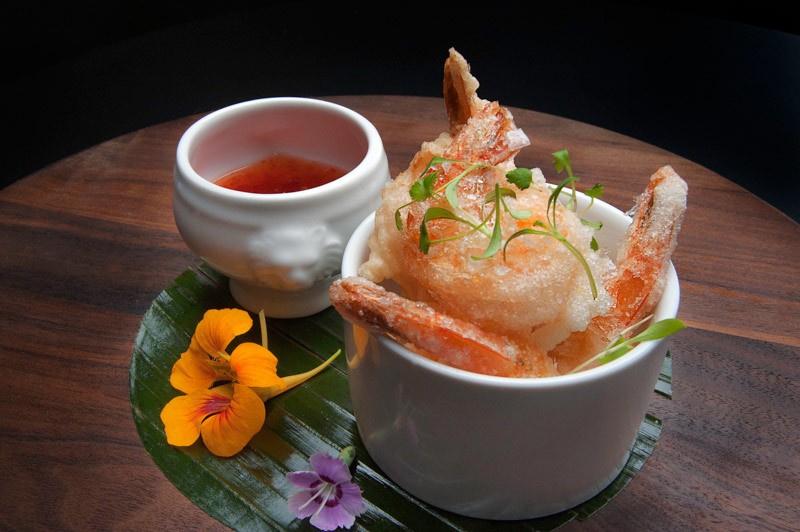 A great serving idea for weddings with a music theme, these mini burgers were presented in a flight case by Deelishus Catering.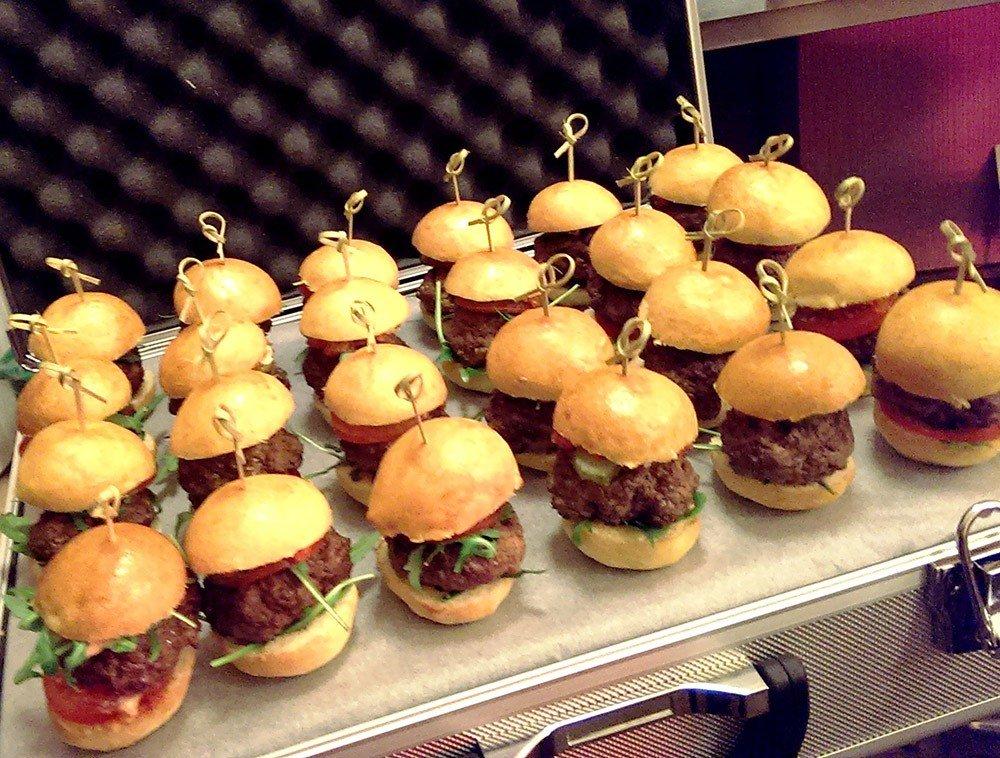 Blurring the line between sweet and savoury is a great foodie trick – and lots of fun. Take Sarah Hammond's "chestnut pebbles": chestnut macaroons filled with a foie gras parfait and chicory jam.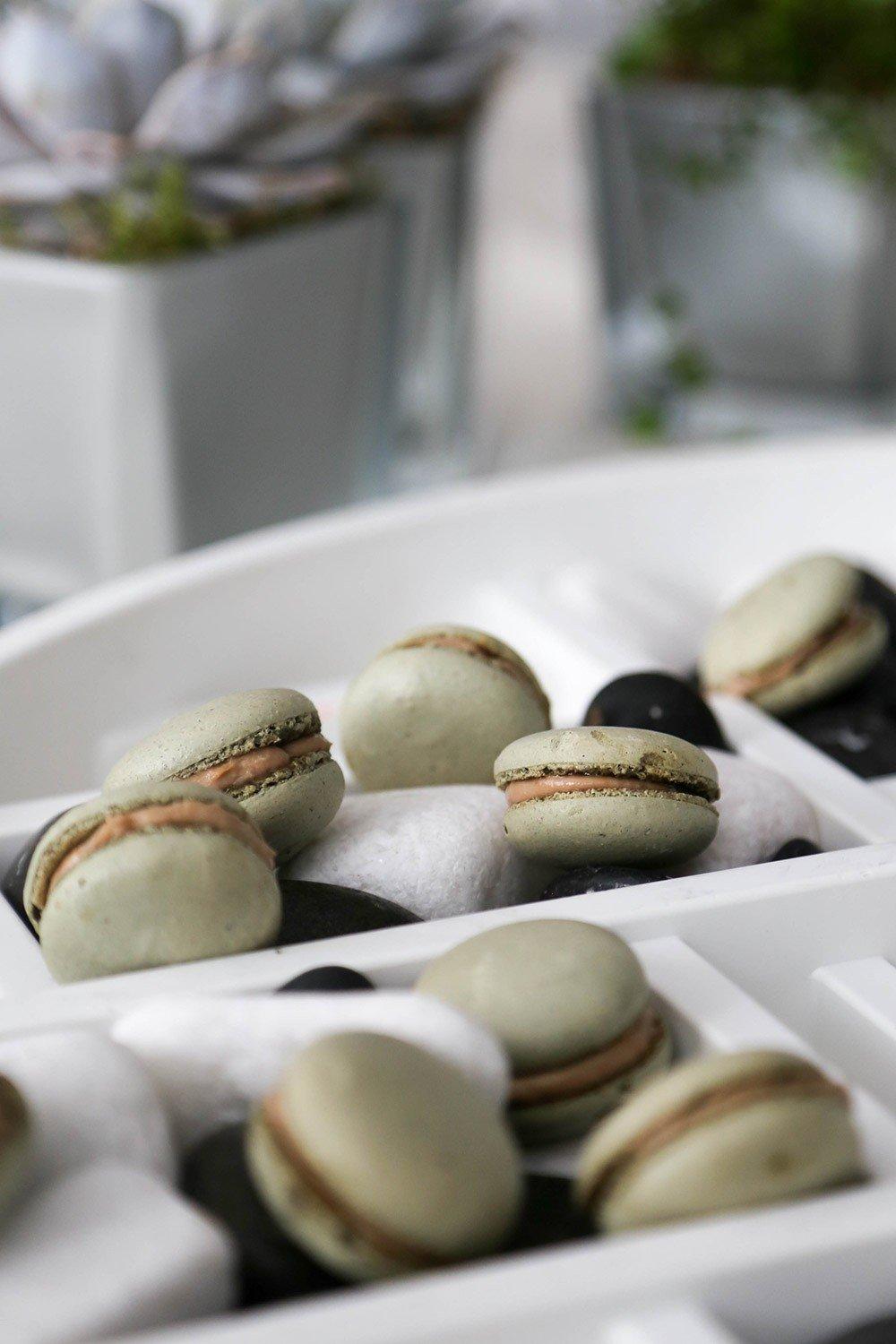 Designed by Purple Grape Catering this savoury profiterole, filled with smoked duck parfait and spiced pineapple chutney, was served at a woodland wedding with a Midsummer's Night Dream theme.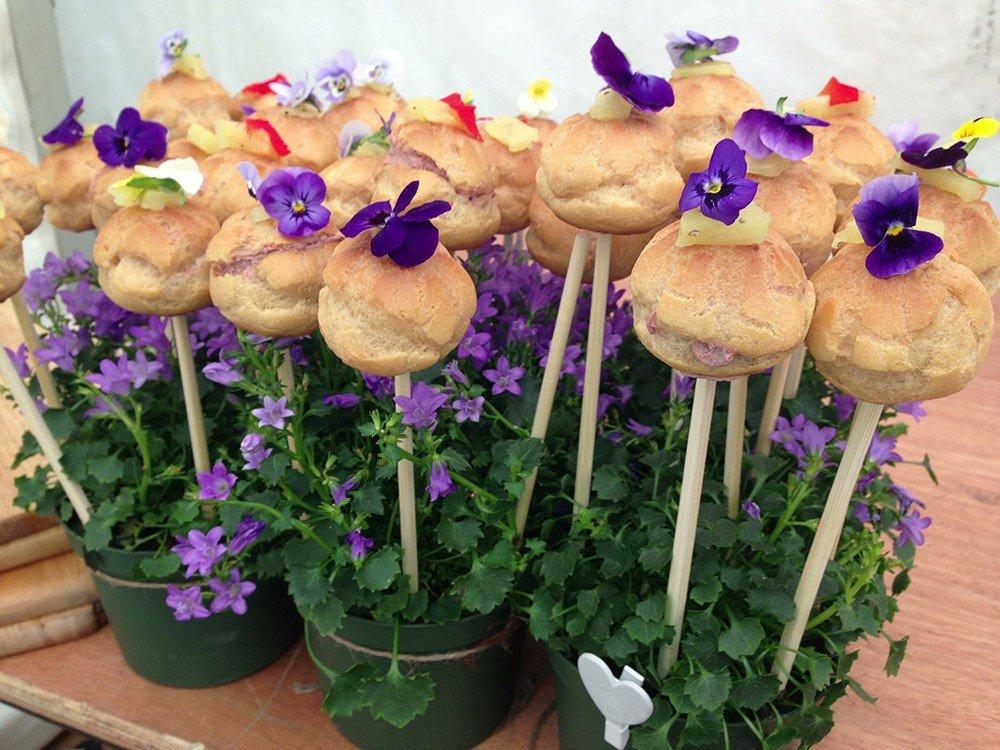 And these parsnip panacotta and parsnip crisp canapés by At Home Catering look fabulously decadent.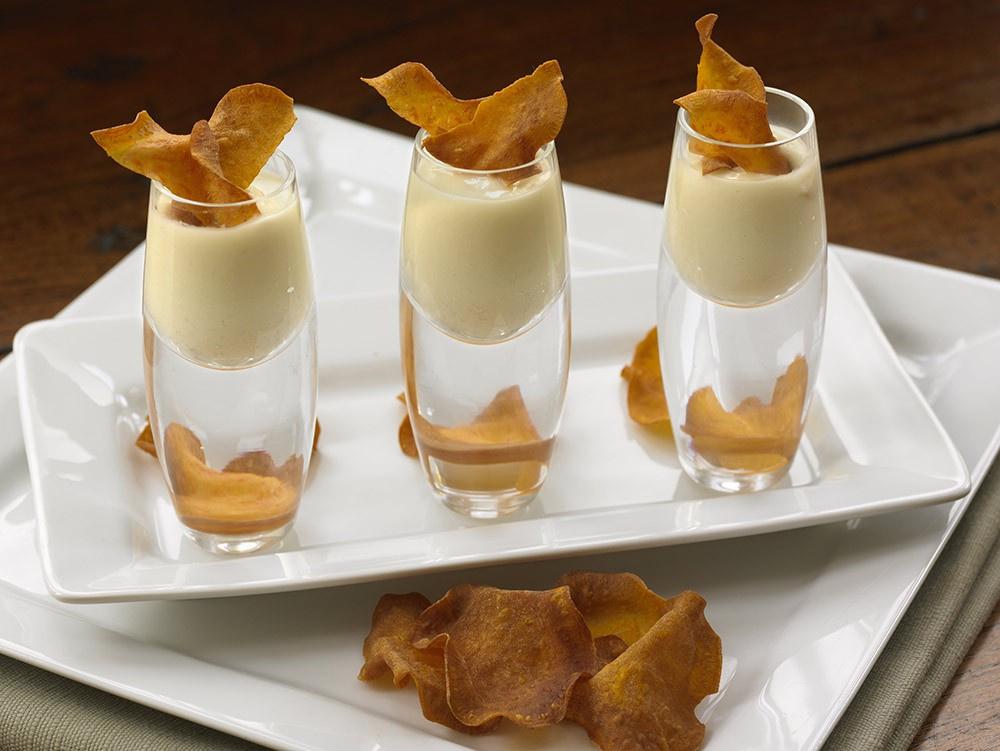 If you're looking for sweet canapés, keep it classic with mini versions of everybody's favourite puddings. Beales Gourmet serves chocolate dipped strawberries with tiramisu shot glasses, deconstructed lemon cheesecake spoons, chocolate and Cointreau tarts and mini chocolate brownies with chocolate ganache and hazelnut praline. Yum!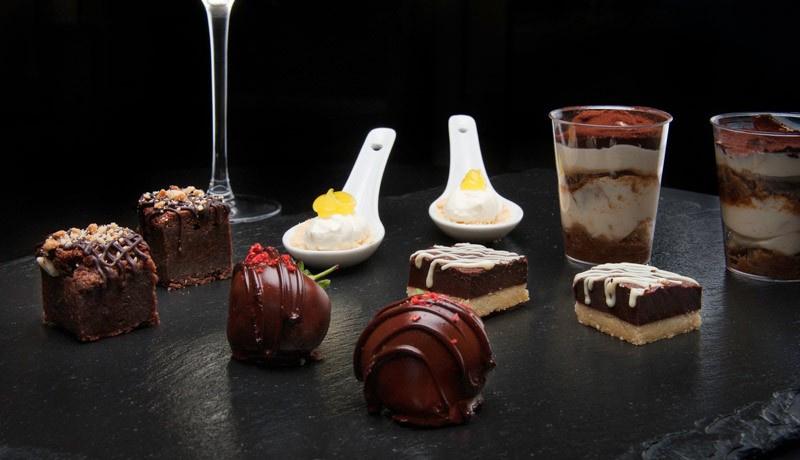 If you are looking for more ways to tease your guests' tastebuds then why not consider some chocolate wedding favours?