42 Simple Engagement Rings for Modern Brides
On the hunt for something fuss-free and elegant? We challenge you not to fall in love with these simple engagement rings...
We have included third party products to help you navigate and enjoy life's biggest moments. Purchases made through links on this page may earn us a commission.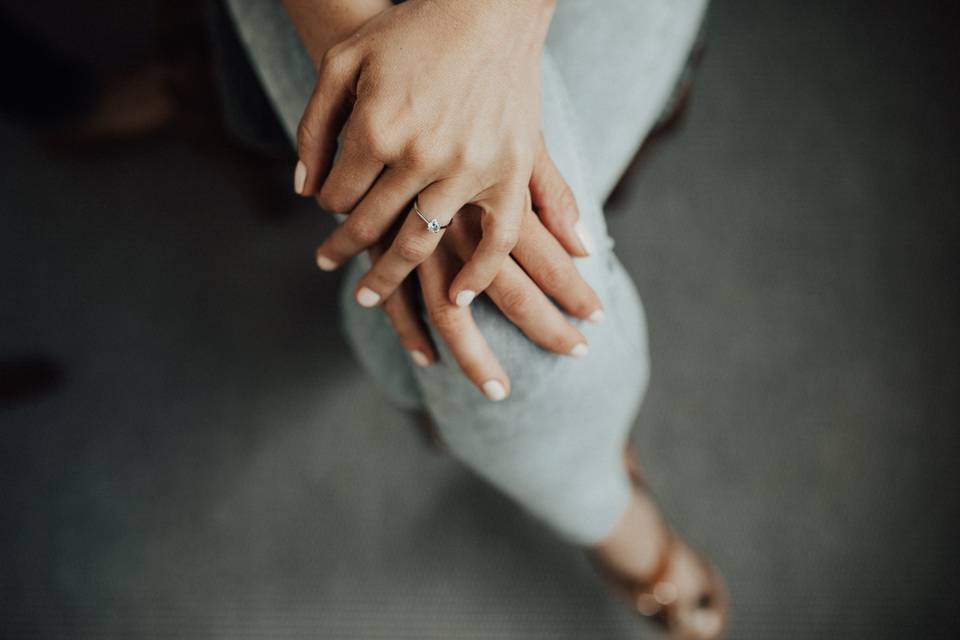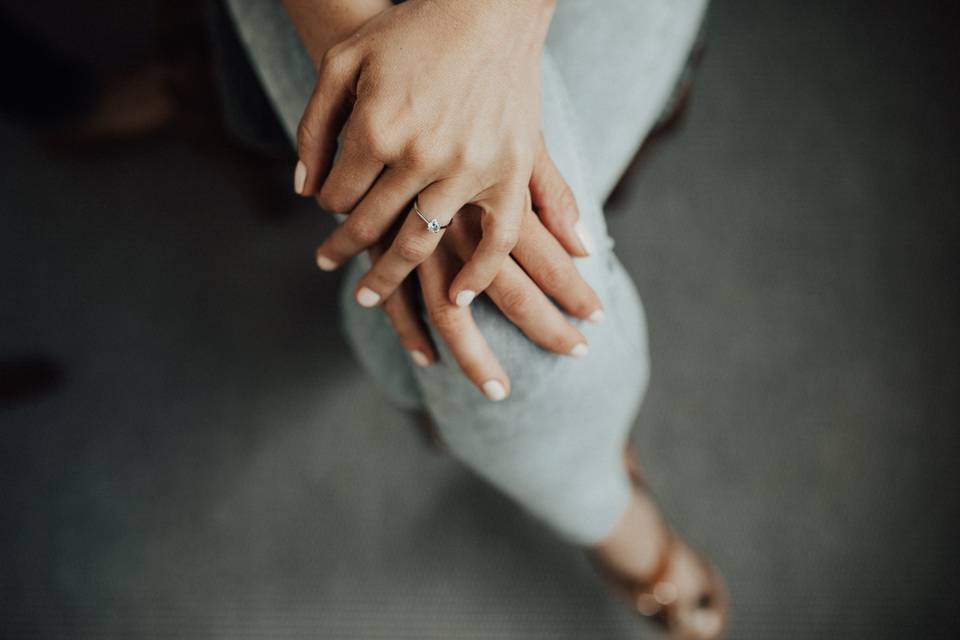 We know we're not meant to have favourites, but if you made us choose we'd probably have to say simple engagement rings come somewhere near the top of the engagement ring pack. There's something so effortless about a simple design, and we can't help being drawn to their clean lines and clear-cut stones.
Here, we've rounded up our favourite simple engagement rings that modern to-be-weds will love. We know not everyone's idea of a simple engagement ring is the same, so we've included a whole host of designs for you to choose from. We've got delicate rings with hardly any bling to pieces with one stone at their centre.
Despite lots of the options below looking gold-only, quite a number of them are customisable, meaning you're able to tweak the size of your diamond or change the metal it's set in. We love a bespoke engagement ring, and they're not always as expensive as you might think. Plenty of jewellers are willing to help you make little changes to designs in order to give you the perfect end result.
Now, time for a little browsing of some seriously envy-inducing simple engagement rings.
1. Diamond Oval Solo Ring – £3,090, The Cut; London
When it comes to simple engagement rings, there's no better place to start than designs with a slender band which let the stones do the talking.
The sleek setting on this oval diamond ring is beautifully delicate, and would look perfect paired up with a similarly sized wedding band for a gorgeous set. The diamond is really a unique shape, too, giving this ring a lovely point of difference.
2. Juliet Ring – £1,740, Carat* London
Choose a yellow, white or rose gold setting and rock the look that Meghan Markle has made so popular for the last three years. With a dazzling emerald cut diamond at its centre and two brilliant cut diamonds either side, this ring is totally unique but elegantly simple.
READ MORE: 15 Things to Do After Getting Engaged
3. Hexagonal Blue Montana Sapphire Engagement Ring – £2,300, Tom Foolery
Just because you're going for a simple engagement ring, it doesn't mean you have to go for a classic design. We love this contemporary ring.
Made from sapphires rather than diamonds, it's less sparkly than typical engagement rings, making it a bit more understated. The geometric, hexagonal shape is perfect for someone looking for a piece that's going to stand out from the crowd.
4. Signature Button Back Ring – £13,500, Jessica McCormack
This button back ring by Jessica McCormack is another quirky design which is simply stunning.
The diamond here is one carat, giving you a good dose of sparkle as well as a generous size. We love that there's a mix of white and yellow gold in this ring giving you the best of both worlds.
5. Charlotte Diamond Engagement Side Stone Ring – £1,889, The Diamond Store
This beautiful solitaire features pave diamonds on the band that add plenty of fire without bulk or fuss, perfect for those looking to dazzle with a slender and simplistic design.
READ MORE: The Best Alternative Engagement Rings for Untraditional Couples
6. Modern Eternity Diamond Baguette Ring – POA, The Cut; London
Who said an engagement ring had to feature just one or two main stones? This gorgeous ring shows you can have as many stones as you like.
This eternity band isn't a traditional choice for an engagement ring, but we love that. The baguette diamonds have that pretty elongated shape, giving this ring a vintage 1920s look. It's perfect for anyone who loves classic design, as a ring like this one is sure to never go out of fashion.
7. Single Diamond Ring – £5,995, Tom Foolery
What could be more elegant than a solitaire diamond ring with a simple four claw setting?
8. Take Flight Feather Ring – £125, Phoebe Coleman
There's no reason to go for a glitzy stone if you never would have worn something sparkly before. How about a simple gold heirloom band to mark your engagement instead?
This dreamy feather design feels almost fairytale-like, and we love that it's crafted from one single piece of metal for a unified finish.
READ MORE: How to Buy an Engagement Ring
9. Pear Rose Cut Diamond Ring – £550, Tom Foolery
READ MORE: Affordable Engagement Rings that Won't Break Your Budget
10. Emerald Cut Diamond Solitaire Ring – £12,300, De Beers
This engagement ring might be simple, but it still has a big impact. We love an emerald cut on a diamond, giving it those gorgeous angular lines that reflect a whole lot of light for an eye-catching sparkle.
The yellow gold setting ensures this statement piece has a classic, vintage look that is sure to stand the test of time.
11. Five Baguette Diamonds Engagement Ring – £1,380, Tom Foolery
12. Cherry Blossom Fairtrade Ethical Ring – £2,634, Not On The High Street
This ring combines a simple design with a slightly quirky look, giving you the best of both worlds. We love that this design isn't symmetrical, so depending on which way you look at it, you'll always see something a bit different.
This piece is also ethically sourced, so not only will it look gorgeous, you'll know that the production to get it to you has been a fair one. Everyone wins.
READ MORE: The Ultimate Guide to Planning Your Big Day
13. Lauren Engagement Ring – £3,445, The Diamond Store
14. Tender Love White Diamond Ring – £1,750, Phoebe Coleman
Sometimes having a design aspect on the band itself can add a little something extra to a simple engagement ring.
This beaded yellow gold example gives understated elegance, and acts as the perfect base for the central solitaire stone to shine from.
15. White Gold Half Moon Salt & Pepper Diamond Claw Set Ring – £1,450, Tom Foolery
A salt-and-pepper diamond creates a half moon in this stunningly unique ring. We love the daring take on a simple design, which will be sure to attract compliments right and left.
This would be beautiful, we think, paired simply with a white gold wedding band for a stacked set.
16. Leah Engagement Ring – £4,025, The Diamond Store
We love how the 18ct gold encases the brilliant cut stone, offering an alternative to traditional solitaire settings. This is the perfect pick for lovers of contemporary jewellery.
17. Florence Ring – £826, Carat* London
There's nothing like a solitaire when it comes to simple engagement ring design, whatever the shape of the stone.
A teardrop can be worn whichever way you like and, as an elongated shape, boasts one of the biggest spreads of any fancy diamond shape, giving you plenty of bling for your buck. We love the three prong rose gold setting on Florence by Carat* London - it really lets the diamond take centre stage.
18. Lunar White Mini Pearl Ring – £115, Phoebe Coleman
Diamonds aren't for everyone, and this gorgeous understated pearl ring would make a lovely alternative to the usual glitz and glam.
We love how delicate this single pearl design is – it's the perfect ring for someone who likes simple but beautifully designed things.
READ MORE: 16 Engagement Party Ideas to Kick Off Your Wedding Planning Journey in Style
19. Art Deco Marquise Diamond Ring – £4,440, Tom Foolery
Even if you've decided on a simple engagement ring, you might still like the idea of multiple diamonds (because hello, you're only human). This little chap is a gorgeous example of a clean design with more than one stone.
We love the marquise cut rocks on this gorgeous ring, giving it a fairy tale look and feel.
20. Marquise Diamond Engagement Ring – £665, The Diamond Store
Set in 18ct white gold, this elegant ring is the ideal pick for lovers of fuss-free jewellery.
READ MORE: 52 Best Engagement Rings: Where to Buy the Best Engagement Rings Online in the UK
21. Genevieve Engagement Ring – from £2,185, The Diamond Store
Three stone rings are seriously popular and with stunners like Genevieve on the market, it's no wonder.
What we love about this beauty in particular is the emerald cut centre stone framed by two baguette cut shoulders. The design makes for an unusual alternative to the super-popular Meghan Markle style cushion cut teamed with round brilliants (not that we don't love that ring) and so it's perfect for those looking to set their own trends.
READ MORE: The Best Temporary Engagement Rings to Propose With
22. Three Stone Diamond Ring – £700, Goldsmiths
What shines brighter than a round brilliant cut diamond? Three round brilliant cut diamonds, of course!
Set within white gold claws to ensure the colourless diamonds remain as clear and dazzling as possible, we love this classic and dainty ring.
23. White Gold Diamond Ring – £1,750, Jenny Packham
Jenny Packham certainly knows a thing or two about timeless bridal style, so it's no wonder one of her jewellery designs has made our list.
Set in 18ct white gold, the baguette diamonds on this stunner add subtle sparkle to the band and perfectly frame the round brilliant stone at its centre.
24. Diamond Emerald & Trilliant Cut Engagement Ring – £3,250, Goldsmiths
Triangular diamonds are a quirky choice but they still give a clean and simple look to engagement rings, especially when paired with an emerald or princess cut centre stone.
We adore this elegant and unusual three stone design from Goldsmiths. Set in platinum, it's a great piece to wear for the rest of your life.
25. Gold Diamond Twig Ring – £1,260, Caroline Brook
Nature-lovers will love this ring! The 18ct gold setting mimics the texture of a twig, giving it a soft and ethereal feel that we're here for.
The delicate round diamond at the centre of this Caroline Brook design is ideal for to-be-weds looking for something dainty and discreet.
26. Étincelle de Cartier Yellow Gold and Diamond Ring – £2,680, Cartier
Delicate and dainty but packed full of sparkle, we're a little bit in love with this Cartier beauty.
With a princess cut stone at its centre and 22 brilliant cut pave stones, this ring is certainly fit for royalty!
READ MORE: Engagement Ring Trends 2021: The 9 Most Covetable Styles to Have On Your Radar
27. Serti Sur Vide Rose Gold and Diamond Ring – £4,320, Repossi
Simple doesn't always have to mean classic, in fact there are plenty of contemporary and quirky simple engagement ring designs out there.
One of our favourite unusual designs is this rose gold beauty complete with pear shaped diamond.
28. Facette Platinum and Diamond Ring – £4,820, Boucheron
We love a geometric design and so it's no surprise we're lusting after this facetted Boucheron sparkler.
We love how the band is as much of a feature as the stone and how the platinum is literally designed to shine.
29. Solid Gold White Sapphire Solitaire Engagement Ring – £780, Alison Moore Designs
Engagement rings don't get much simpler than this gold and white sapphire design from Alison Moore Designs.
The stunning sapphire is a great alternative to the traditional diamond and the bezel setting is a practical choice for to-be-weds with a hands-on lifestyle.
30. Pebble Solid Gold Diamond Engagement Ring – £655, Alison Moore Designs
We think this pebble design is absolutely adorable! Available in white or yellow gold, you can have it made to suit your own personal style.
Delicate and dainty, this design is a great choice for lovers of the wedding and engagement ring stacking trend.
READ MORE: Stacking Rings: The Bridal Jewellery Trend You Need to Know About
31. Black Diamond Trilogy Ring in White Gold – £1,072, Lilia Nash Jewellery
This contemporary and delicate ring is not only beautiful, but entirely one-of-a-kind. With its trilogy of rose cut black diamonds, it will appeal to to-be-weds with a taste for the gothic or macabre.
The ring is sure to turn heads with its classic design and unique colour.
32. Serti Inversé White Gold and Diamond Ring – £6,570, Repossi
Straight, clean lines are oh-so sleek and elegant but this Repossi ring proves that a ring with curves can be just as stylish.
We love the unique setting that encases the dazzling pear shaped diamond.
33. The Cherish-Diamond Ethical Ring – £868, Shakti Ellenwood
How cute is this Shakti Ellenwood ring? The heart shaped design makes it thoroughly unique, while the single round brilliant CanadaMark diamond gives it a simple elegance.
Made from ethically sourced and fully traceable gold, you can enjoy this ring totally guilt-free.
READ MORE: Thinking of Buying an Engagement Ring Online? Read This First
34. Icy Diamond Art Nouveau Inspired Ring – £1,900, Lilia Nash Jewellery
Featuring a natural icy diamond, this ring incorporates curving lines that flow elegantly with a small accent diamond for a truly sparkling touch.
We love that the setting is handmade to resemble a flower and that the 18ct gold band is made from recycled gold.
35. Gold Bezel Diamond Engagement Ring – £685, Antonia Lawes
Another delicate and dainty pick (honestly, we're obsessed), this bezel set design from Antonia Lawes is a great choice for those looking for something lightweight.
It can be stacked up with other bands or simply left to dazzle alone in modern, unfussy style.
36. White Gold Princess Cut Diamond Solitaire – £2,499, Diamond Affair
This white gold, princess cut diamond, four-prong ring from Diamond Affair ticks all of our classic and elegant engagement ring boxes.
This ring is totally timeless and would look stunning nestled alongside just about any wedding band design.
37. Icy Grey Shield Cut Diamond Ring – £2,000, The Cut; London
Diamonds come in all shapes and shades, you know. If clear and dazzling just isn't your thing, take a look at this unusual icy grey diamond engagement ring from The Cut.
The shield cut stone is truly unique and you're unlikely to see anyone rocking this design. Set within a five prong setting, this ring is as minimal as it is eye-catching.
38. Stepped Pyramid Diamond Rise Ring – £1,900, The Cut; London
There is nothing typical about this ring, unless you count its subtle homage to the classic solitaire.
A single baguette diamond set in a stepped pyramid design made from recycled yellow gold, this ring is minimalist but will still turn heads.
39. Rose Cut Diamond Ring – POA, The Cut; London
If you're looking for something that's both simple and poetic, we can't think of a better design than this pale hue rose gold beauty with a rose cut diamond.
This stylish low-set diamond ring is truly is one-of-a-kind. Enquire to have the ring custom-made for your finger.
40. Ashley Ring – £1,220, Carat* London
Eye-catching yet still simple, Ashley Ring is a sparkly and stunning option from Carat* London.
Featuring a dazzling round brilliant diamond surrounded by a glittering halo, this engagement ring is sure to stand out from the crowd.
41. Evelyn Ring – £850, Carat* London
Available in 18ct white, yellow and rose gold or platinum, the elegant Evelyn ring can be adapted to suit your style.
The emerald cut diamond and four claw setting give this solitaire a timeless feel that will look just as stylish today as it will in 30 years.
42. Kismet by Milka Diamond Heart Rose Gold Ring – £395, The Alkemistry
If you're a true romantic at heart, we reckon you'll be tempted by this dainty heart design from The Alkemistry.
With a rose gold beaded band design and three diamond heart, this ring is a contemporary piece that will look great with everything - an essential for an engagement ring!
Starting to think you might fancy something a little more unique? Take a look at our guide to designing your own bespoke engagement ring.