Top Tips for Choosing a Vintage Engagement Ring (Plus 23 Gorgeous Designs to Buy Now)
Whether you're after a one-of-a-kind period piece or you want some tips on proposing with a family heirloom, our guide to vintage engagement rings is here to help
We have included third party products to help you navigate and enjoy life's biggest moments. Purchases made through links on this page may earn us a commission.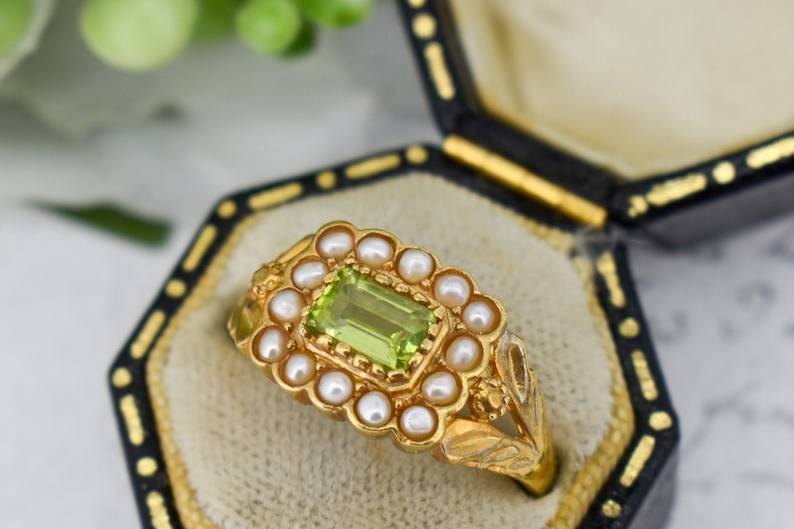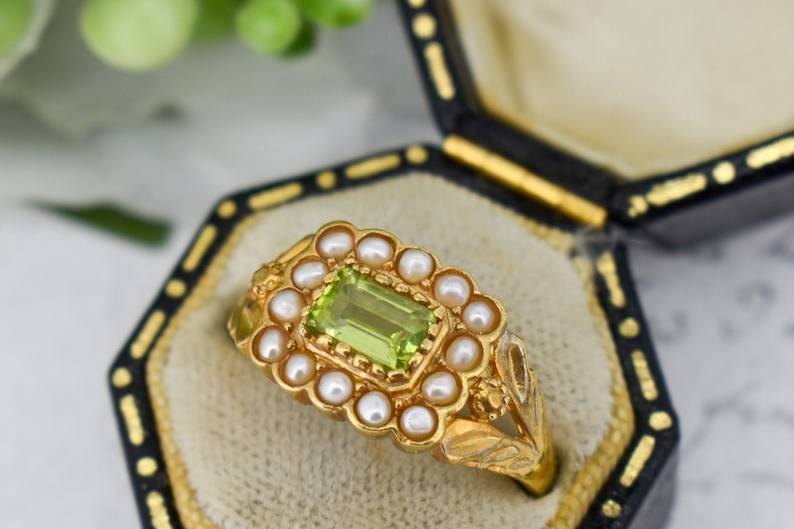 Choosing a vintage engagement ring means that you will have an engagement ring with classic style that will look incredible for years to come. Vintage engagement rings also becoming increasingly popular as many couples look for sustainable engagement ring options.
Arabel Lebrusan, co-founder of The Vintage Ring Company, says, 'increasingly, customers are drawn to vintage jewellers like us not only because they have an eye for beautiful jewellery, but because they're charmed by the notion of offering a pre-loved jewel a second lease of life, avoiding the need for new materials and further manufacturing.'
But where do you start? Do you want to propose with an authentic vintage engagement ring with years of history behind it? Or do you know that your partner loves that 1920s Art Deco style and you want to buy a vintage-style engagement ring inspired by that era?
Our ultimate guide to vintage engagement rings holds everything that you need to know, plus 23 gorgeous vintage engagement rings to buy now.
What is a Vintage Engagement Ring?
If your partner has given you some not-so-subtle hints that they would like a vintage engagement ring, firstly think about what this means.
Do you want to buy a genuine vintage engagement ring? This is a ring that you would find in an antique jewellers that has lots of history behind it.
Are you planning on giving your partner a vintage ring that is a family heirloom? You may well have a vintage engagement ring within your family and we love the idea of proposing with a family heirloom as it has so much special meaning behind it. 'Vintage engagement rings boast a charming timelessness that makes them adapt for the role of a family heirloom. This year, we expect to see an increased appreciation of the romantic and traditional,' says Arabel.
Or do you want to buy a new engagement ring that is inspired by vintage design? Many people opt to buy a brand new engagement ring from a jewellers that has been inspired by past eras. This may mean choosing an antique setting or an antique-inspired diamond cut.
4 Tips for Buying a Genuine Vintage Engagement Ring
If you are buying a genuine vintage engagement ring then it's worth keeping our top tips in mind.
1. Do Your Research
Research the style of ring you want to buy and have a basic understanding of what you would get for your money. 'You might find that vintage engagement rings are a little more affordable than you might have anticipated, enabling you to attain the statement look you've always dreamed of for a fraction of the brand-new price,' says Arabel. If you are feeling unsure then our guide to buying an engagement ring will help.
2. Ask for Verification
Ask your jeweller if they offer diamond verification and verification on which metal the ring is made from - any trusted antiques jewellers should be happy to help you with this.
3. Have the Stone and Setting Checked Over
Most vintage rings will have a good quality setting – after all the ring has remained intact for years! However, it's worth arranging for the ring to have an extra check from a skilled jeweller. The claws should be stable and strong so they hold that precious centre stone securely. You also want to ensure your centre stone isn't damaged or cracked – something that can happen with antique emeralds, opals, sapphires or rubies.
4. Ask About Re-Sizing
It's likely you will need your antique engagement ring to be resized, so ask your jeweller if re-sizing could weaken or damage the setting and if they offer a free initial resizing when purchasing a ring from them.
3 Tips for Proposing with a Family Heirloom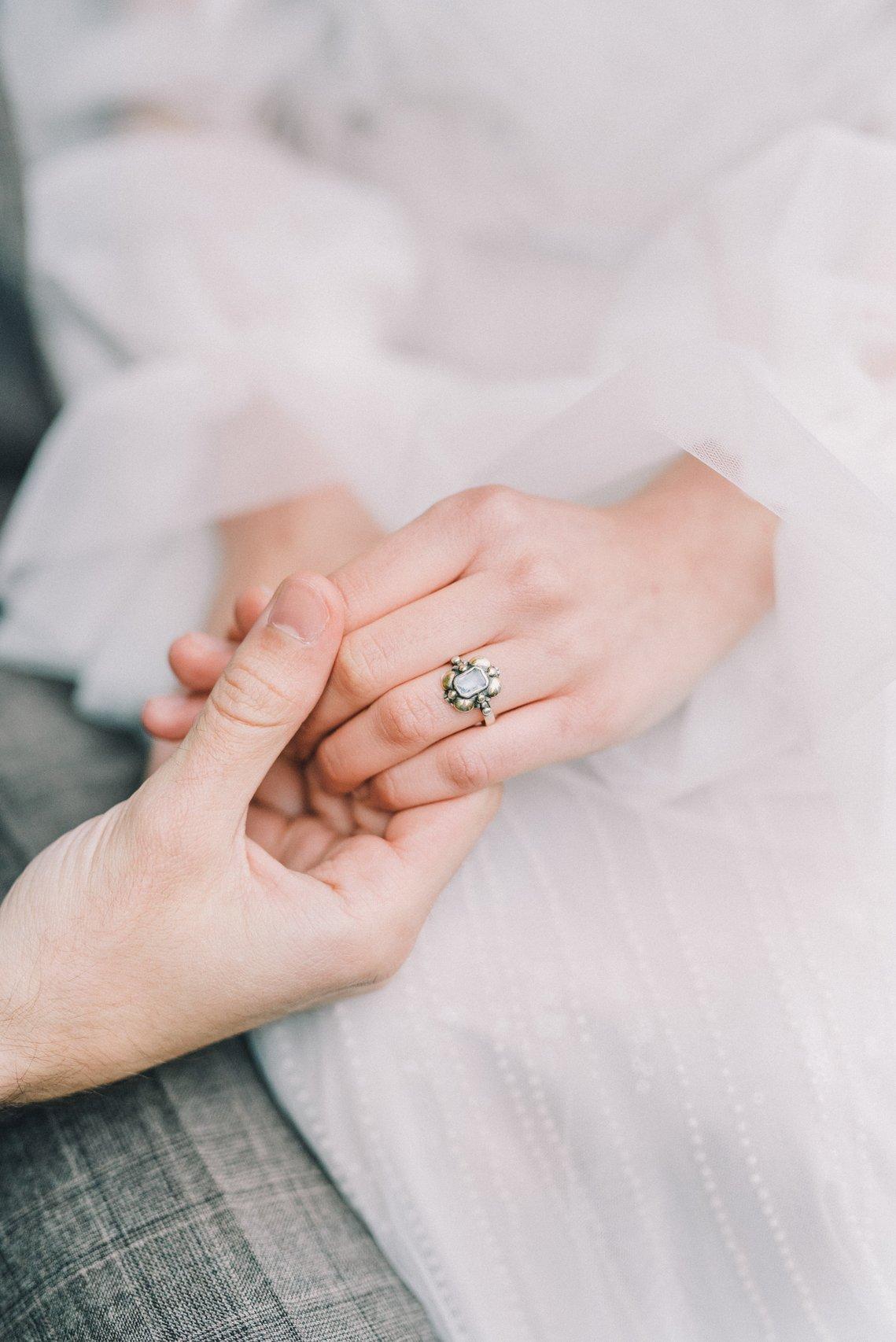 Proposing with a family heirloom is a lovely and romantic way to welcome your partner into the family. If you plan on proposing with a family heirloom then here is what you need to know...
1. Have the Ring Cleaned
Although you are proposing with a ring that has lots of history and sentiment behind it, you still want it to be sparkling and looking its best. A professional clean and potentially also a re-dip of the metal will mean your extra special ring will be looking its absolute best.
READ MORE: How to Clean Your Engagement Ring at Home
2. Have the Ring Checked By a Jeweller
Ensure the stone and claws of the ring are intact and secure – a professional jeweller will be able to do this for you and perform any repairs that are needed.
3. Buy a Box
If you don't have the original ring box then don't panic, this means you can choose a beautiful ring presentation box to put it in.
The 23 Best Vintage-Inspired & Vintage Engagement Rings to Buy Now
Georgian Engagement Rings
Jewellery from the Georgian period is considered to be the most feminine, featuring natural and floral motifs.
1. Diamond Flower Cluster Ring – £3,950, Laurelle Antique Jewellery
Foil was often placed underneath stones in order to reflect candlelight (this was a time before electricity) and allow light to pass through them. This Georgian diamond flower cluster ring has original foil backing from the 1800s so it'll have a lovely sparkle.
2. Natural Pearl and Old Mine Cut Ring – £850, Jewellery Discovery
Pearls were widely used in Georgian jewellery so if you're looking for an unusual engagement ring this could be the era for you. This antique cluster ring is adorned with pretty pearls and has engraved flowers down the 18ct gold band.
READ MORE: 29 Unique Engagement Rings
3. Diamond & Ruby Gairdinetti Ring – £1,928, Butter Lane Antiques
This unique Georgian engagement ring from Butter Lane Antiques showcases an intricate flower basket with a gorgeous pinky-red ruby and several rose cut diamonds. It's over 220 years old making it a really breathtaking find!
4. Peridot and Peal Georgian Style Ring – £89, D W Jewellers UK
You don't have to spend a fortune in order to nab a fabulous vintage engagement ring - why not opt for a vintage-style piece instead? This peridot and pearl pick has been designed to the mirror the jewellery trends of the Georgian era.
Victorian Engagement Rings
Engagement rings from the Victorian era were all about a classic centre focus – so a classic simple solitaire in a beautiful setting or a cluster of smaller stones all held together on one centre setting.
5. Solitaire Diamond Ring – £2,999, Ernest Jones
Ernest Jones offer a lovely variation of Victorian-inspired jewellery but we love the clean and simple lines on this yellow gold and diamond engagement ring. It's reminiscent of Millie Mackintosh's gorgeous engagement ring.
READ MORE: The 62 Best Celebrity Engagement Rings
6. Carved Double Halo Diamond Collar Engagement Ring – £1,826, Angara
Depicting a beautiful Victorian style design, Angara's double halo engagement ring looks a lot more expensive than it actually is. From the delicate scroll band to the scalloped diamond collar, this beauty is hard to beat.
7. Matilda Antique Victorian True Lover's Knot Gold Ring – £1,680, The Vintage Ring Company

Aptly named the 'true lover's knot gold ring', Matilda from The Vintage Ring Company is ideal for those who want a minimalistic engagement ring. The chunky 15ct gold knot is symbolic of infinite love and unbreakable bonds making it perfect for a proposal even 100 years after it was originally made.
8. Diamond Cluster Ring – £11,830, Pragnell
The Victorians were experts at creating high quality gold jewellery and surviving pieces are incredibly popular with collectors. This ring from Pragnell is on the higher end of the price scale but it's a genuine vintage piece that can be passed down your family for generations.
9. Vintage Diamond Star Ring – £255, Wolf and Zephyr
Wolf and Zephyr take vintage pieces and reinvent them so that they can be passed down for generations to come. The vintage diamond star ring has a stand-out Victorian style, featuring a graduated 9ct yellow gold band and a brilliant cut diamond in a star shaped setting.
Edwardian Engagement Rings
Edwardian-style engagement rings are traditionally yellow gold and include more intricate settings to reflect how jewellery production advanced during this time.
10. Teal Sapphire Engagement Ring – from £1,327.03, Ring by Irina
Who says your engagement ring has to feature a diamond centre stone? This teal sapphire engagement ring from Ring by Irina is beautiful and the unique stone pattern is a refreshing change to traditional engagement ring styles.
11. Fan Cluster Diamond Ring – £790, Vintage Tom
The delicate fan design on this rare Edwardian cluster diamond ring from Vintage Tom is spectacular. We love the combination of platinum and gold and it's the perfect style to slip your wedding band alongside.
12. Old Cut Diamond Trilogy Ring – £1,375, Kitclayton
The setting of this vintage engagement ring from the 1900s is set on a diagonal rather than the typical straight-across-the-finger design giving it a gorgeous and unique finish. In addition, the diamonds sit between decorative scrolled shoulders which you don't often find.
Art Deco Engagement Rings
1920s-inspired engagement rings are all about intricate settings and glitzy designs – think of adding some Gatsby-inspired glamour and smaller cut diamonds surrounding a larger centre stone. Art Deco engagement rings also feature clean lines, geometric designs and linear diamond cuts such as emerald cut diamonds and marquise cut diamonds.
13. Vera Wang Halo Engagement Ring – £450, Ernest Jones
The halo-style engagement ring is a great way to channel some 1920s style and this ring by Vera Wang for Ernest Jones doesn't disappoint. A princess cut diamond is surrounded by an intricate cluster of small diamonds – perfect for those who want lots of sparkle.
14. Gold and Platinum Engagement Ring – £320, Vintique Gems Shop
This lovely 1920s ring has a gorgeous central round cut diamond, set into a decorative platinum bow style setting with shoulders and gallery that are typical of the Art Deco era. You can even buy an antique box from Vintique Gems Shop as the finishing touch to this vintage engagement ring.
15. Cluster Engagement Ring – from £1,335.50, Evorden
This yellow gold engagement ring from Evorden has all the clean lines and angular detail that you would want from an Art Deco engagement ring. You can choose from a range of centre stones and also have the option of a yellow gold, rose gold or white gold finish.
16. Art Deco Diamond Ring – £2,000, Sophia Perez
Sophia Perez's Art Deco style engagement ring was handmade in their London studio and it looks like it came straight from the 1920s! All the diamonds used are conflict-free (including this fabulous salt and pepper diamond) and the band is crafted from recycled 18k yellow gold.
17. Art Deco Emerald Cut Ring with Baguettes – £4,090, The London Victorian Ring Co.
Art Deco engagement rings have a contemporary feel to them thanks to their geometric designs - making them a popular choice for modern couples who want a vintage engagement ring that doesn't feel dated. This emerald cut diamond ring with baguettes showcases this beautifully!
18. Diamond Engagement Ring – £3,938.73, Verma Estate Jewels
Crafted in the 1930s, this Art Deco ring highlights a 1.01ct old European diamond and several sparkling side stones. The finish offers the perfect amount of sparkle - especially when it catches the light.
Coloured Stone Engagement Rings
Sapphires and rubies also make beautiful centre stones and took centre stage in many vintage-style rings. If you want to channel some classic style from the 1960s, 70s or 80s then a coloured centre stone could be perfect.
19. Sapphire and Diamond Cluster Ring – £1,550, Gatsby Jewellery
A sapphire is a classic alternative to a diamond and was of course made an iconic choice by Princess Diana. Three gorgeous sapphires are surrounded by halos of sparkling diamonds for an impressive finish to this ring from Gatsby Jewellery.
READ MORE: Sapphire Engagement Rings – Our Favourite Dazzling Styles
20. Rennie Ring – £6,000, Rachel Boston
We're in love with this striking ruby and diamond ring by Rachel Boston. A stunning oval diamond is framed by a geometric halo of rubies for the perfect art deco finish for those who wants something unique.
21. White Gold and Emerald Engagement Ring – £650, Ernest Jones
This white gold and emerald engagement ring from Ernest Jones is perfect if you are looking for something unique and budget-friendly. The metal setting features intricate detail and means this affordable engagement ring looks elegant and expensive.
22. Tabitha Vintage Style Ruby and Diamond Engagement Ring – £1,230, The Vintage Ring Company
Eschew the traditional diamond centre stone and go for a ruby cut in an oval silhouette. Combined with two baguette cut diamonds and an interesting halo of diamonds tracing the top of the ruby and you have the perfect vintage moment.
23. Vintage Heirloom Ring – £POA, Hattie Rickards
If you're planning on proposing with a family heirloom, luxury jeweller Hattie Rickards creates bespoke engagement rings that are completely personal to you as a couple. Although they never make the same ring twice, the above piece was crafted from an original heirloom ring with emeralds added to create a striking and sentimental engagement ring.
Getting ready to make the big purchase? Our engagement ring buying guide will help you through every step.