35 of the Most Romantic Christmas Proposal Ideas
Plan the most romantic Christmas proposal ever this festive season with one of our dreamy Christmas proposal ideas
We have included third party products to help you navigate and enjoy life's biggest moments. Purchases made through links on this page may earn us a commission.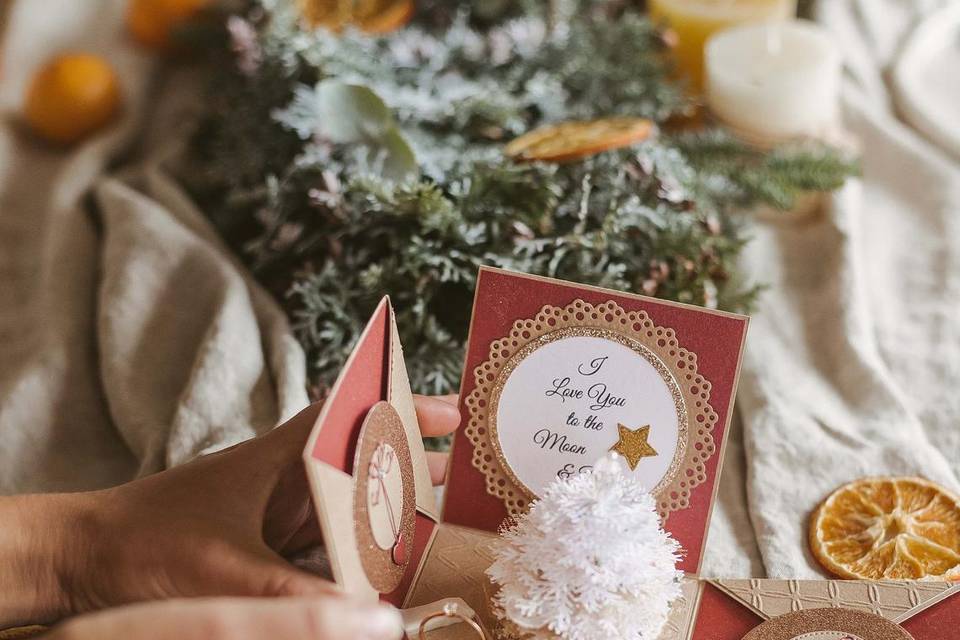 Christmas and New Year are two of the most popular times of year to propose, and it's easy to see why. There's something magical about the festive season that makes it a perfect opportunity to pop the question, so if you're planning a Christmas proposal, you need to see these ideas!
With so many Christmas proposals happening, you're going to want yours to feel unique to you as a couple. That's why we've put together our favourite Christmas proposal ideas, so you can do something that little bit different.
Don't worry, by 'different,' we don't mean an over-elaborate proposal set-up involving costume changes, moving between locations and an eye-watering budget. We've come up with ideas that are thoughtful and simple, and you can do many of them in private if you prefer. You can also personalise them to suit your couple style.
All these proposals are easy, heartfelt - and won't bust your budget; after all, you're going to need that for the engagement ring!
1. Advent Calendar Proposal
What could be more romantic than creating a homemade advent calendar filled with your partner's favourite things? This personalised wooden advent calendar has 24 empty hessian bags waiting to be filled with everything from travel minis of your partner's favourite pamper products to their sweets of choice. As the finale, you can hide a ring in the last one for the perfect Christmas Eve proposal. Pro tip: don't put the ring in the last bag until the actual day just in case your other half has a peek at what's coming up.
2. Christmas Tree Farm Proposal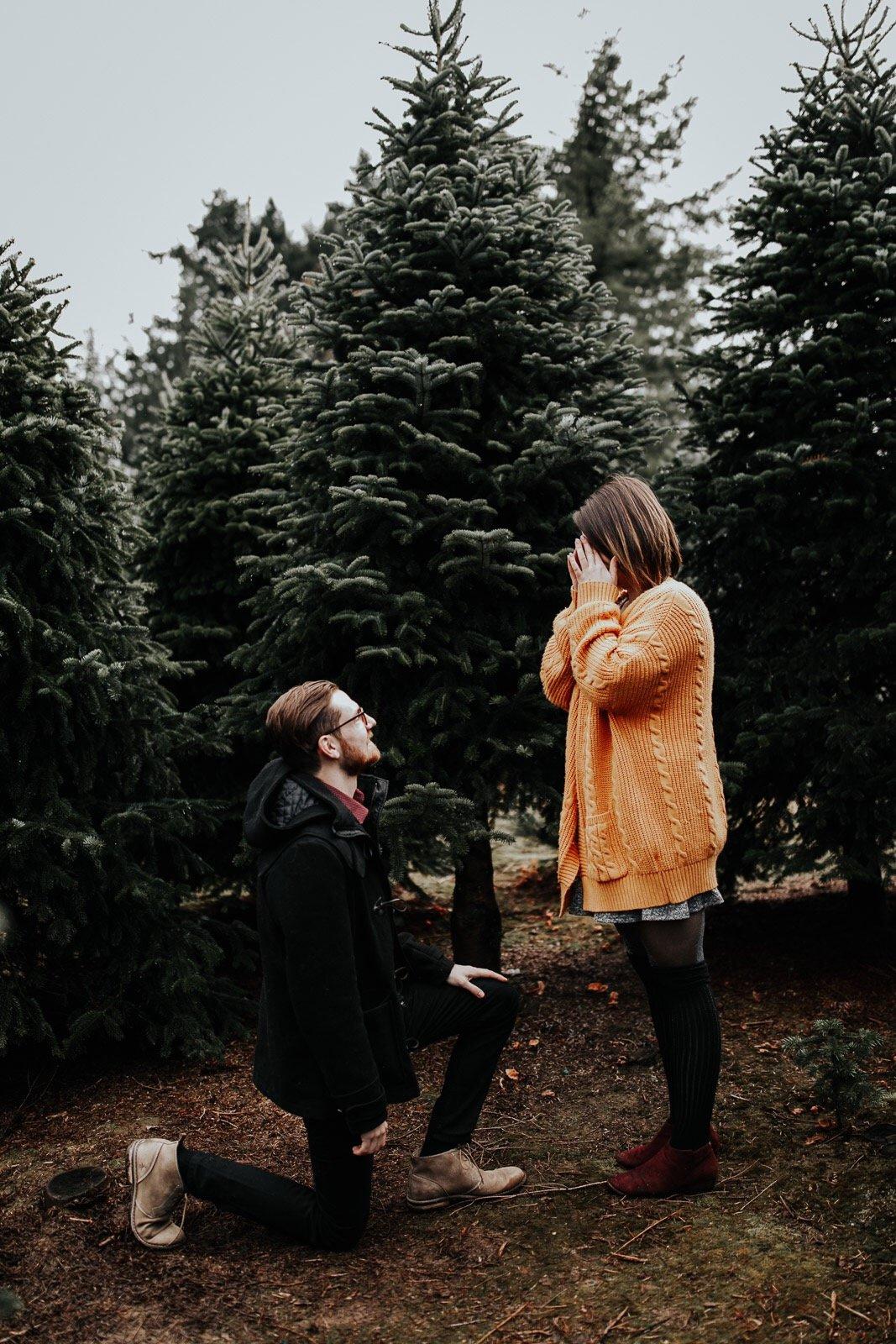 Choosing a Christmas tree together is a special activity in its own right, but surprising them with a proposal while you're there will make it even more memorable. Suggest meeting friends at the farm to ensure there's someone to take pictures when it happens, and pick your spot next to the best tree in the lot, as you'll definitely want to take that one home with you!
3. Light-Up Proposal
What could be more incredible on Christmas eve than your other half walking into your living room or looking out into your garden to be greeted by this ultra-romantic set of paper lanterns? It would be the most special way to start your Christmas together. We suggest getting a candle lighter for the set up - burnt fingers won't put you in the proposal mood - and have some champagne in the fridge (or hot chocolate ready to go).
4. Christmas Tree Proposal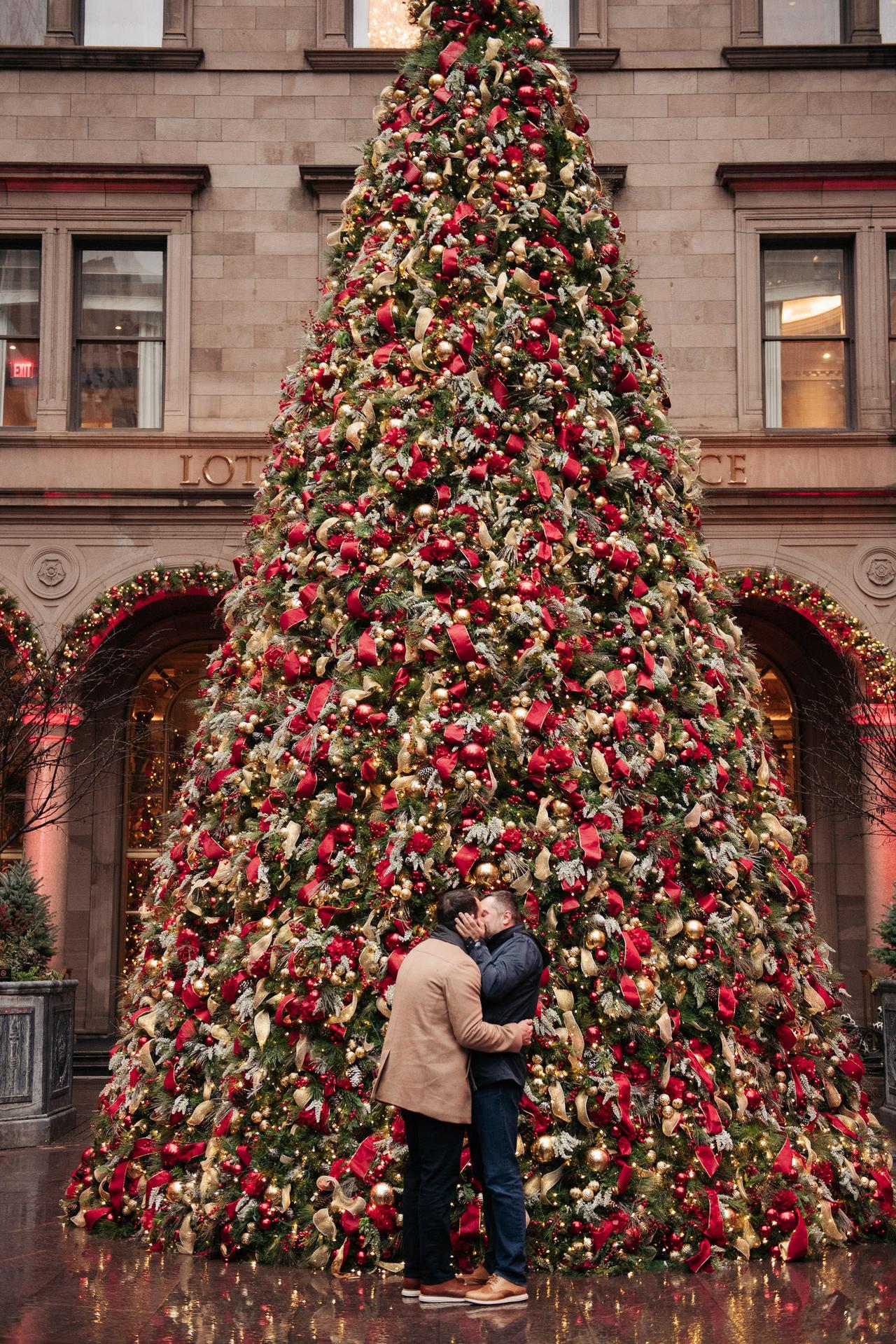 If your own tree doesn't feel grand enough, head out to the most impressive tree in your city – hotels and landmarks usually go all out for the holiday season, making the most spectacular spaces to visit for one of the biggest moments of your lives.
5. Chocolate Proposal
We think this would make a beautifully romantic Christmas gift – as your partner is unwrapping these chocolates and reads the message you can be ready to get down on one knee and ask that all-important question. Way better than a selection box.
READ MORE: How to Propose: Your Complete Guide to Popping the Question
6. Christmas Lights Proposal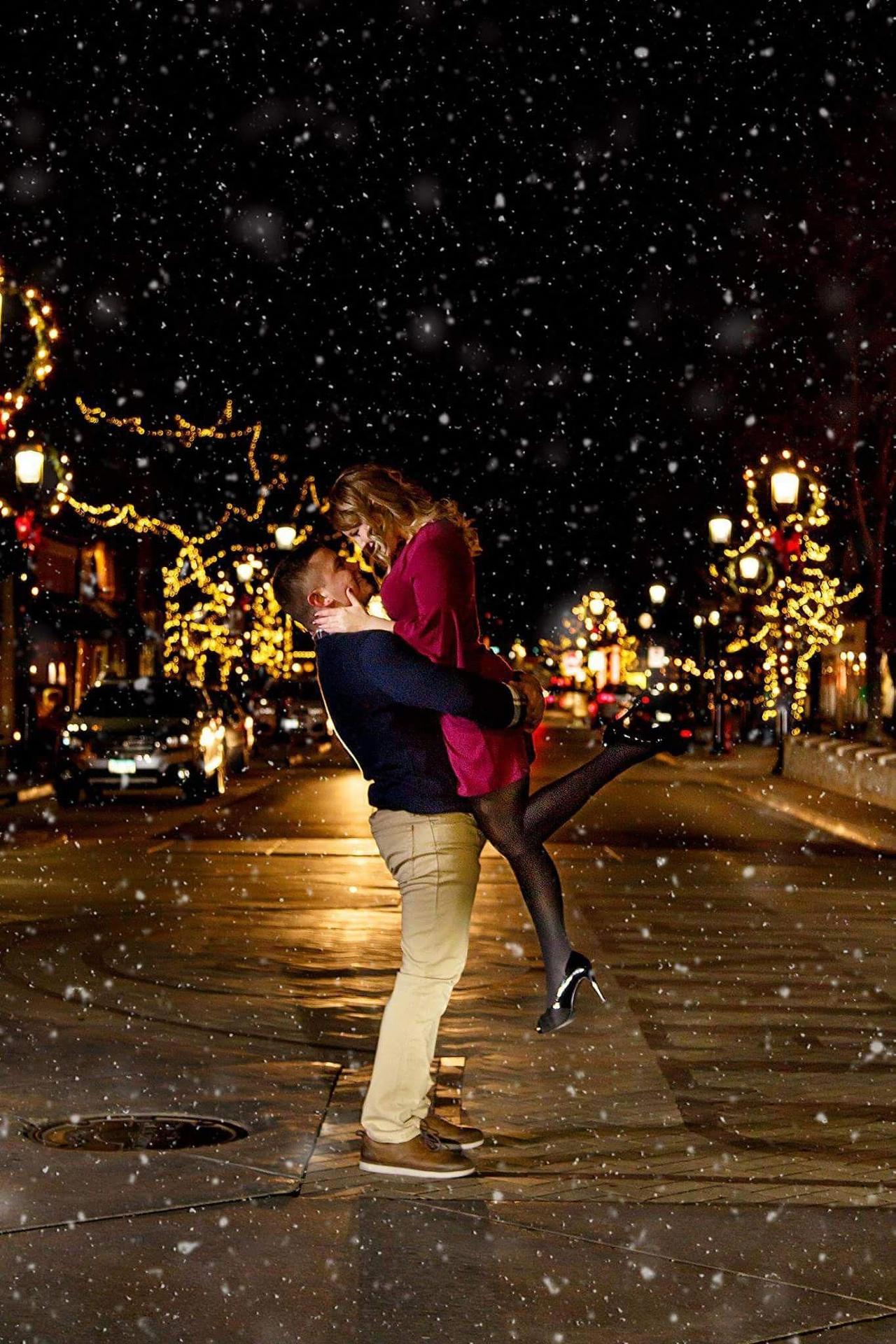 We can't think of a more beautiful backdrop for a Christmas proposal than a space lit up with sparkling fairy lights. Get them to wrap up warm and make an adventure of finding the prettiest street – bonus points if it starts to snow (although obviously, that's not entirely in your control…)
7. Promise Ring Proposal
If you know your other half will want to choose their own engagement ring, this solid gold infinity ring necklace from Chupi could be the perfect placeholder for when you propose. It features a double circle design cast from a hawthorn twig and symbolizes your infinite love and happiness together. This gorgeous gold necklace will be a gorgeous token of your love until the big ring shopping trip.
8. Christmas Lights 'Will You Marry Me?' Proposal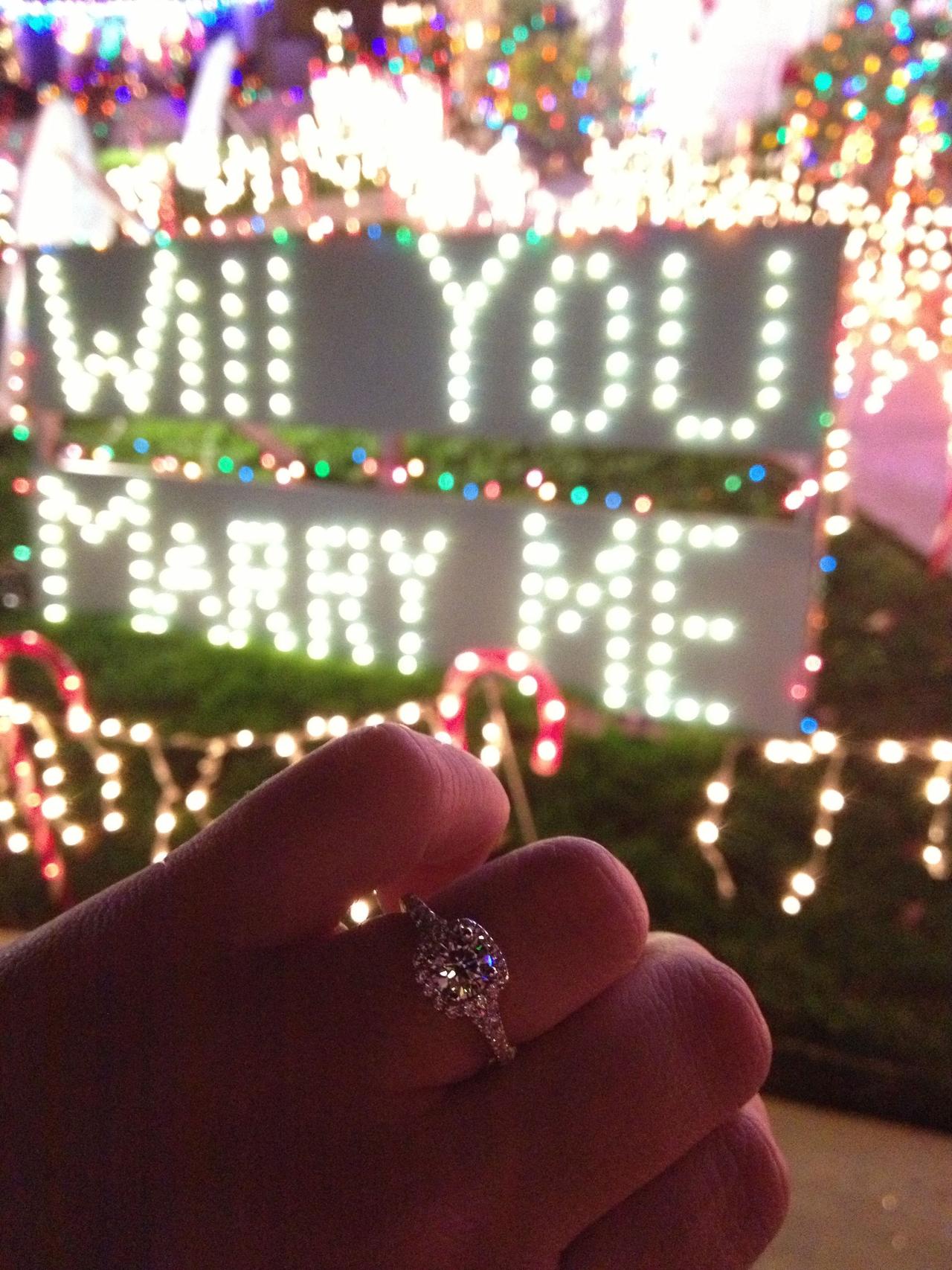 Alternatively, take things one step further by spelling out the question in Christmas lights, either at your own home or a place that has significant meaning to you both. Be sure to have a photographer on hand to capture their reaction to this one!
9. Balloon Proposal
This simple but effective balloon in season-appropriate red is a lovely way to pop the question - don't forget to provide a pin so they can (hopefully!) pop the balloon to say yes!
READ MORE: 25 Ways to Propose at Home: The Most Romantic Ways to Pop the Question
10. Christmas Decoration Proposal
Decorating the Christmas tree is such a fun part of the festive season. Why not make it even more special by handing your other half a "Will You Marry Me?" personalised Christmas decoration - maybe with the engagement ring attached in case they miss the message.
11. Ski Trip Proposal
If you and your other half are big fans of your annual festive ski trip, consider popping the question when you're out on the slopes. It will be unexpected, and we can't think of a more romantic setting than among snow-covered mountains. You just need to consider how you'll get the ring through airport security without being rumbled - and in any case, we'd suggest using a temporary engagement ring in case it gets lost in the powder in all the excitement.
12. Christmas Card Proposal
Give your partner a Christmas card they'll treasure forever by personalising it with a proposal message. As they read the front of the card, drop down onto one knee to present them with a ring! We love this design by Slice of Pie Designs. You can personalise it with your partner's name, and it'd look great in a frame once Christmas has passed! What a lovely reminder to one of the most special days of your life.
13. 'Marry Me' Bauble Proposal
If you're struggling to find the words, let your bauble do the talking! Ask them early in the month while you're decorating together, or you could either wrap this bauble from Etsy up as a gift under the tree or secretly hang it from a tucked-away branch ready to pull out when you're ready to ask them.
14. Ring Box Bauble Proposal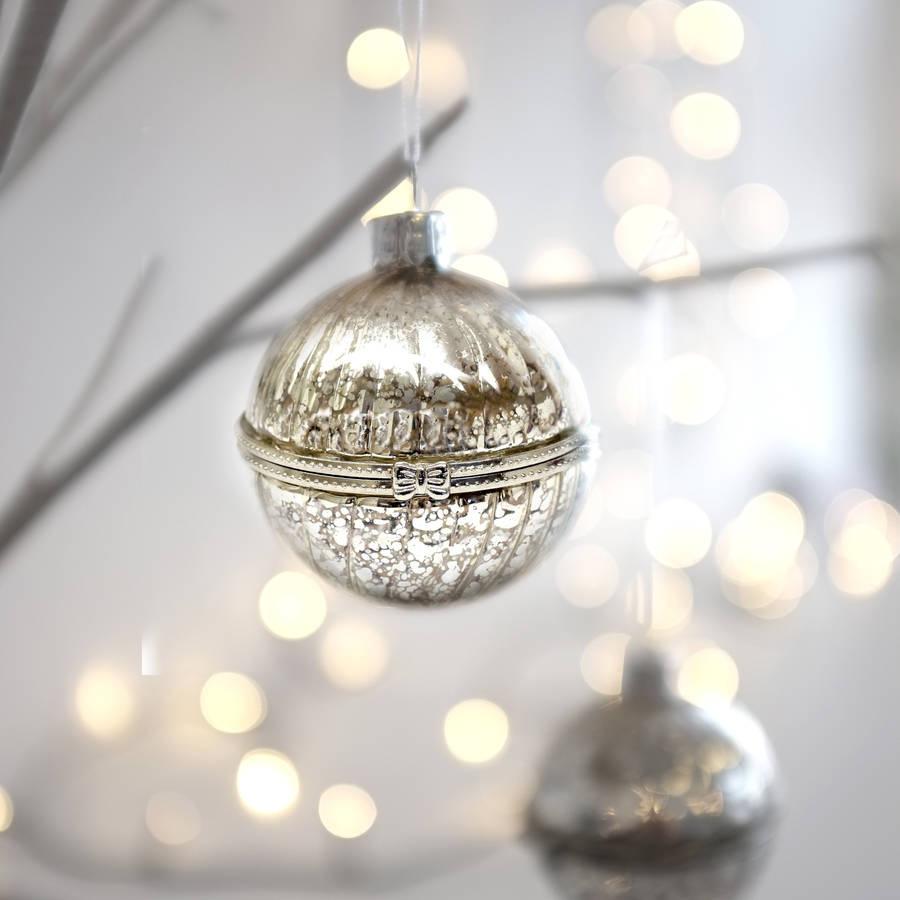 For a slightly different take, add the ring to a bauble box and hang it on the tree ready for Christmas morning. If they're sticklers for an orderly tree, they might even notice the new addition themselves, but if not you can casually draw their attention to it and then put your plan into action.
15. Winter Walk Proposal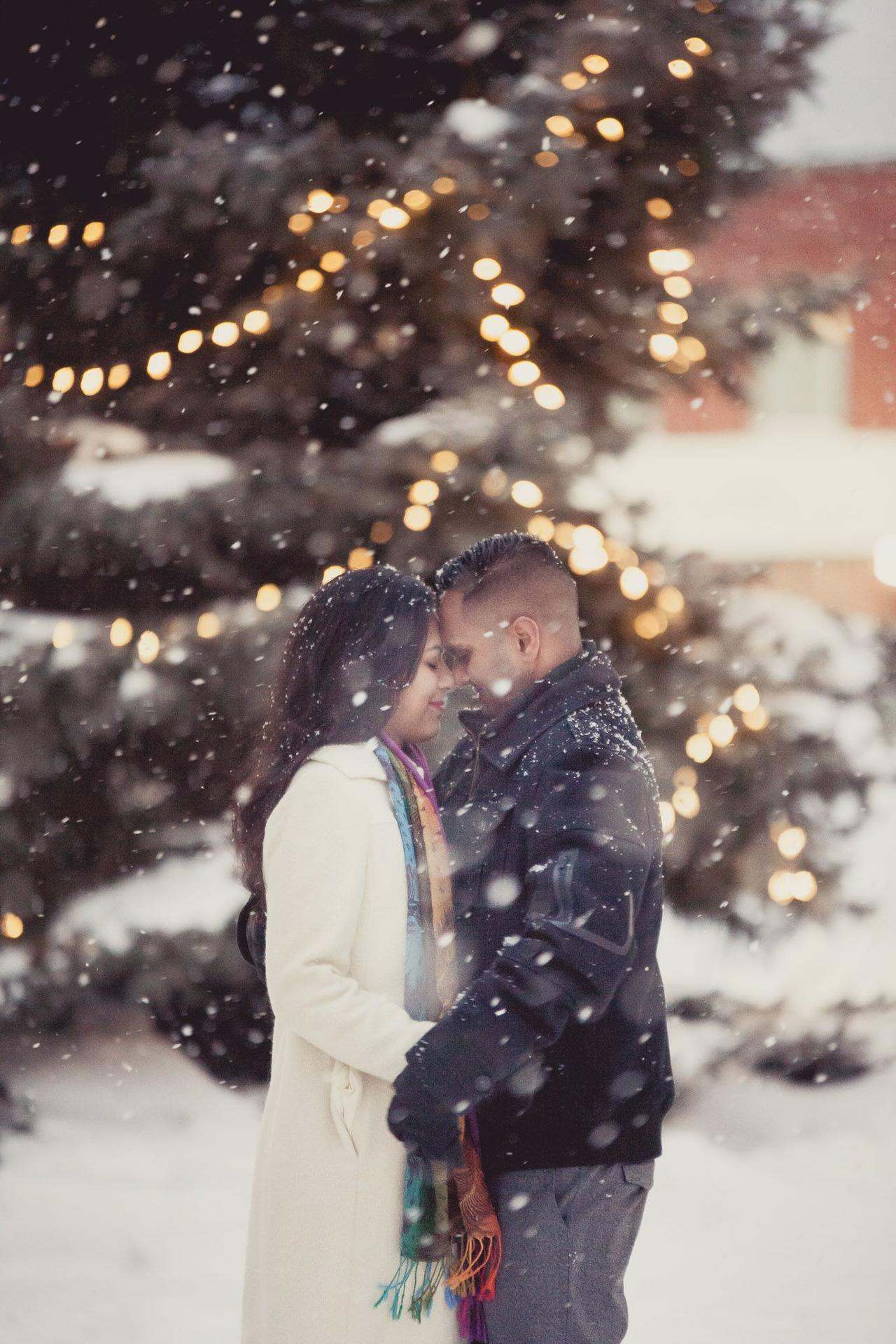 Whether you do this on Christmas Day or just in December when everything feels festive regardless, bundle up and take a stroll through the loveliest parts of town together, ending up in front of the most jaw-dropping Christmas display you can find.
16. Christmas Candle Proposal
There's nothing more romantic than a cosy Christmas Eve at home with your loved one. Once you've eaten a romantic dinner and opened a bottle of wine, turn the lights down and suggest lighting a few candles. Pop this gorgeous candle down on the table and get your partner to take a closer look.
17. Christmas Movie Proposal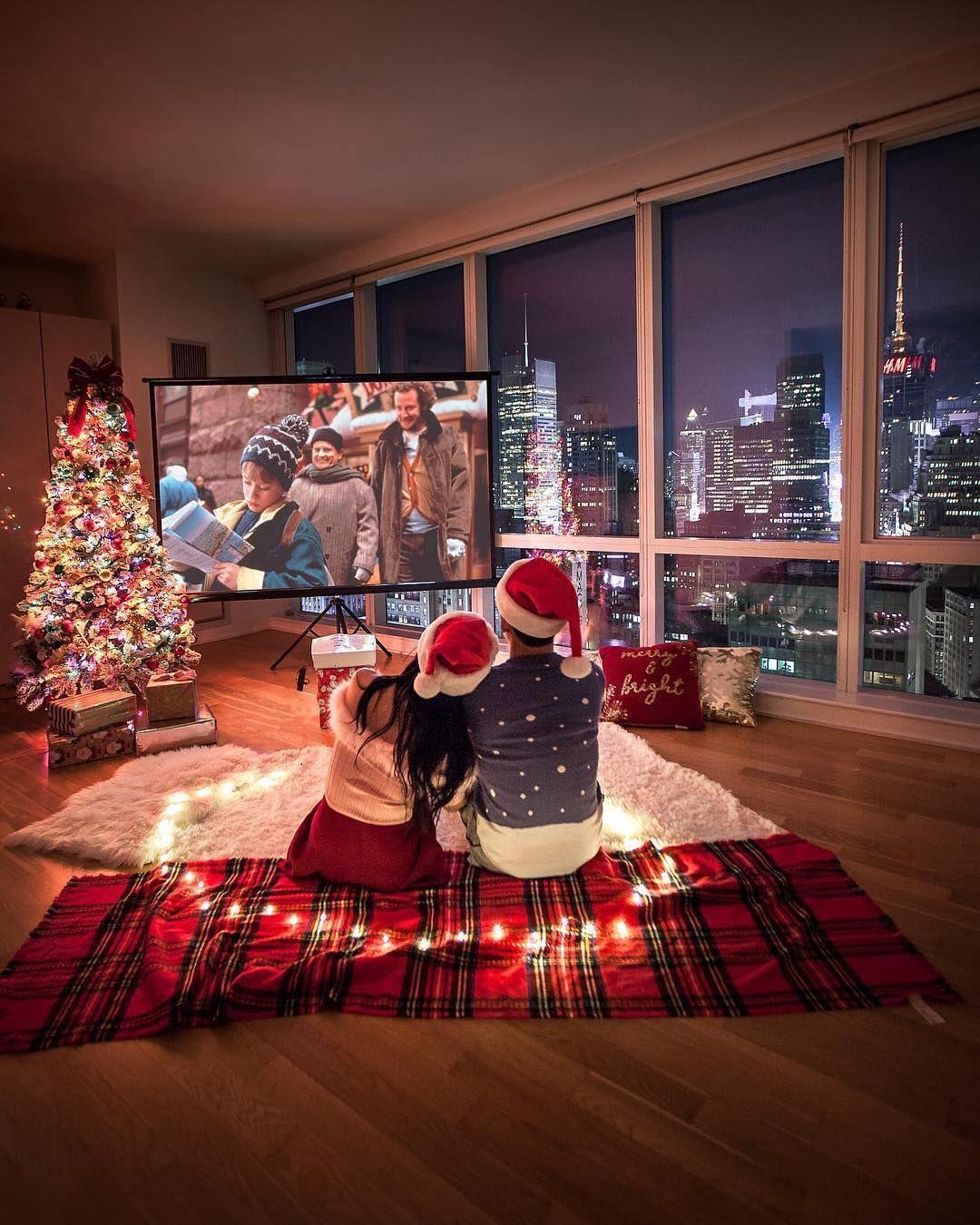 Set up a screening of their all-time favourite festive film – plenty of fairy lights and cosy blankets are essential here! You could either surprise them with the ring as the credits roll or even have your proposal play out as a video message on screen.
18. Christmas Cracker Proposal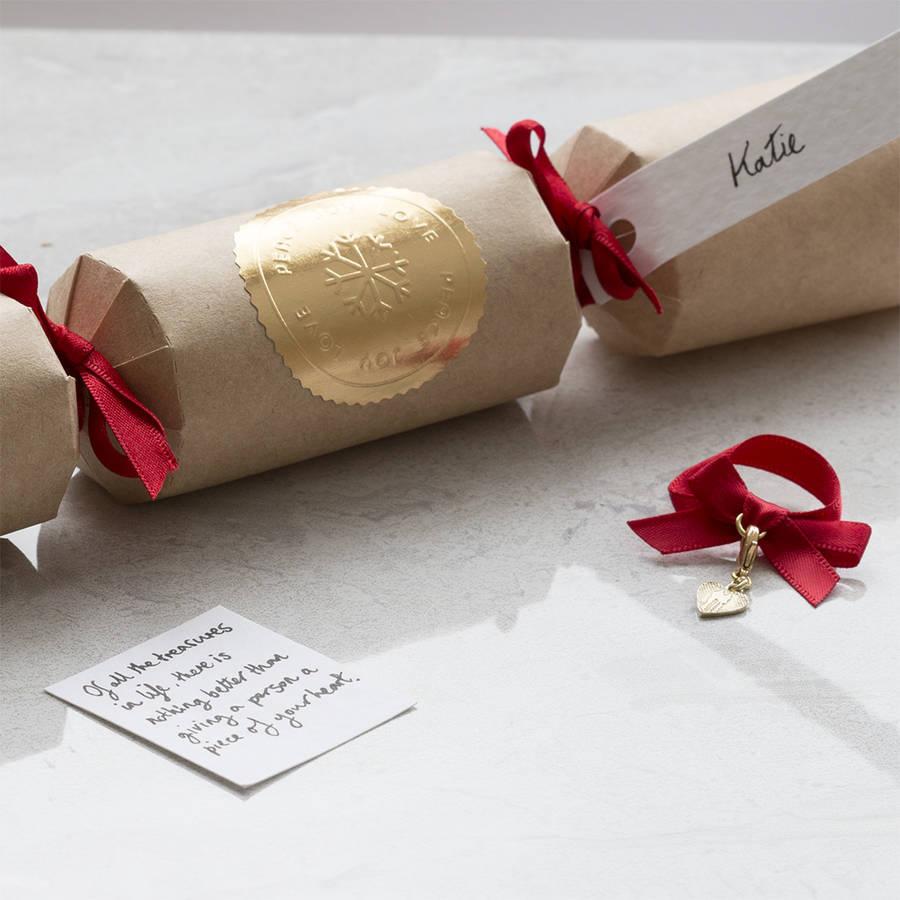 If you plan on a Christmas Day proposal and love the idea of being surrounded by your closest family, then why not lay the table for Christmas dinner and add one very special cracker? Add a sentimental note and of course, the ring, then make sure you only tug gently on your end – your partner needs to win the half with the prize in order to really pull this off...
READ MORE: 51 Christmas Themed Wedding Ideas
19. Rustic Ring Box
Sometimes the simplest ideas are the best – but that doesn't mean you can't add your own twist. Wrapping the engagement ring to leave as a present under the tree is a little more exciting when you use one of these rustic boxes!
20. Outdoor Christmas Proposal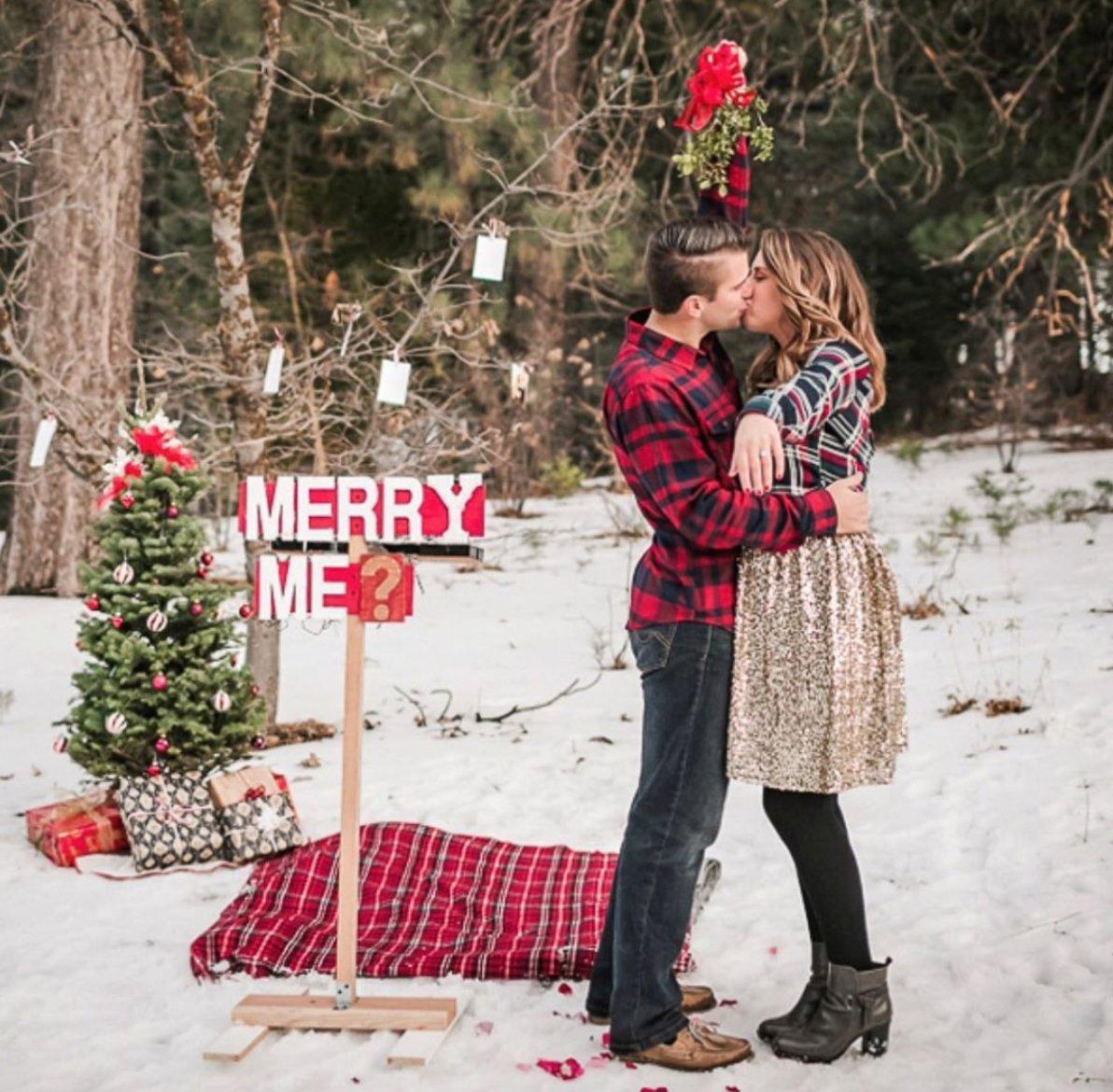 We love how this couple had their very own Christmas picnic proposal – it's a classic that can work at any time of year. The wordplay on the sign is a super cute touch and will make for some excellent selfies post-proposal.
21. Christmas Proposal With Kids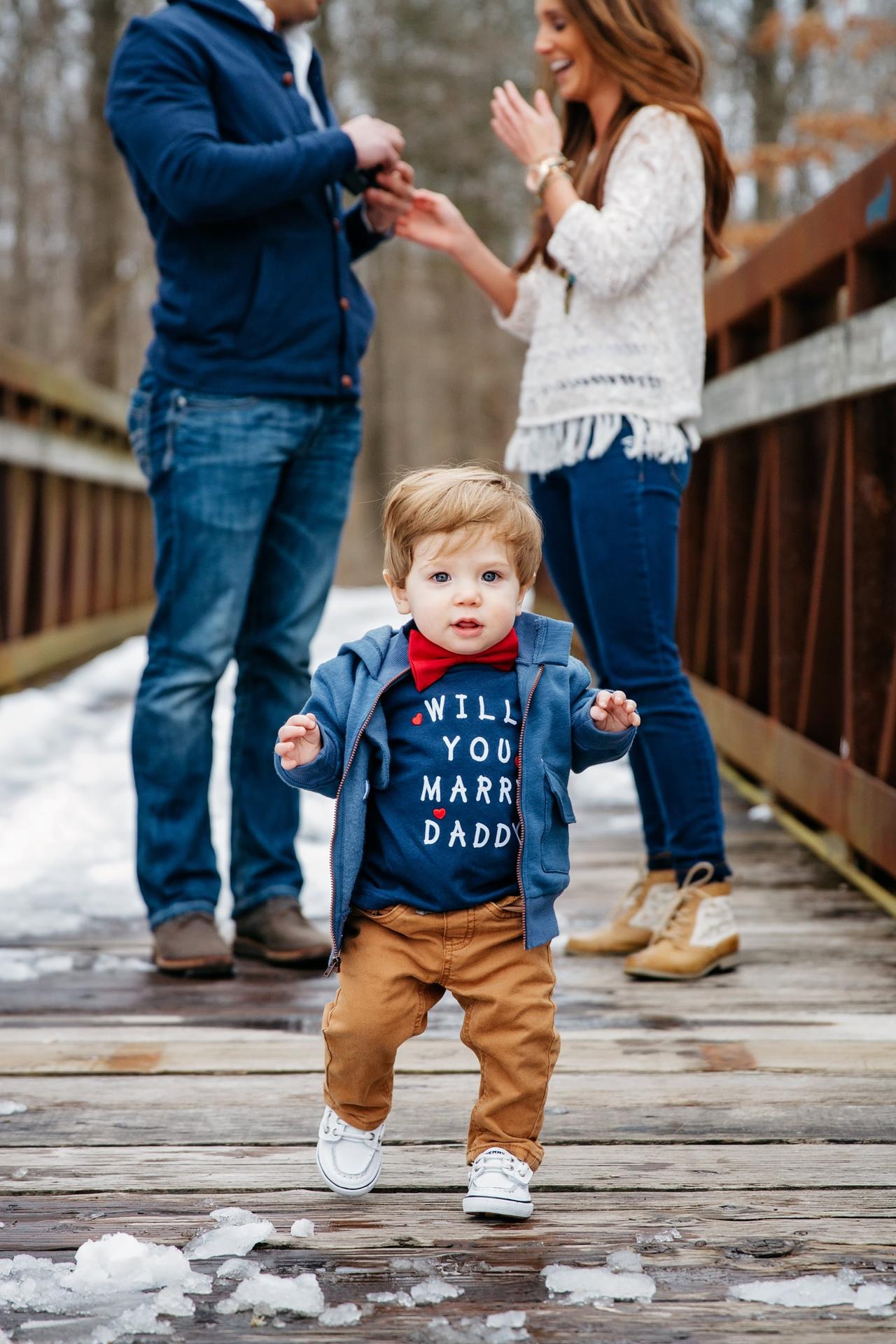 There are dozens of adorable designs with questions like the one above on them – pop one on your little one on Christmas morning and sit tight until your partner reads the message. They'll be speechless but in the best possible way!
22. Christmas Proposal With Family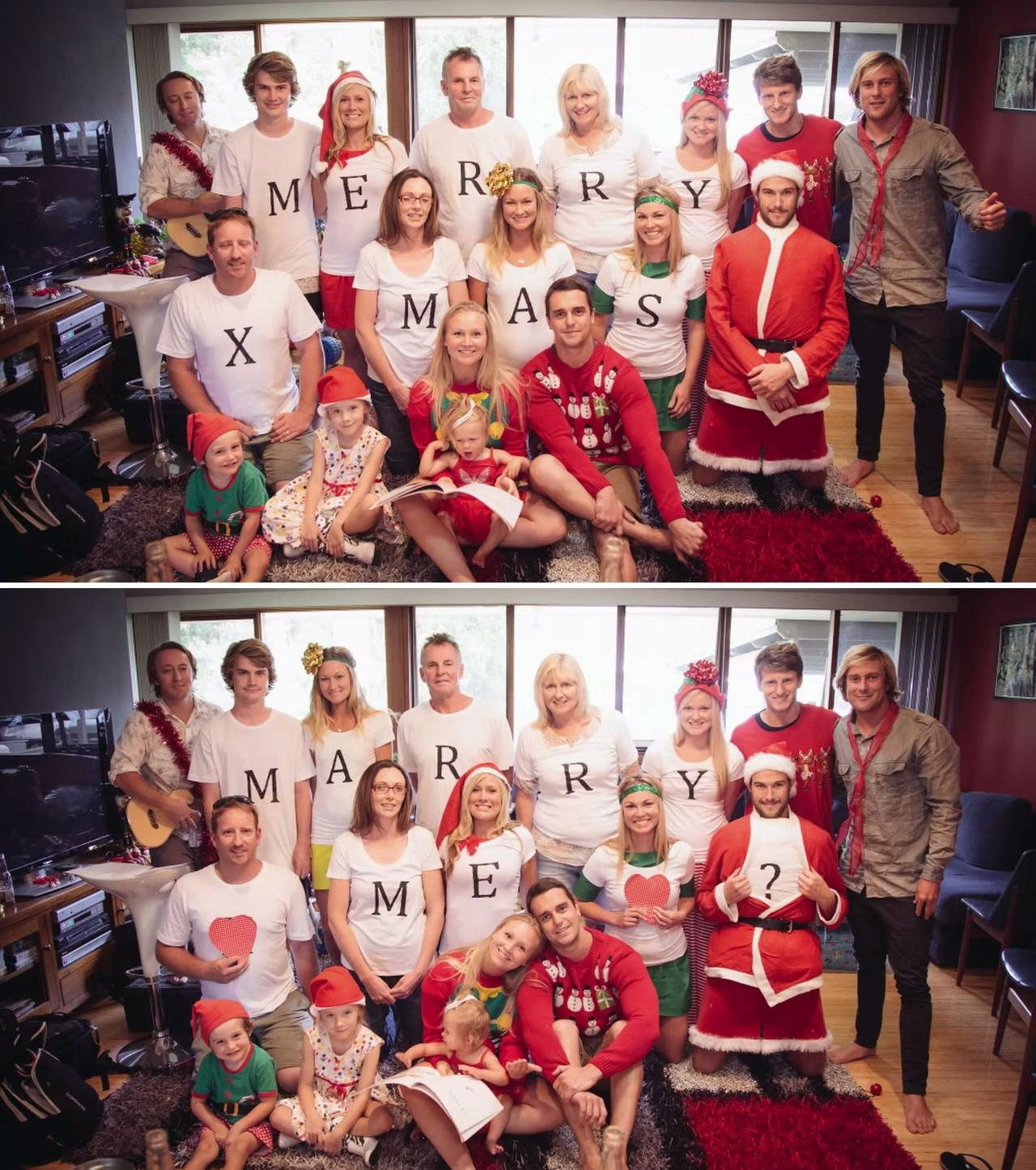 Or why not go one step further and get the whole gang involved? We love this photo op idea which cleverly rearranges t-shirts to deliver the message – if there are more people in your plan than there are letters, give them elf costumes and Santa hats to really hammer home the festive vibes.
23. Christmas Puppy Proposal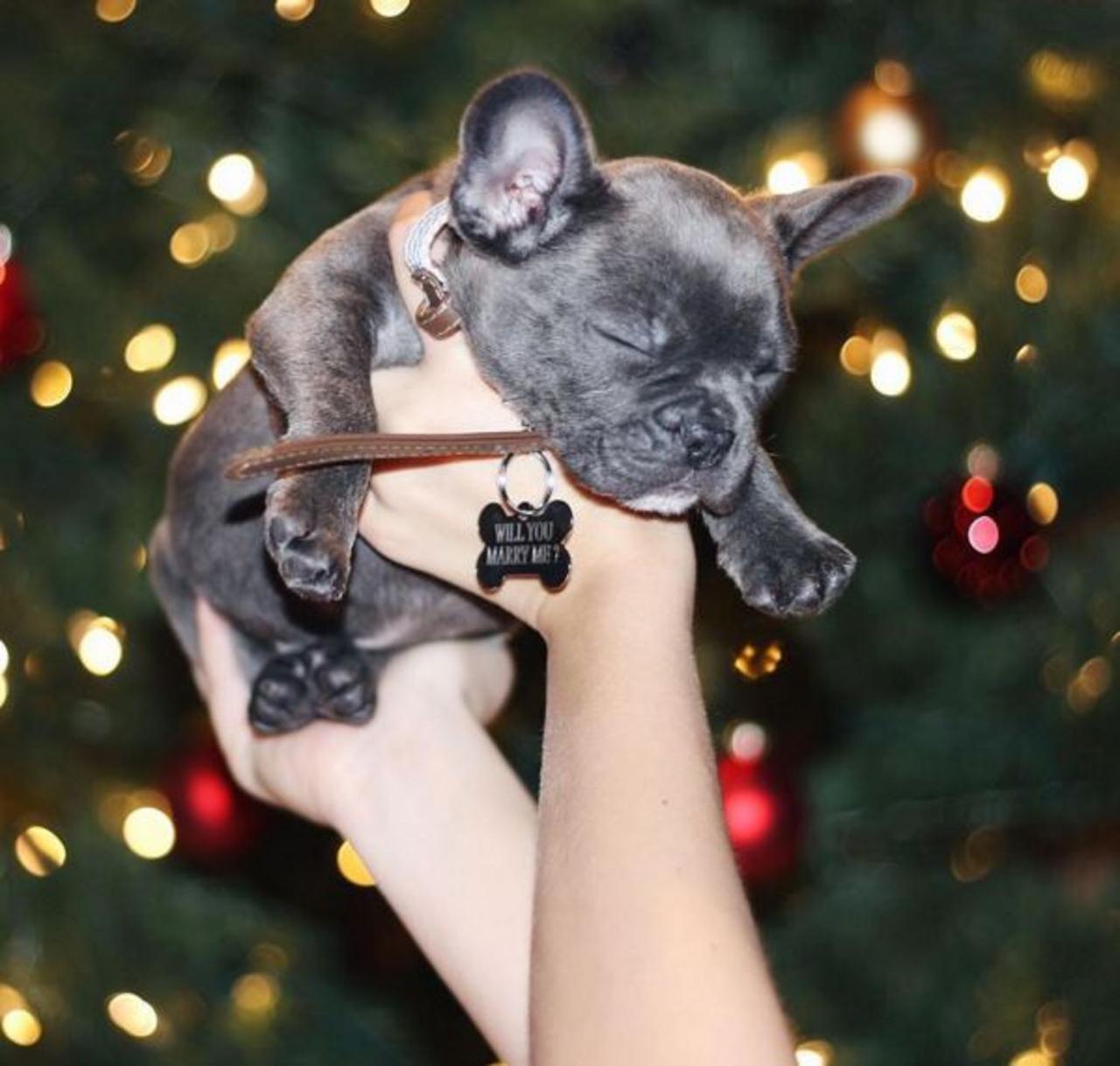 We'll say it loud and clear: a puppy is for life, not just for Christmas, and this is certainly not a Christmas proposal idea you should undertake on a whim. However, if you've been planning on becoming puppy parents for some time, this proposal will make all of their dreams come true in one fell swoop. It also works with your existing menagerie – just affix a similar tag to their collar on Christmas morning.
READ MORE: 12 Things Every Bride Should Do After Getting Engaged
24. Ice Skating Proposal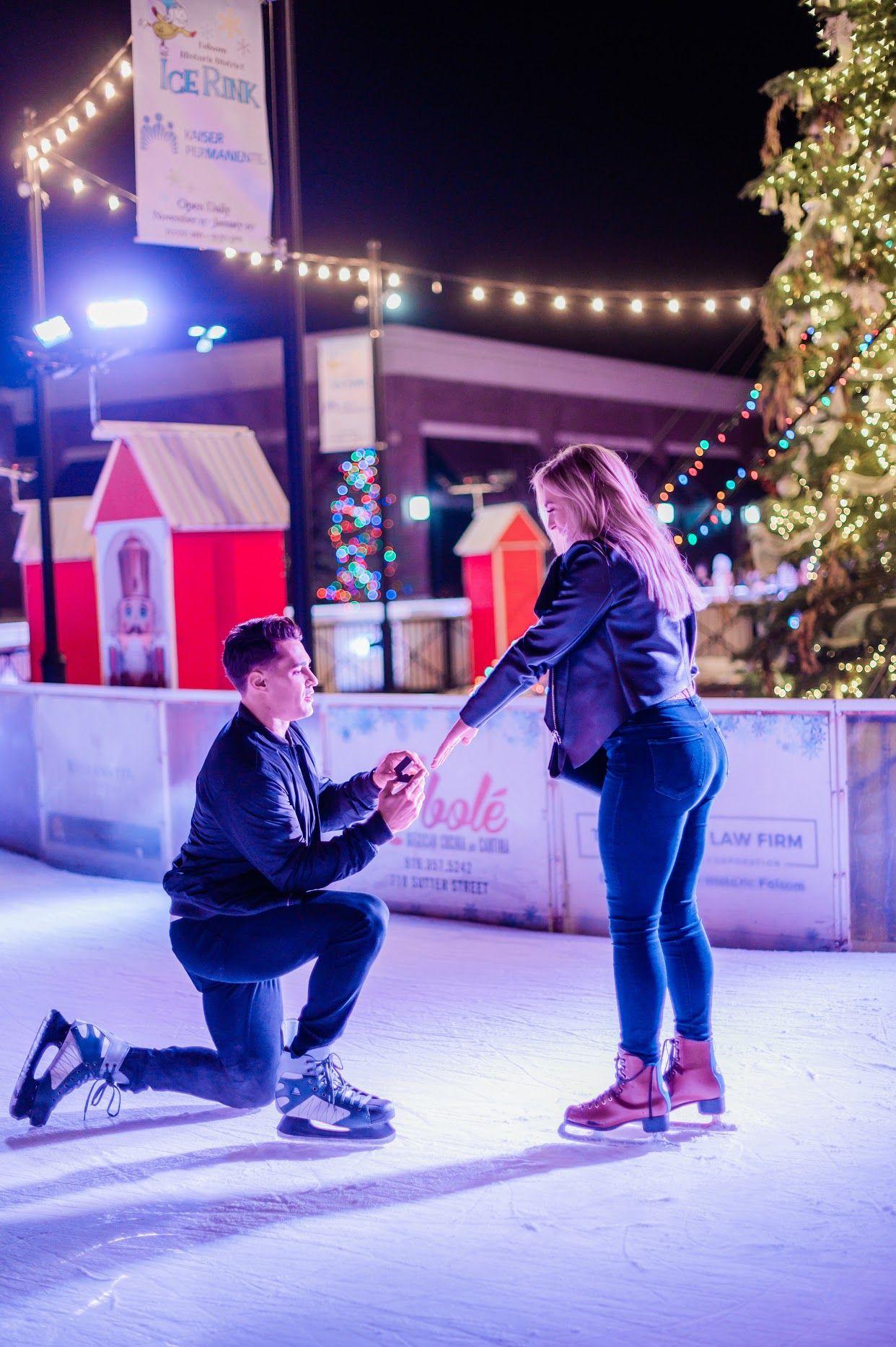 An outdoor ice rink is a genius proposal location if you're steady on a pair of skates – in London alone, you can choose from iconic locations including Somerset House, the Natural History Museum and the Tower of London. We especially love this idea for couples who had one of their first dates on the ice – it'd make a great callback to one of your happiest shared memories.
25. Boxing Day Proposal
If you don't want your other half to guess that their Christmas proposal is coming, why not wait until Boxing Day to pop the question? Take the name of the day literally and give your other half a box. Let them know it is a late Christmas gift, and watch as they unwrap box after box. They'll eventually reach the smallest box of them all, with an engagement ring inside. How romantic!
READ MORE: The 17 Most Romantic Places to Propose in London
26. 'Will You Marry Me?' Candle Proposal
There's nothing more romantic than a cosy Christmas Eve at home with your loved one. Once you've eaten a romantic dinner and opened a bottle of wine, turn the lights down and suggest lighting a few candles. Pop this gorgeous candle near a plain wall and get your partner to take a closer look. They'll be so surprised and will treasure such a pretty ornament forever.
27. Mug Proposal
Surprise the love of your life with breakfast in bed on Christmas morning – made even more special by making them a tea or coffee in a mug that has a hidden proposal. We love this idea because it means you have the whole of Christmas Day to bask in newly engaged glory.
28. Mistletoe Christmas Proposal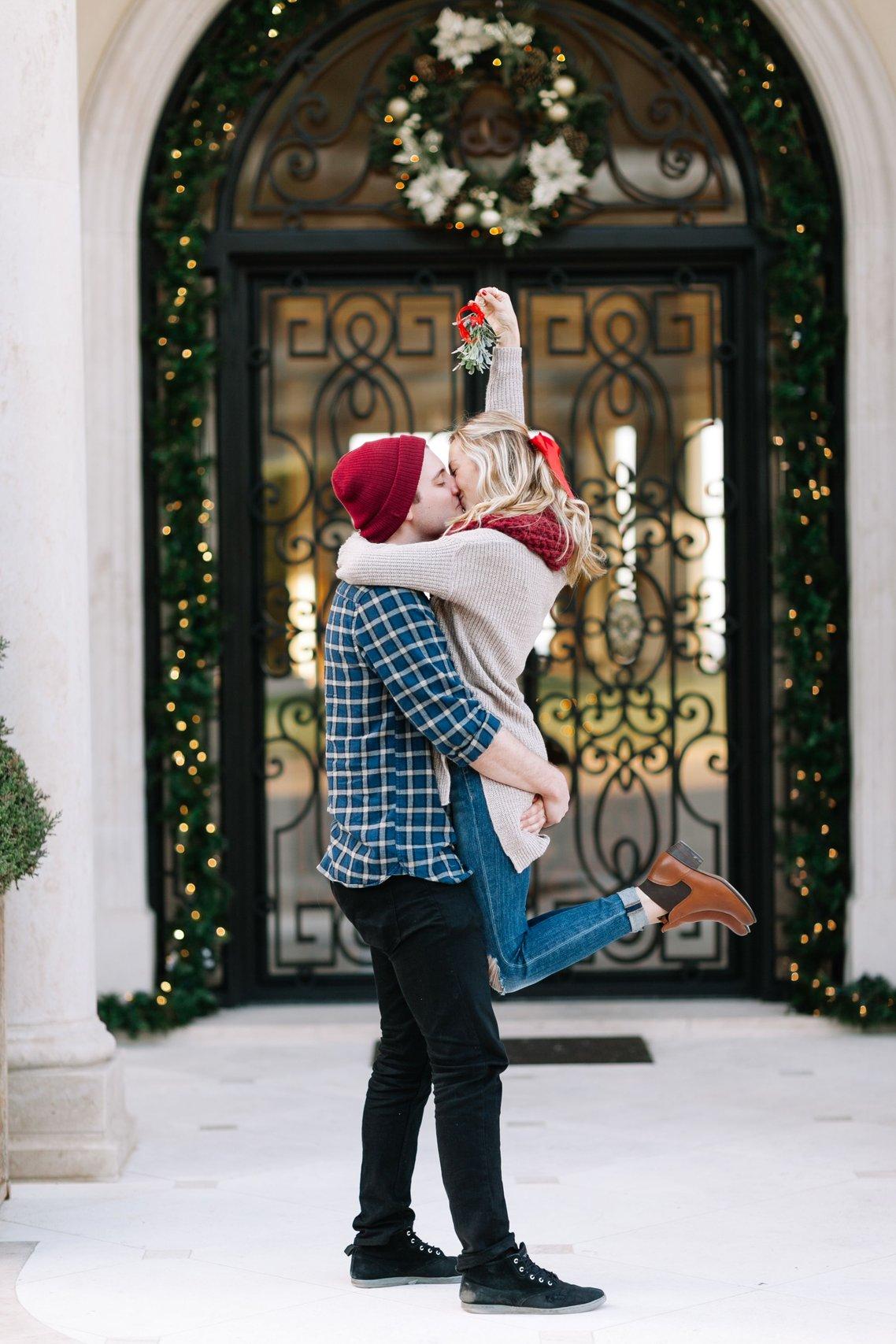 Who can resist a kiss under the mistletoe during the festive season? The only difference here is that when you pull your bunch out and they lean in, you give them the shock of the season by dropping down on one knee instead. Adorable!
29. Baby Grow Proposal
Pop your little one in this super cute babygrow by Simply Colors on Christmas morning, and sit tight until your partner reads the message. The love of your life will be speechless. You decide exactly what the babygrow says, so if the whole 'mummy' and 'daddy' thing doesn't rock your world, you can always just go with names.
READ MORE: 36 Best Engagement Rings: Where to Buy the Best Engagement Rings Online in the UK
30. Jigsaw Puzzle Proposal
Incorporate your proposal into your Christmas gifts by wrapping up this jigsaw puzzle. Suggest you solve the puzzle on Christmas afternoon, then watch as your partner pieces together the most romantic question they've ever been asked.
31. Christmas Treasure Hunt Proposal
Plan out the perfect Christmas morning surprise by creating your very own festive scavenger hunt – all of your clues will lead to the ring as the treasure. This treasure hunt kit from Martha Brook is the perfect way to make the game even more fun and provide the cutest keepsake once they've said yes.
32. Christmas Dinner Exploding Proposal Box
Put this elegant box at your partner's place setting for Christmas dinner - when they take off the lid, the walls come down to reveal an explosion of personal photos and ring proposal box.
READ MORE: Affordable Engagement Rings: 38 of the Best Budget-Friendly Rings for 2020 & 2021
33. Personalised Word Search Proposal Poster
Have this cool print personalised with your special someone's name and the big question "Will You Marry Me?" and let the fun begin. Once you've had it framed, all you have to do it wrap it up and put it under the Christmas tree - happy tears all but guaranteed!
34. Scrapbook Proposal
Make a scrapbook about your relationship - this can include photos and any mementos of time spent together (plane tickets, receipts for romantic dinners, print-outs of your favourite emails etc). Present it to your partner on Christmas Eve and suggest you go through it together. Just wait until they see the last page, where you've written, of course, 'Now for our next adventure - will you marry me?'
35. Christmas Toast Proposal
If you both like bubbly, put aside a special bottle to enjoy together on Christmas Eve. When you bring it out, decorate it with this bottle charm, which you can have personalised to say, 'Will you marry me?' Hopefully your partner won't take too long to notice...
Once your other half has said yes, you'll want to announce the happy news to all of your family and friends! Check out our list of engagement announcement ideas so you can share the news in a fun and creative way.