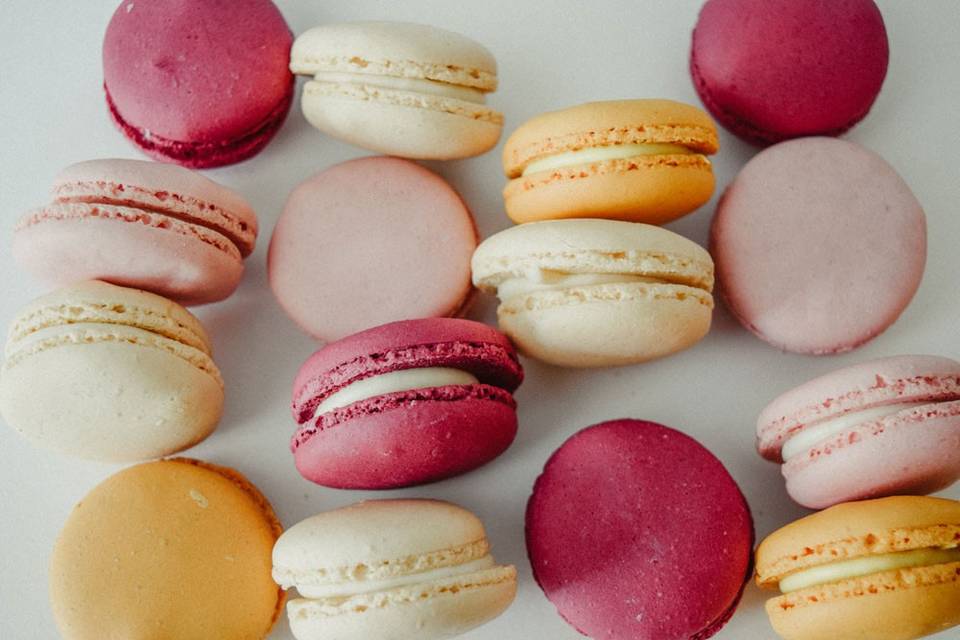 If you're looking for a way to keep your wedding costs down, what about this amazing wedding budget hack – having homemade wedding favours to give to your guests?
If that sounds like a lot of effort, we've got 101 amazing wedding favour ideas to inspire you, but if you're feeling creative, read on…
READ MORE: Gorgeous Personalised Wedding Favours
Homemade Jam
If you're having a vintage themed wedding, you could make your own jam to hand out on your big day.
We love these minature jam jars from Etsy – they'd be the perfect pots to put your creation in!
Lemon Curd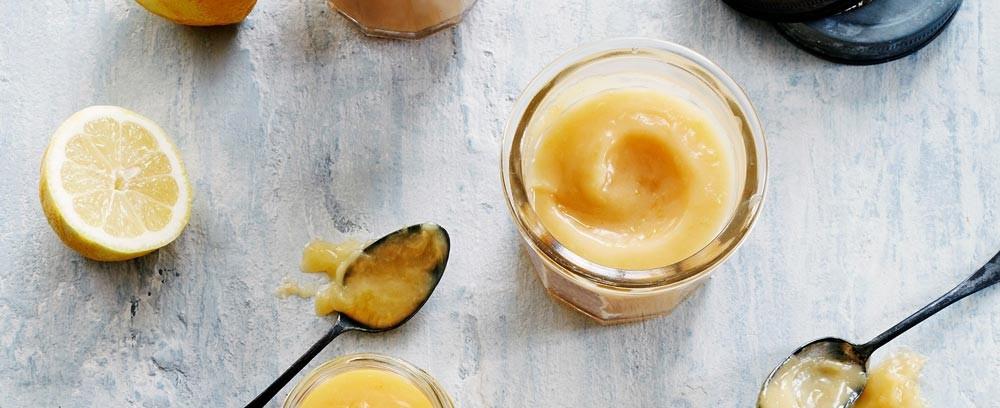 If you're not a fan of jam, what about making your own lemon curd to give out to your guests?
You can present it in little mason jars – tie a luggage label to each one with your guests' names and then they can double up as wedding place cards.
Popcorn Wedding Favour
It's easy to make bowls and bowls of popcorn at home – just buy microwavable bags and get popping.
Put it in sealed containers to keep it fresh ahead of the big day before giving everyone popcorn boxes to fill to their heart's content.
Homemade Meringues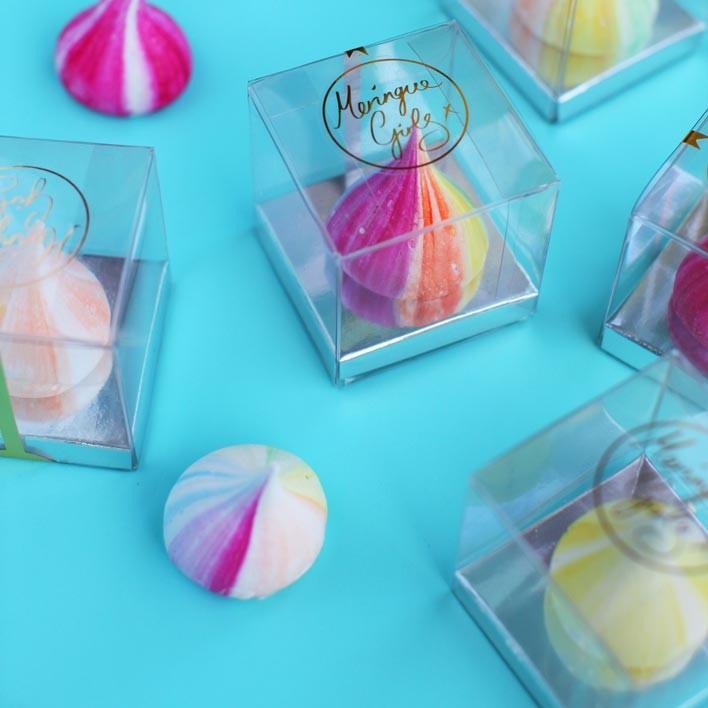 Why not treat your guests to a delicious homemade meringue wedding favour?
You could even add a hint of food colouring to them so they match your wedding colour scheme.
Wrap them up in cellophane bags and tie with a pretty bow. We love the Meringue Girls meringue recipe.
READ MORE: How to Incorporate Pantone's Colour of the Year Into Your Wedding
Macarons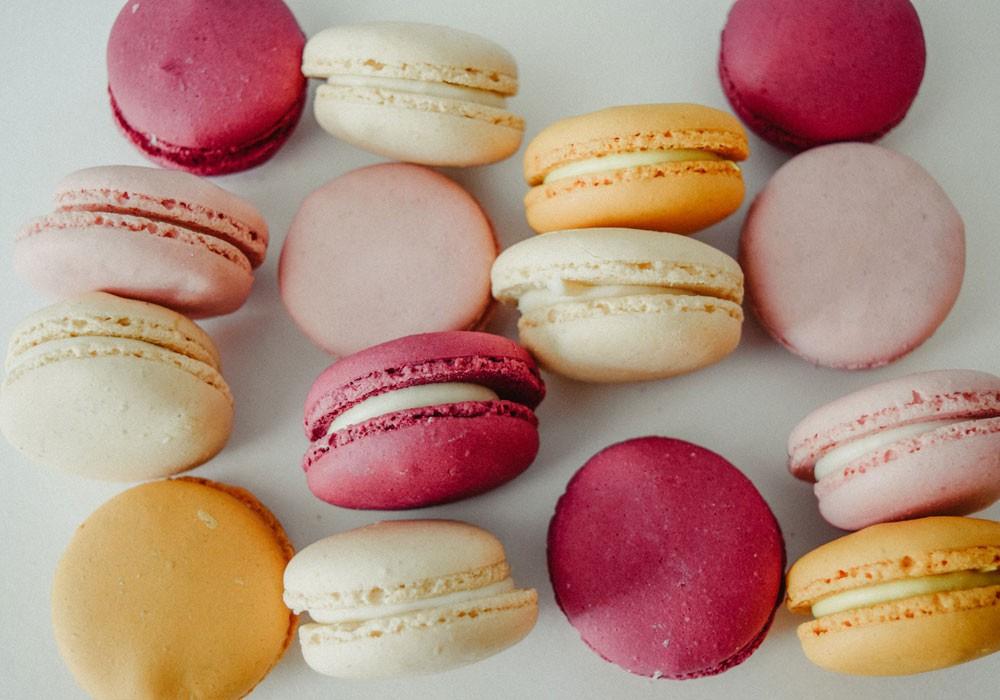 We love the idea of treating your guests to macarons at your wedding. You can find a basic, easy recipe here which you can adapt with your chosen flavours.
If you want something decadent, why not try Olive magazine's recipe for Nutella macarons, which will look so elegant at each guest's place setting?
Experiment with different flavours and colours for treats to match your colour scheme.
Make Your Own Marshmallows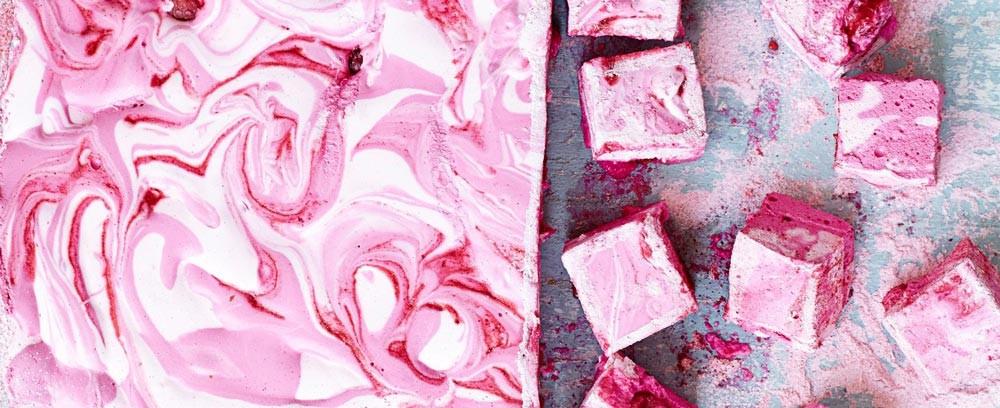 Who could resist a homemade marshmallow? We are obsessed with these beautiful raspberry ripple marshmallows from Olive, why not have a go at making your own?
READ MORE: The Ultimate Rose Gold Wedding Guide
Make Your Own Honey
If you have beekeepers local to you (or do it yourself!) why not treat your guests to local honey which you can dress up in pretty jars?
If you decide against doing it yourself, these cute little jars come ready filled with honey!
Make Your Own Sloe Gin
Get busy a few months before your wedding making your own sloe gin – or any flavoured spirit, for that matter!
You can then serve it up in little shot bottles – we love the idea of decorating the bottles with these cute labels.
"Take a shot, we tied the knot" – what a great little token!
Turkish Delight Jellies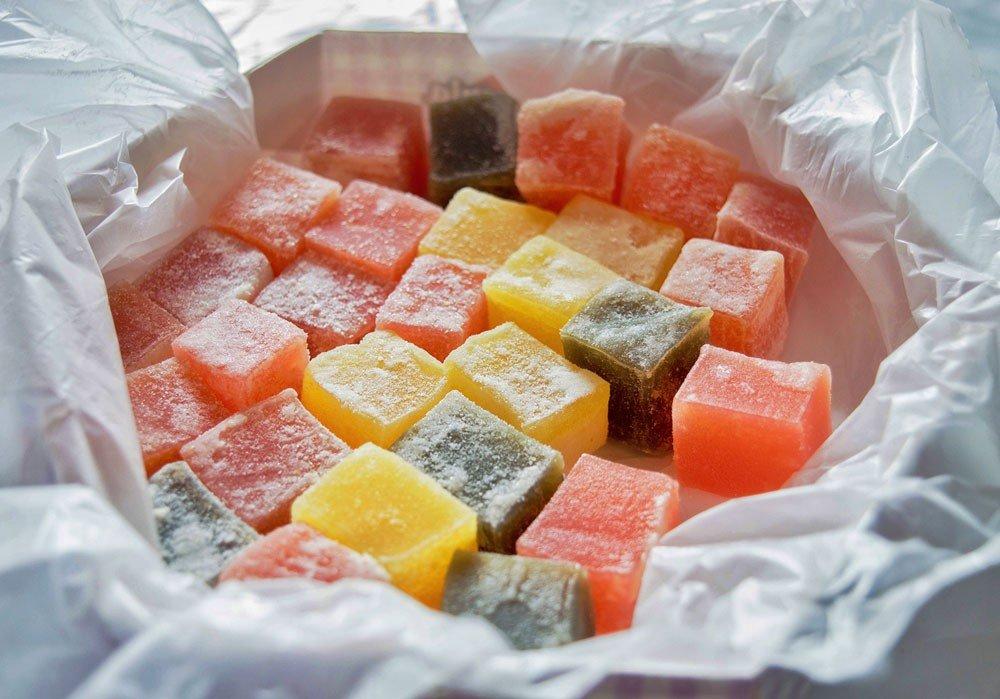 Want to go really out there?
We love Olive magazine's recipe for Turkish delight jellies and you can easily serve them in shot glasses – which also feature in our wedding favours for £1 or less article, if you're after some…
READ MORE: 19 Fun Ideas For Children's Wedding Favours
Sweet Buffet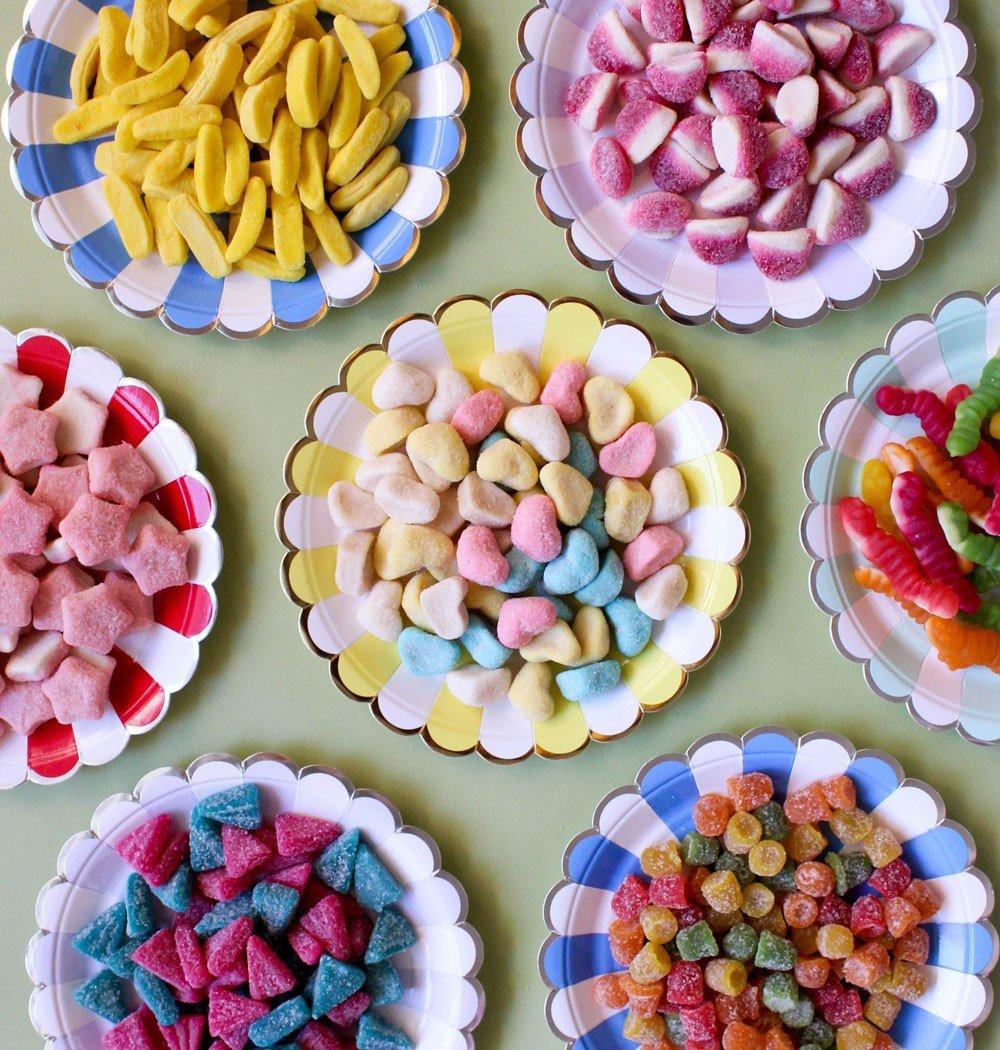 If the idea of spooning things into jars or baking up a storm doesn't appeal to you, why not set up a wedding sweet buffet?
Fill jars or bowls with your favourite sweets and give your guests paper bags so they can help themselves on the day – less homemade and more wedding-made, but it still counts.
Bake Your Own Brownies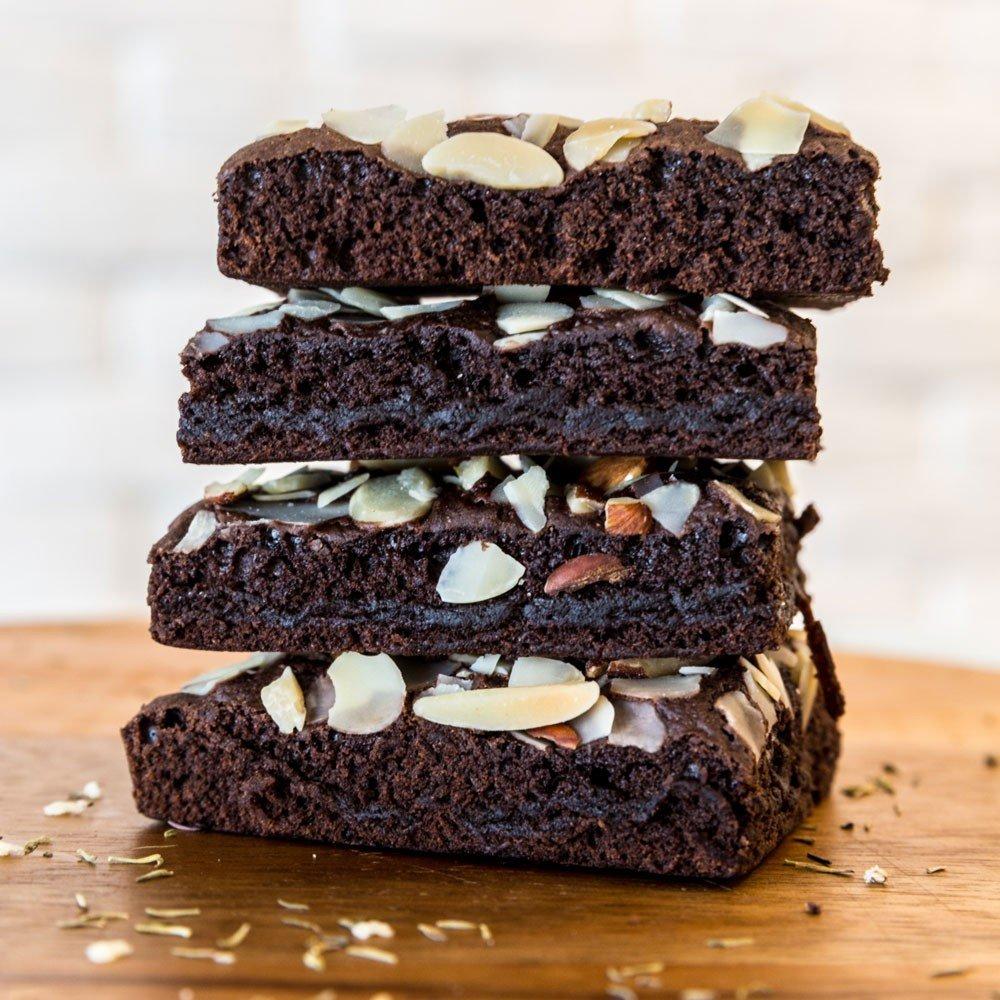 If you're up for a bit of baking, why not treat your guests to some homemade brownies as a wedding favour?
If you make a lot you can always stack them up as a wedding cake alternative and encourage your guests to help themselves – we love this recipe for mint flavoured chocolate brownies from Olive magazine.
READ MORE: Mary Berry's Victoria Sponge DIY Wedding Cake Recipe
DIY Photo Booth
You can make your own wedding photo booth with an instant camera and a lot of props.
Let your guests keep the snaps they take as favours so they can be reminded of all the fun they had on your special day.
We love this pink photo booth prop set from Etsy – it'll make your photos so pretty!
Nutella Truffles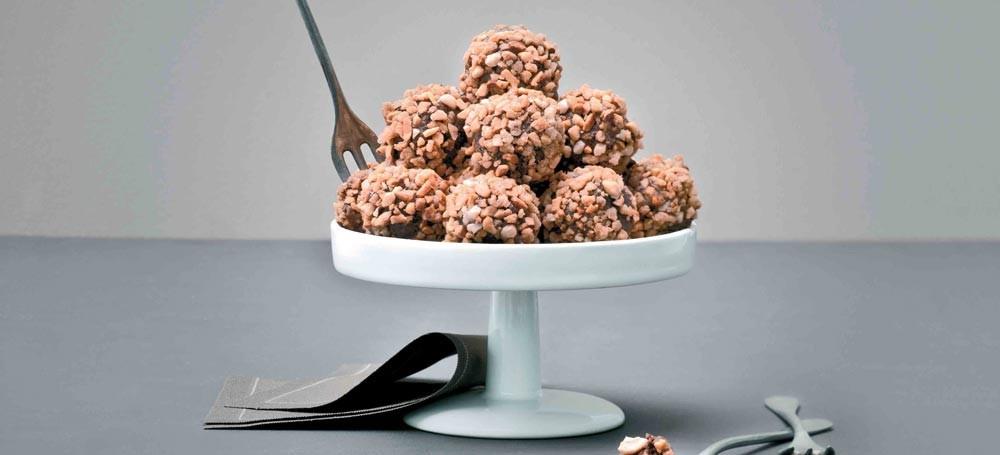 Are you a bit of a chocoholic? We love this idea for couples looking for chocolate wedding favour ideas – homemade Nutella truffles!
They're super easy to make (it takes just 25 minutes) and will be devoured by your guests – find the truffle recipe on Olive magazine's website.
DIY Bar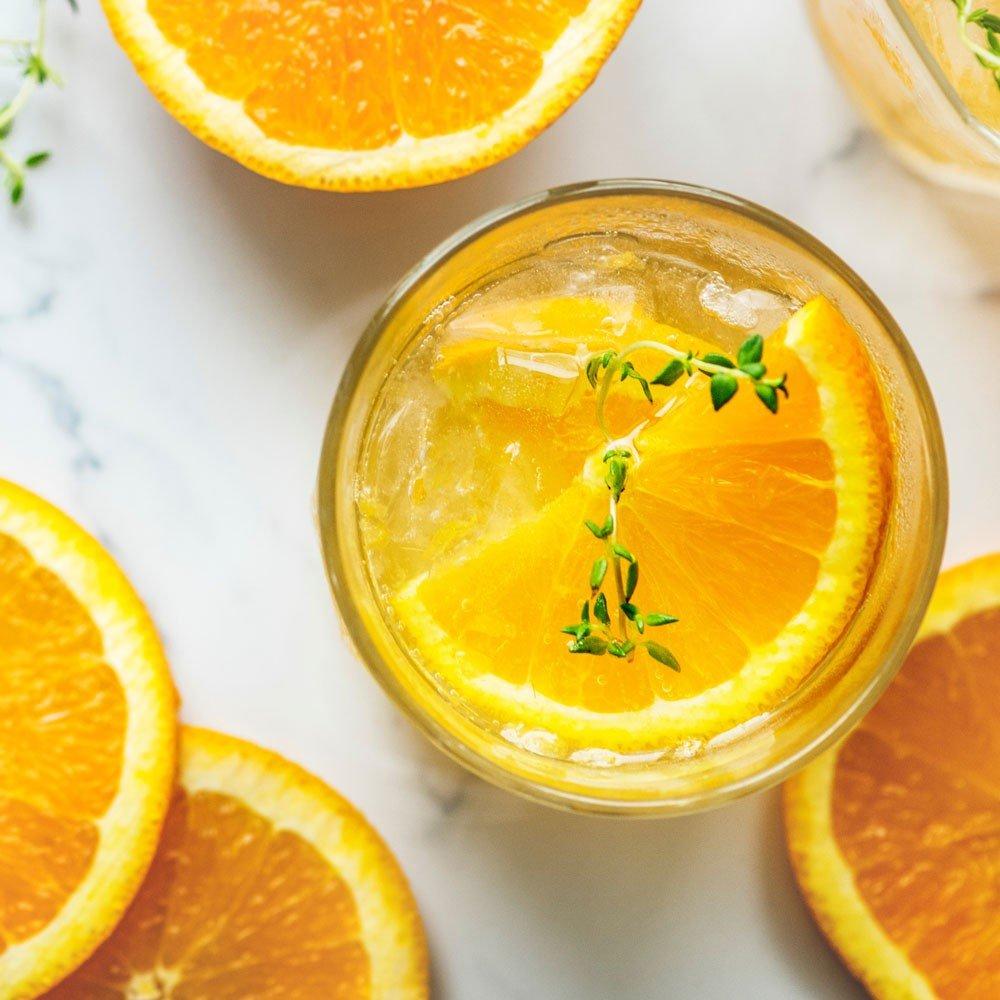 This is a DIY wedding favour that involves minimal effort on your part – simply set up a bar with a selection of drinks and let your guests mix their own cocktails.
Make sure your venue is ok with this first though! Alternatively you could give each guest a miniature and a mixer if that's easier.
Soft Drink Stand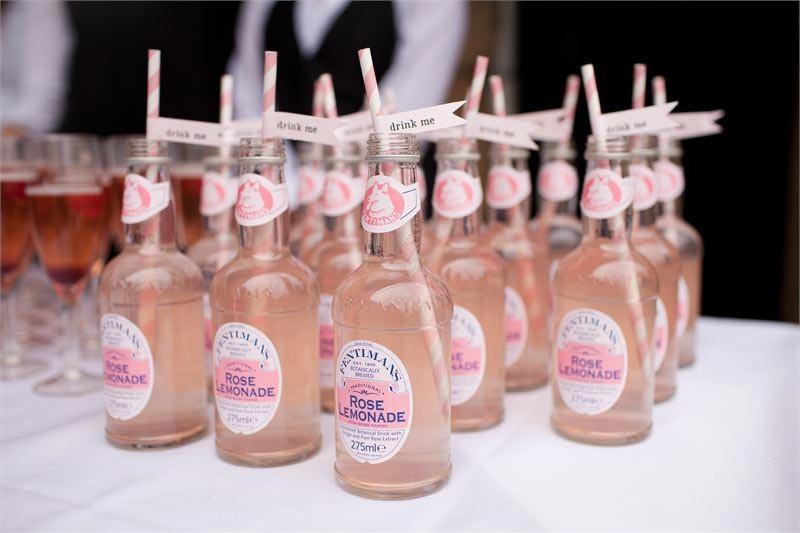 Image: East Riddlesden Hall
If corkage is an issue, a good way round it is to give everyone a soft drink wedding favour.
You could make your own virgin cocktails to hand out in jars, or jazz up pretty bottles to match them to your theme, like this couple who married at East Riddlesden Hall did with their pink lemonade.
Make Your Own Cookies
Why not give your guests homemade biscuits as wedding favours for guests?
Biscuit expert Amy Brown, owner of Cookie Delicious, has shared a foolproof wedding biscuit recipe with us.
Your guests will definitely appreciate the thought and effort that goes into these treats.
Tiffin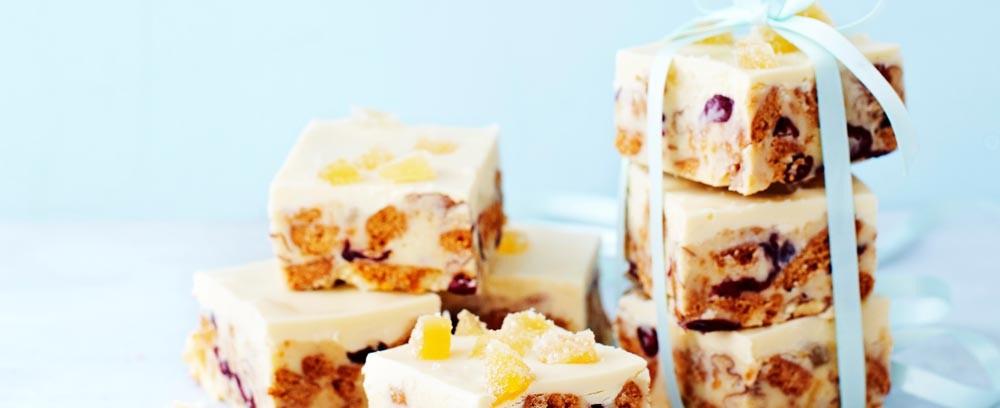 Tiffin is easy to make and will look super cute given out to guests in pretty cellophane bags.
Check out this recipe for cranberry and ginger tiffin from Olive magazine – your guests won't be able to resist it.
Sea-Salted Almonds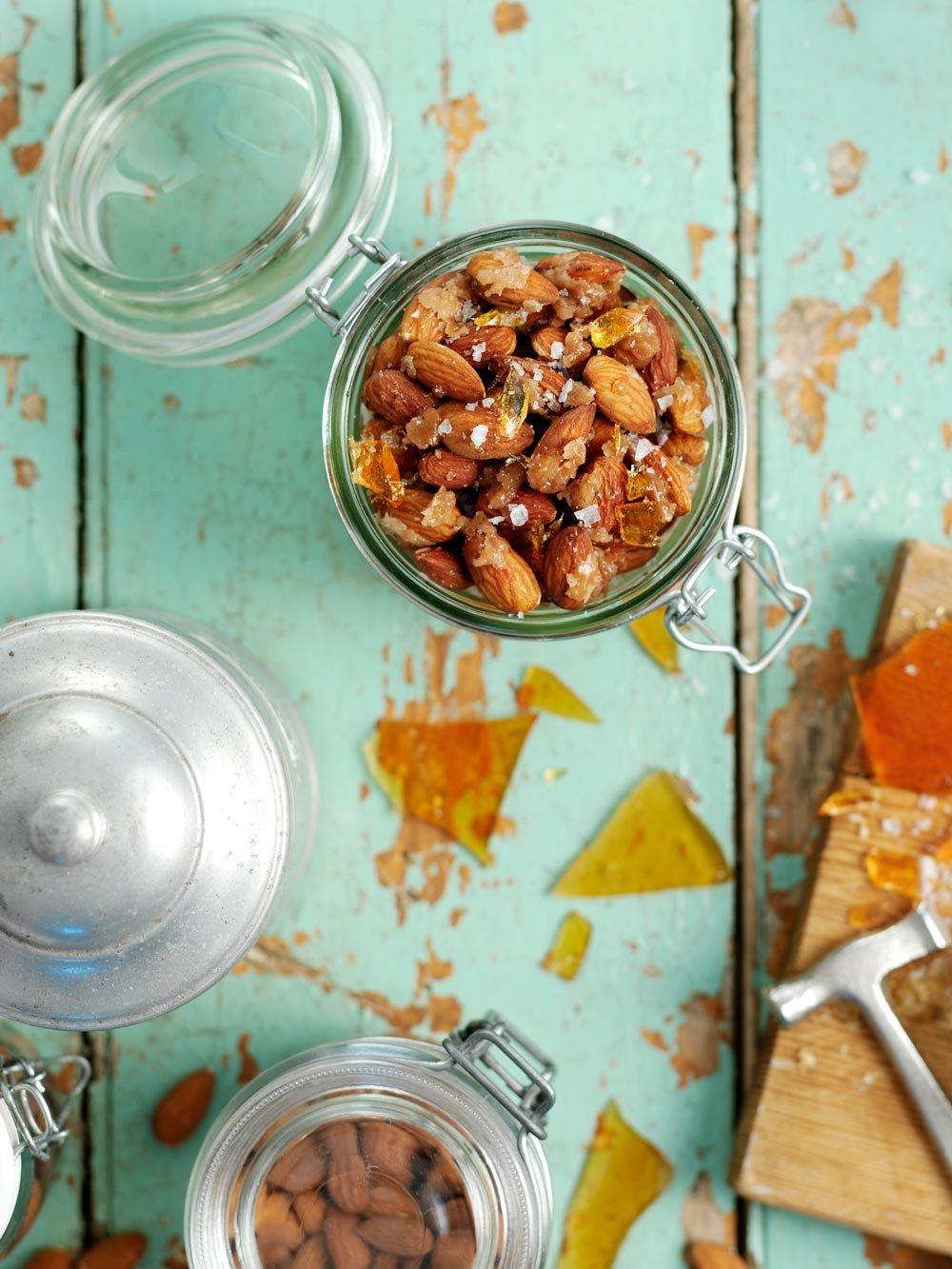 Give your guests a healthy treat that you can make at home – such as a jar of caramel and sea salt almonds.
They can snack away guilt-free and they look super pretty presented in glass jars.
If you don't fancy that flavour combo there are plenty more almond recipes you can make at home.
READ MORE: 47 of The Most Unusual Wedding Favours
If you loved this, make sure you also check out our edit of the most delicious edible wedding favours! You'll be salivating at the thought.