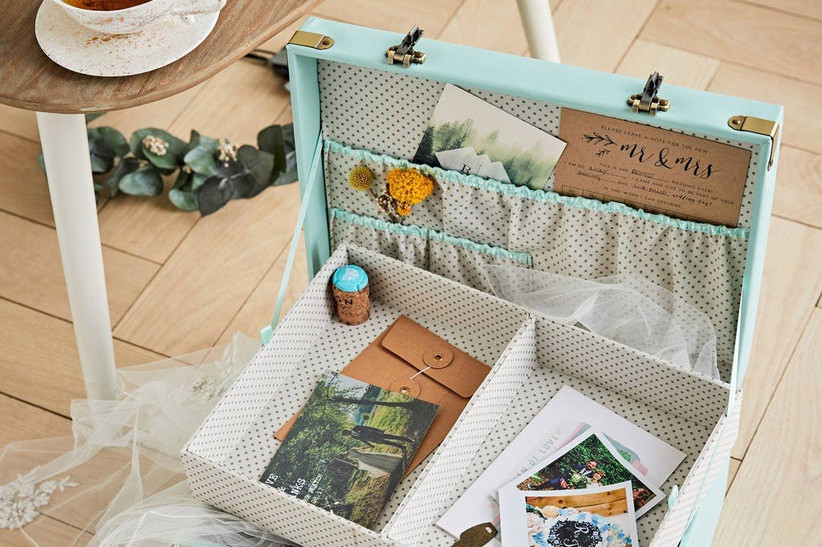 Whether you've got a newly engaged couple, your parents, or a couple celebrating their first Christmas as newlyweds in mind, buying a Christmas gift for two people can be a challenge. Buying pressies for one is hard enough!
That said, shopping for couples can have a lot of advantages, including saving money and time (both of which are valuable commodities over the festive season).
Treating your favourite couple to a joint Christmas present also means they can enjoy your gift together, whether it be a date night, something they can both wear or a decoration for their home. We promise they'll totally appreciate it.
From gin-making experience days to personalised prints to hang in their bedroom, here are the best Christmas gifts for couples for every budget.
1. Feyoncé and Bae-Z Mug Set – £8.46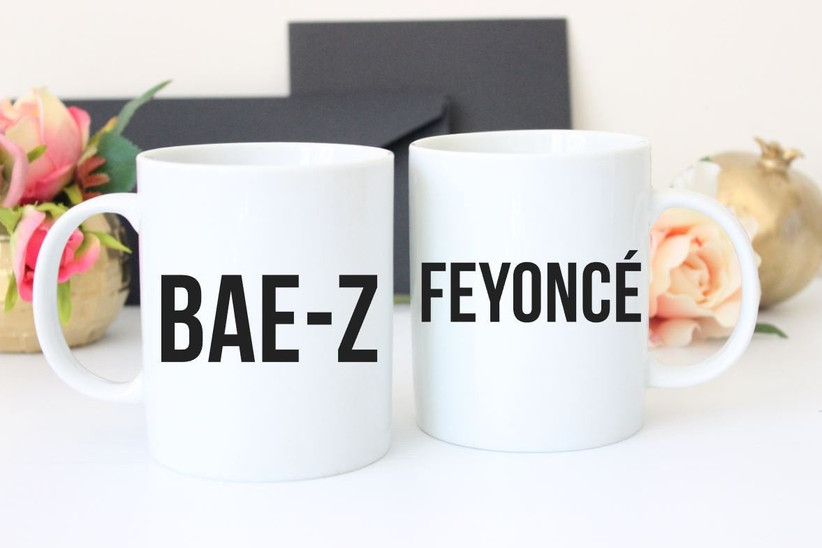 If you know a superstar couple who put a ring on it this year, why not treat them to these fabulous Feyonce and Bae-Z custom coffee mugs?
They're such a fun gift idea for couples that your A-list pals are sure to love!
2. Personalised Couples Marble Serving Board – £44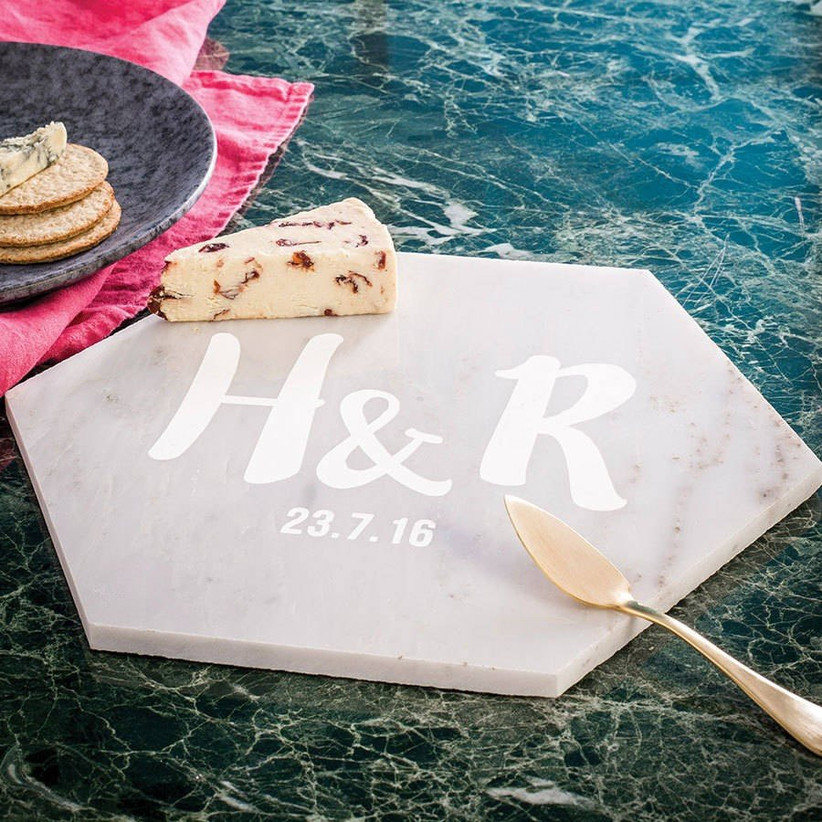 It's pretty much law that you eat your bodyweight in cheese over the Christmas period, so this personalised couples serving board is the perfect Christmas gift.
Have the names of your favourite cheese-loving couple engraved on the top alongside the date they got married or engaged. Marble is a huge home trend that doesn't seem to be going anywhere, so now is the perfect time to snap this gift up.
3. Date Night Idea Cards – £21.20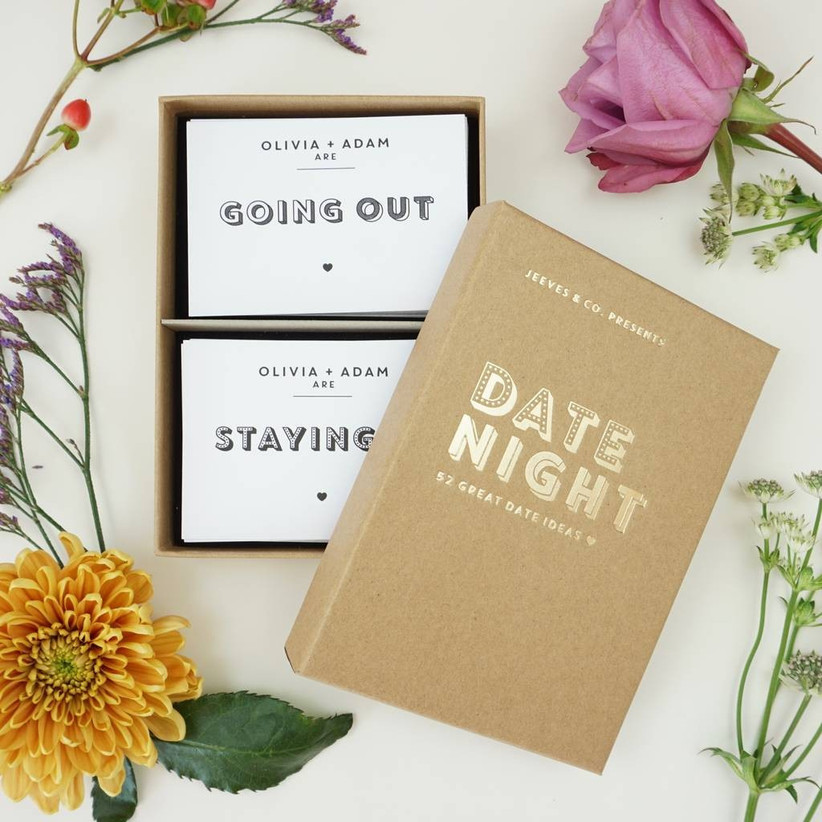 Whether it's wedding planning, work or looking after the kids that's getting in the way, it's often difficult to make time for each other. These cute date night idea cards will give the special couple in your life a gentle reminder to do something romantic, whatever stage of their relationship they're in.
From recreating their first date to getting dressed up for a night in of party food and Prosecco, there are so many cute ideas that'll keep the romance alive!
4. Personalised Couples Enamel Popcorn Bowl – £16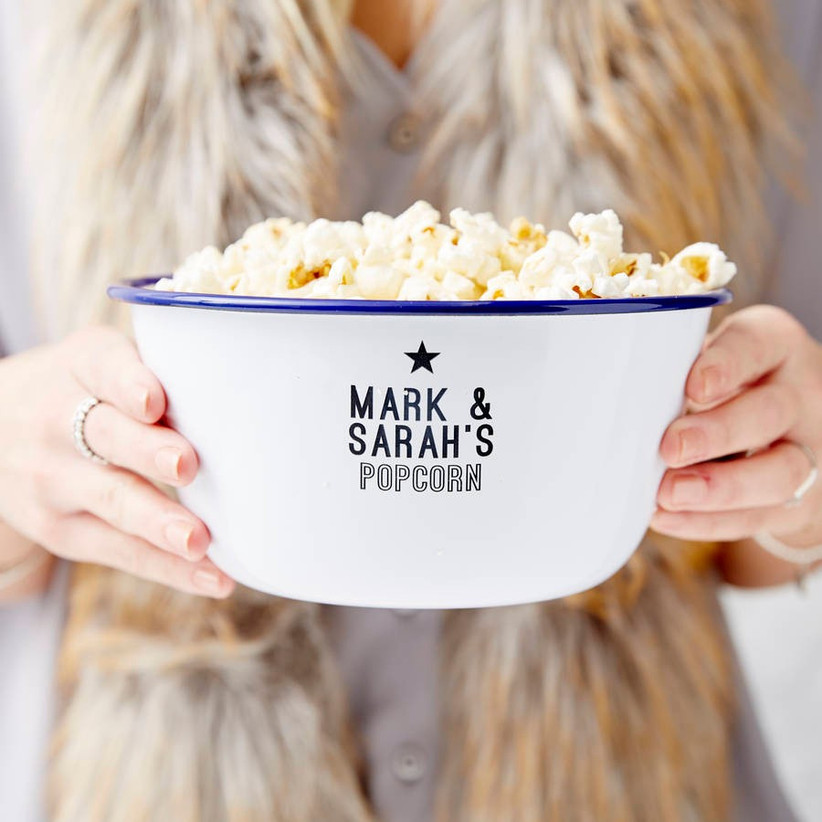 If your favourite couple love nothing more than a night in watching films, this personalised enamel popcorn bowl is a great gift.
Oh, and if they're not popcorn fans, fear not! You can change the contents label to read anything you like – how about crisps or biscuits?
5. Luxury Scented Candle for Couples – £28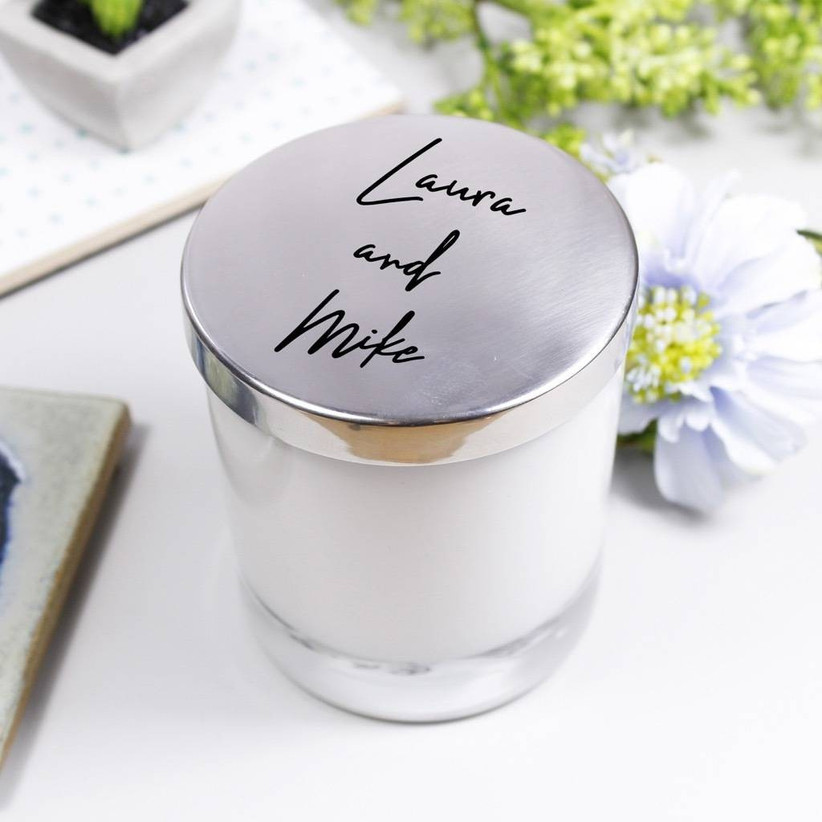 A luxurious candle is the perfect gift for the couple who already have everything. Who wouldn't want their home to smell fabulous?
This gorgeous scented candle from Olivia Morgan comes with a personalised lid in your choice of silver, copper or gold. You also have five delicious scents to choose from, including peony blossom, coconut milk & honey and mulled wine & berries. Add a beautiful gift box and a ribbon in the colour of your choice to make this present extra special.
6. Gin Making Experience for Two – £99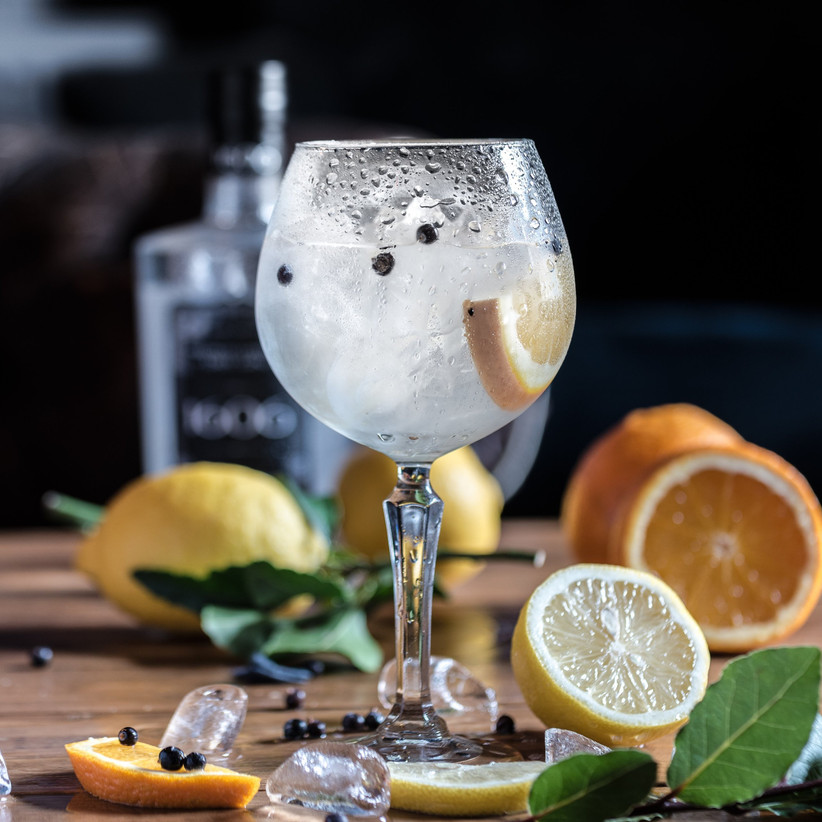 What about this gin tasting experience? To be fair, isn't gin everyone's cup of tea?
In the heart of London is The Gin Lounge which offers couples a magical insight into the world of distilling. They'll even get to take home their own bottle of hand-crafted gin at the end of the day!
7. Edinburgh Strawberry & Pink Pepper Gin Liqueur – £18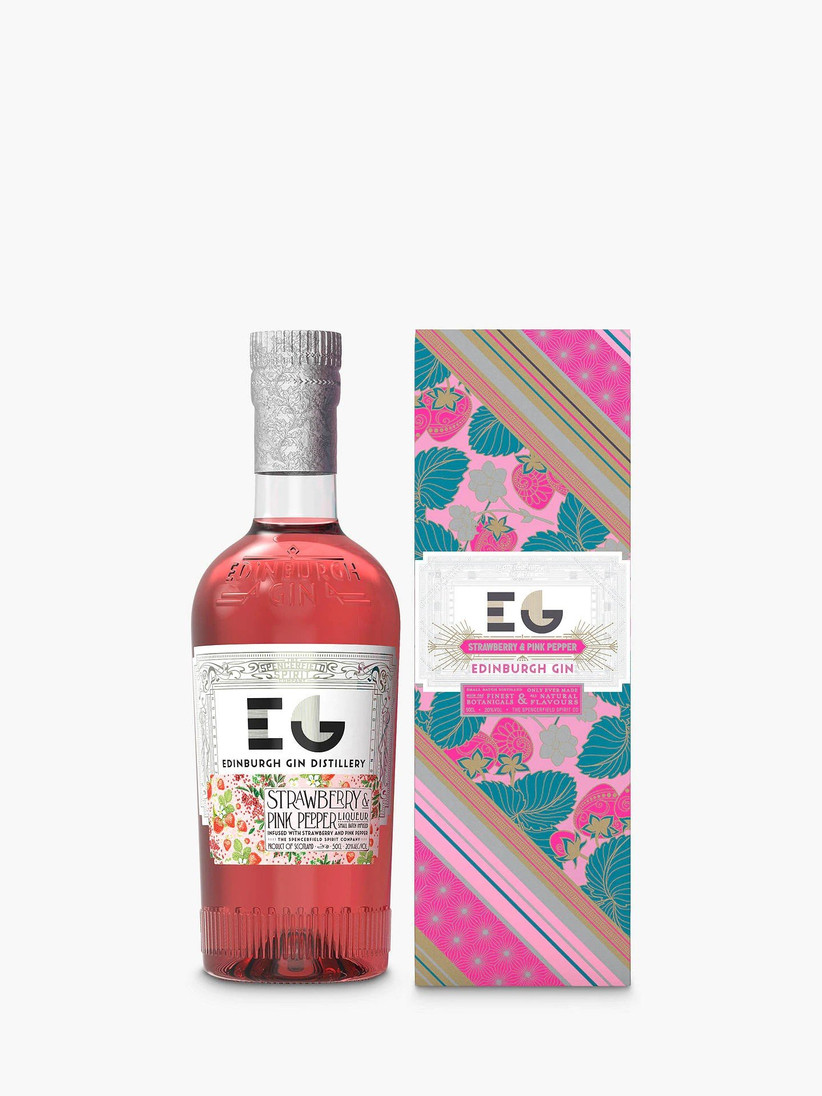 Or how about a gorgeous bottle of gin liqueur for the tipple-loving couple in your life?
This gin liqueur is the perfect mix of sweet and spice and is best served over ice or as part of a sparkling wine cocktail. And can we talk about that presentation box?
8. Personalised Cooking Together Chopping Board – £24.95
Perfect for the foodie couple in your life, this adorable wooden chopping board is a thoughtful and stylish Christmas gift.
It says: "Cooking Together Since…" on the top, so you can get it engraved with the year they met. They'll love it!
READ MORE: The Best Foodie Wedding Venues in the UK
9. Personalised Face Cushions – £40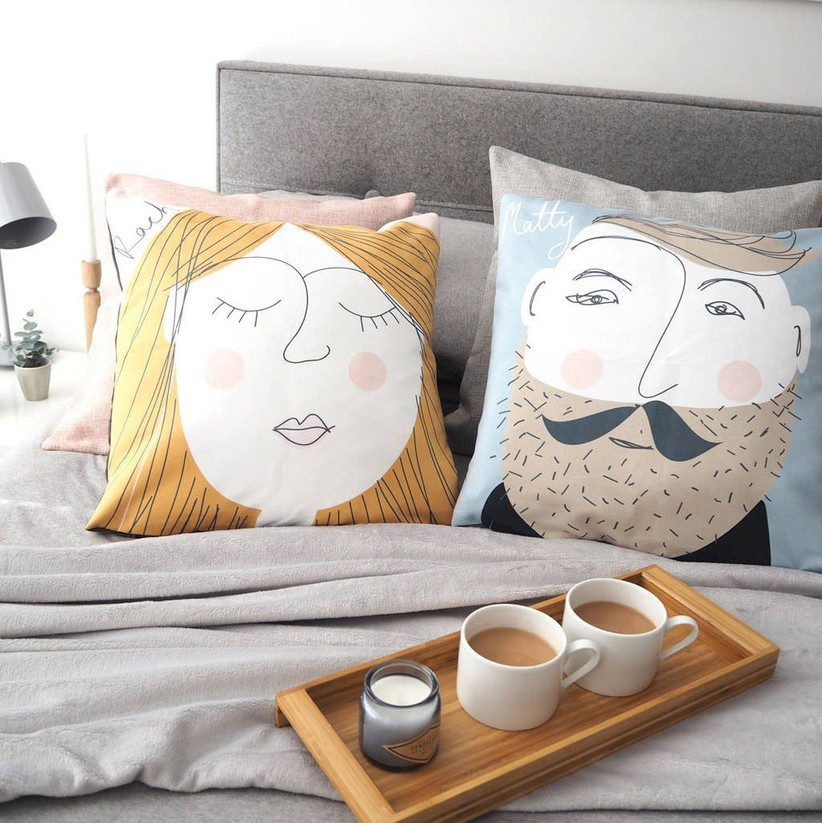 These personalised face cushions have to be one of our favourite Christmas gifts for couples this year. They're fun, quirky and would look great on a bed or sofa.
You can choose your face, hair and skin tone to ensure the illustrations look as much like your favourite couple as possible. You can even mix up the background colour so the cushions match their home décor!
10. Six Month Date Night Spice Subscription Box – £46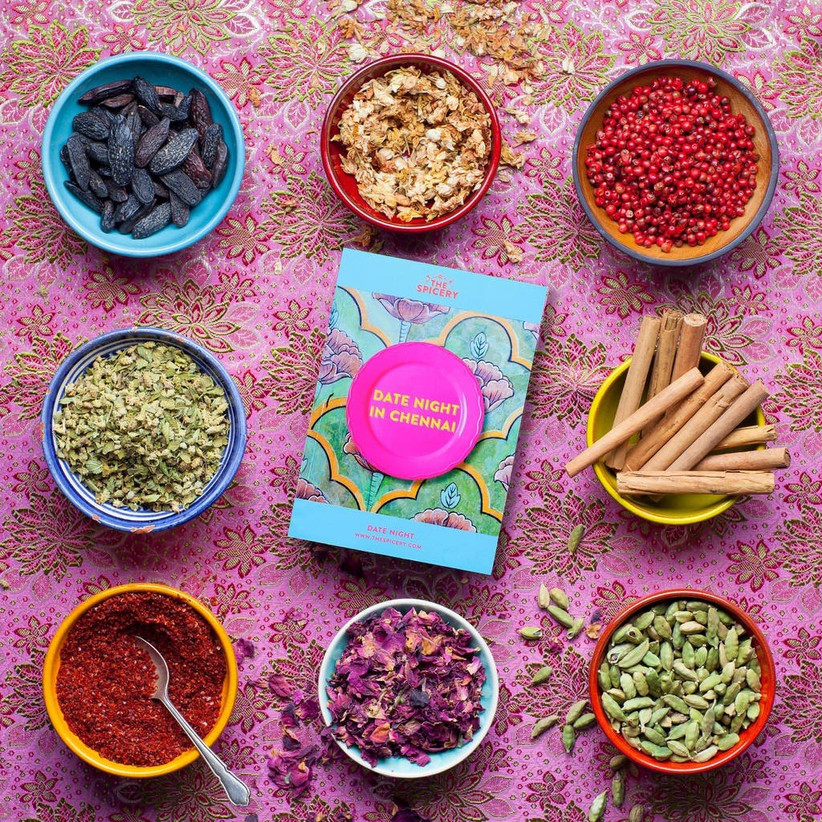 Treat your favourite couple to six months' worth of delicious date nights with this spice subscription box by The Spicery.
Each month, they'll receive a box of spices and recipes to create a romantic meal for two, from a different destination around the world. Each recipe serves two people and includes a full shopping list of the other ingredients they'll need to buy themselves – which can all be purchased from a local supermarket.
If that wasn't enough, you can have the first box packed in a beautiful fabric bag to make a stunning gift.
11. Custom Wish Decision Dice – £12.50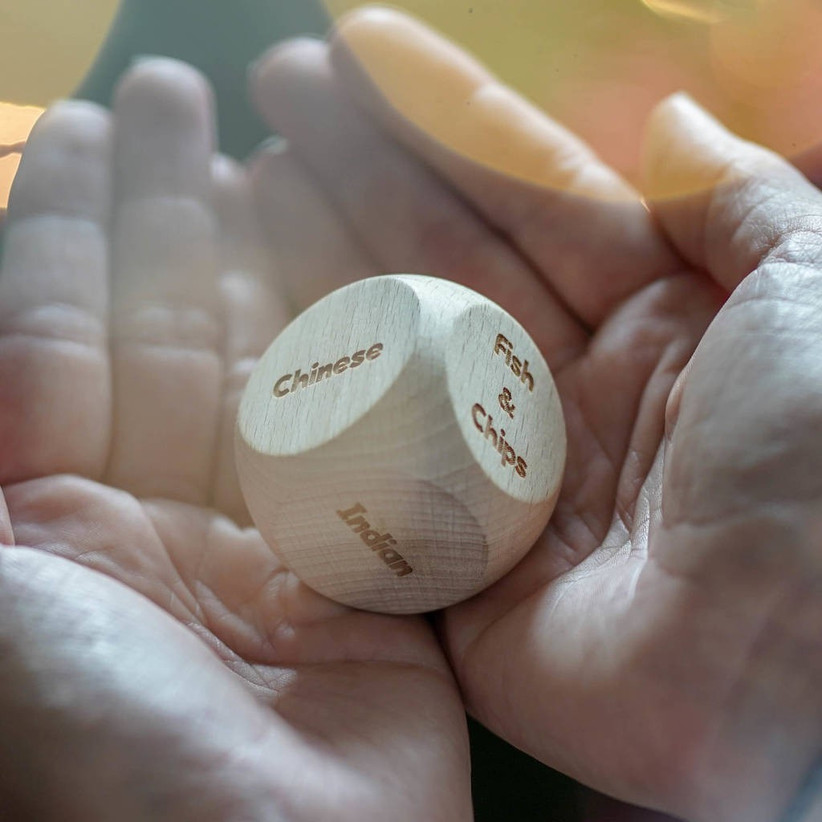 Are your favourite couple seriously indecisive? This custom decision-making dice could be the answer to all of their disagreements.
This bespoke dice can be engraved with their favourite takeaways, date ideas or kids' activities… just choose six options and your wishes will be engraved. Squabbles over pizza or fish and chips – be gone!
12. Personalised Jigsaw Puzzle Piece Wooden Keyrings – £7.95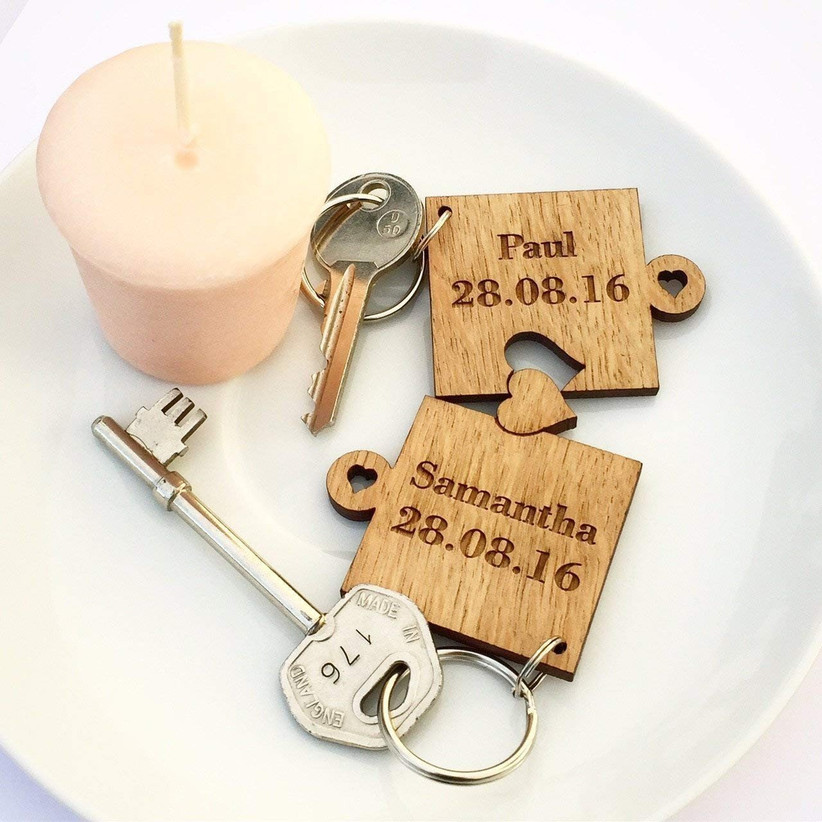 These cute engraved keyrings come as a pair and can be personalised with the couple's names and their anniversary.
We love the idea of treating the couple to something matching which they can carry with them every day.
13. 100 Dates Bucket List Scratch-Off Poster – £12.99
If you know a couple who are always moaning about running out of date ideas, treat them to this scratch-off poster this Christmas.
It has 100 date ideas, from visiting a food festival to taking a walk on the beach. Every time they complete one, they can scratch it off and unveil a cute illustration! We're huge fans of this Christmas gift idea for couples.
14. Personalised Wedding Memory Suitcase Keepsake Box – £150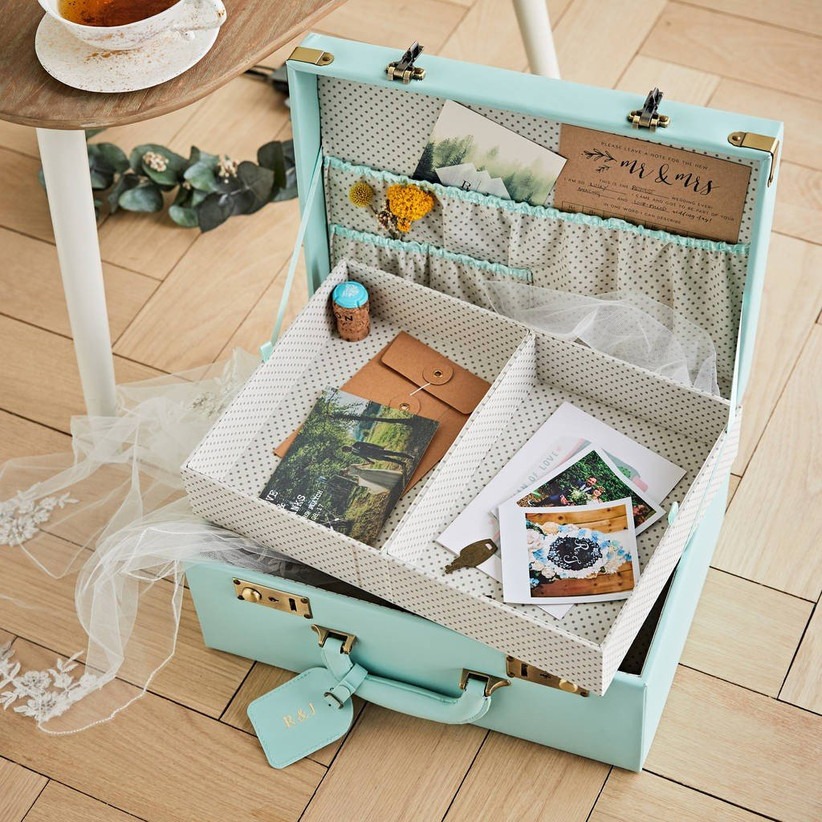 If the couple you're buying for are celebrating their first married Christmas, this suitcase wedding memory box would be the perfect gift.
It can be used to store invitations, orders of service, Champagne corks, bridal shoes and more. Oh, and the luggage tag can be personalised with the special couple's initials! What a gorgeous present for your favourite couple to keep out on display.
READ MORE: 7 Things Love Island's Alex & Olivia Learnt in Their First Year of Marriage
15. 100 Movies Scratch Bucket List Poster – £12.99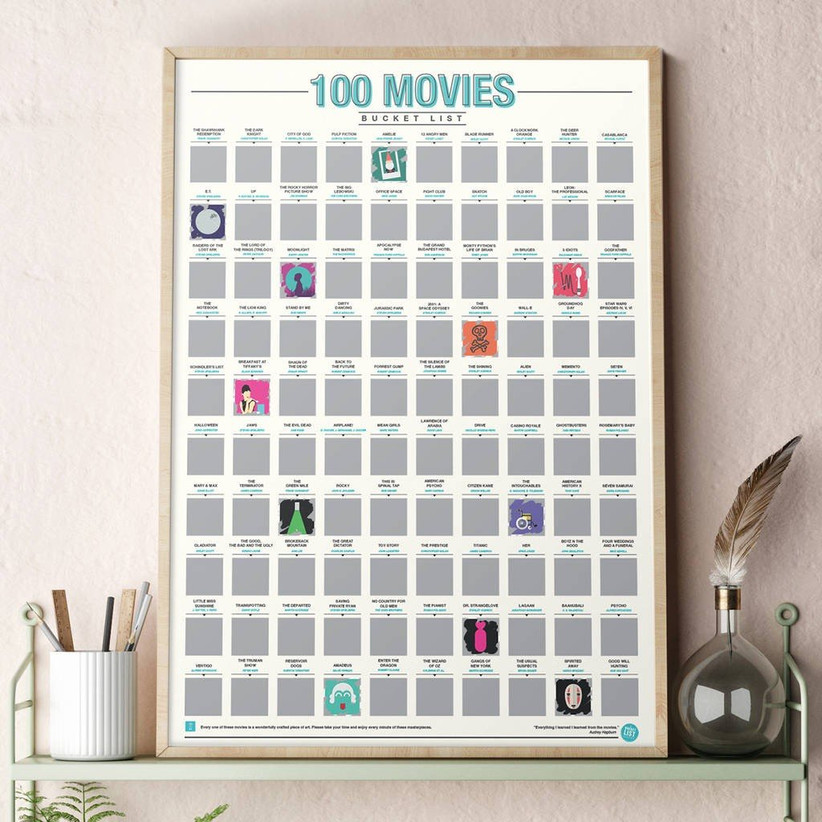 Film buffs will love to work their way through this list of the 100 most iconic films of all time.
Every time they cosy up on the sofa to watch one, they can scratch off the metallic square to reveal an adorable illustration!
16. Personalised Couples Wine Glass Set – £32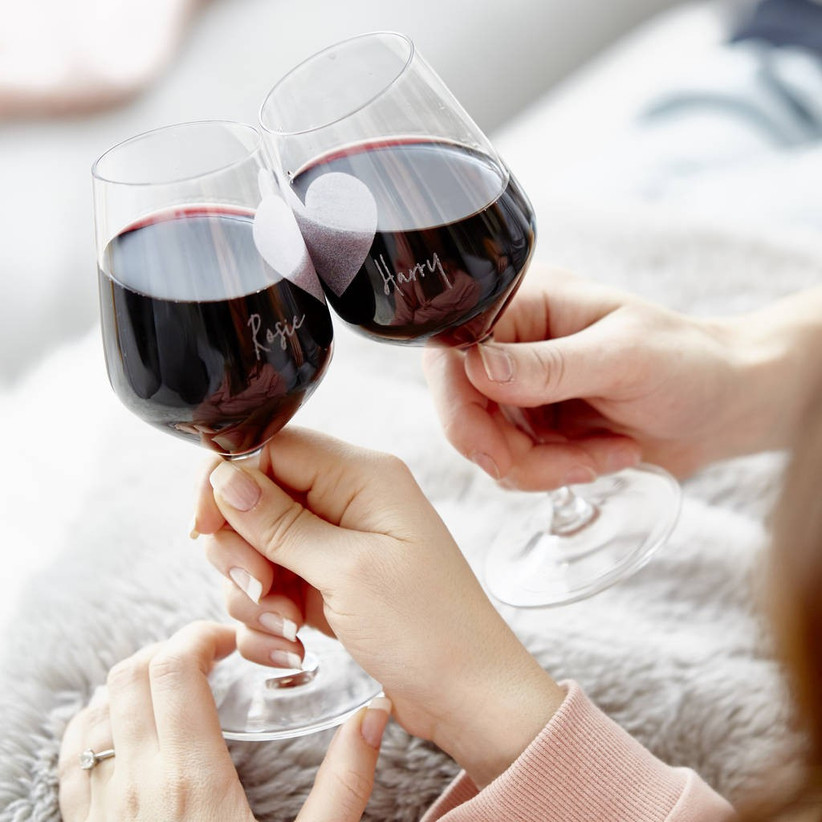 These elegant wine glasses are the perfect gift for the wine-loving couple you know.
They can be engraved with the couple's names and a solid heart design. Chin chin!
17. John Lewis & Partners Spirit of Christmas Hamper – £100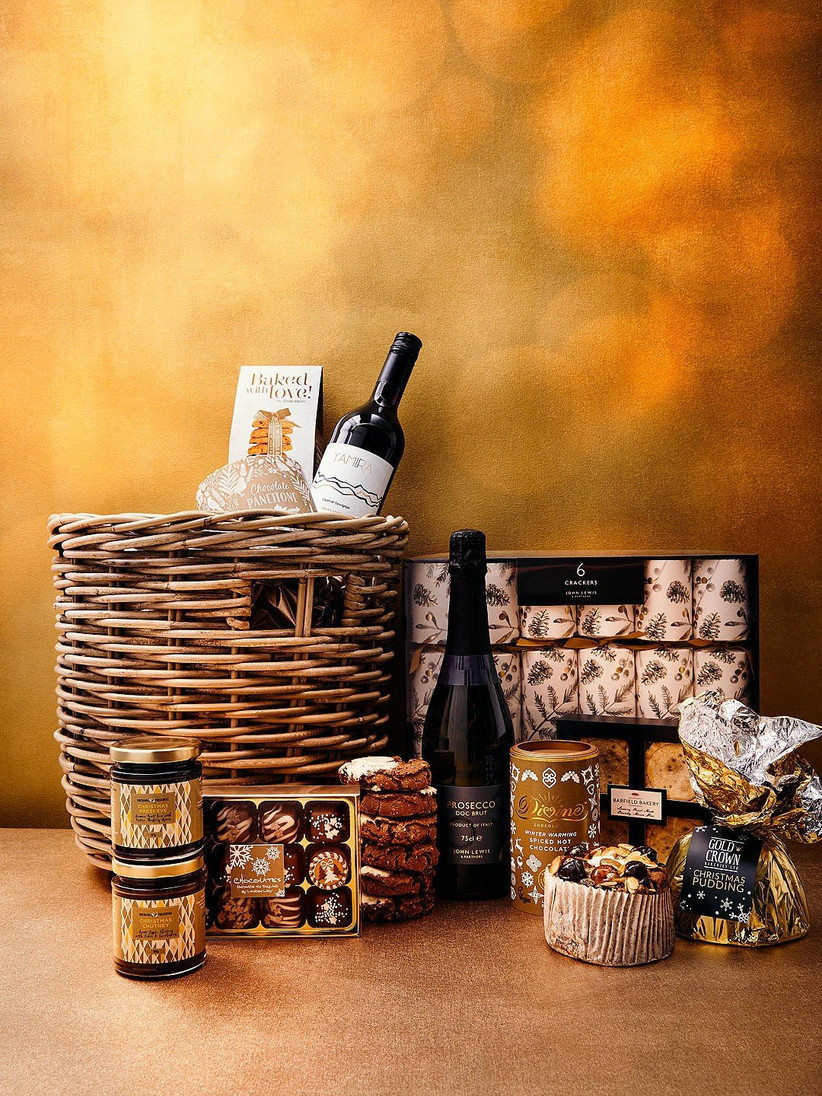 Lovers of food and drink will adore the 2019 Christmas hamper from John Lewis & Partners.
It includes everything from mince pies to chutney and Christmas pudding. There's also a bottle of Prosecco and a box of Christmas crackers to make their festive gathering go off with a bang.
18. Personalised Paper Collage Couples Portrait – £95
Show the special couple in your life how much they mean to you by treating them to a bespoke "Paper People" portrait.
Just like the couple you have in mind, no two paper people are the same. Liddy Parry works from photographs and descriptions to create totally personalised, hand-cut pieces of art. They'll love to pop this on the wall of their new home.
19. Personalised Embroidered Christmas Couple Pyjamas – £55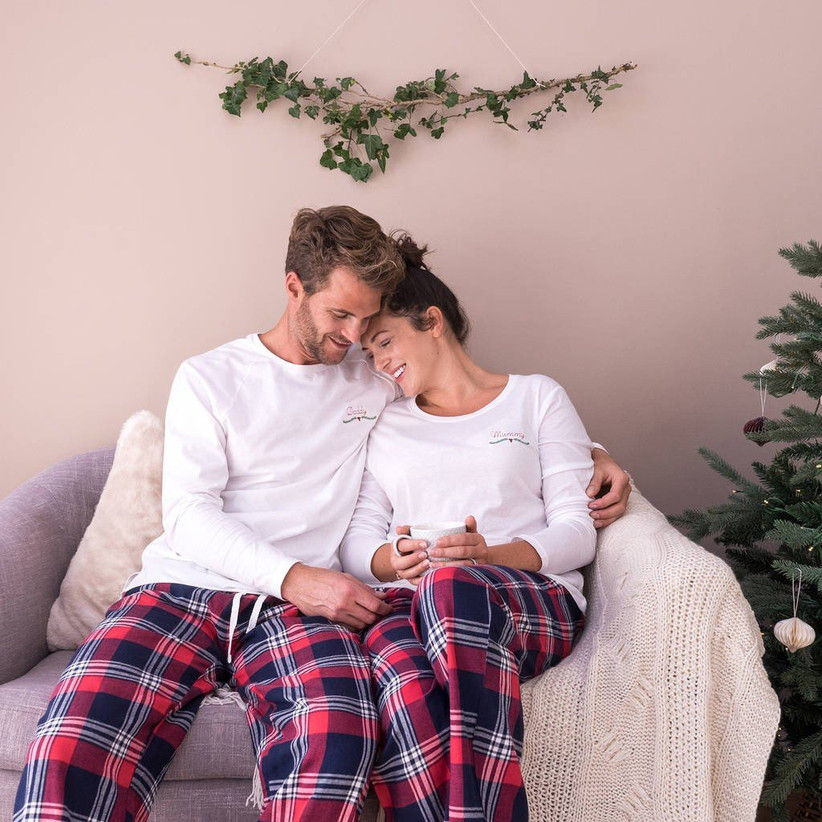 Christmas isn't Christmas without festive pyjamas, and this pair are everything.
They even come with personalised embroidery on the front!
READ MORE: Wedding Gift Ideas That Every Couple Will Love
20. Personalised Doormat – £34.95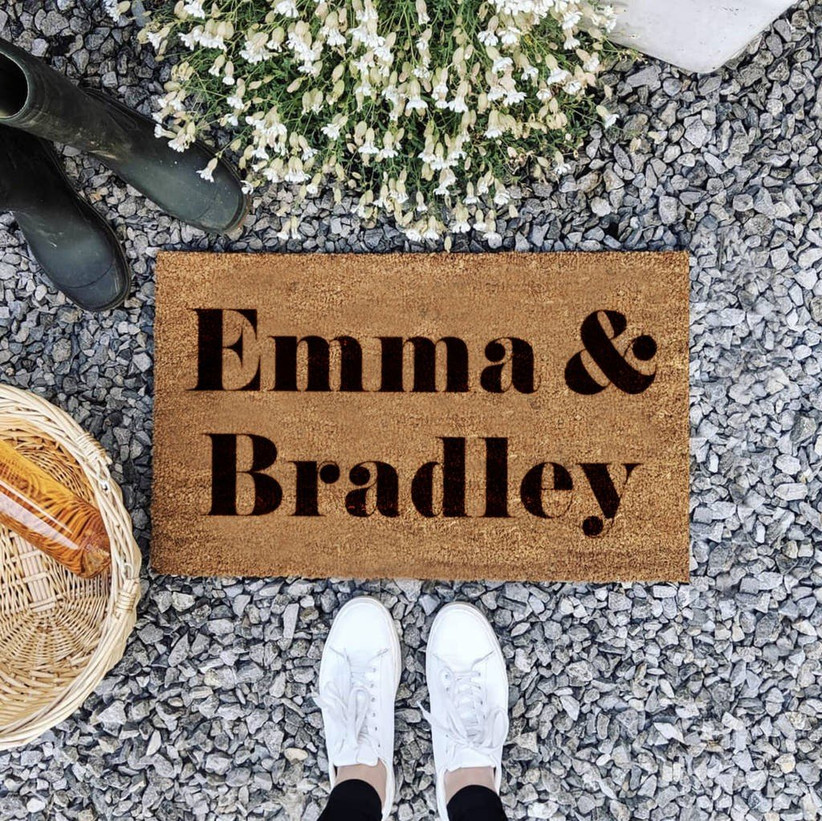 Treat the special couple in your life to a stylish personalised doormat this Christmas – perfect if they've just moved into their first home together!
21. Personalised Airport Destination Board Print – £21.50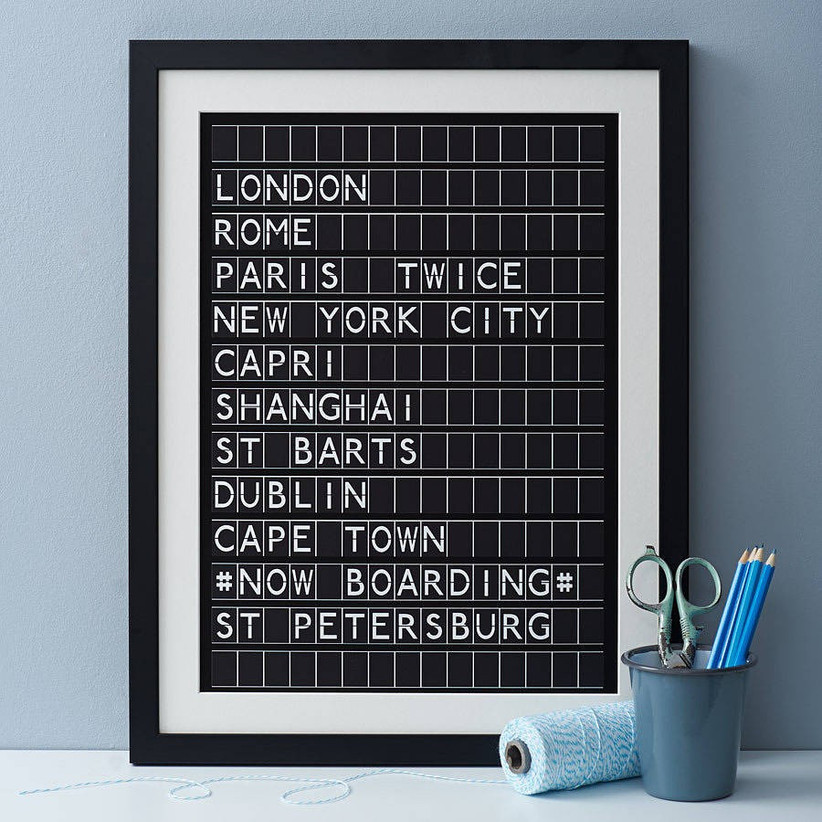 This personalised airport destination board print is the perfect Christmas gift idea for couples who love to travel.
It can be personalised with the names of the places they've been together. You could even add airport codes at the end of each line for a truly authentic look.
22. Vintage Matchbox Personalised Print – £18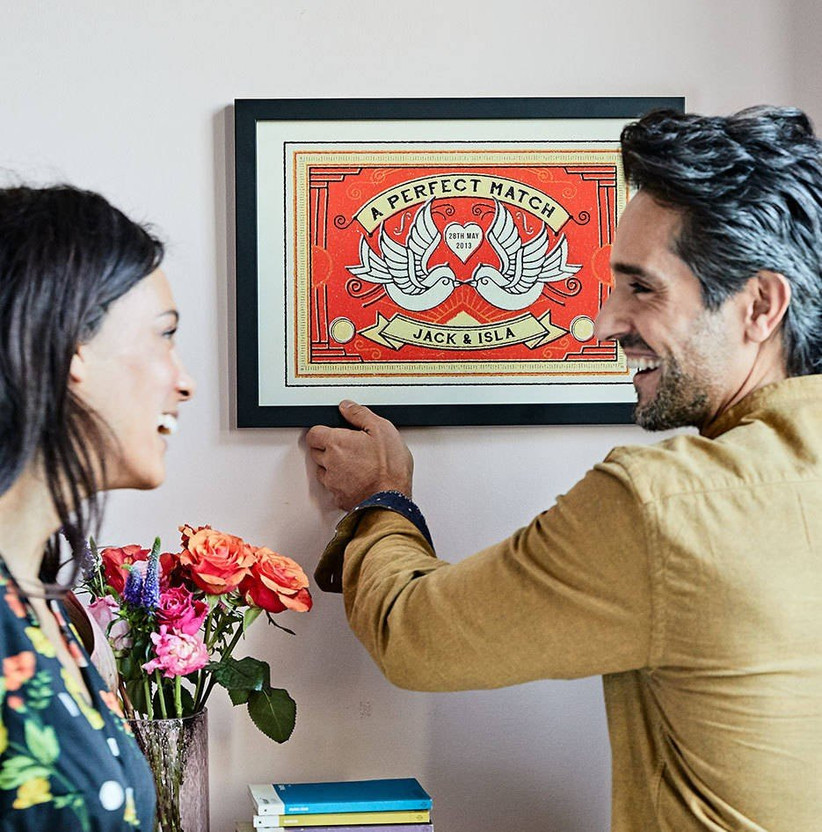 If the special couple had a vintage-inspired wedding, pay homage to their big day with this vintage matchbox print. It has two vintage lovebirds and can be personalised with the couples' names and wedding date.
This lovely gift is a constant reminder that all it takes is a tiny fire to spark an eternal flame.
23. Personalised Bottle of Matches – £24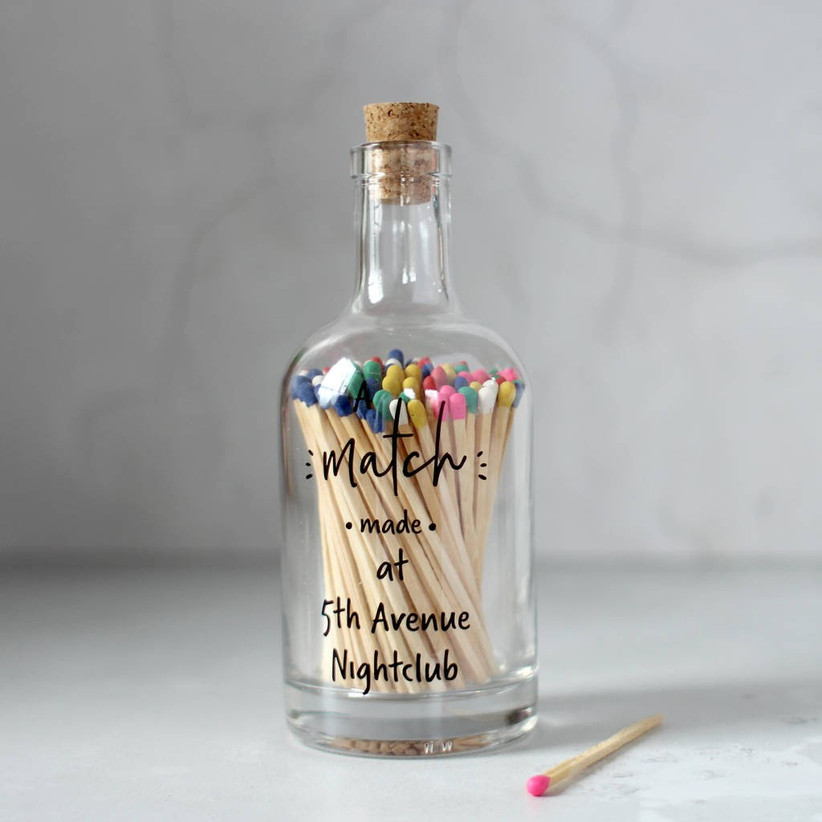 Were you with the couple on the night that they first caught each other's eyes?
Treat them to this bottle of matches which can be personalised with the place they met. It's super stylish, *genuinely* useful, and it's only £24! What's not to love?
24. Personalised Wooden Honeymoon Luggage Tags – £40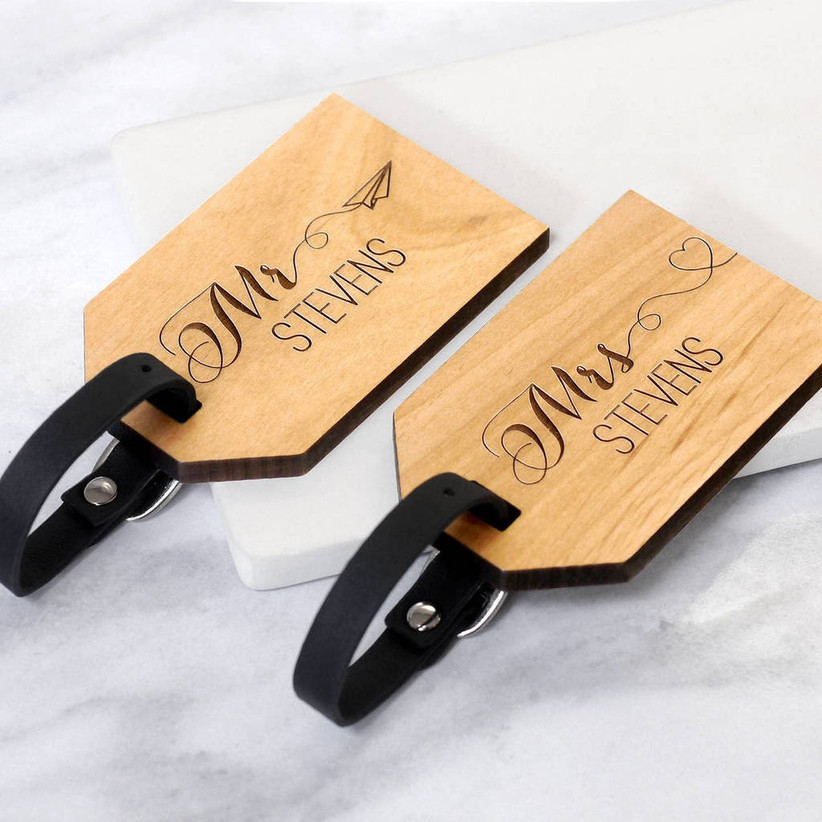 If the special couple are soon to jet off on their honeymoon (or on any special holiday, for that matter), these wooden engraved luggage tags will be a stylish addition to their suitcases.
They're available in two different shades of wood, and you can add a message to the back of them!
25. Krups Nescafe Dolce Gusto Manual Coffee Machine – £69.99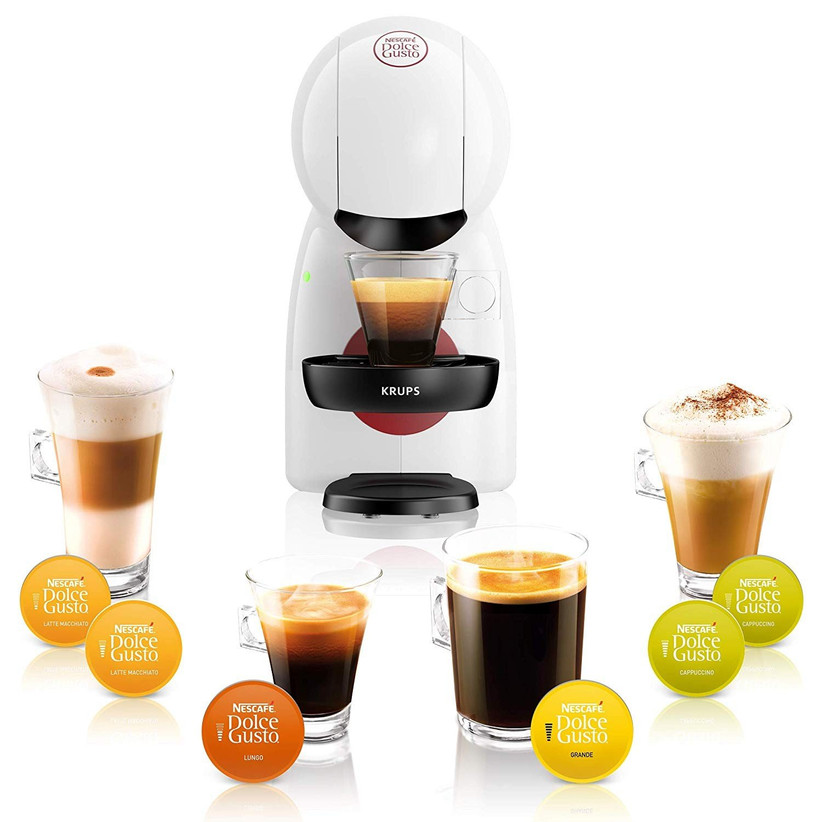 Couples who have just moved into their first home will really appreciate this Nescafe coffee machine this Christmas. Because let's face it – who can actually get by without their daily caffeine fix?
This Krups machine is compact in design and would look stylish on any kitchen counter. You can get it on next day delivery with Amazon, too, ideal if you've left things a little late…
READ MORE: The Best Websites for Last Minute Flower Delivery
26. Personalised Names and Date Cinema Marquee Print – £55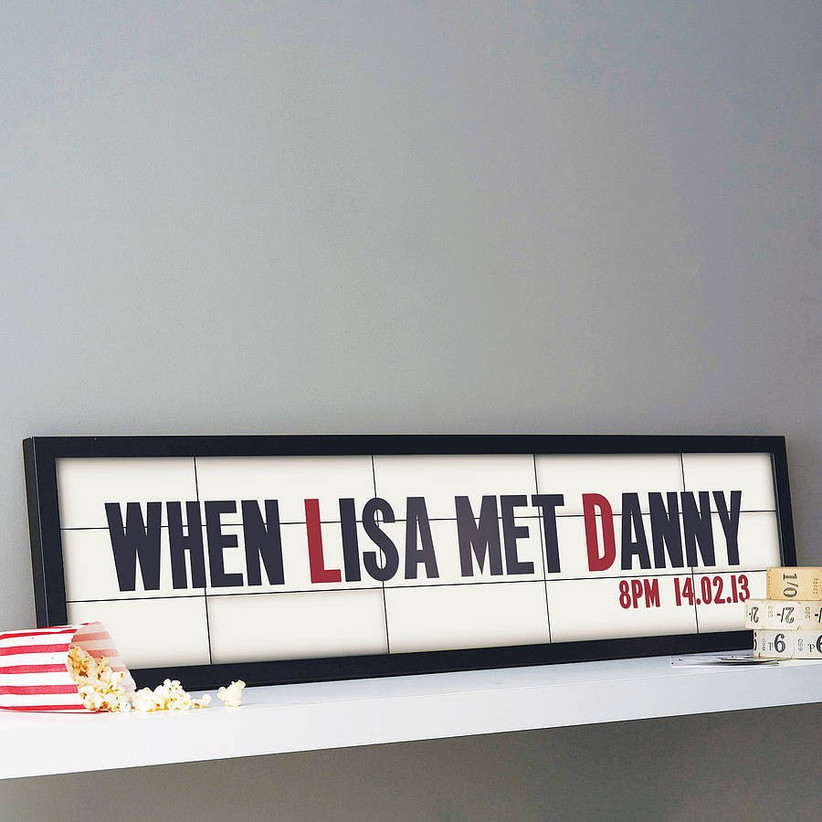 Inspired by old-fashioned theatre or cinema signage, this super cool print by The Drifting Bear Co is a fabulous Christmas gift for film-loving couples.
We won't blame you if you *accidentally* order one for yourself too…
27. Couples Etched Travel Mugs Duo – £35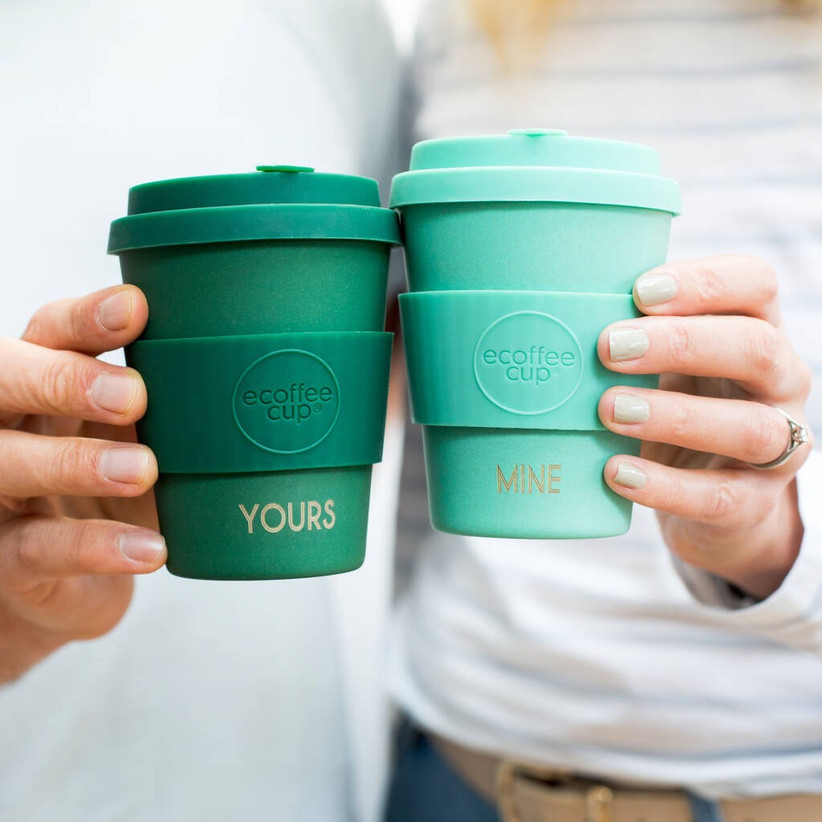 We're loving these personalised reusable travel mugs, which are not only eco-friendly (result!), but also come in a stylish duo.
You can choose between black, aqua and dark green, and the cups can be personalised with names or "yours" and "mine". The couple will love carrying a special reminder of you and their other half to work every day.
READ MORE: 23 of the Best Eco-Friendly Wedding Products
28. 'My Side Your Side' Pillowcases – £29.75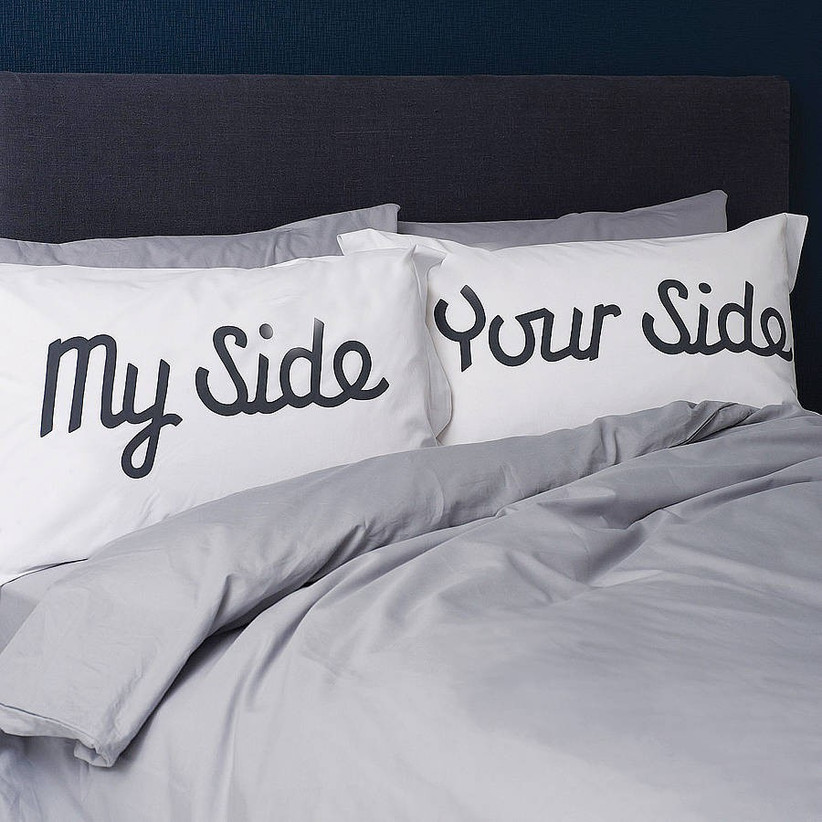 These white pillowcases make a fun and stylish present that will be loved by the special couple in your life.
The text is available in 17 different font colours, and the printing method used means the text is super soft – almost indistinguishable from the non-printed fabric! Arguments about who is sleeping on which side will be no more…
29. Dinner and Tour for Two at Battersea Power Station – £70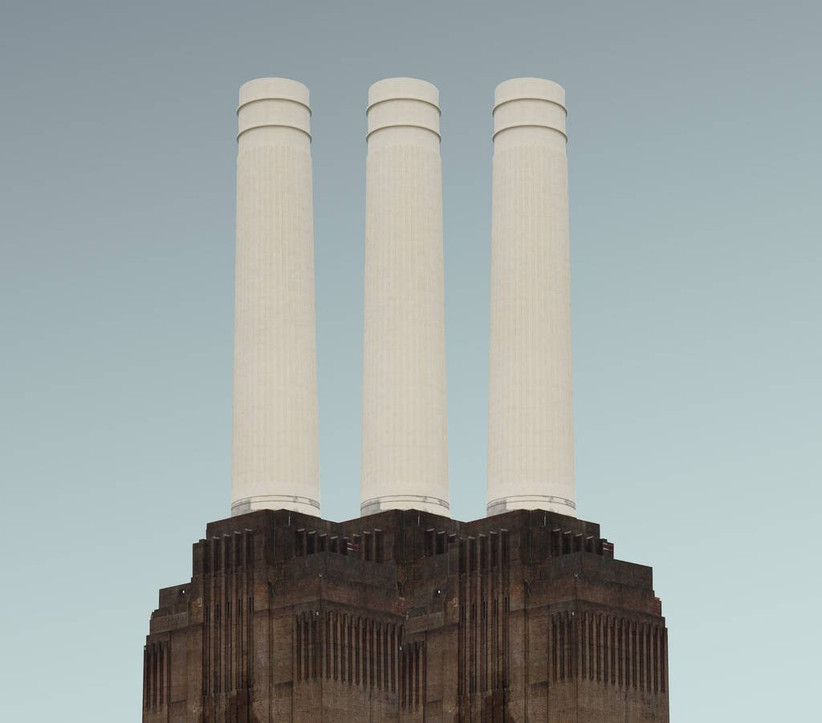 Treat your favourite couple to a delicious three-course dinner for two at The Cinnamon Kitchen inside London's iconic Battersea Power Station.
For just £70 they'll enjoy a nine-dish sharing supper with a welcome drink, and they'll even get to go on a tour of the site afterwards! What a fun day out.
READ MORE: 25 Date Night Ideas for Newlyweds
Now that you've sorted a gift for the most special couple in your life, you'll need to find something for your other half. Check out our round-up of the most romantic gifts for your fiancé or fiancée.