Even the most literary of love birds among us can suffer from a serious case of writer's block every so often, and when you've got a romantic love letter, wedding speech or even your wedding vows to conjure up you might need a little help putting your feelings into words.
Thankfully, there are some brilliant authors, screenwriters and musicians out there who have perfectly articulated those fuzzy feels to give you a head start. So, you could spend the next hour staring at a blank page, or you could look for inspiration among this list of 122 adorable love quotes for her.
From cute love quotes by A.A. Milne and classic extracts from Pride and Prejudice to hilarious one liners from The Big Bang Theory and Finding Nemo, we've got you covered. Trust us, they're too good not to nab.
I Love You Quotes for Her
There's no better way to express how much that special person means to you than with those three words "I love you", and these I love you quotes come straight from the heart.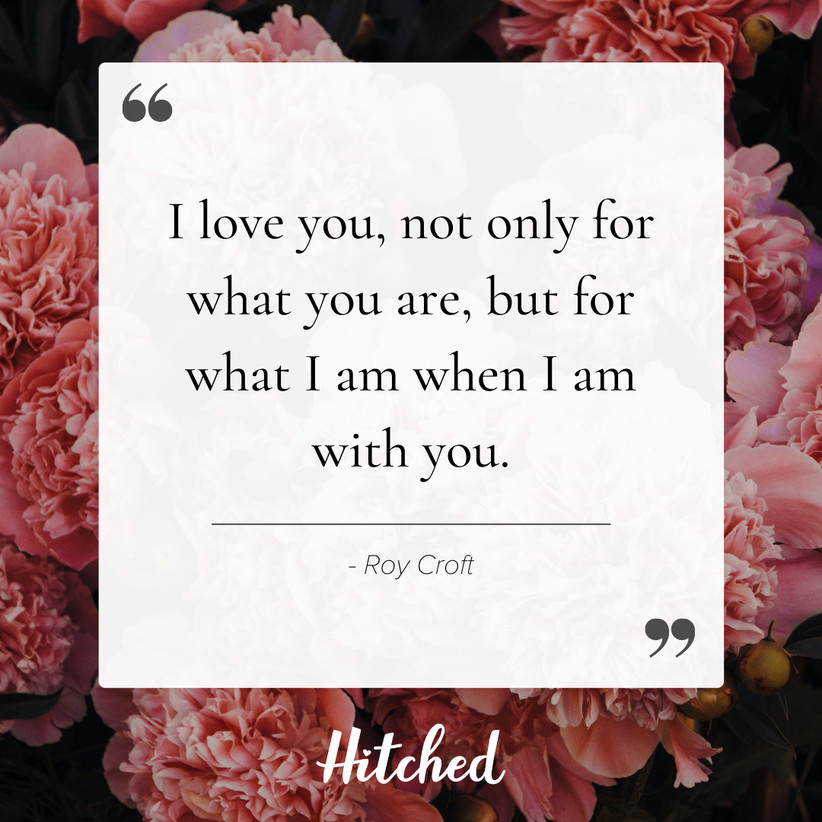 2. "I do know some things. I know I love you. I know you love me." - Game of Thrones
3. "You have bewitched me, body and soul, and I love... I love... I love you." - Mr Darcy, Pride and Prejudice
4. "I love you, and I will love you until I die, and if there's life after that, I'll love you then." - Cassandra Clare
5. "I've never had a moment's doubt. I love you. I believe in you completely. You are my dearest one. My reason for life." - Ian McEwan, Atonement
6. "Do I love you? My god, if your love were a grain of sand, mine would be a universe of beaches." - William Goldman, The Princess Bride
7. "I love you. I knew it the minute I met you." - Pat, Silver Linings Playbook
8. "I love you. You complete me." - Jerry Maguire
9. "'I love you' begins by I, but ends up by you." - Charles de Leusse
10. "So, I love you because the entire universe conspired to help me find you." - Paulo Coehlo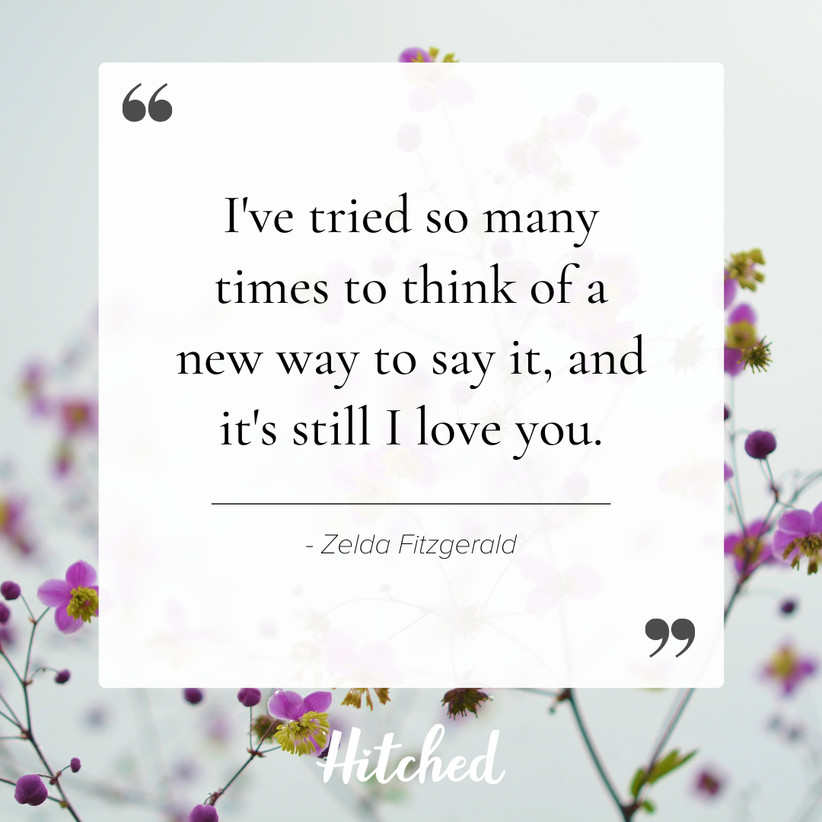 12. "I love you without knowing how, or when, or where from. I love you simply, without problems or pride: I love you in this way because I do not know any other way of loving but this, in which there is no I or you, so intimate that your hand is upon my chest, so intimate then when I fall asleep your eyes close." - Pablo Neruda
13. "When I tell you I love you, I don't say it out of habit. I say it to remind you that you are the best thing that has ever happened to me." - Nikhil Saluja
14. "No matter what has happened, no matter what you've done, no matter what you do... I will always love you. I swear it." - C. J. Redwine
15. "I love you right up to the moon and back." Sam McBratney
16. "Storm clouds may gather and stars may collide, but I love you until the end of time." - Moulin Rouge
17. "Whatever happens tomorrow, or for the rest of my life, I'm happy now... because I love you." - Groundhog Day
18. "I love you, in my mind where my thoughts reside, in my heart where my emotions live, and in my soul where my dreams are born. I love you." - Dee Henderson
19. "I love you for who you are, not who the world thinks you should be." - Libba Bray
20. "I need you more than I love you and I love you to bits." - Gunnar Ardelius
Cute Love Quotes for Her
These cute love quotes will leave her smiling from ear to ear. They'll be such a sweet addition to a card or even printed and placed in a frame.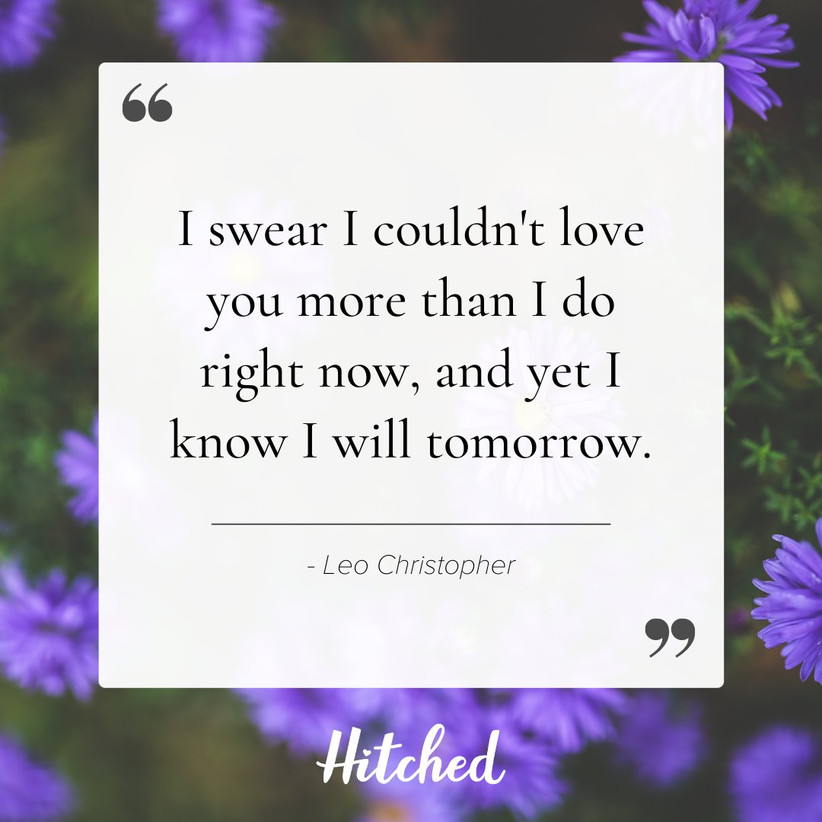 22. "The best love is the kind that awakens the soul; that makes us reach for more, that plants the fire in our hearts and brings peace to our minds. That's what I hope you give you forever." - Noah, The Notebook
23. "A hundred hearts would be too few to carry all my love for you." - Henry Wandsworth
24. "If I had to dream up the perfect woman, she wouldn't even come close to you." - Boy Meets World
25. "You are the finest, loveliest, tenderest, and most beautiful person I have ever known, and even that is an understatement." - F. Scott Fitzgerald
26. "You make me happier than I ever thought I could be and if you let me, I will spend the rest of my life trying to make you feel the same way." - Friends
27. "It was love at first sight, at last sight, at ever and ever sight." - Lolita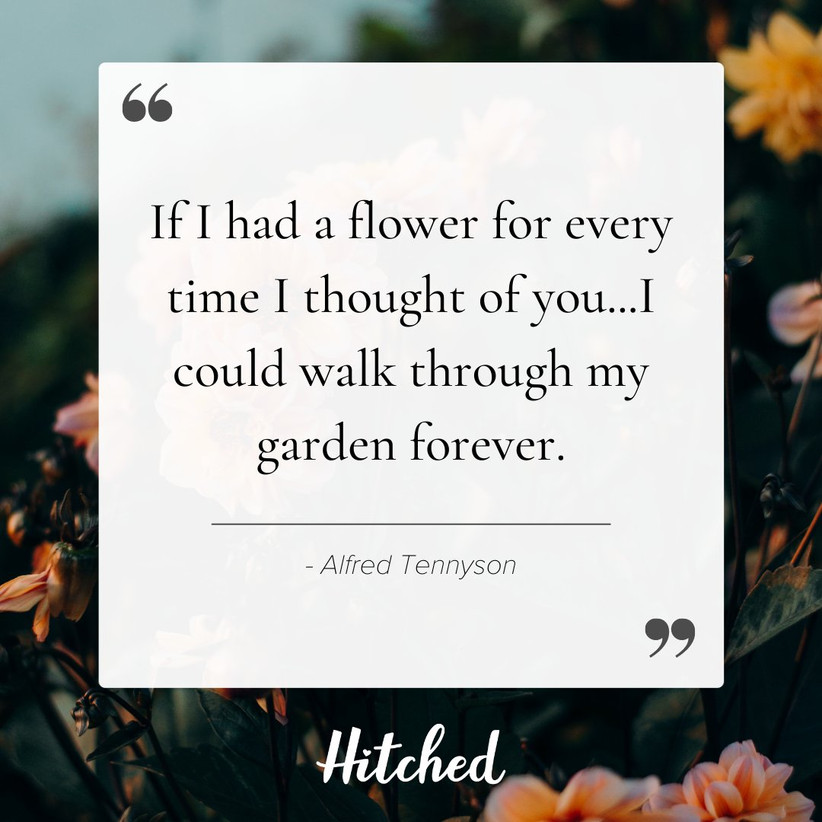 29. "In case you ever foolishly forget; I'm never not thinking of you." - Virginia Woolf, Selected Diaries
30. "I love how she makes me feel like anything is possible, or like life is worth it." - Tom Hansen, 500 Days of Summer
31. "In all the world, there is no heart for me like yours. In all the world, there is no love for you like mine." - Maya Angelou
32. "I never want to stop making memories with you." - Pierre Jeanty
33. "And in her smile I see something more beautiful than the stars." - Beth Revis
34. "I knew it the very first time I touched her. It was like coming home." - Sleepless in Seattle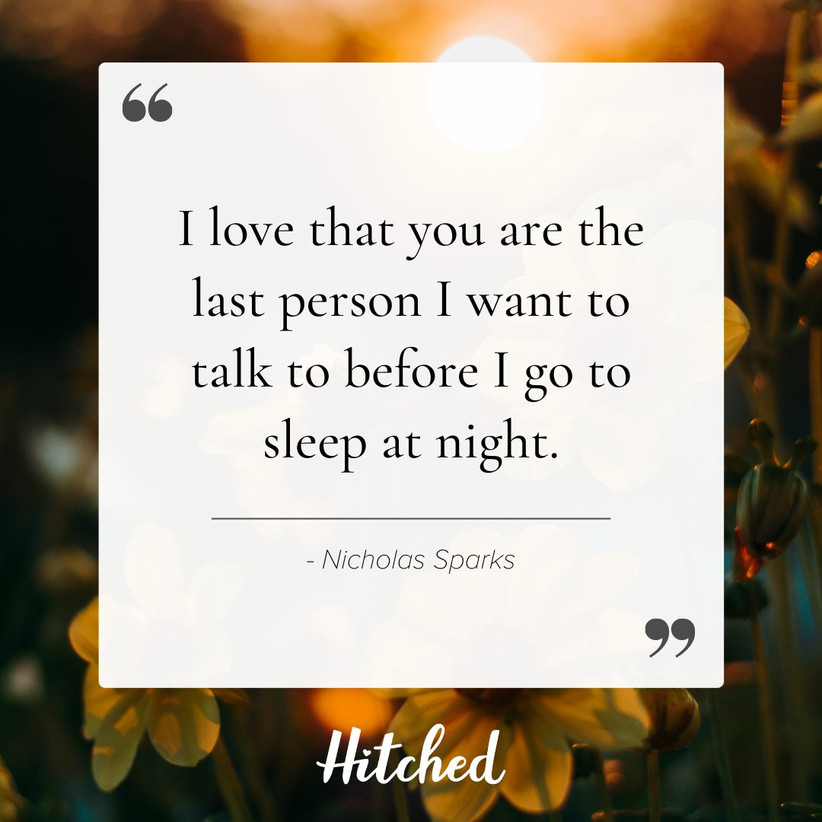 36. "You are my heart, my life, my one and only thought." - Sir Arthur Conan Doyle
37. "If you are not too long, I will wait here for you all my life." - Oscar Wilde
38. "You need to be kissed. Often. And by someone who knows how." - Gone with the Wind
39. "You and I, it's as though we have been taught to kiss in heaven and sent down to earth together, to see if we know what we were taught." - Doctor Zhivago
40. "For the two of us, home isn't a place. It is a person. And we are finally home." - Stephanie Perkins
41. "I love your feet because they have wandered over the earth and through the wind and water until they bought you to me." - Pablo Neruda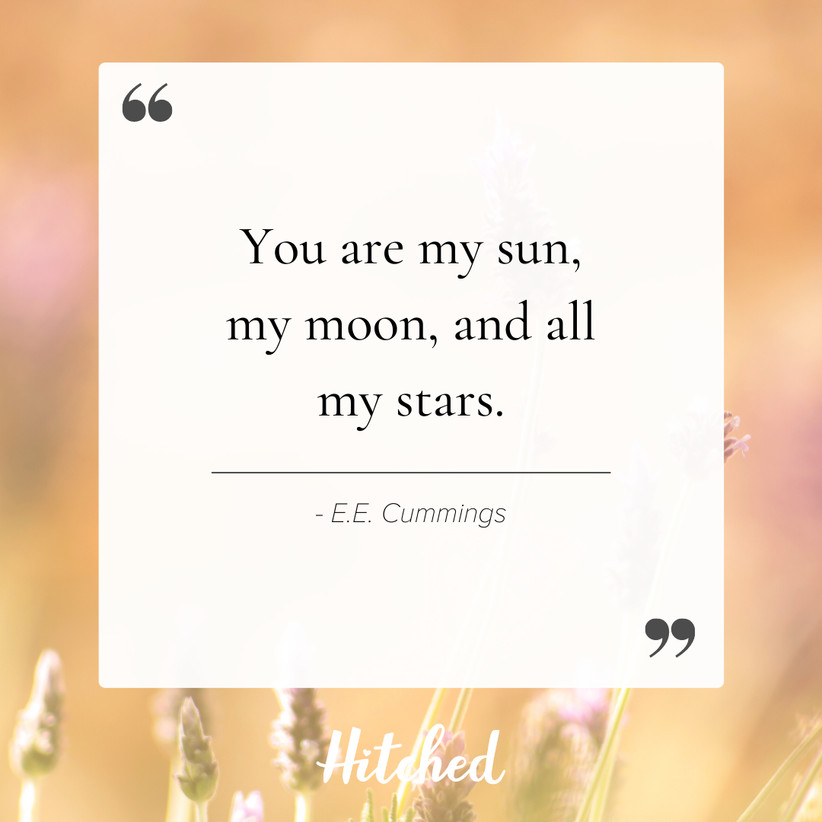 43. "I never loved you any more than I do, right this second. And I'll never love you any less than I do, right this second." - Kami Garcia & Margaret Stohl
44. "Sometimes I can't see myself when I'm with you. I can only just see you." - Jodi Lynn Anderson
45. "I want everyone to meet you. You're my favourite person of all time." - Eleanor & Park
46. "When I look at you, I can feel it. I look at you and I'm home." - Dory, Finding Nemo
47. "I know that somehow, every step I took from the moment I could walk was a step towards finding you." - Nicholas Sparks
48. "I want you today, tomorrow, next week and for the rest of my life." - I.A. Dice
49. "She wasn't doing a thing that I could see, except standing there leaning on the balcony railing, holding the universe together." - J.D. Salinger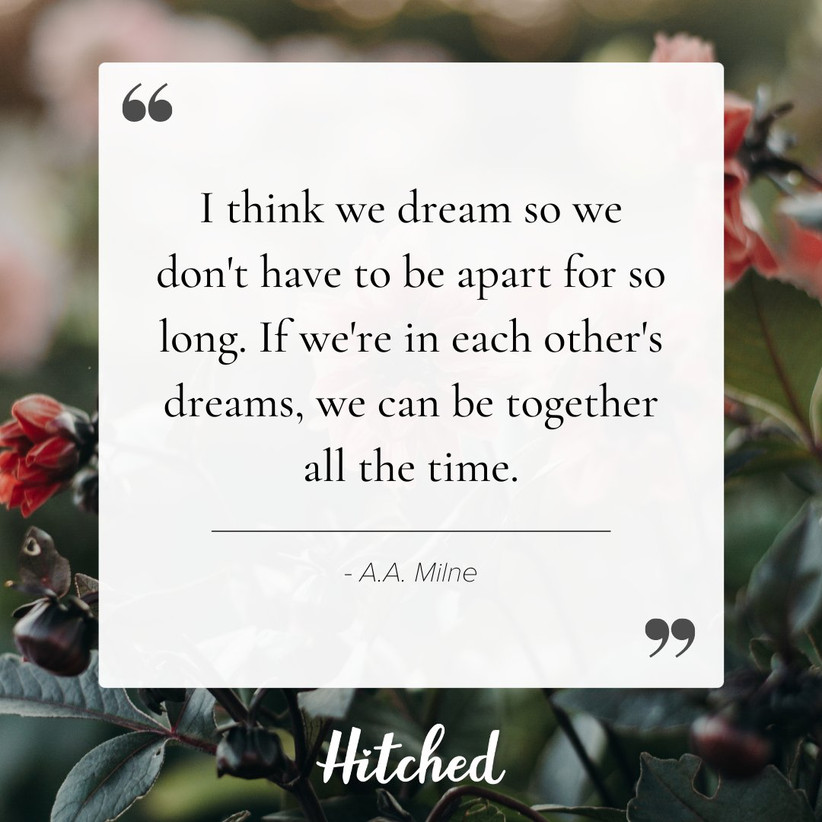 51. "How lucky am I to have someone who makes saying goodbye so hard." - Winnie The Pooh
52. "I would not wish any companion in the world but you." - William Shakespeare
53. "Grow old with me, the best is yet to be." - Robert Browning
54. "We belong together because you were born a butterfly and I was born with a flower and butterflies and flowers need each other for survival." - Gemma Malley
55. "I want to walk through this life with you by my side. Your hand in mine. Forever." - K. Langston
56. "If you listen to the wind carefully, you'll be able to hear it whisper my love for you." - Andrew Davidson
57. "You make everything possible. You make me possible." - Brothers & Sisters
Funny Love Quotes for Her
If your girl has an excellent sense of humour these funny love quotes for her are guaranteed to get a giggle. After all, there's nothing better than making the one you love laugh.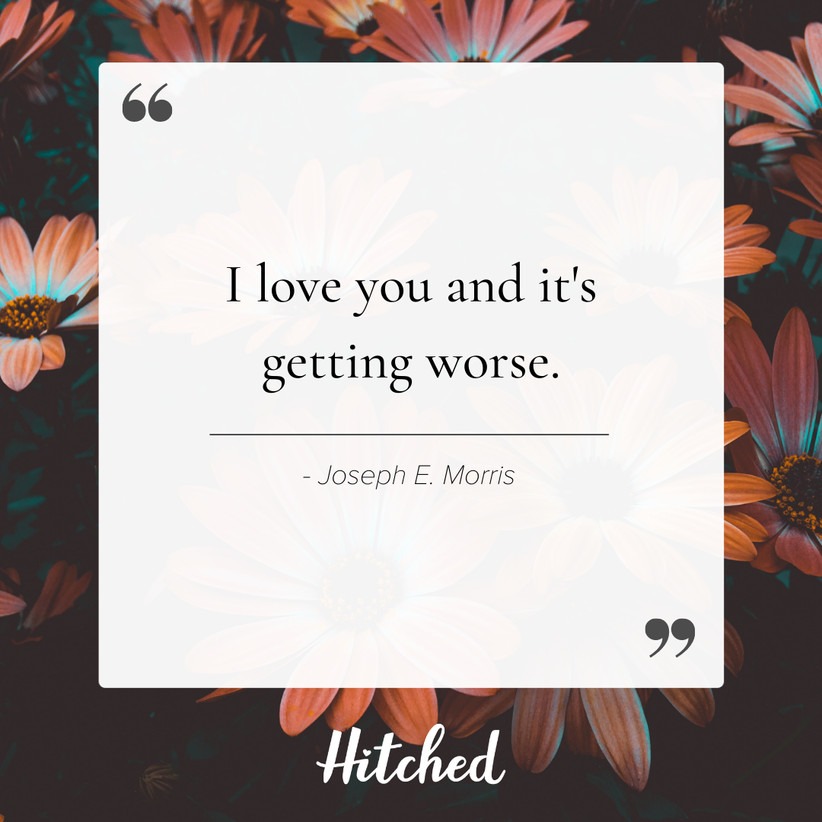 59. "We are made of particles that existed since the moment the universe began. I like to think those atoms travelled 14 billion years through time and space to create us so that we could be together." - The Big Bang Theory
60. "Love is too weak a word for what I feel. I luuurve you, you know, I loave you, I luff you, two F's." - Woody Allen
61. "Remember we're madly in love, so it's alright to kiss me anytime you feel like it." - The Hunger Games
62. "If I loved you less, I might be able to talk about it more." - Jane Austen, Emma
63. "I think I'd miss you even if we never met." - The Wedding Date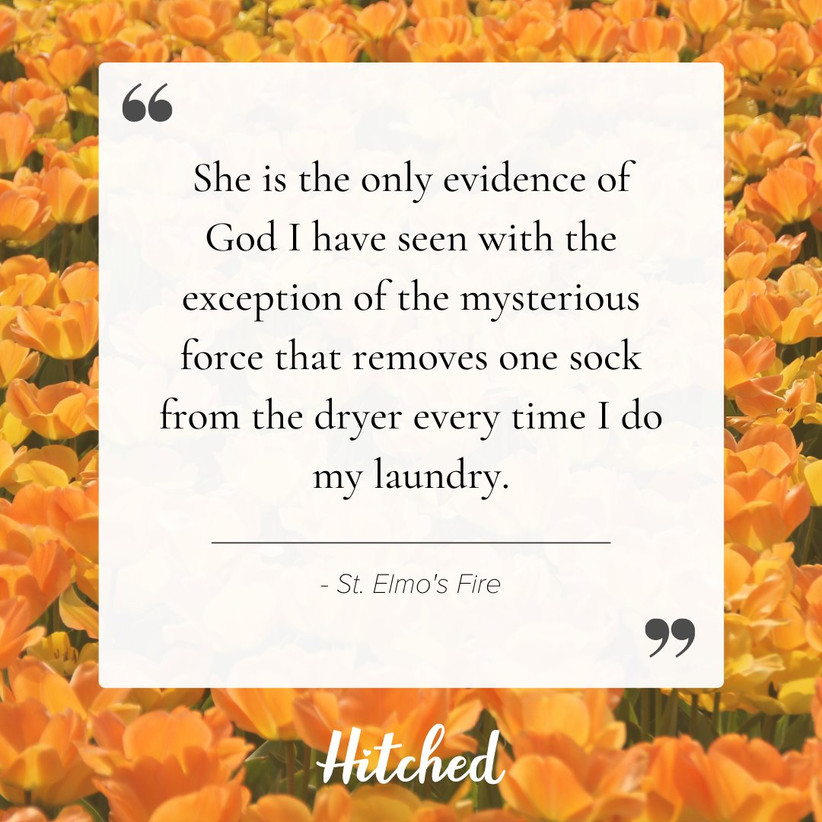 65. "I love you and I like you." - Leslie Knope, Parks & Recreation
66. "I love being married. It's so great to find that one special person you want to annoy for the rest of your life." - Rita Rudner
67. "I would love to say that you make me weak in the knees but, to be quite upfront and completely truthful, you make my body forget it has knees at all." - Tyler Knott Gregson
68. "You are the cheese to my macaroni." - Diablo Cody
Emotional Love Quotes for Her
No wedding speech, vow or proposal would be complete with out a super sappy, tear jerking quote and we bet these emotional lines will bring the tissues out.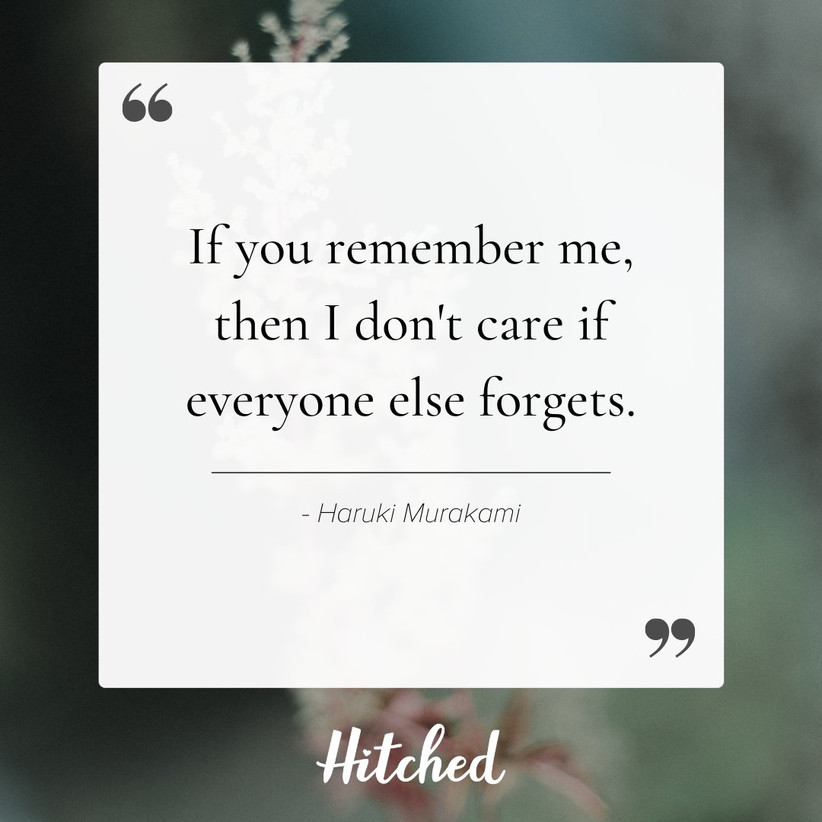 70. "If you live to be a hundred, I want to live to be a hundred minus one day so I never have to live without you." - A.A. Milne
71. "I saw that you were perfect, and so I loved you. Then I saw that you were not perfect and I loved you even more." - Angelita Lim
72. "Thinking of you keeps me awake. Dreaming of you keeps me asleep. Being with you keeps me alive." - Inconnu
73. "I want to tell you with my last breath that I have always loved you. I would rather be a ghost, drifting by your side as a condemned soul, than enter heaven without you. Because of your love, I will never be a lonely spirit." - Crouching Tiger, Hidden Tiger
74. "I seem to have loved you in numberless forms, numberless times, in life after life, in age after age forever." - Rabindranath Tagore
75. "Every atom of your flesh is as dear to me as my own: in pain and sickness it would still be dear." - Charlotte Bronte, Jane Eyre
76. "I'm not telling you it's going to be easy, I'm telling you it's going to be worth it." - Art Williams
77. "My soul and your soul are forever tangled." - N.R. Hart
78. "Our love is like the wind. I can't see it, but I can feel it." - A Walk to Remember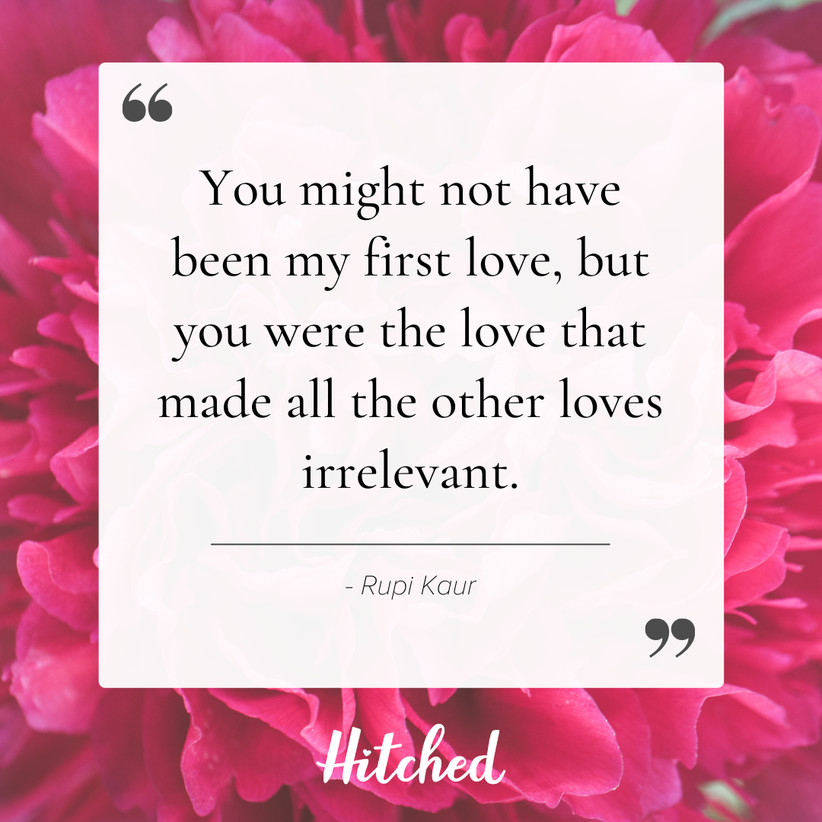 80. "I fell in love with the way you fall asleep: slowly, and then all at once." - The Fault in Our Stars
81. "I would rather share one lifetime with you than face all the ages of this world alone." - J.R.R. Tolkein
82. "The minute I heard my first love story I started looking for you, not knowing how blind that was. Lovers don't finally meet somewhere. They're in each other all along." - Rumi
83. "There are no goodbyes for us. Wherever you are, you will always be in my heart." - Mahatma Gandhi
84. "Why, darling, I don't live at all when I'm not with you." - Ernest Hemingway
85. "Because of you I can feel myself slowly but surely becoming the me I have always dreamed of being." - Tyler Knott Gregson
86. "I wish you to know that you have been the last dream of my soul." - Charles Dickens
87. "I have seen the best and the worst of you, and I choose both." - Sarah Kay
88. "From the moment I met you I loved you, loved you blindly, adoringly, madly! You didn't know it then - you know it now." - Oscar Wilde
89. "I knew right away that you were it for me, there were no reservations or second thoughts, I saw you and in an instant knew in my bones, my soul had known your soul lifetimes ago." - Beau Taplin
Song Lyric Love Quotes for Her
Borrow a few lines from some of her favourite songs and we're sure you'll be in her good books. After all, who can resist a little bit of John Legend?!
91. "I want you. All of you. Your flaws. Your mistakes. Your imperfections. I want you, and only you." - John Legend
92. "Whenever I'm alone with you, you make me feel like I am home again. Whenever I'm alone with you, you make me feel like I am whole again." - The Cure
93. "You're the best thing I never knew I needed. So now it's so clear I need you here always." - Ne-Yo
94. "If the sun refused to shine, I would still be loving you. When mountains crumble to the sea, there will still be me and you." - Led Zeppelin
95. "And when you smile, the whole world stops and stares or a while, cause you're amazing, just the way you are." - Bruno Mars
96. "All that you are is all that I'll ever need." - Ed Sheeran
97. "You have made my life complete, and I love you so." - Elvis Presley
98. "You're the closest to heaven, that I'll ever be." - Goo Goo Dolls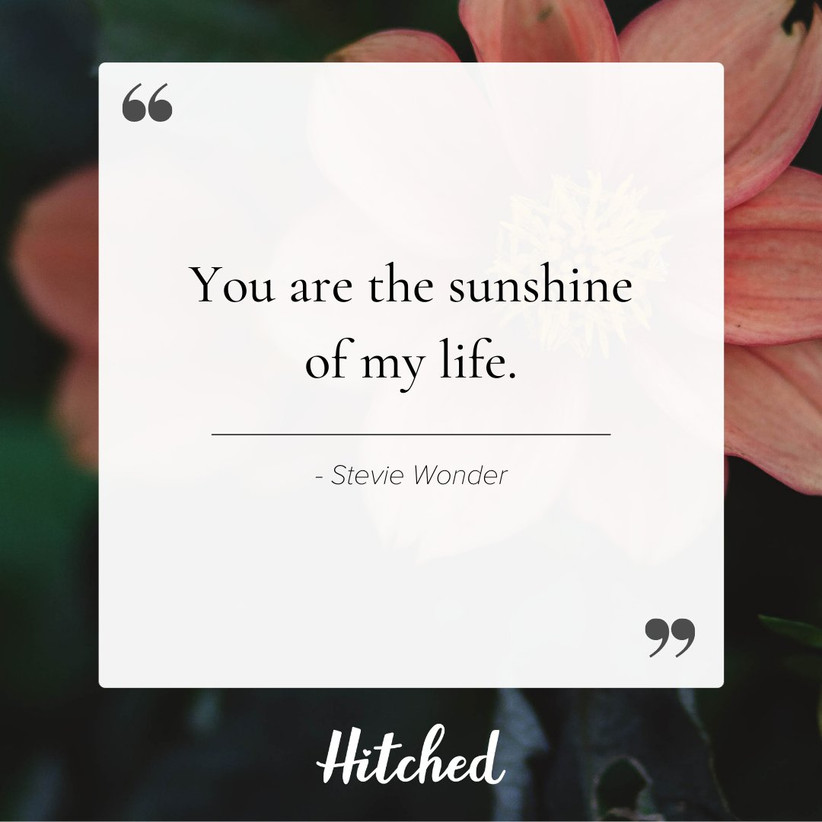 100. "I need you like a heart needs a beat." - One Republic
101. "It's always better when we're together." - Jack Johnson
102. "Out of all the people in the world, I just can't believe you're mine." - Air Supply
103. "To you, I'll give the world." - Fleetwood Mac
104. "You think you're one of millions, but you're one in a million to me." - Brad Paisley
105. "I feel wonderful because I see the love light in your eyes." - Eric Clapton
106. "I can hear her heartbeat for a thousand miles, and the heavens open whenever she smiles." - Van Morrison
107. "I love you more than I have ever found a way to say to you." - Ben Folds
Short Love Quotes for Her
You don't need to write an essay to tell her how you feel. These short love quotes capture your emotions in just a few words.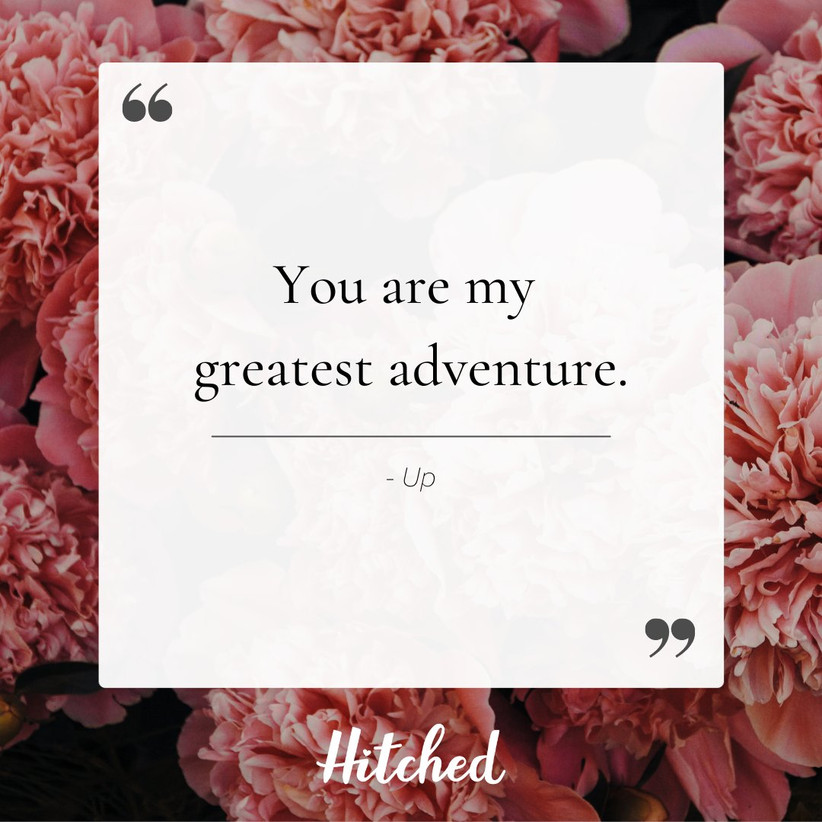 109. "If I know what love is, it is because of you." - Herman Hesse
110. "My night has become a sunny dawn because of you." - Ibn Abbad
111. "Our love cannot be measured, it just is." - John Paul Stevens
112. "I would find you in any lifetime." - Kayne West
113. "You're nothing short of my everything." - Ralph Block
114. "I like you very much. Just as you are." - Bridget Jones' Diary
115. "You're my one in five billion." - The X-Files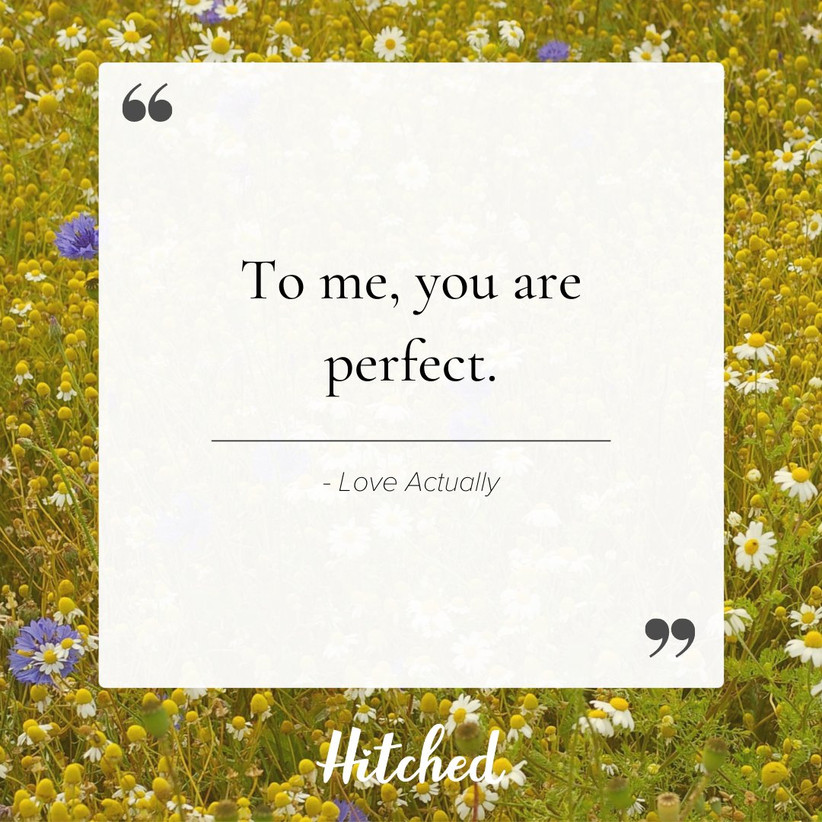 117. "Never above you. Never Below you. Always beside you." - Walter Winchell
118. "I kiss your vision as it rises before my mind." - Winston Churchill
119. "Over everything, I choose you." - Marissa Meyer
120. "With you kissing feels like healing." - Lisa McMann
121. "In this story I am the poet. You're the poetry." - Arzum Unzun
122. "My heart only beats as an echo of yours." - Lisa Kleypas
Now you have some ideas you're going to need somewhere to note them down and these wedding vow books are a brilliant place to start your search.