35 of the Most Romantic Hotels in the UK
Discover the best places for your next couples break. From luxurious five-star getaways to cool and unusual boutiques, these are the UK's most romantic hotels - ideal for a mini-moon, honeymoon or a just-because staycation.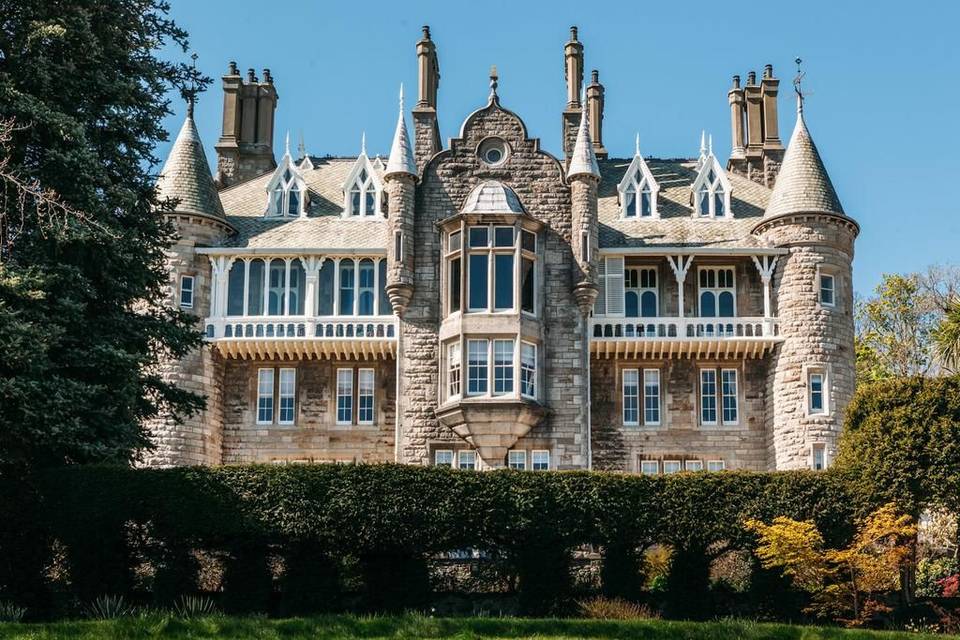 What makes a hotel romantic? It's not always obvious.
We can point to the bedrooms, overall décor, location and service. However, the most romantic hotels in the UK also have an extra-special, indescribable something. It's a feeling rather than a feature - and it elevates your stay from 'enjoyable' to a holiday you'll remember for the rest of your lives.
To help you choose your next getaway as a couple, we've rounded up the UK hotels that most definitely have that special something for a memorable staycation. These gorgeous hotels are ideal for mini-moons, honeymoons or any other kind of just-for-two break you're planning. While some are very much on the five-star, luxe end of the scale, we've included affordable options - trust us, you don't have to spend a fortune for some close-to-home romance. We've also covered a range of hotel styles, from country retreats to sleek city hideaways and chic beach retreats.
Find your perfect escape with our edit of the UK's most romantic hotels.
The Most Romantic Spa Hotels
1. Salcombe Harbour Hotel & Spa, Devon
There's something undeniably serene about a seaside getaway. From the fresh, salty air to the sound of the rolling waves and taste of freshly caught fish, a trip to the coast is guaranteed to invigorate and relax which is why we think Salcombe Harbour Hotel is a solid choice for pre or post-wedding getaways.
With rooms set high above the sea and styled with coastal kitsch pieces, you'll feel worlds away from planning panic as you drop your bags and head to the indulgent HarSpa.
2. Pennyhill Park, Surrey
Pennyhill Park is a sublime combination of old and new. Within the ivy-clad interior, you'll find period features and dazzling chandeliers, but there's also a cutting-edge spa that is arguably one of the country's best. Trust us, once you've experienced the indoor/outdoor pool and maze of different steam rooms, you'll find it hard to leave.
3. Rookery Hall Hotel & Spa, Cheshire
Nestled in the Cheshire countryside within 38 acres of manicured lawns and gardens, Rookery Hall Hotel & Spa is an idyllic country getaway ideal for romantic breaks. The hotel boasts 69 bedrooms that artfully combine the 19th century history of the building with modern day comforts.
Speaking of contemporary comforts, Rookery Hall is known for its luxury spa breaks, utilising the state-of-the-art spa situated in the original old stable block of the estate. Here couples can enjoy deep tissue massage, facials and nail treatments. After a day in the spa, may we suggest dinner in the restaurant? With four red stars from AA, you're guaranteed an unforgettable gastronomical experience.
READ MORE: 21 Game-Changing Honeymoon Packing Hacks
4. Brighton Harbour Hotel & Spa, East Sussex
Lovers of contemporary styling will adore Brighton Harbour Hotel & Spa. Situated on the seafront of this colourful city, the hotel offers far more than just beach views and the sound of passing seagulls. This Victorian building has been transformed into a light, bright and whimsical space where couples can enjoy cocktails or wines from Sussex's very own vineyards, paired with flavourful fish dishes.
With all that Brighton has to offer on the doorstep, including both piers and the famous pebble beach, it's a great base from which to go exploring. When you're ready to escape the bright lights of Brighton, the basement spa with its Scandinavian hot tubs awaits.
5. The Newt, Somerset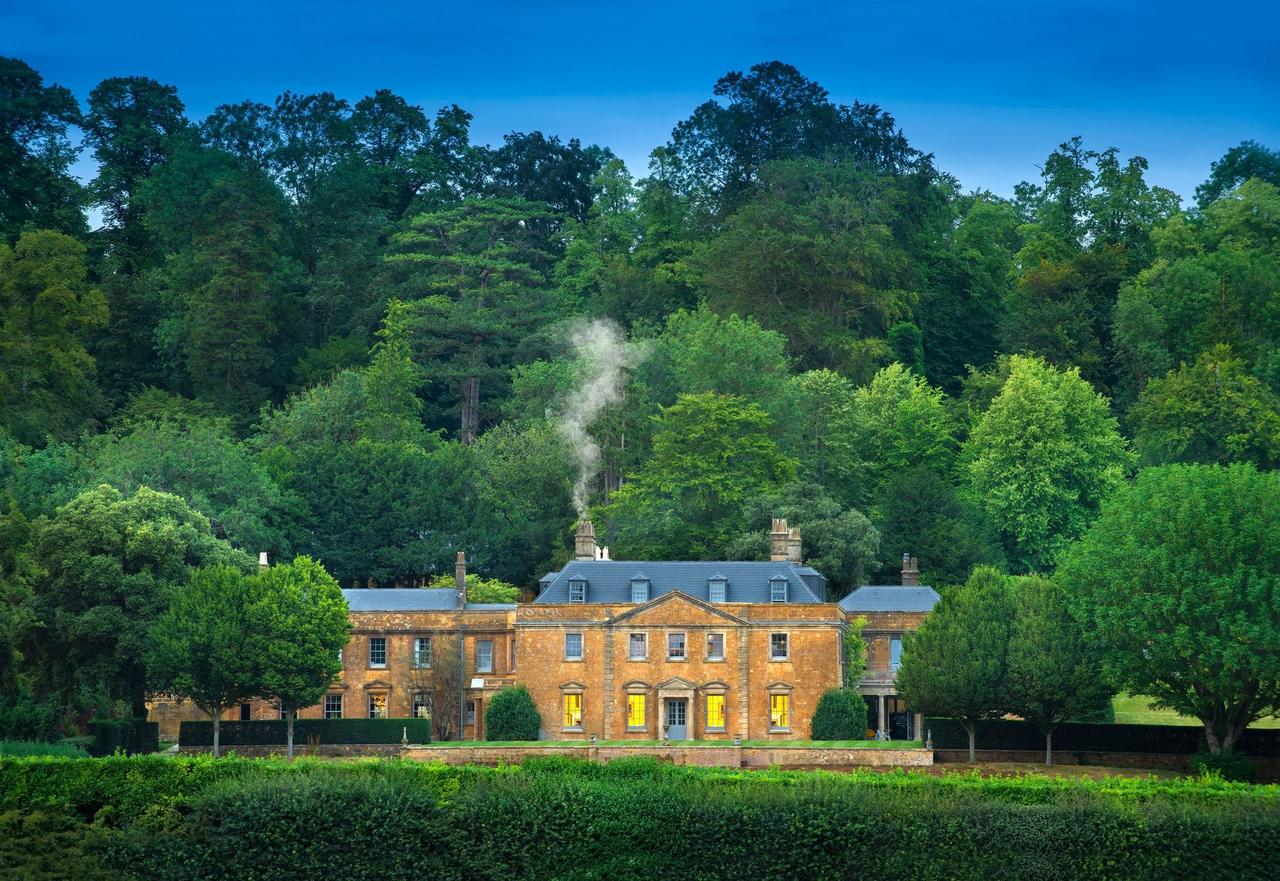 The Newt is one of the openings over the last few years that have transformed our understanding of what country hotels can be. From the characterful accommodation to the excellent, garden-to-table dining, its particular brand of contemporary luxury is very much in harmony with both history and the natural setting.
The emphasis is on pleasurable, laidback living, whether that's unwinding in the spa or taking high tea in the library.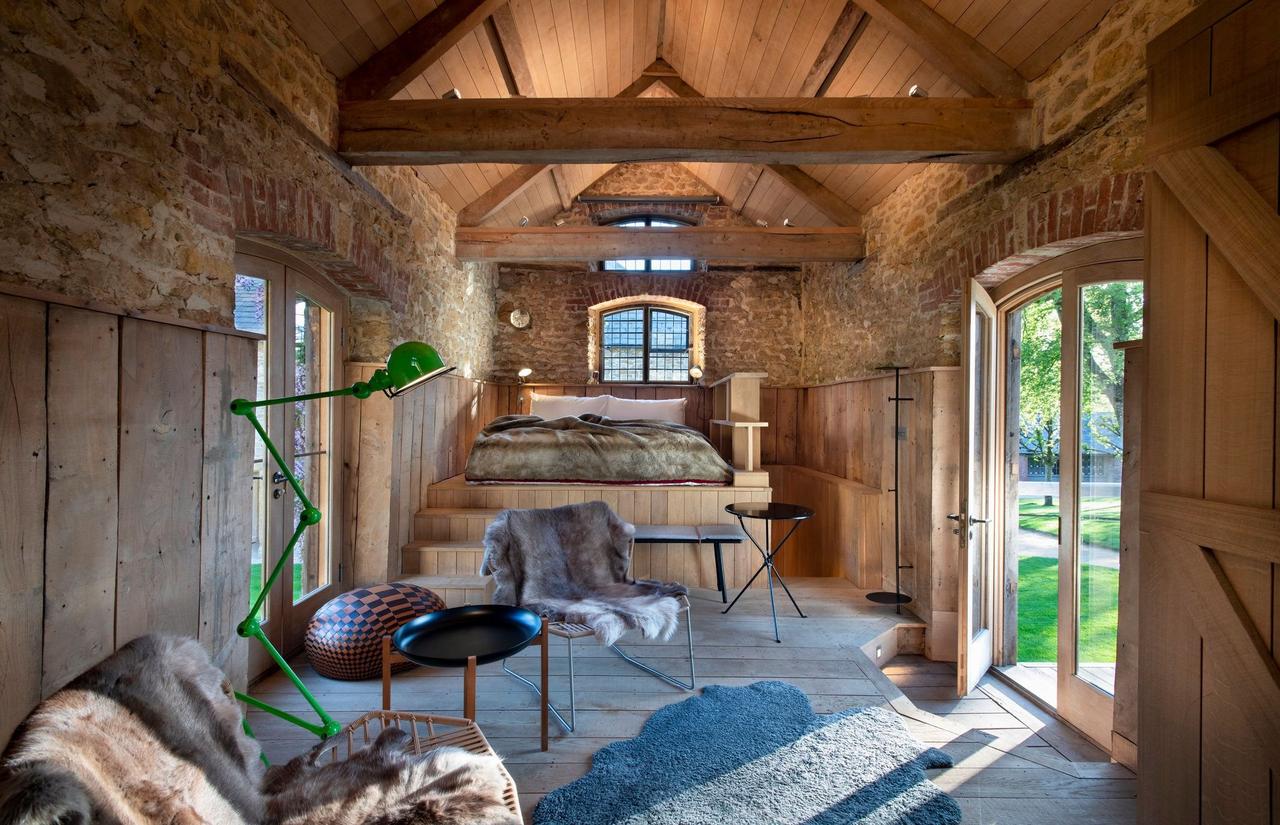 6. Lakeside Hotel, Cumbria
Situated on the shores of Lake Windermere, we struggle to think of a more tranquil spot to spend a romantic weekend. Book a stunning lakeside room complete with a terrace from which you can enjoy breakfast as you watch boats sail by. Alternatively, reserve the lakeside lodge for total privacy and access to your own sauna.
Just steps from the hotel, the lodge offers couples the best of both worlds during their stay, with privacy and exceptional service all in one package. With a spa, gardens and a fine dining restaurant, you'll enjoy a blissful escape at Lakeside wherever you choose to lay your head.
7. Heckfield Place, Hampshire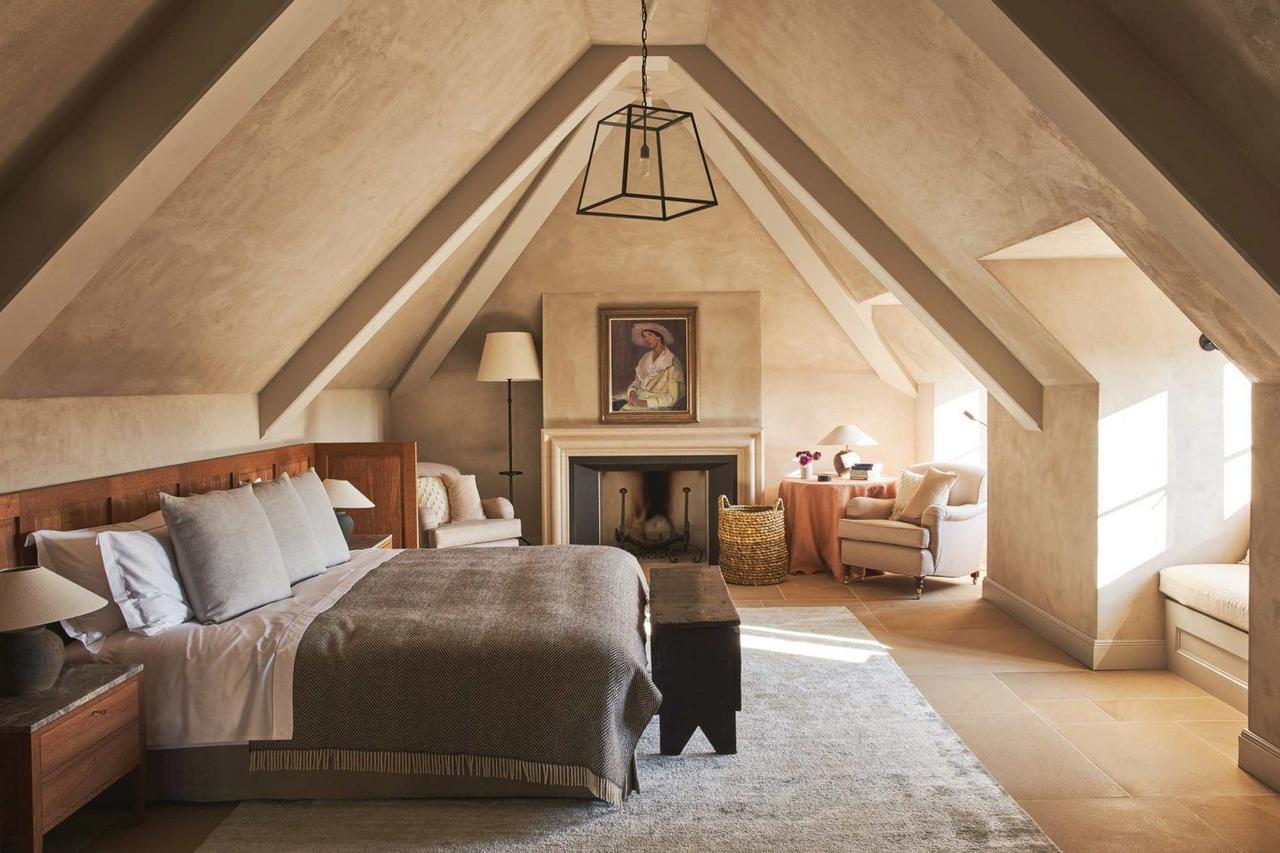 Heckfield Place is where travel insiders go for romantic country weekends. It is, quite simply, magnificent, but in an understated way. The finest contemporary design, an eco-centric approach, excellent, seasonal dining and heavenly grounds come together to create something truly special. The spa, offering both treatments and Pilates classes, is the icing on a most delightful cake.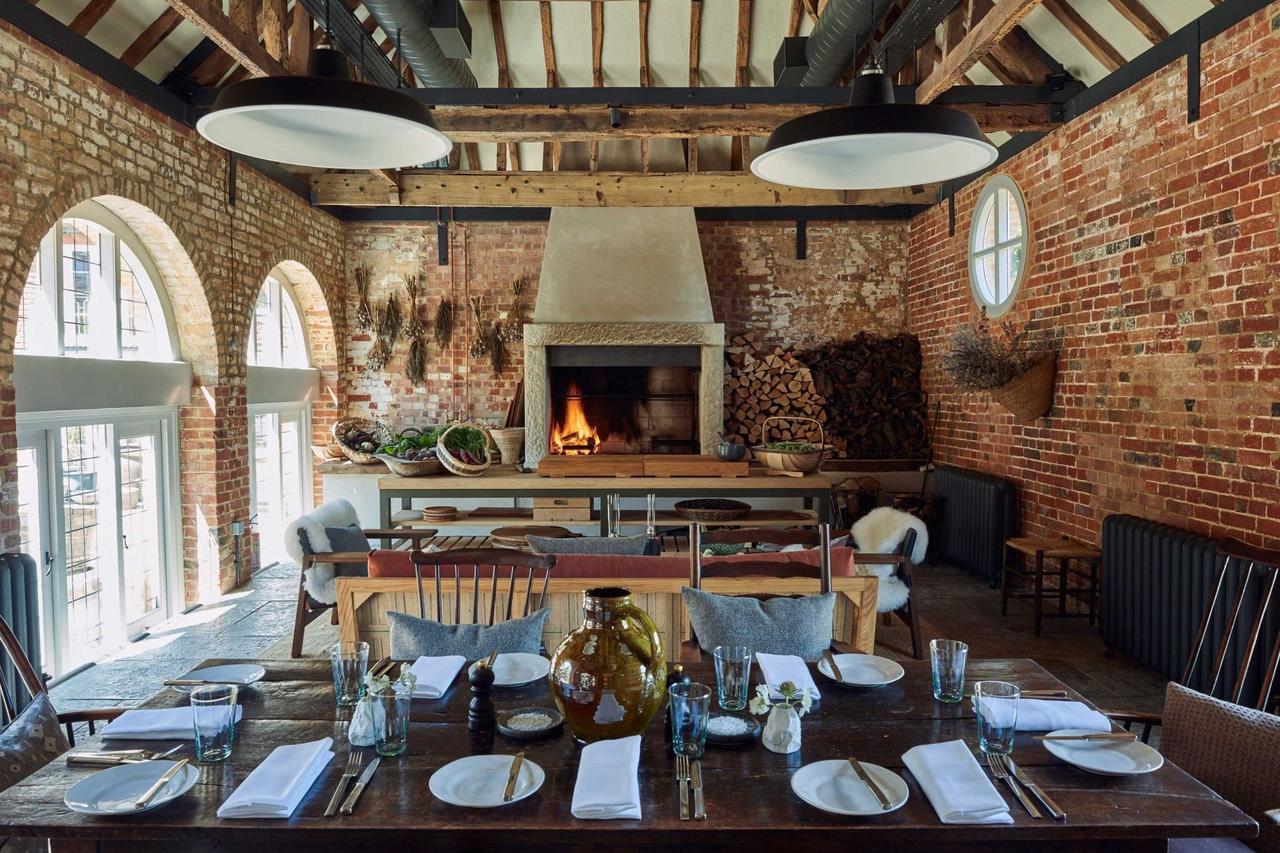 8. Ockenden Manor, West Sussex
This Elizabethan manor house hotel will have couples feeling like lord and lady of the manor for the weekend. Surrounded by nine acres of mature gardens overlooking Cuckfield Park, Ockenden Manor is a great choice for those who enjoy romantic country strolls. Rooms range from light and contemporary to cosy and wood-panelled with four-poster beds.
Contrastingly, the on-site spa is set firmly in the present day with a heated pool that allows swimmers to float between the indoors and outdoors, whatever the weather. An award-winning chef heads up the restaurant team here, ensuring guests are treated to hearty and delicious meals after a day of strolling the grounds and relaxing in the spa.
9. Alexander House Hotel & Utopia Spa, West Sussex
Alexander House is a five-star hotel offering spa breaks and country getaways that are simply perfect for couples in search of a romantic weekend. Luxury rooms feature sumptuous surroundings, plush beds and 24-hour room service - should you wish to stay in bed all day. For those wanting to venture from the comforts of the bedroom, there is an award-winning spa on-site with hot tubs, a whirlpool, barrel sauna and therapeutic pools. Sounds pretty blissful to us.
10. Sopwell House, Hertfordshire
We highly recommend staying in a Mews Suite at Sopwell House. Set across from the main hotel, these individually designed suites resemble mini cottages, and have features including private terraces, in-room baths and fireplaces. You also get access to the special spa area, The Club at Cottonmill, which is a delightful place to unwind.
11. The Gilpin Hotel, Cumbria

Lake District gem The Gilpin Hotel is ideal for a romantic getaway. We highly recommend booking a Spa Lodge, which, as the name suggests, comes with its own ensuite spa. Whichever room type you choose, you can enjoy Michelin-starred dining, a champagne bar and glorious grounds to explore.
12. The Gallivant, East Sussex
The Gallivant is situated just 90 minutes from central London but once you're curled up reading a book in the beachside snug, you'll feel a million miles away from the bustle of city life.
Even the most basic package here - Gallivant Essentials - includes breakfast, elevenses and English wine served at five, making it a great place for couples looking to stay all day without having to venture out. With a beach hut spa in the coastal garden, cosy restaurant and a yoga studio offering regular classes, we predict you won't want to set foot outside of this gem.
13. Losehill House Hotel & Spa, Northamptonshire
Nestled within the rolling hills of the Derbyshire Peak District region is this charming boutique hotel. With a breath-taking natural landscape on the doorstep, this is the ideal getaway for couples seeking a romantic yet active break. Some of the UK's finest country houses are just a stone's throw from Losehill along with unspoilt moorland, valleys and bridleways.
After a long day of exploring, Losehill's sumptuous rooms, private hot tubs and award-winning restaurant will be on-hand to help you refuel and rest your aching feet.
14. Galgorm, Co. Antrim
Looking for a getaway to wash away your stress? Northern Ireland's Galgorm is it. This ravishing haven has everything you need for a relaxing break: a sumptuous spa, beautiful rooms, and a wide range of dining and drinking options. For those with their eye on the tee, there's also a championship golf course.
The Most Romantic Hotels in London
15. The NoMad – London
Designed by renowned New York interior design team, Roman and Williams, guests are guaranteed both a romantic and stylish break at this Covent Garden hotel. Situated in a19th century building, formerly The Bow Street Magistrates' Court and Police Station, NoMad boasts 91 luxurious rooms and suites designed for elegant stays.
Enjoy breakfast, lunch and dinner in the soaring glass conservatory, a cocktail in the mood-lit Side Hustle bar or simply order room service and enjoy bubbles from your roll-top bath.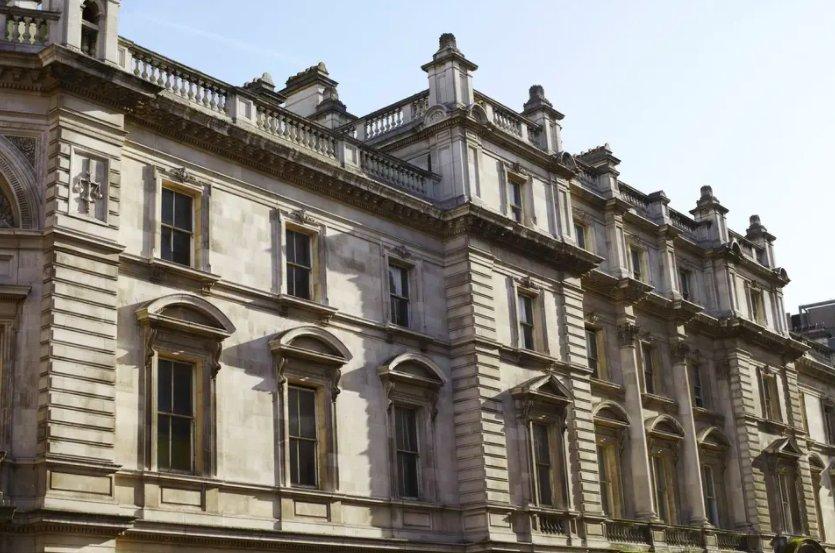 16. The Lanesborough, London
If you're going to treat yourselves to an indulgent stay, you need to find somewhere that will give you an experience that lives up to the price tag. That's certainly true of iconic London hotel The Lanesborough. In terms of styling, it's glamour all the way, with opulent interiors guaranteed to make you feel special.
Each room and suite has 24-hour butler service, and the fantastic facilities include a renowned spa.
17. Sofitel St James, London
Situated just a short distance from Buckingham Palace, couples will feel like royalty as they head towards this romantic London hotel. Sofitel St James offers clean and contemporary rooms within its historic walls as well as a stylish cocktail bar with a seasonal menu of drinkable delights. The Rose Lounge is a highlight here with its sumptuous velvet seating and luxurious afternoon tea offering.

The Most Romantic Luxury Hotels
18. The Fife Arms, Highlands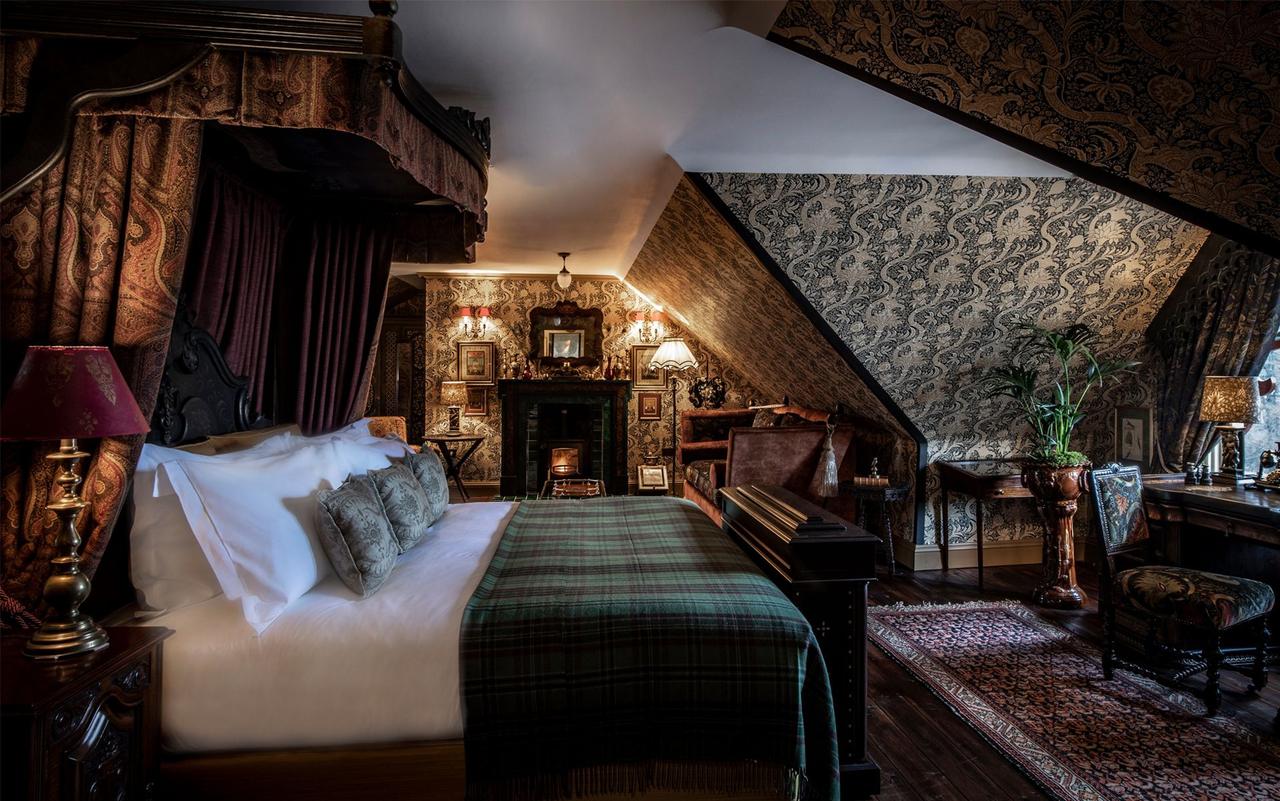 Romance means different things to different people, but if your idea of a romantic getaway involves cosying up in a luxurious cocoon, check out The Fife Arms.
Of course, given its location, you will be leaving said cocoon to explore the stunning scenery. But once you've had your fill of walking, it's a lovely place to retreat to for evenings spent enjoying delicious food and some world-class whiskey.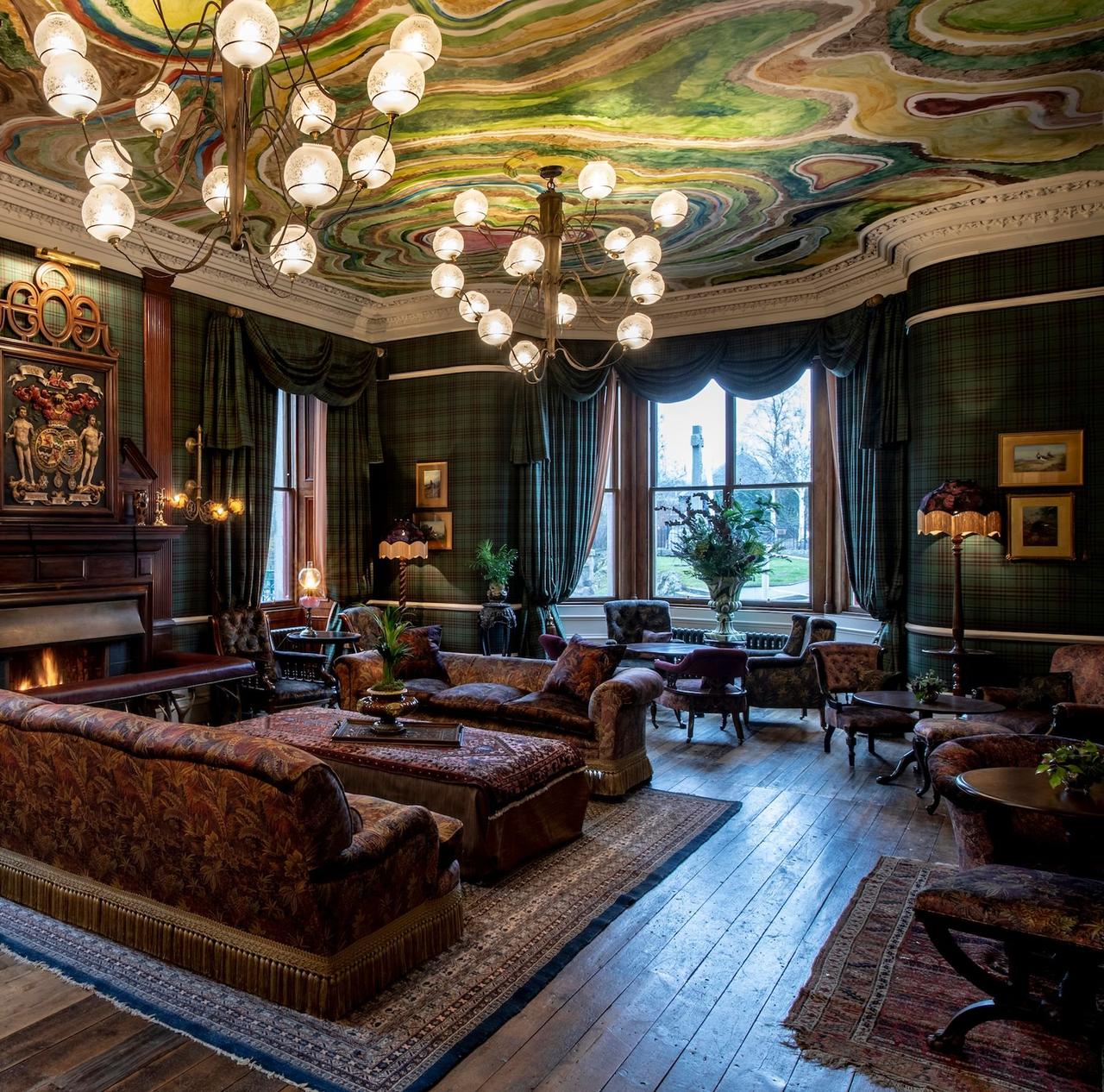 READ MORE: 21 Romantic Getaways in Scotland to Book Now
19. Palé Hall, Gwynedd
We really do love the décor at Palé Hall. It has all the features of classic country house style - prettily patterned wallpaper, antique furnishings, chandeliers - put together by a refined eye. And that's not the only thing to love. There are glorious grounds to explore and an acclaimed fine dining restaurant, as well as a more laidback bistro.
The hotel offers some excellent experiences, too, including a tour of an artisan gin distillery and 4x4 off-road driving.
20. The Merchant Hotel, Belfast
The Merchant Hotel showcases glamour on a grand scale, from the impressive Victorian facade to the opulent interiors. There are two different styles of bedroom: 19th-century splendour, with high ceilings and antique furnishings; and Art Deco-inspired, with elegant lines and vibrant colours.
Pre-dinner drinks in the champagne lounge are a romantic must-do, followed by fine dining in the Great Room restaurant.
21. Chateau Rhianfa, Anglesey
What could be more romantic than a fairytale castle? If the approach to Chateau Rhianfa doesn't give you chills, we don't know what will. And once inside you'll find plenty to delight, with 22 luxuriously appointed bedrooms. If you'd prefer to go self-catering, there are three on-site cottages.
The Most Romantic City Centre Hotels
22. Whitworth Locke, Manchester
If you love your own space on a mini break, may we suggest Whitworth Locke? This contemporary apart-hotel offers self-catering apartments in Instagram-worthy style, allowing couples to sleep, dine and binge Netflix totally alone.
At Whitworth Locke, it's all about living rather than simply staying thanks, in part, to its incredible location. Situated in an old cotton factory in central Manchester, you'll have the heart, culture and nightlife of the city at your fingertips.
23. Titanic Hotel, Liverpool
Industrial chic combines with luxurious comfort at the Titanic Hotel located on Stanley Dock in Liverpool. The restored warehouse features vaulted brick ceilings, steel beams and plenty of other historic quirks.
The Maya Blue Wellness spa is situated underground, offering a peaceful sanctuary to couples looking to get away from it all. Swim past red brick arches in the hydrotherapy pool or indulge in a signature treatment before retiring to a dockside suite complete with unique industrial features.
24. The Grand, York
Historic York is a deeply romantic place to visit thanks to its array of winding streets, renowned restaurants and beautiful architecture. The Grand is a great base from which to explore the city, although the hotel's luxurious facilities may have you struggling to leave. Suites are modern and fuss-free with an opulent feel while the AA rosette The Rise restaurant is mood-lit and invites romance.
The Most Romantic Country Hotels
25. The Roslin Beach Hotel, Essex
The Roslin Beach Hotel in Thorpe Bay has got coastal cool styling down to an art. With bedrooms in refreshing blue hues and rich fabrics, you'll feel as though you've stepped onto far away shores. Bathrobes and Elemis toiletries ensure a comfortable and relaxing stay with a touch of luxury. The rooms are not the only draw here; a two AA rosette restaurant offering fine dining and tempting afternoon teas also awaits.
READ MORE: The Ultimate Honeymoon Checklist
26. Crab Manor, Yorkshire
Want to travel the world without leaving the country? Crab Manor's bedrooms and suites are themed around different luxury hotels, from Bird Island in the Seychelles via Montauk Beach House in the Hamptons and Venice's Cipriani Palace. Yes, it's a gimmick - but a gimmick pulled off with such wit and imagination. The rest of the hotel is quirky and eclectic, and there's an award-winning restaurant.
READ MORE: 15 Stylish His and Hers Suitcase For Your Honeymoon
27. The Swan Hotel, Gloucestershire
How charming is this 18th century Cotswolds hotel nestled among the greenery? While it may be all old school country charm on the outside, The Swan Hotel offers plenty of contemporary comforts inside including stylish bedrooms, Nespresso coffee machines and Molton Brown products.
After a day of romantic walks through the surrounding Cotswolds countryside, settle in for the evening at The Swan Brasserie where hearty British classics meet European flavour for a menu guaranteed to delight the taste buds.
28. Belmond Le Manoir aux Quat'Saisons, Oxfordshire
Raymond Blanc's Le Manoir aux Quat'Saisons is a country escape classic. There's everything you need for a romantic break away from the city: magical grounds; beautiful bedrooms; impeccable service; and, of course, out-of-this-world dining in the two-Michelin-starred restaurant. As an added bonus, there's also a cookery school offering a variety of courses for amateur cooks.
READ MORE: The 15 Best Restaurant Wedding Venues in London for Foodie Couples
29. No. 131, Gloucestershire
Head through the doors of this traditional Georgian townhouse in Cheltenham and you'll find sumptuous, contemporary styling, a sushi restaurant and bustling bar. Rich jewel-toned décor gives No. 131 an undeniably opulent and romantic feel that will have you wishing you could stay longer.
Whether venture outside of the luxurious walls to explore the surrounding Cotswolds countryside or you stay put and enjoy all that the hotel has to offer, you're in for an unforgettable stay.
30. Watersmeet Hotel, Devon
Nestled on the headland above the beach in Ilfracombe is Watersmeet Hotel. Expansive rooms in calming neutrals meet sea views to create tranquil and romantic stays on the coast. Enjoy breakfast on your private balcony as you watch the waves crash into the rocks or sip cocktails as the sun dips below the horizon.
The sunset can also be caught from the Rocks Restaurant, with its floor to ceiling windows, as you tuck into afternoon tea or a two AA rosette winning dinner.
31. Dalhousie Castle, Edinburgh
Nowhere does castles quite like Scotland and Dalhousie Castle is an example of one of the country's finest. Sitting just eight miles outside of Edinburgh, Dalhousie feels miles away from the hustle and bustle of city life.
Couples can become a part of their own fairy tale as they explore the network of passageways within the castle or stroll through the impressive grounds. After a day of exploring, retire to a room fit for a king or queen complete with a carved wood four-poster bed and baroque fabrics.
32. Nunsmere Hall Hotel, Cheshire
Set in the heart of Delamere Forest and surrounded by a tranquil lake, Nunsmere Hall Hotel offers couples peaceful getaways. Fluffy bathrobes, homemade biscuits, high-speed Wi-Fi, luxury toiletries and 24-hour room service ensure you'll never want to leave the comforts of your room.
With a restaurant twice voted Country Restaurant of the Year by the Good Food Guide on-site, we predict you'll at least want to venture downstairs during your stay.
33. Merewood Country House Hotel, Cumbria
The Lake District is famed for being the inspiration behind some of Wordsworth, Coleridge and Southey's most famous works and as you look out from the Merewood Hotel to Lake Windermere, you can certainly see why they felt so inspired.
The sumptuous bedrooms here provide the perfect place to kick back at the end of a day's exploring this romantic region while the two AA rosette restaurant offers a chance to refuel with elegant and complex dishes.
READ MORE: The 23 Best Wedding Venues in the Cotswolds
34. Chewton Glen, Hampshire
There's much to admire at five-star country house hotel Chewton Glen. However, we have to admit that it's their treehouse suites that have really stolen our hearts. Suspended amid a verdant canopy of trees, these gorgeous spaces have private terraces with day beds and hot tubs, to really make the most of the magical setting.
READ MORE: 12 Romantic UK Cabin Rentals for Your Next Getaway
35. Bovey Castle, Devon
To stay at Bovey Castle is to surround yourself with loveliness. The hotel is located overlooking a lake in the magnificent surroundings of Dartmoor National Park. Each of the 60 bedrooms has been individually designed, and there are also private estate lodges for those who prefer more privacy.
Planning a long-haul getaway after your UK mini-moon? Our guide to Caribbean honeymoons will get you inspired.