21 Most Romantic Hotels in London for 2021
Have a mini-moon or honeymoon in one of the most romantic hotels in London. Our picks include luxury spa hotels and chic boutiques with amazing suites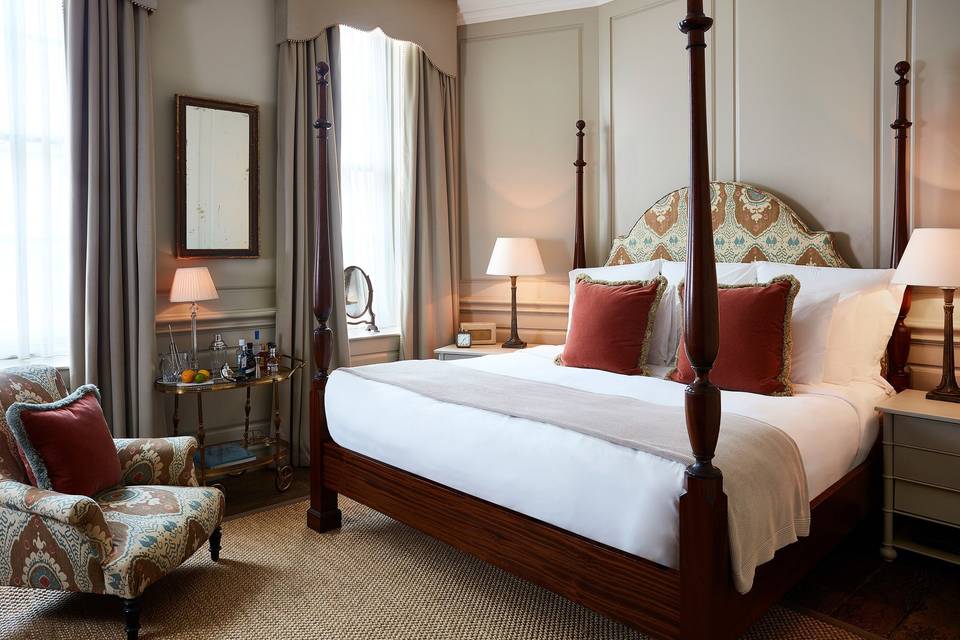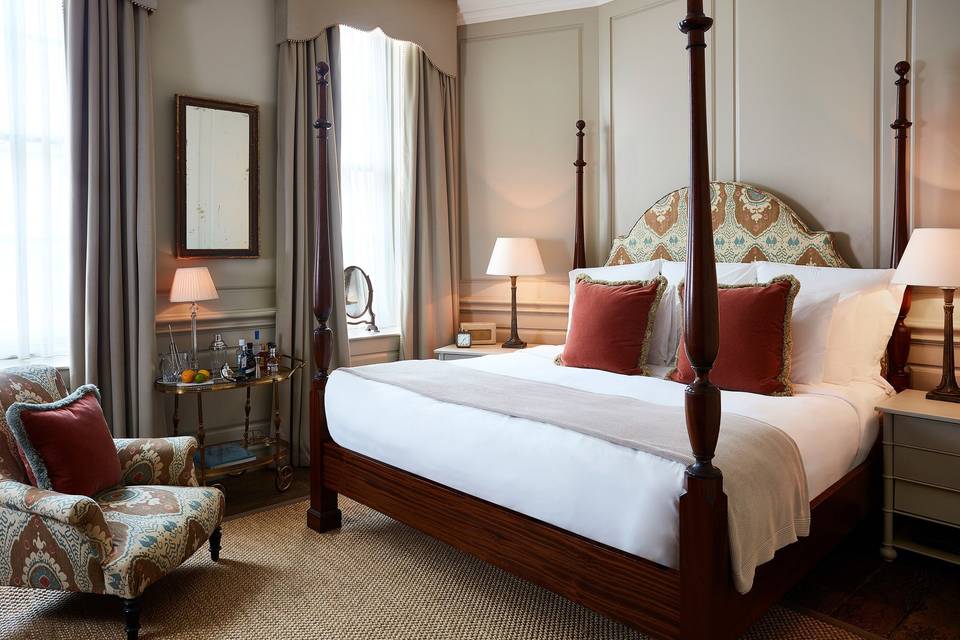 You don't have to leave the country for your first holiday as newlyweds. We're big fans of UK honeymoons and mini-moons - particularly if you choose the capital. That's because there are some seriously romantic hotels in London, from spa hotels to luxury boutiques. Whether you're new to the city or planning a staycation, you'll find the perfect place to suit your couple style.
When it comes to rooms for romance, London has them in spades, so you should narrow down your selection by deciding which type of hotel makes you feel happiest and most relaxed. Are you looking for a grand five-star or a laidback boutique? A cutting-edge design hotel or something more classic? It's worth thinking about which features are deal breakers. We're suckers for hotels with a roll top bath in the room, but if you want a foodie-focused honeymoon, you may be more interested in the restaurant.
We also suggest choosing your area carefully. The more central you are, the easier it is to get to the best sights and shopping - we're thinking Kensington, Mayfair and Belgravia. However, hotels in these areas tend to be pricier, so if you want an affordable (but still romantic) hotel in London, don't overlook other places from which you can reach Central London but are also fun to hang out in in their own right; we're thinking East London. To help you make that all-important decision, here are our favourite romantic hotels in London.
READ MORE
1. Treehouse London, Marylebone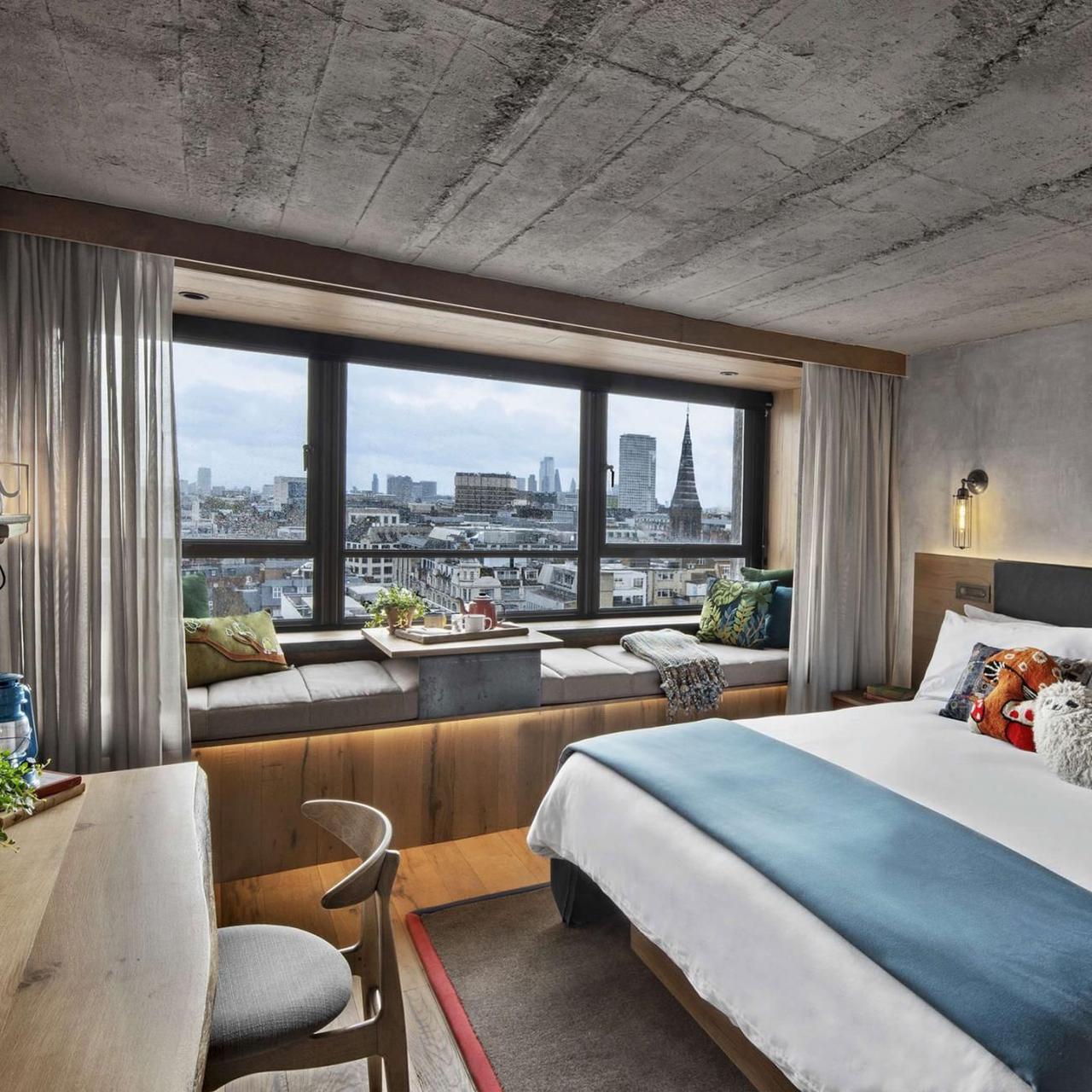 If you want your romance with a side order of fine design, the newly-opened Treehouse London could be your perfect urban hideaway. True to the treehouse concept, all the rooms are set high above the city, with huge windows to make the most of the views. After a day spent pounding the city pavements, you'll feel like you're returning to a real away-from-it-all sanctuary; there are even comfortable window nooks so you can sit, relax and take it all in. The design is contemporary chic, a nature-meets-urban aesthetic - think exposed concrete alongside plenty of wood and greenery. If that all sounds a bit too cool for school, there are lots of quirky touches to keep the vibe fun and laidback, from cuddly toys on the beds to cuckoo clocks. The hotel even offers a 'fun finder' service, with staff sharing their insider tips for making the most of your time in London away from the tourist trail. Back in your room, there are all the little touches that elevate a hotel from good to great, such as Nespresso machines, blackout shades, rain showers and filtered water taps.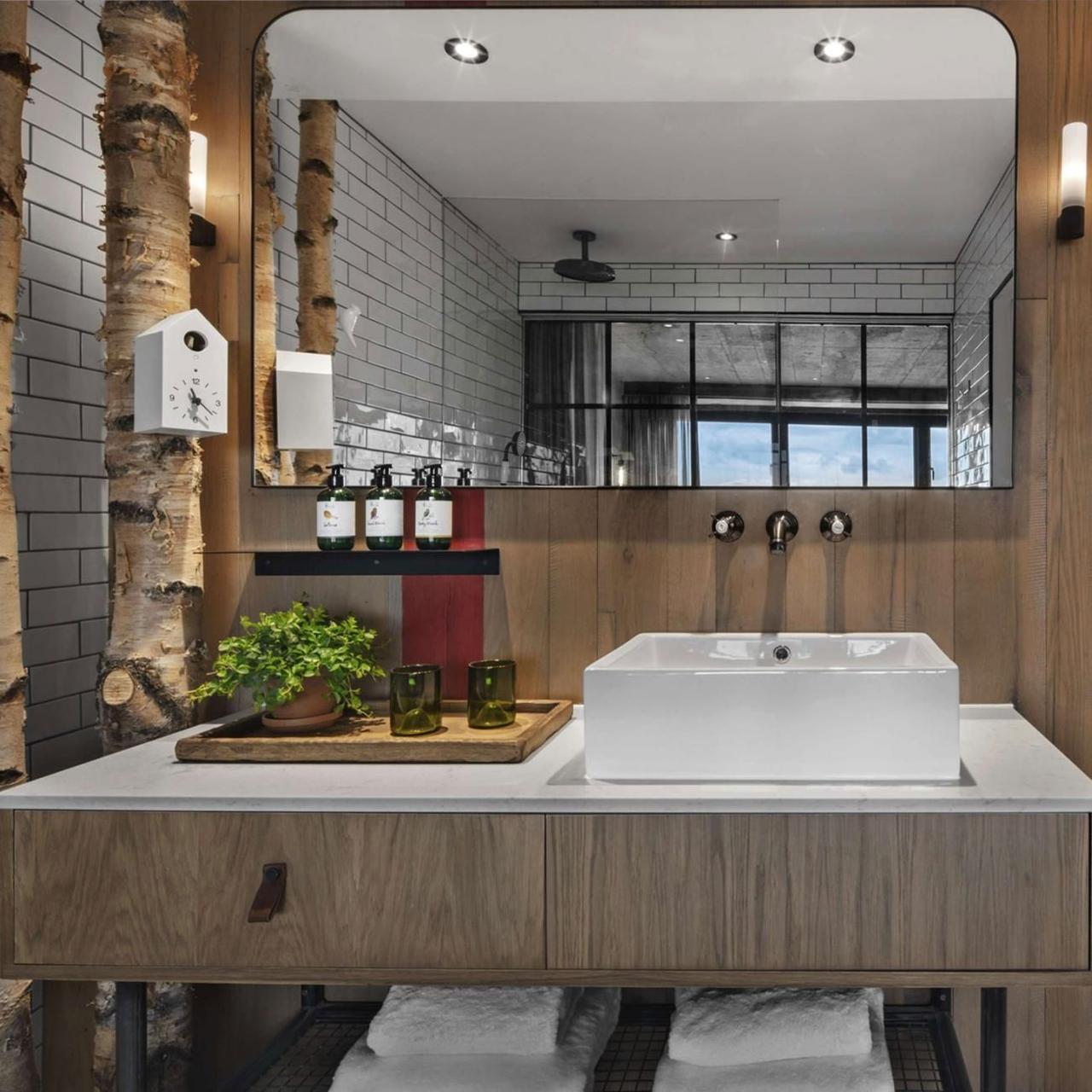 Elevate the Romance
You can have a fabulous evening à deux without ever leaving your hotel. Start with cocktails at rooftop bar The Nest, with its 360-degree views of London, followed by dinner at lively restaurant Madera, which serves well-reviewed Mexican food.
2. The Rookery, Farringdon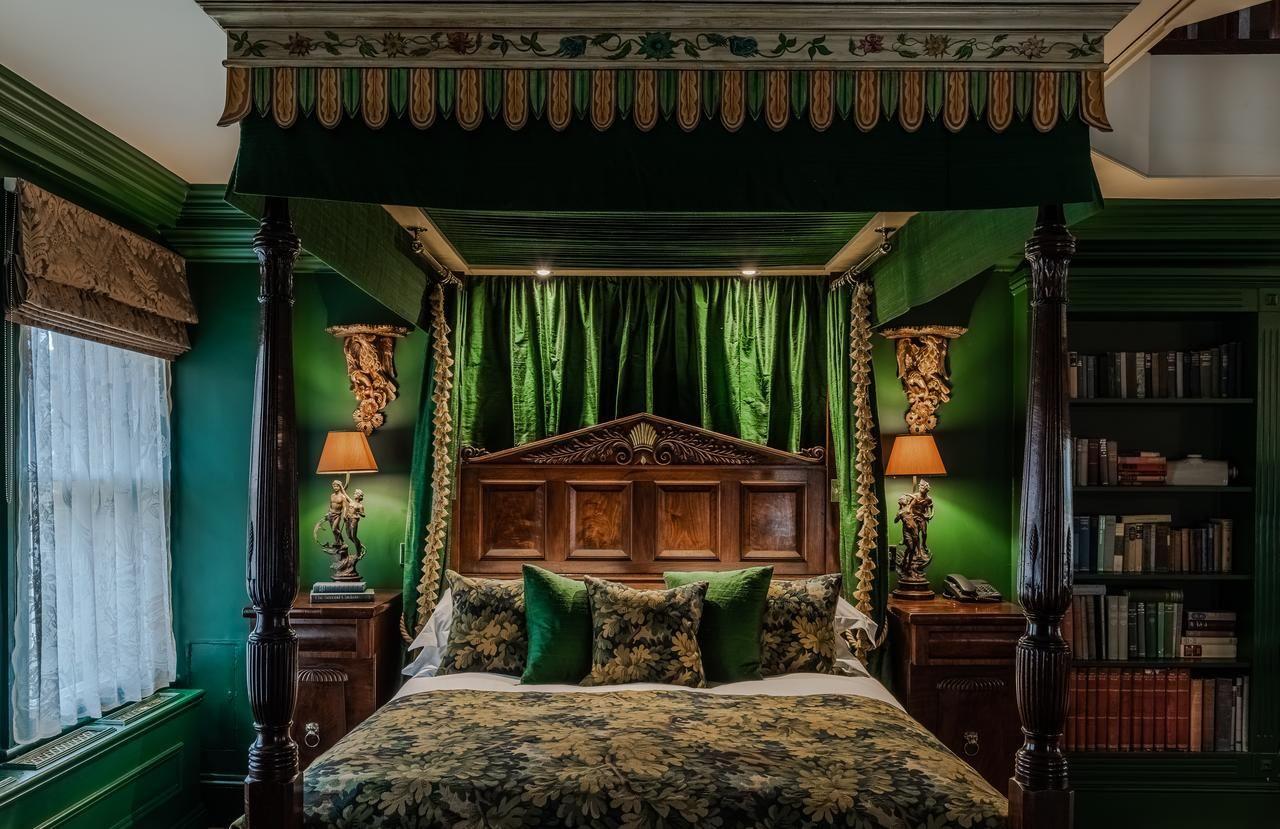 Period charm is the order of the day at The Rookery. We're talking a full-on historical aesthetic, from dark wood panelling and stone flagged floors to antique furnishings and artwork. If you like that sort of thing - and we most definitely do - you'll be in heaven. The effect is richly atmospheric, like stepping back in time, albeit with contemporary comforts including complimentary WiFi, Ren products in the bathrooms and air conditioning. The hotel doesn't have a restaurant, but you can order room service, and in any case, Farringdon and neighbouring Clerkenwell are among London's best areas for a night out, filled with everything from cosy pubs to cool cocktail bars - and an abundance of excellent restaurants. You're also not far at all from the nightlife hotspots of Hoxton and Shoreditch. And the area borders the Square Mile, which has some must-see historic sites. Breakfast can be served either in your room or in the inviting Conservatory, which has an open fire and a small terrace.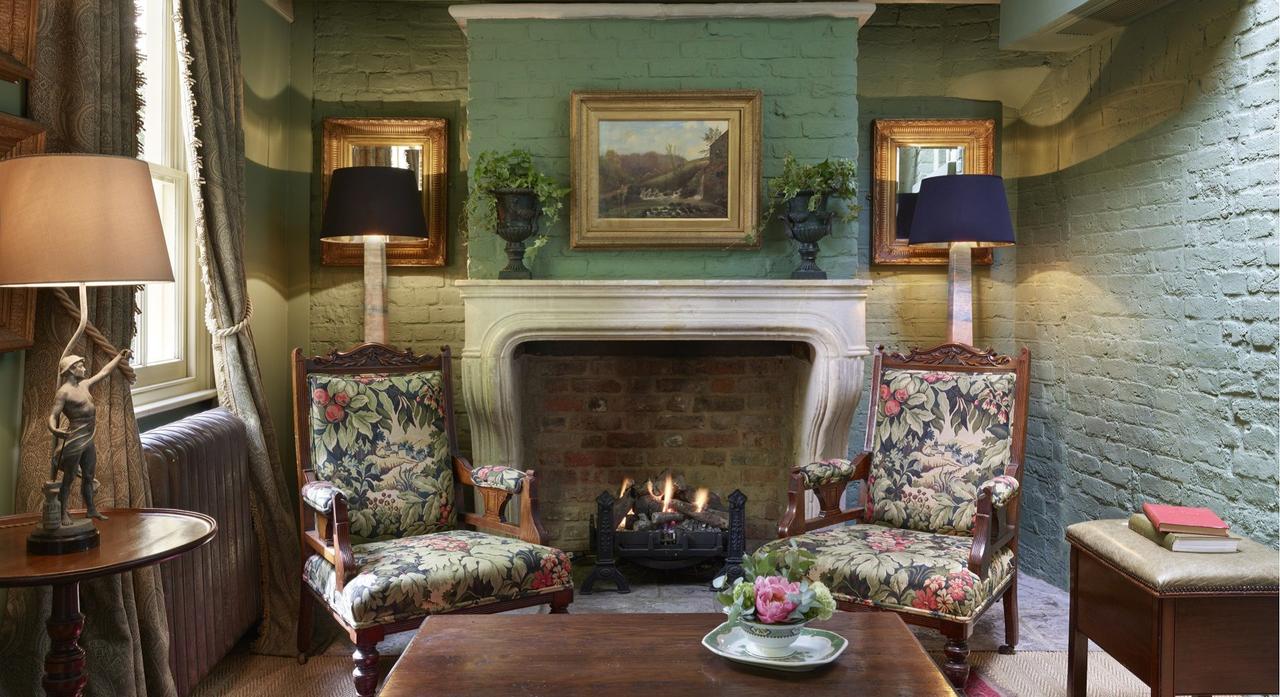 Elevate the Romance
The hotel offers a concierge service - should you want tickets to a popular show or a reservation at a leading restaurant, they promise to "pull a few strings" to help you arrange an extra-special experience.
3. Rosewood London, Holborn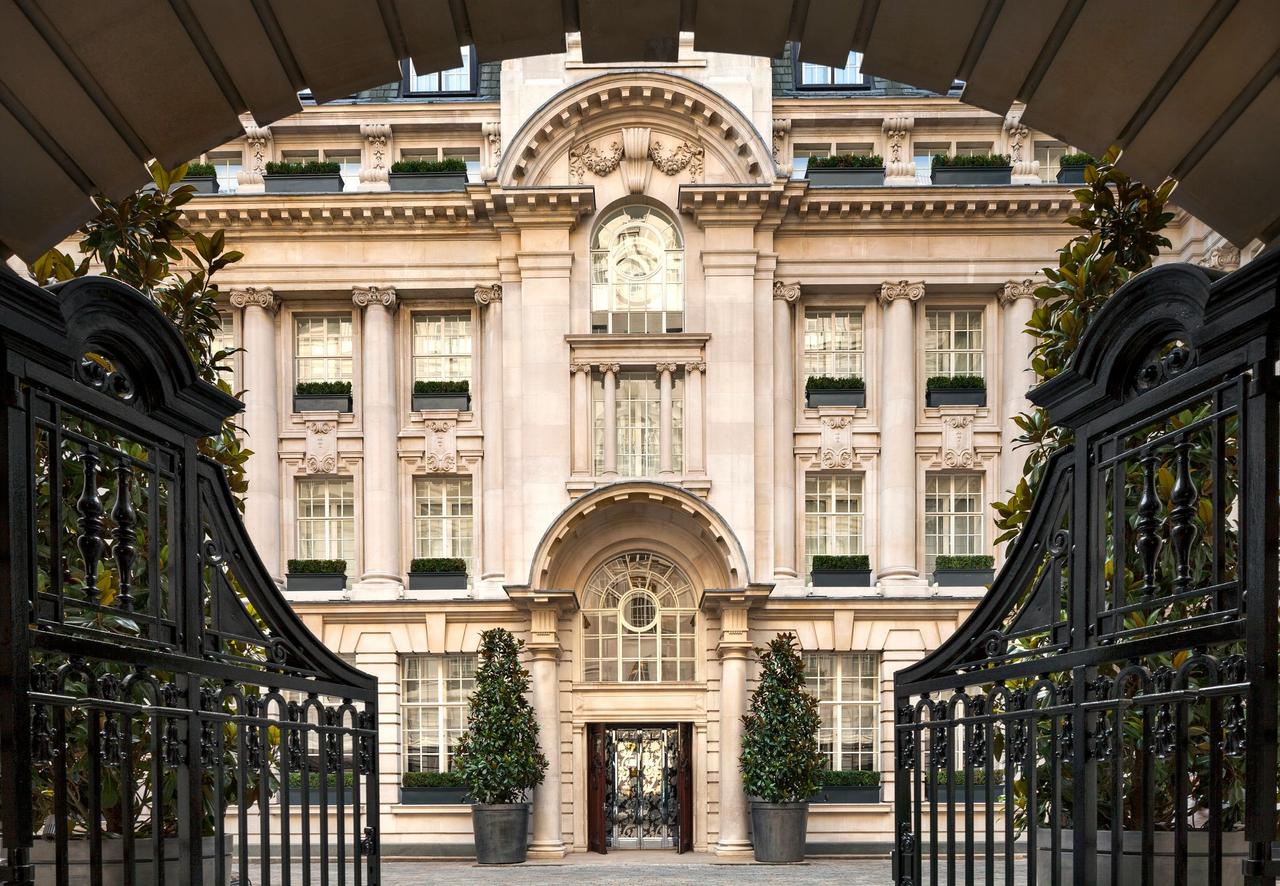 This hotel is perfect for a glamorous escape. Its Holborn postcode may give you pause if you worry about noise in this famously bustling area. However, Rosewood London is tucked away down a passage that leads to a courtyard, giving you the best of both worlds: a central location but a tranquil atmosphere. Insider, the styling is grand and luxurious without being intimidating. This continues to the bedrooms, which blend excellent design with a welcoming feel - we're talking marble bathrooms, big comfy beds and a natural colour palette. Tempting as it is to head straight for nearby Covent Garden for an evening out, we recommend checking out the excellent in-house dining and drinking options at Rosewood London. Indeed, drinks at Scarfe's Bar should be compulsory, so you can soak up its chic, gentlemen's club-esque atmosphere. Restaurant Holborn Dining Room is a destination in its own right, serving British favourites with a contemporary edge.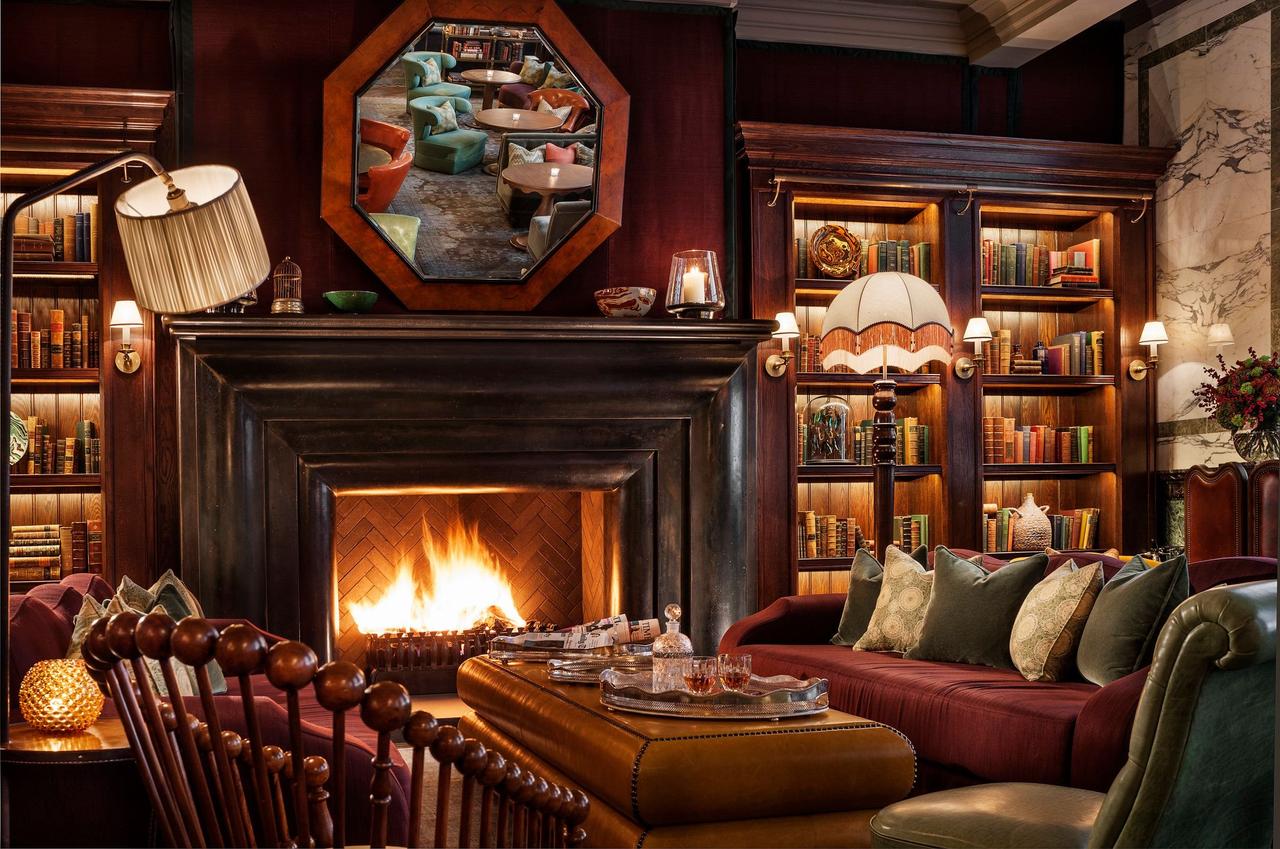 Elevate the Romance
Head to the hotel's Sense spa for a Sense of Connection couple treatment - a one-hour massage followed by a one-hour facial. Bliss!
READ MORE: The 17 Most Romantic Places to Propose in London
4. Town Hall Hotel, Bethnal Green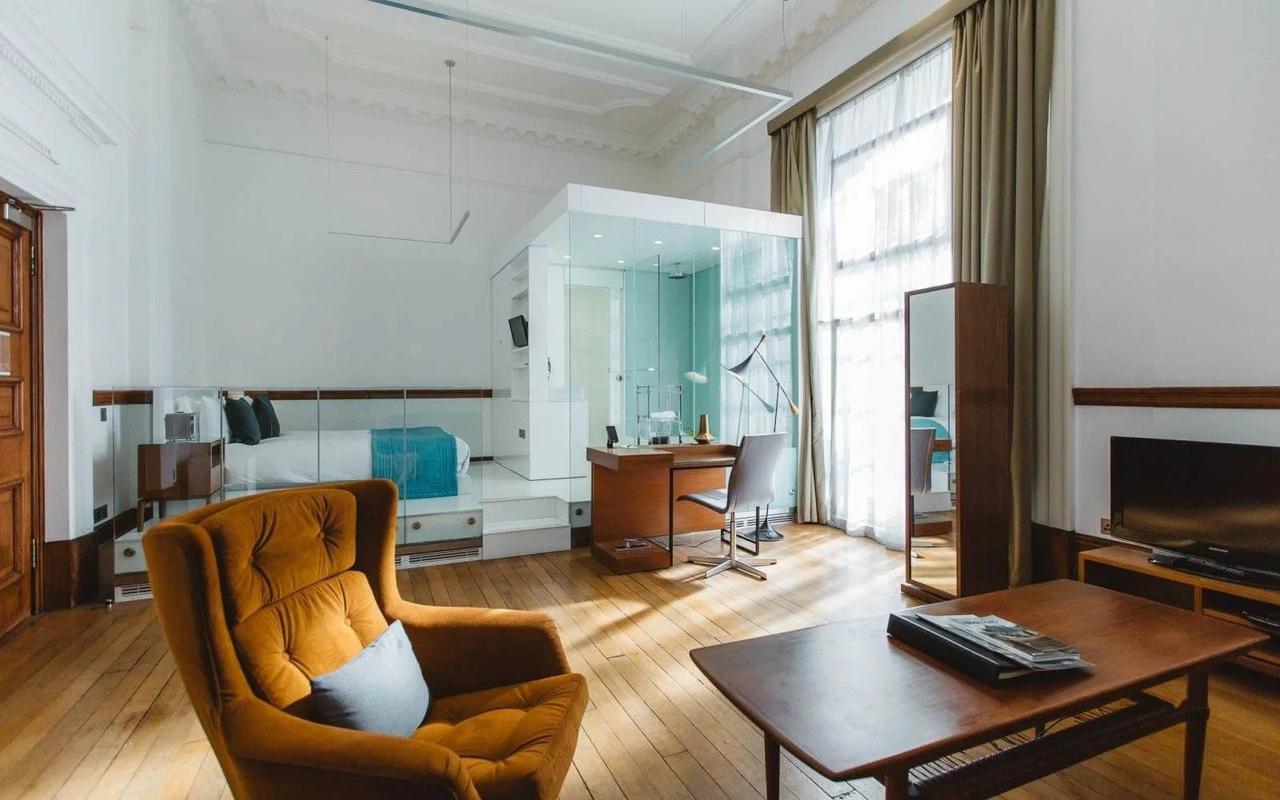 As befits the East London location, Town Hall Hotel has serious style credentials. The building is a converted Edwardian former - you guessed it - town hall, which has been brought up to date with the original features intact. The rooms have been designed to maximise natural light and are surprisingly spacious for London. For even more space, upgrade to one of their apartments, which come with kitchens and dining spaces. Not, of course, that you'll need to cook. As well as the area's many dining options, there's the hotel's Michelin-starred Da Terra, where the cuisine marries the flavours of Latin America and Italy. You can also check out the bijou Corner Room, with its menu of seasonal small plates. If all the scoffing has you feeling sluggish, head to the hotel's heated basement pool for a few laps. If you can't bear to be parted from your beloved pooch while you're away, it's good news: this is a dog-friendly hotel.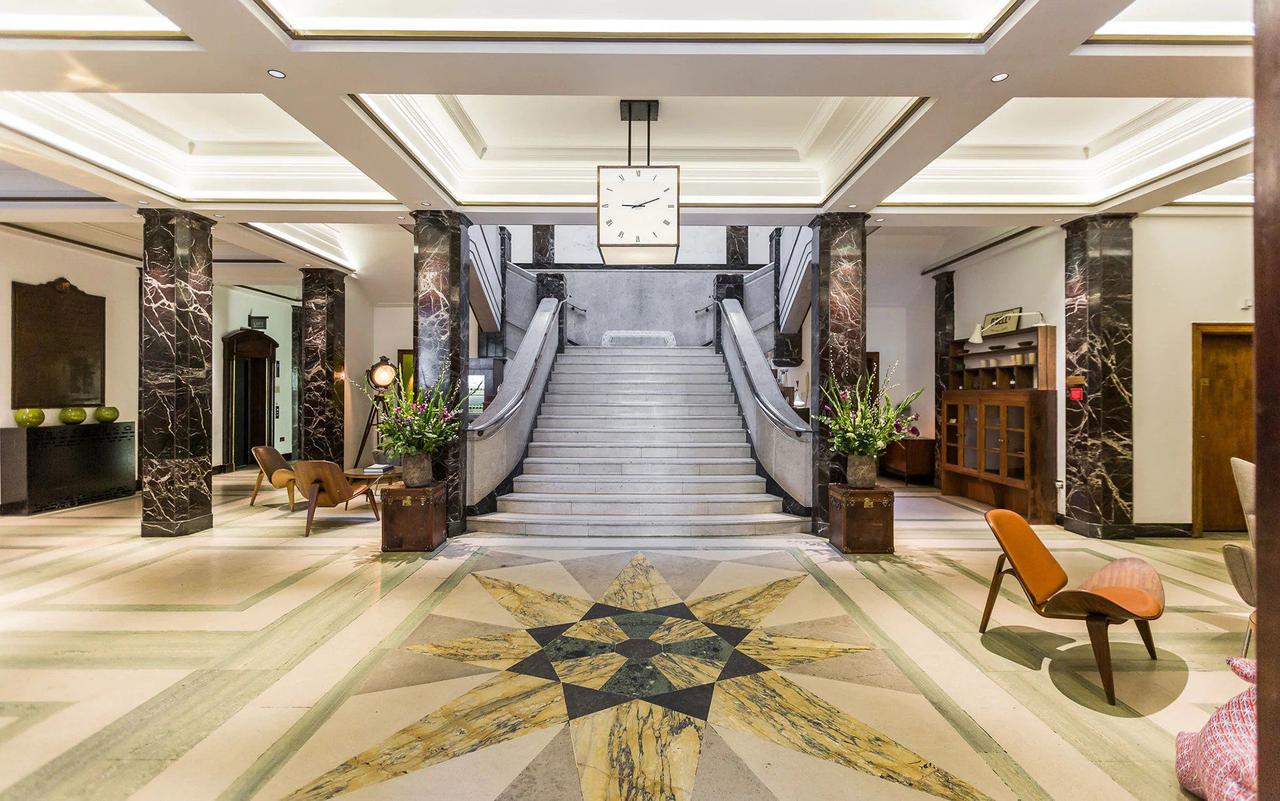 Elevate the Romance
The hotel's programme of events is seriously eclectic, from a Secret Theatre immersive experience to wildlife drawing, so check out what's on if you want to make your break even more memorable.
5. The Goring, Belgravia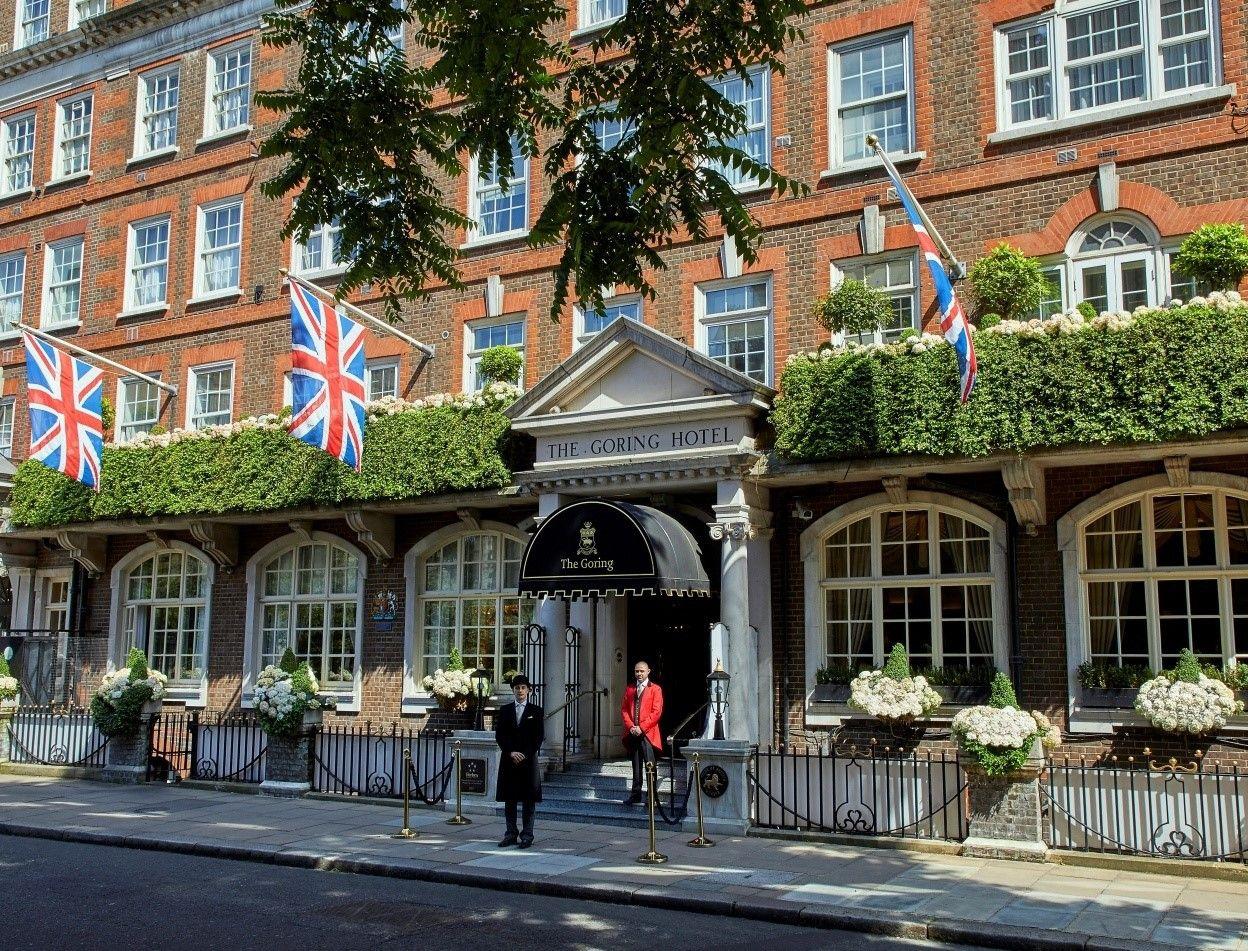 This is where the smart set go when they want some traditional British luxury - it's the hotel Kate Middleton chose for the night before her wedding, after all. But if that means you expect The Goring to be stuffy, you need to go so they can prove you wrong. The service is utterly charming, with a great deal of warmth, and the atmosphere is welcoming. The styling throughout is refined English country elegance, and there's a nice balance between refinement and wit. Bedrooms feature marble bathrooms, and one of the hotel's famous toy sheep is placed on your bed, so you can take it away as a cute keepsake. While this may be a classic hotel, The Goring still moves with the times: the hotel recently unveiled new restaurant Siren, overseen by Michelin-starred chef Nathan Outlaw, and serving innovative seafood cuisine. For a more old-school experience, head to the cocktail bar for a tipple expertly crafted with British spirits. The hotel is located in affluent Belgravia, a lovely area for browsing, admittedly with lots of bank balance-endangering boutiques, cafes, bars and restaurants.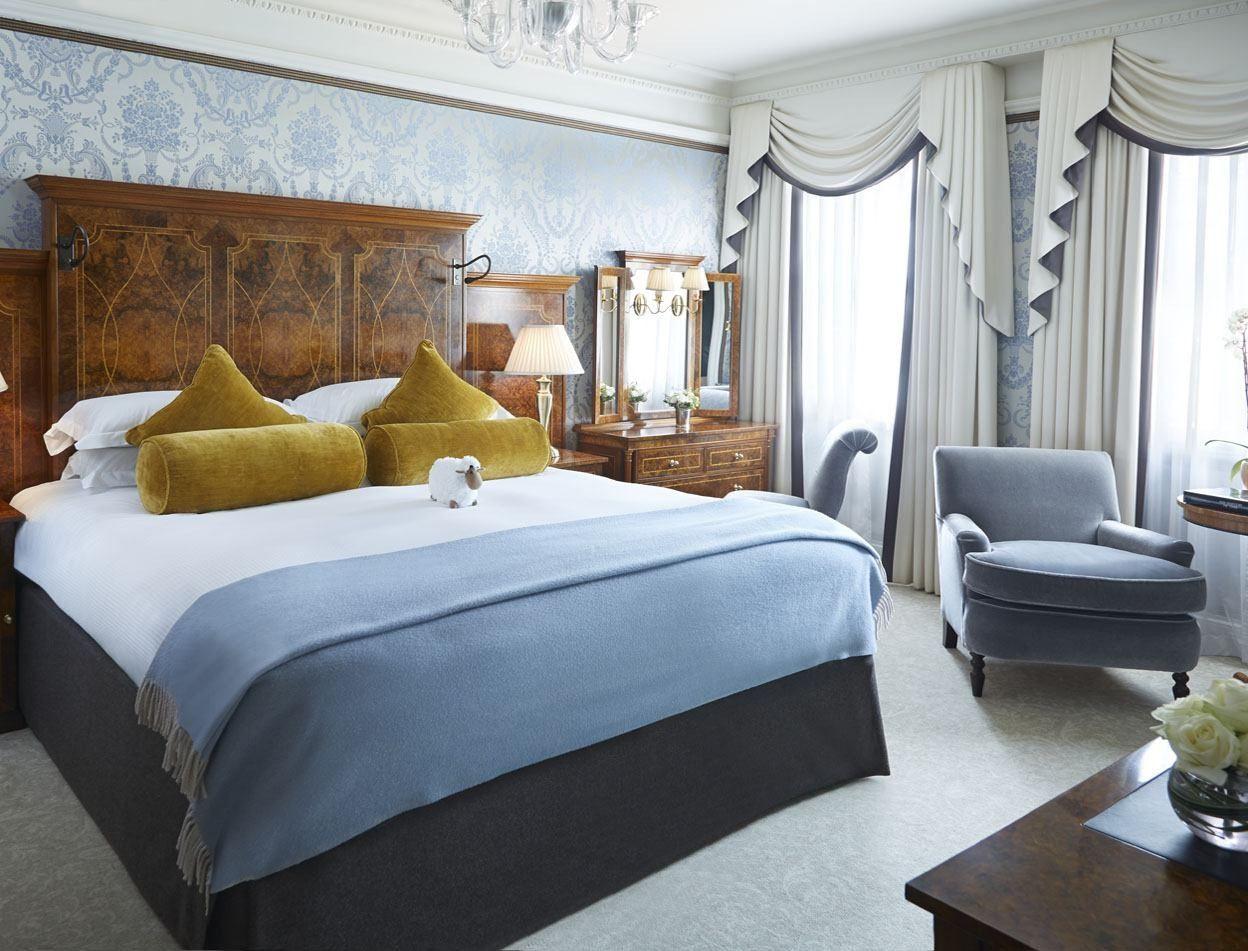 Elevate the Romance
Treat yourself to afternoon tea at The Goring. Whether or not you go for the Champagne option, you'll be able to tuck into indulgent pastries, scones and sandwiches.
6. Artist Residence London, Pimlico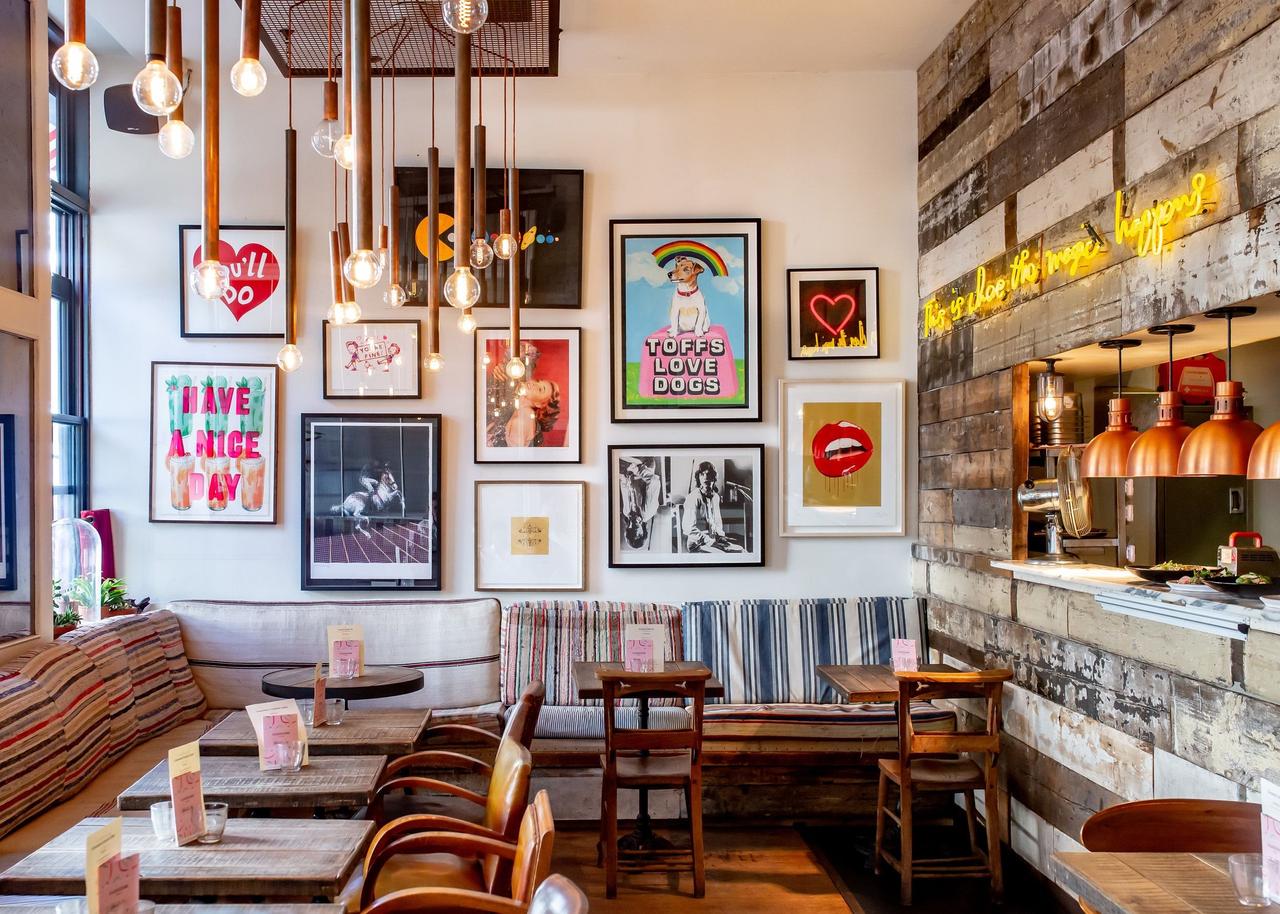 The London outpost of this boutique chain has charm in spades, with 10 individually designed bedrooms, carefully curated shabby-chic furnishings and pops of colour throughout. Artist Residence's rooms range from the bijou Small category to the generously proportioned Grand Suite, and have Egyptian cotton sheets, a Roberts Radio, high-speed WiFi and the obligatory Nespresso machine. For a treat, our favourite is the inviting Loft, with exposed brick walls and mismatched wood panelling giving it a warm feel; it also has an amazing French-style bath. Downstairs cafe Cambridge Street is decorated in similarly quirky style, and serves from breakfast to dinner. Pimlico is a relatively quiet area, but there are still plenty of other restaurants to explore, too (we're fans of trad Italian Cacio e Pepe), and art lovers will appreciate being within walking distance of Tate Britain and the Saatchi Gallery.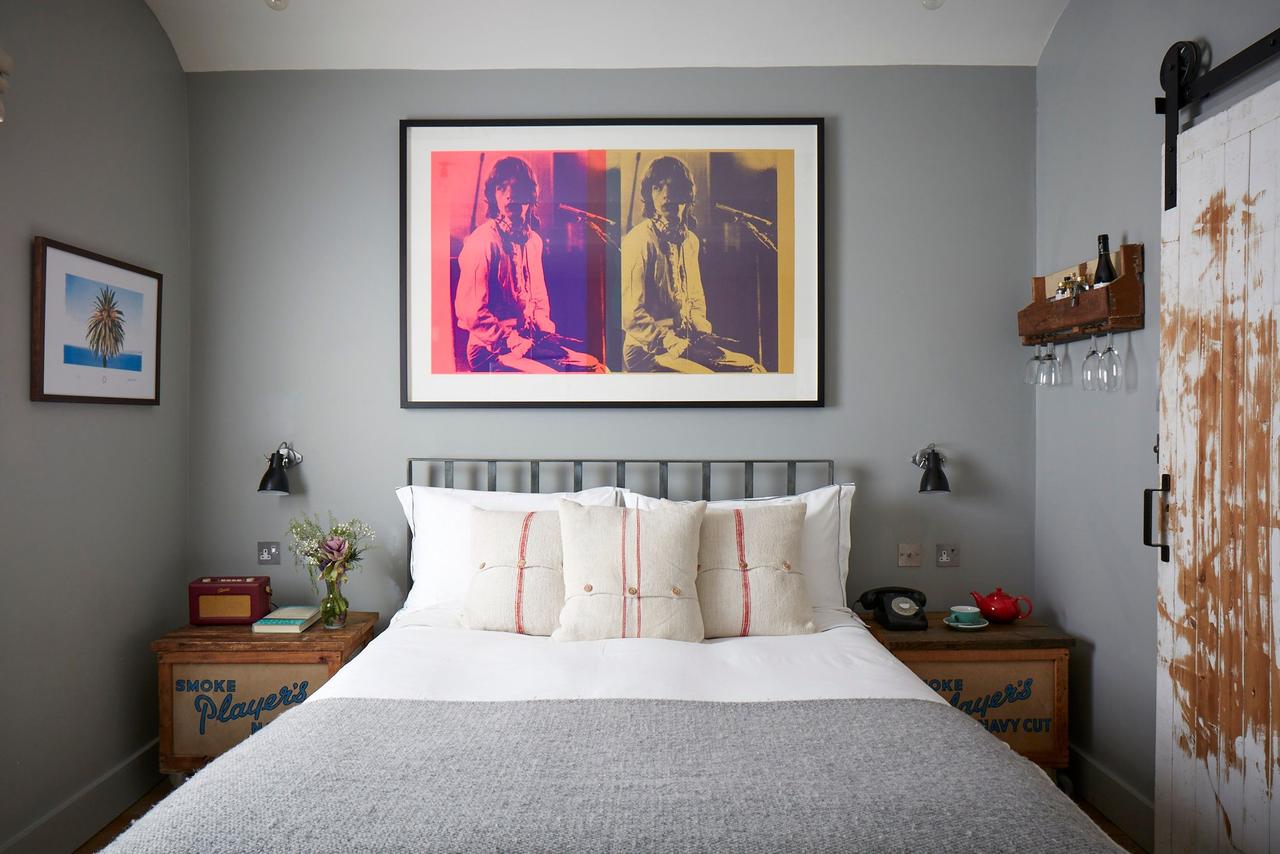 Elevate the Romance
Head to the atmospheric basement cocktail bar for an expertly mixed nightcap or three.
7. Chiltern Firehouse, Marylebone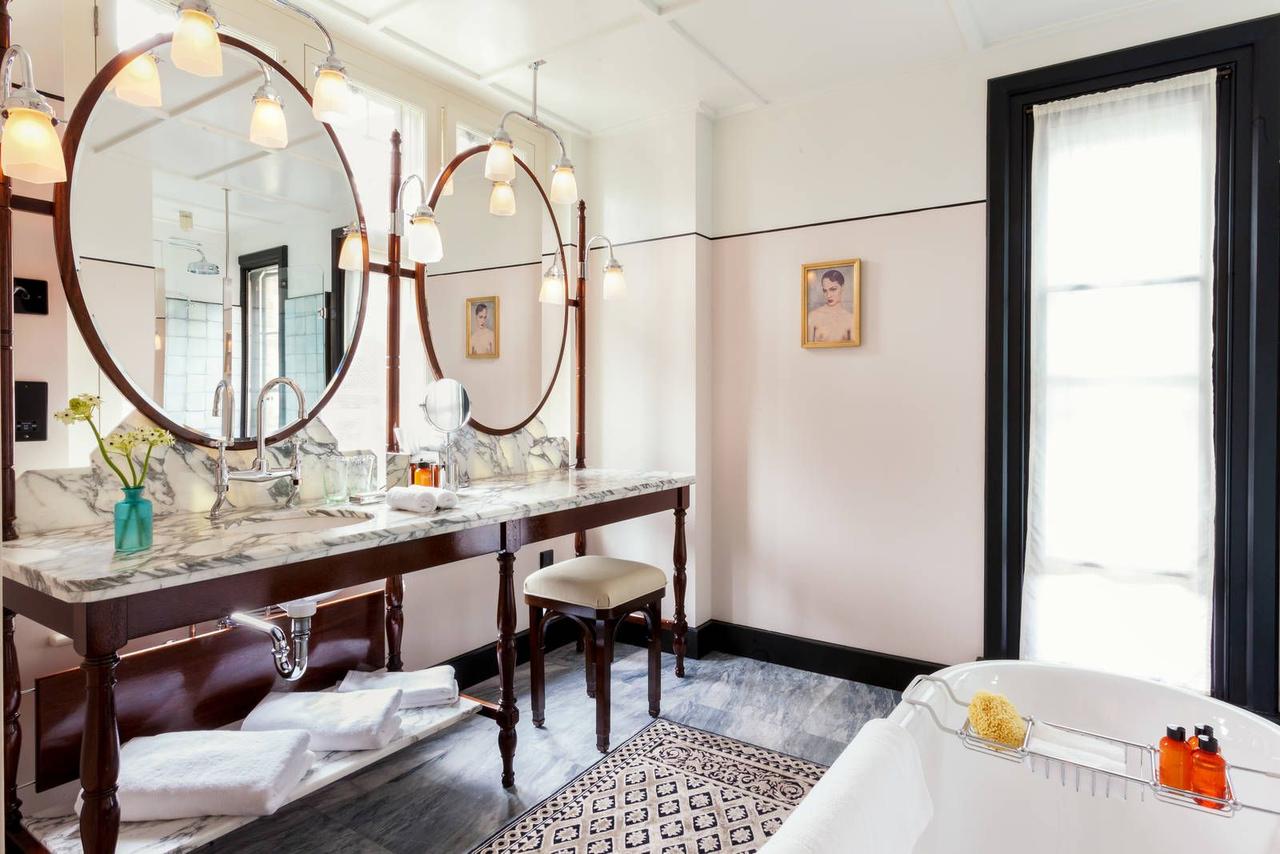 Chiltern Firehouse's restaurant was for a time the celebrity hotspot du jour - and it does still attract an A-list crowd. But if it's the restaurant that got all the attention for a time, the hotel is equally deserving of notice. The former firehouse has been converted into a retro-glam haven, designed to delight. Nice touches include working fireplaces in the bedrooms, and bathrooms that just cry out for a place on your Instagram feed. The surrounding area has a village feel. Marylebone High Street is a short stroll away - book lovers should make sure to stop by at iconic Daunt Books for a browse. It's also an easy walk to Oxford Street, if you can stand the crowds for some excellent retail therapy.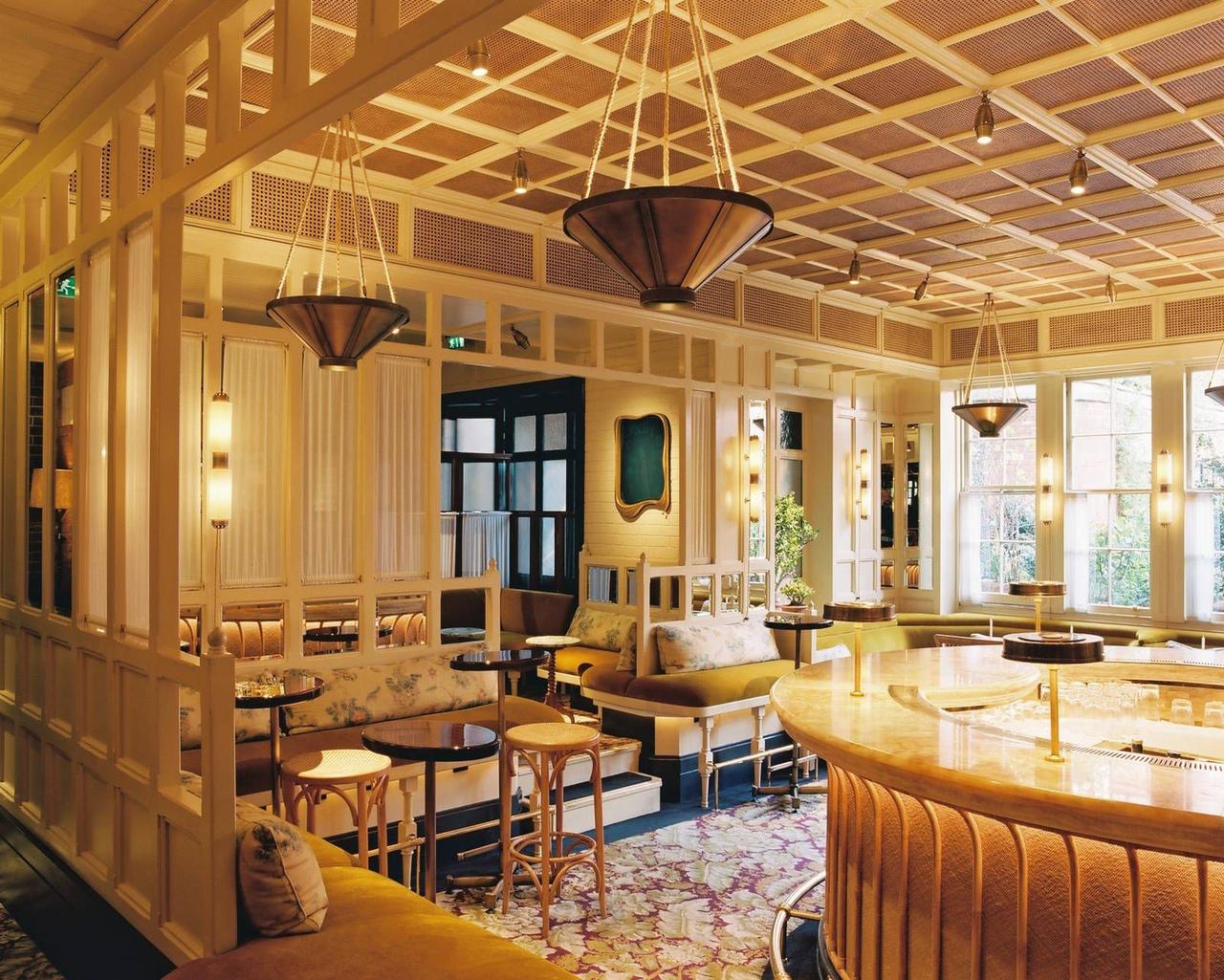 Elevate the Romance
It has to be dinner at the restaurant - and not only for the potential celeb spots. Book early.
READ MORE: 23 of the Best Hotel Wedding Venues in London
8. The Academy Hotel, Bloomsbury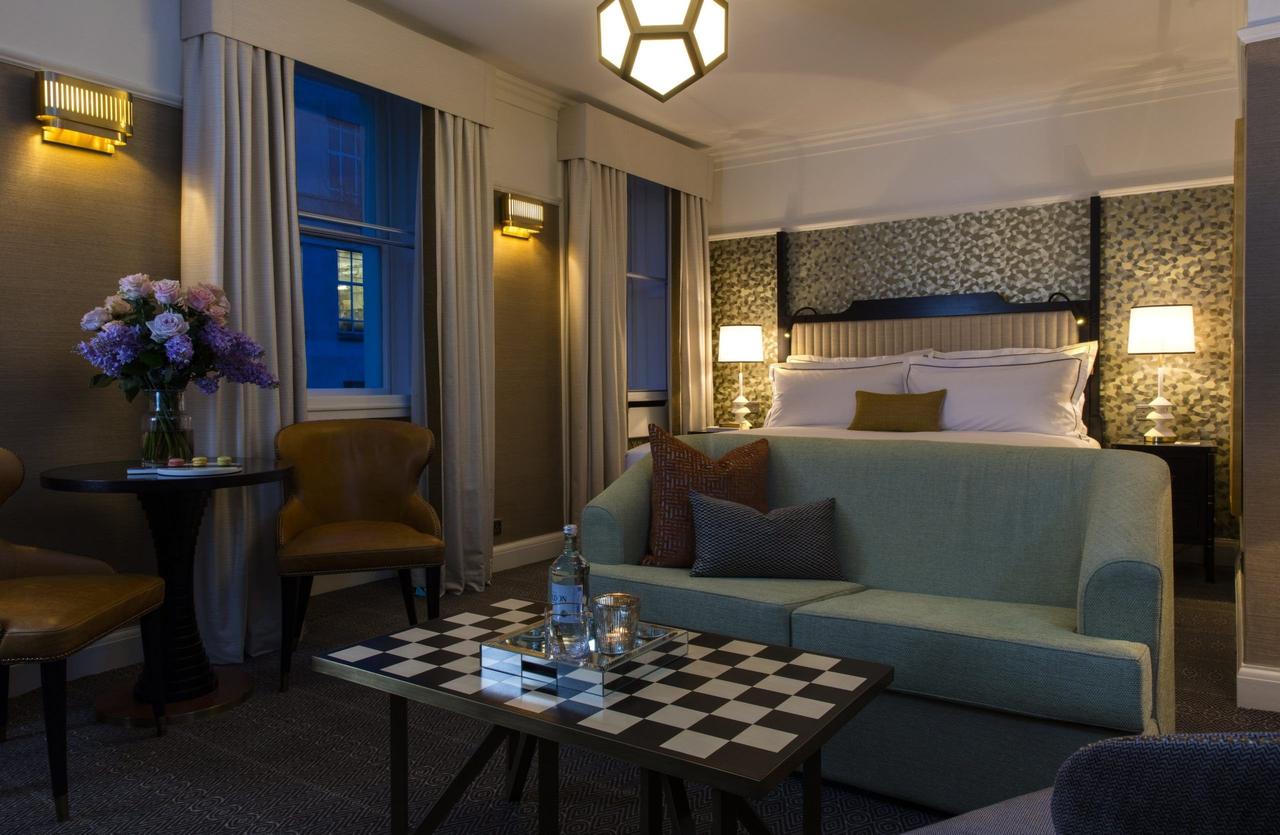 Bloomsbury is one of London's loveliest neighbourhoods. You get to see enchanting Georgian architecture as you wander - head to Bedford Square for some real gems - and the area has a rich cultural history that's worth exploring, as well as being home to the must-visit British Museum. What's more, staying in Bloomsbury means you're within easy reach of popular areas like Covent Garden, Soho and Oxford Street, so you can experience the city without too much travel time. The Academy Hotel encapsulates the area perfectly. Created from five Georgian townhouses, it has style and grace: historic architecture meets contemporary decor. The hotel's communal spaces positively call out for lounging with a good book, particularly, and perhaps inevitably, the Library. There's no restaurant, although you can order food from the all-day menu to your room. And on the rooms: styled by a New York designer, these are both beautiful and comfortable.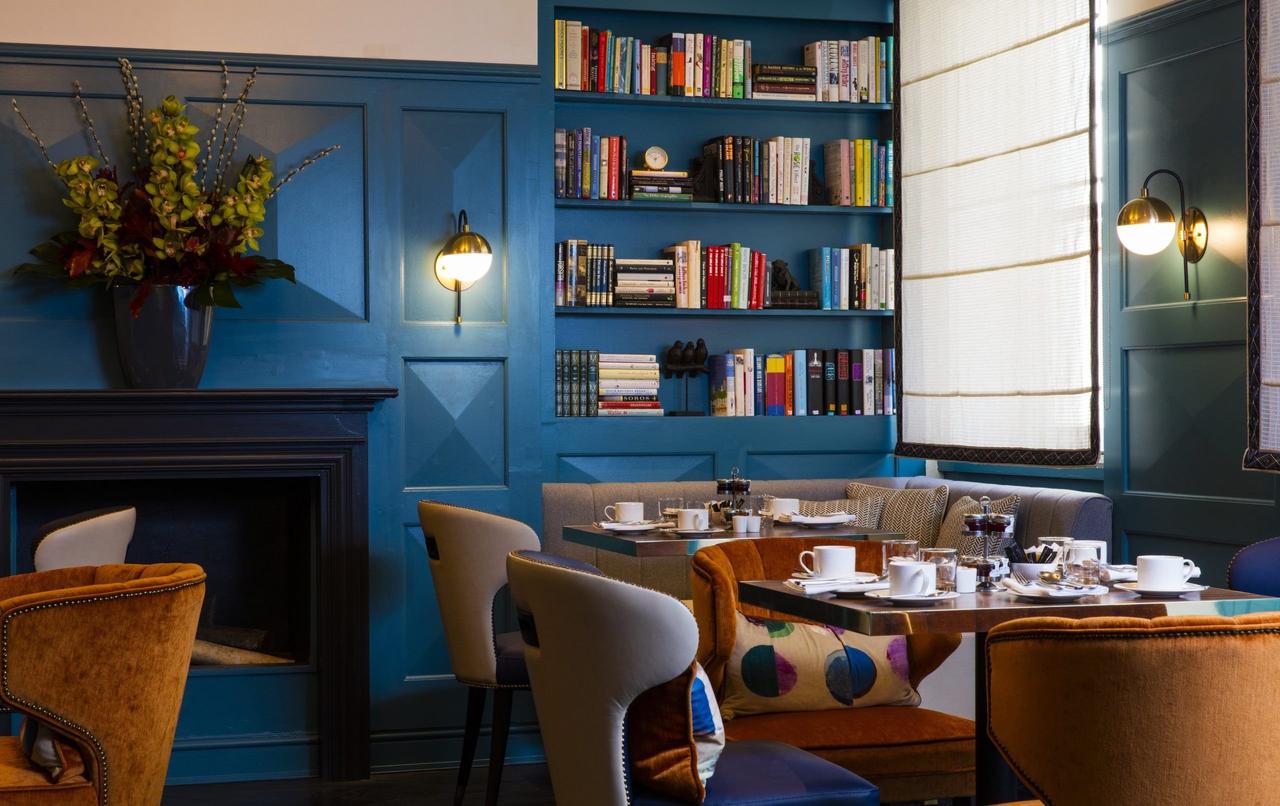 Elevate the Romance
Upgrade to a Bloomsbury Suite for a more luxe-life feel.
9. The Landmark, Marylebone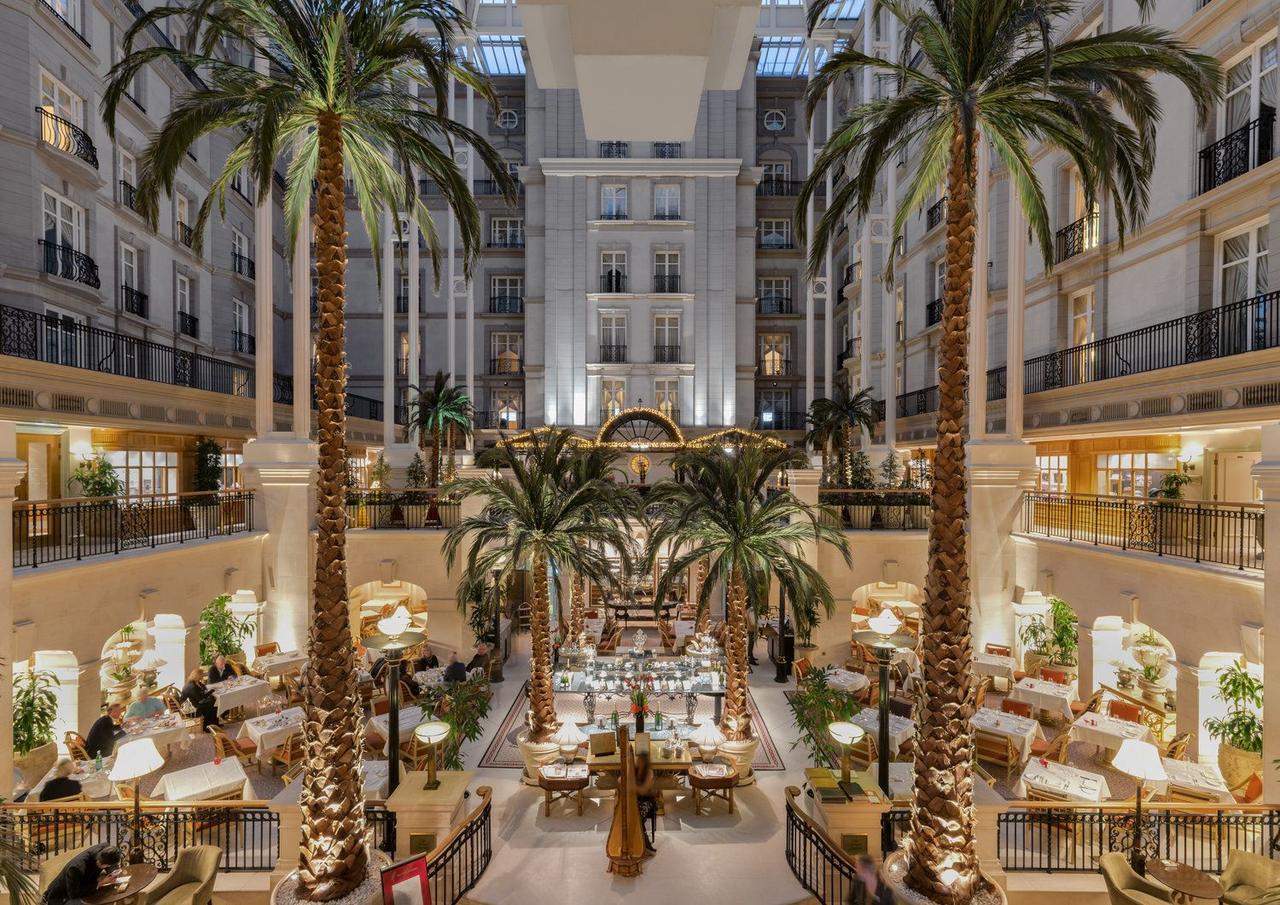 Three's much to admire about this legendary London hotel, but the magnificent Winter Garden restaurant is chief among them. A stay here wouldn't be complete without dining in the eight-stored glass-roofed atrium, surrounded by towering palm trees. The Landmark London also has a luxurious spa, with sauna, steam room, hot tub and pool - all hotel guests get complimentary access - not to mention a menu of treatments. Rooms are designed to promote serenity, with a soothing colour palette, plush furnishings and beautiful Italian marble bathrooms. The public spaces make you feel as if you've walked into a Hollywood adaptation of an Agatha Christie novel: it's glamour on a grand scale, with sweeping staircases and huge chandeliers.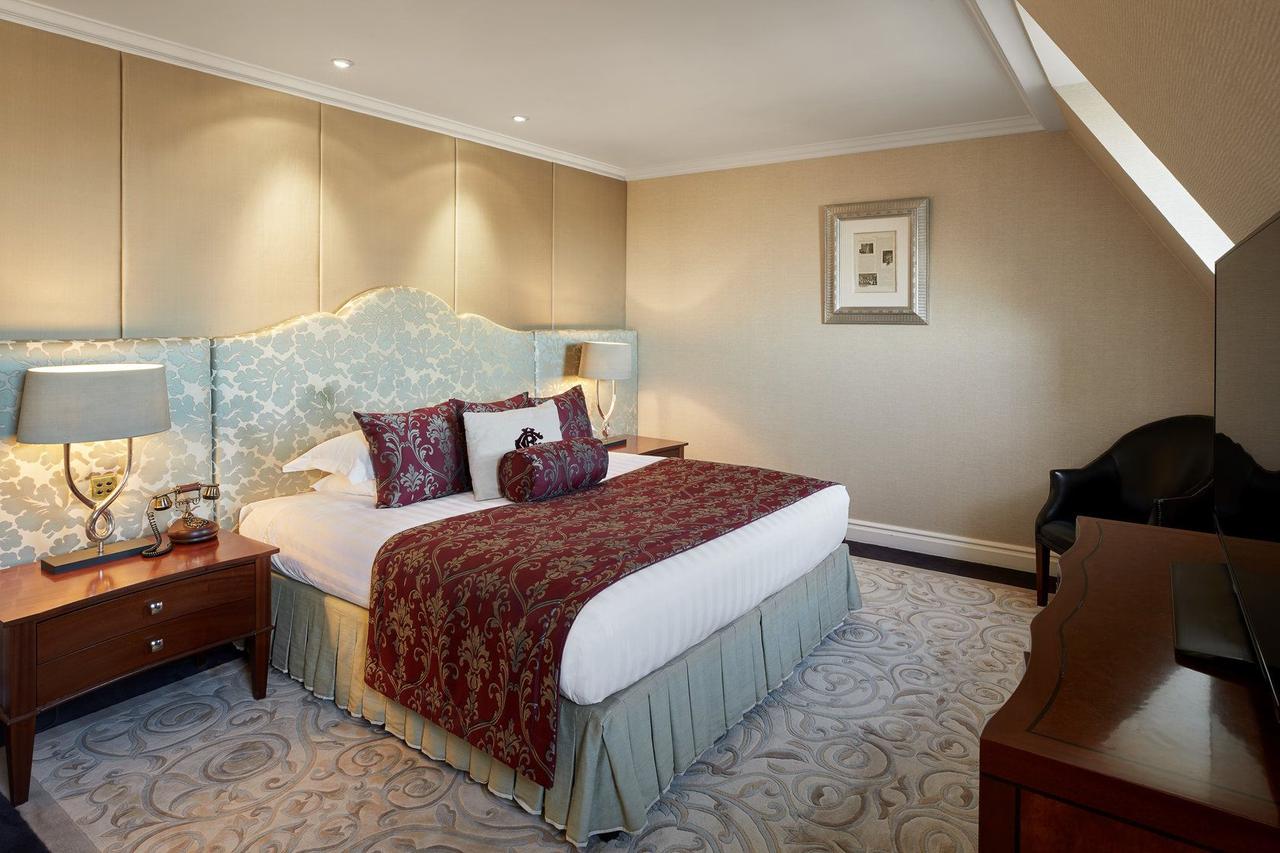 Elevate the Romance
Book in for the bottomless champagne brunch in the Winter Garden. Held every Sunday, and selected Saturdays, this features a sumptuous buffet, live music and - as the name suggests - all the champagne you can drink. Cheers!
10. Vintry & Mercer, City of London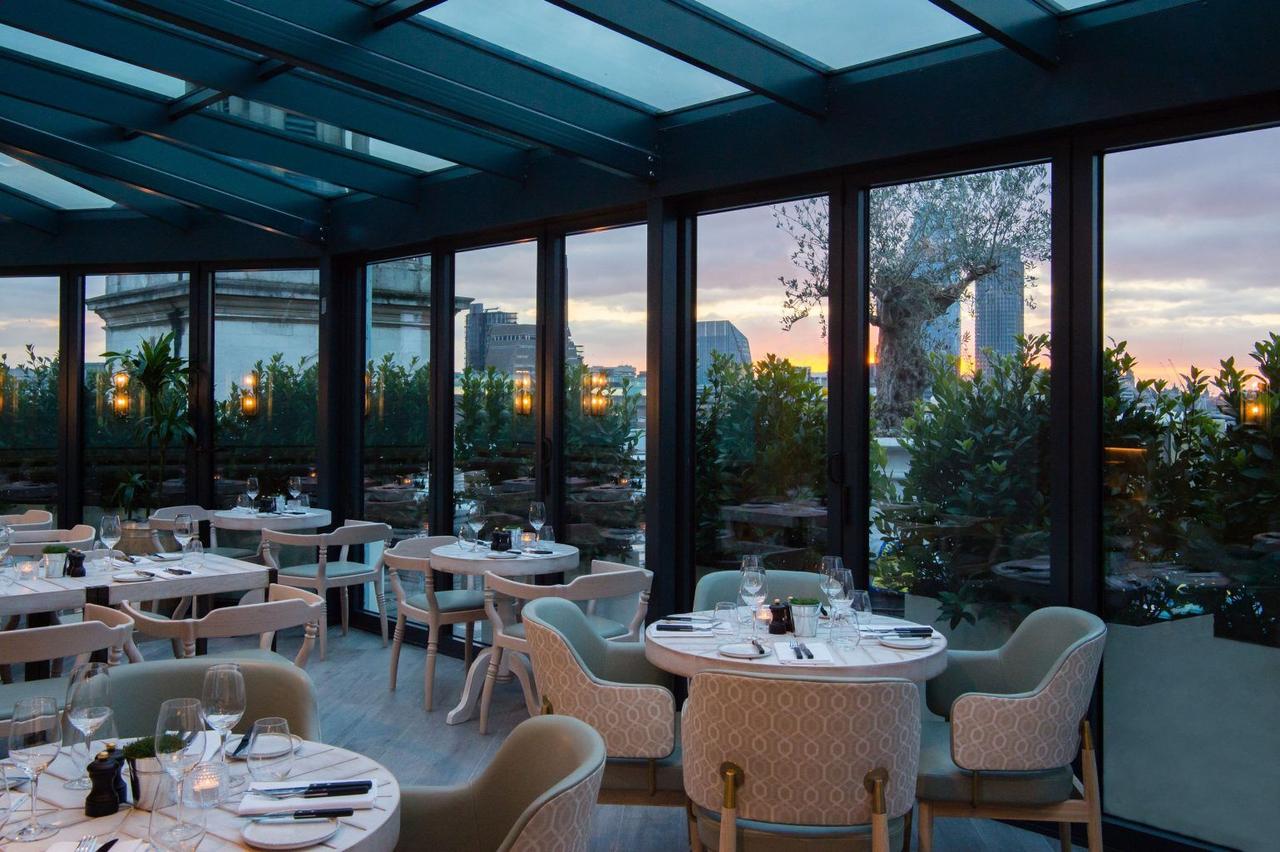 London's historic financial district is where old and new combine, with medieval architecture alongside cutting-edge corporate towers. Vintry & Mercer has taken its cue from the location, with interiors themed around the area's historic trading guilds and a host of contemporary comforts. Accordingly, rooms have elegant retro styling and LED TV and film hubs, with movies on demand. Upgrade to a Deluxe Suite for views of the city, either from floor-to-ceiling windows or your own external balcony. There are two restaurants, and a speakeasy-style basement cocktail bar. There's also a basement speakeasy-style cocktail bar - an atmospheric spot to sip a Hanky Panky.

Elevate the Romance
Dine at the hotel's Mercer Roof Terrace, taking in sweeping views of the city skyline while you enjoy modern British dishes.
11. Dorset Square Hotel, Marylebone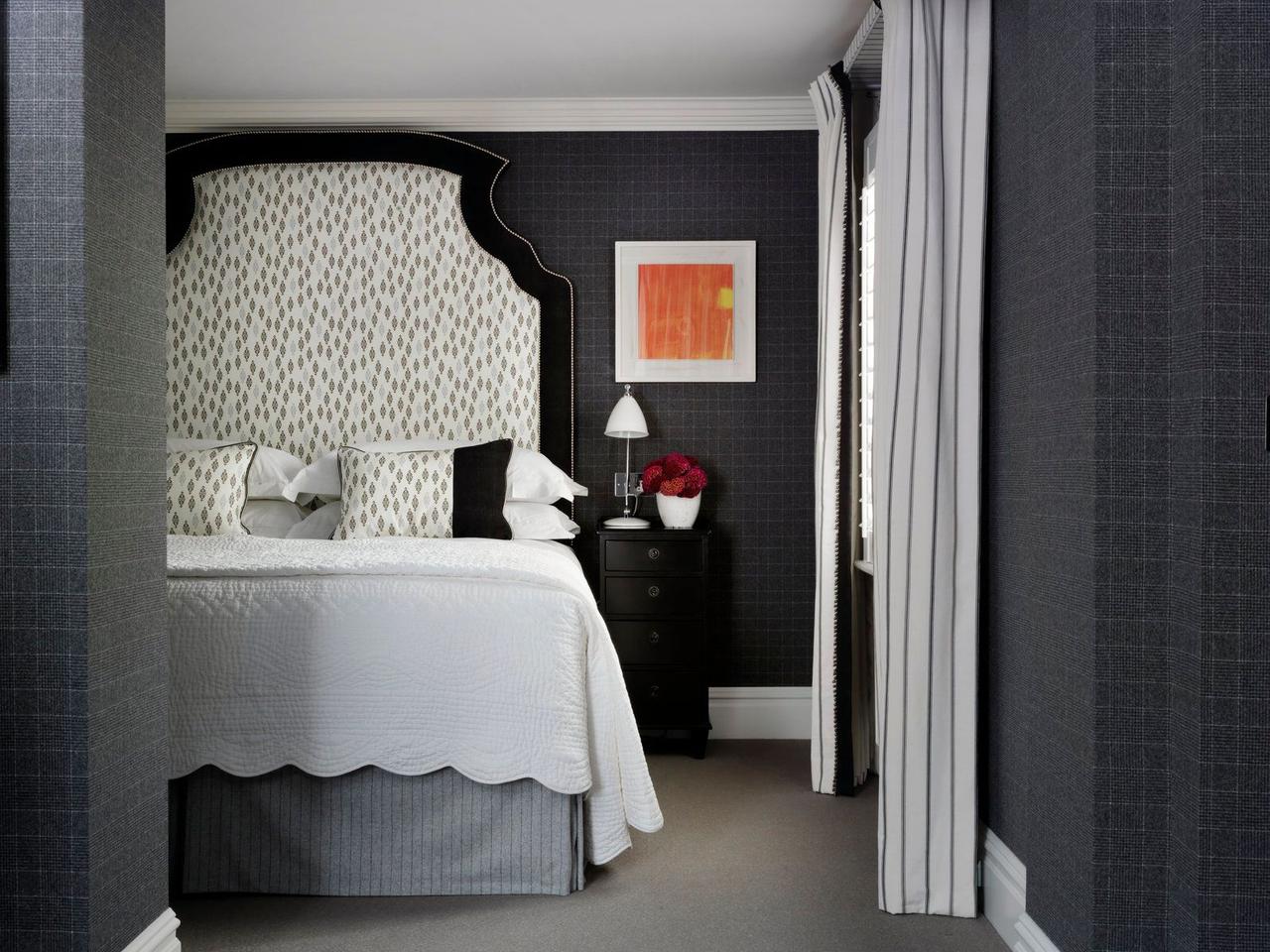 Another success story from the style-conscious Firmdale Hotels group, Dorset Square Hotel has 38 rooms within an enchanting Regency townhouse. Each room has been individually designed; the common threads are cool colour contrasts and stunning granite bathrooms. The hotel overlooks a leafy garden square that was the original Lord's Cricket Ground, so there are subtle nods to the sport throughout. These include antique bats as part of the decor at The Potting Shed bar and restaurant, which attracts excellent reviews for its menu of British brasserie cuisine and cosy atmosphere. The location is perfect for some urban adventuring, with Regent's Park an easy walk away, and all the bars, restaurants and boutiques of Marylebone waiting to be explored.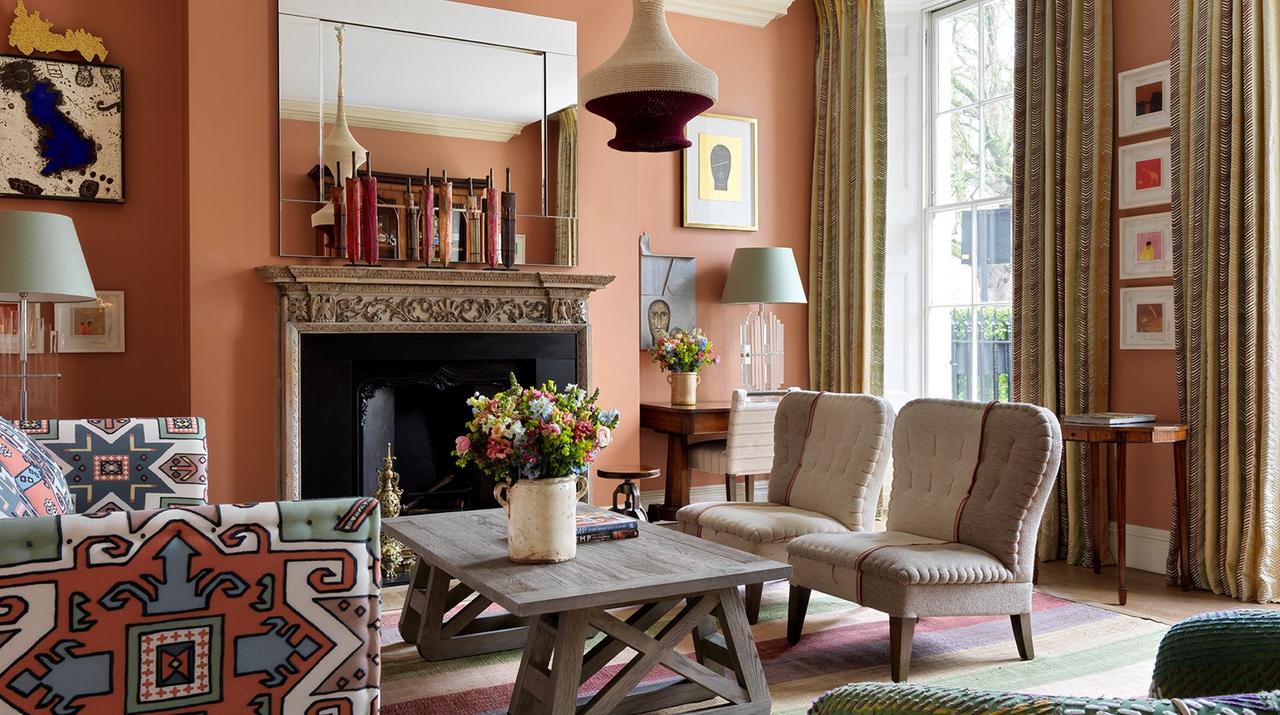 Elevate the Romance
If one or both of you is a cricket fan, catch a match at the current Lord's Cricket Ground, just a 15 minute walk away.
READ MORE: 10 Things Not to Do on Your Honeymoon
12. St. Pancras Renaissance Hotel, King's Cross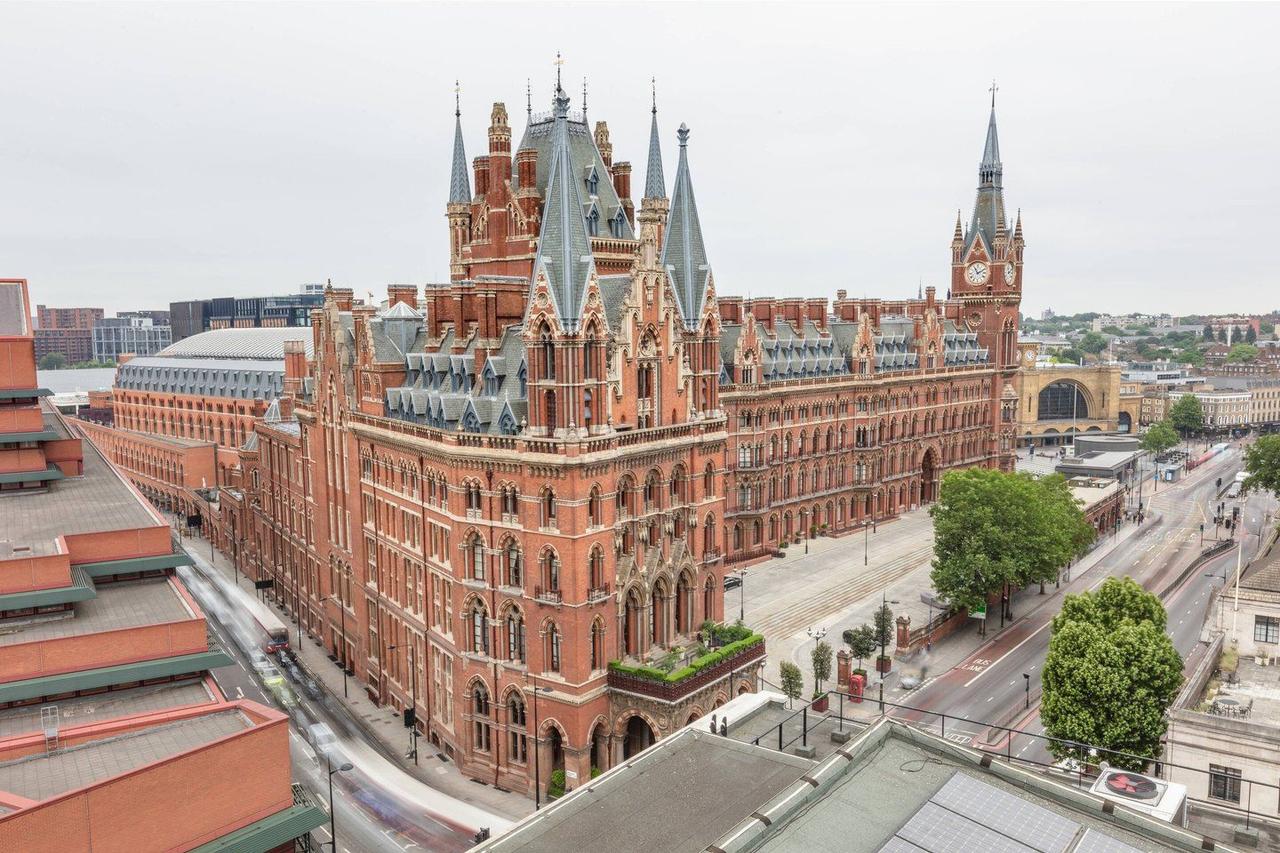 It's hard to believe the interiors at the St. Pancras Renaissance Hotel can live up to the incredible Neo-Gothic exterior. But they do, with equally attention-grabbing features, such as the Grand Staircase, and decor that compliments the grandeur of the setting. Rooms are are in the historic Chambers Wing or the more contemporary Barlow Wing; our preference is for the former, thanks to the undeniable elegance of the styling. There's a blissful on-site spa with a pool, with a menu of soothing treatments. After an afternoon of relaxation, we suggest starting your evening with a drink at the atmospheric Booking Office, which used to be the King's Cross ticket hall and now serves cool cocktails under a grand vaulted ceiling. You could of course stay on there to enjoy their modern British cuisine, but for a grander, more fine dining experience, head to Marcus Wareing's Gilbert Scott restaurant.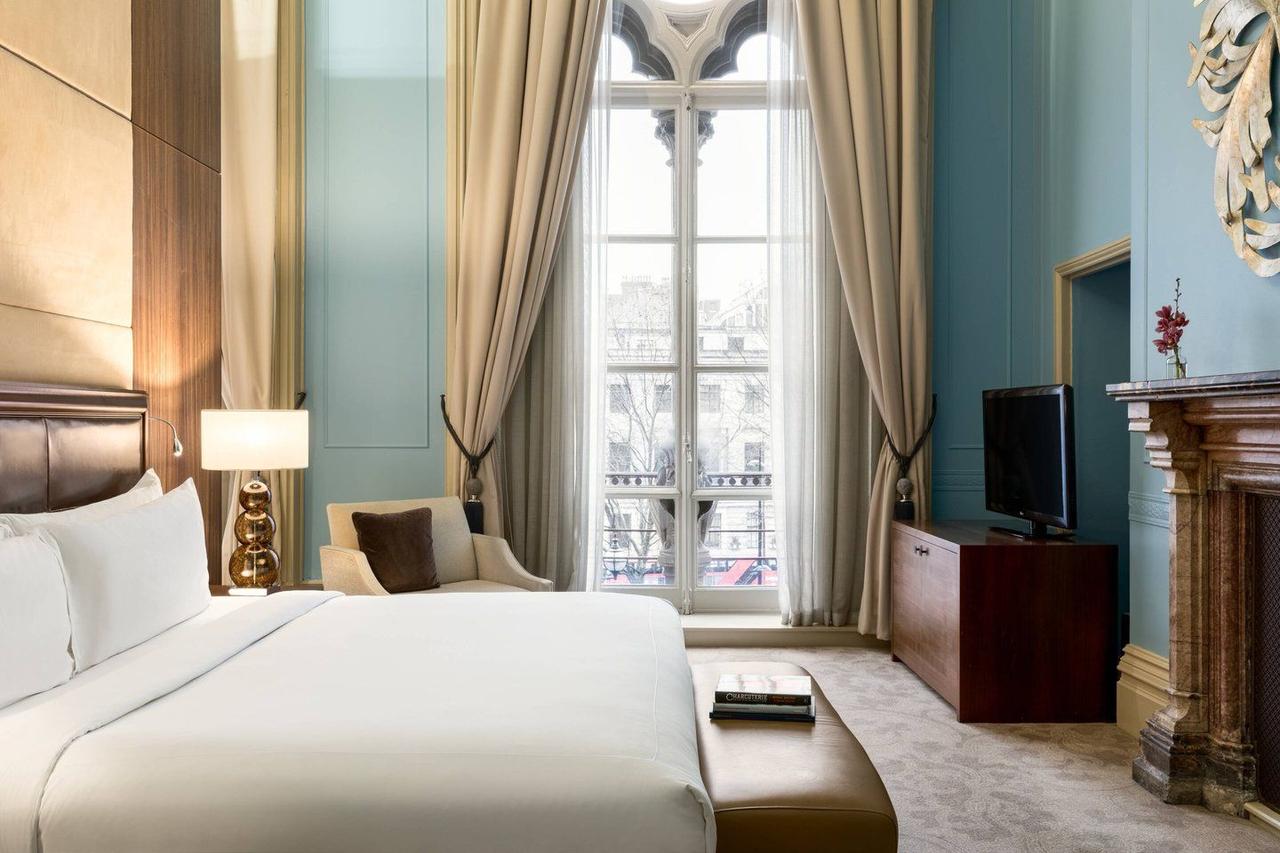 Elevate the Romance
You're right next to St Pancras station: hop on the Eurostar and head to Paris! If you book a Chambers Suite, you get Eurostar VIP Service - and you'll be able to see the Eurostar platform from your room.
13. The Zetter Townhouse, Marylebone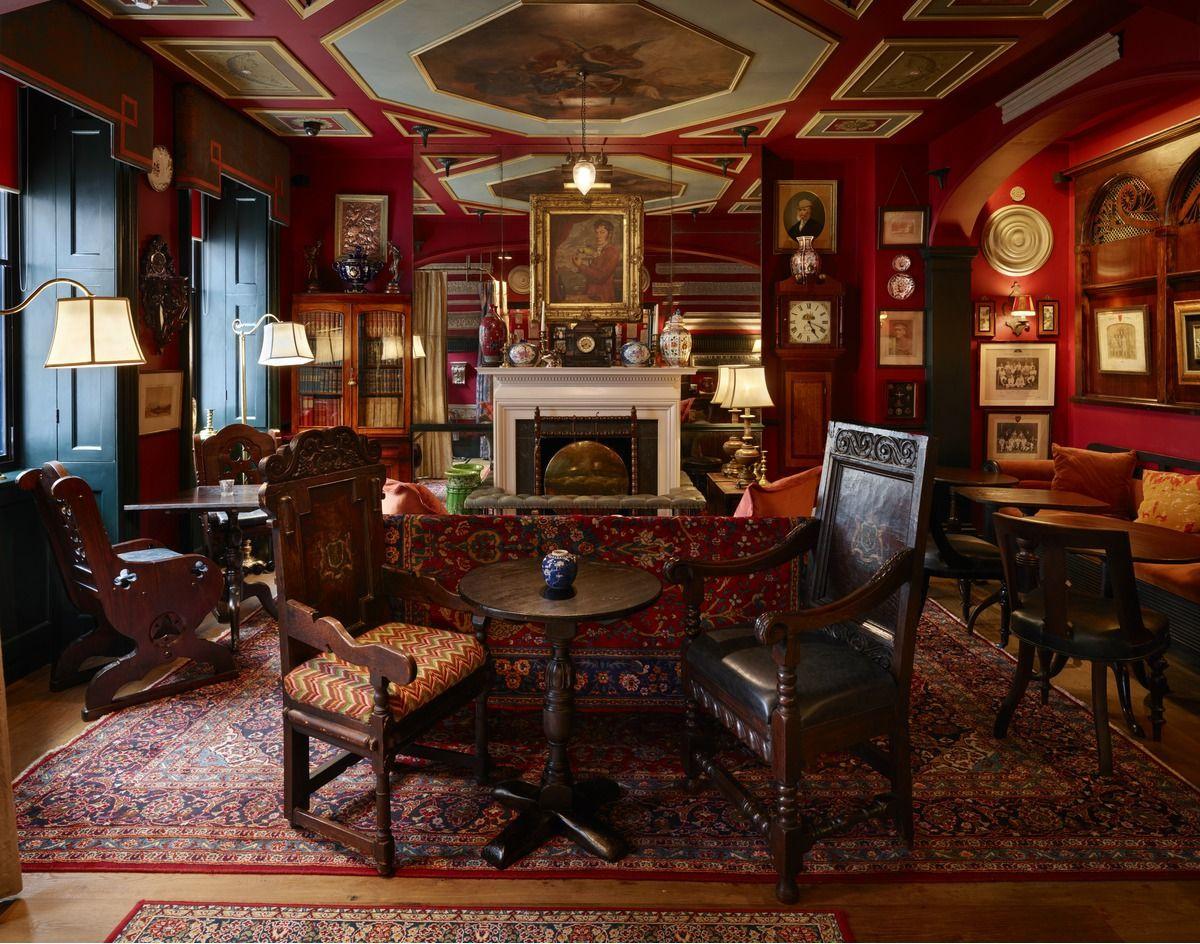 The Zetter Clerkenwell has long been one of our favourite boutique hotels, and we'd definitely recommend it for a London city break. However, when it comes to romance, its sister property in Marylebone just about has the edge. Both properties are elegant townhouses styled to look like quirky private houses filled with eclectic furnishings; both, for all the fun features, are packed with luxe touches such as REN products in the bathrooms, unbelievably comfortably comfortable Hypnos beds and vintage Roberts radio. So why are we choosing The Zetter Marylebone? It was a close-run thing, but it came down to the bar. Again, both are delightful, but there's something about Seymour's Parlour at the Marylebone property that makes us think of intimate evenings on the town, cocktails in hands, and the rest of the world melting away until it feels like it's just the two of you...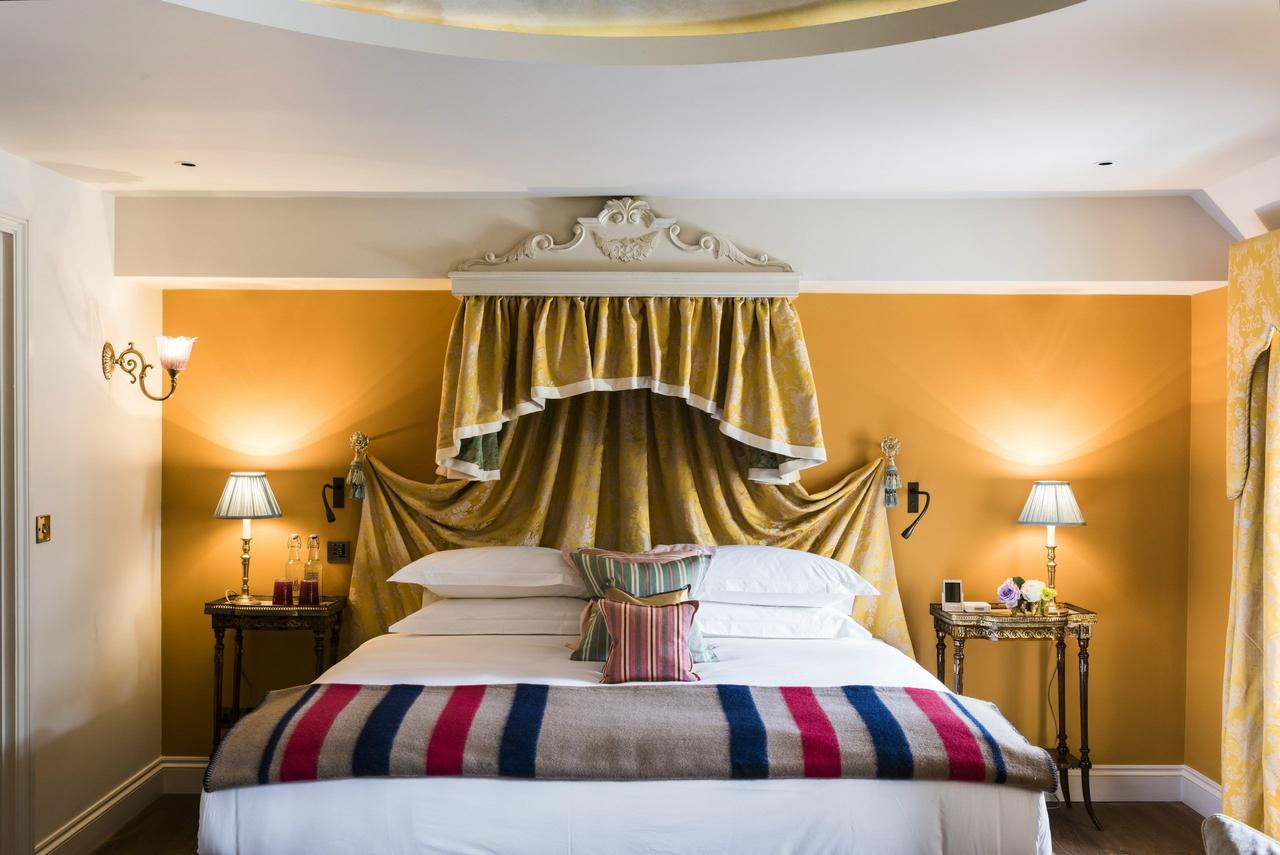 Elevate the Romance
Upgrade to the Lear's Loft suite - not only do you get oodles of room, but there's an outdoor bath on the private roof terrace.
14. Sunborn Yacht Hotel, Docklands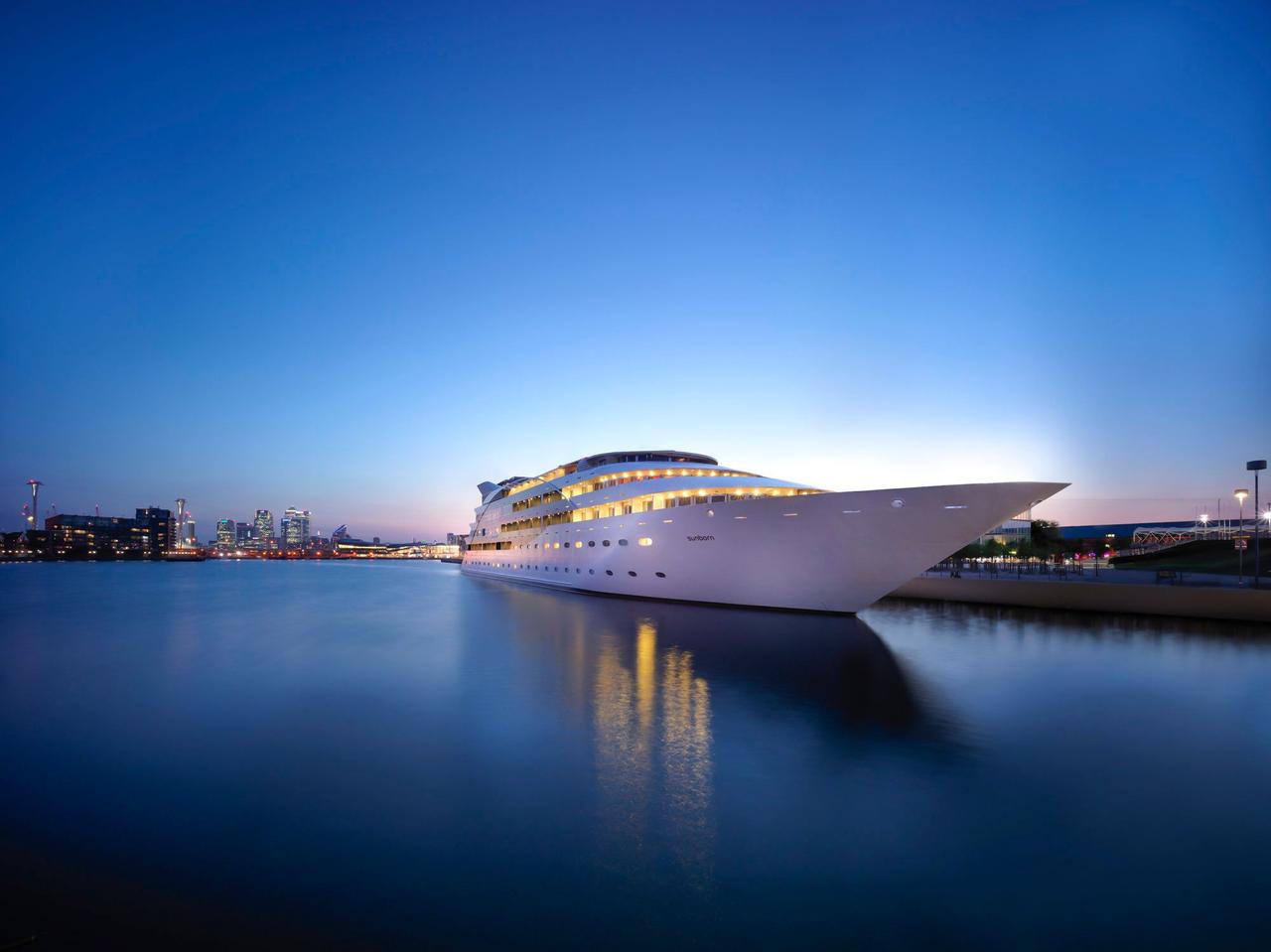 Ever stayed on a superyacht? Chances are the answer's no, and until you become friends with an A-lister or tech billionaire, it seems unlikely to happen - unless, of course, you book a romantic get away at the Sunborn Yacht Hotel. Docked in Royal Victoria Dock, this luxurious floating hotel is every bit as glamorous as you could hope, all polished wood and gleaming gold, and a sparkling chandelier. It has the facilities you'd want from a land-based hotel: a bar with great views; a well-reviewed restaurant; and even a spa. Rooms are surprisingly spacious, with plush furnishings. The hotel is a short walk from Custom House DLR, and from there we recommend making a trip to Greenwich, an area with a village feel that's perfect for romantic riverside strolls. There's a much-admired dining scene there, including some cool independent restaurants.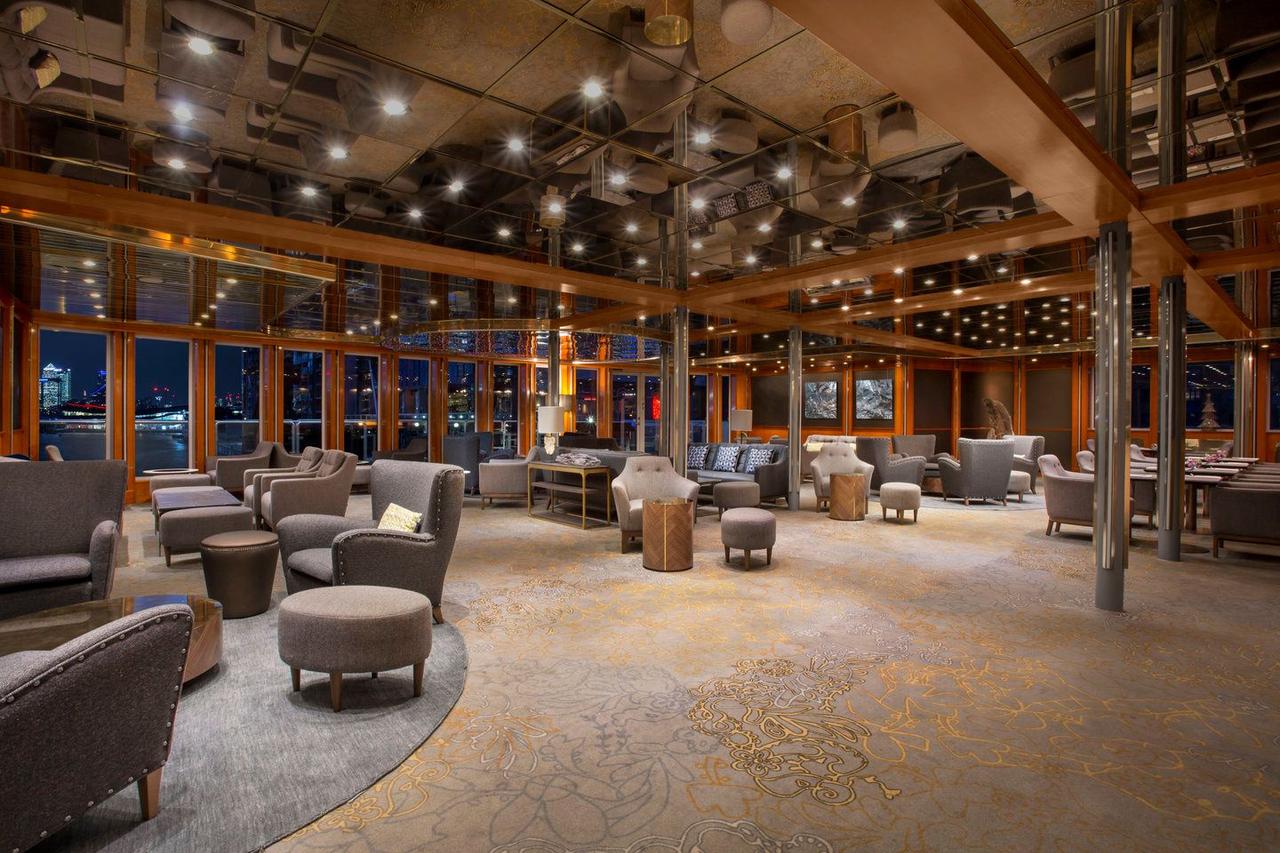 Elevate the Romance
You can also reach the hotel via the Emirates Air Line cable car, with stunning views across London - take a night flight to really see the city sparkle.
15. The Marylebone Hotel, Marylebone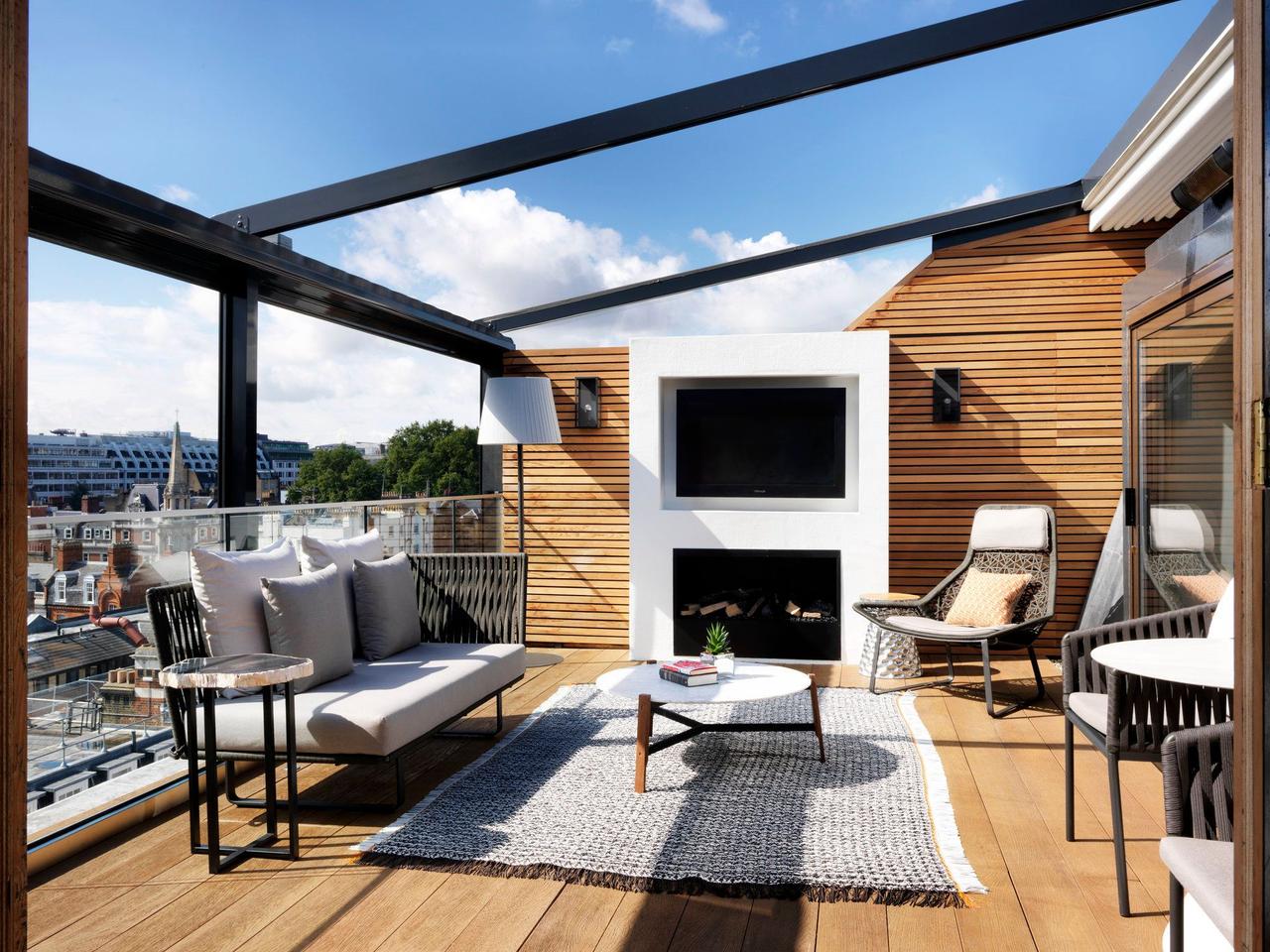 If you're looking for full-on glamour, this isn't the place for you. If, however, your taste leans more towards understated luxury, The Marylebone could be your ideal city pad. Rooms have been stylishly designed in a soothing palette with a few colour pops, and feature Italian marble bathrooms with underfloor heating. The Terrace suites are the stuff of dreams, with generous balconies and living areas - but they are rather spendy. There's an on-site branch of Third Space, the high-end members only health club, and all guests get complimentary access, which is a massive bonus if wellness is your priority - there's a pool, saunas, steam rooms and covetable treatment menu, as well as training areas and group classes. There are lots of lovely dining and drinking options in the area, but it's worth making time to try one of the four at The Marylebone, particularly the fresh, healthy and fabulous fare at 108 Brasserie.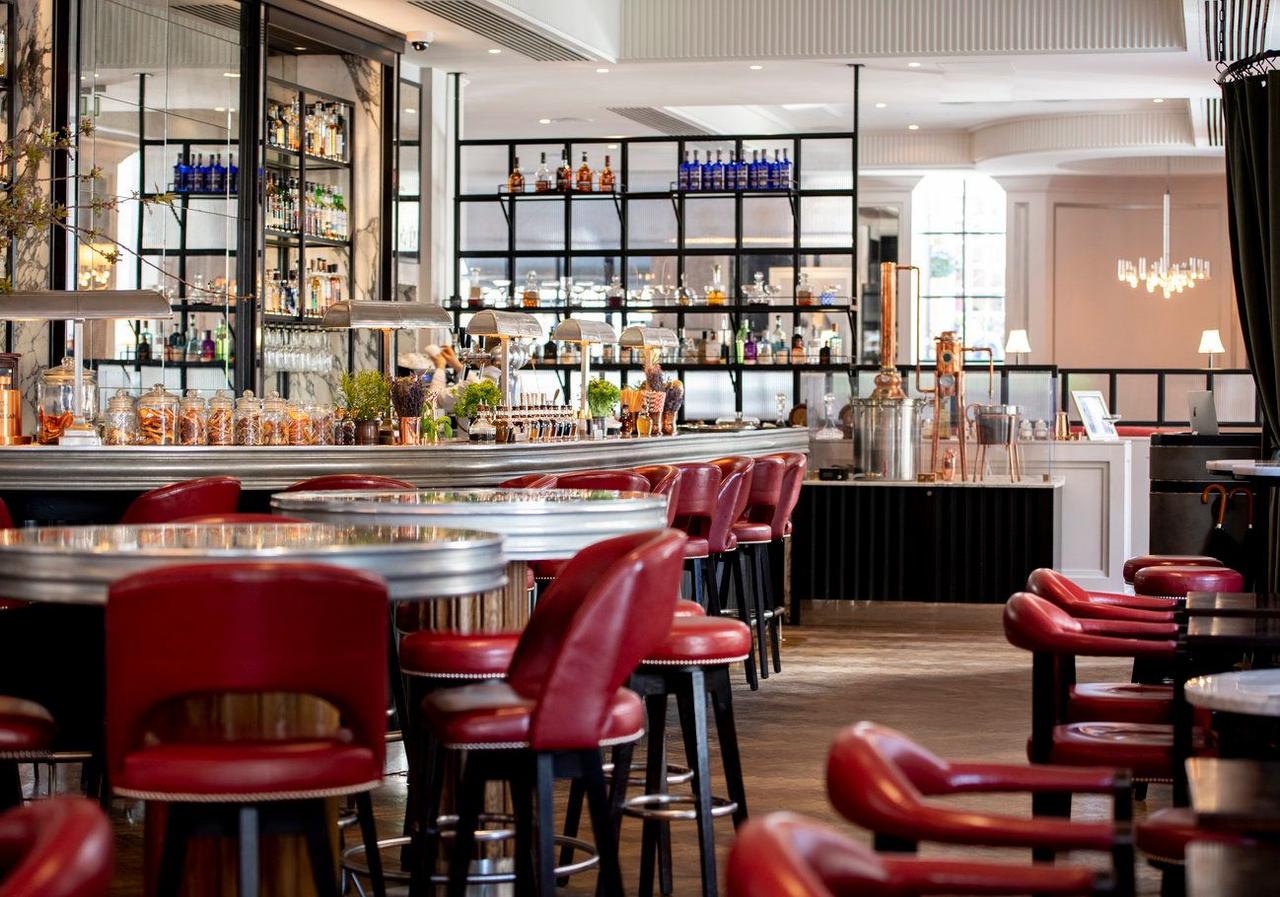 Elevate the Romance
The hotel has an impressive private dining offering, so ask in advance about arranging a special dinner à deux.
READ MORE: 21 Game-Changing Honeymoon Packing Hacks
16. Dean Street Townhouse, Soho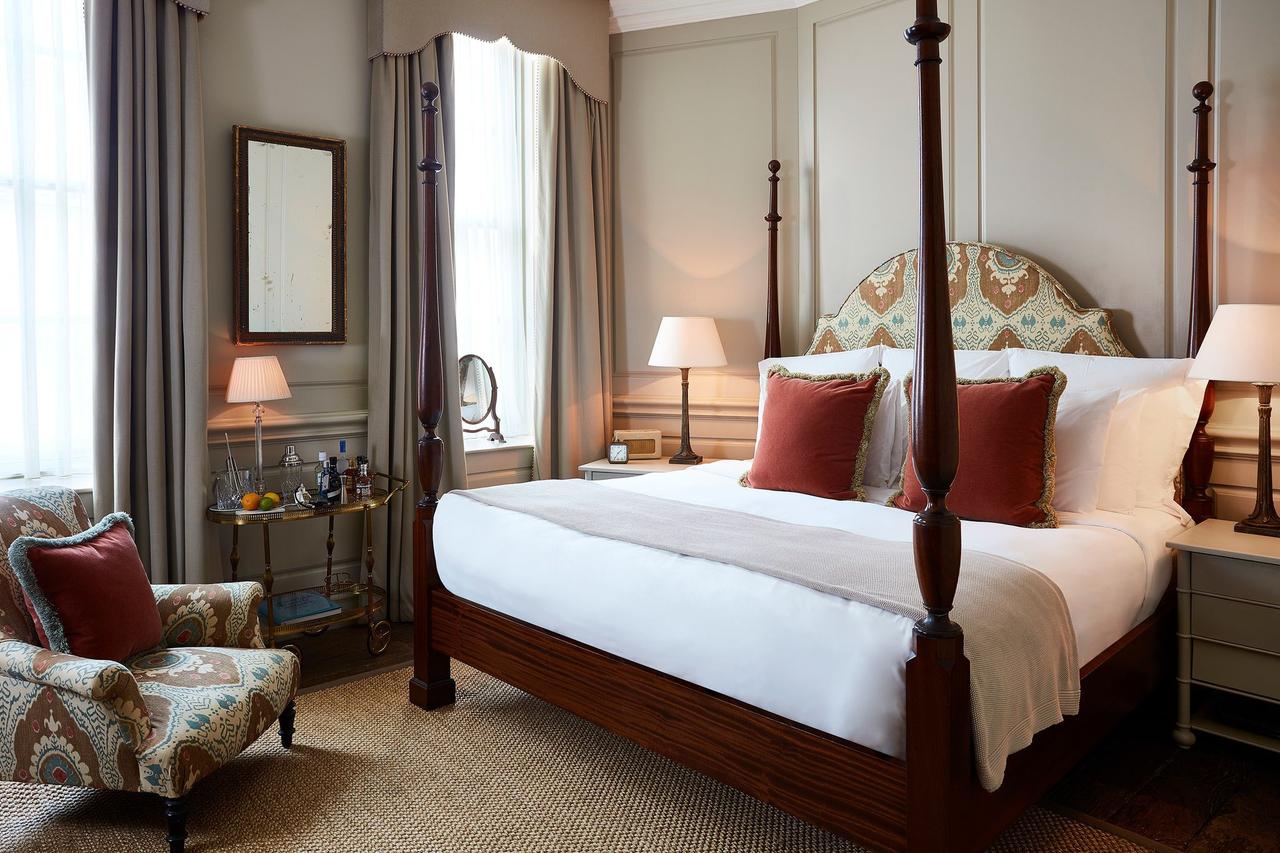 It's pretty in the city: the interiors at Dean Street Townhouse really are lovely, as you'd expect from a Soho House Group property: think delicate colours with the occasional bold accent and handsome furnishings. Room categories range from Tiny to Bigger - we'd recommend plumping for a Medium, budget allowing, and asking for a room with a freestanding bathtub. There isn't much by way of facilities outside the rooms. The point isn't to hang out in the hotel, it's to have somewhere beautiful to repair to after a day spent exploring the city streets - and explore you must, because the Soho location is excellent for reaching all the main sightseeing (not to mention shopping) destinations. It also means you're perfectly placed for enjoying the area's legendary dining and drinking scene.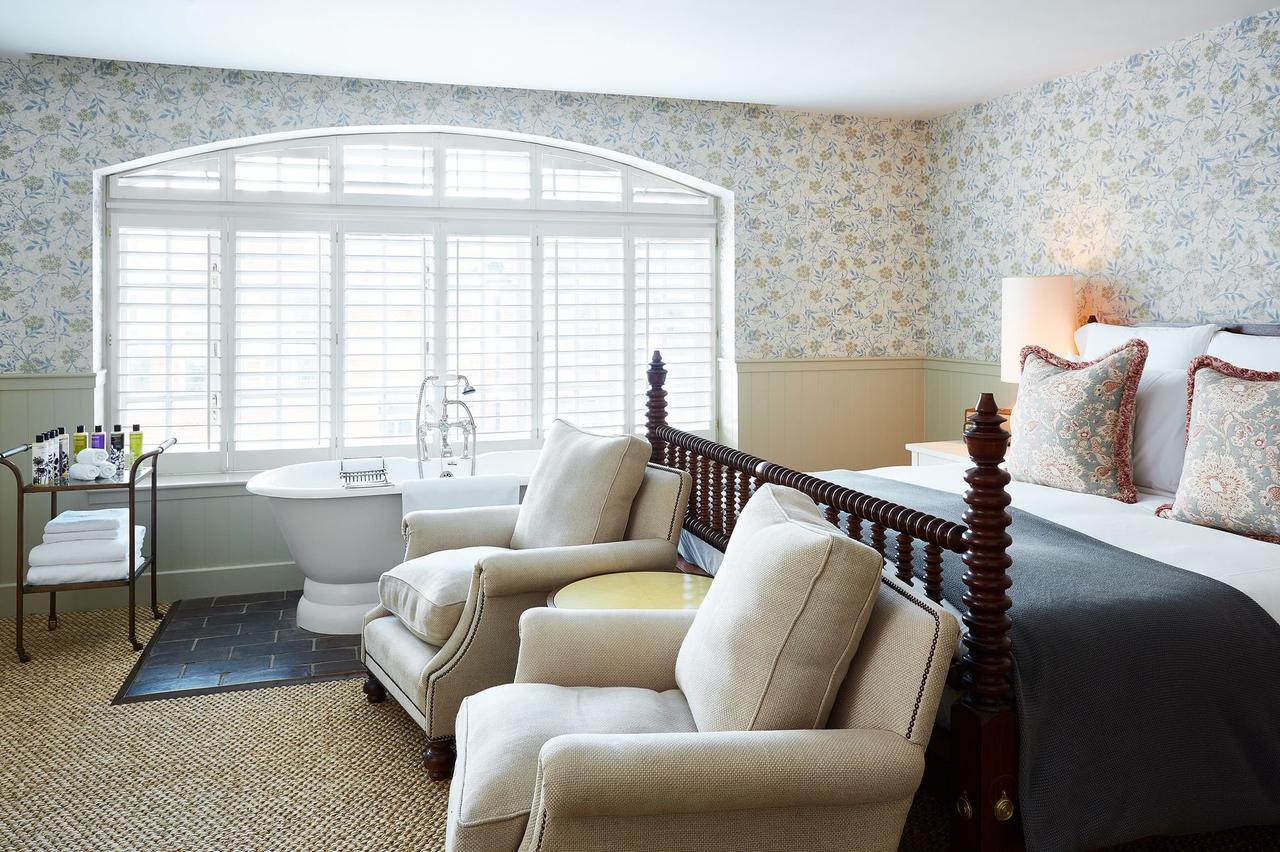 Elevate the Romance
Dean Street Townhouse restaurant is a destination in its own right, so book a table and enjoy the convivial atmosphere and menu of British classics.
17. The Hari Hotel, Belgravia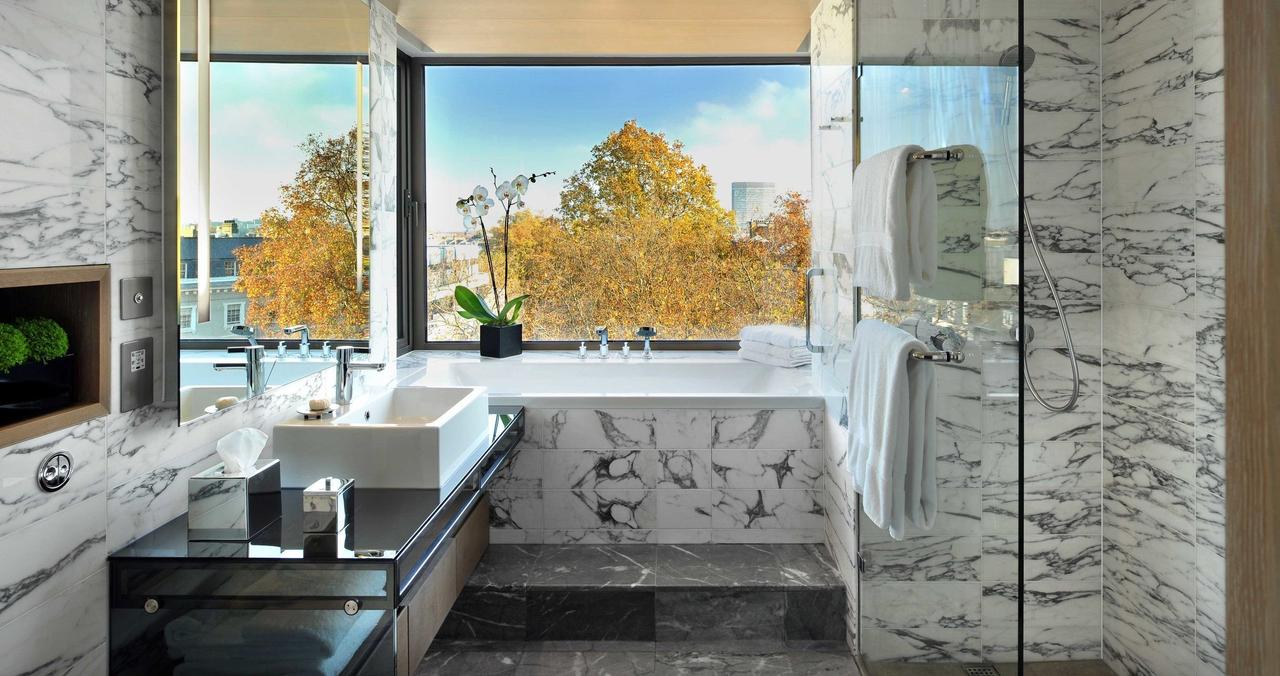 The first London property from this renowned luxury hotel group is a real gem. The location of The Hari means you're in easy reach of iconic London sights including Hyde Park, Buckingham Palace, The Albert Hall – and Harvey Nichols, for those who like their culture with a side order of retail therapy. Rooms are elegantly opulent, with gorgeous marble bathrooms, and décor created in rich tones and strokeable fabrics. The facilities are top notch too, from the stylish terrace bar and vintage-chic Italian restaurant Il Pampero to the 24-hour fitness centre that offers personal training. Fancy a pamper session? The Hari can book you into one of Belgravia's leading salons at special rates as a hotel guest. Now that's what we call service.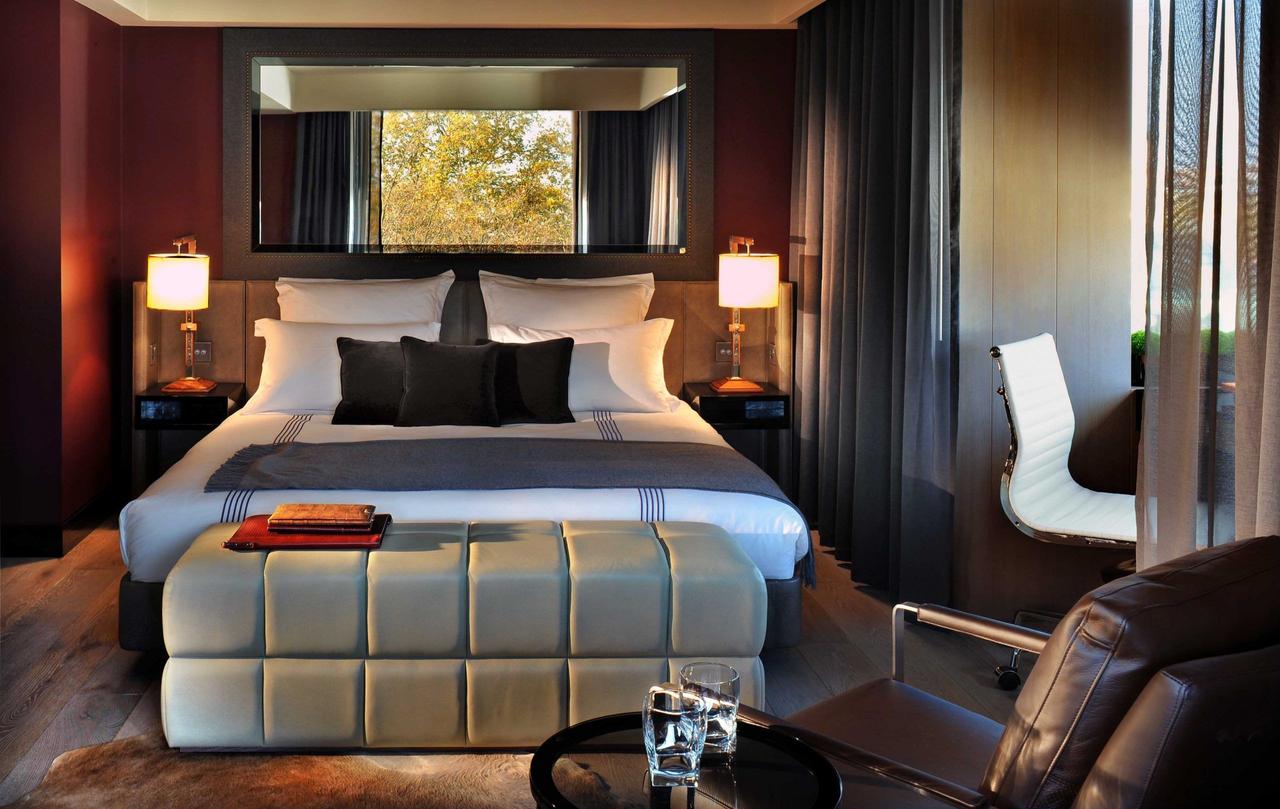 Elevate the Romance
The concierge team here are second to none – ask before arrival for their recommendations for a special night out, whether that's a must-try restaurant or the latest nightlife hotspot.
18. The Kensington, South Kensington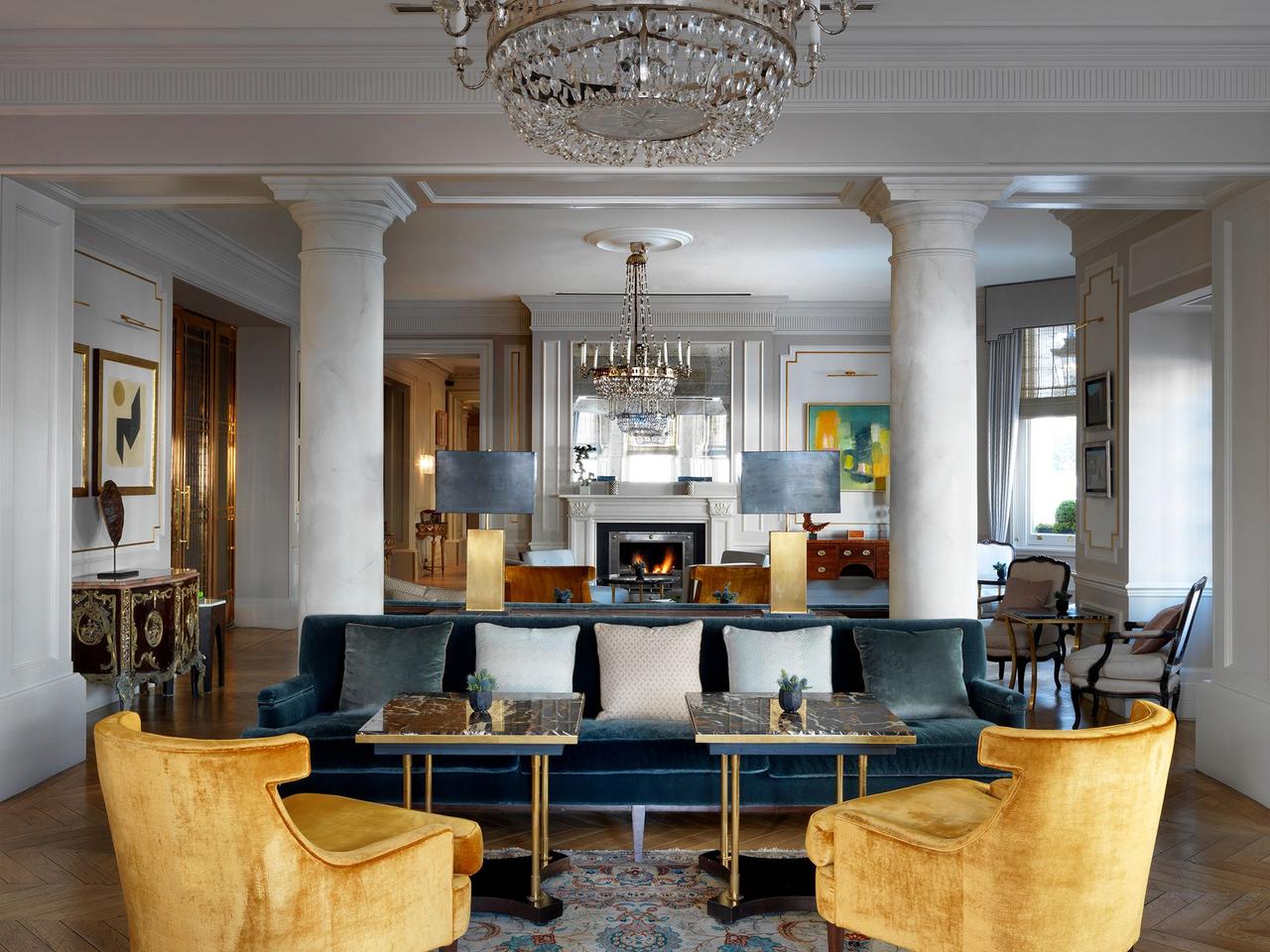 There's a real sense of occasion when you walk into The Kensington. Maybe it's the high ceilings and open fireplaces; maybe it's the perfectly judged décor, which blends heritage and modernity. Whatever the reason, it's a lovely place for a London mini-moon. The rooms are inviting, with a mix of muted colours and bold hues. Whether you stay in one of the smaller Cosy Rooms or a Deluxe King, there are luxe touches aplenty, such as duck down duvets and Malin + Goetz toiletries. If leaving your room is too much of a struggle, you can book one of the hotel's therapists to come to you for your spa treatment. But do try to venture out as far as the hotel's K Bar, which is an atmospheric place for cocktails.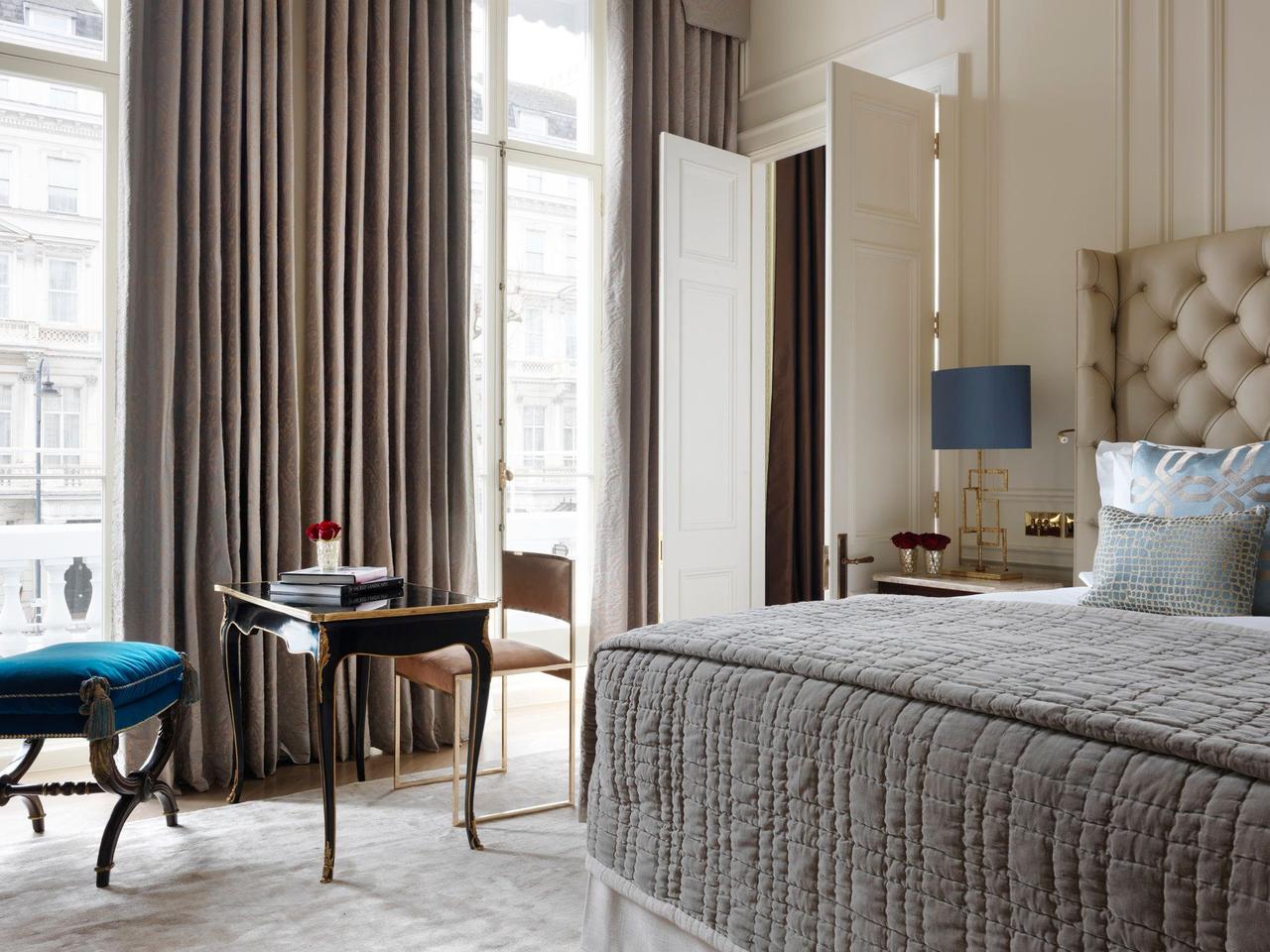 Elevate the Romance
Tuck into the hotel's famous London Landmarks afternoon tea, based on the city's skyline and culinary traditions.
19. The Gore, South Kensington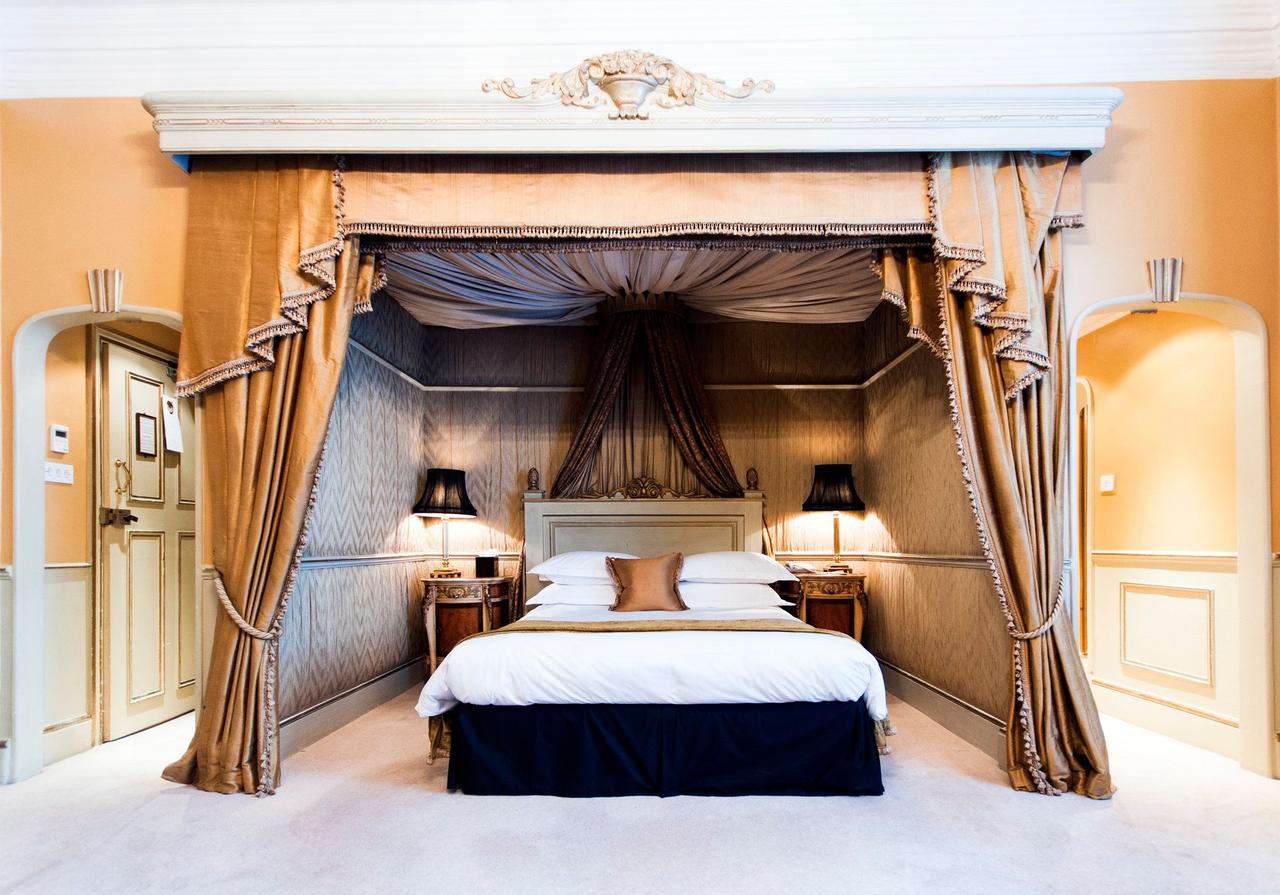 This classic London boutique hotel has a rich history. Established in 1892, evidence of The Gore's storied past is everywhere, from the suites named after famous guests, including Judy Garland and Dame Nellie Mellie, to the antique furnishings and sparkling chandeliers. The hotel's Bar 190 was even the launch venue for a Rolling Stones album. Don't make the mistake of thinking, however, that all this means The Gore's's glories are in the past. With sumptuously imaginative décor, and up-to-the-minute touches in the rooms such as GHD hairdryers and Samsung Smart TVs, this is very much a destination for 2020.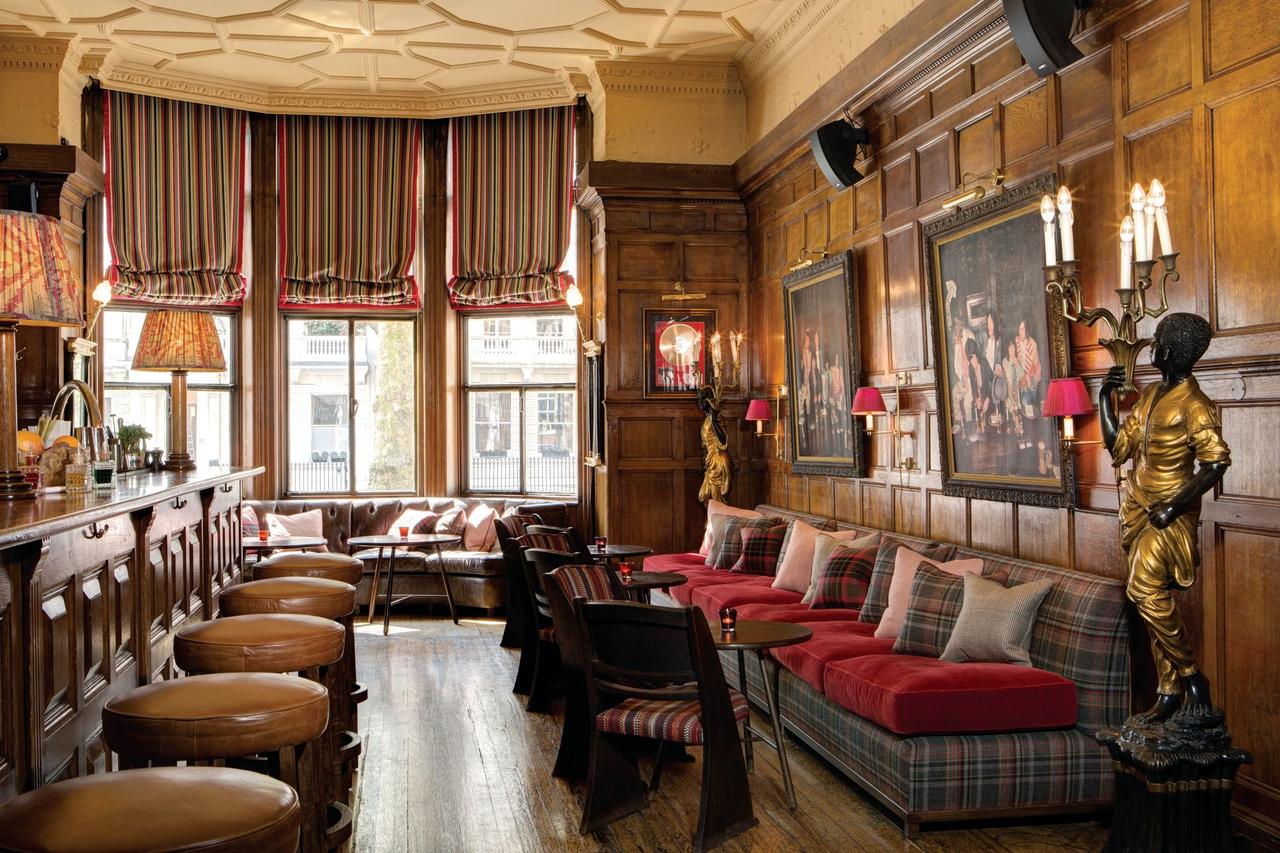 Elevate the Romance
Book a classic car experience for a chauffer-driven tour of London in a 1920s Rolls-Royce – top down if you prefer.
20. The Beaumont, Mayfair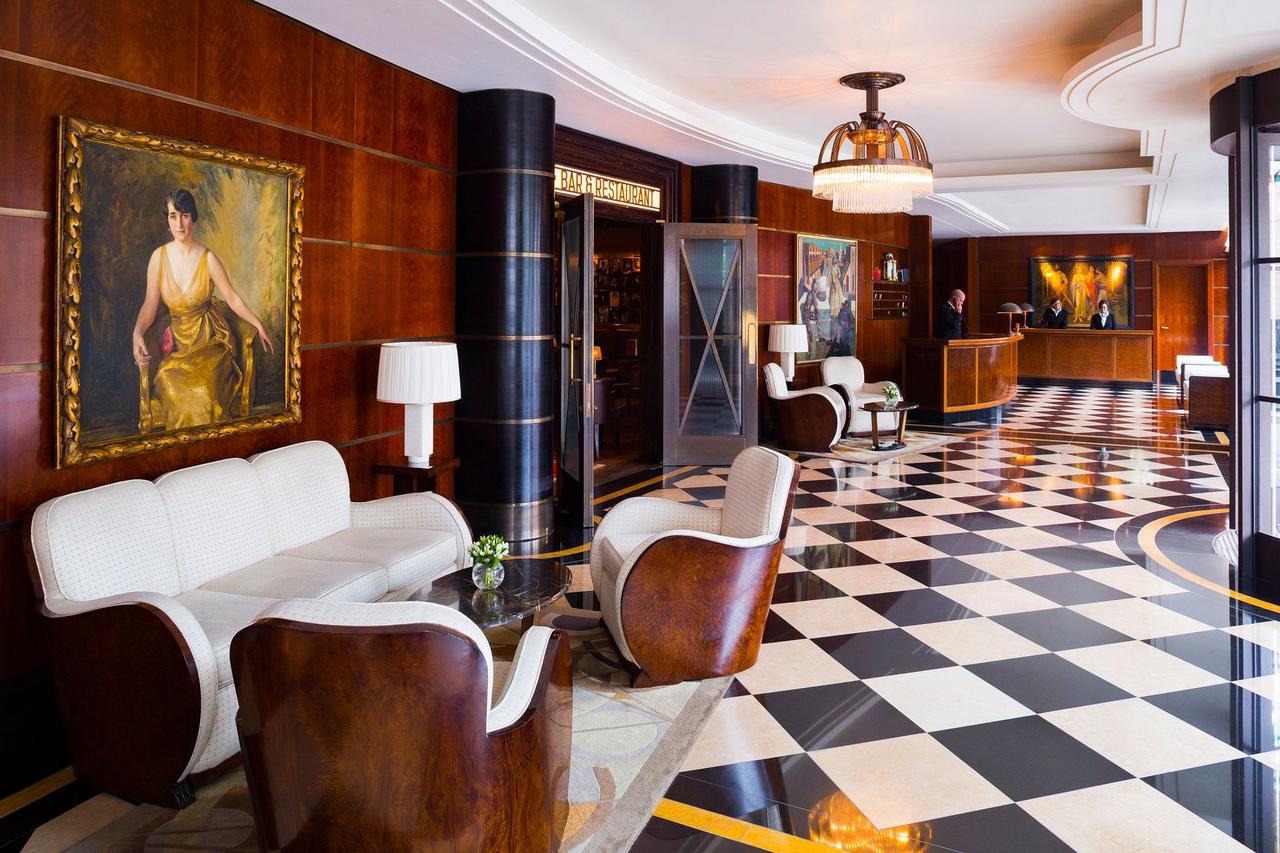 If you love the glamour of Art Deco, you're in for a treat at The Beaumont. The décor is heavily influenced by the defining style of the Roaring Twenties, and gives a real feeling of old-world glamour – think gleaming walnut paneling, low lighting and monochrome mixing with muted colours. The Magritte Bar was inspired by the type of Parisian watering holes favoured by F. Scott Fitzgerald and Ernest Hemingway, and specialises in classic cocktails. After your aperitif, you can head to The Colony for a romantic dinner, with a menu inspired by – what else? – the 1920s.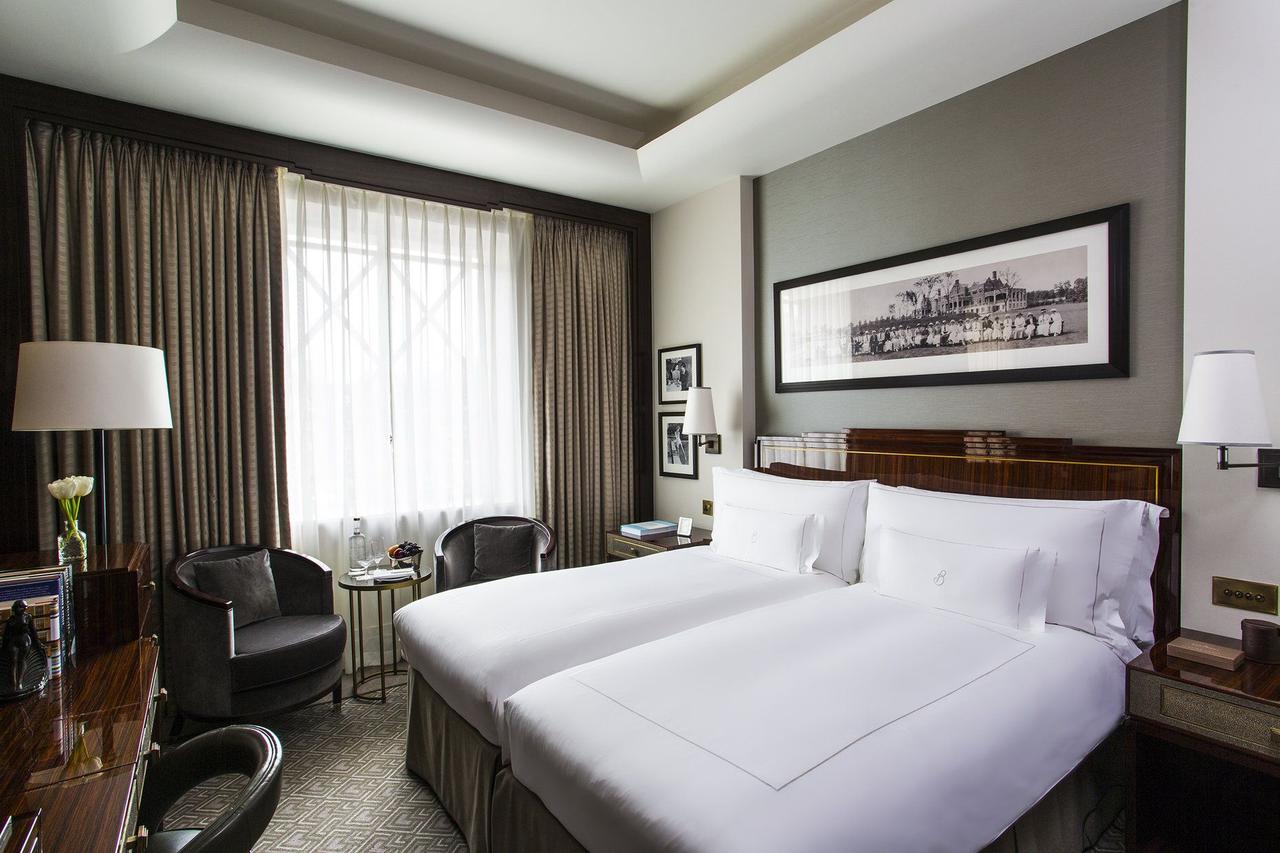 Elevate the Romance
Book The Beaumont Retreat spa package for two to make the most of the beautiful hammam.
21. Kimpton Fitzroy, Bloomsbury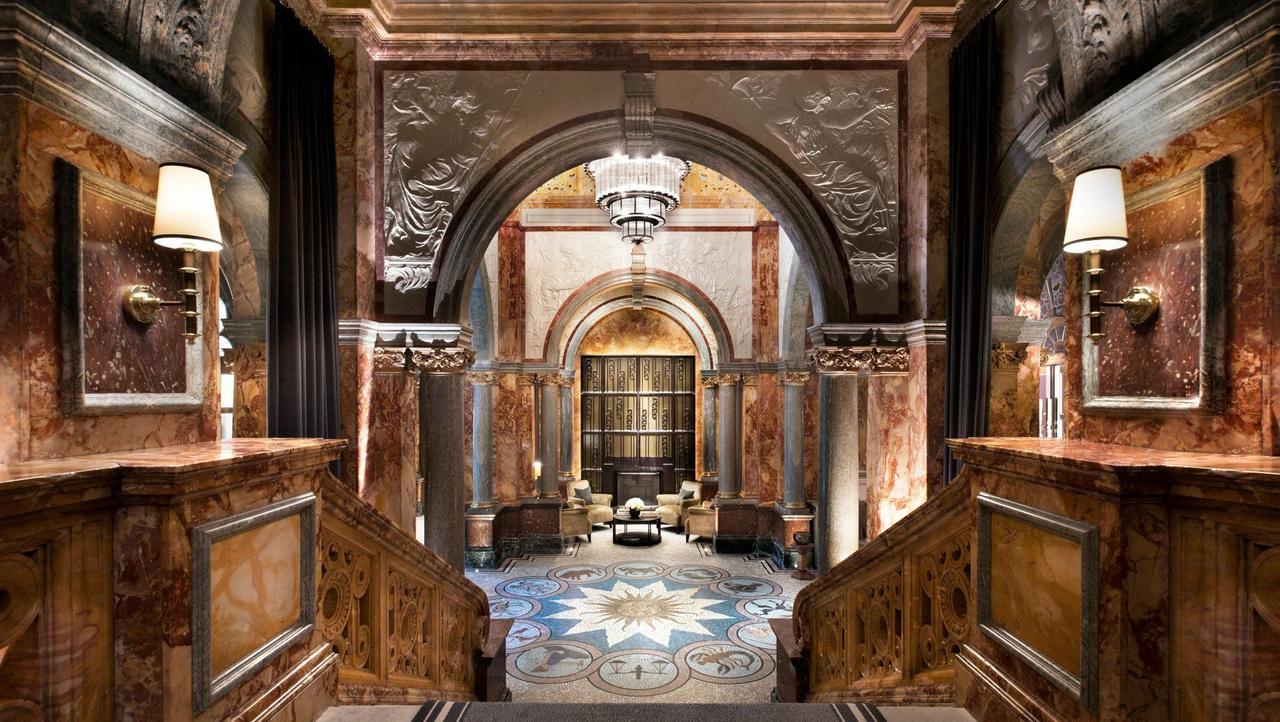 If you were addicted to The Great British Bake Off: The Professionals, you need to visit Kimpton Fitzroy – this is where winners Thibault and Erica (total heart eyes) work. Of course, afternoon tea at the hotel's Fitz's bar is a no-brainer, to sample those award-winning sweet treats. But once you've exhausted your sweet tooth, there's plenty more to admire at this Bloomsbury hotel. Rooms are elegant and appealing, with 300-thread-count bed linen and custom beds to help you have sweet dreams. We also like the thoughtful touches, such as a hosted drinks reception every evening, complimentary Raleigh bike hire and tuck boxes in the rooms.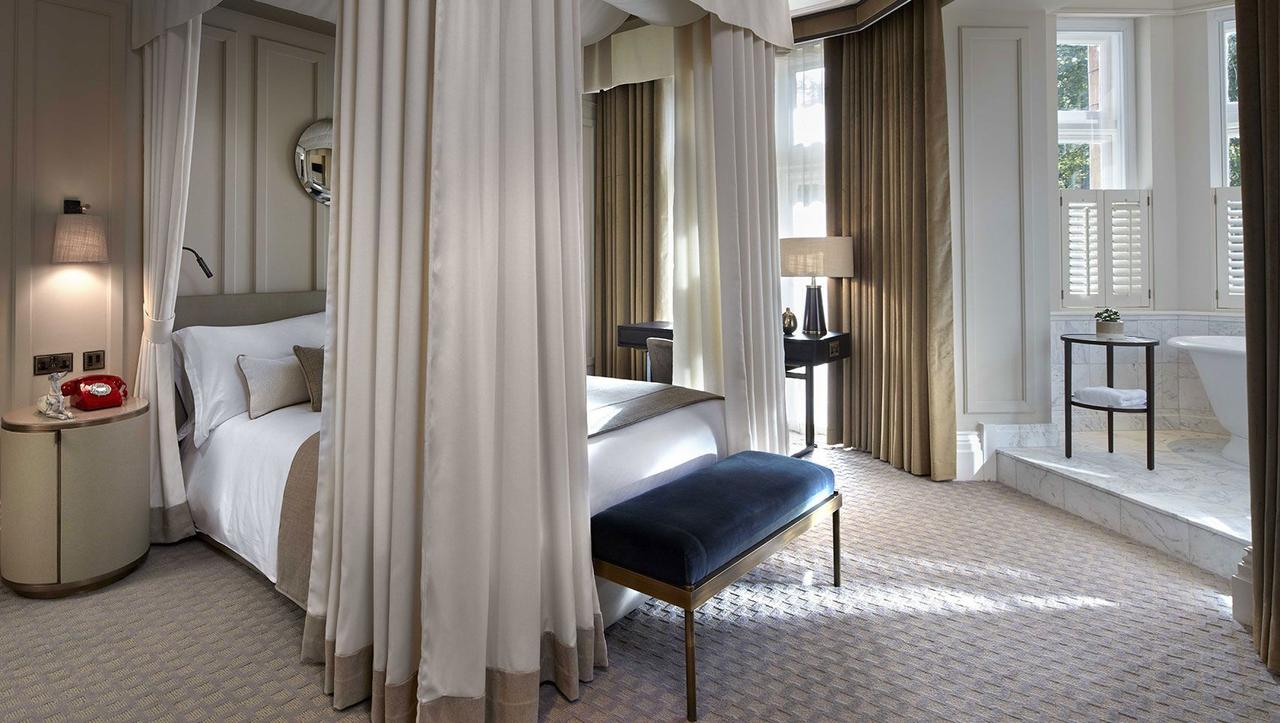 Elevate the Romance
Make time for a glass of champagne in the romantic, glass-ceilinged Palm Court dining room.
You don't have to limit yourself to one romantic stay - explore the possibilities around the country with our edit of the 30 most amazing places to mini-moon in the UK.